31 Mar 13 - Gone!
The final remaining section of the former Avenger class MCMV USS Guardian, stranded on the Tubbataha Reef in the Philippines since 17 January, was removed yesterday (see entry for 27 Mar 13).
Removal of stern of ex-USS Guardian by crane vessel M/V Jascon 25 and the aftermath
(US Navy photos by Mass Communication Specialist 3rd Class Kelby Sanders)
Postscript: On 1 April 2013, the US 7th Fleet website published this article announcing:
"The crew of Ex-Guardian (MCM 10) watched from the pier as USS Warrior (MCM 10) arrived at Commander, Fleet Activities Sasebo (CFAS) March 27. In an unusual crew-swap situation, the crew of Ex-Guardian will be transferred to Warrior and remain forward deployed to CFAS effective March 31..."
---
30 Mar 13 - Senior appointments for MCDOA members
According to today's Daily Telegraph, MCDOA member Jason Poole is to be promoted to Captain RN and commence Defence Attaché training with effect from June 2013. MCDOA member Dave Bence is to be promoted to Acting Captain RN and be Deputy Commander, Commander Task Force 52 (CTF 52) based in Bahrain in succession to fellow MCDOA member Andy Elvin with effect from September 2013.
Congratulations to both members.
---
29 Mar 13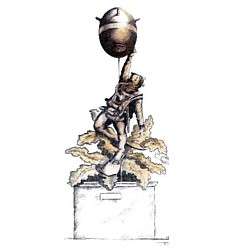 STOP PRESS! Devizes to Westminster Canoe Challenge bid abandoned
I received this regrettable news from MCDOA Secretary Richard 'Soapy' Watson this morning:
"Dear Rob,
Hot off the press for when you get to your PC on Friday – the DW [Devizes to Westminster Canoe Challenge] organisers have imposed a major restriction on participation in this year's DW due to 'extreme' conditions – see http://www.dwrace.org.uk/. Note the 11th hour notification (yesterday for a potential rescheduled start by 09:00 latest tomorrow – impossible for us to achieve). Immediate rapid response from myself and Andy is that we have been left with no option but to withdraw due to the criteria imposed by the committee re participation; we have assessed our matrix scores me making 11, and Andy making 10 (minimum to participate is 13) mainly on the fact that this is Andy's first DW (along with our support team) and my second making it impossible for us to meet the criteria score of 13. We have opted for a full refund which is the first time in the history that this has been offered, an indication of the poor organisation here by the DW management committee.
We are naturally gutted to have got this close to the event having trained through often 'extreme' conditions (like paddling over flooded fields at Christmas plus nearly every lunch time up and down the lake!) for the past six months and feel a tad cheated. We had even been up to Devizes with the support team to assess the portages and planned this whole evolution with military precision.
The sponsorship has been overwhelming and we have decided to complete a 24-hour 'paddle' on Horsea Lake to simulate the Devizes to Westminster race time and will put together a quick dit Friday morning to insert onto the fund raising page (date of event to follow as this will have to coincide with a live-in week for safety cover). It will probably be very soon - probably 18-19 April. I am sure if we cannot coincide with a Live-In Week, people would not mind coming down to the Island to support us through the night. I am sure one day I will complete the DW – it's my competitive sprit I just won't let anything beat me! I will let you know the detail very soon.
Can I personally thank all who have sponsored us and if anyone wishes to withdraw their sponsorship, we would not be offended.
Kindest Regards,
Soapy
R D Watson
Lt Cdr MSc
Diving Standards Officer Navy"
I, for one, am perfectly happy to let my sponsorship stand. Better luck next time, guys.
---
From MCDOA member Alan Padwick OBE on Saturday 30 March:
"Dear Rob,
I was out at the end of my garden this morning at 0630 and sat there for three hours waiting to cheer on our intrepid team. I wish I had checked the website beforehand!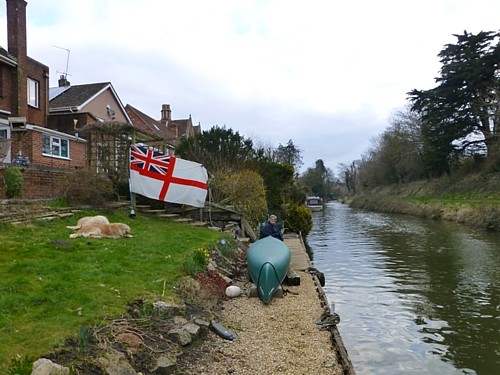 Never mind, Soapy and Andy. You can certainly keep my sponsorship cash and good luck with the 24-hour Horsea effort. I am sure all the training will have given you useful experience and I shall be at the bottom of my garden again next Easter, having checked our website first! Just look out for the familiar ensign.
Alan and Sarah Padwick"
---
From MCDOA member Dave Hunkin OBE on Sunday 31 March:
"Hi Rob,
Please ask Alan to put his ensign back out. My lad is competing in DW and he would love to see 'the firm's colours'.
Best,
Dave Hunkin"
---
SDU2 deals with bomb on board scallop trawler
The Shoreham Herald website contains this article describing a call out yesterday for Portsmouth-based Southern Diving Unit 2 (SDU2) to deal with a 500lb bomb recovered by a scallop trawler off Beachy Head.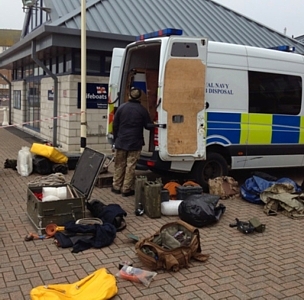 ---
28 Mar 13 - Devizes to Westminster Canoe Challenge countdown: Only two days to go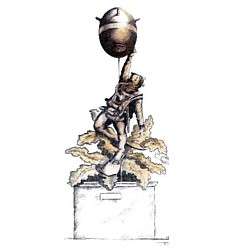 Please give your generous support to this weekend's worthy endeavour by some big-hearted members of our diving community including MCDOA Secretary Soapy Watson, former WO(D) Andy Brunton MBE, CPO(D) Ian 'Scouse' Fleming and ex-CPO(D) Stan Stanley.
Sales of Project Vernon merchandise, such as its current 'cash cow' limited edition prints, earn significantly less than price tags suggest because the income is eroded by corresponding expenditure on production (high quality printing on artist's paper), mounting, framing, robust packaging and despatch to all corners of the world, albeit by volunteer staff. However, every pound donated straight to the cause helps bring the Vernon monument to fruition that much faster and attracts an extra 25% in Gift Aid if registered. Make your online donation to the Canoe Challenge here or donate to Project Vernon direct here.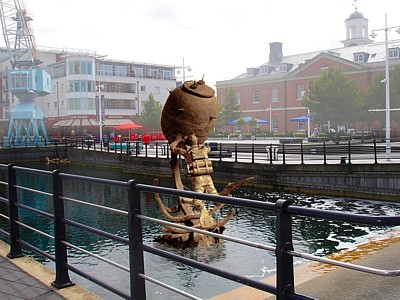 Artist's impression of the almost twice-lifesize Vernon monument
in situ at Gunwharf Quays in Portsmouth to commemorate
the minewarfare and diving heritage of HMS Vernon
I would like to take this opportunity to thank all those serving and ex-serving members of our community who have sent me encouraging personal messages of support during the past few days, especially in view of our family bereavement. Rest assured that I understand and respect your desire for discretion in certain cases.
Here is Soapy's announcement:
DEVIZES TO WESTMINSTER INTERNATIONAL CANOE RACE
Lt Cdr Rich "Soapy" Watson Diving Standards Officer Navy and former WO(Diver) Andy Brunton MBE of Divex Southern Based facility are attempting to complete the Devizes to Westminster Canoe Race on 30 - 31 March 2013. At 125 miles and 75 portages, it's the world's longest canoe race.
WHO WE'RE RAISING MONEY FOR
We are using the challenge as a tool to raise money for charities of both Divex and the Royal Navy dive communities' choosing:
The Vernon Minewarfare and Diving Monument - This charity is raising funds to commission a statue of a clearance diver and mine to be erected in Gunwharf Quays, the former site of HMS Vernon which was the home of Royal Navy diving. The statue will pay tribute to all the personnel from the Diving and Minewarfare communities who were trained, based or served at HMS Vernon.
Royal Navy & Royal Marines Charity - This charity exists to provide a better quality of life for serving and former Naval Service personnel and their families.
ABOUT THE CHALLENGE
The Devizes to Westminster International Canoe Marathon is one of the most demanding open-to-all endurance events on the planet. It starts from Devizes along the Kennet & Avon Canal, to the River Thames and down to Westminster in the heart of London. Those entering the non-stop race will be in their boats for around 24 hours with no breaks.
To find out more, visit: www.dwrace.org.uk

Last year, Soapy and Chris Stephenson attempted the epic race but only managed to get to the 69 mile mark after 16 hours of continuous paddling - which was a great feat [even Steve Redgrave dropped out - see second entry for 12 Apr 12 in News Archive 38]. The main reason for this was that the kayak they had chosen was a heavy sea kayak. It was pretty much like turning up to the Tour de France on a mountain bike. However fit and strong you are, if you are competing against people in far lighter, quicker and more agile craft you would never complete the course. Last year's boat weighed in at 50kg and of course it sat deeper in the water - more drag, heavier to pull through the water and slower overall.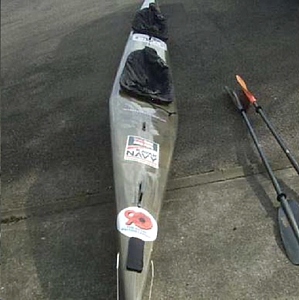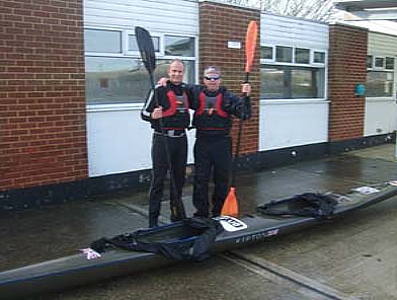 Left: 2013 Model Kirton K2 (20kg)
Right and below: Soapy and Andy training at Horsea Island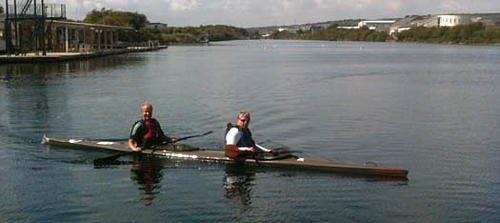 This year, Soapy and Andy will be supported by ex-CPO(D) Stan Stanley from the Divex Southern facility based at Horsea and CPO(D) Ian 'Scouse' Fleming from Southern Diving Unit 2 (SDU2). The support team is key to the successful completion of this endurance event. It meets the crew at arranged points along the course to feed and hydrate and encourage. Soapy and Andy are very appreciative of the help of the support crew as without them you legally cannot compete in the race.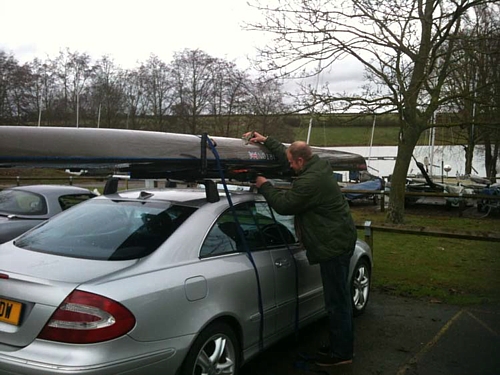 Christmas Leave training (Rutland Water 28 December 2012!!)
HOW YOU CAN DONATE
You can sponsor the team for the Devizes to Westminster Canoe Race through Virgin Money Giving at:
www.virginmoneygiving.com/team/divexnavydivers
Many thanks.
---
27 Mar 13 - Going, going, nearly gone
As illustrated by these photographs, the dismantling and salvage of the former Avenger class MCMV USS Guardian, stranded on the Tubbataha Reef in the Philippines since 17 January, is all but complete (see entry for 12 Mar 13).
Bow and hull midsection of former USS Guardian being removed by crane vessel M/V Jascon 25
(US Navy photos by Mass Communication Specialist 3rd Class Kelby Sanders)
Postscript: On 30 March 2013, the Mail Online published this article covering the salvage operation.
---
26 Mar 13 - HMS Quorn's divers 'at the sharp end' ahead of massive exercise
The Royal Navy website contains this article announcing the involvement of HMS Quorn (MCM2 Crew 8) and her divers in International Mine Countermeasures Exercise 13 (IMCMEX 13) in the Gulf with fellow divers, warships, aircraft and helicopters from 20 nations spanning four continents for two weeks in mid-May. The article features MCDOA member Simon Kelly (CO), MCDO Alex Scott (XO), PO(D) Stuart Hibbs (Coxswain) and AB(D) Geraint Barnes.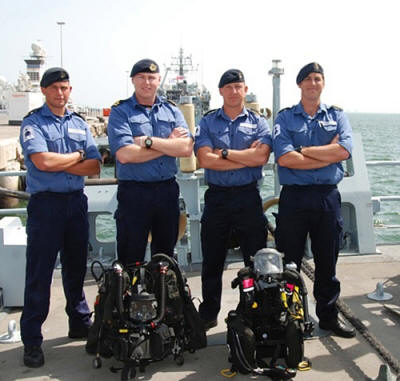 Above and below: HMS Quorn divers
(RN website photos)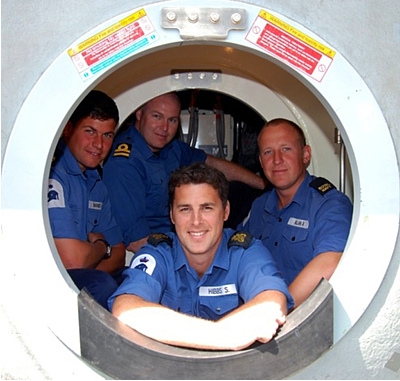 ---
25 Mar 13 - Recent EOD incidents for Southern Diving Group
The Island Echo website contains this article describing an incident involving the discovery of a plastic replica hand grenade washed up on Compton Bay Beach on the Isle of Wight, presumably dealt with by Portsmouth-based Southern Diving Unit 2 (SDU2). The Torquay Herald Express website contains this article describing an incident involving a flare in a rock pool at Paignton in Devon, presumably handled by Plymouth-based Southern Diving Unit 1 (SDU1). The Lynn News website contains this article describing an incident involving a torpedo compressed air flask found on the shore at Brancaster in Norfolk, reportedly handled by SDU2. All the incidents occurred last week.
---
24 Mar 13 - News from HMS Cattistock
I am grateful to Lt Barry Crosswood RN, the Navigating Officer of HMS Cattistock (MCM2 Crew 2), for this update:
CATTastrophic Engine Failure
On transit across the Bay of Biscay, HMS CATTISTOCK was on her way to the Mediterranean in order to rendezvous with Standing NATO Mine Countermeasures Group Two (SNMCMG2). Early in February, the Bay of Biscay was a rough place to be for a mine countermeasures vessel (MCMV) and that took its toll on her engines with a CATTastrophic engine failure on her port main engine during the middle watch which left many pieces of metal floating within the engine, that shouldn't have been there. Swift reactions by a well worked up bridge team and marine engineering department prevented any further damage to the engine room itself or personnel in the vicinity of at the time of the incident.
With the extent of the breakdown so severe the shaft was required to be locked, preventing the propeller from turning. In a vessel the size of HMS CATTISTOCK and with such large propellers, this created a vast amount of drag, much like the effect of dragging an anchor along the sea bed. Thus putting more strain on the starboard main engine.
In the fighting spirit of the minehunting community, the entire ship's company fought hard to make it into HM Naval Base Gibraltar, a Forward Mounting Base.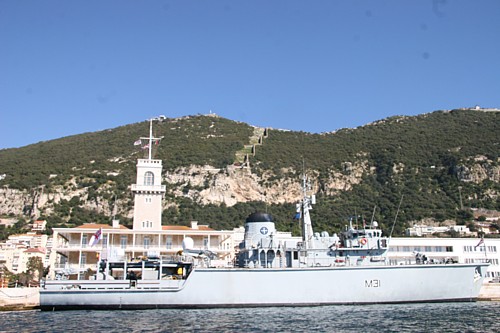 Once safely alongside HMNB Gibraltar, it was time for the tri-service logistics organisation to pull together and organise the arrival of a new engine and a team of specialist engineers, dubbed the 'Tiger Team' from both BAE Systems and Rolls Royce. The ship's own engineers prepared the engine for removal and made all possible advances for the change. With the C-17 Globemaster aircraft in such high demand due to its great transport capabilities and the length of the runway at RAF Gibraltar, it was touch and go as to whether the engine would get to Gibraltar.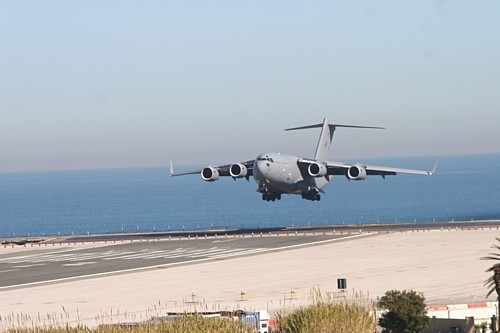 In an unusual series of events, the C-17 Globemaster arrived two days ahead of schedule leaving a complete engine change from flash-to-bang in a mere seven days; only two days longer than the same process takes in HMNB Portsmouth with such logistical anomalies as relying on the RAF to fly the engine into theatre.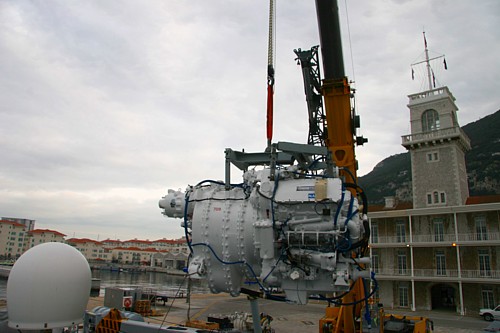 This culmination of efforts from all three Services really highlighted the purpose and capabilities of HMNB Gibraltar as a Forward Mounting Base.
---
22 Mar 13
MCDOA member Al Nekrews decorated in latest Operational Honours and Awards
I was delighted to receive this message from MCDOA member David Hunkin OBE with regard to fellow member Al Nekrews:
"Dear Rob,
It is my great pleasure to inform you that it will be announced today that MCDOA member Lt Cdr Alan Nekrews RN has been awarded the Queen's Gallantry Medal for service in Afghanistan.
Lt Cdr Nekrews & LS(D) Waghorn deployed to Helmand Province last year as our first High Threat IEDD Defeat team. A huge achievement in itself, they subsequently had a difficult and demanding tour for much of which they were one of only two such UK teams in Theatre. Al and 'Waggy' conducted numerous tasks across Helmand supporting coalition troops and Special Forces often at night, under significant operational pressure. I have attached the citation that gives a real sense of the dangers these two faced on a daily basis stoically and in the finest traditions of the Branch:
QUEEN'S GALLANTRY MEDAL
LIEUTENANT COMMANDER ALAN NEIL LAURENCE MICHAEL NEKREWS
ROYAL NAVY
Advanced Explosive Ordnance Disposal Operator
Helmand Province, 25 May 12
Lieutenant Commander Nekrews was tasked to exploit the scene of an explosion that had injured a British soldier, investigating a blanket draped over a fence protecting a culvert on a key route. On arrival, Nekrews deployed his Remotely Controlled Vehicle (RCV) which broke down in the harsh conditions, leaving him with no choice but to make a more dangerous manual approach in the face of the threat from further devices in the area. Whilst conducting the initial stages of his approach to the blanket, Nekrews noted that it contained what appeared to be two devices linked by detonating cord. He then took action to disrupt them remotely and then removed the blanket from the wire using the repaired RCV. Believing the device to now be safe, Nekrews made a manual approach and discovered the complexity of the device was significantly greater than first considered as he was standing next to another entirely viable device. Standing over the device, Nekrews acted immediately, reducing the threat by calmly continuing the task of rendering it safe. The complexity of the task was such that the operation took 16 hours over two days. A newly trained Advanced Operator, Nekrews was operating at the limit of his technical training and experience. Working alone in temperatures approaching 40 degrees Celsius and under threat from further devices and insurgent attack, Nekrews bore the risk with stoic determination and courage, successfully neutralising and making the device safe whilst also facilitating intelligence collection to target those responsible. This is just one example of the numerous devices he has disarmed on this demanding tour.
I am confident I can speak on behalf of the entire Branch in congratulating both Al and 'Waggy' on this tremendous achievement, an achievement that should be duly recorded in our Branch history.
I also attach some photos of the team in Theatre: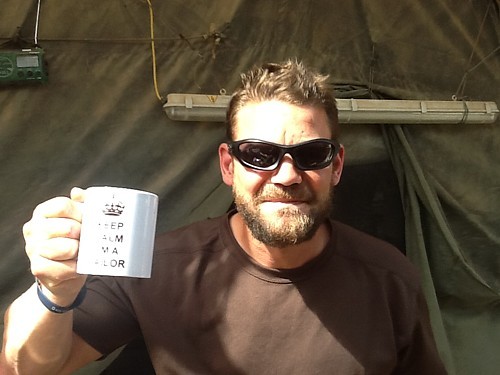 Al, the Hairy Biker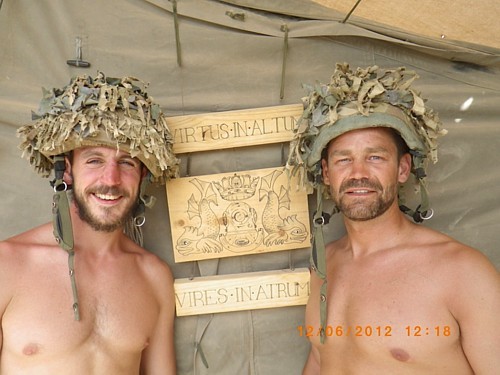 Divers in the Desert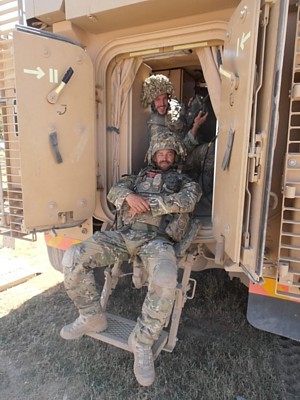 Lt Cdr Nekrews & LD Waghorn take a break
The four-man photo shows from left to right [I think Dave means from right to left]: LD Waghorn (No2), Lt Cdr Nekrews (HT Op), Sgt Simpson (ECM Op), Gunner Young (Infantry Escort).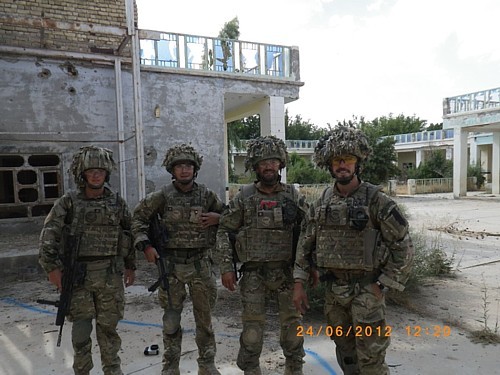 A bad hair day for the team
There is significant pressure today on young MCDOs to 'follow the path' into the ops room as PWOs. I hope this new and challenging alternative, carved by Al and 'Waggy', may offer those less taken with the idea of 'life on a headset' an alternative career in the cutting edge domain of high threat IEDD. It would go a long way in maintaining the Branch's influence and profile where it should be, with the best in Defence Explosive Ordnance Disposal.
Best wishes,
David Hunkin OBE"
---
"Rob,
Further to my last, my sources tell me that LS(D) 'Waggy' Waghorn has been awarded a Commander in Chief's Commendation in recognition of his work in Afghanistan also.
A fantastic result, it is easy to forget how important our No.2s are to us in these situations and this award reflects this. Not only did Waggy provide Al his kit and drive the RCV, he was a sounding board, another opinion and was someone else watching Al's back. It's also easy to overlook the emotional burden of watching your mate walk out of the ICP several times a day, never sure whether he will come back intact or even alive. Not because Al and Waggy got on, but because before they deployed, Al owed Waggy £50 from a night out in Scandals!
Great news and a good day for the Branch.
Best,
Dave Hunkin"
The Daily Telegraph website contains this article and the Royal Navy website this article covering Al's award. There are bound to be several others.
I am confident that all members of our community will join David in congratulating Al and 'Waggers' on their outstanding achievements.
Postscript: The full list of operational honours and awards is now available on the Ministry of Defence website here. Of particular note, the RN website contains this article describing how WO2 Liam Paul Stanley has been awarded the Queen's Commendation for Valuable Service (QCVS) for engineering excellence while serving in HMS Ramsey.
---
From MCDOA member Geoff Goodwin:
"Rob,
Please pass on my very sincere congratulations and best wishes to Al Nekrews for his award of the QGM. The courage and professionalism of our young men and women in Afghanistan cannot be overstated. Even amongst these he stands as a shining example to all MCD officers, a credit to the Branch, the RN and, of course, his family.
All the best,
Geoff"
---
...and an OBE for non-MCD Andy Lamb
I have received this welcome message from MCDOA member Jim Byron DSC:
"Rob,
I have seen the article about Al Nekrews on the website but you would wish to know that Andy Lamb, the current Commander of the First MCM Squadron (MCM1), has also been appointed an OBE for his efforts.
I relieve Andy on 30 April (if I get over this damned pneumonia that is currently plaguing me!) when he moves down to Portsmouth as MCM2.
Kind regards,
Jim"
As chronicled on the MCDOA website, Andy has previously commanded the Sandown Class minehunters HMS Ramsey, HMS Pembroke and HMS Shoreham on operations in home waters and in the Arabian Gulf. I am sure that all members of our community will join me in congratulating him on his well-deserved honour.
---
21 Mar 13 - Morty Drummond's funeral
I am grateful for this report from MCDOA Committee member Norman Brookhouse who represented the Association at the funeral of fellow member Lt Cdr Geoffrey Mortimer 'Morty' Heneage Drummond RN (see entry for 6 Mar 13):
SERVICE OF THANKSGIVING FOR THE LIFE OF MORTY DRUMMOND
"The service was held at 1100 on Wednesday 20th March in St Faith's Church in Lee on Solent. Well attended by members of the MCDOA - namely Norman Brookhouse, Julian Malec, David Sandiford, David Burstall, Brian Dutton, John O'Driscoll, Jon Riches, John Coggins and David Edwards. There were also many other retired naval officers who attended.
The service was conducted by Morty's nephew Rev Geoffrey Fenton - a tribute was given by Morty's daughter Caroline Ward - his son John read a poem by Elizabeth Hardy. The naval hymn complete with the divers' verse by the late Lt Cdr Bill Filer MBE GM was sung.
Refreshments were served afterwards in the Bulson Hall next door to the church."
The Service included these words of the Divers' Prayer:
"Oh Lord, let us experience the closeness of you as we exalt in the glories of the sea;
Permit the upward spiral of our bubbles to form a silver pathway leading to heaven;
Let us share in peace the vibrant beauty of this waterworld with all creatures dwelling within;
Give us the wisdom not to destroy but to observe and study the birthplace of man;
Bring us safely to shore, Oh Lord, that we may tell others of the wondrous world below."
I am grateful to Morty's daughter, Caroline Drummond MBE, for sending me these words of the eulogy she delivered at the service:
"Thank you to everyone who is here to pay tribute to my father Morty. I know that many of you have had to travel long distances to be here and it is a reflection on my father that there are so many loving friends and relatives here today.
For those of you who don't know me, though I'm sure you can tell by my features and the fact that I was known as Minnie Morte as a young child. I am his daughter, Caroline or CD.
Devoted to all his family, particularly his wife, my mother Sally and my two older brothers, John and Charles, his two granddaughters Laura and Gabrielle, who gave him such joy, his sister Iris and her family and my late aunt Merelina as well as his in-laws Katya, Phil, James and Korry. He gave time and thought to everyone else, always before himself, with great love and support.
Born in another century, back in 1920, my father saw, experienced and lived actively in every generation and timeline his long and full life crossed. He never appeared baffled by the great changes over that time, through the great depression, the Second World War, rations, such huge changes in the Navy from HMS Reclaim, the last British warship to have sails and which he captained, to the deepest dives, a family life filled with travel and adventure, to a more recent time of less risk, technology and even mastering emails, he saw and was an active part in building a secure and happy present and future we take for granted.
My father was a pioneer in the diving world. He travelled to depths that none of us can even begin to imagine, taking risks and pushing the boundaries of experimentation in the underwater world, all in the name of our country and his inherent pride and honour, that of a true gentleman.
As his children we were all hugely proud of our devoted father, with his love of the sea. He spent many hours and weekends sailing with us, teaching us to swim and instilling a sense of respect for others, as well as the power of the sea, yes we have all rowed back from the Isle of Wight!!
He would do anything for us. His dedication even meant that he was prepared to sleep on the pavement outside Buckingham Palace with me for the Royal wedding back in 1982.
What is so lovely is his appreciation of the sea never went away, he was still carrying out trips with his four friends – all ex-Navy and Army and all deaf, until only a few years ago. With a combined age of 297, an average age of 74 years old, this wrecking crew would cross the Channel and explore our coasts, on their various trips in pursuit of fun, and half pints of shandy! Among several of his roles, my father would be the poet Laureate and he would always pen a ditti for the voyage! Memories which we can cherish forever.
His other hobbies included woodwork where he honed his great skills, demonstrating his patience - ranging from his early days of wooden eggs, of which we have great collection, to some beautifully fine inlay work.
He was a modest but hugely talented man. There were some things that perhaps he wasn't so capable of doing, but that didn't stop him having a go and of course, this included singing! But what he lacked in tune, he made up for in gusto.
And that gusto spread right through to his fit approach in body and mind. Indeed, it was only a few weeks ago that my mother on hearing a bump in the bedroom went to check he was all right, only to find the door shut, the light on and my father face down on the carpet. On finding him, alarmed, my mother said, Morty are you alright? To which he replied, 'just finishing off my press ups'.
My father was from a generation whose values are increasingly being lost, but the strength of his calm, strong character will be cherished as an example for us all to revere in our own lives demonstrated by so many of us being in this church today.
There are not enough words in the dictionary to describe what a kind, loving, thoughtful, deeply religious, true and generous man he was. And if only a small part of him has rubbed off on each of us it will make us all better people. Thank you for all the kind words and memories that you have shared with my mother and us all in your letters and in being here today, they are great comfort during this time.
Death leaves a heartache no one can heal, love leaves a memory no one can steal.
I am, was, and always will be very proud of my father.
He will be sorely missed, but we must relish the fact that we were all so blessed to be able to share his happy and fruitful life and live with those valuable memories."
MCDOA member Brian Dutton DSO QGM has informed me that the congregation also heard that Morty's father, Lt Cdr Geoffrey Heneage Drummond RNVR, was awarded the Victoria Cross for his actions supporting HMS Vindictive while in Command of ML 254 during the Second Ostend Raid in May 1918. His likeness to Morty in the portrait on the first Wikipedia link above is startling.
Soapy Watson, our Honorary Secretary/Treasurer, has despatched a cheque on behalf of the MCDOA to Morty's chosen charity, Seafarers UK, via the funeral director in lieu of flowers.
Lt Cdr Geoffrey Mortimer 'Morty' Heneage Drummond RN
(13 Oct 1920 - 28 Feb 2013)
---
From Morty's daughter Caroline:
"Thank you for this – with all good wishes.
Caroline Drummond MBE"
---
19 Mar 13 - HDS Diving Museum update

MCDOA associate member Dr John Bevan, Chairman of the Historical Diving Society (HDS), has provided this update about the Diving Museum in No.2 Battery at Stokes Bay and the WWII bunker in Gosport used as the Society's library and repository for the museum's reserve collection:
"GOOD NEWS!
We have been plodding away at refurbishing the Diving Museum over the winter.
Sparkling new railings and approach!
The railings around the external exhibits have been repainted in shiny black and the approach a dazzling white thanks to James Thomson and John Dadd [both ex-RN CDs].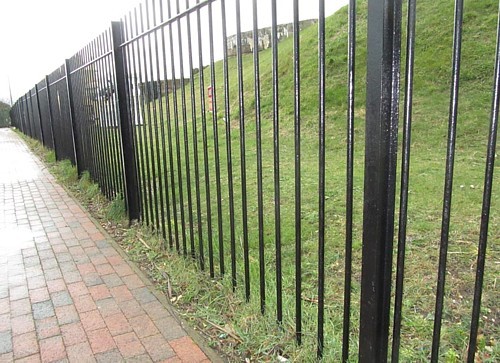 Shocking orange bell!
The North Sea diving bell has been revitalised with a new coat of bright orange paint thanks to James Thomson and John Dadd.
New extension into the magazine!
We have opened up the first ("Bravo') magazine as an extension to the Museum! The extra space is now being prepared as a special "Gosport achievements" room thanks to Ann Bevan. Ann is also preparing new signage throughout the Museum. Here is her revised floor plan: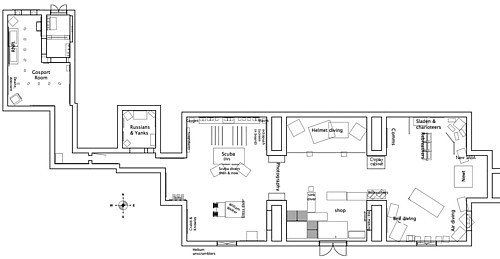 Extended electricity circuits!
Additional lighting and powerpoints have been installed in the magazine thanks to Ray Mabbs, Roy Gould and Paul Beard.
Rebuilt 'Shifting Lobby'!
The Shifting Lobby where the artillery men changed before entering the gunpowder store has been rebuilt according to the classical design thanks to Barry Stayte, Dougie Saunders and Martin Marks.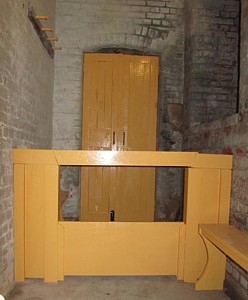 HMS Reclaim Diving Bell rebuild!
The fourteen gas cylinders (Heliox and oxygen) will be installed shortly thanks to Gavin Anthony [an MCDOA Associate Member] and British Oxygen.
New Newtsuit exhibit!
The major new exhibit of the Newtsuit will be unveiled at our re-opening over Easter. Thanks are due to Mike O'Meara [another ex-CD] and Subsea 7 for this million-pound investment in the Museum!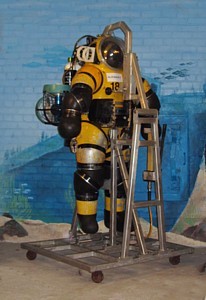 Oxygen booster pump!
John Dadd and James Thomson are also restoring an oxygen booster pump donated by Brian Bickell, ex-Royal Marine, and professional diver.
New Sydney Knowles exhibit!
Our Buster Crabb exhibit has been significantly enhanced by the display of personal items of Sydney Knowles BEM who died last year, including his medals, diver's hat, knife, paintings and book. Special thanks are due to his widow, Frances Knowles.
LR3 Diver Lock-out submersible!
We are in the deep discussions with the Royal Navy Submarine Museum to acquire the LR3 Vickers Diver Lock-Out Submersible which could happen any time now.
Royal Navy Diving Doctors course!
Following the recent success of a Royal Navy Diving Doctors Course from the nearby Institute of Naval Medicine, a vist to the Diving Museum is going to be included in their syllabus for their annual courses. Thanks are due here to Gavin Anthony of QinetiQ.
TV coverage for the HDS and the Diving Museum!
BBC2's Antiques Road Trip will be filming at the Diving Museum from 1330 on Sunday 19 May. This will complement our recent BBC TV filming of 'Who Do you Think You Are?' with Sarah Millican in Whitstable Museum to be shown around September starring Gary Wallace-Potter and Peter Wingett not to mention Sky TV's 'A League of their Own' starring John Smillie being shot this weekend in Elstree Studios. John has also helped out in filming a TV advertisement near Preston.
Updated security audit!
Martin Marks has carried out a detailed security audit. All Guides will need to familiarise themselves with the contents.
Gosport's Big Day Out - Sunday 2nd June 2013
We will be involved with a special rate of £1 per person for that day.
Thank you
Thanks to Dougie Saunders who has been braving the stormy Solent and gale-force winds on his bike to come over to the mainland and help with the refurb effort.
Also, thanks to John Towse who ran the gauntlet with about 60 eleven-year-olds at Portchester Primary School with a superb Powerpoint presentation on behalf of the HDS and Diving Museum. Gavin Anthony kindly provided 23/77 heliox for the helium voice demonstration.
Re-opening date
We are in the final stages of preparing for our reopening on Good Friday, 29 March. Please get in touch if you would like to join in our happy throng of Guides!
A hearty "WELL DONE!" to everybody who is helping to make the Diving Museum such a huge success!
JohnB"
The HDS Museum relies on a handful of volunteer guides, at least two but ideally three of whom need to be on site when it is open for business at weekends during the summer. If you live locally and can spare the odd few hours, please contact John Bevan via this email address or call him on 07802 785050. You will then be given access to the online roster to fill in your own dates as and when you are available. You don't have to be an HDS member to get involved in this or any other way.
---
18 Mar 13 - £100 million bomb disposal training facility opens
The Ministry of Defence website contains this article describing last Friday's official launch of the Defence Explosive Ordnance Disposal (EOD), Munitions and Search Training Regiment (DEMS Trg Regt) at its new £100 million facility at St George's Barracks in Bicester. The new DEMS Trg Regt HQ has been eight years in the planning and replaces the previous facility at Lodge Hill in Kent, bringing together personnel from all three Services.
The article features this image of AB(D) Philip Rowland: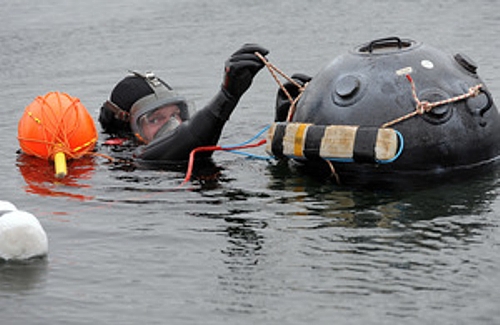 AB(D) Philip Rowland
(MoD website photo)
---
17 Mar 13 - Minewarfare Association Annual Dinner
Congratulations to MWA Chairman Robert 'Dixie' Dean MBE, Vice Chairman Peter 'Taff' Reader and Treasurer Pete Whitehead, among others, for organising such an enjoyable and well-attended dinner at the Royal Maritime Club in Portmouth last night as the culmination of the MWA's Annual Reunion and AGM weekend.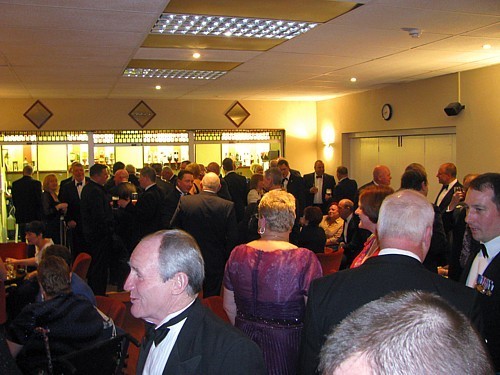 Some of the MWA Dinner attendees gathering flying speed before the dinner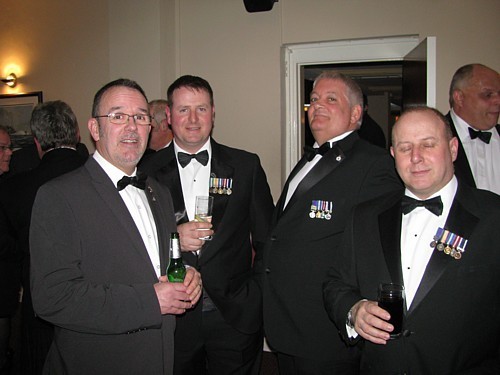 Wayne 'Pony' Moore regaling Pete Mills, Pete Whitehead and Alan 'Bomber' Mills
with yet another 'riveting' minesweeping dit
From my own point of view, it was wonderful to see so many old friends again, including some harking back to the early 1970s.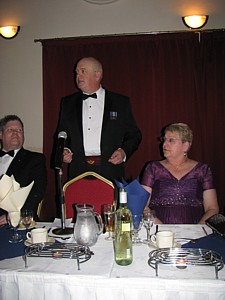 Taff Reader mentioning the 6 Nations
rugby result, welcoming everyone and
mentioning the 6 Nations rugby result
MCDOA dual-hatted members present comprised John Bainbridge, Tim Curd with his wife Mannie, MCDOA past-Chairman Paul Jones with his wife Yvonne, Bill Kerr with his wife Caroline, Martin Mackey with his wife Fiona, George Turnbull with his wife Louise and Yours Truly (Rob Hoole). Other attendees included Gary Abnett, Bagsy & Fee Baker, Ronnie (MWA Webmaster) and Nettie Barker, Lee 'Barney-Two-Ts' Barnett, Tony 'Pinta' Beer, Benny Bennion, Taff Bow, Phil & Sue Brace, Basher Briggs, Benny Carroll, Max Coffey, Peter Cooling, George & Lindy Coyle, Dixie Dean, John & Ellen Docherty, Steve Doyle, Ian 'Herman' Gearing and his wife, Gordon Gover, John & Kate Gunter, Steven 'Jumbo' & Dalma Hallissey, Jim Hawkins, John Hibbert and his guest Sue, Chris 'Charlie' Howe, Sean Keen, Andy Lamb, Jim McLeod, Alan 'Bomber' Mills, Pete Mills, Wayne 'Pony' Moore, DJ Moores, John 'Rattler' Morgan, Dave Payne, Paul 'Polly' Porter, Peter 'Taff' & Sue Reader, Dorian 'Simmo' & Julie Simmonds, Nigel 'Slim' & Tracey Sizer, Nick Smith, Jasper & George Stride, Jan Takel, Shelley Ward, Steve & Lorna Westby, Peter & Karen Whitehead and Ginge Wilcockson. I apologise to those I have missed out but I will happily add your names to the list if you contact me.
Paul Jones, the outgoing CO of HMS Excellent, delivered a hilarious after dinner speech in which he described some of the colourful times he had shared with many of the assembled diners during the course of his naval career.
Left: Dixie Dean welcoming attendees and promoting Project Vernon in a dignified manner
Right: Paul Jones mentioning the 6 Nations rugby result and setting the tone for the rest of
the evening (you know what he's like)
As customary on such MWA occasions, several hundred pounds were raised for Project Vernon, the campaign to erect a monument at Gunwharf Quays to commemorate the Minewarfare & Diving heritage of HMS Vernon. A specific raffle for a framed limited edition print of 'Vernon Creek' (get yours here) was won by Gary Abnett and I was joint-winner with Wayne 'Pony' Moore of a chaotic game of sponsored musical chairs organised by Antony 'Pinta' Beer (John 'Doc' Docherty has the photographic evidence). I apologise to anyone I may have injured in the process. In the general raffle, I was somewhat disappointed that the ladies who went up to select their prizes seemed more keen on the booze and chocolates than my own contribution of a Revell scale model of a Mk VII minelaying U-boat (complete with paint and plastic cement) but we all have our crosses to bear.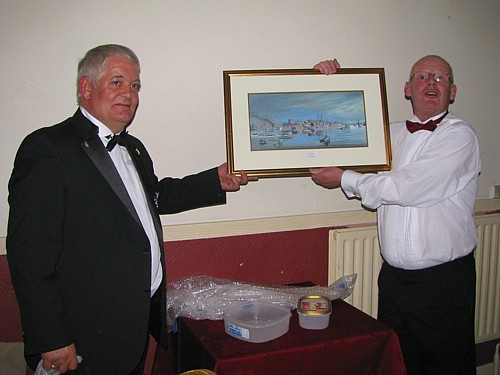 The ever-jovial Pete Whitehead presenting Gary Abnett with
his Project Vernon print of 'Vernon Creek'
I was too busy meeting and chatting with old friends to take as many photos as usual but here are some featuring MCDOA members. I have uploaded more to the MWA website.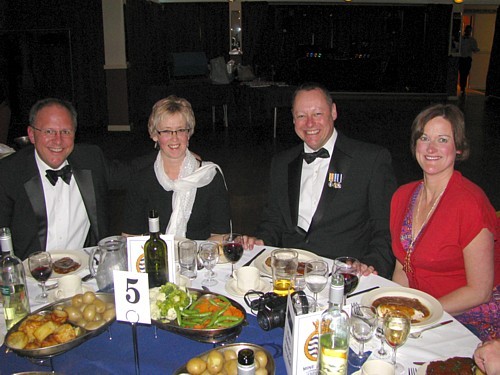 MCDOA member Martin Mackey with his wife Fiona and John Gunter with
his wife Kate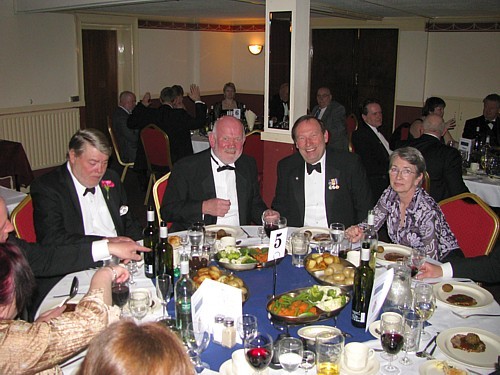 MW Branch pioneers Barney Barnett and Rattler Morgan with MCDOA member
Tim Curd and his wife Mannie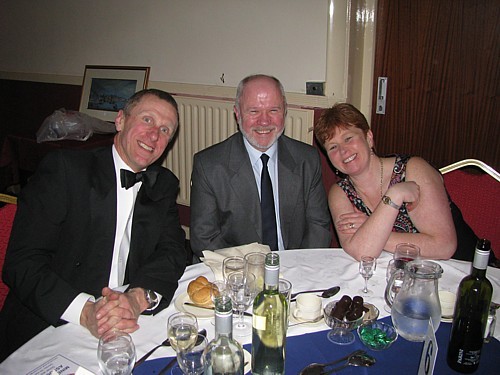 MCDOA members John Bainbridge and Bill Kerr with Bill's wife Caroline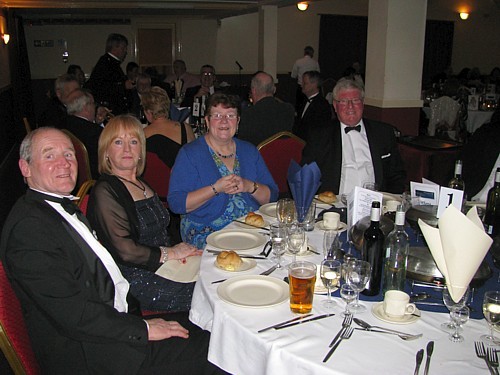 MCDOA member George Turnbull with his wife Louise and Ellen & John Docherty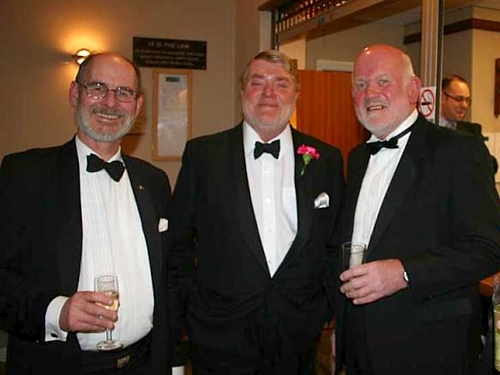 MCDOA Vice Chairman Rob Hoole with Barney Barnett and Rattler Morgan
---
16 Mar 13 - A message from Angie Dowland
I have received this gracious message from Angie, wife of the late MCDOA member Pat Dowland (see second entry for 14 Mar 13):
"Dear Rob,
I and my family want to thank you and all the other MCDOA members for coming to Pat's Service of Thanksgiving. It was good to see everyone again. Also thank you for creating the website article about the service.
I shall be attending St Faith's Church on 20th of March for Morty's service.
Thank you again for your help.
Best Wishes,
Angie"
---
15 Mar 13 - A dynamic duo
My eye was caught by the name of BAe Systems' Type 45 programme director, responsible for the delivery of the Royal Navy's newest destroyer, HMS Duncan, in this article on the Portsmouth News website and this article on the Glasgow Evening Times website. It is Jennifer Osbaldestin and it transpires that she is married to MCDOA member Richard Osbaldestin, Commanding Officer of Northern Diving Group (NDG).
Richard says:
"...Jennifer is one of us anyway, an ex-MWO who qualified in 1998. Formerly Jennifer Gibson, she was Ops of HMS Penzance and XO of HMS Pembroke before leaving the RN in 2002 after an 8-year commission. It just so happens that she married a diver along the way!!"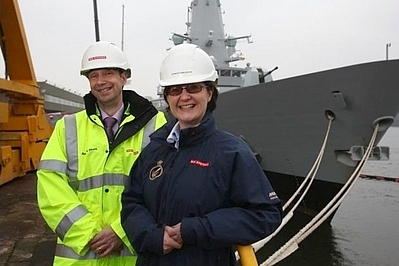 BAE Systems' UK programme director Angus Holt with
Jennifer Osbaldestin, Type 45 programme director
(Glasgow Evening Times website photo)
BZ to both of you.
---
14 Mar 13
A hauling down message from Martin Mackey
MCDOA member Martin Mackey has promulgated this announcement: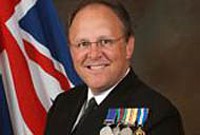 Cdr Martin Mackey RN
"Dear All,
I would like to take this opportunity to let you know that I leave the post of Commander Second Mine Countermeasures Squadron (MCM2) this afternoon. I start my new job in the MOD's operations directorate as one of the lead planners for the UK's Counter-Terrorism and Resilience division next Monday. I will be handing over the command reins to Commander Andy Lamb who is currently MCM1. He will be providing a command over-watch of the Sqn whilst he acts as both MCM1 and MCM2 before taking up permanent residence in this post at the beginning of May.
It has been a real pleasure to be in command of the Second MCM Squadron as well as the UKMCMFOR on OP KIPION in the Gulf. A busy couple of years has seen the UK's MCM community retain its hard won reputation on the international stage and continue to deliver on the frontline around the UK, the Med and in the Gulf.
Thank you for the support that you have given me and the crews in the Second MCM Squadron.
Regards,
Martin"
We wish Martin all the best in his new appointment.
---
Pat Dowland's funeral
The Service of Thanksgiving for the life of MCDOA member Pat Dowland, held at Crofton Old Church in Stubbington on 12 March (see second entry for 1 Mar 13), attracted a respectable number of family, friends and members of organisations with which he was associated. MCDOA members present included Dr John Bevan, Norman Brookhouse, John Coggins, David Edwards, Cyril Lafferty, Julian Malec, John O'Driscoll, Alan Padwick, Jon Riches and David Sandiford as well as your humble Vice Chairman & Webmaster (Rob Hoole). Other attendees included Morty Drummond's recently bereaved wife Sally plus Irene Strange (widow of PO(D) Albert Strange) and Edda Rea (widow of MCDO Lt Cdr Jackie Rea RN) whose husbands had both worked with Pat on CD teams, as well as Jackie and Edda Rea's son Peter.
The Service was conducted by the Revd Stephen Girling, Vicar of Crofton Parish, and started with the hymn 'Morning has Broken'. This was followed by a tribute read by the vicar, which described how Pat was raised by his Australian father and South American mother before joining the Royal Navy at Dartmouth at the age of 13. He started as a submariner before becoming a clearance diving officer and serving in a range of shore and seagoing posts including appointments in Malta and the USA. He also met and married Angie with whom he had four children: Terry, Tessa, Caroline and Peter. In turn, they provided him with five grandchildren. On leaving the Royal Navy, he worked offshore for BP, spending the last two years in Scotland. After his retirement, he pursued his interest in sailing and was an active member of his local Conservative Association. He also researched his family tree which eventually led to a reunion attended by 230 relatives at Wagga Wagga in Australia.
The vicar then read Ecclesiastes 3 verses 1 to 14 (To every thing there is a season) before using it as the basis for his Address. The congregation then sang 'The Lord's My Shepherd' and said Prayers before singing the Naval Hymn (Eternal Father).
After the Blessing, most of the congregation decamped to the Osborne View, overlooking the Solent at Hill Head, to partake of the buffet and raise a glass in Pat's memory.
Soapy Watson, our Honorary Secretary/Treasurer, has despatched cheques on behalf of the MCDOA to Pat's chosen charities, The Alzheimer's Society and The Friends of Crofton Old Church, via the funeral director in lieu of flowers.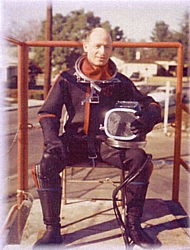 Lt Cdr Patrick Francis Dowland RN
(31 Oct 1930 - 16 Feb 2013)
---
13 Mar 13 - Double presentation for former exchange RAN MCD officer
I am grateful to MCDOA member Jim Byron DSC for drawing my attention to this article on the Royal Australian Navy website. It describes the presentation of the QCVS (Queen's Commendation for Valuable Service) and the NATO Medal for Service on Operation UNIFIED PROTECTOR in Libya to Lt Cdr Jace Hutchison RAN by Commander Australian Fleet (Rear Admiral Tim Barrett AM SCS RAN) on 28 February.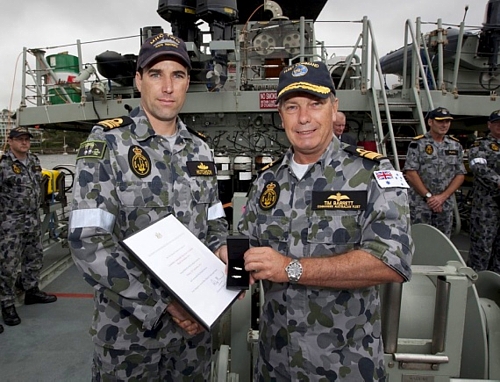 Lt Cdr Jace Hutchison RAN, CO of HMAS Huon, being presented with the QCVS
by Commander Australian Fleet on board HMAS Huon
(RAN website photo)
Jace received these awards in recognition of his service, while on exchange with the RN, as XO of HMS Brocklesby (MCM2 Crew 3 at the time) during Operation ELLAMY, the UK name for the Libyan campaign (see entry for 28 Sep 12 in News Archive 39). He had already received a CINCFLEET Commendation (see entry for 6 Oct 11 in News Archive 36). Jim Byron was awarded the DSC for his service as Brocklesby's CO during the same operation (see entry for 7 Dec 12 in News Archive 40).
Coincidentally, the hard work and high standards achieved by the crew of HMAS Huon under the leadership of Jace Hutchison during 2012 was recognised with the presentation of the Rushcutters Shield. Commander Australian Fleet, together with Commander Mine Hunter Patrol Boat Force (Captain Bob Plath RAN), presented the Shield to the ship's company alongside their base at HMAS Waterhen.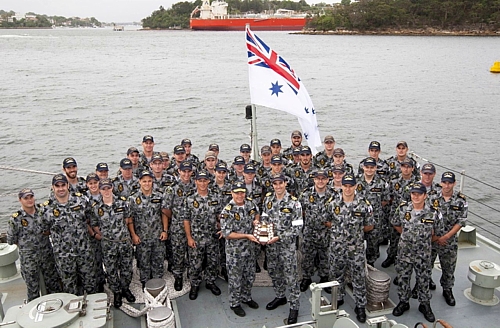 Commander Australian Fleet presenting HMAS Huon and her ship's company
with the Rushcutters Shield alongside at HMAS Waterhen
(RAN website photo)
Congratulations to Jace and his fine ship's company.
Also see the entry for 2 Sep 10 in News Archive 31.
---
12 Mar 13 - Ex-USS Guardian salvage operations
As can be seen, the dismantling and salvage of the former Avenger class MCMV USS Guardian, stranded on the Tubbataha Reef in the Philippines since 17 January, has continued apace (see entry for 3 Mar 13). It is believed that her hull will be cut into three sections for recovery and removal after her systems and equipment have been extracted.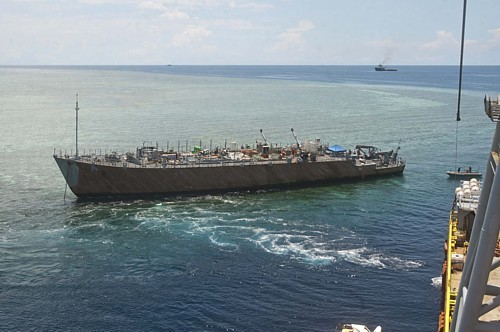 Ex-USS Guardian reduced to a sorry state
(US Navy photo by Mass Communication Specialist 3rd Class Kelby Sanders)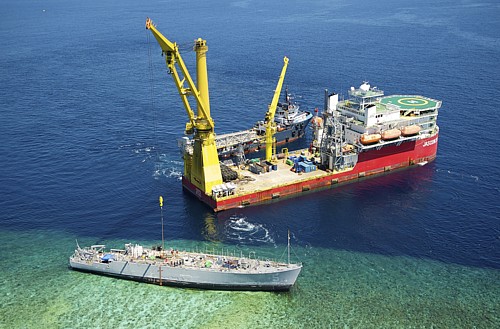 Aerial view of the US Navy-contracted vessel Jascon 25 alongside the
contracted tug Archon Tide while dismantling ex-USS Guardian
(US Navy photo by Mass Communication Specialist 1st Class Anderson Bomjardim)
Photos are constantly updated on the Defense Video and Imagery Distribution System (DVIDS) website here.
---
11 Mar 13 - HMS Protector's divers in Antarctica
The Royal Navy website contains this article (including video) and the Navy News website this article describing the recent activities of HMS Protector's diving team during their deployment in the Antarctic. The articles feature LS(D) Chris Hayes, HMS Protector's diving team leader. Royal Navy photos by LA(Phot) Arron Hoare.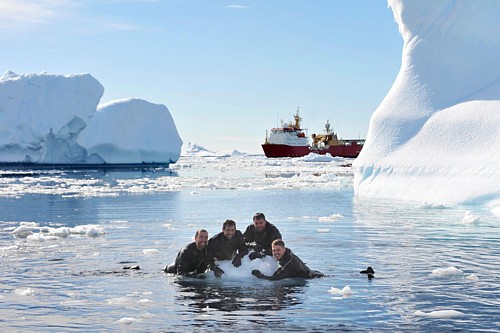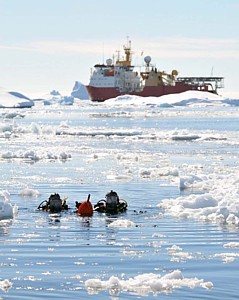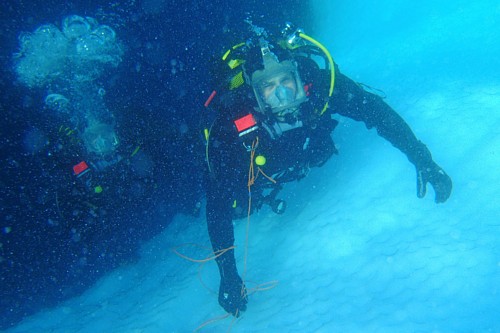 ---
10 Mar 13 - MCDOA Northern Dinner photos
MCDOA member Phil Ireland DSC has kindly sent me this message regarding the MCDOA Northern Dinner held in HMS Neptune's wardroom on 28 February:
"Rob,
Here's a link to all the photos from the northern dinner on 28 Feb:
Click here to view 201302-MCDOA(N) Dinner
Alan Bayliss gave us some hilarious dits from across his long career from boy seaman at HMS GANGES in 1954 through to hanging up his uniform as a Retired Officer 49 years later. Worthy of note, Cdre Richard Moore and Lt Cdr John Staveley made the trip especially because Alan was our Guest of Honour.
I was delighted to host this dinner in particular as it was my last formal duty as Wardroom Mess President HMS NEPTUNE before leaving the base the following day.
Best Regards,
Phil"
---
9 Mar 13 - HMS Ramsey 'clean and happy' after divers scrub unseen parts
The Royal Navy website contains this article describing how divers, including MCDOA member Ben Stait (Chief of Staff to Cdr UK MCM Force based in Bahrain), have been performing some 'spring cleaning' underneath HMS Ramsey (MCM1 Crew 1).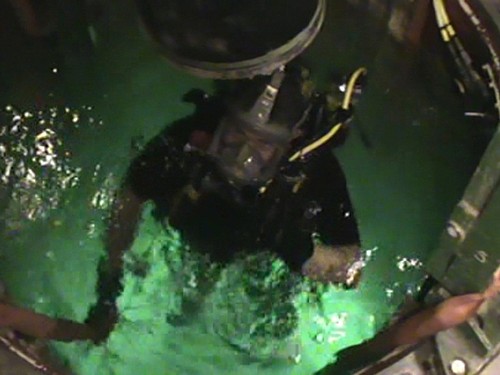 MCDOA member Ben Stait in HMS Ramsey's 'moonpool'
(RN website photo)
---
Senior admiral thanks Gulf minehunters' crucial shore-side support team
The Royal Navy website also contains this article describing the gratitude shown by Fleet Commander Vice Admiral Philip Jones for the ongoing efforts of the UK MCM Support Team in Bahrain.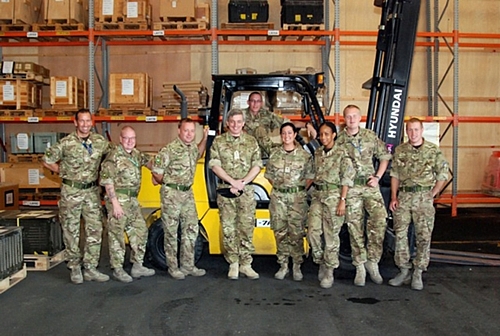 UK MCM Support Team in Bahrain
(RN website photo)
---
8 Mar 13 - RN minehunters support UK trade at Gulf Defence Exhibition
The Royal Navy website contains this article describing the participation of HMS Shoreham (MCM1 Crew 7) and HMS Ramsey (MCM1 Crew 1) in the Naval Defence Exhibition (NAVDEX ), part of the International Defence Exhibition (IDEX 2013) in Abu Dhabi (see entry for 27 Feb 13).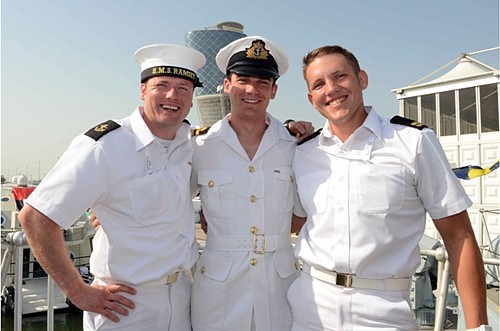 HMS Ramsey personnel at IDEX
(RN website photo by LA(Phot) Maxine Davies)
---
6 Mar 13 - Funeral arrangements for the late Lt Cdr Geoffrey Mortimer 'Morty' Heneage Drummond RN
The funeral of MCDOA member Morty Drummond, who passed away on 28 February (see entry for 1 Mar 13 with appended tributes), will be held at 1100 on Wednesday 20 March at St Faith's Church, Victoria Square, Lee-on-the-Solent, PO13 9NF followed by refreshments in the adjoining Bulson Hall. The congregation is requested to wear Naval/Diving or Regimental ties rather than black ties.
It is also requested that, in lieu of flowers, donations are made to Seafarers UK care of the Funeral Director:
A.H. Freemantle
Funeral Directors
46 South Street
Titchfield
Hampshire
PO14 4DY
Tel: 01329 842115
The following format is suggested:
"To the memory of Lt Cdr Geoffrey Mortimer Heneage Drummond RN
Please find enclosed a cheque for the sum of £........ to the memory of Morty Drummond in aid of Seafarers UK. I am a United Kingdom taxpayer intending tax to be reclaimed on the enclosed donation made under the Gift Aid scheme.
Yours faithfully,
Persons Full Name
Address including post code
Tel no.
Date...................... Signed............................................."
Regrettably, I will be attending a close relative's funeral on the same day but MCDOA Committe member Norman Brookhouse has kindly agreed to represent the Association. It transpires that Morty was his "snotties' nurse" (midshipmen's training officer) in the light cruiser HMS Sheffield in 1955!
---
5 Mar 13 - HMS Pembroke visiting Glasgow tomorrow
The Royal Navy website contains this article announcing the arrival of HMS Pembroke (MCM1 Crew 8 commanded by MCDO Matt Moore) in Glasgow tomorrow for a short visit.
HMS Pembroke returning to Faslane in August 2012 after three years
in the Arabian Gulf
(RN photo by LA(Phot) Paul Halliwell)
---
4 Mar 13 - Promotions to Warrant Officer
Congratulations to CPO(MW) Chris Bamber (MCM2) and CPO(D) Dave Slade for being named on the latest signal for promotion to Warrant Officer.
---
3 Mar 13 - USS Guardian salvage operations
The Philippine Inquirer website contains this article describing progress made to date with the dismantling and salvage of the Avenger class MCMV USS Guardian, stranded on the Tubbataha Reef in the Philippines since 17 January (see entry for 6 Feb 13).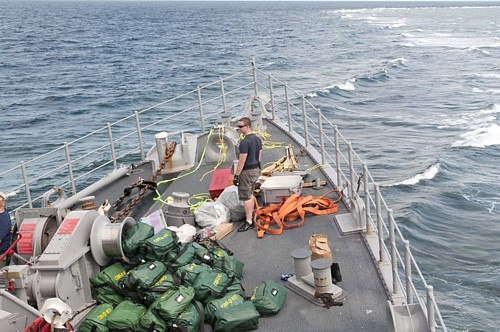 A US Navy diver moves damage control equipment and other materials
on board USS Guardian
(U.S. Navy photo by Mass Communication Specialist 3rd Class Kelby Sanders)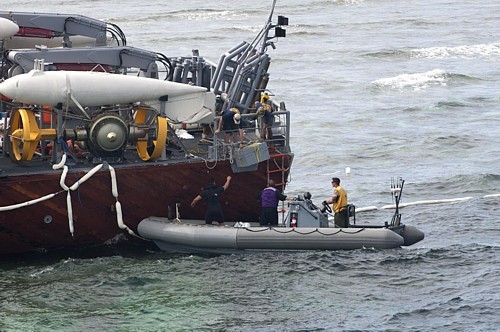 US Navy sailors transfer loose gear from USS Guardian to a rigid-hull
inflatable boat (RHIB) as part of ongoing salvage efforts
(US Navy photo by Mass Communication Specialist 3rd Class Kelby Sanders)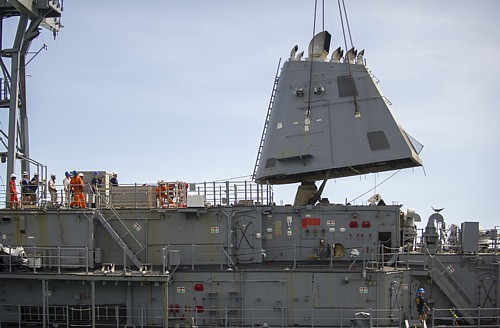 Sailors from Mobile Diving and Salvage Unit 1 and US Navy contracted salvage crew
members from the M/V Jascon 25 safely remove the exhausts funnel structure from
USS Guardian, a milestone in the dismantling process
(US Navy photo by Mass Communication Specialist 1st Class Anderson Bomjardim)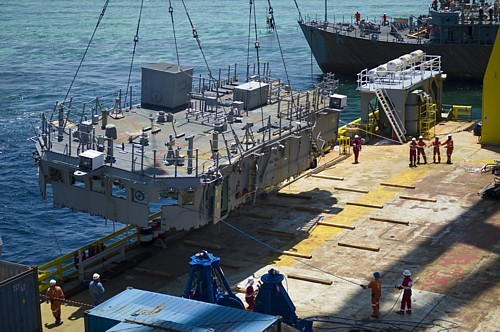 The US Navy contracted vessel M/V Jascon 25 and its salvage crew guide the
second deck level of USS Guardian on to the deck of the vessel
(US Navy photo by Mass Communication Specialist 1st Class Anderson Bomjardim)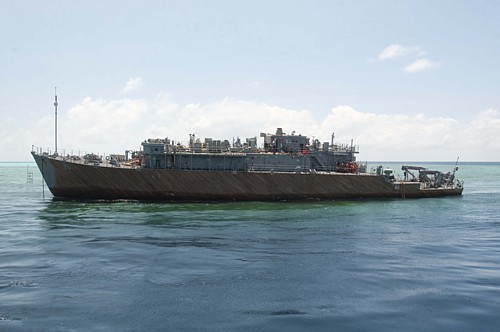 USS Guardian with upper half of superstructure, funnel and mast removed
(US Navy photo by Mass Communication Specialist 3rd Class Kelby Sanders)
More photos here. The US 7th Fleet website contains this article announcing that USS Warrior (MCM 10) will deploy to US 7th Fleet Forward Deployed Naval Forces (FDNF) in Sasebo, Japan, to replace USS Guardian (MCM 5). The US Navy will conduct a formal decommissioning ceremony for USS Guardian in Japan on 6 March.
Postscript: The US Navy website contains this article describing the decommissioning ceremony for USS Guardian held at the Sasebo Navy Base in Japan on 6 March 2013. Click on the article's main image to see a sequence of photos of the event.
---
2 Mar 13 - Gulf minewarfare exercise
The MoD website contains this article, the Royal Navy website this article and the Navy News this article describing a recent MCM exercise in the Gulf. The exercise involved three of the UK's four Gulf-based minehunters (HMS Quorn (MCM2 Crew 8), HMS Ramsey (MCM1 Crew 1) and HMS Shoreham (MCM1 Crew 7)), their Royal Fleet Auxiliary mother ship (RFA Cardigan Bay) and two Royal Navy frigates (HMS Northumberland and HMS Monmouth) linking up with US forces for eight days.
The articles feature MCDOA member Pete Davis, AB(D) Phil Barham and AB(D) Thomas Long of HMS Atherstone and contain some stunning photos.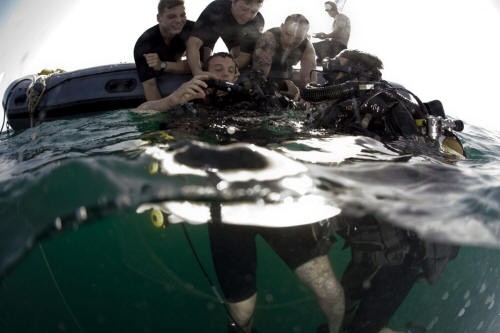 RN divers from HMS Atherstone and Fleet Diving Unit 3 conducting a 'casualty' recovery
(RN website photo by Mass Communication Specialist 3rd Class Jumar T Balacy, US Navy)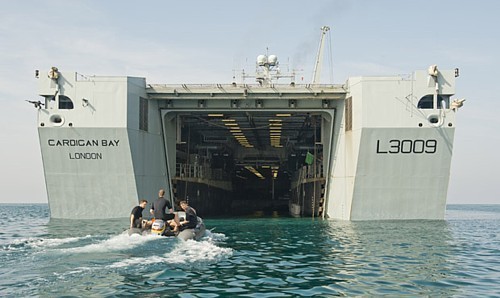 Divers returning to RFA Cardigan Bay
(Navy News photo by Mass Communication Specialist 3rd Class Jumar T Balacy, US Navy)
Postscript: On 6 March, the Plymouth Herald website published this article covering the same story.
---
1 Mar 13
Death of Lt Cdr Geoffrey Mortimer 'Morty' Heneage Drummond RN
I am sorry to have to report this so soon after Pat Dowland's demise on 16 February but MCDOA member Morty Drummond died yesterday afternoon at the Queen Alexandra Hospital near Portsmouth following a short illness. His wife Sally and son John (an ex-submariner Cdr) were chatting with him until just before he died peacefully. I am in communication with John and have passed my condolences on behalf of our community. Funeral arrangements will be publicised as they become available.
Morty's name and face are sprinkled around the MCDOA website quite liberally for all sorts of reasons. Just type 'Drummond' into the search box on the Home Page to see what I mean. He was a staunch supporter of MCDOA events and this photo shows him in typical form with two of his contemporaries in the wardroom bar at HMS Excellent after our annual dinner in 2001.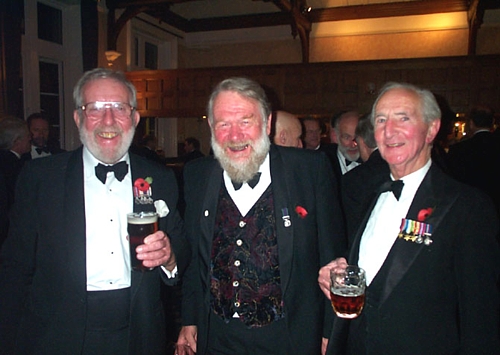 Doug Barlow, David Edwards and Morty Drummond at the MCDOA Annual Dinner
in HMS Excellent's wardroom in November 2001
Together with his fellow MCDOA member, the late Franky Franklin, Morty was a member of the first ever CDO course. It started at HMS Lochinvar in May 1950, even before the formation of the Clearance Diver branch in February 1952. From what I can piece together, Morty then headed up the Diving Section at HMS Vernon until 1953 when he joined the Algerine class minesweeper HMS Jaseur of the 6th Minesweeper Flotilla (6th MSF) at Singapore. He sailed for the UK in company with other ships of the flotilla in 1953, arriving home in 1954.
Left: HM Ships Lysander, Magicienne, Michael, Maenad and Jaseur alongside at Saigon in Nov 1953
Right: Morty Drummond (third from right in front row) on board HMS Jaseur at Malta in 1954
For his next appointment, Morty was the Diving Officer (and eventual Commanding Officer) of the Royal Navy's Deep Diving and Submarine Rescue vessel HMS Reclaim where he was instrumental in the late MCDOA member George Wookey's world record-breaking dive to 600 feet in Sørfjorden, Norway on 12 October 1956 (see 'HMS Reclaim - A World Record-Breaker' in the website's Dit Box). In October 2006, Morty and his wife Sally were invited to attend the unveiling of a plaque to commemorate the 50th anniversary of this historic event (see entry for 16 Oct 06 in News Archive 16).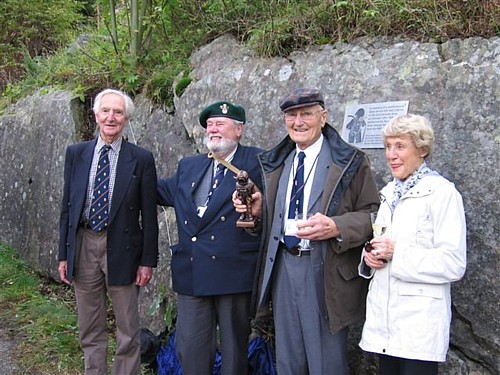 Morty Drummond and Ron Maitland-Flanagan with George & Patrice Wookey
in front of the commemorative plaque at Sørfjorden in Norway in October 2006
Between March 1958 and May 1960, Morty was the Officer-in-Charge of the RAN Diving School at HMS Rushcutter near Sydney.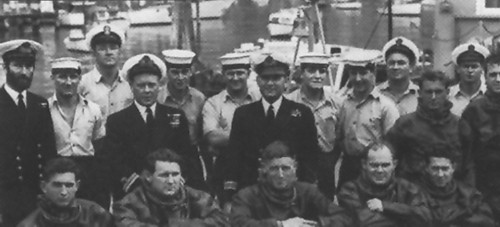 Morty Drummond (extreme left) at RAN Diving School, HMAS Ruchcutter c.1958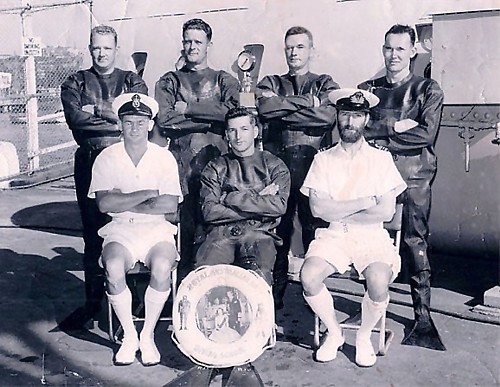 Morty Drummond (sitting right) at RAN Diving School, HMAS Rushcutter c.1958
In May 2006, Morty was reunited with pioneering Australian Clearance Diver Cdr Jake Linton BEM RAN (see 'A Clearance Diving Experience' in the website's Dit Box) when Jake and his wife Anne paid a visit to the UK.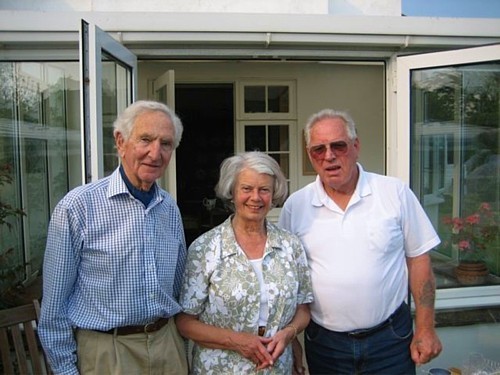 Morty Drummond and his wife Sally at their home with Jake Linton, pioneering
Australian CD and Patron of the RAN Clearance Diver Association, in May 2006
I saw a fair bit of Morty and am particularly fond of this photo showing one of our get-togethers at Lee-on-the-Solent Sailing Club in April 2010 as guests of the late MCDOA member 'Uncle Bill' Filer.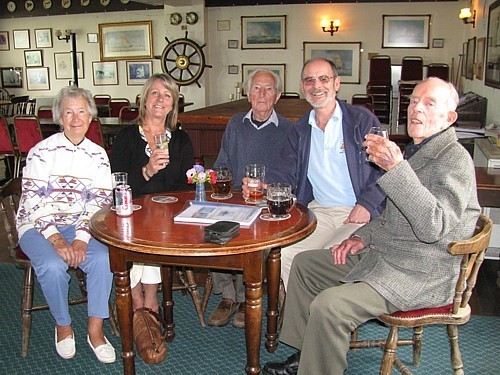 Morty Drummond flanked by the late Jackie Warner MBE DSC's daughter
Claire and her partner's mother Maggie on his right and Yours Truly
(Rob Hoole) and the late 'Uncle Bill' Filer MBE GM on his left in April 2010
In July 2011, Morty and Sally were present at the formal opening of the HMS Reclaim conference facility at Fleet Diving Headquarters on Horsea Island and drew the ticket for the 'star prize' in a raffle held in aid of Project Vernon.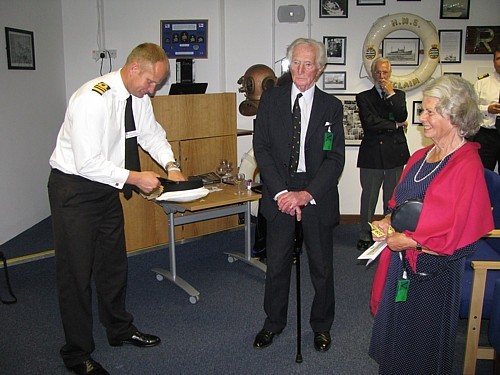 MCDOA Honorary Treasurer Soapy Watson shuffling raffle tickets
ready to be drawn by Morty and Sally Drummond in July 2011
I am sure that other members of our community can fill in some of the many gaps in my knowledge about Morty's life and career.
---
From MCDOA member Dave Forsey:
"Sad to hear of Morty's passing. We served together in HMS Jaseur in the Far East - I was a Telegraphist at the time - and friends thereafter.
Regret unable to be at his funeral.
Dave Forsey
---
From MCDOA member Cyril Lafferty:
"Dear Rob,
The recent news of Morty's death has triggered some memories.
My first job after qualifying as a CDO was as the Diving Officer of HMS Reclaim. I arrived on board in Teneriffe on the day that President Kennedy was shot, and the day after my second son was born [22 November 1963]. I relieved Lt John Wilson and we were hosting Morty Drummond and the Experimental Diving Unit which included CPO Mona Lott. The Captain was Lt Cdr Peter Simpson, our doctor was David Elliott and our Chief Diver was Pat Christmas.
We were conducting deep HeO2 dives. I personally only completed a work-up dive to 300 ft but the others achieved 450 ft (I may be wrong on that as I know we were aiming for deeper). The ship moored in very deep water, about 1,000 ft, and because of strong winds she would wander around within the moor and the depth could vary greatly. Pat Christmas, always a great ideas man, took a leaf out of the trawler fishing business and fabricated a mizzen sail which we hoisted on our after derrick mast. The wind now held the ship over to one side of the moor without it bouncing back and we could guarantee clear water beneath the keel.
Just before I joined the ship, Morty and David Elliott decided the divers had all been working too hard for too many days without a break and they needed some relaxation that did not involve the wine bars of the island. They hired a coach and organised a trip up the 12,000 ft Mount Teide. On the way up, several of the divers who had completed deep dives experienced very painful joint pains. David found a monastery just off the road with its own infirmary and he was able to obtain pain-killing drugs to ease their pain during their return journey.
The following year, we repeated the trials off Monaco and we all reached 600 ft dives for a one-hour bottom time. During my 36-hour decompression in the tiny chamber, with no facilities other than a bucket and a packet of Pastilles, we were visited by Jacques Cousteau's doctor who was doing similar deep trials with animals. We were very proud of our achievements and our procedures. He brought us down to earth. David, a fluent speaker of French, heard him whisper to his colleague, "Mon dieu, we don't make our goats live like that."
When I finished my decompression, I was informed that our First Lt had been taken ill and had been flown home and I was now both First Lt and Diving Officer. A couple of years later, CPO Derek (Knobby) Clarke and I were seconded to the USN to take part in the SEALAB III experiment together. We did a saturation chamber dive to 750 ft and we both supervised a dive to 1,000 ft. We also trained Philipe Cousteau and the astronaut, Cdr Scott Carpenter, in the use of our semi-closed HeO2 rigs.
Later when I was CO of HMS Reclaim, I resurrected Pat Christmas's sail and I would hoist it during our entry or departure of Portsmouth. This co-incided with the first of the fuel crises and one of the TV news channels showed us leaving harbour and claiming that it was the Admiralty's latest method of saving fuel. They backed this claim up by showing doctored photos of a nuclear sub and an aircraft carrier under full sails. I was not the most popular ship's Captain with Admiralty!
All the best,
Cyril"
---
From MCDOA member David Burstall:
"Hello Rob,

Thank you very much for keeping me/us informed of these sad events. I've known Morty for many years both in and out of the Navy and always thought him to be indestructible, so I was very saddened to learn of his death having been totally unaware that his health was failing.
I shall certainly be attending his funeral - and that of 'Froggy' Dowland who joined the branch at the same time as me in 1954/5. We both had similar appointments to start our diving careers, me in 'Annette' and Froggy in another Isles class trawler studying ground mine behaviour on the seabed. I was very interested to read about Morty's early career a great deal of which I was unaware of. He has always been a quiet but stalwart supporter of the branch and he will be sorely missed by us all.

Regards,
David Burstall"
---
From MCDOA member Mike Gillam:
"Hi Rob,
Sorry to learn the sad news about Morty who I remember as being a great source of help and wise advice for all my time in the branch. We first met in 1954 on a run ashore in Malta where he stopped off during his return home with the 6th MSF (Mine Sweeper Squadron). It was then that he and Pip Piper encouraged me to apply for the Long CDO Course.
Mike"
---
From MCDOA member Bob Lusty:
"Hi Rob,
It was a shock to hear that Morty has passed over the bar so close to Pat's demise; two Gentlemen of the Branch who will be sadly missed. From Morty's point of view, there couldn't have been a better way to go than chatting to the end with Sally and John.
Morty was a quiet officer but well known to all the divers in Vernon in 1954. He was responsible for organising the first Divers' Dinner held in Southsea which became an annual event with Steamers [deep divers] and Corkheads [clearance divers] having a great time together. I still have my invite to that gathering somewhere in my ditty box.
I never served under Morty but got to know him later in life as he attended most MCDOA dinners. I also enjoyed a couple of days sailing in the Solent with him. Pat was there too.
Morty's Australian team worked with us (the Far East Diving Team under Arthur Checksfield) in 1960, together with the American UDTs [Underwater Demolition Teams]. We sailed from Hong Kong to Thailand in USS Cook to survey the beaches to aid the US during the Vietnam War. Unfortunately, Morty couldn't join us.
Morty will be sadly missed by the people with whom he came into contact. It is members that started the Branch in 1952, like Morty, who laid the foundations for the great Branch we have today and who remember their brothers on these occasions.
Bob Lusty"
---
From former FCPO(D) Dave 'Mona' Lott BEM in Australia:
"G'day Rob,
I thank you for your email with the report of Morty's last battle. Could you please append this to the tributes and thank you for handling my contribution to Pat Dowland. Yet another great gentleman passes from our midst.
I well recollect Morty from days, long since passed, at work in the Admiralty Experimental Diving Unit; days probably remembered as one of the most exhilarating times in my career. The bosses, Commander Hannan followed by Lt Cdr Jackie Warner, were both supported very ably by Morty as their number two. They and the civilian AEDU boffins (who were forever inventing new items to be trialled by the unit's divers) ensured that we were kept flat out and underwater.
Morty was also the Diving Officer in charge of Reclaim's diving deck when we were completing the 600ft by one hour bounce dives series, and he had carried out these duties with the similar build-up trials that had preceded this final stage of the experiments. His expertise was second to none. A quiet, non-assuming Officer who was a pleasure to have known and served under. May you rest in peace.
Regards,
Dave L (Mona)"
---
From MCDOA member Bill 'Chippy' Norton in Spain:
"Rob,
Very sorry to learn of the passing of Morty. I enjoyed talking to him last at the commisioning of the Reclaim room. He was always a Gentleman.
Belated regrets, too, for Patrick Dowland. I did not know him well in the Service but cooperated on some projects when he was in BP and I was in Shell.
Re Bill Marshall's enquiry on my whereabouts, thanks for bringing him up to date, although I must confess that I do not remember him!
Your pics reminded me that I haven't been in touch with Jon Cox for a while. Time to give him a bell. Meanwhile we are both well here in Andalucia.
Regards to your good lady wife,
Yours Aye,
Bill"
---
From MCDOA member Jake Linton BEM, Patron of the RAN Clearance Divers Association:
"Dear Rob,
Morty Drummond came to the RAN Diving School when Clearance Diving was in its infancy and he provided a steady and wise hand during his period as OIC between 29 March 1958 and 31 May 1960.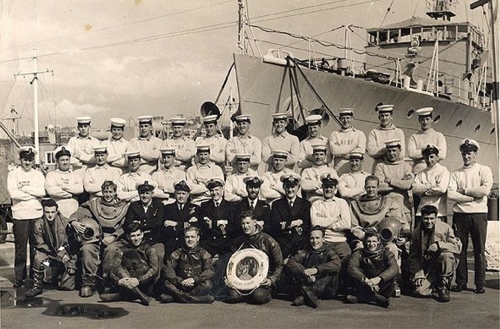 RAN Diving School Christmas 1958 - OIC Morty Drummond with Alistair Cuthbert on
his right and Dave Lambert on his left (two ex-RN CDOs transferred to the RAN)
Morty and Sally were a stabilising influence in our fledgling years and, although pre-deceased by many of the friends they made here, I am sure if there is an afterlife they are up there waiting. Some may be down there but that's a different story.
Those of us that are left mourn his passing and send our most sincere condolences to Sally and their family.
I obviously won't make it to the funeral but would consider it a great favour if you could reach out to Sally for Anne and me.
Kind regards (United and Undaunted)
Yours Aye,
Jake Linton"
---
From MCDOA member John Lang in Alnwick:
"Hi Rob,
Regret I won't be able to make it. It's just too far from up here.
All the best,
John"
---
From MCDOA member John Coggins MBE:
"Hi Rob,
Trust you and yours are keeping fit and well. Thank you once again for managing such a really wonderful web site.
Morty lived round the corner from us for many years. We both knew Morty well and indeed know Sally well. We lost contact when they moved last year. Please can you let us know Sally's current address.
Looking forward to seeing you, at both the current funerals.
Best wishes,
John Coggins"
[By Webmaster: I have passed Sally's address to John.]
---
From Charles Drummond (Morty's other son) in France:
"I know you are in contact with John, but I would like to thank you for your kind words about my father. I spent a few days with him in Lee 10 days ago and was so lucky to have seen him well and full of stories.
Charles Drummond
Yacht Esprit de Papillon
Beaulieu-sur-mer
France"
---
From MCDOA member John Grattan OBE:
"Dear Rob,
The dreadful news gets worse day by day; but those of us who are out in the sticks are so grateful to be kept in touch by you.
Morty was one of the quietest Members of the Branch in its entire history. I think he was also the only old Etonian who ever braved the Branch. He was a true Gentleman and was always so ably supported by Sally. The "Peter Pan" syndrome coursed through their veins as neither of them seemed to age.
When I qualified he was one the Gods of the Branch and had already achieved so much to make Clearance Diving respectable amongst the wider R.N.; no mean feat I can assure the younger Members!! His achievements were never properly recognised because the last thing he would ever do would be to make any publicity for himself. However he was always available for a quiet word of encouragement or advice to newly qualified C.D.O.s which included me on several occasions.
Oh dear, what a very sad day.
Yours aye,
John"
---
Funeral arrangements for the late Lt Cdr Patrick 'Pat' Francis Dowland RN
The funeral of MCDOA member Pat Dowland, who passed away on 16 February (see entry for 17 Feb 13 with appended tributes in News Archive 41), will be held at 1415 on Tuesday 12 March at St Edmunds (Crofton Old Church), Lychgate Green, Stubbington PO14 3HA and afterwards at The Osborne View Pub & Restaurant, Hillhead Road, Fareham PO14 3JP.
MCDOA member Brian Dutton DSO QGM has advised me that the family has requested donations to charity in lieu of flowers. The chosen charities are The Alzheimer's Society and The Friends of Crofton Old Church via the funeral directors: Churcher and Tribbeck, 16 Stubbington Green, Stubbington, PO14 2JG. The MCDOA will make an appropriate donation in Pat's memory.
---
28 Feb 13 - Triumph and Tragedy
I am grateful to MCDOA Chairman Chris Baldwin for alerting me that the following MCDOs and MW Officer have been selected for promotion to Lt Cdr with effect from October this year:
Lt J R Hunnibell (BRNC)
Lt N J Isaacs (FDU3)
Lt D Mason (MCM2 Crew 2)
Lt P G McQueen (DDS)
Lt G M J Powell (HMS MERSEY)
Lt M A Shaw (FDU2)
Congratulations to all concerned.
The bad news is that three US Navy divers have lost their lives this week. One SEAL was lost off Hawaii and two divers from Mobile Diving and Salvage Unit 2 (MDSU2) were lost at the Aberdeen Proving Ground (APG). Until last year, the CO of this unit was Chris Baldwin's opposite number in the US Navy and Chris has sent him condolences on behalf of the UK military diving community.
The KHON2 TV website contains this article describing the loss of the US Navy SEAL. MCDOA member Darroch Woodward has drawn my attention to this article on the Virginian Pilot website and ex-CD Colin 'Foggy' Goff has drawn my attention to this article on the Sub Sea World News website covering the deaths of the two divers at the Aberdeen Proving Ground. Also see this article on the Fox News website.
I am sure that all members of our community will join me in extending our condolences to the families and friends of US Navy SEAL Matthew John LEATHERS, PO 1st Class James REYHER and PO 2nd Class Ryan HARRIS.
---
27 Feb 13 - RN minehunters at Abu Dhabi International Defence Exhibition
The Royal Navy website contains this article describing a visit by Vice Admiral Philip Jones CBE, Fleet Commander (CINCFLEET's newer title) and Deputy Chief of Naval Staff to the Abu Dhabi International Defence Exhibition (IDEX 2013) on 20 Feb 2013. The article features the minehunters HMS Shoreham (MCM1 Crew 7) and HMS Ramsey (MCM1 Crew 1) which are taking part in the NAVDEX part of the exhibition.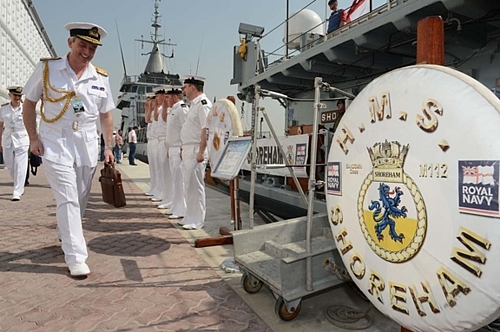 Vice Admiral Jones visiting HMS Shoreham in Abu Dhabi on 20 Feb 13
(RN website photo by LA(Phot) Maxine Davies)
---
26 Feb 13 - Tim Sizer in Oman
MCDOA member Graham 'Tug' Wilson has sent me this welcome message about his erstwhile partner in crime, former WO(D) Tim Sizer:
"Hey Rob,
Kev Stockton asked me to send this photo of a suntanned Tim Sizer in his new job with the Omani Naval forces.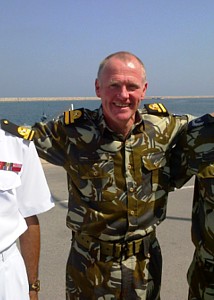 Tim Sizer in Oman
Regards,
Graham
Graham Wilson MBE MIExpE
Senior UXO Consultant
Maritime Asset Security and Training (MAST) Ltd
Malta "
Thank you Tug and well done Tim. It looks as though the Sultan of Oman's Navy is suiting you nicely (which is probably just as well the way Pompey are playing at the moment).

---
25 Feb 13 - SDU1 deals with hand grenade in Plymouth Park
The Western Morning News website contains this article describing the discovery last weekend of a hand grenade in Central Park, Plymouth and its subsequent disposal, presumably by members of Plymouth-based Southern Diving Unit 1 (SDU1).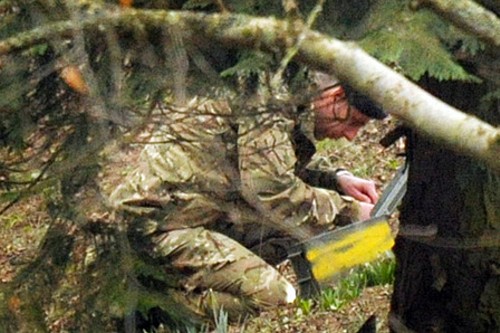 Hand grenade being recovered
---
24 Feb 13 - Down Under reunion of two MCDOA members
MCDOA member 'Brad Vincent', author of Far From Breaking Waves - A Sailor Cast Adrift in Afghanistan (see entry for 13 Feb 13) has sent me the following photo of his reunion with fellow MCDOA member Bob Hawkins MBE who dropped in to see him in Australia last week. I have doctored the image to protect the guilty.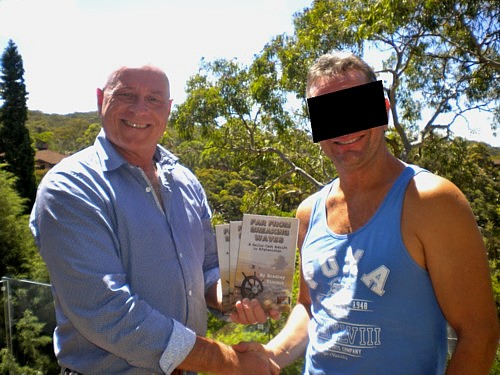 Bob Hawkins with 'Brad Vincent' and copies of his new book
I have nearly finished reading my copy and can assure you that it is a cracking story. If anyone thinks it might be too diver-orientated, note that 'Brad' also describes his early career in the RN as a MW rating.
---
22 Feb 13 - SDU1 deals with grenade in Poole
The Daily Mail website contains this article describing Wednesday's detonation by members of Plymouth-based Southern Diving Unit 1 (SDU1) of a Second World War hand grenade found by a puppy on the beach at Canford Cliffs in Poole, Dorset.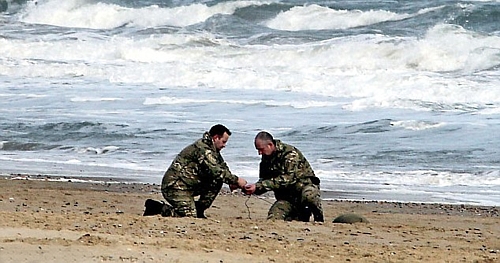 Grenade being prepared for detonation
---
21 Feb 13 - Unexplained devices turn out to be fake bombs
The Herald Express website contains this article revealing that the suspicious devices investigated by members of Plymouth-based Southern Diving Unit 1 (SDU1) in Torquay on Monday were actually dummies used by the airline industry for training purposes (see fourth entry for 19 Feb 13).
---
20 Feb 13
Funeral of veteran diver Jim Hutchison
The funeral of veteran diver Jim Hutchison (see first entry for 5 Feb 13) will take place on 7 March 2013 at the Garden of England Crematorium Sheppey Way, Bobbing, Near Sittingbourne, Kent ME9 8GZ.
After the committal, there will be a reception at the Commissioner's House in the Historic Dockyard at Chatham to celebrate Jim's life. Chatham Dockyard was Jim's home port and a fitting place for his final send-off.
If you would like to attend Jim¹s funeral, please let his son Peter (who took over from his father as Managing Director and Senior Diving Supervisor of Medway Diving Contractors Ltd in 1976) know by email at this address. He will be sending official invitations to everyone who wishes to attend.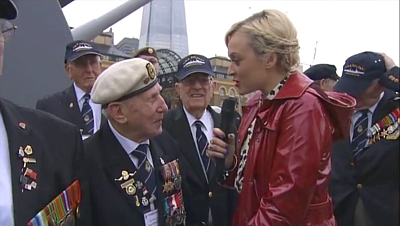 Jim Hutchison being interviewed by Fearne Cotton on board
HMS Belfast during the Queen's Diamond Jubilee
River Pageant on the Thames 3 June 2012
---
Dits wanted about Lt Cdr Ralf Dreimanis RCN
I have received the following request:
"Sir,
Below is a retirement message for a Lt Cdr Ralf Dreimanis, who was on exchange with the RN around 1991 as OIC of FDU3.
I pass it on without knowledge if he is a member of the association but thought if he had been on exchange to FDU3 in 1991, some of your members may know him.
If there are any comments or thoughts to be made I would be happy to pass them on - or via this email address.
Yours,
Martyn Reid
Lieutenant Commander Royal Navy – C4I Tactics / Capitaine de Corvette Royal Navy – Tactique C4ISR
Canadian Forces Maritime Warfare Centre / Centre de Guerre Navale des Forces Canadiennes
_______________________________
1. AFTER 36 PLUS YEARS OF LOYAL AND DEDICATED SERVICE TO THE CANADIAN FORCES RALF WILL RETIRE ON 23 APRIL 2013.

2. RALF BEGAN HIS CAREER IN OAKVILLE ONT AS AN INFANTRY PRIVATE WITH THE LORNE SCOTS, PEEL DUFFERIN HALTON REGIMENT, IN 1972, SERVING WITH THE REGIMENT FOR ONE YEAR AND A HALF. HE TOOK A HIATUS TO STUDY BIOLOGY AT U OF GUELPH THEN RETURNED TO THE CF IN 1978 JOINING THE NAVY.

3. HE FINDS IT INTERESTING TO NOTE THAT DURING A TOUR OF FDU(A) AS PART OF HIS NAVAL OFFICER INDOCTRINATION BOARD HE REMEMBERS SEEING THE CHAMBERS, PIPING AND CYLINDERS AND THINKING THERE IS NO WAY THAT ANYONE WOULD GET ME INTO ONE OF THOSE.

4. WHILE COMPLETING HIS INITIAL MARS TRNG HE JOINED HIS OPPO TO CHALLENGE SHIP'S DIVING OFFICER TRNG IN 1981. AFTER INITIAL SEA TOURS HE QUALIFIED AS PROGRAMMER / ANALYST AND WORKED ON THE LINK 11 MODULE OF THE STEAMER S OLD ADLIPS COMMAND AND CONTROL SYSTEM. THE INITIAL EXPOSURE TO DIVING CHANGED HIS OUTLOOK AND HE PURSUED CLEARANCE DIVING OFFICER TRNG IN 1986. THIS PATH LEAD TO A CAREER OF EXCITING POSTINGS AND CHALLENGES.

5. MEMORIES INCLUDE: SATURATION DIVING IN FORT WILLIAM SCOTLAND / DIVING OFFICER OF HMCS CORMORANT / PILOTING SDL-1 TO 2000 FEET IN BAIE D'ESPOIR NFLD, BEST DIVE SITE EVER / DIVING ON USS TRIPOLI TO REPORT ON MINE DAMAGE / LAND AND SEA MINE CLEARANCE ON THE BEACHES OF KUWAIT / ENVIRONMENTAL SURVEYS OF IRVING WHALE PRIOR TO ITS SALVAGE / OP KATRINA / SWISS AIR 111 / NIGHT CDBA O2 SWIMS OFF SHEARWATER BUBBLING PHOSPHORESCENCE AND A CURIOUS SUNFISH.

6. HIS POSTINGS COVERED EAST COAST SHIPS (SAGUENAY, ALGONQUIN,CORMORANT, ANTICOSTI AND SEVERAL ATTACH POSTINGS TO MCDV S) EAST COAST SHORE UNITS (MOG5, MARLHQ, DRDC(A)) WEST COAST TRNG SQUADRON AND FDU(P) (TWICE). CENTRAL CANADA POSTINGS INCLUDED EXPERIMENTAL DIVING UNIT DCIEM TORONTO, AND DMRS OTTAWA. WHILE ON EXCHANGE AS OIC FDU3 PORTSMOUTH ENGLAND HE DEPLOYED TO THE GULF IN 1991 WITH THE BATTLE DAMAGE REPAIR DIVING TEAM ON RFA DILIGENCE.

7. HIS TRAINING COVERED EOD TRNG IN CANADA AND USA, A NUMBER OF MINE WARFARE COURSES IN CANADA, UK, AND BELGIUM (MINE WARFARE STAFF OFFICER) AND SALVAGE OFFICER TRNG IN PANAMA CITY FLORIDA (AVOIDING THE ALLIGATOR).

8. HE IS ANTICIPATING STAYING IN THE HALIFAX AREA WITH DENISE HIS WIFE, TO BE NEAR VICTORIA THEIR DAUGHTER AND MAKAYLA MARIE THEIR GRANDDAUGHTER.

9. HE WOULD LIKE TO THANK ALL THOSE WHO MENTORED AND SUPPORTED HIM THROUGHOUT HIS CAREER IN THE CF / RCN. HE WILL ALWAYS REMEMBER THE CAN DO TEAM SPIRIT OF THE DIVING COMMUNITY, AN EXCEPTIONAL BREED OF PEOPLE WITH WHOM HE IS PROUD TO HAVE SERVED. AS WELL HE THANKS DENISE HIS WIFE FOR HER SUPPORTING NATURE AND SERVICE TO OUR COUNTRY.

10. FURTHERMORE, HE WISHES US ALL TO REMEMBER THOSE THAT HAVE PASSED AND THOSE THAT SACRIFICED.

11. RALF HAS REQUESTED TO DEPART WITHOUT FORMAL CEREMONY AND WITHOUT PRESENTOS. IN LIEU OF PRESENTOS, PSE MAKE A DONATION TO CHARITY. HIS LAST DIVE IS PLANNED FOR 1000 23 APRIL WHICH WILL BE FOLLOWED BY AN INFORMAL BBQ ON THE DECK AT FDU(A) STARTING AT 1200. NOTES, ANECDOTES AND OUTRIGHT LIES MAY BE FORWARDED TO LCDR SERGE BELAND. RSVP REQUESTED BY 12 APR."
---
Royal Navy sharing minewarfare expertise with US Navy
The Royal Navy website contains this article describing how British minewarfare experts are sharing their expertise with their American colleagues in the Gulf as the US Navy follows the Royal Navy's lead by introducing its own mini-submarine, SeaFox. The article features LS(MW) Mark Titman of HMS Atherstone (MCM2 Crew 1).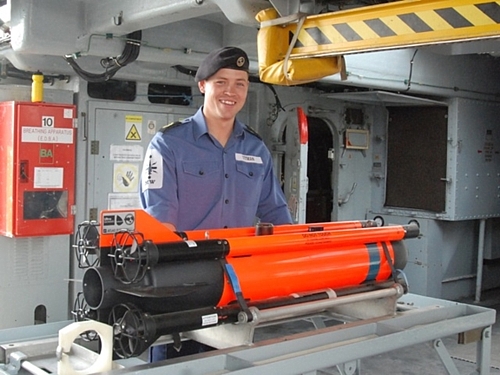 LS(MW) Mark Titman with SeaFox on board HMS Atherstone
(RN website photo)
---
19 Feb 13
PO(D) Gerry Mulholland bound for Afghanistan
This item was spotted on the back cover of Soldier magazine and reported elsewhere on the web: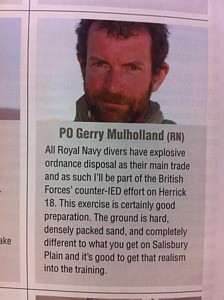 I am sure that other members of our community will join me in wishing Gerry a successful deployment and safe return.
---