Rest in Peace David, we will all miss you."
---
15 Feb 22 - Latest LS&GC Awards
Congratulations to MCDOA member Tim 'Castro' Castrinoyannakis and LS(D) Alex Talbot on being gazetted for the award of the Naval Long Service & Good Conduct Medal, signifying 15 years of undetected crime.
---
12 Feb 22 - News from Capt David 'Topsy' Turner RNZN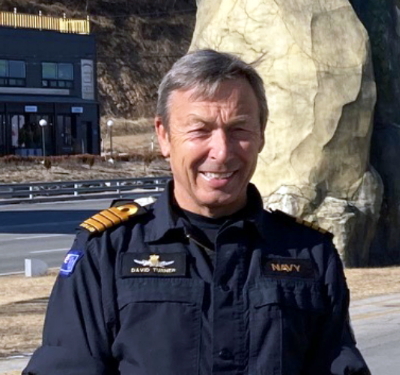 Capt David 'Topsy' Turner RNZN
MCDOA member David 'Topsy' Turner joined the Royal Navy as a 16 year-old Junior Electrical Mechanic in 1974 and was commissioned as an officer in 1978. I was his course officer when he qualified as an MCD officer in 1984 and we worked together on the Saudi minehunter project circa 1990. After commanding the Sandown class minehunter HMS CROMER and the Northern Diving Group, he transferred to the RNZN in 2004 and has since commanded HMNZS Canterbury and HMNZS Philomel, concurrently acting as the Naval Base Commander in Devonport, NZ. I am grateful to him for his latest update:
"Hi Rob,
As promised, here's an update from 'our MCDO in South Korea'.
Yvonne and I arrived in the evening of Friday 14 January from a blissfully warm and beautiful New Zealand summer to the shock of minus 10 degrees, snow and the forecast of a high of minus 2 degrees the following day. We had packed accordingly though and dressed suitably for the flight (and our arrival) but I still wished I'd packed my woolly bear and mitts! We were escorted to a local testing station for our first PCR test before being allowed to self isolate at a Seoul city centre hotel for 24 hours until the negative results came back. Everyone else on our flight had to isolate for 7 days - perks of being a diplomat on an A1 visa I guess!!
We spent a fairly quiet weekend in Seoul city center at the same hotel where we'd isolated just getting our bearings and sussing out where to eat and shop for when we moved into our 22 floor apartment the following Saturday. The Colonel I was relieving would move into the hotel and we would do a handover of the inventory and all that jazz. Anyway, the real handover started on the Monday with introductions to the NZ Ambassador (also called Turner but I said there could only ever be one Topsy in the Embassy).
In short, I'm the NZ Defence Attaché to South Korea for the next three years with a couple of other hats. I'm also the Senior National Officer to our NZDF folks who are here at the United Nations HQ as well as on the Military Armistice Commission. New Zealand is the second largest contributor to the UN here on the Korean peninsular behind the US who have 28,000 personnel - we have 12! Not 12,000 - just 12! The other job is the Chief Liaison Officer to the UN Command which means I get to go on some really interesting visits to the Demilitarised Zone and the Joint Security Area as well as inspections and stuff along the length of the border with North Korea. I doubt I'll be looking for too much other work with that plate full.
I've attached a couple of photos. Hopefully they'll make sense.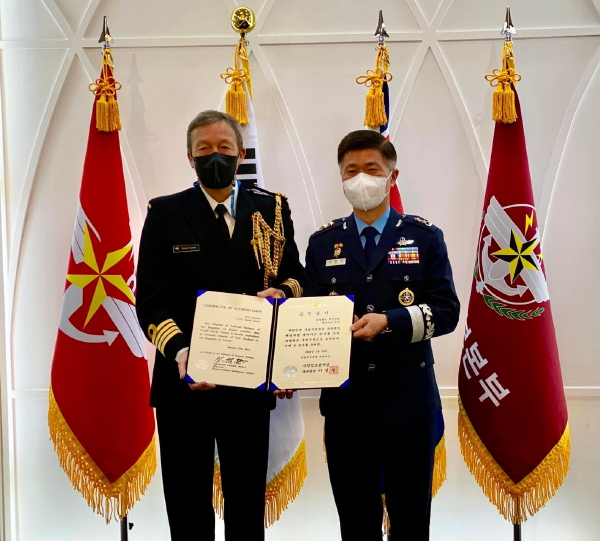 Receiving my accreditation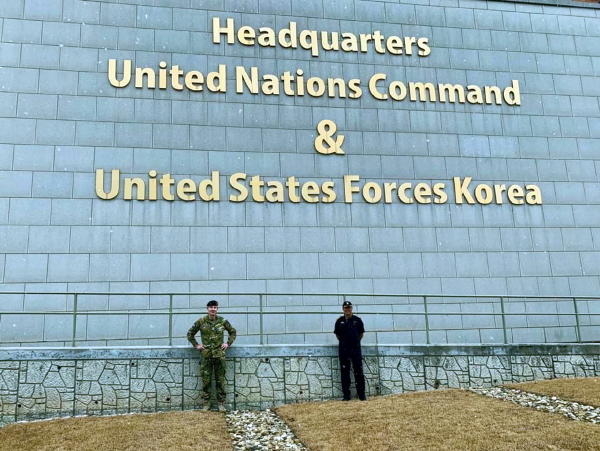 And so the real work starts. This HQ is about 60 miles south of Seoul
where the NZDF personnel work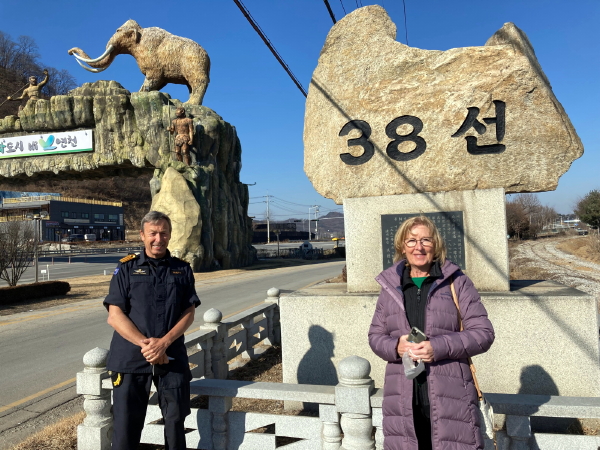 With Yvonne at the 38th parallel, the arbitrary border decided between
the US and Soviet Union after the Second World War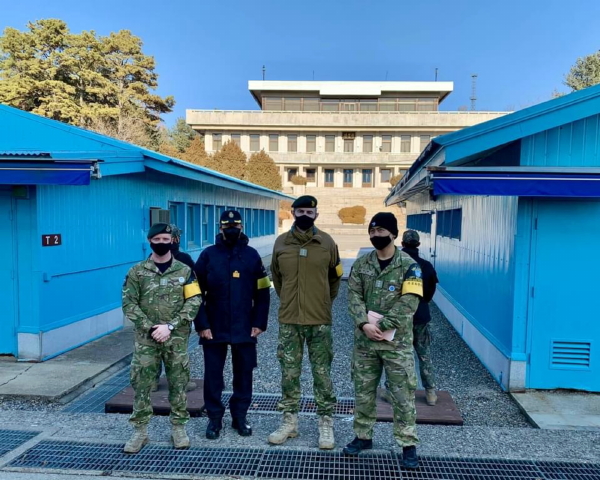 At the Joint Security Area with North Korea's border building in the background.
This is where Trump and Kim Jong Un shook hands.
I'm actually standing in North Korea!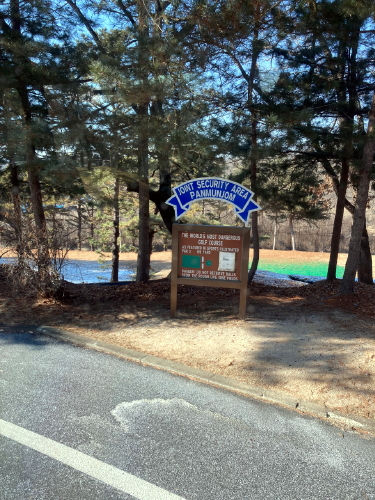 It's a real golf course - true dit!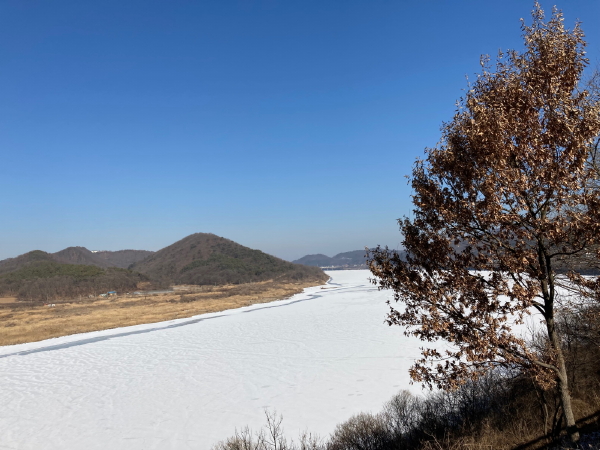 The frozen Imjin River as it comes out of North Korea
By the time I leave here I'll be six months off being 68 so I'm planning on retiring for sure! Goodness knows what I'll do but, as we're having our next house built whilst we're away, I'm sure there will be plenty to keep me busy either in the house or in the garden of almost one acre. Mind you, I'm thinking that I might not have the energy to do it any justice!
Aye,
Topsy"
I am sure all members of our community will join me in extending Topsy and Yvonne our best wishes for their time in Korea.
---
8 Feb 22 - Funeral of Cdr Alan Thomas John Padwick OBE RN
The church was packed to the rafters at Bishops Cannings near Devizes yesterday for the funeral of Alan Padwick (see entry for 27 Feb 22). Attendees included MCDOA members Mike Harwood MBE, Martyn Holloway, Ralph Mavin, Tim Paul MBE and his wife Deborah, Jon Riches and his wife Anne, David Sandiford and Yours Truly (Rob Hoole), It was also good to see MCDOA committee member Bob Hawkins MBE in uniform. He was SOO when Alan was Commander of the 10th (RNR) MCM Squadron and gave a fine reading while Tim Paul delivered a glowing eulogy.
Click here for a copy of the Order of Service in pdf format: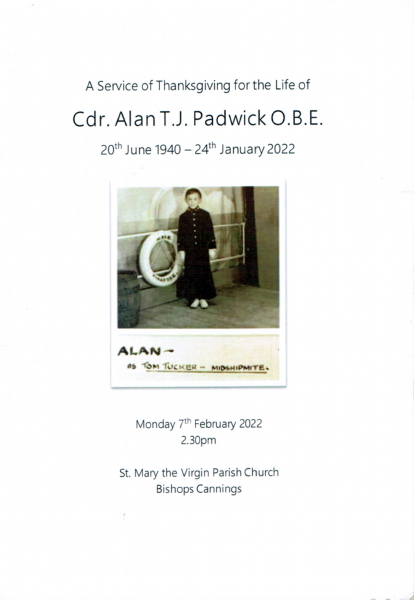 Here are the words of Tim's eulogy:
ALAN THOMAS JOHN PADWICK
Alan joined the Royal Navy at Dartmouth in 1958. After his initial training he gained a broad experience of naval operations, qualifying as a shallow water diver and serving in minesweepers based in MALTA. Scotland then beckoned and he was appointed to a fishery protection frigate HMS Malcolm heavily involved in the Cod War off Iceland. Here the joys of diving in the Mediterranean were replaced with particularly arduous tasks in the cold, including clearing a fishing net entangled in the propeller of a British trawler.
Then to an ancient frigate in the Far East as Navigating Officer during the Indonesian Confrontation that including visits to Hong Kong and Borneo. Thereafter he served in HMS Albion newly commissioned as a commando carrier and later in HMS Centaur as officer of the watch during fixed wing flight operations. He had a fill in job navigating a coal fired boom defence vessel normally employed servicing mooring buoys. On passage it ran out of steam off East Anglia when the boiler became choked due to the over enthusiastic shovelling of coal by the stokers. In 1965 he became second in command of HMS Beachampton and deployed to the Middle East. They were at the final withdrawal of British Forces from Aden and then employed on anti-smuggling patrols in the Persian Gulf.
In 1966 he was selected to specialise in Minewarfare and Clearance Diving. The course comprised intensive diving training, Explosive Ordnance Disposal, and all aspects of mining. It was demanding and challenging building up considerable physical fitness both in the water and out of it.
Of his nine fellow students, Alan is remembered as a wise and moderating influence among his peers. He excelled on course winning the Superintendent of Diving's trophy as the top student.
In 1967 Alan then went to HMS Nurton as second in command and specialist Officer with responsibilities for overseeing the operational standards in other ships in the squadron. At that time there were considerable quantities of WW 2 mines still active and dangerous in the Baltic and off the Northern European coast. HMS Nurton had a major role in clearing mines and wrecks off the Netherlands coast to create the safe channel into Europort. On another occasion they located the Aer Lingus Viscount aircraft that crashed mysteriously close to the Tuskar Rock in Ireland, with serious loss of life.
Two years later Alan returned to HMS Vernon (now Gunwharf Quays) as the senior instructor in mine warfare. He was closely involved in producing a display for 1969 Navy Days in the Dockyard. The following year he became the course officer for the long MCD, course a job which he loved. He led from the front motivating his students and doing much of the instruction himself. He instilled into us a degree of physical fitness some of us had never known, through diving, mud runs and surface swims, one seemingly closer to Cherbourg than Falmouth where our base, food and drink happened to be. Our task was to get back to base before the diving ship. He was a kindly but demanding leader, wise, approachable and much respected.
Later commanding HMS Laleston, the deep diving training ship, with a future First Sea Lord as his first lieutenant, Alan ever keen to do things differently, rescheduled the ship's programme, changing from local diving training in Falmouth and Fort William to include deployments to Norway and the Mediterranean.
Alan was then selected to attend the United States Naval War College at Newport Rhode Island. This was a turning point in his career, broadening his horizons and bringing him into contact with officers from 17 other allied countries worldwide many of whom remained long term friends.
Back in UK he was asked to review the design for the new GRP constructed Hunt class vessels. Applying his eye for detail, he succeeded in bringing in a number of important changes to these vessels, many of which are still in service today.
In 1974 Alan joined the Staff of the Captain Mine Countermeasures based at Port Edgar on the Firth of Forth. Hardly had he arrived than a signal arrived from the Naval Attaché in Egypt who had suggested to the Egyptians that the Royal Navy possessed the necessary expertise to clear the Suez Canal of all explosive debris left over from the Six day war and the Yom Kippur War of 1973. Alan was immediately fired up by this project . With MOD blessing he took a team of specialists to Cairo to brief the Egyptians and to carry out a recce on site.
The recce took them to Port Said, Port Fuad and to sites where army actions had taken place. Alan and Bob White (a member of the recce team) dived at many of these sites using Russian supplied diving equipment borrowed from the Egyptian Navy. As the result of the recce and Navy to Navy talks, the RN were invited to participate in the clearance operation.
Based back at Port Edgar Alan became UK focal point for the Suez Canal Clearance operation and drove it forward to implementation. When the task force arrived in the Canal, he remained our home link, analysing the outcomes, recommending future actions and visited us in theatre, diving with us on several occasions.
As well as Egypt he continued with his day job of looking after the operational effectiveness of the numerous MCM vessels.
After Scotland he was appointed to HMS Galatia as First Lieutenant and second in command. When his captain was away with other ships of the squadron, Alan deputised for him taking the ship to sea when required. Galatia spent much time in the North Atlantic monitoring Russian Navy movements. Breaks in this routing included the 1977 Silver Jubilee Fleet Review at Spithead and operational training at Portland, a Mediterranean visit including to Israel where Alan was able to hear the other side of the Yom Kippur war to that from the Egyptians in 1974.
He was also the ships doctor. He and the Petty Officer medical attendant together successfully diagnosed a brain haemorrhage. The patient was duly dispatched ashore and was successfully treated.
Appointed to NATO HQ at Kolsaas in Norway for what should have been a three-year appointment he was selected for promotion and returned to UK after a year.
At the Fleet HQ at Northwood he was to be the staff officer with responsibility for seamanship, damage control and firefighting, the responsibilities that had been on his plate as first lieutenant of Galatia.
Recognising a serious shortcoming in seamanship performance in the Fleet, he put together a comprehensive plan for improvement. Close liaison with the MOD, training establishments and the Fleet ensured that his proposals were at once accepted and implemented the day the Falkland's War started. The system he introduced is still in service today.
In the Falklands War Alan was in charge of the night watch at the Joint HQ assembling the facts and briefing senior officers. He still had his day job that became frenetic when HMS Sheffield was hit by an Exocet missile. He had learnt from an account, written in 1944, of all the things wrong in naval ship construction which at that time that were hazardous in a combat situation. By 1982, 75% of these faults had re-emerged through cost saving and convenience. His immediate task was to change what could be changed. His priority was to introduce fire retardant clothing and replace easy care flammable material and furnishings.
Another immediate requirement he identified was the extra provision of escape breathing apparatus. The need became apparent when many people died from smoke inhalation in the first attacks. Against civil service and Treasury insistence that five sets for boiler room escape were sufficient, Alan won the argument that a scale of one and a half sets per person on board must be provided – about 300 per frigate.
Alan's Falklands legacies continue to benefit the RN today.
After the Falklands War, back in Portsmouth as Superintendent of Diving, Alan was again back as his innovative best and in his preferred environment as the Navy's top diver. His first task was to improve the deep diving system in HMS Challenger, which he achieved in a collaborative programme with the Canadian Navy and Norsk Hydro. All achieved through his diplomatic skills, at no extra cost to the Treasury.
The operational management of Navy diving was next to come under his scalpel. The Navy diving task was and is, shipboard and underwater Explosive Ordnance Disposal. He caused the reallocation of this capability, from being under various area commanders with no clear chain of command, to the Commander in Chief Fleet as front line assets in the form as the new Fleet Diving Squadron. With improved location and mobility, the Squadron became better able to meet national requirements. This organisation he created, is still in operation today and now includes a permanent unit in the Persian Gulf.
Alan also set up the NATO Diving Group. This he achieved in 18 months against the expected 5 years of the prevailing officialdom. When complemented he is reported to have responded diplomatically "what do you expect from divers? If something has to be done, we get on with it without regard to the bureaucracy".
Later, appointed to MOD, which he did not enjoy, the Peace Dividend did away with HMS Challenger on which he had expended so much energy. He did manage to persuade Margaret Thatcher through a succinct paper to the Naval staff, to send minehunters to the Persian Gulf to deal with a growing mine threat. On a mission to the Saudi Navy and meeting a former colleague from the US Naval War College, he was instrumental in persuading the Saudi Navy to buy UK minehunters as part of the Al Yamama programme, a £1 billion deal.
A consolation of his time is London was his introduction to narrow boating which stood him in good stead when he acquired his final command – The Queen of Sheba.
Then after two years spent teaching Naval Reserves the intricacies of control of Marchant ships, Alan was appointed to Command the 10th Mine Countermeasures Squadron. This comprised 11 River Class minesweepers of the Royal Naval Reserve, employing about 2500 personnel. Alan loved the work, as ever applying himself to the task with great imagination, leading training deployments to Spain, France, Germany, Netherlands and around Britain.
Alan qualified as a diver in 1960 when he was a midshipman. He made his last working dive Rosyth Harbour keeping his diving qualification in date until he retired in June 1993.
Many friends and colleagues have expresses their memories of Alan. These are some of them ·
A steady hand on the tiller ·
A giant of a man and Naval officer, and artist ·
At a time of great change, he led with determination, vision and a great sense of humour ·
His words were always friendly, helpful and wise
Alan was apponted an OBE in the 1993 Birthday Honours. In his citation the Commodore of HMNB Rosyth said: "He [has] concluded a long and distinguished Naval career with an outstanding performance as leader of the Tenth MCM Squadron". Flag Officer Scotland and Northern Ireland said: "A model of a loyal and highly professional naval officer" . The Commander in Chief Fleet said: [he has shown] "Outstanding dedication, leadership and professionalism and made [a] major contribution to the Tenth MCM Squadron and the RNR".
Alan we all agree with every word they said. We all miss you very much.
---
1 Feb 22 - Transformation of Fleet Diving Squadron into Diving & Threat Exploitation Group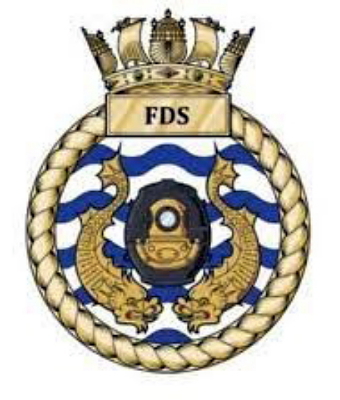 As previously configured, the Fleet Diving Squadron (FDS) comprised:
Northern Diving Group (Commanded by MCDOA member Mark Shaw)
There are divers. Then there's the Northern Diving Group. These experts dispose of bombs and marine mines, repair submarines, and undertake underwater rescues.
Based in Her Majesty's Naval Base Clyde, Northern Diving Group (NDG) is made up of 40 Royal Navy Clearance Divers and support staff. The group sp ecialise in the key areas of In-Water Maintenance and Repair (IWMAR) and Explosive Ordnance Disposal (EOD). Providing IWMAR specifically to Royal Navy Submarines both in the UK and overseas, the team are at 24-hours' notice to deploy anywhere in the world - whether that's in home waters, European seas, or oceanic destinations from North America to the Asia-Pacific. With the only divers throughout Defence with the specialist capability of enclosed space diving, a niche requirement for IWMAR on submarines, NDG continues to succeed in its essential role however challenging the environment and theatre. Fulfilling service and duty on the global stage, NDG operates as the leading diving group for the NATO Submarine Rescue System. Delivering personnel to operate this extremely complex rescue chamber system - a globally deployable network of recompression chambers and mini submersibles, the group is capable of rescuing stricken submariners on demand.
The Northern Diving Group is at 10 minutes notice for OP TAPESTRY - the UK Armed Forces' standing commitment of Military Aid to Civil Authorities for Explosive Ordnance Disposal (EOD). The group's maritime area of responsibility starts at the high-water mark in Liverpool, runs clockwise to the Shetland Islands and finishes in Hull. This is the largest operational area of any Diving Group. Shared with our Army colleagues, NDG also provide land EOD support to civil authorities.
Southern Diving Group
The Southern Diving Group is one of the Royal Navy's two Fleet Squadron Area Diving Groups. With exceptional bravery and skill, the Southern Diving Group keep British waters free from explosive ordnance.
Based across two bases - Her Majesty's Naval Base Devonport, Plymouth and Horsea Island, Portsmouth - Southern Diving Group (SDG) is made up of around 60 Royal Navy Clearance Divers and support staff. Highly trained divers and Explosive Ordnance Disposal (EOD) experts, the diving group is responsible for removing all Unexploded Ordnance (UXO) found in tidal waters below the high-water mark, on vessels, and at offshore and inshore properties. Additionally, the unit carries out Improvised Explosive Device Disposal (IEDD) at land and sea in support of the public or local authorities. Also on standby to fulfil essential service and duty on the global stage, SDG provides support to the NATO Submarine Rescue System. Able to deliver a dedicated team working on this extremely complex rescue chamber system - a globally deployable network of recompression chambers and mini submersibles, the group is capable of contributing to rescue efforts for stricken submariners.
With a day job that combines bomb disposal and underwater diving, the Mine Clearance Divers of the Southern Diving Group are among the most highly skilled and fearless personnel in the Royal Navy. Southern Diving Group's primary role is to keep UK waters free from unexploded wartime ordnance. Despite their age, unexploded bombs and mines pose a serious threat both to the public and to critical national infrastructure. We also complete a range of more general duties - from water maintenance and repair to battle damage assessments. Our vital work demonstrates the Royal Navy's continued contribution to the safety of the public and maritime traffic and gives an insight into daring, expertise and bravery of Royal Navy Divers.
Expeditionary Diving Group
Expeditionary Diving Group globally deploys dedicated and motivated Clearance Divers armed with world class expeditionary diving and explosive ordnance capabilities to defeat and exploit complex conventional and improvised threats.
Expeditionary Diving Group (XDG) is ready to deploy to a Task Group Navy on, under or near the sea around the clock on every day of the year to respond to, defeat and exploit complex Explosive Ordnance (EO) threats, both conventional and improvised. The Group is made up of three units with specific skill sets in addition to the above core operations. Assisted by small teams of enablers such as medical, logistics, communications, and Mine Warfare Specialists - who operate our Automated Underwater Vehicles, XDG is ready to deploy 24hrs a day.
Expeditionary Diving Unit One (XDU1) is a globally deployable Clearance Diving Unit (CDU) for the underwater force protection (UWFP) and in-water maintenance and repair (IWMAR) of the Royal Navy's Maritime Task Groups (MTG). XDU1 is routinely deployed on board the Queen Elizabeth Class carriers. Capable of disposing of conventional and improvised Explosive Ordnance (EO) threats and conducting Battle Damage Repair (BDR) XDU1 also routinely provides maintenance in the water.
Expeditionary Diving Unit Two (XDU2) maintains readiness for worldwide Expeditionary Mine-Countermeasures (Ex-MCM). XDU2 routinely partners with the Royal Marines Littoral Strike Groups (LSG) as part of the Pre-Landing Forces, clearing landing craft approach lanes and beaches. With work including underwater search and clearance of fairways, harbours and critical maritime infrastructure, XDU2 is the Very Shallow Water (VSW) specialist unit. Routinely partnered with the Royal Marines LSG, it focuses on MCM diving operations and Maritime Explosive Ordnance Disposal (M-EOD) including Improvised Explosive Devices (IEDs).
Expeditionary Diving Unit Three (XDU3) is always at very-high readiness for global contingent Expeditionary Mine-Countermeasures (Ex-MCM) operations. XDU3's specialist skill set is to exploit any explosive ordnance through Maritime Weapons Technical Intelligence (WTI(M)), including Mine Investigation and Exploitation and Maritime Explosive Ordnance Disposal (M-EOD) including Improvised Explosive Devices (IEDs). A Clearance Diving Unit, XDU3 are capable of conducting underwater search and clearance of fairways, harbours and critical maritime infrastructure. Specilising in explosive ordnance exploitation, they can be the difference to key strategic and tactical advantage.
Expeditionary Diving Group units were deployed globally on 19 separate operations in 2021, and completed multiple international exercises. The three units of XDG continue to succeed and excel at safely identifying and neutralising underwater threats, including any conventional or improvised explosive hazards, exploiting those threats to gain operational advantage.
Tactical Diving Group
The Tactical Diving Group is one of the Royal Navy's Diving Groups. With highly trained divers in assault and maritime device disposal the group also deliver training for specialised 100% 02 divers.
Tactical Diving Group is made up of specialist divers working with engineers and mine warfare personnel to deliver a highly skilled capability in the underwater environment. With personnel ready to move 365 days a year on worldwide operations, whether that is Maritime Counter Terrorism (MCT), or providing Explosive Ordnance Disposal (EOD) expertise for assaults on Oil Rigs or Ships. Also capable of being parachuted in to provide rescue support to submariners in a stricken submarine, the unit personnel are also able to deliver the essential follow up medical care with the expert use of Recompression Chambers.
Ready to deploy 365 days a year to operate with other forces and specialist units around the globe, EOD plays an important part in the expertise that TDG bring. The unit goes much further than essential support and excellence alone, though. Unique in having personnel qualified to deliver specific training within the group or to other military divers, TDG provides dedicated expertise across a wide range of diving procedures and specialist equipment. Notably delivering training for specialised 100% 02 divers, the group is also proud to have spent more minutes under water than other dive units across the fleet in recent years.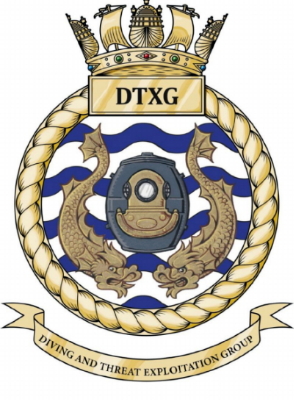 Effective from 31 January 2022, the Fleet Diving Squadron has been transformed into the Diving & Threat Exploitation Group (DTXG). I am grateful to its Commanding Officer, MCDOA member Cdr Sean 'Central' Heaton MBE RN, for this information:
Introduction
Following an initial phase of Transformation in 2020 which rationalised and restructured the FDS, there have subsequently been two senior level reviews of military diving. These have resulted in direction to conduct a second more ambitious and comprehensive transformation of FDS (T2). Through internal rebrigading DTXG is now structured to deliver Diving, Exploitation and Explosive Ordnance Disposal (EOD) force elements with greater availability, sustainability and lethality. Capitalising on the MCMV drawdown it will be resourced to meet the additional future requirements of a more technologically advanced and deployed RN. T2 has been forged around the previous transformation successes and now delivers a DTXG which is global, modern and ready to deliver.
Key Effects
DTXG will deliver six key operational effects:
Naval Special Operations (NSOps) – Specialist diving, maritime and land EOD and maritime exploitation capabilities.
Mine Hunting Capability (MHC) – Persistent mixed-gas underwater EOD and exploitation capabilities to the MHC.
Maritime Task Group (MTG) – Persistent diving and In Water Maintenance & Repair (IWMAR) support to the QEC carriers and the MTG, capable of providing Under Water Force Protection (UWFP) to the whole force.
Littoral Response Group / Future Commando Force (LRG / FCF) – Persistent mixed-gas diving and maritime and land EOD capabilities to the LRG or JEF(M), able to operate and integrate with Commando Forces
In Water Maintenance And Repair (IWMAR) – Very high readiness diving capabilities, including confined space entry, to provide IWMAR and Battle / Peacetime Damage Repair (BDR / PDR) to SURFLOT and SUBFLOT platforms.
Homeland Defence – Specialist diving, maritime and land EOD capabilities for MACA [Military Aid to the Civil Authorities], EOD under MOD / Home Office SLAs [Service Level Agreements] and Directives.
Transformation
The transformation process to DTXG includes the following stages: Rebrigade, Resource, Rebrand and Relaunch; ultimately generating multi-disciplinary Mission Teams able to deliver globally deployable specialist Maritime EOD, Diving and Under Water Battlespace (UWB) exploitation capabilities to operational commanders.
Rebrigading
To meet these current and future demands in a more agile manner, DTXG has rebrigaded iaw the structure illustrated below.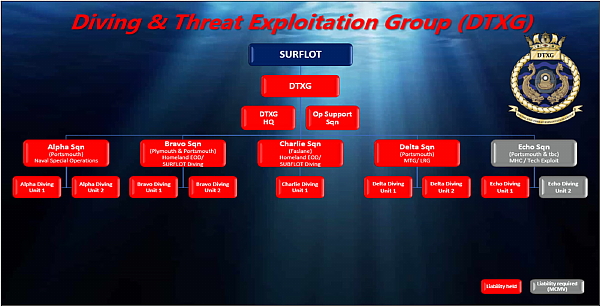 Force Laydown
There will be no initial change to the geographic laydown, however it is anticipated Mission Teams will eventually be dispersed to locations which support capability output. A summary of the comprising elements of DTXG follows:
DTXG HQ and Operational Support Squadron (Portsmouth). HQ and Sqn supporting elements
Alpha Squadron (formerly Tactical Diving Group) – NSOps facing, located at Horsea Island, Portsmouth.
Bravo Squadron (formerly Southern Diving Group) – Homeland Defence and IWMAR diving to SURFLOT, geographically distributed between Horsea Island, Portsmouth and HMNB Devonport
Charlie Squadron (formerly Northern Diving Group) – Homeland Defence and IWMAR diving to SUBFLOT, located in HMNB Clyde.
Delta Squadron (formerly Expeditionary Diving Group) – MTG, LRG / JEF(M) facing, located at Horsea Island, Portsmouth.
Echo Squadron (New) – MHC and exploitation facing, initially located at Horsea Island, Portsmouth, with options to disperse force elements to HMNB Clyde and Devonport as the MHC matures.
Rebranding
Rebranding to the Diving & Threat Exploitation Group aligns with the RN's vision for the future of the Under Water Battle Space, supports future diving, EOD and MCM, while more clearly describing the capabilities of the organisation. It also ensures DTXG remains in concert with transformation of the Autonomous MCM Squadron, recently rebranded to Mine Threat Exploitation Group (MTXG) and recognises the close connection between the two organisations. Furthermore, the use of subordinate squadrons within a group, more closely reflects the structures of the other forces DTXG is aligned to, which will enable closer synergies in the delivery of operations.
Summary
This ambitious and comprehensive phase of transformation will ensure DTXG remains aligned with Navy Transformation and the future UWB vision. Through modernisation and rebrigading it will become more relevant, available and deployable for the RN.
---
28 Jan 22 - Death of Surg Cdr David Hallen Elliott OBE DPhil (Oxon) MB BS MRCP MFCM DObstRCOG RN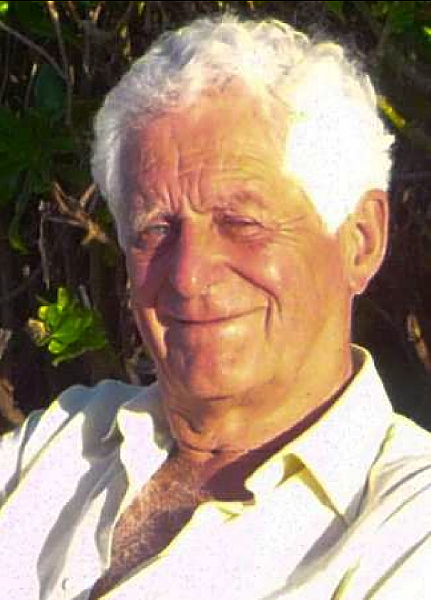 Surg Cdr David Elliott OBE RN
I am grateful to Surg Cdre Jim Sykes for informing me that his fellow MCDOA associate member, Professor David Elliott, crossed the bar on Tuesday 18 January. He was 89.
David will be well known to the 'old and bold' for his practical diving medicine and research during the 1960s and 1970s at INM (Institute of Naval Medicine) and RNPL (Royal Naval Physiological Laboratory) at Alverstoke and AEDU (Admiralty Experimental Diving Unit) at HMS Vernon and his service as the medical officer of HMS Reclaim during many air and heliox deep diving trials and operations. He contributed the 'Diving Accident' chapters to BSAC manuals and held a position of Technical Advisor on the Council of the National Underwater Instructors Association. His professional book entitled 'The Physiology and Medicine of Diving and Work in Compressed Air', co-authored with Dr P B Bennett, became the standard reference work in the field. In 1969, he became Honorary President of the Southsea Branch of the BSAC (British Sub Aqua Association).
David left the Royal Navy in 1976 to pursue an illustrious career in civilian life during which he published many important research papers. He was also the Chief Medical Officer of Shell, a renowned expert witness in diving related legal cases and an active Honorary Vice President of the HDS (Historical Diving Society). As recently as 2012, he was reappointed as a Civilian Consultant in Diving Medicine and Physiology to the Royal Navy for a further three years.
David's funeral will be held on Monday 14 February at 1430 at St Bartholomew's Chruch, Haslemere, Surrey GU27 1BW. I am sure all members of our community will join me in extending our sincere condolences to his wife June, their children Jo, Kathy, Susie and Pippa, and their nine grandchildren.
---
From John Pennefather (Scientific Officer at the Royal Australian Navy Submarine and Underwater Medicine Unit 1972-2001)
"Hi Rob,
It has been a long time since David visited Australia and I suspect only a few of us will remember his visits. I have good memories of a charming and knowledgeable man and am pleased he had a good innings.
My sympathies to his family.
Regards to my ex-RN friends,
John Pennefather"
---
From Mike Harwood MBE (LMCDO '67)
"Hi Rob
A very sad message.
I first met David in 1967 while still on LMCDO course. It was at the compression chamber at the top of the Mining Tank at HMS VERNON during a complicated therapeutic decompression of a bend which had come on some hours after an experimental dive. The treatment schedule was also experimental and was set out on a blackboard. David, with a six inch slide rule in his left hand and a duster and chalk in his right hand, was amending the schedule. "Experimental diving at the chalk face". It sparked my interest in diving safety.
Since that encounter our paths crossed many times during my service in the Royal Navy and the Health and Safety Executive. Whenever I asked David for medical advice on diving or related health and safety matters he would reply in easily comprehended terminology. I am forever thankful for that.
David epitomised the term "An English Gentleman".
Rest in Peace David, the worldwide diving community is in a safer place due to your dedication to our safety.
Regards,
Mike"
---
From Ralph Mavin (LMCDO '72)
"Hi Rob,
I knew David since I qualified as an MCD Officer in 1972, initially, on the odd occasion as Duty Diving Officer with a bends case in HMS Vernon's pot or watch-keeping at RNPL and latterly when with the Department of Energy, Health & Safety Executive and the European Diving and Medical groups.
He was obviously incredibly knowledgeable on the medical aspects but very wise on the wider aspects of the politics of decisions. No matter how tense the "discussions", he remained calm, collected and the perfect gentleman at all times - a lesson to us all.
A great loss.
Ralph"
---
27 Jan 22 - Death of Cdr Alan Thomas John Padwick OBE RN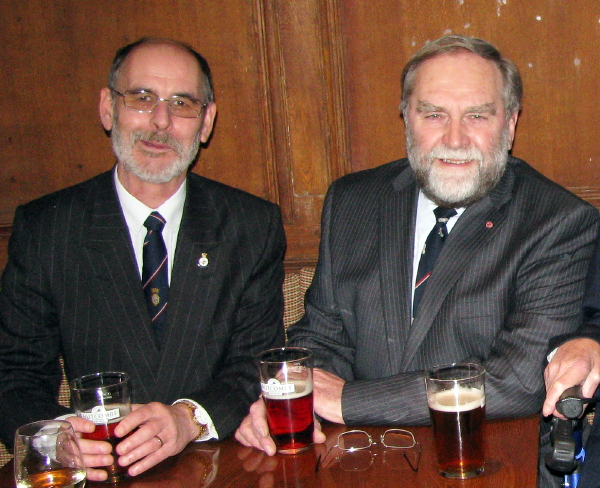 Your humble Webmaster with Alan Padwick on 28 January 2012
I have been incommunicado for the past week but returned last night to learn that MCDOA member Alan Padwick crossed the bar on the morning of Monday 24 January. He had been suffering from cancer for several months and I last heard from him less than a fortnight ago when he announced that he had placed himself under the auspices of a hospice although he intended staying at home to die. It seems only yesterday that Alan and I were enjoying lunchtime gatherings in the wardroom bar at HMS VERNON. As a young Sub Lt in the early 1970s, I was in awe of him and the other stalwarts of the branch in divers' corner, so many of whom have now sadly crossed the bar.
Alan qualified as an MCD officer as a Lt in 1966, the same year the MCD Branch was introduced.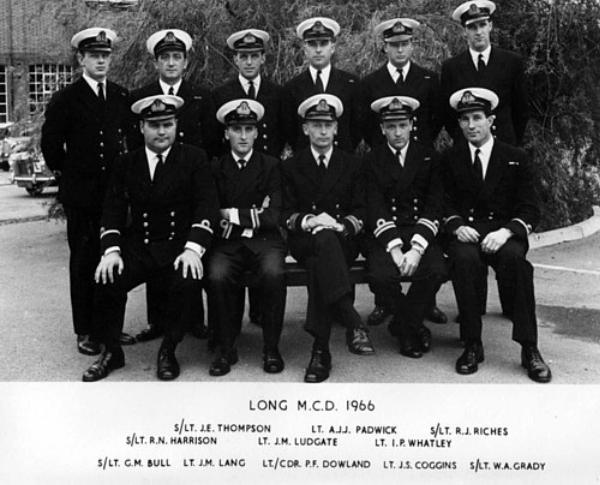 Some of the course members celebrated their 50th anniversary at our Annual Dinner in 2016.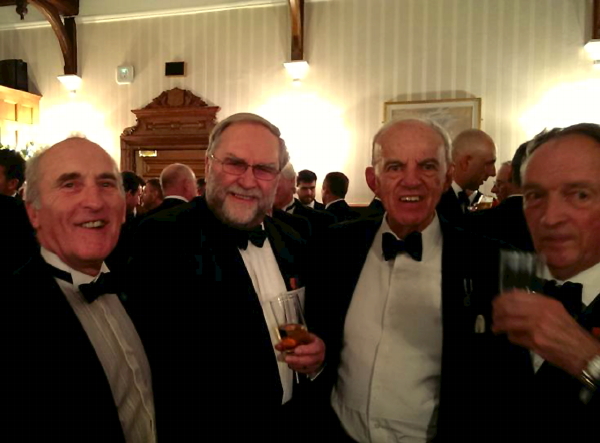 LMCDO '66 members John Lang, Alan Padwick, John Ludgate and John Coggins
celebrating the 50th anniversary of their course
During his naval career, he served in many roles involving mine warfare and diving including:
1958 Joined BRNC
1961 HMS STUBBINGTON Malta
1961 HMS SHAVINGTON Malta
1961 HMS MINER VI XO Malta
1962 HMS MALCOLM Fishery Protection Squadron SCOTLAND. Promoted Lt Apr 63
1964 LOAN outward bound Moray Sea School
1964 HMS LOCH KILLISPORT NO Far East confrontation
1965 HMS ALBION Quarter Deck Officer
HMS CENTAUR - Fill-in job
HMS BARBICAN - NO - fill in job
1965 HMS BEACHAMPTON XO Aden and Persian Gulf
1966 LONG MCM COURSE
1967 HMS NURTON XO SO 1st MCM Squadron
1969 HMS VERNON
1970 COURSE OFFICER LONG MCM COURSE Promoted Lt Cdr Apr 71
1971 HMS LALESTON CO
1973 UNITED STATES NAVAL WAR COLLEGE NEWPORT RHODE ISLAND psc
1973 VERNON
1974 STAFF OF CMCM
1976 HMS GALATEA XO
1979 HQ AFNORTH Promoted Commander 31 Dec
1979 1980 CINCFLEET STAFF - Staff Officer NBCD and Seamanship (Falklands War)
1983 SUPERINTENDENT OF DIVING
1986 MOD DNW SMCDO (minehunters to the Gulf)
1988 HMS VERON NAVAL CONTROL OF SHIPPING FACULTY
1991 SENIOR OFFICER 10TH MCM SQUADRON (RNR MCM SQUADRON)
Retired June 1993
OBE Birthday Honours 1993
Interpreter 2nd Class Norwegian
Alan left the Royal Navy soon after being appointed an OBE in the 1993 New Year Honours. He then spent many years cruising the canals in his narrow boat, QUEEN OF SHEBA, with his second wife Sarah. They enjoyed painting and exhibited their work wherever they stopped. Alan often hosted his MCD course mates on board, too. See Alan's article titled 'Divers on the Cut' in the MCDOA website's 'Dit Box' for further background and images. Also see Alan's account of his return to Norway, a frequent haunt of HMS LALESTON during his time in Command, in the entry for 8 Jun 13 in News Archive 42 of the MCDOA website.
Alan was also a keen supporter of Project Vernon, the camapign that resulted in the installation and unveiling of the Vernon Mine Warfare & Diving Monument in Gunwharf Quays (formerly HMS VERNON) in March 2020.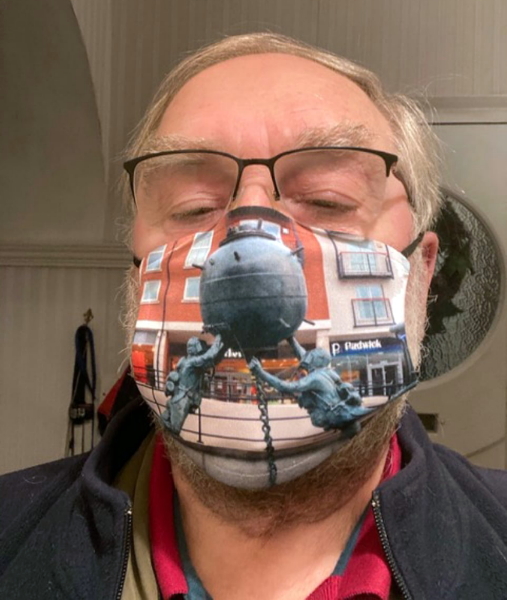 Sarah has advised us that Alan's funeral will take place on Monday, 7 February at 1430 at St Mary the Virgin Church, Bishops Cannings, SN10 2JZ and afterwards at The Crown Inn next door. The pub has parking, and there is parking at the crossroads just north of the church and on the road between the two and on the right hand road at the crossroads. If you are able to attend, please email Sarah Padwick at this address. Also, please take a Covid rapid flow test before coming and bring a mask with you.
In the meantime, I am sure all members of our community will join me in extending our sincere condolences to Alan's wife Sarah, as well as their three children.
---
From Ralph Mavin (LMCDO '72)
"Hi Rob,
Another very sad notice.
I first met Alan when he was CO of Laleston and I was on course as a CD(basic!) in preparation for my Long Course in 1972.
We bumped into each other in the following years both in the RN, HSE and on retirement. Whenever we met, no matter how long since our previous meeting, we would engage in friendly banter and conversation immediately. He was a really nice guy, a true gentleman who will I am sure will be sadly missed by many old colleagues and friends.
My sincere condolences to his family.
Ralph Mavin"
---
From Mike Harwood MBE (LMCDO '67)
"Dear Rob,
A very sad day.
During Alan's time as Superintendent of Diving [1983 - 86] I was honoured to serve as his Deputy. This was a time of many changes. To name a few, the establishment of the Fleet Diving Squadron; the establishment of the NATO Diving Working Group with UK as the lead authority and Alan in the Chair; the split of the administration of the Superintendent of Diving's office from the Admiralty Experimental Diving Unit; and the decommissioning of HMS Vernon. All of which Alan managed with determination, vigour and a great sense of humour.
Regards,
Mike"
---
From Tim Paul MBE (LMCDO '66)
"Hi Rob
All very sad but the cancer had been going on for a while. We should have been visiting Alan today but we were too late.
Sarah has asked me to say " a few words" at his funeral when the date has been arranged. Rather like the article on Richard Moore do you have anything on Alan that I can use? I have been in touch with my term mate Peter Hore to see what sources of info I can tap and will be in touch with friends and contacts. Particularly, I have been trying to find out what he did on the staff of CINCFLEET during the Falklands. I had heard that he was responsible for driving through the procurement of new firefighting and DC breathing apparatus following the attack on HMS Sheffield. Can you throw any light on that or point out anyone who can?
I will ask Sarah if I can see his flimsies as well.
Any info would be helpful.
Best wishes,
Tim"
---
From Mike Bull (LMCDO '66)
"Hi Rob,
Many thanks for letting us know about the sad passing of Alan. He was a great chap and obviously lived life to the full.
I would loved to have attended the funeral, but unfortunately I have a number of quite serious medical problems myself. I would be most grateful if you could pass on my condolences when you next contact Alan's wife Sarah.
Hope you are keeping well Rob.
Best wishes to all members.
Best regards,
Mike Bull"
---
From John Lang (LMCDO '66)
"Hi Rob,
I first met Alan at the start of the 1966 LMCDO course at Vernon. We've remained in touch and been friends ever since.
A force to be reckoned with and seemed to take on the mantle of leading a bunch of wild young men on our course with natural aplomb. I will miss him and will no longer be able to look forward to his very artistic Christmas greetings every year.
RIP old friend.
John Lang"
---
From John Coggins MBE (LMCDO '66)
"Hi Rob,
Hope you are keeping well.
I very much regret that I am unable to attend Alan's funeral but I am sure it will go well. Alan and Sarah have recently put a lot of time and effort into planning the sad day. If possible, please could you send me an Order of Service.
Alan was my best man many years ago and I have kept in close contact with him. He had a difficult last few years but never complained.
Stay safe.
Best wishes,
John Coggins"
---
5 Jan 22 - Vernon Monument pewter statuettes
Happy New Year to all members of our community!
Please note that pewter stauettes of the MCDOA-sponsored Vernon Mine Warfare & Diving Monument, currently costing £599, will increase in price to £625 on 31 January.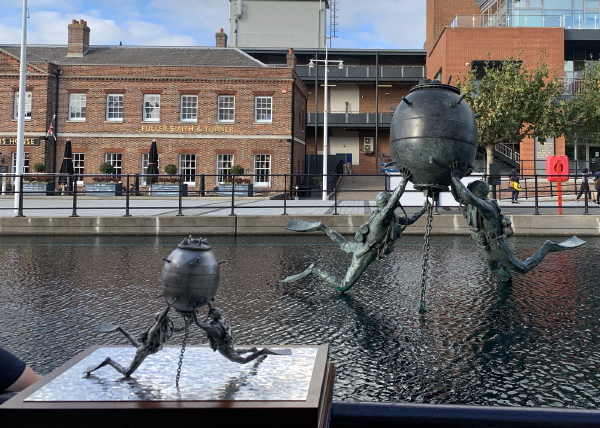 The pewter statuette is a faithful replica of the Vernon Mine Warfare & Diving Monument
at Gunwharf Quays, formerly HMS VERNON, in Portsmouth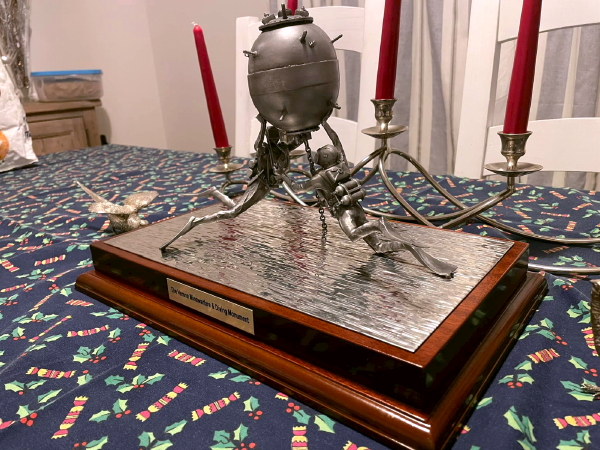 David Hunkin's pewter statuette of the Vernon Monument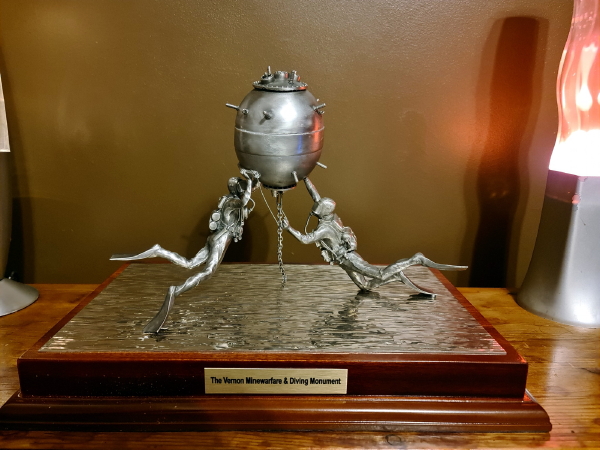 Stuart Douglas's pewter statuette of the Vernon Monument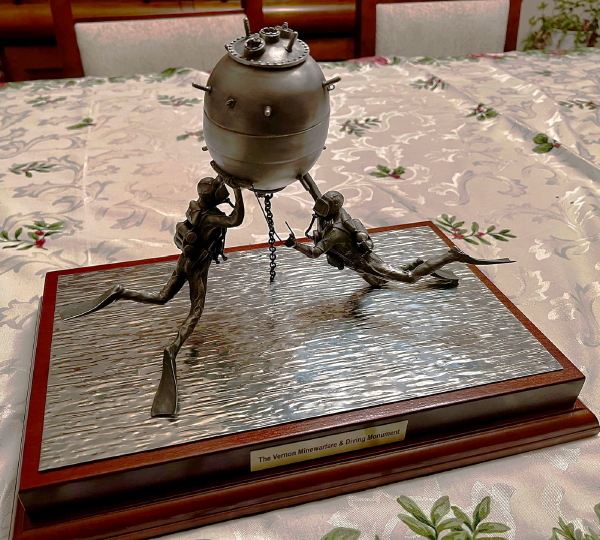 Nigel Waterton's pewter statuette of the Vernon Monument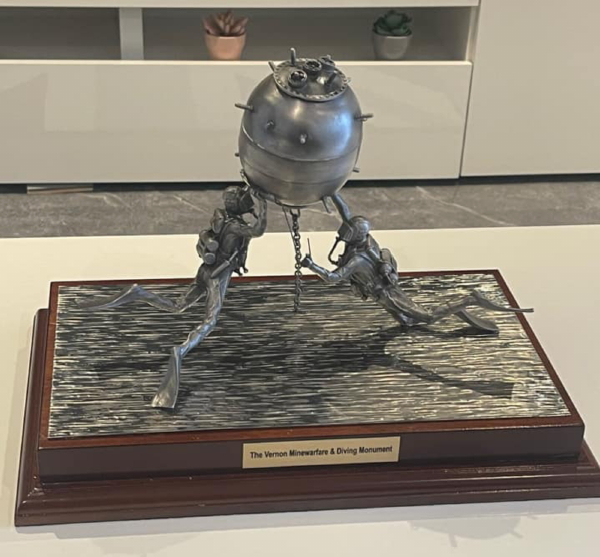 Alan 'Spud' Murphy's pewter statuette of the Vernon Monument
Order your own pewter statuette via Divers' Gifts and Collectables which now acts as agent for all Project Vernon merchandise. A substantial contribution from each sale goes toward the Project Vernon charity to help cover the forthcoming dedication ceremony on 15 July, the installation of a lighting system and through-life costs including any contingencies.
---