---
PLEASE NOTE THE REQUIREMENT BELOW FOR ALL MCDOA MEMBERS TO RE-APPLY FOR MEMBERSHIP
AND CANCEL THEIR OWN EXISTING STANDING ORDERS. THIS CANNOT BE DONE BY ANYONE ELSE.
MCDOA MEMBERSHIP (XMT REBDOC, WO(MW)s & WO(D)s) IS ESSENTIAL TO ATTEND THE ANNUAL DINNER
'LATEST NEWS' ARTICLES FOLLOW THE ANNOUNCEMENT BELOW
---
IMPORTANT ANNOUNCEMENT
If you have not received an email about this, it is because of imperfections in our membership database which this initiative will address.
From Lt Cdr Alasdair Magill:
MCDOA MEMBERSHIP TRANSFORMATION HAS GONE LIVE
Dear Association Member,
I am pleased to inform you that the transition to an on-line membership and subscription service as outlined in my previous correspondence is now complete and the MCDOA Membership Mojo website is live. The association is now inviting you to sign up with membership mojo at the following link:
https://membermojo.co.uk/mcdoa
Owing to the GDPR issues with our previous membership data, all existing association members are required to "join" the MCDOA through membership mojo. Once your application is complete please ensure you cancel your previous Standing Order; we as the committee are unable to cancel it on your behalf.
I would like to take this opportunity to re-iterate how On-Line membership offers us a step change in our ability to function as an association. Not only will this enable us to store your data in a GDPR-compliant way, but it will also allow us to create up-to-date mailing lists, improving our ability to communicate planned events and pass on information bulletins and all things MCDOA with ease. This will include the purchase of tickets for and organisation of future MCDOA Annual Dinners, commencing from 2021.
If you have any questions concerning the above changes, please contact any member of the committee.
Yours Aye,
Signed electronically,
Alasdair Magill
Membership Secretary
MCDOA
N.B. Please check whether you are one of the applicants who have been approved but have yet to complete the new arrangement for payment.
---
11 Jun 21 - Queen's Birthday Honours
Hearty congratulations to MCDOA member Al Nekrews QGM, CO of the Fleet Diving Squadron, on his appointment as an OBE in the Queen's Birthday Honours published tonight. In January 2019, Al became the first Royal Navy trustee of the Felix Fund, the bomb disposal charity. MCDOA member David Hunkin OBE has since become a trustee, too.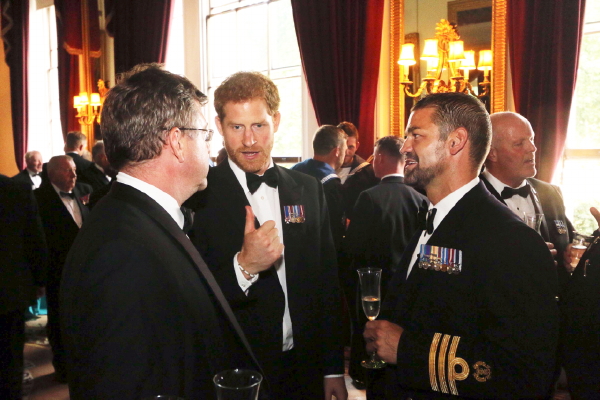 Cdr Al Nekrews QGM RN (right) with Prince Harry and fellow MCDOA member Keith Broughton
at Project Vernon's 'Falklands 35' Fundraising Dinner at Trinity House in London
on 19 July 2017
Congratulations as well to WO1(D) Si Crew of the Fleet Diving Squadron on being awarded the MSM (Meritorious Service Medal).
---
23 May 21 - News from Cdr David 'Topsy' Turner RNZN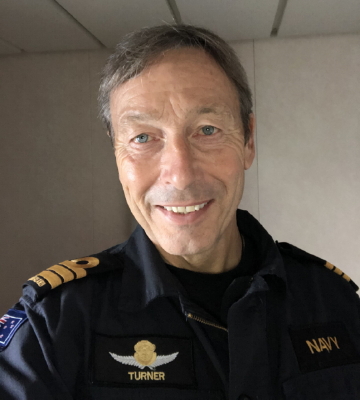 MCDOA member David 'Topsy' Turner joined the Royal Navy in 1974 and I was his course officer when he qualified as an MCD officer in 1984. He transferred to the RNZN in 2004 and has since commanded HMNZS Canterbuty and HMNZS Philomel, concurrently acting as the Naval Base Commander in Devonport, NZ. I am grateful to him for his latest update:
"Kia ora Rob - I feel like it's been an absolute age since I last sent an update from down under so whilst we have a surface interval I'll string a few bits together.
Yvonne and I returned to NZ in December after almost 3.5 years in Hawaii where I was posted as the first New Zealander (I can say that as a passport holder and All Blacks card carrying Kiwi) to the USINDOPACOM HQ in Honolulu where I also worked in the NZ Consulate as the military advisor to the Consul-General. It was a great posting as you will imagine and we made many, many friends.
On return to NZ I went into a new position as the NZDF Director Diving Operational Readiness - no staff, no money and no job description. Minor setbacks such as those are not enough to deter this warrior of the sea so in no time at all I'd recruited Lt Wesley Moir (an RN-trained MCDO) as my offsider, written my job description and found a pot of money. The next step was to establish the Directorate of Diving (think SofD type organisation) and bingo - we are off to the races! I tried to do this when I first got here in 2004 but there was no appetite.
Now that we have a new diving vessel (HMNZS MANAWANUI) and other capabilities on the way such as a new shallow water rebreather, Littoral Manoeuvre Craft and Autonomous Systems, I've struck gold and am busy putting this establishment together before I move on in August.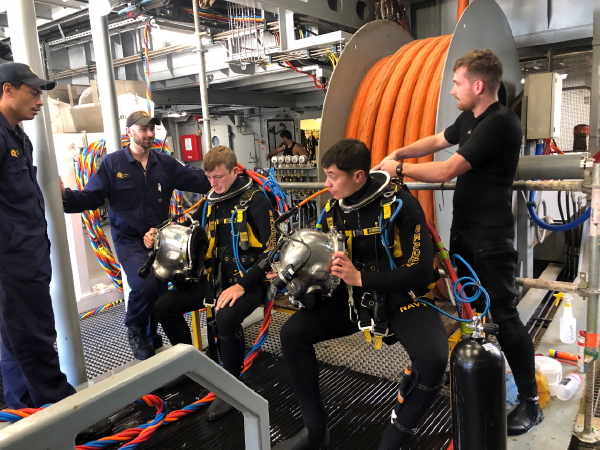 I thought that I'd be asked to hang up my fins at the end of the year when my contract comes to an end but I was in for a nice surprise. In August I start a three-month language training course after which I'm to be promoted to Captain and posted to Seoul in January for three years (option for a 4th) as the Defence Attaché (how cool is that?). That will see me through to almost 68 by the time I have leave and resettlement. Resettlement!!! After 20+ years service I qualify for three months resettlement which I can convert into leave if needs be so I know what I'll be doing!
In the meantime I'm currently at sea for the next two weeks with MANAWANUI observing the release of our subsea search and recovery capability using the SSBA diving system, ROV and recovery crane. This is a first for us and seeing these young fellas after they have dived through the moon pool in a wet bell to 50 metres at night to conduct hydraulic tool and broco training is a joy to behold - I am very jealous.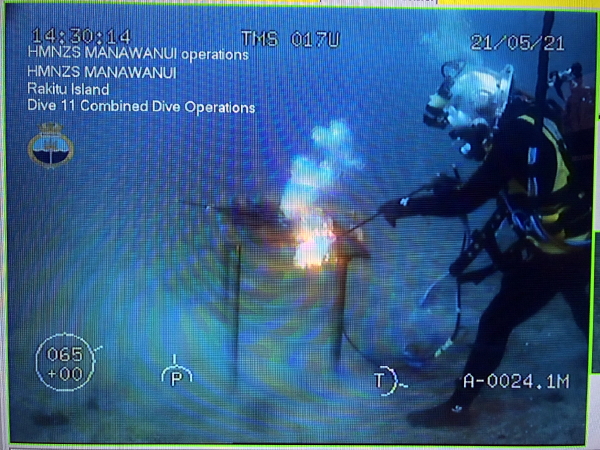 Regards to you all,
Topsy"
I am sure all members of our community will join me in congratulating Topsy on his forthcoming promotion and wishing him and Yvonne all the best for their future.
---
12 May 21 - Latest LS&GC Awards
Congratulations to WO1(D) Kristopher Fenwick QGM (pictured second right) on being gazetted for the award of the 1st clasp to his Long Service & Good Conduct medal, signifying '25 years of undetected crime'.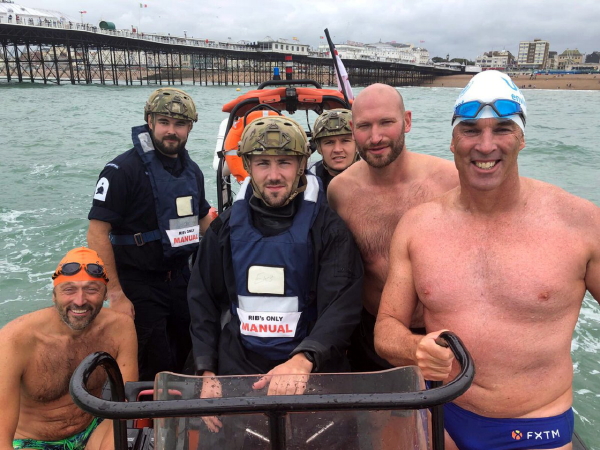 Kris was previously awarded the QGM (Queen's Gallantry Medal) "for his calm and inspiring leadership when disposing of an un-exploded 500lb German Air Dropped SC 250 bomb which was raised to the surface by a dredging vessel, in Portsmouth Harbour on 22nd February 2017."
---
23 Apr 21 - Charlie Wheen assumes Command of HMS Argyll
Congratulations to MCDOA member Charlie Wheen on assuming Command of the Type 23 frigate HMS Argyll today.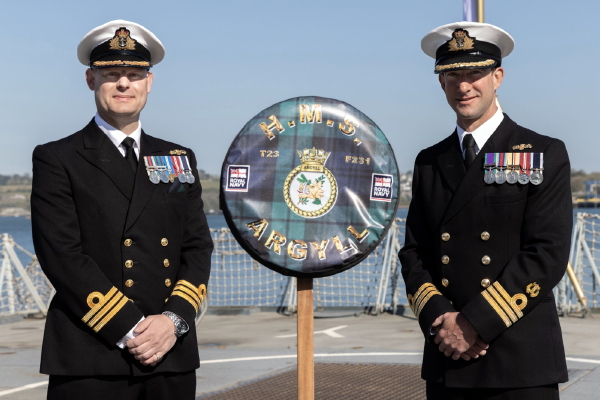 Cdr Charlie Wheen (right) assuming Command of HMS Argyll from Cdr Andy Ainsley (left)
(Royal Navy photo)
Charlie has previously commanded HMS Cattistock and HMS Middleton.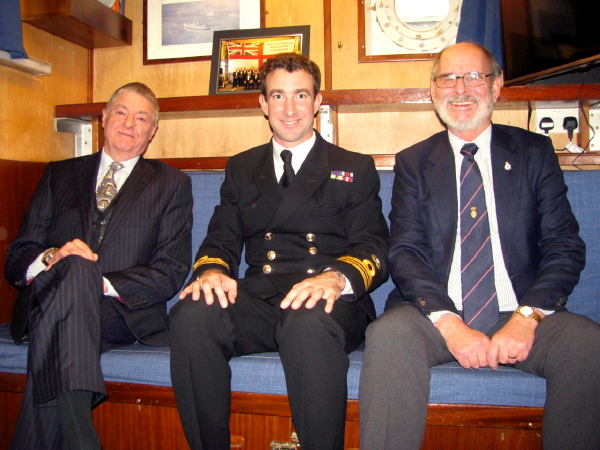 Charlie Wheen as CO of HMS Cattistock in December 2017 flanked by fellow MCDOA members
Pat Gale (first CO of Cattistock) left and Yours Truly (first CO of sister ship Berkeley) right
---
21 Apr 21 - Latest LS&GC Awards
Congratulations to CPO(D) Ward 'Sharkey' Peers on being gazetted for the award of the second clasp to his Naval Long Service & Good Conduct Medal and to PO(D) Peter Birse on being gazetted for the award of the Naval Long Service & Good Conduct Medal. A second clasp to the LS&GC signifies 35 years of 'undetected crime'.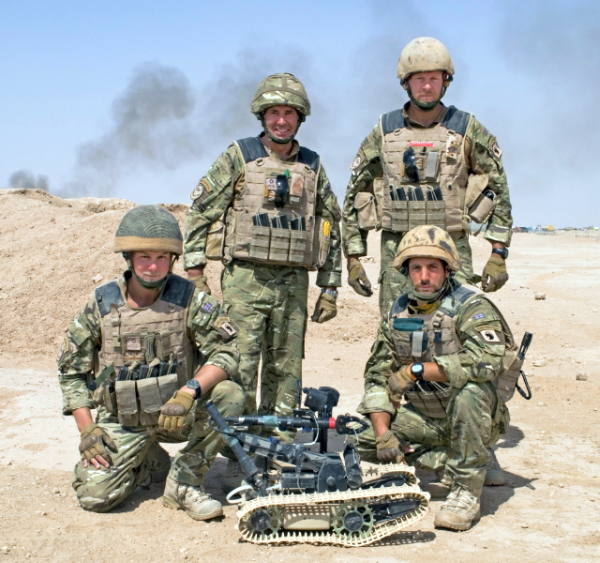 Ward 'Sharkey' Peers (second left) as a PO(D)
in Afghanistan in 2010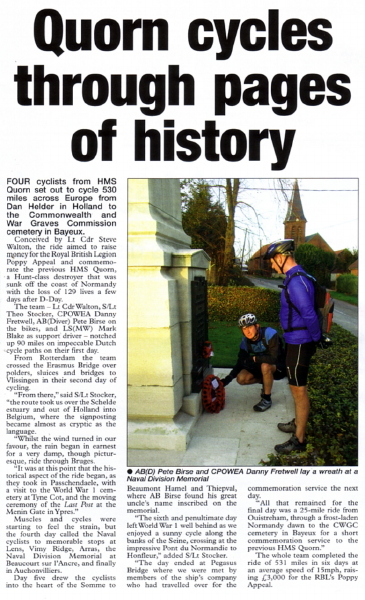 Navy News article featuring Pete Birse as an AB(D)
in HMS QUORN in 2008
---
10 Apr 21 - Death of Cdre Richard Moore RN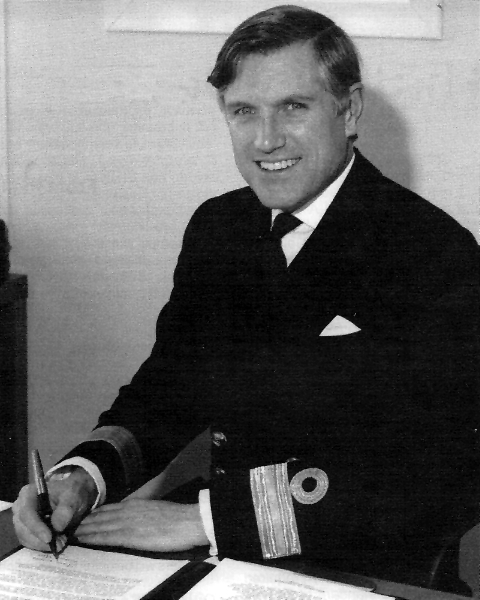 Cdre Richard Moore as COMMW in 1993
MCDOA member Derek Leach has informed me that Richard Moore, his course mate on LMCDO '73, crossed the bar this morning after a long and stoic fight with Parkinson's, a particularly cruel disease. Richard served as the MCDOA's first President from 1992 to 1995.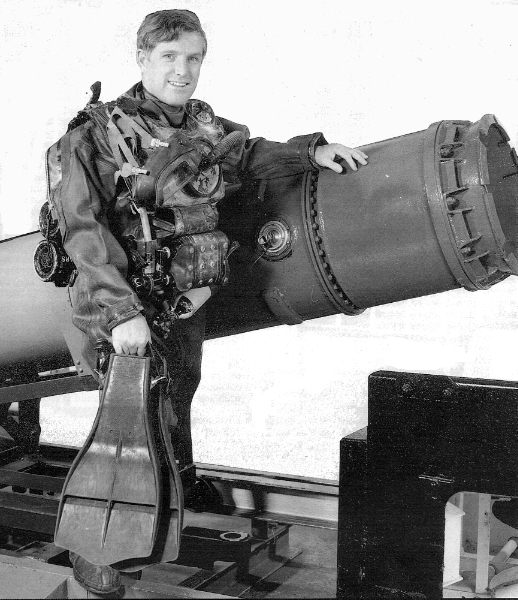 Richard Moore in CDBA with an A Mk 12 ground mine in 1989
Richard originally joined the Royal Navy as an artificer apprentice but was commissioned as a marine engineering officer in 1964. Shortly after graduating from the engineering college at HMS Manadon in 1966, he transferred to the Seaman branch (now Warfare branch) and served in HM Ships Plover (1967), Hermes (1968), Yarmouth (1969/70), Eagle (1971), London (1972), Brinton (1974/75), Amazon (1976/77), Brilliant (1981) and Intrepid (1986/87). He was also the naval minewarfare applicator at AUWE (Admiralty Underwater Weapons Establishment) on Portland (1978/80), our man in MOD DNW (1983), COMSTANAVFORCHAN embarked in HMS Abdiel (1984/85), OIC RN Presentation Team (1988), our man in MOD DOR(Sea) (1992/93) and COMMW (Commodore Minor War Vessels and Minewarfare) before leaving the Royal Navy in 1995. He then worked for Plessey Sonar Systems which later became GEC Marconi and was ultimately taken over by Thales.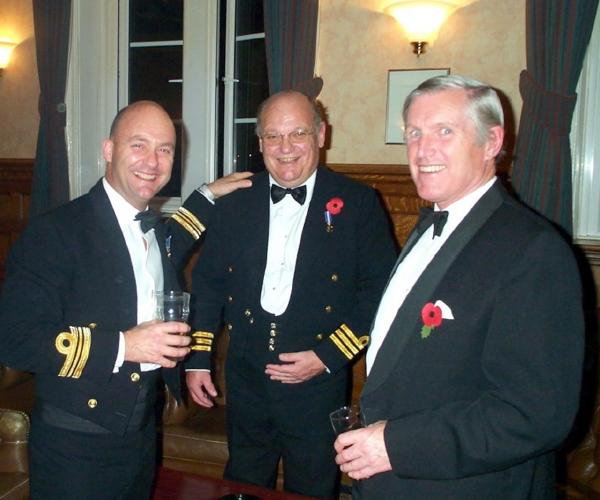 Richard Moore (right) at the MCDOA Annual Dinner in November 2004
In retirement, Richard applied himself to sailing, fishing, maintaining his low golf handicap and restoring cars and furniture. He was also an active supporter of Project Vernon, the campaign to install the mine warfare and diving monument at Gunwharf Quays, the former site of HMS Vernon.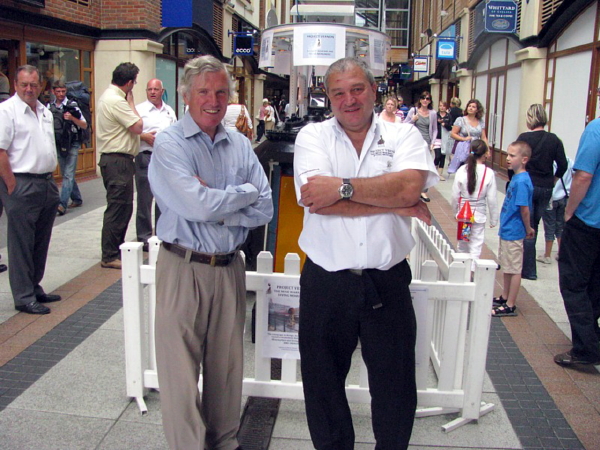 Richard Moore and former CPO(D) Steve 'Peggy' Neil at a Project Vernon promo weekend
at Gunwharf Quays in July 2009
I am sure all members of our community will join me in extending our sincere condolences to Richard's family.
This is starting to look a bit ominous.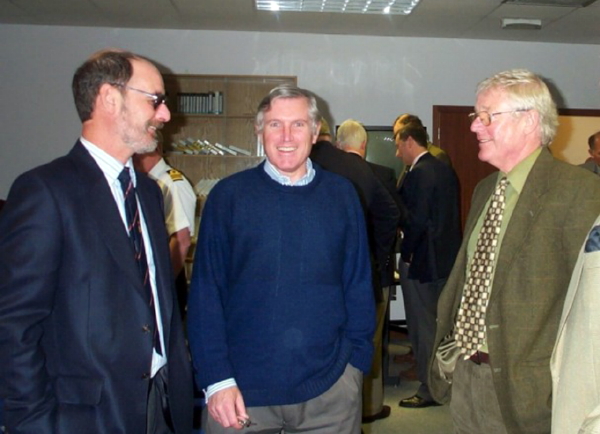 Yours Truly with Richard Moore and Peter Robinson, both deceased
during the past six weeks, at the MCDOA's AGM in 2003
---
From MCDOA member Darroch Woodward:
"Rob,
This is sad news indeed. He was my first Commodore of our branch after I qualified, and having briefed him, hosted him onboard, called in on him at his office, and even taken him for a dive so he could get his minutes, I remember him as a calm and charming gentleman.
May he Rest In Peace. Please pass my best wishes to his family.
Darroch"
---
From MCDOA member Tim Paul MBE:
"Dear Rob,
Really sorry to hear of Richard's passing. We have lost a true professional who did much to cement the standing of the MCD branch within the RN and MOD at a formative time. He will be sadly missed.
Best wishes,
Tim Paul"
---
From MCDOA member Jon Riches:
"Hello Rob,
Again very sad news and another good man gone.
I first met Richard in 1967 when he was serving in HMS Plover at Lochinvar and I was 1st Lt of Bronington. We were 'passing ships' until our paths converged when I relieved him in MOD as the DNW MCD desk officer. He gave me an excellent turn over extended to two weeks due to a stamina sapping series of farewell parties!
Always smart and cheerful which, with his urbane demeanour and undoubted professional expertise, led to thoroughly deserved high rank . I always enjoyed being in his company.
My thoughts are with his wife and family,
Jon"
---
From MCDOA member Andy Stribley (LMCDO '73):
"Dear all,
Very sad news about Richard's passing. He was an extremely calm, focused and professional colleague to have on our diving course but sadly our paths didn't cross again professionally. We only met on a couple of occasions; once in a torrential downpour in West Bay when he happened to be driving past, and at a dinner in Portsmouth.
My memory of him is always triggered best by the photo on the website of the class of '73 out to dinner (in the Il Colosseo I think it was?).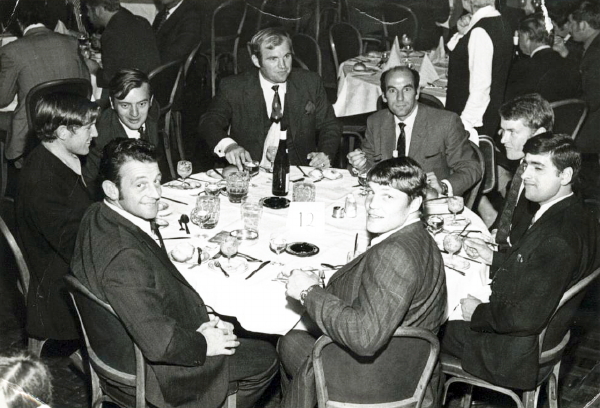 Members of LMCDO '73 out for dinner
Clockwise from top: George Dance, Alan Bayliss, Derek Leach, Mike Kooner MBE,
Steve Epperson USN, CPO(CD) Vic Rashleigh BEM RAN, Richard Moore and Andy Stribley
My deepest condolences to his whole family.
Best wishes,
Andy Stribley"
---
From MCDOA member Alan Bayliss (LMCDO '73):
"Hello Rob and fellow course members.
I am sorry to read Richard has been taken from us. Please pass my condolences to his son via Derek.
I last met up with 'Sir Richard' at an MCDOA Northern Dinner about seven years ago. It was then that I knew he was not in the best of health.
Our paths crossed a couple on service occasions. Richard was COMSTANAVFORCHAN, i.e. the Commander of the NATO mine countermeasures force comprising twelve ships. The UK ship was HMS CATTISTOCK of which I was the 1st Lt. Another time we met up was when he was COMMW and I was on his staff as the Route Survey Officer, Richard came with me on my last dive at the age of 55.
'Sir Richard' was a smart and well respected officer who would always point you in the right direction. I much enjoyed working for him.
Five Bells,
Alan Bayliss"
---
From MCDOA member Mike Kooner MBE (LMCDO '73):
"Dear Rob,
So very sad to hear about the passing of our friend Richard. I have known him since we qualified as MCDOs in 1973. He was an exceptional officer and a trustworthy colleague: a true gentleman. An accomplished golfer and athlete who was the first in our branch to achieve flag rank.
Please pass on my best wishes and condolences to Anne and his wider family.
Best wishes,
Mike"
---
From MCDOA member Dougie MacDonald:
"Hello Rob,
My heartfelt condolences to Richard's family.
Richard was a tower of strength, he was bullied by FOSF and refused to cascade perceived sh.t downwards to the MCM Flotilla because it was not warranted. If I can live up to his values, I'll be proud.
Dougie"
---
From MCDOA member Dan Nicholson:
"Hello Rob,
Many thanks for letting me know about Richard's passing. He shared the honour of coming to the end of his life the same week as another very well known and admired Naval Officer.
Kind regards,
Dan"
---
9 Apr 21 - Death of HRH the Duke of Edinburgh
A sad day for the nation:
"It is with deep sorrow that Her Majesty The Queen announces the death of her beloved husband, His Royal Highness The Prince Philip, Duke of Edinburgh. His Royal Highness passed away peacefully this morning at Windsor Castle.
Further announcements will be made in due course.
The Royal Family join with people around the world in mourning his loss."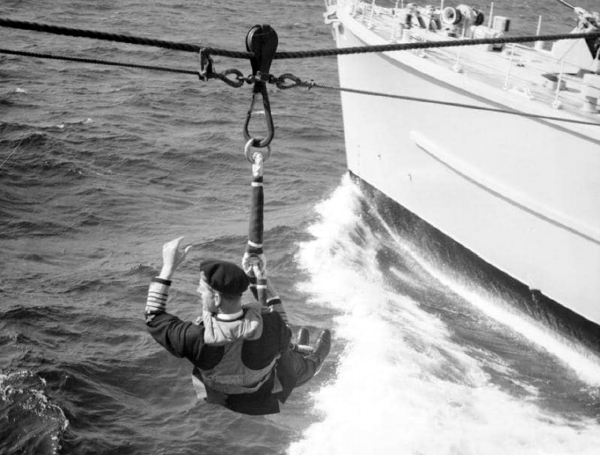 The Duke of Edinburgh undertaking a jackstay transfer from the frigate HMS Eastbourne
to the Ton class minesweeper HMS Walkerton off Malta in 1960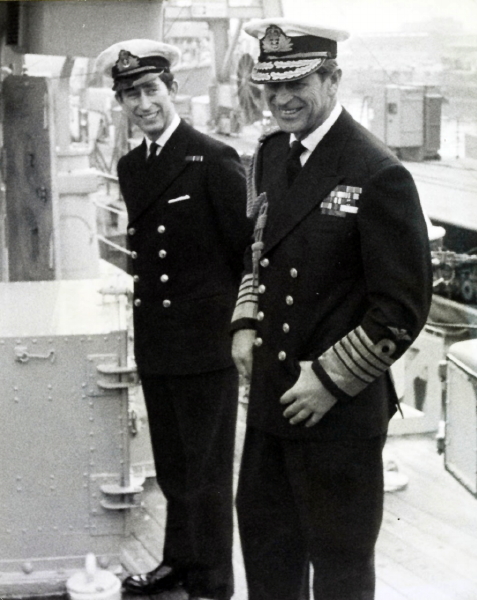 The Duke of Edinburgh visiting the Ton class minehunter HMS Bronington
in 1976 when she was commanded by HRH the Prince of Wales
---
31 Mar 21 - Daily Telegraph obituary for former WO(D) Terry Settle MBE QGM BEM
Tomorrow's Telegraph will contain this obituary for Terry Settle who crossed the bar on 2 March (see entry for 2 Mar 21).
Terry's funeral service was held at Medway Crematorium in Kent on 24 February. It can be watched again online until Monday 3 May via www.obitus.com using the Username "taco2257" and the Password "678396".
A copy of the Order of Service can be downloaded here.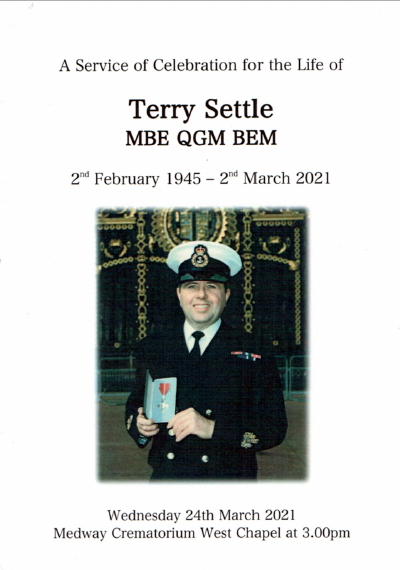 As ever, I am grateful to Capt Peter Hore RN for penning such a fine tribute to add to our pantheon (in alphabetical order):
Cdr Philip Arthur Balink-White MBE RN
Lt Cdr Brian Dutton DSO QGM RN
Lt Cdr 'Uncle Bill' Filer GM MBE RN
Lt Cdr Ian Fraser VC DSC RD* RNR
Surgeon Vice Admiral Sir John 'Jab' Harrison
Surgeon Vice Admiral Sir John 'Doc' Rawlins KBE, FRCP, FRAeS
Lt Cdr 'Robbie' Robinson MBE RN
Lt Arthur 'Bubs' Russell MBE RNVR
---
28 Mar 21 - A Spring Message from our President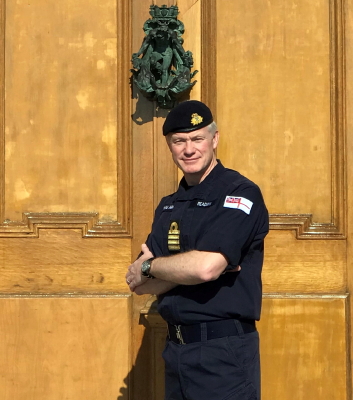 Capt Roger Readwin ADC RN
Dear Members,
I sincerely hope this Spring message finds all association members, along with families & friends, in good health and remaining safe, as we hopefully begin to emerge from this unprecedented pandemic.
I recognise that the last time we all gathered, was at our MCDOA Dinner in November 2019. Since then of course, the COVID pandemic has and arguably continues to have, a profound impact on our daily lives. It has terminated face-to-face contact and up boarded plans for reunions and significant moments of celebration in our lives. As we emerge from the pandemic, it is time to regroup and set some plans in motion to live life once again; therefore, save the date of 26 November 2021 for the MCDOA Dinner.
Throughout the lockdowns, Associations have been key in holding people together and alongside the RNCDA, it has been heart warming to see the messages and spirit of our Royal Navy Mine Warfare and Diving communities doing just that. The latest lockdown has felt like that very long deployment, the one which was extended, at short notice, by three months, the one that required more grit and energy to simply get through. I am sure many have relied on those deployment experiences to keep morale as high as possible over the last 12 months.
Throughout the pandemic, the Royal Navy has commendably continued to deliver on operations, has maintained the training pipeline across our new entry training establishments, and sustained the vital career courses which our people need to feel valued and empowered to deliver on Ops. I am sure all members will join me in congratulating them all, especially the Fleet Diving Squadron and our MCM Squadrons, many of whom have remained forward deployed on operations, delivering superbly both at home and abroad, throughout these challenging times. I remain forever grateful to Rob Hoole for continuing to promote the good work of our Mine Warfare and Diving communities on social media and via the revitalised MCDOA website.
Your committee, under the leadership of Commander Olly Alexander, has continued to remain connected throughout the pandemic, and has been working on ensuring the MCDOA organisation and governance processes are up to date. My special thanks must go to the Membership Secretary, Lt Cdr Al Magill, for his hard work in transforming the MCDOA membership process, as set out on the latest new pages on the MCDOA website. Please ensure you are signed up into the new membership Mojo organisation, as this will be the key communications bearer for the annual dinner and future events.
I look forward to seeing everyone at the annual dinner in November, at which will we remember those members who have sadly crossed the bar, recognise those who have retired from service, and those who have been promoted & selected for Command positions, and importantly, welcome our newest MCDOs to the association since our last dinner in 2019.
Stay safe.
Yours aye,
Roger
Roger Readwin
Captain ADC Royal Navy
President MCDOA
---
#26 Mar 21 - Conferral of US Legion of Merit
Hearty congratulations to Captain Andy Lamb OBE RN on being gazetted for his appointment to the US Legion of Merit (Degree of Officer) "...in recognition of meritorious, gallant and distinguished services during coalition operations in the field."
Although Andy is not an MCD officer, he has commanded the Sandown class minehunters HMS Shoreham and HMS Pembroke in the Gulf and served as Commander of the Faslane-based First Mine Countermeasures Squadron as well as several other staff appointments including UK Defence Attaché to Singapore.
In 2017, Andy delivered, on behalf of the USA, the Legion of Merit medal and certificate to MCDOA member David Bence in Portsmouth.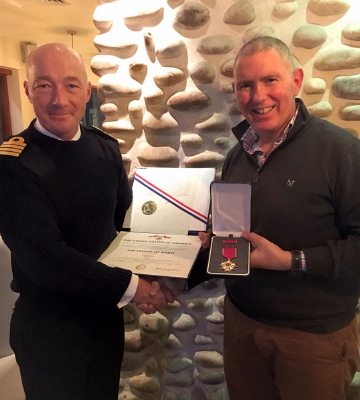 Andy Lamb (left and David Bence
Andy later served in the Gulf as Deputy Commander of Task Force 52, US CENTCOM's Fifth Fleet organisation responsible for the command & control of all mine warfare assets in the region. When he left in July 2019, he was given a farewell presentation by Cdr Simon Cox, COMUKMCMFOR (Commander UK Mine Countermeasures Force) based at Bahrain in the Gulf, a role he has held himself.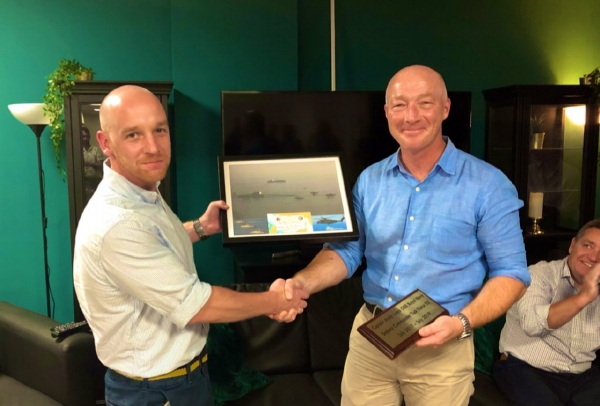 Andy Lamb (right) and Simon Cox
---
25 Mar 21 - Promotions to Commander
Hearty congratulations to MCDOA members Dan Herridge and Rory Armstrong on being selected for promotion to Commander on today's signal. Dan was previously Commanding Officer of MCM1 Crew 6 and now serves in Fleet Operational Sea Training. Rory is the CO of XDG (Expeditionary Diving Group).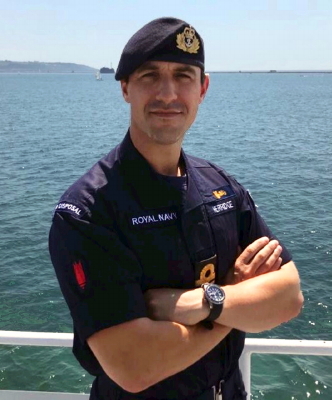 Dan Herridge
Congratulations as well to Lt Cdr Peter Evans (CO MCM1 Crew 4), Lt Cdr Jonathan Fletcher (CO MCM2 Crew 8) and Mine Warfare Officer Lt Cdr Anthony Wallace (PJHQ) who were on the same signal.
---
4 Mar 21 - Death of Lt Cdr Michael 'Peter' Robinson RN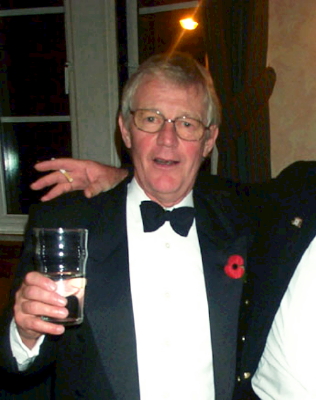 I learned today that MCDOA member Peter Robinson crossed the bar last Wednesday morning (24 Feb 2021). He was suffering from mesothelioma caused by a legacy of asbestos dust.
Peter joined the Royal Navy as an engineering artificer and was commissioned as a Sub Lt in January 1979. He qualified as an MCDO at HMS VERNON in 1982 and I succeeded Geoff Goodwin as his course officer. He served in HMS BRECON (1980), HMS CHALLENGER (1983) and HMS LEDBURY (1984-85). He also served on exchange with the US Navy at NEDU (Naval Experimental Diving Unit) in Panama City, Florida (1987-89), in CINCFLEET's OEG (Operational Evaluation Group) at Northwood (1990-92) and was the RN Diving Application Officer with me at DGUW(N) (Director General Underwater Weapons (Navy)) at Southwell on Portland (1993-94).
On leaving the Royal Navy in 1995, soon after buying the now superfluous Queen's Harbour Master's house atop the heights of Portland, he spent several years working for defence contractors, mainly on submarine systems.
I am sure all members of our community will join me in extending our sincere condolences to Peter's wife Jill and their family.
---
From MCDOA member Dougie MacDonald:
"Hello Rob,
Sad news about Terry and Pops. I echo Steve's comments about Terry in the Warfare shop. I'll miss Peter's sense of humour and quips, they kept us smiling during BRECON's part IV trials when things didn't quite go to plan.
My condolences to their families.
Best,
Dougie"
---
From MCDOA member Steve Gobey:
"Dear Rob,
I have just seen your tribute to Peter on the website. Thank you. I do hope you are provided with some good news soon!
All too soon I have to bid a fond farewell to another of my LEDBURY stalwarts. Peter was my Ops. He and I go back a long way to when we were in Collingwood as 'Tiffy Apps' in the mid sixties. Since then our paths have crossed many times and we became good friends. In recent years we enjoyed many happy hours narrowboating together.
RIP shipmate.
VBW
Steve"
---
3 Mar 21 - Funeral of former CPO(D) Alan Broadhurst
Alan Broadhurst crossed the bar on 31 January (see entry for 1 Feb 21). He had been ill for several years following a fall at his home in Cyprus.
Alan 'Jacko' Jackson has advised me that Alan's funeral will take place at 1515 on Friday 5 March at The Oaks Crematorium in Havant. Although It is unlikely that there will be room for uninvited attendees in the chapel owing to the limitation of 30 under the Covid restrictions, there should be room for others in the adjacent foyer or just outside.
I am sure all members of our community will join me in extending our deepest condolences to Alan's wife Angela and her family at this difficult time.
---
From MCDOA member Steve Gobey:
"Dear Rob,
Very sad to learn of the passings of Terry Settle and Alan Broadhurst. I was most fortunate that Terry was my Coxswain in LEDBURY, particularly when his cool head and inspirational leadership contributed much to the saving of the ship after the devastating engine room fire. We later served together on the staff of COMMW where his professionalism, good nature and humour helped to make the Warfare Office a great place to work. He was also a valuable member of the office 'biathlon team' (run a half marathon and into the nearest pub to down a couple of pints of Murphys!).
Alan and I were together in FOST Diving Team where again his professionalism and support are much appreciated.
I most certainly join you in extending sincere condolences to Terry's and Alan's families.
Best Wishes,
Steve"
---
2 Mar 21 - Death of forrmer WO(D) Terry Settle MBE QGM BEM
It is my sad duty to announce that Terry Settle crossed the bar at home this morning with his family around him.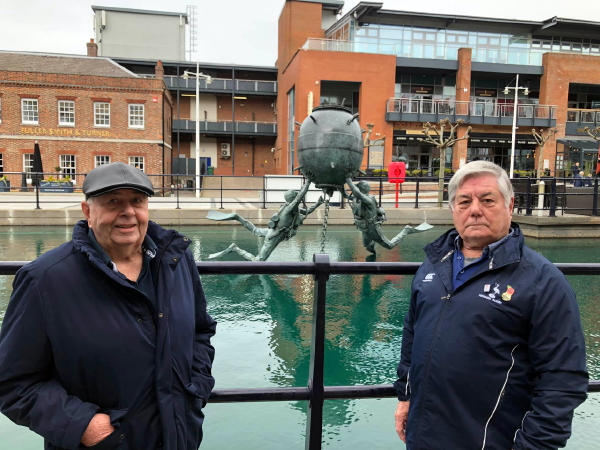 Terry Settle (left) with fellow ex-CD Dudley 'Wooly' Woolnough last March
Terry was awarded the BEM (British Empire Medal) in the 1980 Queen's Birthday Honours and the QGM (Queen's Gallantry Medal) in May 1985 "For his remarkable courage, dedication and professionalism in ordnance clearance operations in the Gulf of Suez in September 1984". He was appointed an MBE (Member of the Most Excellent Order of the British Empire) in the 1987 New Year Honours.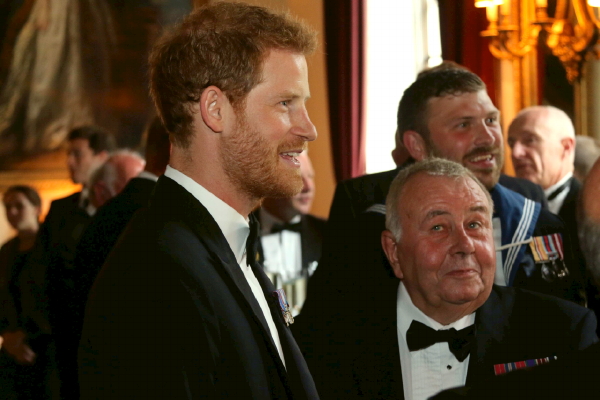 Terry Settle and Prince Harry at Project Vernon's 'Falklands 35' Fundraising Dinner
at Trinity House on 19 July 2017. That impish smile was unmistakable.
I am sure all members of our community will join me in extending our sincere condolences to Terry's family.
Please add your own experiences of Terry and any photos that may be useful to Telegraph naval obituarist, Capt Peter Hore RN, who is liaising with Terry's brother Bob.
---
From MCDOA member Chris Meatyard:
"Dear Rob,
I'm deeply saddened to read the news about Terry. I feel privileged to have served with Terry from the date he joined SNICDT as CPO(D) in early 1978 until I left about 16 months later. Concur Jon and Steve's posts. I was 2i/c and this was my first job `in Branch'.
Terry was very knowledgeable, supportive and encouraging; I learned more from a few months serving with Terry than I had in the whole of my first year in the job. I'm grateful to have been able to belatedly say this to Terry after Dave Forsey's funeral, and also that his son was present to hear it.
My thoughts are very much with Terry's family.
Rest in peace Terry.
Best wishes,
Chris."
---
From MCDOA member Jon Riches:
"Hello Rob,
I have just seen the news of Terry Settle's death. How very sad.
I last saw him at Dave Forsey's funeral when he gave an excellent address and he was his normal cheerful and ebullient self. I served with him when I was Boss of the Western Fleet Clearance Diving Team and he was a Leading Seaman soon promoted to Petty Officer. He was an excellent member of the Team, hard working; cheerful with a zest for life. In his subsequent career he thoroughly merited the awards he received and his promotion to Warrant Officer.
My condolences to his wife and family.
Jon"
---
20 Feb 21 - MCDOA Membership Applications
To date, 166 MCDOA membership applications have been approved via the new system but 21 applicants have yet to complete the payment process. Please check you are not one of them via:
https://membermojo.co.uk/mcdoa
---
19 Feb 21 - Please support HMS BROCKLESBY's Charity Challenge
MCM2 Crew 8 has just taken over HMS BROCKLESBY in the Gulf and I have received this message from LS(D) Max Bumford: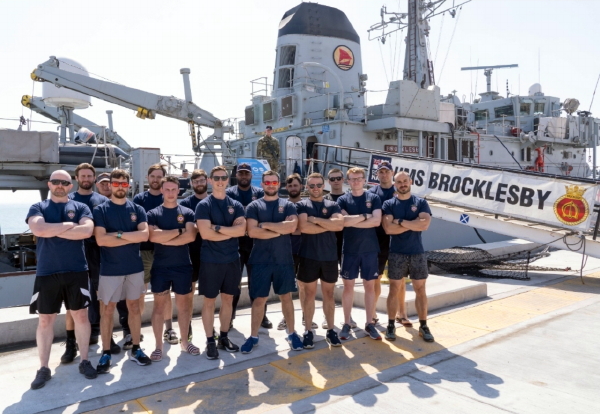 "On 25th February, I and fellow members of HMS Brocklesby Crew 8 will be taking part in the arduous challenge of running 4 miles every 4 hours for 48 hours. In other words, running 48 miles in 2 days.
This challenge is inspired and attributed to former navy SEAL and ultra marathon runner David Goggins. The idea being that you don't need to be a marathon runner to run 4 miles and if you can't run 4 miles, then you can walk 4 miles, meaning more people can take part, raising more money for charity and pushing people to achieve big things through a series of small efforts. In the words of David Goggins:
"This is an opportunity to bring people together for the common goal of promoting physical and mental health as well as supporting many charitable causes"
This will be a true mental and physical test as each runner tests their fitness as well as dealing with the effects of sleep deprivation. Of course this will all be for charity, raising money for Movember and also for the Royal Navy Royal Marines Charity (RNRMC). See our Just Giving page for more information. Any donations and even share of this post would be much appreciated to help raise money, spread awareness and get the word out there on our challenge.
Thank you,
Max"
Click here to donate via Just Giving:
MCM2 Crew 8's 4 x 4 x 48 Challenge Page
---
11 Feb 21 - Promotions to Lt Cdr
Congratulations to MCD officers Matt Cary (RN exchange in Australia), Tom Lewis (FDU1) and Lucy Molyneux-O'Callaghan (BRNC Dartmouth) on being selected for promotion to Lt Cdr.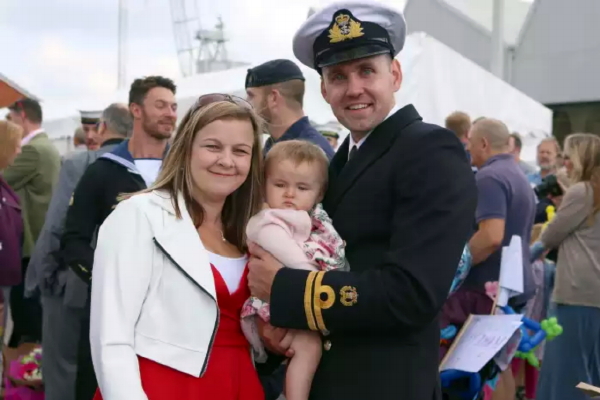 Matt Cary with family on HMS MIDDLETON's return to Portsmouth from the Gulf in August 2018
Coincidentally, I've had the pleasure of meeting Lucy on a couple of occasions.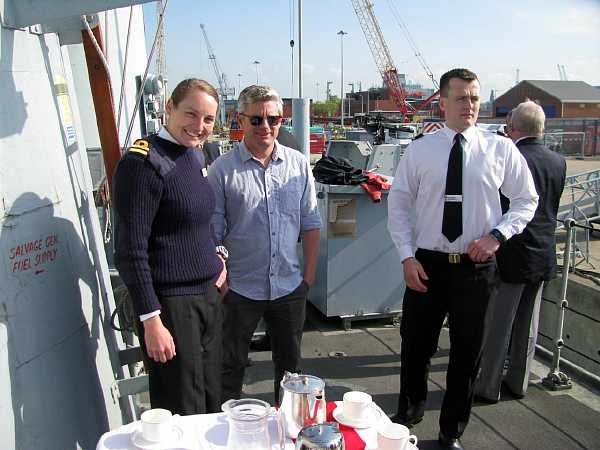 Lucy Molyneux-O'Callaghan as Ops Officer of HMS Atherstone in May 2016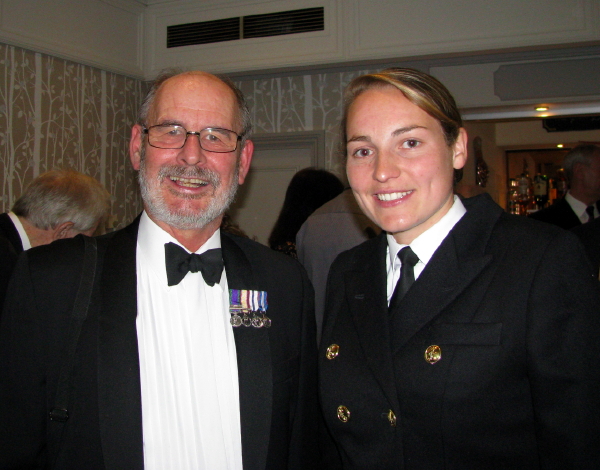 With Lucy Molyneux O'Callghan at a Ton Class Association reunion in October 2016
I hope all three rising stars will seriously consider joining our Association via https://membermojo.co.uk/mcdoa and reaping the benefits.
---
4 Feb 21 - A busy time for SDU1
Members of the Plymouth-based Southern Diving Unit (SDU1) have certainly been kept busy during the past few days.
4 Feb - Dramatic moment anti-tank mine is detonated on Devon beach
3 Feb - More possible unexploded bombs found on South Hams beach days after anti-tank mine detonated
---
2 Feb 21 - Promotions to WO2
Hearty congratulations to the following personnel on their selection for promotion to Warrant Officer (Second Class):
CPO(MW) Andrew 'Nobby' Clark
CPO(MW) Si Cooke (Since left the RN)
CPO(MW) Dave Foggin
CPO(D) Marty Doherty
CPO(D) Garth Spence
---
LS&GC Awards
Congratulations to MCDO Lt Cdr Ross Balfour (still to join the Association, Ross) on being gazetted for the award of the first clasp to his Naval Long Service & Good Conduct Medal and to PO(MW) B. M. Anderson, PO(D) B. W. Duncan, LS(D) L. J. P. Hill, LS(D) J. K. Lynch and LS(D) B. S. Morris on being gazetted for the award of the Naval Long Service & Good Conduct Medal.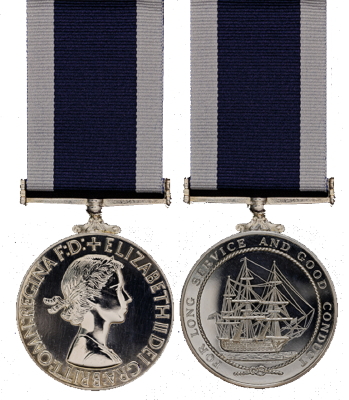 ---
1 Feb 21 - Death of former CPO(D) Alan Broadhurst
Troy Tempest, Secretary of the Association of RN First Class Divers (AORNFCD), has informed me that Alan Broadhurst crossed the bar on Sunday night. He had been ill for several years following a fall at his home in Cyprus.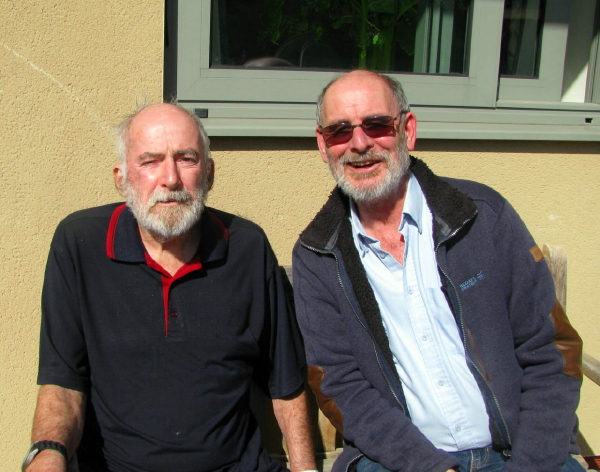 Alan Broadhurst with your humble webmaster shortly after his return to the UK in 2017
I am sure all members of our community will join me in extending our sincere condolences to Alan's wife Angela, his son Martin and his daughter Tracey.
---
From ex-CD Peter Gallant:
"I have just heard the news that Alan Broadhurst has passed away. He had been in a nursing home for some time.
This photo shows Alan on the left dressed up with Pete 'Shorty' Barrett and me in the Portland CD team in 1962.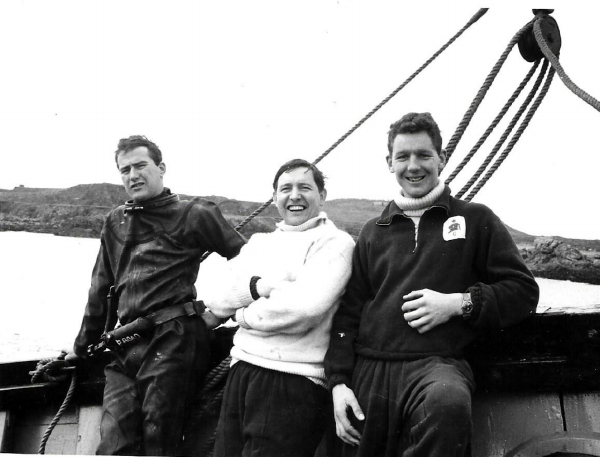 Alan Broadhurst, Peter 'Shorty' Barrett and Peter Gallant at Portland in 1962
Regards,
Peter Gallant"
---
From former CPO(D) Cris Ballinger BEM:
"Hi Rob
A real good photo of you and Alan, a lovely way to remember him.
I have lost Angela's email address so if you do manage to see her please pass on my condolences, and of course my thoughts are with Angela and family at this time.
I first met Alan when he joined the Reclaim, he had recently returned from Malta so had many stories to keep us entertained with. He survived a traumatic accident while on board, but was very quickly back in the water and fit again. We remained good friends even after I introduced him to rugby and told him he was a born prop.
I did visit him at the home in Portsmouth after he deteriorated, and I have nothing but admiration for Angela for her devotion and care she showed, daily, on her visits to Alan. I don't think she missed a day, unless the present day lock down has given her some respite.
I hope this doesn't signal another awful year.
Cheers Rob,
Cris"
---
From former FCPO(D) John Dadd BEM:
"Sad, sad news of Alan's passing. Although we never served in a team together our paths crossed many times as our ages and time in the branch coincided. I first got to know Alan when, together, we cut our instructional teeth with the first baby divers courses, some learning curve but boy - did we have some fun!
Alan remained a good pal over the subsequent years, a good man, with a great sense of humour, who was easy to like.
The awful illness that struck all those years ago in Cyprus must have tested both him and his family to the limits ... all so unfair.
My thoughts and prayers go to Angela and the family.
Rest in Peace 'Deeps'.
John"
---
SDU1 deals with exposed anti-tank mines on Slapton Sands.
The Devon Live website contains these articles reporting two recent occasions when members of Plymouth-based Southern Diving Unit 1 (SDU1) disposed of anti-tank mines exposed on the beach at Slapton Sands.
31 Jan 2021 - Kids alert authorities to 'bomb' at Slapton Sands - the scene of a WWII tragedy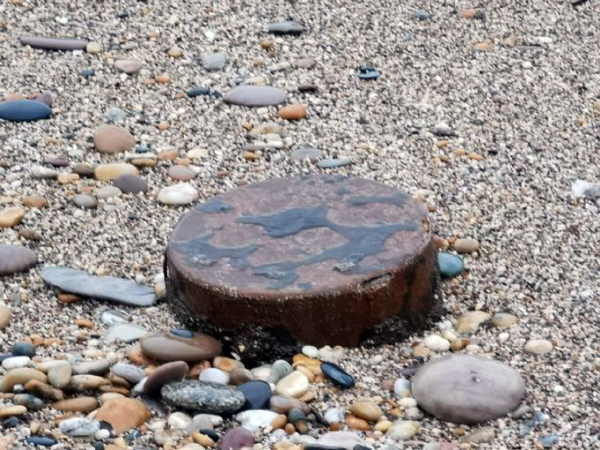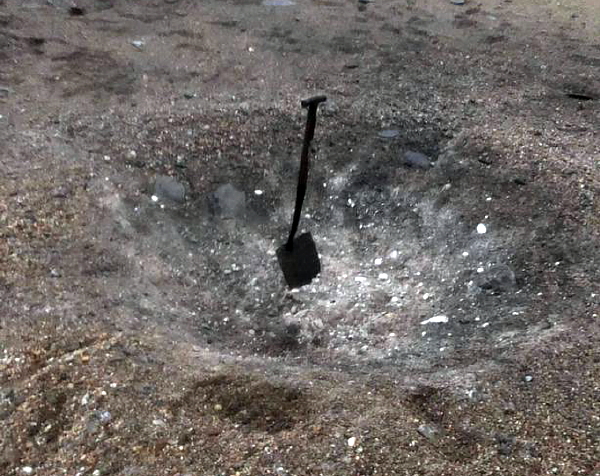 21 Jan 2021 - Three World War Two anti-tank mines found on Devon beach safely exploded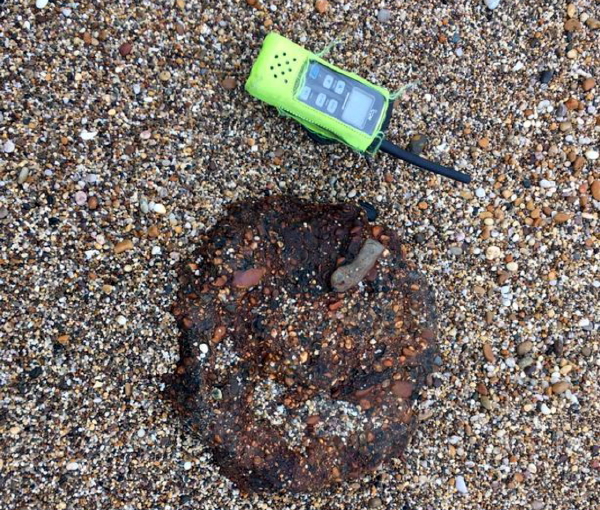 ---
Big effort by HMS Chiddingfold
The Royal Navy website contains this article reporting how MCM2 Crew 1, currently manning HMS Chiddingfold in the Gulf on Operation KIPION MCM, has raised over £3,000 for a Hampshire charity. The Rainbow Centre helps children with cerebral palsy and adults with MS, Parkinson's and those recovering from strokes.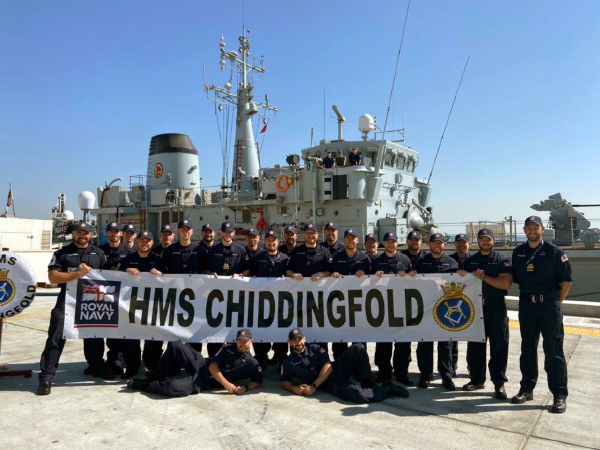 ---
31 Jan 21 - EOD call-out for SDU1
The Plymouth Live website contains this article reporting yesterday's call-out for members of Plymouth-based Southern Diving Unit 1 (SDU1) to deal with a suspected hand grenade. The item turned out to be something else.
SDU1 is part of Southern Diving Group (SDG) commanded by MCDOA Membership Secretary Al Magill.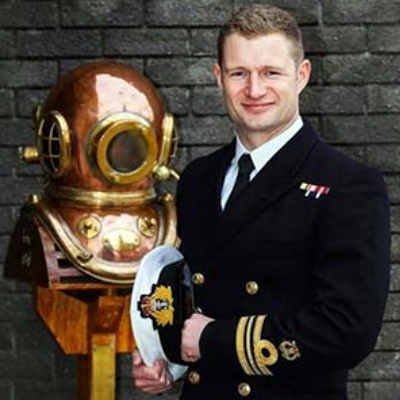 Lt Cdr Alasdair Magill RN - CO SDG
(RN website photo)
---
30 Jan 21 - NDG deals with unexploded ordnance
The Irvine Times website contains this article reporting Thursday's disposal of suspected military ordnance on the beach at Irvine by members of Faslane-based Northern Diving Group (NDG).
---
29 Jan 21 - RN to receive "world class" autonomous minesweepers
The Royal Navy website has published this article announcing that a contract of around £25m has been awarded to Atlas Elektronik UK to supply three 'SWEEP' autonomous minesweeping systems. The article features MCDOA member Mark Atkinson.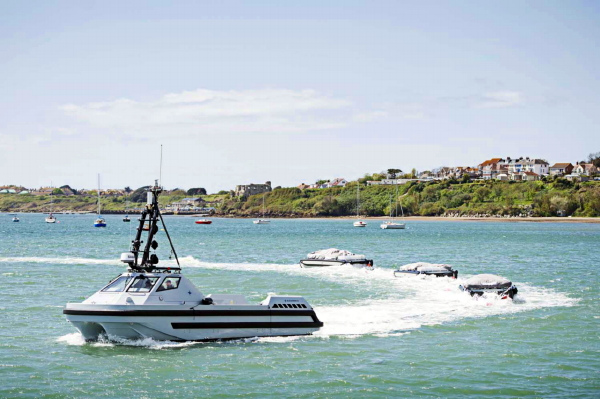 These systems will complement the three autonomous maritime mine countermeasures (MMCM) minehunting systems orderered through a joint production contract with France worth £184m as reported in this article on the Royal Navy website on 26 November 2020. Each set of equipment comprises a portable operation centre, an autonomous surface vessel, towed sonar and a mine neutralisation system.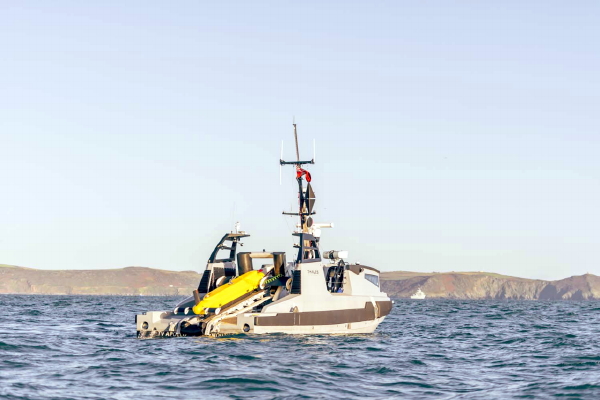 ---
28 Jan 21 - RN Diving Heritage: Former WO(D) Peter Still
Close astern of his previous opus about former CPO(D) Mike O'Meara and the 'Salvage of the Century' (see entry for 24 Jan 21), CD branch legend Ginge Fullen has kindly sent me the latest in his series of 'Chronicles of a Clearance Diver'. Titled 'The Atmospheric Divers', it features former WO(D) Peter Still and is subtitled 'Still Waters Run Deep' (Geddit?). Among his many achievements, Peter was the Coxswain of the Ton class minehunter HMS BRONINGTON when the Prince of Wales was in Command and HRH Prince Charles has been gracious enough to write the foreword.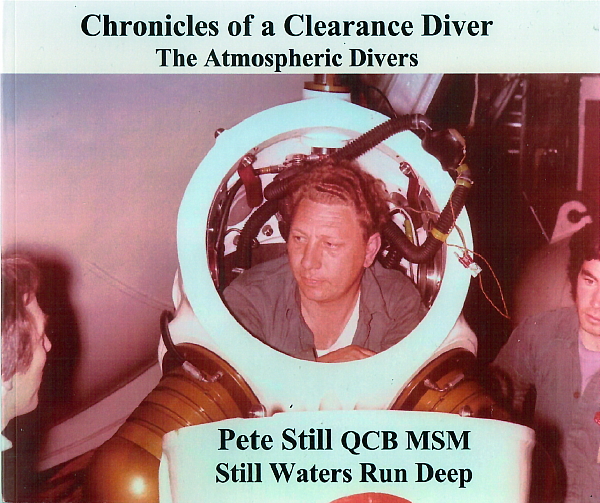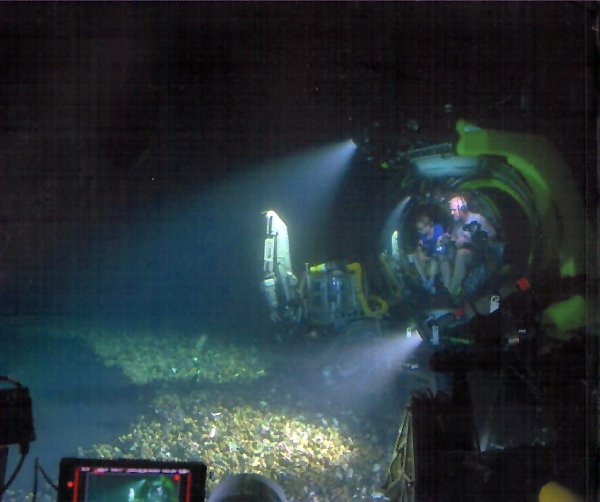 Like Ginge's other books in the series, The Atmospheric Divers is available from him direct or via the RNCDA website.
---
27 Jan 21 - Death of Dr Sidney Alford OBE - A sad loss to EOD
I was so sorry to hear the news that Sidney had crossed the bar, and so soon after his US Navy accolade. They don't make them like him anymore; not only brilliant but a warm, eccentric character, too, with an acerbic wit. He will be sorely missed.
Sincere condolences to Sidney's family, close friends and colleagues. RIP.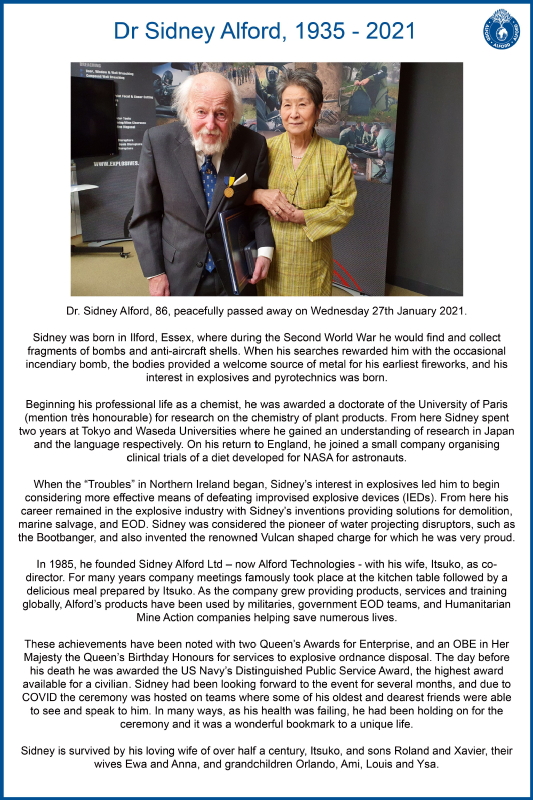 Only the day before his death, Sidney was presented with a US Navy Distinguished Public Service Award, including a medal, by Lt Stephen Honan USN on behalf of the Joint EOD community. With the current restrictions due to Covid-19 the presentation ceremony was held at the Alford Group's office in Trowbridge with 15 generals and admirals joining in via video conference, as well as some of Sidney's old friends.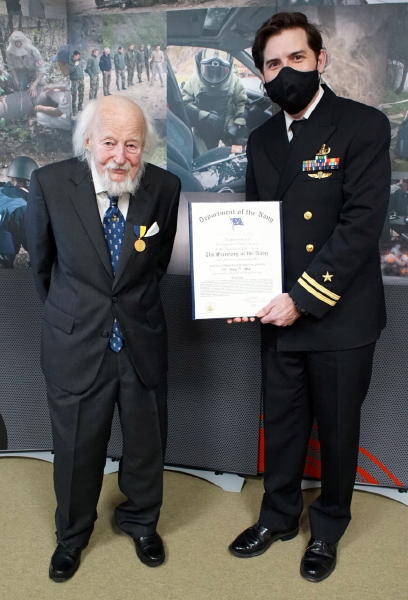 ---
26 Jan 21 - Advance Australia Fair

Happy Australia Day to all our mates down under.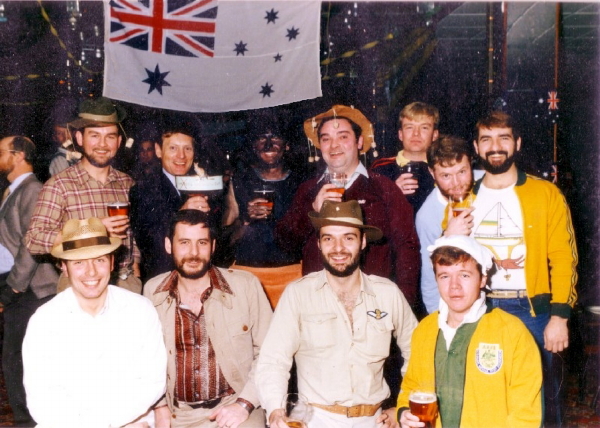 1984 - Australia Day in Vernon Club at HMS VERNON
Back: Rankin RN (later RAN), Burroughs RAN, Kennedy RAN, Unknown, Sewell RAN,
Day RAN, Davey RAN (later RN).
Front: Turner RN (later RNZN), Hoole RN, Davies RN, Griffith RAN)
Congratulations to the MCDO and two CDs in the 2021 Australia Day Honours List:
CONSPICUOUS SERVICE MEDAL (CSM)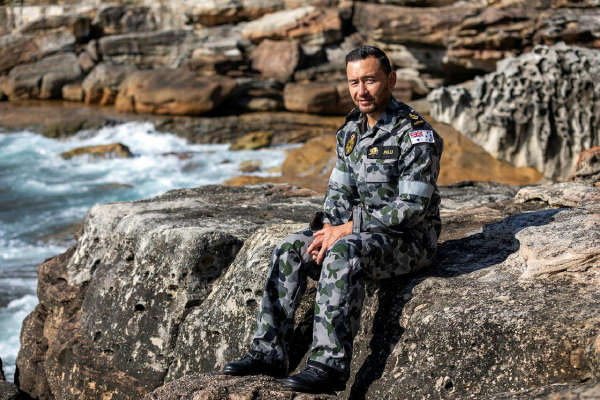 LSCD Steven Palu was awarded a Conspicuous Service Medal in the 2021 Australia Day Honours and Awards list, for meritorious devotion to duty during the operation to recover a United States Marine Corp MV-22 Osprey aircraft that crashed off the coast of Queensland in August 2017 with the loss of three United States Marines. Although Leading Seaman Palu suffered from the debilitating effects of the challenging underwater environment and malfunctioning equipment, he demonstrated courage, determination and dedication to duty by completing the task. Leading Seaman Palu's refusal to release the body of a Marine guaranteed its return to the grieving family.
MEMBER (AM) IN THE MILITARY DIVISION
Rear Admiral Robert William Plath RAN - For exceptional service to the Royal Australian Navy in senior command and representational positions.
MEDAL (OAM) IN THE MILITARY DIVISION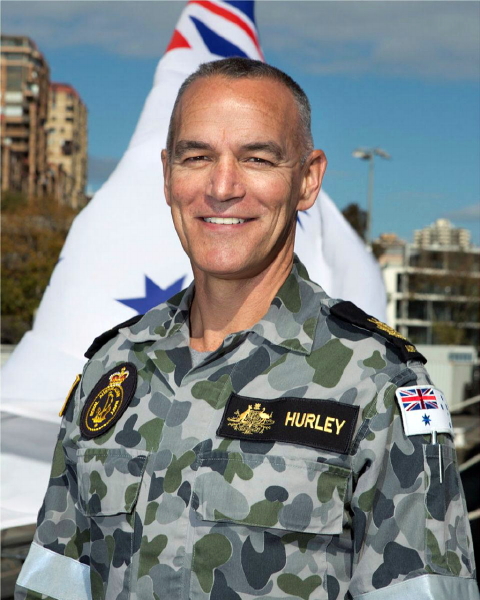 Warrant Officer Matthew Ian Hurley - For meritorious service in the fields of Clearance Diving and leadership as a Warrant Officer in the Royal Australian Navy.
The complete list is available here:
Australia Day 2021 Honours List
---
25 Jan 21 - MCM1 Crew 7 takes over HMS Shoreham from Crew 5
The Royal Navy website contains this article announcing that MCM1 Crew 7 is taking over HMS Shoreham from MCM1 Crew 5 on Operation KIPION in the Gulf. Ship's companies have started rotating every four months instead of the previous six to eight.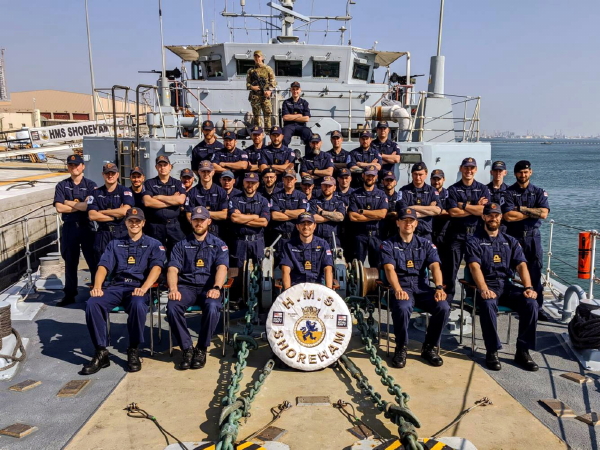 MCM1 Crew 5 on board HMS Shoreham
(RN website image)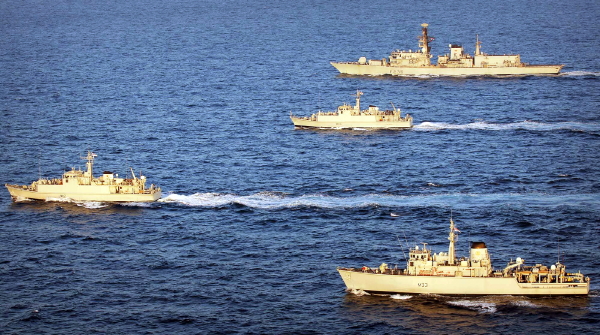 From the top: HMS Montrose, HMS Penzance, HMS Shoreham and HMS Brocklesby
(RN website image)
---
24 Jan 21 - RN Diving Heritage: Salvage diver's biography
As ever, I am grateful to Clearance Diving branch legend Eamon 'Ginge' Fullen for a copy of the latest in his series of 'Chronicles of a Clearance Diver'. This one, subtitled 'Salvage of the Century', focuses on the life and career of ex-CD Mike O'Meara who was involved in the salvage of gold from the wartime wreck of the cruiser HMS Edinburgh in 1981. It also details all the major salvage jobs that the CD branch has undertaken since the first course in 1949 including submarines, ships, aeroplanes and helicopters, murder weapons, secret documents, diamond rings and even a bag of hands! It is thoroughly recommended.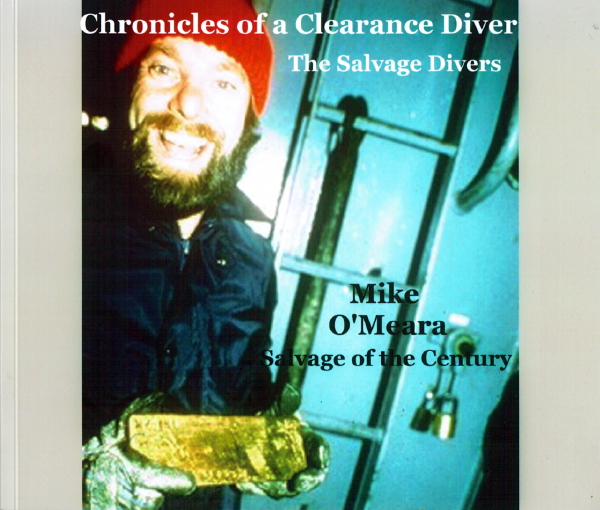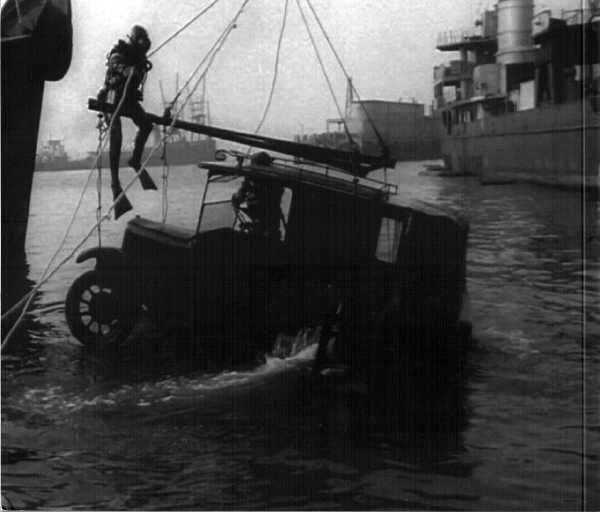 Like Ginge's other publications, this book can be purchased via the RNCDA website.
---
23 Jan 21 - SNMCMG1 off Portsmouth
I am grateful to Amy Savage for these long-range photos of the Estonian minehunter ENS UGANDI, formerly HMS BRIDPORT, among other units of Standing NATO Mine Countermeasures Group 1 (SNMCMG1) transiting the Solent off Portsmouth this morning.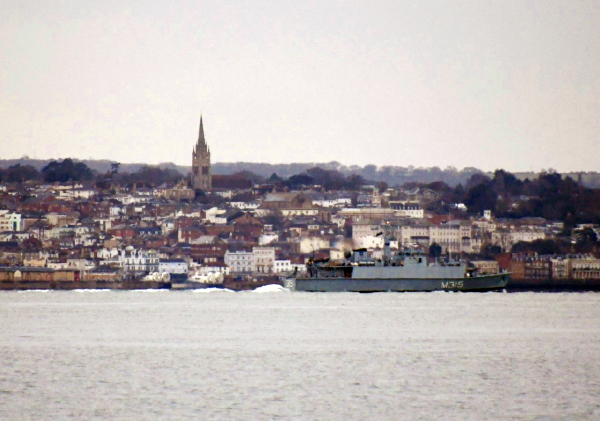 ENS UGANDI (formerly HMS BRIDPORT) transiting the Solent this morning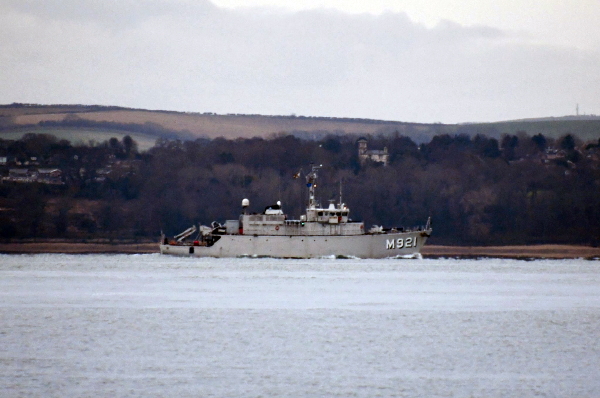 BNS LOBELIA transiting the Solent this morning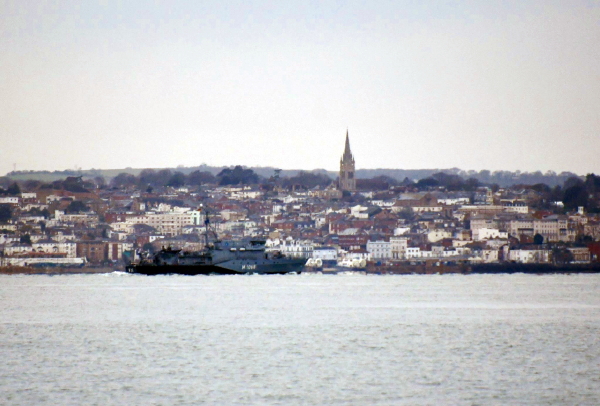 FGS DATTELN transiting the Solent this morning
---
20 Jan 21 - Call-out for NDG
The Aberdeen Press & Journal contains this article reporting a call-out for Faslane-based Northern Diving Group (NDG) to deal with suspected explosive ordnance on the Isle of Lewis.
---
19 Jan 21 - Contract placed for autonomous MCM systems
The Ministry of Defence website contains this article reporting the award of a contract to Atlas Elektronik UK for the production of three autonomous minesweeping systems.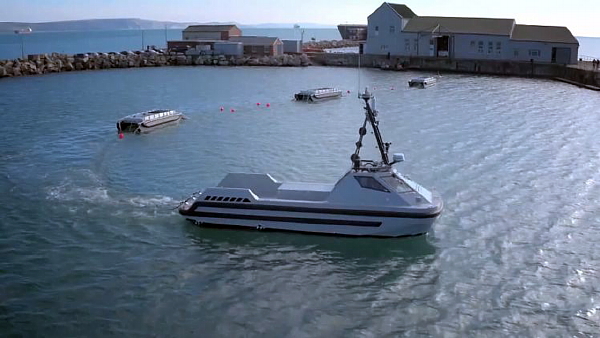 The Royal Navy's autonomous mine sweeping system (SWEEP) being trialed
---
17 Jan 21 - SDU2 deals with ordnance on IOW
The Isle of Wight County Press website has published this article reporting an EOD task in Bembridge on the IOW performed by members of Portsmouth-based Southern Diving Unit 2 (SDU2).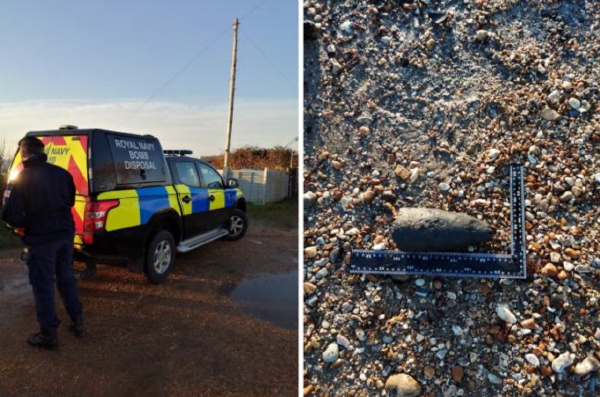 ---
15 Jan 21 - Latest tweets
Click on the linked dates to see all associated photos and videos.
NATO Maritime Command
15 Jan 2021 - Our Standing NATO Mine Countermeasures Group 1 (SNMCMG1) has a new Command. Thank you Lithuanian Armed Forces for all the hard work, achievements, dedication & resilience leading the group in the second half of 2020 and welcome, the new Command under the Royal Netherlands Navy.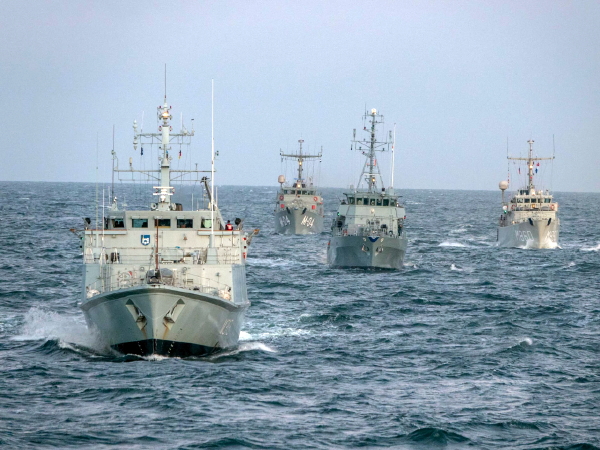 HMS Brocklesby (MCM2 Crew 6)
4 Jan 2021 - Ever had that feeling you're being followed? Off out with little sis HMS Chiddingfold.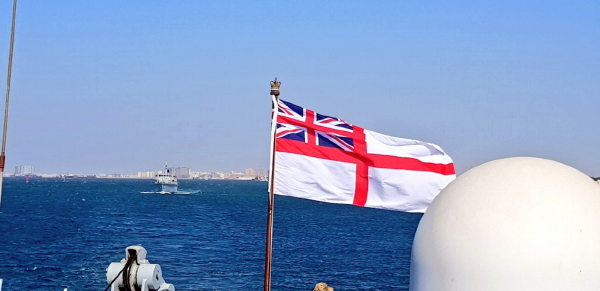 HMS Chiddingfold (MCM2 Crew 1)
14 Jan 2021 - No sailor has one single job onboard CHID. Meet AB(D) Bill Bailey our senior AB Diver onboard; here he is as part of the guns crew. Born in Manchester, made in the Royal Navy.
12 Jan 2021 - Meet ET (ME) Buck, about to celebrate his fourth Navy Birthday. Having three OP KIPIONs under his belt he has recently qualified for LET, making his daughter Lily proud. Born in Hull, made in the Royal Navy.
5 Jan 2021 - *Update* The Ships company have currently covered 841 km of which 122 km has been swam (4882 lengths), 378 km cycled, 298 km has been run and 43 km has been rowed! Keep donating and keep following our challenge!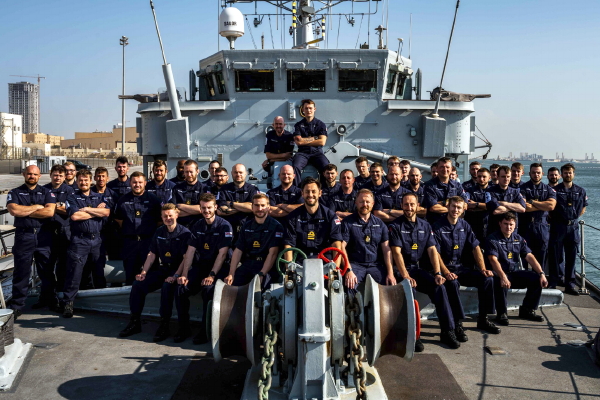 2 Jan 2021 - In the first week of January, every member of the ship's company will complete 37 km in 7 days. This is for a charity close to our hearts, Rainbow Charity. Please click the link to our JustGiving page for more information:
https://justgiving.com/fundraising/c37
HMS Penzance (MCM1 Crew 3)
12 Jan 2021 - Congratulations to ET(ME) Shepherd for earning December's Sailor of the Month prize. The engineers have worked incredibly hard during a recent maintenance period and ET(ME) Shepherd's efforts were particularly noteworthy. BZ!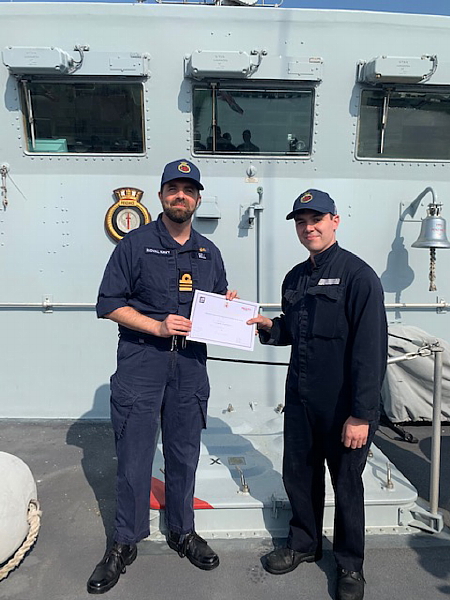 HMS Shoreham (MCM1 Crew 5)
12 Jan 2021 - Up close and personal with HMS Brocklesby! Shoreham and other MCMs welcomed UKMCC Bahrain and his team for a visit. The closer we work together as a team, the better we are at promoting regional stability and protecting civilian shipping in the region.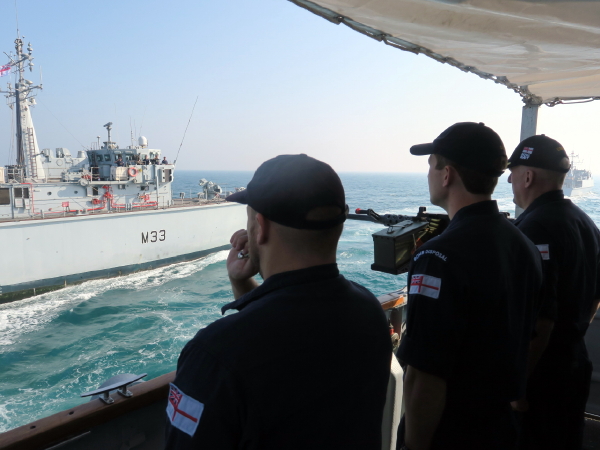 ---
13 Jan 21 - BRNC Dartmouth 'Ex-Lower Deck' Division to be named after Brian Dutton
I am delighted to announce that the Division for the new WOCP (Warrant Officers' Commissioning Programme) at Britannia Royal Naval College, Dartmouth is being named after the late MCDOA member Lt Cdr Brian Dutton DSO QGM RN who crossed the bar on 23 April 2018 (see entry for 25 May 18 in News Archive 62).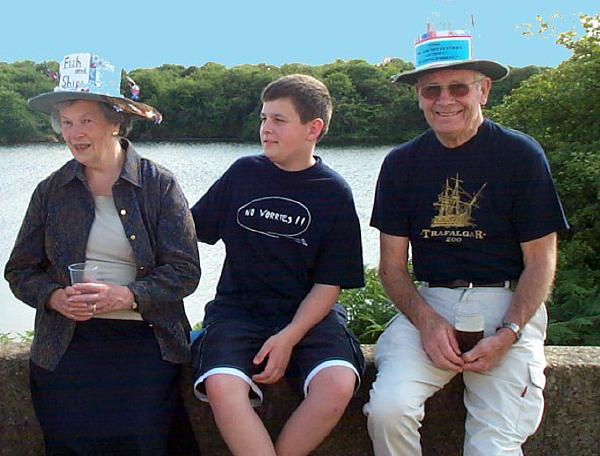 Brian & his late wife Audrey with grandson at an MCDOA Barbecue on Horsea Island in July 2005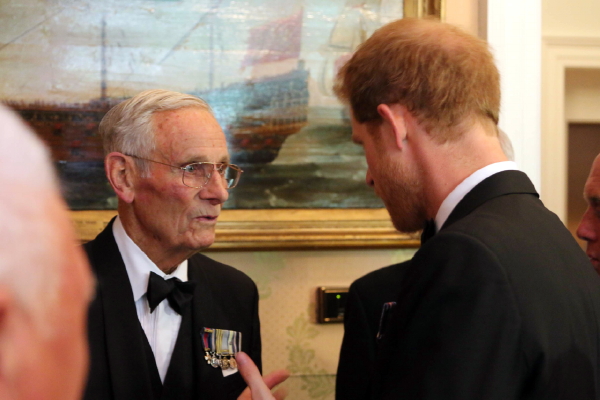 Brian Dutton with Prince Harry at Project Vernon 'Falklands 35' fundraising dinner
at Trinity House in July 2017
I am particularly grateful to BRNC Staff Officer Lt Cdr Adam Macdonald RN for sparking this initiative and to MCDOA member John 'YoYo' Ravenhall for assisting him with his task while recently undergoing the WOCP himself. Adam's proposal was approved by MCDOA President Roger Readwin, the Captain of BRNC.
Brian's sons Gary, Bernard and Frank (all ex-RN) have offered to loan BRNC their father's commission, citations, sword and medals for display.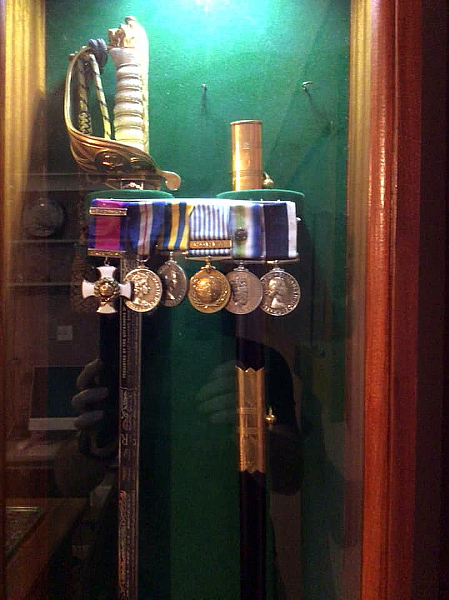 Brian Dutton's sword and medals
Download and read this PDF file for full details including Brian's biography:
BRNC Temporary Training Memorandum - Warrant Officers' Commissioning Programme Divisional Name
---
From Brian's son Frank:
"Bernard, Gary and I [all ex-RN] plus the rest of the family are so proud this has happened. It is a very unique distinction for a 'junior' officer to be recongnized in this way. It also offers recognition to the MCD Branch, a branch that Dad was so proud to serve in."
---
From Brian's son Gary:
"As a family we are honoured that our father is being remembered in this way. The news has gone out across the globe to family in Australia, Canada and Brazil. So chuffed and in my brother Frank's words 'Stoked'.
Stay safe all."
---
11 Jan 21 - Second MCM Squadron Change of Command
Fair winds and following seas to MCDOA members Simon Cox and Rich Talbot who has superseded him as MCM2 (Commander of the Portsmouth-based Second MCM Squadron).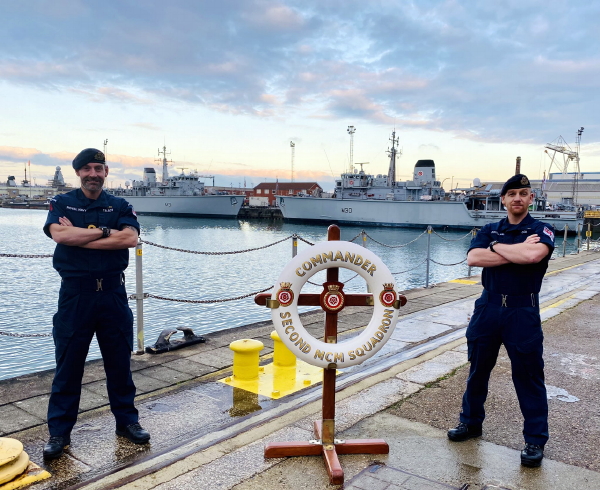 Rich Talbot (left) and Simon Cox beside No. 2 Basin in Portsmouth Naval Base
Simon tells me he is now working "...at MOD as the sole Navy guy in the Defence Strat-Pol Team. The title is DSP SO1 Strategy Maritime. Currently focused on Integrated Review business."
---
5 Jan 21 - Latest LS&GC Awards
Congratulations to LS(MW) M. N. Jacobs and LS(MW) D. W. Roberts on being gazetted for the award of the Naval Long Service and Good Conduct Medal.
---
1 Jan 21 - MBE for 'Central' Heaton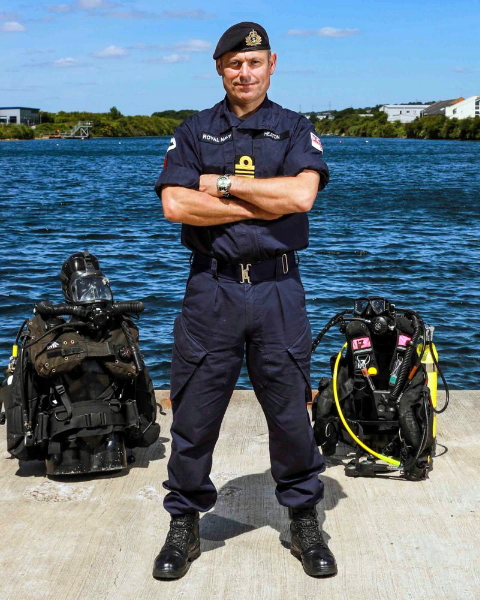 Lt Cdr Séan 'Central' Heaton MBE beside Horsea Lake
I am sure all members will join me in congratulating Lt Cdr Séan Heaton aka 'Central' on his well-deserved appointment as an MBE (Military Division) in the 2021 New Year Honours as announced on the Royal Navy website:
SAILORS AND ROYAL MARINES RECOGNISED IN NEW YEAR'S HONOURS LIST
One of the navy's most experienced bomb disposal experts receives an MBE for his inspirational leadership and operational achievements.
Under Lieutenant Commander Sean 'Central' Heaton's leadership, specialist divers from Portsmouth and Plymouth-based bomb disposal units rendered safe or disposed of nearly 16,000 items of conventional ordnance (sea mines, torpedoes, hand grenades, mortars and bombs dropped by aircraft), as well as successfully dealing with 97 present-day Improvised Explosive Devices (IEDs).
Among the most high-profile tasks during his two-and-a-half year spell in charge of the Southern Diving Group was a 500lb Luftwaffe bomb found in February 2018 on the bottom of London's King George V Docks – next to London City Airport.
His citation said:
"He relentlessly delivered very-high-tempo operations, above and beyond that expected of his rank and his peers, with an admirable dedication to his people. His devotion, commitment and professional ability has been extraordinary, and he most strongly deserves official recognition."
Originally from Wigan and with more than 30 years' service in the Royal Navy under his belt, Lieutenant Commander Heaton said he was honoured to have been singled out. He added: "This decoration is as much a recognition of the brave, dedicated and immensely professional men and women that were under my command during my time in Southern Diving Group."
---