In early 2004, I made the rash suggestion that I would give Rob Hoole a little piece about divers on or about the canal system of England and Wales. I decided it needed a few up to date illustrations, which took some time to collect and then it was winter! Winter is a time of mad activity for me, so here it is – just in time for the new cruising season.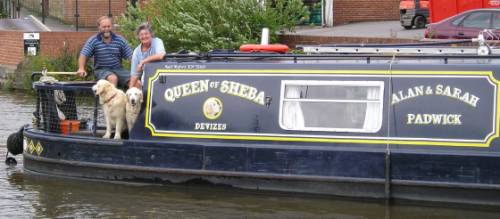 Alan and Sarah, Tosca and Tyrley below Bingley Five Rise
on the Leeds and Liverpool Canal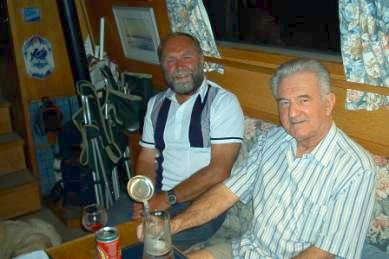 Dave Forsey on board at Newbury on the Kennet and Avon Canal
There cannot be very many of you left serving, who remember who I am. After all, I tend to think of the First Sea Lord as "young Alan", and a few years ago, when I mentioned what everyone had done in the Falklands War at a Divers' Dinner, the Lieutenants surrounding me muttered that they had been at primary school. Life rolls on terribly fast. But spending time on the canals is wonderfully rejuvenating.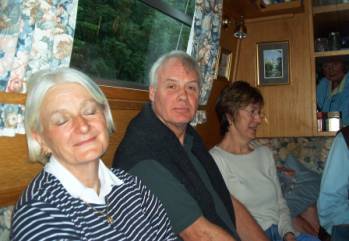 Tim and Deborah Paul on board at Nantwich on the Shropshire Union Canal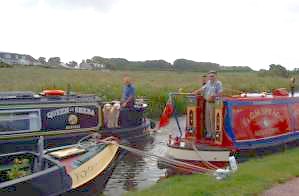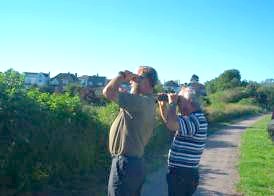 Frank Spragg and Alan at Hestbank on the Lancaster Canal
(Alan providing Telescopic Support?)
There are several of us doing it. Two others, who have boats are Frank Spragg and Brian Mansbridge. Others have simply come aboard to drink. For a few days of each of several of the years, Mike Wignall (1970 course) has joined us in my boat to help with some heavy locking. He regards it as a way to stretch the muscles away from his computer.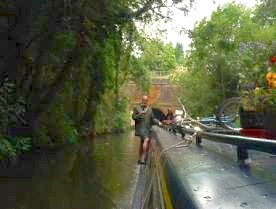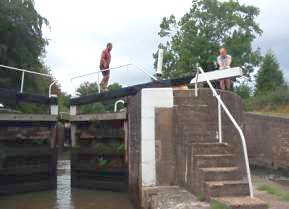 Left: Mike Wignall on the Stratford Canal.
Right: Mike and Alan slaving on the Hatton Flight, Warwick on the Grand Union Canal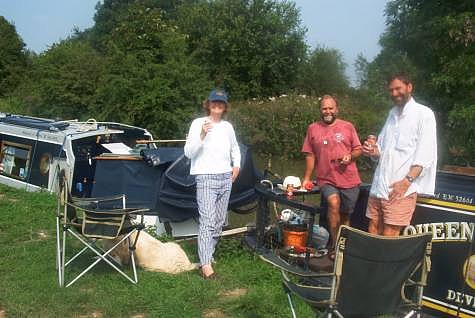 Brian and Wendy Mansbridge at Foxton on the Leicester Branch, "Blue Roan" in the background
In my case, I blew my gratuity for 35 years service on a new narrow boat and we set off on extended cruises in May 1993. For the first three years, we did not have a shore base, as our house was let. (There were no jobs, anyway – it was the recession). Since 1996, when we settled in a house with a mooring in Devizes, we have cruised nearly all of every summer. It is a decision I have never regretted (and I have my wife's permission, nay, encouragement, to say so). We have travelled throughout England and north Wales, from Godalming in the south to Ripon in the north, Llangollen in the west to Boston in the east. On the way, we have seen and learned about more of our country than we ever did in all those years of dashing about in cars and trains and planes (and, of course, ships) that the Navy required. At two miles an hour, there is a temptation to start chatting to every dog walker (and nutter), who strolls along beside the boat. It has been the perfect antidote to the wanderlust, which the Navy gives you. Not exactly dashing about the world anymore but still not quite settled down. When March comes around, I am like a bear with a sore head until the boat is fully maintained, safely loaded and poised to leave as soon as my little winter employments can be shed.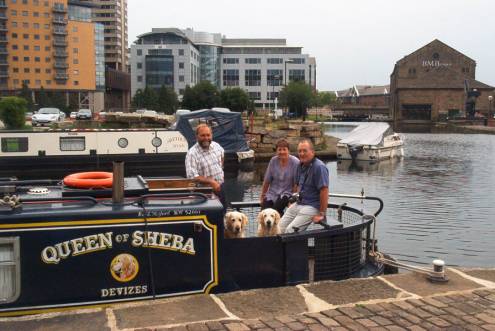 With John Lang in Leeds Basin
Could you do it when the time comes? That depends on your desire (and that of your nearest and dearest) and your circumstances. For me, it was possible because my youngest was safely away at University, all other children were making their own way and I already had tenants in the house, which was my chief source of security for the future. With no links to shore, it was quite a bit cheaper than living in a house (but read the small print!) And I have never felt so care free in my life.
If you want to know more, I am happy to correspond on alan.padwick@tiscali.co.uk. And if there are any others from the branch cruising the cut, how about telling our webmaster?
---
October 2010 update by Steve Gobey
Hi Rob,
Recently returned home after a very enjoyable summer's boating in NB FROBISHER. In August, I joined forces with Peter Robinson in NB CATBELLS for a 'team sweep' up the Kennet & Avon Canal to the Thames and the Inland Waterways Festival at Beale Park near Pangbourne. Senior Officer Narrowboats, Alan Padwick's mooring was empty as we passed but a couple of days later we came across him in NB QUEEN OF SHEBA moored up and enjoying the sunshine by Widmead Lock near Thatcham (always thought it was a strange place for RN CBs to come from!).
Alan's wife Sarah kindly took on the Phot duties and recorded the muster of the Western K&A based squadron of the MCDOA NB FLOTT! If I'd known there was to be a photocall that day I'd have put on my boating rig Nos 1s!
Looking forward to catching up with you and others again at the AGM/Dins.
Best Regards,
Steve
Left: Alan Padwick, Steve Gobey and Peter Robinson
Right: Steve Gobey, Alan Padwick and Peter Robinson