---
30 Sep 10
Paddy McAlpine selected for promotion to Commodore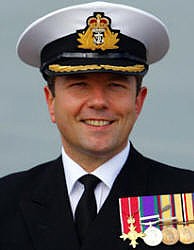 Captain Paddy McAlpine OBE RN
Hearty congratulations to MCDOA member Paddy McAlpine, Commanding Officer of HMS Daring, on his selection for promotion to Commodore and to be Deputy Flag Officer Sea Training in succession to Commodore K W L Keble OBE Royal Navy with effect from May 2011.
---
Quorn's visit to Guernsey cancelled
The BBC website contains this article describing the cancellation of a vist by HMS Quorn to Guernsey for a memorial weekend.
---
28 Sep 10 - RN Divers return from Afghanistan
Today's Portsmouth News contains the following article describing the return from Afghanistan of PO(D) Ward 'Sharkey' Peers who was deployed for Counter IED duties with LS(D) Lee Jackson, AB(D) Phil Brierley and AB(D) Ian Rowe. Unfortunately, it does not appear on The News website.

---
25 Sep 10 - Volunteers wanted to help prepare new diving museum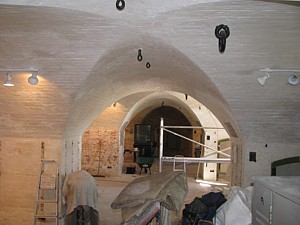 ALPHA Chamber
MCDOA associate member John Bevan has asked for volunteers to perform the following tasks associated with the conversion of No. 2 Battery in Stokes Bay into a diving museum:
UP TOP
Concrete repairs cement/bitumen paint.

Re-point front wall.

Install cowling on vent.

Install fans in vents over windows.

Soil clearance.

Steps to climb up (purchase item).

Flag pole, installation (purchase item).
ALPHA OUTSIDE
Re-instate gulley on top (GBC?).

Sandpaper and oil wood door.

Sandpaper and paint windows.

Clean and paint iron bar doors.

Erect signage (purchase item).
ALPHA INSIDE
Scrape down walls and ceiling.

Wire-brush and paint iron fittings (purchase item).

Prepare floor for painting (fill holes, remove loose cement).

Paint floor (purchase item).

Erect wall boards (purchase item).

Remove air filter unit.
LIBRARY
Partition off library section (purchase item).

Dehumidify area Make and install library shelves (purchase item) Insulate wall and ceiling (purchase item).
ELECTRICS
Clean out 13 amp sockets.

Cut wood for electric points (purchase item).

Install electric sockets (purchase item).

Install electrics for night storage heaters and heaters (purchase item).

Replace broken lights in corridor (purchase item).
BRAVO
OUTSIDE
Construct bases for heavy exhibits (purchase item).

Install and paint exhibits.
Left: Alan Lee and John Millerchip. Right: Roger Forster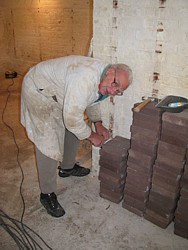 John Towse
The immediate requirement is to finish scraping layers of old limewash from the internal walls. This is two thirds complete thanks to people such as Yours Truly and Association of RN First Class Divers (AORNFCD) members John Dadd, Stew 'George' Sissons and Jim 'Tommo' Thomson. The next work sessions are from 1000 on Saturday 2 and Sunday 3 September. If you can find a few hours to help, please contact John Bevan via this email address or call him on 07802 785050.
---
24 Sep 10 - Two MCDOA members meet in New Zealand
MCDOA member Ian Morton has sent me this photo of himself three days ago with former MCDOA Secretary David 'Topsy' Turner who transferred to the RNZN in 2004. In fact, it was Topsy's 53rd birthday and he had to cut short his visit to the Mortons to return home (ten minutes away) and enjoy a celebration dinner with Yvonne and the rest of his family: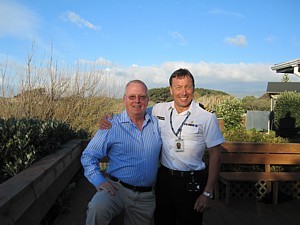 Ian Morton with Topsy Turner at Otaki Beach,
New Zealand
Otaki Beach is on the south west coast of NZ and Ian reports that the wind was howling and the breakers were rolling in. It was even raining but he and his wife Elma were enjoying their visit nevertheless. Topsy, who is Chief Staff Officer Plans Division at HQ Joint Forces New Zealand, says hello to everyone and he is happy to recruit anyone else who has the notion of leaving the UK. He also wishes all his old friends in the UK well and hopes that we enjoy our annual dinner in fine MCDO style.
---
23 Sep 10
Remains of Scott Weatherley interred at sea
MCDOA member Bob Hawkins (Commander Faslane Patrol Boat Squadron) has sent me this news about the interment at sea of the remains of former PO(D) (and ex-MW rating) Scott Weatherley (see second entry for 28 Jul 10 in News Archive 31):
"Dear Rob,
It will be of interest to our readers to know that yesterday I had the solemn but distinct honour to commit to the deep from HMS PURSUER the ashes of former Petty Officer (Diver) Scott Weatherley, an old SNICDT shipmate of the mid-80's. The committal was in "The Hole", literally a 70 metre hole just off the Tail O' The Bank at Greenock on the River Clyde. How provident it was that, coincidentally, HMS BANGOR commanded by MCDOA member Lt Cdr Neil Marriott should be conducting 60 metre spot-dips just a couple of cables away from the place where we committed Scott's ashes. At the time of the committal an overcast sky and rain cleared briefly and a shaft of light shone through onto the Clyde; whoever he or she is 'upstairs' must have been looking down on 'our' Scott!
The committal sprang from me renewing my acquaintance with Scott's brother Mike Weatherley in the aftermath of the funeral in August; Mike was my shipmate in HMS BRECON in the early 80's and he left as a LS(MW) in '93. One of my XOs is CPO(MW) Gary Burridge who also knew the Weatherley brothers, and Gary has put Mike in touch with the Minewarfare Association so he can join.
Warm regards,
Bob"
---
More from Bob Hawkins
Lt Cdr Bob Hawkins MBE RN
Bob has also asked me to remind members that the Northern MCDOA Dinner is scheduled for 25 Feb 2011, the 45th Anniversary of the formation of the MCD Branch. As usual, the dinner will be held in the Wardroom at HMS Neptune and further details will be published on the 'Forthcoming Events' page sometime after October. If you wish to register your interest in advance, please notify Bob by telephone (01436 674321 ext 4209) or via this email address.
Bob says that his Patrol Boat Squadron will have the pleasure of working with regular MCDOA Northern Dinner attendee Nigel Davies next month at the Army's Kirkcudbright Range where he he is the Range Officer. Squadron personnel will be engaged in Exercise OCEAN FIRE with Fleet Protection Group Royal Marines to practise the advanced GPMG firing skills needed for their role in Operation IMPERIOUS.
---
22 Sep 10 - RN Divers exchange fire with Taliban in Afghanistan
The Daily Star contains this article describing how RN divers performing Counter IED tasks in Afghanistan were involved in a six-hour firefight on their first patrol in Kajaki in Afghanistan. AB(D) Ian Rowe hit back with his General Purpose Machine Gun, firing 1,000 rounds of 7.62mm ammunition at the Taliban a kilometre away.
---
21 Sep 10
More publicity for Windermere swim
Today's Portsmouth News contains this article describing this weekend's Windermere swim by RN clearance divers to raise funds for Help for Heroes and Project Vernon. The article features CPO(D) John 'YoYo' Ravenhall and the hard copy version has this picture showing MCDOA members Mick Beale, John Beavis and Richard 'Soapy' Watson as well as WO(D) Steve Fizjohn and John 'YoYo' Ravenhall.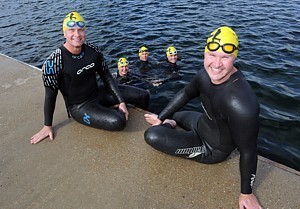 Encourage the team and support Help for Heroes and Project Vernon online here:
Royal Navy Clearance Divers Swim Windermere
---
Commander US Fifth Fleet visits RN minehunters in Gulf
Today's Portsmouth News contains this article describing a visit by Vice Admiral Mark Fox USN to HMS Chiddingfold during US/UK MCM exercises in the Gulf (see second entry for 9 Sep 10). It features MCDOA member Dave Bence, Commander UK Mine Countermeasures Force (UKMCMFOR).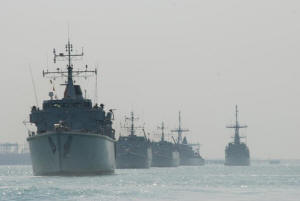 UKMCMFOR with USN minehunters in the Gulf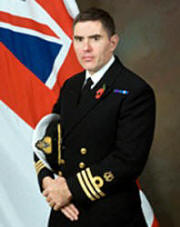 Cdr David Bence RN
---
20 Sep 10 - Update from Dave Ince
MCDOA member Dave Ince, who transferred to the RAN in November 2006 after a three-year exchange appointment with the US Navy, has given me permission to publish this update:
"G'day Rob,
Once again MRU [for the annual dinner], I'm not sure when I'm going to get back to ole Blighty to reacquaint myself with my Pom MCDO brethren! We have all been totally Aussiefied now (not ossified!), having bought a big house in Sydney's Northern Beaches with my ill-gotten war spoils from Afghanistan. (We still have one in Pompey too, bloody UK housing market being the way it is!) Plus both our sons are committed to the Aussie military. Brent, the eldest, has joined the Air Force as a Rock Ape equivalent and Luke joins the Navy in January. Although he is doing a stonemason's apprenticeship at the moment, he has been selected for the Navy gap year programme, a 'try before you buy' initiative that is very popular amongst the youth here. Luke wants to become a helo pilot in the long term, so I didn't manage to recruit either of them to the cause! Mind you, in Luke's case, why spoil the fantastic diving by having to do it under Navy rules!
Julie is very well, loving the life style and with no sign of the big C re-entering her life (nearly at the five year remission mark). She is now in a great job as the physio supervisor in a Sydney (Manly) private hospital. Mind you, the boys growing up and leaving home is hard on her, so I will probably have to buy her a puppy when Luke flies the nest!
At the moment I am on Commanding Officer (desig) course and, pending the final nod from the Chief of Navy, I'm due to start driving an Armidale Patrol Boat out of Cairns in January (thumbs nose in the general direction of the PWO types who hogged all the small ship commands in the RN). I have ducked the minehunter route despite initially being selected to command one. The simple reason being that it will be nice to take a break from all things MCD, plus the PB job is fully operational and pretty damn interesting. There is little danger of the MHCs going operational anytime soon, and I've been too spoilt by my RN experiences to just play at MW!
So all is good here. All my best to the Brothers in Arms.
Cheers and ice cold beers,
Dave 'Spidy' Ince"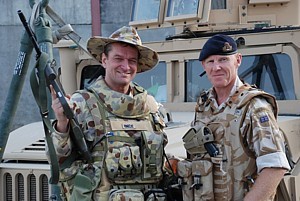 Dave Ince with former MCDOA Chairman
Chris Ameye in Afghanistan in 2008
---
19 Sep 10 - Chris Baldwin interviewed about Windermere swim
MCDOA Acting Chairman and RN Superintendent of Diving Chris Baldwin was interviewed about next weekend's Windermere Swim by Nick Girdler on BBC Radio Solent on Sunday morning and put in a word for Project Vernon. The programme is available to hear again on iPlayer until next Sunday and Chris's bit starts at 2:06.40:
BBC iPlayer - Nick Girdler: 19/09/2010
Encourage the team and support Help for Heroes and Project Vernon online here:
Royal Navy Clearance Divers Swim Windermere
---
18 Sep 10
German incendiaries found in Portsmouth garden
Today's Portsmouth News contains this article describing the disposal, presumably by members of Southern Diving Unit 2 (SDU2), of some German incendiaries discovered in a garden in Portsmouth.
---
MCDOA website statistics
During August, the website received visits from 15,071 distinct servers (i.e. different IP addresses) in 96 different countries. 3,928,880 hits (126,740 per day) were registered for various pages, images and files and 152,180 hits (4,909 per day) were logged for specific web pages. Overall, 93.37 gigabytes of data were downloaded.
The top ten countries represented in terms of data traffic were: UK (36%), Australia (11%), USA (7%), France (7%), Canada (5%), Germany (4.5%), Netherlands (3.5%), Belgium (3%), Russia (2.5%) and New Zealand (2.3%).
---
17 Sep 10
MCM1 Charity Challenge
While deployed in theatre, members of the UKMCMFOR Battle Staff are attempting to row/cycle or run the distance by sea from the North Arabian Gulf to Faslane over a period of one month while at sea. This equates to each member of the team having to complete at least 30km every day.

The team comprises MCDOA member Cdr Dave Bence, Lt Cdr Simon Kelly, Lt Cdr Keith Conway, MCDOA member Lt Cdr Mike Boal, Lt Jim Screen, Lt Carrie Ilsley, Lt Graham Blenkinsop, Lt Mike Stephenson, WO1 Steve Rooks, WO1 Craig Campbell, CPO (MW) Steve Harvey, CPO(MW) Ian Pendleton, PO(CIS) Buck Taylor, LS(CIS) Billy Robertson, LS(CIS) Pete Nicholson and LWTR Al Randall.

To see full details and make donations, go to the Just Giving web site at:
www.justgiving.com/MCM1CHALLENGE2010.
All donations will be passed to Canine Partners which is a charity enabling dogs to be raised and trained into aiding disabled members of the community, many of whom include ex-serviceman and women.
---
Ship's commander pays an emotional tribute to sailor
Today's Portsmouth News contains this article containing a tribute by the Commanding Officer of HMS Cattistock to the rating who died in such tragic circumstances on board last Sunday.
---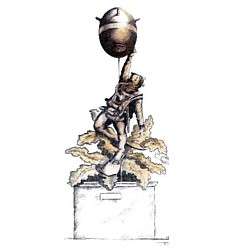 Another boost for Project Vernon
Today's Portsmouth News contains this article, featuring CPO(D) John 'YoYo' Ravenhall, which publicises the forthcoming Windermere swim by RN divers to raise funds for Help for Heroes and for Project Vernon, the campaign to erect a monument at Gunwharf quays to commemorate the minewarfare and diving heritage of HMS Vernon which previously stood on the site (see entry for 3 Sep 10).
The team comprises MCDOA members David 'Stretch' Armstrong, Mick Beale, Chris Flaherty and MCDOA Treasurer Richard 'Soapy' Watson plus serving/ex-serving CDs John 'YoYo' Ravenhall, Steve Fitzjohn, Knocker Knowles, Chris Greenaway, Jay Hogg, Matt Prosser, Rex Turnbull, Jonathan 'Chuck' Norris, Sean 'Screech' Dunstan, Steve Vernon, Jumper Collins, Dave 'Jimmy' Bond and Graham Ribbons plus Tony De Raya (RM) with Paul Higgins-Drysdale and Phil Standen of David Lloyd at Port Solent and Simon Moore of Blueseventy. You can encourage the team in their selfless endeavour and help these great causes by going to their Bmycharity page here:
Royal Navy Clearance Divers Swim Windermere
Well done, guys. I hope you receive the support you deserve.
---
MCDOA AGM, Operational Updates & Annual Dinner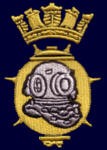 The calling notices, application forms, programme, agenda and proxy voting form for these events on Friday 19 November 2010 are now available for download via the 'Forthcoming Events' page.
As usual, the operational updates, free lunch and AGM will be held at Fleet Diving HQ on Horsea Island. The operational updates should be particularly interesting this year with much activity by our four MCMVs stationed in the Gulf and several of our clearance divers deployed for Counter-IED operations in Afghanistan.
The Association's Annual Dinner will be held in the Wardroom of HMS Excellent on Whale Island with the kind permission of the Mess President, Cdr David Vanderpump. Of course, Cdr Paul Jones, our previous chairman, is now the Commanding Officer of Whaley. The cost of the dinner remains at a very reasonable £35 per head (£40 for guests).
This year, our Guest of Honour will be Major-General Garry Robison CB RM (Chief of Staff (Capability) and a former Commandant General Royal Marines). As is our custom, we will mark the 25th anniversary of LMCDO '85A (Course Officer: Steve Field. Course Instructor: Buster Brown. Students: John Bainbridge, Adrian Cassar, David Griffiths, Mike Leaney, Tom Russell and Al Trevarthen) and LMCDO '85B (Course Officer: Steve Field. Course Instructor: Buster Brown. Students: Angus Crampton-Smith, Stuart Hayes, Andy Johnstone-Burt, Graham Landrock, Paul Raisbeck and Mark Warlow).
LMCDO 85A and LMCDO 85B
We will also be dining out any MCDOA members leaving the Service. If you are a leaver and wish to be dined out this year, please inform Tony Griffiths, our Honorary Secretary, in good time and advise him which version of glass mine or diver you would like as your 'gizzit'. Leavers must have been paid-up members for at least the past three years to dine for free but may pay for the privilege if they have joined the Association in the meantime.
This event is heavily subsidised by the MCDOA so only bona fide members are eligible to attend and bring private guests. Check that the Standing Order covering your annual membership subscription is still valid before applying or you will be disappointed. If you are not yet a member of the MCDOA but feel you are entitled to join, the necessary Application Form and Standing Order Authority (effective from the next 1 Jan) are available for download via the Membership section. However, you must also send a cheque for £10, payable to the MCDOA, to cover the current year.
---
16 Sep 10 - HDS Diving Display at Gosport
Today's Portsmouth News contains this article describing a demonstration of historical diving equipment at Gosport last weekend. The event was organised and run by MCDOA associate member Dr John Bevan, founding Chairman of the Historical Diving Society (HDS).
John has supplied these photos of the event: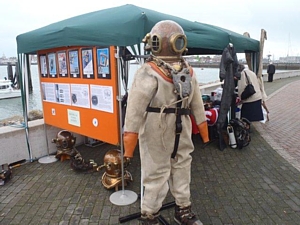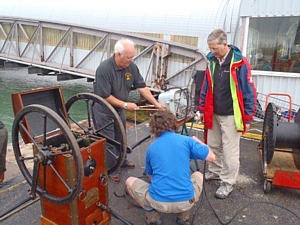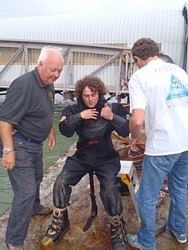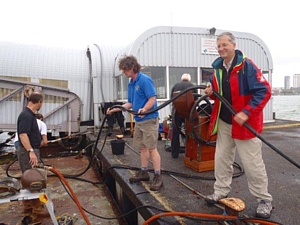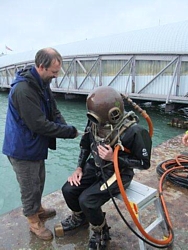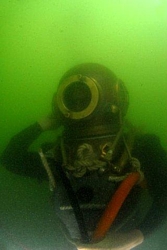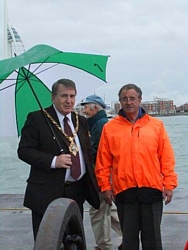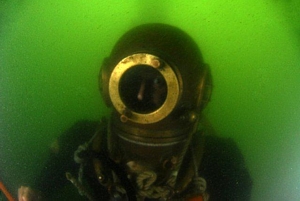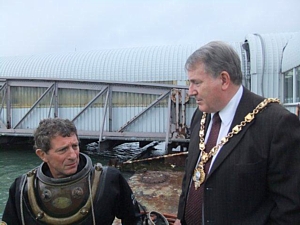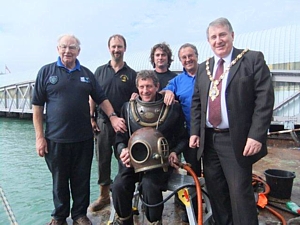 Left: The Mayor of Gosport (Councillor Roger Allen) chats with Kevin Casey
Right: John Towse, Garry Wallace-Potter, Howard Ewkes, John Bevan,
the Mayor of Gosport and Kevin Casey (in diving gear)
With regard to the restoration of No. 2 Battery in Stokes Bay and its conversion into a diving museum (see entry for 22 Aug 10 in News Archive 31), the Mayor of Gosport stated, "On our side of the fence, I guarantee we will do everything possible to support your project."
John advises me that the following has been achieved to date:
All the ivy and shrubs have now been cut back and the trimmings have been removed by Gosport Borough Council.

Alpha (museum) chamber humidity hit an all-time low of 60% yesterday.

Bravo drying out nicely thanks to borrowed generator and fans (Chris Murphy, John Millerchip and John Towse) .

New secret chamber, discovered on north end of Alpha, completely dry.

Extra generators lent by John Millerchip and Stew 'George' Sissons.

Material moved into Bravo to make room for work on walls etc.

Leaky chimney has been given a cement cap.

Lots of concrete cracks up top have been cement filled.

Electrification has been achieved in Alpha and for lighting down the corridor thanks to Ray Mabbs and Roy Gould.

Material including scaffolding has been donated and collected from Val Hares.

Scraping down of walls and ceiling is progressing apace.

GBC conservation reps called in yesterday to advise on painting etc.
Well done to ex-RN divers John Dadd, Clive Egginton, Stew Sissons and Jim 'Tommo' Thomson for their energetic help. Volunteers for further work are required from 1000 on Saturday 18, Wednesday 22 and Thursday 23 September. Dress informal. Battledress optional. If you can spare the time to help, please advise John Bevan via this email address or call him on 07802 785050.
---
15 Sep 10 - RN Diving Heritage: MV Seaforth Clansman and the wreck of HMS Dasher
MCDOA honorary life member member Surg Capt Ramsay Pearson recently informed me that he was looking for a repository for some master logs from the RN's chartered saturation diving vessel, MV Seaforth Clansman. The logs were originally due to be disposed of by the Institute of Naval Medicine (INM) at Alverstoke. I promptly informed MCDOA associate member Dr John Bevan and MCDOA member Ducan Bridge. John, an ex-scientist and depth record-breaking diver at the Royal Naval Physiological Laboratory (RNPL), is now Chairman of the Historical Diving Society (HDS) and the driving force behind the establishment of a diving museum in No. 2 Battery in Stokes Bay. Duncan is a former OIC of NP 1007, the RN saturation diving team embarked in Seaforth Clansman.
Coincidentally, Duncan had been in communication with John and Noreen Steele who were seeking information for a second volume of They Were Never Told: Tragedy of HMS "Dasher" (first published in 1995 as The Secrets of HMS "Dasher"), their book about HMS Dasher, the RN escort carrier that sank in the Clyde in mysterious circumstances on 27 March 1943 with the loss of 379 lives.
At my request, Duncan has provided this account of Seaforth Clansman's dives on Dasher:
"When I took over as OIC NP1007 from David Sandiford in 1981, one of the outstanding, but lower priority tasks in the Clyde Inner Areas was to positively identify the wreck of the WW2 aircraft carrier HMS Dasher.
The Hydrographic Office had Dasher as a wreck to the west of Horse Island off Ardrossan. At an early stage, Seaforth Clansman moored over this so-called Dasher wreck in relatively shallow water but it soon became clear that we were on the remains of a much smaller vessel which, to my knowledge, remains unidentified. The divers found plates and piping lying on the seabed and little more. In the true spirit of helping to keep the seabed clean, it is likely that any large objects that shone when scraped with a knife found their way to Seaforth Clansman's aft, working deck.
However, David Sandiford had put forward a theory that a large seabed contact in some 170m of water NE of Arran was in fact Dasher. The location was part way up the slope from Arran which goes down to maximum depth in what is now know as area Laggan, area X5509. It was of apparent interest to try to determine whether Dasher's sinking was the result of hitting a mine or an internal AVGAS explosion.
To gain approval to operate in the Clyde Inner Areas in the deep but sheltered waters off the NE coast of Arran was, for obvious reasons to former RN personnel, fraught with difficulty. However, suitable approval was gained for the night of 23/24 January 1982. For whatever reason, Seaforth Clansman had divers in saturation at a storage depth of 60m when mooring over the 'unknown' wreck commenced. If I recall correctly, the Clansman TV camera identified a large flat deck (flight deck) at around 0100 and, shortly thereafter, divers were pressed deeper in saturation for their trip to Dasher; the first people to have seen her since her sinking in March 1943. I recall a wooden deck being reported, at least one aircraft still lashed on deck and various wires about the flight deck. There was further reported a large hole in the flight deck which suggests that Clansman was over the after aircraft lift.
I have a vivid memory of seeing the divers in the bell shaking hands as they passed the 100m mark and their dip money rate markedly increased. We pushed the bell down first to about 130m and subsequently brought the main chambers and other divers to the required storage depth of 100m or so.
I had immediate visions of recovering a WW2 aircraft from Dasher's flight deck onto Seaforth Clansman's aft, working deck; with the resulting TV cameras and fame. Regrettably this was not to be. At around 0400 I was contacted by Faslane Ops, who made it perfectly clear to me that my continued presence was most unwelcome and was to end forthwith. Clansman cleared the area shortly before 0600 on 24 January 1982 and proceeded for five or six days of decompression alongside.
A Hydrographic Note was sent to Taunton to confirm the true location of Dasher. Details of this are given in John & Noreen Steele's book, The Secrets of HMS Dasher.
One of the divers on Dasher was Ozzie Hammond, then a LS(D) who had apparently injured himself in some way. Ozzie was taken to hospital by a local taxi. By sheer luck, many many years later, John Steele, author of the Dasher book, happened to bump into the same taxi driver at Fairlie who, like all good taxi drivers, knew the precise movements and location of Seaforth Clansman at all times. This eventually put John Steele into contact with Rob Hoole of the MCDOA and subsequently myself.
Efforts to track down the detailed NP1007 Control Room logs, particularly those relating to the Dasher dive, have been unsuccessful and the NP1007 Reports of Proceedings from that time remain under lock and key at MOD(N). In the past few weeks Doc Pearson (Ramsay Pearson) kindly produced Clansman's master diver log; and a control room log from 1987. Where, oh where, have those earlier control room logs gone? Do they still exist?
The logs that I do have will go to the diving museum John Bevan is establishing at Stokes Bay. I had a lead some years ago that Clansman's logs had gone to the Institute of Naval Medicine and then been archived in a repository near West Drayton, London. The trail then went cold. It is a pleasure to have been able to recall events from a notably dark and cold night on the Clyde 29 years ago and witness the first people to land on Dasher's flight deck since she sank so suddenly in WW2. I shall always regret that more time could not be made available to investigate her very well preserved remains and perhaps shed some light upon the nature of her demise.
Duncan Bridge"
Duncan has also provided these photos:
Transfer Under
Pressure (TUP)
Duncan in
Control Room
Seaforth Clansman
Control Room
Egg-eating race
Postscript: MCDOA member Bob Hawkins submitted this follow-up on 22 September 2010:
"Dear Rob,
Having gone into our website ostensibly to download forms for my attendance at our annual dinner in EXCELLENT on 19 Nov, I read with interest Duncan Bridge's account of the CLANSMAN dive on the wreck of the WWII HMS DASHER off the Isle of Arran. It may be of interest to our readers that the present HMS DASHER is one of two ARCHER class P2000 PBs comprising the Faslane Patrol Boat Squadron (FPBS), which I currently have the pleasure of Commanding along with HMS PURSUER specifically, here on the Clyde and engaged in Force Protection duties.
During the passage of the ships from Portsmouth to their new home in Faslane on 6 May 2010 we took the opportunity to pay our respects to our fallen brethren who died on board DASHER in 1943. A wreath was laid from the current DASHER over the spot where she went down, the Last Post was played, and the saluting party was led by the Commodore Faslane Flotilla (COMFASFLOT), Cdre John Westbrook MBE, who was embarked for our ceremonial arrival at HMNB Clyde.
Warm regards to all Brethren,
Bob"
---
14 Sep 10
Tragedy on board HMS Cattistock
Today's Portsmouth News contains this article describing the suspected suicide of a sailor on board HMS Cattistock alongside at Portsmouth.
Such sad news. I was at sea in Cattistock only a few weeks ago (see second entry for 8 Jul 10 in News Archive 31). I'm sure all fellow members of the RN minewarfare & clearance diving community will join me in offering our sincere condolences to the sailor's family, friends and comrades.
Postscript: The rating concerned has been identified as AB Sam Hatton. See this article in the Portsmouth News.
---
FCPO Edward H (Ted) Bradley BEM
I am grateful to Cdr Andrew Loring RN at Abbey Wood for this email:
"Gentlemen,
You may be interested in the attached document which contains a eulogy read at the funeral of the late 'Chief' Bradley, a former Royal Navy Gunnery Instructor and Siebe Gorman hard hat Naval Diver from World War Two. I don't know whether he was actually a member of either of your associations but he retained his affection for the Royal Navy throughout his life, maintaining the tradition of the tot every day at 1100 until his death at the age of 90 in March this year.
As a Combined Cadet Force Instructor for many years after his retirement from active service he was an influential figure in the lives of many current and former Service men and women including at least one serving Major General and Air Commodore. I kept in touch with him on and off over the past thirty years and always felt that he was the absolute epitome of a Chief Petty Officer. Despite his ultimate promotion to FCPO, he was always known to his charges as 'Chief' long after we left his care.
As detailed in the notes he was sunk five times during the Second World War which must be close to a record. He also spent 22 years out of his 35 at sea. There are some errors in the report: HMS DUNVEGAN CASTLE was sunk on 27 August 1940 and I cannot find any details of the final sinking, listed as the Dutch Transjanus, which may well be a typo. I hope that this may be of some interest to you; Chief Bradley was a fine man and is sorely missed.
Best wishes,
Andrew Loring"
I have advised Andrew that Ted Bradley was not a member of any RN diving associations as far as I know but I am glad to draw attention to his illustrious career as described in this eulogy. I believe the 'Dutch Transjanus' may have been the Royal Netherlands Steamship Company passenger and general cargo vessel SS Trajanus. However, she survived to be scrapped in 1959. There is no record of any Allied ships being torpedoed on 31 March 1944.
Our sincere if belated condolences to Ted's family, friends and former colleagues.
---
Diver Training In Umm Qasr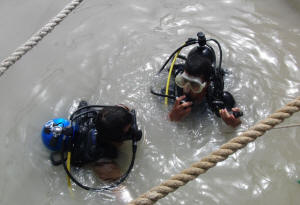 Iraqi divers buddying-up in the water
(RN website photo)
The RN website contains this article describing the training of Iraqi Navy divers by US Navy divers from Explosive Ordnance Disposal Mobile Unit 1 (EODMU 1) based at Coronado in California. The US diving team is part of the Iraqi Training and Advisory Mission (Navy) (ITAM (N)), a combined UK/US team of 150 coalition personnel drawn from the Royal Navy, Royal Marines, British Army, United States Navy, United States Coast Guard and United States Marine Corps. ITAM(N) is commanded by a Captain RN.
Iraqi Training and Advisory Team (Navy) in Umm Qasr
(RN website photo)
---
13 Sep 10 - EOD in Afghanistan and on the Isle of Wight
Today's Portsmouth News contains these articles about EOD in Afghanistan and on the Isle of Wight, both involving RN clearance divers:
Divers are ready to return from dry tour
'Ornament' was shell from Second World War
---
10 Sep 10
Divers' full metal Kajaki
The Navy News website contains this article about the latest group of RN Clearance Divers deployed in Afghanistan during the past five months as members of the Counter IED (C-IED) Task Force.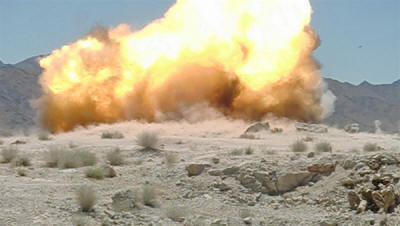 CD takes cover (bottom right) as ordnance is blown
(Navy News website photo)
---
Paddy McAlpine's ship damaged by tug
Spare a thought for MCDOA member Paddy McAlpine, Commanding Officer of HMS Daring which was damaged in a collision with a tug at Marchwood on Tuesday as described in this article in the Portsmouth News.
---
9 Sep 10
Royal Navy Divers Swap Wetsuits for MTP and Body Armour
The UK Forces Afghanistan website contains this article describing the activities of the latest group of RN Clearance Divers deployed in Afghanistan during the past five months as members of the Counter IED (C-IED) Task Force.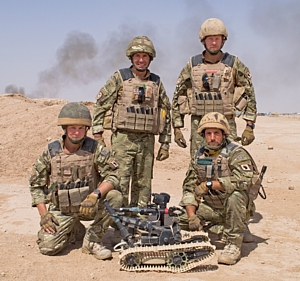 L to R: AB(D) Ian Rowe, PO(D) Ward Peers,
LS(D) Lee Jackson and AB(D) Phil Brierley
(Photo: Lt Nick Southall RN)
---
Fox sees Seafox during Gulf exercise
The Navy News website contains this article describing Britain's Gulf minehunting forces, HMS Chiddingfold, HMS Middleton, HMS Pembroke and HMS Grimsby, plus parent ship RFA Lyme Bay linking up with their American counterparts for ten days of exercises in the Gulf. The article features MCDOA member Dave Bence, Commander UK Mine Countermeasures Force.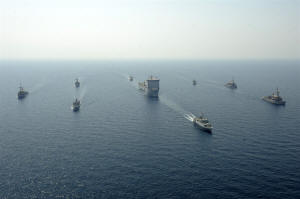 HMS Pembroke leads USS Gladiator, USS Scout,
HMS Middleton, HMS Grimsby. RFA Lyme Bay,
HMS Chiddingfold, USS Ardent and USS Dextrous
(US Navy photo)
---
8 Sep 10 - Jumbo Jervis running as state representative in New Hampshire
Brian 'Jumbo' Jervis
(Who could forget that cheeky grin?)
Older MCDOA members (like me) and other members of the RN MW & Diving community will remember former MCD officer Brian 'Jumbo' Jervis. He left the RN and emigrated to the USA in 1983 after a three-year exchange appointment at the US Navy's EOD Training Centre in Indian Head. Jumbo now lives in Exeter, New Hampshire and has drawn my attention to this article which describes his candidacy for the State Legislature.
---
6 Sep 10 - Navy News items
The September issue of Navy News contains these items of MCDOA interest:
---
4 Sep 10 - 'Bomb' found on Hayling Island
Today's Portsmouth News contains this article describing the removal of ordnance from Hayling Island yesterday by members of Portsmouth-based Southern Diving Unit 2 (SDU2).
---
3 Sep 10 - RN Clearance Divers' Windermere swim still on
Readers may be aware that this weekend's Great North Swim in Windermere has been deferred owing to the presence of blue-green algae:
BBC: Cumbria Great North Swim cancelled over safety fears
Please note that this is not the same event as the individual 10.5 mile swim being conducted by RN Clearance Divers and others in aid of Help for Heroes and Project Vernon on 25 September.
You can still sponsor MCDOA members David 'Stretch' Armstrong, Mick Beale, Chris Flaherty and Richard 'Soapy' Watson plus serving/ex-serving CDs John 'YoYo' Ravenhall, Steve Fitzjohn, Knocker Knowles, Chris Greenaway, Jay Hogg, Matt Prosser, Rex Turnbull, Jonathan 'Chuck' Norris, Sean 'Screech' Dunstan, Steve Vernon, Jumper Collins, Dave 'Jimmy' Bond, Graham Ribbons plus Tony De Raya (RM) with Paul Higgins-Drysdale and Phil Standen of David Lloyd, Port Solent and Simon Moore of Blueseventy by going to their Bmycharity page here:
Royal Navy Clearance Divers Swim Windermere
---
2 Sep 10 - Recognition for RAN MCDO on exchange-service with RN
Congratulations to Lt Jace Hutchison RAN, currently on exchange with the RN as XO (desig) of a Hunt Class minehunter. According to the RAN CD Association's website, he has been awarded an RAN Fleet Commander's Commendation for Anti-Piracy Operations while on loan from AUSCDT4 as OIC of the 'Poseidon' boarding party on board HMAS Toowoomba during a six-month deployment in the second half of last year. Toowoomba was the first Australian ship to deploy for anti-piracy and anti-terrorism duties off Somalia.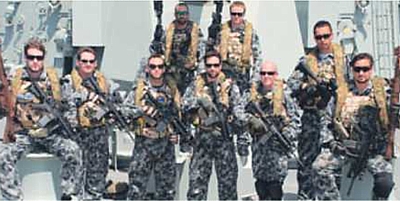 HMAS Toowoomba's 'Poseidon' Boarding Party last year
Hi-tech Somali pirates outgunned by Aussie navy
HMAS Toowoomba turns heat on pirates
Australian pirate busters heading home after a job well done
Coincidentally, Jace has just won £50 worth of Gunwharf Quays shopping vouchers in the Project Vernon 2010 Summer Draw. Completely by chance, I met his wife Jodie and son Ben on the Round Tower earlier this year (see entry for 28 May 10 in News Archive 30). Jace has been selected for promotion to Lt Cdr next year (I hope you've joined the MCDOA by now, Jace).
---
1 Sep 10
HMS Ramsey visits Barry this weekend
What's Occurring: The RN website contains this article announcing the participation of HMS Ramsey in the Barry Waterfront Festival in South Wales this weekend (3-5 Sep).
HMS Ramsey
(RN website photo)
Tidy!
---
Project Vernon 2010 Grand Summer Draw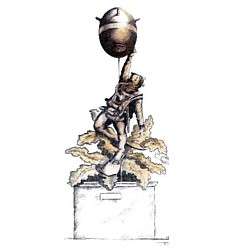 From former MCDOA Chairman & RN Superintendent of Diving, Cdr Paul Jones RN:
THE RESULTS AND A THANK YOU FROM THE DRAW MASTER
After a busy seven months of ticket sales the draw of winning tickets was made on Bank Holiday Monday at HMS Excellent (and witnessed by Paul Jones (MCDOA), 'Dixie' Dean (MWA) and members of the Duty Watch). The lucky winners will be listed on the Project Vernon website soonest and have been notified. They reflect the general movement of ticket sales and the list is made up of a healthy spread of our people serving in minehunters and diving posts as well as ex-servicemen and members of the general public.
A curious note: A few minutes after contacting one winner and exchanging addresses, I contacted another winner and found that they had bought their ticket at a different time and were related and lived in the same road. Certainly the luck of the draw. Of further note – HMS Shoreham sold £300 worth of tickets and managed to achieve three winners (you have to be in it to win it!).
Over 65% of sales were generated by donations from the serving and ex-serving Mine Warfare & Diving community. There are too many to mention individually but special mentions must be made to the Horsea Island staff and students and Fleet Diving Squadron who raised over £1,300, the MCMV crews who raised over £1,500, and the Mine Warfare Association and Ton Class Association, both of which continue to give lump sum donations as well as purchasing raffle tickets. Significant sums were raised in the Naval HQ, Shrivenham Defence Academy, Abu Dhabi, Bahrain and the City of London plus Northern Divers. Ex-WO(MW) 'Dixie' Dean and his 'press gang' raised over £1,000 from ticket sales to the public during events such as Navy Days. Apologies to those we have not mentioned but we know who you are and give you our thanks.
We also need to thank the individuals who donated prizes (Paul Jones, Sean Meleady and Paul Guiver) and our friends at Gunwharf Quays, P&O Ferries, Wightlink, Merlin Entertainments and Divex. Well over £6,000 was generated in ticket sales – this meant a grand total of £5,855 profit was raised for the project coffers (plus an additional £310 donated to our friends at 'Help for Heroes'). This has given a boost to a rapidly growing Project Vernon fund and further proof that the initiative is achieving wider public recognition and support and moving forwards.
Finally, a big thank you in advance to those who are engaged in fundraising efforts later this year (notably Mick Beale and his team conducting a 'Swimathon' at Lake Windemere – good luck) and those who are considering including Project Vernon as part of their fundraising efforts next year.
PROJECT VERNON – 2010 GRAND SUMMER DRAW PRIZEWINNERS
The draw was made Monday 30 August by the Commanding Officer of HMS EXCELLENT, assisted by Mr 'Dixie' Dean and witnessed by HMS EXCELLENT Duty Staff.
| | | |
| --- | --- | --- |
| Prize Description | Donated By | Winner |
| Free Cyprus Villa Rental | Paul & Yvonne Jones | Mr David Manship (Hayes, London) |
| Free Rhodes Villa Rental | Sean Meleady | 'Ruby' Murray (DDS Horsea) |
| Ferry Ticket (Dover to Calais) | P&O Ferries | Jason White (NDG Faslane) |
| Ferry Ticket (Isle of Wight) | Wightlink Ferries | Mr. Mike Critchley (Liskeard, Cornwall) |
| Gunwharf Quays Shopping Vouchers | Gunwharf Quays Management | Jace Hutchison (Southsea, Hants) |
| Invite to Royal Navy Mess Dinner | MCDO Association | Mike Handford (Clanfield, Hants) |
| (Framed/Signed Print "Danger at Depth" | Project Vernon | Colin Jones (HMS ATHERSTONE) |
| 2 x Tickets London Dungeon | Merlin Entertainments | Mrs D. Bristow-Burrows (Claygate, Surrey) |
| 2 x Tickets London Eye | Merlin Entertainments | Mr D. Bristow (Claygate, Surrey) |
| 2 x Tickets Madam Tussauds | Merlin Entertainments | Mr D. Cook (Worksop,Notts) |
| 2 x Tickets London Sea Life Aquarium | Merlin Entertainments | Mr Drummond-Brady (London) |
| Merlin Entertainments Annual Pass | Merlin Entertainments | Alan Mackenzie (HMS GRIMSBY) |
| Diver's Watch (Male) | DIVEX | Kevin Cook (HMS SHOREHAM) |
| Diver's Watch (Male) | DIVEX | Mark Sharrock (HMS SHOREHAM) |
| Diver's Watch (Female) | DIVEX | Dan McLaughlin (HMS BROCKLESBY) |
| Diver's Watch (Female) | DIVEX | Jim Thomson (Hedge End, Southampton) |
| Cross Pen | DIVEX | Mrs H. Broughton (Ashburton, Devon) |
| Cross Pen | DIVEX | A.J Dunning (HMS SHOREHAM) |
| Diving Helmet Paperweight | Divers Gifts & Collectables | Stew Bailey (SDU1) |
All winners have been contacted by the draw organisers and arrangements made to dispatch prizes.
---
29 Aug 10 - A divers gathering
Yesterday, I was lucky enough to attend the annual barbecue hosted by MCDOA associate member John Bevan, founding Chairman of the Historical Diving Society (HDS) and author of such books as 'The Professional Diver's Handbook', 'The Infernal Diver', 'Another Whitstable Trade' and 'The First Treasure Divers'. As one would expect, security was tight: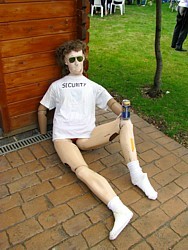 A bouncer at the gate
The event was attended by around 70 people, mostly from the world of commercial, recreational and service diving.
Above and below: Guests at John Bevan's barbecue
It was good to see ex-RN divers Mike O'Meara and Clive Egginton. Among others present was Alexander McKee Jr, son of the late Alexander McKee who was appointed an OBE for the discovery and recovery of the Mary Rose. I also found myself in the company of Reg Vallintine, co-founder of the British Sub Aqua Club (BSAC) and prolific author of books about commercial and recreational diving including 'Divers and Diving', 'Learn to SCUBA dive in a Weekend' and 'Deep in the Blue: A Life of Diving'.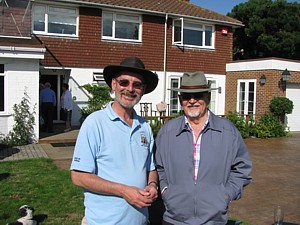 Rob Hoole (your humble webmaster)
with Reg Vallintine
John and his band of helpers, ably led by ex-RNPL boss John Towse who made the first dive on the Mary Rose wreck site with Alexander McKee in May 1966, laid on a fabulous spread that included barbecued fresh mackerel he had caught himself.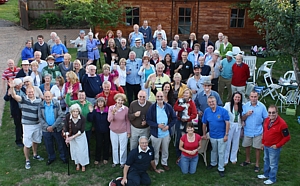 One happy gathering!
As regular readers will know, John Bevan is organising the conversion of No. 2 Battery at Stokes Bay into a diving museum (see entry for 22 Aug 10). Volunteers are required for the afternoons of Monday 30 and Tuesday 31 August and over the weekend of Saturday 4 and Sunday 5 September. If you can help, please advise him via this email address or call him on 07802 785050.
---
27 Aug 10 - HMS Quorn visits Dartmouth this weekend
The Portsmouth News contains this article announcing the participation of HMS Quorn in the Dartmouth Regatta this weekend.
---
26 Aug 10 - Project Vernon launch of 'Vernon Creek' painting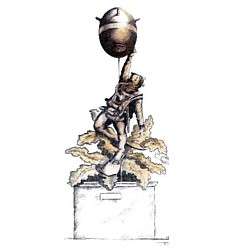 Today saw the official signing and launch of 'Vernon Creek', the new painting by John Terry FCSD, recent Head of Fleet Publications and Graphics. The event was held in the conference room suite at Gunwharf Quays Management Limited courtesy of Peter Emery, the Centre Director, who is a staunch supporter of the Project. The painting was commissioned by Project Vernon, the campaign to erect a monument at Gunwharf Quays commemorating the minewarfare and diving heritage of HMS Vernon which previously stood on the site.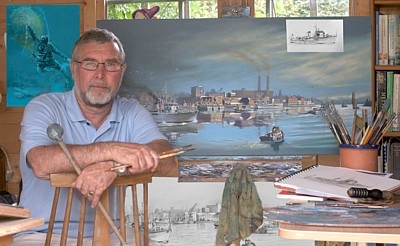 Artist John Terry FCSD in his studio with 'Vernon Creek'
As with John's previous painting, 'Danger at Depth', limited edition prints of 'Vernon Creek' are available in a range of versions to suit all pockets but remember that the whole point of selling them is to raise money for the monument so a certain premium is included in all prices.
Double Remarque Edition of 'Vernon Creek'
The Double Remarque Edition (DRE) of 'Vernon Creek' is at the top of the range with only 30 prints being produced. At £625 (plus post& packing), each framed print will include two sketches of the purchaser's choice. This afternoon, all thirty prints were signed by four illustrious figures:
Admiral Sir Jonathon Band GCB, DL, ADC is a former First Sea Lord & Chief of the Naval Staff and Commander-in-Chief Fleet. Sir Jonathon served in the Ton Class minesweeper HMS Houghton and minehunter HMS Brereton as an officer under training and navigated the Ton Class minesweeper HMS Lewiston as a junior officer. He later commanded their sister ship, HMS Soberton, in the Fishery Protection Squadron (I was one of his MCMG Course training officers at HMS Vernon in 1979). He also commanded the Leander Class frigate HMS Phoebe, the Type 23 frigate HMS Norfolk and the aircraft carrier HMS Illustrious. In 2009 he accepted the position of Patron for the International Scott Centenary Expedition 2012 and he became a non-executive Director of Carnival Corporation & plc this year. Awarded an honorary degree of Law from the University of Portsmouth in 2007, he is also President of the Royal Navy Volunteer Band Association, the Royal Navy Rugby Union and the Royal Naval and Royal Albert Yacht Club, as well as a Younger Brother of Trinity House.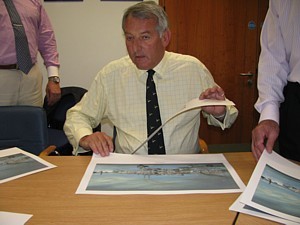 Admiral Sir Jonathon Band (wearing a Fishery
Protection Squadron tie) signing 'Vernon Creek'
Rear Admiral Roy Clare CBE rose from Junior Seaman to Rear Admiral. He was the Senior Sub Lieutenant at Britannia Royal Naval College (BRNC) Dartmouth in 1971 (I was there as a cadet) and was awarded the Queen's Sword that year. In 1973-4, he sailed in the Royal Navy's yacht Adventure in the first Whitbread Round the World Yacht Race (now the Volvo Ocean Race) which started and ended at HMS Vernon. He was HRH The Prince of Wales' First Lieutenant in the Ton Class minehunter HMS Bronington, later commanded the ship himself and, after she decommissioned, he was a Trustee of the Bronington Trust for ten years. He also commanded the Type 42 destroyers HMS York and HMS Birmingham (as Captain Third Destroyer Squadron) and the aircraft carrier HMS Invincible. He was subsequently the Commodore of BRNC Dartmouth. Roy Clare left the Royal Navy early to became the Director of the National Maritime Museum in 2000. He was awarded an honorary Doctorate from the University of Greenwich and became the Chief Executive of the Museums, Libraries and Archives Council in 2007.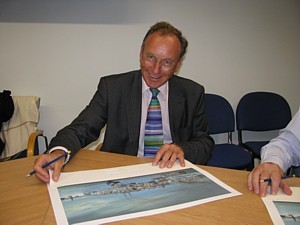 Rear Admiral Clare signing 'Vernon Creek'
Rear Admiral John Lippiett CB, MBE was an officer under training in the Ton Class minesweeper HMS Appleton and commanded her sister ship HMS Shavington. He was the First Lieutenant of the Type 21 frigate HMS Ambuscade during the Falklands conflict and published an exchange of letters with his wife in a highly successful book entitled 'War and Peas' which was also broadcast on BBC Radio 4. He later commanded Ambuscade's sister ship, HMS Amazon, was Commodore of the School of Maritime Operations (SMOPS) at HMS Dryad, Flag Officer Sea Training (FOST) and Commandant of the Joint Services Command and Staff College. He is now the Chief Executive of the Mary Rose Trust, President of the Ton Class Association, Vice President (RN) of the Combined Cadet Force, President of the Nautical Training Corps, a Trustee of the Naval Review and a Younger Brother of Trinity House.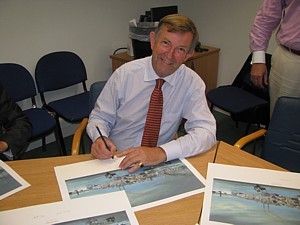 Rear Admiral Lippiett signing 'Vernon Creek'
Lieutenant Commander Doug Barlow, a stalwart member of the MCDOA's 'Not Quite the Last of the Summer Wine Trio', joined the Shaftesbury Homes Training Ship, TS Arethusa, as a 14-year old boy in 1943. In 1944, he joined the Royal Navy as a Boy 2nd Class and went on to serve in the battleships HMS Anson, HMS King George V and HMS Duke of York followed by the cruisers HMS Liverpool, HMS Sheffield and HMS Newfoundland. In 1958, he was promoted to Sub Lt as a Boatswain on the Special Duties (SD) List and joined HMS Starling of Captain Walker fame. He then served in the coal-burning mooring and salvage tender HMS Barnard, the Ton Class minesweeper HMS Houghton and was First Lieutenant of sister ship HMS Clarbeston in the Vernon Squadron before becoming the First Lieutenant of HMS Monkton. After appointments as the Master Rigger in Gibraltar and the Boatswain of the assault ship HMS Fearless, he became the waterfront officer in HMS Vernon as Staff Officer (Tenders), looking after the needs of all the resident and visiting mine countermeasures vessels (MCMVs) as well as the competitors in the first two Round the World Yacht Races (I remember the parties well!). For these three years, he was also the 'face' of Vernon, being heavily involved in all its social, recreational and sporting activities. He was then appointed RN Staff Officer at Tyne Division RNR, HMS Calliope, a job that also placed him in Command of HMS Repton, the Ton Class minesweeper attached to the Division. In 1978, he returned to HMS Vernon as OIC of the Seamanship School before his final job as Staff Officer Sea Cadets in HMS Nelson from which he retired in 1982 after 38 years in uniform. He is a member of various organisations with RN connections including the Royal Naval Sailing Association (RNSA), the Boatswains' Association and the Ton Class Association (TCA).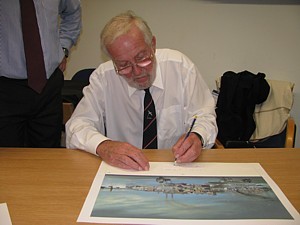 Lt Cdr Doug Barlow (wearing a Boatswains'
Association tie) signing 'Vernon Creek'
Former First Sea Lord, Admiral Jonathon Band, said:
"The proposed statue at Gunwharf Quays will be a highly appropriate memorial to a great chapter of Naval history based in Portsmouth. The mine counter measures effort represented by the statue, continue to this day with the successors of those based at Vernon now deployed in the Gulf."
Rear Admiral John Lippiett, Chief Executive of the Mary Rose Trust, added:
"Portsmouth is one of the finest naval bases in the world with a heritage unsurpassed anywhere else. I am delighted to support this wonderful project to note the highly significant position that HMS Vernon played in our Naval history."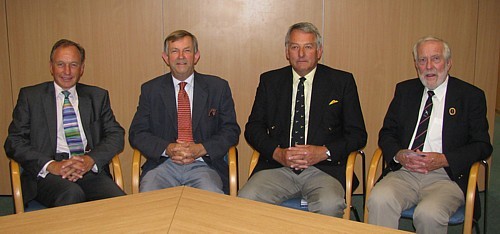 Rear Admiral Clare, Rear Admiral Lippiett, Admiral Band and Doug Barlow
Artist's Proof Edition of 'Vernon Creek'
The Artist's Proof Edition (APE) of 'Vernon Creek' is the second tier in the range of limited edition prints and 100 are being made available. With an overprint of two sketches (one of the Captain's Office building a.k.a. The Old Customs House pub, and the other of HMS Vernon's Main Gate), these framed prints cost £375 plus post and packing. Apart from being signed by the artist, all one hundred prints were signed this afternoon by the Chairman of the Trustees of the Vernon Monument and the head of each of the three Associations behind Project Vernon:
Captain Colin Welborn RN is the President of the Minewarfare & Clearance Diving Officers' Association (MCDOA). A graduate of the 1978 Long MCD Officers' Course at HMS Vernon, he has served in and commanded several MCMVs (CO of HMS Dulverton during the first Gulf war), and MCM Squadrons including Standing NATO MCM Group 1 and the Second MCM Squadron. He was also Captain Minewarfare, Patrol Vessels, Diving and Fishery Protection (CMFP) and is currently Captain Youth and Cadets for the Sea Cadets organisation.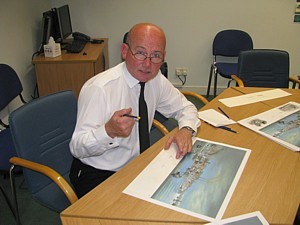 MCDOA President, Captain Colin Welborn, signing
'Vernon Creek' while uttering "Buy it or else!"
Former WO(D) Don 'Jimmy' Green is the Chairman of the Association of RN First Class Divers (AORNFCD).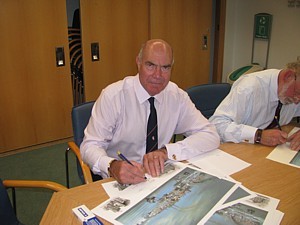 Don 'Jim' Green (wearing an AORNFCD tie)
signing 'Vernon Creek
WO1(MW) Wayne 'Pony' Moore is the Chairman of the Minewarfare Association (MWA) but I neglected to capture him signing prints. However, he has served in the Ton Class MCMVs HMS Upton, HMS Bronington, HMS Wotton, HMS Bossington and HMS Nurton as well as performing other roles at HMS Vernon and HMS Nelson (Gunwharf), the name given HMS Vernon after it ceased to be an independent command.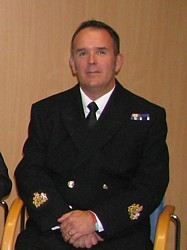 WO1(MW) Wayne 'Pony Moore
Former CPO(D) Mike Handford is the Chairman of Trustees for the Vernon Monument and a member of the Association of RN First Class Divers.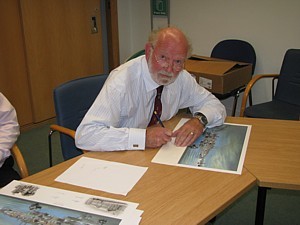 Mike Handford signing 'Vernon Creek'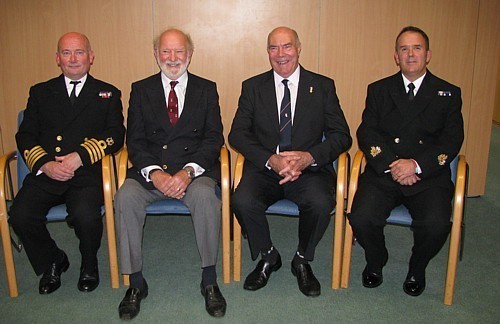 Colin Welborn, Mike Handford, Don 'Jim' Green and Wayne 'Pony' Moore
Limited Edition of 'Vernon Creek'
Last but not least, 720 Limited Edition prints of 'Vernon Creek' are being made available. Each one costs £95 (plus P&P) unframed or £245 (plus P&P) mounted and framed. All prints are B3+ size (approximately 521mm x 364mm) and produced on quality art paper with each one hand-signed and numbered by the artist. A Fine Art Trade Guild quality seal is applied to each reverse and a Certificate of Authenticity is issued for each print (sent by separate post to ensure good security and your peace of mind). A descriptive label is provided for fixing to the rear of each framed picture.
A surprise gift for Irene
The icing on the cake today was the presentation of a bespoke 'Danger at Depth' painting to Mrs Irene Strange by Sir Jonathon Band. Mrs Strange is the widow of Albert Strange who was an RN Diver for many years. Irene is also a former Southsea councillor and an avid supporter of Project Vernon. The picture was a surprise gift from her son, who now lives in the Cocos Islands in the Pacific, "for just being a super mum".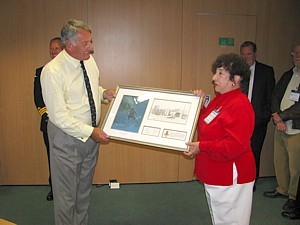 Admiral Band presenting a print of 'Danger at Depth'
to Irene Strange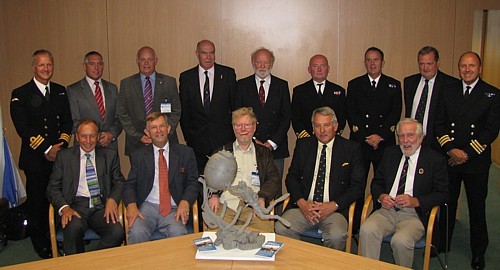 The signatories with sculptor Les Johnson and the Vernon Monument Trustees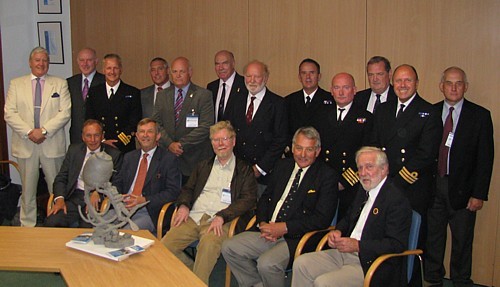 The signatories with sculptor Les Johnson, Vernon Monument Trustees and
members of the Project Vernon Organising and Management Committee
Gathering these illustrious figures together was a real coup for the Project, especially for Project Manager David Carey who master-minded most of it from Dubai. He deserves a huge vote of thanks.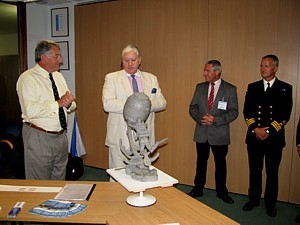 Project Manager David Carey wraps things up as Admiral
Band, Tony Devitt and Chris Baldwin look on
Further progress
Earlier in the afternoon, we had Project Vernon committee meetings. At one of these, chosen sculptor Les Johnson unveiled his maquette of the final design of the statue:
Professor Brian Falconbridge PRBS (past-President of the Royal British Society of Sculptors) and
Paul Jones (former SofD and MCDOA Chairman) look on as Les Johnston FRBS presents
his magnificent final design
Much other progress was made, particularly with regard to plans for the design and construction of the underwater plinth supporting the statue. Many thanks to Andy Doherty and his Royal Engineer colleagues for their assistance. Other participating Project Vernon volunteers included former SofD and MCDOA co-founder David Sandiford, PR guru Jennifer Tankard, MCDOA members Martyn Allen MBE and Martyn Holloway (who orchestrated the signing), MWA member Dixie Dean MBE and Yours Truly who also took these photos.
The Committee approves Les Johnson's final design
If your appetite is whetted, get on the Project Vernon website here and order your prints of 'Vernon Creek' now.
Postscript: The Portsmouth News published this article about the event on 30 Aug 2010.
---
25 Aug 10 - MCM Flotilla Departs Bahrain for UK-US Exercises
The RN website contains this article describing the departure from Bahrain of HMS Middleton, HMS Chiddingfold, HMS Grimsby and HMS Pembroke with the Royal Fleet Auxiliary Landing Ship RFA Lyme Bay for combined exercises in the Gulf with the US Navy Avenger class MCMVs USS Ardent, USS Dexterous, USS Gladiator and USS Scout. The group was commanded by MCDOA member Dave Bence, Commander UK Mine Counter Measures Force (COMUKMCMFOR).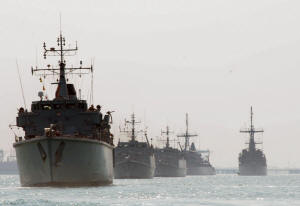 HMS Middleton departs the port of Mina Salman in
Manama, Bahrain followed by HM Ships Pembroke
and Grimsby and two US Navy minesweepers
(RN website photo)
---
24 Aug 10 - British warships sunk 90 years ago found off Estonian coast
Today's Daily Mail contains this article and the Guardian contains this article describing the location of the wrecks of three British warships sunk by mines in 1918 and 1919 during operations to support Estonian forces against the Bolsheviks. This is a fascinating discovery which should bring 'closure' to any descendants of the crew members who died.
HMS Gentian was an Arabis Class fleet minesweeping sloop and HMS Myrtle was an Azalea Class fleet minesweeping sloop. The sinking of these ships and the light cruiser HMS Cassandra was yet another demonstration of the potency of cheap and simple mines in naval warfare.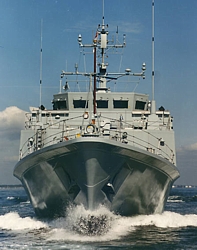 HMS Bridport before she became
ENS Ugandi
The wrecks were discovered by the Estonian minehunter ENS Ugandi (not 'Ugani' as shown in the Daily Mail article). She is one of three ex-RN Sandown Class minehunters in the Estonian Navy (Eesti Merevägi), all sold off prematurely in 2006 as the result of Defence cuts. HMS Bridport (now ENS Ugandi) was only 11 years old when she was decommissioned in 2004. From naval-technology.com:
Sandown Class Minehunters, United Kingdom
"...In July 2004, the UK Ministry of Defence announced that three Sandown class minehunters would be retired by April 2005 in a restructuring (sic) of the UK Armed Forces. Bridport was decommissioned in July 2004, Sandown in January 2005 and Inverness in April 2005. In September 2006, Estonia signed a contract to acquire the three vessels. Sandown (now EML Admiral Cowan) was delivered in 2007, Inverness (renamed EML Sakala) in January 2008 and Bridport (EML Ugandi) in January 2009..."
Postscript 1: MCDOA member Phil Ireland, currently Commander Sea Training for FOST(MPV), has pointed out that his organisation completed an extensive and rewarding individual and collective training package for the crews of the Estonian ex-Sandown platforms with in-country OST conducted only last year. He is delighted to hear that standards are being maintained.
Postscript 2: I looked up Admiral Cowan (after whom the Estonians have named the former HMS Sandown) and he was obviously another of those colourful British characters so prevalent in Victorian and Edwardian times. I particularly liked this bit about him when he was in his 70s:
Admiral Sir Walter Henry Cowan, 1st Baronet, KCB, DSO & Bar, MVO (11 June 1871–14 February 1956)
"...During World War II he was given a job by his old friend Roger Keyes, then head of the Commandos. Cowan voluntarily took the lower rank of Commander and went to Scotland in 1941 to train the commandos in small boat handling. He served in North Africa, where he saw action at Mechili and at the Battle of Bir Hakeim, where he was captured on 27 May 1942, having attached himself to the Indian 18th King Edward VII's Own Cavalry (his commando unit having been disbanded). He was fighting an Italian tank crew single-handedly armed only with a revolver. Repatriated in 1943, he rejoined the commandos and saw action in Italy during 1944. He was awarded a bar to his DSO. He retired once more in 1945..."
---
23 Aug 10 - Neptune Wrecks Talk in Gosport
Alison Mayor of Southsea Sub Aqua Club will give a talk about the club's award-winning investigations of Canadian tanks, armoured bulldozers and other items that fell from a capsising landing craft off Selsey Bill on D-Day. Her talk at the Discovery Centre, Gosport will start at 1930 this Thursday (26 August). See here for further details.
This story also involves the RN's Southern Diving Group: Divers Find WW2 Bomb. From the Southsea Sub Aqua Club website:
UXB - The Dangers of Unexploded Ordnance
CPO Kev Amaira from the Royal Navy Bomb Disposal Team will be visiting the club on Thursday 10th December to talk to us about the work of his team and in particular the disposal of the 500lb bomb Southsea SAC divers found during the survey of the landing craft this summer. Doors open at 20:45 with the talk starting at 21:30. This will no doubt be a fascinating and informative talk for all divers. All local divers welcome - just email secretary@southseasubaqua.org.uk if you would like to come.
---
22 Aug 10 - Planned Diving Museum at Stokes Bay
Over the weekend, a band of volunteers has been helping Dr John Bevan prepare No. 2 Battery at Stokes Bay on the Solent for conversion into a diving museum. As well as being an associate member of the MCDOA, John is Chairman of the Historical Diving Society (HDS), a former record-breaking diver at the RN Physiological Laboratory (RNPL) at Alverstoke (1,500 fsw simulated depth in 1970), the Managing Director of SUBMEX and the Editor of Underwater Contractor International magazine.
Left: Seaward facing glacis of No. 2 Battery
Right: Side entrance of No. 2 Battery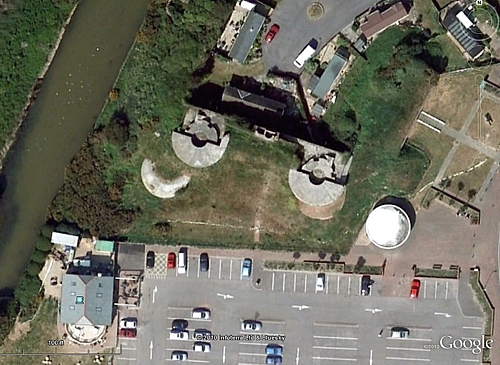 Aerial view of No. 2 Battery on Google Earth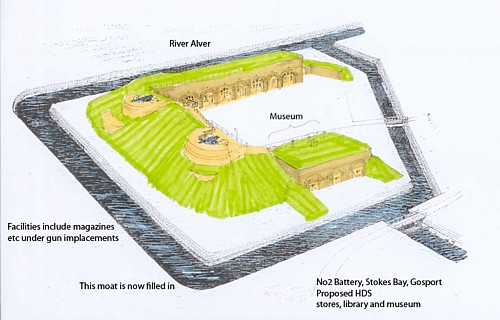 Historical representation of No. 2 Battery
No.2 Battery is a Victorian brick and concrete structure covered in a grassy mound atop which are two 6" gun emplacements and a spotter's position. Within the mound are four vaulted chambers connected by brick-lined passages.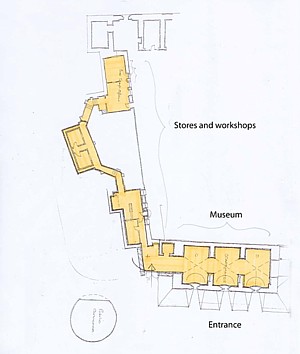 Layout of proposed HDS Diving Museum
The battery was once the emergency bunker for Gosport Council but has lain derelict for several years. The council has now loaned it to the HDS for use as a diving museum but considerable work is required to clear debris and undergrowth, make the structure waterproof, restore power, renovate the interior and reduce the ambient humidity before exhibits can be collected and displayed.
Opposing views of main chamber inside No. 2 Battery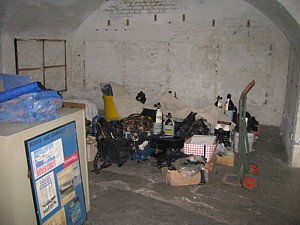 One of the many interior alcoves, ideal for
displaying exhibits
This was the second working weekend this month and much has been achieved. Apart from your humble webmaster and RN diving physiologist Gavin Anthony (with family members Helen, Marie & Clare) representing the MCDOA, other volunteers have included ex-RN divers John Dadd, Clive Egginton and Mike O'Meara with his wife Kathleen. John Bevan's partner in crime, John Towse, (Uncle Bill Filer's successor at the RN Deep Trials Unit (DTU) at Alverstoke) has also been involved. The rest of the team has comprised fellow HDS members Nick & Ann Brooker, Kevin & Hazel Casey, Mike Fardell, Roger Forster, Martin & Margaret Marks, John Millerchip and Chris & Pam Murphy. When rain stopped play today, most of the volunteers retired to the adjacent café, which has a sizable car park, for lunch.
Project HQ and some of the volunteers taking shelter from the elements
If you are prepared to help with this worthy (and highly enjoyable) project, please advise John Bevan by email. The next assault will be on Sunday 29 August starting at 1400. The focus will be on removing more ivy to expose the concrete strucure so that any cracks can be made watertight. Any special tools and protective wear you can bring would be useful. As John says, regard it as a sort of 'extreme gardening'.
---
20 Aug 10 - News from HMS Penzance
I am grateful to Lt James Wallington-Smith, the Navigating Officer of HMS Penzance (MCM 1 Crew 6), for supplying this update:
ROSTOCK, COPENHAGEN, AND DANEX 2010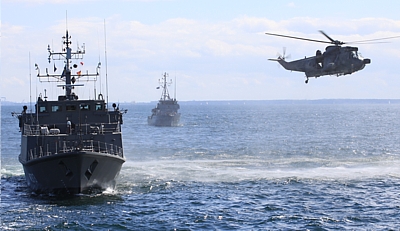 SNMCMG 1 ships conduct winch training with a German Sea King
After a five-day passage from HMNB Faslane to the Baltic, HMS Penzance arrived in time to make the most of her first few days. Rostock in Germany was the first port of call, where we rejoined the Standing NATO Mine Countermeasures Group 1 (SNMCMG1). The visit coincided with the annual 'Hanse Sail' festival which is a large event and attracted vessels of all shapes and sizes, including warships, tall ships, cruise liners and hordes of small pleasure craft.
As part of the celebrations, the ship's company took part in a five-a-side football competition and lost only a single game out of the four they played. Although no silverware was available, the players were very content with their winnings – a crate of the local beer, 'Rostocker'.
Three members of the ship's company also took part in a rowing competition, racing in crews composed on the day and with only 30 minutes to get used to the 10-man boats. Racing with other members of the NATO group, Lt Mark Shaw (Executive Officer) and two young officers; Lt Anna Sanocki and Sub Lt Hugo Wiseman were pleased to make the final but unfortunately they were defeated by the 'very experienced' Rostocker 'Oldies'!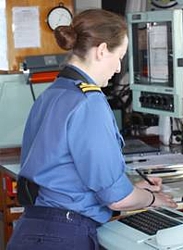 Upon leaving Rostock, Penzance spent two days on passage before arriving in the beautiful city of Copenhagen, where the anniversary celebrating the 500th anniversary of the Royal Danish Navy was about to commence. This massive event attracted over forty warships from all over the world, including two of the ultra-sleek Swedish Visby class corvettes. A cracking time was had by all, including a run ashore that just happened to coincide with the after-party of Copenhagen Fashion Week…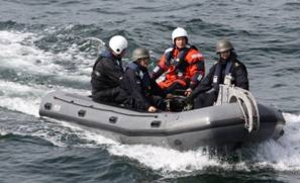 There was a serious note to the visit, however, as SNMCMG 1 is now taking part in the Danish Naval Exercise 'DANEX 2010'. This exercise takes place in a scenario where the troubled state of 'Mainlandia', plagued by terrorism, piracy and organised crime, requires the assistance of a multinational Task Force to make its waters safe for fishermen and merchant traffic. As part of Task Force 475, Penzance will be taking part in DANEX 2010 until late August, when SNMCMG 1 will visit Germany. As with BALTOPS 2010, the coming weeks will be a challenge for Penzance and her ship's company as she operates as part of a multinational force. As always the ship's company will rise to the challenge but will undoubtedly enjoy their next standoff period.
---
19 Aug 10
60th Anniversary of the Formation of the Clearance Diving Branch
Troy Tempest, the Secretary of the Association of RN First Class Divers (AORNFCD), has asked me to publish the following appeal: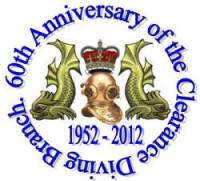 "Next year, we will be celebrating the 60th anniversary (like the 50th but hopefully bigger) of the formation of the RN Clearance Diving branch on 7 March 1952. If any of you wish to help, drop a line to me and add your name to the list which I will give to Steve Fitzjohn who will be organising any part that the AORNFCD need to put in it. We do need the help of people with good organising skills suggestions for a venue and date. We will need to book a venue some time in March.
So if you are interested in the 60th, please send me your details via this email address if you wish to help or attend so I can keep you informed.
Best wishes,
Troy"
Click here to download a copy of the historic Admiralty Fleet Order (AFO) 857/52 which established the Clearance Diving Branch on 7 March 1952.
As many members will know, I was the MCDOA's representative on the all-ranks committee that organised the 50th anniversary reunion weekend in May 2002. This comprised a Friday night informal gathering in the Portsmouth Home Club (now the Royal Maritime Club) attended by around 300 followed by a Saturday night formal dinner dance in Portsmouth Guildhall attended by over 400. The weekend was rounded off nicely with a Sunday morning thanksgiving service at St Barbara's in HMS Excellent followed by refreshments in the Whaley Club.
Portsmouth Guildhall set up for Golden Jubilee Dinner Dance in May 2002
With my increased commitments, I would be extremely grateful if someone else from the MCDOA steps into the breach this time. From my own experience, this will involve the consumption of copious amounts of beer and sandwiches while engaged in lively discussion with fellow divers as you sort out such issues as venues, timetables, menus, decorations, entertainment, raffle tickets and prizes, tee shirt designs, prices and so on. Don't always leave it to the the usual few 'busier than normal' people. If you are a volunteer, let me know via my webmaster email address.
---
Ship's trip up canal to give talk on Gulf mission
Today's Portsmouth News contains this article describing the recent passage of the Manchester Ship Canal by HMS Atherstone for her visit to Salford Quays (see entry for 12 Aug 10). The article features PO(D) Nick 'Jack' Frost.
---
18 Aug 10 - Project Vernon Grand Summer Draw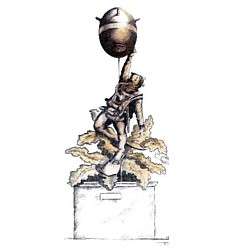 From the Project Vernon (Gunwharf Quays Minewarfare & Diving Monument) Grand Raffle Master, Paul Jones:
"This is the second year we have conducted a Grand Summer Draw to raise funds for Project Vernon and, with the draw date fast approaching (30 Aug), I would like to give an update and a thank you in advance to all the people and agencies who provided £2,000+ worth of prizes and the thousand plus ticket buyers across the country.
I would particularly like to thank the MW & Diving community who have supported the raffle by purchasing a large proportion of the tickets – ship's companies of our MCMVs have raised over £1,500 (big thanks) and Horsea Island students and UK Fleet Diving units have produced sales exceeding £1,000 (fantastic). Supporters in Navy HQ, HMS Collingwood, Defence Academy Shrivenham and RM Poole have also made significant contributions. There are also key members of the Project VERNON Committee who have been selling hard to their friends, colleagues and other Associations (they know who they are) and of course 'Joe Public' at Navy Days and Gunwharf Quays events. Apologies if I've not mentioned everybody but the wide ranging support has been superb. At this time we have over £4,000 raised from this year's Draw (and there are still some distributors to return figures).
There is still a little time for last minute tickets (the prizes are fantastic – see the Project Vernon website for details) and I can be contacted via email paul.jones@vernon-monument.org for tickets (£10 per book of 5). Those serving can look me up on DII and contact me directly in work (I'm back from leave). When the draw is made, I will confirm the final total on this site and a list of prize winners will be available on the Project Vernon website soon afterwards (and I will contact prize winners myself).
Good luck to ticket holders and many thanks to all our supporters."
---
17 Aug 10 - Commander-in-Chief Fleet visits Bahrain-based minehunters
The RN website contains this article describing the visit of the Commander-in-Chief Fleet to HMS Chiddingfold and HMS Pembroke in the Gulf at the end of July.
Left: C-in-C meets HMS Pembroke's Clearance Diving element
Right: C-in-C with SeaFox mine disposal system on board HMS Chiddingfold
(RN website photos)
---
16 Aug 10 - Award for DDS coach
The RN website contains this article describing the presentation by the Commander-in-Chief Fleet (Admiral Sir Trevor Soar KCB OBE) of the Officers' Association Sword to Lt Cdr Rachel Smallwood for increasing the first-time pass rate for the AB(D) course at the Defence Diving School (DDS) on Horsea Island. The story has since been covered here by the Isle of Wight County Press.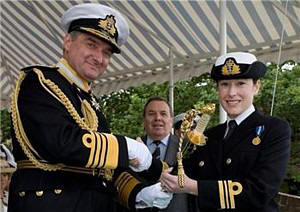 Rachel receives her Officers' Association
Sword from the Commander-in-Chief
---
14 Aug 10 - Grenades in vogue this year
It's the silly season for news. Following the disposal of a grenade by SDU1 on Paignton Beach in Devon (see entry for 5 Aug 10), I found the headline of this story involving our Canadian Navy counterparts particularly intriguing:
Langley Advance 13 Aug 2010: Live grenade found in granny's knickknacks
"A grenade with a live fuse was found sitting on a grandmother's bookshelf in a seniors home in North Langley recently.
The RCMP and bomb squad were called out when family members found the hand grenade while helping the relative move. The grenade was apparently being used, along with a couple of bullets, as a paperweight, said Langley RCMP Cpl. Holly Marks.
Mounties called in the Navy Bomb Disposal team to check out the suspicious grenade. They found that it did have a live fuse and detonator, and could potentially explode..."
My curiosity was also aroused by the headline of this story:
Earth Times 23 Jul 2010: Danish army bomb squad deployed to remove grenade from dead whale
By and large, there seems to have been a proliferation of incidents involving grenades this summer. Here is a small sample:
Journal Live 13 Aug 2010: Girl finds grenade on Northumberland beach
Blackpool Radio Wave 10 Aug 2010: Roads closed after grenade discovery
Gloucester Echo 9 Jul 2010: Disposal team discovers 24 grenades at bomb site
Hackney Gazette 21 Jun 2010: Bomb disposal experts remove World War 2 grenade from De Beauvoir garden
Bucks Free Press 18 Jun 2010: High Wycombe man finds WWII grenade in new home
The Scotsman 19 May 2010: Second World War grenade discovered at Edinburgh University
---
12 Aug 10 - Atherstone enjoys the quays to the city
The Navy News website contains this article describing the recent transit of the Manchester Ship Canal by the Portsmouth-based minehunter HMS Atherstone (MCM 2 Crew 8) while en route to Salford.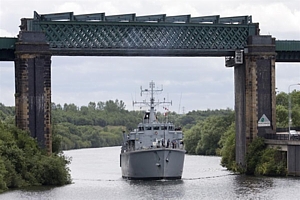 HMS Atherstone passes under Irlam Viaduct
on Manchester Ship Canal
(Navy News photo)
---
11 Aug 10 - Navy Diving Equipment author required
I have been passed an appeal by the editor-in-chief of a major international defence journal for somebody who can write authoritatively and technically about military diving equipment. If interested, please let me know via my webmaster address and I will send contact details.
---
7 Aug 10 - Civilian mud run for Help for Heroes
MCDOA Honorary Treasurer Richard 'Soapy' Watson has provided this account and photos of the charity mud run across Portchester Creek two weeks ago (see entry for 27 Jul 10 in News Archive 31).
"Hi Rob,
Back to Fitness & Gloves on Gym in Waterlooville wanted to take part in a real hard core event which would challenge everyone physically. I suggested we have a mud run across Portchester Creek at low water. 15 people partcipated, none of whom had any military background. However, they all wanted to support one cause: Help For Heroes!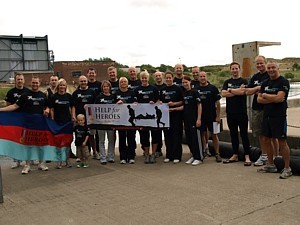 Before...
(Soapy second right)
Starting at the Horsea side of the mud, three teams challenged each other to see who could get across the mud to rescue 'downed pilots' (three x Freds) and return them back to safety, albeit a little muddy. So far we have raised £150 for the charity. All really enjoyed last Sunday's event and we may even have a few potential recruits.
I know that 'Fred' in the girls' team finished with a huge smile on his face!!! We finished off with a bit of a social in the Blue Bell Inn at Emsworth where a plaque of HMS RECLAIM has pride of place.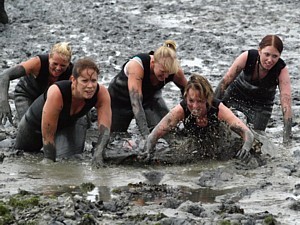 during...
(I don't think Soapy's in this one)
It was a real shock to all at DDS and FDS who knew Sgt Micky Yule RE to hear that he was injured in Afganistan only three weeks ago! Micky had been an instructor teaching the basic RE divers courses at DDS only a year ago for nearly three years. He had been deployed in Afganistan on Herrick 12 since 10 March as a RE Search Leader. Unfortunately he was badly injured in an explosion and has lost both legs and sustained very bad injuries to his pelvis and hands. He is currently in Birmingham at the special unit being treated for his wounds. Although he is still very poorly, he is strong in mind and heart and wants to get better as quickly as possible. A more detailed account will appear in tomorow's Portsmouth News, probably front page [link].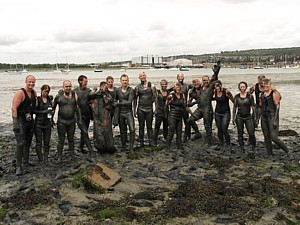 ...and after
(Soapy extreme left)
Micky is a great boxing fan and it is planned to have a charity boxing event in the Guildhall with Back to Fitness Gym in November. We will dedicate the money raised to Micky for all of his connections with Portsmouth which included the Ceremony of the Keys and his records in power lifting.
Regards,
Soapy"
The Back to Fitness website has more photos of the event here.
---
5 Aug 10 - SDU1 detonates hand grenade on beach at Paignton
The Daily Mail website contains this article describing the disposal of a hand grenade at Paignton in Devon by members of Plymouth-based Southern Diving Unit 1 (SDU1).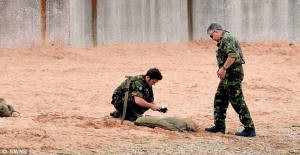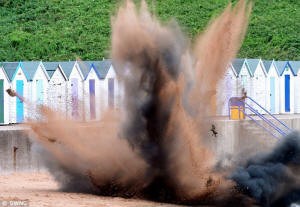 The same incident was covered by the BBC here.
---
4 Aug 10 - HMS Cattistock Proud To Lead Tall Ships Parade
Following the appearance of the Portsmouth-based minehunter HMS Cattistock at Navy Days last weekend, the RN website contains this article announcing that she will arrive in Hartlepool this Friday for the start of a five-day visit to the town. In addition to opening her decks to the general public at the weekend, she will also take pride of place in the Tall Ships Parade of Sail next week.
---
3 Aug 10 - Navy News items
The August issue of Navy News contains these items of MCDOA interest:
---
2 Aug 10 - Ban lifted on female MCDOs and CDs in the Royal Navy
The RN has promulgated the following 'Galaxy' announcement:
Employment of females in the Clearance Diving specialisation
The Royal Navy seeks to ensure that wherever possible, discriminatory practices are rescinded. The Second Sea Lord, following endorsement by the Navy Board, has therefore announced that the Warfare Sub-Branches of MCDO and CD are henceforth open to volunteers of any gender. Any member of the Service now has the opportunity to apply for and qualify as a Clearance Diver (CD), or Mine Warfare and Clearance Diving Officer (MCDO).
This follows work commissioned by 2SL with the Institute of Naval Medicine (INM) that concluded that females are at no greater risk of suffering from a decompression illness than males.
The selection test and qualifying process for CD and MCDO specialisation is necessarily demanding due to the nature of the specialist branch tasking. Successful applicants can expect to enjoy a professionally challenging and stimulating career in a physically and mentally demanding field. Exchange posts in Canada, Australia, the USA, Oman and Saudi Arabia are also possible in this specialisation and the special pay and allowances are an additional incentive. Some assignments with the Fleet Diving Squadron will result in deployment to Afghanistan on frontline EOD operations.
Full details of the application procedures can be found in 2010DIN07-056 and BR1066 Article 1603. These will be reissued in due course to reflect the new policy.
Personnel interested in becoming an MCDO or CD should discuss this with their Line Manager or CO and then contact their Career Manager for further guidance.
---
Report on Portsmouth Navy Days 2010
What a weekend that was! 25,000 people attended Navy Days and the RN minewarfare and diving community was well represented by the Project Vernon team, the Fleet Diving Squadron (FDS) and HMS Cattistock which was open to visitors.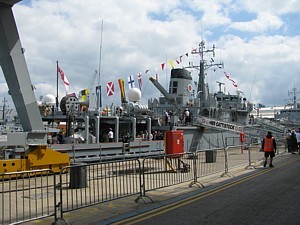 HMS Cattistock at Navy Days
MWA member Dixie Dean MBE and MCDOA members Brian Dutton DSO QGM and 'Yours Truly' (Rob Hoole) set up the Project Vernon stand on Thursday afternoon (see entry for 30 Jul 10 in News Archive 31). We are particularly grateful to FDS for providing and transporting the cutaway Mk 17L mine and old-style CDBA for our display.
Left: MCDOA member Brian Dutton taking a call from his broker on Thursday.
Right: MCDOA member David Sandiford before the curtain went up on Friday.
The Project Vernon stand had much to offer including prints of 'Danger at Depth' and the new 'Vernon Creek' painting by John Terry FCSD as well as copies of 'Diver' donated by its author, ex-CD Tony Groom, and diving trinkets supplied at cost price by MCDOA member Paul Guiver, the proprietor of Divers' Gifts and Collectibles.
Above and below: Close-ups of Project Vernon merchandise
Left: Historical Diving Society members visiting the Project Vernon stand before the rush.
Right: AORNFCD member Mike Handford getting the coffees in.
Our stand on Middle Slip Jetty was immediately opposite the after brow of the Type 23 frigate HMS Westminster and we were touched when her CO, Cdr Tim Green RN, wandered across and graciously offered us the use of his ship's heads should we be 'caught short'. Although he is a submariner, he had previously commanded the Sandown class minehunters HMS Blyth, HMS Walney and HMS Grimsby.
Left: HMS Westminster and Middle Slip Jetty the day before the gates opened.
Right: The crowds starting to arrive.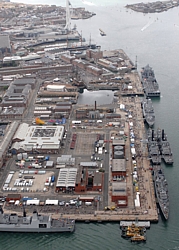 Aerial view of part of 2010
Navy Days display area
(RN website photo)
Friday dawned bright and sunny and we were soon handing out leaflets to the early passers-by as they rushed up the jetty to be among the first to board the warships. As the morning progressed, more people had the time to see what we had on offer. Apart from a brief shower on Saturday morning, the weather remained fine throughout the weekend and a thoroughly friendly atmosphere developed. Over the three days, we saw many familiar faces at the stand. MCDOA members included David Hilton and Tom Chambers who was on board RFA Argus on behalf of the Shelter Box charity with Dixie Dean. We also saw a fair few members of the Association of RN First Class Divers (AORNFCD).
Left: Former Superintendents of Diving and MCDOA Chairmen David Sandiford and David Hilton
Right: MCDOA member Tom Chambers with MWA member Dixie Dean