Items from The News, Navy News and Warship World are reproduced by kind permission of David Brown, Jim Allaway and Mike Critchley respectively. Click on the thumbnails to enlarge them.
---
30 Mar 06 - New Personal Update
The Members Only area contains an update from MCDOA member Martin Mackey (CO of HMS Ramsey) including photos taken during Exercise COLD RESPONSE in Norway.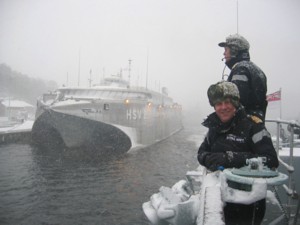 HMS RAMSEY practices berthing on HSV2 SWIFT
---
29 Mar 06 - Help Wanted with Documentary about Lt Cdr Maurice 'Bats' Batterham OBE, RANVR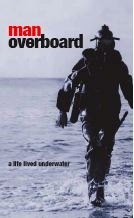 'Man Overboard', a film documentary about Lt Cdr Maurice Batterham OBE, RANVR, is being produced by his grandson Nick Batterham and Anna Jeffries. As described in this article written by Anna Jeffries for Sportdiving Magazine, Batterham (known as 'Bats' in the UK and 'Batts' in Australia) had an eventful life in the diving world including service in Royal Navy 'P' Parties during WW II. After the war he worked with Ted Eldred (who died in August last year) on the development of sports diving equipment including oxygen re-breathers and the 'Porpoise' single-hose regulator system that eventually replaced the twin-hose 'aqualung' for SCUBA.
'Open the Ports - the Story of Human Minesweepers' by J Grosvenor and Lt Cdr L M Bates (published 1956 by William Kimber) about the 'P' Parties contains the following reference to Batterham on pages 118-119:
"Amongst the new officers to join H.M.S. VERNON (D) at this time [late 1944] was Lieut. M.S. Batterham, R.A.N.V.R. He was a tall, loose-limbed Australian who, Bates always said, should have been a Texas ranger and not a diver. He was popular with everybody and affectionately known, in the nicest way, as Bats.

He came with a considerable reputation as a mine-disposal officer and had gained a colourful experience in Pacific waters. He had survived an attack by a large octopus and, having managed to get back to his ship, destroyed the octopus with an explosive charge.

On another occasion he was out with a fellow diver who tried to play a practical joke on him. Working to a plan, the other diver had crawled into the funnel of a sunken ship which was on her beam ends. Inside the funnel, to his dismay, he found a shark. All thoughts of practical jokes left him! Fortunately the shark was equally frightened, and so they both left the funnel at high speed in opposite directions - to Batterham's enjoyment.

Before and during "P" Party operations Batterham dealt with nearly a hundred mines.

It was he who cured Mould [Lt Cdr John Stuart 'Mouldy' Mould GM, GC, RANVR] of worrying about conger eels among the divers. One day he had reported to Mould that a ten-foot shark had cruised around amongst the men training but had not tried to do any harm. Mould was inclined to be sceptical at first and had replied: "Nonsense, Bats. You must have brought the shark over in your luggage!" In the end Mould was persuaded to believe in Batterham's shark, and then decided that if a shark ignored the divers there was no real point in worrying about the possible reactions of conger-eels."
There is also a brief reference to Batterham on page 208 of 'The Torpedomen - HMS Vernon's story 1872-1986' by Rear Admiral Edmund Nicholas 'Nico' Poland CB, CBE:
"In the latter part of 1944 and early in 1945, it was decided to form two new parties for service in the Far East. These were formed in June 1945, commanded by Gosse [Lt Cdr George Gosse GC, RANVR] and another Australian, Lieutenant M Batterham; but VJ Day came before the teams could go to work. With the coming of peace, a small 'P' party was formed under the command of a third Australian, Lieutenant W Jackson, to clear any suspected residual bombs and mines in British ports. A typical operation took place in Manchester where the merchant ship 'Pacific Pioneer' had been holed by a 500 lb bomb and had settled on the dock bottom. It was considered that there was little chance that the bomb could still be dangerous but the Ship Canal Company asked for the search to be made. In three days the divers crawled over 100 yards of the dock's bottom in four feet of mud. They found no bomb, but plenty of bottles, scrap iron and other sundry objects. In other searches they found rings, watches and wallets but they usually yielded nothing but frozen hands and broken finger nails."
Nick and Anna are keen to discover further information about 'Bats', particularly any work he did with the Admiralty Experimental Diving Unit (AEDU) during and after the war. If anyone can help, please e-mail webmaster@mcdoa.org.uk.
---
26 Mar 06 - RN All-Ranks Divers' Reunion
The application form for this year's RN all-ranks divers' reunion to be held in Portsmouth on Sat 17 June is now available for download via the 'Upcoming Events' page in the Members Only area. As usual, the event is being organised by the Association of RN First Class Divers (AORNFCD) and will start at 1930. Tickets cost £15 per person and the night will include a free welcoming tot of Navy Rum, entertainment by Shep Woolley, a buffet, cash bar and a raffle. People like Harry Neave are coming from as far as Australia so make sure you're there.
---
21 Mar 06 - Lt Cdr Bill Richmond RD*, RNR seriously ill
Cdr Pat Barron RNR (past CO of several RNR minesweepers and Advanced Minewarfare Course graduate) informs me that Lt Cdr 'Big Bill' Richmond RNR (also an MCMV CO and AMW Course graduate), is seriously ill in the Princess Royal University Hospital, Farnborough Common in Kent. Bill's misfortune started with a broken leg that refused to heal properly but he then contracted MRSA and the prognosis is not good.
Apart from being a familiar face and larger than life figure during many minewarfare exercises over the years, Bill was DSOO to MCM 10 at Rosyth in the '80s when Mike Critchley and John Wiseman were successive SOOs. In HMS Cochrane, he was a fellow founding member of the wardroom 'Sherry Club' - a group of half a dozen livers-in that met each evening before dinner. During his diverse career, he seemed to have met almost everyone and had a fund of fascinating stories from his travels around the world. He was also an affable listener and greeted other people's jokes and amusing tales with hearty and infectious laughter. During the early 1990s, he taught Naval Control of Shipping and oversaw the development and implementation of the 'Perseus' computerised global NCS system at the Maritime Trade Faculty in HMS Vernon.
One of Bill's sisters (Susan) lives in Guildford but has MS, another sister lives in Manchester and a third sister lives in Norway so he receives few visitors. Pat is travelling from Scotland to visit him this week but would be extremely grateful if other old friends and colleagues could find the time to look in too. The point of contact for such visits is Bill's brother-in-law John who lives in Guildford (e-mail webmaster@mcdoa.org.uk for full name and telephone number). A trip to Bill's bedside or even a morale-boosting telephone call to John would be most welcome. I will try to make it to the hospital myself this weekend or the next.
---
18 Mar 06 - Follow-up to the Funeral of Lt Charles Leslie 'Taff' Lawrence MBE, RN
I have received the following message from Beverley Beech, Taff's eldest daughter:
"Dear Rob,

This is just a short note to thank you for all the efforts you made to spread the word about Dad's funeral. We were very touched by the presence of the sailors from the current Bomb & Mine Disposal Team and we have been so heartened and comforted by the steady stream of messages from all over the world. We loved our father dearly and it is so touching to read that others did too.

Yours,

Beverley"
I have also received the following message from former CPO(CD1) Len Smith (Nautilus):
"Hello Rob,

I would just like to bring you up-to-date re Taff Lawrence's funeral last Thursday.

Our group of Taff's oldies were there in full force and were very pleased that, due to your efforts on his behalf, also present were Lt Ross Balfour and two sailors from the Southern Diving Group -- that's what it said on their cap tallies -- in full No.1 uniforms and a credit to our Branch. The family was absolutely delighted to see them and photos of Taff's daughters were taken with them at the wake. Needless to say, we all got together and swapped info about the past and present in the CD Branch and thoroughly enjoyed the occasion.

Keep up the good work and many thanks.

Yours aye,

Nautilus"
I must add my own special thanks to SofD (and MCDOA Chairman) Chris Ameye and to members of SDG for kindly agreeing to provide the divers in blue suits at Taff's funeral. It certainly showed his family that the Branch still cares for its own
---
17 Mar 06 - RN EOD Unit investigates bomb beside A38
A news report describing the reaction of a naval bomb disposal team (presumably SDU1) to a WW II shell found near Plymouth is available via this link. The article features PO(D) John Ramshaw.
---
16 Mar 06 - HMS Grimsby to be Piggy-Backed Home
The following item from today's Portsmouth News describes how HMS Grimsby is to be brought back to the UK on a barge after having sustained damage in a Norwegian fjord on 27 Feb (see item for 1 Mar).
---
14 Mar 06 - Chris Tarmey and Directors buy remainder of Seaeye
The following item from the business section of today's Portsmouth News describes the purchase of the remainder of the Seaeye Marine ROV company by the Chief Executive (MCDOA member Chris Tarmey) and two directors. Congratulations to Chris and his team.

---
10 Mar 06 - Funeral Arrangements for Lt Charles Leslie 'Taff' Lawrence MBE, RN
Taff Lawrence's funeral will be held at Weston Mill Crematorium, Plymouth at 1030 on Thursday 16 March. Family flowers only but any floral tributes provided by the RN Diving community will be most welcome. Otherwise, donations in lieu to be made payable to the RNLI c/o Co-operative Funeral Services, 160 Callington Road, Saltash, Cornwall, PL12 6HZ. Tel: 01752 841511.
Taff's eldest daughter Beverley would be delighted to see any naval divers at the funeral and they will be more than welcome at the wake to be held afterwards at St Mellion Golf and Country Club, St Mellion, Cornwall (Map). She asks that anyone wishing to attend the wake lets her know so she can give the caterers an idea of numbers (Contact webmaster@mcdoa.org.uk for Beverley's e-mail address and telephone number).
In view of all Taff's achievements, I am trying to arrange for someone local to provide a floral tribute on behalf of the MCDOA at his funeral and for some 'blue suits' to represent the branch. I would be grateful for the support of any serving MCDs/CDs in the West Country. I have also warmed the bell with JSSADC Fort Bovisand, which Taff and CPO(D) Les 'Slinger' Wood set up from scratch, and will pass details of the funeral to them on Monday. Let's have a good turnout.
Tributes to Taff are being added to the entry for 7 Mar below.
---
9 Mar 06 - German Wartime Mine Remains on Seabed
As this link to the BBC News website shows, bad weather prevented the disposal of the mine reported yesterday.
---
8 Mar 06
German Wartime Mine in Solent
The following item from today's Portsmouth News describes the imminent disposal of a German wartime mine found by HMS Walney off the Isle of Wight three weeks ago (see entry for 15 Feb).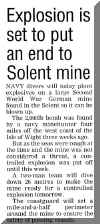 ---
Fleet Bridge Card and Navy List
Members may be interested to know that the Fleet Bridge Card for Jan/Feb 2006 is available via this link. The 2005 edition of the Navy List is still available via this link. The 2006 edition should be published around July.
---
7 Mar 06 - Lt Charles Leslie 'Taff' Lawrence MBE, RN
I regret to announce that Lt Charles Leslie 'Taff' Lawrence MBE, RN passed away quietly in his sleep early this morning. He had been ill in Derriford hospital in Plymouth for some time.
Although he was not a member of the MCDOA, Taff was one of the original SD TAS/CDOs. He served as a rating in HMS Norfolk during the Bismarck action and was appointed an MBE in the 1957 New Year's Honours for his work as the Med Fleet Clearance Diving Officer in Malta. He was also in charge of the Diving School's Bomb & Mine Disposal Section at Horsea Island, led the Portsmouth & Medway B&MD Team and was Diving Officer (before relieving David Edwards as XO) of HMS Shoulton in 1962/63 after her conversion into the RN's first operational minehunter. Perhaps most significantly, his last job in the RN was to set up the Joint Services Sub Aqua Diving Centre (JSSADC) at Fort Bovisand in 1970-1972 before handing it over to Don McLauchlan. I had been communicating recently with his eldest daughter Beverley in London and she told me she was going to Cornwall to support her sisters and brother during their father's final few days.
I am sure all members join me in expressing our condolences to Taff's family. I can provide the address of his youngest daughter Sue if anyone wishes to write to her.
---
From Mike Gillam:
"Rob

Although I have no stories to tell about Taff Lawrence, I remember him well, liked him and had great respect for him as a good diving officer and a good chum. In my mind's eye I can seem him now and can certainly remember his voice which always had the lilt of his youth. We worked together at the Vernon on a number of occasions - he was a good man to have on your side. Please pass on my condolences to his family and my respect for his contribution to naval diving.

Mike"
---
From former CPO(CD1) Spike Wheeler:
"Taff was the First Lieutenant of HMS Shoulton in 1962/63. She was the first operational minehunter and was based at HMS Lochinvar in Port Edgar. I was his Cox'n and we couldn't have had a better Boss.

I first met Taff when he was in charge of the Bomb & Mine Disposal Section at Horsea Island. I was completing my course for CD1, in which we had to complete the underwater part of mine recognition, with the facemask blacked out. He was deceptively quiet in manner, but a whizz at B&MD work.

Taff was appointed as an MBE for his work in Malta as the Fleet Clearance Diving Officer and older members may remember that the waters in the Med were littered with wrecks & ordnance from WW2 and the work in the 1950's was non-stop.

I learned much from him, not least, never to play Liar Dice with him unless you were on his team! He was held in great affection by all who knew him & forty years later, we made him our referee at our Mini Reunions, when the wine flowed, the lamps swung & friendly disputes arose about past events.

When Shoulton fell foul of the BP tanker "British General" under the Forth Bridge, Taff was largely responsible for saving us from serious damage (the first time I've ever seen the stoker from the tiller flat doubling along the upper deck) but that's a yarn for another article.

Taff died peacefully in his sleep in the early hours of 7th March and will be greatly missed by all his old shipmates. Due to him being one of the few survivors of HMS Norfolk of Bismarck fame, their reunions always clashed with the Ton Class ones, held in October, so he never attended a reunion. However, he always held his time in Shoulton as one of the best of his appointments and only resigned from the Association owing to ill health.

R.I.P. Taff. I'm sure that you will be showing those "upstairs" how Liar Dice should be played; you won plenty of rounds from me but you may meet your match from some old salt up there!

Spike Wheeler"
---
From former CPO(CD1) Les 'Slinger' Wood
"It is with great sadness I learn of the death of Lt Taff Laurence. Taff was my Boss when we set up the Joint Services Diving Centre at Fort Bovisand. A lot of Joint Services divers from all walks of life are now diving across the world due in no short measure to his efforts and way with people in getting the Centre up and running from bare boards. His passing is a sad loss to all of us who knew him."
---
6 Mar 06 - Website Down over Weekend
The website was offline over the weekend owing to a failure of the domain server. Normal service has now been resumed.
---
HMS Grimsby Strikes Side of Fjord
The following item from today's Portsmouth News describes the collision of HMS Grimsby with the side of a Norwegian fjord during the night of 27 Feb. The RN website provides this account of the incident. HMS Grimsby replaced HMS Brocklesby for NATO exercises off Norway at the last moment.

---
Navy News Items
The following MCD-related items from the March issue of Navy News include: the use of the US Navy's HSV2 'Swift' as an MCM Command & Support vessel by MCM2 (Peter Williams) for NATO exercises off Norway involving FDU2, HMS Quorn, HMS Ramsey, HMS Brocklesby and HMS Blyth; a full page feature about HMS Ledbury; news of HMS Shoreham; and an update on the artificial reef provided by the wreck of HMS Scylla off Plymouth.
---
New Personal Update
The Members Only area contains an update from Derek Leach (LMCDO '73) who has recently joined the Association.
---
26 Feb 06 - MCDOA Northern Dinner Follow-Up
Friday's Northern Dinner at Faslane had the highest attendance yet with several members making their first appearance in many years and other friends and guests from MCMVs and commercial organisations. Alan Padwick described his time on the first LMCDO course in 1966 and John Burden was dined out of the Navy in style. The mess staff provided superlative food and service and a special vote of thanks is due to Bob Hawkins and Kev Stockton for organising such an enjoyable night. The last revellers departed at 0500.
Photographs of the event are now available in the Members Only area.
---
18 Feb 06 - MCM2's next Command & Support Ship
The following item from today's Portsmouth News describes the US Navy's HSV2 'Swift' (see entry for 15 Feb) which sails Portsmouth tomorrow for NATO exercises off Norway with MCM2 (MCDOA member Peter Williams) embarked.

---
17 Feb 06 - MCDOA Northern Dinner
The 'Upcoming Events' page in the Members Only area contains an updated list of attendees for the MCDOA Northern Dinner at Faslane on 24 Feb.
---
15 Feb 06 - HMS Walney deals with WW II mines and MCM2 gets new Command & Support Ship
The following items from today's Portsmouth News describe live mine disposal activities of HMS Walney and the provision of the US Navy's hi-tec HSV (High Speed Vessel) 2 'Swift' as a command platform for MCM2 (MCDOA member Peter Williams) during forthcoming NATO exercises.
---
14 Feb 06 - New Personal Update
The Members Only area contains another update with photos from MCDOA member Phil Burrell (one of our six serving MCD Captains) who is currently on course at the Indian National Defence College. Now, what about the rest of you?
---
11 Feb 06 - Topsy Turner Leads Rescue of Kiwi Diver (Part II)
MCDOA member Topsy Turner has sent this link to another article (headed with a photo showing his own fair features) about the rescue. For anyone prepared to consider a new life in New Zealand, he adds, "I could still do with young Lt type MCDs to come over as well as CDs of any rate just as long as they can pass the fitness test."
---
10 Feb 06 - Topsy Turner Leads Rescue of Kiwi Diver (Part I)
Congratulations to former RN MCDO David 'Topsy' Turner for leading the RNZN Operational Diving Team's extraordinary rescue on 8 Feb of ex-naval diver Robert Hewitt who survived 3 days in the water off New Zealand. Read the full story here.
---
9 Feb 06 - MCDOA Northern Dinner
The 'Upcoming Events' page in the Members Only area contains a list of attendees for the MCDOA Northern Dinner at Faslane on 24 Feb. Several are coming from much further afield than one might normally expect.
---
8 Feb 06 - Gentlemen Who Lunch
Continuing the MCDOA website's occasional good pub guide, yesterday found our 'Not Quite the Last of the Summer Wine' trio of Barlow, Holloway and Hoole dropping into the Golden Lion on Bedhampton Road in Havant. Barlow and Holloway had spent the morning preparing the good yacht 'Dougout' for her spring re-launch at the sailing centre in HMS Excellent while I had been connecting Barlow's lady-friend Jill (well, her PC actually) to broadband internet at her house around the corner from the pub. All this work built up huge thirsts and healthy appetites so we were more than ready for lunch.
Left: Holloway & Barlow pose outside the pub
Right: Holloway, Kathy and Barlow
The Golden Lion has basic decor but is warm and cosy with open fires in the public bar one side of the main entrance and in the non-smoking saloon bar the other side. It was recently taken over by Steve, a Glaswegian who is a retired 'Greenie' (RN Weapons Electrical specialist) and a Falklands veteran. He and his wife Debbie do the cooking and oversee the smooth running of the place. The bar is tended by Kathy who is vivacious and gives as good as she gets during verbal encounters.
Left: Holloway, Kathy, Steve and Barlow
Right: Kathy pulls a lovely pint
The pub serves a variety of keg beers and lagers as well as Youngs and Spitfire on the pump. We all enjoyed pints of Spitfire while scanning the bar menu. Holloway, forever worried in case he drops below his authoritative 'fighting weight' as a rugby referee, had a big bowl of delicious home-made creamy Stilton and chive soup with a large crusty roll as a starter before we all enjoyed a main course of battered cod, chips and salad (£4.95). Three charming ladies seated by the window kept trying to distract us with flirtatious comments but it takes more than the offer of a Babycham to lead us astray. Mind you, Holloway and I had to use our belts to secure Barlow to his chair!
The menu also includes a good range of reasonably priced hot dishes, filled jacket potatoes, sandwiches and salads. There is live entertainment most nights including jazz, folk, Irish music and jam sessions. This was our second visit to the Golden Lion in recent weeks and we will return soon. We always carry ID as a 10% off-peak discount is offered to the over-50s for food and life's too short to argue.
---
7 Feb 06 - 40th Anniversary of Indonesian Confrontation
The Ton Class Association website's Latest News page contains details of a reunion of the New Zealand division (HMNZS Hickleton and HMNZS Santon) of the Confrontation Inshore Flotilla. This will be held at Auckland on Saturday 1 July 2006 and will include a book launch telling the story of those two ships. E-mail Gerry Wright for details.
The Latest News page of the TCA website also contains details of the entitlement of British service personnel (and possibly others) to the Pingat Jasa Malaysia (PJM) medal for their service in Malaya or Malaysia between 31 August 1957 and 12 August 1966.
---
6 Feb 06 - Halcyon Class Minesweepers
Bill Burn, whose father served in HMS Sharpshooter, is developing a new website dedicated to WW II Halcyon class minesweepers. He would like to hear from anyone with personal recollections of these ships which included HM Ships Bramble, Britomart, Franklin, Gleaner, Gossamer, Halcyon, Harrier, Hazard, Hebe, Hussar, Jason, Leda, Niger, Salamander, Scott, Seagull, Sharpshooter, Skipjack, Speedwell, Speedy and Sphinx. If you can help, please e-mail him via the link provided.
---
5 Feb 06 - New Personal Update
The Members Only area contains an update with photos from MCDOA member Phil Burrell on course at the Indian National Defence College.
---
1 Feb 06 - Navy News Items
The following bumper crop of MCD-related items from the February issue of Navy News includes: an atmospheric front-page photo of HMS Ramsey (CO - MCDOA member Martin Mackey) and HMS Grimsby leaving Portsmouth for their new base port at Faslane; a full page on the presentation of the new Herbert Lott 'Trafalgar 200' award to the Fleet Diving Squadron by CINCFLEET (featuring MCDOA members Bernie Thompson, Kim Godfrey and John Herriman); CMFP (MCDOA President Colin Welborn) describing changes in the RN conduct of MCM; a letter about surviving Ton class minehunters HMS Bronington and HMS Iveston; efforts by SDU2 to save crew members of a Belgian trawler (featuring Jason White); a letter about a new website for Ships' Divers; and a letter about the recent disposal of two wartime mines by HMS Blyth.
---
30 Jan 06 - Dressing for Dinner
Members may be amused by this photograph contributed by MCDOA member Duncan Bridge. It was taken by MCDOA member Hamish Loudon at an MCDOs' dinner in HMS Cochrane at Rosyth in 1978 and shows MCDOA members Grenville Johnson and David Edwards adjusting the standard diving dress of 3/O Joanna Blacklock WRNS, then working in HMS Vernon. MCDOA member Chris Beresford-Green and a bearded Australian on the MW module of the LMCDO course can be seen in the background.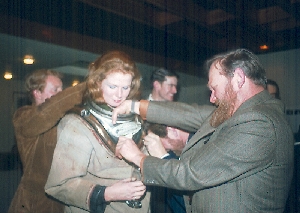 ---
27 Jan 06 - More Shells
The following item from today's Portsmouth News describes the disposal of more shells dredged up from the Solent (see entry for 20 Jan), presumably undertaken by SDU2.

---
26 Jan 06 - New Personal Updates
The Members Only area contains an update from Andy 'Sharkey' Ward on exchange at DRDC Toronto in Canada including a photo of him with fellow MCDOA members, expats Mark Warlow and Jon Chapple. There is also an update from MCDOA member Martin Mackey, CO of HMS Ramsey, who has just switched base port from Portsmouth to Faslane.
---
25 Jan 06
MAD Magazine
MCDOA member Clive Smith, the new editor of the RN Minewarfare & Diving magazine, needs articles now. Much has happened since publication of the last issue so there should be no shortage of stories and photos. If the magazine has not been put together and printed by the end of March, then funding will be lost and it will not appear this year. If you can help, please e-mail him via the link provided.
---
Members Only Message Board
The Message Board in the website's Members Only area contains several new entries. Why not add to the discussion?
---
Uncertain Future for HMS Bronington
The Historic Warship Collection at Birkenhead, which includes the Ton Class minehunter HMS Bronington, is due to cease trading on 5 February and enter voluntary liquidation. The collection also includes the frigate HMS Plymouth, the submarine HMS Onyx and the WW II German U-boat U-534. The reasons for closure are available via this link.
---
Of Interest to Sailing Buffs
On Wed 15 February, the Solent branch of the Nautical Institute will host talks on 'Tall Ships - Races and Sail Training' given by Peter Newell (Race Director, Sail Training International) and Paul Bishop (Operations Director, Association of Sail Training Organisations). The presentations will be given in the Whalley Wakeford Lecture Theatre at the Warsash Maritime Centre (between Portsmouth and Southampton) starting at 1930. There is a student bar in which to meet afterwards. E-mail the Webmaster if you (or anyone else you know) would like to attend.
---
23 Jan 06 - MCDOA Northern Dinner
Members are reminded that the northern dinner at Faslane is only a month away (24 Feb 2006) and bookings should be made with Bob Hawkins as soon as possible. The dinner will focus on the 40th anniversary of the formation of the combined MCD Branch (25 Feb 1966) and the principal speaker will be Alan Padwick who was on the first LMCDO course in 1966. CMFP (Captain Colin Welborn RN - our Honorary President) will also be present. Full details are available on the 'Upcoming Events' page of the Members Only area.
---
20 Jan 06 - SDU2 Deals with Live Shell
The following item from today's Portsmouth News describes SDU2's disposal of a live shell dredged up from the Solent although the headline refers to it as a 'bomb'.

---
18 Jan 06 - More News from Australia
The Members Only area contains contact details for Andy (Shakey) Stevens who recently transferred to the RAN and is now settled with his family in Sydney. We wish them all the best for their new life down under.
---
A plaque dedicated to the ships' companies of RAN minesweepers involved in the Indonesian Confrontation will be unveiled at a service to be held at the War Memorial in Canberra on 31 March. E-mail Tom Edwards for further details.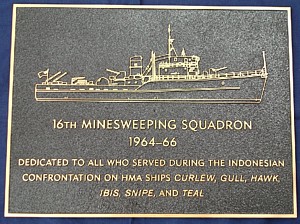 16th MSS Memorial Plaque (Courtesy of the TCA)
---
It is reassuring to see that the RAN CD Branch can still provide their members with a proper final farewell. The picture below (courtesy of the RANCDA) shows CDT4's recent committal at sea of the ashes of the late Dixie Foord (Senior), known to many RN CDs who have served with the RAN.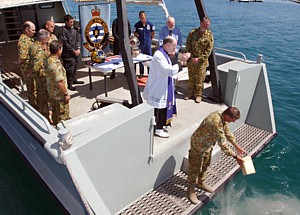 Committal of the Ashes of the late Dixie Foord (Sr)
---
13 Jan 06
Three German Officers Crossed the Rhine...
While tracing MCDOs and CDOs featured in Dave Lott's new book 'A Corkhead's Chronicle', we have re-established contact with three German naval officers he instructed on the Overseas LMCDO course in 1972: Henning Bess, who once showed me the collection of ordnance he kept in his sock drawer on board his sweeper during STANAVFORCHAN (SNFC) days, is currently the Director of Operations in Germany's new 'Response Forces Operations Command'; Victor Prohl, a family friend of MCDOA member Brian Mansbridge, retired from the Navy in November; and Hartmut Walz, who was MCDOA member Richard Moore's SOO when he was COMSTANAVFORCHAN and eventually became CSNFC himself, is now the German Naval Attaché in Paris.
OLMCDO '72 overlapped with LMCDO '73 and I have informed course members accordingly. I can provide e-mail addresses for Henning, Victor and Hartmut to other MCDOA members on request.
---
Two German MCMVs to be transferred to UAE
Continuing the German theme, according to Warship World's weekly newsletter, the German Defence Ministry announced this week that two modern German Navy mine countermeasures vessels, FGS Weiden and FGS Frankenthal, are to be transferred to the United Arab Emirates and should commission in the UAE Navy by the end of June.
---
12 Jan 06 - End of RN Minesweeping
The following item from today's Portsmouth News describes the end of RN minesweeping in favour of minehunting and features HMS Ledbury and HMS Middleton. Unfortunately, the erroneous headline - provided by someone other than the reporter - defeats the whole point of the article (see also entry for 29 Dec 05 in News Archive 12). I have since been assured that a correction will be printed in the paper's regular 'Matters of Fact' column. A separate two-page spread in the same issue accuses the MoD of using misleading jargon to disguise the true state of its affairs and incorporates a large photo of HMS Cattistock with regard to 'capability holidays'.

---
N.B. The following correction to the above article was printed in the Portsmouth News on 18 Jan 06: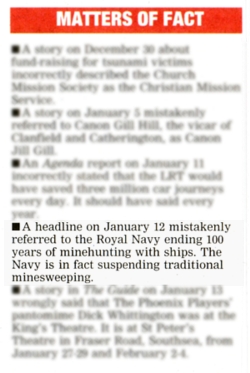 ---
10 Jan 06 - Archerfish Undergoes US Navy Trials
The following item from today's Portsmouth News describes US Navy evaluation trials of BAe Systems' Archerfish one-shot mine disposal system. See also the entry for 20 Jan 05 in News Archive 9.

The following exchange was reported today among oral answers to questions in the House of Commons:
Syd Rapson (Portsmouth, North) (Lab): "Will my right hon. Friend comment on the Government's refusal to adopt the Archerfish programme, which is designed to destroy underwater munitions? It was invented with the encouragement of the Government, but we failed to take up the programme. Unfortunately, the Americans have grabbed it with both hands, and it looks as if they will develop it and sell it back to us. We have lost a brilliant invention, and export potential for this country."

The Minister of State, Ministry of Defence (Mr. Adam Ingram): "The British Aerospace bid was deselected in the programme competition to which my hon. Friend refers, on the basis of its performance against the UK's requirement. I know my hon. Friend would agree that we must get the right equipment to support the forces in the job that they have to do. In this case, it was judged that the proposed system was not suitable. However, the UK Government are supporting BAE Systems' Archerfish bid in the current US one-shot mine disposal competition. I stress that the US requirement is substantially different from that of the Royal Navy, but I have taken note of my hon. Friend's strong views on the matter."
[By Webmaster: I'm not sure whether I can lay claim to the idea of a one-shot mine disposal system but in 1989 I suggested the concept to Chris Stafford, a former Training Commander of HMS Vernon, when he was working for the Underwater Weapons Division of GEC Marconi, long before it was taken over by BAe Systems. My idea was to have a war-shot variant of AUWE's abortive miniature Remote-Controlled Identification Vehicle (RCIV). This would be used in favour of the much larger, clumsier and more costly Remote Controlled Mine Disposal System (RCMDS) whenever RCIV identified a mine. A couple of years later, the first prototype of Archerfish appeared and was swiftly followed by Minesniper, EMD, SeaFox/Sea Wolf, etc.]
---
9 Jan 06 - Jack Birkett's Funeral Service
The following report on Jack Birkett's funeral service held earlier today in Sydney was provided by Joe Cook (ex-RN and RAN CD Branch) and kindly relayed by Dave 'Mona' Lott.
"The crematorium was absolutely packed with family and friends from all over the place. The diving world was very well represented from all ranks. Scattered broadly throughout the congregation were lots of people wearing Hawaiian shirts and brightly coloured clothes in accordance with Jack's wishes.

The service seemed to be specially chosen to be heart-wrenching, with the two hymns being "Abide with me" and "Eternal Father." Justine, his daughter wrote a poem about him called "You could count on Jack" which was read by his son Tim. Gordon Burns gave a very moving and brilliant eulogy to Jack. There wasn't a dry eye anywhere.

Pearl was magnificent and looked better than I had seen her for a long, long time, although rather bemused at the events.

There was a piece of music played at the end which was one of Jack's favourites. I didn't know it but it began with the sound of bubbles in water, very soothing and calming.

After the ceremony, we all went down to the Brookdale Hotel on Pittwater Road where Jack, Ted and Gordon went most Saturday lunchtimes. Taff Sweeney wasn't there, we just heard that his mother has died and was being buried today as well.

Let's pray that Jack's soul rests in peace now, he deserves it."
I am sure all MCDOA members join me in expressing our condolences and best wishes to Jack's family, and to fellow member Taff Sweeney on his sad loss too.
---
4 Jan 06
Jack Birkett's Obituary and Funeral Details
Jack's funeral service will take place at North Chapel, Northern Suburbs Crematorium, Delhi Road, North Ryde, Sydney at 1015 on Monday 9 January 2006.
N.B. Tributes to Jack are being added to the announcement of 2 Jan 06 below.
---
Sandown Class Minehunters Sail for New Base Port
The following item from today's Portsmouth News describes the move of six Sandown Class minehunters from Portsmouth to their new base at Faslane and features HMS Bangor, HMS Grimsby, HMS Pembroke, HMS Ramsey, HMS Shoreham and HMS Walney.

---
2 Jan 06 - Cdr John 'Jack' Birkett OBE RAN (formerly RN)
I'm sorry to start off 2006 on such a depressing note but Jake Linton and Graham Sharp Paul have just advised me that Jack Birkett passed away on New Year's day from a suspected heart attack. He was 65. As many will know, he underwent major by-pass surgery at the end of 2004.
Jack had several high profile MCD appointments in the RN including Command of HMS Brecon, first of the Hunt Class MCMVs, when she entered service in 1979. He was appointed as an OBE in the 1988 New Year's Honours for his services as Superintendent of Diving during operations to save lives and recover bodies following the 'Herald of Free Enterprise' ferry disaster off Zeebrugge in October 1987. He was also IMW in HMS Vernon and our man in the Directorate of Naval Operational Requirements (DNOR - pre-DOR(Sea) and DEC(UWB) days) in the MoD. After transferring to the RAN c.1988, he finally retired from active service to run a garden centre in the Sydney area.
I last saw Jack in typical circumstances one Friday afternoon shortly before he retired from the RN. Some naval colleagues and I had attended a meeting in the MoD and boarded the train at London Waterloo to return to Portsmouth. On entering a First Class compartment, we found it empty apart from a rather crumpled figure dozing in the corner with a case of Guinness at his feet. We recognised Jack immediately but left him undisturbed until the train reached Guildford where he awoke and explained that he had just been 'lunched out' of the MoD before handing each of us a can of Guinness and returning to his slumbers.
With his trademark pipe and pint of Guinness, Jack was a legend in his own time in both the RN and the RAN. I am sure all members will join me in expressing our condolences to Jack's wife Pearl, reported to be in poor health herself, and to other family members including Jack and Pearl's children Tim, Debs, Justine and Tara.
---
From Dan Nicholson:
"Happy New Year Rob,

As you say, not a good start with the demise of our old friend Jack. As IMW he, Mike Gillam and Dave Forsey were my bosses in my first MW training job in one of the very old Vernon buildings. Many tales to tell from there including the smoke screen he would provide that filled his tiny office when he was 'thinking'.

The only anecdote I can offer was from the horse's mouth and might even have been the same day of your encounter on the train from London one 'very tired' Friday afternoon.

When you obligingly shook him at Guildford he promptly fell asleep and awoke at Portsmouth. This wasn't really any good to Pearl who was waiting for his train (as arranged) at Havant. He phoned Pearl and said he would be on the next train to Havant and persuaded her to meet him there. When he woke up at Haslemere, he found a phone and called Pearl again but got a very frosty reception - surprise, surprise, he caught a taxi home!

With very fond memories of one of the hardest working MCDOs I have ever had the pleasure to serve with.

Dan"
---
From Martyn Holloway:
"Rob,

Now that I have had time to think about it, I believe Jack Birkett held the position of Staff Officer MCD (SOMCD) in Vernon when Peter Hicks was IDiving around 1973 - 76. Henry Thurstan was SOTAS at the same time.

Regards,

Martyn"
---
From Howard Trotter:
"Hi Rob,

Very, very sorry to hear about Jack. Thanks for news.

Howard"
---
From Ralph Mavin:
"Hi Rob,

Thanks for that depressing bit of news.

I think Jack was IMW not IDiving. I know he did my final oral p.m. on a Friday - a memorable experience!

Yours aye,

Ralph"
---
From Julian Malec OBE:
"Dear Rob

Thanks for the doleful news. Jack and I were the same term at BRNC Dartmouth May 1959. He probably did not collect any old age pension!

Yours,

Julian M"
---
From Jon Riches:
"Rob,

How very sad. Jack was a great buddy with whom I had many 'runs ashore'. I relieved him as SofD in Dec 1987 and then saw him when I led the ABCA 5 UK delegation to Sydney in 1989. He was then a Lt Cdr in the RAN! I have not seen him since. He was in DNOR in the MoD and was also MCD Training Officer in Vernon. Dave Forsey was another great chum and Guinness drinker with whom Jack had much fun in the social scene at Vernon.

He was indeed one of our Branch characters who will be sorely missed.

Jon"
---
From Brian Dutton:
"Dear Rob

I am so sorry to read of the death of Jack. I knew him well when he lived in Farlington. Dorothy and I went to Jack and Pearl's parties. I believe I also went to his final party before their departure to Aus. Please pass on my regards to Pearl if you are in contact or send me his final address and I will send a card. Thank you.

On a better note, have a wonderful and prosperous New Year.

Regards,

Brian"
---
From Tim Trounson:
"Dear Rob,

Sorry to hear about Jack.

Happy New Year.

Tim"
---
From Richard Moore:
"Rob,

Happy New Year.

Thank you for the sad news from Sydney - I shared an office with Jack in the MoD when he was in DNOR and I was in DNW. We covered the Falklands and other 'interesting' events - he was good fun to work with and made sure his boss Geoff Biggs was a fan of the Branch.

Regards,

Richard"
---
1 Jan 06
New Year's Honours
Congratulations to CPO(D) Andrew John 'Mo' Moss and Local Acting CPO(D) Robert John Daniels on being appointed as MBEs in the New Year's Honours list. It is also nice to see that Captain Mike Davis-Marks RN, principal guest at our last annual dinner, has been appointed as an OBE.
---
Navy News Items
The following MCD-related items from the January issue of Navy News include: the disposal of two German wartime mines by HMS Blyth; a visit to the Isle of Man by HMS Ramsey (featuring the CO - MCDOA member Martin Mackey); the return into service of HMS Quorn; the final parade through Lowestoft by members of the RN Patrol Service (featuring HMS Hurworth); a visit by Lochaber Sea Cadets to HMS Pembroke; letters to the editor about the phasing out of Ships' Divers; the poor state of preservation of museum ship HMS Bronington; and charity work by students of the LS(MW) Course from HMS Collingwood.
---