Items from The News, Navy News and Warship World are reproduced by kind permission of David Brown, Jim Allaway and Mike Critchley respectively. Click on the thumbnails to enlarge them.
---
29 Dec 05 - Warship World Article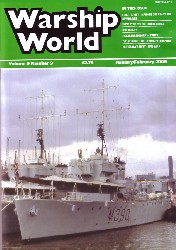 The Jan/Feb 06 issue of Warship World contains an illustrated article, written by your humble webmaster, entitled 'To Sweep No More'. This describes the history of more than a century of Royal Navy minesweeping culminating in the final act performed by HMS Ledbury and HMS Middleton off the Isle of Wight on 12 October 2005. See the items dated 13 Oct 05 and 8 Nov 05 for more details.
The front cover of this issue of Warship World shows the Algerine class minesweepers HMS Acute (M106) and HMS Jewel (M390) during a 1960 visit to the Pool of London when operating as Dartmouth Training Squadron ships. They paid off the following year.
---
28 Dec 05 - Members' Updates
The Members Only area contains updates on MCDOA members Chris Beresford-Green in Scotland and Mike Welford and Allan Rankin in Australia.
---
24 Dec 05 - Paddy McAlpine on Duty over Christmas
The following item from today's Portsmouth News features MCDOA member Paddy McAlpine and describes the reason for his absence on duty over Christmas. I am sure all other MCDOA members join me in expressing our very best wishes to Paddy and to all other service personnel separated from family and friends at this time of year.

---
22 Dec 05 - New Book by Dave 'Mona' Lott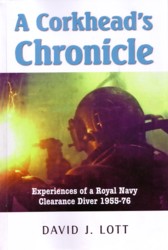 Former FCPO(D) Dave Lott (see second entry for 15 Dec 05) has written a book called 'A Corkhead's Chronicle - Experiences of a Royal Navy Clearance Diver 1955-76' which has just been published by Woodfield Publishing priced £15 and can be ordered online via this link. The many difficult tasks Dave had to perform as a CD included acting as the Course Instructor for LMCDO '71 (Course Officer Mike Harwood plus Steve Gobey, Hamish Loudon, Chris Massie-Taylor, Norman Taylor and Julian Thomson) and his book features several other MCDOA members. I can hear the libel lawyers sharpening their quill pens now.
Dave has sent the following photo of Ian, his postman in Eden, NSW. He reports, "It is, of course, very warm here and not the sort of temperature that any Pom would associate with a White Christmas. However, we will try to make the best of it under the circumstances. No doubt the BBQ, while cooking local prawns and other delicious seafood, will add to the heat. We will be giving much thought to you lucky people enjoying your tucker in rather cooler climes. I therefore wish you and your families a Very Merry Christmas, and a truly Happy and Prosperous New Year in which all that you may wish for yourselves comes true."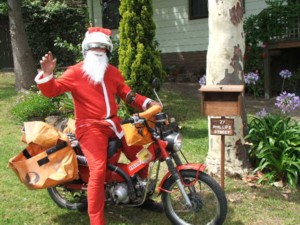 Dave Lott's Postman in Eden, NSW
Dave adds, "I think that I am going to have to start charging parking fees. This is the second cruise ship to park in front of my pad without requesting permission, and she arrived today. She is the P&O liner 'Artemis' on a world cruise and loaded with pensioners from the UK. Eden was her last port of call in Oz and I think she gets back to Southampton end of Jan or early Feb 2006. A rather beautiful sight."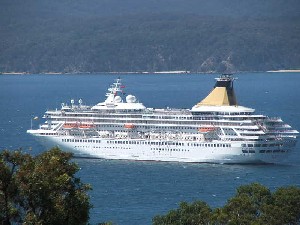 P&O Cruise Liner 'Artemis' off Eden, NSW
---
17 Dec 05 - Formation of the MCD Branch
In expectation of our 40th anniversary celebrations next year, the text of DCI 278/66 announcing the formation of the combined MCD Branch on 25 February 1966 is now available in the Branch History section of the website.
---
15 Dec 05
New Personal Update
The Members Only area contains an update and photos from MCDOA member Steve Marshall who has just returned from working with fellow MCDOA member David 'Topsy' Turner in New Zealand. Now, what about the rest of you?
---
Former Royal Navy FCPO(D) Dave 'Mona' Lott of Eden, New South Wales in Australia has kindly sent this photograph of a divers' multiple christening group outside St Adjutor's Chapel in HMS Vernon c.1964. PO(CD2) Pete Lumbis is standing next to the Padre in the back row and CPOCD1 Ernie Foggin is on the extreme right next to PO(CD2) Ted Shennan. CPO(CD1) Hoppy Hopewell is the shorter man holding the boy and Mona Lott is squatting with his son Andrew, his wife and his eldest daughter Karen. Mona adds, "Perhaps there is something in the water used in the helmet that directs some people to Oz. My son, having been dunked in it, is also slightly north of Sydney at Cherrybrook."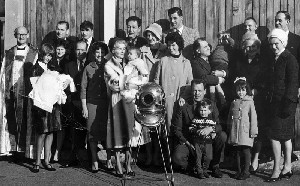 HMS Vernon Divers' Christening c.1964
The Admiralty Pattern 6-bolt diving helmet was inverted and used as a font. It is now on display in St Barbara's Chapel in HMS Excellent at Whale Island where it remains available for naval divers' christenings. The names of those children christened in the helmet, including all three of mine (two of whom have visited Australia this year), are engraved on brass tallies mounted on an accompanying framework.
---
14 Dec 05 - HMS Vernon Heritage (Part I)
Eddie George of Welby, New South Wales in Australia has kindly sent this photograph of HMS Vernon's wartime band. His father, Mansel George, played the violin (second from the right) but died in the 1960s. If the letter seen after 'HMS Vernon' on the drum kit is a 'P', then the band could be playing in HMS Vernon (P) at Portsmouth. If the letter is an 'R', then the band could be playing in HMS Vernon (R) at Roedean School for Girls near Brighton where much of the establishment was evacuated during the Portsmouth Blitz. From my memories of watching RN Drama Festival plays and Christmas pantomimes in the old theatre in HMS Vernon (P), I believe the former possibility more likely.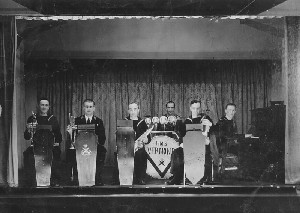 HMS Vernon Wartime Band
The band is displaying Vernon's old ship's badge of crossed torpedoes over a moored mine, subsequently replaced by the more familiar arm and trident. The old ship's badge was still valid in 1955 so the changeover must have happened since then. Can anyone shed more light please? Answers to me on a postcard or e-mail: webmaster@mcdoa.org.uk.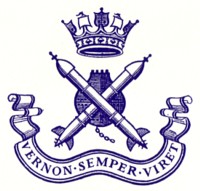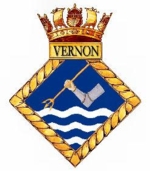 HMS Vernon Ship's Badges - The Old and the New
---
11 Dec 05 - HMS Quorn Returns to Portsmouth
The following item from today's Portsmouth News describes the return of HMS Quorn to Portsmouth after her refit in Rosyth.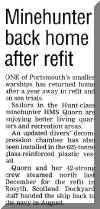 ---
9 Dec 05 - Minehunters Clear Two Wartime Mines off Plymouth
The RN website contains an account of the disposal of two wartime mines off Plymouth available via this link. The operation involved HMS Blyth supported by HMS Quorn, HMS Hurworth, HMS Grimsby and the Devonport-based survey vessel HMS Echo.
4 Dec 05 - Malta Diving School Follow-Up
MCDOA member Brian Braidwood (CDO '64) has provided additional information about Lt George Campbell Foster MBE, DSC, RN and the RN Diving School at Malta (see item for 29 Nov 05). As a Sub Lieutenant, Brian qualified as a Shallow Water Diver (SWD) in Malta in 1957 and George Foster signed his certificate as OIC of the School. Brian says he was kept pretty busy on his three-week course so he didn't see much of the OIC. However, the training must have been good as he is still diving (sport only) and passed his annual diving medical again last week.
Brian has furnished a copy of his travel-worn certificate (with Lt Foster's signature clearly visible) and a page from his personal diary/log book covering the diving course. In those days, SWDs used a derivative of 'old' CDBA rigged for pure O2 which limited them to a maximum depth of 33 ft (10 m). Note the clinker-built rowing boat used before the days of Gemini dinghies!

Shallow Water Diving Certificate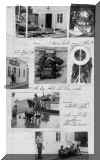 Diary/Log Book Page
---
3 Dec 05 - RN Minewarfare & Diving Magazine 2006 - Call for Articles
All members, and any others able to make an interesting contribution, are encouraged to submit articles for the next issue of the MAD magazine by 20 Jan 06 to enable publication prior to Easter. Clive Smith is relieving fellow MCDOA member Alex Bush as editor and submissions should be sent to:
Minewarfare & Diving Magazine

Command & Advance Warfare Training Unit

Maritime Warfare School

HMS COLLINGWOOD

Newgate Lane

FAREHAM

Hampshire

PO14 1AS

Tel: 013 2933 3445

Mil: 93 825 3445

Fax: 013 2933 3443
---
2 Dec 05 - New Personal Update
The Members Only area contains an update from Ed Thompson (LMCDO '66) who has just joined the Association.
---
1 Dec 05
Navy News Items
The following MCD-related items from the December issue of Navy News include: an on board radio broadcast during a visit to Barrow-in-Furness by HMS Walney; the departure from Portsmouth of HMS Shoreham for her new base port at Faslane; a visit to the town of Bangor by HMS Bangor; a visit to the town of Atherstone by HMS Atherstone; and the execution of the last minesweeping operation in the Royal Navy by HMS Middleton and HMS Ledbury.

---
'Spotters' Corner' - Ham Class Inshore Minesweepers transferred to the RAN
The Australian theme continues and I hope the following will be of interest to members. During the past few weeks, your humble webmaster has enjoyed a stimulating exchange of correspondence with people in Australia and New Zealand while ascertaining the fate of three Ham Class Inshore Minesweepers transferred to the RAN in the 1960s. 93 ships of this class were built for the RN in the 1950s (those were the days!) and it has now become apparent that my main reference (British Warships Since 1945 Part IV - Minesweepers by my late friend Jack Worth, founder of the Ton Class Association (TCA)) is incorrect about these three particular ships. Unfortunately, Jack transposed the fate of two and misnamed the other after their sale to the RAN. This whole affair started off owing to my routine attempt to win the Mystery Ship of the Month competition run by my friend Rik Furnival on the TCA website (I know, sad isn't it?). Incidentally, the answer for November was HMS NEASHAM.
HMS NEASHAM (M 2712) was laid down in 1955 at J. Samuel White of Southampton and completed on 15 Nov 1957 but remained in operational reserve in a land cradle at Rosneath on the Clyde until 1967. She was transferred to the RAN and arrived in Sydney on 29 Jul 1968 as deck cargo on board the Blue Star freighter English Star. After a period at Garden Island, she was converted into a diving tender by Storey & Keers Pty Ltd, Balmain, Sydney and renamed PORPOISE (DTV 1002 & Y.280) on 13 Jun 1973. She was sold on 29 Nov 1989.

HMS POPHAM (M 2782) was laid down in 1954 as HMS HATTERLEY at Vospers of Southampton (the Ley Class was similar to the Ham but only 10 ships were built). She was completed as HMS POPHAM on 4 Oct 1955 but remained in operational reserve at Hythe on Southampton Water until 1956. She was then land-cradled at Rosneath on the Clyde until 1963 and transferred to the RAN on 9 Jun 1966. She arrived in Sydney as deck cargo on board the freighter Gladstone Star on 3 Sep 1967. Although she was due to be converted into a diving tender and renamed OTTER (Y.299), she remained in reserve in a cradle at Garden Island, Sydney. She was listed for disposal on 31 Dec 1975 and sold on 17 Feb 1976.

HMS WINTRINGHAM (M2777) was completed 8 Dec 1955 at J. Samuel White of Southampton but remained in operational reserve in a land cradle at Rosneath on the Clyde until 1963. She was transferred to the RAN on 9 Jun 1966 and arrived in Sydney as deck cargo on board the freighter Gladstone Star in 1967. She was converted into a diving tender by Halvorsens, renamed SEAL (DTV 1001 & Y.298) and entered service in Dec 1968. She was decommissioned in 1988 and sold on 29 Nov 1989.
Ex-HMS POPHAM (RAN OTTER) and ex-HMS NEASHAM (RAN PORPOISE) were bought by the Australian property developer Keith Williams, owner of Seaworld Pty Ltd of Surfers' Paradise, Queensland, and converted into luxury motor yachts (ACHILLES I and ACHILLES III respectively). Only ACHILLES III is left and she is currently operated by a NZ yacht charter business called Sail Connections. In pursuit of my enquiries I enjoyed some fascinating e-mail exchanges with Jeni Tidmarsh, the owner of Sail Connections (she sailed from Gibraltar to Antigua in an ex-minesweeper called SAMALA in 1976), and Keith Williams' PA, Louise Spicer. Keith Williams then took a personal interest and sent me a long letter and a stack of brochures about his yachts and his vast new marina development, run by his son Ben, at Port Hinchinbrook between Townsville and Cairns.
Ex-HMS NEASHAM (RAN PORPOISE) went from this: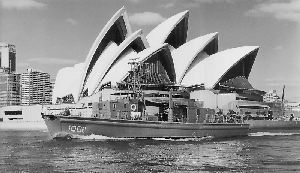 Ex-HMS NEASHAM as RAN Diving Tender PORPOISE
to this: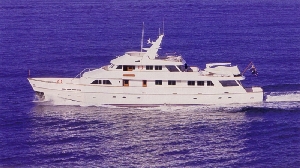 Ex-HMS NEASHAM as Luxury Motor Yacht ACHILLES III
Ex-HMS WINTRINGHAM (RAN SEAL) was converted into a luxury motor yacht too. After foundering recently in Western Australia, she is now back in operation and is still named SEAL. So, perhaps buying your own ex-RN Ham Class Inshore Minesweeper (see second item for 14 Nov) is not such a bad idea after all.
My sincere thanks to Jeni Tidmarsh, Louise Spicer, Keith Williams, Tony Ey and Jake Linton for their considerable help during my research.
---
29 Nov 05 - Lt George Campbell Foster MBE, DSC, RN
David Foster (who, would you believe it, lives near Fremantle in Western Australia) has provided these photos of the RN Diving School at HMS Phoenicia, Manoel Island, Malta c.1956-57 showing his father Lt George Campbell Foster MBE, DSC, RN who died in 1988. He is keen to learn more about his father's career and awards:
Mention in Despatches awarded in 1941 King's Birthday Honours while a PO in HMS Gossamer (Halcyon Class minesweeper). "For outstanding zeal, patience and cheerfulness, and for never failing to set an example of wholehearted devotion to duty, without which the high tradition of the Royal Navy could not have been upheld." Possibly awarded for service in HMS Leda during Dunkirk evacuation (8 trips).

Second Mention in Despatches awarded 8 Dec 42 for bravery while serving as a PO in HMS Gossamer (Halcyon Class minesweeper) which was bombed and sunk in the Kola Inlet 24 Jun 42 while escorting a convoy to North Russia. "After the engine room had been cleared, these three men (incl PO Foster) returned below with the ship settling and listing rapidly, at great risk to themselves, and worked until just before she capsized to try to get the steam electric generator on the board."

DSC awarded 11 Dec 45 for wind-up operations in NW Europe 1945 while a Senior Commissioned Gunner (T) in HMS Musketeer (M Class destroyer).

Appointed MBE in 1952 New Year Honours in recognition of Bomb and Mine Disposal Service while a Senior Commissioned Gunner (T) at HMS St Angelo (RN Barracks Malta).
If anyone can help David or identify anyone else in the photos please contact: webmaster@mcdoa.org.uk.
RN Diving School, Malta c.1956-57
Postscript 1: A correspondent called John Raisey informed me on 19 Jan 2007 that the Petty Officer in the right hand photo was called Ken Peake. John qualified as a Shallow Water Diver (SWD) at Manoel Island in 1958 while serving in HMS Striker. PO Peake was his course instructor and, by that time, the Diving Officer was Lt George Wookey who had broken the world deep diving record in October 1956 when he reached 600 ft from HMS Reclaim in Sørfjorden near Bergen in Norway.
Postscript 2: I received this e-mail on 29 Mar 2010:
"With regard to your request for the identities of persons in the two photographs shown, I would like to point out that in the second photo, I was the Petty Officer in the centre of the rear rank. I was Petty Officer Roy Falk, Diver 2nd Class, acting as diving instructor for Shallow Water Diving Classes. On my right, Able Seaman Holdsworth, on my left Mechanician Franz Lia, Maltese Navy. Front row: Chief Petty Officer 'Darby' Allan, and Lt George Foster RN.
I trust this information is of use to you,
Regards,
Roy Falk"
Thank you, Roy, for setting the record straight.
---
28 Nov 05 - Dan Nicholson Down Under
Continuing the Australian theme, MCDOA member Dan Nicholson stopped off in Sydney earlier this month (after providing lifeboat training for the Chinese in Shanghai) and looked up several old friends. Here he is with Ian McConnochie, the NSW President of the RAN Clearance Divers' Association, at Ian's home. Dan is modelling a tee shirt commemorating the 50th anniversary of the RAN CD Branch given to him by Jake Linton (see item for 27 Nov). Apart from having enjoyed an Australian exchange posting himself, Dan relieved fellow MCDOA member Tim Hildesley as the RN exchange officer on the staff of COMINEWARCOM at Charleston, South Carolina in the '70s when Jake Linton was the RAN exchange officer. Dan and Jake were later relieved by MCDOA member Martyn Holloway and Ian McConnochie respectively.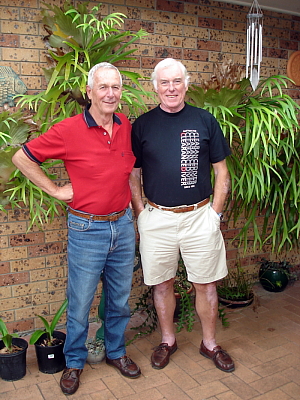 Ian McConnochie & Dan Nicholson
Incidentally, wasn't it a shame that Wales beat the Wallabies 24-22 at the Millennium Stadium in Cardiff on Saturday? However, I must confess Mrs Webmaster (who hails from South Glamorgan) was so delighted that she nearly fell off her broomstick!
---
27 Nov 05 - Cdr Edward 'Jake' Linton BEM RAN
Thanks to an unrelated but fortuitous chain of events, Jake Linton is signing up as a member of the MCDOA. He was a founding member of the RAN MCD Branch and is already well known to many members. A fascinating account of his exploits, 'A Clearance Diving Experience', has been added to the Dit Box.
'Playing with Matches', the amusing story of an exchange of signals and correspondence started by a WW I minesweeping trawler, has also been added to the Dit Box recently.
---
24 Nov 05 - EGUERMIN Photos
I am indebted to MCDOA members Peter Waddington and Hamish Loudon for providing these vintage photos of MCDO visits to EGUERMIN (Ecole de Guerre des Mines), the Belgian/Netherlands Minewarfare School at Ostend. The picture below shows LMCDO '68 comprising Jim Brown, Tag Caisley, Chris Beresford-Green, Jim Cook, Mike Emary, Dave Forsey, Peter Hicks, Tim Hildesley, P Jonker SAN, Gerry 'Pincher' Martin, C D Maginley CF (MW Course Officer), John Rayner, Brian Schofield (the tame 'Schoolie'), Peter Waddington and Bob White. The expressions on some faces probably indicate a successful run to Mrs Robinson's bar the previous night.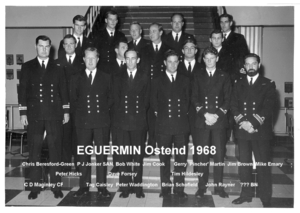 The photos below depict the 1977 visit by HMS Vernon MW Training Staff with CMCM and area Staff MCD Officers for EGUERMIN's Minewarfare Staff Officer Course (MSOC) including Nigel Davies, Dave Forsey, Tim Hildesley, Hamish Loudon, Ralph Mavin, Jon Riches and Mike Welford. Mike Emary missed the photo, possibly as the result of another good run to Mrs Robinson's the night before.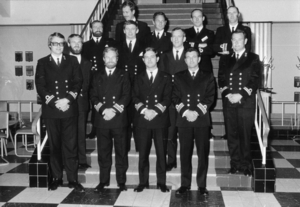 The photo below shows Mike Welford performing calculations using the RN's DREAMT (Direct Reading Electronic Aid to MCM Techniques) which was pitted against EGUERMIN's DEC mainframe operated by Hank and his staff. Dave Forsey holds out the liar dice used to make difficult planning decisions while Tim Hildesley, Nigel Davies, Jon Riches, Hamish Loudon and Ralph Mavin look on. Built before the days of microprocessors, the plastic-screened WANG 2200 computer had a memory core and used 8" floppy disks. Still no sign of Mike Emary...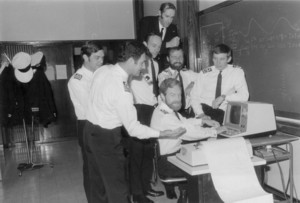 In the absence of Wren plotters and ladders, the MSOC students had to improvise.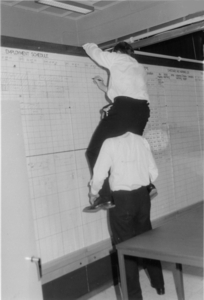 MSOC students took it in turns to act as the duty MCM Staff Officer and prepare the brief. Here, Jon Riches demonstrates what a lonely business this could be when everyone else has cleared off to the pub.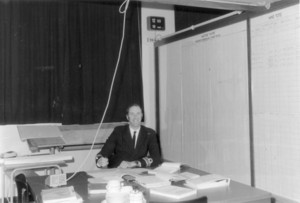 ---
19 Nov 05 - Minewarfare Trainees Help Out at Nursery
The following item from today's Portsmouth News describes community help provided by trainees from the Minewarfare Training Unit at HMS Collingwood, all thanks to their instructor, PO(MW) Rocky Hudson. Well done guys.

---
Five Bells
The November 2005 edition (Issue No 9) of the MCDOA newsletter 'Five Bells' is now available for download in the Members Only area. Off-line members will receive hard copies by post with their AGM minutes.
---
Minesweeper Going Cheap!
Anyone interested in buying their own Ham Class inshore minesweeper (ex-HMS Powderham) should look at this link on e-Bay.
---
11 Nov 05 - Lest We Forget

They shall grow not old, as we that are left grow old;
Age shall not weary them, nor the years condemn.
At the going down of the sun and in the morning,
We will remember them.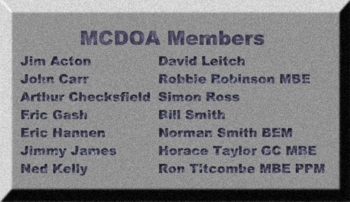 ---
10 Nov 05 - Operational Updates, AGM, Annual Dinner and Northern Dinner in 2006
Note for your diaries that next year's Operational Updates and AGM at Fleet Diving Headquarters and Annual Dinner in HMS Excellent are planned for Fri 17 Nov 06. We will be celebrating the 40th anniversary of the formation of the combined MCD branch and the 15th anniversary of the founding of the MCDOA. We will also mark the 25th Anniversary of LMCDO '81 (Course Officer Pat Gale and Course Instructor CPO(D) Blondie Limbrick plus Martyn Allen, Tom Chambers, Geir Gade RNoN, David Hilton (MW & DEODS modules), Robin Jack, Rennie Miller, Ian Morton, Simon Nicholson, Peter Robinson, Nick Stanley and Chris Walton-Gould).
Alan Padwick is also organising a 40th anniversary reunion of the first Long MCD course (LMCDO '66 - Course Officer Patrick Dowland plus Mike Bull, John Coggins, Bill Grady, Bob Harrison, John Lang, John Ludgate, Alan Padwick, Jon Riches, Ed Thompson and Ivan Whatley). There will be quite a lot to celebrate so please spread the word so we can muster as many as possible on the day.
Don't forget the next MCDOA social event is the Northern Dinner in HMS Neptune on Fri 24 Feb 06. This will be 40 years to the day since the eve of the formation of the combined MCD Branch and I know something special is planned for midnight. If you wish to attend, ring or e-mail Bob Hawkins. Further information, including Bob's contact details, is posted on the 'Upcoming Events' page of the Members Only area.
Potential opportunists please note that only service leavers being dined out receive their meal for free and anyone entitled to MCDOA membership will be expected to join the Association before benefiting from these subsidised functions.
---
8 Nov 05 - Royal Navy Abandons Minesweeping after 100 Years
It's official at last! According to HMS Middleton's latest News page on the RN website, the evolutions conducted by HMS Ledbury and HMS Middleton off the Isle of Wight on 12 October (see item for 13 Oct) constituted "the final deployment of sweep gear by the Royal Navy". The withdrawal of minesweeping from the RN complies with its long-expressed objective of 'removing the man from the minefield'. This dictum will not exclude the future deployment of sweeps from remotely operated platforms should an Urgent Operational Requirement (UOR) arise, e.g. the Shallow Water Influence Minesweeping System (SWIMS) used in the extremely murky estuarine waters of Iraq during Operation TELIC. In future, resources previously invested in mechanical and influence minesweeping systems are likely to be concentrated on minehunting systems and Remotely Operated Vehicles (ROVs) instead.
This historic event marked the end of 100 years of conventional minesweeping in the Royal Navy. At the start of the 20th Century, mine countermeasures (MCM) against existing crude moored contact mines were limited to dragging chains across the seabed between pairs of trawlers or fitting a variety of self-protective cow-catcher devices to the bows of warships. In December 1907, the Admiralty leased two Grimsby trawlers to trial a modified fishing trawl against a field of dummy moored mines at Portland. In 1908, this device was accepted into service as the 'A' (Actaeon) sweep and fitted to various types of vessel. At the same time, the Trawler Reserve was instituted for the mobilisation of 100 trawlers and 1,000 officers and ratings during periods of tension. By the end of WW I, the Trawler Reserve numbered 39,000 officers and men of whom 10,000 were employed in minesweepers.
At the beginning of WW I, British regular minesweeping forces comprised five Alarm and five Sharpshooter Class ex-torpedo gunboats that had been fitted with the 'A' sweep in 1908/9. One of these, HMS Circe, had been built in 1892. By the end of the war, British minesweeping forces totalled 726 vessels stationed at 26 home ports and 35 foreign bases. These included 110 purpose-built minesweepers, 412 trawlers, 142 drifters, 52 hired paddle steamers and 10 Dance Class 'Tunnel Tug' shallow draught minesweepers. 214 minesweepers had been lost during hostilities.
During WW I, the torpedo establishment at HMS Vernon developed high speed wire sweeps for destroyers and introduced paravanes for the self-protection of major warships and merchant ships. These developments culminated in the Oropesa Mk 1, named after the trawler involved in its trial. This wire sweep could be deployed by a single sweeper but was not formally accepted into service until 1919. The Oropesa sweep was kept at the required depth by a multi-vane kite otter. Its end was diverted laterally by another kite on its side, or by an otter board, suspended beneath a streamlined float. A 'V' cutter at the end of the sweep severed the mooring cable of any mine left uncut by the serrated wire. The sweep proved effective in several types of vessel.
At the beginning of WW II, regular RN minesweeping forces comprised around 40 fleet minesweepers, half of them ex-WW I coal-burning Improved Hunt (Aberdare) Class fleet minesweeping sloops (Smokey Joes) laid up at Malta and Singapore. By the end of the war, the RN had over 1,200 minesweepers in operation including Algerine, Halcyon and Bangor Class fleet minesweepers, British American Minesweepers (BAMS), Motor Minesweepers (MMS or 'Mickey Mouse') and British Yard Minesweepers (BYMS) as well as converted trawlers and drifters. 50,000 personnel were involved in minesweeping in the RN and the RN Patrol Service (RNPS) and well over 200 minesweepers had been lost during hostilities.
When the first German magnetic mine appeared in 1939, colliers were requisitioned and converted into mine destructor ships with huge electro-magnets in their holds. Scientists at HMS Vernon then developed the 'M' sweep comprising magnetized bars towed on pendants 40 feet long and spaced 15 feet apart. The 'M' Mk 2 sweep, nicknamed 'the bosun's nightmare', carried seventy 27 inch magnets spaced 10 feet apart across its swept path of 700 feet. This in turn was replaced by the far more successful 'LL' magnetic sweep comprising two buoyant cables of different lengths equipped with strings of electrodes at their tail ends. A petrol-powered 35kW generator set and batteries pulsed the sweep at 3000 amps for 5 seconds each minute.
When the first German acoustic mine appeared in 1940, the Sweeping Division of HMS Vernon's Mine Design Department responded with the Sweep Acoustic (SA) hammer box. This contained a pneumatic or electrically driven riveting hammer striking a 7/16 inch thick 19 inch diameter steel diaphragm but the pneumatic hammers proved more reliable than the electric type. The 'A Mark 1' hammer box was fitted in the flooded bow compartment of converted trawlers but later versions were deployed on a boom over the bow. By 1942, the hammer box was common in a variety of minesweepers and sometimes towed abeam with the LL magnetic sweep.
Later in the war, the Oropesa Mk 1 mechanical sweep was augmented by the lighter Oropesa Mk 2 which could be towed by small craft such as motor launches (MLs) or converted Landing Craft. This shallow water sweep, based on a German design, came into its own during the defence of Malta, the Normandy invasion and later in the Scheldt estuary. Towards the end of the war, the Germans laid 'Oyster' pressure mines and large displacement ships and barges were deployed against it.
In the 1950s, the Oropesa Mk 2 mechanical sweep was followed by the Wire Sweep Mk 3 (WS 3) fitted in the new Ton Class Coastal Minesweeper (MSC). This sweep was streamed as a single Oropesa from one quarter or as a double Oropesa from both quarters. It was also deployed as an Armed Team Sweep (ATS) using two or more sweepers linked together and a Deep Armed Team Sweep (DATS) was achieved using the larger 'Algerine' kite to depress the sweep. Influence sweeping was performed with the Combined Towed Acoustic Sweep Mk 1 (CTAS 1) and Loop. This comprised an Acoustic Hammer (AH), an Acoustic Displacer (AD) and a pipe noisemaker, each producing different acoustic frequencies, towed in combination with the Magnetic Minesweep Mk 11(L) loop. Various configurations or 'rigs' were used depending on the type of mine expected.
In 1979, HMS Brecon was the first Hunt Class Coastal Minehunter/Sweeper (MHSC) to enter service. These Glass Reinforced Plastic (GRP) constructed ships were equipped with the non-magnetic Wire Sweep Mk 8 (WS 8), streamed as a single ship Oropesa or as a Team Sweep. They were also fitted with the Combined Influence Sweep (CIS) comprising the Minesweeping System (Acoustic) Mk 1 (MSSA 1) with the Magnetic Sweep Mk 14 (MS 14) buoyant loop. With the CIS in closed-loop mode, a Towed Acoustic Monitor (TAM) provided feedback to the ship so the TAG's output could be optimised for prevailing environmental conditions
In 1982 during Operation CORPORATE, five commercial trawlers (Cordella, Pict, Northella, Junella and Farnella) were taken up from trade, fitted with wire sweeps (WS Mk 9) and deployed to the Falkland Islands under the Command of MCDOA member Martyn Holloway. To give the ships a self protective precursor capability, a deep armed oropesa sweep was developed en route using the embarked WS Mk 9 Kite Otter Multi-planes (KOMs), 3 legged 'otter' slings manufactured by Rosyth Dockyard (parachuted to the ships when well south of Ascension Island) and CTA 'Jumbo' floats liberated from stores prior to departure. Using Oropesa sweep and float wire tables calculated by AUWE, the trawlers cleared the two Agentinian moored minefields off Port Stanley in Oropesa before completing a 5 ship WS Mk 9 check sweep. Later, HM Ships Brecon and Ledbury arrived in theatre and confirmed by sonar that all poised mines had been cleared. Further utilising their submersibles and divers the two mine hunters then located and disposed of remaining married mine failures and mine sinkers.
In 1986, the steel-constructed River Class Minesweeper Fleet (MSF) was introduced for service with RNR divisions. This was fitted with the Wire Sweep Mk 9 Extra Deep Armed Team Sweep (EDATS) for use against deep-laid short-tethered rising mines.
In 2003, the UK developed and deployed the Shallow Water Influence Minesweeping System (SWIMS) as an Urgent Operational Requirement (UOR) to help clear the Shatt Al Arab and approaches to the port of Umm Qasr during the Iraq War. Combat Support Boats (CSBs), controlled remotely from MCMV mother ships, towed the Australian Defence Industries (ADI) Mini Dyad System (MDS) and Pipe Noise Makers (PNMs) ahead of the RN minehunters as precursor sweeps against ground influence mines.
For more information, see Development of Naval Minewarfare in the Branch History section.
---
6 Nov 05 - MCDOA Operational Updates, AGM and Annual Dinner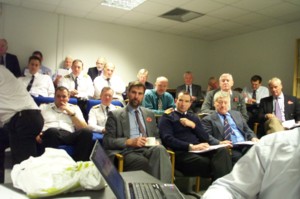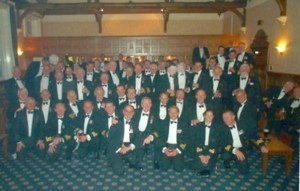 Left: Audience for AGM. Right: Annual Dinner attendees.
There was a high turnout for the informative operational updates and AGM at Horsea Island on Friday and 98 members and guests attended the cracking dinner that followed at Whale Island. Our heartfelt thanks are due to our Hon Sec Tony Griffiths for his typically meticulous organisation, to the wardroom staff of HMS Excellent for such a fine meal and to the Volunteer Band of HMS Nelson for their superb musical accompaniment. Special thanks also to George Turnbull, XO of the harbour training ship HMS Bristol, for providing cabins in which many of us were grateful to lay our heads afterwards despite having our peace shattered by 'Call the Hands' at 0630!
Service leavers Tim Curd, Steve Field, Mike Leaney, Adrian Blakey and John Herriman were all given a good send-off and several course members were present for the 35th anniversary reunion of LMCDO '70 including Course Boss Alan Padwick, David Cartlidge, Terry Digges, Martyn Holloway, Tim Paul and Tim Trounson and for the 25th anniversary reunion of LMCDO '80 including Course Boss Pat Gale, Mark Benians, Roger Davies, Dougie MacDonald, Alex Manning, Dave 'Doc' O'Connell, Dave 'DC' Smith, John Staveley and Kevin Wright.
Photos of all Friday's events may be viewed in the Members Only area and I will consider publishing any others that members e-mail me. The minutes of the AGM will be published in the Members Only area when available.
---
3 Nov 05 - New Personal Update
The Members Only area contains an update and photos from MCDOA member Martin Mackey, CO of HMS Ramsey.
---
1 Nov 05
Navy News Items
The following MCD-related items from the November issue of Navy News include: the phasing out of RN ships' divers (featuring MCDOA member Paul Jones); the paying-off of HM Ships Brecon, Cottesmore and Dulverton; the disposal of a wartime bomb by HMS Hurworth; HMS Middleton acting as the start platform for the second round-the-world voyage of Gipsy Moth IV; the Naval Air Command Sub Aqua Club's 2005 expedition; the Edinburgh marathon efforts of PO(D) Paddy Donohue of DEODS and PO(MW) Billy Connor; and a pilgrimage to Greece by members of the Algerines Association.
---
Your Website is Three Years Old
The MCDOA website is three years old today. There were 5,361 visits to the site in October, the first month the total has exceeded 5,000. This is nearly three times the number recorded a year ago and figures continue to rise steadily.
During its third full year, the website received 47,601 visits from internet users who registered 1,134,443 hits on individual pages and images and downloaded 19,354,263 kilobytes of data. Visitors hailed from over 60 countries including Algeria, Argentina, Australia, Austria, Belarus, Belgium, Brazil, Bulgaria, Canada, Chile, China, Colombia, Croatia, Cyprus, Czech Republic, Denmark, Egypt, Estonia, Faeroe Islands, Finland, France, Germany, Gibraltar, Greece, Heard and McDonald Islands, Hong Kong, Hungary, Iceland, India, Ireland, Israel, Italy, Ivory Coast, Japan, Kyrgyzstan, Latvia, Libya, Lithuania, Malaysia, Malta, Mexico, Morocco, Netherlands, New Zealand, Norway, Pakistan, Poland, Portugal, Romania, Russian Federation, Samoa, Saudi Arabia, Singapore, Slovak Republic, Slovenia, South Africa, Spain, Sweden, Switzerland, Thailand, Turkey, Tuvalu, UK, Ukraine and the USA.
The most popular areas of the website are the Latest News, the News Archives, the Development of Minewarfare, the History of HMS Vernon and the Construction of the Millennium Spinnaker Tower.
---
30 Oct 05 - MCDOA Annual Dinner
Applications are no longer being accepted for this year's dinner. The list of attendees is available on the 'Upcoming Events' page of the Members Only area.
---
26 Oct 05
Jim Sykes Appointed Medical Officer-in-Charge at INM
Warm congratulations to MCDOA associate member and diving medicine specialist Surgeon Commodore Jim Sykes on his appointment as Medical Officer-in-Charge of the Institute of Naval Medicine at Alverstoke. His appointment was announced in today's Daily Telegraph.
---
MCDOA Committee Meeting Minutes
The minutes of the MCDOA committee meeting held at Fleet Diving Headquarters on 4 Oct 05 are now available in the Members Only area. An annex to the minutes contains an update on RN diving by SofD (Superintendent of Diving).
---
25 Oct 05 - New Personal Update
The Members Only area contains an update from MCDOA member Wave Crookes, now diving commercially in the North Sea.
---
23 Oct 05
MCDOA Annual Dinner Update
The Guest of Honour for the Annual Dinner in HMS Excellent on 4 Nov will be Captain Mike Davis-Marks Royal Navy (CINCFLEET's DACOS(UWB)). So far, 78 members and personal guests are booked in to attend (list available on 'Upcoming Events' page in Members Only area). If you haven't already applied, hurry up while there is still space available.
---
Yesterday, your humble webmaster had the pleasure of meeting Gerald Stubbs, son of the late Lt Cdr Gilbert Ernest Stubbs GM RNVR. Gerald got in touch because he wanted a safe repository for his father's extensive collection of photographs and papers documenting his wartime naval bomb & mine disposal activities. Unfortunately, few of the photos are annotated and it will be some time before I can sort them out. In the meantime, can anyone help identify any of the RN Bomb Safety Officers (BSOs) shown below or the circumstances in which the photos were taken? Author Geoff Mason has told me that the four-striper is Captain Charles Norman Edward Currey CBE RN (Commanding officer of the Royal Naval RMS Section) not Captain Llewellyn Evan Hugh Llewellyn CB OBE RN known irreverently as 'Lulu' (Director of the Admiralty's Unexploded Bomb Department (DUBD)).
Most of the other photos show a wide variety of bombs, mines and other items of ordnance being rendered safe with close-ups of their components (plus a few explosions). There is much probing, shafting and hoisting with sheer legs and gins as well as the operation of other RMS (Render Mines Safe) apparatus in all types of environment with mud predominating. Some photos appear to show 'HMS Mirtle', the chalk quarry at Buriton near Petersfield used by HMS Vernon for steaming the explosive content out of bombs and mines. The collection also includes a photo album and a copy of a report titled "History of Bomb and Mine Disposal 1939-1946' (author unknown but presumably submitted by Captain (M) at HMS Vernon). A hand-written notice requesting names of those wanting copies of group photos includes the signatures of Stubbs himself, Lt Cdr L V Goldsworthy GC GM DSC RANVR, Lt Cdr H J Horan RNVR (later OIC 'P' Party 1572), Lt Cdr H R Newgass GC RNVR, Dunn, Crane, Collins, Peers and another I have yet to decipher (possibly Lt Cdr M W Griffiths GM RNVR). A BSO duty rota for white watch 18 to 25 August 1941 includes the names of Lt B H W Fenwick GM RNVR, Lt Keats, Lt Stevenson, Sub Lt Mann, Sub Lt Fuller, Sub Lt Phillips and Sub Lt Sanderson.
Other officers and ratings who crop up in the photos and accompanying notes include Lt Cdr H E Wadsley GM* DSC RNVR, Lt Cdr R B Edwards DSO RN, Lt C B Kelley MBE RNVR, Lt Cdr G J Cliff GM* MBE RANVR, Lt McCann, Lt Taylor and AB Percy Fouracre BEM. Those names for which further details are as yet unknown include Collins (possibly AB Ronald Edward Collins later Mentioned in Despatches while in 'P' Party 1575), Crane, Hines, Lee, Manford (possibly AB Dennis Mountford GM), Molle, Reynolds, Thorpe, Welch and "Yank" (probably Ensign Franz of the US Navy). Author Geoff Mason has also informed me that the tenth photograph shows Jack Crane standing by a mine at Peasenhall which was the first found to be fitted with two bomb fuzes. This was also the first occasion on which an X-ray photograph was taken to determine the type of detonator, subsequently discovered to contain an acoustic unit, the first of its kind that was found.
Men like Gilbert Stubbs went on to serve in 'P' Parties and helped lay the foundations for the MCD branch so I am extremely grateful to his son Gerald for making his collection available. It will be of great value for the definitive history I am writing about RN minewarfare & clearance diving and I will post more photos on the website in due course.
---
13 Oct 05 - A Day at Sea in HMS Ledbury
Yesterday was a typically grey, wet and blustery October day. However, your humble webmaster counts himself extremely fortunate in having been able to go to sea in the Hunt Class MHSC HMS Ledbury with a group from the Ton Class Association (TCA) including fellow MCDOA member Doug Barlow. We were met at Portsmouth Naval Base's Unicorn Gate at 0700 by the Coxswain (PO(D) Andy Lonsdale) who drove us to the ship's berth.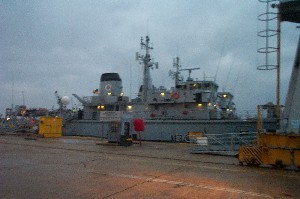 HMS Middleton with Ledbury outboard
Once onboard, we were greeted with welcome cups of coffee and 'bacon butties' in the wardroom. To say the air was thick with 'dits' throughout the ensuing day would be putting it mildly; Barlow, among others, helped see to that! Ron Walsh (extreme right in the photo below) is aged 85 and joined the Royal Navy in 1936. His book, 'In the Company of Heroes', describes his eventful naval career and is thoroughly recommended.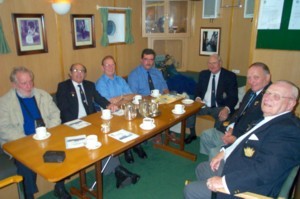 TCA members settle down for the safety brief
The aim of the day was to stream and recover the Combined Influence Sweep (CIS) off the Isle of Wight; the ship had streamed the Oropesa mechanical wire sweep the previous day. Somehow, the prevailing weather conditions seemed entirely appropriate for this normally unremarkable evolution. In all, Ledbury carried about 45 extra personnel for the day including the Squadron Padre plus instructional staff and trainee MW officers and ratings from the Minewarfare Training Unit (MWTU) of the Maritime Warfare School (MWS) at HMS Collingwood. The ship's XO (Lt Jo Price) remained ashore but we were well looked after by the CO (Lt Cdr Rob Wilson), the Ops Officer (Lt Ben Vickery), the Boatswain (PO(MW) 'Taff' Price), the 'Buffer' (Chief Boatswain's Mate - LOM 'Pinta' Beer) and the ship's NILE rating (OM Cole).
Left: TCA Members fallen in (well, sort of) for leaving harbour
Right: CO Rob Wilson with TCA Historian Bob Dean and TCA Webmaster Rik Furnival
We slipped from HMS Middleton at 0800 and proceeded out of Portsmouth passing, among other ships: the Antarctic Survey ship HMS Endurance (otherwise know as the 'Red Plum'); RFA Fort George; the rather forlorn-looking decommissioned Sandown Class MHCs Sandown, Inverness and Bridport; the Type 42 Batch 2 destroyer HMS Liverpool; and the aircraft carrier HMS Illustrious.
Left: HMS Middleton
Right: HMS Endurance
Left: RFA Fort George
Right: Sandown, Inverness and Bridport awaiting disposal
Left: HMS Liverpool
Right: HMS Illustrious
Once clear of the harbour, we conducted Officer of the Watch (OOW) manoeuvres with sister ship HMS Middleton and the Sandown Class minehunter HMS Bangor, both of which were carrying trainees for the day too.
Left: HMS Ledbury from the Round Tower courtesy of Steve Wright.
Right: HMS Middleton with HMS Bangor beyond.
After hoisting three black balls at the masthead and deploying the Magnetic Sweep Mark 14 (MS 14) magnetic loop's otter safely off the port quarter, Ledbury began the task of streaming the Towed Acoustic Generator (TAG) and the rest of the Minesweeping System Acoustic Mark 1 (MSSA Mk 1), watched intently by TCA members from the bandstand. Some may remember the TAG as the experimental 'Osborne' noise-maker of trials conducted by the old Third MCM Squadron of Ton Class MCMVs based at Portland dating back to the 1960s but it is now the most sophisticated minesweeping acoustic source in the world.
Streaming the TAG, strain cable, floats and diverter
TCA goofers on the bandstand
Soon, there was a satisfying string of float marker beacons stretching into the gloom off the starboard quarter.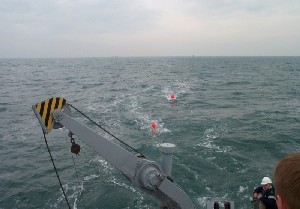 MSSA Mk 1 float marker beacons
In worsening weather, work then began on streaming the loop.
Finally, with the ribbon tail off the loop reel and secured to the deck clenches, the entire sweep was fully streamed much to the satisfaction of all concerned. Note how TCA Standard Bearer ex-PO(MW) Sam Cook got in on the act at the back of the sweep deck crew in the group photo.
Even the MWTU staff officers seemed happy despite the pelting rain.
Left: MWTU staff officers Tim and Tom Russell flanking CO Rob Wilson.
Right: WO(MW) Tony Mulrain.
Just to remind everyone that there is more to HMS Ledbury than her sweep deck, here are pictures of her Operations Room showing the NAUTIS 3 Combat Management System and Sonar 2193 consoles. Incidentally, is anyone else struck by the similarity of the photo on the left to that on the right which used to circulate the internet?
Left: Minehunting Director and Minewarfare Officer consoles. Right: Airline Pilots (but not on board Ledbury).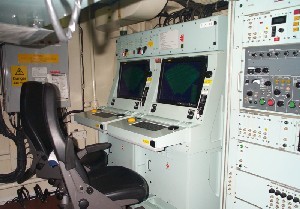 Sonar Search and Classification consoles
While the sweepdeck crew had a breather before recovering gear, our group retired to the wardroom to dry out and swap a few stories with the CO.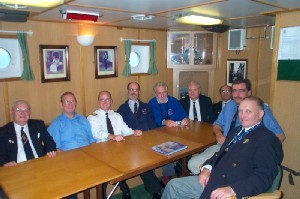 TCA Group with CO Rob Wilson
On our return to harbour, we raised a glass or two with the ship's officers and senior rates and exchanged mementoes and yet more stories before heading for our homes. Thank you, everyone in Ledbury, for such a memorable and enjoyable day.
---
7 Oct 05 - HMS Hurworth deals with Unexploded Bomb
The following item from today's Portsmouth News describes the disposal of a WW II bomb by divers from HMS Hurworth.

---
5 Oct 05 - Annual Dinner Attendance
The 'Upcoming Events' page in the Members Only area contains a list of confirmed dinner attendees which will be updated periodically. If you have not yet done so, send our Hon Sec your own application now (available for download in the Members Only area). Include a cheque unless you have notified him you wish to be dined out of the Service this year and have been an Association member for at least 12 months. Remember, this is a subsidised Association function so any non-MCDOA member must apply for membership to attend other than as a personal guest, i.e. someone not entitled to membership in their own right.
Big things are happening in RN Minewarfare and Diving at the moment so your presence at the Operational Update and AGM at Fleet Diving Headquarters (Horsea Island) is also recommended.
---
2 Oct 05 - New Funnies
The 'Funnies Vol II' page in the Members Only area contains a highly entertaining addition.
---
1 Oct 05
Navy News Items
The following MCD-related items from the October issue of Navy News include: a farewell to Northern Ireland Patrol Squadron ships HMS Brecon, HMS Cottesmore and HMS Dulverton; the summer activities of HMS Grimsby; a visit to Glasgow by NATO's Standing Naval Reaction Force, Mine Countermeasures Group 1 (SNMCMG1) featuring HMS Penzance; the award of the Queen's Commendation for Bravery to LS(D) Garth Spence; and divers from HMS Invincible undertaking an underwater archaeology course in Horsea Lake.
---
New Personal Update
The Members Only area contains an update from MCDOA member David 'Topsy' Turner who transferred to the RNZN last year.
---
Spinnaker Tower News
Significant news regarding the opening of the Millennium Spinnaker Tower at Gunwharf Quays (formerly HMS Vernon) can be found via the HMS Vernon page.
---