Items from The News of Portsmouth and Navy News are reproduced by kind permission of David Brown and Sarah Fletcher respectively. Click on the thumbnails to enlarge them.
---
30 Dec 07
Diver Down - CPO(D) Phillip 'Nobby' Clark
Alf Slingsby has informed me of the death in Spain on 27 December of Phillip 'Nobby' Clark at the age of 66. He had recovered from heart problems some time ago but died after contracting hepatitis. Nobby and I served together on the Plymouth Clearance Diving Team 1979 - 82 where he was as steady as a rock and well respected for his mature influence on everyone around him. He was also extremely witty and knowledgeable with the right word or deed for every occasion. I'll never forget being invited round to his house opposite HMS Drake for the odd tot and admiring the collection of chromed ordnance displayed around the bar in his front room.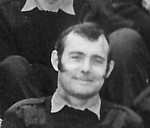 Phillip 'Nobby' Clark
1941 - 2007
After leaving the Royal Navy, Nobby performed commercial EOD around the world and often worked with Alf Slingsby. He finally settled in Spain about six years ago. I am sure all members join me in extending our sincere condolences to his widow Christine and the rest of his family.
[Late News: Nobby was cremated yesterday (29 Dec) and his ashes were scattered in Spain. Christine hopes to arrange a memorial service in Brixham sometime in February.]
---
Update on George Dance
I had a long chat with George on the phone this morning and he was in his usual boomingly splendid form. He is still in the Cardiac Care Unit at St Thomas's where his condition is improving daily although he is having to relearn how to walk. He says the medical care is wonderful and he enjoyed a fine Christmas with excellent food, carol singing and numerous phone calls and visits from old buddies. He can't wait to get back in circulation and thanks everyone for their morale-boosting messages of goodwill.
---
New Personal Update
The Members Only area contains New Year good wishes and a comprehensive update from Bob Hawkins on exchange with the US Navy.
---
29 Dec 07 - Christmas Call-Out for SDU2
Today's Portsmouth News contains this article describing a bomb disposal call-out for Southern Diving Unit 2 (SDU2).
---
23 Dec 07 - Update on George Dance
George's sister Joan has sent this message:
"Dear Association Members,
I am Joan Fleming (nee Dance), George Dance's sister. He has four sisters and I am sister number three.
Our brother John (George) is still in St Thomas's Hospital as there were complications late Saturday. He is still in the CCU, however he is in good spirits.
I live in Shrewsbury but I am going to see him on Wednesday. His son Jonathan is going up frequently from Ashford, Kent and my daughters have been in to see him as they live in London.
I want to thank you for your great kindness towards our brother. You may know that my sister Irene was a Wren and my sister Mary was a Naval Nurse. Irene's last station was Royal Naval Air Station Lossiemouth and Mary's last service was in Mauritius. Both left the Service in the late 1960s on their marriages to members of the Royal Navy Fleet Air Arm and Royal Australian Navy respectively. I broke the mould - I am a University Senior Lecturer teaching Sign Language Interpreting and Deaf Studies.
My best wishes and thanks to all of you. We are thinking of our brother constantly and hoping for his recovery.
Most sincerely,
Joan Fleming (nee Dance)"
---
20 Dec 07 - Christmas Greeting from Bob Hawkins
MCDOA member Bob Hawkins, currently on exchange with the US Navy at Corpus Christi in Texas, has sent this Christmas Greeting video. Make sure your sound is turned on. Remember, it is from Bob so you have been warned!
---
18 Dec 07 - Update on George Dance
I had an enjoyable chat with George this afternoon. He has been moved to Becket Ward (Ext 88839) to convalesce from his surgery and it was encouraging to hear that he has been walking around a bit. Not surprisingly, he's really looking forward to getting back into circulation again after his 12 years in France and he intends looking up old friends when he is discharged from hospital.
---
17 Dec 07 - Update on George Dance
I have received this message from George's son, Jonathan:
"I would like to say thank you to those who have enquired after my father and sent him your good wishes over the last few days. I cannot tell you how pleased he is to hear from you after such a long time; your expressions of support have helped me to persuade him that he does indeed have a future and can overcome his present difficulties. As you may know, my father "went off the radar" after my mother died in the early '90's, slowly losing contact with most of his immediate family as well as his friends and former naval colleagues.
The operation on Friday dislodged a blood clot which caused a minor stroke and he has now lost the use of his right arm, however this should only be a temporary setback. At the moment, the plan is that St Thomas's will send him back to my local hospital, so it looks as if he may be in hospital for Christmas. I am hoping that my father will be living near me in Kent once he is out of hospital and fully convalesced; I had a look at a ground floor flat in Chatham last Friday which looks very suitable.
Please note that mobile telephones are not allowed in the Coronary Care Unit, so my father can be contacted via St Thomas's main switchboard 020 7188 7188, say "CCU" at the prompt and you'll get straight through to the nurses' desk. If anyone would like to write to my father, please do so via my home address which you can get by emailing me via this address.
I'd like to take this opportunity to say "hello" to those of you who I met when I was a very small fellow tagging along at the various open days, displays and forays into the Solent on several of Her Majesty's Ships during the '70s and early '80s.
My father is worried that he cannot write to those of you who have contacted him so could I please pass on his best wishes for Christmas and the New Year.
J Dance (jnr.)"
---
15 Dec 07 - Update on George Dance
I have left another message of goodwill for George but received this from Mike Kooner last night:
"Good evening Gentlemen and greetings,
I called the hospital at 1920 and they put me through to the CCU. I was able to speak to George. He told me that he feels good but tired and all being well expects to leave on Saturday. It was a brief call as he was obviously still recovering from what I understand was a successful operation. Fingers crossed.
I plan to call him tomorrow night when he is fully recovered and rested but suspect Ramsay may call the hospital for the full medical story.
Best wishes,
Mike"
---
14 Dec 07
HMS Middleton's Homecoming
I was on the Round Tower this cold and misty morning to help welcome back HMS Middleton from her four and a half month deployment with the Standing NATO MCM Group 1 (SNMCMG1). After leaving Portsmouth on 26 July, she helped clear many wartime mines in the eastern Baltic with 21 other ships from 11 different nations. She also participated in Exercise Open Spirit 07 and visited St Petersburg in Russia, Klaipeda in Lithuania and the former East German city of Rostock. After transiting the Kiel Canal, she visited Zeebrugge from where members of her ship's company participated in Exercise Bold Move at the Belgian Netherlands Minewarfare School (EGUERMIN) in Ostend. After minehunting in the Baie de Seine, Middleton had an engine change back in Portsmouth before leading her NATO squadron into Aberdeen for a port visit. The next phase comprised operations in the fjords of Norway, including a visit to Bergen, before returning to exercise in the Baltic and visit Lubeck in Germany.
While waiting on the Round Tower, I ran into Chris Corcoran from Twyford whose son Rob is the ship's Navigating Officer. It felt like meeting an old friend because he and I had stood in the same place in December last year (see entry for 15 Dec 06 in News Archive 16) to welcome Middleton back from a previous deployment to the Baltic. However, this time he was accompanied by his wife Valerie and their daughter Ele (Eleanor). I also met Grant and Amanda Morris from Bath. Their MCD son, Daniel 'Doc' Morris, is the ship's Operations Officer and they were accompanied by his girlfriend Genie Bailey from London.
Left: Valerie & Chris Corcoran flanking their daughter Ele
Right: Grant & Amanda Morris with Genie Bailey
Also waiting on the Round Tower was Jo Hemshall from Southsea whose boyfriend James Kirk is the Navigator's Yeoman.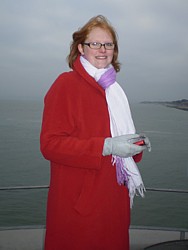 Jo Hemshall
Everyone on the tower gave Middleton a big cheer and a wave as she approached and then passed in front of us to enter harbour. Welcome back everyone. Have a very merry Christmas and a peaceful and happy New Year.
HMS Middleton enters harbour
(N.B. the Red Nose dome cover)
---
Contributions from Jim Limbrick
Since Barry 'Blondie' Limbrick's funeral last Friday (see entry for 7 Dec), I have been in touch several times with his ex-RN Steamer (hard hat diver) brother Jim. Jim has kindly sent me a signed copy of his book, 'North Sea Divers - A Requiem' (ISBN 0755200365 published in 2001), which has its own website here. Jim wrote it following his time in the diving industry and it describes the circumstances surrounding the deaths of all 58 commercial divers (many ex-RN) in UK northern waters between 1971 and 1999. Several familiar people feature in the book and assisted in its production.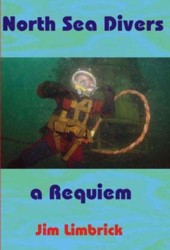 Jim has also sent me some photos from his time in Malta 1958 - 60. The first of these shows divers outside the RN Diving School on Manoel Island in 1959. These comprised a mixture of 'Corkheads' (CDs) from the Mediterranean Fleet Clearance Diving Team and 'Steamers' (hard hat divers) from the RN Diving School. Jim is on the left in the front row. He can remember some of the names and John Grattan and Mick Fellows have helped provide others:
Standing: Unknown Maltese PO Stoker, Ron Hartshorn, Bob 'Jock' Adam, Tom Kissack, Royston 'Taff' Davy, Unknown Maltese PO Stoker, Bill Cornick, Les Maynard, Jock McKenzie (later killed while attempting to render safe a shell in dredger) and PO Ken Peake (Steamer).
Middle Row: CPO Jerry Locke (Steamer), Lt Cdr Stuart 'Jazz' Honour, Lt Cdr George 'Franky' Franklin, Sub Lt Jim Grace (Steamer) and CPO Ernie Foggin.
Front Row: Jim Limbrick (Steamer), Peter Powell and Terry Mathews (Steamer).
Mediterranean Fleet CD Team 1959
Mick says that when this photo was taken, CD3 courses did their deep swimming phase at Malta and were initiated into Friday night S9s (Diving pay) runs ashore by the local team.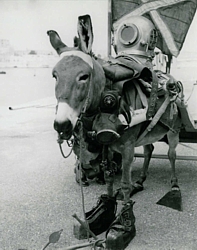 Maltese Diving Donkey
(not to be confused with anyone named Donkey Bray!)
---
13 Dec 07 - Update on George Dance
I have not yet managed to speak with George direct but have left messages for him. However, Ramsay Pearson has told me that George has had stents inserted to open up his arteries and Mick Fellows has said he is due further surgery tomorrow. With luck, he should be discharged to his son Jonathan's house on Saturday.
---
12 Dec 07 - George Dance Hospitalised
I have informed most people I can think of but in case I have missed anyone out, our Geordie friend John 'George' Dance (LMCDO '73) is in a London hospital awaiting heart surgery. According to Ramsay Pearson and others, he is bearing up well. I have his contact details for anyone who would like to send a card or wish him well by phone or voicemail. Please e-mail me via my webmaster address.
---
11 Dec 07 - Gentlemen Who Lunch
The MCDOA's 'Not Quite the Last of the Summer Wine' trio of Barlow, Holloway and Hoole spent their regular Tuesday get-together today with around 20 other members of the Ton Class Association (TCA) at their Christmas lunch in the newly refurbished Horatio's Restaurant of the Royal Maritime Club (formerly the Sailors' Home Club) in Portsmouth. They were joined at their table by fellow MCDOA member Bob Lusty.
Left: Holloway and Barlow (front left) with Lusty (front right) at TCA Christmas lunch
Right and below: More TCA revellers at the Royal Maritime Club
---
10 Dec 07 - Tony Groom's New Book
Today's Portsmouth News contains this article previewing former CD and Falklands veteran Tony Groom's new book 'Diver'. Tony will be appearing on BBC1's Breakfast Show tomorrow morning (see item here) and is a guest of Libby Purves on the BBC Radio 4 Midweek programme at 0900 on Wednesday morning (repeated 2130). It will be possible to listen again after the programme via this link.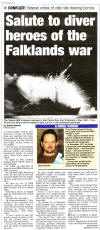 ---
9 Dec 07 - RN Diving Heritage - Horsea Island
Left: Tipner and Horsea Island shortly before completion of M275 in 1976
Right: Google Earth image of Tipner and Horsea Island since completion of M275 and Port Solent
Members who have been away from the Portsmouth area for a while may be unaware of a proposal by Portsmouth Football Club to build a new stadium on Horsea Island, adjacent to the Port Solent marina development. This follows the refusal of the Queen's Harbour Master to entertain construction of a waterfront stadium extending into Portsmouth harbour between the harbour station (next to Gunwharf Quays, the previous site of HMS Vernon) and the Semaphore Tower in the Heritage Area of Portsmouth Naval Base. If successful, the new proposal would see over half of Horsea Lake given over to the stadium project and other major development.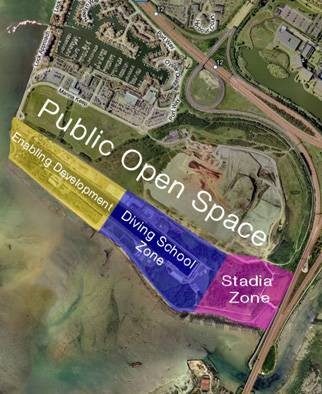 Proposed Football Stadium and
other Development on Horsea Island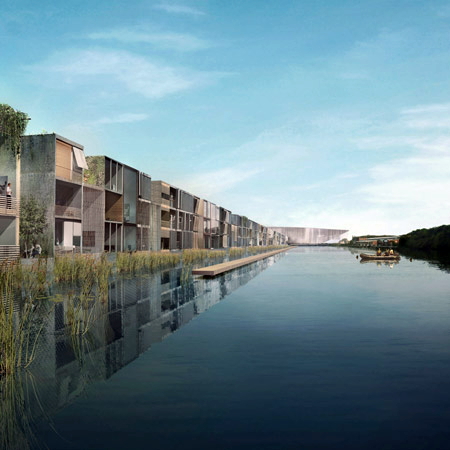 How the proposed Horsea Island development would look
Portsmouth News article on harbour stadium project
Portsmouth FC plans for a stadium on Horsea Island
Brief History of Horsea Island
Until the late 1800s, Horsea Island was actually two islands that rose from the mudflats between Paulsgrove Lake and Portchester Lake. Great Horsea comprised 108 acres of farmland (of which 58 acres were below the level of high tides) and boasted a red-brick farmhouse (built c.1740) and several outbuildings. Little Horsea had 29 acres of farmland and 27 acres of marsh and contained a small single-storey farmhouse (built c.1805) with modest outbuildings. The islands were reached from the mainland via three gravelled wadeways. In 1883, the Admiralty asked Mr Bovill-Smith, a wealthy landowner from Wickham who had bought Great Horsea for £4,500 in 1868, for permission to survey the island to assess its suitability for a barracks, stores and a torpedo range. On 19th December 1884, the Admiralty wrote to Mr Bovill-Smith asking to buy Great Horsea. After much negotiation, the island was purchased the following year for £15,000 plus a separate payment of £248.7s.6d for 50 head of cattle, over 100 sheep, tillage, value of grazing, manure, standing crops of oats, mangolds, cabbages, carrots and turnips.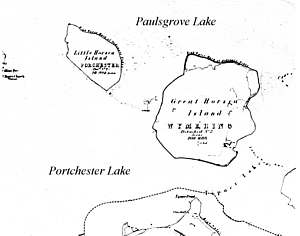 Little Horsea and Great Horsea in the 1800s
Great change followed the Admiralty's acquisition. Little Horsea was purchased and the two islands were joined using chalk spoil from Paulsgrove chalk pit on Portsdown Hill. This was transported in barges from Paulsgrove Quay and the work to fill the gap was performed by convicts from the recently constructed prison at Kingston. They were housed with their warders in wooden huts on the south side of Little Horsea where many of them lived for two and a half years. A narrow 850 yard long lake, 20 yards wide at one end and 80 yards wide at the other, was excavated to test the torpedoes of the day. This had a two storey firing building at the narrow western end with two submerged frames, one submerged tube and two above water tubes, one at five feet and the other at eleven feet above the water level. The entire facility was named the Whitehead Torpedo Adjusting and Experimental Range and it opened in March 1889. It was administered by the Captain of HMS Vernon. In 1903, approval was given to lengthen the lake to cater for improvements in torpedo performance. Work commenced in 1904 and by June 1905 the lake had been extended in length to 1,115 yards.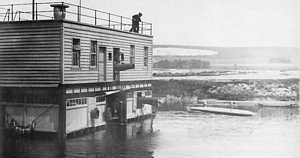 Torpedo Firing Building at Horsea Island

In March 1909, Horsea Island became the site of the Admiralty's first high-powered shore Wireless Telegraphy (W/T) Station, followed by two others at Cleethorpes and Gibraltar. The mess block was extended and altered to house W/T equipment and an extensive forest of 150 foot tall Marconi aerials was erected. Between 1913 and 1921, four wooden lattice Elwood masts, each 446 feet high, were erected to join the original pole masts. These were claimed to be the tallest masts in Europe at the time. The station was under the orders of the Admiral Commanding Coastguards and Reserves and was manned by Coastguard W/T ratings with RN officers in charge until the Coastguard ratings were replaced with RN ratings in 1914. On 14 September 1917, a Sopwith Baby seaplane piloted by Flight Commander Edward Albert de Lossy de Ville crashed into one of the Elwood masts in poor visibility. The biplane remained wedged into the latticework 360 feet above the ground. Able Seaman Nicholas Rath RNR, with the assistance of Ordinary Seaman Richard Knowlton and Deckhand George Faucett Pitts Abbott RNR (Trawler Section), climbed the mast and managed to reach the unconscious pilot who was lying precariously on the underside of the upper wing. They tied a rope around his waist and then lowered him to the ground on a bosun's chair. The pilot recovered and all three ratings were awarded the Albert Medal with Rath receiving one in gold. Ordinary Seaman Knoulton/Knowlton and Deckhand Abbott subsequently exchanged their Albert Medals for George Crosses. The pilot recovered and all three ratings were awarded the Albert Medal with Rath receiving one in gold. Abbott subsequently exchanged his Albert Medal for a George Cross but Ruth died before he could exchange his. Knowlton declined to exchange his AM for a GC. The four original Elwood radio aerials on Horsea Island were supplemented by more masts and several remained in situ until the 1960s. The old W/T station is now used as a mess facility by the Fleet Diving HQ and Defence Diving School.
By 1918, the performance of torpedoes had improved to the extent that most trials were conducted in open water at Stokes Bay in the Solent instead of at Horsea. However, the massive torpedo experimental tank, built in 1915, was retained and modernised. Two ex-Italian naval motor torpedo boats were run on the range during experimental torpedo firing and submerged torpedo tubes from the German battleship Baden were brought to Horsea in 1922 for extensive trials. Between 1923 and 1932, trials were conducted with three unmanned scale models of the submarine X1 nicknamed 'Pip', 'Squeak' and 'Wilfred'. From 1918, Horsea was used for swimming re-qualification, considered particularly important since the drowning of so many naval personnel during the Great War. Two old ninety-six foot long rafts were moored at the western end of the lake, one along the south side and the other a short distance from the north bank with about 30 yards between them. Groups of officers and men, dressed in white duck suits to simulate full clothing, then jumped into the water and swam to the other raft and back. Another regular feature in summer until 1939 was an annual camp for cadets from Portsmouth naval establishments.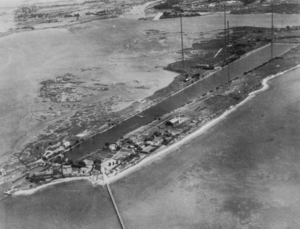 Horsea Island in Early 1920s
The W/T station was modernised and extended on many occasions with steel aerials replacing the earlier wooden versions. The Island received considerable bomb damage during World War Two but its three official residences remained untouched. By 1939, routine torpedo firings had almost ceased but in 1941 a motor torpedo boat was brought through the lock gates for trials. Early in 1942, submariner Commanders Geoffrey Mainwaring Sladen (of Sladen 'Clammy Death' diving suit fame) and William Richard Fell commenced training with Chariot two-man human torpedoes at Horsea. Initially, a wooden mock-up Chariot nicknamed 'Cassidy' was towed up and down the lake by a small motor boat. In May 1942, Lt P C A Brownrigg RNVR was the first Chariot casualty when he failed to surface after a routine dive. Chariot training was moved to Scotland a couple of months later. I am grateful to former CPO(CD1) Michael 'Shiner' Brassington for providing this photo of Horsea Lake showing the noses of two Chariots poking out of the shed on the moored pontoon.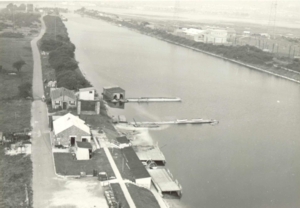 Horsea Lake showing Chariot Shed
Torpedo trials have long ceased at Horsea although the lake is still used for other equipment trials and experiments. The W/T Station closed down around 1960 but RN fire-fighting training was conducted on the north side of the lake in large metal mock-ups of ships' compartments, now mostly removed, until fairly recently. Since the Second World War, tens of thousands of Royal Navy Shallow Water Divers, Ships' Divers and Clearance Divers have been trained or qualified for their quarterly 'minutes' in the lake under the auspices of HMS Vernon although civilian SCUBA divers have been more prevalent in recent years. Since 1991, Horsea has been home to the Defence Diving School and the Fleet Diving Headquarters and is used for Sea Survival Training. The deposit of huge amounts of landfill over recent decades means that Horsea is no longer an island in the true sense and the marina development of Port Solent now sits on the reclaimed land between the lake and Paulsgrove. Giant pyramids of soil-covered rubbish now mask the island from the M275 and Cosham. It looks as though there will soon be another chapter in Horsea Island's colourful history if Portsmouth FC has its way.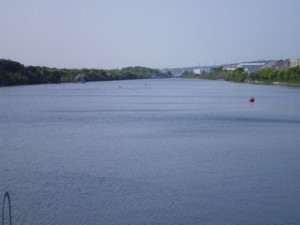 Horsea Lake in April 2007
---
7 Dec 07 - Follow-up to Barry 'Blondie' Limbrick's Funeral
Former WO(D) Barry 'Blondie' Limbrick was given a good send-off at Worthing Crematorium today by family, friends and many of his old colleagues from the RN Diving Branch. MCDOA members present included Stu Harper, your humble webmaster Rob Hoole, Mike Kooner and Ian Morton (who represented LMCDO '81 for which Blondie was the Course Instructor). Other divers included Vic Anderton, John Dadd (who grew up in Deal with Barry and attended the same school), Paddy Doonan, Mick Fellows, Spud Murphy, Buck Rogers and Terry Settle. Blondie's brother Roy died in South Africa earlier this year but his other brothers Derek, Jim, Bob, Brynley and twin brother Mick were all at the service, as was his sister Linda. Also present were Blondie's daughters Elaine and Karen who had flown back from Australia and New Zealand, respectively, to be at their father's bedside before his death
The Reverend Peter Apted officiated at the low key service and started off with the obligatory sentences and the 23rd Psalm. Elaine, Karen and Bob then took it in turn to pay personal and extremely moving tributes to Blondie during which we heard about his great attachment to the Royal Navy, especially his friends in the Diving Branch. We also learned what a private person he was at home between his many protracted absences on duty, asking little more than to be left in peace to read his newspaper. However, he taught his daughters to swim during their many childhood visits to Horsea Lake and delighted in duck-diving 30 feet and retrieving pebbles to prove he had reached the bottom. He also cheated outrageously at Monopoly, performed handstands in the mud (wearing wellies on his hands) and whistled operatic arias while preparing the Sunday roast. One evening he brought home a group of SAS troopers who dossed down in the living room overnight. Not many other girls could lay claim to the SAS coming to their house for a sleepover.
Blondie joined the Royal Navy as a boy Seaman at the age of 15 and left as a Warrant Officer (Diver) at the age of 45. During his 30 years of service, he was awarded the BEM for his work with the RN Saturation Diving Team, including the salvage of sensitive materials from the wreck of HMS Coventry. He also helped train hundreds of other naval divers. After his retirement, he was in poor health for much of the time until his death at the age of 62. Despite his long-term illness and other adversities, he never complained although he became increasingly withdrawn. Bob paid particular tribute to ex-TASI Tom Brown and his wife Julie for the unstinting support they gave Blondie during his final years.
After the committal and prayers, we listened to a rendition of the Naval Hymn (Eternal Father) before the final blessing. Most of the mourners then proceeded to a local pub in Findon where I chatted with members of Blondie's family. His brothers Derek and Bob served as RPs in the RN and his brother Jim was a Gunnery Branch (Radar Control) rating before transferring to Diver (Hard-hat 'Steamer' rather than CD 'Corkhead'). Jim, accompanied by his wife Carol, showed me a photo of himself as a LS at the RN Diving School in Malta in 1959. He left the RN early to become a commercial diver and later wrote a book called 'North Sea Divers - A Requiem', which has its own website here. Blondie's daughter Elaine now lives in Anglesea, Victoria in Australia. His other daughter Karen now lives with her own two daughters, Hanna and Jessica, in Napier on North Island, New Zealand where she runs a women's gymnasium with her mother Chris.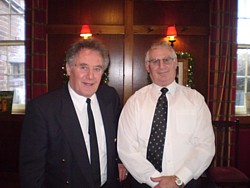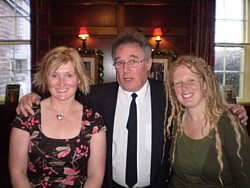 Left: Blondie Limbrick's brother Jim and twin brother Mick
Right: Jim Limbrick with Blondie's daughters Karen and Elaine
I know all members of the MCDOA and RN Diving Branch join me in extending our deepest sympathy to all of Blondie's family and friends.
Rest easy diver.
---
6 Dec 07 - New Personal Update
The Members Only area contains an update from John Murphie.
---
4 Dec 07 - Funeral Arrangements for Barry 'Blondie' Limbrick
John Dadd has informed me that the funeral of former WO(D) Barry 'Blondie' Limbrick will take place at 1020 on Friday 7 December at Worthing Crematorium. The family has requested that mourners wear casual dress. No flowers but donations, if desired, to the Royal Naval Benevolent Trust. Cheques should be made payable to the Trust and sent to:
Mr W. Ledger
45 Shipley Road
Ifield
Crawley
Sussex
RH11 0ED
Bill Ledger was one of Blondie's brothers-in-law.
---
3 Dec 07 - New Website Link
The 'Web Links' page now contains a reciprocal link to Diving-Watch.net, a new website started by former CD Mick O'Leary. It contains several stories and photos from Mick's time in the Royal Navy and commercial diving.
---
2 Dec 07 - Death of Blondie Limbrick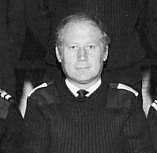 Barry 'Blondie' Limbrick
as LMCDO '81 Course Instructor
I regret to report that former WO(D) Barry 'Blondie' Limbrick passed away yesterday afternoon in a Brighton hospital. He collapsed last Thursday after suffering an aortic blockage as the result of long term thrombosis in his legs. Among his many other attributes, Blondie was awarded the BEM for his work with FCDT 2 during the Falklands campaign and its aftermath, including the recovery of sensitive items from the wreck of HMS Coventry.
John Dadd is keeping me advised and I have asked him to pass our condolences to Blondie's family including his older brother Jim, his twin brother Mick and his daughters who have flown back from Australia and New Zealand. I will publish funeral details when known.
---
From Mike Kooner:
"Dear Rob,
What sad news. I knew Barry "Blondie" Limbrick for most of my time in the branch. He was a newly qualified PO when I first joined the diving staff in VERNON as a course officer. We (Ralph Mavin, Barry, Scouse Kerr, Bill Grady and myself) shared an open plan office and basically anyone entering the room was subjected to friendly abuse!
Our paths crossed later during his time as one of my rocks during my time in the RN Sat team, Operation BLACKLEG (COVENTRY and other salvage ops) and finally when he was a course officer and I was head of Diving Training.
Somewhere there is a piece of video with Barry sitting astride a seadart missile (ready to go) and hauling down the COVENTRY battle ensign.
I had immense admiration for him as a brave and knowledgeable diver, senior sailor and thoroughly nice man. Sadly I lost touch with him when I left the service and obviously more information on his illness and an early heads up to the funeral arrangements would be appreciated.
Yours,
Mike"
---
From Martyn Holloway:
"Rob,
Highly regrettably I have a long-term prior commitment in London on Friday. Barry was with me on the Guz team in the mid '80s and I always admired him for his calm and professional approach to his work; he was a real gentleman with a good nature and a warm sense of fun.
Martyn
---
From Tony Griffiths:
"Rob,
I was sorry to hear that Blondie Limbrick had sadly passed over the bar. Regrettably, I have a prior appointment on Friday at Southampton.
Yours aye,
Tony"
---
From Ian Morton:
"Rob,
Looking possible I may get away for the funeral on Friday. He was the man that made a real diver!
Ian"
---
1 Dec 07 - Navy News Items
The following MCD-related items from the December issue of Navy News include:
Prince Harry's visit to the Defence Diving School (DDS), the Fleet Diving Squadron (FDS) and HMS Shoreham featuring MCDOA member Peter Greenwood, WO(D) Andy Brunton and CPO(D) Dan Archer.

The participation of HMS Ledbury in a memorial service at Chatham featuring LS(MW) Thomas Kay and AB(Sea) Mark Priestman.

The return to the Fleet of HMS Grimsby after nudging the side of a Norwegian fjord two years ago.

Trials of the SeaFox mine disposal system by HMS Chiddingfold.

The disposal of two mines off Margate by members of SDU2 featuring PO(D) Paul Bhathena with photo taken by Diver1 John Quinn.

The recent activities of HMS Quorn.

The participation of HMS Ledbury in a memorial service on the Isles of Scilly.

A letter from former CD Christopher Roddis about divers during the Falklands conflict plus a plug for former CD Tony Groom's new book 'Diver'.

A letter from former CD Terry Gosling about diving on Dark Class patrol boats.
---
29 Nov 07 - New Book about Buster Crabb
I am grateful to award-winning journalist Don Hale for providing me with a copy of his newly published book, 'The Final Dive', a biography of Cdr Lionel 'Buster' Crabb OBE GM RNVR, which he wrote with the assistance of wartime naval bomb and mine disposal officer Lt Noel Cashford MBE RNVR. It is the result of comprehensive research and revealing interviews with many people associated with Crabb's colourful career and I had a hand in making some of the introductions. I thoroughly commend it to anyone wishing to know more about this enigmatic character and his amazing exploits.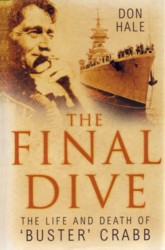 This 260 page hard back contains several photos and illustrations and is published by Sutton Publishing (ISBN 9780750945745). It is available direct from the publisher for £19.99 via this link but copies are also available from Amazon.co.uk at discount prices via this link.
---
28 Nov 07 - New Personal Update
The Members Only area contains an update with photos from MCDOA member Jason White, currently deployed overseas on active operations.
---
27 Nov 07 - News from HMS Hurworth
I am grateful to Lt Will Blackett RN, the Navigating Officer of HMS Hurworth, for forwarding this account of his ship's recent activities. Good luck to Andy Insley on his LMCDO course and we look forward to welcoming him into the Association one day:
HMS HURWORTH UPDATE AUG – DEC 07
Since returning from her second four month Mediterranean deployment, HMS HURWORTH has had a varied but busy programme. The first (and most important!) few weeks were spent on summer leave. The Ship's company enjoyed three weeks of well-earned rest and it was noted by many that the Ship managed to bring the sun back with her. It seemed that the wettest summer in the UK's history was brought abruptly to a warm conclusion once everybody's favourite Warship got home!
At the beginning of September, summer leave came to an end and the Ship began an intensive period of alongside maintenance. Next year sees HURWORTH undertake a challenging deployment to the Baltic, and the main aim of this maintenance period was to make sure that she is ready for the harsh conditions that can be expected. The added advantage of such extended time alongside was of course the brief return to normality for families and friends of the personnel onboard. The MCM squadron now operates a system whereby one ship alongside can look after 3 or 4 other ships of the same class – thus reducing the frequency of the dreaded 'Weekend Duty'.
At the end of October, HURWORTH finally returned to sea, and began a short but rigorous training programme designed to shake out the cobwebs and prove that the Ship was in a good material state. The Ship spent the majority of the time in the South Coast Exercise Areas (SCEXAs), and practised everything within her core capability – including Navigation, Gunnery, Minehunting, Salvage and Rescue. HURWORTH crossed the Channel to visit St Peter Port, Guernsey for the Remembrance Day weekend. The Ship and her Company played a major part in the commemorations throughout the weekend. On Sunday the 11th of November, the Ship's Guard marched through the town centre before the Commanding Officer laid a wreath at the Cenotaph in St Peter Port itself. A number of images from the event can be seen on the Royal Navy website, and the Ship has featured in the Guernsey Press newspaper.
It is now the penultimate week in November, and HURWORTH is spending her last week at sea in 2007 in the Solent. The aim of this week is to provide a platform for trainee Mine Warfare personnel as they prepare to undertake jobs throughout the squadron. The remaining few weeks of the year will be spent alongside 2 Basin in Portsmouth. Final preparations for next year's deployment will be the priority, before dispersing for a fortnight of Christmas leave. We will say a sad farewell to Lt Andy Insley as he departs to begin his Mine Clearance Diving Officer's Course, and we will welcome Lt Ed Munns as his replacement. Several other HURWORTH stalwarts will also depart and we wish them all the best of luck in the future.
Merry Christmas to you all from everyone on board the Happy H!
---
26 Nov 07 - New website link
The 'Web Links' page now contains a reciprocal link to the Deep Sea Diving website set up by former RN Clearance Diver and Falklands war veteran Tony Groom, author of the forthcoming book Diver. Do have a look at it.
---
25 Nov 07 - Another message from the Manager of the Falkland Islands Museum
MCDOA member Brian Dutton has relayed the following message from Leona Roberts, manager of the Falkland Islands Museum, with respect to our Falklands veterans' lunch last month in HMS Nelson (see entry for 4 Oct 07 in News Archive 20).
"Dear Brian,
My apologies for taking so long to get back in touch with you - I have only been back in the Islands for three weeks and have been up to my eyes in playing catch-up, along with having more than a week off with a particularly nasty flu... grim, what a welcome home!
I really can't begin to thank you enough for taking the time to meet me - it was very much appreciated. It was wonderful to meet you and your team and having lunch with you all at Nelson was probably the highlight of my month away.
The set of miniature medals is absolutely amazing... It was a wonderful gesture and totally unexpected, and thank you again. They are now out on display and when we change back to the permanent exhibition I will take a photograph and send it through to you. I'll make sure that they are given a prominent position.
Could you please pass on my thanks to all of the divers? I loved meeting them all and enjoyed hearing their stories, so would be grateful if you could let them know that they are welcome to contact me at any time if there's anything I can ever do to be of service. Also, I would encourage you all to think about jotting down a few memories and sending them through for us - the bravery of your clearance divers and the massive part they played in the success of the Task Force really should be recorded.
Thank you again for your kindness. Please keep in touch - even if it's only an occasional e-mail, it would be good to hear from you.
Very best regards,
Leona"
---
20 Nov 07 - Unveiling of George Wookey's Diving Helmet in Bergen
I am grateful to MCDOA member Dr John Bevan, Chairman of the UK Historical Diving Society (HDS), for forwarding these photos showing Vidar Fondevik, Executive Director of NUI (Norwegian Underwater Intervention), unveiling a diving helmet donated to the Historical Diving Society (Norway) by the late MCDOA member Lt George Wookey MBE RN. The Siebe Gorman civilian 12-bolt air helmet was unveiled at the NUI diving conference in Bergen 14-15 November 2007 although George wore an Admiralty Pattern 6-bolt mixed gas helmet for his world record-breaking dive from HMS Reclaim in 1956.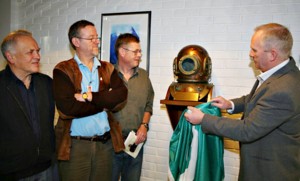 Vidar Fondevik unveiling George Wookey's
diving helmet in November 2007
George Wookey spoke at the NUI conference in October last year and was present for the unveiling of a commemorative plaque beside Sørfjorden where he made his historic dive (see entry for 16 Oct 06 in News Archive 16). Sadly, he died on 21 March this year at his home in Western Australia (see entry for 21 Mar 07 in News Archive 17) and is survived by his wife Patrice.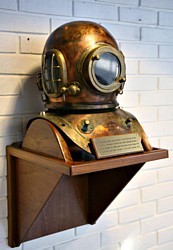 George Wookey's diving helmet
and corselet
The inscription in front of the corselet reads: "This diving helmet was donated to the Historical Diving Society in Norway by Royal Navy diver George Wookey who, on October 12 1956, made the world record deep dive to 600 feet from HMS Reclaim in the fjord outside Arna."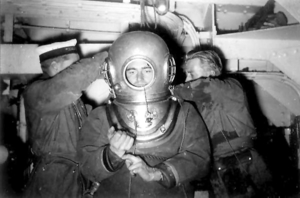 George Wookey being dressed for his world
record-breaking dive 12 October 1956
---
19 Nov 07 - MCDOA AGM, Operational Updates and Annual Dinner Follow-up
Once again, Tony Griffiths our Honorary Secretary played a blinder with his marvellous organisational skills to make Friday a fantastic day starting with exciting news of progress with the new CDLSE (Clearance Divers' Life Support Equipment) during the informative Operational Updates, followed by a revealing tour of the Fleet Diving Headquarters (thank you Chris Ameye, Paul Jones, Peter Greenwood, Soapy Watson and all your teams for some excellent presentations and displays), then a marvellous lunch and animated AGM rounded off with a superb dinner in the evening. We heard a cracking speech from our guest of honour (thank you Rear Admiral Chris Parry CBE), dined out Dougie MacDonald and Tug Wilson in style and celebrated the 25th anniversary of LMCDO '82 with gusto. HMS Excellent's wonderful wardroom was filled to capacity (thank you Cdr Ben Peilow RN, the Mess President), the guest list was star-studded, the members of HMS Nelson's Volunteer Band played their hearts out (thank you Band Colour Sergeant Neil Sylvester BMus (Hons) RM), the food was exquisite (thank you Chef de Cuisine Mark Stockwell) and the service was flawless with all the cheerful staff joining in with the fun (thank you Maitre d'Hotel Richard Croughan). Our thanks also to Lt Cdr John Haynes RN, CO of HMS Bristol, for providing many of us with such a convenient bunk for the night.
It was particularly good to see so many sons of members along (grandson David in the case of Mike Marshall - sorry operational commitments prevented James from attending too), as well as our Sapper friends from the Royal Engineers Bomb Disposal Officers' Club, a contingent from QinetiQ and all those who travelled from afar; not just our own members but also Capt Greg Mapson RAN, our old friend Cdr Chris Deere CN, and Cdr Jon Wood USN with several of his countrymen.
I have since received a telephone call from Admiral Parry thanking us for our invitation and remarking on how much he enjoyed himself throughout the evening. He was just sorry that his lately lamented father, MCDOA member Cdr John Parry OBE, was not there to witness it, as indeed were we. I have also received this message from another of my old bosses at the Maritime Warfare Centre (MWC), Commodore Dick Twitchen CBE:
"Rob,
Using the only route I know, and that you will pass my comments on accordingly!
What a cracking dinner and as an interloping guest, but it was my alma mater as a Master Gunner, I must say it was a delight from start to finish. It was tremendous to meet up with so many old, and not so old, friends and as the hours rolled by it seemed like only yesterday that ............!
Similarly, there were so many, not least from my time as COMPORFLOT, that appeared to get but passing attention and for that I feel a bit guilty and apologise accordingly.
Despite Dougie's comments, the St Barbara and Portobello Associations are in fine fettle and the Warfare Officers' Association is a natural progression in light of the changes to the PWO course and the changing shape and size of the Navy. But what you do have is the ability to have a 'traditional' mess dinner that almost echoes a previous era (enough said) and where the members have a more closely shared pedigree. Good luck to you all.
See you soon.
Dick T"
I have only just recovered my voice after the singalong and if anyone would like to take my place on the veterans' tug of war team next year, they are welcome to it. Photos of the day's events are now available in the 'Members Only' area.
---
16 Nov 07 - Happy Birthday to the MCDOA website
Today is your website's fifth birthday. During its short life, it has received over 600,000 visits, tens of millions of hits on individual pages, images and files and has generated hundreds of comments and queries from all over the world. Many happy returns.
To mark the occasion, why not submit a personal update with some photos to the webmaster for the Members Only area? It will certainly be appreciated by your fellow MCDOA members (especially me).
---
15 Nov 07 - HMS Ramsey's Activities
I am grateful to Lt Sam Jane RN, the Navigating Officer of HMS Ramsey, for sending me this round-up of the ship's activities during the Autumn. He has also provided some excellent photos. Ramsey is deployed with HMS Blyth in the Arabian Gulf on Operation Aintree having swapped ship's company with that of HMS Pembroke during the Summer.
"HMS Ramsey has been involved in some explosive action during a successful Mine Clearance Exercise with the United States Navy 28 Aug - 2 Sep 07. Ramsey took part alongside the USN MCMVs, Ardent, Dextrous, Gladiator and Scout plus Explosive Ordnance Disposal (EOD) Mobile Unit 6 and the Blackhawks of Helicopter Mine Countermeasures Squadron 15. The exercise involved the ship hunting against mine shapes on the seabed and suspended in mid-water giving the divers the opportunity to train in underwater demolitions skills.
USS Bonhomme Richard, the 60,000 tonne American Assault ship, acted as the Command and Control platform where the Commander Mine Countermeasures Division was orchestrating the exercise. The USN set up a simulated mine threat area and seeded it with inert bottom and moored mines for air, surface and explosive disposal units to find. Once HM 15's helicopters had identified potential threats in the mine threat area, the mine countermeasure and EOD personnel began clearing the area. The dummy mines were to be located, plotted and either recovered for re-use in future exercises or detonated ('blown-up') to practise rendering sea-lanes safe for other maritime traffic.
The exercise started with Ramsey going to a designated area where we started hunting in two mile sections in preparation to lead through larger shipping to a cleared anchorage area. Within the first 48 hours we found five mines in the area. The first was a buoyant mine and its position was passed to the Commander MCD for further investigation.
We were then directed to the south where we were passed the position of a second buoyant mine. Once found, a diving conning run was conducted to investigate the contact. The final three contacts found in the area were ground mines. For the first one, we used our vehicles to drop a Mine Disposal Charge to test our ability to dispose of the mine. The detonation of such mines was a popular spectator sport as many of the ship's company mustered on the upper deck to witness the spectacular effect of an underwater explosion – the high plume of water and the loud bang, felt throughout the ship, is a sign of a job well done.
The second ground mine was disposed of by sending down the clearance divers with a charge which was then detonated from a safe distance. The remains were then recovered onto the ship for further exploration. This was achieved by the divers attaching a line to the remains of the mine and then backing the ship to the contact so the ships winches can be used to haul the contact off the seabed and eventually recover it to the deck of the ship. The third ground mine was recovered whole to the deck for future use in another exercise. There was further hunting for Ramsey; the ship, along with other US MCMs was given a discrete area to work in and carry out some concentrated mine hunting for contacts. These areas were to form the anchorages for the exercise. The ship proved successful in both areas. Her final task was to conduct a "lead thru". This is when Ramsey, using her highly effective navigation systems leads a larger unit, in this case the USN LPD Bonhomme Richard, through a lane that has been cleared through a hunted minefield. The large unit is then able to follow the movements of Ramsey assisted by continuous communications between the vessels. Working with the USN on the exercise was a useful experience and, although the end result is the same (the clearance of sea-lanes for shipping), the methods can differ and the equipment used is varied. The USN has many different methods for conducting MCM. The UK approach, although not as varied, proves successful as our ships concentrate on their capabilities and do become very efficient in mine detection and classification as a result of continuous training and practice. After successfully recovering the last ground mine, Ramsey was detached to proceed to her next port.
The exercise was an overall success and gave the crew an opportunity to do some real mine hunting. During this debrief we learnt that the US had nicknamed us 'The Silent Killers' because, despite frequent communication problems with the Command platform, they still knew that Ramsey and her crew were out there doing their job of finding and disposing of mines.
After a very short break alongside, HMS Ramsey headed back out into the Southern Arabian Gulf. Ramsey's Operations Officer, Lt Balfour RN, was on station leave and Ramsey was loaned the Operations Officer, Lt McQueen RN, from HMS Blyth. In addition to a different Operations Officer, Ramsey had also embarked two more Specialist Fleet Time Young Officers (YOs); SLts Campbell-Wilson and Phelan RN. The purpose of the YOs' time on board was to gain as much bridge watch-keeping experience as possible in preparation for their Initial Warfare Officers Course.
Owing to the high temperatures in the Gulf (typically 40ºC) and its proximity to the deserts of Saudi Arabia, haze often develops causing visibility to drop to around two nm at sea. This is quite a significant reduction when you consider that on a typical "sunny" day visibility can be up to 12 nm off the coast of the UK. However, as Ramsey began her transit from her port the visibility just got better.
On leaving, Ramsey continued onwards to her operating area. Her tasking allows her to collate important data in this area as well as continually teaching the team how to cope with the extreme conditions and warm water environment of this region. Her tasking will allow detection of contacts using the ships sonar, these contacts are either investigated with one of the ships submersible remotely controlled vehicles or by sending divers down to investigate the contact. The task can be slow and laborious and it is up to everyone to ensure they are fully focused to make sure nothing is missed.
Whilst on transit to the areas the Commanding Officer conducted rounds of the upper deck. The rounds were of a good standard, which is no mean feat considering that upper deck maintenance was conducted in the 40ºC heat. It is important to conduct regular formal rounds of various areas of the ship. This is not just to check for cleanliness but more importantly to highlight any defects or problem areas and to make sure that preventative or future repair actions are sufficient.
In order to conduct any sustained task Ramsey's ship's company go into Defence Watches. To do this the crew are divided into either Port or Starboard Watch. So, for example Port watch will be on watch while Starboard watch sleeps and eats, etc. Every six hours the watches hand over. Going into Defence Watches can initially cause fatigue but this passes after the body has adjusted to a new sleeping pattern. Another unique aspect of the Defence Watch system is that the meals provided at the watch change over remain as they would in a normal Cruising Watch. Therefore, it is a distinct possibility that one will have a main meal such as chicken korma for breakfast, which can be surprisingly nice. By adopting the Defence Watch Routine the Ramsey was able to continue her task 24 hrs a day at the same pace. Launching and recovery of her submersibles or divers is also conducted 24 hrs a day.
After five days hard work the ship's company had covered 20 miles of her area which is no mean feat and has contributed greatly to the overall task. A quick passage back to port and those of the crew not required to stand duty and look after the ship were allowed some free time. The ship sailed less than 48 hrs later to her next task which was to test the performance of the equipment and mine hunting teams during an assessed period."
HMS RAMSEY IN THE GULF 28 Aug - 2 Sep 07
---
14 Nov 07
Brian Braidwood's Half-Century of Diving
MCDOA member Brian Braidwood has issued the following challenge:
"Dear Rob,
Just a few dates about Yours Truly for your data base:-
| | |
| --- | --- |
| 2 May 1937 | Date of birth |
| 14 Sep 1957 | Started Shallow Water Diving Officers' course in Malta. |
| 4 Oct 1957 | Qualified by George Foster as a SWDO [see entry for 4 Dec 05 in News Archive 12] |
| 2 May 2007 | 70th Birthday |
| 14 Aug 2007 | Celebrated birthday (late) with a 24 metre dive off Portland ending up with 18 scallops! |
| 4 Oct 2007 | 50th Anniversary of Initial Diving Qualification |
| 18 Oct 2007 | Celebrated 50th Anniversary with a "civilised" (taking my age into account) dive in the Dunker at Yeovilton |
Question for you Rob: Do you know of any other CDs who have dived more than 50 years after their initial diving qualification? If so, I'll be happy to buy them a pint!! Photos were taken at the dunker and show that if you are bald and want to improve your image, then wear a wetsuit hood.
Best wishes,
Brian"
Braidwood demonstrates how to lose 20 years in an instant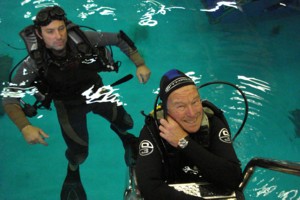 Braidwood in the Dunker at RNAS Yeovilton
Any takers?
---
John Towse and HMS Boxer's Ensign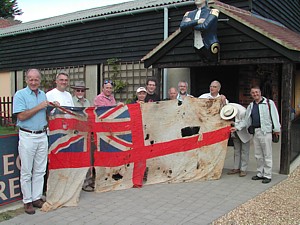 Presentation of HMS Boxer's Ensign to IOW
Shipwreck Museum, Arreton on 15 Sep 07
(L to R: Martin Woodward (Owner), Kim Langridge, Reg Vallintine, Chris Murphy, Cheryl Wingett,
Kevin Casey, Doug Saunders, Steve Roue, John Towse, Bill Braithwaite and John Bevan)
As a member of the Royal Navy Scientific Service (RNSS), John Towse was involved in SEA trials at the Admiralty Experimental Works (AEW) Haslar from the 1950s. He joined RNPL in 1966 and was closely involved with the 1970 deep saturation 'dive' to 1,500 feet of seawater (457 metres of seawater - John Bevan and Peter Sharphouse) and ran the 1980 saturation dive to 660 m. Later at the Deep Trials Unit (DTU) Alverstoke, he eventually relieved our venerable MCDA member 'Uncle Bill' Filer as the OIC. Perhaps he is better known for accompanying Alexander McKee, his fellow member of Southsea BSAC, during the first dive on the wreck site of the Mary Rose in May 1966.
When I last spoke with John, he told me about his recent presentation to the Shipwreck Museum at Arreton, Isle of Wight of the ensign belonging to the torpedo boat destroyer HMS Boxer, sunk in collision with another vessel in 1918. He had discovered her wreck six nautical miles from the museum on a bearing of 121 degrees in 1969 and kindly offered to send me the story of the ensign's recovery. True to his word, here it is:
HMS Boxer 1895 to 1918 The Recovered Ensign by E. J. Towse
Our diving group first located the previously un-dived wreck site on the 13th July 1969. We then spent the following months in our attempts, first to identify the wreck and secondly to purchase the remains. Our success in identifying the wreck as HMS BOXER is a story in itself. Suffice it to say that it involved numerous return dives to the site and correspondence with the Hydrographic Department, the National Maritime Museum, the Contracts Office and the Receiver of Wreck. It also cost us money in the form of professional search fees and advice from a QC. The attempts to keep the site secret and purchase the wreck both failed in the following years. Once it was identified as HMS BOXER it became the prime target for many different types of diving activity and was randomly blown and pulled apart. Our disappointment was shared by the National Maritime Museum which was anxious for us to recover certain items that had disappeared from the Royal Naval scene over the past century.
We gradually reduced our visits to the wreck during the 1970's and 80's as more and more of a previously un-disturbed ship began to disappear. HMS BOXER sank on the 9th February 1918, as a result of a collision, the second in two days. She was Britain's oldest serving destroyer and was severely damaged by the ambulance transport ship, ST. PATRICK, 114 miles off Dunose Point, Isle of Wight, eventually sinking in the centre of Sandown Bay.
After some 13 years we returned for a nostalgic look on the 24th July 1999. I had wandered off the main wreckage by about 8 metres and found a tangled heap of material in a small isolated piece of broken ironwork. After considerable pulling I managed to remove what appeared to be some sort of flag. The Union section was obvious, although I could not establish the extent of the damage while still underwater. As I carried the soggy heap around for the remainder of my dive I wondered if it was worthwhile recovering these remains. Surface examination proved exciting; it was obviously a large white ensign (12ft. by 6ft.) in remarkably good preservation in spite of the physical damage. The colours and material seemed almost unaffected by their 81 years underwater and a presumed life of over 100 years, from her completion in June 1895.
My knowledge of flags was about to be increased considerably. After reporting the find to the Receiver of Wreck and consultation with preservation experts, I then tried to establish the type of ensign I had salvaged. Very quickly I was made aware that a "Flag Institute" existed and that Captain Malcolm Farrow RN was its Chairman. The result of consultation with Malcolm Farrow and other members of the Institute now gives me the opportunity to call it an "8 Breadth" Ensign and to thank them all for their interest and help. Until otherwise determined it remains the property of the Receiver of Wreck, although still in my possession. We are now trying to determine whether it is a Day, Sunday or Battle Ensign for a 200 feet long "A" class torpedo boat destroyer laid down in February 1894 and named "HMS BOXER".
E J Towse
Portchester
30 September 1999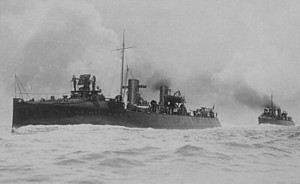 Torpedo Boat Destroyer HMS Boxer in 1895
John will be attending our annual dinner on Friday night as a personal guest of MCDOA member John Bevan, his world deep diving record-breaking former RNSS colleague at DTU and the current Chairman of the UK Historical Diving Society (HDS).
---
13 Nov 07 - New Book by Clearance Diver Tony Groom
Former CD and Falklands veteran Tony Groom has written a book called 'Diver' (website here) describing his career in the Royal Navy and later in the commercial diving world. The foreword is written by the First Sea Lord, Admiral Sir Jonathon Band KCB ADC, and there are testimonials by Maj Gen Julian Thompson CB OBE, Cdre Mike Clapp CB and former FCPO(D) Mick Fellows MBE DSC BEM*.
The 336 page book is well illustrated and costs £9.95. Tony tells me it will be available from 15 December but he is launching it on board HMS Exeter at the ExCel London Boat Show on 13 January. For those unable to wait, a detailed flyer incorporating an order form is available here.
---
12 Nov 07
MCDOA Annual Dinner in HMS Excellent 16 Nov 07
This is the final list of attendees for the annual dinner:
Guest of Honour
Rear Admiral Chris Parry CBE
(Director General Development, Concepts & Doctrine)



Official Guest
Captain Mike Finney RN (Fleet DACOS(UWB))



Service Leavers
Dougie MacDonald
Graham 'Tug' Wilson



Other Members & their Guests
Martyn Allen
Chris Ameye
Lt Mike Anderson USN (Tim Curd's guest)
Chris Ashcroft
Chris Baldwin
Doug Barlow
David Bartlett
Paul Beaver (Dave Carey's guest)
Robin Bennett (Sec RE BDOs' Club)
Dave Berry
John Bevan
Keith Broughton
Phil Burrell
Dave Carey
Adrian Cassar
Jon Chapple
Tush Chatterjee (Paul McDermott's guest)
Colin Churcher
Charles Clayton (Bob Hawkins' guest)
Rob Cornick
Jon Cox
Don Crosbie
Tim Curd
Cdr Chris Deere CN
Morty Drummond
Mark Durkin
Brian Dutton
David Edwards
Steve Field
Bob Fraser (John O'Driscoll's guest)
Keith Furlong (Bob Hawkins' guest)
Graeme Gibbon-Brooks
Kev Giles
Nigel Giles (Kev Giles' guest)
Steve Gobey
Kim Godfrey
Peter Greenwood
Tony Griffiths
Paul Guiver
Tim Hadley (Tug Wilson's guest)
Justin Hains
Alan Hares
Cliff Hares
Stu Harper
Bob Hawkins (LMCDO '82)
Cameron Hawkins (Bob Hawkins' guest)
James Hawkins (Bob Hawkins' guest)
John Herriman
Peter Hicks
John Higham (Keith Broughton's guest)
Tim Hildesley
Martyn Holloway
Rob Hoole (LMCDO '82 - Second Boss)
Maj David Hough RE (RE BDOs' Club)
Dave Hunkin
Phil Jenkins (Paul Guiver's guest)
David Jones (Paul Jones' guest)
Paul Jones
Bill Kerr
Tony Knight
Capt Peter Lambourn RN (CMFP)
Peter Laughton
Mike Leaney
Bob Lusty
Martin Mackey
Alex Manning
Capt Greg Mapson RAN (LMCDO '82)
Neil Marriott
David Marshall (Steve Marshall's guest)
Mike Marshall
Steve Marshall
Stu McAlear (LMCDO '82)
Paddy McAlpine
Paul McDermott
Richard Moore
Ian Morton
John Murphie
Oliver Neil (Simon Neil's guest)
Simon Neil (LMCDO '82)
Toby Neil (Sean O'Reilly's guest)
Al Nekrews
David 'Doc' O'Connell
John O'Driscoll
Chris Flaherty
Sean O'Reilly (LMCDO '82)
Brian Page (Cliff Hares' guest)
Allan Parker
Ben Piper
Anthony Poole (Jason Poole's guest)
Jason Poole
Paul Redman (Tom Russell's guest)
Ian Richardson
Keith Riches
Stuart Robinson (David O'Connell's guest)
Paul Wills Robinson (RE BDOs' Club)
Peter Robinson (LMCDO '82)
Tom Russell
Mark Savage
Beach Seakins (Colin Welborn's guest)
Chris Sherman
Tim Sizer (Tug Wilson's guest)
Ben Stait
Nick Stanley
Robert Stewart (Tony Knight's guest)
Mark Stokes (Bob Hawkins' guest)
Clive Sturdy (Graeme Gibbon-Brooks' guest)
Adrian Thornber (Chris Baldwin's guest)
John Towse (John Bevan's guest)
Tim Trounson
Cdre Dick Twitchen CBE (John Murphie's guest)
Peter Waddington
Andy 'Sharkey' Ward
Frank Ward
Richard 'Soapy' Watson
John Watts (Bob Hawkins' guest)
Mathew Wilks
Tony Watt
Colin Welborn
Steve White
Cdr Jon Wood USN (Peter Greenwood's guest)
N.B. The first batch of MCDOA cummerbunds has arrived. Those attending the dinner who have already ordered them will be able to pay £15 and collect them on Friday (at the AGM, or at the dinner) if they wish. The remainder who ordered them can arrange collection at some later date, or elect to have them mailed out (with the additional postage cost). Anyone wishing to purchase one of the remaining cummerbunds can e-mail or contact our Hon Sec Tony Griffiths directly (e.g. at the AGM). Preference will be given initially to those attending the dinner.
---
Remembrance Sunday March Past the Cenotaph
Yesterday's march past the Cenotaph in Whitehall was led by members of the South Atlantic Medal Association (SAMA '82). At the beginning of his commentary for BBC TV, Maj Gen Julian Thompson CB OBE (former Commander of 3 Commando Brigade Royal Marines) made special mention of the Fleet Clearance Divers for their bomb disposal achievements during the Falklands conflict. I subsequently thanked him for his kind tribute and have received the following reply:
"Dear Rob I was glad to be given the opportunity to acknowledge in public the work of the brave and dedicated Fleet Clearance Divers down south in 1982.
All best wishes,
Julian Thompson"
---
11 Nov 07 - Lest We Forget

They shall grow not old, as we that are left grow old;
Age shall not weary them, nor the years condemn.
At the going down of the sun and in the morning,
We will remember them.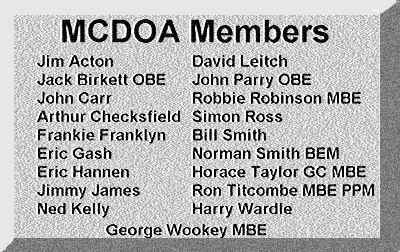 ---
10 Nov 07 - John Bridge Remembered
In the wake of the Daily Telegraph's coverage of the Prime Minister's literary tribute to Lt Cdr John Bridge GC GM* RNVR (see entry for 6 Nov 07), today's Manchester Evening News contains this article about this inspirational Royal Navy bomb and mine disposal officer.
---
7 Nov 07 - Remembrance Sunday at the Cenotaph - MCD, MW & CD Veterans
I have received the following message from Cdre Mike Clapp, Commodore Amphibious Warfare (COMAW) during the Falklands campaign:
"Hi Rob, Please pass this around your MCD chums. Are any of you likely to be marching on Sunday at the Cenotaph? Either with SAMA [South Atlantic Medal Association] or separately? If yes, please let Maj Gen Julian Thompson know and inform him where you will be (Ask for his mobile number). He has asked me specifically for names of MCDs marching as he will be commentating for the BBC. Your chance of fame! I plan to march with SAMA (who I believe are off first) and would be glad of good company. I think we managed to stay in step on Horse Guards.
Best wishes,
Michael C."
I can provide Julian Thompson's e-mail address if required.
---
6 Nov 07 - Gordon Brown's Wartime Heroes
Today's Daily Telegraph contains this excerpt from Prime Minister Gordon Brown's new book, Wartime Courage. It focuses on Lt Cdr John Bridge GC GM* RNVR who performed countless bomb and mine disposal tasks above and below water during the Second World War. Members will be aware that Reclaim Building, housing the Fleet Diving Headquarters at Horsea Island, was renamed the John Bridge Building by MCDOA President Colin Welborn in a ceremony held on 5 February this year. It would have been John Bridge's 92nd birthday had he not died on 14 December the previous year but his daughters Liz and Sue were able to represent him (See entry for 6 Feb 07 in News Archive 17).
---
5 Nov 07 - Naval Review Article
The latest edition of the Naval Review contains an illustrated article by your humble webmaster, entitled The Forgotten Few, which describes the achievements of Royal Navy Minewarfare and Clearance Diving personnel during the Falklands campaign and its aftermath. Many MCDOA members already belong to the Naval Review. Have you joined it yet?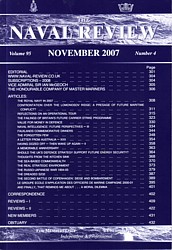 ---
1 Nov 07
More about Prince Harry's visit to Horsea Island
Today's Portsmouth News contains this article providing more details and pictures of yesterday's visit (see entry for 31 Oct) by Prince Harry to Fleet Diving Headquarters and the Defence Diving School (DDS) at Horsea Island featuring MCDOA member Chris Baldwin (CO Southern Diving Group) and PO(D) Paul Bhathena. The Royal Navy website contains this article about the same event and features MCDOA member Peter Greenwood (CO Fleet Diving Squadron).
---
Navy News Items
The following MCD-related items from the November issue of Navy News include:
---
31 Oct 07 - Prince Harry visits Defence Diving School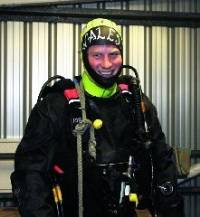 Prince Harry at DDS
Today's Portsmouth News contains this article with photographs describing Prince Harry's visit to DDS at Horsea Island this morning and features MCDOA member Peter Greenwood (CO Fleet Diving Squadron) and CPO(D) Michael Archer (2I/C SDU2). Captain Peter Lambourn RN (CMFP) and Captain Bob Stewart RN (Captain Hydrography & Meteorology and the Hydrographer of the Navy) were also present. Prince Harry is the Commodore-in-Chief Small Ships and Diving.
---
29 Oct 07 - MCDOA Members Celebrate Trafalgar Night in Spain
Mrs Webmaster and I have just returned from a wonderfully relaxing holiday in Spain during which we spent our first few days with MCDOA member Jon Cox and his vivacious wife Karin at their villa in Chiclana near Cadiz. Jon and I first served together in HMS Wilton in 1978.
John & Karin's villa at Chiclana
Jon and Karin were already hosting Joe Isaacs, a retired Boatswain (PR) with whom I got on immediately. He was visiting his daughter Annie who is currently purchasing her own villa nearby. During his Commissioned Boatswain's course, Joe was given an acquaint in standard diving dress at Horsea Island in late November 1953 when the ice had to be broken before he could enter the water. This is one of the events described in his autobiography, 'Boy Seaman to Naval Officer', and he was kind enough to present me with an inscribed copy.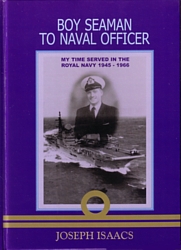 Joe Isaacs' autobiography
On the morning of Saturday the 20th, I was put on pool cleaning duties before enjoying a rewarding swim. The daytime temperature was around 28°C but this dropped to 22° in the evening.
Hoole on pool cleaning duties before enjoying a rewarding swim
In the meantime, Jon took the opportunity to fix his toaster while Linda (Mrs Webmaster) concentrated on completing her crossword in the sunshine.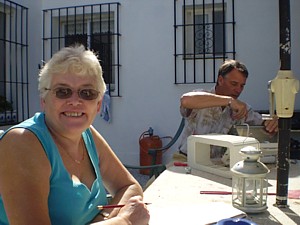 Jon fixes his toaster while Linda concentrates on her 'sun' crossword
Later that day, we were joined by MCDOA member Bill 'Chippy' Norton and his delightful Norwegian wife Gunhild. They had arrived for the Trafalgar Night dinner planned for that evening.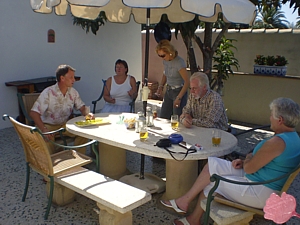 Jon & Karin Cox with Bill & Gunhild Norton and Linda
Ably assisted by the other ladies, Karin prepared a superb meal including hors d'oeuvres, roast beef with all the trimmings and a selection of puddings. The table centrepiece was a magnificent galleon fashioned out of a melon and laden with a cargo of fresh fruit salad.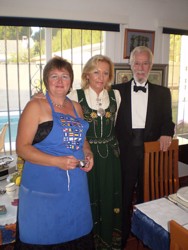 Chef de Cuisine Karin
with Gunhild & Bill Norton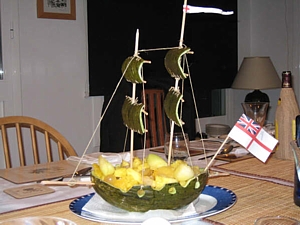 Galleon Centrepiece
We were joined for dinner by Stewart and Louise, two more Brit expat friends of Jon and Karin. Things were kept as traditional as possible with all the usual toasts, speeches and sparkling repartee.
Trafalgar Night Dinner - Spanish Style
The following day, exactly 202 years after the Battle of Trafalgar, we worked off some of our excesses of the previous evening by walking along the path to Cabo Trafalgar, just seven miles from where the action was fought out at sea.
Left: Trafalgar Bicentenary Monument
Right: Cape Trafalgar Lighthouse
Left: Jon Cox, Rob Hoole, Joe Isaacs and Bill Norton at Trafalgar Bicentenary Monument
Right: Joe Isaacs, Rob Hoole, Jon Cox and Bill Norton at Cape Trafalgar 21 October 2007
Views west and east from Cape Trafalgar
We spent the rest of the day relaxing back at Jon and Karin's villa.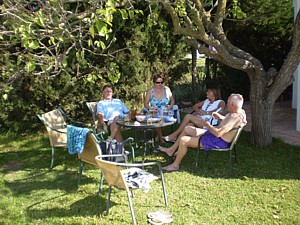 Jon, Karin, Annie and Joe relaxing back at the villa
As planned, Linda and I spent the remainder of our holiday based at Puerto de Santa Maria where Jon and Karin keep their yacht at the sailing club. From here, we visited the local sherry bodegas, castle and bull ring and took the Vapor, a traditional Spanish pleasure craft, across the bay to Cadiz to see the cathedral and fortifications and sample the fabulous beaches and restaurants but that's another story. However, I cannot begin to thank Jon and Karin enough for their kind hospitality during our 'Trafalgar' weekend, for collecting us from the airport at Jerez and for delivering us back there at the end of our Spanish sojourn.
Muchas gracias, buena salud y hasta luego!
---
18 Oct 07 - Message from the Manager of the Falkland Islands Museum
MCDOA member Brian Dutton has relayed the following message sent to Commodore Mike Clapp by Leona Roberts, manager of the Falkland Islands Museum, with respect to our Falklands veterans' lunch earlier this month in HMS Nelson (see entry for 4 Oct 07):
"... Meeting the bomb clearance boys in particular was very, very special - what an amazing group of men. The miniature medals will have pride of place in the museum - I was very touched and only wish I had been better able to express that at the time... I will contact the guys when I get home anyway and thank them again, but if you are speaking to any of them please reiterate that I was delighted - and honoured, actually - to meet them. To have had lunch in Nelson is something that I will never forget either - what an amazing thing - lil ole me in Nelson!!!"
---
16 Oct 07 - Miscellaneous Announcements
Book about MCD Branch involvement in Falklands War - Request for inputs
MCDOA member Mike Kooner has asked me to promulgate the following announcement:
"Hello Rob,
Our historic meet at NELSON last Thursday 4 Oct alerted me, rather belatedly, to the realisation that there is not, but should be, a definitive story/guide to our branch involvement in the Falklands War. Written by us and for us rather that an official ROP, footnote by another or simply an expression of an individual's achievement. Maybe 25 years is long enough to wait and of course many of the participants are now older and less constrained by protocol.
As one involved at the beginning to assist the Fleet MCDO in the planning, tasking (along with others) for the duration, culminating in command of the Salvage operations after the conflict, I believe it falls to someone like me to volunteer.
I am happy to assume the mantle to coordinate and write a journal of the beginning to the end of this historic period in our branch history. To achieve this it will be necessary to ask each and every man and woman (who is willing) who was involved from 1 April 1982 until 1 April 1983 for their input: good or bad.
The only way to achieve this is via your and other websites, individual e-mail addresses and any other manner you may consider appropriate. Navy News will be approached in due course. When the data is collated I will ask a "band of brothers" to help me to ratify/clarify/discuss the content. This may end up as a published book or a historical book of reference held by the RN.
I would ask that you promulgate this letter and request that all fellow branch members who have a story to tell, a lesson to be learnt, an interesting/humorous ditty etc to contribute. And by all I mean those who held posts as appointers, SofD Staff, Fleet staff, MoD staff, Procurement staff, Research staff, Training staff, as well as the personnel who were deployed South in the various Teams and ships, either before, during or after the conflict of the Minewarfare and Clearance Diving Branch or others who assisted in the MCD business.
Besides the gallantry of many resulting in a harvest of medals, I know of many anecdotal stories of our people carrying out battle damage repair and assisting in field hospitals as well as special operations, all without proper recognition. I appreciate this is a wide remit but I believe it is our branch history and needs to be told and not only for historical reasons.
If the response is good I believe it will take about six months to gather the information and a further 3-6 months to collate.
My initial thought is to ask contributors to write a paragraph or two on themselves and not to be shy! Who they are, what rank/rate they were, what they were doing before the conflict, their thoughts and training for readiness and what happened next. Also what rank they left the service and roughly what they have done since.
The next few paragraphs would be the tasks they were employed on, the lessons learnt, short comings, good points, friends, cooperation, humorous and black moments. The final paragraph can be warts and all and how we learnt or did not from this experience and what we could/should do in the future. As many are aware there was no template or plan for our involvement in 1982. The fact that so much was achieved by so few is a testament to the quality and training of the members of our branch.
All help in recording this story will be most appreciated and hopefully be of benefit to those who follow.
Best Wishes,
Mike"
If you wish to help Mike, please contact him via this e-mail address.
---
Help for Heroes
MCDOA member Brian Dutton has asked me to promulgate the following announcement:
"Hi Rob,
I have just subscribed to this charity (Help for Heroes) and wondered, if the message is passed around, our members might wish to subscribe. Minimum of £10. There is a space for messages as well and some pithy comments concerning our Lords and Masters may not come amiss.
Regards,
Brian"
---
UK National Defence Association
Non-MCDOA member John Muxworthy has asked me to promulgate the following announcement:
"Dear Rob,
I write to advise you that the UK National Defence Association (the UKNDA) is now registered as a Company Limited by Guarantee, 'live' and 'open for business. Please forgive me if you have already received this or a similar message but, as I hope you will agree, better to have duplication than no message at all.
Secretarial note: When you subscribe to the UKNDA you will receive a welcome letter automatically. Its salutation will be by the informal use of your first name. We are working to change that to a more formal greeting (Title, Rank, Mr etc) and ask for your forbearance in the meantime.
Here, below, is a very brief summary, of what the UKNDA stands for and seeks to achieve.
Yours sincerely,
John Muxworthy
Cdr RN
Chairman & CE of UKNDA Limited
UK NATIONAL DEFENCE ASSOCIATION
You will have read in the papers and seen on the television how our Armed Forces are over-stretched and under-resourced. In Iraq, Afghanistan and elsewhere they defend us and our national interests at great risk to themselves and too often at the cost of their lives.
The UKNDA has now been launched and 'open for business' to: …. inform the people of the United Kingdom about the need for sufficient, appropriate and fully funded Armed Forces that the Nation needs to defend effectively its people, their security and vital interests at home and worldwide.
WHY IS THE UKNDA NEEDED?
The UKNDA contends that the following fundamental issues must be addressed because, as a former Prince of Wales famously declared: "Something must be done!"
1. 'Defence' is too low in the Nation's list of priorities and therefore the Armed Forces are under resourced (under funded) for the tasks they are set.
2. This results in inter-Service wrangles over who gets what of an inadequate budget.
3. Over tasking and under resourcing leads to over-stretch of the Forces and, from time to time, equipment shortages and/or failures; these can, and do, result in unnecessary casualties.
4. All of the above lead to increasing pressures on the most important element of our Armed Forces – the serving men and women who do the work, face the threats and risk their lives to defend us.
Have YOU served in the Armed Forces? Are YOU related to anyone who is serving or has served?
Are YOU concerned about the effective Defence of this Realm, its people, their security & vital interests at home and worldwide?
If the answer to any one or more of these questions is "Yes" – do look at our web-site: www.uknda.org that tells you all there is to know about the UKNDA and then how YOU can…..
JOIN US & HELP DO THAT 'SOMETHING' THAT MUST BE DONE."
---
10 Oct 07 - David Griffiths Inspects Sea Scouts Unit
The following item from today's Portsmouth News features MCDOA member David Griffiths inspecting the 1st Southbourne Sea Scouts unit.

---
4 Oct 07 - Falklands Veterans Lunch
I found myself in the company of heroes today when I lunched in HMS Nelson with several MCD and CD Branch veterans of the Falklands conflict. Those present included MCDOA members Brian Dutton (who organised the event), Martyn Holloway, Mike Kooner and Chris Meatyard as well as Association of RN First Class Divers (AORNFCD) members Mick Fellows and Graham 'Piggy' Trotter. We gathered to meet Leona Roberts who is the manager of the Falklands Islands Museum. She is visiting the UK for a few weeks and is collecting memories and artefacts to take home with her. Leona was accompanied by Richard Noyce of the Royal Naval Museum and we were also honoured with the presence of Commodore Mike Clapp, Commodore Amphibious Warfare (COMAW) during the conflict.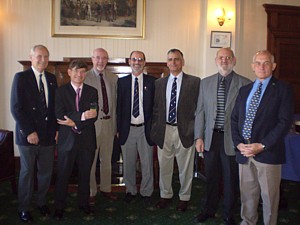 Left to right: Brian Dutton, Chris Meatyard, Mick Fellows, Rob Hoole,
Mike Kooner, Graham 'Piggy' Trotter and Martyn Holloway
After a few ice-breakers in the bar, we all entered the dining room and had a splendid three-course meal.
Left: Falklands veterans assemble in the bar
Right: Mike Kooner and Mick Fellows with Cdre Clapp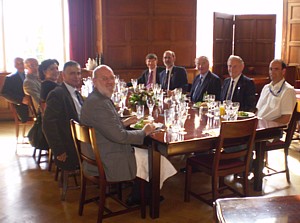 Falklands veterans seated for lunch
After lunch, Brian Dutton presented Leona with a framed set of miniature medals representing all the honours and decorations awarded to members of the Minewarfare and Clearance Diving Branches during the Falklands campaign and its aftermath. The inscribed brass tally reads: "Decorations and Awards made to Members of the Clearance Diving Branch during Operation Corporate 82 and its aftermath".
Brian Dutton with representative medals awarded to members of the MCD and CD Branches
From left to right, the medals comprise:
The Distinguished Service Order (DSO)
Lt Cdr Brian Dutton RN
The Distinguished Service Cross (DSC)
Lt Nigel 'Bernie' Bruen RN
CPO(D) Michael 'Mick' Fellows
The Distinguished Service Medal (DSM)
CPO(D) Graham 'Piggy' Trotter
Officer of the Order of the British Empire (OBE)
Lt Cdr Dennis Selwood RN
Member of the Order of the British Empire (MBE)
Lt Cdr Mike Kooner RN
Lt Cdr James 'Hamish' Loudon RN
Lt David 'Doc' O'Connell RN
The British Empire Medal (BEM)
CPO(D) Len Hewitt
CPO(D) Barry 'Blondie' Limbrick
The Queen's Gallantry Medal (QGM)
PO(D) Michael 'Harry' Harrison
The South Atlantic Medal with rosette and an oak leaf
signifying a Mention in Despatches (MID)
Lt Cdr Bruce Mackay RN
CPO(D) Brian 'Ben' Gunnell
LS(D) Phil Kearns
LS(D) Charles 'Charlie' Smithard
LS(D) Tony 'Tommo' Thompson
AB(D) David 'John Boy' Walton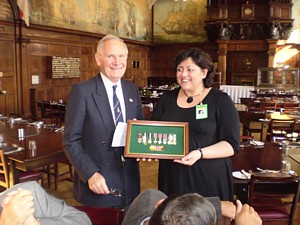 Brian Dutton presents display case of medals
to Leona Roberts
I would like to thank Brian for arranging this highly enjoyable reunion and for commissioning such a fitting tribute to the Branch for exhibition in the Falkland Islands Museum. It was an extremely thoughtful gesture. Incidentally, I have just received a copy of the newly released Second Edition of Volume II of 'The Official History of the Falklands Campaign' by Professor Sir Lawrence Freedman. In the introduction to this updated version, Sir Lawrence states with regard to his previous work:
"...I am sure it was galling for those who had been neglected in earlier studies and reports to find that this omission was continued. An example of this is the Fleet Clearance Diving Teams whose role I am now pleased to acknowledge."
Things are definitely looking up.
---
3 Oct 07
Request for Help (I) - Hose for DSSCCD
Jan Willem Bech in the Netherlands is the webmaster of Rebreathers Worldwide, a fascinating website containing detailed information, photos and a database of rebreather diving sets including many of the sets used in the past by the RN, RAN, RNZN, CN and RIN. We now have reciprocal links on our respective websites. Jan Willem is currently restoring a DSSCCD (Diving Set Self-Contained Clearance Diver) derivative of old-type CDBA (Clearance Diving Breathing Apparatus) and needs one more component for a complete assembly. Here is his appeal:
"Rob,
I have been working on my CDBA unit for several months now. I restored all the rubber parts and obtained new jets for both oxygen and nitrox b,c,d, (NATO). I have also managed to get the bottle sets tested and get the certificate for hydro safety! I repaired the lead weight pouch, got the manual, did both oxygen and normoxic and trimix rebreather training (IANTD) and got my blender certificate but I'm still missing..................... one hose!!
When you look at the photos you will see I have the Mod II version. I have a counterlung with 180 degree turn connections (meaning the hose is attached pointing to the ceiling, clicked in and then turned 180 degrees, then screwed to the reducing valve (CMF). I have the hose for the emergency bottle, but ONLY miss the most important hose between the back mounted nitrox bottles and counterlung - the hose for the diver's left side!
I would be VERY pleased if you would ask around for this last hose. Of course I will pay all costs for buying it, sending or whatever. It is the last missing part ...pffffff.
Jan Willem"
Left: Jan Willem's DSSCCD project
Right: The missing hose
Can anyone help Jan Willem out please? If so, please advise me via my webmaster e-mail address.
---
Request for Help (II) - Identity of Ship's Badge
Taff Reader of the Minewarfare Training Element at the Maritime Warfare School in HMS Collingwood has sent me the following request:
"Rob, I was shown a badge today to see if I could identify it (picture attached). It was dug up in someone's garden in Gosport. It looks to me as if it might be from the TASIs' Association [now the ASWIs' Association] or something, but I would only be guessing. I thought if anyone might recognise it then it would probably be you; if not, then you would know someone who did. If you could ask around, it would be much appreciated as the guy who found it is keen to look up its history.
Speak to you soon,
Taff"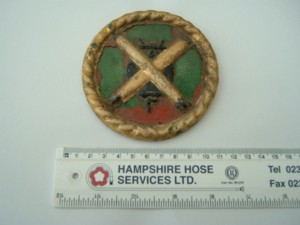 Taff Reader's Mystery Badge
I believe Taff's picture shows a 'modernised' version of HMS Vernon's original badge, later replaced with the more familiar item as displayed below: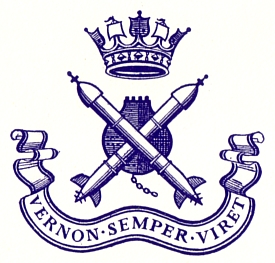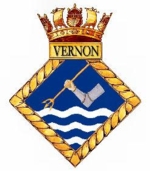 HMS Vernon badges - old and not so old
Some months ago, ex-WOMEA(M)1 Bruce Buckland (former MEO of HMS Brecon, HMS Middleton and I/C FSU 02) sent me a picture of a larger cast metal version of Taff's mystery badge which he has kept for the past 30 years. Apparently, it was once mounted on Vesuvius building, home of the Portsmouth Craft Group on Maintenance Jetty in HMS Vernon. He didn't know the original colour of the background so he painted it blue. From the look of Taff's picture, perhaps it should have been red, or even green?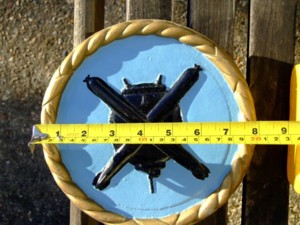 Bruce Buckland's badge
Can anyone shed any further light such as when the old Vernon badge was replaced by the new one? I think it must have been either 1946 when the Anti-Submarine branch moved from HMS Osprey at Portland and combined with the Torpedo branch at HMS Vernon to form the Torpedo Anti-Submarine (TAS) branch, or some time after 1955 because one of my histories of HMS Vernon, published in 1955, shows the old badge on its front cover. Please send any responses to me via my webmaster e-mail address.
---
2 Oct 07 - From our foreign correspondent
This comment has been spotted on the Daily Telegraph's website:
"As a retired Minewarfare and Clearance Diving Officer currently living in Florida after serving for over 33 years, I am appalled at this headline. During my career I saw many cutbacks which could be attributed to current political trends, or the "good ideas brigade", however, to plan for a zero Mine Countermeasures Vessel (MCMV) capability is beyond my comprehension. The use of MCMVs in the Middle East for the last 20 odd years most likely saved many valuable assets. Remember that the USN almost lost 2 capital warships to mines during the Iran/Iraq conflict. To read such disturbing news "on-line" in your excellent publication, makes me even more thankful that I am a) Retired and b) Living in Florida!!
Posted by Nigel G Hill on September 30, 2007 1:41 AM"
---
1 Oct 07 - Navy News Items
The following MCD-related items from the October issue of Navy News include:
The involvement of HMS Bangor in a Russian memorial service off Ayrshire.

Training with the Bahrain Defence Force by HMS Blyth.

The award of the Soberton Trophy to HMS Quorn.

SeaFox trials by HMS Cattistock.

The enforced landing of Junior Rabbit Grobblington from HMS Gavinton 30 years ago when MCDOA member Bernie Bruen was her First Lieutenant.

A letter about the participation of the repair ship MV Stena Seapread and her embarked Naval Parties NP 1810 (led by FCPO(D) John Dadd) and NP 2010 (led by FCPO(D) Don 'Jimmy' Green) in the Falklands conflict.

The award of the George Cross to WW II naval bomb disposal personnel Sub Lt Jack Easton RNVR and Ord Seaman Bennett Southwell.
---