Items from The News, Navy News and Warship World are reproduced by kind permission of David Brown, Jim Allaway and Mike Critchley respectively. Click on the thumbnails to enlarge them.
---
30 Mar 07 - Restrictions on Duck Diving in Royal Navy
The following article from today's Portsmouth News describes restrictions on duck-diving in the Royal Navy following the inquest into the death of Lt Paul McAulay at Horsea Island on 28 November 2002. Just out of curiosity, does the recovery of bricks from the bottom of a swimming pool while clad in overalls and plimsolls still feature in the standard Naval Swimming Test that I, like thousands of others before me, passed without incident nearly 40 years ago?

---
27 Mar 07
George Wookey Obituary
The following obituary for George Wookey (see entry for 21 Mar) appeared in today's Portsmouth News. He is described as having been appointed as an OBE instead of an MBE but this may have been my fault. If it was, then I apologise unreservedly.

---
Feedback
Several items of feedback have been appended to the entries for 2, 19 and 21 Mar 07 below.
---
22 Mar 07 - Funeral arrangements for George Wookey
The funeral service for George will be held in St George's Church, Naturaliste Terrace, Dunsborough, Western Australia at 1100 on Monday 26 March 2007. No flowers by request but donations in lieu to the Busselton Hospice would be appreciated.
Both the Daily Telegraph and the Portsmouth News have expressed interest in publishing obituaries and I have put them in touch with the right people. In the meantime, I am appending tributes to George to the entry for 21 Mar below.
---
21 Mar 07 - Lt George Wookey MBE RN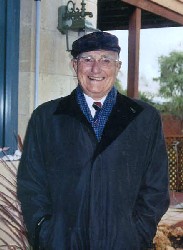 George Wookey
(31 October 1922 - 21 March 2007)
MCDOA member Alastair Cuthbert in Australia has informed me of the death this morning of fellow member George Wookey. He had been ill with cancer for some months and was in a hospice in Western Australia. He is survived by his wife, Patrice.
George Wookey was born on 31 October 1922. In 1938, he joined the Royal Navy at the age of 15 and was sent to the boys' training ship HMS Impregnable. When war broke out the following year, he was drafted to HMS Colombo in Devonport. In 1942, he was sent to HMS Dolphin for submarine training and then joined the submarine P-36 (although he mistakenly recalled her as L-36 which was never commissioned) for a few months before transferring to HMS Oberon. He also served in the ex-American submarine P-556. At the end of 1943, he was sent to HMS Drake, the Royal Naval Barracks in Devonport, where he qualified as a diver. Just before D-Day in June 1944, he was sent to the submarine depot ship HMS Maidstone in Algiers. He returned to the UK (Portsmouth) in the fast minelayer, HMS Ariadne, and then joined the aircraft carrier HMS Venerable. In 1945, just before the end of the war, he was sent to HMS Seagull, a survey ship.
George undertook a course for commissioned rank in 1948 before joining the destroyer HMS Helmsdale to acquire his bridge watch-keeping certificate. In 1949, he attended the diving school at HMS Defiance in Devonport where he was involved in training X-craft miniature submarine personnel in penetrating anti-submarine boom defence nets. In 1951, he was present during the detailed underwater investigation of the sunken submarine Affray and the following year he helped conduct the original trials of the Squalus submarine rescue bell in the Solent, Falmouth Bay and Tobermory Bay. He spent 1953/4 based at HMS Safeguard, the Salvage Diving Unit at Rosyth. In 1955, he served at HMS Defiance's Diving School at Torpoint and was involved with the salving of the German 'Strength Through Joy' ship M.S. Venus.
George joined HMS Reclaim in 1956 and helped conduct trials with the RN's new one-man observation chamber which reached a record depth of 1,060 ft. He was a Qualified Deep Diver (QDD) and a Senior Commissioned Boatswain when he broke the world deep diving record on 12 October 1956 by descending to 600 ft from HMS Reclaim in Sørfjord near Bergen in Norway. This record still stands for a diver in a flexible diving dress and his own account of this feat can be read via this link. In 1957, he was promoted to Lieutenant and appointed as an MBE in the Queen's Birthday Honours.
In October 1957, George was appointed to HMS Phoenicia for duty at the Diving School on Manoel Island in Malta where he had to investigate the death of a diver following an explosion in the upside down wreck of his old submarine, P-36, in Marsamasett. In 1958, he was engaged in archaeological diving to investigate huge pillars believed to be marble lying on the seabed among the remains of a wreck at Marsamema, Sicily, for Count Piero Gargallo.
In 1959, George returned to the UK to undertake the Clearance Diving and Bomb & Mine Disposal (B&MD) course. He was then appointed as the Staff B&MD Officer for Flag Officer Scotland's Command and spent two months on loan to the Royal Engineers at South Uist on Benbecula for guided missile recovery on the Atlantic range. On Sundays, when not required for firings, he helped search for, and eventually locate, the remains of the S.S. Politician of 'Whisky Galore' fame, sunk off Eriskay in 1942. In May 1961, he was involved in the investigation of a Russian trawler wrecked off Yell in 90 ft of water and soon afterwards he helped remove anti-submarine boom defence nets in Scapa Flow. In late 1961, he was loaned to the Royal New Zealand Navy to command the diving school and deep diving vessel HMNZS Manawanui and returned to the UK in January 1964. In September 1964, he submitted his resignation from the Royal Navy and purchased the derelict Motor Fishing Vessel, MFV 52, which he spent the next two years refitting in Malta. In the meantime, however, he was appointed to the Mediterranean Fleet Clearance Diving Team in Malta as a B&MD Officer in May 1965 but was sent to Aquaba, Jordan in August 1965 to train Jordanian service personnel. His resignation was accepted in September 1966 and he set sail for New Zealand via the Suez Canal. Here, he experienced some difficulties in passing through the canal owing to uncooperative staff.
In May 1967, George arrived in Australia and set up business as 'George Wookey Underwater Services'. During a slack period in September 1973, he became the relief master of the Kuwaiti livestock carrier Al Muahrosa for a round-trip voyage between Fremantle and Kuwait. Having returned to Australia from Kuwait in November 1973, he undertook offshore drilling work for Fleur Texas Mines at Cape Cuvier and spent the next ten years mainly engaged in offshore diamond-drilling development projects. He retired from business in June 1984 and took up consultancy and farming at Witchcliffe in the south-west corner of Western Australia. In 1991, he commenced building a mud-brick home which he completed in 1994. He was introduced to Patrice in 1995 and they subsequently married. An ABC Perth radio interview with George can be heard via this link.
In October last year, George and Patrice were invited back to Norway to attend ceremonies to mark the 50th anniversary of his world record-breaking deep diving achievement. Lt Col Andrew Canning OBE Royal Marines, the British Defence Attaché in Oslo, unveiled a plaque in his honour on the side of the fjord where he had set his record, 50 years to the day after the original event. Also present were MCDOA members Morty Drummond (the Captain of HMS Reclaim at the time), John Bevan (Chairman of the Historical Diving Society) and Chris Sherman (Chief Diving Inspector of the UK Health & Safety Executive). See entry for 16 Oct 06 in News Archive 16 for story and pictures.
I have asked Alastair to pass on the Association's sincere condolences to George's wife Patrice and to provide a floral tribute on our behalf at George's funeral. Further information about George and his achievements, including photos, is available elsewhere on the website. Use the search facility on the Home Page to find them.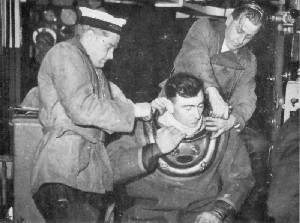 George being dressed for his record-breaking
600 ft dive on 12 October 1956
---
From Lt Col Andy Canning OBE RM in Norway:
"Dear Rob,
I had the distinct honour of unveiling the plaque in Bergen last October, to commemorate George's epic 600' dive. I met him there, together with Patrice, over the course of an exceptional weekend of celebration and recollection. The focal point was the unveiling ceremony, but equally as enjoyable was the talk by George on his dive ("I was SO cold"!) and a dinner in the evening after the ceremony. A quite abiding memory was of George being wooed by a very attractive Norwegian singer (female!) who sought Patrice's consent before taking her place on George's lap for a chat and a song in to the microphone! He loved it all and dealt with it with great aplomb and humour!
I was, in a way, a fraudulent entry on to the scene during the weekend in Bergen. But it was my unqualified privilege to have met George and Patrice at such a landmark occasion. Please would you be good enough to pass this to Patrice and other close family who may appreciate seeing it?
With my thanks, and best wishes to all for the funeral of a truly memorable and brave man.
Kind Regards,
Andy
Lt Col W A Canning OBE Royal Marines
British Defence Attaché in Oslo"
---
From Dave 'Mona' Lott in Australia:
Thank you for your sad, but not unexpected news re George and a further period of grief.
I telephoned Les Maynard this morning, but he already had the news, and so was informed of the recent spate of other deaths. Les reckons we are coming up the list too fast, and he now intends to go into hiding!
I had a very long telephone call from a Bruce Thompson living on the North Coast of Oz, who is an ex RAN CD (SD) Officer and a mate of Jake Linton. Bruce spent a considerable time with the RN. Anyway, Bruce was also querying rumours of George's death. He had just received a message from a mutual friend of ours, David Strike, the writer and very knowledgeable diving personality. I have directed Bruce to your website where he will obviously find more information than he will have bargained for.
I was amazed at the different names that he knew including Ralph Mavin, and Shiner Wright MCDO. Bruce was joining the RAN Diving section just as Morty Drummond was about to sail home. I couldn't believe that he was talking about Morty as I had only just finished replying to Morty's e-mail when the phone rang.
---
From Mike Welford in Australia:
Devastating news. I am sad to say that I have lost contact with George's son Martin and hence George. I saw that the reunion occurred in Norway and it was great that it happened. It had spurred me on to contact him as we were planning a visit to the West later this year (Erica and I last saw him at the house he built over five years ago...), but we had a death in the family and somehow things got delayed, and now forever.
Thanks for keeping us all informed and our thoughts go out to the family.
---
From Sydney Knowles in Spain:
"Dear Rob,
I was saddened to hear the news of the demise of the 'King of the Deep'. I met him at Vernon a couple of times and have always admired his achievement. Please pass on my deepest sympathy to Patrice.
Regards,
Sydney"
---
From David Strike in Australia:
"Hi Rob,
G'day, Mate!
By way of introduction, I was a former RN Ship's Diver attached to the ASWEPS division at Admiralty in London. In 1966, I was "detached" from the Navy and sent out to Malta where, with a Dr of Physics from Bracknell University, we spent the summer studying and photographing thermocline characteristics.
George Wookey was the "Boss" at Manoel Island and used to come out diving with us from the MFV that we'd been loaned. After the Navy I went on to dive on the North Sea oil rigs before moving to OZ. (Sydney) I knew that George had come to Oz and made a point of tracking him down (in Perth - the other side of the island) and interviewing him a few times re his experiences. (I always intended to visit with a view to writing a biography about him. Alas!)
I also run a Dive Conference - the last event was just last weekend (see: www.diveoztek.com.au) - and had actually toyed with the idea of bringing George over - and Max Shean, the former skipper of X-24 who also lives in Western Australia. Sadly, I didn't.!
Anyway! Bruce Thompson - former XO of RAN CD TEAM ONE
- put me on to your site and going through it there's a lot of good stuff! :-)
(I'm only sorry that the reason for making contact is because of George's death.)
Please, however, do contact me at some stage in the not too distant future.
With very best regards
David
--------
David Strike
Convenor
OZTeK '07 Diving Technologies Conference
PO Box 1128
Dee Why
NSW 2099
Australia
---
From John Grattan:
I do remember the visit of the Bracknell unit for just a few weeks during the summer of 1966. Concurrently I was CO of the Med Team and had agreed, with the officer's appointer, to take George as a supernumerary whilst he prepared his own MFV for passage from Malta to New Zealand - that voyage is another story as he stopped in Australia. He was never a working member of the team let alone "the boss".
George was a great man who I knew well (he stayed with us) but adding fiction to his record does no good.
[By Webmaster: I agree with John and am very keen to keep the record straight. Obviously, David misunderstood the circumstances of George Wookey's appointment 40 years ago. My information is that George relieved Lt George Campbell Foster MBE, DSC, RN as the OIC of the RN Diving School on Manoel Island in Malta 1957-59 but was seconded as a Bomb & Mine Disposal officer in 1965-6. See the website entry for 29 Nov 05 in 'News Archive 12', particularly the final paragraph.
]
---
20 Mar 07 - RN Diving Heritage - WWII 'P' Parties
The following query has been received from Phil Clare of Calne, Wiltshire:
"I hope I've come through to the right contact.

My dad, who is approaching 83, was a member of the 'P' Parties during the War. I'm trying to find out some information about his unit. His memory isn't what it was but he does tell me he served alongside the Americans in Cherbourg, Brest, Antwerp and Hamburg.
Any info you have would be most welcome.
I have sent Phil the following reply:
Hello Phil,
Thank you for getting in touch. I suspect your father is the Able Seaman Ronald Clare mentioned in Open the Ports – The Story of Human Minesweepers by J Grosvenor and Lt Cdr L M Bates RNVR (William Kimber, London, 1956). If so, he was a member of 'P' Party 1573 and was awarded a Mention in Despatches (London Gazette 30 April 1946) for "good services in Mine Clearance and Mine Disposal Operations in NW Europe immediately before the close of the war with Germany and in the months which followed." Take a look at the WWII Awards for RN Diving and Bomb & Mine Disposal in the MCDOA website's Branch History section to see his name and those of other award winners in the same 'P' Party.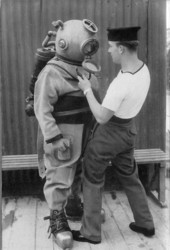 'P' Party trainee wearing the 'Vernon
RMS set' at HMS Vernon (D), Brixham
'P' Party 1573 was formed at Barrow-in-Furness (HMS Firework - commissioned at Barrow 1 April 1944) in the charge of Lt Francis Frederick Pearse MBE RNVR but was suddenly ordered to Cherbourg in the autumn of 1944 to relieve the 'P' Parties already there. It was then deployed to Brest where its members had to wait in foxholes for the port to be taken but, when this took too long, they were deployed to Ostend (Oct 1944). Among other things, they found 37 depth charges laid for demolition under the E-boat pens. All four 'P' Parties then converged on Antwerp (Sep - Nov 1944) for one of the largest clearance jobs ever undertaken. The bottom of every dock and basin was searched as well as 30 ships sunk in the port. Nearly a hundred minesweepers were involved in sweeping the sea approaches and the estuary. 'P' Party 1573 then returned to Brest, now liberated, where the damage was colossal and diving was extremely difficult. The clearance operation took 30 days and yielded an E mine, a torpedo, numerous warheads and several contact type pistols (fuzes). They then returned to England for a rest.
The 'P' Parties returned to the Continent in the Spring of 1945 and 'P' Party 1573 remained under Pearse with Sub Lt Arthur Storer RNVR (awarded a Mention in Despatches) and a new young officer, Sub Lt W S Hailstone MBE RNVR (known as Snowball) to assist him. They went straight to Hamburg where the number of wrecks and muddy water again made diving very difficult but they managed to bring up quite an assortment including 15 empty barges, some harmless parts of a German V mine and many cases of excellent bottled beer, some of which were bartered for Army stores. They then returned to HMS Vernon (D) at Brixham (which had replaced the less suitable HMS Firework at Barrow as the 'P' Parties' base on 27 October 1944) but were sent back out to Bremen after VE Day. Here, they joined up with 'P' Parties 1571, 1572 and 1575 and added four more mines to the 44 already discovered. The total area searched by the divers during this operation was approximately nine and a half million square feet. Converting this square footage into a straight line, it would amount to some 1,500 miles or half the distance across the Atlantic.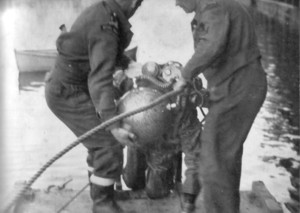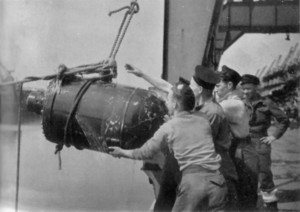 Lt Cdr George Gosse GC RANVR (left), OIC of 'P' Party 1571, after rendering safe
one of several German 'Oyster' pressure mines (right) in Bremen docks May 1945
At the end of this final gruelling task, the Commander US Ports and Bases sent the following message to Cdr James Harries OBE GM* RCNVR, in overall command of the 'P' Parties:
"The successful completion of the mine clearance in the harbours of Bremen by the 'P' Parties under your command marks the end of an outstanding job very skilfully executed. Operating under adverse and very hazardous conditions, your officers and men worked zealously and tirelessly to hasten the opening of the port. I wish to express my thanks and appreciation to you, your officers and men for your excellent work and fine spirit of co-operation. Well done and good luck."
You can apply for a copy of your father's naval service record by downloading a Certificate of Kinship form and a Search Access Request (SAR) form from the relevant webpage of the Veterans Agency website and submitting them to:
DNCM
Data Protection Cell
Building 1/152
PP65 Victory View
HMNB Portsmouth
PO1 3LS
Telephone Numbers: 02392 727531 / 723114 / 726063
I hope this helps. Please pass my deepest admiration and respect to your father. He helped originate the fine tradition and heritage we share in Royal Navy clearance diving today.
Best wishes,
Rob Hoole
---
I have since received the following response from Phil:
"Rob,
I just wanted to say thanks for all that info. I went to visit my dad the other day and I think it helped to bring back a few memories. He told me that one of their Ops was in the Caen Ouisterham Canal. He also spent time lodged with a Dutch family near the Walcheren area. Around the same time, they were on stand-by to go to Arnhem had Operation Market Garden succeeded.
I took him and my mum on a visit to Whale Island a few years ago and he still talks about how well they were looked after - as well as being able to recognise some of the breathing devices in use today.
One of his memories of Brest is the huge bomb craters on top of the pens and the small holes that they made on the inside - he said you could cover them with an old penny.
Once again, many thanks.
Phil Clare"
---
19 Mar 07 - RN Minewarfare Heritage - WWII Minelaying by Coastal Forces' Motor Launches
Don Cranefield is listed in the website's WWII Awards for RN Minelaying and has sent this correction to the entry for his senior officer's award:
"I served as a Sub Lt RNVR from 1942 to 1945 on MLs 181 and 488, part of the 8th ML Flotilla, and received a MID [Mention in Despatches] for service in operation Hostile [series of minelaying operations off the coast of NW Europe]. My CO was Lt Cdr Kemsley DSO who is, may I say, wrongly described as being with the 10th and not the 8th Flotilla. I would dearly love to know if any of my old shipmates are still alive!
Don Cranefield"
This is puzzling because the Official History of British Mining Operations 1939-1945 only mentions the 8th ML Flotilla, based at Milford Haven for the earlier part of the war, laying mines in the Mediterranean in June 1944. The Official History does state that ML 181 and ML 488 were in the 10th ML Flotilla and describes each mining operation in detail, including date, time, place, types and numbers of mines laid, forces (MLs) involved and any incidents that occurred during the operation. Most of these MLs were converted 110 ft Fairmile A or 112 ft Fairmile B motor launches. Vol I of the Official History (799 pages altogether) yields the following information about the origin and composition of the minelaying ML Flotillas, which I have compressed enormously:
From the end of 1940, ever increasing numbers of Motor Torpedo Boats (MTBs) and Motor Launches (MLs) became available and arrangements were made to enable these craft to lay both ground and moored mines by the fitting of chutes in the former and traps in the latter. In September 1940, these arrangements began to take shape but the start of minelaying operations was delayed owing to a lack of craft and the necessity to modify the A Mk 1 ground mine to ensure it would operate correctly after subjection to severe washing down before laying. Eventually, the following minelaying ML Flotillas were formed:
50th ML Flotilla formed May 1941 and placed under the orders of Vice Admiral Dover. This flotilla comprised the Fairmile 'A' MLs 101, 102, 103, 104, 107 and the Fairmile 'B' ML 220. By mid-June, MLs 103 and 220 had completed their work-up but ML 101 was under repair for bomb damage and ML 104 was still fitting out. MLs 103 and 220 carried out the flotilla's first minelaying operation (NL 1 off Boulogne) on 22 June 1941 and full-scale flotilla mining operations started in July 1941. In September, no fewer than 12 out of the 18 minelaying operations were carried out by three boats of the 50th ML Flotilla within a period of 14 consecutive nights. ML 103 was mined and sank while under tow by the trawler Fyldea on 24 August 1942 and was replaced by ML 108 in September 1942. ML 108 was damaged in a collision on the night of 5/6 January 1943 and was sunk by an underwater explosion on 4 September 1943 owing to a faulty soluble plug in the last moored mine she laid. She was replaced by the Fairmile 'B' ML 125 in November 1943.
51st ML Flotilla formed July 1941 and placed under the orders of CinC Nore in August. This flotilla comprised the Fairmile 'A' MLs 100, 105, 106 and 110. The flotilla carried out its first minelaying operation (QL 1 off Hook of Holland) on 1 September 1941. ML 105 was damaged after being fired on by supporting MGBs off Ostend on 9 September 1943. Three of her crew were injured, one of whom subsequently died.
52nd ML Flotilla formed mid-1942 and placed under the orders of the Portsmouth Command. This flotilla comprised the Fairmile 'B' MLs 123, 125, 128, 210 and 213, all manned by Royal Norwegian Navy personnel. The flotilla carried out its first minelaying operation (KB 1 off Pte de Barfleur) on 6 June 1942 but was then transferred to the Dover Command to work with the 50th Flotilla. ML 125 had her bows blown off by a drifting German mine near the Sandettie Bank on 2 Nov 1942. Her First Lieutenant and Telegraphist were killed, together with the Base Echo-sounding Officer, and four ratings were injured with one dying later. She was towed stern first to Dover by MGB 329. ML 210 was mined off Dieppe and sank on 15 Feb 1944 with the loss of her Captain, First Lieutenant and three ratings. She was replaced by the Fairmile 'B' ML 573 in March 1943.
10th ML Flotilla formed in early 1943 and placed under the orders of CinC Plymouth. This comprised the Fairmile 'B' MLs 157, 159, 179, 180, 181, 183, 184, 185, 186, 259 and 488. The flotilla conducted its first minelaying operation (Hostile 3 off Lannion) on 3rd/4th April 1943. On 27 November 1943, ML 488 collided with ML 179 while on passage to the minelaying area and both boats had to return to harbour, the latter in tow of ML 259. ML 183 sank after colliding with East Pier, Dieppe on 11 February 1945.
By the end of the war, Coastal Forces had laid 6,300 mines in NW European waters resulting in at least 73 enemy vessels sunk (38,585 tons) and 61 enemy vessels damaged. Four minelaying MLs were lost during various encounters with enemy forces (and sometimes friendly ones), including fire from coastal batteries.
I have invited Don to become an associate member of the MCDOA and sent him this photo of two Coastal Forces minelayers. His reply is shown below.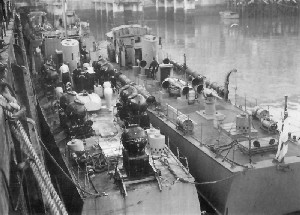 Fairmile 'A' Motor Launches loaded with nine Mk XIX
moored contact mines (left) and six A Mk 1/IV ground mines (right)
"Hello Rob,
Thank you for your email re membership. I will return the form as you suggest. The picture you sent is indeed interesting. It is not one of our MLs, and looks from the stern more like what was called an SGB [Steam Gun Boat], being a little longer than our 112ft or so and the hull is a different shape. Ours were more sleek and yacht-like. The stern was a different shape, the bridge and chart-house different, the gun platform in a different location and the wardroom hatch in a different position. We carried four mines with sinkers, the one in the picture has nine. Our funnels were removed to keep a low profile I suspect...and so on. Our 8th ML Flotilla laid mines in the Western Channel and we worked from Falmouth and the Black Bat base in Plymouth. I note from the awards list that there was minelaying by MLs protected by MTBs in the Nore Command, presumably dealing with the Eastern Channel shipping routes. My guess is that your picture is one of those MLs and the place is wherever they had their base. I do remember that there was a base for Coastal Forces (to which we all belonged) at Newhaven. Was it there?
Our whole operation now seems bizarre. We sailed out from Plymouth as a flotilla, four ships in line astern, in two columns. My ship with me as navigation officer for the flotilla leading, on a moonless nights with calm seas, making five knots with our mines. We left at dusk and by dead-reckoning, allowing for the channel tides, arrived at our destination off the coast of Normandy or Brittany or the Channel Isles before dawn. I would then lay our mines and the other ships would see ours going over and lay their own in succession. I would call from the chart-house, "Lay on," and the AB would push the mine overboard and so on till all four were laid. I had previously worked out from tide-tables the depth they should be laid in order to keep below the surface at the lowest tides. On our return, I would confidently tell the Admiralty where the mines were laid and the position marked on the chart. I wonder now how incredibly inaccurate those positions must have been. At least we never heard of anything ever being sunk! By now the dawn was breaking and we were in enemy waters so they sent an MTB or even air cover to see us safely home. Re my description of sailing across the channel with mines, probably we went at ten knots, not five, or we would never have got there under cover of darkness. Our escort work was five knots! The photograph of the MLs you sent, if operating, as I think, under Nore Command, could have been working from Ramsgate, where we had a Coastal Forces base. Wherever, there was considerable rise and fall of tide.
Don"
Don has also sent this picture and accompanying text:
"Hello Rob,
I am attaching a picture I painted of the 8th ML Flotilla leaving Plymouth at dusk to lay mines off the north-west coast of France. Rame Head is in the background. On ML 488 can be seen our armament(!): the small gun on the foredeck [normally a 40 mm Bofors], the .303 machine guns on the wings of the bridge, the Oerlikon platform amidships and the smoke-making canisters on the stern. We carried four mines with sinkers, which rested on rails and were pushed overboard. Sometimes we carried four long acoustic mines to lay on the sea bed. When not mine laying we served as anti-submarine escorts. We carried the depth charges on racks and pushed them overboard to attack, making sure we were making full speed of 12 knots for obvious reasons. The mine laying operation went under the code name of Hostile for which I received my award of a MID as the Navigation Officer for the flotilla. The flotilla's CO was Lt Cdr Kemsley who received the DSO.
Trusting this might all be of some interest.
Don"
This monument, at what is now Hornet Sailing Club at Gosport, lists all Second World War Coastal Forces (CF) Bases as follows:
HMS Aggressive – Newhaven
HMS Beehive – Felixstowe
HMS Mosquito – Variously Alexandria, Haifa, Beirut, Benghazi and Port Said
HMS Hornet – Gosport
HMS Cicala – Dartmouth
HMS Attack – Portland
HMS Bee - Weymouth
HMS St Christopher – Fort William
HMS Black Bat - Devonport
HMS Fervent – Ramsgate
HMS Gregale - Malta
HMS Mantis - Lowestoft
HMS Midge – Great Yarmouth
HMS Wasp - Dover
HMS Fox – Lerwick
Postscript: Don now concedes that he must have served in the 10th ML Flotilla, not the 8th ML Flotilla which was based in Milford Haven before deploying to the Mediterranean. Sometimes the memory can play funny tricks.]
---
From Dave Mallinson:
"Hi Rob,
The two vessels in the photograph [see above] are Fairmile Type Motor Launches and not Steam Gun Boats but I am afraid I am unable to confirm the location although it could very well have been taken in Newhaven. I will pass it on to a contact who may be able to help. Both vessels appear to be Type 'A' Fairmiles. The outboard vessel is configured as a Motor Gun Boat armed with a 3pdr HA/LA gun aft and .303 machine guns situated port and starboard behind the bridge. In addition, she carries two depth charges and 6 airborne ground mines. In contrast the inboard boat appears to be configured as a minelayer carrying nine Mark XIX moored contact mines.
The demarcation between the motor launch, motor gunboat, anti-submarine, minesweeper and minelayer functions for the Type 'A' & 'B' was finely divided and individual boats could be configured at short notice to fulfil any, or a combination of, these functions. Also the weapon fit could vary considerably from boat to boat. Some MLs were even armed with single 21" torpedo tubes taken from the ex-USN four stack destroyers sent to Britain under the Lend-Lease arrangements, and oddities such as Holman Projectors. This can make identification of type and function difficult. Interestingly, both boats and at least one of the two in the back ground are still fitted with their funnels
Unfortunately, I am unable to identify the actual numbers of the two boats in the photograph and the location alone may not help as we have discovered the number of visiting boats in ports such as Newhaven makes identification almost impossible.
Hope this helps.
Regards,
Dave
Dave Mallinson
stontamar naval research
01383 852422 07900 395110"
---
More from Dave Mallinson:
Yes, both boats are definitely Type 'A' Fairmile's although, as you point out, their bridge structures are slightly different. This was often the case and many of those configured as minelayers, rather than as gun boats or motor launches, carried a modified bridge. Type 'B' boats had a different hull form (round bilge as opposed to the hard chine used on the design of the Type 'A'), scuttles in the hull and a raised deck over the engine compartment, all design features which if you look carefully are not present in either of these two boats.
I am also informed that it is possible that the photograph was taken in Dover but I leave the validity of that statement to others. Type A minelayers, however, did work out of Newhaven.
---
From Captain Michael Gordon-Lennox RN:
"Dear Rob,
I have consulted the experts and the conclusion is that these are not SGBs but are Fairmile 'A's of the 50th or 51st ML (or HDML) Flotillas, the inner one configured as a mine-layer and the outer one standard. There were only 13 "A's built. As for the location there is no reason to doubt it is a south coast port and may well be Newhaven.
I hope this is helpful. I attach our latest Newsletter. Any support very welcome!
Warm regards,
Michael Gordon-Lennox
Trust Secretary (TAS officer of circa 1970 vintage!)
---
From Wallis Randall:
They are not Steam Gunboats, but 'A' class Fairmile Motor Launches. The actual photo can be seen on page 21 of 'Allied Coastal Forces' of WWII by John Lambert & Al Ross (ISBN no. 0-85177-519-5) published by Conway Maritime Press in 1990. Co-incidentally, I was involved in a minelaying operation as 'Sparks' on board HM ML 567 in company with other MLs of the 8th ML Flotilla in 1944. Another ML, our sister ship HM ML 493, is shown carrying the mines on pages 222/223 of the same book. We were bound for Leghorn off the north west coast of Italy and we laid 30 mines [Mk XVII moored mines] in all without any problems.
Regards,
Wallis Randall
Librarian
Coastal Forces Veterans' Association"
---
From Cdr Alastair Wilson RN (Naval Historian and Author):
I handed over as Secretary of the CFHT [Coastal Forces Heritage Trust] to Mike Gordon-Lennox about four years ago, having set it up for the RN Museum in `93. And I have seen the painting before, possibly as an illustration as is mentioned on your site, but I rather think I've seen it in the flesh, as it were. I think someone brought it up to display at an exhibition, or something like that.
I have no great CF connections myself; the nearest I got to it was 15 months in a Fairmile 'B' converted as a Minesweeping Motor Launch. The RN converted about 12 Fairmiles as an interim measure while the Inshore Minesweepers were being built. ML 2840 was then used as HMS Watchful on Fishery Protection duties in the English Channel. We did stream our sweep gear once a quarter or so: AH on the starboard side, AD on the port side amidships, and a LL 'tail' astern, for which the winch was handraulic. No problem in streaming the loop, but bloody murder to recover. With a crew of only 12 + 2, it was a case of all hands to the pumps to get it in.
I do think your web-site is excellent and I'm going to suggest to Roger W-E [webmaster for the Naval Review] that he copies your link to give the current bridge-card; a most useful tool.
Alastair
Cdr A. J. W. Wilson RN
Secretary-Treasurer
Naval Review"
---
14 Mar 07
Institute of Explosives Engineers Journal articles
The current issue of Explosives Engineering, the journal of the Institute of Explosives Engineers, contains an article by your humble webmaster about Royal Navy Explosive Ordnance Disposal (EOD) and another by MCDOA member Terry Digges containing reminiscences of his distinguished career. The front cover picture, courtesy of D1 Steve Boughton, shows a WWII German GC ground mine being detonated off the Isle of Wight by Southern Diving Unit 2 (SDU2) based at Portsmouth.
MCD officers are entitled to membership of the IExpE by virtue of their EOD/IEDD qualifications.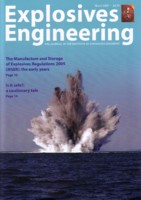 ---
Veterans' Lapel Badge
The qualifying dates of service for issue of the HM Armed Forces Veteran's lapel badge have been changed from 'up to and including 1969' to 'up to and including 1984' so as to include those who served during the Falklands war. Application details are available on the Veterans Agency website via this link.

---
10 Mar 07 - Vacancy for Military Diving & EOD Naval Staff Author
A vacancy exists for an ex-serviceperson with at least seven years' relevant experience to write and maintain operational publications about Military Diving and Explosive Ordnance Disposal (EOD) for the Fleet Staff Authors' Group (FSAG) at HMS Collingwood. This is a Civil Service Band C2 post. Further details are available from Mr Steve Rodgers (Tel. 01329 332345) and the deadline for the receipt of applications is Friday 16 March 2007.
---
9 Mar 07
Diver Down - Lt Cdr Michael Paynter Grubb RN
MCDOA member Tim Trounson has drawn my attention to the announcement in today's Telegraph of the death of Mike Grubb on 6 March 2007. Mike was not a member of the MCDOA but qualified as a Clearance Diving Officer at HMS Vernon in 1960 with Lt T W (Terry) Jones RAN and Lt J K (Tom) Parker RAN. He served with the Admiralty Experimental Diving Unit (AEDU) and undertook trials off Alderney and Malta but left the Royal Navy shortly afterwards to join the Coast Guard. He lived at Worthing but then moved to Falmouth where he was a keen ocean yachtsman in his Warrior 38' Tilos, and a pivotal member of the Royal Cornwall Yacht Club.
A private family cremation will be followed by a Service of Thanksgiving at Mylor Parish Church near Falmouth in Cornwall at 1200 on Friday 16 March. No flowers but donations, if desired, to the RNLI (Truro Branch) c/o Mr C Cliff, 4 Salt Box Close, Mylor, Cornwall TR11 5NN. We extend our condolences to Mike's family, especially his surviving wife Libby, daughter Nina, son Christopher and five grandchildren.
According to my sources, Terry Jones went on to serve in the Battle Class destroyer HMAS Anzac and ended up living in Sydney while Tom Parker went on to serve as the First Lieutenant of the Ton Class minesweeper HMAS Ibis (ex-HMS Singleton) and ended up living in San Diego.
---
Bob Hawkins receives his MBE
MCDOA member Bob Hawkins has sent these wonderful photos of his MBE investiture yesterday at Buckingham Palace.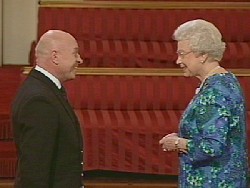 A quiet word with the Boss
Before the Ceremony
After the Ceremony
Seeing the photo of Bob with Gareth Edwards, here is one of the Welsh Wizard (wearing orange shirt) on board HMS Minerva in Bermuda in 1975 during a British Lions rugby tour that included JPR, Phil Bennett, Fergus Slattery, Willy John McBride and Roger Uttley. Everyone is relaxing around the wardroom table and those with longer memories might just recognise the Sub Lt landed with the OOD duty (extreme left).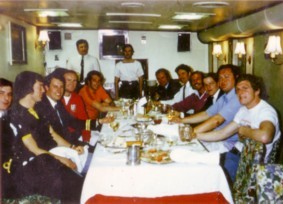 British Lions on board HMS Minerva in Bermuda 1975
---
More RN Diving Heritage
I have received the following e-mail from MCDOA member Andy 'Sharkey' Ward, CO of the Northern Diving Group:
"Hi Rob,
I've just hosted a visit here at NDG from a Mrs Elizabeth Bell who is the daughter-in-law of the late APO(D) David (Davey) Bell who was one of Buster Crabb's diving oppos in Gibraltar during WWII. Absolutely fascinating and she wants to present us with his medals (including a GM awarded at the same time in 1944 as Buster Crabb). She also brought us a load of press clippings, books about Crabb featuring her late father-in-law and most interestingly of all an old style commando dagger which he used to prise limpet mines off of ships hulls in Gibraltar!
She was put onto us by FOSNNI who was visiting the RBL in Prestwick so we will have a display case made up and mount them here in the section as she wishes them to go to a good home but to stay North of the border. I'll get some photos done and send them to you once we've made it all look pretty.
Cheers for now,
Sharkey"
This is excellent news. An actor appeared as Ldg Seaman David Morrison 'Dinger' Bell in 'The Silent Enemy', the 1958 film about Buster Crabb in Gibraltar, with Laurence Harvey playing the star role and Michael Craig playing the part of Ldg Seaman Sydney Knowles, Sydney now lives in Spain and we exchange e-mails fairly often via his wonderful wife Frances. I am sure he will be delighted that his old diving buddy's memorabilia has gone to such a good home.
---
Wanted - Copy of Catt's Nine Lives video
I have received the following request for help:
"Dear Sir,
I am searching for a video made in the 1960s called, I think, Cat's Nine Lives. Apparently, my father was in it but he has never seen it. It was a Royal Navy explosives video made by the CD Branch. I saw it once on my diving course in Fort William in the early nineties and have been in search of it since. I'd be very thankful if you could help me locate a copy to purchase.
Thanks for your time. I shall not be able to check my e-mail for the next month as I blow into sat in the next two days.
Saltburn By The Sea
Cleveland"
I well remember 'Catt's Nine Lives' (Explosives and Demolitions Part 2). If anyone (DDS or DEODS?) can provide a copy for Scott, please let me know.
---
8 Mar 07 - Website Links
Reciprocal links have recently been established with the websites of the George Cross Database (its editor Marion Hebblethwaite was present at the dedication of the Bridge Building at Horsea Island), the Naval-History.Net (contains many RN bomb and mine disposal gallantry awards), the RAN 16th Minesweeping Squadron (dedicated to the RAN and RNZN Ton Class minesweepers that patrolled coastal and riverine waters during the Indonesian Confrontation in the mid-1960s), the Toronto Naval Club (the heart of RN expatriate life in Canada) and the Royal Engineers Bomb Disposal Officers' Club. I am pursuing a more formal affiliation with the latter in the hope that we might revive the tri-service Bomb Disposal Officers' Dinners and other functions we used to enjoy but the final decision rests with our Committee.
Sadly, our link with the Explosion! Museum of Naval Firepower on the site of the old RN Ammunition Depot at Priddy's Hard in Gosport will lapse at the end of March because the museum is due to close; such a shame, especially as the fault does not lie at its own door. If you have not yet visited it, please do so before it is too late. The interactive displays in the Mining Hall will provide you with glimpses of someone rather familiar!!!
---
6 Mar 07 - Peter Anderson's Funeral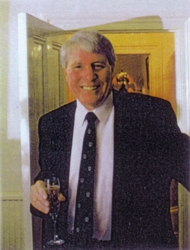 Peter Anderson
(1934 - 2007)
As this page attests, it has certainly been a sickly season for members of the Diving Branch. Troy Tempest, Secretary of the Association of RN First Class Divers (AORNFCD), and I attended Peter Anderson's standing room only secular funeral at Portchester Crematorium today. Other members of the Diving Branch present included Nick Carter, Mike Handford, Ron Hartshorn, Maggie Lockwood, John Peach, Dickie Radford and Willy Wilkes. MCDOA associate member Doug Barlow, an old friend of Peter, was also there with his partner Jill. Family members included Peter's wife Sue and her sister Annie, Annie's family, and Peter's brother Paul with his wife Sheila. There was also a large contingent from the Frères de la Côte, a worldwide sailing fraternity in which Peter helped form a British group. The members of this organisation all wore their distinctive tricorn hats, blazers and ties.
Attendees entered to the sound of Dave Brubeck's 'Take Five' before the officiating minister, David Butler, a former Royal Navy Church of Scotland and Free Church chaplain, gave his introduction and provided a short tribute. Roger Hutchings, 'Flag 1' of the Frères de la Côte, then provided this eulogy:
Peter Anderson - A Man of Many Parts and Many, Many Friends
Peter, a future naval diver, business and sports man was born in 1934. He and his brother Paul came from a naval family. Peter became a deep sea diver and his brother Paul served in the Torpedo Branch. During the Second World War, the two boys were evacuated to Wales to avoid the dangers inherent in the bombing of London during the Blitz. After the war, they moved to Dartington Hall near Plymouth where their mother was the Head Cook. Time was to prove that her culinary skills totally failed to rub off on her son Peter. Back in London, Peter resumed his education at St Ignatius College, Enfield. As a young boy, he had a stutter and went to a remedial speech class run by an actress of the day. The boy ahead of Peter imitated his stutter and Peter burst out laughing. The teacher admonished him and then, when he spoke his set piece and stuttered, she thought he was taking the mickey and hit him. Apparently, he never stuttered again.
After a period as a naval cadet at school, Peter, a lad of just 14 years, joined the Royal Navy and was posted to HMS Ganges, the shore training establishment in East Anglia. Although he later became top dog in many of his ventures, he never got to the top of the mast as Button Boy, possibly owing to his life-long fear of heights. After Ganges, he was, as much appreciated years later by many of us here present, posted to Portsmouth as a Radar rate at HMS Dryad on Portsdown Hill. As we look at the hill above us we are reminded of Pete. His next posting was to Deepwater section at HMS Vernon, lying on the site where the shopping and entertainment centre of Gunwharf Quays now stands. Let the Spinnaker Tower again provoke memories of our sincere friend Peter. He must have had some challenging moments when he saw how they had so irreverently developed his beloved shore station. He qualified as a clearance diver and joined the diving vessel HMS Dingley. He served in that ship and two others [including the diving tender HMS Brenchley] for the remainder of his naval career achieving the rank of Petty Officer (CD3). From these exciting days, many of his sincerely good friends, who he would delight in meeting at Divers' Reunions, are no doubt present here today.
On retiring from the Navy as a young, enthusiastic mid-20 year-old, Peter decided to enter the world of commerce and, after a short period working the market stalls in Manchester, returned to London where, no doubt with some influence from his parents, he obtained a license to run the pool cafe in Haringey Arena where his father was a swimming instructor. His mother assisted by doing the baking for her son. This ambitious enterprise got him into deep water (pun intended). The pressure of creditors mainly, apparently, the Walls Ice Cream Company, forced him to shut shop. But Pete being Pete, he was not going to do the dishonourable thing and welch on his debts. To help pay off his creditors, he capitalised on his wealth of experience as a deep sea diver and entered into a lucrative contract with Wimpy, the construction company, and was sent to Bahrain to test oil jetty structures. This contract was followed by 18 months of highly hazardous work off the coast of Malta, monitoring from some depth the laying of pipes into trenches cut into the sea bed by machines directed from the surface. Many years later, how his thoughts must have wandered back to those days when he sailed over those self same waters with Sue in his fabulous 47ft yacht Winsor of Cowes [named after Geoffrey Winsor, the bar manager at the Royal Corinthian Yacht Club to whom he made an injudicious promise one night].
In 1964, following his diving adventures, Peter decided once again to enter the world of business and wisely decided that, with his numerous contacts in the Royal Navy, he should be able to secure bulk orders for sports equipment from naval shore establishments. He selected Portsmouth as the ideal location. With his warm personality and engaging manner, he opened a very successful wholesale and retail sports shop [Peter Anderson Sports in Elm Grove, Southsea] catering not just for the Services but also for a grateful local customer base. For relaxation, Pete became a member of Hayling Island Golf Club, going on with his low handicap of three to represent his club and Hampshire. Eventually, a trapped nerve in his neck put an end to these golfing achievements and he embarked on his new-found love of sailing. In 1977, he purchased his first boat Flog, the name, of course, being Golf spelt backwards. By this time he was with Sue, his future wife, his crew, his cook and, as proven in his last days, his comforter who for so long nursed him so bravely through his debilitating illness. All will remember Flog's distinctive sky blue hull and tan sails, and the generosity of Peter and Sue with their sailing invitations and fabulous dinner parties onboard.
Such was Peter's love for the Navy, sailing, golf, the Apsley [a popular pub in Southsea] and Sue that he enjoyed the respect and friendship of an enormous community of friends. His modesty, his ability to tell a good tale his... I could go on for ever, made him one of the best friends that any could wish for. In 1978, Pete and a small group of his sailing friends, including Alan Evans and myself, at the generous invitation of our Normandy Brothers, proudly helped form the Frères de la Côte, GB, his flag number being No.3. For those of you surprised to see various gentlemen wearing tricorns and bearing Pete's remains today, this is part of our uniform, proudly worn. I could wax on interminably about stories and jokes around Pete's life, all told well and taken well by him, but time limits me. These stories feature sailing rallies, Roche Douvre, gear-changing, AIX en Provence [something about the French A9 road], Spain, Cherbourg/Poole, parachuting/parrot shooting [the subject of a misunderstanding with a Frenchman], sorry head, going into a bar and ordering a pound's worth of 'mixed drinks', fatty food, his knowledge of buoys [he knew every one in the English Channel], racing on Spirit of the North, and on and on, ad infinitum.
Eventually, at the end of an amazing career, he achieved a long time dream: retirement from the trials and tribulations of business when he sailed away with Susan, his inseparable companion, to the Mediterranean where he cruised in company with many friends new and old. Several of them are here today. But from this idyllic world, he was cruelly snatched.
Ever the navigator, after suffering illness for almost 18 months, Pete's final words to his brother Paul were, "What course am I on?"
The service continued with the reading of the poems 'Togetherness' by Canon Henry Scott Holland and 'Sea Fever' by John Masefield before the playing of 'Sailing By', the music that precedes the shipping forecast on BBC radio, during a period of reflection. 'We are Sailing', sung by a male voice choir, was played during the committal. The many mourners then attended a reception in the Royal Naval & Royal Albert Yacht Club in Old Portsmouth. Wall displays showed the many aspects of Peter's life and there was a continuous slide show of his more colourful moments, most of which also featured Sue to whom we offer our deepest condolences and best wishes for the future.
---
As a rather poignant postscript to Peter Anderson's funeral, I have received this e-mail from former FCPO(D) Dave 'Mona' Lott in Australia:
"G'day,
While sorting through my photos, I found the following Crimbo Card from HMS Dingley dated 1957-58. The names I recorded on the reverse are the skipper Lt Cdr [John] Wilson, Ginger Howe (RIP), Tony Sparrow (RIP), Dave Merrill (RIP), Dutchy Vanderson(?), Peter Anderson (most recent RIP), Maggie Lockwood, Willy Wilkes, Bob Pilling (RIP), Jacko Jackson bottle fencing with Shiner Brassington, and Tom Kissack.
Dave (Mona)"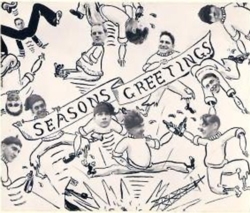 HMS Dingley Christmas card 1957-58
---
5 Mar 07
Alf 'Wanny' Wannerton's Funeral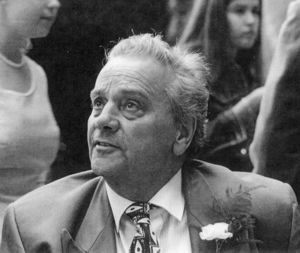 Alf 'Wanny' Wannerton
(27 August 1933 - 17 February 2007)
Troy Tempest, Secretary of the Association of RN First Class Divers (AORNFCD), and I attended Alf Wannerton's non-religious funeral at Chichester Crematorium today. Other RN divers present included Mike Handford, Maggie Lockwood, John Peach, Tony Phipps, Jim 'Tommo' Thomson, Dave Tyzack and Tony 'Willie' Wilkes. Family members included Alf's sister Jean Burns with her husband John and their sons John Jr and Jason, Alf's other sister Franky Banks with her husband Tim and son Reuben, Alf's brother Bill with his wife Shirley and their son Will with his wife Jackie, Alf's daughter Katrina with her husband Ray, and Alf's other daughter Julie with her husband Ade. There were also several other family members, friends and well-wishers.
We entered the chapel to the sound of 'The February Song' and other music included 'I walk the Line' by Alf's favourite singer, Johnny Cash. Tributes to Alf were provided by the officiating minister, Deborah McGregor, and Alf's son-in-law Ade. We heard how Alf was born on 27 August 1933 near Aylesbury. According to Alf's brother Bill, he was made the school's air raid warden and equipped with a whistle to warn pupils to take shelter under their desks whenever a 'doodlebug' V1 flew overhead. Apparently, there were far more alarms than 'doodlebugs'. We also heard how Alf was a county champion athlete and boxer in his youth. Alf met his late wife Mary in the 1950s and they were were married in Portsmouth on 10 February 1968. After spending most of his diving career in Scotland or Hong Kong, Alf was invalided out of the Navy in 1962 after suffering a spinal bend during deep diving trials in Norway. However, he retained his sense of fun and was to be found drunk in charge of a wheelchair on more than one occasion. He was also renowned for his attempts at gardening (which resulted in something resembling a ploughed field) and cooking casseroles and suet puddings. Sadly, Alf's wife Mary died from a brain tumour in 1987 but he was particularly proud when his daughter Julie presented him with a granddaughter, Rosie, on Christmas Day, 2003. Alf died on 17 February 2007 at Acacia House nursing home in Horndean. The simple but poignant service included a reading of 'Crossing the Bar' by Alfred Lord Tennyson and concluded with the playing of the Last Post and Reveille by bugler Kevin Jones of HMS Nelson's Volunteer Band.
After the service, we decamped to the Royal Sailors' Home Club, now the Royal Maritime Club, in Portsmouth where we drank to Alf and swapped a few yarns. Several of Alf's family expressed their pleasure at seeing our naval contingent but it was our privilege to be present. They have our condolences and best wishes for the future.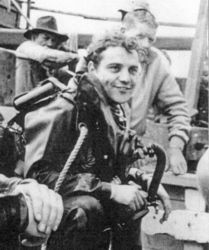 Alf in his naval diving days
Yet another Divers' Reunion held in sad circumstances
---
From Alf's nephew Jason:
"Rob,

We very much appreciated everyone being there. I've already added your website to my favourites.
All the best.

Kind regards,

Jason Burns

Naval Business Manager
DEFENCE SUPPORT (International) LIMITED"
---
From Alf's daughter Julie:
"Hello there,
Firstly let me introduce myself. My name is Julie Wannerton, daughter of Alf (Wanny) Wannerton whose funeral was covered in your latest news section 5th March 2007.
I discovered your excellent website and was delighted to find a review, for want of a better word, of my Dad's Funeral and Celebration of his Life.
I am determined to keep Dad's memory alive and want to tell Rosie (Dad's Granddaughter) all about him. To that end I would really appreciate any of your members keeping in touch with me and recounting any 'Wanny Stories' I could pass on to her.
---
Progress Report on HMS Vernon Commemorative Statue
The Message Board in the Members Only area contains a link to MCDOA member David Carey's Powerpoint presentation describing options and considerations for the proposed commissioning of a statue at Gunwharf Quays to commemorate the minewarfare and diving heritage of HMS Vernon.
---
4 Mar 07 - Fleet Bridge Card
The RN Fleet Bridge Card for Mar/Apr 2007 is now available via the Web Links page.
---
3 Mar 07 - Reports Wanted on Dedication of Vernon Room and MCDOA Northern Dinner
I was unable to attend the ceremony dedicating the Vernon Room at DDS, Horsea Island on 20 February or this year's Northern Dinner at Faslane on 23 February and would be grateful for any accounts, with photos if possible, to share with other members on the website. Regrettably, I can't be everywhere at once so I rely on the membership for inputs.
---
2 Mar 07
Behind the Scenes
Thanks to the website, your humble webmaster is bombarded with a continuous stream of questions and requests for help from people outside the Association. Here are some recent examples that may be of interest:
20th Anniversary of the Herald of Free Enterprise Disaster
The RoRo ferry Herald of Free Enterprise capsized off Zeebrugge on 6 March 1987 and RN Clearance Divers were involved in the search for survivors and the recovery of bodies. In August 2005, BBC producer Karen Wightman asked for help in tracing naval divers involved in the operation to interview for a TV documentary. After obtaining their permission, I put her in touch with MCDOA members Simon Bound and Steve Wild and former FCPO(D) Mick Fellows plus Eddie 'Scouse' Kerr, Pete Still, Ginge Fullen, Mike 'Pincher' Marten, Dave Cowling and Kelvin 'Jess' James. However, when the programme was broadcast on 15 November 2006 it focused entirely on the ship's crew and passengers plus a Belgian SAR diver without mentioning the role of the RN CDs. In November 2006, Simon Long-Price, the News Editor of BBC Radio Kent, asked for help in tracing naval personnel for a forthcoming radio documentary commemorating the same event. I referred him to Karen Wightman and he has since expressed his gratitude for the archived interview recordings and background information he was able to obtain from her.
25th Anniversary of the Salvage of Holland I
Holland I entered service in 1901 as the Royal Navy's first submarine. In Novermber 1913, she foundered off the Eddystone while being towed to the breaker's yard in Wales. On 14 April 1981, her wreck was detected by the Ton class minehunter HMS Bossington and MCDOA member David Sandiford, embarked in MV Seaforth Clansman, was the first to confirm her identity using a CCTV camera secured to a clump weight. The subsequent salvage operation was conducted in 1982 by a team of RN saturation divers led by MCDOA member Duncan Bridge. In February 2007, I was contacted by Bryce Hall who produces TV programmes for The History Channel. He is recording a series about submarine recoveries and wants to feature Holland I in one of the episodes. I have since put him in touch with key players including Duncan Bridge, David Sandiford, Mick Fellows, Mick O'Leary, Colin 'Scouse' Kidman, Ozzie Hammond, Spike Spears, Mark Girdlestone and Mark 'Selfy' Selfridge. As a token of gratitude, his filming director Vincent Lopez is donating $300 to the MCDOA.
25th Anniversary of the Falklands War
Falklands 25 will comprise several events including a Heroes' Dinner with the Prime Minister in the Painted Hall at Greenwich on 14 June to which MCDOA members Brian Dutton DSO QGM, Bernie Bruen MBE DSC and David 'Doc' O'Connell MBE, and former FCPO(D) Mick Fellows MBE DSC BEM* have been invited. There will also be an Imperial War Museum exhibition running 16 May - 31 December which will embrace minewarfare, diving and explosive ordnance disposal aspects of the war. At the request of Victoria Cook of the IWM, I have put her in touch with MCDOA members Neil Holden and Clive Smith of the Minewarfare Training Element (MWTE), HMS Collingwood to arrange the loan of the school's Agentinian 1925 moored mine for display by the museum. I have also forwarded Bernie Bruen's contribution of Falklands War poetry to the Falklands 25 team.
Last week, Lt Cdr Heather Tuppen RNR of Fleet Media Operations asked for help in contacting Falklands war veterans with stories to tell about their minewarfare, diving and EOD experiences. So far, I have put her in touch with MCDOA members Bernie Bruen, Brian Dutton, David 'Doc' O'Connell and Martyn Holloway and former FCPO(D) Mick Fellows. CD Tony Groom has contacted her separately and has already recorded an interview for BBC Breakfast TV. If anyone else would like to be added to the database, please let me know.
HMS Vernon vessels used for Dunkirk evacuation

On 28 January 2007, I received this e-mail from Dave Mallinson in Newhaven:
"Dear Sir,

I am presently conducting research, in co-operation with members of the Newhaven Local & Maritime Museum into the vessels that operated from, or visited, Newhaven, Sussex during the 1939-45 period.
Amongst the list of vessels recorded by the harbour watch-keepers are a number from HMS VERNON and I would be grateful if you or any of your members can help to identify any of these craft or even have photographs that they are willing to share.
The vessels are motor or steam launches (unfortunately the watch-keepers descriptions vary) No's. 1/2/4/5/7 and 10 and they are all recorded as having visited Newhaven during the period 31 May - 7 July 1940. Nos.7 and 10 were there between 31 May and 1 June 1940 so perhaps they were involved in the evacuations from Dunkirk. Any information would be gratefully accepted.
Regards,
Dave Mallinson"
I was able to send Dave this extract from 'HMS Vernon 1930-1955' published by the Wardroom Mess Committee (pp.32-33)
:
"The evacuation of Dunkirk produced intense but controlled activity in Vernon, and every possible boat was manned for the job. The newly-installed loudspeakers in the Wardroom block, now regarded by some as a mixed blessing, were then a great asset. The Commander oscillated between the east ante-room and the hall and called out officers as the boats were reported ready from the pier-head or as requests were received for officers from the Commander-in-Chief. The mess caterer, John Canty, and his storekeeper kitted them up with haversacks of bully beef and biscuits, pusser's dirk [seaman's clasp knife], cigarettes and matches, and with water-bottles and revolvers. Some who accepted a pusser's dirk unwillingly said afterwards that it was the most useful thing out of everything they took. In the hall porter's office was a young Leading Seaman, too young to have even his first badge. He was qualifying for L.T.O. and swotting at his manual, quite unmoved. As the Commander threw messages at him - 'I want to speak to So-and-so' - he put down his manual, looked up the officer's card in the index, dialled his home number, gave the message, and went on reading. At intervals he interrupted his studies to broadcast. A message that would have taken some sorting out without the broadcaster was a signal from the Commander-in-Chief calling for an R.N.R. with an Extra Master's ticket. This was broadcast, and within about two minutes there were six in the hall. The revolving light-tight door at the Wardroom entrance paid for itself that night, as things could be controlled in a calm, fully-lit hall instead of in a windy blackness. Meanwhile, the Chief Routine Officer was collecting crews in Warrior Block in much the same manner.
The establishment was almost cleared. Some manned Vernon's boats and tenders and set off for Dover via Newhaven, some joined the port organisation for manning Dutch skoots at Poole, the Long Course were rushed to the beaches. At the time they were learning Fire Control at Whale Island. They returned to Vernon by boat in the dinner hour and were issued at the pier-head with sandwiches for twenty-four hours and a revolver. Then off to Lee and thence by Albacores to Hawkinge. That evening they were briefed at Dover as beach-masters to take charge of embarkation from the beaches east of Dunkirk. They sailed after dark in destroyers and landed by motorboat soon after midnight, to start a very hectic and strenuous few days. There were some consolations - one or two got a new uniform suit out of the affair and all avoided the Low Power exam.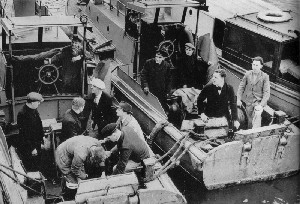 HMS Vernon Picket Boats in WW II
(Manned by Vernon Auxiliary Company under the
First Lieutenant (Lt Cdr J Hext Lewes RN))
Vernon's ratings from Bincleaves manned a Dutch skoot and the mobile torpedo discharge vessel Bloodhound also set out from Bincleaves [Weymouth]. It is difficult to say exactly which of Vernon's power boats got as far as Dunkirk, as the official accounts differ; it seems that at least two did. The longest list gives two diesel torpedo recovery boats, one steam picket boat and two petrol power boats.
Very soon afterwards Vernon, and notably the Long Course again, was involved in the attempt to evacuate the 51st Division from St Valery. A number of demolition parties were instructed and kitted up in Vernon, for despatch to Continental ports. One of the last of these was led by Commander C. D. Howard-Johnston, an A/S specialist who was later to cement the connection by becoming Captain of the Vernon T.A.S. School. His party embarked in the Wild Swan and set off for St Malo with eight tons of explosive. They were invited to find their own way back and were provided with £300 in notes for the journey across (occupied) France. They eventually returned via a very distracted Channel Island.
The collapse of France and the threat of invasion brought the war closer to Vernon's doorstep. At Portsmouth, Vernon was made responsible for a section of the port defences from the Dockyard Main Gate to Clarence Pier. Sentries were re-disposed with a special eye to parachutists. `Pencil' plans were made for destroying the cranes and jetties at Vernon Creek but no charges were ever laid, as the risk from fools meddling and from air raids always remained greater than that of invasion. Vernon's demolition parties toured the south coast laying charges in many piers and jetties. Some of these were at once removed by the military, owing to a temporary misunderstanding."
I also found this extract from 'The Torpedomen – HMS Vernon's Story 1872-1986' by Rear Admiral Edmund Nicholas 'Nico' Poland (pp.166-170):
"...At Ramsgate were the drifters Lord Cavan, Silver Dawn, Fisher Boy, Jacketa and Formidable,under the command of Lieutenant Commander A J Cubison, waiting for orders to recover German ground mines by trawling. They were commanded by Royal Naval Reserve skippers, all fishermen from the Hull and Grimsby deep sea fishing fleets. Each ship had a crew of ten; a mate, a chief engineer, cook, signalman, four deckhands and two stokers. The name Formidable had been reserved for the new aircraft carrier under construction and the name of the drifter was changed to Fidget, much to the annoyance of the skipper.
With the situation at Dunkirk deteriorating rapidly, Cubison was instructed to stand by to assist in the evacuation. Armitage, the second-in-command, was under orders to return to Vernon but he contrived to remain with the flotilla, particularly as it seemed unlikely that the little ships would be able to make more than one visit to the beaches. They had been given the job of acting as ferries between Dunkirk harbour and the larger ships lying in the approaches. At 1630 on the afternoon of 28 May the flotilla, led by the Lord Cavan, sailed from Ramsgate and proceeded at full speed towards Dunkirk where it arrived at 2200. As they approached the flames of burning buildings and ammunition dumps illuminated the night sky. Inside the harbour all was quiet, although wreckage littered the entrance.
As soon as each drifter had embarked one hundred and fifty men from the East Mole, they tried to transfer the troops onto larger ships in the roadstead. In the dark and confusion it only proved possible to transfer a few loads. Cubison decided that it would be best to take the soldiers direct to Ramsgate. The drifters left Dunkirk at 0230 and arrived at Ramsgate without further incident. There the ships were cleaned and refuelled and, with the exception of Lord Cavan which had remained at Dunkirk, the four drifters were ready to sail again at 0500, accompanied by the 80 foot echo-sounding yacht Bystander. They were back at Dunkirk by 1030, by which time many more fires were blazing and the air was thick with smoke from burning oil.
Armitage, in charge of the four drifters and the yacht, was surprised to find no sign of other shipping and, with the sound of small arms fire from the harbour, concluded that the Germans must be in possession of the port. Alongside the East Mole was a troopship which Armstrong approached in the Fidget to get news of the situation. The troopship's electric bells were ringing, there was no sign of life and she was sinking. In the absence of other ships, Armitage decided to lead his little force into the harbour. Securing alongside the jetty, he stepped ashore to find the mole littered with equipment and suitcases but the whole place was deserted, except for the armed boarding vessel King Orry whose crew informed him that there had been a severe bombing attack; the destroyer Grenade had been hit, she was burning fiercely and the sound of small arms fire was caused by her ammunition exploding.
The Captain of King Orry, which had been badly damaged, was anxious to escape but no sooner had she cleared the harbour in the strong running tide than she rolled over and sank. Bystander picked up thirty-two of her crew and with fifty soldiers already embarked, made her way back to Ramsgate. By now the drifters were waiting at the inner end of the mole anxious to embark as many soldiers as possible before the ebbing tide grounded them. There was no sign of life, so Armitage decided to land and find the Army. Before long he found an officer and asked for a thousand men as quickly as possible, but they only drifted down the mole in small parties. The whole business seemed interminably slow. Armitage remarked: "At a time like this knowledge of the Taoist philosophy of indifference is an advantage, nothing more can be done so you are free to sit on the sandbag and stare at the scenery."
After what seemed a lifetime, the loading was completed. Surprisingly, there were no accidents, although it had been necessary for soldiers with full kit to climb down ladders from the top of the mole to the wheelhouse of each drifter. The soldiers, weakened by lack of sleep, could hardly make the descent but the sailors rallied round and the tired men were half rolled and half lifted from the wheelhouse roof to the deck. From time to time bombing caused delays, but the drifters suffered no damage and by 0230 on Thursday 30 May the last ships were away, each carrying 180 soldiers. If it had not been for the unintentional but sustained efforts of a friendly destroyer to sink Fidget, the return journey to Ramsgate would have been without incident. When scarcely a mile out of Dunkirk in the narrow western channel, a fast moving destroyer was sighted dead ahead at no great distance. Since Fidget fully loaded could not make more than six knots little could be done to get out of the way. Armitage ordered a turn to starboard in accordance with the rule of the road, sounded his siren and flashed a light but it was to no avail; the destroyer ploughed down upon her. At the last moment, fearing that Fidget was going to be cut in half, Armitage rang down full speed astern. The destroyer struck a glancing blow with the side of her bow, causing the drifter to bounce down her side. The soldiers remained remarkably calm, except for two who jumped overboard and were later recovered by the destroyer. To Armitage's surprise Fidget suffered little damage but it might have been much worse.
The drifters reached Ramsgate at 0900, where they disembarked their passengers. There was now no time to consider a plan of campaign; each ship began to act independently and by 1800 they had sailed again for Dunkirk where they arrived at 2330. On that last evening of the evacuation Armitage found that the harbour was full of large ships and as it seemed that the drifters might cause confusion, he ordered them to proceed to the beaches. In the darkness and without lights, taking soundings until they were as close inshore as possible, they steamed slowly east as far as La Panne. There was still no sign of life till they were halfway on their return leg when they heard shouting coming from the shore. Fidget anchored and lowered her boat, but having been badly maintained, it filled and sank, but they found and secured an empty skiff. Armitage and one member of the crew rowed ashore where they found a solitary soldier who said there were about forty others nearby. Only seven at a time could be embarked in the skiff and it was a difficult task to relaunch it each time. It was made harder by occasional shells which dropped too close for comfort. The long row back with a strong cross tide running proved too hazardous and Armitage decided to abandon the skiff and to find some more practical way of embarking the waiting soldiers. Fidget was, however, not the only ship of the evacuation force which was in trouble. Armitage soon came upon the Eastbourne beach excursion boat Enchantress which, having no charts on board, had found its way from Dover by following a tug. Her captain kept close to Fidget but Armitage lost sight of her and she was later sunk.
On finding no more soldiers for evacuation during the night, Armitage concluded that the operation was over, but with daylight he met a large motor barge which he asked to stand by and help him load Fidget with troops from the beaches. By 0600, large numbers of men were sighted standing patiently in the water. The German shelling was comparatively ineffective in the area but enemy aircraft made occasional bombing runs. Most of the noise was caused by the pom-pom fire from the destroyers. Armitage kept Fidget in just sufficient depth of water in the ebb tide, sending the barge in on the end of a grass line attached to Fidget's winch. As soon as the barge was full it was hauled off, secured and the men disembarked. The instructions from the Naval Officer In Charge (NOIC) at Ramsgate had been that the drifters should limit their loads to about one hundred men, but by this time Armitage knew that they could carry twice as many and on this occasion he took on the whole barge load which was a little over three hundred. This was undoubtedly the limit and reluctantly he had to send back a number of men who had swum out whilst loading was taking place. Armitage remarked that: "They were amazingly philosophical about it and went back with cheerful comments on the wetness of the water."
Fidget made her way slowly back to Ramsgate, arriving there at 1400 on the afternoon of Friday the 31st. Armitage took pity upon a Colonel of the Highland Light Infantry whom he had found sitting drying out his trousers. He took him to the wheelhouse and gave him a tot of whisky. A year later Armitage ran into him again, by which time he was a Brigadier. He told Armitage that the wife of a brother officer who had been on board had had a daughter shortly after returning and had insisted on her being christened Fidget. It was as well that the drifter's name had been changed from Formidable!
Fisher Boy, Jacketa and Fidget were ready again for another trip to the beaches, and at nine o'clock next morning they were away again. Silver Dawn had dropped out with a smashed propeller, having lost a blade on some wreckage in Dunkirk harbour, but the skipper had managed to get her back with over three hundred men on board. In addition to the three drifters, Armitage had collected three large motor boats commanded by Royal Naval Reserve officers. By now the drifters had perfected their method of embarkation using grass lines; and the new officers, who had not been to the beaches before in their boats, were instructed in their use. Things turned out differently. Ten miles short of Dunkirk, the drifters came upon a large troopship, Scotia, lying on her side and burning after five direct bomb hits. A destroyer which had gone alongside signalled the drifters to close in, but as they approached the wreck the German aircraft returned to machine gun the troops in the water, most of whom were French. The drifters set about picking them up, the ships' companies jumping onto the upturned boats and wreck­age to pass lines around those of the wounded who were unable to help themselves. When the last survivor had been recovered the drifters returned to Ramsgate in company with the homeward bound evacuation force. The journey was punctuated by attacks by enemy bombers, but their bombs fell harmlessly into the sea.
The heroic action of the Vernon drifters was now at an end. The official figure of troops brought off by the four vessels was four thousand and eighty-five. The record for a single trip was held by Silver Dawn with three hundred and twelve. Lord Cavan, which had stayed in Dunkirk was sunk by shell fire, but Cubison and his crew returned safely. The crews had acquitted themselves tirelessly and gallantly under trying conditions, even though towards the end they had found difficulty in keeping awake. There had been no time for relaxation as, despite the calm weather, there had been a great deal of sickness amongst the soldiers so that when in harbour the time had been spent in cleaning ship, refuelling and carrying out repairs. Throughout the whole operation the crews remained keen for another trip, none more so than the cooks who succeeded in producing tea and food for the majority of the soldiers. This meant victualling over one hundred men from a galley equipped for twelve. Vernon could be rightly proud of its drifters and their crews. Cubison, Armitage and the skippers had shown that their skills were not confined to the business of mine recovery, and the seamen had shown a great deal of ingenuity in adapting the meagre resources available to the task of evacuating soldiers from the harbour and the beaches at Dunkirk.
The fall of Dunkirk was followed by an attempt to evacuate the 51st (Highland) Division from St Valery. Craft from Vernon were involved in this operation on 11 and 12 June 1940 but fog intervened and, before the ships could make the harbour, the Germans had reached the cliffs to the south and the beach was under direct fire. Now all that was left was for Vernon demolition parties to visit the remaining continental ports to destroy stores and dock installations. A party under Commander CD Howard-Johnston, a future Captain of Vernon, embarked in the sloop Wild Swan for St. Malo with eight tons of explosive. After completing their demolition tasks they escaped via the Channel Islands just ahead of the advancing Germans..."
If anyone has any more information or photos of the work of these vessels, please contact me. Armitage, of course, was to become Lt Cdr Robert Selby Armitage GC GM RNVR who was awarded the George Cross for disabling land mines in September and October 1940. One of the mines he dealt with was hanging from a tree at Orpington, Kent and could only be reached from a ladder which offered no chance of escape if the fuze had been activated. On another occasion he heard the clock ticking and was only 30 yards away when the bomb exploded. In spite of this he returned with undaunted bravery to carry on with the same work next day. He was awarded the George Medal for mine disposal work at Corton Sands, Suffolk on 15th June 1942.
---
Peter Dick of the Historical Diving Society has asked for help in identifying the diving set shown in the picture above. It is being worn by ex-RN diver Sydney Knowles who now lives in Spain.
Attached is the picture of Syd at Tobermory in 1950. Is he wearing an old style SABA? I see what appears to be a corrugated tube coming out of a counterlung on his left shoulder.
I had a good look through Deep Diving and there was an early twin-hose apparatus but, although Davis omits dates, possibly for commercial reasons, it seems to have been pre- or immediately post WW1. The nearest I can come to the gear Syd is wearing is the Proto Gear, as best illustrated on page 467 of Deep Diving (dated 1946), which even appears to have a face mask attached. The Proto Gear was for irrespirable atmospheres or 'could be used underwater'. Davis of course does not give a hint of when the Proto gear first came into use, only a patent search would reveal that now.
Syd has since told me that the picture was dated 1950, which means that he could not have been using a neoprene hood, as neoprene did not kick in until the late 1950s - unless the military had access to the technology much earlier than the rest of us, which I doubt. My bet would be on a neckseal and a tight fitting woollen or other cloth hood. Pre-neoprene I remember even making a hood of old dingy material and friends coated woollen Balaclava's with latex, for winter diving.
Given that Syd is correct in his 1950 dating (he says he went to Tobermory in 1950, 1954 and 1958) the next question has to be, when did the neck ring and seal first come into use? I believe Syd was sent up to Tobermory by the Navy, so he undoubtedly had access to up to date gear (but not the re-breathers it would appear).
The whole thing gets more interesting and it seems to me that I should maybe ask the HDS membership in the next issue, someone may just be able to ID the gear straight away.
Regards to all
Peter Dick"
Sydney Knowles served with Cdr Lionel 'Buster' Crabb in Gibraltar during the Second World War and worked with him long afterwards. During the summer of 1954, Buster Crabb (along with Sydney), was engaged by the Duke of Argyll under the overall direction of Rear Admiral Patrick Vivian McLaughlin CB DSO (Senior Naval Member and President of the Ordnance Board until 1953), in an unsuccessful attempt to locate and salvage a Spanish galleon, believed to be the San Juan Baptiste, in Tobermory Bay. This picture was taken at the time. Interestingly, a group of 27 photographs documenting this expedition was sold at auction for £90 in Edinburgh in May 2005. Naval divers from HMS Vernon had undertaken a similar expedition in 1950 but had only recovered a few artefacts. It is intriguing that the RN Diving magazine's account of this previous expedition did not divulge the names of the individuals involved "for security reasons".
---
From John Bevan:
"Rob,
Thanks for the e-mail. It's definitely not Salvus but I will need to make further checks.
John"
---
From John Grattan:
"Dear Rob and Peter,
Your photograph is more than just interesting because there is such a lot of mixed equipment. For what reason perhaps you will let us all know.
I think the basic set is the old Davis Submarine Escape Apparatus [DSEA] with some funny additions at the bottom. He is also wearing a neck seal which must have been one of the first and a neoprene hood which was probably self made. When I was on the '58 CDO course the C Type hood was standard equipment. One could only get a neck seal by saving the clamp band from a torn version and taking it down to the Rubber Dipping Section next to E.C.D.U. in the corner of Vernon. I wish I could remember the name of the ex-Gunner T who did it - super fellow. You had to make your own neoprene hood.
Hope this helps.
Yours,
John"
---
More from John Grattan:
"Dear Peter and Rob,
I am pretty certain that Syd was with the team lent by the Navy to the Duke of Argyll [grandfather of the present Duke] to find his galleon. The team was under the command of Buster Crabb, with whom I later shared a yacht, and his No.2 was John Crawford who was one of the holy triumvirate who founded the Branch. Sadly they found nothing at all but had a lot of fun.
We are now working up there at last. I found the deck over the stern section on 5th September 1975 and it has taken all this time to achieve the salvage contract with the present Duke of Argyll, raise the money and start work. There must be some prize for persistence - 31 and a half years from certain find to start of salvage!
Back to Syd and his gear. On further examination I am pretty sure his set is the DSEA as I used one at Manoel Island diving school in 1957 (yes, Peter, '57 not '67 when you and I met). I am also sure that the USN had neoprene in the early 50s.
---
From Brian Braidwood:
"Dear Rob,
My best estimate would be some version/development of the Siebe, Gorman Amphibian Mark II, or the 'P Party' Mk 1 or Mk 2 equipments shown in 'Deep Diving and Submarine Operations' (Robert H Davis). They all have two flexible hoses, apparently to and from the CO2 absorbent canister. Harry Wardle's book doesn't help as he was in Hong Kong during 1954.
I would be interested in any other replies.
Best wishes,
Brian B."
---
From Peter Cobby:
No doubt you will get lots of replies from the elder brethren but I'll stick in my two penn'orth just in case.
It is not salvus. I think it is what we called the frog set. It was an oxygen rebreather with two counterlungs and the CO2 canister was between the breathing bags. The ones we had in Lochinvar were phased out with the introduction of CDBA in about 1952. I could be wrong, it was a long time ago and I can't remember what I had for breakfast yesterday.
Tell Doug Barlow I was sent his cutting in The News. I didn't realise he was a sick bay ranger?
---
From Michael 'Shiner' Brassington:
"Rob,
I was a pump attendant in 1953/4 and never saw any but standard and gas mask diving. In late 1954 I started CD3. At no time did this gear appear. In 1955 I was doing trials on the prototype SABA. This over-engineered crap (3 bottles) was dangerous. One set packed up at 70 feet and I had to tow Joe Brooks to the surface. I read his horoscope about buddy signals, which was allowed if you didn't drown! Davis was one tube. This looks like a private 02 trial on demand.
Ask John Grattan, he's ancient.
Cheers,
Shiner"
---
"Rob

It's nothing like the Salvus that I remember. That only had one hose to the soda lime canister - that's if my memory still serves me correctly! It is possibly foreign - Draeger?

Mike

"
---
I knew that I had a photo somewhere of a two hose breathing apparatus, I just had to relocate it. I purchased this at the Imperial War Museum somewhere around 1954 according to what I have written on the back. I believe it to be a Dunlop Mk IV. There are similar side-on pictures on page 194 of Robert Davis' 'Deep Diving and Submarine Operations'
I hope that this throws a little more light on your recent query from Peter Dick regarding Knowles and his equipment.
Dave (Mona)"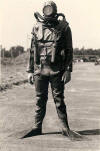 Dunlop Mk IV Diving Dress

Well done Mona.

This is identical to the set worn by Sydney Knowles in the picture at the top of this article. In my own issue of Davis'

Deep Diving & Submarine Operations

Parts 1 & 2, (Fifth Edition - 1951), the side image of the Dunlop 'Frogman's equipment' appears on page 314.

---
From Morty Drummond:
In case it may be of interest, a propos the discussions on 'Frogmen's' equipment, I think the set worn by Sydney Knowles was probably one of the earlier sets used by Frogmen. When I did my CD course in May 1950 I was trained in three types of equipment by Lieutenants Crawford and Gutteridge.
1. The 'Frog' set was like the one shown as The Dunlop 'Frogman's' equipment - Fig. 298 in Sir Robert Davis's 'Deep Diving.' The protosorb was in a cylindrical canister behind one's neck with the green rubber breathing bag on one's chest and the oxygen cylinder below it.
The dry suit - wet suits didn't really come in for the RN until about 1959 or later - had a neck ring and clamp to secure the c-type hood which had a hole for the face. (Having a rather thin face I hardly ever had a dry dip!) The face mask was separate with the mouthpiece in it. Neck seals were not in use until some years later although Buster Crabb always used one - which made me think that it WAS his body that was found on Hayling Island.
Once when I was swimming with a Frog set in the Caledonia swimming pool under the supervision of John Crawford, I came up and said I couldn't breathe. Being John, he told me to go down again. After a short time I had to come up again. On the third occasion John had a look at the set. There was no protosorb in the canister! I had just been building up CO2 in it. This was a good lesson in what can happen if one doesn't prepare one's own set.
2. The P-Party equipment - known as 'Clammy Death' - was entered via the stomach, after which the rubber 'tube' was rolled up and clamped. The gas cylinders were filled with appropriate oxy-nitrogen mixtures for the depths involved. Hand booster pumps were used to transfer the gases from large cylinders. See Fig 290 in Sir Robert's book.
3. The RMS [Rendering Mines Safe] Set was non-magnetic and had a helmet fairly similar to the Standard helmet, but the gas supply was carried on the back - Fig 289. [See photos in entry for 20 Mar 07 above]
Hope you had a good break,
---
Your Very Own Minesweeper
MCDOA member Bob Hawkins, currently on exchange with the US Navy at Corpus Christi, has spotted this advertisement for the former inshore minesweeper USS Cape, a snip at only £149,931. Now, if each MCDOA member forked out £500......

---
1 Mar 07 - Navy News Items
The following MCD-related items from the March issue of Navy News include:
---
27 Feb 07 - New Personal Update
The Members Only area contains an update from Brian 'Jumbo' Jervis in the USA.
---
24 Feb 07 - Members' Requests for Help
I do not normally publish commercial notices but am making an exception for this appeal from MCDOA member Paul Raisbeck because of its specific relevance to our membership:
"Rob,

I have a request. I was called today by a friend in Flagship who is urgently seeking a team leader to head up their Estonian Navy training team and wondered if you could help by sending out a missive to the clan?

The requirement is for a suitably qualified Team Leader (qualification not stated but I would expect either CO level or very experienced and competent XO level) to lead a team of four training staff. The immediate task is to conduct two weeks' duty watch training, followed by a handover period and then two weeks' sea training - all in the Rosyth area (weekday only, no weekend work). The ship will then go on to BOST o/c.

There is an urgency behind the request as they'd like the Team Leader to be in place asap, or by 2nd April at the latest. They're happy, therefore, to look for either a short term fill in or, ideally, someone who could then stay on and continue the process with the following ships. So, this could be taken on as a stop-gap for a few months or expand to about one year with the potential to continue into the future Saudi projects - all depends on the individual's wishes.

I'd appreciate it if you could spread the message to anyone (or everyone) you know who might be able to help and ask them to contact me direct - ideally by telephone 01489 877 557, 07899 661166, or via email paulraisbeck@actioncoach.com.

Many thanks, Rob,

Regards,

Paul"

---
I have also received this request from MCDOA member Topsy Turner in New Zealand:
"Rob,
I have been asked to do some research on Lt A N Lewis RN, a commissioned Gunnery Officer who was the first officer appointed to the new RNZN Diving School when it opened in 1953. The Instructor was CPO W Short (a New Zealander) who trained on board HMS Reclaim. Would you be able to throw any light on this story please?
Lt Lewis RN (retd) lives locally in Auckland and is approaching 90 years of age. Our Chief Of Navy is keen to recognise his contribution to RNZN Diving before it's too late!
Everything else is going really well thanks and life down under is as sweet as ever it was.
Aye,
Topsy
"
Can anyone out there help Paul or Topsy?
---
22 Feb 07
Funerals of Alf Wannerton and Peter Anderson
Alf Wannerton's funeral (see entry for 17 Feb) will take place at Chichester Crematorium at 1230 on Monday 5 March.
Peter Anderson's funeral (see entry for 19 Feb) will take place at Portchester Crematorium at 1330 on Tuesday 6 March with a reception afterwards at the Royal Naval Club & Royal Albert Yacht Club (RN & RAYC) in Old Portsmouth.
---
US Navy to Buy Archerfish
The following item from today's Portsmouth News describes the US Navy's intention to buy BAe Systems' Archerfish mine disposal system:

---
21 Feb 07 - German Minehunter runs aground off Norway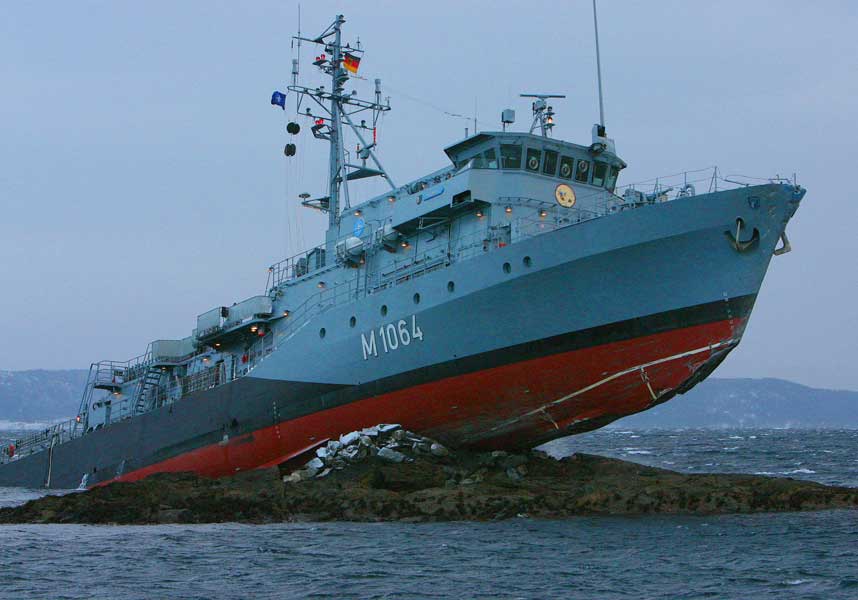 German minehunter Grömitz
aground off Norway
This photo shows the unfortunate state of the German Frankenthal class minehunter FGS Grömitz after running aground at Florø off Norway in the early hours of this morning, reportedly during a snowstorm. Before anyone indulges in too much schardenfreud, remember that HMS Grimsby nudged the edge of a Norwegian fjord in February 2006 and is still undergoing repairs at Rosyth.
---
19 Feb 07 - Diver Down - Former PO CD3 Peter Anderson
Troy Tempest, the Secretary of the Association of RN First Class Divers, informs me that former CD Peter Anderson died this morning at home in Southsea after a rapid decline in his health. After retiring from the Royal Navy in 1959, Peter was the successful proprietor of Peter Anderson Sports, later Southern Sports, in Elm Grove, Southsea and gave substantial discounts to Royal Naval personnel. He sold up some years ago and spent much of his time cruising in his 47 ft yacht. In 2002, he flew back to the UK from Augusta, Sicily specifically to attend the weekend celebrations marking the 50th anniversary of the CD Branch. Our thoughts are with Peter's widow Sue.
---
From Colin Wilson in New Zealand:
"Pete left the Navy as a PO CD3 in 1959 then went to work as a civil diver in Bahrain and Malta before starting a very successful career as a sports shop proprietor in Southsea. Pete and I were best mates during his commercial diving days during 1959 to 1961 and what days they were. Rest in peace Oppo.
Sincerest condolences to his many friends and wife Sue.
Margaret and Colin Wilson (ex-CD3 1955 to 1959)"
---
17 Feb 07 - Diver Down - Former CD3 Alf 'Wanny' Wannerton
Tony Phipps has passed me the following information:
"Hi Rob,
Yet more sad news I'm afraid. Alf 'Wanny' Wannerton, another old buddy, died this afternoon following a short illness after suffering a stroke last Tuesday. I will send details of the funeral when known but I expect a ceremony will take place at Portchester Crematorium near Portsmouth.
Information is rather scant as I only got to know the lad when visiting him at Haslar after he had his spinal bend while doing deep diving trials in Norway in late 1962. This resulted in paraplegia and he was confined to a wheelchair thereafter. Naturally, this ended his usefulness to the RN as an AB CD3.
I do know his father carried on the family tradition of farming somewhere in Cambridgeshire. He married his wife Mary in 1968, a great girl he met in Scotland while serving in HMS Brenchley (I think). She presented him with two daughters, Katrina and Julie. His ill fortune didn't end with his disablement. After a prolonged illness in 1987, Mary died from a brain tumour. He then moved to a sheltered accommodation bungalow in the small village of Lindford near Bordon until a year ago when he was hospitalised after suffering a breakdown on being diagnosed with prostate cancer and diabetes. On discharge he entered a care home in Clanfield where he remained until his death yesterday.
I'm not sure when he joined the service; early 1950s, I think, qualifying as a CD3 in 1955. I do know he served in the Far East Fleet team when the late Arthur Checksfield was the boss.
Sorry I cannot provide more specific details. We were friends for many years but never really felt the need to dwell on our various misfortunes.
Yours aye,
Tony"
I am sure all members would wish to express their condolences to Alf's family, friends and former colleagues. Unfortunately, I will be away for the next few days and may not be able to publish details of the funeral in time. However, they should be available via the RN CD website in MSN Groups.
---
16 Feb 07
MCMV News
The RN website contains this article about a visit to Bristol by HMS Ledbury and focuses on MCDOA member Steve Gobey, a former CO of Ledbury, and his son Richard who is a Sub Lt RNR based at HMS Flying Fox. The RN website also contains this article and this article describing how HMS Ledbury is in Bristol to help commemorate the 200th anniversary of the abolition of slavery in the United Kingdom. HMS Cattistock will perform the same duty during a visit in March.
The RN website also contains this article about a visit to HMS Hurworth by Lady Halifax, the ship's sponsor.
---
CPO(D) Richard 'Dicky' Viney's Funeral
Troy Tempest, Secretary of the Association of RN First Class Divers (AORNFCD), and I attended Dicky's funeral yesterday at Portchester. Other RN divers present included MCDOA Treasurer Tug Wilson and WO(D) Tim Sizer (both in uniform - thanks chaps) plus AORNFCD Chairman Don 'Jimmy' Green, Albert Chapman and one or two others I regret I didn't recognise.
During a very dignified humanist ceremony, the Minister paid glowing tribute to Dicky's naval career, his second career in Brunei and Oman, his love of diving, his zest for life and his devotion to his family including his wife Eunice, his sons Shane (ex-RN) and Lee (ex-MN), daughter Tracey and his many grandchildren and great-grandchildren, especially latest arrival Lacey-May. Featured music included 'Amazing Grace' (to which Dicky and his wife Eunice danced the conga on first meeting in Plymouth on New Year's Eve 1972), 'Danny Boy' and 'We Are Sailing'.
We had food and a couple of bevies afterwards in the 'Spotted Cow' at Cowplain (Dicky's local) where everyone shared happy memories about him and caught up with each other's news. All in all, Dicky was given a good send-off to that great Supervisor in the sky. Dicky's son Shane has kindly provided this photo of his father in action as a diving supervisor in Hong Kong during the mid-1970s (note the old style SABA) with what appears to be HMS Beachampton in the background. The divers are Yorky Knowles (left) and John Waller (right).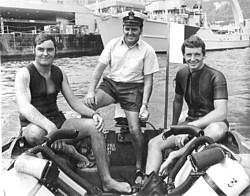 Richard 'Dicky' Viney
4 May 1937 - 7 Feb 2007
---
14 Feb 07 - MCDOA Northern Dinner 23 Feb 07
Stu McAlear reports that the Northern Dinner at Faslane on Fri 23 Feb is undersubscribed compared with last year, mainly because of the absence of MCM squadron staff and ships on deployment. FOSNNI is the principal guest so please contact Stu if you can help bring up the numbers. The calling notice and booking form are available via the 'Upcoming Events' page in the Members Only area.
---
12 Feb 07 - Diver Down - former CPO(D) Richard 'Dicky' Viney
Troy Tempest, the Secretary of the Association of RN First Class Divers, has sent me the following announcement:
"I have the sad duty of informing the members of the Royal Naval Diving community of the death of Dicky Viney who died last Wednesday. His funeral will take place at Portchester Crematorium at 1030 on Thursday 15th February with refreshments afterward at the Spotted Cow in Cowplain."
I have since received this e-mail from Dicky Viney's elder son Shane, currently in Ireland:
"Dear Rob,
Thank you very much for your prompt reply and the posting of the announcement on your web site.
I am afraid I do not have a lot on my father's career history as we were not in touch for many years. He was just three months short of 70 having been born on 4 April 1937. Sons Shane & Lee, daughter Tracey and widow Eunice.
He was a boy seaman circa early 1950s. The option to join the Royal Navy was given to a very young Richard Viney by a Hampshire Judge! This was a choice he never regretted to the end. By or before 1959 he was a PO Diver. In 1961 he was based in Malta where my younger brother was born. Our sister came two years later back in Hampshire. He was also based in Oman, Hong Kong and Brunei and was involved in the withdrawal from Aden as part of the demolition team. By the time I joined the RN in 1975 he had been a Chief for many years. I am not sure exactly when he left the service, I think he did his 5th five plus.
He married Eunice in 1973. On the second day of their honeymoon he announced he was going back to work - "There's a job on." Eunice knew then where she came in the pecking order and assumed the No.2 position until he retired.
I would be more than happy to buy you a beer at lunch time in the Spotted Cow after the service on Thursday.
Thank you for your kindness,
Shane"
Whether you knew Dicky or not, let's see a good turnout from those living in the Portsmouth area. He was one of our own cloth.
---
11 Feb 07 - Australian CD Reunion Follow-Up
Dave 'Mona' Lott informs me that Ian 'Macca' MacNamara's 'Australia All Over' ABC Radio interview with former RAN MCDO Doug 'Pony' Moore GM BEM (see second entry for 9 Feb) and his wife Georgina is now available online via this link. It starts about 18 minutes into the 8am to 9am (AEST) segment and continues, with periods of music and other interludes, until about 10am.
MCDOA member Jake Linton has sent me this link to his own photos of the Ulladulla reunion.
---
9 Feb 07 - Bridge Building Renaming Ceremony at Horsea Island
The following article from today's Portsmouth News describes the formal renaming of the Bridge Building (formerly Reclaim Building) at Horsea Island last Monday (see entry for 6 Feb) and features MCDOA member Bernie Thompson, CO of the Fleet Diving Squadron:

The Ministry of Defence website contains this article about the renaming of Reclaim building and the Royal Navy website contains this article.
---
Australian CD Reunion
Former Royal Naval FCPO(D) Dave 'Mona' Lott has kindly contributed the following account of a CD reunion held 'down under' this week: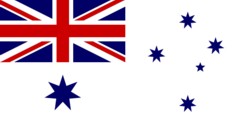 AUSTRALIAN CD REUNION AT ULLADULLA
"Gentlemen,
I have the honour to submit the following report.
I consider myself highly privileged to have been invited to a Royal Australian Navy Clearance Divers' reunion this week. The story behind the reunion is as follows:
In 1969 a team of ten RAN CDs was despatched in the RAN vessel HMAS Banks to Port Lincoln in South Australia. Their job was to clear ammunition that had been discovered by a local abalone diver. Apparently this ammunition had been ditched in far shallower water than had been intended and covered a considerable area. The job took nearly four months to complete and gave rise to some exciting moments accompanied by others that were of a hilarious nature, all of which aided to bond the team into a highly compatible unit, led by their Officer-in-Charge Pony Moore. Friendships made were forever ongoing.
When a couple of these team members found out that their MV Banks had been discharged from the RAN and was now working as a diving and fishing charter vessel out of Ulladulla Harbour on the South Coast of New South Wales, they decided to investigate the possibility of holding a reunion of the personnel involved. Team member Col Darling became the chief organiser and undertook to contact all those formerly involved. Because of the distances concerned, and realising that those involved would have much to talk about after 38 years, Col decided to turn the gathering into a mini-holiday covering several days, and then commenced the organising. Much to Col's surprise all of the original divers were still alive and were fully supportive of his proposal. When wind got around of what was happening, several other ex-RAN CD branch members wished to be included in the mini branch reunion. Altogether the gathering finalised at a total of 32 including accompanying wives. Some of these were to travel vast distances to attend, ranging from Tasmania and Western Australia to many parts of Queensland and NSW.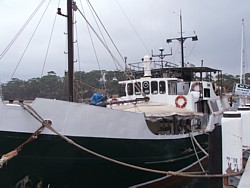 MV Banks as she is today
Col's organising ability allowed the following programme of events.
Monday 5th February
1800 - After most of the guests had arrived we all met in the Ulladulla Ex-Sericemen's Club, for the initial "meet and greet" and to have Col outline his arranged programme of the events occurring during the next couple of days. Yarns, copious amounts of drink and an evening meal whittled away much of the next few hours.
Tuesday 6th February
1000 - We all met for coffee, etc, in the lounge of the Mollymook 9-hole seaside golf club with super views over the sparsely populated golden sandy beaches of Mollymook and up to Jarvis Bay in the northern distance.
1800 - A visit with sea time on board the MV Banks commenced with an initial on board sumptuous seafood snack of locally caught huge prawns, squid, oysters and pieces of selected fried fish for which Ulladulla is famous, and this was just for starters. We then set sail for a one hour cruise around the bay, more than sufficient sea time for me, and accompanied by a pod of resident dolphins. When we returned to the wharf, we were supplied with the main meal of further seafood and snags (bangers to you), steaks and chicken on sticks and all the trimmings. There was a well-stocked bar and the captain of the Banks was kept extremely busy serving all manner of drinks to the thirsty throng. MCDO Pony Moore showed his prowess at rendering bombs safe for the benefit of the gathering as part of his hilarious short presentation of why he was the OIC of the Port Lincoln ammunition clearance.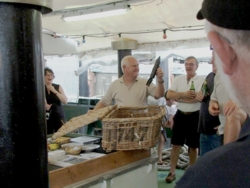 Pony Moore providing an EOD demonstration
It was late at night before the last guests departed from the Banks! Some hilarious tales were recounted by the original perpetrators of the reunion and these were recorded by a surprise visitor, a very well known Australian Broadcast Corporation Radio programmer known as Macca (Ian MacNamara). He broadcasts on Sunday mornings in a well loved programme called "Australia All Over" listened to by an audience of millions. Ian's recordings are to form a part of his programme and will be spread out over the next few weeks. Hopefully, I may have persuaded Ian to complete one of his future programmes from Eden, my small but utterly lovely seaport about four hours drive further down the south coast.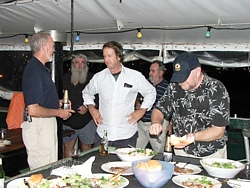 CPO(CD1) Fred Cowmeadow chatting with
ABC Radio broadcaster Ian 'Macca' MacNamara
Wednesday 6th February
1000 - Nine holes of seaside golf were arranged at Mollymook for those who felt up to it. I caddied for Charles LeSueur who qualified the same year as myself but Charles was on the 1955 RAN CD course, the first to be run. Charles played against Jake Linton who qualified on the same course and then went on to become a Commander Mine Clearance Diving Officer. It was via Jake that I had received my very kind invitation to attend this reunion.
1830 - After the golf and a rest, another splendid formal farewell meal was held in the function room of the Ulladulla Bowling Club with all of the attendees and their wives. Many photographs were taken in front of the centrepiece that was a 6-bolt Admiralty Pattern copper steamers hat, supplied for the occasion by Eric McKenzie the NSW Secretary for the RANCD Association who had also spent much of his time distributing RANCD memorabilia. I received a DVD that portrayed the training and current expertise of the modern RANCD branch. Having now sat and watched this quite thrilling DVD, I also have the honour to report that yours truly would have probably failed the rigours involved in qualifying CD today. Funnily enough they actually found a mud patch to do runs similar to those found at Horsea Island in the UK but is it also a requirement for the Australian Clearance Diving Instructors to have their hearts removed as well?
The video does, however, display exactly the same pride in the wearing of the CD badge as I remember from my days in the RN and I am sure exists with the RN members today; truly a "Brotherhood". One very small point of order, Ian. In the film, it didn't look like a non-magnetic hammer and chisel being used by the CPO CD1 to work on the mine on the beach!
Thursday 7th February
It was in rather a quiet mood that I drove quietly south to my homeport of Eden. I had all the events so clearly in mind, and a lot of new acquaintances made, and with more than a few recollections of my happy times in the RN revived. What a pity it is that all good things have to come to an end eventually! I must say that I went to this gathering with more than a little apprehension of how a lone Pom would be received as an interloper (my wife Jackie has a bad back and was unable to travel) especially after England's recent degrading fiasco in the Ashes series. I was treated with an absolute welcome and made to feel like one of their own. Thank you one and all for your very kind invitation. However, should you decide to repeat the exercise could you please reduce the intervening interval from 38 years as I have a strong feeling that I will probably not hold a driving licence at the age of 108.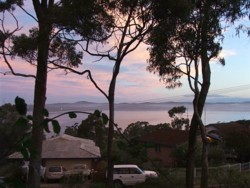 Sunset in Eden, NSW
Regards to all
Yours aye,
Dave (Mona) Lott, ex-FCPO CD1 (RN)"
According to the Bubblies' Bugle on the RAN CD Association's website:
"Ian McNamara (Macca) from the ABC radio program, 'Australia All Over' spent a couple of days at the recent CDT 1 reunion at Ulladulla. Plenty of interviews were recorded with various ex-Divers. Macca will be broadcasting these interviews over the next five Sundays beginning this Sunday 11th Feb. Pony Moore will be in the ABC studios this Sunday for the first broadcast."
For those unable to listen to these broadcasts live, the previous week's 'Australia All Over' is available online via this link. Each weekend, the current recording disappears and the latest show appears. This means that this Sunday's programme featuring former RAN MCDO Doug 'Pony' Moore GM BEM (who qualified on the RN SD MCD Course in the UK c.1966 with fellow Australian and MCDOA member Jake Linton BEM) should be available on the internet soon after the live broadcast.
Pony Moore has quite a history. He was awarded the BEM as a Petty Officer in 1961 for his part in a hazardous diving operation undertaken by the RAN for the Snowy Mountains Authority at Lake Eucumbene. In 1964 he was awarded the GM, also as a Petty Officer, "in recognition of his brave and distinguished conduct when HMAS Voyager was sunk after collision [with the aircraft carrier HMAS Melbourne], in assisting the survivors to evacuate the sinking ship, and in rescuing an unconscious man in the water, and for leadership and devotion to duty in organising the boarding of life-rafts and taking charge of life-rafts containing survivors in great adversity."
Just as a reminder, Dave Lott BEM's book about his experiences as a Clearance Diver in the Royal Navy 1955-76, A Corkhead's Chronicle (ISBN 1-84683-001-X), can be purchased online from Woodfield Publishing and costs £15.
---
8 Feb 07
Minewarfare, Diving and EOD Rolling Briefs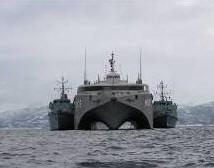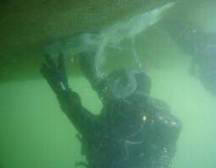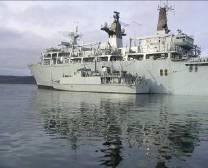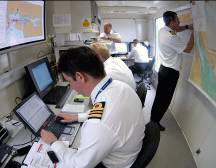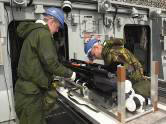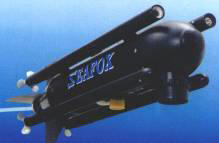 I am obliged to MCDOA member Martin Mackey for sending me a copy of the current Royal Navy MW, Diving and EOD Rolling Briefs with permission to publish it on the website. It contains this foreword by Captain Colin Welborn Royal Navy, MCDOA Chairman and Captain Minewarfare & Patrol Vessels, Diving and Fishery Protection (CMFP):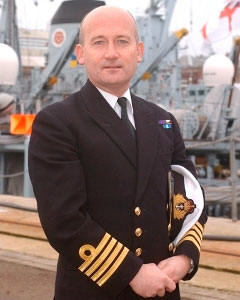 "The Minewarfare & Diving Magazine has, historically, been a vehicle for keeping you up to date on developments in the community. However, having written a stimulating introduction for the magazine last year I discovered that its publication had been cancelled and that it will be incorporated in the Warfare Officers' Newsletter out in late 2007. Given that it seems to take a year from writing an article to seeing it in print, by which time it is irrelevant, I have decided to take a more direct approach. The documents that accompany this are effectively a rolling brief for you to pass on, particularly downwards. Never mind the supposed gloom in the national press, these are exciting times for the MM/PP community. So, what follows is where we are to-day and in the near future. We live in changing times but remember that extinction is part of evolution. It has never been about the fastest or strongest surviving, it is about those who can adapt. We all have to accept that we live in turbulent times and get on with doing our day job to the best of our ability. The reality is that many of the big decisions do not really have an immediate impact on most of us so please do not spend time worrying about things you have no influence over.
I would like to remind you (courtesy of ACNS) of what Lord Carrington wrote:
'All one can do is one's best with the limited resources the country reckons it can afford, keep one's word to allies, and be as ready for the unforeseen as can be managed. Defence is seldom about logical deductions from provable assumptions - it would be easier if it were. It is more a matter of making and mending and being careful with the margins.'
So, whilst the Navy Board put their efforts into the equipment programme, modernising personnel policies and structures, and redirecting resources from 'tail to teeth' I would ask you to continue to put your efforts into the tactical level: delivering happy, efficient operational units. Above all else please look after your people, a 'sound bite' I know but I still come across examples where with a little thought an individual might perceive his personal circumstances had been taken into account. At the end of the day we all get 'drafted' or more correctly under JPA: assigned! It is not a question of being 'soft' but a matter of caring for those who give us their commitment because that is how value is really added.
Please find time to share these briefs with your Teams and also make time to reflect with them how much has been achieved in the past 12 months. It ranges from the success of HURWORTH's Mediterranean deployment to the continued presence in the standing NATO Forces coupled with all the routine but vital work of the Fishery Protection Squadron and the Diving Units which goes on 24/7. This year will see a return to 60 metre diving with the introduction of the CDLSE and trials of the NATO Submarine rescue system. REMUS is here and needs to be really tested if we are to be truly innovative. The extension to the River contract and their involvement with MSO is a unique challenge. The AINTREE deployment has put the community back in the van of operations and should be seen as both relevant and enduring plus ORION looms large. Oh, and by the way JPA went live, branch changes have happened, etc, etc. Transformation together with LEAN should be seen as an opportunity so long as individuals have reasonable work-loads. I must say that 'buzzes' about the demise of Flotilla staff are very premature and fuelled by a level of ignorance about what we actually do that surprises me, but we are on the case!
I am under no illusions that the way we conduct business has changed dramatically. If all this is not stimulating enough for you then volunteer for an Op tour in Iraq or Afghanistan or to join HMS CLYDE. There are many areas I have not covered which are part and parcel of daily business, FOST and MWS to name but two, whose fine work we ignore at our peril. Equally, I appreciate much is from the 'rosy' end of the spectrum but we need to be the eternal optimists, not just about the present and immediate future but about delivering when H hour arrives. Finally, I am particularly grateful to busy desk officers for their support in providing these briefs. I am delighted to receive positive feedback."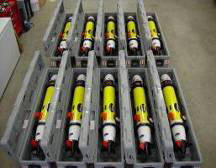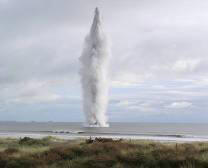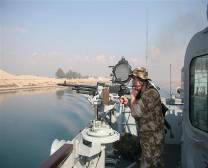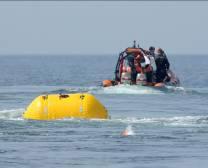 The Minewarfare, Diving & EOD Rolling Briefs for the Spring Term 2007 are available via the Home Page of the Members Only area.
---
It's a Small World
Last night, I was among a group from the Nautical Institute's Solent Branch which visited HM Coast Guard's Maritime Rescue Sub-Centre (MRSC) at Lee-on-Solent. The Watch Officer in charge of the Operations Room was Nigel Guyll who not only served as a PO(M) in HMS Middleton during his time in the Royal Navy but is also the father-in-law of MCDOA member Andy 'Sharkey' Ward, currently running the Northern Diving Group at Faslane. I have since discovered that ex-PO(D) Garry 'Bob' Campion is also stationed at Lee-on-Solent but he was not on watch during our visit.
Sharkey's father-in-law Nigel Guyll in charge of
the Ops Room at the CG MRSC, Lee-on-Solent
---
7 Feb 07 - Update on Clearance Divers' Life Support Equipment (CDLSE)
In his role as the Superintendent of Diving, MCDOA Chairman Chris Ameye has asked me to publish the following announcement about the procurement of CDLSE, the replacement for the current Clearance Diving Breathing Apparatus (CDBA), for the benefit of all RN Clearance Divers:
"As you will be aware, there is much speculation surrounding CDLSE at the moment. After consultation with the UWS IPT (Underwater Warfare Systems Integrated Project Team), I am now in a position to update you on the current situation. As a result of the successful tender assessment process, which culminated in the demonstration and evaluation period at the end of last year, the MoD has down-selected a compliant bidder (DIVEX).
The MoD's UWS IPT is now engaged in contract negotiations with DIVEX. In order not to compromise what are complex and commercially sensitive negotiations, I will ask you to remain patient and wait until the conclusion of this work and/or contract award.
This is very encouraging news for the Royal Navy and the Clearance Diving specialisation and, whilst there are still many hurdles to overcome, the resumption of a 60 metre diving capability and the provision of a fit-for-purpose CD diving set is now within our sights.
Wishing you all a very happy New Year and safe diving in 2007."
Note that the Defence Logistics Organisation (DLO) also has a Mine Warfare, Patrol and Hydrographic Integrated Project Team (MPH IPT) while the Defence Procurement Agency (DPA) has an Underwater Defence Systems & Countermeasures Integrated Project Team (UDSC IPT).
---
6 Feb 07 - Reclaim Building at Horsea renamed Bridge Building
Reclaim building, housing the Superintendent of Diving and the Fleet Diving Headquarters, was renamed the Bridge building during a ceremony held yesterday at Horsea Island. The building was re-dedicated in recognition of the Second World War achievements of Lt Cdr John Bridge GC GM* RNVR who performed countless bomb and mine disposal tasks above and below water. He was the first serviceman to be awarded a bar to the George Medal and was one of just eight people to earn both the George Cross and the George Medal.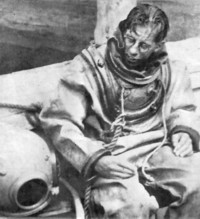 Lt Cdr John Bridge GC GM* RNVR
at Simon's Town
The renaming of the building was orchestrated by MCDOA member Bernie Thompson, CO of the Fleet Diving Squadron, who had managed to trace John Bridge and invite him to attend the ceremony. Sadly, John died on 14 December and the Fleet Diving Squadron provided pall bearers at his funeral on 5 January this year. The pall bearers were led by CPO(D) Dave Merridue who lives a few doors away from John's house in Sunderland.
Yesterday would have been John Bridge's 92nd birthday. As it was, he was represented by his two daughters: Liz Eastwood with her husband David and daughter Georgina; and Sue Williams with her husband Gordon. Bernie Thompson presented a glowing and often moving illustrated account of peacetime schoolmaster John Bridge's wartime achievements. After only eight days of training at the beginning of the war, he was thrown into bomb disposal duties in the West Country and was decorated for rendering safe over a hundred UXBs (unexploded bombs) in Plymouth during the Blitz and in Falmouth, often in the most difficult circumstances. He deserved several more medals for his repeated acts of bravery throughout the following five years in Britain, South Africa, the Mediterranean and Northern Europe but was told he'd already received his quota. On one occasion, his Sub Lt assistant was awarded the GM while John went without recognition.
Some of John's achievements are described in the obituaries printed in the Times and the Telegraph but they don't tell half the story. For example, on arriving at Simon's Town naval base in South Africa shortly after one of the ships in his convoy was damaged by an underwater explosion, he identified the culprit as a mine rather than a torpedo. The authorities expressed disbelief but he was proved right. He subsequently arranged his own unofficial diving acquaint (see photo at top) at Simon's Town in readiness for any underwater attacks on ships in the harbour. Later on, his diving abilities were tested to the limit when clearing the port of Messina and elsewhere in Italy, Arromanches in Normandy and the River Scheldt although he had to free dive to render safe the demolition charge holding up the Allied advance across the bridge at Nijmegen. Even when he was posted back to seemingly tranquil England, he was kept busy disposing of wartime ordnance in the North Country. He also took an interest in minewarfare and spent several days on board minesweepers.
MCDOA President Colin Welborn, head of the RN Clearance Diving 'fighting arm' as Captain MFP, unveiled a commemorative plaque in the Bridge building's foyer before guests were given a tour of the Fleet Diving Squadron complex, including briefs by each of the Diving Units, and then lunch in the bar. One of the attendees was Marion Hebblethwaite who maintains the George Cross Database and has assisted me with my research in the past.
Left: Board on landing describing John Bridge's wartime achievements.
Right: John Bridge memorabilia.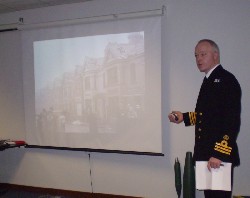 Bernie Thompson gives presentation about
John Bridge's wartime achievements.
Audience for presentations
Left: John Bridge's daughters Liz and Sue express their appreciation.
Right: Colin Welborn unveils commemorative plaque.
Two of the displays seen during the tour of Bridge building.
Left: Sue Williams and Liz & Georgina Eastwood with Colin Welborn and Bernie Thompson.
Right: MCDOA Chairman and S of D Chris Ameye with CO FDS Bernie Thompson.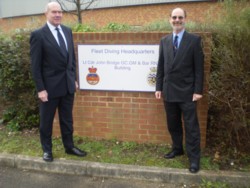 Association of RN First Class Divers Chairman Don 'Jimmy' Green
with your humble MCDOA Vice Chairman & Webmaster.
---
2 Feb 07 - Proposal to form a Mine Warfare Branch Association
The following letter has been received from WO(MW) Pete Mills of the Mine Warfare Training Element (MWTE) at the Maritime Warfare School, HMS Collingwood and pertains to all RN Officers, WOs and Senior Rates qualified in Mine Warfare. In due course, I hope it will involve the MW Junior Rates too.<![if !vml]> <![endif]><![if !vml]> <![endif]><![if !vml]> <![endif]><![if !vml]> <![endif]><![if !vml]> <![endif]><![if !vml]>
<![endif]>
MINEWARFARE BRANCH REUNION 2007
Gentlemen,
Following the Reunion held in September of last year there was much discussion regarding the benefits of putting the governance of Reunion matters on a more formal footing. It is important that if a change of this nature is to take place, then all interested members are given an opportunity to voice their opinion and make suggestions in order that all avenues are considered. As we are now well into the New Year, it is time to throw this open to the floor in order to implement any changes prior to the planning of this year's event.
Historically this event, now in its 11th year, has been co-ordinated by personnel within the Minewarfare section. In recent years, the lion's share of this work has fallen to Taff Reader (who is not getting any younger) acting as a focal point and maintaining contact with ex-members of the branch scattered all over the country. In order to alleviate the pressure on a small number of people, and to ensure that this event can continue and potentially grow, it is hoped to form a committee. A full committee including regional reps, (Scotland, North, Midlands, SW etc) would plan and co-ordinate the event. It is assumed at the moment that the event would remain under the umbrella of the Minewarfare section.
In addition to this there has been much discussion recently regarding the formation of an official Minewarfare Association similar to those already operated by several other branches. The purpose of such an association would be to assist serving and ex-serving members of the branch to keep in touch, potentially by means of a dedicated website, and to help with the co-ordination of events such as the annual reunion. The formation of an Association would potentially allow for the organisation of additional regional social events, and the design and sale to members of items such as cufflinks, ties, badges and other paraphernalia. Should the establishment of an Association be looked upon favourably we would obviously be hoping that members with any technical know-how may be able to assist with or advise with the setting up of the website in order to keep costs to a minimum.
In the event of an official Association being set up, please be assured that people not wanting or willing to join would in no way be excluded from attending the Annual Reunion. However it is obvious that they would not be eligible for any other benefits made possible by an official organisation.
Hopefully this letter will open the discussion to as many people as possible, serving and ex-serving Minewarfare Senior Rates and Officers, regarding the question of the formation of an association. It would be greatly appreciated if you would take a few moments to comment on the questions on the attached pro-forma. Please answer and return either by post or e-mail. It is essential to receive sufficient feedback to ensure that we do not waste the opportunity to take this forward in the right direction.
Yours Aye,
Pete Mills
N.B. The pro-forma allowing you to express your views about the formation of a Mine Warfare Association can be downloaded here.
---
1 Feb 07
Navy News Items
The following MCD-related items from the February issue of Navy News include:
The three-year Operation Aintree deployment to the Gulf of HMS Ramsey and HMS Blyth.

The largest Santa hat in Scotland worn for charity by HMS Shoreham.

The disposal of a German wartime mine by HMS Cattistock.

An expedition led by MCDOA member Richard 'Soapy' Watson to dive on the wreck of HMS Ardent in the Falklands.
---
Naval Review Article about RN EOD
The February 2007 issue of the Naval Review contains a five-page article by your humble webmaster about Royal Navy Explosive Ordnance Disposal. Have you joined the NR yet? Membership details can be found here.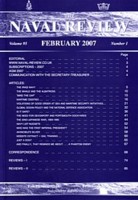 (With kind permission of the Editor)
---
HMS Quorn in action
The RN website contains this article about the recent activities of HMS Quorn.
---
31 Jan 07 - Mystery CDBA
MCDOA associate member Dr John Bevan, Chairman of the Historical Diving Society, has forwarded me the following query from Roger 'Jan' Meecham in New Zealand:
"I wonder if you can help me with some information. I am an ex-RN Shallow Water Diver [predecessor of the Ships' Diver], having qualified in the Mediterranean Fleet Diving School, Manoel Island, Malta in 1957, but am now retired and living in Wellington, New Zealand. Recently I was fortunate in obtaining a Dunlop Oxygen Re-Breather similar but not exactly the same as the Pattern 5562A that I used as a young frogman during my naval service. Would you have any information, or could you suggest where I could write, to obtain such information about my set. What I would like to know please is:
1. Can you give me the date of manufacture from the set no?
2. The cylinders are marked 25% Carbon Dioxide and 75% O2. I don't recall using CO2 in my navy days although the Clearance Divers used Oxy-Helium. Could this set be for civilian use?
3. It also appears to be designed without a reducer or a by-pass valve with the O2 going directly from the main twin cylinders into the counter-lung. Is this likely?
4. The face mask seems to be a much later mismatch. It's made by Normal Air and although it has the correct O2 to atmosphere valve at the mouthpiece, it also has a plastic snorkel arrangement on one side. Did the navy ever have those?
I hope you can help me with these questions. In fact any information about the set would be most helpful. I've already tried Dunlop without success and a few other places, one of which finally gave me your address. I'm happy to meet any expense that may be incurred.
Regards,
Jan"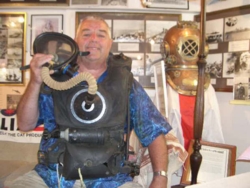 Mystery CDBA
John has already advised Jan that the cylinders (25% CO2?) are unlikely to belong to the set and to bleed off any residual gas. The absence of a reducer and by-pass suggests it is an old-style Clearance Diving Breathing Apparatus (CDBA) rigged for O2 on demand (Pattern 5561) as opposed to oxygen or oxy-nitrogen via a reducer and by-pass (Pattern 5562), but the snorkel attachment has me stumped. Can anyone else provide any answers?
Coincidentally, photos of the RN Diving School on Manoel Island, Malta in 1957, when Jan qualified there as a Shallow Water Diver, appear in the entries for 29 Nov and 4 Dec 05 in 'News Archive 12'.
---
30 Jan 07
HMS Quorn and HMS Walney dispose of mines off Portsmouth
Today's Portsmouth News contains this article about the disposal by HMS Quorn yesterday of a German wartime mine off Nab Tower. HMS Walney dealt with two other mines found in the area.
---
MCDOA Northern Dinner 23 Feb 07
Time is fast running out to book for the Northern Dinner at Faslane on Fri 23 Feb. This year's event is being organised by Stu McAlear. The calling notice and booking form are available via the 'Upcoming Events' page in the Members Only area.
---
29 Jan 07 - New Treasurer Required for MCDOA
After providing sterling service as our Honorary Treasurer for the past few years, Tug Wilson is leaving the Royal Navy on 1 June and a serving officer is required to fill his post. This is an interesting and not overly demanding task but we need someone reliable. Any volunteers are requested to contact Tug direct.
---
26 Jan 07 - South Atlantic Medal Campaign
Today's Portsmouth News contains this article about a campaign for the award of the South Atlantic medal to the ships' companies of HMS Brecon (decommissioned 19 July 2005) and HMS Ledbury. It includes my personal view which may prove unpopular in some quarters.
---
25 Jan 07 - WO(D) Andy Brunton feted at Buckingham Palace
Martyn Holloway has drawn my attention to this article from the January issue of the Hayling Islander. It describes the attendance of Andy Brunton and his wife Helen at an evening reception held on 19 Dec 06 at Buckingham Palace where they chatted to the Queen. Andy was invited in recognition of his "significant contribution to national life in 2006" by improving the recruitment and retention of young service divers at the Defence Diving School (DDS), Horsea Island. I am sure all members join me in congratulating him for this achievement.
The photo was scanned from the newspaper article so please excuse the poor quality. It is reproduced by kind permission of Helen, who is on the staff of the Hayling Islander.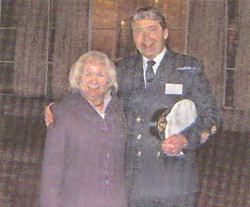 Andy and Helen Brunton at the Palace
---
12 Jan 07 - Delayed Departure of HMS Brocklesby
The following item from today's Portsmouth News describes the delayed departure from Portsmouth of HMS Brocklesby en route to join the Standing NATO Mine Countermeasures Group 1 (SNMCMG1) in the Baltic and features her Commanding Officer, MCDOA member Andy Woollven.

---
10 Jan 07 - New Personal Update
The Members Only area contains an update from Garry Collier in New Zealand.
---
8 Jan 07 - HMS Ramsey and HMS Blyth reach Bahrain
The Navy News website contains this article describing how HMS Ramsey and HMS Blyth are settling down in the Gulf at the beginning of their three-year Operation Aintree deployment.
---
5 Jan 07 - Annual RN Divers' Reunion 16 June 2007
The 'Upcoming Events' page in the Members Only area contains details of this event in Portsmouth which is open to RN Clearance Divers of all-ranks.
---
4 Jan 07
HMS Cattistock blows mine off Felixstowe
The Navy News website contains this article describing the disposal of a German wartime mine off Felixstowe by HMS Cattistock.
---
New Personal Update
The Members Only area contains an update from Duncan Bridge on the Isle of Wight.
---
3 Jan 07 - Articles about Royal Navy Deep Diving
The latest issue of the Historical Diving Times, the journal of the Historical Diving Society (HDS), contains a four-page article by your humble webmaster about the deep diving achievements of the Royal Navy. It also includes an article by Reg Vallintine about the 50th anniversary commemoration in Bergen of George Wookey's world record-breaking 600 ft dive from HMS Reclaim in October 1956.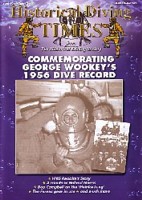 ---
2 Jan 07 - HMS Ramsey spends Christmas Day in the Gulf
The RN website contains this article describing Christmas Day for HMS Ramsey, alongside in Bahrain with HMS Blyth.
---
1 Jan 07
New Year's Honours for Tony Watt and Bob Hawkins
Warmest congratulations to MCDOA members Tony Watt and Bob Hawkins for featuring in the 2007 New Year's Honours list. Tony, the present Commanding Officer of HMS Montrose, has been appointed as an OBE while Bob, currently on exchange with the US Navy at NMAWC-CC (Naval Mine and Anti-submarine Warfare Command at Corpus Christi (formerly COMINEWARCOM)), has been appointed as an MBE. Recent news from Bob can be found among the Members' Updates for Nov 2006 in the Members Only area. Here are pictures of Tony Watt on the bridge of HMS Montrose and our Association's erstwhile song-leader, Bob 'the Dog' Hawkins, while presiding in typical fashion (note the trews) at this year's MCDOA northern dinner at Faslane back in February.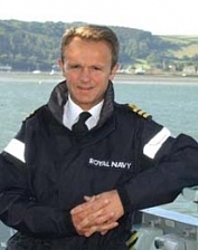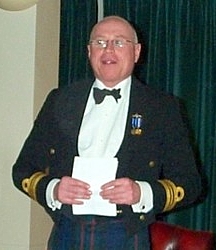 Left: Tony Watt on board HMS Montrose. Right: Bob Hawkins in typical fashion
The full list of New Year's Honours and Awards for 2007 can be found at The Times online via this link.
---
Navy News Items
The following MCD-related items from the January issue of Navy News include:
---