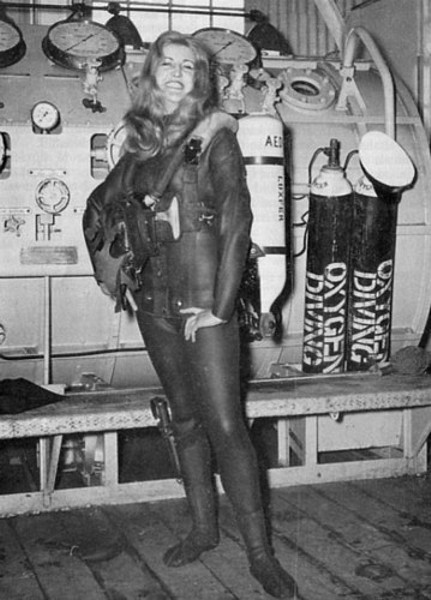 OLD STYLE SWIMMER's AIR BREATHING APPARATUS (SABA)
This photo appeared in the summer 1966 issue (Vol 13 No 2) of the RN Diving magazine published by the Diving Training section in HMS Vernon. It looks suspiciously like it was taken at the top of the mining trials tank.
The model was Miss Wendy Williams who worked in the drawing office of the Admiralty Experimental Diving Unit (AEDU) at HMS Vernon. She had joined from Bath as a relief for Miss Helen Unstead, a keen sub-aquarist. In a very short space of time, Wendy was X-rayed, medicated and blood-chitted before being pushed in the shallow end. She became fairly competent at 40 feet and was hoping to go deeper in the near future.