You can still demonstrate any appreciation you may feel for the time and effort I put into maintaining the MCDOA website by donating to Gareth's carefully chosen charity, Leukaemia & Lymphoma Research, via this webpage.
---
27 Oct 12 - RNCDA Inaugural Dinner
Congratulations and special thanks to Richie Throup and everyone else involved in organising last night's highly successful inaugural dinner dance of the embryonic RN Clearance Divers' Association (RNCDA) at the Marriott Hotel in Cosham. MCDOA dual-members in attendance included our Chairman Chris Baldwin, Al Nekrews, Pete Davis (and their gorgeous wives) plus Yours Truly (Rob Hoole). The photos below provide a flavour of the occasion.
Membership of the RNCDA is open to serving and ex-serving RN clearance divers of all ranks and is available for a one-off payment of £25. For further details, contact the Membership Secretary WO(D) Steve Vernon
at Fleet Diving Headquarters. Application forms and other documentation may be download via the entry for
27 Feb 12
in News Achive 37.
---
26 Oct 12
Great South Run (Part I)
The Heart FM website contains this article describing the participation of CPO(D) Ian 'Scouse' Fleming of Portsmouth-based Southern Diving Unit 2 (SDU2) in the BUPA Great South Run wearing full standard diving dress (see entry for 4 Oct 12). Although the main race is not until Sunday, Scouse is running the first part of the course through Portsmouth & Southsea today and tomorrow. Here he is trudging through Portsmouth Naval Base earlier today with PO(D) Dave 'Daisy' May riding shotgun in the support vehicle: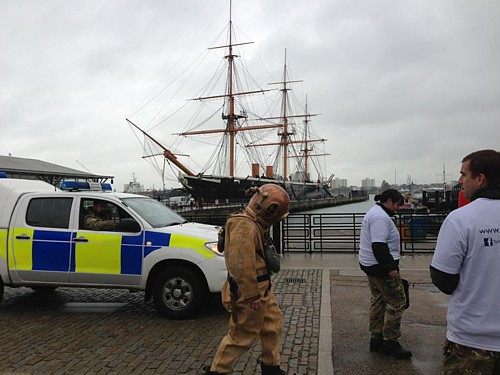 Scouse Fleming starts his lonely walk
Support Scouse and the rest of the SDU2 team, all running in historical diving gear, by donating to BLESMA (the British Limbless Ex-Service Men's Association) via this webpage.
Great South Run (Part II)
As your humble Vice Chairman & Webmaster, I don't often ask personal favours but every once in a while, one of our three offspring does something to make Linda and me feel particularly proud. This time, it is the turn of our son Gareth who is participating in this weekend's Great South Run to raise money for Leukaemia & Lymphoma Research, the only UK charity solely dedicated to research into blood cancers including leukaemia, lymphoma and myeloma. This cause is especially close to our family's hearts at the moment.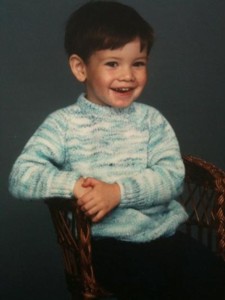 Gareth before starting the run
(long before)
If you would like to demonstrate your appreciation for the time and effort I put into maintaining the MCDOA website and fielding all your emails and telephone queries, then please consider making a donation via this webpage. Provided Gareth survives the run, he will be able to thank you in person when he accompanies me to next month's MCDOA Dinner as my guest.
Postscript: The Portsmouth News contained this coverage of Scouse Fleming's efforts on 27 October.
---
22 Oct 12 - HDS Diving Museum update

MCDOA associate member Dr John Bevan, Chairman of the Historical Diving Society (HDS), has provided this update about the Diving Museum in No.2 Battery at Stokes Bay and the refurbishment and conversion of a WWII bunker in Gosport as the Society's library and repository for the museum's reserve collection:
"VISITORS
The weekend of 13/14 October was quiet by normal standards with 32 on the Saturday and 26 on the Sunday. Particularly interesting visitors included Pat Baker from Australia, Bob Abery from the USA, Nigel Kelland (ex-Sonardyne director, ex-BP scientist, ex-Mary Rose diver/surveyor) and Malcolm Grier, ex-Siebe Gorman toolmaker.
The weekend of 20/21 October was better with 44 on Saturday and 33 on Sunday before the wind and rain dampened the three o'clock rush. Interesting visitors included a family with close Buster Crabb connections .
The total number of visitors this year currently stands at 4,576 so we are slightly down on last year's figure. Considering that we offered free entry for several months last year and the visit of the aircraft carrier USS George W Bush boosted figures by a few hundred, I think that the numbers are quite respectable. Bookings for the Diving Museum next year are already starting to come in! Friends of the Royal Navy Museum are visiting on 22 April 2013.
LAST WEEKEND OF THE YEAR!
This coming weekend will be the last for the season so come and join in the celebrations!
PLANS
Ann will of course have lots for us to get on with over winter! The Newt Suit arrival is still on schedule for 21st-ish November. Bravo Magazine is to be refurbished as a visitor attraction and Barry Stayte has been commissioned to rebuild the "Shifting Lobby" in the magazine. This is where the gunners changed their clothing before entering the gunpowder/cartridge store.
JohnB"
Just to make things more interesting, here is a message from Ann Bevan, the power behind the throne!
"Hello Everyone,
There are a few things that I think we could do over winter, many of which require only effort, not money.
Outside:
1. POSSIBLY repaint some or all of the large North Sea Bell. Perhaps just the orange part? Weather dependant.
2. Put more shingle on the weed mat (the foxes keep pulling it up so I think we need to cover it a bit more deeply)
Inside:
1. Move Gosport section out to where the Russians are
2. Move Russians and Yanks into Gosport Room
3. Relocate Buster Crabb info
4. Decide what to do with the space where the TV was. Keep the small TV here? Set up a projector (suspect this will be very difficult)?
5. Put a static poster display here (Buster Crabb)?
6. Small jobs: paint the silver ring in the Bell display; and the gold bar; put the Dingley Crest with the other naval crests; repair broken tube heater bracket (commercial diver section). Create cage for tube heater; treat anything that is crumbling/going mouldy.
7. Terry refurbs other door to glass cabinet to make sure it is safe to open fully.
8. Get touch screen fixed and working properly
History of the Battery section: (this area will be largely unsupervised so we'll keep exhibits simple and unbreakable / untouchable)
1. Move all our stuff out of our 'tools' room into the next large room - or further down if we have the energy (Throw out anything we don't need; I may take the bricks if no-one wants them)
2. Add signage along concrete corridor leading to the magazine.
3. Repaint back of the steel door in concrete corridor
4. Purchase materials (wood and paint) for the shifting lobby (benches, hooks, door). Barry has kindly offered to build everything we need.
5. Get lanterns for the lantern recesses
6. Add electrical points for: light in the shifting lobby; lights in Barry's models (and possibly also the lanterns) Add mirror backs to the lantern recesses (to stop people seeing into the main room and to reflect more light back into the magazine)
7. 2 rope barriers + wall hooks
8. Move Barry's models into the new History of the Battery section and find a use/exhibit for the new alcove (children's colouring desk?)
9. Make posters for the History of the Battery and put on the walls
If anyone wants to add/change anything, please just say.
Many thanks,
Ann"
The HDS Museum relies on a handful of volunteer workers and guides. If you live locally and can spare the odd few hours, please contact John Bevan via this email address or call him on 07802 785050. You don't have to be an HDS member to get involved.
---
20 Oct 12 - SDU1 deals with suspicious package in Truro
The 'This is Cornwall' website contains this article and the Falmouth Packet website this article describing a call-out yesterday for members of Plymouth-based Southern Diving Unit 1 (SDU1) to deal with a suspicious package in the centre of Truro, Cornwall. The package turned out to be a camera inside a plastic lunchbox.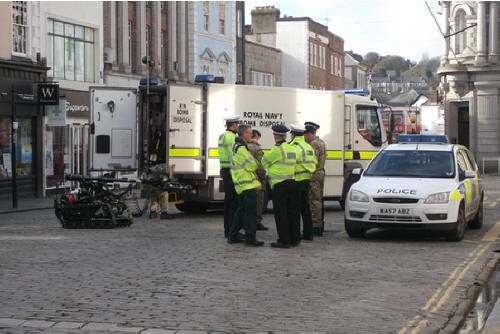 ---
19 Oct 12 - A message from the daughter of former SofD Guy Worsley
Cdr Antony Guy Worsley OBE RN was based at HMS Vernon as SofD (Superintendent of Diving) from 1972 to 1983 and I distinctly remember him dominating 'the diving helmet end' of the wardroom bar each lunchtime with other giants of the RN diving world such as Bill Filer, Robbie Robinson, Alan 'Shiner' Wright, Wilf Dodd and Jackie Warner. As a Lieutenant, he was awarded a Mention in Despatches in the 1950 New Year Honours "in recognition of services in Operational Minesweeping since the end of the War." As a Commander, he was appointed an OBE (Ordinary Officer of the Most Excellent Order of the British Empire) in the 1979 Queen's Birthday Honours.
Yesterday, ex-CD and Falklands veteran Tony Groom, author of Diver and In2Deep, forwarded me this email he had received from Guy Worsley's daughter, Claire:
"Dear Tony,

I hope that you will not object to this email but I was passed your address by Seafarer Books. I recently purchased your book 'Diver' at RNAS Yeovilton Air Day and wanted to write to thank you for it. My father was a Royal Naval clearance diver who went on to become Superintendent of Diving. He would have been in post during the time about which you were writing. Unfortunately, he had a massive stroke when he left the Navy in 1984. I was 9 and then he passed away when I was only 21.

I never really asked enough questions about his 40-year career and he didn't volunteer a great deal once he was out so I have very little information about him beyond a sketchy outline of where he was and when and that has massive gaps. I know that your diving experience was probably very different to his as, by the time I came along, he was mostly behind a desk. But your book has helped me to understand at least something of the experiences that he might have had once he made it out of hard hats and into scuba, saturation and clearance diving. I am also aware enough to understand that each experience of war and conflict is different. My friends who have been through Afghanistan and Iraq have taught me this, but your description of the Falklands has again taught me a little more about what he might have faced in WWII, Korea and the various other 'conflicts' that he got caught up in as well as some of the 'nicer' work. I know he also spent time in Funafuti for example.
Guy Worsley (standing third from right) with members of the Fleet Clearance Diving
Team including Tony Groom (kneeling centre) on the Funafuti Atoll, Tuvulu
in Polynesia during Operation HEMICARP in 1977

I have no idea if you ever came across him during your time but I recognise a number of the names in your book. Mick Fellows kindly came to my father's funeral along with some of the other divers but I am ashamed to say that with all that was going on, I don't remember all of their names. In fact, when we turned up at the church we found that they had brought with them a diving helmet as a surprise for us as well as a white ensign for the coffin – we were told not to ask where they got it!

Another thing I understand now – his sense of humour. Whilst he did not go out to the Falklands himself, the few stories he told to me were not of his work but what 'his' divers achieved there. I recognised some of them in your book. I grew up hero worshiping the teams who worked on UXBs in ships' magazines while all hell broke loose around them. I am sure it is not important but he was immensely proud of the Fleet Clearance Team.

Anyway, I just wanted to say thank you for the book. It was a fascinating read quite apart from the personal connections and I hope you do not mind the message.

Kind regards,

Claire Worsley"
If anyone would like to help Claire fill in some of the gaps in her knowledge of her father, please email me via this address.
---
18 Oct 12 - Telegraph obituary for Lt Cdr Iain 'Bruce' Mackay RN
Much sooner than expected, I am grateful as ever to Capt Peter Hore RN for agreeing to write this obituary for MCDOA member Bruce Mackay which appeared in today's Daily Telegraph (see entry for 16 Oct 12).
---
17 Oct 12 - Dive on wreck of wartime tanker
The MoD website contains this article, the RN website this article and the Navy News website this article describing the inspection by HMS Protector of the wreck of RFA Darkdale which was torpedoed by a U-boat off the island of St Helena in the South Atlantic in October 1941 with the loss of nearly all hands. The articles feature LS(D) Chris Hayes.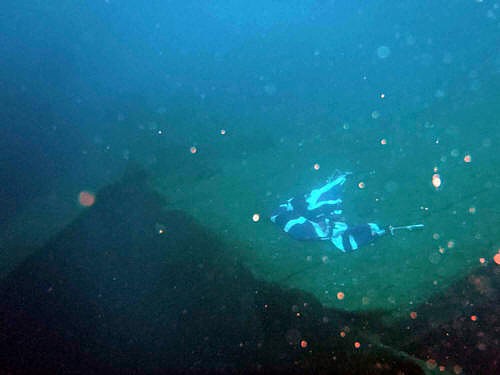 Union Flag laid on the wreck of RFA Darkdale by HMS Protector's divers
(Navy News website photo)
The Ministry of Defence website contains this article providing further background.
---
16 Oct 12 - Funeral of Lt Cdr Iain 'Bruce' Mackay RN
There was a strong turnout for today's funeral service of MCDOA member Bruce Mackay at the Mendip Crematorium in the rolling Somerset countryside near the pretty village of Croscombe and we were blessed with fine weather. Apart from Bruce's many other friends and relatives, MCDOA members present included Doug Barlow, Brian Dutton, John Grattan, Peter Hicks, Martyn Holloway, Rob Hoole, Richard 'Glops' Lowther, Julian Malec, Alex Manning, Ian Morton, Dan Nicholson, John O'Driscoll, Alan Padwick and Jon Riches. Other familiar faces included ex-CDO Gerry 'Pincher' Martin, ex-CPO(D) Dusty Miller and ex-CD Jim 'Tommo' Thomson. Richard Lowther passed me apologies for absence on behalf of Graham Shaw, his fellow student on LMCDO '69 under Bruce's tutelage.
Bruce's casket, draped in the white ensign, was borne into the sunlit chapel to the accompaniment of organ music played by Alison Bower. Alistair Glanvile, the Reader, then welcomed everyone to the thanksgiving for Bruce's life and we sang the Naval Hymn (Eternal Father Strong to Save) before the traditional reading of John 14:1-6 and 27 (In my Father's house are many dwelling places (mansions)).
MCDOA member Julian Malec then provided this moving eulogy:
"Lieutenant Commander Bruce Mackay and I first met 43 years ago, in June 1969, in Gunwharf Shopping Centre Portsmouth, which, in those different days, was the proud naval establishment HMS Vernon, home of Navy Diving and Minewarfare. Bruce was Officer-in-Charge of the 1969 Minewarfare and Clearance Diving Officers' Course of which I had just become a member. In time, he and I became friends. I am deeply honoured that Cynthia has asked me to speak today. In a talk of a few minutes, it is not possible to do justice to the life of a man so this is an inadequate and brief synopsis of Bruce's life and career.
Bruce was born on 19th November 1934 in Peshawar in what is now Pakistan where his father, an RAF Group Captain, was based. Bruce had a brother and two sisters. He went very early to boarding school in England and, in 1950 when he was 15, he enlisted in the Royal Navy and joined HMS Ganges as a Boy Seaman. His talent was quickly spotted and he was selected from his peers to be a Boy Instructor. In the words of his friend Pincher Martin, "right little Hitlers they were too". Gordon Miller, one of his colleagues at Ganges over 60 years ago, is here today.
Bruce was selected for Officer Training in 1957 and was promoted to Lieutenant in February 1960. He qualified in Clearance Diving in 1963 under his Course Officer, Lt Cdr Stuart Honour. The course could not have been too taxing for Bruce had the time to meet girls in Portsmouth, one of whom he courted and married. Cynthia and Bruce were married in 1963, 49 years ago. Tim Trounson, who died late last year, was their Best Man.
Bruce served in HMS Flockton and HMS Houghton, and as Commanding Officer of HMS Dingley running the Home Station Diving Team. In 1966 he became CO of HMS Iveston and was promoted to Lieutenant Commander in February 1968.
Bruce's career was extremely varied. He served in HMS Terror in Singapore and as the Officer-in-Charge of the Scotland and Northern Ireland Bomb Disposal Team. He must have got home some of the time for Cynthia and Bruce had four daughters: Belinda, Louise, Sally and Fiona. They all went wherever he went so at different times they lived in houses in Singapore, Liverpool, Dunfermline and Indian Head, USA, and sometimes in their own home in Widley.
For two years Bruce was Commanding Officer of HMS Dee, the training ship of the Royal Naval Unit of Liverpool University, and he later worked for three years at the United States Naval Surface Warfare Centre in Indian Head, Maryland, USA investigating underwater explosives. Bob Hawkins says that, "years later, Bruce was still remembered there for his work and the way he conducted it".
In the Falklands War he went south in HMS Intrepid where, among other jobs, he conducted a most hazardous mission. In a very small vessel, he and his crew had to tow highly magnetic and noisy steel rods through the waters of Teal Inlet to see if the Argentines had laid any magnetic or acoustic mines. It requires no imagination to understand the danger to the people doing the minesweeping, and their great courage in carrying out the job. For this action he was mentioned in dispatches. He came home and his career took him back to Portsmouth, where he worked for Captain Weapon Trials until he retired in 1991.
The family moved to Shepton Mallet in 1993, and then in 2009, even further west to Westbury-sub-Mendip. Away from the Navy, Bruce was very handy in making things. David Burstall remembers that when Bruce, as a young single officer, stayed with them he made toys for the Burstall children. Bruce played a lot of sport when he was young, including rugby for the Navy, and he was good at most sports. Cynthia tells me that this attribute has been inherited by their grandchildren. He loved gardening, and really enjoyed making his own strong beer and wine. Cynthia says he never threw anything away, so his sheds were always full of everything.
Bruce's last years were made very hard by lung and heart disease, and life was tough for him, and for Cynthia, and for the family looking after him. I never heard him complain. He died on October 8th in his own bed. How he will be missed, by Cynthia, and their daughters and their families, and by those of us, his friends, who were privileged to know him. We cannot fathom the depth of the grief of the family, but we stand with them to remember him and support them.
Finally, again in the words of Pincher Martin, "Bruce was as straight as a die and was the most honest and trustworthy man I have ever met, - and that is saying something for a diver".
Bruce, we will remember you."
After prayers, the congregation sang I Vow to Thee, my Country before three of Bruce's granddaughters read verses from Rudyard Kipling's If. The Reader then conducted the Commendation and Committal before delivering the Blessing to bring the service to a close. After listening to the sound of the Military Wives' Choir singing Wherever You Are, many of the mourners repaired to the George Inn in Croscombe to raise a glass or two in Bruce's memory whereupon I took the following photos: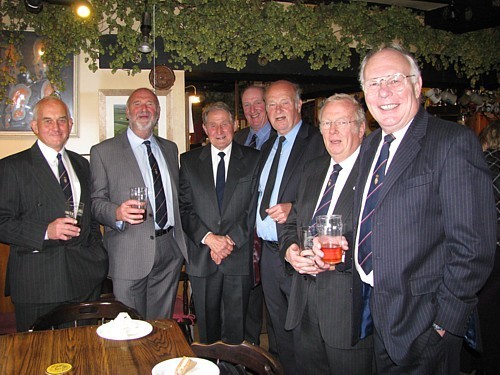 Martyn Holloway, Peter Hicks, Dusty Miller, Jon Riches, Pincher Martin,
Ian Morton and Alex Manning
Left: Martyn Holloway, John Riches, Peter Hicks and Ian Morton flanking Julie who fed us admirably
Right: Dan Nicholson talking to Martyn Holloway with Alan and Sarah Padwick in the background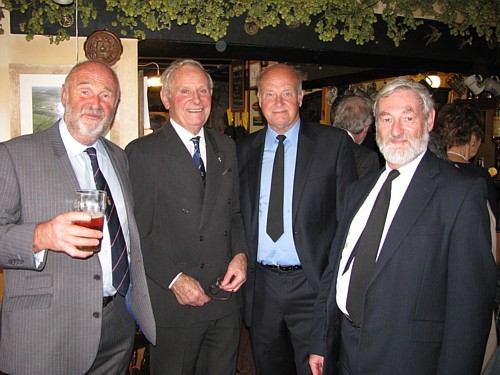 Peter Hicks, Brian Dutton, Pincher Martin and Richard Lowther
Whenever I write accounts focusing on the subjects of these sad occasions, I am deeply conscious of being unlikely to do the same for those left behind who are equally deserving of our attention, love and respect. All I can do is express my sympathy and extend my inadequate condolences for their loss. With this in mind, I invite other members of our community to spare a thought for Cynthia and the rest of Bruce's delightful family at this difficult time. He has left an enviable legacy.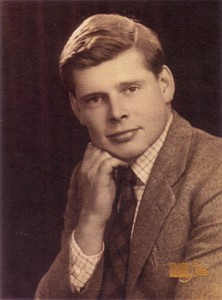 Lt Cdr Iain 'Bruce' Mackay RN
(19 Nov 1934 - 8 Oct 2012)
Tributes to Bruce are appended to the entry for 8 Oct 12. There is also the possibility of an obituary in the Daily Telegraph during the forthcoming weeks.
---
15 Oct 12 - Rare opportunity to buy book about HMS Vernon
Maritime Books is currently advertising The Torpedomen - HMS Vernon's Story 1872 - 1986 on its website. This 415-page book by Rear Admiral Edmund Nicholas 'Nico' Poland CB CBE, priced £29.50, is seldom available for sale and I recommend it to any aficionados of the alma mater of Royal Navy minewarfare and diving.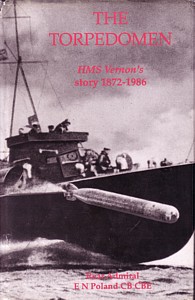 Front cover of my well-thumbed
copy of 'The Torpedomen'
The author died at the age of 95 on 10 March this year.
---
14 Oct 12 - 25th Anniversary Reunion of the Ton Class Association
Fellow MCDOA member Doug Barlow (accompanied by his partner Jill) and I have just returned from a most enjoyable 25th Anniversary reunion weekend of the Ton Class Association (TCA) in Torquay and we would like to express our appreciation and congratulations to all involved in its organisation and execution.
Left: Your humble Vice Chairman & Webmaster sporting his MCDOA cummerbund
Right: Doug Barlow collecting his tot courtesy of The White Ensign Club of Exeter
At Saturday night's formal dinner, the TCA's President, Rear Admiral John Lippiett CB MBE, provided a round-up of the TCA's successes to date, including the publication of Last of the Wooden Walls - An Illustrated History of the TON Class Minesweepers & Minehunters and Jacks of All Trades - Operational Records of TON Class Minesweepers & Minehunters. The guest of honour, Commodore Laurie Hopkins, then delivered a hilarious speech complete with impressions of the characters involved in his dits. He served in several Ton Class MCMVs and was responsible for HMS Brinton's adoption of the famous banana mascot when he assumed Command of her in 1975. I remember the occasion well because I was serving in HMS Jaguar at Chatham at the same time and we became 'chummy ships' while Brinton was almost derelict in dry dock. Cdre Hopkins and his First Lieutenant, Roger Ainsley (who went on to become a Rear Admiral), even RPC'd our wardroom in a striped roadmenders' tent on the jetty to reciprocate our 'open door' hospitality.
Left: Rear Admiral Lippiett giving his state of the nation address
Right: Commodore Hopkins wowing the audience
Rear Admiral Lippiett then presented a certificate and copy of the Vernon Project's painting 'Vernon Creek' to Bill Pollington who had been selected TCA Member of the Year for organising a highly successful group visit to Malta in May to mark the island's 70th Anniversary of Operation PEDESTAL.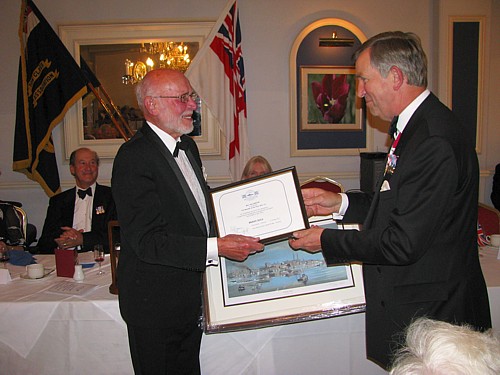 Bill Pollington receiving the trappings of his award from Rear Admiral Lippiett
Next year's TCA reunion weekend will be held in Southport.
---
12 Oct 12 - Spotlight on RN minehunters
The Royal Navy website contains this article describing the conclusion of the latest Exercise JOINT WARRIOR which includes the following photo of the minehunters HMS Penzance (MCM1 Crew 7), HMS Cattistock (MCM2 Crew 8), HMS Hurworth (MCM2 Crew 1) and the Type 23 frigate HMS St Albans off the coast of Scotland: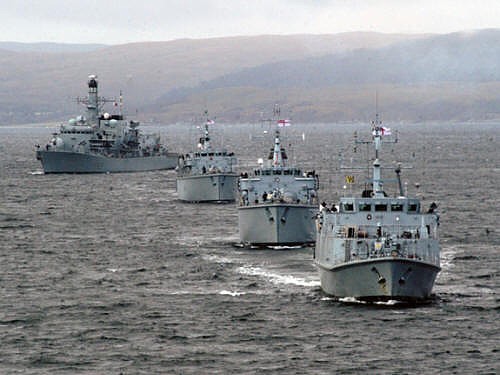 HMS Penzance followed by HMS Cattistock, HMS Hurworth and HMS St Albans
(RN website photo)
The Royal Navy website also contains this article describing the recent activities of HMS Ramsey (MCM1 Crew 5) in the Gulf. These included operations with the US Navy's minehunter USS Dextrous.
---
11 Oct 12 - MCDOA past-Chairman spotted with Mayor (No, not Boris!)
The Royal Navy website contains this article describing a visit to HMS Excellent by Councillor Frank Jonas, the Lord Mayor of Portsmouth. The article also features MCDOA past-Chairman Paul Jones, the Commanding Officer of HMS Excellent.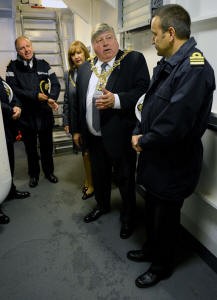 Lord Mayor of Portsmouth with
Paul Jones in background
---
10 Oct 12 - HMS Pembroke receives a lift after Gulf exertions
The Royal Navy website contains this article and the Navy News website this article describing the lifting of HMS Pembroke (MCM1 Crew 8) for maintenance in the submarine shed at Faslane.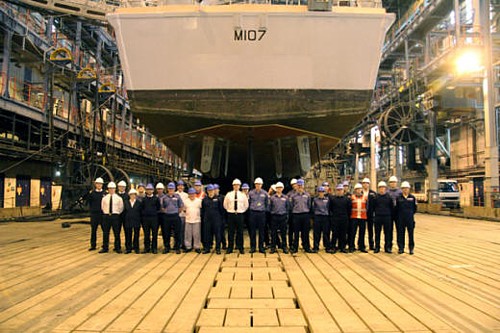 HMS Pembroke in the submarine shed at Faslane
(Navy News photo)
---
HMS Grimsby reaches milestone in £3.9m overhaul
The Royal Navy website contains this article describing the return to the water of HMS Grimsby (MCM1 Crew 6) midway through her eight-month refit.
---
HMS Atherstone proves small ships fight hardest
The Royal Navy website contains this article describing how the ship's company of HMS Atherstone (MCM2 Crew 6 commanded by MCDOA member Justin Hains) has competed against 34 other teams from UK, US, Japanese and French ships in the Middle East to win the first Annual IMCMEX Sporting Trophy (see entry for 1 Oct 12).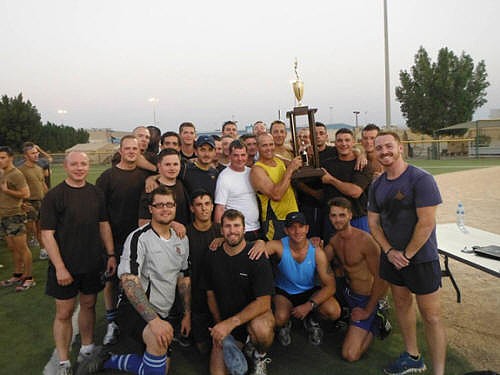 HMS Atherstone's victorious team
(RN website photo)
Postscript: The Royal Navy website published this article on 10 October announcing that HMS Atherstone will be taking part in an 'Iron Man' challenge against USS Dextrous later in the year.
---
9 Oct 12 - Funeral arrangements for Lt Cdr Iain 'Bruce' Mackay RN
Bruce's funeral service will be held at the Mendip Crematorium, Old Wells Road, Croscombe, Wells, Somerset BA5 3RR at 1200 on Tuesday 16 Oct. A wake will be held at The George Inn in the centre of Croscombe about a mile north of the crematorium. The village of Croscombe lies on the A371 between Shepton and Wells. All are welcome and I will attend on behalf of the MCDOA.
Bruce's widow Cynthia has asked Julian Malec to speak about Bruce. If anyone has any pieces about his life that he might include, please email him at this address or telephone him on 01489 892414.
---
8 Oct 12 - Death of Lt Cdr Iain 'Bruce' Mackay RN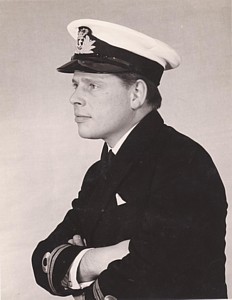 Bruce Mackay as a young Lieutenant
Gerald 'Pincher' Martin has passed me the sad news that MCDOA member Bruce Mackay died in his sleep during the night. He had been ill for several years and I last saw him in January at Tim Trounson's funeral when he was in a wheelchair with a ready supply of oxygen, tended as ever by his lovely wife Cynthia. However, he still had the mischievous glint in his eye and impish sense of humour for which he was renowned.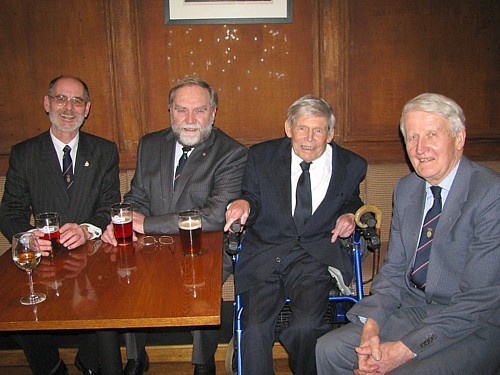 Rob Hoole, Alan Padwick, Bruce Mackay and David Burstall
in the Weymouth Arms at Warminster in January this year
Bruce was on the Long CDO Course (before the M was added) in 1963 with Cyril Lafferty, Ted Stratton and Tony Sanee. Their Course Officer was the redoubtable Stuart Honour MBE and their Chief Instructor was Ted Butler. Bruce had previously served in HMS Dingley, one of the Ley class inshore minesweepers converted into diving tenders.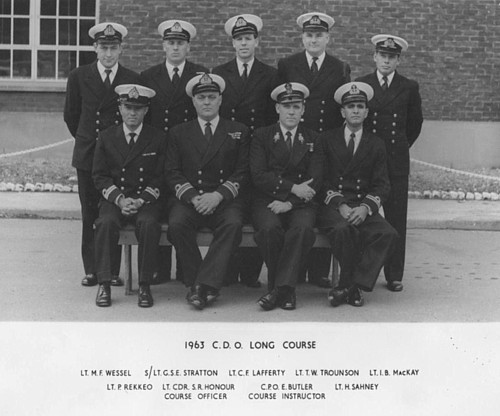 In turn, Bruce was the Course Officer for LMCDO '69. He was present at the reunion held at Gunwharf Quays, the site of HMS Vernon, to mark its 40th anniversary in 2009 (see entry for 15 Jun 09 in News Archive 26).
LEFT: LMCDO '69 in 1969
Back row: Terry Jones, John Wiseman, Julian Malec, Liam Donaldson and Brian Dutton
Front Row: Dan Nicholson, R J Murphy, Dusty Miller (Course Instructor), Bruce Mackay (Course Officer), Bill Lampard, Richard Lowther and John Belchamber
RIGHT: LMCDO '69 in 2009
Back Row: John Wiseman, Julian Malec, Liam Donaldson and Brian Dutton
Front Row: Dan Nicholson, Dusty Miller, Bruce Mackay, Richard Lowther and John Belchamber
I will publish any further information as I receive it. In the meantime, I am sure all members of our community will join me in extending our deep condolences to Bruce's wife Cynthia and the other members of his family.
---
From ex-CD1 Jock Adam:
"I have just heard the tragic news of the passing on of Bruce. I was his C.D.1 in the Home station Clearance diving team and what a good boss he was. I would like to send my great sympathy to his widow and would appreciate any contact addresses that you have.
I hope to see you all at the the Divers' Dinner in June 2013.
All the best,
Bob (Jock) Adam"
---
From MCDOA member John O'Driscoll MBE:
"Hi Rob,
Just got the sad news about Bruce. He was a great messmate whom I first met in 1963 as a lowly Midshipman. The long CDO's course were held in awe by us Shallow Water Divers but he always had time to listen and advise. He was one of the guys who encouraged me to apply for the Long Course and, when I qualified in 1965, he was one of the first to congratulate us (only four made it). Many happy memories over the years. He will be missed but always remembered with a smile.
Yours Aye,
John O'Driscoll"
---
From MCDOA member Alex Manning:
"Dear Rob,
I'm so sorry to hear this. Bruce and I were Down South together in '82; we were both in INTREPID for most of the time from Ascension onwards and I helped him with preparing and trialling his "baby", the (in)famous AMSS Mk 1.
A lovely man; nothing fazed him and his Mention in Despatches was the least he deserved.
Regards back, and in sorrow,
Alex M"
---
From former FCPO(D) Michael 'Shiner' Brassingtom:
"Hi Rob,
It's too far for me to travel to Bruce's farewell. Please tell the family I've done my usual celebration of a colleague's life by paying for an eye operation in the third world.
Regards,
Shiner"
---
From MCDOA member Mike Emary:
"Hi Rob,
Thanks for the info. MRU owing to another funeral on the same day.
My regards to the gathering.
Mike Emary"
---
From MCDOA member Alan Padwick OBE:
"Dear Rob,
I was greatly saddened to hear from you that Bruce had died. Last time I saw him was at Tim Trounson's funeral in January. Though I was shocked to see how much he was already suffering, I thought him a lucky man to have the devotion of Cynthia. We had a pleasant pint together in memory of Tim.
I first remember interacting with Bruce back in November 1968 (as recorded in my diving log). We dived together in Horsea Lake to test a swimmer delivery vehicle designed by the Admiralty Materials Laboratory, a sort of torpedo on which we lay either side. It had manual controls of hydroplanes, a crude "windscreen" and some sort of acoustic navigation system. It was good fun but not very practical.
After Bruce had been course officer of the 1969 MCD course, I took over from him for the 1970 course. We had an extended and pleasant turnover during that winter and spring and I learned to respect his views and to enjoy his sense of humour over the rest of our careers.
Let us know when you hear about his funeral.
Alan Padwick"
---
From MCDOA member Tim Paul MBE:
"Hi Rob,
A sad loss. Bruce was at Sea Trials at the start of the Falklands war. As the appointer, I lifted him to CINCFLEET to go minesweeping at one of the possible invasion sites with a brand new (then) trials rig. He was Mentioned In Despatches for his sterling work in the South Atlantic.
Hope all is well with you and yours.
Best wishes,
Tim"
---
From MCDOA member David Burstall:
"Hello Rob,
Thank you so much for the very sad news about Bruce Mackay. What a stalwart chap he was. And thank you too for the excellent photographs you sent. I had entirely forgotten about the joint picture taken at Tim Trounson's funeral.
Seeing these old snaps reminds me jut how old I am. I left the Navy the year that Brian Dutton qualified under Bruce Mackay as course officer. I was in the 1955 long course with one other trainee - Peter Roberts VC. He was a submariner who was awarded his gong for heaving a bomb out of the submarine casing in about 1942. My course officers were Jackie Warner, Eric Gash and CD1 - Willy Wyvill - a very potent and fearsome mix. I wonder if there are any archive photographs taken - if you could locate them I would be very grateful.
I would also welcome news about Bruce's funeral arrangements when you have them, together with Cynthia's address. Sorry to burden you with all these chores.
Regards,
David"
---
From MCDOA member Bob Hawkins MBE:
"Rob,
So sad to hear of Bruce's passing. I remember him well as a 'legend of the Branch' when I first qualified in 1982, and I recall that quite late on in his career he was our exchange officer in Indian Head as our American cousins were still talking about him when I went out there in 1987.
RIP Bruce.
Yours Aye,
Bob"
---
From former FCPO(D) Mick Fellows MBE DSC BEM*:
"Scouse (Colin Kidman) and I are extremely sad to hear the unfortunate news of Bruce Mackay "Crossing the Bar". He was my boss in the Scottish bomb team during the busy but enjoyable mid-sixties and we served together again in somewhat more harrowing times during the Falklands conflict. One of the respected gentlemen of the branch, he will be sadly missed by all who had the pleasure of meeting him.
Five bells Bruce – rest in peace - You did your bit!
Mick"
---
From MCDOA member Julian Malec OBE:
"Dear Rob,
I have just heard from Cynthia Mackay that Bruce has died. He was nearly 79. He had been ill for a few years with dreadful breathing difficulties which led to heart problems. He died in his own bed at home. I last spoke on the phone with him 10 days ago.
Bruce was a Ganges Boy. Among many other things he did, during the Falklands War he towed bar magnets behind an LCVP in an attempt to sweep any Agentinian mines (ex UK?). This was an extraordinarily brave act, for had he actually found a mine the consequences for him and those with him might have been disastrous.
Bruce was our 1969 Diving Course Officer. I shall remember him with admiration always.
Cynthia will tell me the date/time of his cremation.
Julian Malec"
By Webmaster: Bruce was awarded a MiD (Mention in Despatches) for his deed involving the hurriedly-developed AMSS Mk1 (Assault Minesweeping System Mark 1), as described in 'The Forgotten Few of the Falklands' in the website's Dit Box.
---
5 Oct 12 - ABCANZ 2011 delegates
From MCDOA Chairman Chris Baldwin:
"Rob,
I have just received some photos and one includes the attached picture from last November's ABCANZ [America, Britain, Canada, Australia, New Zealand information exchange programme] meeting which the UK hosted. As you may remember, a number of the ABCANZ delegates attended the MCDOA Dinner. You will see MCDOA members Dave 'Topsy' Turner RNZN, Angus Benton and Micky Beale and I thought it might be of interest.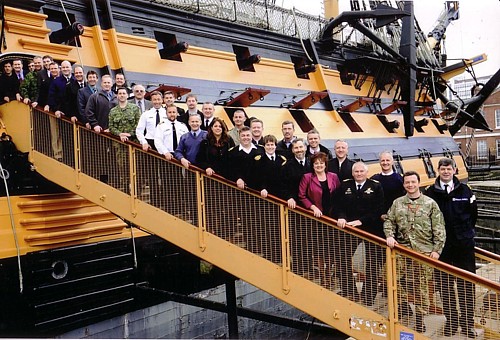 ABCANZ 2011 delegates on the brow of HMS Victory
This year's venue for ABCANZ is Halifax, Canada again in November.
Regards,
Chris Baldwin,
C M Baldwin
Commander Royal Navy
Ministry of Defence Superintendent of Diving"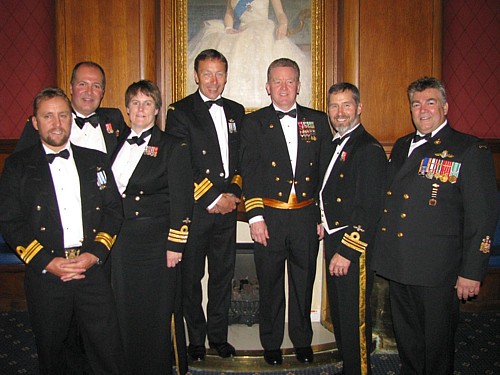 Some of the ABCANZ 2011 delegates who attended last year's MCDOA dinner
---
4 Oct 12 - SDU2 team to run in Great South Run
Today's Portsmouth News contains this article, including a video, which announces the participation of CPO(D) Ian 'Scouse' Fleming with other members of Portsmouth-based Southern Diving Unit 2 (SDU2) in this year's BUPA Great South Run (see entry for 26 Aug 12). Other members of the team comprise MCDOA member Lt Cdr Dan Herridge (OIC of SDU2) plus AB(D) Todd Fox, LS(D) Toby Jones, AB(D) Steffan Lawrence, PO(D) John O'Brien, AB(D) Steve Roberts, AB(D) Joe Smith, AB(D) Josh Spibey and LS(D) Simon West.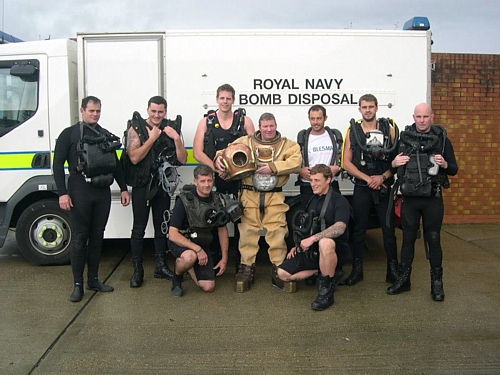 Scouse Fleming (centre) with other members of SDU2
The event will take place on Friday 26 October and the 10-man team will be wearing various diving sets 'through the ages'. It is aiming to raise £5,000 for the British Limbless Ex-Service Men's Association (BLESMA). Please be generous with your donations via the JustGiving webpage here:
---
3 Oct 12 - HDS Diving Museum update

MCDOA associate member Dr John Bevan, Chairman of the Historical Diving Society (HDS), has provided this update about the Diving Museum in No.2 Battery at Stokes Bay and the refurbishment and conversion of a WWII bunker in Gosport as the Society's library and repository for the museum's reserve collection:
"VISITORS
The weekend of 22-23 Sep was relatively quiet with 36 visitors on Saturday (sunny) and 27 on Sunday (wet and windy). An especially interesting visitor was Bob Mackay, Chief Engineer on Seaforth Clansman when she was under charter to the RN and ran aground on the west coast of Scotland with eight divers in saturation. They were obliged to undertake a hyperbaric evacuation, the only incident of its type in UK waters.
Another VIP visitor was Frank Lilleker whose claim to fame is that he was one of the handful of people who invented Octopush (Underwater Hockey) back in 1954 at Southsea BSAC. It is to his credit that the game is now played internationally and Southsea are UK champions! Google "Octopush" if you are interested.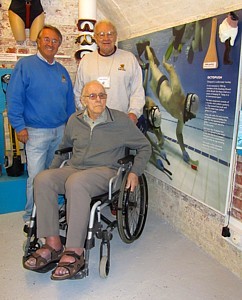 John Bevan & John Towse with
Frank Lilleker (in wheelchair)
On the immediately following Monday, we had a great time amusing the Gosport 7th Cubs! Twenty Cubs were sorted into three groups and John Dadd, Jim Thomson and Terry Nash paraded them around the Museum. The climax came with the attempt on the world record dry suit dressing time. With two ex-Clearance Divers to assist the brave Cub, the World Record was only narrowly missed. The Cubs were adequately tired by the end of the session and the Guides were completely exhausted!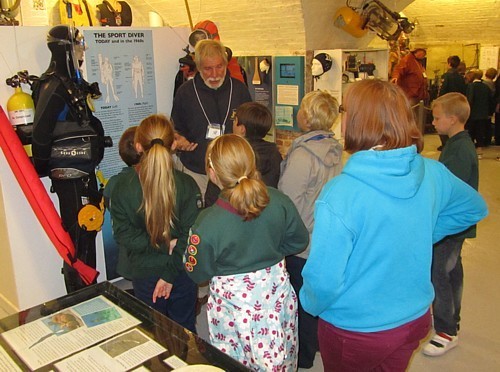 Former FCPO(D) John Dadd with Cubs at HDS Museum
Cub being dressed in Underwater Swim Suit (UWSS) at HDS Museum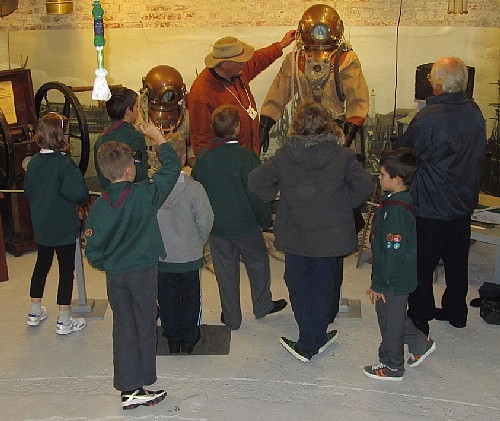 Ex-CD Jim 'Tommo' Thomson with Gosport 7th Cubs at HDS Museum
Last Saturday we hosted a group led by GBC Tourism Officer, John Gibbs. They are also visiting all the other major tourism attractions around Gosport so it was important for us to put on a good show! Feedback received so far has been extremely positive.
BUNKER BREAKING NEWS
The RN trainee divers who have been breaking their backs digging out the Bunker have now completed their project! The ground at the front of the Bunker is leveled and the Junior School behind have very kindly taken the tons of soil that were removed. The plan now is to blitz the ivy, bramble and weeds that are expected to pop up, with weed killer for the rest of the year and then to plant the ground with appropriate plants next year. We could do with some 'hard core' to establish a drain-away at the front if you happen to have any lying around.
LIBRARY
Mike Fardell has spent several days sorting out the RN records in the Reference Library. He has now completed an Index of the documents held. This is just the first shot in a long campaign ahead to catalogue all the books and archives held. We are very conscious of the fact that we are privileged to hold a unique and invaluable archive.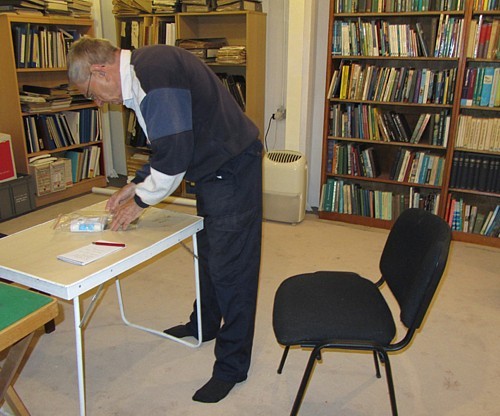 Mike Fardell in HDS Reference Library
NEW EXHIBIT
We thank Subsea 7 and ex-CD Mike O'Meara for the latest acquisition at the Diving Museum - a complete, refurbished Mark I SLS (Secondary Life Support) system. This is the semi-closed circuit bail-out breathing set introduced by necessity in the Norwegian sector of the North Sea because the regulations there required a longer endurance bail-out set than the twin cylinder, open circuit set used in the UK sector. It has since been mounted with the Krasberg return line helmet. Valued at £2,500, it has been generously donated to the Museum by Subsea 7. Also in the picture, not being part of the exhibit, is Mike with his new knee.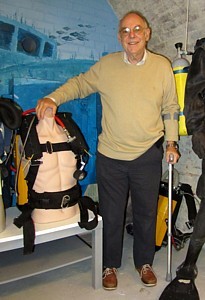 Ex-CD Mike O'Meara with SLS Mk I
NEWTSUIT
Sometime during the period 19-23 November, we will be bringing the Subsea 7 Newtsuit down to the Museum from the National Maritime Museum at Greenwich courtesy of Bourkes Removals. The approximate ETA will be 1300-1400.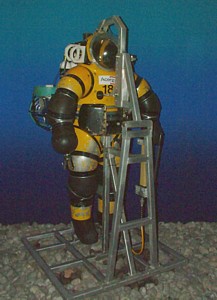 Newtsuit atmospheric diving suit
The details are:
Measurements of aluminium frame for the suit: 1220 x 1220 x 1500mm
Very approx measurements of suit: 2330 x 1220 mm
Approx weight: 350 Kg
See this beauty at: http://en.wikipedia.org/wiki/Newtsuit
We hope to have been able to split it into three parts to make it more manageable. I'll let you know as soon as we know the exact date of the transfer. On that day, we will need lots of pairs of hands to manhandle it into the Museum. Watch this space!
PRESENTATION ON THE AMPHIBIOUS TANK DEPLOYED AT STOKES BAY
On Thursday 1 Nov, The Friends of Stokes Bay will host an illustrated talk by Stuart Burgess on the development of the Duplex Drive amphibious tank and the 79th Armoured Division training schools at Fritton Lake and Stokes Bay with many photos on Stokes Bay (some previously unseen from a private collection) plus two short films including one on Stokes Bay. All are taken during or just after WW2.
Date: Thursday 1st November
Time: 7.00pm for 7.15pm start
Location: The Parish Centre, Green Road.
Admission: £3.00
JohnB"
The HDS Museum relies on a handful of volunteer guides, at least two but ideally three of whom need to be on site at any time. If you live locally and can spare the odd few hours, please contact John Bevan via this email address or call him on 07802 785050. You will then be given access to the online roster to fill in your own dates as and when you are available. You don't have to be an HDS member to get involved in this or any other way.
---
2 Oct 12 - Advice sought about MCM hovercraft
From MCDOA past-Chairman Brian Mansbridge MBE:
"Rob,
Since living in Lee-on-the-Solent, I have been devoting some of my spare time helping at the Hovercraft Museum having been the MCDO Staff/Trials Officer for the Hovercraft Unit in the late '70s. One of the current projects is to return the BH7 craft (the main platform for minesweeping and mine hunting trials) to a more original state.
Part of this process is to remove the sonar trunk as the transducer and receiver cabinets were all removed on decommissioning. Unfortunately the craft and museum archives fail to reveal the details of the fit and the sonar work was after my time with the unit... so is there anyone out there in the MW community who worked on the craft/mine hunting trials that could give us some insight? It would be a far cleaner removal if we knew where to start the cuts?
Many thanks,
Brian"
BH7 Hovercraft configured for minehunting with prominent 193 sonar trunk
If you can help Brian (or know someone who can), please email me via my Webmaster address.
---
1 Oct 12
End of massive international MCM exercise in Middle East
The MoD website contains this article, the Royal Navy website this article, the Navy News website this well-illustrated article and the Stars & Stripes website this article summarising IMCMEX 12, a massive international mine countermeasures exercise that has just concluded in the Gulf region (see second entry for 11 Sep 12 in New Archive 39).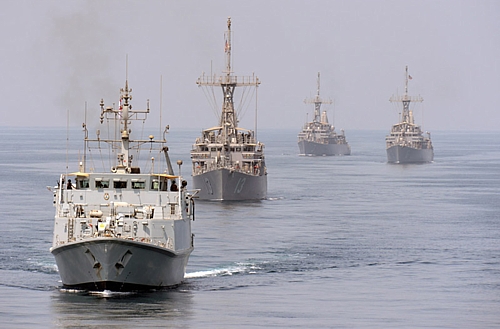 HMS Shoreham leads American minehunters USS Sentry, USS Devastator
and USS Dextrous through the Strait of Hormuz
(MoD website photo by PO (Phot) 'Simmo' Simpson)
The minehunters HMS Shoreham (MCM1 Crew 4), HMS Atherstone (MCM2 Crew 6 commanded by MCDOA member Justin Hains), their support ship RFA Cardigan Bay (all based in Bahrain) and the new Type 45 destroyer HMS Diamond plus the UK Mine Warfare Battlestaff made up the UK's input to the exercise which saw around 3,000 sailors from 30 nations, including the USA, Japan, New Zealand, Yemen, France, Italy, Jordan, Australia, Canada and Norway, work together across around 1,000 miles of ocean.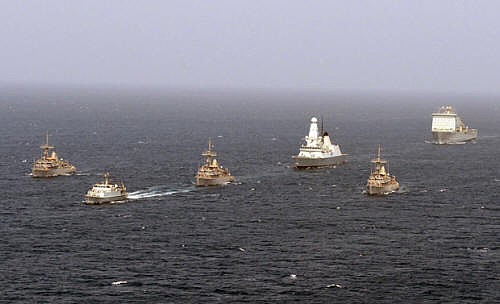 HMS Shoreham leading USS Sentry, USS Devastator and USS Dextrous plus
HMS Diamond and RFA Cardigan Bay through the Strait of Hormuz
HMS Shoreham hosted divers from New Zealand and the USA and, despite having the smallest ship's company (around 45) in the tournament.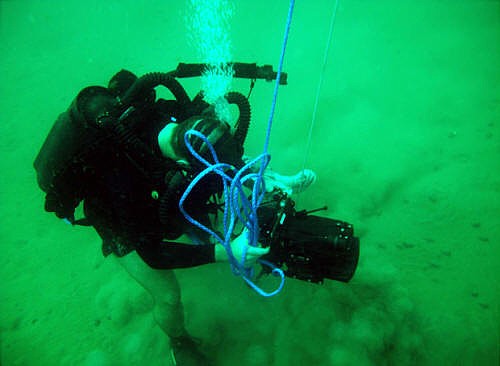 A US Navy diver attached to HMS Shoreham using a hand-held sonar
to locate a practice mine in 22 metres of water
(MoD website photo by PO (MTO) Chris Weissenborn RNZN)
Left: AB(D) Grant Henderson with a 'casualty' by HMS Shoreham's chamber
Right: SeaFox mine disposal UUV being prepared for deployment
Congratulations to the ship's company of HMS Atherstone which, despite having the smallest ship's company (45), walked away with the inaugural IMCMEX trophy having proved overall masters of swimming, football, volleyball and basketball.
Postscript: The Portsmouth News published this article, covering the same story, on 6 October.
---
RNCDA Dinner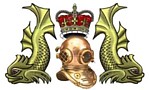 The first Royal Navy Clearance Divers' Association (RNCDA) Dinner will take place on Friday 26 October 2012 at the Marriott Hotel, Portsmouth, with proceedings commencing at 1930 and carriages for 0100. The evening is open to all current members of the Clearance Divers' Association (RNCDA) and their respective partners.
The cost of the evening is £35 per head which includes:
3 Course Diner, Wine and Coffee
Entertainment by a DJ
Various Raffle Prizes
Tickets are available from WO(D) Steve Vernon WOSDG or WO(D) Fitzjohn WOFD at Horsea Island. Only a limited number of tickets are available so do not delay.