29 Dec 09 - Arrangements for the funeral of Sub Lt Arthur Douglas Russell MBE RNVR ('P' Party 1572)
I have received this e-mail from Arthur Russell's son, Martin (see entry for 22 Dec 09):
"Rob,
Confirmed details for the funeral/cremation service for my father:
Tuesday 12th January 2010
14.30: Funeral Service at St Peter's Church, High Street, Shipton Bellinger, Tidworth, Hampshire, SP9 7UF.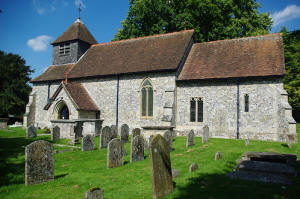 St Peter's Church, Shipton Bellinger
15.15: Buffet Refreshments and memories at The Boot Inn, High Street, Shipton Bellinger, Tidworth, Hampshire. SP9 7UF.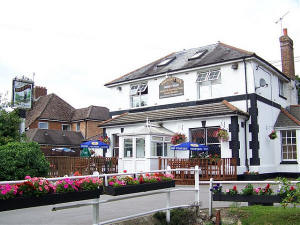 The Boot Inn, Shipton Bellinger
15:45: Short Committal at Salisbury Crematorium, 1 Barrington Road, Salisbury SP1 3JB
(Please note the actual cremation service will be a very short and low key event involving a small number of folk – the bulk of the remembrance/celebration will take place in Shipton Bellinger at the church and then at the local pub.)
You, and any other members of the RN Minewarfare & Diving community, would be most welcome to attend and celebrate Dad's life with us – we'd be pleased to meet you. I have written to Ray Maries – I am now awaiting his contact back to me.
Regards,
Martin Russell"
---
27 Dec 09 - Death of Cdr Francis 'Frank' Stanley Ward RN
It is with deep personal sadness that I must report the death of MCDOA committee member Frank Ward last night at Countess Mountbatten House in Southampton where he spent the last few days of his life. Aged 56, he was diagnosed with bowel cancer earlier this year and underwent ten painful sessions of chemotherapy. Despite this, he approached his inevitably early fate with little fuss and carried on with normal life as best he could. However, none of us expected such an abrupt conclusion as this.
Now is not the time for a detailed eulogy about our very own 'Silver Fox' but, after having served in HMS Wasperton in Hong Kong, Frank went on to qualify on the 1977 LMCDO Course and was also a PWO(U). He served in all manner of MCD and other warfare jobs and was the last Head of the Minewarfare Training Section at HMS Vernon before it finally closed its gates. Like me, he was First Lieutenant of HMS Wilton but, perhaps most notably, he was the first Commanding Officer of HMS Sandown, the lead ship of the Sandown Class minehunters. After a long stint with the Saudi Minehunter Project, he retired from active service and assumed responsibility for coordinating Naval Service charities as a pseudo-civil servant. He was appointed Deputy General Secretary of the Royal Naval Association (RNA) at the beginning of this year and only retired when his illness proved too debilitating.
Frank was a highly regarded Honorary Secretary of the MCDOA for several years and remained an active committee member to the end. He was also a passionate General Secretary of the RN Birdwatching Society (RNBWS). More recently, he was Chairman of Trustees and Honorary Secretary of Project Vernon, the campaign to erect a monument at Gunwharf Quays to commemorate the Minewarfare and Diving heritage of HMS Vernon which formerly stood on the site.
Frank was always at the centre of MCD matters, both professionally and socially. He was someone who got things done and led others to achieve great things too. It is difficult to imagine our community without him. We offer his wife June and his daughter Clare our sincere condolences. I can provide contact details for anyone who wishes to get in touch. Funeral arrangements will be published when known.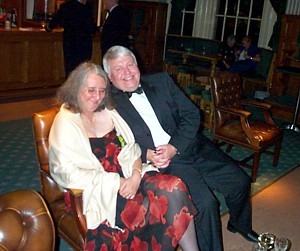 Frank and June Ward in typical spirits at an
MCDOA Ladies Night
In Frank's own words, "Farewell, Shippers".
---
From MCDOA former Chairman David Hilton:
"Dear Rob,
It was a great sadness to hear of the recent death of Frank Ward. I have known Frank for over 30 years – over the last 18 months we both worked in Semaphore Tower in Portsmouth Naval Base and often shared a dit or two during the day. Just before Christmas he came into work with June; he was in good humour, I knew he was suffering from cancer but did not realise the severity – what a sad and sudden loss to us all. At this time our thoughts and prayers go to June and family.
Rob - no doubt I will see you at the funeral on Thurs 14 Jan. As a mark of respect; I have arranged for Portsmouth Naval Base and ships alongside to half mast. Thank you for all the good work you do on the MCDOA website.
Best regards,
David"
---
From Mike Welford (LMCDO '72) in Australia:
"Rob,
Very sad New Year's news. Your earlier message got blocked, and thus delayed, by a larger message which my satellite broadband could not handle so it was not until GSP rang me only recently and your message about Frank arrived that I became fully aware of the tragedy. Graham Sharp Paul tells me that it was not generally known that Frank was ill so the suddenness seems to make it even worse. While I did not know Frank very well, he certainly espoused those diminishing values of a sincere man with a good sense of humour.
Reading the other good wishes I was also not aware of all his support to the Branch and it is now too late to thank him for that. Could you convey Erica and my condolences to June and Clare? It must be devastating to see someone so young parted from his family and like many others we realise that we must 'seize the moment' and enjoy life while we can. We trust that all other members are fit and well with a better year in prospect.
Best Regards,
Mike
P.S. Thank you again for facilitating our 'reunion' in May last year, Rob. James and Rosa thought you guys were great and loved the pub meal, company and Mavin accommodation."
---
From MCDOA member Geoff Goodwin:
"Marnie and I were very saddened to learn about Frank's death. We knew about his illness as I had visited him in recent weeks so we were prepared but that does not make it any less sad. It is particularly poignant that this should have happened at such a young age.
Like many others I have known Frank for many years, being in the Mine Warfare Section when he qualified and then our paths crossed professionally and socially later during his time in Rosyth, when he was in command of HMS WILTON and SANDOWN and in the Saudi Project. He was a highly knowledgeable and professional MCD and a pleasure to work with. He had a great sense of humour and enjoyed a good gossip, often interjecting with that slightly naughty chuckle which was never far from the surface. Supported by June, he was very hospitable – wherever Frank was, you were sure of a warm welcome.
For me he was also a great friend and he will be sorely missed.
Geoff Goodwin"
---
From WO1(D) Andy Carss QGM:
"Rob,
Sad news indeed that Frank has passed away. I didn't know him professionally but had the pleasure of meeting him whilst working on Project Vernon. He came across as a true gentleman and possessed a passion for the project that was unrivaled. We should not mourn his passing, but celebrate his life.
Andy Carss"
---
From MCDOA member Peter Waddington:
"Rob,
I have just returned to the frozen North from spending the festive season with family, to find your email giving the shocking and sad news of Frank Ward. I also looked at the website and read the many messages of condolence, and for the first time came to appreciate just how widely he was loved and esteemed by a very broad cross-section of our community.
Having retired in 1983 and having subseqently been out of touch for a number of years, I did not know Frank as many of you did, meeting him for the first time when I belatedly "returned to the fold" in the form of the MCDOA. I knew him therefore simply as a lively, friendly and very active member of the Association, who greeted me warmly on my first occasion of attending the annual dinner, and who subsequently always, and slightly to my surprise since he hardly knew me, greeted me by name and had a friendly word whenever we met. I of course heard at the last AGM that he was undergoing chemotherapy, but got no impression that he was so gravely ill. I therefore remember him as I last met him, at the 2008 AGM and dinner, when he was apparently well, and a kind and thoroughly vital "live wire", and this makes it so much more of a shock to know that he has left us.
I feel it would not be quite right of me to impose myself personally on a grieving family, to whom I am a complete stranger, but am sure you will pass on the condolences of all of us who liked and admired Frank, however briefly we knew him.
Regards and Best Wishes,
Peter Waddington"
---
From AORNFCD Chairman, former WO(D) Don 'Jimmy' Green:
"I am sorry that I am unable to attend the funeral but I will be thinking of you on the 14th.
RIP Frank.
Don Green"
---
From former CPO(D) Brian 'Troy' Tempest:
"Dear Rob,
Could you give my condolences to June as I will be up North as my mother is ill. It seems all the good blokes have the worst luck for their health. He will be missed by many, God rest his soul.
All the best,
Troy"
---
From Cdre Gary Collier RNZN (LMCDO '78) in New Zealand:
"Rob,
Sad news indeed. I didn't know Frank all that well but of course knew of him. A sad loss to our community.
On a brighter note perhaps, happy New Year to you. Keep up the good work.
Gary"
---
From MCDOA member Martin Woolley serving in NATO C-IED Branch in Norfolk, USA:
"Hi Rob,
I have only this evening learnt the incredibly sad news of Frank's passing. Having been abroad in my NATO job in the USA since 2006, I was totally unaware of Frank's illness, therefore the shock I received tonight has totally bowled me over!
The eulogies on the website from all over the world, spanning many different personalities, ages and experiences in life, consistently repeat the fact that he was a complete and utter gentleman who cared greatly for all those that he met. I first met Frank after MCDO course in 1987 on joining BRONINGTON as First Lieutenant; at this time he was the Squadron Operations Officer of MCM 2. For the young, over-confident and no doubt self-opinionated XO in his first MCDO post, Frank was a superb SOO and most importantly a great friend to all those serving in the Squadron. He consistently provided excellent professional guidance, sound managerial advice and was always willing to give his time to help in any way that he could.
Whenever our paths crossed, Frank always showed genuine interest in my latest endeavors and encouragement for future plans. I will miss him greatly and will be raising a glass in his honour tonight.
Would you please be kind enough to pass me the address of June in order for me to write her a suitable letter of condolence and to echo the words already written on our website – Frank was a damn good bloke and it has been a genuine honour and a sincere privilege to have worked with him and known him since 1987.
Yours aye,
Martin"
---
From MCDOA member Alan Padwick OBE:
"Dear Rob,
Thank you for letting me know about Frank's death. Sadly, I shall not be able to get to the funeral as it is the first day of term for the art class that I teach. I shall be thinking of June and the rest of his family and of you all as you gather to remember an excellent and hard-working stalwart of our branch.
Alan"
---
From MCDOA member Mike Kooner MBE:
"Rob,
Such sad news. I last spoke with him 29th November and he was so upbeat, living with his illness in his normal casual stoic manner. The pause in his treatments should have been a clue to me, but he brushed it off and was looking forward to "lots of things." I am utterly devastated at the news.
A really fine man who I have worked with on several occasions, he was so busy and involved with so many different organisations that he will be missed by many.
Please pass my condolences and regards to his family.
Best Wishes,
Mike"
---
From Roger Baileff (LMCDO '83B MW Module):
"Rob,
Although never quite one of the MCD cloth, I am truly saddened to read of the death following illness of Frank Ward. My abiding memory is of a man for whom nothing was too much trouble to help a fellow matelot, always complemented with a broad grin and a kind word. He truly epitomised the expression "a nice bloke" as is obvious from the deserved and heartfelt testaments from all who knew him.
Thanks also for keeping me in the loop.
Kind regards,
Roger"
---
From MCDOA member Bob Hawkins MBE on exchange with the US Navy:
"Dear Rob,
Please may I add my tribute to Frank to add to those of our brethren on the website. My earliest memory of Frank is when he drove the very new HMS Sandown into Rosyth for the first time as her first Commanding Officer. We worked together closely later on the Al-Yamamah Project and I shall always recall his great friendship as well as his superb sense of humour, which one needed in that job! Sadly I never got to know June or Clare but I do pass on my condolences to them through this medium. God bless you Frank.
Bob Hawkins"
---
From former WO(D) Chris 'Spike' Hughes in Qatar:
"Sorry to hear of the passing of Cdr Frank. I had the absolute privilege of serving with him on board HMS Wilton, indeed, as a young CD3 I probably contributed to his premature silver locks! As a Warrant, I was involved with the Saudi Project and again met up with Frank. Totally agree with all the fine tributes...a true gent indeed. I will certainly raise a glass of his favourite Red and, in his own inimitable words, wish him "Cheers Shippers!".
Spike Hughes"
---
From MCDOA member Dave Hunkin OBE:
"Rob,
I have just read the eulogies to Frank on the website which are a great tribute to him and his all too short time with us. We have lost a great friend and Branch stalwart. Frank always impressed me by the way he welcomed Kev Stockton and I into the Branch and, despite not ever working directly for him, he always made time for us 'new boys' either at the Dinner or around the bazaars. He was a true gentleman.
Dave Hunkin"
---
From former MW1 (on RAN/RN exchange) at HMS Vernon in 1977, Vic Justice in Australia:
"Rob,
Sad news, what I remember most about Frank was his quiet sense of humour. He tried to set me up once at the Ostend MW school – after some ten days there he asked me where the showers might be.
My condolences to his family and friends.
Very best regards,
Vic Justice"
---
From Chief of the Royal Australian Navy, Vice Admiral Russ Crane AM, CSM, RAN:
"Rob,
Thank you for passing this news to me. Graham Sharp Paul has been keeping me up to date on Frank's progress although I have to say it was a shock to get this news - I had not been expecting this so quickly. I have spoken to each of the RAN 1/77 MCDO Course members who trained with Frank in the UK during our MCM time and we will all be having a drink in the very fond memory of Frank Ward in the not too distant future. He was certainly a stalwart of the MCD community both in the UK and in Australia and we will all miss him deeply. The Aussies who trained with Frank would like to send something for the funeral so would appreciate your keeping me advised on any funeral arrangements idc. I will stay in touch with Graham as well to get any updates from him.
Russ Crane"
---
From Frank's LMCDO '77 course-mate Graham Sharp Paul in Australia:
"Hi Rob,
Belated thanks for your very nice note about Frank.
Frank kept his illness very quiet, so quiet in fact that I only found out about it early December from Keith Riches. Talking to June after he died, she said Frank was emphatic all along that he was going to beat the cancer. Knowing Frank's deep dislike of fuss, I think he did not want to bother anyone with something that was going to pass anyway.
Once Keith Riches found out about Frank's condition, he made a point of seeing him as often as he could and had been keeping me up to date. Clearly Frank was not doing at all well; I was so concerned I made plans to fly to the UK at the end of January to see him for what was almost certainly going to be the last time.
As it turns out, I was not pessimistic enough; I had no idea just how bad things actually were, how brutally fast the end would come. It was a bitter blow to hear he had gone and that I had missed seeing him again by only a matter of weeks. If only I had known earlier.
Frank was a good bloke. I will miss him.
Rgds,
Graham"
---
From MCDOA member and Project Vernon Project Manager Dave Carey in Dubai:
"Hi Rob,
News of Frank's passing was a real, emotional hammer blow, felt by many. After enduring so much pain during months of chemo, he surely deserved a longer remission but stoicism, in spades, was simply not enough in the end: I had so hoped he had beaten the dreaded scourge but at least he was spared any further anguish. How awful a shock for June and Clare...
The eulogies posted on the MCDOA website are testimony to a great man, well loved and respected by all. My small contribution is to admit that I cried a while for him, saying "life just isn't fair! Not Frank!...". My own life is richer for having walked alongside him for a while, in several of his various roles, no more so than in the past three years, as we worked with others on the plans for the Vernon Monument.
I'll miss Frank's wisdom, his wry humour, and his bad jokes, too. And I promise we'll finish what we've started with Project Vernon, mate!
Cheers, "Shippers!". See you on the far side...
DC"
---
From MCDOA member Hamish Loudon MBE:
"Hello Rob,
Please send me the address for June Ward. My PC has been defective this past week and the machine has just been restored. It really was a shock to learn about Frank as I didn't know he was ill. Tragic really. Frank was my deputy at CMCM in 1979/80 and I knew him as the Diving Officer of HMS Abdiel when I was the Staff MCD for MCM 1.
This makes one determined to make the most of life!! I'm still diving, looking after moorings in the NW. I'm off to Brazil in February for the Soling class World championships, well I need some sunshine in the winter and someone has to go and represent the UK!
Just preparing for the Hogmanay celebrations tonight. Best wishes for 2010.
Yours,
Hamish"
---
From MCDOA member Andy Elvin in Bahrain:
"Dear Rob,
Very sad news indeed, a true 'Gentleman Diver'.
Andy Elvin"
---
From MCDOA former Vice Chairman Jon Riches in France:
"Rob,
How very sad and so sudden. Though I never served with him, I always admired the way he went about the various appointments he was given. A staunch supporter of the MCDOA and thoroughly reliable in all he did.
You must feel his loss greatly as you worked closely with him on MCDOA business as well as being a close friend. As a member of the Northern France Branch of the RNA, we were looking forward to working with him and especially the planning of the RNA Annual Conference which is being held at Oustreham in 2010. To have had a MCD chum at RNA HQ would certainly have helped matters!!
I await details of the funeral.
Best wishes,
Jon"
---
From MCDOA member Kev Stockton in Oman:
"Rob,
Thank you for informing us all of the sad news. Having been on Loan Service for over three years, I was unaware of Frank's illness, therefore his death has come as a huge shock. I have known "Uncle Frank" since the day I qualified as an MCDO and always looked forward to the yearly dinners so I could chat to him. He was always full of life, happy, humorous, but more than anything he showed a genuine warmth and interest in me as a person and was a fantastic source of knowledge and advice. My thoughts are with his family at this sad time and I know from now on there will always be something missing from the annual MCDOA get togethers.
Kev Stockton"
---
From Chief Executive of MUSC Chris Austen:
"Hi Rob,
Many thanks for sending this to me. Very sad news. Frank and I were in the same term at Dartmouth, same division and adjacent bunks. I was best man at Frank and June's wedding.
I will contact June and give her my condolences.
Best regards,
Chris
P.S. Here is a pic of Frank (centre), aged about 18 at Dartmouth."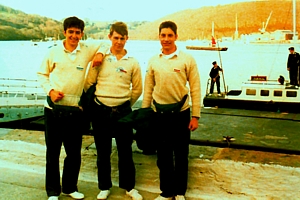 Frank Ward (centre) as a cadet at BRNC Dartmouth
---
From WO1(MW) Wayne 'Pony' Moore:
"On behalf of all the members of the MWA, I would like to pass on our sincere condolences to both June and Clare. I served at Vernon under Frank, a naval officer for whom I had the upmost respect. He will be sorely missed by the Minewarfare and Diving communities.
Rest in peace Sir.
WO1(MW) W A Moore
Chairman
---
From MCDOA member Phil Ireland DSC:
"Rob,
Terribly sad news about Frank. Although we never actually worked together, from the day I joined our branch he was there as a friend always taking an interest and making time to chat. I think the sheer volume of messages you have posted on the webpage indicate how much Frank was viewed as the quintessential MCDO and genuine nice guy whose influence was always positive and enriching.
Phil"
---
From MCDOA member Chris Ashcroft:
"Hi Rob,
Very sorry to hear of Frank's passing. I had not even realised that he was ill, though I did notice he was not at the dinner. It is amazing and in this case quite sad how cut off we can sometimes be from events when we don't live in the heart of the community. London is not so far from Portsmouth, but news is often slow to filter through.
Our Exec. Chairman at MUSC, Chris Austen knew Frank of old - I think he was best man at Frank & June's wedding, though it may be I have it the wrong way round. I have already passed on the sad news to Chris and he asked if I could get contact details for Frank's family - could you oblige please so that we can pass on our condolences.
Very best wishes,
Chris"
---
From MCDOA member and Frank's LMCDO '77 course-mate Chris Tarmey:
"Dear Rob,
Your sad message with the news of Frank's death was forwarded to me by Keith Riches. I shall write to June this evening before we head off to Portugal for a couple of weeks. I expect that we will miss his funeral which is likely to take place before we get back 14 Jan. This is a great pity as I would have liked to say a fond farewell to my course mate.
I hope you and your family have a good New Year!
Best Regards,
Chris Tarmey"
---
From MCDOA Hon Treasurer Richard 'Soapy' Watson:
"Hi Rob,
Just discovered the very sad loss of Frank. It was a great shock. In the short time that I knew him, he always contributed his great depth and knowledge on all manner of MCDO topics at our committee meetings. He certainly ensured that our MCDOA accounts were always correctly presented and I will always be thankful for his kind advice.
Frank will be "deeply" missed!
Regards,
Soapy Watson"
---
From MCDOA member Chris Meatyard:
"Hi Rob,
We're both so sorry to read this news, although you did mention in one of our phone calls (around the time that we lost Dave Ellis) that Frank had bowel cancer, so we knew that he was really unwell.
Love and best wishes from us both,
Chris and Chris"
---
From MCDOA member Nick Stanley:
"Rob,
Dreadful news.
Nick S"
---
From MCDOA member Mike Gillam:
"Rob,
Your news about Frank came as a great shock. I did not know about his illness. Having retired in 1971 and busied myself earning a living, miles from the sea. I didn't make contact with the MCDOA until the end of the eighties, or possibly later, I cannot now recall - but I remember Frank Ward loomed large as one of my first points of contact with the MCDOA. I found him friendly, efficient and everything one would expect from an MCDO. He was a great help to me and I am grateful to him for his efforts on behalf of those of us who left the service long ago but wanted to keep in touch.
Last year I underwent 35 sessions of radiotherapy for prostate cancer which is currently being kept at bay with three monthly hormone jabs and so I have some small experience of what Frank went through. Please would you express to his wife and family my appreciation of what he did for me and those others who enjoyed our MCD experience in times long gone. He was a great fellow and will be much missed.
Mike"
---
From MCDOA member John Murphie:
"Rob,
Thank you for passing that very sad news, not an easy task, and one I do not envy you. Frank and Topsy were particular mates, have you an email address for him? I am not long screw drivering I promise but I have his e-mail address should you need it.
Best wishes to you and your family for 2010.
John"
---
From MCDOA member Dougie MacDonald:
"Rob,
Sad news indeed of an old friend down. Frank has left us with many warm memories and Topsy's recollection of life in CMCM's 'warfare shop' is spot on. Frank's patience and humour prevented me from launching my PC through the office window on many an occasion and that was the least of his enormous personal contribution to both the Branch and the Association."
---
From MCDOA President, Captain Colin Welborn RN:
"Rob,
I knew Frank for over 30 years and am deeply distressed at his death; we were 'young' Lts together and grew up both in the Branch as individuals, with the normal dynamics socially and professionally, etc, but also as great friends up to the current moment. When I left last year he was the first person I talked to about cutting the 'umbilical'. Frank had that quiet exterior that masked that inestimable human quality - mettle - he had it in spades. He also had courage, integrity, loyalty, commitment plus everyone trusted Frank - if he said - 'consider it done' - it was done. To me he was like a knight of old - valiant, courteous and loyal; even in retirement from the Royal Navy he was never going to rest unburnished but wanted to shine in use. We have lost a great man. June and Clare have lost a great deal more but we will support them and they are very much in Jo and my thoughts and prayers.
Frank; we will meet again either in the Chain Locker (up there) or at the reunion you are probably already planning - please do not forget those sinners like me who will be 'down there'. I am sure we can fix the T&S to join you one more time!
Good bye dear friend, it will be a long time before a man of your quality walks by.
Good night, at least you are free from pain.
Colin"
---
From Jim Hewitt (LMCDO '76) in Canada:
"Rob,
Thank you for notice of Frank's passing. I will always remember his very helpful attitude as SOO MCM2 when I was CO of HMS WILTON. I also contracted bowel cancer but the operation was a success.
Jim"
---
From MCDOA member Clive Smith:
"Rob,
It is sad that we have lost one of our characters to this illness. Frank was a true gentleman, who never had a bad word for anyone. He will be missed.
Regards,
Clive"
---
From MCDOA member Steve Marshall DSC:
"Hi Rob,
I was very shocked to hear this very sad news. I had no idea that Frank was sick. My dad and I wondered why he was not at the dinner but did not ask you why. Very sad news - he was a great friend of my dad - they worked together in MCM 2 and then in the Dockyard.
Best wishes to you and your family for the new year as well.
Steve"
---
From MCDOA former Chairman Brian Mansbridge MBE:
"Rob,
Thank you for passing on the very sad news about Frank and your insight into his many attributes. I was always aware of his keen eye for service and professional matters but your words reminded us of just how much he supported a variety of service associations and particularly the MCDOA for many years.
Please keep us informed.
Yours Aye,
Brian Mansbridge"
---
From MCDOA former Hon Treasurer Kim Godfrey:
"Rob,
Diver down!
That is really sad news. I served with Frank on several occasions and would like to send my condolences to June and Clare. Please can you supply their address? I would also like the opportunity to say my farewells at the funeral if possible.
Regards,
Kim Godfrey"
---
From FOSNNI & Flag Officer Reserves, Rear Admiral Martin Alabaster:
"Rob,
Colin Welborn passed on your very sad e-mail. The suddeness of this news is a real shock. Could you keep me and Karen [PA] aware of funeral arrangements as I would very much like to be there. I am abroad until Sun 3rd.
Martin Alabaster"
---
From former WO(MW) Lee 'Barney' Barnett BEM:
"I can only reiterate the comments and high esteem that my peers have already stated regarding one of the stalwarts of the MW and Diving fraternity. My sincere condolences to Frank's family and may he find everlasting peace up there, be it the Diving Store, Bridge or Ops Room in the sky.
Barney B"
---
From former WO(MW) John 'Doc' Docherty:
"Frank was my boss when I was SMCMO to COMMW in 90-92. He was instrumental in supporting me during my MBA studies and was one of the most quietly efficient bosses I ever had - I learned an awful lot from him. Opening up Rob's sad message this morning was a real shock for me and it really brought home to me how lucky I'd been to work with Frank. My thoughts really do go out to his family for their loss.
Sleep well Frank."
---
From former WO(MW) Pawl Stockley MBE:
"Very sad news indeed. My dealings with Frank spanned the old COMMW organisation at Lochinvar, Rosyth (aka Falty Towers). I was his WOMW when we closed the Gunwharf MW School site and he continued in the MODSAP Castlewood House (London) job whilst I was in Saudi - an entertaining house guest when he came out to conduct business in the 'Magical Kingdom'.
A man who rarely, if ever, had a bad word for anyone else...
Farewell Frank.
Pawl"
---
From former MCD Appointer Paul Wainwright:
"Rob,
I heard the very sad news of Frank's death from Mike Handford (next door neighbour) earlier today. Would appreciate if you could let me know when/where the funeral is appreciating Xmas is worst time for these things to happen.
Best Regards,
Paul Wainwright"
---
From MCDOA member John O'Driscoll MBE:
"Rob,
Absolutely shocked to hear of Frank's demise. What are funeral arrangements etc. please?
Very best wishes to you and yours for 2010.
Yours Aye,
John O'D"
---
From MCDOA Chairman and Superintendent of Diving, Cdr Paul Jones RN:
"As we can see by the small selection of the many comments and notes of condolence that the sad passing of Frank Ward has generated, it is clear that he meant a great deal to a lot of people and I hope that it is a source of comfort to June and Clare.
Short and sweet - Frank Ward was a man who had a super career but put a great deal back into the Royal Navy too. He was generous and considerate (but didn't suffer fools) and was the voice of reason but somehow always won the argument! His judgement was invariably cool, calculated and (unsuprisingly) correct. He was also enormous fun and I will miss him."
---
From MCDOA member and Frank's LMCDO '77 course-mate Keith Riches:
"Rob,
Thank you for your well-crafted words. What sad news this is.
Regards,
Keith"
---
From MCDOA Hon Secretary Tony Griffiths:
"Rob,
Thank you for taking on the sad duty of kindly letting us know about Frank's passing. Frank was truly a great character, always ready to offer his own time and the benefit of his sage advice, tempered with a special dry humour with which he brightened the lives of those fortunate to know him. Always prepared 'to do the right thing', he was not only an inspirational figure in the Service (having taken HMS SANDOWN through her build and commissioning, but also a driving force behind the successful delivery and acceptance of the Saudi variant, the AL-JAWF Class) but also in our wider community, most notably as a principal catalyst, and long serving key official, of the MCDOA, but also as Secretary of the RNBWS.
Frank will be missed in many ways by us all and I am proud to have had the benefit of his guidance and the gift of his friendship. I hope our collective thoughts provide some comfort to June and Clare.
Yours Ever,
Tony G"
---
From MCDOA member Bernie Thompson:
"Rob,
I didn't know Frank as well as you obviously did, so my thoughts are with his family and good oppos like yourself.
Keep your chin up, me old, and I hope 2010 brings you all you wish for.
Bernie"
---
From former WO(MW) Robert 'Dixie' Dean MBE:
"I am completely gutted by this very sad news. A very respected member of the Diving and Minewarfare community.
I considered Frank to be a very good friend and spent many happy times with him during his time as the CO of HMS SANDOWN when I was the CPO(MW) at DGUW(N) Southwell, during my time with the Saudi Project when he was the RN Commander based in Castlewood House, during our time as Trustees with Project Vernon and many other times during my RN Career.
A great man who was an avid supporter of the Minewarfare Branch and, to coin a phrase, 'an all round good egg'.
Now at peace. Our thoughts are with his family."
---
From MCDOA former Chairman Simon Nicholson:
"Rob,
Thank you for passing on this incredibly sad news. I visited Frank just a few weeks ago and although he was very pale, thinner and slow in his movements I am surprised the end came so quickly. Possibly a blessing for Frank but not for June and Clare.
Yours aye,
Simon"
---
From MCDOA former Hon Secretary David 'Topsy' Turner in New Zealand:
"This is too soon - far too soon for a husband, a father, a colleague and a friend to be taken from us all so abruptly. I'm trying so hard to put together some appropriate words but it's simply just not working. Frank was such a fine chap, a generous and endearing friend and someone who oozed so much character that even my children remember him!!
I first really got to know Frank when we served together in Lochinvar Block in Rosyth for the then Captain MCM (Captain JCL Wright RN). Frank helped me with all things geeky and computer focussed, things that I never really understood, but he just seemed to know what it was I needed to do. But it was during the Saudi job that I really got to know Frank well. He would regularly come to visit the team in Jubail and so would stay with us (as well as other team members in the Soha Oasis in Al Khobar). Likewise, when I needed to return to UK I knew that Frank and June would always be the most welcoming couple you could wish for... there was always a good meal, many a good dit and a couple of drinks at their home in Stubbington.
The last time I saw Frank and June was at Bertie Armstrong's house in Scotland when there was (I think) a sort of reunion for their course....what a night!! I took over from Frank as the Secretary of our Association and I can tell you that it was one of the most professional turnovers I've ever had! Frank certainly had the gift of keeping the most outstandingly accurate records.
Frank, if you're reading this on your decompresion stops whilst waiting to get into Diver Heaven then Yvonne, the kids and I just want you to know that you are one hell of a bloke and even though we didn't get a chance to say goodbye, we want you to know that you're seriously gonna be missed by a whole bunch of us you leave behind.
Yours Aye,
Topsy"
---
From MCDOA member Dave Hosking MBE:
"Rob,
I am most saddened indeed to read about the demise of Frank Ward. I had a great deal of respect for him and, as a follow-on CO in HMS Sandown, I owed much to Frank for the systems that he had set up in the ship. I am flying out to the Canaries later today to join a 12-man crew who are attempting to break the World Record for Rowing across the Atlantic Ocean. As such, I shall miss Frank's funeral. Please pass my deepest sympathies and apologises to June, Clare and the rest of the Ward family.
Regards,
David"
---
From MCDOA member Julian Malec OBE:
"Dear Rob,
How very sad. I liked Frank greatly and always admired his energy and concern for others. Thank you for letting us know.
With best wishes.
Yours,
Julian"
---
From former CPO(MW) Ray 'Stan' Standley:
"A tragic loss to both the Minewarfare and Diving communities alike. Frank was undoubtedly one of my most respected Jimmies/Skippers during my time in Wilton. My thoughts are with June and Clare on this sad occasion, particularly at this time of year.
Rest in Peace Frank. I'll never forget you."
---
From MCDOA former Hon Treasurer Dave 'Spidey' Ince in Australia:
"Rob,
Another sad day in the history of the MCD Branch. I (like many) have fond memories of Frank. It was an honour to have served in the same Navy as him!
Yours aye,
David Ince"
---
From MCDOA past-President, Commodore Richard Moore:
"Dear Rob,
I received your message with great sorrow and offer sincere condolences to June and Frank's family. I hope that it will be possible to attend the funeral and I await the details. Frank was a man blessed with a genuine sense of humour and fortitude which made him very effective at work and a splendid companion. A courageous officer who will be sorely missed.
Regards,
Richard"
---
From MCDOA member Tim Curd:
"Gents,
This is very sad new indeed. I only heard that Frank was seriously ill at this year's MCD dinner and to have him hang up his fins so soon afterwards is a terrible shock. Like most of you, I have known Frank for a very long time - over 30 years. We have routinely exchanged Christmas cards but, geographically displaced and out of the main stream, I have probably only seen him once or twice a year at best for the last decade or so. However, in the naval community – and in the diving fraternity in particular – that was all that was needed to maintain a lifelong connection and friendship, built on those intense, heady and exhilarating days as young bloods soon after qualifying as MCDOs. It's hard to take on board that he has gone.
We will be writing to June and Clare soon but, in the meantime, if those of you who are closer identify anyway I can help, please don't hesitate to get in touch. Rob, I'd be most grateful if you could keep us posted about funeral arrangements."
---
From MCDOA member Steve Gobey:
"Rob,
Not the news I wanted to see when I checked my e-mails tonight but thank you for your kindness in letting the bretheren know. Sally and I have fond memories of Frank and are deeply saddened.
Our thoughts are with June and Clare and contact details will be much appreciated. We will all miss him.
Best regards,
Steve"
---
From MCDOA former Chairman Chris Ameye:
"Rob,
What a terribly sad end to the year and such a loss - as you said I cannot imagine our community without him. Frank was highly respected by all; a good man with a fabulous sense of humour and a staunch supporter of the Association. He will be sorely missed.
My thoughts are very much with June and Clare at this very sad time.
Chris"
---
From Gerry Kelly (LMCDO '76) in Australia:
"Dear Rob,
Very sad to hear of Frank's passing. Please pass on my condolences to his family when you have the opportunity. I remember him as one of life's Gentlemen.
All the best to you and yours over this Christmas and New Year holiday. Hope you are all surviving the harsh weather we are seeing reports about. All well with the Kelly's in Australia. Enjoying my retirement from Navy and my grandchildren.
Stay safe and healthy.
Regards,
Gerry"
---
From MCDOA member Paul Guiver BEM:
"Rob,
Thank you for informing me of this sad news.
Frank was one of the branch characters I looked up to in my earlier 'bubble head' years. He was an asset to the diving & minewarfare community; giving his support right to the end! He will always be remembered as one of the good guys!
Please can you forward details of where I can send a personal card to his family.
Best regards,
Paul Guiver"
---
From MCDOA member Ian Morton:
"Rob,
Sad news at this time of year. Can we have the home address please to get a card off? Thanks for keeping us informed.
All the best for the New Year.
Yours aye,
Ian"
---
26 Dec 09 - Navy News Items
The January 2010 issue of Navy News contains this bumper crop of items of MCDOA interest: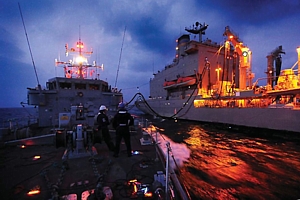 HMS Atherstone refuels from USNS John Lenthall
(Navy News photo by LA(Phot) Stuart Hill)
---
25 Dec 09 - From your humble webmaster
Merry Christmas and a Happy New Year to all our readers.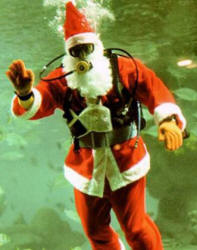 ---
22 Dec 09
Death of Sub Lt Arthur Douglas Russell MBE RNVR ('P' Party 1572)
Left: Sub Lt Arthur Russell MBE RNVR
Right: Sub Lt Russell adjusts 'P' Party diver's facemask
I have received the following sad messages during the past 24 hours:
"Hi,
I don't know if you keep records of individuals who have previously served in the units covered by your website (and I have no way of accessing the members only section) but there may be some surviving members of your organisation who might have known my father, Arthur Douglas Russell who served in a 'P' Party during the war. He has sadly, today, passed away leaving a wife and three surviving children.
He has an entry on your site as follows:
RUSSELL, Arthur Douglas
Sub Lt RNVR 'P' Party 1572
15 May 45
MBE
Port Clearance - Appointed MBE for gallant and distinguished service in mine-clearing operations in enemy-held ports during the invasion of Normandy and the Low Countries.
I have only just discovered your website following my unsuccessful attempts to track down a copy of the book, 'Open the ports: The story of human minesweepers' by J. Grosvenor in which, I believe, my father is specifically mentioned. I have managed to extract some really interesting and informative general information about his time in the service from your website – he wasn't a great one for talking about his wartime experiences - so thanks very much.
I would greatly appreciate it if you have any specific accounts that mention him and/or any pictures that include him whether you could send them through to me.
Thanks in advance.
Martin Russell"
---
"Dear Lt Cdr Hoole,
I am very sorry to tell you that my father, A.D. Russell MBE (Sub-Lt, P1572), died yesterday, 21st December 2009 at 3pm, after a long illness.
He was appointed as an MBE for using an American Thermit unit to destroy a ground mine in the Albert basin of Antwerp docks, in - I think - 1944. This technique was designed to burn away the charge under water without exploding it - a theory that did not always work in practice. There is a short account of this episode in 'Open the Ports' (p134) by Grosvenor and Bates (1956).
Before being commissioned into the RNVR, he had volunteered for the Navy (his father was a career Navy man) and served in HMS Largs as a motorboat coxswain, among other things.
As a boy, he was a schoolboy ABA boxing champion of Great Britain. After the war he trained as an English teacher, ending his career as Head of English at Amesbury County Secondary Modern School where he inspired generations of children with a love of poetry and drama - as well as achieving quite phenomenal GCE results.
I think people of his generation were very special, not just in what they accomplished, but also in the modesty and dignity with which they accomplished it. I only know the little I do about his wartime career because I read up on it; he very rarely talked about it himself. Anyway, he is greatly missed.
Can I send my best wishes for a merry Christmas and a happy new year to you and all members of the MCDOA.
Wth much respect and admiration for the work you do.
Yours sincerely,
Simon Russell"
I deeply regret that I was unaware that Arthur Russell was alive until yesterday, especially as I am in contact with Honorary AORNFCD member Ray 'Brum' Maries, a surviving member of 'P' (Port Clearance) Party 1572.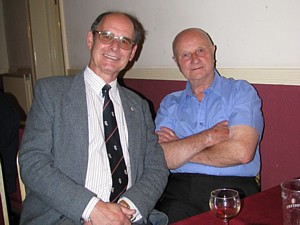 Rob Hoole with Ray 'Brum' Maries BEM
at the 2008 RN Divers' Reunion
According to 'Open the Ports' by J Grosvenor & Lt Cdr L M Bates RNVR, Arthur Russell started his training in underwater clearance techniques at the short-lived HMS Firework near Barrow-in-Furness where training had moved from HMS Volcano at Holmrook Hall, also in Cumberland, in mid-1944. In October that year, 'P' Party training was moved again, this time to HMS Vernon (D) at Brixham in Devon (the 'D' indicated the unit's accounting base at Dartmouth) where Russell completed his course.
'P' Parties had been deployed to France immediately after D-Day but 'P' Party 1572 was deployed to Belgium under the Command of Cdr James Leslie Harries OBE GM* RCNVR in October 1944 to join 'P' Party 1571 which had been clearing the harbour at Antwerp since its liberation on 6 September. Hard fighting carried on around the city for several months afterwards and the enormous docks and harbour had to be searched and cleared of any mines, underwater demolition charges and booby traps left by the retreating Germans. Nearly a hundred minesweepers were involved in clearing the sea approaches and estuary alone. Such was the scale of the clearance operations that a third 'P' Party, 1573, was required in November.
As far as Arthur Russell's involvement was concerned, 'Clear the Ports' has this to say:
"...In the Albert Dock they had a little luck. Besides the usual collection of small demolition charges, they found a ground mine. This was dealt with by Russell, who had joined Party 1572 after completing his training. He destroyed the mine by use of an American Thermit unit, which burned it underwater without exploding it.
Russell had had experience of this method during some trials in Chichester Harbour a few weeks earlier. It is a method which can be used only when (a) it is not required to recover the mine or (b) when a possible detonation would cause serious damage. The Thermit unit is aimed to destroy the main charge of a mine without detonation, but there is always a risk that the mine will detonate after all.
Russell was subsequently awarded the M.B.E. for his work on this mine.
It was at Antwerp that 'P' Parties had, off duty, their only fatal casualty - A.B. Brunskill*, who had the bad luck to be killed in a cinema when it received a direct hit from a rocket..."
* This was actually AB William BRUNSKELL P/JX 273286 of 'P' Party 1571 (Odyssey) who died on 19 Dec 1944 after a V2 had hit the Cinema Rex in Antwerp on 16 Dec.
Our sincere condolences go to Arthur Russell's widow, Molly, his surviving sons Simon and Martin, his daughter Mary and his eight grandchildren.
---
By ex-'P' Party diver David Shane:
"Hi Rob,
Nice to talk to you today and I should be grateful if you would pass on to Sub Lt Arthur Russell's family my sincere condolences. The weather and the caution of age prevents my attending his funeral but as a member of P Party 1571 working with 1572 in Bremen at the end of the war, I can recall him with affection, even though he tried to get us to knock each other silly in the boxing ring. I am not surprised that he became a successful teacher; sincerity was one of his virtues that I remember.
Best regards,
David Shane"
---
Remembrance Service for Lt Walter Erskine Prior RNVR
As last year, I travelled to Aldwick near Bognor Regis today for a Service of Remembrance for Lt Walter Erskine Prior RNVR. Exactly 64 years previously, Walter Prior was killed while attempting to render safe a moored mine on the beach at Aldwick. The service was held near the spot where he met his untimely end on 22 December 1945 at the age of 23. It was conducted by the Revd Canon Dr Lawson Nagel, Vicar of Aldwick, and attended by Nick Gibb MP, local councillors, representatives of the Royal Naval Association and the Royal British Legion and others. Wreaths were laid by District Councillor Mr Don Ayling (Chairman of Arun District Council) and by me on behalf of veteran wartime bomb & mine disposal officer and author Lt Noel Cashford MBE RNVR, a contemporary and colleague of Walter Prior. Sadly, Noel was unable to attend because his wife, Brenda, is currently ill and we wish her a speedy recovery.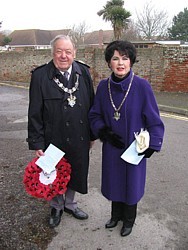 District Councillor Mr Don Ayling
and Mrs Ayling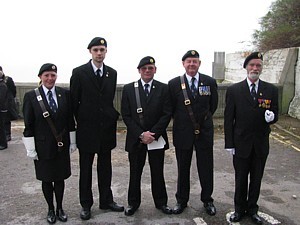 Royal British Legion standard bearers
Standard bearers and and some of the attendees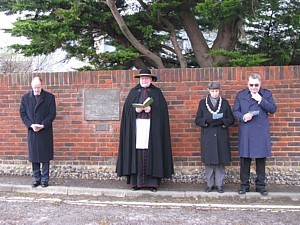 Nick Gibb MP, the Revd Canon Dr Lawson Nagel and
Carol Wiseman (Chairman of Aldwick Parish Council)
with her husband
Left: Plaque commemorating the death of Lt Walter Prior RNVR with today's wreaths
Right: Close-up of memorial plaque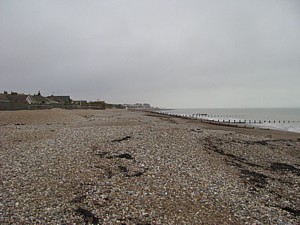 Adjacent beach where Lt Walter Prior RNVR
was killed in December 1945
A reception was held afterwards at the Aldwick Parish Council offices. Walter Prior has no surviving relatives and I would like to express my deep appreciation on behalf of the MCD Branch to everyone involved in helping to keep his memory alive.
---
19 Dec 09 - HMS Quorn returns home
Today's Portsmouth News contains this article describing the return of HMS Quorn to Portsmouth after her five-month deployment on both sides of the Atlantic.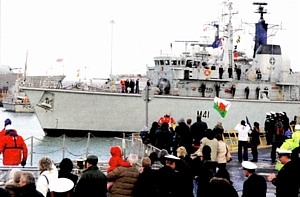 HMS Quorn back at Portsmouth
(Portsmouth News photo)
---
17 Dec 09
Diving at Gunwharf Quays
The following article appears in the December issue of Sport Diver, the PADI Diving Society's official magazine:
The article describes how The Dive Connection, based in Portsmouth, is using what was once Vernon Creek for recreational diving. This is where minehunters, minesweepers and diving tenders berthed in the days of HMS Vernon but it is now part of the marina, shopping, leisure and residential development known as Gunwharf Quays. Coincidentally, this is also where it is planned to erect the Project Vernon monument to commemorate the minewarfare and diving heritage of HMS Vernon.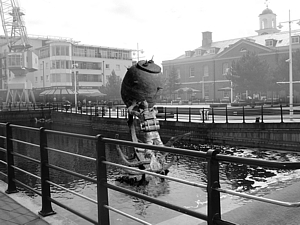 Artist's impression of Project Vernon monument
---
HMS Quorn returns to Portsmouth tomorrow
The RN website contains this article announcing the arrival at Portsmouth tomorrow (Friday 18 Dec) of HMS Quorn after her five-month deployment on both sides of the Atlantic. Her ETA at Outer Spit Buoy is 1000.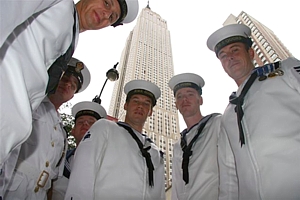 Members of HMS Quorn's ship's company in New York
(Navy News website photo)
---
16 Dec 09
HMS Walney to go in latest Defence Cuts
Rather poignantly in view of the entry for 13 Dec 09, the Navy News website contains this article announcing that HMS Walney, commissioned in 1992, is to be a victim of the latest Defence cuts. This means that only seven of the 12 Sandown Class minehunters built for RN service will survive although 20 were originally planned. The eight Hunt Class minehunters remaining of the original 13 built will stay in service for the time being but the early disposal of HMS Walney will reduce the number of RN mine countermeasures vessels (MCMVs) to 15 in total. The Strategic Defence Review (SDR) mandated a requirement for 22 MCMVs (reduced from the previously planned 25) as recently as 1998.
---
Joint Force Explosive Ordnance Disposal Group receives Sun Military Award
Congratulations to the Joint Force EOD Group in Afghanistan for being presented with the Judges' Award for Special Recognition at last night's Sun Military Awards (Millies). PO(D) Jai 'Digger' Gardner, LS(D) Ian 'Higgy' Higgins, and AB(D)s Chris 'Jumper' Collins and Les Cockerton are all currently serving in the Joint Force EOD Group with 49 Field Squadron (EOD) (see entry for 17 Sep 09 in News Archive 27 plus second entry for 8 Oct 09 and entry for 28 Oct 09 in News Archive 28).
---
13 Dec 09
News from HMS Walney
I am grateful to Lt Marc Taylor RN, Navigating Officer of HMS Walney, for this update:
HMS WALNEY DECEMBER UPDATE
It has been a busy month for MCM1 Crew 1 in HMS WALNEY. After sailing to conduct weapon training in the Clyde areas, the Sandown Class Mine Hunter headed south to operate with our larger friends off the coast of Plymouth. The transit south was influenced greatly by the typical winter weather. With gale to storm force winds predicted it was imperative WALNEY sailed round Lands End before the weather deteriorated. Making good a top speed of twelve knots, it seemed that we would miss the worst of the bad weather as we headed towards the Lands End Traffic Separation Scheme. With Wolf Rock Light House in sight the weather worsened and it was a race against the inbound Storm Force 10. Sadly on exiting the Traffic Separation Scheme and heading east WALNEY lost that race! As we sailed towards the shelter of Falmouth Bay, we experienced winds of up to 60 knots together with a high following sea. It seemed even the much larger members of the Merchant Shipping community shared our plight as when we reached Falmouth Bay some twenty ships were already at anchor there gaining shelter from the storm force winds. Safely in the Bay after a bumpy three hour transit rounding Lands End, WALNEY anchored and waited for the winds to abate before continuing her transit to Plymouth.
It was a rare sight for Devonport to see a Sandown Class Mine Hunter, but for the Ships Navigating Officer, Lt Marc Taylor, it was the chance to spend some time at home. As for the rest of the Ship's Company, it was time to recover after a busy and somewhat uncomfortable time at sea in the inclement weather. WALNEY was in Devonport to take part in a 'Thursday War', where the Devon and Cornish Coast is transformed into a mass of Ships and Aircraft all taking part in the simulated UN defence of 'Brownia' from those tyrants in 'Gingeria'! WALNEY led the German Frigate NIERDERSACHSEN and the Type 23 Frigate HMS ST ALBANS through the simulated mine field before being 'bounced' by Hawk aircraft posing as Ginger fighter bombers. After successfully completing her task and admiring the array of Ships and aircraft taking part, including the Aircraft Carrier HMS ARK ROYAL, the Faslane based MCMV headed further south to the Channel Islands for her three day visit. Once again the weather gods were not kind to WALNEY and for three VIP guests onboard it was an early introduction to life onboard a Small Ship when the weather is not being kind!
Arriving in St Helier in Jersey on the morning of Friday 4 December was a special moment for WALNEY's Commanding Officer, Lt Cdr Marcus Jacques, who hails from the Island. With family and friends welcoming the ship into St Helier harbour under the watchful eye of the regional commander, Commodore Jamie Miller, there was no small pressure on WALNEY's Captain to safely drive her alongside with style! More than 40 guests were welcomed onboard during the evening to view the capability of the Sandown Class MCMV and to get an insight from the Ship's Company on life in the Royal Navy. Throughout the weekend stay some 600 visitors were welcomed onboard, with local school children from Victoria College taking a keen interest as some would get the opportunity to sail with the ship on her transit to Alderney. Unfortunately, the weather turned on us once again as we sailed, with many of our younger guests struggling to find their sea legs. The roller coaster that is a Sandown Class MCMV in any significant sea state was soon over for some of our land-loving guests as WALNEY entered Braye Harbour in Alderney. It was the first time a Royal Navy Ship had been alongside in the most northern of the Channel Islands in over a decade. The Harbour Commission are constructing a new purpose-built jetty and it was WALNEY who had the privilege to be the first ship to use it. The weather ensured it was a lively four-hour stopover before heading north to Portsmouth, with the gangway party fully exercised throughout.
The visit to the Channel Islands was thoroughly rewarding. The hospitality, friendship and enthusiasm for the Royal Navy from the islanders of both Jersey and Alderney was very humbling. On leaving the Channel Islands, Lt Cdr Marcus Jacques commented, "This has not only been a very personal and rewarding visit for myself but it has also re-affirmed the strong and deep rooted ties the Royal Navy has with the Channel Islands".
WALNEY now has the chance to reacquaint herself with her former home at 2 Basin in Portsmouth Dockyard from where, after a couple of days of Gunnery drills, she will head north again to Faslane and the opportunity to take some well-deserved Christmas Leave. Fingers are firmly crossed that the weather gods turn a blind eye for our transit home!
---
Christmas card from HMS Chiddingfold's divers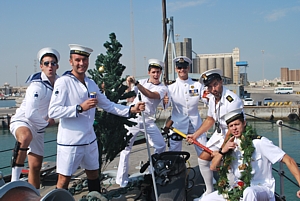 HMS Chiddingfold's Diving Element
MCDOA member Lt Al Nekrews RN, First Lieutenant of HMS Chiddingfold, has sent this Christmas card on behalf of MCM 2 Crew 5's diving element, currently serving on board the ship in the Gulf.
---
12 Dec 09
Project Vernon Carol Service
Many thanks to MCDOA President, Captain Colin Welborn RN, for organising Thursday night's highly enjoyable Carol Service in St Barbara's Church, HMS Excellent. Just under a hundred people of all ages and backgrounds sang their hearts out and enjoyed seemingly inexhaustible supplies of mulled wine, orange juice and mince pies in the Senior Rates' dining hall on completion. Lessons were read by Simon Nicholson, Doug Barlow, Kate Welch, Rob Hoole and Paul Jones. Thanks also to the Revd Tim Wilkinson RN for officiating in such an upbeat and entertaining manner.
---
The Phoney War of 70 years ago
This article about countering the German mining menace in 1939 has been reprinted from the Daily Telegraph of 12 Dec 1939:

---
11 Dec 09 - SDG members complete charity 'Iron Man' challenge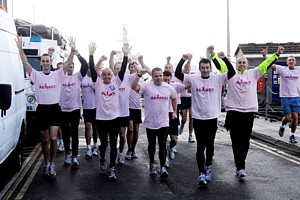 SDG Iron Man Team
MCDOA member John Beavis, CO of the Southern Diving Group (SDG), informs me that he and other SDG members completed a 24-hour Iron Man distance Triathlon yesterday in aid of Against Breast Cancer. Click on the following link to read about their participation in this daunting event and donate to their worthy cause.
www.justgiving.com/Southern-Diving-Group-Ironmen-Challenge-2009
---
10 Dec 09 - Quorn Goes Out With A Bang
The RN website contains this article and the Navy News website contains this article describing the disposal of a wartime mine by HMS Quorn in the Kattegat during DANEX 09.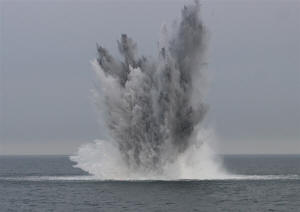 WW II UK Mk XXV snagline moored mine
detonated by HMS Quorn
(Navy News website photo)
---
9 Dec 09 - Don Crosbie Swims for Charity
I have received the following e-mail from MCDOA member Don Crosbie, Senior Naval Officer Northern Ireland. Please give it the attention he and his appeal deserve.
"In an attempt to shed some pounds before Christmas and raise some money along the way, I have been participating in the Aspire Channel Swim. This entailed swimming 22 miles in 12 weeks (1416 lengths of a 25 m pool) but I got bored and decided to swim back again completing 44 miles (2832 lengths). Before you ask, no, I didn't lose any weight!
ASPIRE is a charity that assists people with spinal cord injuries with the goal to provide the support needed to take them from injury to independence. Each year approximately 1,200 people receive such injuries and I know from personal experience the devastating effect that this can have (my niece, Phoebe, was left paralysed following a road accident). I also know what the huge difference that bespoke assistance and equipment can make.
To find out how ASPIRE provides this assistance please have a look at their website: www.aspire.org.uk. It would be great if you could help me to help them by donating a small amount to my just giving page. You can do this by following the link below.
www.justgiving.co.uk/Donald-Crosbie
Many thanks for your help,
Don"
---
8 Dec 09 - 'Gentlemen Who Lunch' attend the TCA's Portsmouth area Christmas party
The MCDOA's 'Not Quite the Last of the Summer Wine' trio of Doug Barlow, Martyn Holloway and Rob Hoole joined fellow MCDOA members Brian Dutton and Bob Lusty plus AORNFCD (Association of RN First Class Divers) member Les Sharpe at the Ton Class Association (TCA) Christmas Lunch at the Royal Maritime Club in Portsmouth today.
Left: Doug Barlow with Bob Lusty
Right: Brian Dutton with Martyn Holloway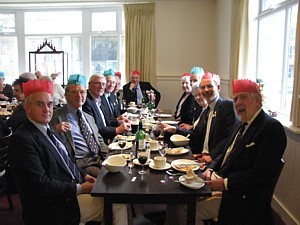 MCDOA members' table
(The noisy one!)
Left: Les Sharpe (in red jacket) with his guest Jackie
Right and below: Other TCA revellers
Warm thanks to TCA member Chris Green who, coincidentally, lives in Gunwharf Quays on the former site of HMS Vernon, for organising this hugely enjoyable event.
---
7 Dec 09 - Navy News items
The December issue of Navy News contains these items of MCDOA interest:
---
5 Dec 09 - Willie Wilkes discharged from hospital
I visited ex-CD1 Tony 'Willie' Wilkes in hospital on Tuesday (see entry for 29 Nov 09 in News Archive 28) and it appears that his cancer is seriously advanced and widespread. He was fairly fatalistic about his condition but in remarkably good spirits considering his circumstances and sent his warm regards to all his friends. He was discharged on Thursday and is now back at home; I had a chat with him earlier today. I'm sure we all have Willie and his supportive partner Maureen in our thoughts and prayers.
---
2 Dec 09 - RN Diving Heritage: Far East Fleet Clearance Diving Team (FECDT)

Some weeks ago, MCDOA member Mike Gillam sent me this e-mail:
"Rob,
I have been digitising a mass of family slides and other photos from years long past and have come across the attached photos of the Far East team from 1962 (including school and B&MD unit) in glorious technicoloured shorts that might be of interest. The faces are all familiar after all these years but some of the names escape me. However I do recall Bob Atkinson, Tom King, Vic Humphrey, Harry Harrison, Frank Vaughan, Albert Drain, Stan Templeton, James Majendie and POM(E) Pat Roberts.
I also have some better photos (b&w) of the team's raising of an ammo dump in the Johore Strait, if you are interested.
Regards,
Mike"
I have asked Mike to send me his other photos but in the meantime here are those he has already provided. Any more names on offer?
Above and below: Far East Fleet CDT at HMS Terror, Singapore in 1962
including Lt James Majendie RN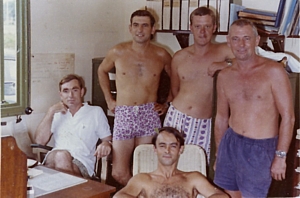 Ex-CD1 Leo Whelan has also sent me these photos of the Far East CD Team in 1963-5. It includes pictures of the first diving inspection of the wreck of HMS Repulse in 1965 and the placing of a white ensign on it (see full story here).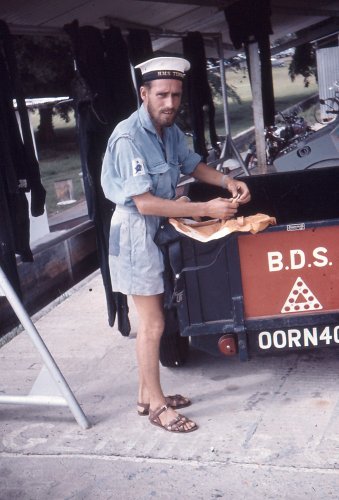 Leo Whelan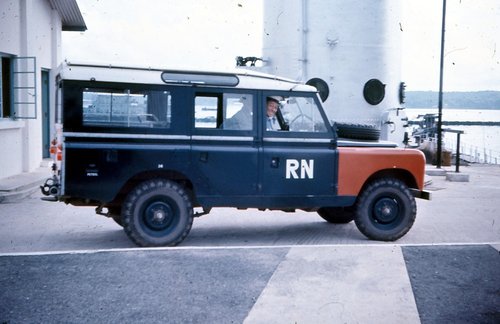 Jonno the 'Harley Bike Man'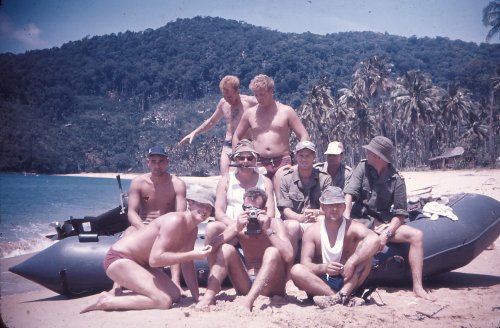 On the beach at Pulau Tioman
Back: Ginge Turton, Pincher Martin (Brum), Trevor Gibson
Middle: Dave Coote, Bungy Edwards (Boy Seaman on board HMS Repulse), Ginge Bishard, Lt Cdr David Burstall
Front: Jock Allardyce, Stafford Cripps, Jesse James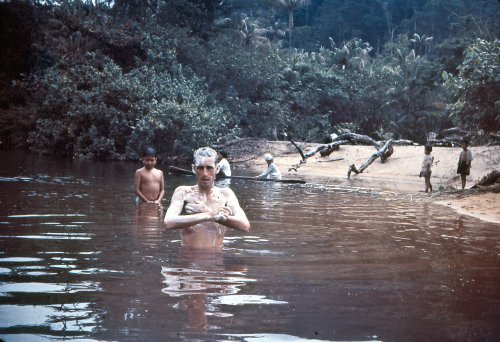 Leo Whelan has a bath at Pulau Tioman
Harry Harris and Scobie Williams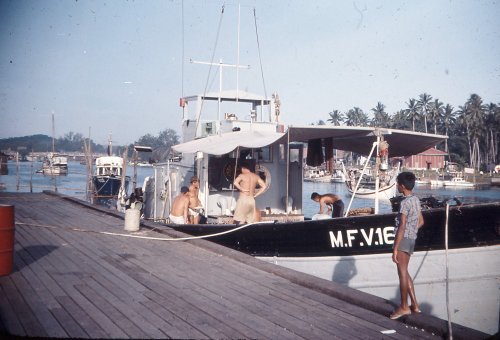 MFV 164 alongside at Mersing in Malaya.
Scobie Williams (wearing hat) and his team of locals cleaning ship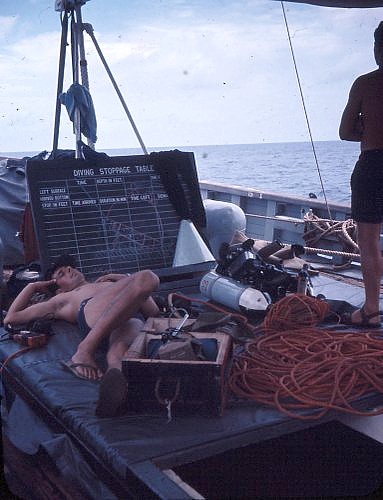 Scobie Williams above and Leo Whelan below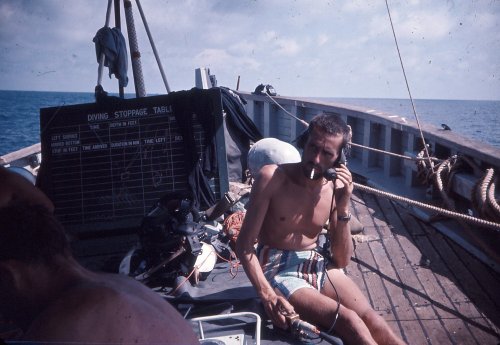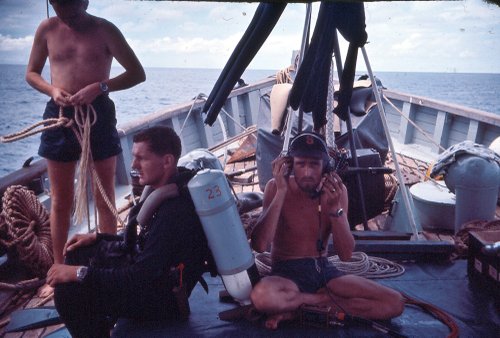 Lt Cdr David Lermitte, Peter Gallant (wearing old-style SABA) and Leo Whelan
on board MFV 164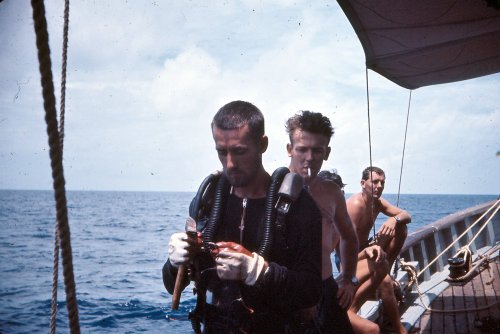 Leo Whelan, Jasper Peters and Pete Gallant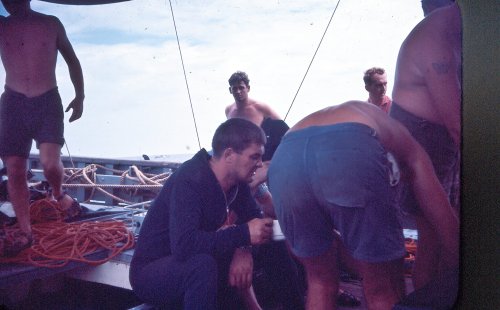 Back: RAN CD Billy Burrows and David Lermitte. Front: Jesse James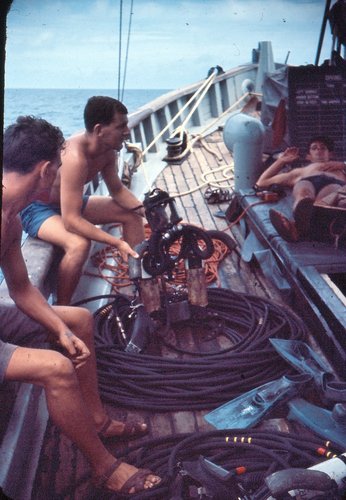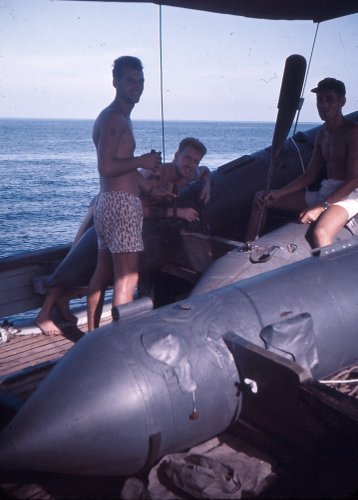 Left: Harry Harris and Scobie Williams (having a kip)
Right: Stafford Cripps, Ginge Turton and Leo Whelan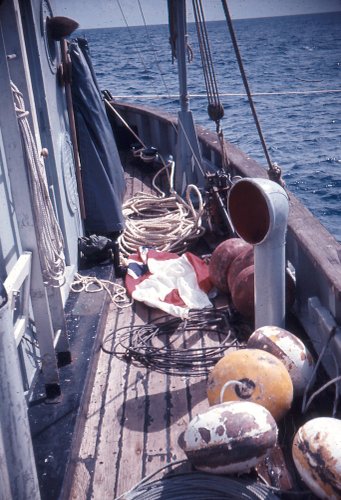 White ensign ready to be secured to the wreck of HMS Repulse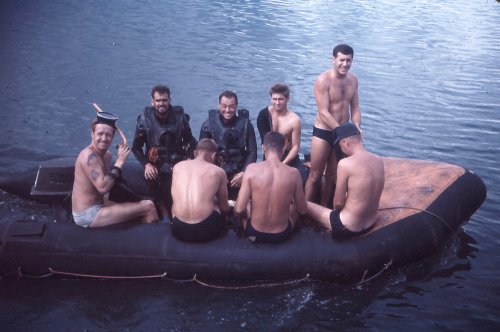 Back: Jock Elder, Jonno, Scobie Williams, RAN CD
Front: Ginge Turton, Dave Coote, 2 x RAN CDs, CPO(CD1) Alan Jones RAN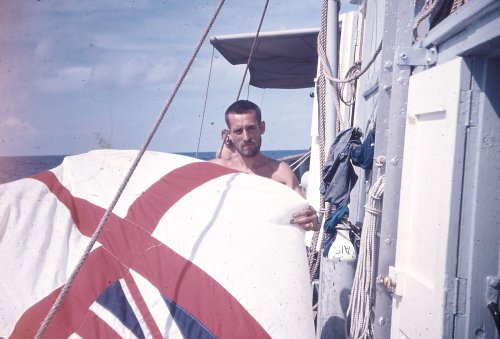 Leo Whelan with white ensign ready to be secured to wreck of HMS Repulse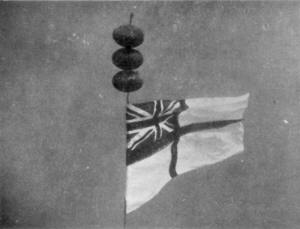 (Ensign after being placed on wreck of HMS Repulse)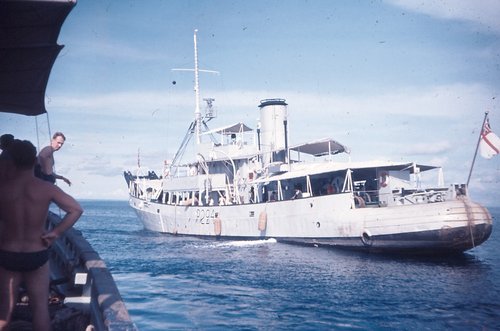 David Lermitte and Billy Burrows RAN with HMS Barfoil in background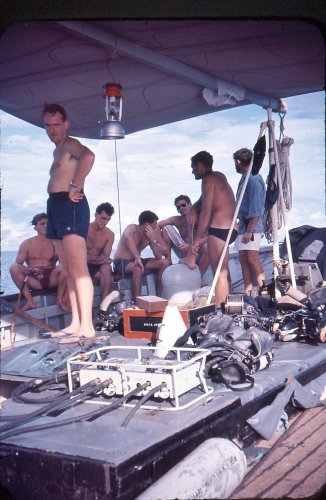 Front: David Lermitte
Back: Piggy from HMS Ajax, ?, Fred the PO Stoker
plus three RAN CDs and 'Skid' Marks in blue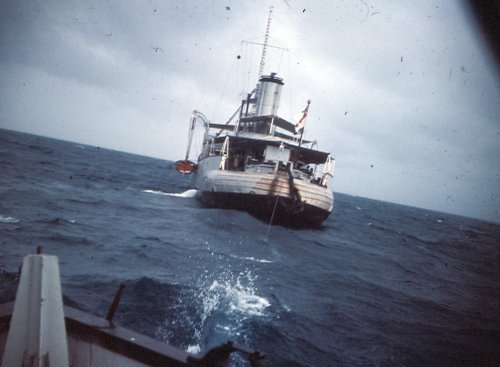 HMS Barfoil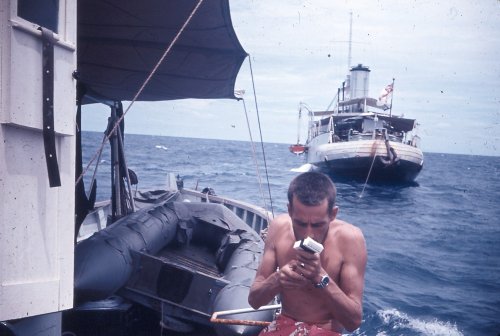 Leo Whelan on board MFV 164 with HMS Barfoil in background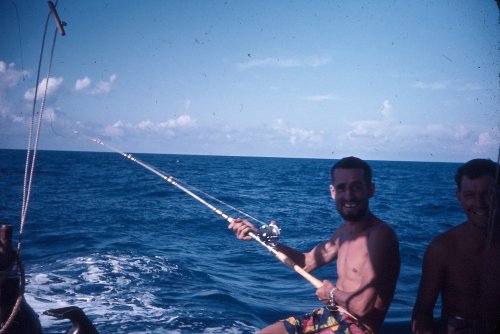 Leo Whelan does a spot of fishing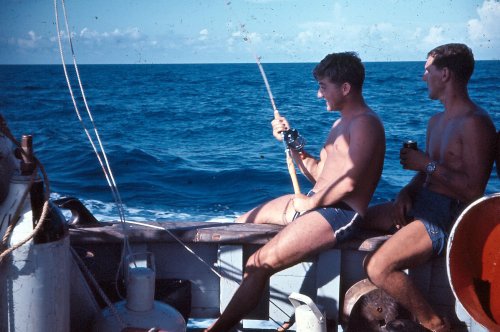 Peter and Piggy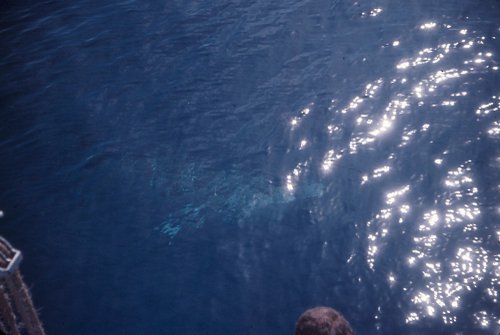 Above and below: Whale Shark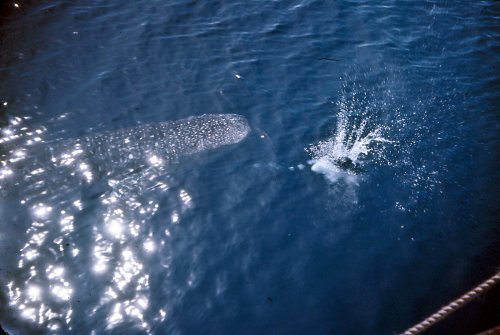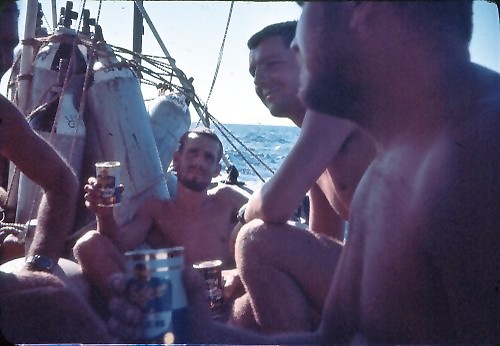 Leo Whelan, Pete Gallant and Vic Humphrey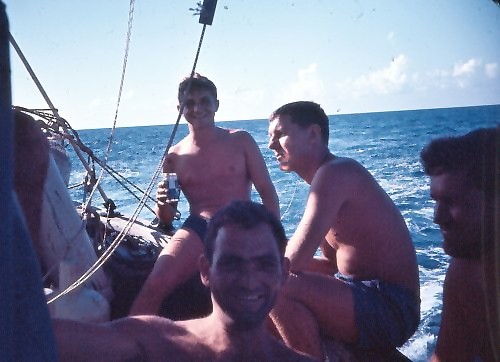 Piggy from HMS Ajax, Pete Gallant and Vic Humphrey with RAN CD in middle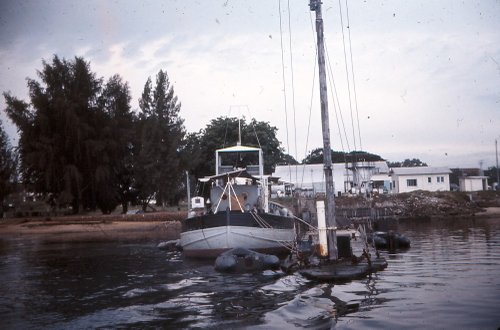 MFV 164 back alongside at HMS Terror in Singapore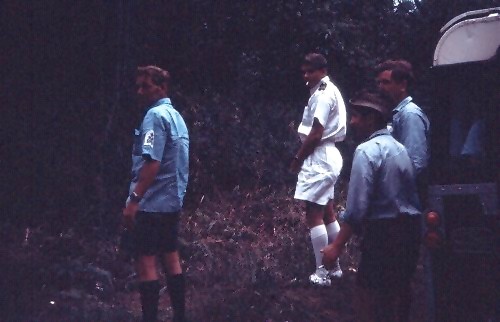 Shortie Ayres, MCDOA member Tim Trounson, Scobie Williams and Vic Humphrey
on Kota Tingy Rd on way home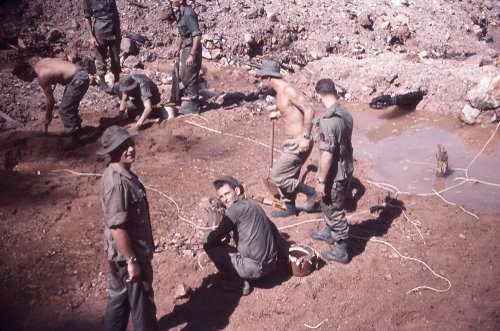 CPO(CD1) Alan Jones RAN, Pete Gallant and Jesse James in Kluang, Malaya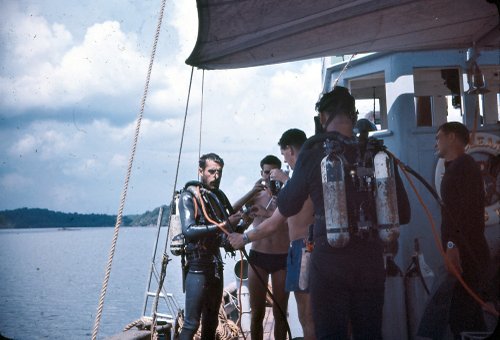 Leo Whelan, RAN CD, Pete Gallant, Jesse James and another RAN CD
Thanks, Bob and Leo, for this fascinating slice of RN clearance diving history.
Postscript 1: MCDOA member Frank Ward's wife June informed me shortly after this article was published (and around the time of Frank's death) that her father, Lt Cdr William Pearce RN, was the Commanding Officer of HMS Barfoil 1963-65 when these photos were taken. June was a teenager living with her family in Singapore at the time.
Postscript 2: I received this e-mail from CD Stu 'Russ' Russell on 4 August 2010:
"Dear Rob,
I was trying to find a photo of my dad when he was on the Far East diving team and was led to your web site by Google. It wasn't the actual photo that I was searching for; instead, I was pleasantly surprised to find this new one. I couldn't believe I'd found it. Below is the photo which I am referring to.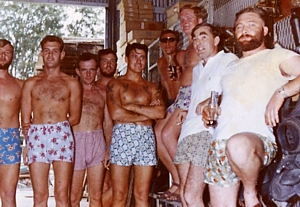 Far East Fleet CDT at HMS Terror, Singapore in 1962
My dad is the second from the left in the picture, with the red and white shorts. His name is Simon Russell, however I think he was known as 'Jock'. He left the mob in '65 (the year I was born) and is still alive and kicking. I look forward to showing him this blast from the past at the weekend. Somehow I think it'll make him laugh.
It's another name to the photo and I hope it's of some use.
I myself am presently on FTRS as a PO(D) at DEODS (DEMSS South) [Defence Explosives, Munitions and Search School], due to start on the Saudi project at DDS in March.
Great work, many thanks,
Stu 'Russ' Russell"
---
1 Dec 09 - Navy News covers Ouvry Commemorative Event
The Navy News website contains this article describing last Thursday's event on board HMS Belfast (see entry for 27 Nov 09 in News Archive 28) to commemorate the 70th anniversary of Cdr John Ouvry DSO RN first rendering safe a German 'GA' magnetic mine at Shoeburyness on 23 November 1939.
---
30 Nov 09 - Funeral of Corporal Loren Marlton-Thomas RE
The funeral of Corporal Loren 'Loz' Marlton-Thomas of 33 Engr Regt (see entry for 25 Nov 09), killed by an IED in Afghanistan, will now take place on Tuesday 8 December. All other details remain the same.
See this article on the Blackpool Gazette website for further information about events on the day.
---
29 Nov 09
Willie Wilkes seriously ill in hospital
Ex-CD1 Tony 'Willie' Wilkes is seriously ill in Queen Alexandra's Hospital at Cosham after having been diagnosed with advanced cancer on Friday. I spoke with him on the phone yesterday and he told me that his condition is inoperable but he expects to undergo chemotherapy. Although he sounded understandably groggy after having had visitors, he was lucid and seemed prepared for any eventuality. I intend taking his old friend, MCDOA Honorary Life Member 'Uncle Bill' Filer, to visit him sometime during the coming week.
Willie Wilkes at the 2008 Divers' Reunion
I am sure that all members of the Branch will join me in expressing our best wishes to Willie. If you would like to send him a card or letter, address it to:
Mr A Wilkes
Ward E8
Queen Alexandra Hospital
Southwick Hill Road
Cosham
Portsmouth
Hampshire
PO6 3LY
I can supply Willie's mobile number to anyone who would like to contact him in the meantime.
---
Project Vernon Carol Service 10 Dec 09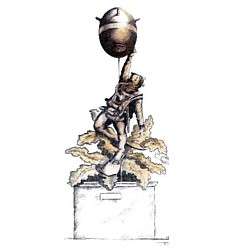 This is a gentle reminder that the Project Vernon Christmas Carol Service will take place in St Barbara's Church, Whale Island on Thursday 10 December followed by mince pies and mulled wine in the Senior Rates' dining hall afterwards; cost £10 per head. The ulterior aim of the event is to kick Christmas off by meeting up with like-minded friends in order to raise some money for Project VERNON. Over 80 tickets have been sold to date but there are still plenty available.
To ensure that you don't miss out on this marvellous evening please complete and return this application to the event organiser, our President Capt Colin Welborn RN, as soon as possible. It is an all-ticket event and none will be available on the night. Go on, what have you got to lose (apart from a tenner or two)? Bring your friends and neighbours like I'm doing.
---
Project Vernon 'Danger at Depth' prints
Speaking of Project Vernon, I received my customised Double Remarque (DR) print of John Terry's dramatic painting, 'Danger at Depth', at the MCDOA annual dinner and I am thrilled with it. Exceptionally where any of my naval memorabilia is concerned, Linda has given it pride of place in our dining room without any prompting from me.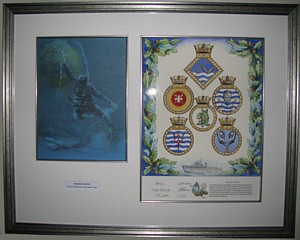 Rob Hoole's Double Remarque print of
'Danger at Depth' by John Terry FCSD
I am extremely grateful to Head of Fleet Publications & Graphics, John Terry, who created the original painting and has organised the production and framing of these works entirely voluntarily. He has made a fantastic job of adding the badges of most of the MCD-related ships and units in which I served. These comprise HMS Vernon, HMS Berkeley, HMS Laleston, HMS Wilton, the Third MCM Squadron (3MCM) and the Plymouth Clearance Diving Team (PCDT). Had I thought about it more, I might have asked him to include DGUW(N) at Portland but strictly speaking this was not an RN unit. John and I first met when he worked in the Fleet Graphics Pool in HMS Vernon in the 1970s. He painted the murals depicting the development of mining and MCM in the foyer of Creasy Building which are now displayed at the Maritime Warfare School at HMS Collingwood.
We owe a debt of gratitude to MCDOA member Martyn Holloway and AORNFCD member Mike Handford. As members of the Project Vernon Organising Committee, they have taken on the onerous task of packaging and despatching prints of 'Danger at Depth' to purchasers all over the world. This task has not been as simple as it might seem, especially in chasing pledged payments and researching the most economical means of delivery in order to keep down costs against the Project. A vote of thanks is also due to those travellers who have acted as unpaid couriers to far corners of the world. Incidentally, is anyone bound for the Cocos Islands (located halfway between Australia and Sri Lanka) in the near future?
Only two of the original ten DRs are left in stock and I understand that one of these is probably earmarked. However, 11 of the 25 Artist's Proofs (AP) and several of the 215 Limited Edition (LE) prints, framed or unframed, are still available. Go to this page on the Project Vernon website to order your own prints.
---
28 Nov 09 - Media follow-up for Ouvry Commemorative Event
The Royal Navy website contains this article about last Thursday's event on board HMS Belfast. The London SE1 website contains this article, the BBC News website contains this article including a video and the ITN website contains this article including video clips.
I have been informed that the Navy News website will contain an illustrated article on Monday or Tuesday which will also be printed in the January issue.
---
27 Nov 09 - Ouvry 70th Anniversary Commemorative Event on board HMS Belfast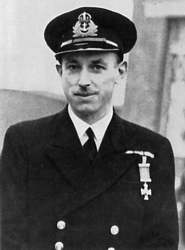 Cdr John Garnault Delahaize Ouvry DSO RN
Yesterday's lunchtime reception to commemorate the 70th anniversary of Cdr John Ouvry DSO RN first rendering safe a German 'GA' magnetic mine at Shoeburyness on 23 November 1939 was more successful than I ever imagined, thanks to the enthusiastic support of so many organisations, former colleagues and friends. The event was organised by John Ouvry's son David, WW II veteran RNVR bomb & mine disposal officer and author Noel Cashford and Yours Truly. We are extremely grateful to Brad King, the director of the Imperial War Museum's cruiser HMS Belfast moored at Tower Bridge, for allowing us the use of such a fitting venue for the occasion. Two days before Ouvry's feat, the ship was mined and put out of action for three years. She now has Ouvry's mine on display.
Left: HMS Belfast on the Thames
Right: Ouvry's mine displayed on board HMS Belfast
The Portsmouth-based Southern Diving Unit 2 (SDU2) set up a display on HMS Belfast's quarterdeck showing their own example of a 'GA' mine with a vintage 'S' Set of mine disposal tools, CDBA diving apparatus and other paraphernalia. I am extremely grateful to serving MCDOA members Peter Greenwood (CO Fleet Diving Squadron), John Beavis (CO Southern Diving Group), Andy 'Sharkey' Ward (SOO Fleet Diving Squadron) and Si Leightley (OIC Southern Diving Unit 2) together with Robin 'Rick' Rickard (WO(D) Southern Diving Group) and the rest of the team for their efforts in making this possible.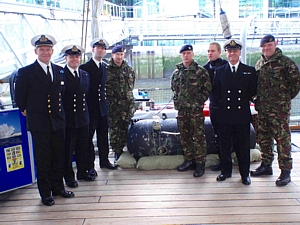 Cdr Peter Greenwood (CO FDS), Lt Cdr John Beavis RN (CO SDG)
and Lt Si Leightley (OIC SDU2) with CPO(D) Kev Amaira (2IC SDU2),
AB(D) Dave 'Mac' McNamara (SDU2), AB(D) 'Shelly' Shell (SDU2) in a dry suit,
WO(D) Robin Rickard (WO(D) SDG) and LS(D) 'Cags' Lacy (SDU2)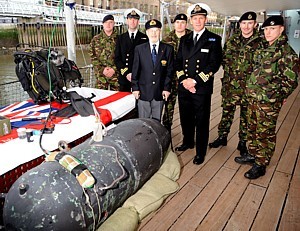 LS(D) 'Cags' Lacy, Lt Si Leightley, Lt Noel Cashford RNVR, AB(D) 'Shelly' Shell,
Cdr Peter Greenwood, CPO(D) Kev Amaira and AB(D) Dave 'Mac' McNamara
SDU2 Display and Noel Cashford with MCDOA member Peter Greenwood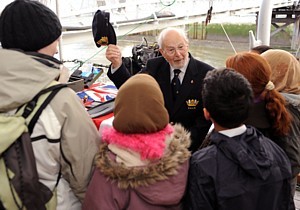 Noel Cashford briefs schoolchildren
The well-attended reception was held in the ship's junior rates' dining room. As guests arrived, they were greeted by HMS Belfast staff members Janice and Chloe and invited to sign the visiors' books before being offered a glass of wine.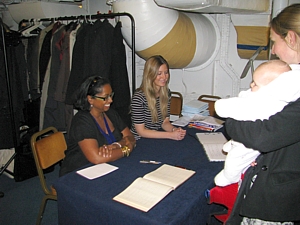 Janice and Chloe greet a young member of the Ouvry family
As people gathered, it soon became apparent that the event had attracted an interesting range of individuals.
Left: Rob Hoole, Cdr Dmitry Bogachev (Russian Assistant Naval Attaché), ex-CD Jim 'Tommo' Thomson
and HMS Belfast Association member Ron Yardley.
Right: Former Second Sea Lord, Admiral Sir James Eberle, with John Ouvry's grand-daughter,
Lt Cdr Jan Ouvry QARNNS.
Left: MCDOA members Doug Barlow and Richard 'Soapy' Watson with former First Sea Lord, Lord West of Spithead.
Right: Association of RN First Class Divers (AORNFCD) Chairman, Don 'Jimmy' Green, with David Ouvry .
Left: Councillor Brian Smith, Mayor of Southend-on-Sea, with his wife Lynn and chauffeur.
Right: Ex-CD Jim 'Tommo' Thomson, MCDOA member Ian Morton with AORNFCD member Mike Handford, EOD Technical
Information Centre (EODTIC) Custodian Sandy Sanderson and MCDOA members Rob Hoole and Martyn Holloway.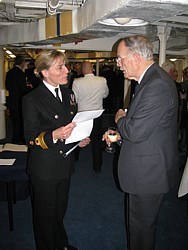 Jan Ouvry with Naval Historian
Cdr Alastair Wilson RN
Left: AORNFCD member Mike Handford, Andrew Bailey (son of Lt Bill Bailey CBE, DSC, GM*, RNVR)
and Mine Warfare Association (MWA) member Robert 'Dixie' Dean MBE.
Right: MCDOA members Tom Russell, Andy 'Sharkey' Ward, Chris Ameye and Richard 'Soapy Watson
Left: Ouvry family members minus David.
Right: Chris Ransted, author of 'Bomb Disposal and the British Casualties of WW2',
with his partner Karen Nicholls (left foreground).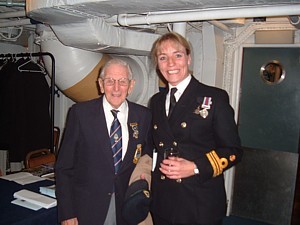 HMS Belfast Association member Lt John Harrison RN,
on board when the ship was mined on 21 Nov 1939,
with Jan Ouvry
Incidentally, there is an opportunity to buy a rare copy of Chris Ransted's authoritative book here on e-Bay until 10 December. The presentations started with an introductory welcome from Brad King, Director of HMS Belfast. John Ouvry's son David then laid out the format of the presentations and provided a few personal memories of his father.
Left: David Ouvry, Noel Cashford and Brad King
Right: David Ouvry provides an insight into his father's character and achievements
Noel Cashford then provided an impassioned tribute to his old colleague and mentor, John Ouvry, and explained the importance of his feat for the survival of Britain in 1939. His words attracted the particular attention of the assembled media and other guests. He also introduced the invited descendants of wartime naval bomb & mine disposal officers Lt Bill Bailey CBE, DSC, GM*, RNVR, Cdr Edward Obbard DSC, GM, RN and Cdr John Ouvry DSO, RN.
Noel Cashford explains the desperate state of affairs in November 1939
and the significance of John Ouvry's feat
Above and below: Listening audience including (below right): Andrew, son of Lt Bill Bailey CBE, DSC, GM*, RNVR;
Vincent, son of Cdr Edward Obbard DSC, GM, RN; and David, son of Cdr John Ouvry DSO, RN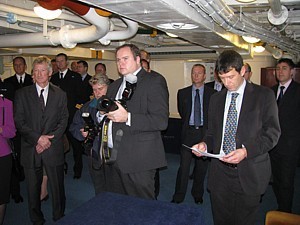 MCDOA member Peter Greenwood, CO of the Fleet Diving Squadron, then presented an illuminating history of Royal Navy Bomb & Mine Disposal capabilities and achievements since the Second World War and described how the ethos of Ouvry's legacy has been inherited by current Explosive Ordnance Disposal personnel serving in the UK and such places as the Suez Canal, the Red Sea, Bosnia, the Gulf, Iraq and Afghanistan.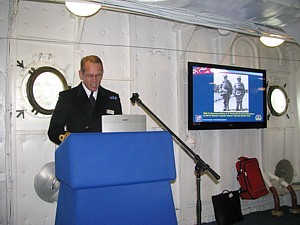 Peter Greenwood stresses the importance
of Ouvry's legacy to today's EOD personnel
Before people broke for food and more wine, Yours Truly gave Project Vernon a plug. Dixie Dean had planned to give a fundraising presentation about the campaign to erect a monument at Gunwharf Quays to commemorate the minewarfare and diving heritage of HMS Vernon (John Ouvry's base) which formerly stood on the site but, by this time, the sandwiches had arrived and people were too hungry and talkative to give it the attention it deserved. However, Dixie still managed to rustle up the odd contribution.
Yours Truly (Rob Hoole) plugs Project Vernon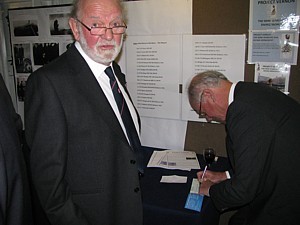 Mike Handford signs up Andrew Bailey
as a Project Vernon donor
MCDOA attendees comprised Chris Ameye, Chris Baldwin, Doug Barlow, John Beavis, Keith Broughton, Kim Godfrey, Peter Greenwood, Committee member Martyn Holloway, Vice Chairman Rob Hoole, Martin Mackey, Ian Morton, Tom Russell, Si Leightley, Andy 'Sharkey' Ward and Honorary Treasurer & Membership Secretary Richard 'Soapy' Watson. AORNFCD attendees included Chairman Don 'Jimmy' Green, Mike Handford, Robin 'Rick' Rickard and Jim 'Tommo' Thomson while MWA attendees comprised Chairman Wayne 'Pony' Moore and Robert 'Dixie' Dean. Sadly, AORNFCD member David 'Jimmy' Bond arrived too late to witness proceedings owing to an unfortunate string of rail and road accidents foiling his planned journey from Falmouth. Just for a bit of fun, here's a picture you won't see too often: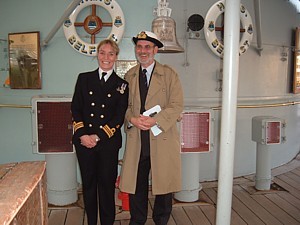 Jan Ouvry and Rob Hoole
Overall, this was a wonderful occasion with many reunions of old friends and much press coverage promoting the MCD Branch. I would like to thank everyone concerned. On a final note, here are some remarkable items from John Ouvry's scrapbook passed to me by his son David.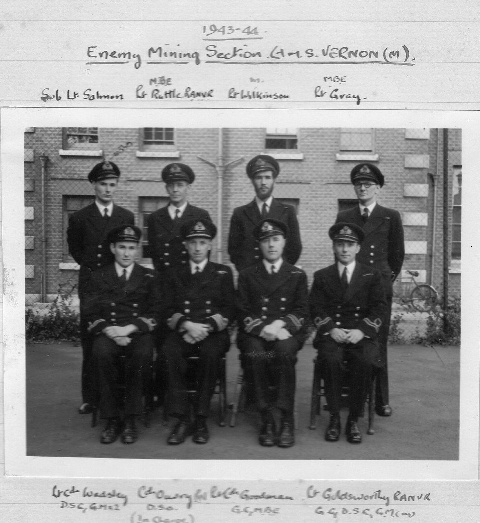 Naval Bomb & Mine Disposal Officers in 1943 showing Cdr John Ouvry DSO, RN with Sub Lt Salmon RN;
Lt Ernest Ruttle MBE, RANVR; Lt Stephen Wilkinson RN (Mentioned in Despatches); Lt Thomas Gray MBE, RNVR;
Lt Cdr Herbert Wadsley DSC, GM*, RNVR; Lt George Goodman MBE, GC, RNVR; and Lt Leon Goldsworthy GC, DSC, GM, RANVR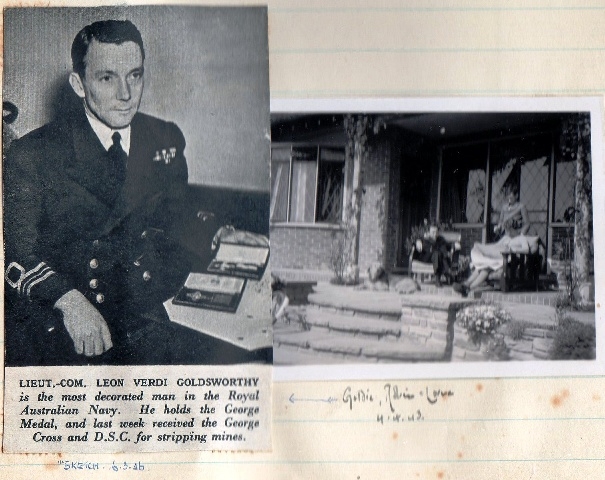 Scrapbook entry for Lt Cdr Leon Goldsworthy GC, DSC, GM, RANVR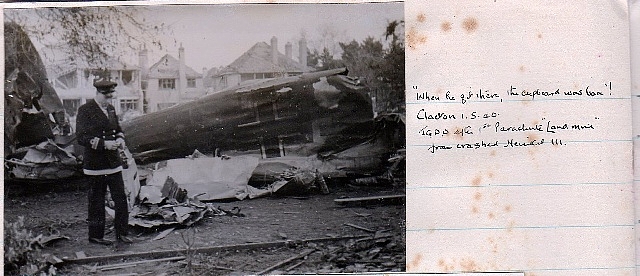 Cdr John Ouvry DSO, RN with crashed Heinkel (He 111) bomber
---
25 Nov 09 - Funeral of Corporal Loren Marlton-Thomas
Robin Bennett, Secretary of the Royal Engineers Bomb Disposal Officers' Club (REBDOC) with which we have an informal affiliation, has forwarded the following announcement regarding the funeral of Cpl Loren Marlton-Thomas of 33 Engr Regt (EOD) who was killed by an IED last week in Afghanistan (MOD website link).
"All,
Below are the details for the funeral of 'Loz' Marlton-Thomas. A detailed Admin instruction will follow in due course. Please spread the word. There is a memorial service planned for the New Year for those unable to attend the funeral which will allow the Regiment and local community to pay their respects along with the family. Dates and timings to follow in due course.
It is with regret that 33 Engr Regt (EOD) announce the death of Cpl Loren Marlton-Thomas who passed away on Sun 15 Nov 09.
1. Funeral details.
a. The Funeral will take place on Mon 7 Dec 09 [N.B. Now changed to Tue 8 Dec].
b. The Church Ceremony will commence at 1200hrs and will be held at the following church:
St Joseph's RC Church
Woodlands Road
Ansdell
Lytham St Anne's
Lancashire
FY8 4E
c. A burial will follow the church service for all those wishing to attend and will commence at 1330hrs at the following crematorium:
Lytham Park Cemetery & Crematorium
Regent Avenue
Lytham St Anne's
Lancashire
FY8 4AB
d. The wake address for those wishing to attend is:
Clifton Arms Hotel
West Beach
Lytham St Anne's
Lancashire
FY8 5QJ
e. Dress for the funeral will be No 2 Dress, Belts, Medals and leathers (no swords) with black armbands worn on the left arm (less the bearer party), or suits with, black, Corps or Regimental tie.
2. At the request of the family, anybody wishing to make a donation is asked to send all monies C/O: WO1 (RSM) J Spreadborough RE, 33 Engr Regt (EOD), Carver Barracks, Wimbish, Saffron Walden, Essex, CB10 2YA. Cheques made payable to Central Bank 33 Engr Regt. Please ensure the cheque is marked clearly on the reverse Injured Soldiers Fund.
3. Parking will be extremely tight at the Church and the Cemetery therefore I ask that all make the effort to park in various other car parks near to the locations. More advice on suitable locations will be circulated in due course.
4. Anyone wishing to attend the Church Service, Cemetery and wake are kindly requested to contact the undersigned by phone on 078 8670 4509 ASAP in order for sufficient catering to be provided.
5. Further information or queries should be directed to the undersigned who is OIC funeral.
Regards,
J Spreadborough
WO1 (RSM)
33 Engr Regt (EOD)"
As many of you know, some of our clearance divers are working with 33 Engr Regt (EOD) in Afghanistan at the moment (See entry for 28 Oct 09 in News Archive 28).
---
24 Nov 09 - News from HMS Walney
I am grateful to Lt Marc Taylor, Navigating Officer of HMS Walney, for providing this update:
WALNEY WEBSITE UPDATE
It's all change once more for HMS WALNEY with MCM1 Crew 1 now the new residents onboard the Sandown Class Mine Hunter, following their successful OP TELIC MCMV deployment in HMS GRIMSBY. After eight weeks alongside whilst crews handed over, WALNEY was soon back in the thick of it with a busy and varied programme. Successful accreditation by Flag Officer Sea Training (FOST) Staff to allow Crew 1 to navigate digitally saw the last of paper charts on the bridge; a significant change for some who had navigated on paper for the last twenty years! With little respite we were then joined by four International Officers for navigational training within the confines of the Clyde. It was a vast change of scenery for the International Officers hailing from Kenya, Chile, Lebanon and Nigeria respectively. Fortunately, the autumnal Clyde weather was kind (if a little cool) and all International Officers were able to fulfil their training requirements and pass their course. The programme continued with several new additions to the Mine Warfare Branch embarking to conduct their first training at sea. The MCMG, as it is known, is designed to give tailored and specialist training to those within the Mine Warfare field, whether a brand new AB or those who have achieved promotion to the next Rate and are taking up new positions and responsibilities within the branch. The MCMG week was typically busy for HMS WALNEY, but also rewarding as her new crew brushed off the cobwebs after post-deployment leave and consolidated their professional skills together with enhancing their teamwork after the arrival of several new faces to the crew.
HMS WALNEY has been alongside at HMNB Clyde for the last five weeks conducting essential maintenance in preparation for the forthcoming programme. Following the prerequisite engineering trials, WALNEY will transit south to Devonport in order to participate in a Thursday War and the chance to work with the larger ships of the Royal Navy. Every Thursday the south coast of England (typically off the Cornish coast) turns into a hectic and exhilarating war zone for both the Royal Navy and visiting ships keen to take advantage of the first class training expertly administered by FOST. WALNEY's task will be to guide many of these units out to sea and ensuring they avoid those nasty simulated mine fields off Plymouth. Once the war is over (normally just in time for afternoon standeasy!) the programme will continue for WALNEY as she heads further south to the Channel Islands. For the Commanding Officer, Lt Cdr Marcus Jacques RN, it will be a very special moment. Born and raised in Jersey prior to joining the Royal Navy back in 1989, this will be his first opportunity to return with his own platform. "I am very fortunate to be given the opportunity to take my ship into Jersey and it has always been an ambition of mine since joining. The people of Jersey and indeed the Channel Islands have always been very supportive of the Armed Forces and, personally, I have a debt of gratitude for the support I was shown during the last two Gulf Wars".
Having sailed from Jersey, WALNEY will be most fortunate to visit Alderney and have the honour of being the first warship to berth alongside their newly constructed pier at Braye Harbour. With winter storms continuing to batter the UK, all eyes are on the weather over the coming weeks to ensure a comfortable passage for our guests and crew alike.
---
23 Nov 09 - Operational Updates, AGM and Annual Dinner
Despite his busy globe-trotting day job on behalf of Her Majesty, our Hon Sec Tony Griffiths organised an extremely successful programme of events on Friday in his usual efficient manner. The morning's Operational Updates presented at Fleet Diving HQ by serving MCDOA members Paul Jones (SofD), Mark Atkinson (MCD SO1 NAVCOM), Martin Mackey (Cap AW MW), Soapy Watson (MWS DDS DTO(N)) and Peter Greenwood (CO FDS) spanned the full range of Minewarfare and Diving activities over the past year and provided a valuable insight into current equipment and future plans.
Left: Paul Jones, our Chairman, gives a welcome address
Right: Mark Atkinson tells it like it is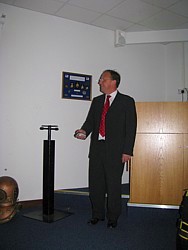 Martin Mackey
'Our Man at the Ministry'
MCDOA members being brought up to speed with Operational Updates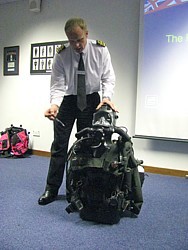 Soapy runs through CDLSE
After the traditional Friday lunch of free fish & chips, the AGM proceeded in a similarly businesslike manner. Colin Welborn was again endorsed as our President and all Association officers were re-elected with Mick Beale kindly volunteering to understudy Tony Griffiths as Hon Sec prior to taking over next year. Our membership remains healthy and is rising steadily as is our bank balance. Members dwelt on those who have crossed the bar during the past year and were given a progress report on Project Vernon and social events planned for the forthcoming year. Significant dates include:
| | |
| --- | --- |
| Thu 26 Nov 09: | Ouvry 70th Anniversary Commemorative Event on board HMS Belfast |
| Thu 10 Dec 09: | Project Vernon Carol Service at St Barbara's Church, HMS Excellent |
| Tue 4 May 10: | MCDOA Committee Meeting |
| Sat 15 May 10: | MCDOA Ladies Night at Hornet Sailing Club |
| Sun 13 Jun 10: | Combined MCDOA, AORNFCD and MWA Barbecue on Horsea Island |
| Fri 19 Nov 10: | MCDOA Operational Updates and AGM at Fleet Diving HQ, Horsea Island |
| Fri 19 Nov 10: | MCDOA Annual Dinner at HMS Excellent. |
Minewarfare & Clearance Diving Officers' Association
Vice-Admiral Richard Ibbotson, CBE, DSC, the Deputy
Commander-in-Chief Fleet, was the principal guest at the annual
dinner of the Minewarfare & Clearance Diving Officers' Association
held on Friday, November 20, in HMS Excellent. Commander Paul
Jones, Superintendent of Diving for the Royal Navy and chairman
of the association, presided and Lieutenant Commander Rob
Hoole proposed the loyal toast.
As usual, the highlight of the day was the Annual Dinner in HMS Excellent with around 135 attendees, ten more than our previous record. It was good to see so many illustrious guests, including a strong contingent from the RE Bomb Disposal Officers' Club, plus sons and sons-in-law and re-uniting members of LMCDO '65, LMCDO '84A and LMCDO '84B.
Left: LMCDO '84B members Clive Rogerson, Steve Marshall, Jon Chapple, Peter Greenwood and Chris Ameye
Right: RE BDOs' Club members JJ Forbes, Stephen Woodhead, David Hough, Michael Warr and Robin Bennett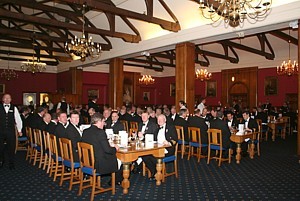 The scene is set
My son Gareth and I certainly enjoyed ourselves, as did the top table...