Items from The News, Navy News and Warship World are reproduced by kind permission of David Brown, Sarah Fletcher and Steve Bush respectively. Click on the thumbnails to enlarge them.
---
29 Mar 08 - Death of Bernard 'Donkey' Bray
For the past few weeks, CD Alan 'Donkey' Bray has kept members of the RN CD website apprised of the decline of his father, ex-CPO(CD1) Bernard 'Donkey' Bray BEM* (HMS Vernon, HMS Dingley, FEFCDT, FOST Divers, FCDT early 1970s, MSV Stadive (Subsea Offshore), etc), who had been suffering from a degenerative brain illness at Gosport War Memorial Hospital since October last year. Today he announced the following:
"Fellow CD branch members,
It is with the heaviest of hearts and great sadness that I have to report that Donkey (Bernard Edward) Bray BEM* passed away peacefully this morning at 06:05 as the sun was rising on a new day. Donkey was surrounded by his wife and children at the time of his passing and the nursing staff made him as comfortable as possible during these final days. Donkey was proud of our branch and I am very proud of him. God bless you Dad, rest in peace.
I would once again like to thank you all on behalf of my mother for the messages posted over the last few days, all of which were passed on to Donkey direct.
Alan (Donkey Bray Jnr)"
I know all members will join me in extending our sincere condolences to young Donkey and his family on their sad loss.
---
28 Mar 08 - New personal update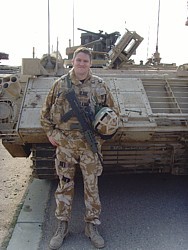 Jason White
The Members Only area contains an update and photos from MCDOA member Jason White who is currently serving somewhere hot and sandy with CPO(D) Willie Sharp and D1 'Screech' Whiting.
---
22 Mar 08 - Trials of new NATO Submarine Rescue System
The Royal Navy website contains this article describing the initial trials of the new NATO Submarine Rescue System (NSRS) in which the PSSL Triton SP ROV (replacement for the LAR5) was successfully mated with a bottomed Norwegian submarine. The BBC website contains this remarkable video report of the proceedings (after the intro, skip to 10 mins 30 secs into the broadcast). It includes MCDOA member John Burden of Rolls Royce, the prime contractor for NSRS, providing a guided tour of the decompression facilities.
Also see entry for 29 Jun 07 in News Archive 18.
---
21 Mar 08 - 2008 Reunion of RAN 16th MSS
This year's reunion of the Royal Australian Navy's 16th Minesweeping Squadron will be held 1 - 3 August 2008 at Australis Noosa Lakes Resort, Queensland, Australia. This squadron was formed during the Indonesian Confrontation (1963 - 66) and comprised the Ton Class minesweepers HMAS Curlew, HMAS Gull, HMAS Hawk, HMAS Ibis, HMAS Snipe and HMAS Teal. These ships operated alongside the Royal Malaysian Navy as units of an Inshore Flotilla that also included Tons of the Royal Navy and the Royal New Zealand Navy's 11th Minesweeping Squadron comprising HMNZS Hickleton and HMNZS Santon. Hickleton and Santon were converted for patrol duties and commissioned into the RNZN at Singapore. They served with the RNZN from April 1965 to October 1966 and were the only RNZN ships never to visit New Zealand.
For further information about the reunion, see this page of the 16th MCM Squadron website.
---
19 Mar 08 - MCDO Russ Crane to head Royal Australian Navy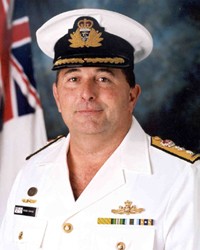 Rear Admiral Russ Crane AM CSM RAN
I am grateful to MCDOA member Jake Linton in Australia (see 'A Clearance Diving Experience' in the Dit Box) for informing us that the Association's good friend, Rear Admiral Russ Crane AM CSM RAN, was selected today for promotion to Vice Admiral as Chief of the Royal Australian Navy with effect from 8 July 2008 (more details here and here). Russ undertook the Minewarfare module of LMCDO '77 at HMS Vernon after having qualified as a CDO at HMAS Penguin. Between 1981 and 1983 he occupied the RAN exchange billet in the Minewarfare Section at Vernon in an illustrious procession that also included Sid Brown, Doug 'Pony' Moore, Vic Justice, Neill 'Dinga' Bell, Garry Kennedy, Russ Crawford and Mike Angus.
I have offered Russ our warmest congratulations on his latest achievement and received this response:
"Thanks Rob,
A great honour and a privilege to be given the opportunity to lead such a great team. Looking forward to visiting UK in May in my DCN capacity for a range of discussions with the DCNS.
Russ"
---
18 Mar 08 - HMS Walney weathers the storms
The Navy News website contains this article about a sudden programme change for HMS Walney including some rough weather.
---
17 Mar 08 - Memorial Service for Phillip 'Nobby' Clark
Former CPO(D) Mick Kester has sent this photograph of Christine Clark with a few ex-naval divers including MCDOA member Martin Jenrick. It was taken after the Memorial Service for her husband, the late CPO(D) Phillip 'Nobby' Clark, held last Saturday in Brixham, Devon. Nobby died in Spain on 27 December (see entry for 30 Dec 07 in News Archive 20) at the age of 66. The traditional naval service included the Naval Hymn, the Naval Prayer and 'Abide with Me'. It was conducted by the Chaplain to the local Mission to Seafarers.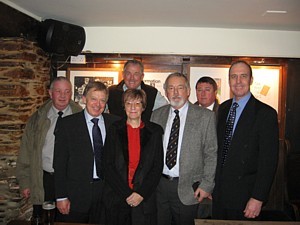 Back: Kev Scargill, John Smith (standing on a chair) and Martin Jenrick
Front: Dhobi Lynes, Christine Clark, Mick Kester and Lawry Lawrence.
Once again, I'm sure all MCDOA members join me in extending our deepest condolences to Christine and the rest of her family on their loss.
---
15 Mar 08 - Royal Engineers Bomb Disposal Officers' Club Spring Lunch
The RE Bomb Disposal Officers' Club is holding its Spring Lunch at a prestigious venue in the London area on Saturday 19 April. Any MCDOA members would be welcome. The cost is £20 for what looks to be a cracking event. For further information, please contact me by 10 April by phone or my Webmaster e-mail address.
---
14 Mar 08
Ocean's Eight for Ledbury
The Navy News website contains this article about the participation of HMS Ledbury in Oceanology International 2008 in London featuring her coxswain, PO(D) 'Eddy' Edmundson.
---
RN Minewarfare Heritage
Gill Minogue has sent the message below about her grandfather-in-law, Thomas Gale, who served in HM Trawler Columbia, a First World War minesweeeper. She is keen to make contact with the descendents of any of the crewmembers who perished in the ship.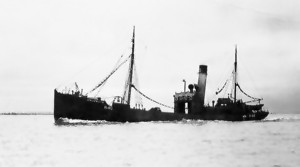 HMT Columbia - Minesweeping Trawler
"Hello from New Zealand,
My family has some photos of crew and officers of the HMT Columbia, a minesweeper which was sunk off Ostend on 1 May 1915 with the loss of all hands bar our grandfather. The photos were taken by him and others (using his camera) on the Columbia, and include a photo of the ship's mascot (a dog), with a caption that says that the dog "walked off the ship" on the Columbia's second to last voyage.
The photos are of people going about their everyday tasks, demonstrating mine shooting and having a break from work on board. Most are of good resolution – grandchildren / children should easily be able to see if their relation has been caught on film. We have found the photos to be a poignant yet positive reminder of our grandfather. Even if their forebear is not featured in the photos, descendents of crewmembers should get a good picture of the relationships between crew and an idea of some of the duties that were involved, as well as the clothing and equipment of those days.
We would like to offer copies of the photos to the descendants of those people who served and perished on the Columbia. We do not want any recompense, but do need assistance to contact them.
I've written to the contact desk on the main RN website and received a reply that says that they will investigate and which also recommended I check the RN community website - which is where I found your association.
Hope to hear from you.
All the best,
Gill Minogue"
Nick Clark, webmaster of the Royal Naval Patrol Service (RNPS) Harry Tate's Navy website has supplied the photo above and says that HMT Columbia (H42) displaced 251 tons and was completed as a steam trawler by M. Pearse & Co of Stockton in 1886. She was requisitioned by the Admiralty in September 1914 and converted to an Armed Patrol Vessel. She was sunk by a German torpedo boat off Thornton Ridge, Foreness on 1 May 1915.
Selection of photos from Tom's album
---
13 Mar 08 - RN Bomb & Mine Disposal Heritage
Cherry Wade informs me that her uncle, Lt Bill Young RNVR, a Second World War Bomb & Mine Disposal Officer, will celebrate his 100th birthday on 24 June. She has sent this message:
"Rob,
Bill's RNVR career began at a naval training establishment located in the ballroom of Brighton Pavilion! I don't know what the official title of the place was but possibly HMS President. On completion, he volunteered for Bomb Disposal and, probably owing to his previous experience with explosives as a Civil Engineer, he was accepted. He then trained at HMS Vernon following which he was posted to Leith. The docks and shipyards of the Forth and of the Clyde were of course popular targets and provided plenty of business. Bill was posted to HMS Volcano in January 1942 and remained there as an instructor for the remainder of the war. He, with Chief Wren Ellis and the Wren cook, were the last people to leave Volcano in July 1945.
After the war, Bill maintained his affection for all things naval, purchasing a yacht that he sailed from the Clyde around the west coast of Scotland for many years. He is widowed now and lives in South West Scotland.
He remains a remarkably able, almost centenarian!
Regards,
Cherry"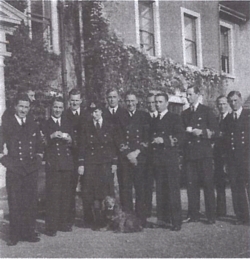 Bill Young (fourth from left) at HMS Volcano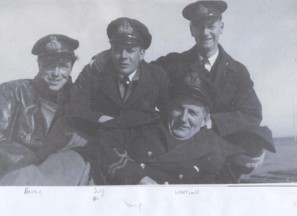 Bill Young (lying down) at Ravenglass near HMS Volcano
---
11 Mar 08 - HMS Ledbury at Oceanology International 2008
Today's Portsmouth News contains this article about the participation of HMS Ledbury in Oceanology International 2008 in London.
---
10 Mar 08 - Tony Groom at Excel Dive Show
Former CD and Falklands veteran Tony Groom was at the London International Dive Show (LIDS 2008) this weekend to promote his book 'Diver'. Here he is alongside his glamorous assistant dressed in Diving Set Self-Contained Clearance Diver (DSSCCD) derived from the old Clearance Diving Breathing Apparatus (CDBA). (Dig the cool socks & Crocs.)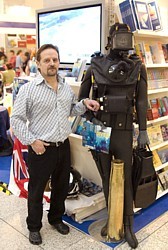 Tony and rubber-clad friend
---
8 Mar 08 - News of HMS Ledbury and HMS Shoreham
The Royal Navy website contains this article describing the participation of HMS Ledbury in Oceanology International 2008 in London next week as well as this article describing a visit to Ayr by HMS Shoreham last week as part of the Royal Navy in the Public Eye initiative (RNIPE).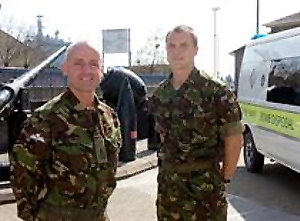 CPO(D) Rick Rickard with OIC SDU1 Mark Northcote
Congratulations to CPO(D) Robin 'Rick' Rickard on being awarded the Queen's Commendation for Bravery (QCB) in the latest list of Operational Honours and Awards. Rick was serving with Southern Diving Unit One (SDU1) when he worked with MCDOA member Mark Northcote to defuze a bomb in the middle of a Plymouth housing estate last April (see entry for 5 Apr 07 in News Archive 18).
---
6 Mar 08 - Chiddingfold Heading East
The Royal Navy website contains this article describing the passage of HMS Chiddingfold (in company with HMS Atherstone and RFA Diligence) towards her new area of operations in the Middle East.
---
5 Mar 08
PO(D) Mark Jones in Heroes Legend Rally
Today's Portsmouth News contains the following article describing the participation of PO(D) Mark Jones of Fleet Diving Unit 3 (FDU3) in this year's Paris to Dakar Heroes Legend Rally (see entry for 6 Feb). People can sponsor Mark online via this page on the Justgiving website. Let's give him all the support we can muster.

---
Long Service & Good Conduct Medals
Congratulations to LOM(MW) A K Dawkins, LS(D) A R (Alex) Newnes and LS(D) P G Self on their recent award of the LS & GC medal. Other recipients can be seen via the London Gazette website here.
---
3 Mar 08 - News from HMS Atherstone
The Royal Navy website contains this article showing a Mother's Day greeting from HMS Atherstone in the Red Sea.
---
2 Mar 08 - MCDOA Ladies Night
This year's MCDOA Ladies Night is provisionally planned for Friday 30 May at Hornet Sailing Club, Gosport. Details will be published on the 'Upcoming Events' page in the Members Only area when finalised.
---
Navy News Items
The following MCD-related items from the March issue of Navy News include:
A full page picture of HMS Chiddingfold off the Rock of Gibraltar.

Trials of SeaFox by HMS Atherstone featuring Leading Diver Adrian Morris.

The Orion 08 Task Group activities of HMS Chiddingfold and HMS Atherstone featuring MCDO Al Nekrews.

A new training role at HMS Raleigh for HMS Brecon.

A letter about decorations awarded to CDs during the Falklands conflict.

The participation of HMS Ledbury in a ceremony commemorating the WWII German 'Channel Dash'.
---
TV Programme featuring RN Clearance Divers
'Monster Moves' on Channel Five at 2000 on Tuesday 4 March will show this episode about the two-stage recovery of Ancient Egyptian monuments by RN divers under the leadership of MCDOA members Ed Thompson and David Bartlett respectively:
"Rescuing Ramasses. Series 1, episode 9.
Documentary series following professionals who transport huge buildings and machines to different locations. This edition shows how 20 Egyptian temples were rescued from the rising waters of the River Nile in the 1960s. Royal Navy diver Ed Thompson explains how flooded monuments on the Island of Philae were rescued by dismantling them underwater and floating them to the surface. And Egyptian engineers reveal how they moved the 900-ton temple of Amada two miles across the desert on rail tracks."
Incidentally, 'Sub Salvage', the episode of the History Channel TV series 'Mega Movers' in which MCDOA member Duncan Bridge and other RN divers helped describe the recovery of the first British submarine 'Holland One' in 1982, is available for download via the iTunes website here at a cost of $1.99.
---
Date for the Diary
This year's MCDOA AGM, Operational Updates and Dinner will be held on Friday 28 November. Further details will be published on the 'Upcoming Events' page in the Members Only area.
---
Job Opportunity
I have been asked to push this out via the Old Boy network.
Senior Explosive Ordnance (EO) specialist with knowledge and experience of EO storage, transport and disposal required as strategic team leader for a large company.
Job Spec: Lead Company "X"'s efforts in EO bid work. Run elements or entire project process as required by Company "X". Develop capability and lead project to win more work from the EO IPT.
Person Spec (draft): Ex-military with engineering background in explosives handling. SO1 or SO2 level. Capable of running projects. Appreciation of issues concerning explosive handling and munitions decommissioning.
N.B. This company is looking for an individual without ties to potential competitors. It is fully aware of the many companies in the EOD business and would have approached one if it suited their purposes. Contact me via my webmaster address for further details.
---
29 Feb 08
SofD Hands Over
Friends and colleagues gathered in Port Solent yesterday to pay farewell to MCDOA Chairman Chris Ameye after his hand-over to fellow MCDOA member Paul Jones as the MoD's Superintendent of Diving (SofD). Chris has been in post for nearly three years and we wish him well in his new appointment. Paul has agreed to act as Acting Chairman of the MCDOA pending elections at the AGM in November.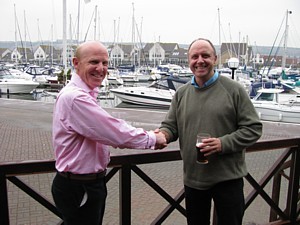 Chris Ameye and Paul Jones after their handover
During the festivities, Paul Haynes of DIVEX presented Chris with the first figurine of a diver wearing the Royal Navy's new rebreather, Clearance Divers' Life Support Equipment (CDLSE).
Paul Haynes presenting Chris Ameye with CDLSE figurine
Many people arrived and left but I managed to get a few to stand still long enough for this group shot.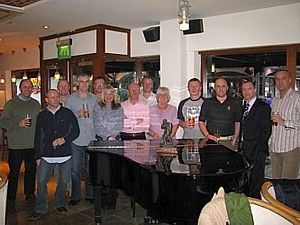 Some of the RPC guests gather around the Joanna
All good things must come to an end and Toad eventually arrived to retrieve her husband.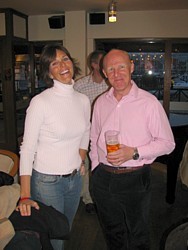 Toad and Chris Ameye
Apart from having nursed the Diving Branch through some extremely turbulent times as SofD, Chris has also been a marvellously pro-active Chairman of the MCDOA and achieved much good work, especially behind the scenes. I know all members will join me in wishing him and Toad our very best wishes for the future.
---
Scattering of Ginger Bryant's Ashes
The following announcement has been received from Lt Si Shaw RN, Navigating Officer of HMS Chiddingfold:
GINGER'S LAST DIVE
Scattering of the Ashes of the late CPO(CD1) "Ginger" Bryant
HMS CHIDDINGFOLD was recently given the honour of scattering the ashes of the late CPO(CD1) Arthur "Ginger" Quantrill Bryant BEM in the vicinity of the wreck of HMS BARHAM in the Eastern Mediterranean.
"Ginger" was serving in the veteran battleship in 1941 when she was torpedoed by U-331. Ginger was one of the lucky ones who survived, with 861 men losing their life that day. Ginger's will stated that he wished to have his ashes scattered near the wreck of his old ship, and CHIDDINGFOLD was on hand to carry out this request en route to operations in the Middle East.
Ginger himself had a long and distinguished career in the Royal Navy which began in 1936 when he joined the Boys' Training Ship TS ARETHUSA. He left the service in 1966 as a Chief Petty Officer Diver, having had a varied career in the Senior Service. He qualified as a Diver in 1945 and as a Clearance Diver in 1959.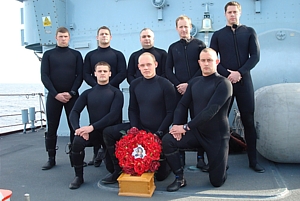 Chiddingfold's Diving Team with the wreath
and Ginger's ashes on the foc'sle
Left: Saying the Naval Prayer
Right: Lt Paul Hursthouse lays the wreath
The Ship's Clearance Diving Element (CDE), supervised by Diving Officer Lt Al Nekrews, led the Scattering of Ashes ceremony. With the ship holding position nearby, the Dive Team embarked in a Gemini whilst the Ship's Company manned the side with Flag Alpha ("I am conducting Diving Operations") and the White Ensign at half mast. A simple service saw a reading from St John's Gospel by Ship's Coxswain PO(D) "Mac" McPherson, the Naval Prayer read by Executive Officer Lt Chris Stephenson whilst Diver Rushton piped the Still on the Bosun's Call. Diver Moger, youngest member of the diving team then scattered Ginger's ashes. Former CPO(D), Lt Paul Hursthouse completed the ceremony with the laying of a wreath. CHIDDINGFOLD then resumed her passage to join up with the other ships in her group in order to pass through the Suez Canal.
The MCDOA shared the cost of the wreath with the Association of RN First Class Divers (AORNFCD) as a tribute to Ginger.
[Late News: This article now appears on the Royal Navy website here.]
---
28 Feb 08 - MCD & MW Promotions
I am most grateful to MCDOA member Stu McAlear for providing the names of MCDs and MWs selected for promotion to Lt Cdr on today's signal:
Jim Bagshaw (MW) - HMS Gloucester

John Beavis (MCD) - On exchange at Defence Research and Development Centre (DRDC), Toronto

Keith Mabbott (MCD) - Joint Services Command & Staff College (JSCSC), Shivenham

Louise McIntyre (MW) - HMS Kent

Matt Moore (MCD) - HMS Ark Royal

Jim Pearson (MCD) - On exchange at Naval Sea Systems Command (NSSC), Washington

Joe Price (MCD) - OIC Fleet Diving Unit Two (FDU2)

Ian Richardson (MCD) - OIC Fleet Diving Unit One (FDU1)

Paul Smith (MCD) - Flag Officer Sea Training MCM, Patrol & Survey Vessels (FOST MPV), Faslane

Rob Walker (MCD) - Defence Diving School (DDS)

Richard 'Soapy' Watson (MCD) - Defence Diving School (DDS) and our very own Honorary Treasurer & Membership Secretary!

Jason White (MCD) - Somewhere warm. (Lucky enough to have had a particularly helpful AIB mentor when a young Civil Serpent in the MCMD Section at DGUW(N), Portland.)
Congratulations to each and every one of you. For the few who are not yet MCDOA members, now seems a good time to join. It's still only a tenner per year so don't make me name and shame!
---
27 Feb 08 - MCDOA Northern Dinner
I have received the following message from MCDOA member Andy Ward regarding the Northern Dinner last Friday:
"Hi Rob, As promised a quick report from North of the border following the annual Northern dinner. Only 15 members were able to attend this year despite the sterling efforts of John Law and Rich Osbaldestin to recruit more. A very wet and windy Friday evening saw us all muster in the Faslane WR back bar for the traditional 'early-dip' prior to sitting down to a thoroughly enjoyable dinner in the WR Guest room.
Attendees included Alan Bayliss, Hamish Loudon, Peter Waddington, Paul Henke, Ken Kempsell, Chris O'Flaherty, John Belchamber, Andy 'Sharkey' Ward, Matt Offord, Rich Osbaldestin, John Law, Steve White, Gus Young, Si Leightley and Troy Beechinor.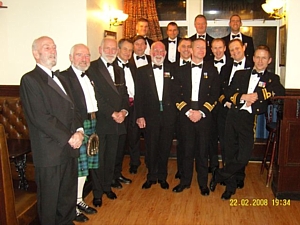 Northern diners assembled in the back bar
Despite the lowly attendance, a great time was had by all and many dits were spun. The assembled members and guests were forced once again to listen to me speak as we were unable to secure the services of a guest speaker. We were also very privileged to listen to John Belchamber recounting the story of the recovery of the bell from HMS Royal Oak. Obviously this has very Northern links and we are very grateful to John for presenting us with a picture of the team who recovered the bell in 1982. The picture will now hang in Northern Diving Group's headquarters, adjacent to our Royal Oak presentation board.
Next year we may consider having the dinner on a Thursday evening as this may mean better attendance from serving personnel who would otherwise travel. We will of course check beforehand with our retired members to ensure maximum attendance all-round. Keep up the good work on the website and look us up if you're ever up North.
Regards,
Andy"
---
26 Feb 08 - Ginger Bryant's Ashes Scattered
Soapy Watson, our Honorary Treasurer & Membership Secretary, has just informed me that the ashes of the late CPO(D) Arthur 'Ginger' Bryant BEM (see entries for 19 Jan, 29 Jan and 8 Feb) were scattered above the wreck of HMS Barham off Alexandria at 1300 (local) on Saturday 23 February. This solemn deed was performed from a gemini by HMS Chiddingfold's diving team under the supervision of her Ops Officer Al Nekrews.
I have informed Ginger's brother John (another ex-RN Diver) who has expressed his deep appreciation on behalf of the family. Well done to all concerned.
---
25 Feb 08 - News of HMS Blyth and HMS Ramsey
The Royal Navy website contains this article about the recent activities of HMS Blyth and HMS Ramsey in the Arabian Gulf and features PO(MW) Richard 'Sticky' Green.
---
23 Feb 08 - RN Minewarfare Heritage
Mrs Webmaster and I have just returned from a half-term break during which we visited the Merseyside Maritime Museum for the first time in 20 odd years. I was pleased to see that minewarfare has been given an appropriate place in Liverpool's maritime history. The first photo was taken during a visit by HM Ships Pangbourne, Albury, Tiverton, Dunoon, Dundalk and Sutton in May/June 1929.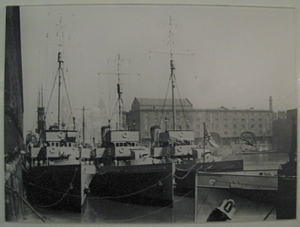 Improved Hunt (Aberdare) Class 'Smokey Joe'
minesweepers in Albert Dock in 1929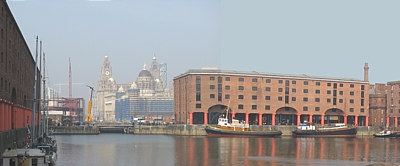 The same view of Albert Dock today
(N.B. Royal Liver Building in the background)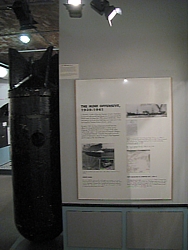 German wartime mine alongside
history of mining in Liverpool
Last but not least, the museum has examples of the PAS boats that used to criss-cross the harbours in dockyard ports before the PAS (Port Auxiliary Service) merged with the RMAS (Royal Maritime Auxiliary Service) in 1976. There are two HLDs (Harbour Launch - Diesel) in the collection.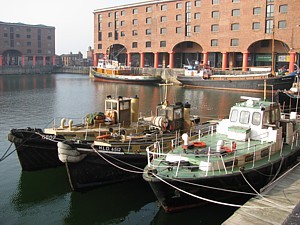 HLDs 6507 and 6512
---
22 Feb 08
HMS Ledbury in Channel Dash Memorial Service
The Navy News website contains this article describing the role of HMS Ledbury in a memorial service commemorating attempts to stop the German warships Scharnhorst, Gneisenau and Prinz Eugen transiting the English Channel during the Second World War.
---
RN Diving Heritage
Each week, the website generates historical, personal and technical queries about minewarfare and diving from people all over the world. A particularly interesting request for information arrived last week from a lady called Liz Chapman. She provided a photograph of the headstone of an ancestor, William Delicate, who was born in 1856 and qualified as a naval diver at HMS Excellent on 1 June 1879. The photo indicates he was probably a Chief Torpedo Instructor.
From accompanying documents, I managed to reconstruct his naval career from the time he joined the Training Cruiser HMS Implacable at Devonport as a Boy 2nd Class in 1873, through his service in various ships and establishments (including several periods at HMS Vernon), until his discharge to pension in 1894.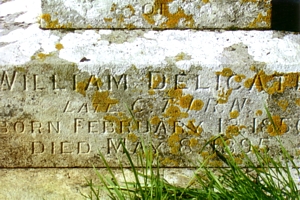 Headstone of the late CTI William Delicate
Coincidentally, I received these photos from MCDOA member Duncan Bridge the same day. They came from Rodney Barton who lives at Yarmouth on the Isle of Wight and show his grandfather's involvement as a naval diver in bomb and mine disposal in Ostend at the end of the First World War.
Left: HMS Vindictive after her salvage
Right: RN salvage team in 1919 with Rodney's grandfather wearing a white cap cover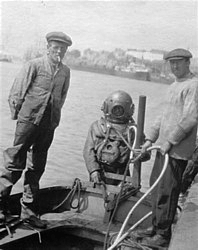 Rodney's grandfather in standard diving dress in 1918
Those who have visited the Belgian and Netherlands NATO Minewarfare School (Ecole de Guerre des Mines - EGUERMIN) at Ostend will have seen the upper part of HMS Vindictive's bow in the adjacent park. This cruiser was scuttled after a partially successful attempt to block the approach channel to the canal during a daring raid on 9 May 1918. See here for further details.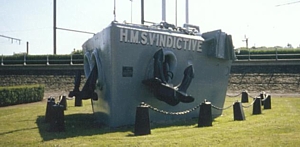 HMS Vindictive Memorial at Ostend
After the First World War, Rodney Barton's grandfather carried out deep sea salvage work with Risdon Beazley (sometimes misspelled Risdon Beasley). Interestingly, Risdon Beazley remained a dominant marine salvage company until after the Second World War but closed down in the 1980s. It developed the EXMAR Database of deep sea wrecks which has recently been updated by Blue Water Recoveries. This database now belongs to the marine salvage company Deep6 Explorations Ltd whose Chief Executive is Graham Jessop. Graham is the son of Keith Jessop of Jessop Marine, a former Royal Marine who conceived the salvage of gold worth £43 million from the wreck of HMS Edinburgh in the Barents Sea in 1981. Several former RN divers were involved in the recovery including Jessop's Operations Director Jim Ringrose (LMCDO '75) and former CD Mike O'Meara, Diving Superintendent of Wharton Williams, the company that funded and conducted the salvage operation.
---
21 Feb 08 - HMS Vernon Nostalgia Follow-Up
Today's Portsmouth News contains this charming sequel to the item about pub pianist Dennis Thornley (see entry for 30 Jan 08) who played the chapel organ in HMS Vernon and accompanied Wardroom mess dinners on the grand piano.

---
20 Feb 08
New RN Minewarfare Branch Association now online
The Minewarfare Association is now up and running and I have added its website to the 'Web Links' page. All RN officers, warrant officers and ratings qualified in Minewarfare are eligible for membership which costs £12 per year. The Chairman is WO(MW) Pete Mills, the Vice Chairman is CPO(MW) Taff Reader, the Secretary is MCDOA member Richard Hill and the Treasurer is WO(MW) Pete Whitehead.
---
HMS Brecon's New Training Role
The Navy News website contains this article about the new role taken up by HMS Brecon at HMS Raleigh.
---
19 Feb 08 - Topsy Turner selected for promotion to Cdr RNZN
The Members Only area contains a comprehensive update (and an appeal for new recruits) from former MCDOA Honorary Secretary David 'Topsy' Turner who transferred to the RNZN in 2004 and has commanded the Operational Diving Team for the past three years. It appears that well-deserved congratulations are in order because he has been selected for promotion to Commander. Well done Topsy! I hope you can make it over for this year's dinner in November for the 25th anniversary of your LMCDO Course so we can all help you celebrate in style.
Now, how about some updates from other MCDOA members in far flung parts of the world - or even just down the road?
---
17 Feb 08 - News from HMS Chiddingfold and HMS Atherstone
I am grateful to Lt Si Shaw RN, the Navigating Officer of HMS Chiddingfold, for providing these updates. HMS Atherstone and HMS Chiddingfold departed Portsmouth on 27 January and, together with RFA Diligence as their MCM command and support platform, are bound for the Mediterranean and further east. MCM2 (MCDOA member David Hunkin) is due to join them whereupon they will form a squadron with the two Sandown class MCMVs (HMS Blyth and HMS Ramsey) currently in the Gulf on Operation Aintree. En route, they will also exercise their minehunting skills in the Indian Ocean with the Orion Task Group led by HMS Illustrious.
SEAFOX TEST FIRING
CHIDDINGFOLD has become the first Royal Navy unit to test fire the Seafox Mine Disposal System. CHIDDINGFOLD was one of the first British ships to be fitted with Seafox after her UPKEEP package early in 2007. Following a successful OST and Neptune Warrior using the system, and a dedicated two weeks trials program in the North of Scotland, CHIDDINGFOLD was chosen to fire the first Seafox Combat Round.
SEAFOX is a mini submersible around one metre in length, with a fibre optic cable attached to relay video picture and sonar details back to the mother ship. This information is then displayed on a computer within the mother ship's operations room. The submersible comes in three types; an Inspection Round, a Combat Round and a T Round. The black coloured Combat Round is a once only device, carrying a one shot shaped charge to destroy mines, once they have been located. The red Inspection Round is for locating mines but does not have the shaped charge. The third type, the T Round, is used primarily for training. This is a completely new system from the previous yellow RCMDV submersibles. These reusable underwater vehicles located underwater ordnance, but then detached explosive charges to destroy the target and then retreated to a safe distance, before the charges exploded.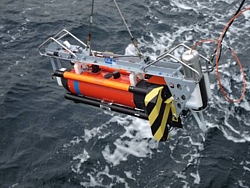 SeaFox being deployed
CHID fired the Combat Round against a ship laid mine target in the Gibraltar Exercise Areas whilst on passage East in company with ATHERSTONE as the lead ships of the Orion 08 Deployment. A team from Ultra, Seafox's manufacturing company and RN personnel from CINCFLEET were on board CHIDDINGFOLD to witness the firing.
"My team have worked exceptionally hard over the previous year to be able to be in a position to use the Combat Round first. It has been a huge team performance as the Ops Room led by the MWOs found contacts, drove the Seafox and found the mine, whilst the bridge team hovered the ship and the Marine Enginneers provided bow thrust and slow speed drive capability. The Ship's Company are proud to be the first Royal Navy ship to test fire Seafox," said Lt Cdr Tom Tredray, CHIDDINGFOLD's Commanding Officer.
Lt Al Nekrews, CHIDDINGFOLD's Operations Officer said "it was fitting for CHID to be the first to achieve this given the hard work put in over the past year since UPKEEP and training. We now go forth with a potent new capability."
GIBRALTAR VISIT
CHIDDINGFOLD has recently paid a five day visit to Gibraltar. CHIDDINGFOLD, in company with her sister ship ATHERSTONE, entered harbour in line astern, berthing in the Naval Base, giving handy excess to the town. Both ships later sailed for Seafox training with CHID conducting the first live firing of the RN's new mine disposal system.
Chiddingfold departing Portsmouth
Both ships had sailed from Portsmouth via Plymouth and south through a lumpy Bay of Biscay. This did not affect the program of training which incorporated gunnery shoots of 30mm cannon, General Purpose Machine Gun and Minigun. Damage Control and fire fighting training was exercised once the ships were clear of the inclement weather and the seas flattened. CHIDDINGFOLD's and ATHERSTONE's Clearance Diving Element trained with the Gibraltar Clearance Diving Unit in the art of Underwater Force Protection once both ships were alongside.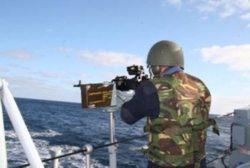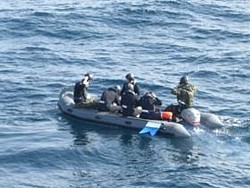 GPMG practice and exercising the diving team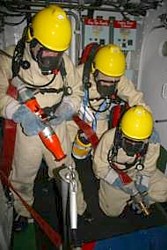 Firefighting exercise
For a sizeable amount of both Ship's Companies this was furthest south and away from the UK since they joined up, reflecting the previous Fishery Protection and Home Waters duties of the ships. With that in mind, the sailors enjoyed their run ashore in Gibraltar. This was Diver Mark "Humbers" Humberstone's first trip to Gibraltar, "I enjoyed the social side of the run ashore but the Rock Race was definitely the best with the amazing view at the top just before sunrise".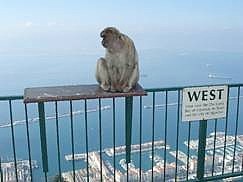 One of the Rock Apes
CHIDDINGFOLD took on the local Royal Navy Football side and despite a solid first half performance, lost the match. The following morning at 0700 the vast majority of the Ship's Compnay mustered and set off on the famous Rock Race with sailors from ATHERSTONE and EXETER. Navigator, Lt Simon Shaw was "first" to cross the line from CHIDDINGFOLD, although it was claimed that some sailors were deliberately sent up the wrong peak! "When I was shaken at 0600, I really didn't feel like running uphill for half an hour but it was good team building and every one who started from CHID finished."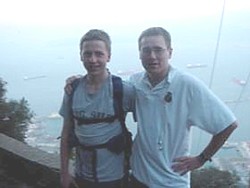 Top of the Rock runners
---
16 Feb 08 - Historical Diving Times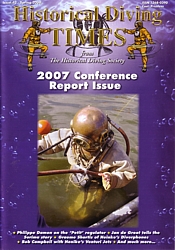 The Spring 2008 issue of the Historical Diving Times, the journal of the Historical Diving Society (HDS), contains an article about the unveiling of a diving helmet in Bergen to commemorate the world record-breaking deep diving achievements of the late MCDOA member George Wookey MBE and an obituary for the late MCDOA member Harry Wardle (see several entries in 'News Archive 19').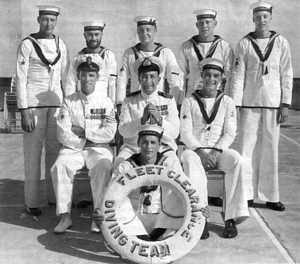 Harry Wardle as OIC of the Far East Fleet
Clearance Diving Team in Hong Kong c.1955
The magazine also has an account of the HDS Annual Conference and Dinner held in Falmouth last October. The conference, sponsored by Falmouth Divers and McSalvors, was held in the new National Maritime Museum of Cornwall and included a presentation on Operation Blackleg, the recovery of sensitive items from HMS Coventry following the Falklands conflict. This presentation was given by SDU1 OIC Mark Northcote using material provided by MCDOA member Mike Kooner who was in charge of the operation. The conference was also attended by Commodore Jamie Miller CBE RN, the Naval Regional Officer for Wales & Western England (NROWWE), who was serving in HMS Coventry when she was bombed and sunk.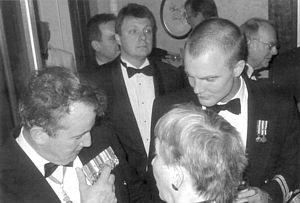 Mark Northcote looks on as
Cdre Miller explains his medals
HMS Ledbury was alongside in Falmouth during the HDS conference and her Commanding Officer, Lt Cdr Paul Russell RN, attended the civic reception hosted by the Mayor of Falmouth, Councillor Mike Varney.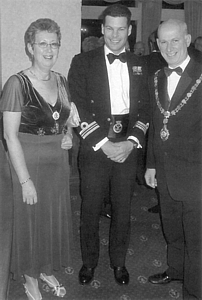 HMS Ledbury's CO Paul Russell
with Cllr Varney and his consort
---
15 Feb 08
Memorial Service for ex-CPO(D) Phillip 'Nobby' Clark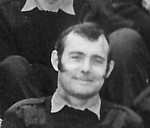 A memorial service for ex-CPO(D) Nobby Clark, who died in Spain on 27 December 2007 (see entry for 30 Dec 07 in News Archive 20), will be held at 1400 on Saturday 15 March 2008 at T & I Stockman Funeral Directors Chapel, 19 Holwell Road, Brixham, TQ5 9NE. Any enquiries or messages should be passed to Nobby's widow Christine whose telephone number is available on request to the webmaster.
---
HMS Brecon in new training role
The Royal Navy website contains this article about HMS Brecon in her new training role at HMS Raleigh.
---
11 Feb 08 - News from HMS Hurworth
I am grateful to Lt Will Blackett RN, the Navigating Officer of HMS Hurworth, for providing this update:

HMS HURWORTH UPDATE
HURWORTH is now deployed as part of Standing NATO Mine Countermeasures Group One (SNMCMG1). The first month has been extremely busy, with the priority being the integration of the different units in a multi-national task group. The ship has visited Zeebrugge (Belgium), Belfast, Glasgow and Stavanger (Norway) during an intense period of workup training. The group took part in EXERCISE ANGLER in the Clyde during the last fortnight of January, during which HURWORTH successfully managed to conduct a sustained period of Minehunting Ops whilst defending herself against air and surface attack.
This was beneficial to the ship and the chance to put training into action was enjoyed by everyone onboard. The biggest enemy for most of the month has been the weather – some of the worst conditions a lot of the younger members of the ship's company have experienced. Although progress was hampered by the state of the sea, HURWORTH bravely (and safely!) rode the storms and is now enjoying the more sheltered Norwegian Fjords. There have been opportunities for skiing and sightseeing in Norway – including a fantastic transit through the famous Lysefjord.
HURWORTH now prepares to move further east.
---
8 Feb 08 - RN Divers to Scatter Ginger Bryant's Ashes at Sea
Thanks to the good offices of Captain Peter Lambourn RN (CMFP) and MCDOA member David Hunkin (MCM2), RN divers will scatter the ashes of the late CPO(CD1) Arthur Quantrill 'Ginger' Bryant BEM (see entries for 19 Jan 08 and 29 Jan 08) over the wreck of the battle-cruiser HMS Barham in the eastern Mediterranean in accordance with Ginger's last wishes. Ginger was among the 450 survivors when HMS Barham capsized and blew up in spectacular fashion (video here) after being torpedoed by U-331 on 25 Nov 1941 but 861 other men perished. I delivered the ashes to David yesterday and they will be sprinkled by a ship on passage to the Gulf, together with a wreath provided jointly by the MCDOA and the Association of RN First Class Divers (AORNFCD). Photos of the ceremony will be sent to Ginger's family and an illustrated account will be submitted to Navy News for publication.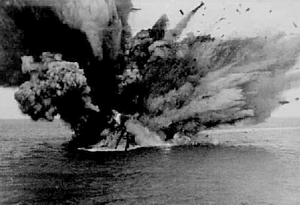 HMS Barham Blows Up
Arthur's brother John has sent me Ginger's service records from which I have compiled this biography. Ginger was known as 'Tony' by his civilian family and friends. During his eventful naval career, he was torpedoed three times, shelled, bombed and shipwrecked.
| | |
| --- | --- |
| DATE | EVENT |
| 6 June 1921 | Born in Edmonton, North London. |
| 1926 -1928 | School - St Paul's, Whichmore Hill, London N21. |
| 1928 -1934 | School - St Osyth Road and Pathfields Road, Clacton-on-Sea. |
| 1934 - 1936 | Training Ship TS ARETHUSA (Shaftesbury Homes) as one of 240 boys being trained for employment in the Royal Navy or Merchant Navy. Ginger joined at age of 13 years and nine months and met Gordon 'Hoppy' Hopewell (now living in Fareham, Hampshire) with whom he later served in HMS BARHAM and in the RN Clearance Diving Branch. |
| 20 Oct 1936 | As Boy 2nd Class, joined HMS St VINCENT, RN boys training establishment at Gosport. |
| 11 Oct 1937 | As Boy 1st Class, joined HMS DUNEDIN, RN boys' training cruiser. |
| 24 May 1938 | As Boy 1st Class, joined battle-cruiser HMS BARHAM, at the time bound for the Mediterranean for a 2½ year commission. Some involvement with Spanish Civil War. |
| 1939 | Rated Ordinary Seaman on 6 June. On outbreak of Second World War, HMS BARHAM left Mediterranean for Arctic patrol. Sank destroyer HMS DUCHESS in collision off Mull of Kintyre on 12 December. Torpedoed by German submarine U-30 on 28 December while at sea north of the Hebrides causing large hole in port side. Ship's company had to bail out water as pumps unable to cope. |
| 1940 | HMS BARHAM in Gladstone Dock, Liverpool being repaired. Half of ship's company sent to Norway, Ginger among them, to assist the Army. Ginger rated Able Seaman on 1 Feb. After repairs, HMS BARHAM sent to Mediterranean and bombarded Vichy French base at Tripoli in April, French fleet at Mers-el-Kebir in July and French Fleet at Dakar on 24 September. Ship hit by two shells and spent short period in Gibraltar for repairs. |
| 1 Jan 1941 | HMS BARHAM bombarded Libyan coastal targets |
| 5 Jan 1941 | Italian garrison at Bardia surrendered after bombardment. |
| 7 Feb 1941 | Rated Acting Leading Seaman. |
| 26 Mar 1941 | HMS BARHAM involved in Battle of Cape Matapan where her guns helped destroy the Italian heavy cruisers FIUME and ZARA and the destroyers VITTORIO ALFIERE and GIOSUÉ CARDUCCI. |
| 13 May 1941 | HMS BARHAM discharged some of her ship's company including Ginger. In his absence, HMS BARHAM suffered a direct bomb hit on X and Y turrets on 27 May off Scarpanto during the Battle of Crete. |
| 14 May 1941 | Drafted to HMS NILE (RN Base at Alexandria) for gunnery course at HMS CANOPUS. While waiting for HMS BARHAM to return, he was sent to a small merchant ship called KEFALLINIA to run supplies to besieged British garrison at Tobruk. KEFALLINIA was sunk on her third trip but all crew members survived and were rescued. |
| 22 Aug 1941 | Rejoined HMS BARHAM. |
| 25 Nov 1941 | HMS BARHAM torpedoed by German submarine U-331 with loss of 861 men. Ship exploded spectacularly and sank within four minutes. Ginger among 450 survivors and billeted in a survivors' tented camp at HMS GREBE near Alexandria. All he had to wear were his blue pyjamas. |
| 23 Dec 1941 | Sent back to UK for leave and duties at HMS VICTORY in Portsmouth. |
| 7 Feb 1942 | Confirmed as a Leading Seaman. |
| 14 Jul 1942 | Joined cruiser HMS ARGONAUT and deployed to Mediterranean. Returned to England before sailing to Russian port of Archangel, calling at Spitzbergen to land Norwegian Army reinforcements and 3.7" guns before helping escort a convoy to Murmansk. |
| 23 Feb 1943 | HMS ARGONAUT deployed back to the Mediterranean in time for the Allied invasion of French North Africa. As part of Force Q, she helped find an Axis convoy on 1 Dec 1942 and was engaged in an hour-long battle during which the Italian destroyer FOLGORE and four troopships were sunk, and the destroyer DA RECCO and a torpedo-boat were damaged. On their way back to harbour, Force Q suffered an air attack in which HMS QUENTIN was sunk. While running out of Bone harassing Italian convoys, HMS ARGONAUT was hit at dawn on 14 Dec 1942 by two torpedoes fired by the Italian submarine Mocenigo. Her bow and stern were blown off but she managed to reach Gibraltar for emergency repairs and was sent to Algiers on Christmas Day. She set sail on 4 Apr 1943 for proper repairs in Philadelphia. |
| 16 Apr 1943 | Joined ex-US destroyer HMS RAMSEY for Atlantic convoy escort duties. |
| 25 Oct 1943 | Rated Acting Petty Officer. |
| 4 Sep 1945 | Joined HMS EXCELLENT at Portsmouth to qualify as a diver. |
| 4 Dec 1945 - 14 Apr 1946 | Cruiser HMS ENTERPRISE while she was being prepared for reserve service. |
| 21 Nov 1946 | Confirmed Petty Officer. |
| Jun 1951 | Embarked in HMS RECLAIM to dive on the wreck of the submarine HMS AFFRAY which had sunk near the Hurd Deep in 86 metres with the loss of all hands. |
| 30 Nov 1951 | Qualified to 360 ft as a Deep Diver 2 at HMS VERNON (Portsmouth) after various courses and drafts including two spells (16 May 48 to 16 May 49 and 4 Oct 49 to 16 Nov 50) in the RN's submarine rescue and deep diving trials vessel HMS RECLAIM. |
| 13 May 1952 | Joined submarine depot ship HMS MONTCLARE in charge of 3rd Submarine Squadron Diving Unit and Coxswain of MFV diving tender. |
| 26 May 1953 | Specially rated Chief Petty Officer by the Commander-in-Chief – possibly the last "Admiralty-made Chief". |
| 23 May 1955 | Joined HMS VERNON in charge of Horsea Island Diving Training Centre. |
| 28 Aug 1956 | Joined HMS PHOENICIA (Manoel Island, Malta) for Admiralty Salvage Vessel KINGARTH as ship's Coxswain and Chief Diver during salvage of wrecks at Port Said in wake of Suez crisis. Ginger's article describing his experiences is available on the 'Latest News' page of the MCDOA website. |
| 7 May 1957 | Joined HMS VERNON for Clearance Diving course (Bomb and Mine Disposal) |
| July 1957 | Awarded Commendation by Commander-in-Chief, Mediterranean Fleet. |
| 25 Sep 1959 | Qualified as a Clearance Diver First Class (CD1) at HMS Vernon. |
| 6 Oct 1959 | Joined HMS LOCHINVAR (South Queensferry on River Forth) for Diving Tender HMS DINGLEY as CD1 of Home Station CD Team. |
| 1 Dec 1959 | HMS DINGLEY transferred to HMS VERNON (Portsmouth) |
| 20 Dec 1960 | Joined HMS PHOENICIA for Depot Ship HMS NARVIK in charge of 5th Submarine Division Diving Team. Remained at Malta as CD1 of Mediterranean Fleet CD Team until 6 Jun 1962. |
| 2 Jun 1962 | Gazetted for award of British Empire Medal in Queen's Birthday Honours. Medal presented on board HMS VICTORY by Admiral Sir Alexander Bingley (Commander-in-Chief, Portsmouth and Allied Commander-in-Chief, Channel). |
| 13 July 1962 | Joined HMS VERNON for instructional duties. |
| 8 Oct 1962 | Joined HMS OSPREY (Portland) as CD1 of Admiralty Underwater Weapons Establishment (AUWE) Diving Trials Team. |
| 5 Jan 1965 | HMS RECLAIM. Participated in 600 ft Oxy-Helium diving trials off Toulon. |
| 5 Feb 1966 | Released from Royal Navy. Became Landlord of 'The Willows' public house in Cressing near Braintree with wife Norma. Bought house next door. |
| 1981 | Charrington's Brewery sold pub as a free house requiring Ginger to find other employment. He became the steward of the Conservative Club at Cogglesham until 1986. He was also relief manager for the Ashes public house and helped tend Barry and his wife Freda's garden for 12 years. Sadly, he lost his wife Norma in January 1992 and his own health started to deteriorate with the onset of bone necrosis. He had several operations including one to replace a knee. Despite several bouts of cancer, he remained a stalwart of the Freemasons, which he had joined in Scotland just before leaving the Navy, continued to be a regular at his old pub next door and kept up with his swimming. He last swam in July 2007 and it is believed the management of the Riverside Baths had intended inviting him to swim the first length when their new pool opens later this year. He retained his sense of humour to the last without complaint. |
| 15 Jan 2008 | Ginger died in hospital at the age of 86 after a short illness. He is survived by his brothers John and Michael, his sisters Wendy and Pat, his daughter Jackie Parrish and his grandchildren Jamie, Lee and Chris. |
Aynsley Davidson, the editor of the Braintree & Witham Times, intends publishing an obituary for Ginger. He has informed me that "...his diver's helmet and boots were quite a feature in the bar, next to the fireplace, of the pub he ran in Cressing." I am also hopeful of an obituary appearing in the Daily Telegraph. Ginger's daughter Jackie and his brother John, an ex-RN diver himself, have asked me to express their gratitude for all the support and messages of sympathy they have received from members of the RN diving community.
---
7 Feb 08 - HMS Atherstone and HMS Chiddingfold in the Sun
The Royal Navy website contains this article about HMS Atherstone and HMS Chiddingfold enjoying the sun off Gibraltar and features Leading Diver Adrian Morris. The ships sailed Portsmouth on 23 January bound for the Indian Ocean as part of the Orion 2008 Task Group deployment.
---
6 Feb 08 - Diver turns Driver
The Navy News website contains this article about the participation of PO(D) Mark Jones of Fleet Diving Unit 3 (FDU3) in this year's Paris to Dakar Heroes Legend Rally. He will be riding his motorcycle 6,800 km (4,225 miles) in 14 days to raise money for the CJD Support Network. His mother died from the disease in 2004.
People can sponsor Mark via this page on the Justgiving website. Let's give him all the support we can muster.
---
2 Feb 08
SDU1 in the News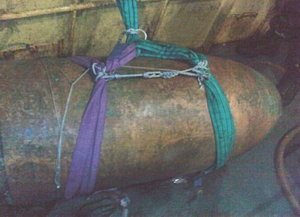 WWI German Torpedo Warhead
(Photo courtesy of Tony Groom)
The BBC website contains this article and the Western Morning News contains this article describing the disposal of a First World War German torpedo warhead (including obligatory photos of the water plume) by Southern Diving Unit 1 (SDU1) last Monday. According to reports, SDU1 has dealt with four other incidents this week including two British mines on the beach at Newquay.
---
HMS Vernon Diving Training Section c.1981
The late Blondie Limbrick's brother Jim has kindly sent me this photo of HMS Vernon's Diving Training Section which I believe was taken c.1981.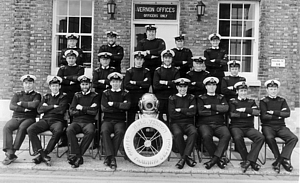 HMS Vernon Diving Training Section c.1981
From left to right, the front row comprises Pete Still with MCDOs Terry Iles, Brian Mansbridge, Ralph Mavin, Tony Rose, George Dance and two CPOs I can't identify. The second row comprises a CPO I can't identify, Blondie Limbrick, Ray Ramsay, John Dadd, Bill Baukham and Eddie 'Scouse' Kerr. The back row comprises a PO I can't identify (Ron Baker?), Buster Brown, Norman Slingsby, Steve Stevens and Clive Egginton. Can anyone help fill in the gaps?
---
1 Feb 08 - Navy News Items
The following MCD-related items from the February issue of Navy News include:
---
31 Jan 08 - Divers Down - Lex Barker and Ron Baker
Former CDs Terry Gosling and Dudley Woolnough have advised me that ex-CDO Lex Barker died in Singapore on 21 December 2007. He had been seriously ill for some months. Lex ran the Portsmouth Bomb & Mine Disposal Team in 1964/5. Mick Curran has provided these photos via Jim 'Tommo' Thomson showing himself with Lex, Dave Vaughan and Ron Maitland-Flanagan as they prepare to steam the explosive content out of what appears to be a German GC ground mine.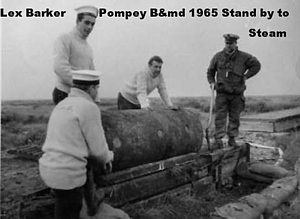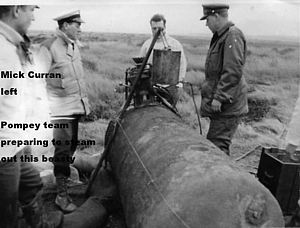 Lex Barker with members of the Portsmouth B&MD Team in 1965
(Jackie Rea second from left in photo on right)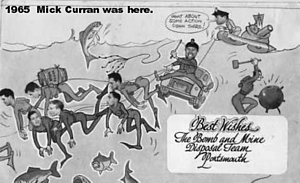 Portsmouth B&MD Team Christmas card 1965
Ex-LS(D) Joe Kissick, currently on board the Dive Support Vessel DSV Rockwater 2 off New Zealand, has informed me that ex-PO(D) Ron Baker died in Tenerife on 15 January 2008 after contracting pancreatic cancer. He was aged around 57. Ron left the Royal Navy c.1982 and was Supervisor Superintendent for Mohn Drilling in Argentina for five years. Joe believes he was taken ill in late 2006 and medevaced by helicopter from a Smit barge in China but had expected to recover as recently as December 2007. Joe says Ron was a good bloke who always looked after his lads first and the company second, and that he will be sorely missed. His death has been registered on the memorial board of the commercial diving community website at www.longstreath.com. Ron's brother John was also a CD. So far, messages of condolence have been received from MCDOA member Martin Jenrick and CDs Chris Archer, Dickie Barratt, Steve Bielby, Basher Briggs, Albert Chapman, John Greenwood, Bill McGovern, Mick O'Leary, Tiny Petrie, Ray Sinclair (formerly Suckling), Yorky Tudor and Bill Wilson, all of which I have passed on to Joe for Ron's family.
Would members please send me some cheerful Branch news for a change? I'm sure it's out there somewhere.
---
30 Jan 08 - HMS Vernon Nostalgia
Today's Portsmouth News contains this item about pub pianist Dennis Thornley who played the chapel organ in HMS Vernon and accompanied Wardroom mess dinners on the grand piano. It also features MCDOA member Doug Barlow and your humble webmaster. The website's 'Dit Box' contains a story called 'HMS Vernon's French Connection' which describes the time Dennis joined establishment staff for a trip to Vernon-sur-Seine in France in 1974 with some unexpected consequences.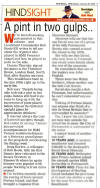 ---
29 Jan 08 - Ginger Bryant's Funeral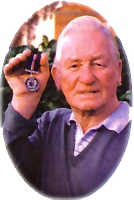 Arthur Quantrill 'Ginger' Bryant BEM
(6 Jun 1921 - 15 Jan 2008)
It was standing room only in the picturesque Norman church of All Saints in the village of Cressing near Braintree yesterday for the funeral of former CPO(CD1) Arthur Quantrill 'Ginger' Bryant BEM, known locally for some reason as Tony (see entry for 19 Jan 08). The congregation numbered around 140 including Ginger's family members, friends, fellow Freemasons and old comrades. RN representatives included your humble Vice Chairman & Webmaster (Rob Hoole) representing the MCDOA together with fellow former divers Donkey Bray (the really old one - accompanied by his 'carer' Audrey Maspero), Hoppy Hopewell (Ginger's friend and colleague for the past 73 years), Vic Humphrey, Maggie Lockwood, Joe Maher, Peter Priestley, Ted Setchell and Spike Wheeler.
The service was conducted by the Reverend John Corbyn, the organist was Desmond Wood and the churchwarden was Sue Pulfrey. It began with an introduction and opening prayers followed by a eulogy from Ginger's brother John who also served in the Royal Navy. We learned about Ginger's upbringing in Clacton-on-Sea and his departure to the Training Ship T.S. Arethusa on the River Medway when he was only 13 years and nine months. It was here that he first met Gordon 'Hoppy' Hopewell with whom he later joined the Royal Navy, served in the battle-cruiser HMS Barham (although Hoppy had left by the time she was sunk in 1941) and in the Clearance Diving branch after the war. In 1962 Ginger was presented with the British Empire Medal by Admiral Sir Alexander Bingley (Commander-in-Chief, Portsmouth and Allied Commander-in-Chief, Channel) on board his flagship HMS Victory in Portsmouth Naval Base and he received several other commendations.
The congregation then sang the Naval Hymn (Eternal Father) including the Divers' verse penned by venerable MCDOA member 'Uncle' Bill Filer. A tribute was then given by Barry Tubin, Ginger's friend, neighbour and fellow Mason. He described how Ginger had undertaken a pub management course when he left the Navy in 1966 and was offered The Willows in Cressing which he ran as a tenant until 1981. He also bought the house immediately next door. When Charringtons decided to sell the pub as a free house in 1981, Ginger had to find other employment and became the steward of the Conservative Club at nearby Cogglesham where he remained until 1986. He was also relief manager for the Ashes public house and helped tend Barry and his wife Freda's garden for 12 years. Sadly, he lost his wife Norma and his own health started to deteriorate with the onset of bone necrosis. He had several operations including one to replace a knee. Despite several bouts of cancer, he remained a stalwart of the Freemasons, which he had joined in Scotland just before leaving the Navy, continued to be a regular at his old pub next door and kept up with his swimming. He last swam in July 2007 and it is believed the management of the Riverside Baths had intended inviting him to swim the first length when their new pool opens later this year. He retained his sense of humour to the last without complaint. Barry ended by paying tribute to several of Ginger's friends, starting with Hoppy Hopewell, and others who had supported him during his final years.
Father Corbyn then read from St John, Chapter 14 (In My Father's house are many dwelling places) before the congregation sang 'O Worship the King'. This was followed by prayers and the final hymn, 'The day thou gavest Lord, is ended'. While the family and Hoppy went on to Chelmsford Crematorium for the committal, the rest of the mourners walked the few hundred yards to Ginger's old pub, The Willows.
Left: Ginger's old pub, The Willows in Cressing
Right: Ginger's house next door to the pub
Inside the pub, I chatted with other divers and friends of Ginger while waiting for Hoppy and Ginger's family to return from the Crematorium.
Left: Vic Humphrey talking with Audrey Maspero, Donkey Bray and Maggie Lockwood
Right: Standing - Maggie Lockwood, Joe Maher, Ted Setchell, Peter Priestley, Vic Humphrey and Donkey Bray
Crouching à la Vicar of Dibley - Rob Hoole and Spike Wheeler
When the others arrived, I gave Ginger's daughter Jackie a condolence card and expressed the Association's sympathy to her and her Uncle John. They said how much they had appreciated the tributes on the website and the presence of so many of Ginger's old naval comrades. John then read out a very moving speech written by Hoppy on our way from Portsmouth.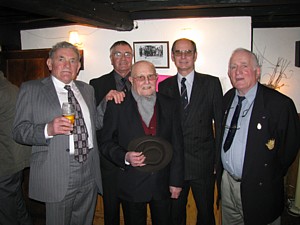 Joe Maher, Ted Setchell, Hoppy Hopewell,
Rob Hoole and Spike Wheeler
Before we left for the drive back to Portsmouth, Hoppy, Ted and I had our photo taken underneath The Willows' pub sign.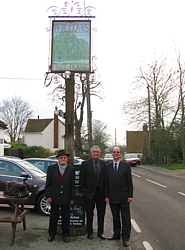 Hoppy Hopewell, Ted Setchell and
Rob Hoole outside The Willows
Our sympathies remain with Ginger's brothers John and Michael, his sisters Wendy and Pat, his daughter Jackie and his grandchildren Jamie, Lee and Chris.
---
27 Jan 08
John Ludgate in the news
It's good to see that MCDOA member John Ludgate (LMCDO '66) continues to mix with distinguished company. This from Mandrake in today's Sunday Telegraph:
"Duke can look the East End in the face
Jacqui Smith, the Home Secretary, may not feel safe wandering the streets of London's East End - even presumably with her armed protection officers by her side - but the Duke of Kent would appear to be made of sterner stuff. What is more, the duke, when he opened the renovated York Hall, the world famous boxing venue in Hackney, arrived by Tube, taking the Central Line from Lancaster Gate - not far from his home at Kensington Palace - to Bethnal Green. That's 10 stops. It is believed to be the first time in 30 years that the duke had travelled on the Underground, but he clearly had no problem sharing a carriage with hoi polloi. After being received by Commander John Ludgate, the Deputy Lieutenant of Greater London, and inspecting York Hall, he made his way home on the Central Line too. A spokesman for Buckingham Palace says it is not without precedent for a member of the Royal Family to travel by public transport."
This appeared in the Court Circular back on 17 October last year:
"...The Queen this afternoon named the Trinity House Vessel GALATEA in the Pool of London and was received by Commander John Ludgate (Deputy Lieutenant of Greater London) and The Duke of Edinbugh (Master, the Corporation of Trinity House). Her Majesty and His Royal Highness toured the Ship, escorted respectively by Rear Admiral Jeremy de Halpert (Deputy Master, the Corporation of Trinity House) and Commodore Peter Melson (Rental Warden), met the Ship's Company and attended a Reception."
---
Fascinating New Addition to the Dit Box
Captain Peter Lambourn (CMFP) has kindly forwarded a highly informative letter from 85-year old former Leading Wireman Ernest Goodhall who served in minesweepers in the Royal Naval Patrol Service (RNPS also known as Harry Tate's Navy) during the Second World War. I have added Ernest's fascinating story, 'Wartime Minesweeping Memories', to the website's 'Dit Box'.
---
25 Jan 08 - Good News from Jim Nisbet
I am sure all members join me in congratulating MCDOA member Jim Nisbet and his wife on the arrival of their new paddler:
"Baby's name: Liesel Nisbet, born: Chelsea & Westminster Hospital, 1 Jan 08, weight: 8lb 4oz. Judging from the size of her feet she's not going to need fins."
Isn't it about time we had another Branch Christening in the diving helmet font (ex-HMS Vernon) now kept in St Barbara's church at HMS Excellent on Whale Island?
---
23 Jan 08 - Gentlemen Who Lunch
In the interests of conducting further research for the MCDOA's occasional Good Pub Guide, our 'Not Quite the Last of the Summer Wine' trio of Doug Barlow, Martyn Holloway and Rob Hoole visited the West Sussex village of Woodmancote yesterday to try out its eponymous 'Woodmancote Arms'. For us poor Service pensioners, spending endless weekday lunchtimes in country pubs is no picnic you know. The roads are eerily quiet, car parks are deserted, the pubs aren't crowded, there are no queues at the bar and there isn't even enough noise to drown out your companions. Anyway, this much-extended Wadworth's pub is situated opposite a small triangular green in pleasantly rural surroundings and has ample parking on both sides of the building. Before we entered, there was the usual animated discussion about who had bought the first round last time.
Left: Frontage of The Woodmancote Arms
Right: "It was definitely me last time. Remember the fuss all those moths caused?"
The front interior of this pub is divided between a small dining area on the extreme left and a traditionally-appointed main bar that extends across the rest of the building's width. This contains a long counter, tables and chairs arranged in cosy alcoves, and a welcoming open fireplace. There is also a back bar that can double for functions. We were served by Rebecca who pulled us pints of pale-coloured Wadworth's Horizon bitter (4% ABV). Without boring the reader with pretentious technicalities like appearance (colour, carbonation and turbidity), aroma (aroma, bouquet and odour) and taste (body, acidity, bitterness, maltiness, hoppiness, yeastiness, esteriness, finish or aftertaste, etc.), suffice it to say that we found it a thoroughly satisfying tongue-loosening brew. However, the Wadworth brewery describes it as "Easy drinking all year round and robust enough to accompany most foods, Horizon is light in colour, but full flavoured and best enjoyed cool." I couldn't put it better myself so I won't try. The pub also has Henry's IPA and 6X real ales on the pump.
Left: The long bar of The Woodmancote Arms
Right: Rebecca pours the Horizon
Rebecca was kind enough to take a photo of our trio from the other side of the bar. Spookily enough, Holloway's unwitting appearance below a picture of Marlon Brando in his best-known role as the 'Godfather' is singularly appropriate. This is not a reflection on Holloway's character so much as the words used by his children when they see him first thing in the morning. We then took a look at the bar menu with some finding it more difficult to read than others.
Left: Barlow, Holloway and Hoole conducting research for the MCDOA's benefit
Right: "Forget vanity, Barlow. Put your glasses on!"
The Woodmancote Arms has been run by Ian Morday for the past five years. He previously had the 'Three Horseshoes' at Shepperton so he has a useful pedigree. Good, wholesome home cooking is provided by joint-licensee Sue Kelly and there is a range of meals to satisfy any palate. We stuck with the bar menu and Hoole chose a chopped egg, onion and mayonnaise baguette (with some chips for the benefit of Barlow's limited figure-watching appetite) while Holloway selected a cheese and coleslaw baguette with salad. The generously-filled rolls were warm, crusty, tasty and extremely good value. In the meantime, Barlow and Holloway switched to drinking the Henry's IPA which they found just as enjoyable as the Horizon.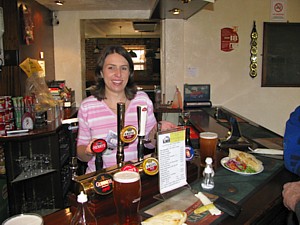 Lunch is served
On going outside for a postprandial breath of filter-tipped fresh air, I noticed that our transport had arrived. We therefore drank up and thanked our hosts before departing this comfortable hostelry. The Woodmancote Arms has a cheerful atmosphere, good drink, well-prepared food and pleasant staff. It is hereby awarded four and a quarter diving helmets/mines out of five on the MCDOA's Good Pub scale.
"Transport for Messrs Barlow, Holloway and Hoole is now waiting on the jetty."
---
22 Jan 08 - Minewarfare, Diving & EOD Rolling Briefs
The Spring 2008 issue of 'MW, Diving & EOD Rolling Briefs' is now available via the Home Page of the Members Only area courtesy of MCDOA member Martin Mackey.
---
21 Jan 08 - Lift available to Ginger Bryant's Funeral
I will be taking Hoppy Hopewell and Ted Setchell to Ginger Bryant's funeral in Cressing, Essex at 1130 on Monday 28 Jan (ETD Fareham around 0800) and can provide a lift for up to two others from the Portsmouth area, or en route, if they contact me via my webmaster e-mail address.
[N.B. Tributes to Ginger are being appended to the entry for 19 Jan 08.]
---
19 Jan 08 - Diver Down - CPO(CD1) Arthur Quantrill 'Ginger' Bryant BEM
Ex-CD1 Gordon 'Hoppy' Hopewell has informed me via Mick Fellows that former CPO(CD1) Arthur 'Ginger' Bryant died in hospital on Tuesday 15 January after a short illness. He was 86. Hoppy and Ginger joined the Training Ship T.S. Arethusa together as 13-year old boys in 1935. Before becoming a well-respected figure in the Diving Branch, Ginger Bryant was among the 450 survivors when the battleship HMS Barham capsized and blew up in spectacular fashion after being torpedoed by U-331 off Alexandria in the Eastern Mediterranean on 25 Nov 1941. He was an Acting Leading Seaman at the time and 861 other men lost their lives. Pictures of Ginger at HMS Barham Association gatherings in 2005 and 2006 can be found via this page of their website.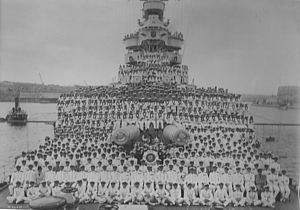 HMS Barham and her Ship's Company (date unknown)
Ginger was awarded the BEM (British Empire Medal) in the 1962 Queen's Birthday Honours and was presented with his medal on board HMS Victory. The Admiral is believed to be Admiral Sir Alexander Bingley who was Commander-in-Chief, Portsmouth and Allied Commander-in-Chief, Channel at the time. After retiring from the Royal Navy c.1966, Ginger was involved with a company (Mobel?) producing underwater vehicles before ending up as the landlord of 'The Willows' public house in Cressing near Braintree, Essex for several years.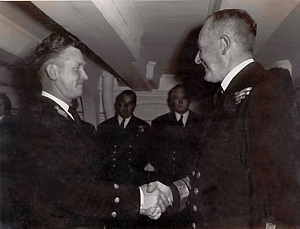 Ginger Bryant being presented with his BEM
on board HMS Victory
A Thanksgiving Service will be held at All Saints Church, Cressing near Braintree in Essex at 1130 on Monday 28 January 2008 with committal and cremation (family members only) at Chelmsford Crematorium at 1330. Family flowers only but memorial donations may be made to the British Heart Foundation via the following address:
Mr Ivan Brown
Daniel Robinson Funeral Directors
7 Manor Street
Braintree
Essex
CM7 3HW
Tel: 01376 320582
By way of a tribute, here is an article Ginger wrote for the July 1957 issue of the RN Diving Magazine, published by the Diving Training Section in HMS Vernon, which describes the salvage of vessels at Port Said following the Suez Crisis.
Ginger's Med Interlude
On August 21st 1956 while most chaps in the Navy were enjoying their leave, a number of divers received those dreaded telegrams telling them to report back to Vernon. After the initial shock, I found myself and Able Seaman 'Jasper' Peters (Diver 2) were to be flown out to Malta to commission HMS Kingarth from the Reserve Fleet.
Soon after our arrival, we received a visit from PO 'Ted' Butler and some of the Med Fleet Clearance Diving Team. Ted was the advanced member of the many divers from the UK who were to grace the shores of Malta. In spite of the hard work necessary to prepare a salvage vessel we found time to go to a social organised by the Med Fleet in the Gzira Football Club and a good time was had by all.
After a short while we were joined by CPO John Peach, PO Nutty Hallam, AB Pat Hammill and AB Nobby Clarke, all of whom had been detailed as Naval Party 1234. Nutty was heard to mutter that he had a green rub and it wasn't his turn for a draft chit! By this time, the Great War Bar and Cardiff Bar looked very much like combined diving schools, but it wasn't all play. There was a great hustle and bustle at the Boom Defence Depot. Deck tackles, pumps and many other useful articles used in salvage were being dusted down and put aboard the ships. Salvage officers with Rosyth and Dover tans were swotting up in the Cardiff Bar and Dockyard Club.
It wasn't long before everything was ready. Two salvage ships were sent to Tripoli on a job and to get the ships into shape. One of them found that, with a stern sea, she could do a good 7 to 8 kts. On return to Malta the divers in Naval Party 1234 were detailed to return to the UK, John Peach by air and the remainder were to sail in an L.S.T. While John Peach managed to sneak in a crafty weekend, the rest were disembarked the same day, a bitter blow to say the least. Ted Butler and his team-mates even got as far as Gib on various I.M.S.s before being turned back. On Wednesday October 31st, when even birds are asleep, we slipped out of Grand Harbour and joined up with a large convoy. Soon after we were told that we would be taking part in salvage operations at Port Said.
We arrived at Port Said on the 6th November and dropped anchor outside to await orders to proceed up harbour. We didn't have long to wait and as soon as we got in, we were put on a salvage job. There was diving gear everywhere plus the Boatswain rigging his deck tackles. Our first task was to lift a floating crane with a 15 ton lift (displacement 365 tons) which was stopping our light craft from getting further up the harbour. After about two days we managed to get it upright so that ships could pass. By this time Nutty Hallam had got himself two other divers and was clinging to L.C. 10 and 11 like grim death. John Peach with Pat Hammill and Nobbv Clarke were attached to HMS Salvestor. Later on they were joined by PO Spike Wheeler from HMS Bulwark. Their wreck was a bucket dredger, and the immediate task was to fair off some sixteen holes caused by explosive charges and remove the buckets prior to parbuckling. We were all lucky in the respect that the Canal Company had good diving boats (which had been left undamaged) from which we were able to work.
I would like to say at this point that it now looked as though half the divers of the Navy were present. The only thing that didn't have a diving suit on was the film camera that some of our friends insisted on having with them wherever they went. Soon everyone was busy at their various jobs and it wasn't long before there was a procession of wrecks going to the graveyard. By the time our forces were ready to leave Port Said and the salvage fleet had become part of UNO, no less than nine wrecks had been moved.
On the morning after the evacuation, we were given a fine display on how to remove Union Jacks from the hands of de Lesseps' statue and a slippery flag pole. After much encouragement from a large mob and lots of fist shaking in our direction they achieved their object.
At first the United Kingdom Salvage Unit were all in one corner of the harbour under the protection of the United Nations Guards and they did quite a good job. One MFV which decided to have a trip round the harbour without lights on had a short burst from a very efficient guard. He didn't appreciate it was Christmas. On the 29th December, the Kingarth and the French salvage vessel LST 525 moved to the wreck of the tug Hurcule (1,200 tons) and work actually started on the 1st January. It wasn't long before the language problem was overcome. The divers found out that Admiralty Salvage Pontoons are very easy to operate compared with the French Pontoons, in fact moving 7" and 9" stops underwater is now child's play. After lots of hard work and set-backs the wreck was lifted out of the main channel with the aid of six pontoons (lifting capacity 150 tons each), Kingarth on the bows and Kingbrace on the stern each with a lifting power of 200 tons on their deck tackles.
After getting it clear of the main channel it was decided to raise and pump her. The only snag at this time was the fact that the Egyptians gave us a time limit and, as it will be appreciated, this is disastrous in salvage work. Anyhow we pressed on and Sunday the 19th Januarv saw the bows of the Hurcule above water, but fate took a hand and the 9" wires which were over the bows of Kingarth and through the hawse pipe of the wreck parted, giving two of the divers a 0-20 fathom dive without a suit on. After a tot they were soon back to normal.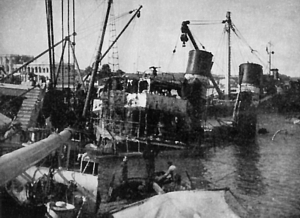 Suez Canal Tug Hurcule during final stage of salvage
This mishap, plus the time limit, ended any further attempts to get her raised. Much experience was gained by all hands, and at least one diver now knows how to carry out the duties of coxswain and canteen assistant as well as those of Diver 1.
On the 21st Januarv, the Kingarth sailed from Port Said after a total of 85 days without shore leave. To the younger members of the ship's company this was rather grim. However, with our extra pay (1/3d a day) jingling in our pockets we wended our way to Malta.
Malta Funny - A Ldg Seaman sent for some matches to light an under­water cutting torch was heard to ask the 1st Lieutenant for a box of underwater matches.
I would like to take this opportunity of congratulating the United Kingdom Salvage Units Senior Salvage Officer, Capt. W. Fell, R.N. (Rtd.), on his award of the G.M.G. announced in the Queen's Birthday Honours List. Below is a brief time-table of work carried out by the United Kingdom and French Salvage Units.
| | | | |
| --- | --- | --- | --- |
| WRECK | DISPLACEMENT | DATE STARTED | DATE LIFTED |
| Floating Crane and Pontoon | 2,180 tons | 31 Dec 56 | 21 Jan 57 |
| Floating Crane (Lifted by Kingarth, Barhill and LCs 10 and 11) | 365 tons | 7 Nov 56 | 30 Nov 56 |
| Paul Solente Suction Dredger (Sea Salvor and Salveda and LCs 10 and 11) | 4,000 tons | 9 Nov 56 | 16 Jan 57 |
| Triton, Sand Hopper | 1,500 tons | 15 Nov 56 | 16 Jan 57 |
| Floating Dock | 5,000 tons | 28 Nov 56 | 6 Dec 57 |
| Sand Hopper No. 45 | 1,000 tons | 9 Dec 56 | 13 Dec 56 |
| Sand Hopper No. 44 | 1,000 tons | 6 Dec 56 | 15 Dec 56 |
| Hurcule, Suez Canal Tug | 1,200 tons | 1 Jan 57 | 11 Jan 57 |
| Hardi, Pilot Boat | 490 tons | 28 Nov 56 | 17 Dec 56 |
| Gar II, Tug | 235 tons | 28 Nov 56 | 7 Dec 56 |
| Barq, Tug (Kingarth, Succour) | 350 tons | 1 Dec 56 | 3 Dec 56 |
| Bassel, Tug | 450 tons | 28 Nov 56 | 6 Dec 56 |
| | | | |
| Approximate Total Displacement Lifted | 16, 870 tons | | |
| Approximate Total Ships Salvaged | 11 | | |
A.Q.B
---
From former CD1 Vic Humphrey:
"Rob,
Reference our discussion, Ginger was Chief of Horsea Island in the latter part of his career. He was passionate about the wild life, i.e. Jan the goat and the various horses. He also took great pleasure in cultivating a sizeable cottage garden which included spring and summer flowers, some of which may or may not have contributed to the production of local wines! Rumour has it that following an extensive planting operation, flowers (later found to be plastic) of various kinds appeared almost over night, much to the Chief's delight. The subsequent search for the guilty proved inconclusive!!
Vic H"
---
From former CD1 Gabby Haines:
"Rob,
Thanks for more sad news. I was only talking to Ginger on the phone a few weeks ago. When I qualified in 1962, he was the Chief in the Portland team and prime mover to get all those (super trials) that could only be done in the Channel Isles, namely Alderney. A sad day but he certainly had a good run. He was a guest at our wedding in 1964 and Kay and I send our condolences to his family.
Unfortunately I won't be able to attend his funeral.
Gabby"
---
From former CD1 Alf Slingsby:
"Sad to hear about Ginge. I was a CD2 in the Bincleaves team with him. A great bloke to work with. Please pass my condolences to his family.
Alf Slingsby"
---
From former CD1 Bill Cornick:
"How very sad to hear such a well respected Chief Diver has passed on. Always ready to help all and a happy man to be around. Please past on my condolences to his family.
Bill Cornick"
---
From MCDOA member John Grattan:
"Dear Rob,
Ginger's final dip is a really sad event because he was one of the true "greats" of the Branch. As you know, he was an 'Admiralty-made' Chief Petty Officer as the result of a heroic rescue and outstanding seamanship whilst Coxswain of the diving M.F.V. in the early days of Faslane, in about 1956, I think. This was an exceedingly rare honour, which seems fitting for a quite exceptional man, but I'm sure you have all the details to hand. [By Webmaster: Mick Fellows believes Ginger was, in fact, the very last 'Admiralty-made' Chief.]
When I first met him in 1958, he was the Chief at Horsea and obviously much admired by both his contemporaries as well as juniors, Hoppy Hopewell being one of his great friends as well as the Instructor of my course. Ginger was also the only diver to earn the respect of "Jan" the resident goat on the Island. "Jan" simply hated divers because he had been used in decompression trials (because goats have the same physiological properties as divers - with, perhaps, more brain, as you will read!). One day all our readings went wrong. Upon analysis, it was suggested that "Jan" had got the buzz that he was supposed to 'bend' at a certain time and was, therefore, putting on an act. So we put "Jan" in the chamber at RNPL, opened the exhaust valve fully and then opened the inlet valve for a time equal to compressing the chamber down for an experimental dive schedule. After some time the inlet valve was just cracked open again to simulate the hiss of the start of decompression. As suspected, a few minutes later "Jan" raised a leg as if he had 'bent' - what a fraud! Ginger took him away and he was never used in trials again.
As a laugh Ginger would release "Jan" in the hut we used for our lunch of diver's pot-mess and a corned-dog roll. "Jan" knew precisely where he could hurt divers the most. The sight of a whole training class trying to climb amongst the rafters to escape "Jan" is an abiding memory and giggle. The reason "Jan" had his unique respect for Ginger was that one day he decided to have a go at Ginger himself and, as he reared up, Ginger punched him right on the end of his snout - a wonderful sight and the lesson was learned.
Later on, Ginger was my Coxswain in HMS Dingley and the Chief CD1 of the Home Station CD Team in 1959/60. To say he was the best would be an understatement. When we got away from the 51st Squadron based at HMS Lochinvar in November 1959, we brought Dingley south via the Great Glen and did the drag-line search trials on the hull of HMS Tyne at Faslane in passing. This brought back many happy memories for Ginger. He loved the West Coast and on several occasions the whole Team went to a ceilidh which gave us all enormous pleasure. You were not allowed to take a bottle into the party but, needless to say, this rule was repeatedly broken. On one occasion Ginger and I plus two other divers were in a WC cubicle having a wee dram when steward George was thrown over the partition to grab our bottle - who by? You've guessed right - Vic Humphrey!
After Christmas leave, the whole team embarked in a destroyer for passage to Gibraltar for the combined Home and Med Fleet spring exercises - the HSCDT doing the night attacks in Gibraltar Bay. The Team experienced a rough passage from Pompey but I had flown out. The Team, instigated by Vic Humphrey, thought this was a bad thing and resolved not to talk to me. As soon as they berthed in Gib, I sensed that something 'funny' was happening and spoke directly to Ginger whose innate good manners made him reply. Thus he was then put in purdha as well until he and I trapped Vic and broke the spell. Ginger was teased without mercy by Vic and Nutty Carr in particular. We all had to rise above it, but this was a disguise for the love and respect in which he was held by all.
I must not bang on about a truly great man for too long. However, you ask about Mobel Marine. If I remember rightly, Mobel was a brain-child of Joe Brooks. Sam Brooks, Joe's older brother, was an internationally famous yachtsman and, until Joe lost his legs, Joe quite often sailed and raced with him. Both brothers were close friends of my uncle who was in the same league, having raced for Britain from 1938 to the late 1950s. Whilst I was still in Dingley, Joe was doing trials with his newest u/w vehicle in the Solent and, because of our family friendship, spent quite a lot of time onboard. He asked Stuart Honour, my 1st Lieutenant, and Ginger to help with a trial one day and he very nearly drowned Stuart into the bargain, Stuart being saved by Ginger. Stuart said "never again" and Joe tried to get Ginger to join the company which, after some hesitation and quite rightly, he refused.
I hope these brief dits bring back some wonderful memories many of us have of Ginger - a truly great man. Sadly, it is unlikely that I can get up for the funeral but my thoughts and prayers are there for his family and friends.
Yours,
John"
---
17 Jan 08 - RN Diving Heritage - Lt Cdr Joe Brooks DSC RN
The Royal Navy's Diving Branch has been enriched with more than its fair share of 'characters'. Most will be unfamiliar to younger members but they all made their mark by virtue of their strong personalities, remarkable leadership qualities, courageous achievements and, in some cases, their peculiar eccentricities. This panoply includes officers, warrant officers and ratings. The officers among them comprise such illustrious figures as Cdr John Ouvry DSO RN, Lt Cdr John Bridge GC GM* RNVR, Cdr Lionel 'Buster' Crabb OBE GM RNVR, Cdr Gordon Gutteridge OBE RN, Lt George Wookey MBE RN, Cdr Stuart 'Jazz' Honour RN, Lt Cdr Stuart 'Jackie' Warner MBE DSC RN, Capt Arthur Checksfield RN, Lt Cdr 'Uncle' Bill Filer MBE GM RN, Lt Cdr Brian Dutton DSO QGM RN and Lt Cdr Nigel 'Bernie' Bruen MBE DSC RN plus many, many others.
Another such character was the late Lt Cdr Joe Brooks DSC RN. As a Sub-Lieutenant in April 1944, he was the First Lieutenant of the midget submarine X-24 during an attack that sank the German 7,500 ton merchant ship Barenfels in Puddefjord, Norway. He was awarded the DSC for this feat and remained in the Royal Navy as a Diving Officer after the war. During the 1950s, he ran HMS Vernon's Diving Trials Team. As former CPO(CD1) Michael 'Shiner' Brassington recalls: "In 1955 I was doing trials on the prototype SABA. This over-engineered crap (3 bottles) was dangerous. One set packed up at 70 feet and I had to tow Joe Brooks to the surface. I read his horoscope about buddy signals, which was allowed if you didn't drown!"
In August 1956, Joe Brooks was involved in an incident while supervising a diving operation off Porthkerris Point in Cornwall which resulted in the loss of both his legs and the deaths of two companions. MCDOA member Bob Lusty was present at the time. I am grateful to former CD1 Cris Ballinger for sending me copies of these newspaper clippings that describe the incident. The first was published in the West Briton in 2006 while the second is a re-print of the original article published in 1956.

"Two killed in shark attack off Cornish coast (By COLIN GREGORY)
A SHARK - possibly a Great White - killed people in the sea off Cornwall 50 years ago, the West Briton can reveal. Two men died and two others were badly injured in an incident which started with a shark attack but ended in a bizarre and tragic twist of fate. Four men in a dinghy off the Lizard saw a shark swimming towards them with a rope carrying two charges about to explode straddled across its back and the story was related to the Coroner at a Falmouth inquest in August 1956. The officer-in-charge of naval operations involving the use of divers off Porthkerris Point said the charges exploded as the shark swam under the dinghy killing two of its occupants, Able Seamen Leslie Nye of Porthallow, and Richard Kirby of Ashton. Two others were seriously injured.
The West Briton reported on the tragedy in the following week's edition (see article right). The inquest heard that on the day before the tragedy, Lieut. Commander Joseph Brooks, in a fishing vessel, saw a shark approach which was a dangerous one, not the common basking type. Com Brooks, who had experience of sharks off America, saw this shark begin to swim towards the man on the surface. As it made its run in, it turned on its side to get its mouth in a position to attack. It was then frightened away by bubbles from one of the divers. The following day, as two divers were putting on their gear, a shark started circling the fishing vessel. The divers identified it as a "dangerous" shark and became anxious. "In Brooks' mind was a strong feeling that the shark had nearly got one of his men the day before," said a witness. Brooks and another navy man made two charges to straddle the shark and threw them at it. It was a good shot and the line got around either its dorsal fin or its tail, with the two charges hanging either side with the fuses burning. The boat started to turn away from the shark, but it made for the vessel. It was underneath when the two charges exploded. All four were blown into the water as pieces of the boat flew into the air from the double explosion. Two men died, while Com Brooks and another man were seriously injured and neither was able to attend the inquest.
The Coroner, Mr L J Carlyon, recorded a verdict of misadventure. No one retrieved any part of the shark, and whether it was a Great White or a harmless Porbeagle, a close relation, is unknown. Matt Slate, curator at the Blue Reef Aquarium at Newquay and a shark expert, says he doubts that it was a Great White. Some people around St Keverne can remember the incident. Ronald Curnow said: "I was in school and we had never heard an explosion like it. It was so bad we all rushed out of the classroom and down to the beach. My father was an ambulance man and went to the beach, but he couldn't do anything for Leslie, who he knew. It was during the Cold War and the feeling around here was that they were testing top secret explosives and the shark story was used as a cover-up."
Here is the original article. It is incomplete because the bottom of the page was not copied.

"SHARK-SCARING WITH EXPLOSIVES ENDS IN TRAGEDY
The story of horror-filled seconds during which four men in a dinghy off the Manacles saw a shark swimming towards them with a rope carrying two 14oz explosive charges about to explode straddled across its back, was related to the Coroner (Mr. L. J. Carlyon) at a Falmouth inquest on Friday. Lieut. Com. J. W. Bailey, of HMS Burleigh [actually Burley], who was in charge of naval operations involving the use of naval divers off Porthkerris Point, said the charges exploded as the shark swam under the dinghy, killing two of its occupants and seriously injuring the other two. He was describing what he thought happened to cause the deaths, on Wednesday week, of Mr Richard Edwin Kirby (30), of 21, Trewithen Terrace, Ashton, near Helston, and of Mr Leslie Nye (46), of Porthallow Village,… <part missing>… and Com. Brooks "sensed their anxiety about making a dip." "This was another dangerous one," Com. Bailey continued. "Then Mr. Nye, who had a dinghy moored astern of the motor fishing vessel, said he would take Com. Brooks to deal with it. Mr. Kirby, Mr. Nye's inseparable friend, jumped in too.
So the boat set off with Mr. Nye at the helm, Mr. Kirby amidships, and Petty Officer L. H. [Len] Spicer for'ard. I think in Com. Brooks' mind was a very strong feeling that the shark had nearly got one of his men the day before, and he was also most concerned about the safety of his divers. So he set off to stalk the shark. They got right up close to the shark, which was near the surface and… <part missing>…to weigh anchor and start up the engines, then looked around to see the fishing vessel going full speed to the scene of the accident. As the anchor was being weighed, they saw the fishing vessel close to the spot, whereupon five men sprang overboard, and one swam very fast towards someone in the water. While this was happening, a signal was sent for helicopter assistance. As they closed the fishing vessels, he saw them hauling bodies out of the water, then making off at high speed towards Porthkerris. The boat was "absolutely smashed to pieces."
Replying to the Coroner and to Mr. W. F. B. Nott, who appeared for the Admiralty, Com. Bailey said the whole business with sharks was very… <part missing> …There was a double explosion, and he saw pieces of the boat flying up in the air. He did not see the shark after the explosion. "Nobody was interested in it then." As they neared the scene, he saw Com. Brooks in the water in a sitting position, with his arms over a spar, and Mr. Kirby with a life jacket on. He saw Leading Seaman Lusty bring in Mr. Nye. He and another man got Lieut. Com. Brooks aboard, and applied a tourniquet to his badly injured leg and a field dressing to his arm. Then, as a result of the radio call, the helicopter arrived. Mr. Nott: He seems to have acted with great promptitude. Ldg. Seaman R. G. Lusty, the other diver, said he was one of the men who, after the accident, put on flippers and jumped into the water. He got hold of Mr..."<last part missing>
Joe Brooks subsequently had both his legs amputated but continued to serve in the Royal Navy. He even managed to keep diving in Horsea Lake as long as someone put his fins on for him. One of his party tricks after ladies' nights in HMS Vernon was to reappear with his false legs on back to front, much to the horror of guests not in the know. MCDOA member John Grattan remembers being with Stuart 'Jazz' Honour when they gave fellow divers Joe Brooks and 'Sarge' Sarginson a lift to the annual Divers' Dinner at Kimbells Corner House opposite the Theatre Royal in Commercial Road, Portsmouth in 1959. Only a few weeks before, 'Sarge' Sarginson had had his arm blown off by a mine cover-plate at Birling Gap. As John recalls, "Stuart and I picked up Sarge and Joe Brooks for the dinner and our passengers had two legs and three arms between them!"
Joe Brooks died some years ago but we should cherish the legacy he and his kind have left us.
---
16 Jan 08
Tony Groom at London Boat Show
Former CD and Falklands veteran Tony Groom tells me he is doing a roaring trade selling his new book 'Diver' on the Kelvin Hughes stand at the London Boat Show (10 - 20 Jan) and has met lots of MCDs and CDs. On Sunday, he was presented with a fragment of one of the two Agentinian unexploded bombs he helped remove from HMS Argonaut in 1982. The presentation took place in the wardroom of HMS Exeter where Commodore Mike Clapp CB (Commodore Amphibious Warfare during the conflict and a good friend of the Branch) can be seen in the background.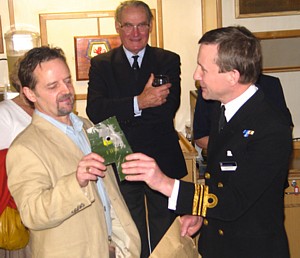 Tony Groom receives fragment of unexploded bomb
he helped remove from HMS Argonaut
---
Photos from HMS Ramsey
I am grateful once again to Lt Sam Jane RN, the Navigating Officer of HMS Ramsey, for sending me this selection of photos taken on board during December. HMS Ramsey is deployed with HMS Blyth in the Arabian Gulf on Operation Aintree having swapped ship's company with that of HMS Pembroke last Summer.
---
15 Jan 08 - MCDOA Northern Dinner 22 February 2008
The Calling Notice, Menu and Booking Form for this year's MCDOA Northern Dinner at Faslane on Friday 22 February are now available for download via the 'Upcoming Events' page in the Members Only area. Any queries to Andy 'Sharkey' Ward (Mil: 93255 3309. Civil: 01436 655501).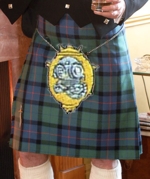 ---
13 Jan 08 - Chris Davies takes Command of Standing NATO MCM Group 1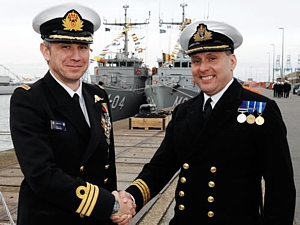 Cdr Serge Ots BN handing over to Cdr Chris Davies RN
The Royal Navy website contains this article describing MCDOA member Chris Davies assuming Command of Standing NATO MCM Group 1 (SNMCMG1) in Zeebrugge on 10 January 2008. The current UK contribution comprises the survey vessel HMS Roebuck (Command ship) and HMS Hurworth. Congratulations Chris. You must have had a particularly inspiring CO during your early career to spur you on to such heights. Then again, perhaps not. Look what happened to Murphie and Ashcroft!

---
11 Jan 08 - Tony Groom at London Boat Show
Former CD, Falklands veteran and author of the newly published book 'Diver' has sent the following message:
"I'll be at the London Excel boat show from the 10th to the 20th of this month (Jan) signing books. I would love to meet any old adversaries, CD's, ex or serving, or even mates there. I'm on the Kelvin Hughes stand and will be surrounded by a CDBA, standard hat, Kirby Morgan and 4.5 inch shell, if I can get it in without a security scare? You may have to clear your ears to come near? Please come and say hello. You don't HAVE to buy anything, honest! I may even have some 'Nelsons Blood' stashed for 'bubbleheads' only! Tony Groom"
---
10 Jan 08 - Good News about George Dance
George's son Jonathan has asked me to publish this announcement:
"My father would like to wish you all a Happy New Year and thank you all for your good wishes and cards. I cannot over-emphasise how important your support has been to his recovery.
He was discharged from hospital a week ago, having made a full recovery from the stroke. As you probably recall, he is quite a determined person and this has helped him to "get up and go" - it has been quite remarkable to see someone recover from being flat on his back to using a walking frame and then a stick and then neither in the space of a few weeks. Of course, the medical care at St Thomas's was exemplary.
Fortunately, my father has finally given up the idea that he needs to carry on working and is looking forward to a peaceful retirement …………. watch this space!
During the moves between various hospitals and wards, my father's address book was mislaid, so could those of you who been in touch over the last few weeks please send me your addresses as my father would like to write to you individually. Although my father has now returned to live with his partner in France, he has resolved to stay in touch with his friends and former colleagues. I shall be forwarding him an application form for the MCDOA!"
---
9 Jan 08 - Portsmouth Departure of HMS Hurworth
Today's Portsmouth News contains the following article describing yesterday's departure of HMS Hurworth for a four and a half month deployment with Standing NATO Mine Countermeasures Group 1 (SNMCMG1).

---
8 Jan 08 - RN Bomb Disposal Badge

RN Bomb Disposal Badge
For those who thought the recent introduction of the RN Diving & EOD skill badge (see entry for 21 Nov 06 in News Archive 16) set a unique precedent, Chris Ransted, the author of Bomb Disposal and the British Casualties of World War Two, has unearthed documentation showing that a badge was approved for issue to RN bomb disposal personnel in 1941. The images below show minutes written in the relevant file:

By the Director Torpedoes and Mining (DTM) on 2 January 1941: "The number of personnel engaged in Rendering Mines Safe on land is not sufficient to justify the issue of a special badge. In addition, certain Naval bomb disposal officers have been trained in the work and might be called upon to assist in emergency. It is remarked that the actual rendering safe of mines is done by officers. The type of badge indicated will hardly be suitable for their uniforms and it is suggested that the ratings concerned might wear the same badge as other bomb disposal personnel."

By the Director of Victualling on 7 April 1941: "...It is proposed to submit for Board approval to adopt this as the regulation pattern badge for naval bomb and land mine disposal squads and to make a gratuitous issue of 2 of these badges to each rating now employed in these squads, or drafted for these duties for the first time in future. Only one free issue to be made to any rating. It is proposed that the badge be worn on blue uniform only - 1½" above the point of the right cuff of blue jumpers and 1½" from the end of the sleeve of blue jackets, like the good shooting badge. If it is considered essential that the badge should be worn with duck clothing it will be necessary to provide blue on white badges corresponding with the red on blue, and to make a gratuitous issue of two of these also. As No.1 uniform is not included in the standard war kit it is not proposed to provide gold badges. Can the number of men for whom these badges will be required be stated please. It may be mentioned that owing to labour shortage there is great difficulty now in getting adequate supplies of embroidered badges, and in the national interest economy of material is most essential..."

By an official on behalf of the Director of Victualling on 1 October 1941: "Approval of the Bomb Disposal Badge has been promulgated in AFO 4127/41."
---
2 Jan 08 - Website Statistics
During 2007 the MCDOA website received more than 113,000 visits from people around the world. Over four million hits were registered on individual pages, files and images and approximately 75 million kilobytes of data were downloaded.
---
1 Jan 08 - Navy News Items
The following MCD-related items from the January issue of Navy News include:
The return to the Fleet of HMS Grimsby following the damage she sustained after nudging the side of a Norwegian fjord in 2005.

The activities of HMS Middleton during her four and a half month deployment with NATO's SNMCMG1.

The activities of HMS Blyth and HMS Ramsey on Operation Aintree in the Gulf featuring PO(D) Dicky Dawson.

A 24-hour diving marathon by the Defence Diving School (DDS) in aid of Children in Need featuring CPO(D) Ian Fleming.

A review of Don Hale's book 'The Final Dive' about the life and career of Lt Cdr Lionel 'Buster' Crabb OBE GM RNVR.
---