13 Sep 07 - MCDOA Annual Dinner, Operational Updates and AGM - 16 November 2007
Calling notices, booking forms, programmes and agendas for this year's Annual Dinner, operational updates and 15th AGM are now available on the 'Upcoming Events' page of the Members Only area.
Our Guest of Honour for this year's dinner is Rear Admiral Chris Parry CBE, the Director General Development, Concepts & Doctrine. He is also the son of recently deceased MCDOA member Cdr John Parry OBE. As usual, we will be dining out our members leaving the Royal Navy (N.B. Leavers please contact Tony Griffiths, our Hon Sec, to tell him whether you are attending and pass him your choice of glass diver 'gizzit' in good time). We also hope to host three German members of OLMCDO '72 (Commodore Henning Bess FGN, Captain Hartmut 'Fiete' Walz FGN and Commander Victor Prohl FGN) celebrating the 35th anniversary of their course. As is our custom, we will also mark the 25th anniversary of LMCDO '82 (Course Officer Geoff Goodwin then Rob Hoole, Course Instructor Bob Oulds then Ray Ramsay, and students George Cairns, Bob Hawkins, Stu McAlear, Ian Morrison, Simon Neil, Martin Nutt, Sean O'Reilly and the late Simon 'SAG' Ross) and we will have Captain Greg Mapson RAN among other overseas course members present. We have also opened up the dinner to members of the Royal Engineers Bomb Disposal Officers' Club with whom an affiliation has recently been formed.
Last year's updates included a cracking session on the state of the Branch and we have much to discuss at the AGM, including our project to erect a statue in Gunwharf Quays to commemorate the MW and Diving heritage of HMS Vernon. Please note that anyone eligible for MCDOA membership, serving or otherwise, will be expected to have joined the Association in order to enjoy these events - no spongers! If you have trouble downloading any items, contact me via my webmaster address.
[Late News: MCDOA member Bob Hawkins, currently on exchange duty with the US Navy at NMWAC (Naval Mine & Anti-Submarine Warfare Command) in Corpus Christi, Texas informs me that he is planning to bring half the officers in the US Atlantic Fleet with him - well, some of them anyway.]
---
10 Sep 07 - Three Men in a Boat (cont'd)
Last Tuesday, our intrepid 'Not Quite the Last of the Summer Wine' trio of Barlow, Holloway and Hoole floated round Portsmouth harbour (there wasn't enough wind to call it sailing) conducting research into global warming. While taking samples of sunshine and experimenting with liquid countermeasures, we were passed by HMS Brocklesby under tow, presumably on her way back from ammunitioning or de-ammunitioning ship. A few minutes later, we were circled by the veteran paddle steamer Waverley. For those interested, we will publish the results of our trials as soon as one of us remembers what they were. Here are some photos:
Left: HMS Brocklesby under tow. Right: Paddle steamer Waverley
---
5 Sep 07 - Death of Lt Cdr Harry Wardle RN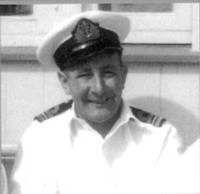 Lt Cdr Harry Wardle RN
'Uncle Bill' Filer has given me the sad news of the death of Harry Wardle who passed away peacefully on Saturday 1 September 2007. He was a month short of his 89th birthday.
Harry was an active member of the MCDOA and was particularly instrumental in the Royal Navy breaking the world deep diving record when PO Wilfred Bollard attained a depth of 535 feet (163 metres) from HMS Reclaim in Loch Fyne on 28 August 1948. This record remained intact until another MCDOA member, George Wookey, set a new world record of 600 feet (183 metres) from HMS Reclaim in Sørfjorden, Norway on 12 October 1956. Sadly, George died in March this year so we have lost two pioneers of RN deep diving in a very short space of time. Their open water achievements eventually led to further record-breaking dives by Royal Navy Scientific Service staff ashore at the Royal Navy Physiological Laboratory (RNPL), Alverstoke. Simulated depths of 1,500 feet salt water (457 metres salt water) were achieved by MCDOA member John Bevan and Peter Sharphouse in March 1970 - described by American colleagues as "a hyperbaric moon landing" - and 2,165 fsw (660 msw) by Martin Garrrard and Mark English between 28 October and 8 December 1980.
Front covers of Harry Wardle's books
I am the proud owner of inscribed copies of Harry's memoirs and he mentioned that I was the first "post-war" recipient of his first volume, Forecastle to Quarterdeck, published in 1994 (ISBN 09523162.0.X). The second volume was Dive Navy published in 2002 (ISBN 0952316218). According to these tomes, Harry was born on 26 October 1918. He left school in Liverpool in 1932 and was offered a place at Bootle Technical College but his parents were unable to support him. After working as a Co-op errand boy until made redundant on his 16th birthday because he cost more to employ, Harry joined the Royal Navy at HMS Ganges as a Boy Second Class on 12 February 1935. He finished top of his class and subsequently had the following eventful naval career:
Before his civilian work took him away, Harry was a member of Southsea BSAC. Harry was a wonderfully larger than life character and we will miss him dearly. We extend our condolences to his family, particularly to his son and publisher Richard who is currently on business in the USA. Harry's funeral will be held at St Mary's Church, Hayling Island, Hampshire at 1400 on Monday 17 September and I intend representing the Association. Family flowers only but donations, if desired, to the Royal Naval Benevolent Trust care of:
Grady's Family Funeral Directors
23 Mengham Road
Hayling Island
PO11 9BG
Tel: 023 9246 3828
I have asked our Hon Sec to make a donation on behalf of the MCDOA in lieu of a floral tribute.
[Late News: Harry's son Richard has since returned from the USA and informs me that all mourners will be welcome to attend a reception at Hayling Island Golf Club after the funeral.]
---
From John Grattan:
"Dear Rob,
Harry Wardle had been a friend of my uncle in Hong Kong in the early 1950s so, when I joined the Branch in 1958, I was more than fortunate to be befriended by one of the senior citizens of the Branch. We never actually served together but I saw a great deal of Harry and learned much from him. His service history is very well known and well recorded; but his equally important civilian career probably less so.
After he left the Navy, he joined the construction company Reed & Malec and started up their diving division. He was extremely successful and, amongst his many other achievements, he found and plugged the leak about half a mile offshore through the sea-bed into the Geevor tin mine at Lands End. This pioneering feat achieved world-wide headlines at the time as well as bringing the mine back into use. Those early beginnings eventually evolved into Strongwork Diving (International) Ltd with Harry as the founding Managing Director. He made Strongwork into the largest British diving company with an arm in Saudi Arabia. Not long after he handed over, Strongwork was the diving contractor on the Argyll Field bringing ashore the very first oil from the North Sea.
He happened to be in Malta at Christmas in 1972 and mentioned that he was looking for an Operations Director for his ever expanding company. I knew that Michael Stewart would soon be available and was able to recommend him for the post. A year later Harry told me that he wanted to retire from Strongwork and asked me to resign and step into his shoes. At that time I was still a dedicated Naval officer and turned down his generous offer; very stupidly with the wisdom of hindsight. In fact, having left the Navy in 1976, Mike Stewart repaid the kindness and appointed me as Safety Manager of Strongwork. In 1978, and after cutting a few commercial teeth, Peter Cobby and I started our own company, Fathom-line. Within a year we had invited Harry to join us to provide the company with a third director with diving experience. He was already by then the doyen of diving consultants and concurrently continued to advise his previous clients. Fathom-line tendered for and won the contract with Shell/Esso to design and supervise the building of the £70 million North Sea, multi-functional service [emergency] vessel amongst our other achievements over the next decade.
He was a great colleague and friend. His passing leaves us all the poorer but richer for the experience of having known him.
Rob, I will try to make the funeral but may be abroad.
Yours,
John"
---
From Bob Lusty:
"Hi Rob,
Thanks for your e-mail.
I remember Harry both as a Naval Diver and as a commercial diving manager. When I was a newly qualified CD3 ('nozzer') in the mid 1950s, there were four leaders I looked up to: Harry, Joe Brooks, Jackie Warner and Uncle Bill Filer, all pillars of a young CD Branch. Harry was always a cheery Lt Cdr with a broad smile and a twinkle in his eye, full of enthusiasm and kindness. He was typical of those in the branch who had survived WW II and proceeded with balance and perspective.
I last spoke with Harry on 16 August. He sounded fit and his usual cheery self. I arranged to have a pint with him at Hayling Island Golf Club after delivering a yacht from Spain to the UK. I am sorry that date will not now be kept.
It was, to say the least, rather a shock to get your news. Harry will be remembered with affection by many in the branch who knew and worked with him.
Best regards,
Bob"
---
From Frank Ward:
"Rob,
Sad news. Another one bites the dust. He was a grand gentleman. I am, within the hour, off to Scotland but I will be at the funeral if I get back in time.
Yours aye,
Frank"
---
From Julian Malec OBE:
"Dear Rob,
Thanks for letting me know. I knew Harry when I was on exchange with the USN in 1975-78 and he used to visit Panama City. I have hardly met him since.
I cannot be there on 17 Sep.
Take care,
Julian"
---
From Spike Spears (Association of RN First Class Divers):
"I met Harry about four years ago at Hayling Island in the Ferry Boat Inn. He was introduced to me by a very dear friend, an ex-RN FCPO called Ken Ogden who sadly passed away in March. After talking to Harry for a few minutes, I realised that I was in the company of a pioneer of the Clearance Diving Branch as I knew it. Harry was a pleasure to be with and a vast mountain of knowledge in the diving world.
He wrote a book about his life in the RN, and the diving trials he helped to develop. The decompression tables are probably still in use today. My sadness goes out to all who knew Harry; a short friendship but one never forgotten.
Yours aye,
Spike Spears (wheelchair)"
---
From Graham 'Tug' Wilson:
"Rob,
Many thanks for the sad news. Harry was a lovely man and I, for one, will be going across to say goodbye.
Tug"
---
From David Sandiford:
"Hi Rob,
Sad news indeed. Regrettably I will be on holiday in Hungary at the time of Harry's funeral and would otherwise have been there. I got to know Harry a little bit during the golf day he used to organise against the divers.
Best wishes,
Pauline and David Sandiford"
---
From Michael 'Shiner' Brassington (Association of RN First Class Divers):
"More sad news Rob,
I am glad that I shared a couple of bevvies last year at his house and some HMS Deepwater nostalgia. I only know of his son so please forward my condolences. I can only celebrate a great life with my usual charity eye operation, the last one for 2007.
Bye for now,
Shiner
---
From Alastair Cuthbert in Australia:
"Rob,
Very sorry to hear of Harry Wardle retiring finally - he taught me to dive in Hong Kong in 1953.
Kind regards,
Alastair"
---
From Richard 'Soapy' Watson:
"Rob,
Very sorry to hear about Harry. I will be unable to attend the funeral but my thoughts will be with you on the day.
Regards,
Soapy"
---
2 Sep 07 - War Grave Desecration of HMS Repulse and HMS Prince of Wales
First of all, let me state that these are my personal views and do not represent those of the MCDOA but I would be happy to publish any opposing arguments from members or others who e-mail me at webmaster@mcdoa.org.uk. About two weeks ago, this thread on the unofficial Army Rumour Service (ARRSE) website alerted me to the routine desecration of the 'protected' war graves of the wrecks of HMS REPULSE and HMS PRINCE of WALES in the Gulf of Thailand. As most members will know, these 'Force Z' ships were sunk by Japanese aircraft on 10 Dec 1941 with the loss of 840 personnel. Many of the survivors subsequently succumbed in the Japanese death camps.
The desecration takes the form of forced entry and penetrative dives undertaken by recreational divers. The wrecks, which lie in international waters off Kuantan, have been declared "Protected Places" under the UK's Protection of Military Remains Act 1986. Sub-section 2(2) of the Act makes penetrating or interfering with protected vessels illegal but, sadly, only as far as British subjects are concerned:
"(2) A person contravenes this subsection in relation to any remains—
(a) if he tampers with, damages, moves, removes or unearths the remains;
(b) if he enters any hatch or other opening in any of the remains which enclose any part of the interior of an aircraft or vessel;
or
(c) if he causes or permits any other person to do anything falling within paragraph (a) or (b) above."
This link to the Force Z survivors website describes the recovery of the ships' bells of PRINCE OF WALES and REPULSE in 2002 by a British diving team that raced to protect them from booty-hunters. Until I and several like-minded people objected last month, photographs of the interior of the REPULSE were displayed and offered for sale by www.5thd-x.com on www.shutterfly.com. One of these photos showed a human skull, apparently 'posed' on the step of a collapsed ladder. However, the same organisation still offers a DVD of a dive conducted in 2004 for sale on eBay; note the 'Repluse' (sic) misspelling that features in forum contributions elsewhere. When I and others objected on the 5thd-x.com (Fifth Dimension) organisation's website forum to the sale of these items and to the continued intrusion of these underwater tombs, drawing comparisons with the wreck of the USS ARIZONA in Pearl Harbour, we were promptly banned from their website. Our messages were described by the webmaster as 'hate mail' and deleted. Despite my e-mailed query, I have not yet received the courtesy of a reply from the webmaster.
The main protagonist and webmaster of the Fifth Dimension website, who admits to having penetrated the wreck of REPULSE, is a California-based diver called Andrew Georgitsis. His account of forcing an entry into REPULSE's engine room can be found here (N.B. his activities on Day Four). Andrew Georgitsis is supported by a similarly-minded individual called Kev Rumbo. This protracted exchange of posts on the Force Z Survivors Association website forum between its webmaster Andy Wade (an experienced diver) and 'Purple Tang' of the Fifth Dimension Forums (Fifth Dimension > 5thd-x.com > Break Thru > Andrew Georgitsis) demonstrates something of the mentality of the people involved. The views and syntax of 'Purple Tang' are suspiciously close to those of Kev Rumbo. See also this fruitless attempt by Andy Wade to reason with Kev Rumbo and Andrew Georgitsis on the 5thd-x.com forum.
Several recreational diving companies based in Malaysia and Thailand advertise diving trips to the wreck sites. One of these, DJL Diving in Thailand, promised "incredible penetration" of HMS REPULSE until persuaded otherwise.
I know the violation of these maritime war graves (i.e. underwater tombs) is terribly upsetting to the Force Z survivors and to the many relatives of the missing but the ships lie in international waters so policing them is problematical. As a former Royal Navy diver, I would not dream of committing such sacrilege as intruding into the final resting place of any servicemen without official sanction. All I can do is publicise the problem as widely as possible in the hope that proper education and force of public opinion will persuade companies and divers to discontinue these penetrative dives on listed war graves. In the meantime, other steps are being taken including encouraging the United Nations to enact appropriate international legislation. This may be the only way to prevent the likes of Andrew Georgitsis and Kev Rumbo from committing, promoting or profiting from such contemptible acts in future.
In case you believe no harm has been done and no one is hurt by such activities, please read the following recent account by someone who has been deeply affected by this issue. Emotive? Yes, but no less valid for that:
"In the early morning hours I finally found the box that my grandfather had left me. It contained bits and pieces of a life that had proudly served not only his adopted country but his Queen. A few brass buttons, a shoulder flash or two, a postcard from Gibraltar, letters to my grandmother and a tiny diary that he had kept from Dec 11th, 1941 until he ran out of paper in June 1942.
Tucked in the pages of his diary is a small black and white photograph of a young man no older than 19. It's torn, worn and looks as if it's been wet by salt water. I think this man's eyes are blue as the photograph appears to reveal a set of eyes that you could almost see through. His skin is clear and fresh and I often imagined it to be soft as well - he had just shaved for the photo I guess.
My grandfather carried that picture in his wallet for decades. He'd pull out his wallet on his good days and proudly show off all the snapshots of his beloved wife, children and growing number of grandchildren. In the back of the wallet was a lone black and white photograph of the young man with crystal blue eyes and soft skin. He wore the uniform of a Royal Marine, you can just see the badges at the edge of the photo - it's faded now.
We used to ask my grandfather who that man was? Why do you have his picture we'd inquire? Always the same answer, "This is my best mate Hughie. We joined together, he died for me." My grandfather never said anything more.
When I was older, I asked my grandmother who Hughie was. She told me that he was, indeed, Grandpa's best mate and they had sailed together on the Repulse. Hughie had the service number one away from my grandpa's. He had danced at their wedding, stood up for my grandfather as his best man, helped him back to barracks when they had more wets than blood, they got their photographs done before they left and gave each other a copy so they could show off their good looking pal, and in the end, pushed my grandfather over the side as the ship started to roll as she sunk. Hughie never made it off the ship, my grandfather survived the strafing to stay in the water to look for him.
My grandmother said, for the longest time, my grandfather never gave up hope that Hughie would be found on shore - that maybe he had been picked up by a ship or taken prisoner somewhere up the coast.
For almost five years my grandfather survived the camps, the brutality and illnesses. I don't know how he kept that picture of his pal all through the ordeal; he never talked about those times. When I got curious as to what my grandfather did in the war I'd look at his mangled hands that had no nails and ask no more. I knew he hated rice, loathed all things from Japan and sometimes I heard him crying after a November 11th ceremony. Every November 11th, he'd quietly lay a wreath for Hughie and the lads. Today I gaze into a photograph taken by a recreational diver who thinks that they have done no harm by swimming past the mortal remains of Hughie and the lads.
Today, I gaze at a photograph not of a young man with icy blue eyes and clear soft skin but rather of a photograph of a skull covered in barnacles and things that grow in the depths of the sea. I no longer see the clear blue eyes of a young man who pushed my grandfather away from a sinking ship but instead a ghoulish gift from a diver that knows nothing of our stories of who these men were and what they meant to the survivors.
I am two generations removed from this man, who perhaps is the skull in the photograph but I still feel the bile rising in my throat at the thought of him being exploited by an amateur - someone who dives for fun and giggles and adrenaline rushes.
Whoever has the power to stop this, must."
---
1 Sep 07 - Navy News Items
The following MCD-related items from the September issue of Navy News include:
---
30 Aug 07 - Minewarfare Branch Annual Reunion
Time is running out to apply for this year's MW Branch Reunion, open to all MW Branch Officers (MCDs and MWOs), Warrant Officers and Senior Rates. It will be held in the Collingwood Suite of the WOs & SRs Mess in HMS Collingwood 1900 - 0100 on Saturday 22 September and will comprise a two course meal with wine, cash bar, raffle and disco at a bearable volume. Cost: £22.50 per head.
The Booking Form is available for download via the 'Upcoming Events' page in the Members Only area or can be obtained from CPO(MW) Taff Reader in the MW Training Element at HMS Collingwood (Tel: 01329 333459/333465).
---
29 Aug 07 - HMS Middleton blows mine in Baltic
The following article from today's Portsmouth News describes the disposal of a mine in the Baltic by HMS Middleton and features Leading Diver Joe Hanfrey:

---
20 Aug 07 - Update from Garry Kennedy
I have received the following message from Captain Garry Kennedy RAN and he is happy for me to share it. Many members will remember Garry and his lovely wife Glenda from when he served in an exchange MCD appointment in the MW Section at HMS Vernon in the early 1980s. He has now been posted to Mexico after spending several years in the Middle East. I have their new e-mail address if anyone would like to renew contact.
"Dear Friends, As some of you will know, we have now moved to Mexico City and as a result we have changed our email address. We look forward to keeping in touch with you all as we travel round Mexico, the Caribbean and the South American continent over the next four years.
We move into a new house in a couple of weeks and once that is complete we will be almost fully settled in Mexico. From our short time here so far (four weeks), we think it is a great country and we are looking forward to exploring it as much as possible. We have done some looking around already and I have attached a couple of photos from our explorations thus far but, if you want a more complete account, try looking at our blog which is at www.garrynglendainmexico.blogspot.com.
We look forward to hearing from you all over the next few years.
Garry and Glenda"
---
18 Aug 07 - Job Opportunity
Phil Ireland has forwarded the following message:
"Rob,
Thought it might be useful to highlight to members of the Association the following recently advertised job opportunity with the Security Service (MI5); also passed to DNCM:
Explosive/IED Specialist
£35,691 - £50,047 according to skills and relevant experience, pay award pending.
Requirements: Extensive knowledge of explosives and IEDs, including a sound awareness of the various types of commercial, military and improvised explosives, their properties and origins. Due to the nature of the work, it is important that you have a sound understanding of electronics and some experience of terrorist use of explosives and IEDs. Your familiarity with small arms and light weapons will be an additional benefit. You will be able to analyse and assess intelligence from a range of sources and to draw sound conclusions, sometimes based on incomplete or conflicting information. Your reports on terrorist weaponry will be read by a wide and sometimes senior readership; some with no technical background.
Further details and application forms are available at: www.mi5careers.gov.uk. Closing date for applications is 30 Aug 07.
Kind regards,
Phil"
---
17 Aug 07 - HMS Brecon Departs Portsmouth for New Training Role
The following article from today's Portsmouth News describes the departure of HMS Brecon from Portsmouth to take up her new training role at HMS Raleigh. More details about her future employment are available here. Her first CO in 1979 was MCDO Jack Birkett who later transferred to the RAN and lived in Sydney before his untimely death on New Year's Day last year. Other familiar MCD names from Brecon's earliest days include Graham Sharp Paul (plank-owning OPS then XO - later transferred to the RAN), Peter Robinson (plank-owning CORRO before qualifying MCD), Dougie MacDonald (OPS) and Gerry Kelly (XO - later transferred to the RAN).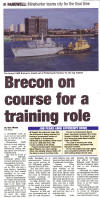 ---
15 Aug 07 - SDU2 Blows Anti-Aircraft Shell in Havant
The following article from today's Portsmouth News describes the disposal of an AA shell by Southern Diving Unit 2 (SDU2) and features PO(D) Dave Moore:

---
14 Aug 07 - Thank You from 'Uncle Bill' Filer
I am delighted to relay Richard and Jennifer's message from their father, 'Uncle Bill' Filer, who celebrated his 90th birthday on 6 Aug: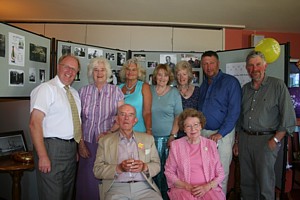 Bill Filer and his family
"To all those friends and ex-colleagues who so kindly acknowledged my 90th birthday with good wishes and a generous sprinkling of much appreciated flattery, thank you. I received in excess of 50 communications via the MCDOA, which have really added to the family and local greetings to make the day one to remember. The above photo was taken at my family party on Sunday, featuring yours truly and Eileen (she says it's her turn next year), together with my son and daughter and my nieces and nephews. They range in age from 54 to 78 so I am just showing the kids how to behave when they get to 90."
---
11 Aug 07 - Doug Barlow, the Queen Mother and HMS Vernon
This week's Portsmouth News weekend magazine contains the following article describing an incident involving MCDOA member Doug Barlow and HM the Queen Mother in HMS Vernon 32 years ago. Alas, I am old enough to remember the occasion all too well.

---
10 Aug 07 - Ramsey and Blyth divers with the Royal Navy of Oman
I am grateful to Lt Sam Jane, the Navigating Officer of HMS Ramsey, for this update on the diving activities of his ship and HMS Blyth, currently deployed in the Gulf for Operation AINTREE. Sam has also promised to send some photos which I will publish when received.
Dimaniyat Diving / EOD Training
The combined Aintree unit CDEs (Clearance Diving Elements) of HMS Ramsey and HMS Blyth conducted a Diving & Explosive Ordnance Disposal work-up package over the period 7-10 July 07. Initially the team deployed to the Dimaniyat Islands on board HMS Blyth in company with the Royal Omani Navy Diving Team and their support vessel. The primary purpose of the visit was a diving work-up for the RNO team (deep air diving to 50m on surface supplied equipment). Already well worked up to the maximum depth on our own equipment (30m for SABA mod 1), the Aintree team begun with the secondary task of surveying the reefs on the north coasts of the islands which had been badly affected by the recent cyclone in the area. Civilian divers had already had a look at the damage sustained which was extensive on less sheltered headlands.
The first day saw the teams conduct 11 dives using Blyth as close support for charging sets and for Compression Chamber cover. Notes were made on any damaged patches, taking into account depth of water and extent of erosion to the coral reef. That evening after dark both teams joined together on the beach for an Omani style BBQ which provided an excellent opportunity for the divers of both nations to compare methods, equipment and training as well as tales of daring underwater adventures and heroic deeds.
Early the next morning, the Aintree diving supervisors attended the morning brief on board the Omani Diving support ship and planned the day's diving locations with the Omani supervising team. Meanwhile, equipment was prepared on board Blyth and the teams left the ship's side once more, this time to join forces in the water with the Omani divers to survey as large an area of reef as time would allow. Pausing briefly for the mandatory photographs, another nine dives were conducted before returning to Blyth for the transit back to base.
10 July was set aside for some Explosive Ordnance Disposal (EOD) training on the local range. The two teams met for a particularly early start (0500) in order to avoid the extreme temperatures of an Omani summer. Wagons were loaded and explosives stores, targets and sandbags collected, before setting off in convoy. With a wide range of EOD experience from both nations, it was decided that the Brit contingent would initially set up and execute a controlled explosion to dispose of a target while talking the Omani divers through thought processes and methods. That task complete, another target was set up, with the RN being shown the Omani team in action.
The Diving and EOD package was an excellent way of forging links with the Omani Clearance Divers. Both teams found out just how similar our thought processes, methods and ethos are. All involved had a very enjoyable and professionally satisfying few days, going away having gained a good insight into how others do their business.
---
6 Aug 07 - Happy 90th Birthday to Bill Filer
I am sure all join me today in wishing our oldest and most venerated member, 'Uncle Bill' Filer, many happy returns on his 90th birthday. I have sent him a card on behalf of the Association.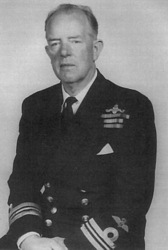 Lt Cdr W B Filer MBE GM RN
Bill, they don't make 'em like you anymore. Have a good party but take care with those chasers!
---
4 Aug 07 - More about Atherstone and Hurworth Homecoming
The following article from today's Portsmouth News contains more about yesterday's return to Portsmouth of HMS Atherstone and HMS Hurworth:

---
3 Aug 07 - Return to Portsmouth of Atherstone and Hurworth
I was on the Round Tower in Portsmouth this morning to help welcome home HMS Atherstone and HMS Hurworth after their four-month ORION Task Group deployment to the Mediterranean with HMS Shoreham and HMS Walney. During their time away, they operated with ships from Greece, Turkey, Bulgaria, Romania and Italy and visited Italy, Greece, Turkey, Bulgaria, Spain, Gibraltar, the Ukraine and Morocco. See the entry for 30 Jun in News Archive 18 for further details and photos.
While waiting for the ships to appear, I renewed my acquaintance with Judge Jeff Blackett, former Chief Naval Judge Advocate and now Judge Advocate General for the Armed Forces. He and his wife were looking forward to the return of their son Will, Hurworth's Navigating Officer.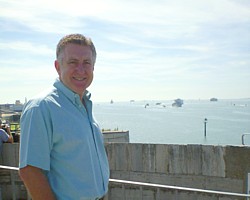 Geoff Blackett on the Round Tower
HMS Atherstone (left) and HMS Hurworth (right) enter harbour
Welcome back to both ships' companies. I trust you have an enjoyable leave and there is not too much DIY that needs catching up on over the summer.
---
2 Aug 07 - Spike Spears Wheelathon
Sadly, I missed Spike's Wheelathon along Southsea front yesterday (see entry for 31 Jul in News Archive 19) because I was in Ashtead, Surrey campaigning in support of SSAFA's application to use a house for relatives visiting wounded service personnel at the nearby Defence Medical Rehabilitation Centre (DMRC), Headley Court despite the objections of a small minority of NIMBYs (result!). However, Troy Tempest has provided the following report of Spike's achievement:
"The wheelchair run went well this morning and I am glad to say that John Malham was there to encourage Spike along. He managed to do it all by himself, even gave himself the handicap of having his Granddaughter sitting on his knees as he pushed himself along the sea front.
By the way the lollipops were nice."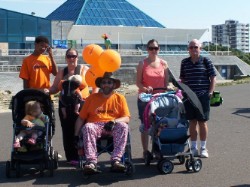 Spike with his winning team minus wife Lez
Spike has now achieved his £1,000 target but it is still possible to support him and his chosen charity, Myeloma UK, via this webpage.
---
1 Aug 07
Navy News Items
The following MCD-related items from the August issue of Navy News include:
---
Operation Corporate (Falklands Campaign) - Recognition for the Work of the MCD Branch
Some months ago, I was asked to help draw attention to the courageous deeds of personnel of the Fleet Clearance Diving Teams and the minesweeping trawlers of the 11th MCM Squadron during Operation Corporate and its aftermath. Little about them appeared in any of the 'Falklands 25' anniversary literature. More seriously, there was little mention in the Official History of the Falklands War and none of the the FCDTs were listed on the war memorial at Port Stanley.
At MCDOA member Bernie Bruen's request, my first step was to put the Imperial War Museum in touch with the Minewarfare Training Element at the Maritime Warfare School, HMS Collingwood to enable the recovered Agentinian moored mine to be included in the IWM's Falklands 25 Exhibition. MCDOA member Martyn Holloway, who commanded the 11th MCM Squadron, is shown with the mine at the IWM below.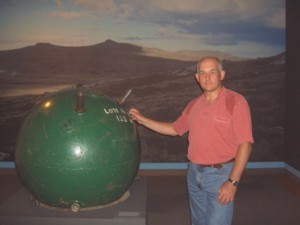 Martyn Holloway with recovered Agentinian
mine at the Imperial War Museum
I subsequently traced individual members of the FCDTs and the 11th MCM Squadron, compiled a list of MCD, MW and CD personnel involved and then wrote up their deeds using various accounts and photographs. The results were published on this website as 'The Forgotten Few' on 31 May 07. Simon Toft of The News was then kind enough to produce this full page article using the information I provided. This was then picked up by the MoD website's Background Briefing about the Falklands conflict and the official 'Falklands 25' website's Description of the Conflict. I also passed the information on to Captain Michael Clapp (Commodore Amphibious Warfare (COMAW) during the Falklands campaign) and he was kind enough to forward it to Professor Sir Lawrence Freedman, the author of the Official History, so I hope it will be included in the next edition. Most recently, MCDOA member Brian Dutton has sent me photos showing that the two main FCDTs have now been added to the units listed on the war memorial at Port Stanley. Unfortunately, they are shown as '1 FCDT' and '3 FCDT' instead of 'FCDT 1' and 'FCDT 3' but beggars can't be choosers. At least their presence has now been acknowledged.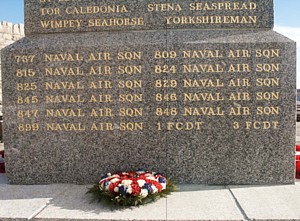 Falklands War Memorial showing addition of FCDTs
---
31 Jul 07 - Spike Spears 'Wheelathon' Tomorrow
Spike Spears will perform his five-mile wheelchair 'run' along Southsea front tomorrow (see second entry for 24 Jul). He will start from Eastney at around 0930 and proceed to Southsea fun fair then turn around and return. He and his wife Lez will be wearing orange coveralls so they should stand out and they will be passing out lollipops to their helpers.
All volunteers to help push Spike, cheer him on, and help fill his bucket with donations for Myeloma UK will be welcome. Please reach deep into your pockets but if you can't make it, he has established a webpage for donations at www.justgiving.com/spikeswheelathon. He is already well on the way to achieving his £1,000 target but I'm sure we can beat that.
---
26 Jul 07 - Death of Tom Carter
MCDOA member Chris Ashcroft has sent the following message:
"Rob,
I am writing to pass on some sad news. I don't know if you were aware, but Tom Carter passed away on 19 Jul 07 having succumbed quite suddenly to cancer. His funeral is tomorrow (Fri 27) at 1430 at Swansea Crematorium. Although Tom was not an MCD, he will be known to many who served in and around the Fish Squadron in the mid-late 90s. He also served in N. Ireland and as CO of HMS Lindisfarne. Tom was a huge character (in every sense of the word!) and he leaves behind his dear wife Jane. The suddenness of his death left Jane struggling to reach his many friends using an old address book, so many may not yet be aware of his passing. In typical fashion, Jane says he remained his usual optimistic and positive self from being diagnosed in late May until his death last week, still talking of his return home. Again, rather typically, he soldiered on for a further 10 days when he had not been expected to survive another night. I have no details for flowers/donations but should anyone wish to send messages of condolence, I am passing you her address.
Best wishes, as always,
Chris
---
24 Jul 07
SSAFA and Our Wounded Service People Need Our Urgent Help
This is a service-related website and I make no apology for promoting this service-related cause. If you look at nothing else in this entry, please read this letter from Sue Norton, the wife of Captain Peter Norton GC RLC who was severely injured while performing EOD duties in Iraq.
Certain local residents are objecting to a planning application (MO/2007/0863) submitted by SSAFA (Soldiers, Sailors, Airmen and Families Association) Forces Help to convert a six-bedroom house at 36, Grays Lane, Ashtead, Surrey for use by relatives visiting injured service personnel convalescing at the Defence Medical Rehabilitation Centre (DMRC) Headley Court. Owing to the increased numbers of wounded returning from ever more hazardous operations, SSAFA has an immediate requirement for this facility and the only outwardly visible change would be the provision of wheelchair access. A recce has already established that the property is well screened from its neighbours and most of the objectors live several roads away. The issue has been covered by the Daily Mail here and by the local Guardian (not the Grauniad) here.
Among the objections cited are:
Undesireable change to business use. SSAFA is a charity not a business. Also, the property has been used in the past as a children's nursery and at least six actual businesses are already registered in Grays Lane, including a cattery.
Increased noise. Visiting relatives will be spending most of their time at Headley Court. By the nature of their presence, they will be seeking tranquillity and are unlikely to be holding rowdy parties while visiting someone who has lost a limb or worse.
Increased pollution. This was raised by someone observed burning a bonfire in his back garden on Thursday. It is unlikely that the presence of a dozen or so temporary visitors would cause any more pollution than that caused by the usual residents.
Increased waste. As above. Increased traffic congestion and hazard to safety. Grays Lane is wide enough for two cars to pass and has bordering grass verges. Many neighbouring houses already have three or more cars (one has five). In any case, SSAFA plans to run a minibus service to/from Headley Court thrice daily. The property has adequate off-road parking and the additional presence of up to six cars is unlikely to add significantly to current traffic.
Increased security and safety risk (including terrorist threat and the possibility of fire). These arguments are too specious to give serious consideration.
Written representations regarding the planning application can be seen here. In general, letters of objection are on the left (watch your blood pressure!) and letters of support are on the right. My letter of support already appears. Please add yours in an e-mail (or in a letter attached to an e-mail) addressed to planning@molevalley.gov.uk using the 'Comment on this Application' facility on the same web page. You can request that your name and address is withheld if you wish.
Alternatively, send a letter by snail mail to:
The Planning Department
Mole Valley District Council
Pippbrook
Dorking
Surrey
RH4 1SJ
A petition supporting SSAFA's planning application is running on the No 10 Website here. Please add your name.
The application is due to be considered at a Mole Valley Development Control Committee meeting on 1 Aug (details here). As things stand, it is being presented with a recommendation for its refusal. I hope you feel as strongly as I do that this deserving cause needs our urgent support. Please take the time to send a letter supporting SSAFA's application.
[N.B. The SSAFA supporters now have a campaign website at www.36grayslane.co.uk. It's well worth a look.]
---
Good news from Spike Spears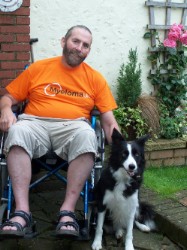 Spike Spears with Holly
In his time as a CD, Spike Spears served with the FOST Diving Team at Bincleaves, HMS Brinton, the 4th MCM Diving Team at Rosyth, NP 1007 (Sat Diving Team) in MV Seaforth Clansman, NP 2003 in the Falklands, HMS Vernon, and the Sat Diving Team in HMS Challenger. He was medically discharged from the Royal Navy as a PO(D) in 1985 and went on to run an angling charter business from Portchester in his boat 'Bessie Vee'. In August 2006, he was diagnosed with multiple myeloma (bone cancer) and underwent various painful treatments including a stem cell transplant in March this year.
I have visited Spike in hospital and kept in touch with him throughout his ordeal and he has remained eternally cheerful, thanks in no small measure to the support of his wonderful wife Lez and various members of the CD Branch. Although his residual spinal problems now confine him to a wheelchair, he reports that the latest treatment has been successful and he is now in full remission. While he is not cured, this is extremely good news.
Owing to his condition, Spike has had to give up his business. However, he intends to undertake a five mile 'Wheelathon' along Southsea front sometime in August in aid of the cancer research charity 'Myeloma UK'. When he tells me the date and time, I will announce it here. In the meantime, he has established a webpage for donations at www.justgiving.com/spikeswheelathon. Your generous support is humbly requested.
---
23 Jul 07 - Explosive Separation of MSC Napoli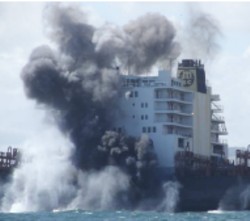 MSC Napoli explosively separates
MCDOA member Dave Welch has sent the following message:
"Hi Rob,
I thought you might be interested to hear that we [Ramora UK] were called in to assist SMIT Salvage and the MoD in cutting up the MSC Napoli in Branscombe Bay. Ramora UK was set up by myself, Andy Pearce and Nick Kincart (both ex-CPO(D)s) in 2004.
Andy ran the Napoli job which was a textbook evolution (don't believe all you hear on the BBC!) and he was ably assisted by Jonnie Meekin and Dean Simpson. I have attached a copy of the initial report (open here) with a couple of pics which may be of interest to some in the Association.
Kind regards,
Dave
Dave Welch MIExpE
Director Ramora UK Ltd"
According to Tony Sexton, earlier reports that the boys twice ran out of thunderflashes and went back with a scare charge proved to be unfounded!
---
22 Jul 07 - MCDOA/AORNFCD Barbecue
Owing to a prior engagement, your humble webmaster was unable to attend the joint MCDOA/AORNFCD (Association of RN First Class Divers) barbecue at Horsea Island on 14 July so I am grateful to Martyn Holloway for providing these pictures of the event. As ever, our Hon Sec Tony Griffiths and his wife Debs went to extraordinary lengths to organise a splendid occasion.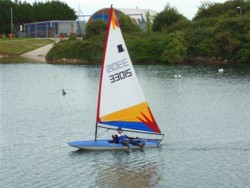 Once again, attendance was disappointing despite the low cost (£5 for food, first drink and organised entertainment) but those who went seem to have enjoyed themselves. It was particularly good to have Robin Bennett, Secretary of the RE Bomb Disposal Officers' Club with fellow member David Hough as well as MCDOA member Les Rutherford, late of the Royal Engineers Diving Establishment (REDE). Apart from Martyn and his entourage, other attendees included Chris Ameye, Phil Burrell, Brian Dutton, Frank Ward, Tim Sizer, John Foran and David Hough with various family groups.
Robin Bennett has subsequently sent the following e-mail:
"Tony & Rob,
Many thanks for inviting us to the BBQ, Helen and I had a great time and it was nice to meet our new (RE & RN) friends in the flesh. The event confirmed again that the bonds of EOD comradeship transcend service boundaries and I look forward to building on our relationship. We will be delighted to return the compliment once we have a result from our "working party".
With all best wishes,
Robin
Robin Bennett
Hon Secretary
Royal Engineers Bomb Disposal Officers Club"
---
Two Men on a Boat
The prior engagement preventing your humble webmaster from attending the barbecue at Horsea was a jazz cruise on the Thames to mark the end of the Henley Festival. MCDOA members Barlow and Hoole (two thirds of the 'Not Quite the Last of the Summer Wine Trio'), and their respective ladies Jill and Linda, attended this with two coach loads of friends and neighbours. The evening included dinner and entertainment on board plus fireworks to round everything off.
Left: Stern paddle-wheeler Orleans at Henley
Right: Barlow & Hoole
Left: Orleans upper deck with jazz band
Right: Thames river scene
Sunset on the Thames
Left: Dinner on board the Orleans
Right: Fireworks to finish off
---
21 Jul 07 - Thanksgiving Service for Johnny Peach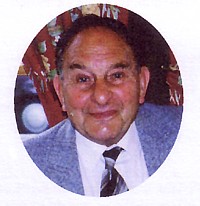 John Edward Peach
(7 Nov 1918 - 10 Jul 2007)
It was standing room only for yesterday's thanksgiving service for the life of former Chief Diver Johnny Peach at Portchester Crematorium. Among other RN divers present were Michael 'Shiner' Brassington, Nick Carter, John Cobb, Mick Fellows, 'Uncle Bill' Filer, Bob Fraser, Don 'Jimmy' Green, Gabby Haines (with his wife Kay), Mike Handford, John Hendricks, Rob Hoole, Hoppy Hopewell, Derek 'Maggie' Lockwood, Dusty Miller, Ted Setchell, Les Sharpe, Wally 'Doc' Soulsby, Troy Tempest, Tommo Thomson, Tony 'Willie' Wilkes and former MCDOA Treasurer Tug Wilson as well as RNPL pioneer civilian deep divers John Bevan, John Florio and John Towse. Mourners entered the chapel to the sound of Elgar's 'Nimrod' and the service was led by the Reverend David Butler MA DPS RN, a Scottish & Free Church naval chaplain. The first hymn was 'Lead us, Heavenly Father' and this was followed by readings from Psalm 107 ("They that go down to the sea in ships...") and a selection from St John's Gospel.
Tony 'Willie' Wilkes then provided a moving tribute. He described how Johnny was born in Sutton Coldfield in 1918 as one of nine children. He joined the Royal Navy at HMS Ganges in 1934 at the age of 15. It was here that he first met venerable MCDOA member 'Uncle Bill' Filer. He then served as a Gunner in the battleship HMS Hood 1936-38 and the cruiser HMS Despatch 1939-41 before enduring harsh North Atlantic convoy duties in the destroyer HMS Highlander 1941-44. During this period, he witnessed truly horrific scenes which remained with him for the rest of his life. Around this time, he married his late wife Myrtle and they had two children, John and Lorna, both of whom attended the service. After the war, he transferred to the diving branch and completed his qualifying course 1944-45 before joining the RN Salvage Team based at Trincomalee in Ceylon (now Sri Lanka). In 1950, he became a First Class Diver and joined HMS Reclaim where Bill Filer was the First Lieutenant and Diving Officer. In 1951, Johnny and Bill dived together on the wreck of the submarine HMS Affray and helped recover the fractured snort mast that revealed why she had sunk. In 1959, Johnny joined the Far East Fleet Diving Team in Hong Kong where he and Willy Wilkes first met. Johnny retired from the RN in 1963 but went to work on the staff of the Deep Trials Unit (DTU) at the RN Physiological Laboratory (RNPL) in Alverstoke. Bill Filer was the OIC and Johnny became his right hand man, renewing a close relationship that had survived since they first met at HMS Ganges in 1934. Johnny finally retired from DTU in 1983 at the age of 65 but his regular get-togethers with Bill, Willy Wilkes, Hoppy Hopewell and others continued up to the time of his death. Before finishing, Willy especially praised Johnny for his honesty, kindness and love for his fellow man.
The chaplain provided a few more words in tribute before those present sang the Naval Hymn (Eternal Father). After the committal and blessing, mourners departed to the sound of Eric Idle's 'Always Look on the Bright Side of Life'. Some divers mustered afterwards for a few drinks in the nearby 'Seagull' while the main party attended the official wake at the 'Golden Bowler' in Lee-on-the-Solent where Johnny finally came to reside after living on Portsdown Hill, in Stubbington, and in Binstead on the Isle of Wight. Our sympathies lie with Johnny's surviving siblings, his son John and daughter Lorna, as well as their respective families.
---
20 Jul 07 - HMS Grimsby personnel to attend Memorial Service in Grimsby
The Royal Navy website contains this article describing the attendance of personnel from HMS Grimsby at a memorial service in Grimsby on Sunday 22 July for those who have lost their lives at sea.
---
18 Jul 07 - HMS Penzance saves Oban fishing vessel
The Shipping Times website contains this article describing how HMS Penzance prevented the Oban registered fishing vessel 'Prospect' from sinking on 14 July.
---
15 Jul 07 - Next Year's Reunion of the RAN 16th MSS
A reunion of the 16th Minesweeping Squadron (HMAS Hawk, HMAS Curlew, HMAS Gull, HMAS Ibis, HMAS Teal and HMAS Snipe) will be held at the 'Noosa Australis' Convention & Exhibition Centre, Tewantin/Noosa, Queensland, Australia 1 to 3 August 2008. All Australian, New Zealand and UK Ton Class crew members are invited to join with the 16th Minesweeping Squadron for this reunion.
Please contact Rod Clarey by Tel: (07) 5484 1072, Mob: 0409 267 388 or E-mail: rod.clarey1@bigpond.com or Jacqueline Clarey by Tel: (07) 5530 4633, Mob: 0409 260 573 or E-mail: rod_jacquie_clarey@bigpond.com.
---
14 Jul 07 - Johnny Peach - Funeral Arrangements
The funeral for Johnny Peach will take place at 1400 on Friday 20 July at Portchester Crematorium. No flowers please but donations to Cancer Research UK..
---
11 Jul 07 - Diver Down - Johnny Peach
Troy Tempest, Secretary of the Association of RN First Class Divers, has issued the following announcement:
"It is my sad duty to inform you all of the passing away of Johnny Peach on 10 July. Funeral arrangements and details will follow. Johnny was the oldest member of the AORNFCD and was born on 7 November 1918. He recently received an award from the Association for his comradeship and ésprit de corps."
---
9 Jul 07 - Update from HMS Chiddingfold
The following update has been received from HMS Chiddingfold:
HMS Chiddingfold 7 July 07
The ship was in UPKEEP [refit] at Rosyth in Babcock's hands from Dec until Mar where she had fitted the new SeaFox Mine Disposal System and WECDIS [Warfare Electronic Display and Information System]. SeaFox replaced RCMDS [Remote Controlled Mine Disposal System] and was battle-proven in the Second Gulf War. The system has now been procured for use in Hunt and Sandown Class MCMV's. CHIDDINGFOLD is the first Hunt Class to receive the fit and was the first RN Vessel to successfully conduct the Naval Weapons Sea Trial. She was also the first MCMV to embark SeaFox in her magazine.
SeaFox is a mini submersible around one metre in length with a cable link to relay video picture and sonar details back to the MCMV. This information is displayed on a control console within the MCMV's Operations Room. The submersible comes in two types; an Inspection Round and a Combat Round. The black coloured Combat Round is a once-only device, employing a one-shot shaped charge to destroy mines once they have been located. The red Inspection Round is used to locate and identify mines but does not have the shaped charge. This is a completely new system from the previous yellow RCMDV submersibles. These reusable underwater vehicles were used to locate and identify mines. They would then detach an explosive charge adjacent to the mine before being recovered to the ship. The ship would then detonate the charge from a safe distance, which would in turn sympathetically detonate the mine. This could be quite a lengthy process which also relied on the charge being close enough to the target mine to be successful. The SeaFox process is quicker and with the advanced technology utilised within the shaped charge, extremely efficient.
We undertook our SARC [Safety and Readiness Checks] process in April and May before putting to sea for Faslane via the Kyles of Lochalsh for SeaFox tests. Following this our Fleet Date Inspection went well, with Captain Faslane Flotilla being impressed by the physical state of the ship and high morale of the ship's company. Two weeks later the ship started OST [Operational Sea Training]. CHIDDINGFOLD is the first HUNT to go through the OST process with SeaFox and WECDIS, making CHIDDINGFOLD a real trailblazer for the other HUNTS. The ship's company are learning how to use SeaFox to its full potential, whilst the bridge team led by the NO are using WECDIS for navigation instead of paper charts. WECDIS can be used not only for navigation but as a command system for inputting mine locations, danger area, swept channels etc, making the Nav's planning far easier.
Following OST, CHIDDINGFOLD will conduct a foreign visit to Scandinavia and then make a welcome return to Portsmouth after eight months away.
Yours Aye,
Si Shaw
Lt RN
Navigator
HMS CHIDDINGFOLD
---
8 Jul 07 - HMS Ledbury receives Freedom of the Town of Ledbury
The Ledbury Reporter's website contains two articles (here and here) describing the award of the Freedom of the Town of Ledbury to HMS Ledbury on 4 July.
---
6 Jul 07 - HMS Chiddingfold fitted with SeaFox
The following article from today's Portsmouth News describes the installation of the SeaFox mine disposal system in HMS Chiddingfold::

---
3 Jul 07 - Promotion News
Many congratulations to MCDOA member Adrian Cassar on being selected for promotion to Captain in the latest signal. I am obliged to Kev Giles for this welcome news.
---
2 Jul 07 - Website Statistics
Having exceeded 10,000 visits per month for the first time in May, the MCDOA website had 11,592 visits during June. 351,200 hits were recorded on individual pages, files and images and 6,424,126 kilobytes of data were downloaded.
---
1 Jul 07 - Navy News Items
The following MCD-related items from the July issue of Navy News include:
---