---
30 Jun 09
Three Men in a Boat - Tattoo Teaser
The MCDOA's 'Not Quite the Last of the Summer Wine' trio of Barlow, Holloway and Hoole sailed to Hornet Sailing Club today. After a pleasant lunch on the club house verandah, they encountered a well-know MCDOA member sporting this recently acquired steely-looking diving tattoo complete with five bells.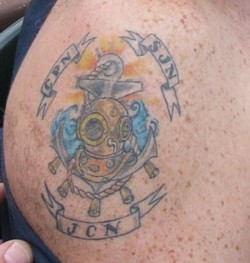 Tattoo Teaser
No prizes but can you guess the identity of the proud owner? The answer and background story will be revealed in a few days.
---
HMS Brocklesby coming home
The RN website contains this article describing the return of HMS Brocklesby to Portsmouth after her successful NATO deployment.
---
26 Jun 09 - Tees-time for Hurworth
The Navy News website contains this article describing a recent visit by HMS Hurworth to Hartlepool in order to catch up on her afiliations with Hurworth-on-Tees and the Hurworth Hunt.
---
25 Jun 09 - Clearance Diver presented with LS & GC underwater
Today's Portsmouth News contains this article describing the award of a Long Service and Good Conduct medal to Acting PO(D) Andy Coulson of Southern Diving Unit 2 (SDU2). It was presented by MCDOA member Si Leightley (OIC SDU2) at the bottom of a swimming pool in Gibraltar. The article also features WO(D) Robin (Rick) Rickard.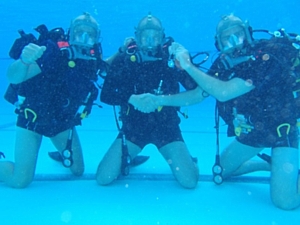 Andy Coulson receives his medal from Si Leightley
with Rick Rickard looking on
(Portsmouth News photo)
The story also appears on the RN website here but it's a shame about the inaccurate headline.
---
24 Jun 09 - From our foreign correspondent
Ex-RN CPO(D) Joe Cook, who transferred to the RAN and retired in Australia as an FCPO(CD1), has forwarded me a scanned article from his local paper, the Gatton Star of Laidley near Toowoomba in Queensland. It concerns former CDO Lt Cdr John Futcher MBE RN. As the text was only just legible, I re-typed it before discovering it was available online here.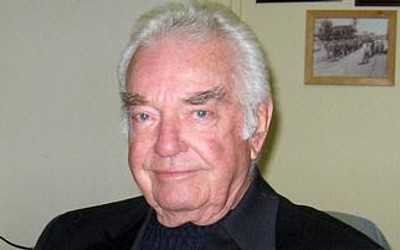 Remembering the 'forgotten war' is Korean War
veteran from Plainland, John Futcher
"THE Korean War might be regarded as the forgotten war but to Laidley RSL [Returned and Services League of Australia] Sub-branch member John Futcher, it remains firmly fixed in his mind.
With the approach of the 59th anniversary of the war's beginning on June 25, 1950, Mr Futcher said it was something he'll never forget. As a young Leading Seaman aboard HMS Belfast when the war broke out, he was soon seconded to the Americans as part of General MacArthur's 1st Raider Company.
"MacArthur was looking for volunteers with explosives experience to blow up installations around northeast Korea." he said "We had to spend time at Camp McGill in Japan training with American equipment and weapons."
Mr Futcher was Mentioned in Despatches for his part in the late-1950 battle for the Chosin Reservoir. He also took part in the landing at Inchon in 1951. "I'll never forget Chosin," he said. "The temperature ranged from minus 20 to minus 40 degrees Fahrenheit."
"After Korea, I was commissioned and became a Royal Navy clearance diving officer working around Scotland, northern England and Ireland."
Mr Futcher received an MBE, personally presented by the Queen, for his services to bomb and mine disposal. He now lives at Plainland."
I have thanked Joe for this interesting snippet and asked him to convey our best wishes to John.
According to the London Gazette, LS Arthur John Futcher was awarded a Mention in Despatches on 18 May 1951 for "gallant and distinguished service with 41 Independent Commando (Royal Marines) in operations in Korea". He was appointed an MBE as a Lt Cdr in the Queen's Birthday Honours of 1967. Coincidentally, our late departed Honorary Life Member Lt Cdr Robbie Robinson MBE also served as a demolitions specialist with 41 Ind Cdo (RM) during the Battle of the Chosin Reservoir.
---
23 Jun 09 - Death of Beverly Lade
Members would wish to be aware that Chris Lade's wife, Beverly, died on Tuesday 16 June. Although she had been suffering a painful illness for some time, her death has come as a massive shock to everyone.
Chris has been in touch with the Association and wishes to inform all members who knew Beverly that they would be most welcome to attend her funeral at 1400 on Thursday 9 July at St Faith's Church in Lee-on-the-Solent (and on to the Solent Sailing Club on completion). Chris will be wearing uniform to highlight Beverly's association with her Royal Navy friends.
Chris, Thomas, Olivia and Saskia are in our thoughts. If anyone would like to write to them, I can provide their address.
---
22 Jun 09 - Praise for RN EOD operators from... the Army!
MCDOA members may have noted that officers of 33 Engineer Regiment (EOD) often attend our annual dinner. In return, they offer SofD an invitation to attend their Summer Cocktail party and 'Beat Retreat'. Paul Jones (SofD and MCDOA Chairman) and his wife Yvonne made the long trip to their Wimbish HQ last week and enjoyed an extremely pleasant evening with entertainment provided by the Band of the Corps of Royal Engineers.
More importantly, Paul was approached by a number of Royal Engineers (including the current CO of 33 Regt EOD) who heaped praise on the unique input provided by our MCDOs and CDs who have been rotating through Iraq and Afghanistan – well done to the Fleet Diving Squadron who generate these individuals and of course particularly well done to our 'boys' who maintain our hard-won reputation in a challenging environment.
---
21 Jun 09 - HMS Kellington dismantled
This sad photo of HMS Kellington being dismantled at Stockton last month appears in the latest issue of Ton Talk, the newsletter of the Ton Class Association (TCA):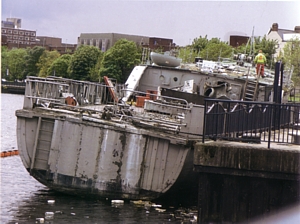 HMS Kellington being dismantled at Stockton in May 2009
(TCA photo)
See also this article from the Newcastle area's Sunday Sun. The writing was on the wall after vandals nearly caused her to sink by trying to remove a condenser in April (see entry for 7 Apr 09 in News Archive 26) but it's such a shame to see the loss of yet another Ton. Only Bronington (see entry for 4 May 09 in News Archive 26), Iveston and Wilton survive in this country from this class of over a hundred ships that served the Royal Navy so well for half a century.
---
20 Jun 09 - The demise of two fine gentlemen
Lt Cdr Max Shean DSO* RANVR
Only two months after the memorial service at St Martin-in-the-Fields for Lt Cr Ian Fraser VC DSC RNR, the Daily Telegraph contains this obituary for his fellow X-craft Commanding Officer and diver Lt Cdr Max Shean DSO* RANVR who died on 15 June at the age of 90. These officers and their small band of young men carried the sea war into enemy harbours and won a total of 68 awards for bravery, including four VCs. More information and photos can be found here.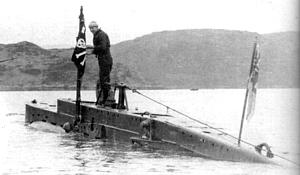 Shean's Midget Submarine X-24 at Loch Cairnbawn
Ernie Croft
Peter Dick, the editor of the Historical Diving Times, has advised me of the death a couple of weeks ago of ex-RN diver Ernie Croft. I am waiting for further details but Peter believes that Ernie was trained by the late MCDOA member and 600 ft world diving record-breaker George Wookey at the diving school at HMS Defiance, the floating training establishment at Devonport. These photos are from Ernie's collection and were supplied by fellow Historical Diving Society (HDS) member Phil Thurtle:
Left: The vessels making up HMS Defiance in the Tamar up until the mid-1950s comprising front left
HMS Vulcan (originally a small torpedo boat carrier) with the old screw frigate HMS Inconstant
alongside her. Bringing up the rear is the old 1st class protected cruiser HMS Andromeda. Just
visible behind them is the battleship HMS Howe with an RFA in the distance. The minelayer
HMS Ariadne is on the distant trot.
Right: Ernie Croft with George Wookey and team at Devonport Navy Days in 1953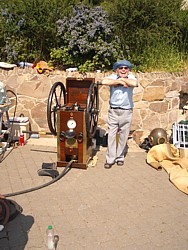 Ernie Croft with HDS
Diving Equipment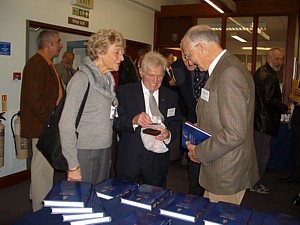 Ernie Croft flanked by Patrice & George Wookey
at HDS meeting in Hull, 2004
Late News: I have since received this biography of Ernie:
Ernie Croft 1930-2009
Ernie was born in Sheffield in November 1930, the second youngest of two brothers and one sister. After leaving school at 14, Ernie had several jobs working on farms, looking after horses and other livestock. At 18, Ernie volunteered for service in the Royal Navy, he thought that if he volunteered for his national service, he could choose where he served as conscription still had the possibility of working down coal mines as a "Bevan Boy". Ernie always said that there was no way he wanted to work down the pits.
The elementary examinations for the Navy were done at Belle Vue in Manchester; he went with two friends: Jack Oxley and Pete Stringwell. They managed to stay together for some time, firstly at HMS Royal Arthur (Corsham) and then at HMS Raleigh at Torpoint in Cornwall. Sadly for Ernie, they were parted. While Ernie went to "Drake's Mansions" in Devonport as a "Guzz Rating", his friends went on to Portsmouth to serve in submarines.
Ernie's first ship was HMS Devonshire and his first tour of duty was to the Caribbean, places like Trinidad, Granada, Barbados and the Virgin Islands – all a very far cry from life in Sheffield. Ernie saw things he had only ever dreamed of until then. Ernie then spent time in the destroyer HMS Venus and HMS Undaunted.
Always holding the WWII "Charioteers" as heroes Ernie wanted to be a diver. At the age of 20, Ernie volunteered and was transferred to HMS Defiance's diving school in Devonport and Ernie couldn't have a had a better instructor, none other than George Wookey. Ernie always said that under the supervision of George and Harry Frampton "it all came together" after some hairy moments underwater. His first assignment as ship's diver was to HMS Sparrow, followed by the aircraft carrier HMS Unicorn in the Far East during the Korean War.
Ernie left the navy in 1955 and became a slaughter man, married his wife Doreen and had two sons called David and Ernest. He found time to run the Sheffield judo club, a hobby which Ernie followed for many years, teaching people of all ages the martial art. In fact, following his experiences in the navy, he gave the judo club a motto, "Don't tell me, show me" which is their motto even today. He also organised judo tournaments locally in Sheffield and took teams of children to compete in competitions all over Europe. After he "retired" from judo in 1999, his eldest son David took him to Navy Days at Chatham. He spotted the Historical Diving Society (HDS) display there and we have been friends ever since. Ernie joined the HDS quickly getting involved and diving again at the tender age of 68. Ernie made many friends in the HDS, not only in the UK but also in Australia and everyone made friends with him – if you could understand that broad Yorkshire dialect that is. Ernie met George Wookey once more at the HDS conference in Hull in 2004 when George was one of the guest speakers. Ernie was so happy to meet George again and I know they kept in touch until George's death in 2007.
Sadly Ernie passed away at home on Sunday, 17th May 2009 of cancer. I for one will miss Ernie's presence in "The Gold Bucket Team"; that's what he always called the crowd that worked together, the "gold bucket" being reference to the yellow bucket we [the Historical Diving Society] always use. However, I do know all of his friends will never forget him.
Phil Thurtle
---
From MCDOA member Mike Gillam:
"Rob,
Just for the record, and in case you were not aware of it, the photo of the diving school in today's message about Ernie Croft shows top right, Stuart Honour in a rubber bag; PO Bungy Edwards fourth in; and George Wookey eighth in. I recognise the two chief divers fifth and sixth in but cannot remember their names.
Mike"
---
From Dave Honour (Stuart Honour's nephew) in South Africa:
"Thanks Rob,
Just checked the picture, no mistaking that smile!!!!!!! We had a little family get-together when I was in England and Uncle Stuart's last surviving sister attended. She was very pleased to hear that Uncle Stuart is so well remembered on the website.
Regards,
Dave Honour"
---
19 Jun 09 - Holland V submarine
Those involved in the location and recovery of the Royal Navy's first submarine, Holland I, now on display at the RN Submarine Museum, may be interested in the article below from yesterday's Portsmouth News. Holland V was the first submarine accepted for operational service in the RN. She sank off Eastbourne while under tow to Sheerness for decommissioning and her wreck lay undiscovered until 1995.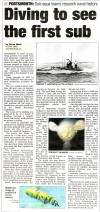 ---
18 Jun 09 - RN MCM Capability in the Middle East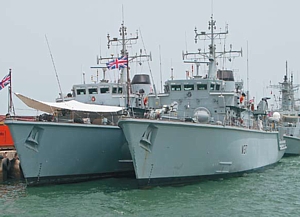 UKMCMFOR in the Gulf
MCDOA member David Hunkin has drawn my attention to these informative articles focusing on current RN MCM capabilities in the Gulf and Strait of Hormuz:
---
17 Jun 09
CPO(D) Ian Fleming completes 65 mile run for charity
The Portsmouth News contains this article describing the successful completion of the 65-mile Project 65 Pegasus Run by CPO(D) Ian 'Scouse' Fleming of the Defence Diving School. He was the only RN participant. Warm congratulations to him on raising £2,500 for several Service charities.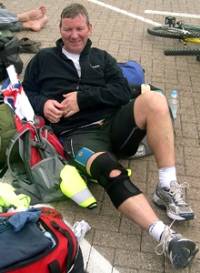 Ian Fleming recovering after his 65-mile run
which left his feet heavily blistered
(Portsmouth News photo)
You can still sponsor Ian on his Just Giving webpage here.
---
News from HMS Ramsay
Many thanks to Lt Marc Taylor RN, the Navigating Officer of HMS Ramsey, for forwarding this update and photos:
HMS RAMSEY IN RAMSEY!
For the sailors of HMS Ramsey it was back to sea in May and the opportunity to reacquaint the ship with her affiliated home town on the Isle of Man.
The month began with a period at sea to ensure that all the cobwebs from nearly six weeks leave had well and truly dispersed. It also gave the new Commanding Officer, Lt Cdr Sarah West, the opportunity to witness her new Ship's Company demonstrate their professionalism at sea. Serials included Man Overboard drills, machinery breakdown drills and live gunnery firings, whilst enjoying the surprisingly good weather that the Clyde had to offer!
Following this comprehensive training package, HMS Ramsey prepared to return to her spiritual home in the Isle of Man. Sadly, due to tidal restrictions, the ship cannot berth in Ramsey, but Douglas' Victoria Pier provided a more than adequate home for the five day visit. Sailing into Douglas harbour, several members of the local press embarked from the Pilot Boat to enjoy the short transit into the Isle of Man's capital.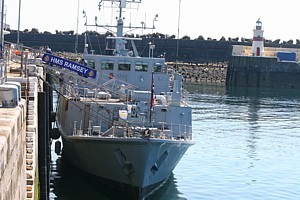 HMS Ramsey berthed at Douglas, IOM
For HMS Ramsey it was her first visit to the Island in over three years following her mammoth Gulf deployment. In addition, for one Ramsey sailor it was very special indeed - AB(MW) Kevin Gawne was returning to the Isle of Man and his home town of Ramsey. The young Mine Warfare Rating was looking forward to showing his shipmates around the Isle of Man whilst also enjoying the thought of living ashore during the visit! During an interview for the Isle Of Man Examiner, AB(MW) Gawne commented 'I am proud to be part of the crew that brought HMS Ramsey back from the Gulf and back to the Isle Of Man'.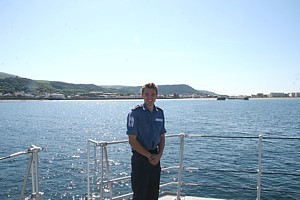 AB(MW) Kevin Gawne of HMS Ramsey
During the visit many formal functions took place including a Cocktail Party for over forty guests which included the Lieutenant Governor of the Isle Of Man, Vice Admiral Sir Paul Haddacks KCB. The Commissioners of Ramsey and Ramsey Royal Naval Association became the hosts the following night as they invited the Ship's Company to an Official Reception at the Town Hall in Ramsey.
Both events enabled HMS Ramsey to rekindle affiliations with those on the Island and returning to Ramsey itself was quite special. Lt Cdr Sarah West said "The Isle of Man is our namesake town so it's a home port visit to us as well as an opportunity to visit the Isle of Man, which for the Royal Navy is a very popular run ashore". With regards to the visit to Ramsey, Lt Cdr West continued "It's our opportunity to reinvigorate affiliations with the town and it's inhabitants, we have been made to feel so welcome and look forward to returning again in the near future".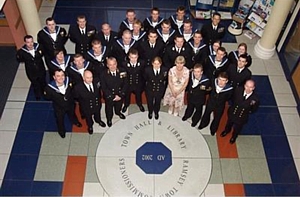 Ramsey's reception for HMS Ramsey
During her stay in Douglas, Ramsey was visited by school children from Ramsey Grammar School and from the Isle of Man Sea Scouts, all keen to see how HMS Ramsey works and to get hands on with diving and fire fighting equipment. There was also the opportunity for the ship's company to get ashore and explore the Island; the Saturday saw the start of the Isle of Man TT and the influx of thousands of motorcycle enthusiasts to the Island. HMS Ramsey's Navigating Officer, Lt Marc Taylor, watched the first practice race on the Saturday and commented "to come to the Isle of Man with HMS Ramsey is something I'll never forget - home town visits should never be underestimated and to coincide with the TT is even better, the atmosphere on the island is exceptional".
HMS Ramsey departed Douglas on the first day of June, the visit was the ships company's first 'run ashore' in the UK since returning from the Gulf and was thoroughly enjoyed. With glorious sunshine, the start to the Isle of Man TT and the warmth and hospitality of our hosts, the visit to Douglas was clearly the highlight of the month. Prior to heading back to Faslane, HMS Ramsey entered Ramsey Bay to say goodbye to her home port…..there was also time to appreciate the cake that had been specially made by Ramsey Royal Naval Association!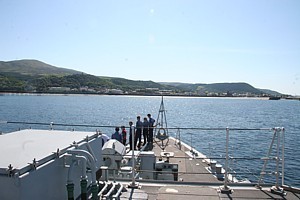 HMS Ramsey approaching Ramsey Bay
Cutting HMS Ramsey's RNA Cake
---
15 Jun 09 - A busy weekend for reunions
What a weekend it's been for Branch reunions and swelling the coffers of Project Vernon, the campaign to erect a monument at Gunwharf Quays to commemorate the Mine Warfare and Diving heritage of HMS Vernon.
1. RN Divers' Reunion
Friday night saw the annual all-ranks RN Divers' Reunion at the Royal Maritime Club (ex-Home Club) in Portsmouth. The organisational skills of Troy Tempest, Secretary of the Association of RN First Class Divers (AORNFCD) which had held its AGM earlier in the day, were well up to their usual standard and everyone thoroughly enjoyed themselves. Unfortunately, I left my camera in my son's car (thanks for the taxi service anyway, Gareth) so I was unable to take any photos. However, if anyone has any decent pics they can send me via my webmaster address, I will gladly publish them.
Numbers were down slightly on previous years but the occasion was attended by around 70 CD Branch stalwarts, some with wives and partners. Among many others, these included AORNFCD Chairman Don 'Jimmy' Green, Michael 'Mick' Fellows, Stew 'George' Sissons, Colin 'Scouse' Kidman, Gabby Haines, Mike Handford, Peggy Neil, Cris Ballinger, Derek 'Maggie' Lockwood, Hoppy Hopewell, Tony 'Willy' Wilkes, Tommo Thompson, Chris Christie, Terry Settle, Albert Chapman, Dave Audoire, Bill McGovern, Chris 'Paddy' Doonan, Clive Egginton, Joe Maher, Donkey Bray (Sr), John Cobb, Spike Wheeler, Sean Meleady, Mick Beale, Scouse Vernon, Bernie Stockton and Jimmy Bond. I hope all those I've missed out will excuse me but I didn't get around to see everyone.
Congratulations to Mike Handford for taking orders worth £1,125 for Project Vernon prints of 'Danger at Depth' and boosting funds further by selling £280 worth of tickets for the project's Summer Draw.
Above and below: Some of the crowd enjoying the Horsea Island barbecue
Many of those at the Friday night reunion remained fit enough to attend the combined MCDOA, AORNFCD and MWA barbecue held at Horsea Island on Saturday although one obvious late-comer was Michael 'Shiner' Brassington in his eye-catching red camper van. Fine weather accompanied us, as did the band comprising MCDOA members Martyn Holloway and Dan Nicholson together with Paul Williams, one of Martyn's fellow Zodions from his school days.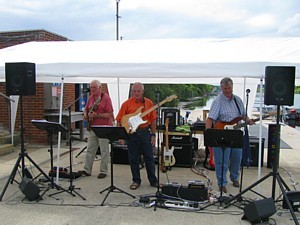 Music by The Zodions (sort of)
Richard 'Soapy' Watson, our Honorary Treasurer & Membership Secretary, did a fine job of organising things in the absence of Tony Griffiths, our Honorary Secretary, who has been particularly occupied in Saudi Arabia for the past few weeks. Apart from Yours Truly (Rob Hoole), Soapy Watson, Martyn Holloway and Dan Nicholson, other MCDOA members present included MCDOA President Colin Welborn, MCDOA Chairman Paul Jones, founding MCDOA Chairman David Sandiford, Brian Dutton, John Beavis and Ian Morton. We were also privileged to have my fellow MWA members Dixie Dean, Ian 'Herman' Gearing and Dave Payne among us. Younger attendees included this five-day-old paddler, Josh 'YoYo Jr' Ravenhall.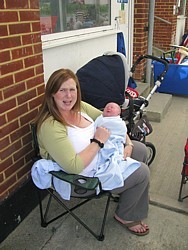 Josh Ravenhall with his mum
Guests at the barbecue included Southsea Councillor Irene Strange, the widow of former PO(D) Albert Strange (see third entry for 25 Apr 09 in News Archive 26), together with Edda Rea, the widow of CDO Lt Cdr Jackie Rea. Irene has already made a donation to Project Vernon and Edda Rea kindly provided another cheque towards the cause. Ian 'Herman' Gearing also presented Project Vernon Chairman Paul Jones with a cheque for £250 on behalf of the MWA, the proceeds of its last annual reunion at HMS Collingwood and a more recent regional reunion in Blackpool.
Left: Edda Rea and Irene Strange with Paul Jones
Right: Paul Jones accepting MWA cheque from Ian 'Herman' Gearing
For those who missed out on this event, your £10 ticket (children free) would have entitled you to a wonderful day out, the opportunity to camp on Horsea Island overnight, a chance to see old friends, live musical entertainment (sounds of the '60s and '70s as played so often these days on Radio 1), a slap-up cooked meal and side salad, a door prize and a free first drink served to you by Paul Jones, the current Superintendent of Diving, accompanied by his smashing wife Yvonne. What more could you possibly want?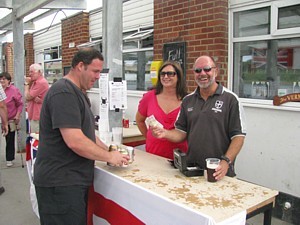 Yvonne & Paul Jones serve another
satisfied customer
As last year, the hog roast proved to be an unqualified success with a good selection of food to suit all palates.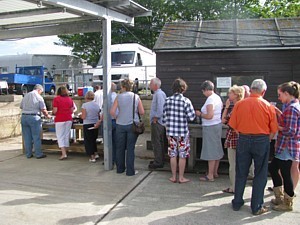 Above and below: Queuing up for the Hog Roast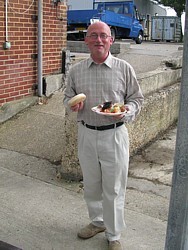 MCDOA President Colin Welborn
caught with his hands full
It was another extremely good day for the Project Vernon coffers too. In addition to the generous contributions of Edda Rea and the MWA, there was a further donation of £401 from former CD1 Derek 'Maggie' Lockwood (401 is CDI in Roman numerals... clever, eh?). The raffle raised £227 (special thanks to Shiner Brassington for providing all the attractive prizes) and an auction of minewarfare and diving memorabilia raised £152 (particular thanks to MWA member Dave Payne and AORNFCD member Bill McGovern for some outrageously high bidding!). Incidentally, Dave would have got my vote for best-dressed cowboy if we'd got round to judging the fancy dress costumes.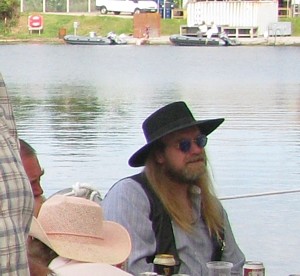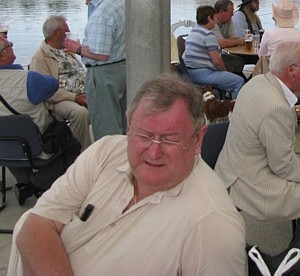 Left: MWA member Dave Payne
Right: AORNFCD member Bill McGovern
Here's a selection of other photos taken during the day: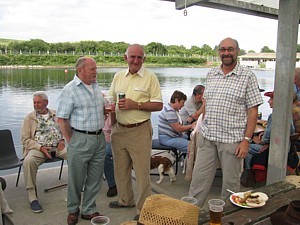 Once again, a big thank you to Soapy for organising this splendid occasion, despite his heavy commitment to Clearance Diving Life Support Equipment (CDLSE) acceptance trials, and to everyone else involved with running things. See you again next year.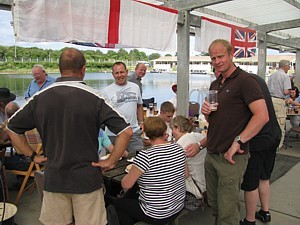 Soapy (right) surveys a job well done
3. 40th Anniversary Reunion of LMCDO '69
On Sunday, I popped into Gunwharf Quays around noon to wish members of LMCDO '69 well for their 40th Anniversary reunion. They were enjoying some outdoor aperitifs before lunch and I managed to take a course photo of them in front of the old HMS Vernon admin building (now the Old Customs House pub) to compare with the original:
LEFT: LMCDO '69 in 1969
Back row: Terry Jones, John Wiseman, Julian Malec, Liam Donaldson and Brian Dutton
Front Row: Dan Nicholson, R J Murphy, Dusty Miller (Course Instructor), Bruce Mackay (Course Officer), Bill Lampard, Richard Lowther and John Belchamber
RIGHT: LMCDO '69 in 2009 (you couldn't tell otherwise, could you?)
Back Row: John Wiseman, Julian Malec, Liam Donaldson and Brian Dutton
Front Row: Dan Nicholson, Dusty Miller, Bruce Mackay, Richard Lowther and John Belchamber
Unfortunately, contact has been lost with Messrs Jones and Murphy, and Bill Lampard was unable to travel from Australia but he did manage to attend a smaller course reunion back in June 2005: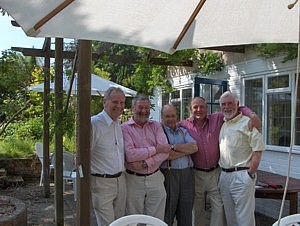 LMCDO '69 members Brian Dutton, Richard Lowther, Julian Malec,
Bill Lampard and Dan Nicholson in June 2005
On this occasion, LMCDO '69 course members were accompanied by their wives and girlfriends (WAGs):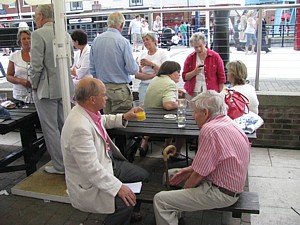 LMCDO '69 course members and their wives then took their places in the pub's Blythe Room (the old Commander Assistant's office) where I left them to enjoy their lunch together.
Like I said, it's been quite a weekend for reunions!
---
13 Jun 09 - Wax on, wax off
Today's Portsmouth News contains this article describing a car-wash undertaken by trainee divers at the Defence Diving School (DDS), Horsea Island in aid of Help for Heroes.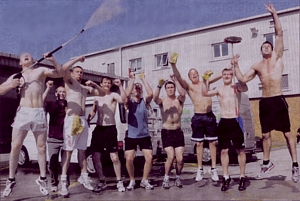 Car-washing divers at Horsea Island
(Portsmouth News photo)
---
9 Jun 09 - North West Passage for HMS Ledbury
The Navy News website contains this article describing a recent transit by HMS Ledbury of the Manchester Ship Canal from Canning Dock in Liverpool to the basin at Salford Quays.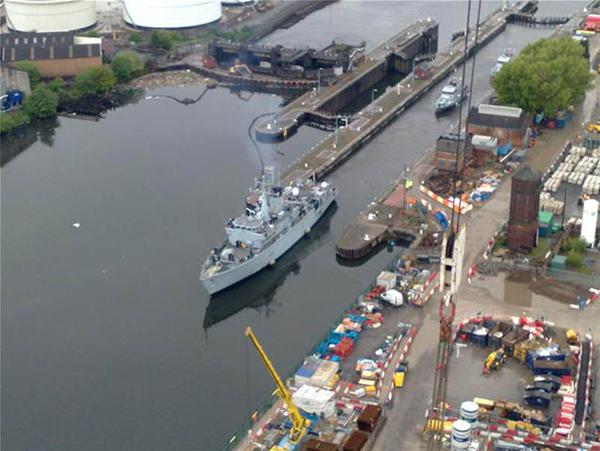 HMS Ledbury passes through Mode Wheel Locks in Salford
(Navy News website photo)
---
5 Jun 08 - Death of Ernest Goodhall
I have been given the sad news of the death of Ernest Goodhall who served in minesweepers in the Royal Naval Patrol Service (RNPS also known as Harry Tate's Navy) during the Second World War. He passed away quietly in his garden on 28 May at the age of 86. Last year, Ernest was kind enough to send me a fascinating account of his experiences as a wireman (electrician) on board a motor minesweeper which I published as 'Wartime Minesweeping Memories' in the website's Dit Box.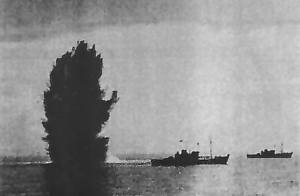 Mine explosion from Ernest's ship (MMS 41)
---
3 Jun 09 - New book about minesweepers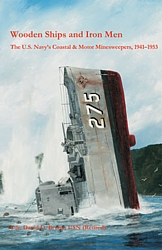 I have received the following message from David Bruhn, already the author of Wooden Ships and Iron Men: The U.S. Navy's Ocean Minesweepers, 1953–1994, which included a detailed account of Allied MCM operations during Operation Granby in the Gulf in 1991:
"Hello Rob,
The second book in the Wooden Ships and Iron Men series, Wooden Ships and Iron Men: The U.S. Navy's Coastal & Motor Minesweepers, 1941-1953 is now available from Heritage Books at http://www.heritagebooks.com. Interested persons may read more about the book at my author's website: www.davidbruhn.com.
I enjoyed researching and writing this book, and hope that readers and especially former minesweeper sailors and their family members and friends enjoy it as much.
Wooden Ships and Iron Men: The U.S. Navy's Coastal and Motor Minesweepers, 1941-1953 - David Bruhn
Possessing insufficient minesweepers to protect U.S. harbors and bays as the threat of war in Europe spread, in the winter of 1939-40 the Navy began purchasing fishing vessels and modifying them to combat mines. One of them, Condor (AMc-14), first sighted the Japanese Type-A midget submarine that destroyer Ward (DD-139) sank on December 7, 1941 with the first shots fired by American forces during World War II. She would be one of six coastal minesweepers to receive a battle star.
From boat and shipyards across America came the largest production run of any World War II warship, 561 scrappy little 136-foot wooden-hulled vessels characterized by Arnold Lott in Most Dangerous Sea as "belligerent-looking yachts wearing grey paint." Although their designers envisioned that they would operate primarily in the vicinity of yards or bases, the YMSs (too numerous to be given names) would see action in every theater of war, earning almost 700 battle stars, twenty-one Presidential Unit Citations, and fifteen Navy Unit Commendations. YMSs were present in the North African campaign, in Sicily, at Anzio, Salerno, and elsewhere in Italy, and swept ahead of invasion forces at Normandy and in Southern France. In the Pacific, they operated in the Marshall Islands, New Guinea, Solomons, Treasury Island, Gilbert Islands, New Britain, Admiralty Islands, Guam, Palau, Leyte, Luzon, Manila Bay, Iwo Jima, Southern Philippines, Okinawa, and Borneo.
Following the war, they cleared mines from the East China Sea, Yangtze River approaches, and throughout Japanese waters, and their activities gave rise to the proud slogan of the mine force: "Where the Fleet Goes, We've Been." During the Korean War, a mere sixteen auxiliary motor minesweepers (former YMSs) performed the bulk of mine clearance, often while inside the range of enemy coastal artillery, necessary for larger naval vessels to close the coast to support operations ashore.
Garnering collectively 124 battle stars, seven Presidential Unit Citations, and seven Navy Unit Commendations, the men aboard these ships were then, and remain to date, the most highly decorated crews of minesweepers in the history of the U.S. Navy.
2009, 5½x8½, paper, index, 368 pp. B4909 ISBN: 0788449095
Book Dedication: To the "iron men" who have served since 1941 in wooden-hulled minesweepers, and particularly those sweep sailors, many of them reservists, who went in harm's way during World War II and the Korean War.
Please also find attached photographs of two of the many paintings by Richard DeRosset used in the book, "Hidden Menace at Sin-Do Island" (the cover art) and "Moonlit Assault in the Aegean" (depicting the German Luftwaffe attack on the Royal Navy's BYMS-72). The latter photograph is displayed on the last page of Chapter 4, facing the first page of Chapter 5, which is titled "Capture of British Yard Minesweeper 72."
Left: Hidden Menace at Sin-Do Island
Right: Moonlit Assault in the Aegean
Sincerely,
David Bruhn"
---
2 Jun 09 - The return of Three Men in a Boat
Having been stranded ashore during the winter and forced to frequent various pubs for its regular Tuesday get-togethers, the MCDOA's 'Not Quite the Last of the Summer Wine' trio of Barlow, Holloway and Hoole returned to sea today in Barlow's boat 'Dougout'. Our departure was delayed a little by engine problems and Barlow's wish to compare the scars of his recent knee surgery with those of retired Gunnery Officer Brian Witts, the manager of Whale Island's sailing centre and curator of HMS Excellent's artefacts including the ceremonial gun carriage.
As it was Coronation Day, Royal Navy ships in Portsmouth harbour were dressed overall with the notable exception of the new Type 45 destroyer, HMS Daring, making one wonder if she is able to rig dressing lines. I'll have to remember to ask her Captain, MCDOA member Paddy McAlpine, the next time I see him.
Left: HMS Westminster & HMS Daring
Right: HMS Daring 'undressed'
Left: HMS Daring astern of Dougout
Right: HMS Scott ahead of HMS Daring
A stiff breeze enabled our trio to sail out of harbour on the last of the ebb tide and then transit the inner swashway past what used to be HMS Dolphin and RNH Haslar.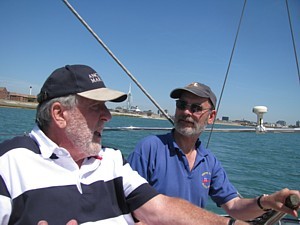 Barlow telling Hoole a dit in the inner swashway
Having passed Gilkicker and reached the relatrive tranquility of the middle of the Solent, it was time to open the bar and enjoy lunch.
Barlow and Holloway enjoying lunch in the middle of the Solent
Prevailing conditions enabled us to return to Whale Island on the flood tide and berth entirely by sail after a glorious introduction to the new sailing season. All agreed to leave it a few more weeks before taking a swim though.
---
1 Jun 09 - Navy News items
The June e-edition of Navy News contains the following items of MCD interest:
---
30 May 09 - Mike Welford in town
Former RN MCDO Mike Welford transferred to the RAN c.1980 and retired as a Commander in 2002 after a total of 39 years in both navies. He says he was a 'gun-runner' for two years but now lives in the Southern Tablelands 40 miles from Canberra where he describes himself as an 'Extra VIRGIN Olive Oil producer AND processor'. He is currently in the UK with his wife Erica, his son James and James's partner Rosa to help his mother celebrate her 90th birthday in Devon.
Last night Ralph & Liz Mavin, Martyn & Ann Holloway and Mrs Webmaster & I were reunited with Mike and his family for an excellent meal at the Horse & Jockey at World's End near Hambledon where, as you can see, a fine time was had by all.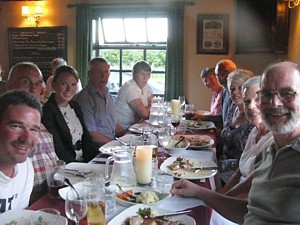 L to R: James, Martyn, Rosa, Ralph, Ann,
Liz, Mike, Linda, Erica and Yours Truly
---
25 May 09 - News from HMS Brocklesby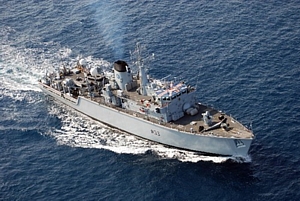 HMS Brocklesby in NATO colours
I am grateful to MCDOA member Rory Armstrong, the Operations Officer of HMS Brocklesby, for providing this update. It's always nice to hear news straight from the horse's mouth.
"Rob,
Hope all is well at the Association. Please find attached some photos of BROC's involvement in Op BENEFICIAL COOPERATION 09 last week off the Hook of Holland as part of our ongoing SNMCMG1 commitment. BENEFICIAL COOPERATION is an enduring operation to dispose of historical ordnance which has fouled the nets of fishing vessels and attracts a significant profile in the Low Countries since a Dutch fishing vessel suffered three fatalities and very severe damage in 2005 when a WW2 US air-dropped bomb functioned on deck as they tried to release their catch. The positions of newly found UXBs are being reported to Admiral Belgium & Netherlands (ABNL) by fishing vessels on a daily basis across the North Sea with approx 25 remaining to be prosecuted within the Dutch/Belgian EEZ [Economic Exclusion Zone] and known positions of almost 70 inside the UK EEZ.
In total, 22 air-dropped US and UK 500 lb and 1,000 lb bombs were countermined over the course of the week by BROC, HNLMS MAKKUM and BNS BELLIS with HDMS THETIS acting as Command Ship.
BROC disposed of six bombs over four days – not a bad total when you consider all were countermined by diver-placed charge rather than remote means and three were required to be moved up to 1,400m by Enclosed Mine Lifting Bag (EMLB) in depths up to 42m. Conditions in the North Sea were initially fairly challenging with a day lost to the weather but moderated throughout the week to allow full use to be made of the brief diving windows.
The CD Element and the MW Department are looking forward to adding to the tally during a further day of BENEFICIAL COOPERATION at the tail end of next week after a couple of days of Force Protection training under the auspices of MOST [Minewarfare Operational Sea Training]. Photos include:
SEAFOX image of US 500 lb GP bomb

Countermining of US 1,000 lb GP bomb

UK 500 lb GP bomb with prominent pistol underslung from EMLB
Left: SEAFOX image of US 500 lb bomb
Right: Countermining of US 1,000 lb GP bomb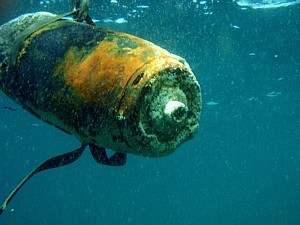 UK 500 lb GP bomb underslung from EMLB
This photo shows some of the team earlier in the deployment on Ex LOYAL MARINER 09. L to R: LS(D) Paul "Hank" Hawkshaw, AB(D)1 Dave "Boz" Boswell, PO(D) Ken Smith, Lt Rory Armstrong, AB(D)1 Mark "Humber" Humberstone (now of FDS). Missing are AB(D)1 Luke "Rocky" Halbauer and AB(D)2 Todd "Foxy" Fox.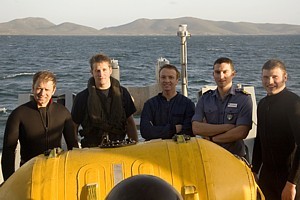 HMS Brocklesby divers with EMLB
Regards,
Rory Armstrong"
---
23 May 09 - More bangs for your Brock
The coverage of HMS Brocklesby's recent activities continues with this article on the Navy News website featuring AB(D)1 Dave "Boz" Boswell.
---
21 May 09 - More bombs for Brocklesby
The Portsmouth News has followed up yesterday's RN website coverage with this article describing how HMS Brocklesby has now disposed of two 500 lb bombs off the Dutch coast.
---
20 May 09 - HMS Brocklesby Disposes of Bomb
The RN website contains this article describing the disposal of a wartime bomb in the North Sea yesterday by HMS Brocklesby.
---
19 May 09 - Project Vernon Summer Draw
"SUMMER DRAW"
RAFFLE TICKETS NOW AVAILABLE FOR SALE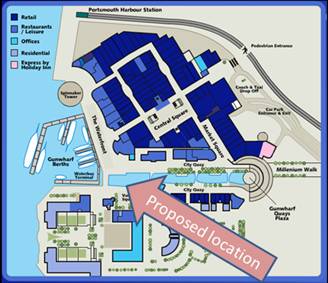 The historic waterside property once occupied by HMS Vernon, in Portsmouth, was the previous alma mater for Mine Warfare & Diving specialists, amongst many who served and were based there over the years. It has since been redeveloped into the successful retail and residential site known as Gunwharf Quays. There is no known other monument in the UK dedicated to the heritage of the Mine Warfare and Diving community, let alone one commemorating the thousands of personnel that trained & worked in HMS Vernon during a period covering most of the 20th century.
Map of Gunwharf Quays
"Artistic Impression"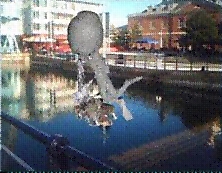 Exercising and operating around the globe, the disposal of mines and underwater explosive ordnance involves one of the more low-profile but most closely-knit and highly-decorated communities in the British Armed Forces. In April 2008 the three related MW and D Associations (MCDOA, AORNFCD and MWA) launched a combined campaign to design, build and install a suitable monument to the Mine Warfare and Diving heritage of HMS Vernon. Full details of Project Vernon can be found online at www.Vernon-Monument.org. The statue's upper section, of a moored mine and a diver, will be made of bronze, with a steel & granite plinth below, supported in five metres of water by a concrete tripod stand. The whole structure will be illuminated at night. All funds will come from voluntary donations.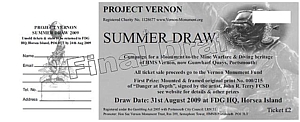 As part of the fundraising campaign to procure this unique monument, raffle tickets, priced £2, are now available for the charity's Summer Draw, with all proceeds going to the Vernon Monument Fund, now a registered Charitable Trust. The First Prize will be a Limited Edition print, copy number 000, the final proof of Danger At Depth, by John R Terry FCSD. Other, supplementary, prizes will be specified on the website.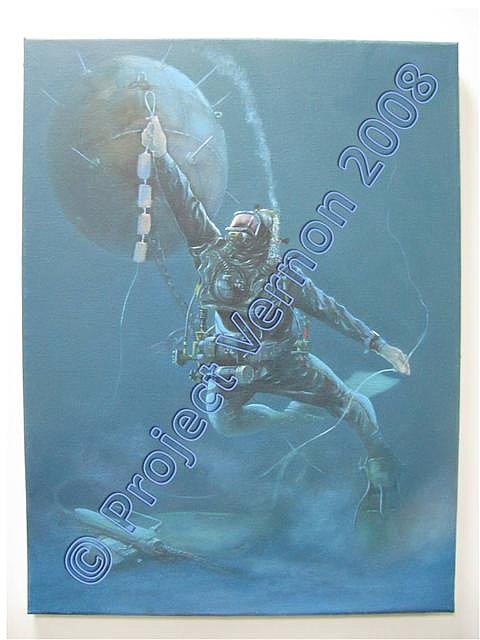 The Vernon Mine Warfare and Diving Monument Trust has commissioned a series of special edition prints of John Terry's original oil painting, now on sale to help raise funds. Available unframed, or mounted & framed, of A3+ size, all signed by the artist, they can be purchased online via the website. Prices include Postage & Packing. Each has a Fine Art Trade Guild quality seal: an excellent choice as a gift for "leavers", relatives & friends.
Full details of this Summer Draw and the Limited Edition prints are available on the Project Vernon website. Registered with Portsmouth City Council, LRN 31, the draw is due to be held on 31st August at FDG HQ, Horsea Island. To buy your Raffle Tickets, your local source is:
Registered as a Charity in England & Wales, Number 1128677
N.B. Project Vernon's next step is to recruit 21 more volunteer Local Draw Promoters, needed to register with the Fund Raising Working Group and sell on batches of draw tickets in their own locality. A significant prize will be awarded to the most successful Local Draw Promoter. Volunteers please contact
---
18 May 09 - Paddy McAlpine assumes Command of HMS Daring
Congratulations to MCDOA member Paddy McAlpine who assumed Command of HMS Daring, the first of the Type 45 destroyers, on 5 May. Coincidentally, the Captain's dining table in HMS Daring was commissioned and presented by one of the ship's afiliated organisations, the Carpenters' Company based at Carpenters' Hall in London where fellow MCDOA member Brian Dutton was the Beadle for several years.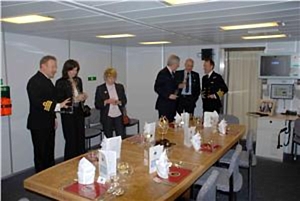 Carpenters' Company table in Paddy McAlpine's
day cabin on board HMS Daring
Brian was recently installed as a Liveryman of the Carpenters' Company and is presenting it with a framed Double Remarque print of 'Danger at Depth'. This is the picture of a diver on a mine, painted by John Terry FCSD to raise funds for Project Vernon, the campaign to erect a monument at Gunwharf Quays in Portsmouth to commemorate the minewarfare and diving heritage of HMS Vernon. Have you ordered your copy yet?
Late News: According to this article on the Liverpool Daily Post website, HMS Daring will visit Merseyside this weekend and be open to the public Saturday 23 and Sunday 24 May from 1300 to 1700.
---
17 May 09 - MCDOA Ladies Night
Once again our busy Honorary Secretary, Tony Griffiths, deserves our congratulations and heartfelt gratitude for organising yet another highly successful event at Hornet Sailing Club in Gosport last night. Attendees included Brian & Audrey Dutton, Tony & Debbie Griffiths, Peter & Kay Hicks, Rob & Linda Hoole, Paul & Yvonne Jones, Martin & Fiona Mackey, Ralph & Liz Mavin, Chris & Christine Meatyard, Ian & Elma Morton and Les & Helen Rutherford. Our thanks also go to Maîtresse d'Hôtel Amy Pyne and Chef de Cuisine Lisa McLean who, together with their attentive staff, provided such a delicious meal and impeccable service.
Ladies Night attendees enjoy good food in the company of good friends
Coincidentally, MCDOA member Jason Poole was also dining in the club with his wife Alison, their 15-month old twin girls and Jason's parents.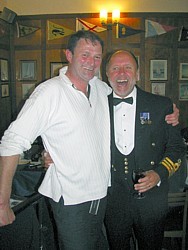 Jason Poole and Paul Jones
These MCDOA functions provide a wonderful opportunity to renew old friendships and make new ones. They don't cost an arm and a leg but they do need your support if they are to continue. Don't be shy in coming forward.
---
14 May 09 - MCD Promotions to Commander
I am grateful to MCDOA member Phil Ireland for advising me that the following MCD officers have been selected for promotion to Commander according to the signal released today:
A/Cdr Graham Landrock (SACT Brussels)
Lt Cdr Roger Readwin (XO HMS Monmouth)
Warm congratulations to both worthy individuals.
---
13 May 09 - News from HMS Penzance
I am grateful to Lt Pete Evans RN, the Navigating Officer of HMS Penzance, for providing this update:
HMS PENZANCE April to May
HMS PENANCE was taken on by a new crew (formerly the crew of HMS PEMBROKE) in March and spent March and most of April alongside Faslane undergoing maintenance. Following considerable effort by the ME department, the ship completed her maintenance period and conducted a number of port visits in support of Royal Navy In the Public Eye (RNIPE).
Her first port of call was to Fort William which, because it is not a common stop for the Royal Navy, was highly anticipated by the crew. The ship made two day trips out into Loch Linnhe and demonstrated her weapons, operating procedures and her unique manoeuvrability to groups from the local sea cadet force and schools. The ship also hosted Commodore Charles Stevenson Royal Navy, the Naval Regional Officer for Scotland and Northern Ireland.
Just one day later HMS PENZANCE called into the small fishing community of Kinlochbervie and was proud to be the first ship of MCM1 squadron to visit.
Strong winds made the narrow entrance somewhat 'interesting'. Once alongside the ship hosted a number of visits from local school children and was also open to the general public over the weekend. The Ship's Company took advantage of the excellent hospitality extended by the local community and amongst other things the Ship's football team played the local side and some of the Ship's company were taken to some local surf spots, on some of the UK's most remote beaches.
The visit proved highly successful and all was well until the passage across the North Sea to Hamburg. Despite relatively light wind speeds a heavy residual beam-on swell and a slow top speed made an uncomfortable four day passage.
Nevertheless, PENZANCE arrived safely at the mouth of the Elbe and then began a 9-hour passage upriver in company with some 13 other warships from around Europe. The visit coincided with the Port of Hamburg's 820th birthday and a whole host of ships from 7 different countries took part in a two-day river festival. During the starting procession along the Elbe, it was heartening to see that PENZANCE was swamped by speedboats, yachts and tour boats, more so even than the flagship, FGS HAMBURG!
Following her visit to Hamburg, PENZANCE will make a brief stop in Portsmouth in order to conduct defect rectification and will then commence a period of Operational Tasking in UK waters.
---
12 May 09 - Armed Forces launch new Action Toys
RN Clearance Divers and a Royal Marine display new action figures
(RN website photos)
Okay, own up. Who modelled for the new RN Diver 'Action Toy' with his SABA switched to bail-out? See this article on the RN website and watch the action-packed video here.
Buy your own miniature RN diver for £19.99 via the Argos website here. Ideal for getting in your minutes by proxy, clearing blocked sinks, conducting bottom searches on bathtub ships, cleaning fish ponds and aquariums or rendering safe fireworks on Bonfire Night.
HM Armed Forces Royal Navy Diver - Details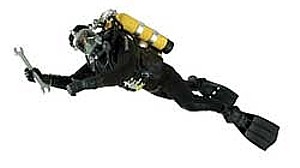 * The detail is stunning and the likeness to the real life Royal Navy Diver is amazing.
* This fully articulated action figure is kitted out with a realistic fabric diving suit, breathing apparatus and has a large spanner enabling you to carry out your own underwear (sic) missions!
* In full detail, this figure has poseable fins, a removable shallow-water face mask and air tanks.
* The Royal Navy's Divers are a very highly trained group of men who have been specially selected to carry out specific tasks both underwater and on land for the United Kingdom's fleet of warships wherever they are operating.
* Clearance divers have to be able to operate in all seas and to work in all conditions.
* They are trained to dispose of sea mines and bombs by blowing them up or defusing them to clear the way for ships to pass safely.
* All divers are trained in the use of personal side arms.
* Using a wide variety of equipment and capable of underwater engineering, search and rescue and salvage tasks RN divers deliver a crucial operational capability to the Commander in Chief of the Royal Navy.
* For ages 5 years and over.
---
11 May 09 - RAN CD Paul de Gelder back in the swim
According to this article on the Australian 9 News website, RAN clearance diver Paul de Gelder, who lost a hand and a leg in a Sydney Harbour shark attack on 11 February, is back diving and walking and says he wants to return to work at the scene of the attack (see entries for 26 Feb 09 in 'News Archive 25'). Be sure to watch the video of this amazing guy here.
Paul de Gelder swimming with nurse sharks
---
8 May 09 - Dave Ince hands over in Afghanistan
According to the 'Bubblies Bugle' on the RAN Clearance Divers' Association website, former RN MCDO and MCDOA Treasurer Dave Ince, who transferred to the RAN in early 2007, has handed over to his relief in Kabul: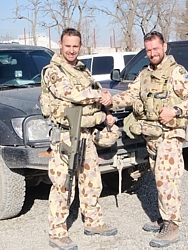 Lt Cdr Doug Griffiths RAN (left) and Lt Cdr David Ince RAN
handing over in Kabul
"Lt Cdr Griffiths is currently serving in Afghanistan as the Chief Exploitation Officer to the Counter-IED Branch at HQISAF in Kabul. Doug is the third MCDO in the position (Russ Crawford was the first). It's not often that two MCDOs will hand over a tri-service rotational operational billet in a land-locked country."
Incidentally, many MCDOA members will remember Russ Crawford from when he served on exchange in the Minewarfare section at HMS Vernon during the late 1980s. His son Jonathon is an AB Diver in the RAN.
Here is a photo of Dave Ince with fellow MCDOA member Mark Durkin (still RN) in Afghanistan earlier this year: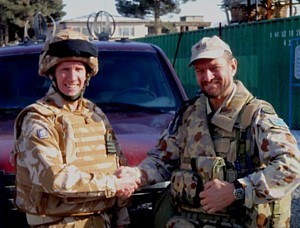 Mark Durkin and Dave Ince in Afghanistan
---
7 May 09 - Volunteers needed to help at Horsea Island barbecue
Soapy Watson, our erstwhile MCDOA Hon Treasurer and Membership Secretary, has issued this appeal for help at the joint-MCDOA, AORNFCD and MWA barbecue at Horsea Island next month:
"Ladies, Gentlemen,
The Summer barbecue on 13 June 1500-2100 (sleep over facilities) will be an open invite to all at the Island. We have permission to camp out overnight so it will be great fun for the kids.
I need assistance with this evolution as I will be on the CDLSE trial. Please would you mind helping me out with this event? I would like to employ:
1 x Marquee manager
1 x Beer and wines manager
1 x Barbecue manager
1 x Tombola Manager
1 x Horse Racing Manager
1 x 'Tickets at the door' manager
1 x 'Looking after the live band' manager
It is a family affair and should be good fun. Tickets are available from me and forms for the event and timings are on the websites. Forms and cheques to me please!
Please advertise and encourage all as much as you can. We are trying to raise money for Project Vernon, the planned monument at Gunwharf Quays to commemorate the minewarfare and diving heritage of HMS Vernon.
Kind Regards,
Soapy"
I've already volunteered to run the Horse Racing. Come on guys, don't keep leaving it to 'someone else'. He's overworked enough as it is. If you can help, contact Soapy via this e-mail address.
---
6 May 09
Project Vernon raffle tickets - Volunteer sellers required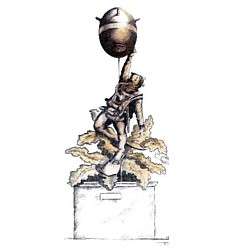 The Organising Management Committee (OMC) of Project Vernon is organising a raffle to raise funds for the monument. First prize will be print No.000 of the painting 'Danger at Depth' by John Terry FCDS. The raffle tickets will be delivered within the next 10 days and will be on sale as quickly as they can be distributed. If you would like the chance to win print No.000 of 'Defence at Depth', I will gladly sell you tickets. They will cost £2 each or £10 will buy you a book of 5 tickets. All proceeds will go towards the monument. Watch this space for when tickets actually go on sale.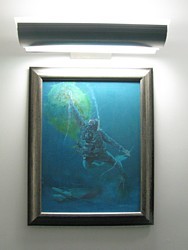 Original painting of 'Danger at Depth' currently
hanging in Gunwharf Quays management centre
Any help in selling the tickets would be appreciated as we would like to spread the message about Project Vernon across the country to all those who were involved in minewarfare or diving at HMS Vernon. If you would like some books to sell, please let me know via my webmaster e-mail address.
---
MCDOA Ladies Night - Final Reminder
This is a final reminder for this year's MCDOA Ladies Night at Hornet Sailing Club, Gosport on Saturday 16 May as applications (available for download via the 'Upcoming Events' page in the Members Area) have to be with Tony Griffiths by Mon 11 May. Please come and give this convivial gathering your warm support.
---
5 May 09 - News from HMS Ramsey
Once again, I am grateful to Lt Marc Taylor, the Navigating Officer of HMS Ramsey, for providing this update:
HOME AT LAST!
After over two and a half years away from her base port and over seven months away from home for her current Ship's Company, HMS RAMSEY finally returned home to the Clyde and Faslane Naval Base in March. Nearly two hundred family and friends lined the jetty to see RAMSEY and her sister ship, HMS BLYTH come home, a turn out which was hugely appreciated by the Ships. It was an emotional return, particularly for those with young children. POET(ME) Daly was reunited with his son, now eight months old. As the crowds dispersed and the Neptune Volunteer Band marched off, Ramsey's Ship's Company were looking forward to some well deserved leave.
On the way home, RAMSEY and BLYTH had an eventful passage from Oporto De Leixoes in Portugal, despite the fact that they had delayed sailing by 24 hours due to adverse weather conditions. The ships battled through the Bay of Biscay where they encountered 50 knot winds and finally managed to get into the Irish Sea where the sea state and wind abated.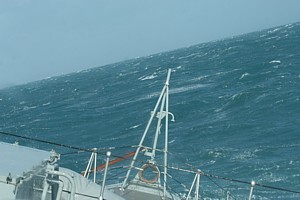 HMS Ramsey in Bay of Biscay
In contrast, the weather was glorious as RAMSEY sailed into her base port, with beautiful blue skies welcoming her back into the Gareloch. Her return also generated significant media interest and 16 members of the press were embarked for the transit into Faslane. As the Sandown Class Mine Hunter berthed alongside and secured it was clear that the Telic MCMV deployment had finally come to an end for HMS RAMSEY after over two and half years in the Gulf.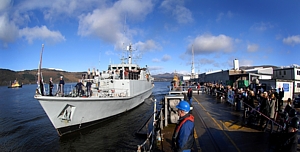 HMS Ramsey berths at Faslane 10 Mar 09
As Ramsey's sailors returned to Faslane after a much needed leave period, it wasn't long before one in particular was heading home again. Lt Cdr Nick Borbone RN, the Commanding Officer, was moving on and handed Command over to Lt Cdr Sarah West RN. After joining Lt Cdr West commented that Command of any warship is a great privilege and that she was particularly delighted to have been appointed to HMS RAMSEY. She continued that she was already impressed by the enthusiasm and professionalism of the Ship's Company and looked forward to the future Ship's Programme.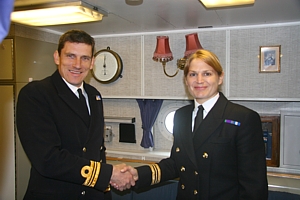 Supersession of HMS Ramsey's
Commanding Officer
HMS RAMSEY is now in the middle of a maintenance period before going to sea in May which will incorporate a visit to the Isle of Man and her home town of Ramsey.
---
4 May 09 - HMS Bronington in extremely poor condition
HMS Bronington was purchased in January 1989 by the Bronington Trust, a registered charity whose patron, HRH The Prince of Wales, commanded her in 1976. For some time, the ship was berthed in the historic Manchester Ship Canal at Trafford Park, Greater Manchester. In 2002, she became part of the collection of the Warship Preservation Trust berthed at Birkenhead. Since the closure of the Warship Preservation Trust on 5 February 2006 owing to the redevelopment of the adjacent Grade II listed former flour milling warehouses, she has remained at Vittoria Dock, Birkenhead in the custody of the Mersey Docks and Harbour Company. The second video below is a particularly poignant 'before and after' illustration of her deterioration during this period.
Peter Emery, the Director of Gunwharf Quays and a staunch supporter of Project Vernon, has just posted this message on the Ton Class Association's website forum:
"I visited HMS Bronington in April 2009 with a view to investigating her condition with the possibility of offering her a berth at Gunwharf Quays as a visitor attraction, cadet training ship, use for the TCA - basically to 'bring her home'.
I was truly saddened to see her current unloved condition. I have shot and edited a couple of home videos and posted them on You Tube. I was hopeful that you may be kind enough to post the following links on your website, with the last hope that someone will show some interest and possibly offer a way out from the breakers, which the local council now say is imminent.
If nothing else, I hope that your members will at least have a chance to see her before her fate is sealed.
Her condition is criminal and quite frankly 'official vandalism'. How can this happen to a ship registered as having National Interest?"
There is little I can add to Peter's impassioned plea.
---
1 May 09
Navy News items
The May e-edition of Navy News contains the following items of MCD interest:
---
MWA Monthly Dit Session
Last night's monthly 'Dit Session' of Portsmouth-based members of the Minewarfare Association (MWA) was held at The George on top of Portsdown Hill in Widley. Several dits were spun and the world was put to rights yet again. Dit sessions are held at different venues on the last Thursday of each month.
Left: Taff Owen, Pony Moore, Bomber Mills, Dixie Dean, Taff Reader, Rob Hoole and Peter Whitehead
Right: MWA Dit Session in full swing - you work it out
The MWA is open to all MW qualified ranks and rates including MCDOs and MWOs. Membership costs £12 per year and application forms are available for download here.
---
A Sobering Tale
MCDOA member John Bevan has drawn my attention to this article on the US Navy Times website which describes the deaths of two US Coast Guard divers in particularly harrowing circumstances.
---
30 Apr 09 - Bill Filer pushes the boat out
The picture below shows a convivial gathering yesterday at Lee-on-the-Solent Tennis Club where Honorary MCDOA life member 'Uncle Bill' Filer GM MBE, now in his 92nd year, is a regular in the clubhouse. He had invited ex-CD1 Hoppy Hopewell BEM (his old colleague at the Deep Trials Unit at Alverstoke which Bill ran for many years) together with ex-CD1 Willie Wilkes and his partner Maureen, Claire Harris (daughter of the late MCDOA member Jackie Warner OBE(Civil) MBE(Mil) DSC who also founded the HSE Diving Inspectorate when it was part of the Dept of Energy's Petroleum Production division) and Yours Truly to join him for lunch.
Left to right: Bill Filer, Hoppy Hopewell, Claire Harris,
Rob Hoole, Maureen, and Willie Wilkes
This was a truly delightful occasion and I am most grateful to Bill for allowing me to share it.
---
29 Apr 09 - Memorial to sailors who kept seas free of mines
Minesweeping trawler with Kango 'SA' acoustic hammer in raised position over bow
The Worcester Journal website contains this article describing how Pershore members of the Royal Naval Minesweepers Association have helped raise £7,000 to fund a memorial dedicated to the Royal Naval Patrol Service (RNPS) at the National Memorial Arboretum in Staffordshire. The memorial's official dedication will take place at 1100 on Sunday 23 August, the 70th anniversary of the creation of the RNPS.
Batch 2 British Yard Minesweeper (BYMS)
---
28 Apr 09 - News from HMS Pembroke
Lt Roger Skelley RN, the Navigating Officer of HMS Pembroke, has kindly sent this update:
HMS PEMBROKE - OPERATION TELIC MARCH/APRIL 2009
HMS PEMBROKE arrived in Mina Salman Port, Bahrain on 25th January after a four month transit from the UK. A crew rotation in late February means a new crew, previously from HMS PENZANCE, led by Lt Cdr Antony Crabb RN, is now on board. Since arriving in theatre we have had a busy programme starting with a short period of sea training whilst en route to Abu Dhabi, capital of the United Arab Emirates. We then conducted some operational tasking whilst transiting back to Bahrain.
Over the past two weeks we have been operating in the Northern Arabian Gulf where we've been assisting with the training of the Iraqi Navy in company with HMS CHIDDINGFOLD. On completion of the training we had a brief stopover in Um Qasr, southern Iraq and have recently arrived back alongside in Bahrain. We now start a short maintenance period before continuing operations in early May.
---
27 Apr 09 - HMS Quorn pays home town visit to Ipswich
MCDOA member David Hunkin, Commander Second MCM Squadron (2MCM), is continuing his successful campaign to raise public awareness of mine countermeasures (MCM), particularly in his home territory of East Anglia (see third entry for 17 Apr 09). He has just drawn my attention to the following well-illustrated article on the Ipswich Star website describing a visit by HMS Quorn to her affiliated town:
Gallery: Warship sails into Ipswich
Late News: The Portsmouth News followed up with this article on 28 April.
---
26 Apr 09 - A trip down Memory Lane
More senior members of the Branch may identify with this e-mail received yesterday:
"Hi there,
I came across your site while trying to locate some old navy oppos. I don't think I will be eligible to become a member but thought you might be able to help me get in touch with people I might know.
My name is John Mackins, ex-AB UW2 free diver (always highly recommended for CD but I declined as it would have meant me signing on). Between 1961 and 1963, I served in HMS Ausonia [repair ship] at Lazzareto Creek, Malta under Lt Joe Scurr (TASO & Diving Officer). My job was looking after the torpedo warhead magazine, demolition magazines containing the submarine scuttling charges, pyrotechnic lockers and noise ranging equipment which we often took out to sea on the diving launch to range submarines and minesweepers. On one occasion, a team from AUWE [Admiralty Underwater Weapons Establishment] came out from the UK with underwater cameras which we tested for them. Most of the time I was part and parcel of the diving store, maintaining the diving gear and diving as required under CPO 'Birdie' Crane and, later, CPO Dutchy Holland. I was the main instigator of spear-fishing trips down to Zonker Point, etc.
After returning HMS Ausonia to the UK for scrapping, I joined HMS Maidstone at Faslane, serving my last two years very happily on the Fleet Diving Tender 'Yoyo' [FDT Ironbridge] as part of a six-man diving team of free divers. I started off with a really nice old Chief Diver with grey hair. His name was Fawcet and he had previously been in Singapore. When he left Yoyo, he retired from the Navy and I believe he went to Simonstown, South Africa to take up a position as the South African Navy's senior bomb & mine disposal officer based at their diving school. He was replaced by CPO Jack Semple who proved to be another very good boss.
Our lives continued to remain very happy on board Yoyo. Our overall boss, based in HMS Maidstone, was Lt Cdr [Frank] Spragg, a very good and enthusiastic man. He permitted our team of free divers to do all kinds of things not normally allowed, one of them being night attacks. He was relieved in turn by Lt Tony Shepherd. When Tony left the Navy he set up in business as "West Highland Shellfish & Diving". I worked with him for a short time from a remote farmhouse near Ardfern, Argyle. Jack Dodds, another ex-CD, dived with us for clams and we lifted a boat that had sunk in the Crinan Canal.
About the time I stepped out into Civvy Street, early in 1966, the base was getting its own CD Team and Tony became part of that. During my two years in Yoyo, we did several submarine screw changes, inspected the bottoms of a few nuclear and conventional submarines, cleaned lots of intake filters and carried out a few underwater attacks at night on submarines at Arrochar. We recovered crashed Buccaneer aircraft parts from Luce Bay and located wire-guided torpedoes off Arran for a recovery vessel. We also conducted wreck surveys for the Admiralty Hydrographic Department, assisted AUWE set up experiments in Loch Long, fitted elm fender strips to the new jetties being constructed and gathered lots of scallops off Rothesay, Bute where we spent many a happy weekend. Our pubs were the Grapes and the Victoria and the local girls were very nice and very friendly. Among my shipmates on Yoyo were: Sharkey Ward (Newcastle); Brum Manning (Birmingham); Micheal Le Curio; and Brum Logan (Birmingham). Unfortunately, I cannot recall the other names.
Over the years in my commercial diving career, I worked with a number of CDs including Jock Waddle, Jack Dodds, Billy Mcevoy, Tony Shepherd, Eric Sykes, Johnboy Walton, Mo Morrison, Bungy Williams (Folkestone) plus others whose names elude me. Bungy was in my first ship in the Navy, HMS Bastion in 1955-6. I understand that he was an orphan and went on to become a Chief Diver. After I left the Navy, I spent about 30 years as a civil engineering diver, mainly as supervisor but insisting throughout on doing my time in the water every day. Some of my projects included: the burial of cross-channel power cable inshore ends from Folkestone and from Sangatte near Calais; the new deep water harbour at Peterhead, Scotland; a new jetty at Sandwick oil supply base, Shetland; a new harbour at St Helier, Jersey; a new fishing harbour in Qatar, Persian Gulf; and the new harbour and breakwater at Port Jubail, Saudi Arabia, also in the Gulf. On this job we had 25 divers on site at any one time, with others at home on their month off. We worked three months on and one month off. I also worked in Jeddah, Saudi Arabia in the Red Sea building intakes and outfalls for a new power station de-salination plant and for the Scottish Hydro Board, working on dams and power cables all around the Scottish coast. Other jobs included: a 1/4 mile road section at the pass of Brander, Loch Awe; pipelines all around the Scottish coast; a sewage outfall at Leith; new fender systems on many jetties; Admiralty jetty inspections on the Clyde and the Forth; concrete oil platform construction at Kishorn, for Howard Doris, building the Ninian central platform, (I believe the largest floating structure in the world at the time.) Also concrete platform construction at Ardoyne Point on the Clyde for McAlpine and the French Sea Tank Company including, among others, the Shell Brent "C".
I was diving almost every day of my civil engineering diving career of 30 years, on so many jobs, that I cannot record them all here. In all that time diving, I never contracted the bends and my health still seems to be in great shape, unlike most of the guys I worked with over the years who have passed on or have bad health problems. They all put this down to the fact that I never did any mixed gas diving. When I got a bit too old for the diving game (I didn't want to play if I could not be active in the water), I went to welding, fabricating & erecting, finally retiring when I was 69.
I am now 72 and live in Thanet, Kent. I keep myself very happy and active and fish fixed nets, catching lots of bass, Dover sole, mackerel, grey mullet, etc. I also buy, refurbish and sell old hand tools on a stool at car boot fairs. This helps pay for the running of my car and holidays abroad each year. In 2007 I spent a month off the tourist track, travelling in China with my brother who works at a university in Wuhan. On our travels, we visited the homes of his ex-students, a great experience, and something you cannot buy. I usually spend a couple of weeks walking the coast of Malta in the winter where I still have friends from my navy days. I am now walking with dignity towards the exit sign, but hope I have a few years left before I arrive. I feel that my chances for that are pretty good as I eat a very healthy diet, am physically very active, and take no prescribed drugs at all.
If you are not able to post this on your site, then perhaps you could connect me to some of the people I have mentioned here.
Thanking you in anticipation,
John Mackins"
Please send any feedback via my webmaster address.
---
25 Apr 09
Busy week for SDU2
The Portsmouth News website contains this article describing how Portsmouth-based Southern Diving Unit 2 (SDU2) has been kept busy recently.
---
Talk by Chris Hunter on 29 April
John Pressagh of The London Flotilla has informed me that our members will be welcome to attend the following talk by Maj Chris Hunter RLC, the author of Eight Lives Down:
Eight Lives Down – Bomb Disposal in Iraq
Talk by Major Chris Hunter, Royal Logistics Corps
Wednesday 29th April 2009
The Naval Club, 38 Hill Street, Mayfair, London
Meet in bar from 1730. Talk to begin at 1800
Chris Hunter joined the Army in 1989 aged sixteen and served for seventeen years. Commissioned from Sandhurst at twenty-one, he later qualified as a counter-terrorist bomb disposal operator. He served with a number of specialist counter-terrorism units and during his career deployed to numerous operational theatres including the Balkans, Northern Ireland, Colombia, Afghanistan and Iraq plus using his specialist knowledge during the July 2005 London bombings. For his actions during his Iraq tour he was awarded the Queen's Gallantry Medal.
Coincidentally, this is the book I managed to finish during my Easter break and I can thoroughly recommend it.
---
RN Diving Heritage - PO Albert Strange
Councillor Irene Strange of Southsea recently contacted the Project Vernon committee requesting information about making a donation towards the planned monument at Gunwharf Quays to commemorate the mine warfare and diving heritage of HMS Vernon. She also provided this information:
".... My late husband Petty Officer Albert Strange was involved in Bomb and Mine disposal along with Lt Cdr [Jackie] Rea, Lt Cdr [Harry] Wardle and Lionel 'Buster' Crabb on Horsea Island 1953 / 1954 onwards. I have photos of Albert and others with some of the wartime mines they disposed of. Also, our daughter was christened in HMS Vernon's ship's bell [more likely the chapel's diving helmet] and we still have the certificate if this should it be of interest. We would wish to be kept informed of progress [with the Project Vernon monument] and be included in the arrangements for the dedication, as and when. I still keep constant contact with Mrs Rea."
Here are some of the photos furnished by Cllr Strange: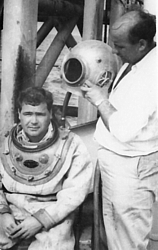 Albert Strange in Standard Diving Dress
(Siebe Gorman 12-bolt helmet)
Albert Strange (far right in second photo) with divers donning
Mine Recovery Suit (MRS) rigged for surface supply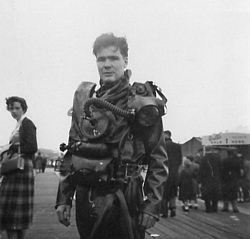 Albert Strange in old-style CDBA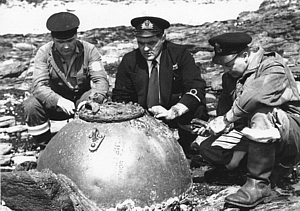 Albert Strange helping Gunner(T) (later Lt Cdr) Stuart Honour
and PO(CD1) Bungy Edwards deal with beached mine
Can anyone name the third man in the last picture?
---
From MCDOA member Mike Gillam:
"Rob,
The POCD1 with Jazz Honour in the photos supplied by Councillor Mrs Irene Strange looks much like Bungy Edwards. He also worked with me on the first NATO CD Course from HMS Defiance - three old hulks and the Nissan huts of Wilcove camp up the hill on the Western side of the Tamar. This was where I first met Jazz Honour when he was the Plymouth B&MDO. We were the only ones living-in. From there many great runs ashore were embarked upon about which many great stories have been told.
Michael"
---
From former CD1 Tom Norman:
"I also think that the PO in the photo is Bungy Edwards (an ex Japanese prisoner of war) who served with me in the Singapore team during 65 and 66. As far as i know he settled in OZ soon afterwards."
---
From former CD1 Leo Whelan:
"Like Tom, I think it is Bungy Williams ex-FECDT 1963-65 but I remember that he left the Service for a long while and rejoined after a spell at Dartmoor as a prison officer. But it does look like him."
---
From Louise Green (Stuart Honour's daughter) in Australia:
Dear Rob,
Thank you so much. The article is of great interest to me. I have printed a copy in full and will keep it with great care in my collection of precious memorabilia which I have collated of my dad, Stuart Honour. It gives me great pleasure to see he is remembered with such great respect and also happy memories of the character he most surely was.
Kind regards,
Louise
---
From David Honour (Stuart Honour's nephew) in South Africa:
Hi Rob,
Thanks for the e-mail and link; certainly an old photo but unmistakable as my uncle.
I am popping over to England in June for my mother's 85th birthday and will be traveling through the Portsmouth area staying for a while in Bournemouth. I still have the letters of my Uncle that I mentioned I would donate to the RN museum. I think you said some time ago that you might be able to assist with this or would like to see them first. If so may be I could meet up with you during my trip?
Regards,
Dave
[By Webmaster: I have agreed to meet with Dave when he comes over to the UK.]
---
24 Apr 09 - Things looking up for Explosion!
According to this article in today's Portsmouth News, the reprieve for Explosion!, the Museum of Naval Firepower at Gosport threatened with closure, has been confirmed (see second entry for 10 Apr 09).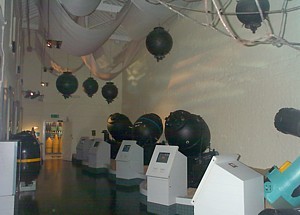 Mining Hall at Explosion!
the Museum of Naval Firepower
---
21 Apr 09 - Combined MCDOA, AORNFCD & MWA Summer BBQ and Social
Horsea Island Barbecue 2008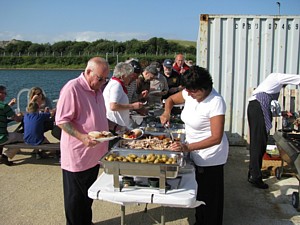 As we move into summer, thoughts turn to heading outdoors to gather with our friends and fellow-Association members to enjoy some fine fare, accompanied by a cool glass of amber nectar. Thankfully the perfect opportunity is again at hand as our Associations stage the annual BBQ and Summer Social on Saturday 13 June at Horsea Island.
The intention is once again to enjoy an informal outdoor family orientated evening which, in addition to a professional 'hog roast' and on-site refreshments, will include live music from MCDOA members Martyn Holloway, Dan Nicholson and The Zodions with an excellent mix of sounds of the '60s and '70s with a few more recent classics thrown in, a tombola, 'treasure hunt', traditional mess horse-racing (for children - big & small), the opportunity for a quick swim in the lake and, of course, the chance to meet-up with old friends and their families. Dress will be casual and there will be a prize for the 'best' cowboy/girl, as judged by the Committee (of good taste). Car parking will be available in the car park adjacent to the Training Area at the Southern end of the lake.
All this for the excellent price of only £10 per head, inclusive of the first drink; so come along, wearing your cowboy/girl dress, and have a great evening. You will also be supporting an excellent cause, with all profits raised on the day going toward the Project Vernon monument (which will include the opportunity to enter into a prize draw to win a limited edition print of 'Danger at Depth', signed by artist John Terry FCSD).
To make sure that you don't miss out on this once a year opportunity, please contact MCDOA Hon Treasurer Richard 'Soapy' Watson (Mil: 938324176/Civ: 02392 224176) at the Defence Diving School for tickets, or return the proforma available for download here by 1200 on Monday 8 June.
---
17 Apr 09
It's catch-up time
The website has not been updated for the past week because Mrs Webmaster and I have been away for an Easter break with friends in a remote part of Wales. Our picture-postcard cottage lacked TV, mobile phone coverage or internet access but I managed to finish the book I've been struggling to read for the past six months. We were surrounded by glorious countryside and a profusion of wildlife including 28 different species of birds logged by our accompanying ornithologist (okay, Frank W?). There were also twice-daily parades of sheep with their new-born lambs past our front gate. On our final morning, one of the three resident Mallards appeared on the pond with her newly hatched brood of 12 ducklings, much to the disgust of the unaccompanied female Mandarin. Our batteries are now suitably recharged for whatever the next few months have to offer.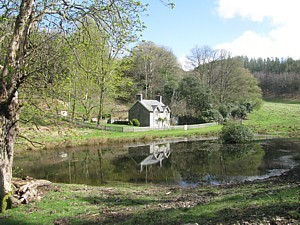 MCDOA Webmaster's Easter hideaway
---
MCDOA website receives its millionth visit
During my absence, the MCDOA website received its millionth visit (including multiple visits by the same persons). It is currently receiving over 14,000 visits per month comprising around 500,000 hits on individual pages, files and images with about 12 gigabytes of data downloaded.
---
Raising the profile of MCM in East Anglia
Commander David Hunkin MSc Royal Navy
(RN website photo)
MCDOA member David Hunkin, Commander Second MCM Squadron, is campaigning to raise the public profile of RN Mine Countermeasures, particularly in his own neck of the woods in East Anglia. He has drawn my attention to the following articles featuring HMS Atherstone and HMS Quorn on the Ipswich Evening Star's website:
Video: Navy life isn't all smooth sailing
Video: On patrol with Suffolk's new naval crew
Video: Life can be tough for a naval officer
---
Latest Project Vernon Newsletter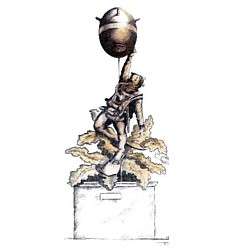 Following a series of meetings of the Project Vernon Organising Management Committee and sub-committees at Gunwharf Quays on 9 April, Newsletter 03 was released. Among other things, it shows a simplified representation of the agreed final design of the almost twice life-size monument to be sculpted by Les Johnson. The base will comprise a pile of 'rocks' and the mine will be fouled on a stainless steel spar protruding from the seabed. The statue will also include a length of sweep wire with a TMk 8 explosive cutter fouled around the spar.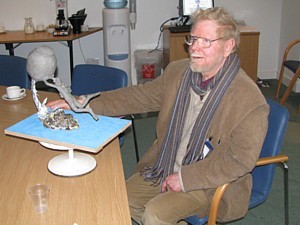 Australian sculptor Les Johnson with simplified maquette
showing agreed final design of Project Vernon statue
The management of Gunwharf Quays has kindly allowed the Project Vernon committees the use of its executive boardrooms and has just given all five of them historic names associated with HMS Vernon, the site's previous occupant. As a token of our gratitude, appropriate framed pictures of HMS Vernon's Main Gate, HMS Warrior and the hulks of Donegal, Warrior and Marlborough have been presented to the senior management. From left to right in the picture below are Mr Sean Sweeney MBE (Operations Manager, Gunwharf Quays Management Ltd), Mr Peter Emery (Centre Director, Gunwharf Quays Management Ltd and a Vice-Patron of Project Vernon), Mr John Terry FCSD (Artist) and MCDOA committee member Frank Ward (Chairman of Trustees and Honorary Secretary for Project Vernon)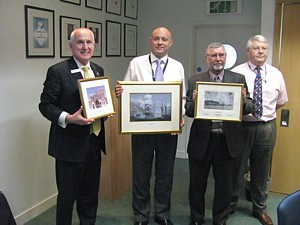 Presentation of 'Vernon' pictures to
management of Gunwharf Quays
The signatories of the Artist's Proofs and Double Remarque versions of the Limited Edition (LE) prints of John Terry's painting 'Danger at Depth' are shown below. From left to right are: former WO(D) Don (Jimmy) Green (Chairman of the Association of RN First Class Divers); MCDOA member Martyn Holloway (Senior Officer of the 11th MCM Squadron for Operation Corporate); Mr John Terry FCSD (Artist of 'Danger at Depth'); Colin Welborn (President of the MCDOA), former WO(D) Terry Settle MBE, QGM, BEM (involved in the Operation Harling recovery of the Red Sea mine); and MCDOA member Brian Dutton DSO, QGM (OIC FCDT 1 for Operation Corporate). WO1(MW) Nat Coles (President of the RN Minewarfare Association) will sign the prints as well but he was unable to attend the formal ceremony owing to personal commitments.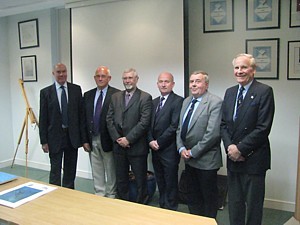 'Danger at Depth' signatories
Information about purchasing LE prints of 'Danger at Depth' is available here on the Project Vernon website. I've ordered mine; have you ordered yours? All proceeds go towards the erection of the monument.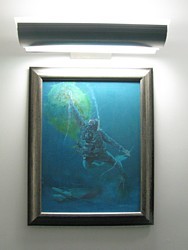 Original painting of 'Danger at Depth' currently
hanging in Gunwharf Quays management centre
---
10 Apr 09
CPO(D) Ian Fleming to run in Project 65
CPO(D) hard at work
Today's Portsmouth News contains this article describing how CPO(D) Ian Fleming of the Defence Diving School (DDS) is planning to follow up his participation in the London Marathon (dressed as a duck) and the Great South Run (in full diving gear). Between 4 and 6 June 2009, he will be the only RN representative running the 65-mile distance overland on the route taken by the gliders involved in the operation to seize Pegasus Bridge at Caen during the Second World War. Funds will be raised for several Service charities under the umbrella of Project 65 and you can sponsor Ian in this worthy cause via this page on the Just Giving website.
---
Reprieve for Explosion! Museum
I am pleased to report that Explosion!, the Museum of Naval Firepower at Priddy's Hard, Gosport (see entry for 28 Feb 09) looks likely to remain open according to this article in today's Portsmouth News. Among those to thank is Councillor Peter Langdon who once served at HMS Vernon as the Establishment Engineer Officer.
---
9 Apr 09 - Lord Mayor of Portsmouth visits DDS
The RN website contains this article describing a recent visit by Councillor Richard Jensen, the Lord Mayor of Portsmouth, to the Defence Diving School (DDS) on Horsea Island.
The current CO of DDS, Lt Col Laurence Williams RE (left),
with the Lord Mayor of Portsmouth
(RN website photo)
---
8 Apr 09 - Project Vernon statue receives another boost
Former WO(MW) Dixie Dean, Head of Communications for Project Vernon, the planned erection of a statue at Gunwharf Quays to commemorate the mine warfare and diving heritage of HMS Vernon, has drawn my attention to this article in today's Portsmouth News describing how the project has achieved another milestone by being granted official charity status. The article features Dixie, MCDOA member Dave Carey (Project Manager), WO(MW) Cris Applegarth (MW Branch Champion) and Yours Truly.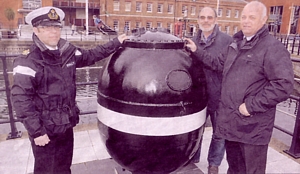 Cris Applegarth, Rob Hoole and Robert
'Dixie' Dean at Gunwharf Quays
(Portsmouth News photo)
---
7 Apr 09 - HMS Kellington in dire straits
The Ton Class minehunter, ex-HMS Kellington, is still afloat after 53 years and can be found on the River Tees as the Stockton Sea Cadet Unit's headquarters and training ship, TS Kellington. Those having connections with her will be saddened to hear the following news received yesterday from Cdre John Madgwick OBE RN, the Naval Regional Commander Northern England:
"Breaking news……a swift update on KELLINGTON – it would appear that vandals have been onboard over the weekend and attempted to remove the starboard condenser. In the process they breached the hull and there has been significant flooding. The ship is listing heavily to starboard, against the wall, and is markedly lower in the water. It is not clear if she has further to settle yet. An initial damage assessment was completed by Able UK and Stockton Council. They are in the process of placing a boom around the ship to trap any bilge water – and also to cordon off the riverside next to the ship to protect the public. Draught marks are being monitored.
It's too early yet to offer any clear idea of a way ahead – or who can commit what! Will keep you posted……
John Madgwick"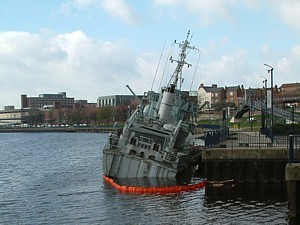 TS Kellington 7 April 2009
I have received this follow-up today:
"Overnight the hulk has continued to flood and the state of the vessel has deteriorated. See attached picture. An emergency meeting today has decided:
Environment Agency/British Waterways/Able UK are taking immediate actions, advised by MOD Salmo, to stabilise the vessel. This will include on site (human) security provided by Stockton Borough Council.

Demolition work, previously awaiting due process of statutory legislation, will now commence Tues 14 April – but clearly immediate progress will be dependent on stabilisation work. This will then run until the vessel is fully dismantled. Demolition contractor is Able UK.
There is local press interest that is being coordinated by Stockton BC. There is a plethora of contracts activity to take place between Stockton BC, MSSC and Able UK but further discussion will take place as work is occurring, and not precede it. The key is stabilisation over the next 24-48 hours.
John Madgwick"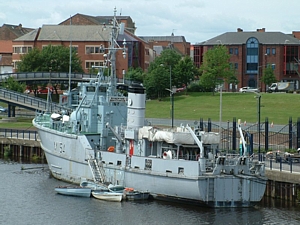 TS Kellington in happier times
---
1 Apr 09 - Navy News items
The April e-edition of Navy News contains the following items of MCD interest:
---