---
28 Dec 17 - SNMCMG2 flagship in dry dock in Malta
I am grateful to local photographer Anthony Vella for allowing me to publish these images of the survey ship HMS Enterprise arriving in Malta on 21 December. The second and third photos show her sister ship HMS Echo in the background.
HMS Enterprise has been acting as the flagship of MCDOA member Justin Hains in his role as Commander Standing NATO Mine Countermeasures Group 2 (SNMCMG2) (see entry for 26 Nov 17). The ship is currently in Palumbo Shipyard's No.5 Dock in Grand Harbour, Valletta.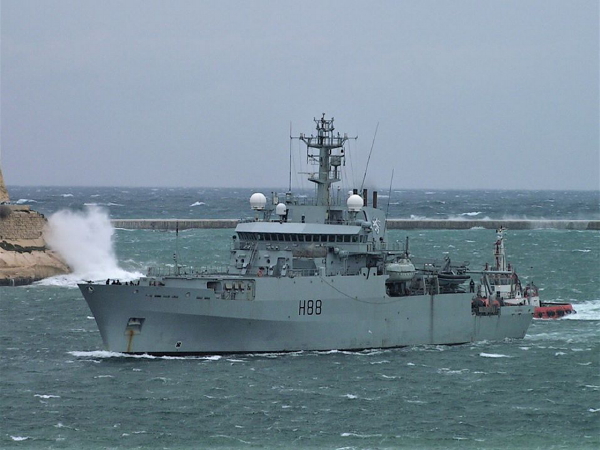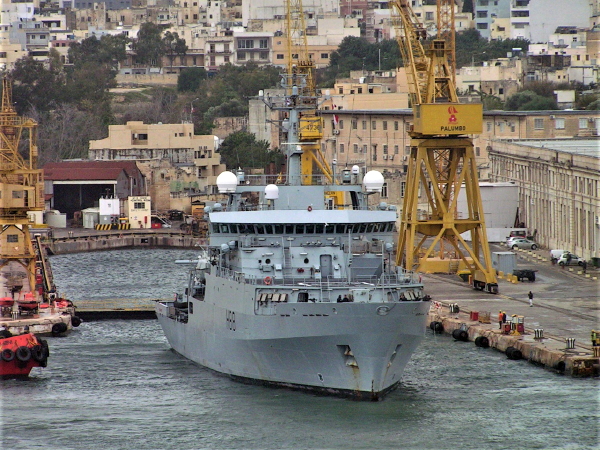 ---
25 Dec 17 - Merry Christmas and a Happy New Year
Merry Christmas and a Happy New Year to all our followers, particularly those separated from their loved ones over the festive season including our ships and other forces currently deployed in the Gulf on Operation KIPION.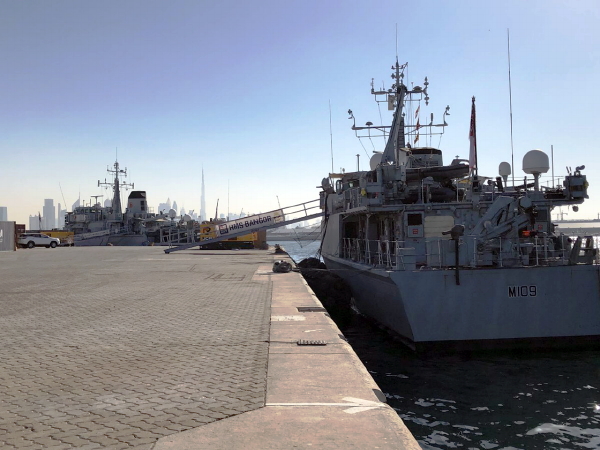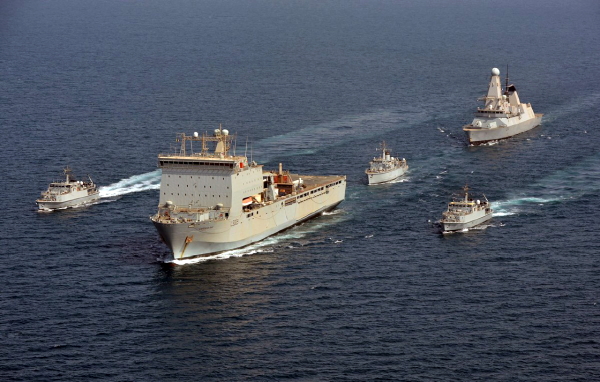 ---
24 Dec 17 - Paul Jones visits HMS Queen Elizabeth
MCDOA past-Chairman Paul Jones has been visiting the UK from Cyprus over Christmas and took the opportunity to look over HMS Queen Elizabeth thanks to MCDOA member Bob Hawkins (QNLZ's First Lt) and Trish Chatfield (QNLZ's OOD on the day).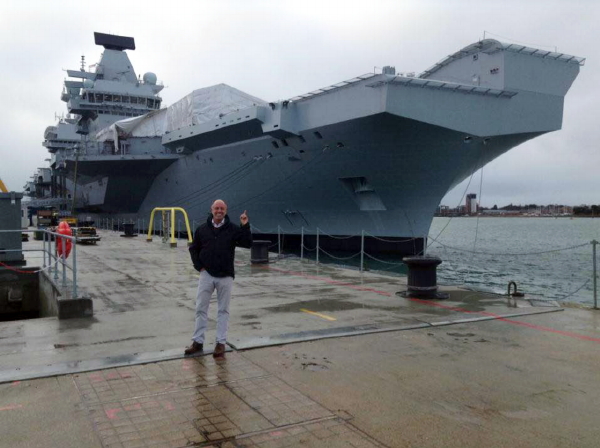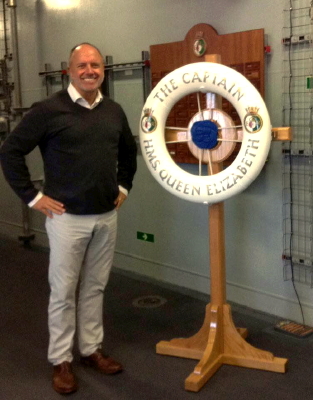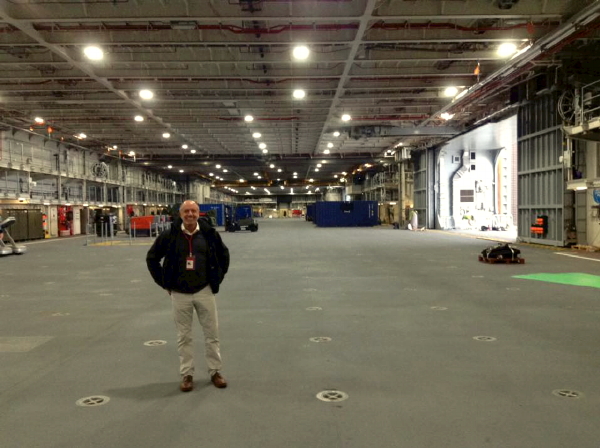 ---
23 Dec 17 - Yule the Waves greetings from ships in the Gulf
The following Facebook videos contain seasonal greetings from MCMVs deployed in the Gulf on Operation KIPION:
Merry Christmas from HMS Ledbury (MCM2 Crew 7)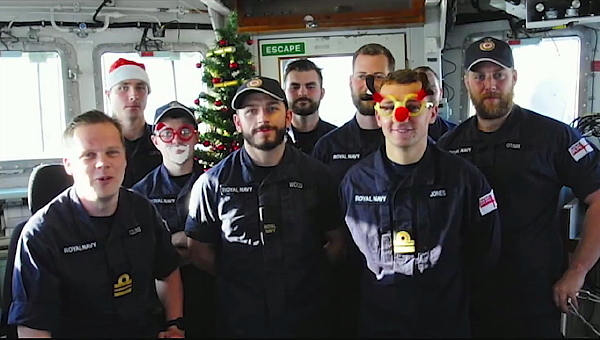 HMS Middleton Christmas Messages (MCM2 Crew 4)
HMS Bangor Christmas Messages (MCM1 Crew 6)
---
22 Dec 17 - Forthcoming resurrection of HMS Jufair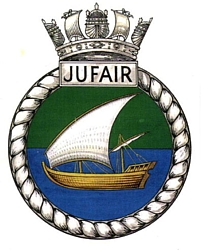 The Royal Navy website contains this article describing the final preparations for the re-commissioning of HMS Jufair as an RN base at Mina Salman in Bahrain (see entry for 14 Nov 16 in News Archive 56).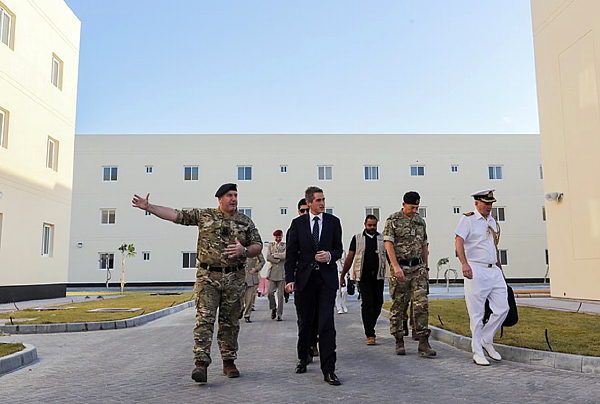 Cdre Steve Dainton CBE (Deputy Commander Combined Maritime Forces (DCCMF) and
Commander United Kingdom Maritime Component Command (UKMCC)) showing Defence
Secretary Gavin Williamson around HMS Jufair's accommodation and welfare buildings
The original HMS Jufair was commissioned at Bahrain on 1 January 1943 as the base of the Senior Naval Officer Persian Gulf until paying off on 31 August 1946. SNO Persian Gulf was then embarked in the sloop HMS Wild Goose until moving back ashore on 30 August 1950. HMS Jufair, the new shore base, was in commission from 7 November 1955 until 15 December 1971 and was home to the 9th MSS (Minesweeping Squadron) from April 1963 to October 1971. The site has since been home to the US Navy's Central Command (CENTCOM).
---
21 Dec 17 - Neil Marriott receives LS&GC
Congratulations to MCDOA member Neil Marriott who has been presented with his Long Service & Good Conduct medal and clasp at the Canadian War Museum in Ottawa by Lt Gen Alain J. Parent CMM CD MSS, Vice Chief of the Canadian Defence Staff.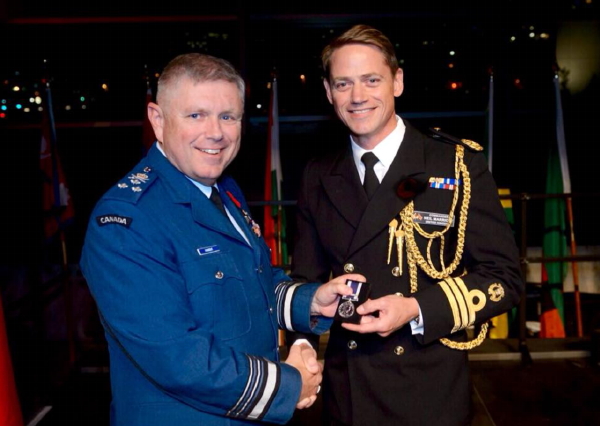 Neil is currently serving in Ottawa as the British Naval Attaché.
---
20 Dec 17 - HMS Ramsey awarded MCMV Fleet Effectiveness Trophy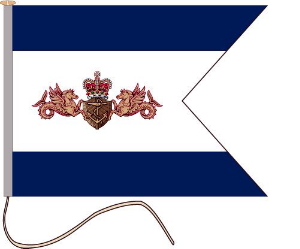 Congratulations to HMS Ramsey (MCM1 Crew 1) on being awarded the the MCMV Fleet Effectivness Trophy for 2017 in recognition of her hard work and extensive time deployed away from home.
---
19 Dec 17 - RN Diving Heritage: Disposal of Herman bomb in Malta
I am grateful to former FCPO(D) Dave 'Mona' Lott BEM in Australia for this message:
"G'day Rob, my honourable webmaster,
Rob, I was hunting among some of my old paperwork and came across the attached photos of the German 'Herman' bomb that the Med Fleet Clearance Diving Team recovered from the torpedo jetty 25th May 1960. This is the bomb that we had trouble disposing of (see pages 86/87) of my scribbling's in "A Corkheads's Chronicle". You can clearly see the steel bars that bent under the weight of the bomb. Also depicted in the photo are Lt Jackie Rea, in his best suit minus jacket (improperly dressed), CPO Ernie Foggin CD1, L/Sea Ron Hartshorn, and ABs Chris Jones (with unlit cigarette) and Peter Power (top of head). I was the team's photographer armed with a "Pussers" Leica Camera and therefore do not appear.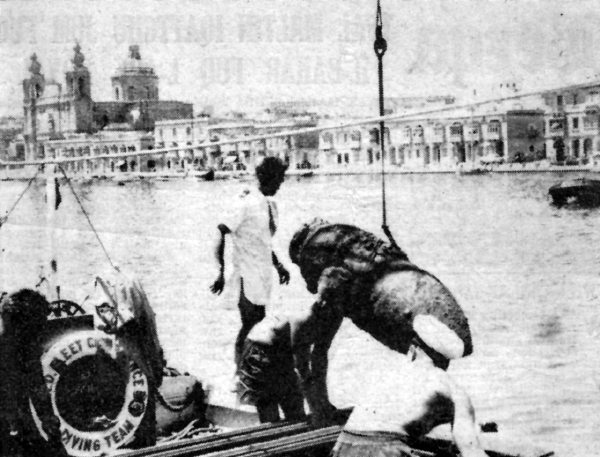 This may, or may not be, worth space on your website however it was unusual for us to go more than a day without dealing with wartime explosives.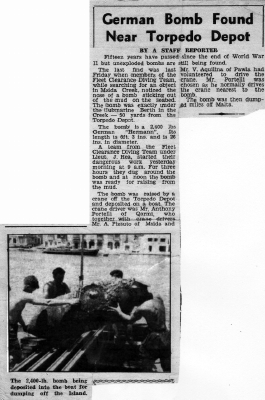 Sadly with the passing of time there are only a couple from those times in the Med Fleet Clearance Diving team from those days that are still around to view the photos.
Sincere regards and have a Happy Christmas and and a Good New Year. Many thanks for your website. It often revives pleasant old memories of a great branch of which I am proud to have been a member.
Dave L (Mona)
Eden, NSW, Au."
Copies of Dave's book are available via Amazon here:
A Corkhead's Chronicle: Experiences of a Royal Navy Clearance Diver 1955 - 76
---
18 Dec 17 - MCM2 Crew 3 takes over HMS Brocklesby
MCM2 Crew 3 has taken over HMS Brocklesby from MCM2 Crew 2 (commanded by MCDOA member Daniel "Doc" Morris) at Portsmouth and is preparing to deploy to the Gulf in 2018.
---
17 Dec 17 - Jason White visits Japan
The Royal Navy website contains this article describing a recent visit by MCDOA member Jason White QGM, CO of the Portsmouth-based Fleet Diving Group (FDG), to Japan to join the Maritime Self Defence Force on a minewarfare exercise.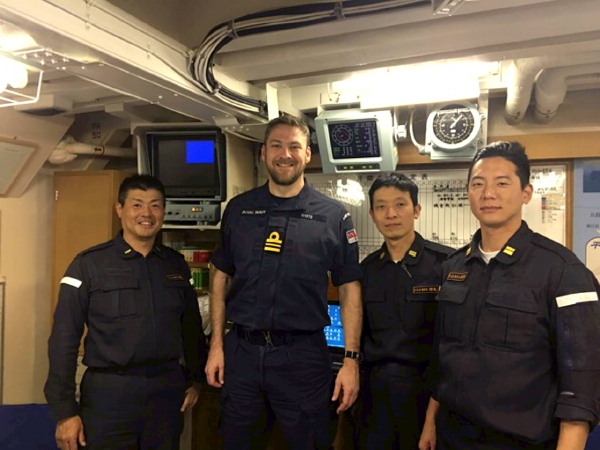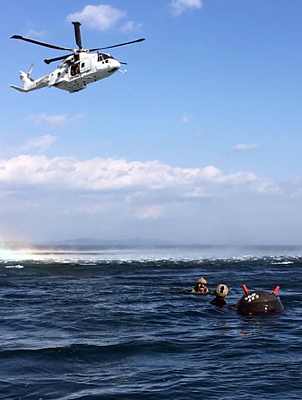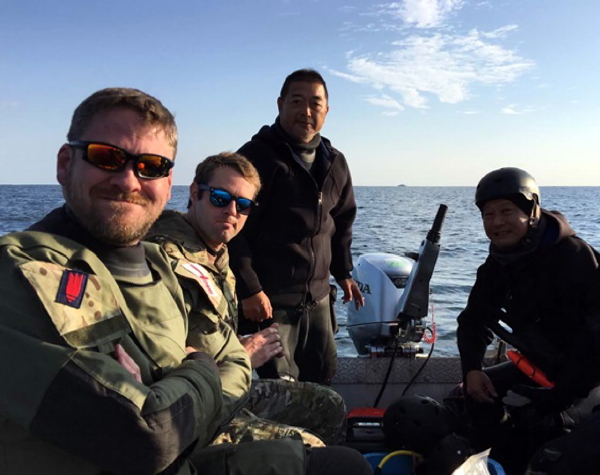 ---
16 Dec 18 - Gulf mine forces link up for final workout of 2017
The Royal Navy website contains this article and the US Navy website this article describing how the Royal Navy's entire Bahrain-vased Middle East minewarfare force of five ships (HMS Bangor (MCM 1 Crew 6), HMS Blyth (1/8), HMS Ledbury (2/7) and HMS Middleton (2/4) with their mother ship RFA Cardigan Bay) and a command team linked up with American robot boats and the minehunter USS Gladiator to conduct the final joint Mine Countermeasures Exercise (MCMEX) of the year.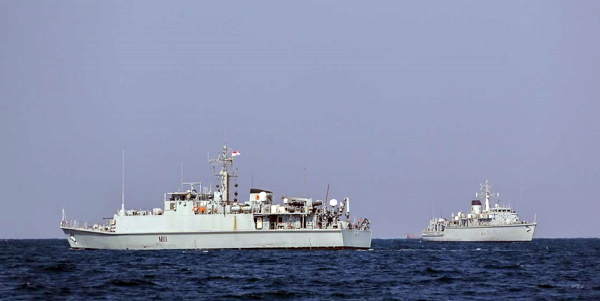 ---
15 Dec 17 - HMS Atherstone and HMS Quorn paid off
The Forces Network website contains this article reporting yesterday's private decommissioning of HMS Atherstone and HMS Quorn in the Ship Hall in Portsmouth Naval Base (see first entry for 13 Nov 17). Several former COs were present including Rear Admiral Paul Bennett CB OBE, a former CO of HMS Atherstone, who read a valedictory.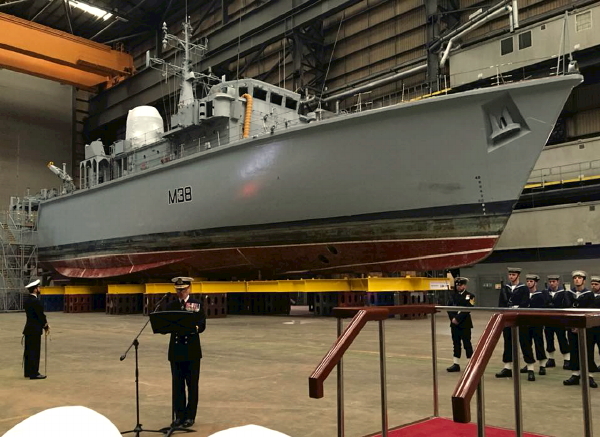 HMS Atherstone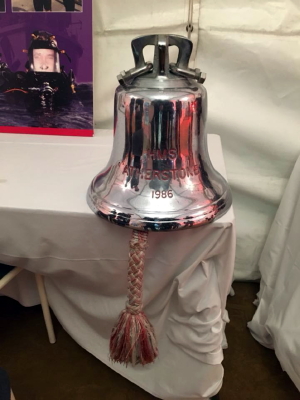 HMS Atherstone's bell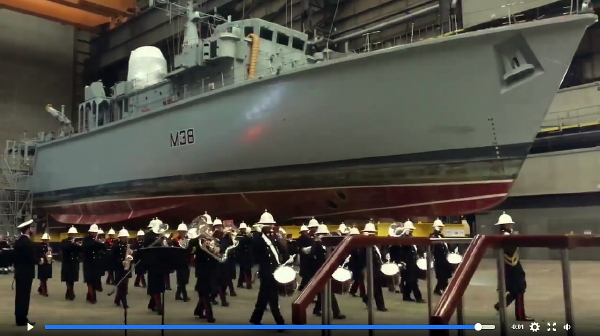 HMS Atherstone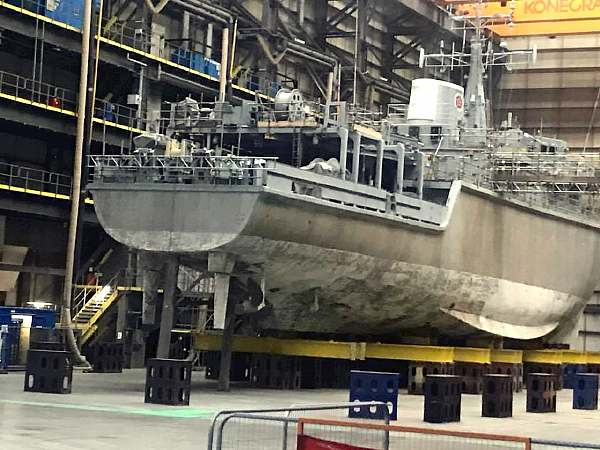 HMS Quorn
Images courtesy of Richard Pethybridge, another former CO of HMS Atherstone.
---
14 Dec 17 - SDU2 awarded 'Millie'
Congratulations to Portsmouth-based Southern Diving Unit 2 (SDU2) on being awarded The Sun military award for the 'Hero At Home: Unit' category last night as reported in this article on The Sun website, this article on the Royal Navy website and this article on the Forces Network website. The group in the first photo includes MCDOA members Sean 'Central' Heaton (CO SDG) and Jonny Campbell (OIC SDU2),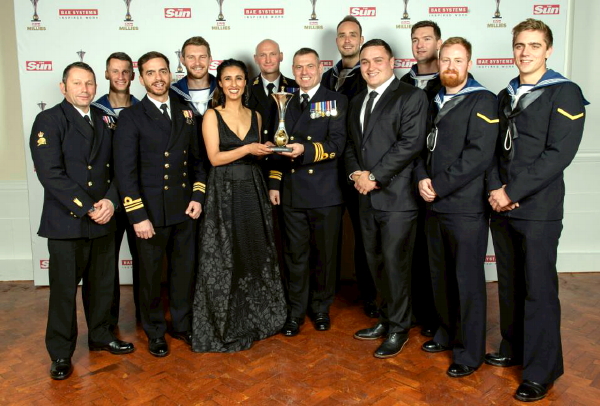 Countryfile's Anita Rani and rugby player Jamie George presenting the award to SDU2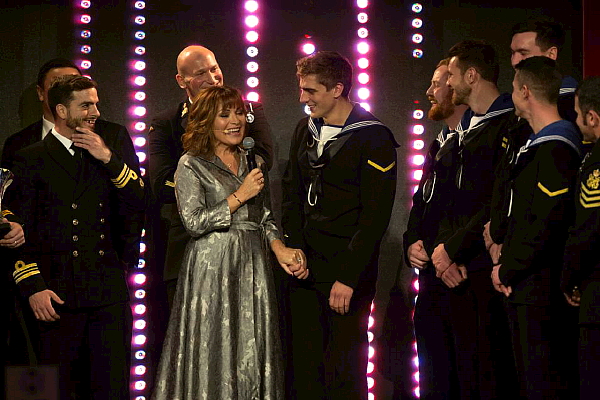 Lorraine Kelly with members of SDU2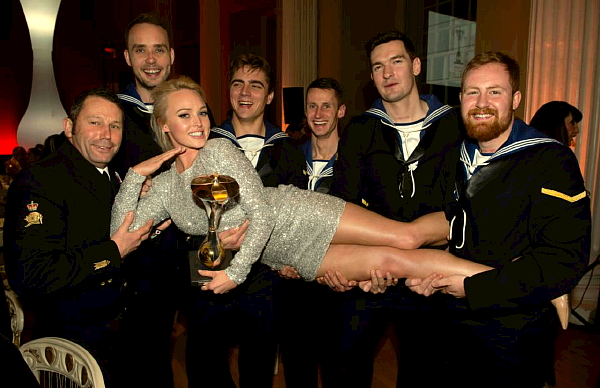 Hollyoaks actress Jorgie Porter with members of SDU2
PO(D) Toby Jones was nominated for a Millie in the 'Hero at Home: Individual' category for his actions while serving in HMS Tyne as described in this article (including video) on The Sun website but the award went to Lt Jared Bambridge, the off-duty Army officer who gave first-aid to the victims of the London Bridge terror attack.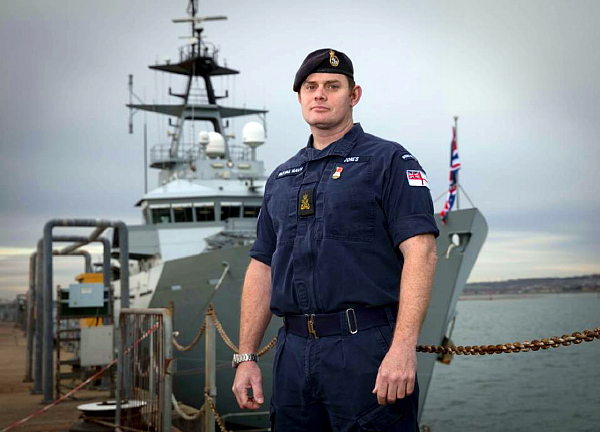 PO(D) Toby Jones with HMS Tyne
---
12 Dec 17 - Lunch on board HMS Cattistock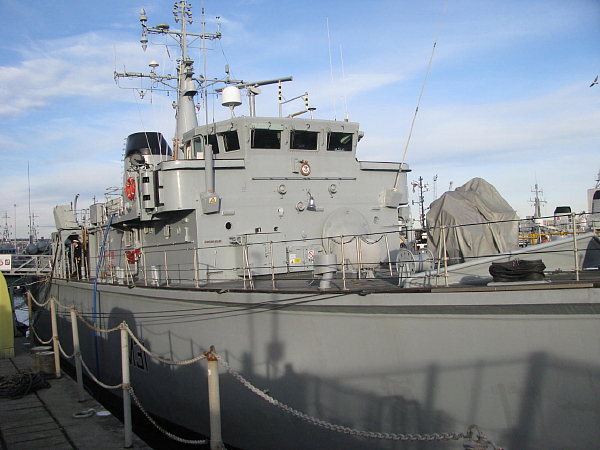 Your humble webmaster enjoyed a splendid lunch on board HMS Cattistock (MCM2 Crew 8) today with fellow MCDOA members Charlie Wheen (her current CO) and Pat Gale (her first CO). The ship was alongside in No.2 Basin in Portsmouth Naval Base and we were escorted from Trfalgar Gate by Sub Lts Oscar Klappholz and Tom Adlam. Thanks, guys.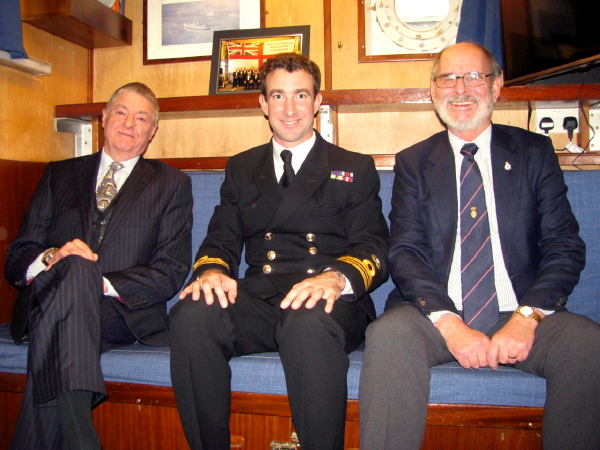 After nattering with Charlie in his cabin for a while, we were given a tour of the ship.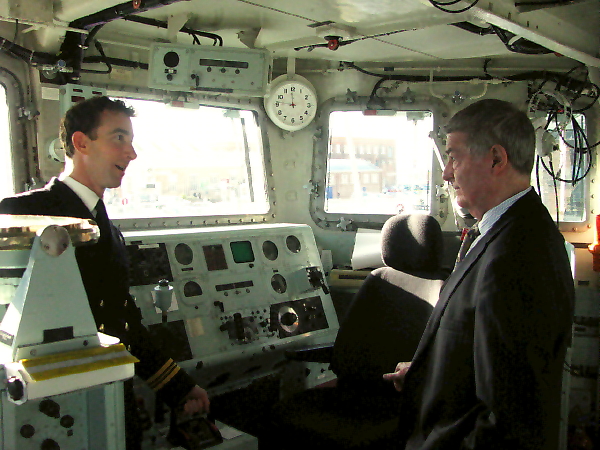 We were particularly impressed by the enthusiasm and friendliness of those we met including PO(MW) Jimmy Green (ORS), seen here: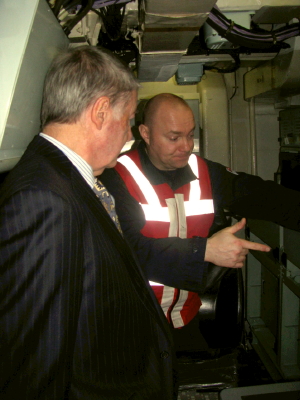 Other key MW & Diving figures on board include PO(D) Jim Craker (Coxswain), PO(MW) Jay Buckley (Boatswain), LS(D) Karl 'Ackers' Atkin (Diving Storekeeper) and LS(MW) 'Pinky' Perkins (CBM). We were then invited to lunch in the wardroom courtesy of Bob Stone-Ward (XO) and enjoyed an excellent three-course meal prepared by Ldg Chef Emmanuel Craig and served by Std 'Charlie' Drake. I was seated next to Lt Justin Magalas (OPS) on exchange from the US Navy and much enjoyed his observations.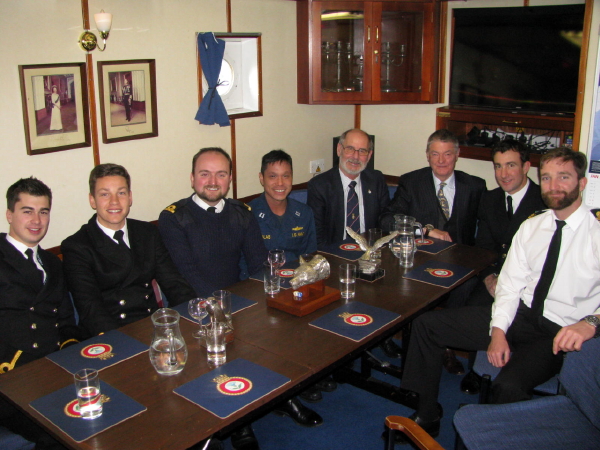 James Silcock, the Navigator, was called away on duty when the above photo was taken but I managed to capture him on his return.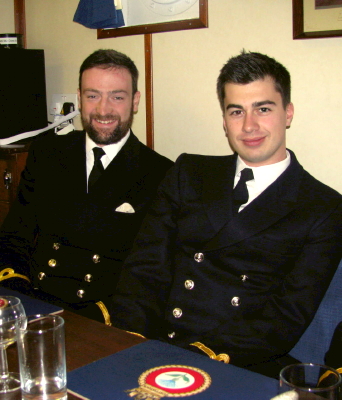 After lunch, we were blessed with the company of newly installed MCDOA President Roger Readwin (Capt MFP) and MCDOA member Del McKnight (CO FDS) who had ceremonially rowed the outgoing Commodore Portsmouth Flotilla (COMPORFLOT) across No.2 Basin in a gig.
At a 'Clear Lower Deck' on the forecastle, Pat was honoured to be invited to present a Herbert Lott award to Ldg Chef Emmanuel Craig for his leadership of a team catering for HMS QUEEN ELIZABETH's inaugural arrival in Portsmouth and I presented the ship with a copy of the TCA's publication 'Last of the Wooden Walls - An Illustrated History of the TON Class Minesweepers & Minehunters'.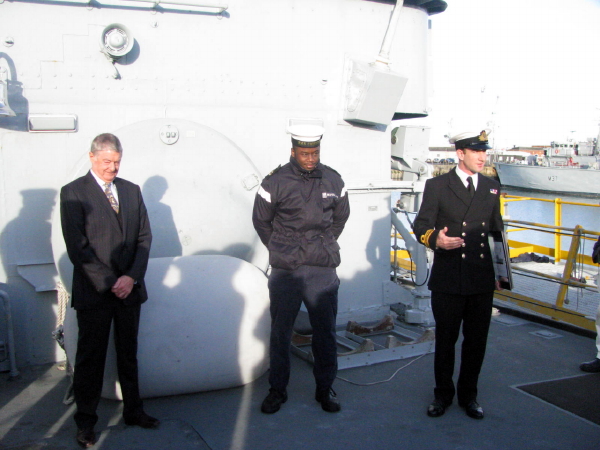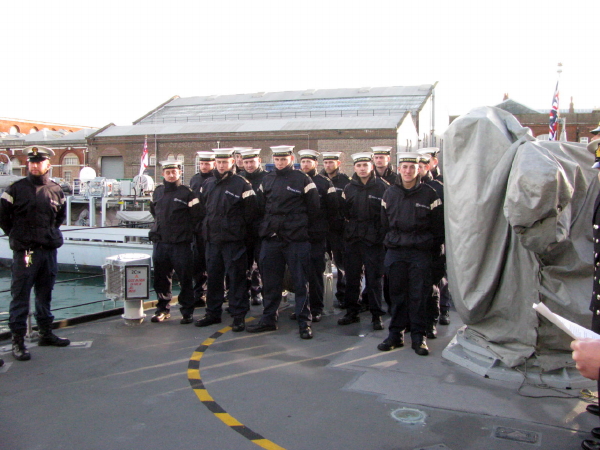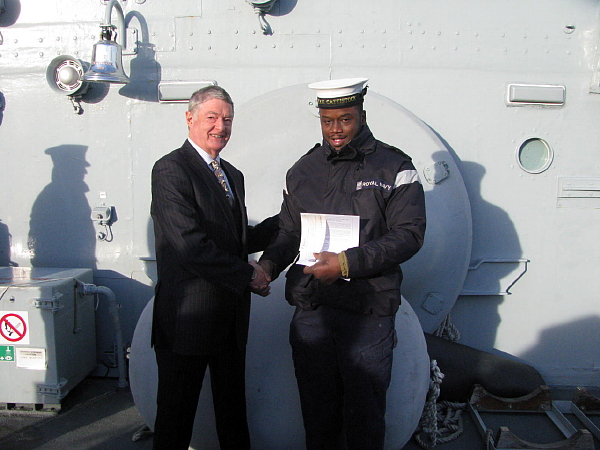 Before we left, we watched HMS Brocklesby arriving to join HMS Cattistock, HMS Hurworth and HMS Chiddingfold alongside in No.2 Basin. HMS Atherstone and HMS Quorn are in the ship hall and will be decommissioned on Thursday ready for disposal.
Pat and I were made to feel truly welcome by Charlie and his entire ship's company. A huge thank you to one and all. You and your ship are a credit to the Service. Merry Christmas!
---
10 Dec 17 - Latest Rope Signal

The latest issue of the Historical Diving Society (HDS) newsletter 'Rope Signal' can be accessed via this link:
Rope Signal issue 18 dated 10 December 2017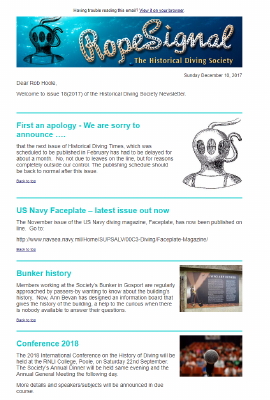 ---
9 Dec 17 - Annual MCM Conference
I have just stumbled upon this photo of MCM Conference delegates tweeted by Capt MFP (MCDOA President Roger Readwin) on 28 November.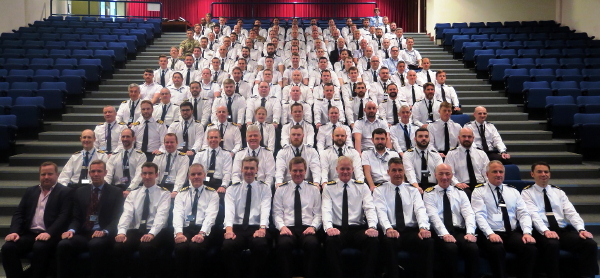 Capt MFP's accompanying caption stated:
"Annual RN MCM Conference - superb to share ideas & explore opportunities to sustain our MCM output into the 21st Century. BZ to all the speakers - much food for thought on current & future MCM issues."
---
8 Dec 17 - RANCDA Magazine
I was privileged to receive my second issue of the Australian Navy Diver magazine yesterday. It is published by the RAN Clearance Divers' Association (RANCDA) and is very impressive in every way. The RNCDA is to be congratulated on its professional quality and the brilliant articles it contains.
---
7 Dec 17 - Former CD1 Roy 'Blondie' Rees
I received this message earllier in the week:
"I have been trying to do a bit of research on my father Roy Evan Rees or "Blondie" as he was known. He retired from the Royal Navy in 1971 but was a CD class 1 and an instructor at HMS Drake. He is on the right of the picture of George Wookey being prepared for his record deep dive [see 'HMS Reclaim - A World Record-Breaker' in the website's Dit Box].
Sadly my father died several years ago. It would be great if you could remind any veterans of my father as he was latterly an instructor at HMS Drake. He loved HMS Reclaim and regaled me with many tales. We were in Singapore for two years 1967-69.
Kind Regards,
Alastair
Alastair R Rees MA (Hons) FSA Scot MCiFA"
I was notified of the death of Roy 'Blondie' Rees by his daughter-in-law's brother Clark Christie in 2008 and publshed an announcement at the time (see entry for 15 Aug 08 in News Archive 23).
---
From former FCPO(D) Dave 'Mona' Lott BEM:
"G'day Rob and Alastair,
Firstly, Alastair, may I express my sincere belated regrets on my previously unknown passing of your father, he was a great character who always wore a warm smile, and was genuinely enthusiastic about life.
I dug around among my old diving memorabilia and found this photo of your father (an ex-Steamer/Copperhead) on course for Clearance Diver 2nd class in the Corkhead's Branch. Sadly there are only a couple from those lined up in the photo that still remain. Fraser, Charlwood, Booth and Bray are also departures and the only two that I know that are still surviving are Gunnell and Norton. In fact there are generally major losses from all of those from around that vintage.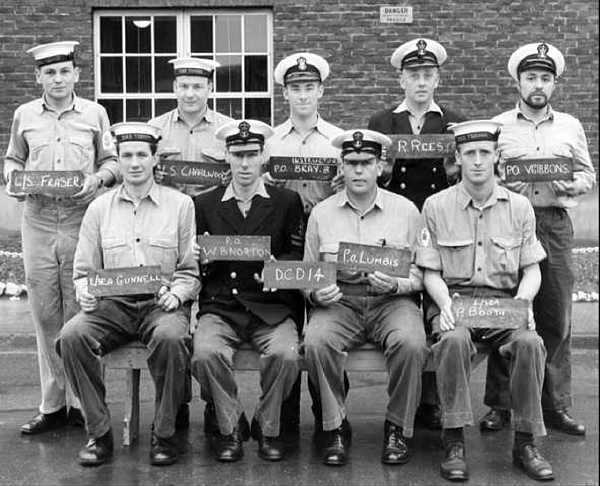 CD2 Course DCD 14
Back row: Bob Fraser, Anthony 'Charlie' Charlwood BEM, Instructor Bernard 'Donkey' Bray BEM*,
Roy 'Blondie' Rees and Vern Gibbons
Front row: Brian 'Ben' Gunnell, Bill 'Chippy' Norton, Pete Lumbis and P 'General' Booth
I can't give you a date for this photo but a date of qualifying on your dad's diving documents for qualifying should give you an indication.
I have a copy of the deep diving record-breaking photo on HMS Reclaim that you mentioned; a great ship, and I spent many Experimental Diving trial periods on board her.
I served in the RN between 1951 and 1976 and am now a resident of Australia. I have also seen a photo of your dad helping George Wookey to get dressed prior for his record dive but I cannot recall where I saw it. The ageing brain is not what it was.
Any questions then please ask further.
Regards to you both,
Dave (Mona) Lott
Eden, NSW
Australia"
---
From former WO(D) Colin 'Scouse' Kidman QGM:
"While serving in the Far East CDT, I lived across the road from Blondie in Johore Bahru. We stayed with him and his family for a couple of days when I was about to fly back to the UK. A real gentleman."
---
From former CD1 Eddie 'Scouse' Kerr:
"He was my Ships' Diver course instructor in 1967. I was his second dickie then straight on to CD2's course. Good man."
---
From ex-CD Jim 'Tommo' Thomson:
"Yes! In the mid-1960s, Blondie was the Cox'n of MFV 1527, the Plymouth CD Team's diving tender. He was a very quiet and popular member of the team.
RIP. I will remind a couple of the team with whom I am still in contact.
All the best,
Tommo"
---
6 Dec 17
HMS Pembroke back home today
From the Twitter feed of HMS Pembroke (MCM1 Crew 5):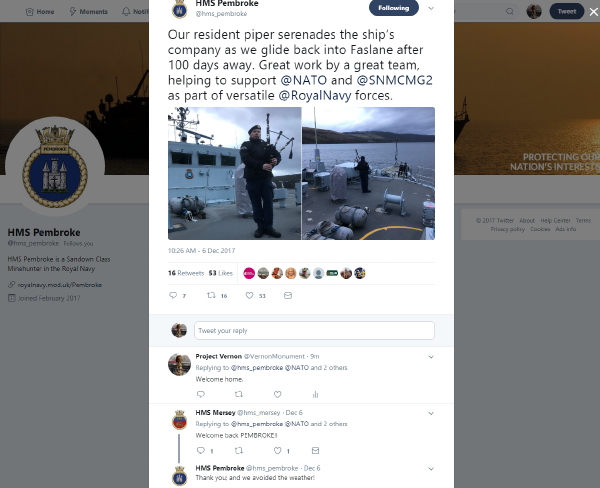 ---
HMS Brocklesby Road Trip
Spotted in Waterlooville today: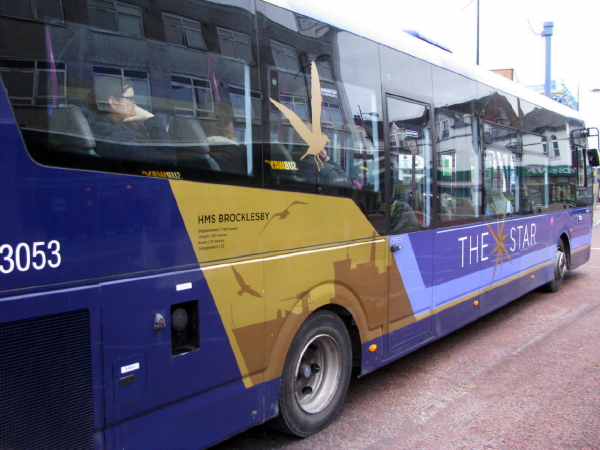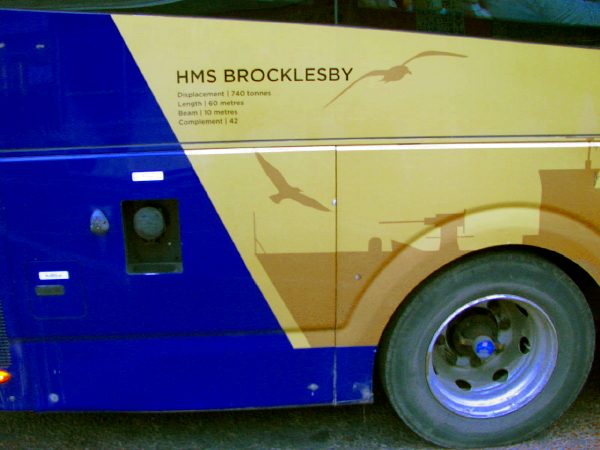 Any other MCMVs 'on the road'?
Postscript: Spotted a few days later in Waterlooville: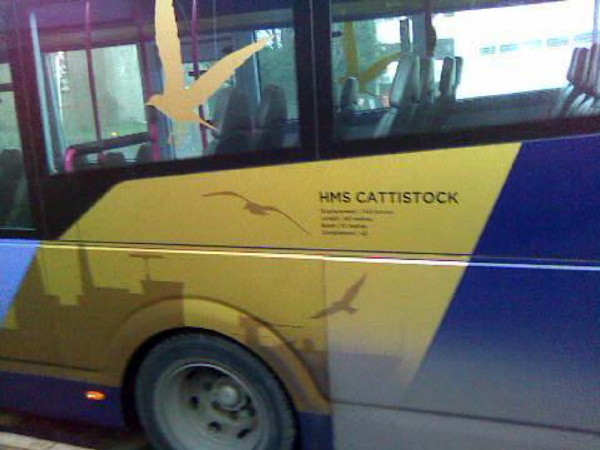 ---
5 Dec 17 - TCA Christmas Lunch
MCDOA members Doug Barlow, Martyn Holloway, Bob Lusty and Yours Truly (Rob Hoole) attended the Portsmouth area Ton Class Association (TCA) Christmas Lunch in the Royal Maritime Club today.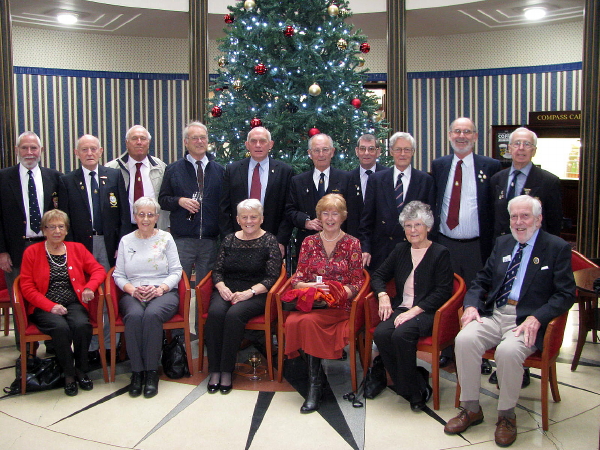 We are hugely grateful to TCA Stores Officer Laurie Johnson for organising such an enjoyable event.
---
4 Dec 17
Peter Davis meets Dan Snow
MCDOA Honorary Treasurer Pete Davis met Dan Snow today when the historian and broadcaster visited our new aircraft carrier QNLZ (Queen Elizabeth) in Portsmouth Naval Base.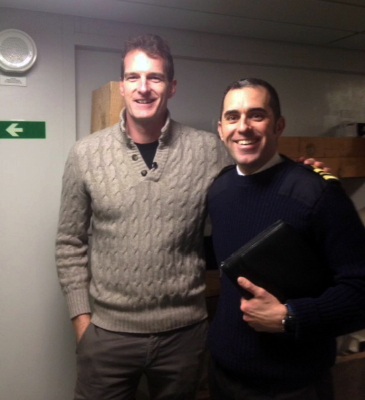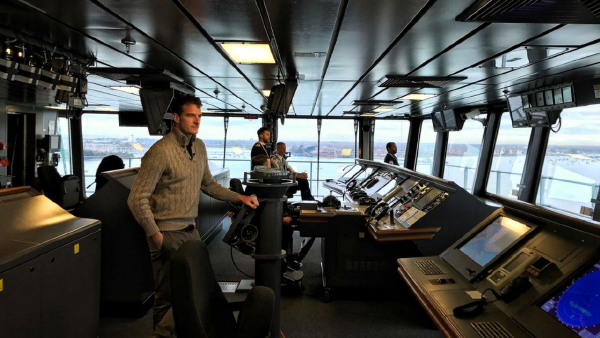 Pete's fellow MCDOA member Bob Hawkins MBE is also serving in QNLZ as her First Lieutenant. The ship is due to be commissioned on Thursday 7 December.
---
News from HMS Cattistock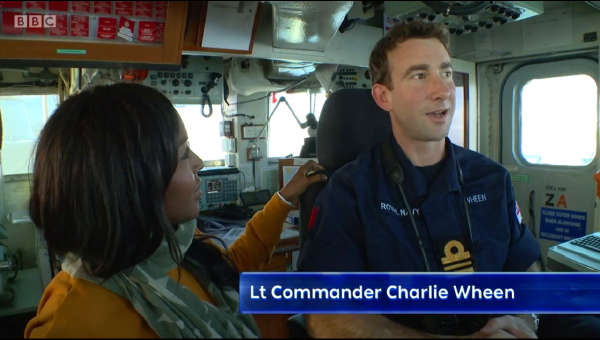 Lt Cdr Charlie Wheen, CO of HMS Cattistock
I am grateful to MCDOA member Charlie Wheen, Commanding Officer of HMS Cattistock (MCM2 Crew 8), for this newsletter which I have received via the Ton Class Association (TCA). I write a column titled 'MCMV News' for the Associaton's bi-monthly newsletter 'Ton Talk'.
"Following seven months (December 2016 - July 2017) deployed on operations in the Middle East, it is with great pleasure that we, Crew 8, return to HMS CATTISTOCK. And after the dizzyingly regular Crew swaps, I am delighted to report that we will be remaining in CATTISTOCK for over a year. The impact of the Crew rotation on our affiliates is not underestimated and I hope that this period of stability will provide the opportunity to reinforce our important relationships. Last week I was very pleased to be able to support Remembrance Day events in Poole and in Cattistock (Maiden Newton) with a good number of the Ship's Company, as well as an evening with the Lilliput Sea Scouts, and I look forward to much more of the same over the coming months.
Crew 8 took over in CATTISTOCK in late September and our efforts since then have been singularly focussed on preparing the ship for a NATO deployment in early 2018. We will be joining the Standing NATO Mine Countermeasures Group One (SNMCMG1) in January and will spend over three months with a number of other NATO mine hunters, conducting exercises and operations around NW Europe. It promises to be an exciting period and represents a welcome change from our regular operations in the Gulf. In the context of a resurgent Russia, and against the backdrop of BREXIT, the UK's relationship with its NATO allies is more important than ever and our deployment to SNMCMGI is a clear demonstration of our commitment here.
Having completed the necessary husbandry and maintenance to prepare CATTISTOCK for the rigours of the North Atlantic, we are now conducting the necessary work up and training for the crew, such that we can most effectively operate and fight the ship. Throughout this work up period we are also contributing to homeland security and, as I write, CATTISTOCK is in the North Sea where we have been tasked to locate a suspected 5001b German bomb in the vicinity of a large gas pipeline. A Dutch trawlerman dragged the device up in his nets before (sensibly) lowering it carefully to the seabed!
I hope that this short summary of our current and future activity gives you a flavour of the contribution that your ship is making in support of UK defence objectives. We are hugely proud of the ship, and our affiliations, and I look forward to strengthening our ties during another exciting year.
Yours sincerely,
Charles"
---
3 Dec 17 - RN Minewarfare Heritage: HMS Vernon's Experimental Mining Department
I am grateful to Richard James for this image from his late Uncle Bernard's collection. It shows the mechanical staff of HMS Vernon's Experimental Mining Department in 1917 and must have been taken on board one of the hulks before HMS Vernon moved ashore in 1923.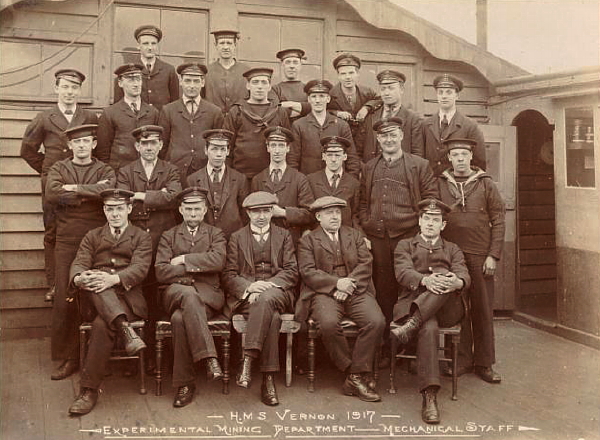 These images, courtesy of the Australian War Memorial museum, depict a public display by HMS Vernon's Mining Department in 1911.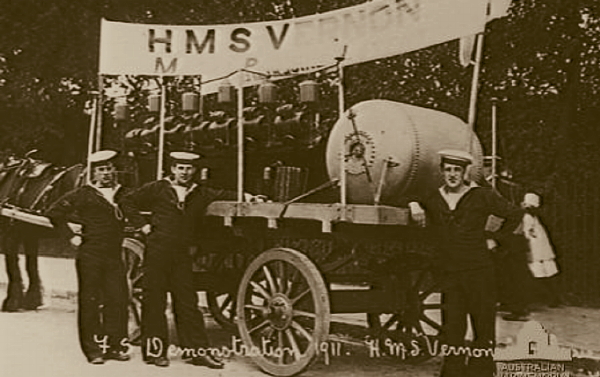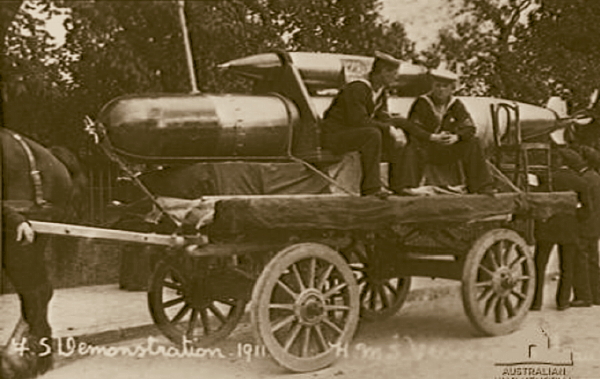 Richard still has copies of his late Uncle Bernard's autobiography, 'On the Road to Normandy and a Little Beyond - A Sailor's Life Story', available for purchase and I thoroughly recommend it. Lt Bernard Upton MBE RNR survived the sinking of the Bangor class minesweeper HMS Cromarty when she was mined in the Straits of Bonifacio in the Mediterranean on 23 October 1943 (see entry for 7 Nov 17).
---
2 Dec 17 - Oh yes it is!
This photo shows former MCDOA Chairman Paul Jones in his traditional role as the pantomime dame near his retirement home in Cyprus.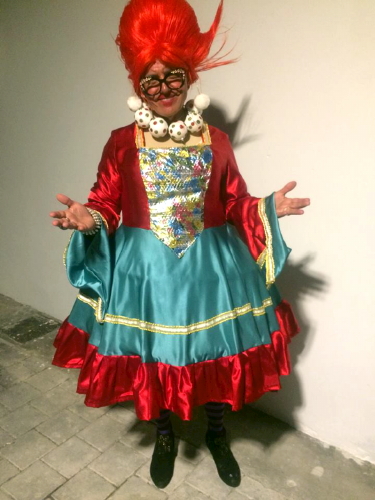 Paul adds:
"Yet again roped in to play the Dame (that's my excuse anyway) for the Royal British Legion Christmas Panto (Robin Hood). Three shows in a packed theatre here in Kyrenia. Lots of fun / friendly banter but all for a good cause and lots of money raised and no... I don't get to keep the frocks!"
---
1 Dec 17 - Mystery object
I have received this intriguing enquiry from the National Secretary of the RNPS Museum at Lowestoft:
"Hello Rob,
At the Royal Naval Patrol Service Museum in Lowestoft, we have been made aware of a couple of items coming up for sale which supposedly originated from HMS Europa, our WW2 base. The first item, the minesweeping torpedo is confusing us as we are not aware of anything like this and the remnants of orange paint and the yellow nose and tail seem to indicate a more modern item.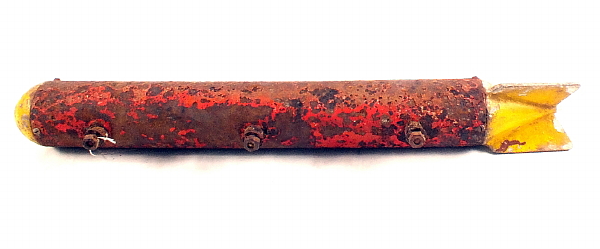 Here is the link to the lot on the auction house website:
A scarce WWII RN mine sweeping torpedo float used for cutting mine cables
Have you any thoughts on this?
Kind regards,
Leo Whisstock"
Can anyone help identify this object?
---
30 Nov 17 - SDU1 deals with ordnance in Cornwall
The Plymouth Herald website contains this article, the Cornwall Live website this article and the Forces Network website this article, including video, reporting yesterday's detonation by members of Plymouth-based Southern Diving Unit 1 (SDU1) of a propellant charge on Fistral Beach at Newquay and today's planned detonation of a German ground mine off Maenporth Beach at Falmouth.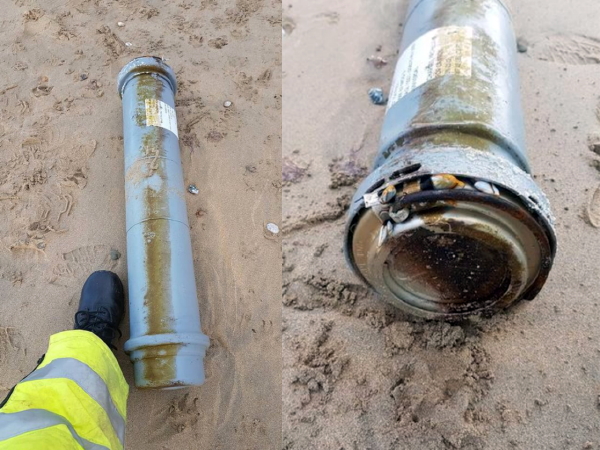 Explosive propellant charge on Fistral Beach before detonation
(Newquay Coastguard)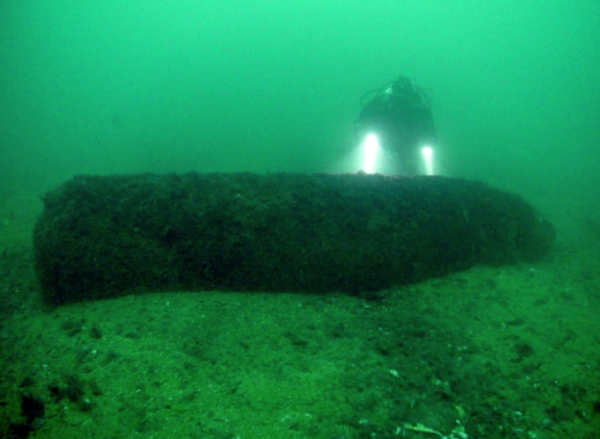 Above and below: German ground mine on seabed off Maenporth Beach, Falmouth
(Mark Milburn/Atlantic Scuba)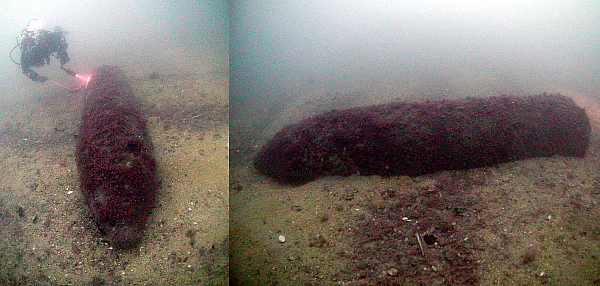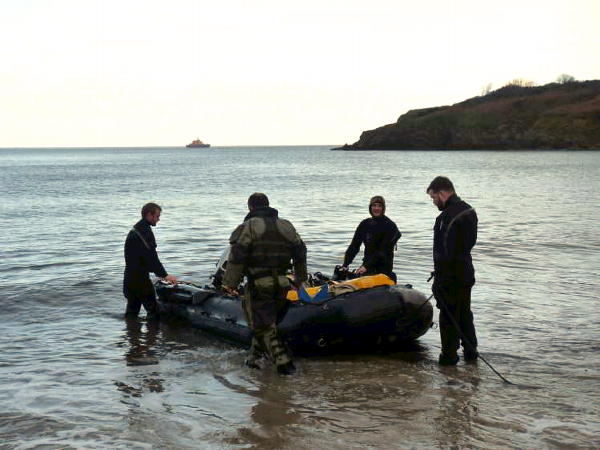 Members of SDU1 at Falmouth yesterday
(Mark Milburn/Atlantic Scuba)
Postscript: The Cornwall Live website contains this article, dated 1 December, reporting the detonation of the mine by members of SDU1.
---
29 Nov 17 - Awards of LS&GC
Congratulations to LS(MW) 'Ben' Cartwright and LS(D) Dan Mallafre on being gazetted for the award of the Long Service & Good Conduct medal.
---
28 Nov 17 - Andy Ward now managing Fellows International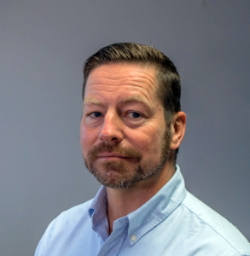 Andy 'Sharkey' Ward
Your humble webmaster dropped in to see MCDOA member Andy 'Sharkey' Ward for a cup of coffee yesterday. Andy is the manager of the commercial EOD company Fellows International which parent company Optima recently bought from its founder, former FCPO(D) Mick Fellows MBE DSC BEM. The company has now re-located from Arundel to new premises in Gosport and Andy says he is happy to see any members for a coffee and a chat.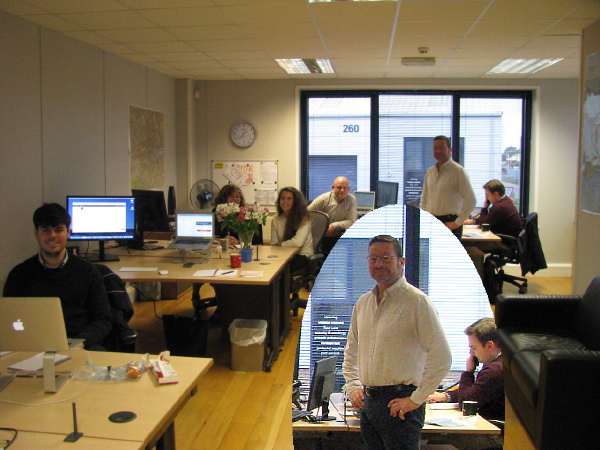 Andy Ward with his management team at Fellows International in Gosport
It was also good to see ex-PO(D) Jason Webb again. In 2010, he was among a team of four RN divers who deployed to Afghanistan for EOD duties during Operation HERRICK (see entry for 26 Jul 10 in News Archive 31).
Postscript: On 4 December 2017, the West Sussex Country Times website published this article featuring Fellows International:
Bomb found on village building site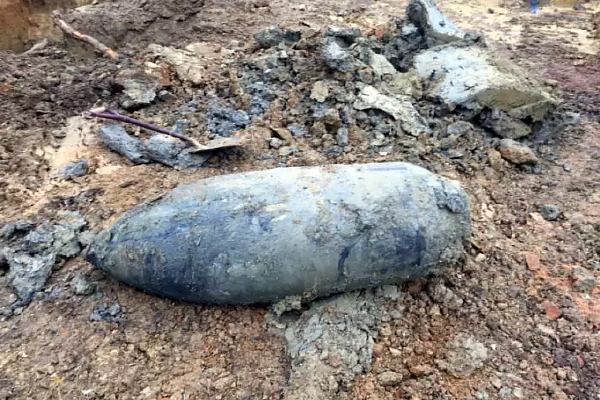 The Joint Service Explosive Ordnance Disposal School mentioned in the article was actually the Joint Services Bomb Disposal School (JSBDS) at Broadbridge Heath near Horsham. It was superseded by the Defence Explosive Ordnance Disposal School (DEODS) at Lodge Hill, Chattenden in Kent in 1966 which in turn was superseded by the Defence Explosive Ordnance Disposal, Munitions and Search Training Regiment (DEMS) at Carver Barracks, Wimbish in Essex, Kineton in Warwickshire and Bicester in Oxfordshire between 2009 and 2013. Carver Barracks is due to close by 2031.
---
27 Nov 17 - MCDOA Operational Updates, AGM & Dinner: After Action Report
This year's MCDOA Operational Updates & AGM were held in Fleet Diving HQ on Horsea Island while the Dinner was held in HMS Excellent's wardroom by kind permission of Cdre Peter Coulson. Many thanks to incoming MCDOA President Roger Readwin for his effusive welcome and to MCDOA Chairman Don Crosbie and MCDOA members Si Pressdee, Del McKnight and Mark Atkinson for their informative briefs.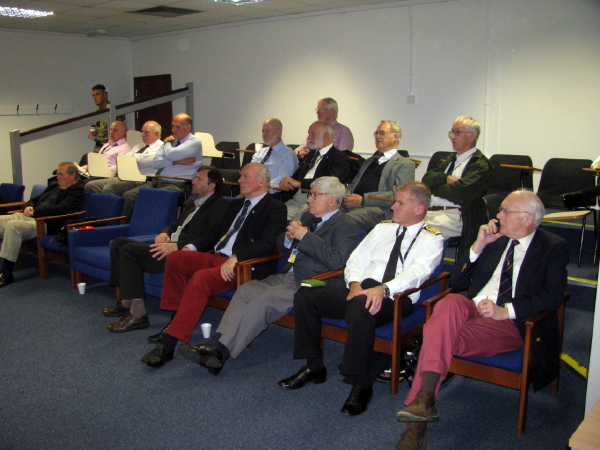 As usual, there was the opportunity to catch up with each other over a beer and scampi in the basket during the free lunch in the mess at Horsea.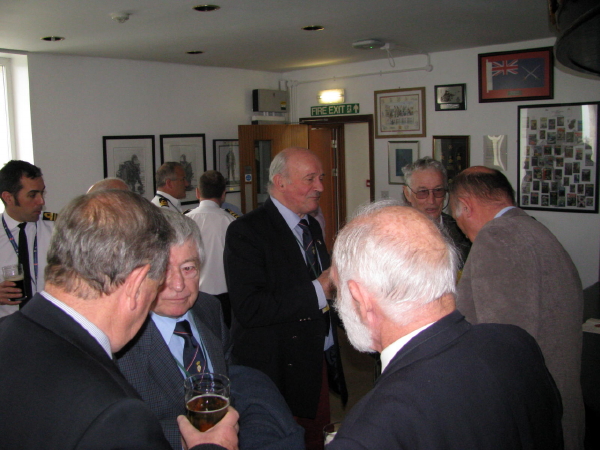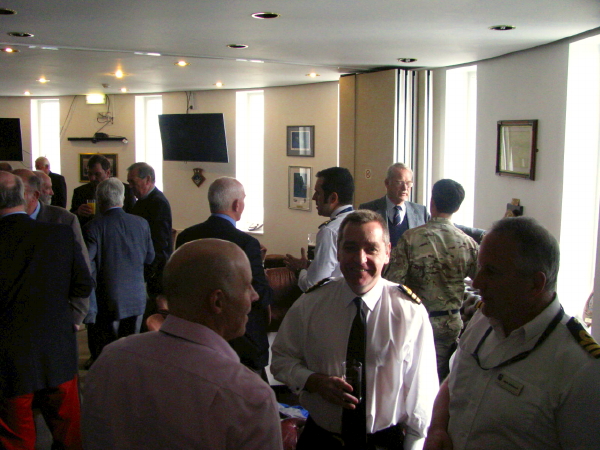 We owe another debt of gratitude to MCDOA Honorary Secretary Robin Walker and everyone else involved in the organisation and execution of our fabulous dinner. Fantastic food, friendly service, wonderful entertainment, lusty singing and superb speeches from our outgoing President Paddy McAlpine and incoming President Roger Readwin but best of all, the greatest company in the world. It was especially good to so many WO(D)s present but we need a few WO(MW)s there next year as well.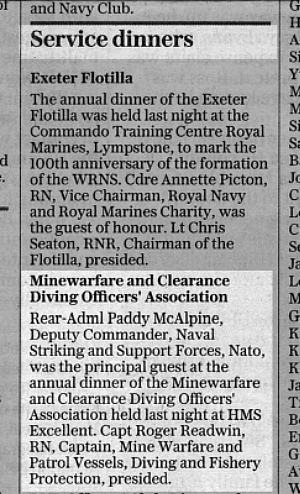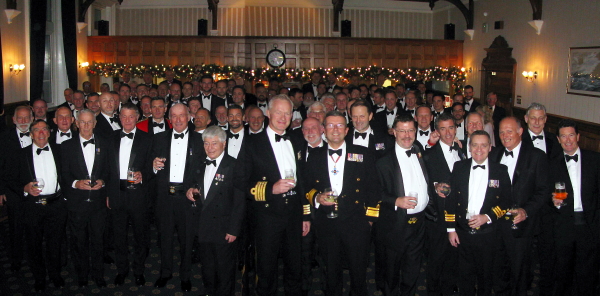 Good luck to all our leavers (both Paddy McAlpine and Al Scott were present) and course reunion celebrants, particularly the members of LMCDO '67 marking their 50th anniversary. Dave Ramsden came all the way from Australia and the course members had a video conference with old course mate Rear Adm Peter Fougstedt SAN in South Africa earlier in the day. Unfortunately, their course mate Mike Harwood couldn't make it to the event.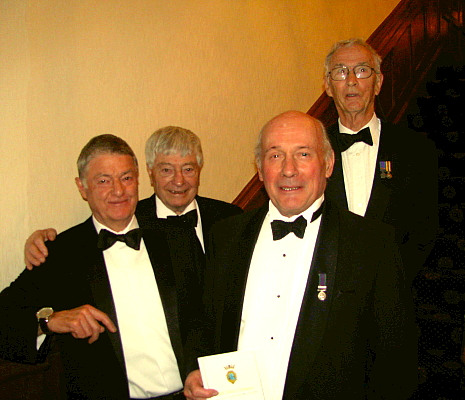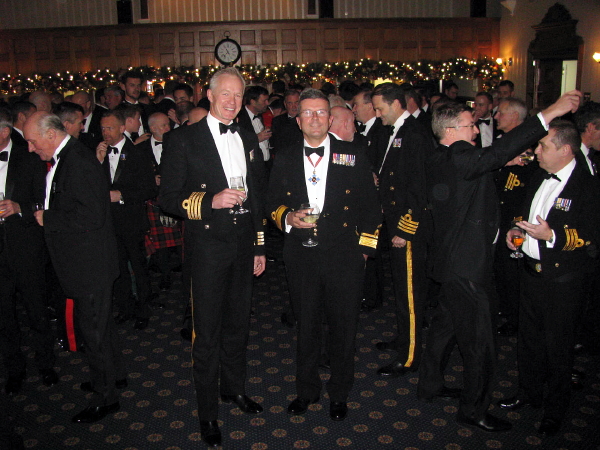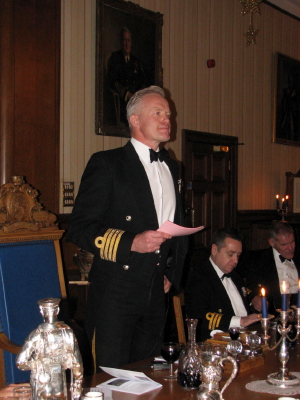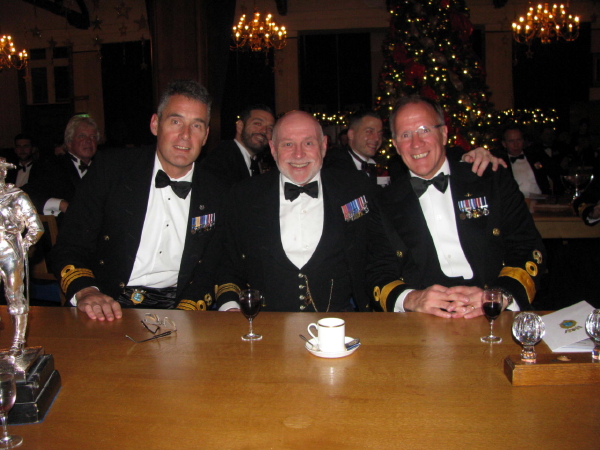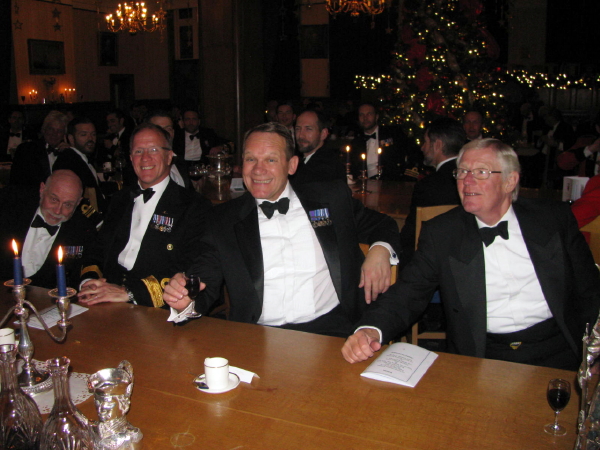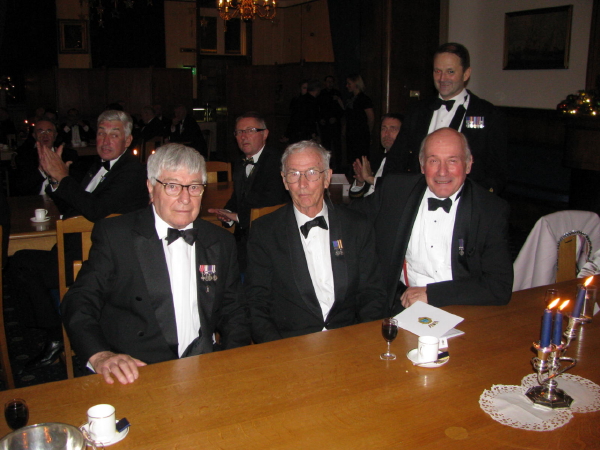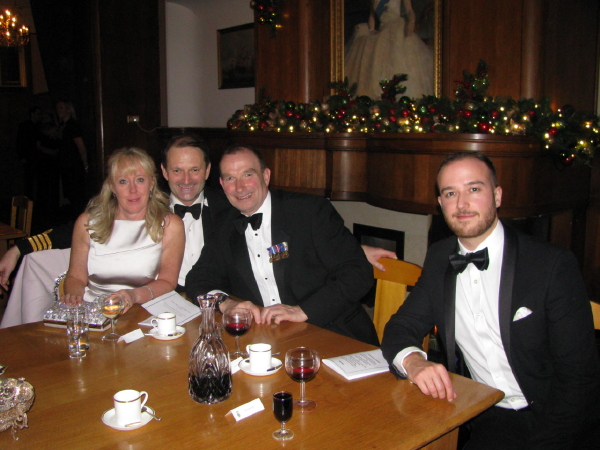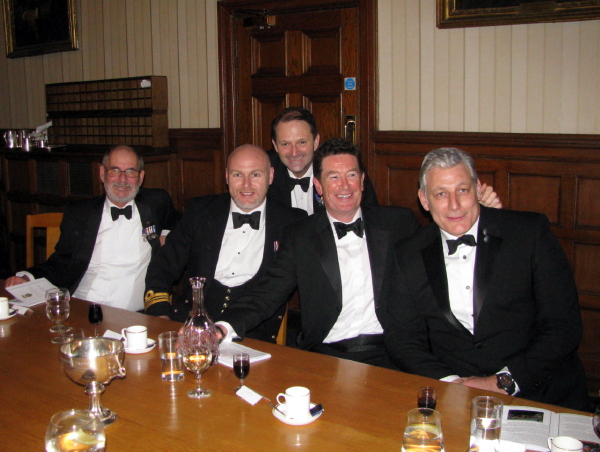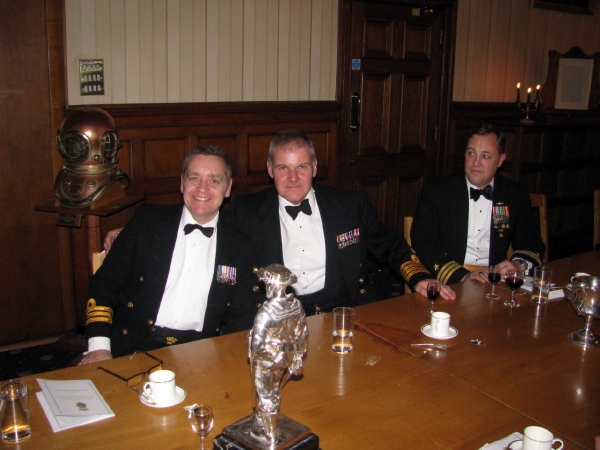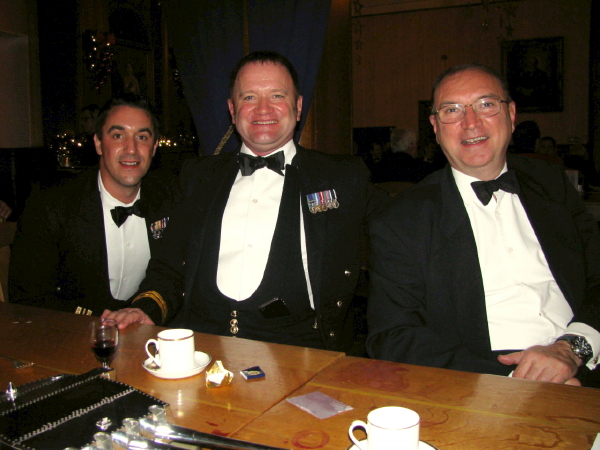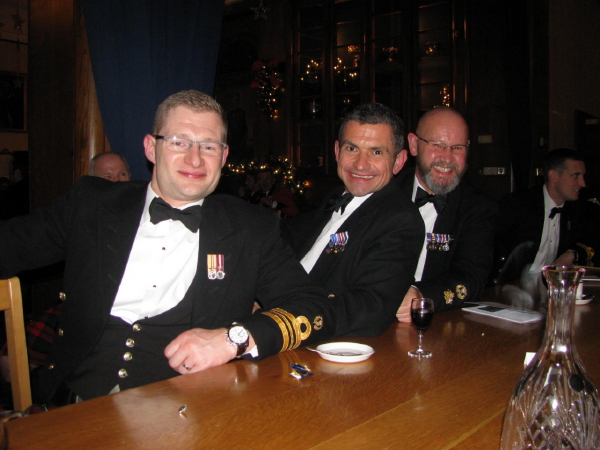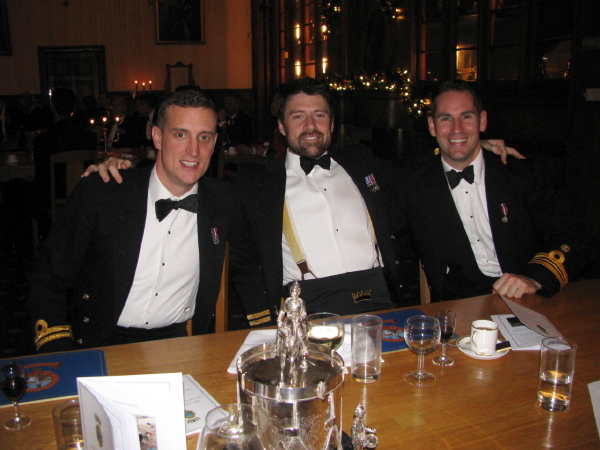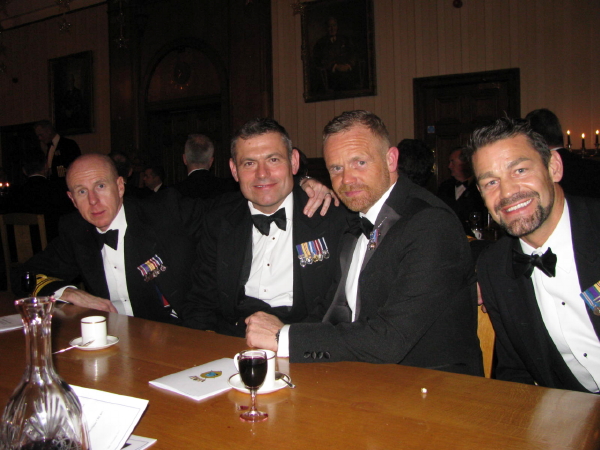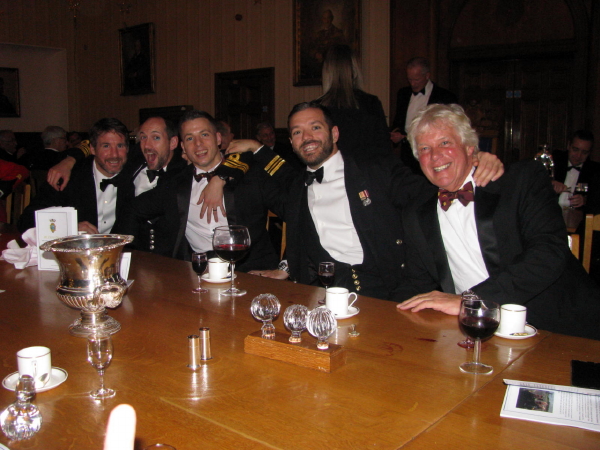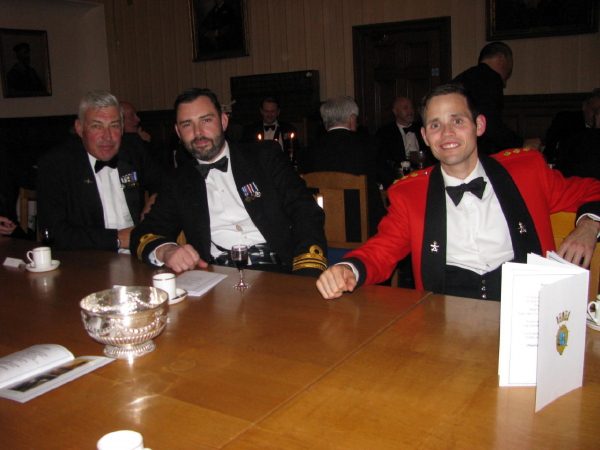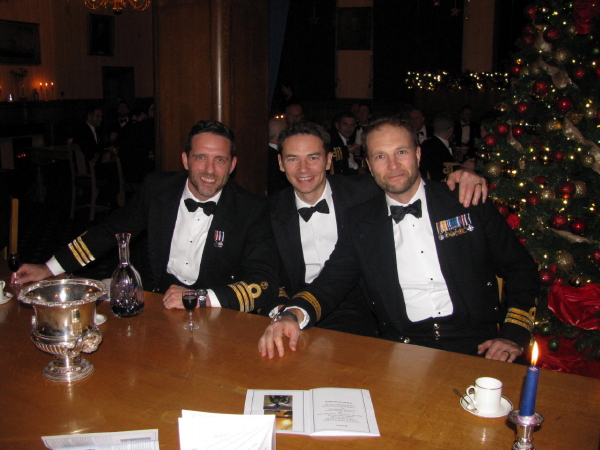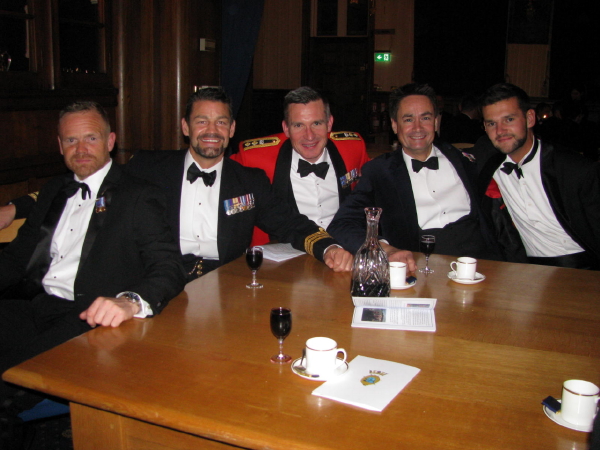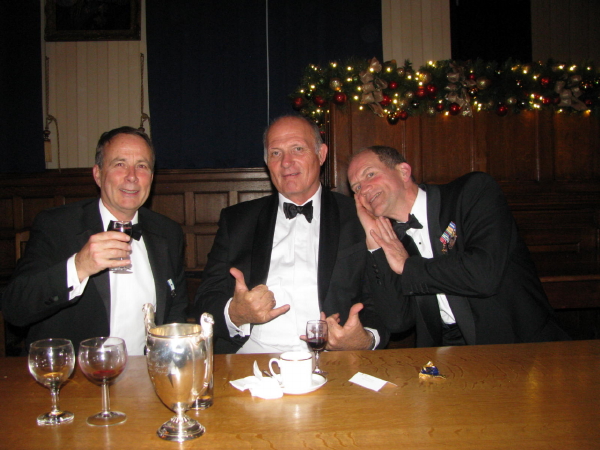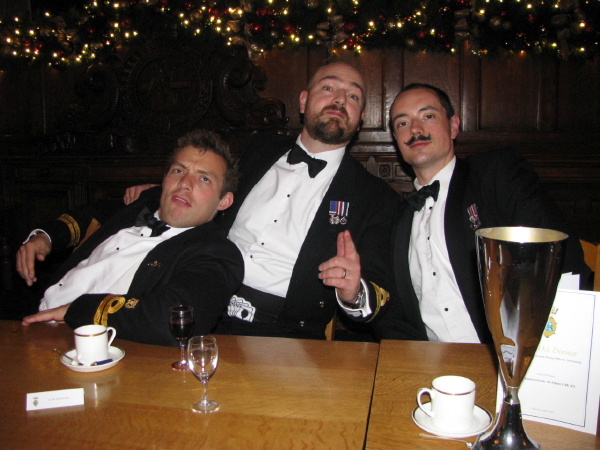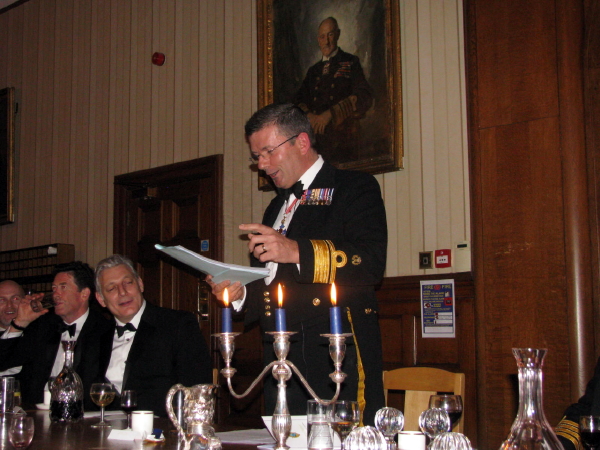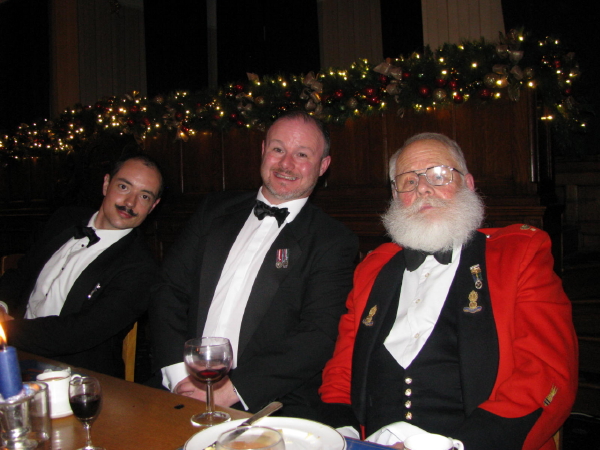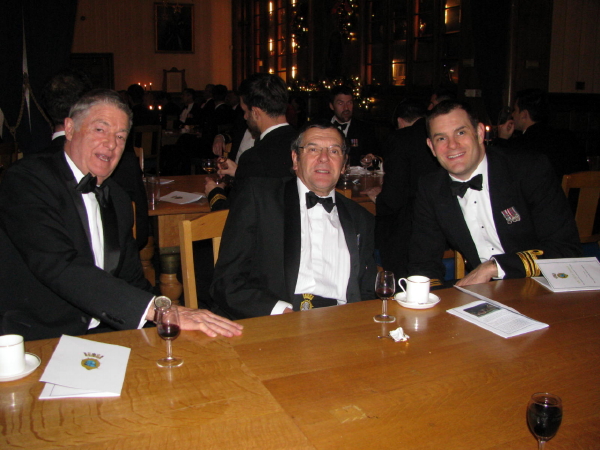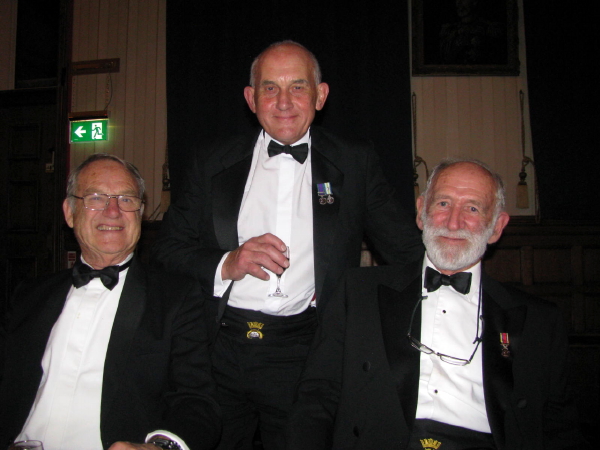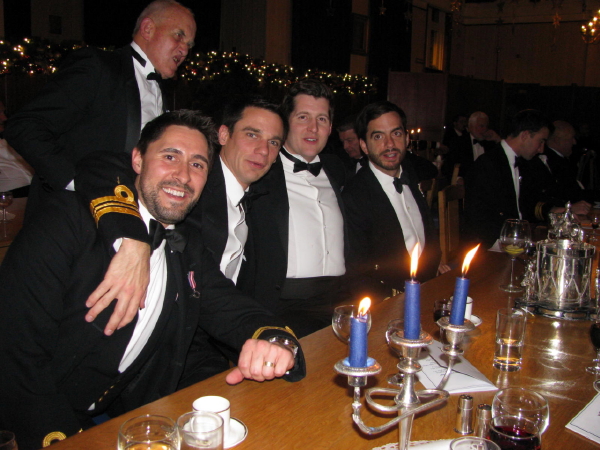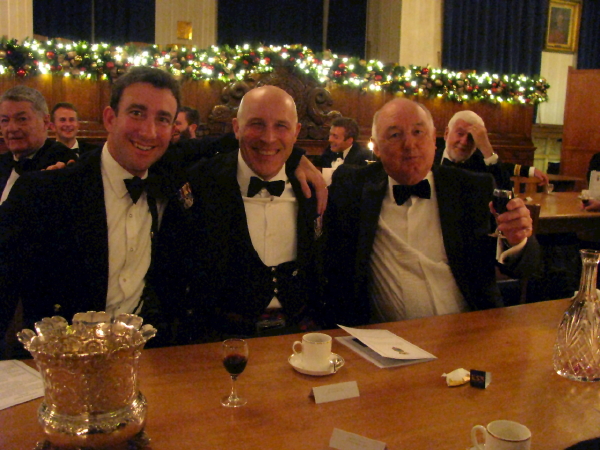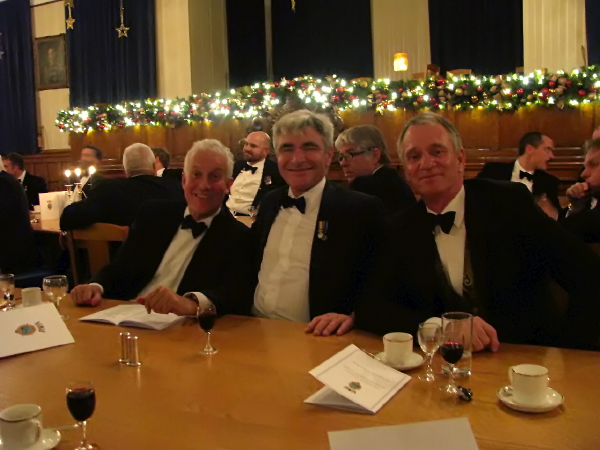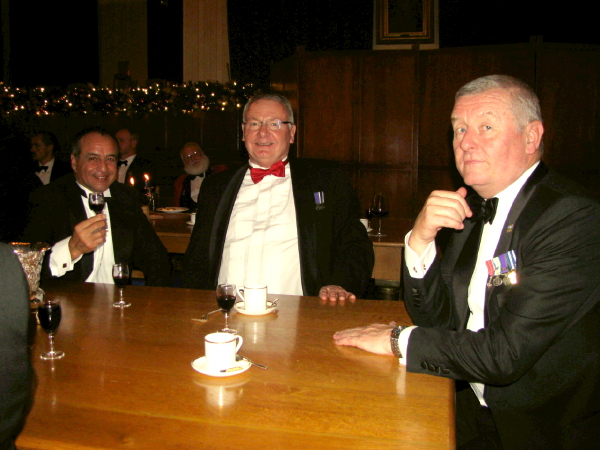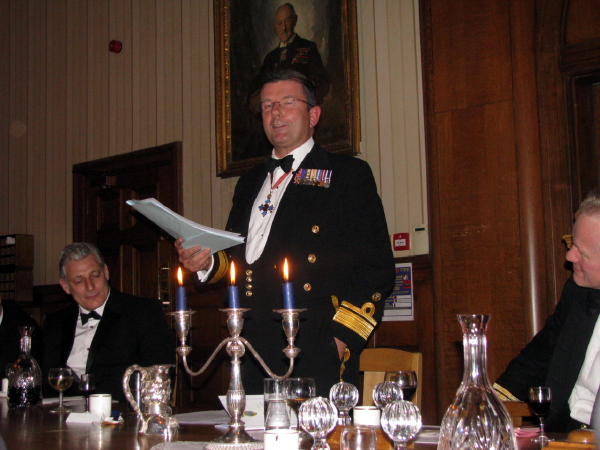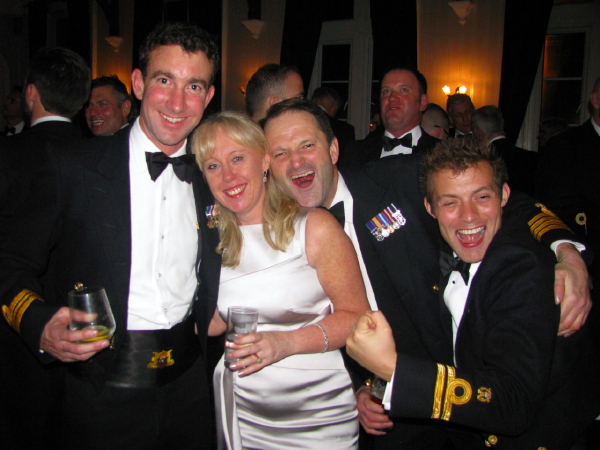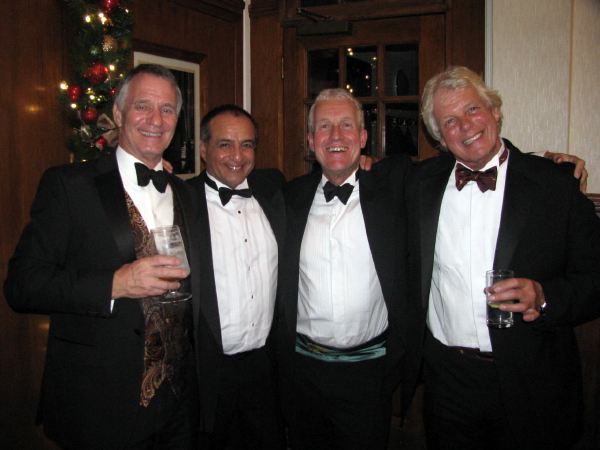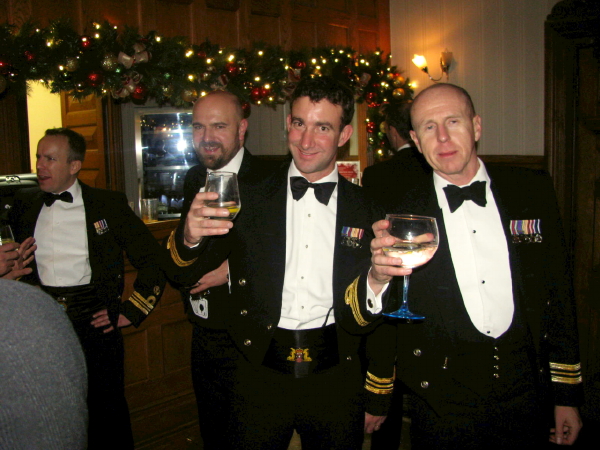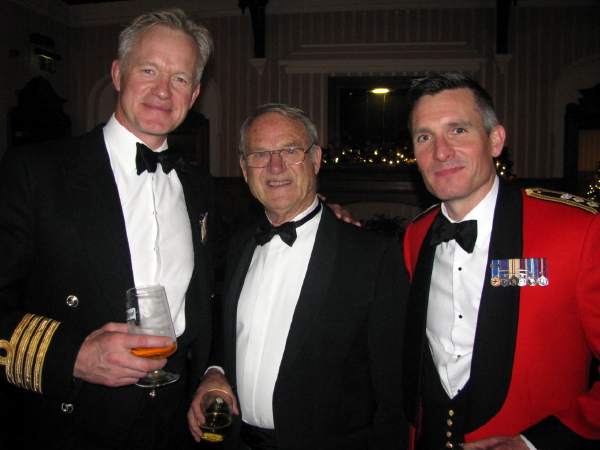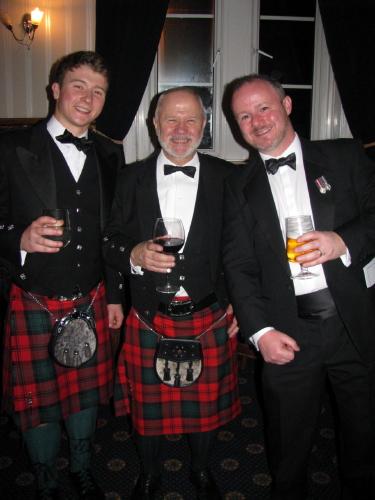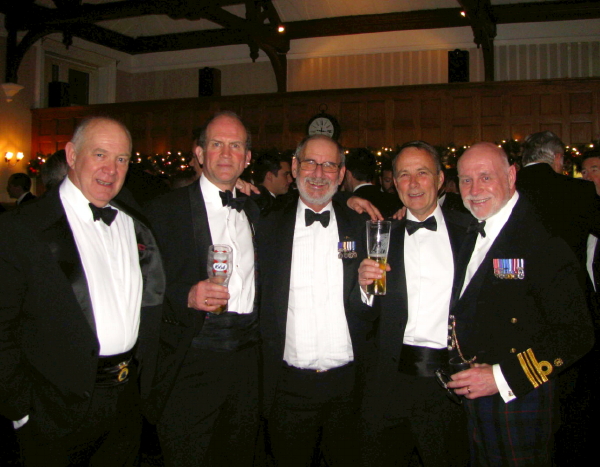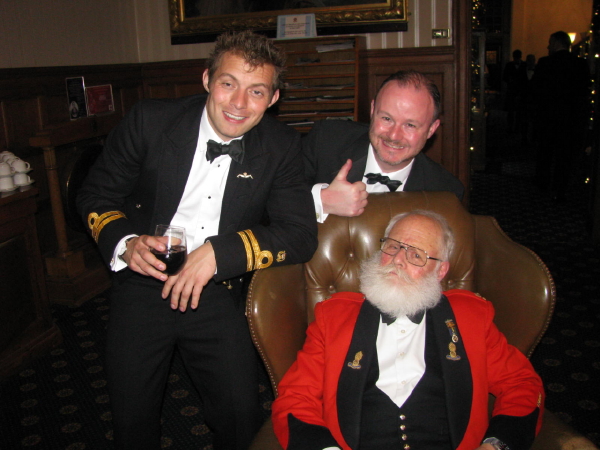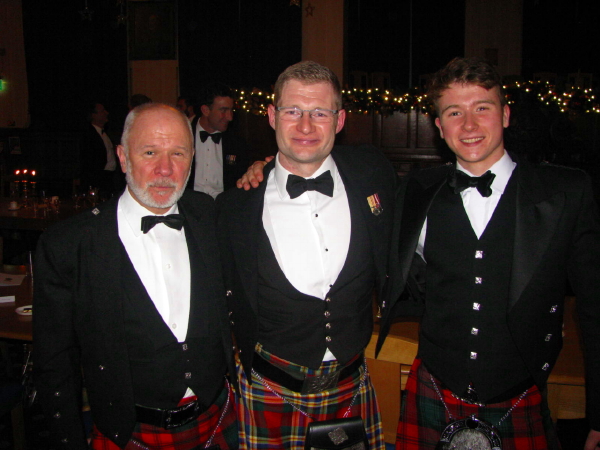 Most photos courtesy of Gareth Hoole. See you again next year.
---
From Capt Ivan Olbrechts RE, newly elected Secretary of the Royal Engineers Bomb Disposal Officers' Club (REBDOC):
"Rob,
Just a quick note to say that it was great to meet you personally and that the dinner night and company last Friday was fantastic. As neither a West Ham fan or diver, I'm struggling to get over humming "I'm Forever Blowing Bubbles" for some strange reason.
Best wishes,
Ivan"
---
From former WO(D) Ray Ramsay:
"Hi Rob,
The whole evening was fantastic and I enjoyed it even more than last year. The atmosphere seemed more relaxed and everyone was certainly having a good time.
Thank you Gareth for the excellent photographs. I think you may have a job for life.
I was totally taken aback by Paddy's speech, particularly when he mentioned me... I was hearing the words but they were not registering, I was that surprised!
Please thank all those involved in organising such a thoroughly enjoyable evening.
Best Regards,
Ray"
---
From MCDOA member David Bartlett MBE:
"Hi Rob,
Many thanks for all your help in locating/finding members of LMCDO '67. It was very much appreciated.
We all enjoyed a great evening and a chance to meet up and discuss the many memories that we have. We thought Hec's message to the Association [see entry for 22 Nov 17] was very well received and, during our time at Horsea, we welcomed the chance to talk to Peter Fougstedt in SA.
Our best wishes to you both.
Yours Aye,
David"
---
26 Nov 17 - SNMCMG2 in Turkey
This tweeted photo shows MCDOA member Justin Hains, Commander Standing NATO MCM Group 2 (SNMCMG2), with the COs of his ships beside a replica of the Ottoman minelayer TCG Nusret at Çanakkale in north-west Turkey close to the Dardanelles. Justin is embarked in the survey vessel HMS Enterprise.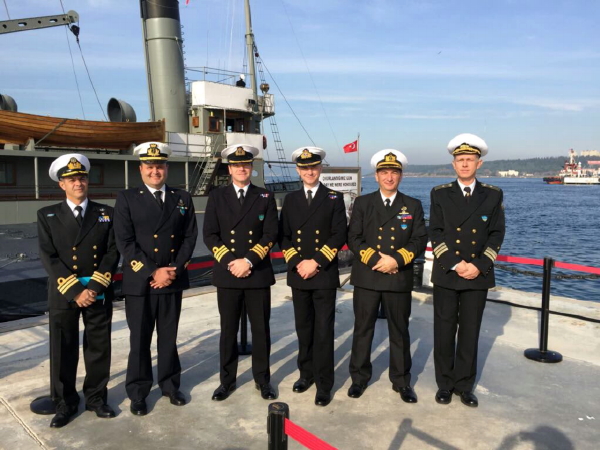 Justin Hains (third left) as COMSNMCMG2 with the COs of his ships at Çanakkale in Turkey
On the night of 8 March 1915, just prior to the ill-fated invasion at Gallipoli, Nusret (365 tons) laid a clandestine field of 26 mines in the Dardanelles which sank the British battleships HMS Irresistible and HMS Ocean and the French battleship Bouvet. It also left the British battlecruiser HMS Inflexible and the French battleships Suffren and Gaulois badly damaged.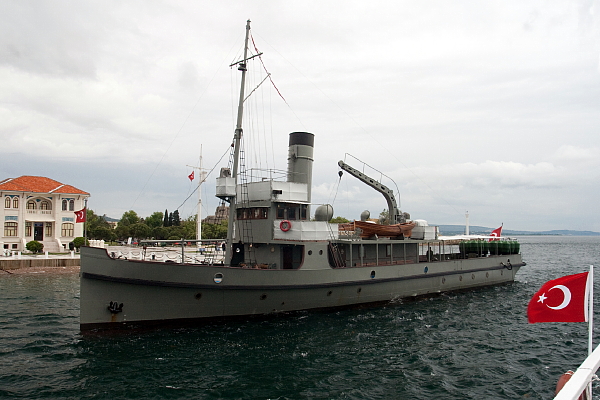 Replica of the Turkish Ottoman minelayer TCG Nusret at Çanakkale
The actual TCG Nusret has been salvaged and restored to her former glory. She is a museum ship at Tarsus in southern Turkey.
---
25 Nov 17 - David Bence awarded US Legion of Merit
Congratulations to MCDOA member Dave Bence on being awarded the US Legion of Merit. This award is a rare honour (especially for a Brit) and reflects Dave's first-class service as Deputy Commander Task Force 52 in Bahrain. It is signed by US Defence Secretary James "Warrior Monk" Mattis. The award was presented by Capt Andy Lamb OBE RN (current Deputy Cdr TF 52, former Commander First MCM Squadron and CO of HMS Pembroke and HMS Shoreham).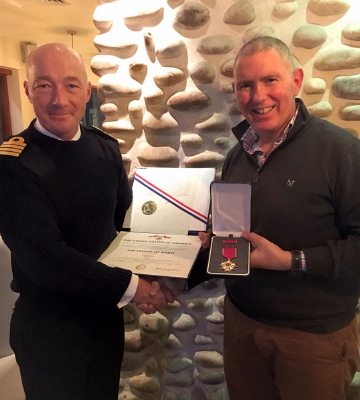 Andy Lamb presenting US Legion of Merit medal and
accompanying certificate to Dave Bence
To read the citation accompanying Dave's award, click on this: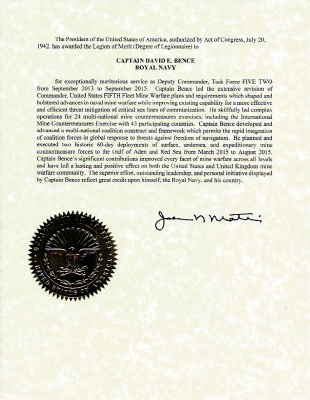 ---
24 Nov 17 - It's tonight!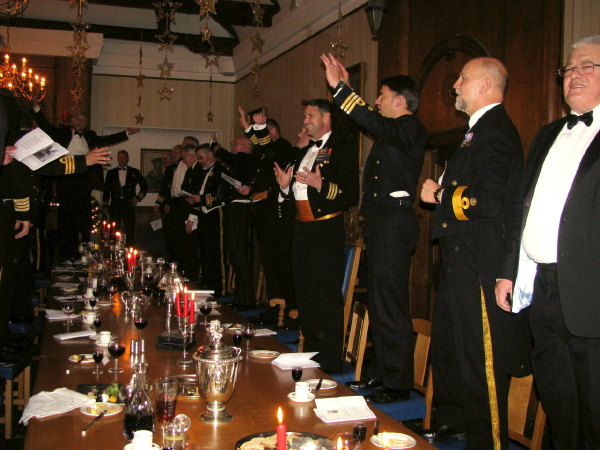 Last year: Tiny bubbles in the air...
---
23 Nov 17 - A message from Richard 'Soapy' Watson
I am grateful to MCDOA member Soapy Watson for this message:
"Have a great time, Rob.
I had my wisdom teeth removed today hence I will not be attending the dinner which is a shame!
Send my regards to all my fellow MCDs.
Soapy"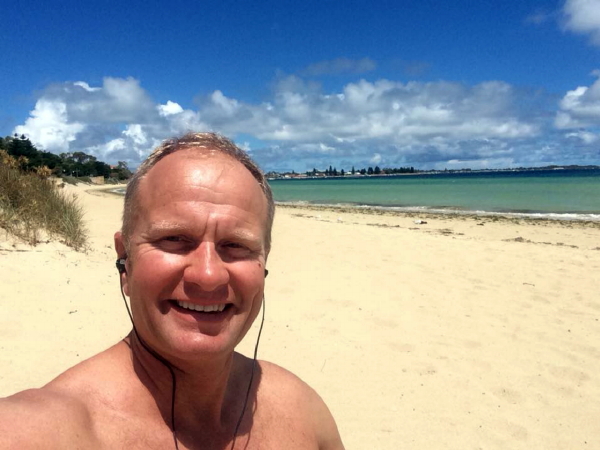 Soapy Watson on the beach at Rockingham, Western Australia on 18 November
---
22 Nov 17
A message from Cdre Hec Donohue AM RAN
I am grateful to Hec Donohue in Australia for this message:
"Rob,
As you are aware I am unable to make it to Whale Island this Friday for the MCDOA dinner which includes the celebration of the 50th anniversary of the 1967 MCDO course.
For me, it was a great privilege to be selected to run that course and I enjoyed the experience and the friendship resulting from the interactions of those involved. I have been in touch with those members who will be attending and have been impressed with their subsequent careers.
Certainly qualifying as a MCDO opened the window on many interesting and varied postings which were also, no doubt, very satisfying for the officers involved.
May I wish you all the best for a successful night, which I am sure it will be, and please pass on my apologies for not being able to attend.
Most Friday evenings I attend the local Golf Club with a group of friends and will certainly raise a glass or two to my retired RN friends and remember the heady days of 1967.
All the best,
Hec"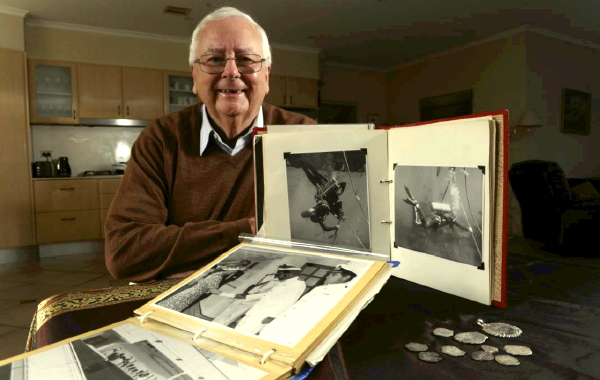 Cdre Hec Donohue AM RAN (Course Officer for LMCDO '67)
Hector (Hec) Donohue joined the RAN College in 1955 from Devonport, Tasmania. He qualified as a Clearance Diver in 1961 and completed the 1964 Long TAS (Torpedo & Anti-Submarine) course at HMS Vernon. During two years exchange service in the RN, he served as Squadron Mine Countermeasures Officer and Executive Officer of the RN's first operational mnehunter, HMS Kirkliston. Subsequently, he was loaned to the RN in 1967 as course officer for the RN's LMCDO (Long Minewarfare & Clearance Diving Officer) course.
On return to Australia he served on the staff of the Director of Underwater Weapons in the Navy Office. He was Officer-in-Charge of the RAN Diving School, HMAS Penguin in 1971. During his career in the RAN, he commanded two major fleet units, the destroyer escort HMAS Yarra and the guided missile frigate HMAS Darwin, and had wide experience in the policy and force development areas within Defence, achieving the rank of Commodore.
After leaving the RAN in 1991, he pursued a successful career in industry before retiring in 2012. He holds a BA from the University of Canberra and a MA (Hons Class 1) from UNSW. He was awarded an AM in 1991 and is the author of three books.
---
A message from Angus Benton
I am grateful to MCDOA member Angus Benton for this message:
"Rob,
Please pass my apologies for missing Friday night's dinner but the UK-US MCM Exercise is about to start here in Bahrain. Between Andy Lamb and me, one of us had to get the short straw.
Regards,
Angus"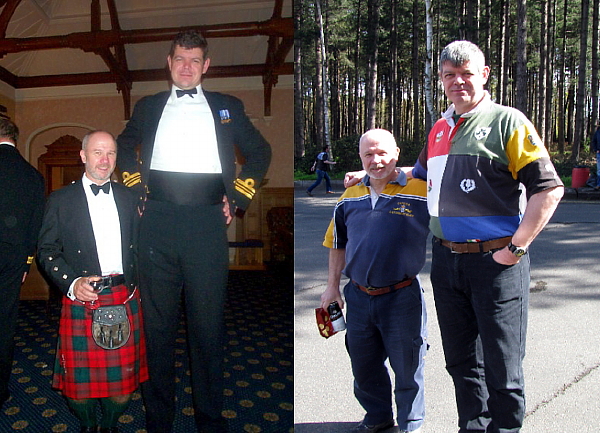 MCDOA members Big Bill Kerr (left) and Wee Angus Benton (right)
at the MCDOA Dinner in 2003 and at Twickenham last year
---
21 Nov 17 - RN Minewarfare Heritage: Cdr John Ouvry DSO RN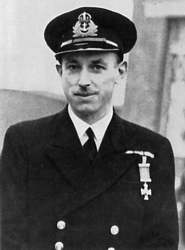 Cdr John Ouvry DSO RN
The Portsmouth News contains this double-page feature by Tim King marking the 78th anniversary of Cdr John Ouvry and his team from HMS Vernon being first to render safe one of the German magnetic ground mines that were mysteriously wreaking havoc among shipping around the UK coast at the start of the Second World War. Once the boffins at HMS Vernon had been able to examine its secrets, they were able to develop ships' self-protective measures, such as degaussing, and magnetic minesweeping systems. The feature ends with an appeal for Project Vernon, the campaign to erect a monument at Gunwharf Quays in Portsmouth to commemorate the minewarfare and diving heritage of HMS Vernon which previously occupied the site.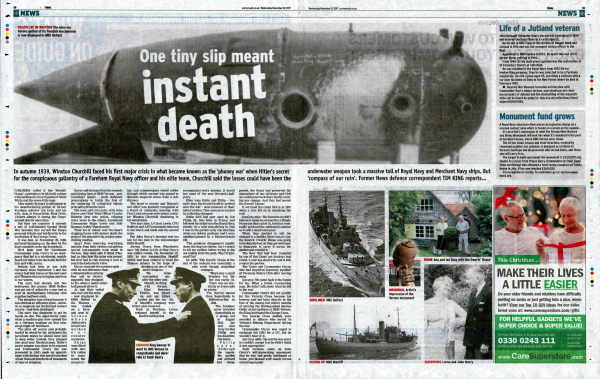 Today's Portsmouth News double-page feature about John Ouvry
Ouvry's mine is displayed on board the cruiser HMS Belfast moored on the Thames in London. In 2009, John Ouvry's son David, the late WWII naval bomb & mine disposal officer Noel Cashford MBE (see entry for 21 May 11 in News Archive 34) and I organised a highly successful event on board the museum ship to commemorate the 70th anniversary of John Ouvry's feat and promote the Vernon Monument (see entry for 27 Nov 09 in News Archive 28).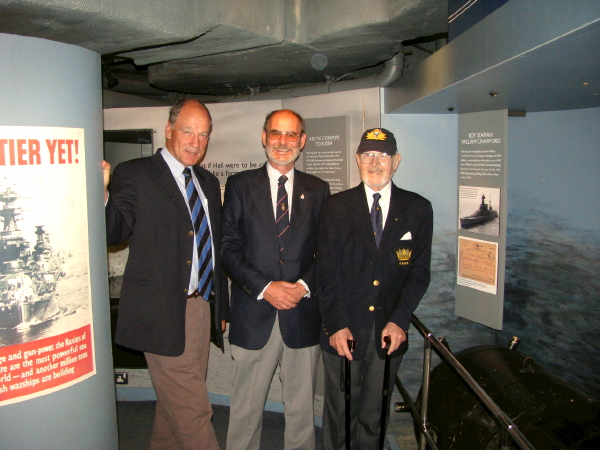 John Ouvry's son David with Yours Truly (Rob Hoole) and the late WWII naval bomb & mine
disposal officer Noel Cashford MBE beside Ouvry's mine on board HMS Belfast on 7 July 2009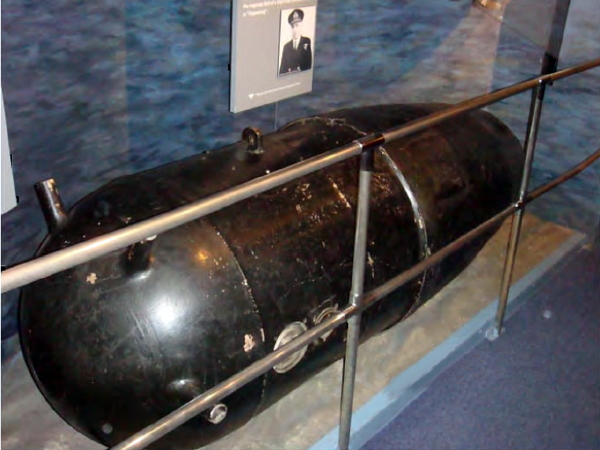 Ouvry's mine on board HMS Belfast
Tim King, the author of the feature, is a former defence correspondent for the Portsmouth News. Interestingly, he was the only journalist on board the 45,000 ton HMS Vanguard, Britain's last battleship, when she veered off course and grounded in the harbour entrance off Old Portsmouth on 4 August 1960 while being towed to the shipbreakers at Faslane:
What really happened on Vanguard that fateful day in Portsmouth Harbour
The dramatic day Vanguard came close to disaster
Above and below: HMS Vanguard temporarily aground off The Still & West pub in Old Portsmouth
Late last month, Tim King joined fellow MCDOA member Doug Barlow, my old friend Lez Howard and me at the Golden Lion in Southwick for one of our regular Tuesday 'Gentlemen Who Lunch' gatherings.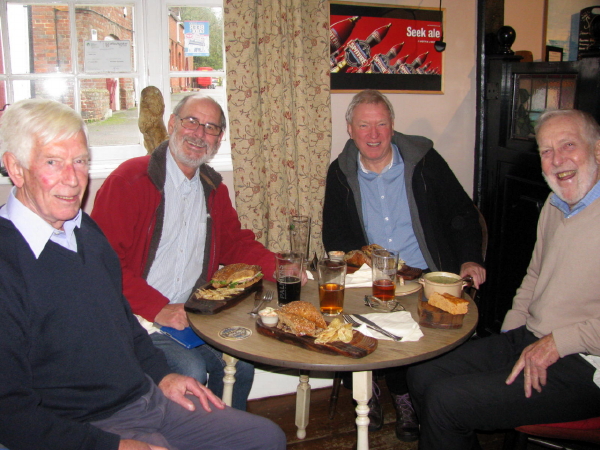 Former Portsmouth News defence correspondent Tim King, Rob Hoole, Lez Howard
and Doug Barlow at The Golden Lion in Southwick on 24 October
Lacking any other means of communication on board the powerless HMS Vanguard, Tim wrote his story on a page from a signal pad and wrapped it around an electrical plug he grabbed from the W/T Office before throwing it at a photographer on board an accompanying launch so it could be published in that night's edition of the Portsmouth News.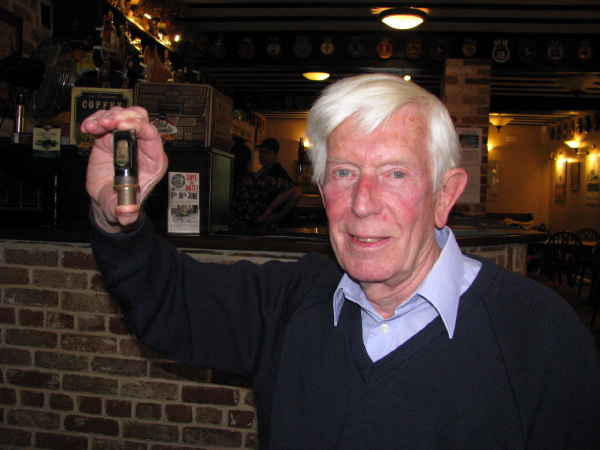 Tim King with the electrical plug he grabbed from HMS Vanguard's W/T Office
General Eisenhower and Field Marshal Montgomery drank at The Golden Lion while based around the corner at Southwick House (my old wardroom at the former HMS DRYAD) which they used as their headquarters for the D-Day landings. While Ike enjoyed his whisky, Monty was teetotal and limited himself to soft drinks.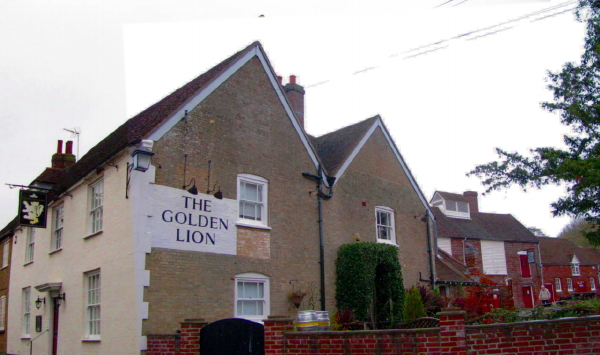 The Golden Lion at Southwick with its brewery behind
The pub has its own brewery behind it and is adorned with D-Day artefacts and naval memorabilia including ship's badges. Two of note are from the RN's deep diving vessel HMS RECLAIM and the TON class minesweeper HMS ALFRISTON, both now long gone.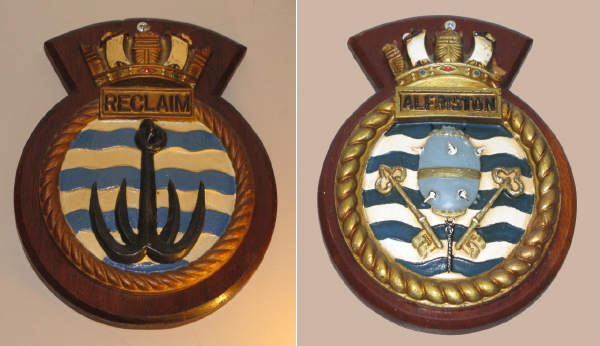 Two of the many ships' badges displayed at The Golden Lion in Southwick
We were well looked after by Annie and Annette whose husband had worked at Horsea Island.
Left: Annie behind the pumps in the back bar of The Golden Lion at Southwick.
Right: Annette behind the pumps in the main bar of The Golden Lion at Southwick
After our lunch, Tim took us a few miles up the Meon Valley to Droxford to see the hidden railway line and siding (now a bridle path) where Churchill hosted Eisenhower, Smuts, de Gaulle, Ernest Bevin, Anthony Eden, the Canadian Premier Mackenzie King, the New Zealand Prime Minister Peter Fraser and Southern Rhodesia's Sir Godfrey Huggins, among others, on board his personal train in the days immediately prior to the D-Day landings.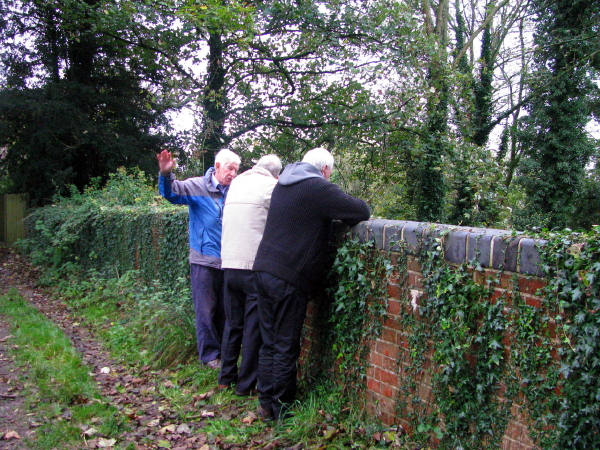 Above and below: The bridge and former siding near Droxford Station in which Churchill's
personal train was parked during the week before D-Day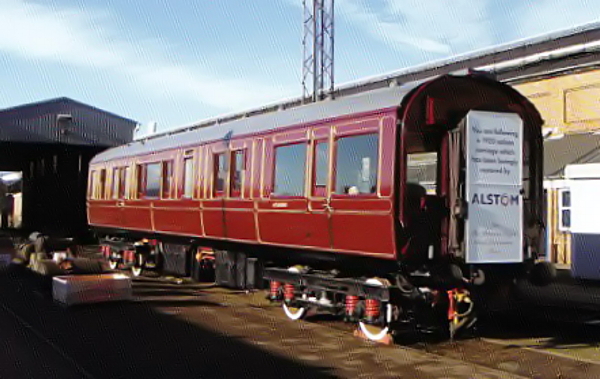 Churchill's personal railway carriage
The Meon Valley Railway (MVR) was a cross-country railway in Hampshire that ran for 22 1⁄2 miles between Alton and Fareham, closely following the course of the River Meon. At its northern end in Alton, it joined with the Mid-Hants Railway to Winchester, the Alton Line to Brookwood and the Basingstoke and Alton Light Railway. The Meon Valley Railway closed to passengers in 1955 but goods traffic remained on two severed sections of the line. At the north end traffic continued to Farringdon and at the south to Droxford. The track in-between was lifted. The goods service to Droxford finished in 1962 and Droxford Station, a few hundred yards away from the siding used by Churchill, is now a private residence.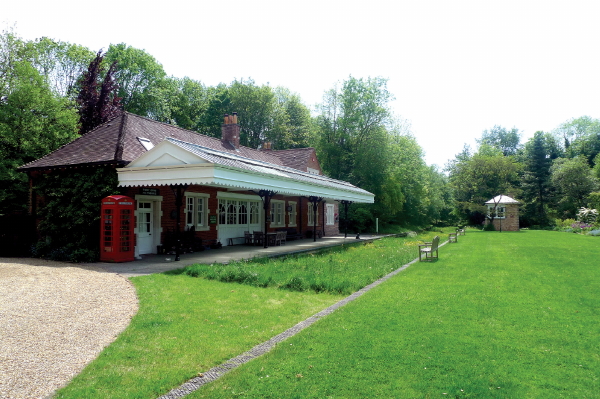 The former railway station at Droxford
This is the article Tim wrote about this historic event for The Echo in May 1963 before the tracks were finally removed: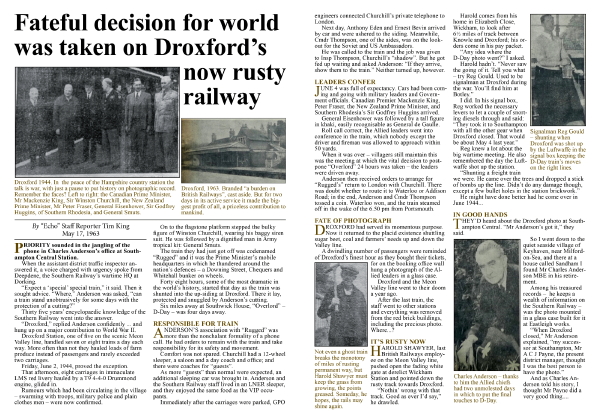 Tim then took us to see a display in Droxford church about local events prior to D-Day and described the exclusive interview he had with ex-US President Eisenhower when he visited Portsmouth Guildhall during the filming of a TV documentary in August 1963:
Ike reveals D-Day decision to Evening News reporter in Portsmouth Guildhall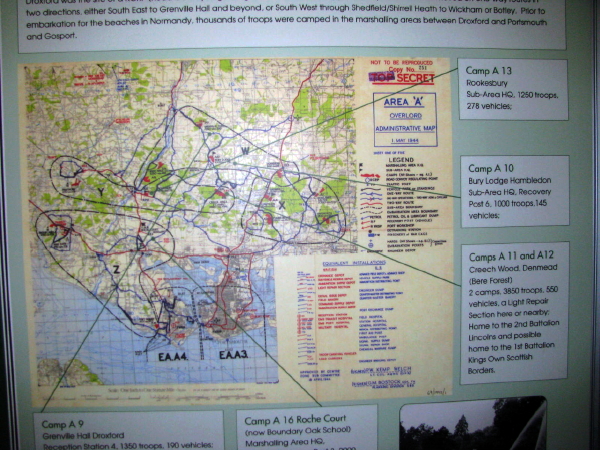 Map in Droxford Church showing dispositions of military encampments
in the Portsmouth area prior to D-Day
---
20 Nov 17 - TCA Portsmouth area Christmas Lunch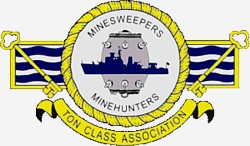 The Ton Class Association (TCA)'s Portsmouth area Christmas Lunch will take place in the Royal Maritime Club (RMC) at 1200 for 1300 on Tuesday 5 December. The lunch will comprise a two-course meal at £16.50 or a three course meal at £18.50. Attendees attending are responsible for paying for their meals before leaving the RMC.
TCA Members wishing to attend are to select their choice of meal from the menu below and email their choices to organiser Laurie Johnson via this address. The deadline for bookings is 28 November.
Transport:
Park and Ride from Junction 1 of the M275 runs every 15 minutes.
Bus into Gunwharf Quays.
Rail to Portsmouth Harbour Station.
Parking:
Portsmouth Historic Dockyard car park opposite The Royal Maritime Club
Up to 2 hrs = £2.00
2 – 4 hrs = £4.00
A group photo will be taken before attendees sit down.
---
19 Nov 17 - Navy News press clippings
A selection from this month's issue: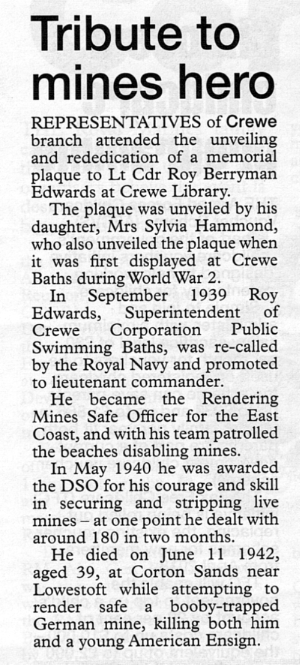 The American killed with Lt Cdr Edwards on 11 June 1942 was Ensign John Martin Howard USN. He was born in Chester, Pennsylvania on 20 August 1917 and enlisted in the US Naval Reserve on 22 June 1935. Following officer training at the Naval Reserve Midshipman's School 1940-41, he was appointed an Ensign on 28 February 1941. After serving at the Washington Navy Yard and at the Bureau of Ordnance, he was assigned for temporary duty at the American Embassy in London. He was attached to the Royal Navy and to the Army's Royal Engineers at various times to gain bomb & mine disposal experience. He was killed at the age of 24 and is buried at the Cambridge American Cemetery and Memorial Site, Coton, Cambridgeshire.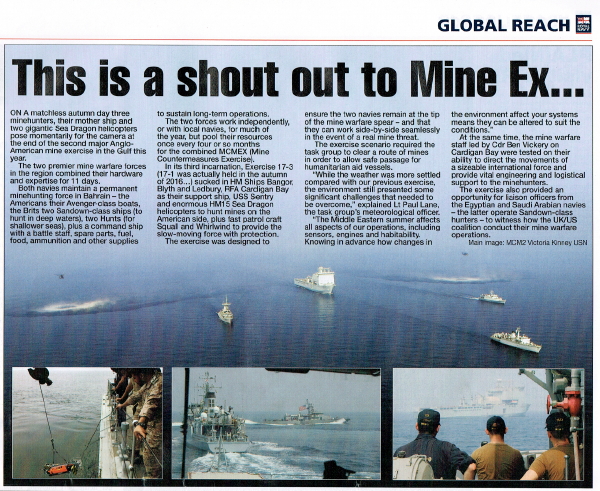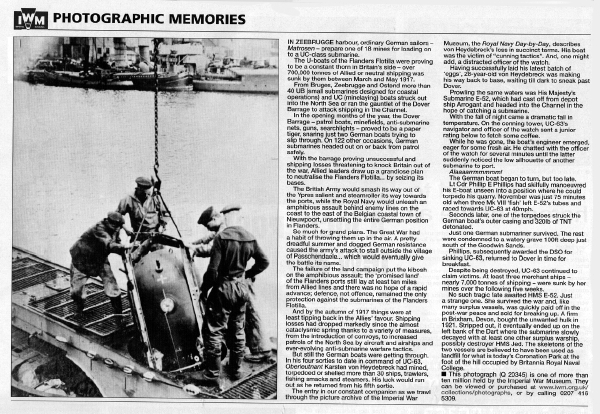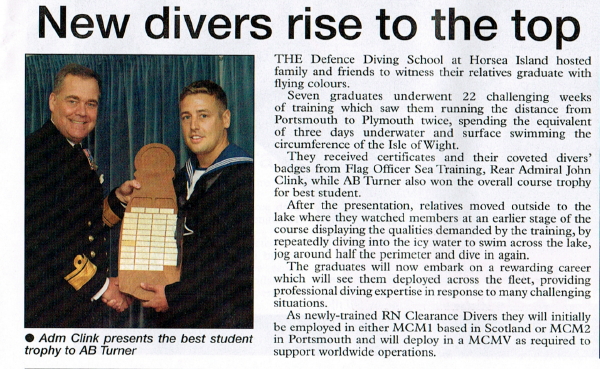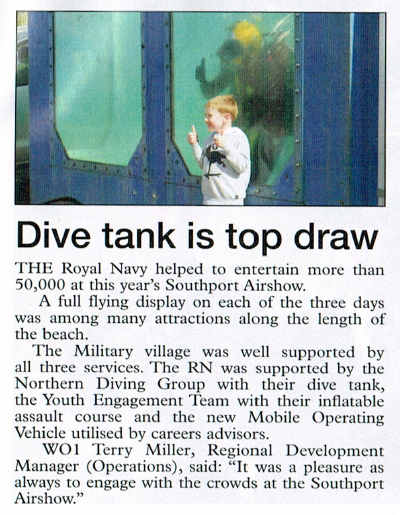 ---
18 Nov 17 - HMS Cattistock and SDU2 deal with North Sea bomb
The Royal Navy website contains this article and the Sky News website this article reporting Thursday's disposal of a Second World War bomb by HMS Cattistock (MCM2 Crew 8 commanded by MCDOA member Charlie Wheen - see entry for 28 Sep 17 in News Archive 59) and personnel from Portsmouth-based Southern Diving Unit 2 (SDU2). The trawled-up bomb had been discarded by a Dutch fishing vessel 60 metres from a North Sea gas pipeline 50 miles off the Norfolk coast and was relocated by HMS Cattistock. The divers lifted the bomb and moved it a safe distance away before destroying it with a demolition charge.
SDU2 divers and HMS Cattistock
(RN website images)
The article features PO(D) Lee Sullivan of SDU2.
---
17 Nov 17 - NDG called out for suspicious package in Glasgow
The Sunday Post website contains this article reporting that a Royal Navy bomb disposal unit, presumably members of Faslane-based Northern Diving Group (NDG), was called to a Glasgow office block yesterday after the discovery of a suspicious package.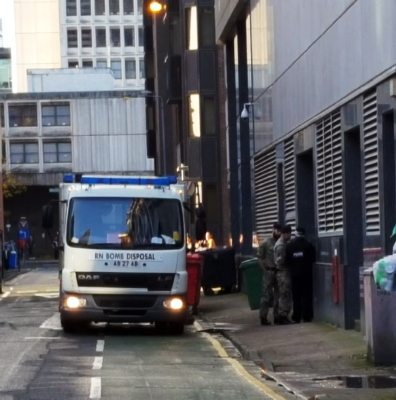 NDG EOD vehicle in Glasgow yesterday
(Photo courtesy of Ed Harvey)
---
16 Nov 17 - Forthcoming book about First World War minewarfare
Your humble webmaster has been collaborating with Cdr David Bruhn USN, prolific author of such publications as 'Wooden Ships & Iron Men' Vols I to III, on the production of a new book. 'Home Waters' will tell the story of Royal Navy, Royal Canadian Navy and US Navy mining and minesweeping operations during the First World War.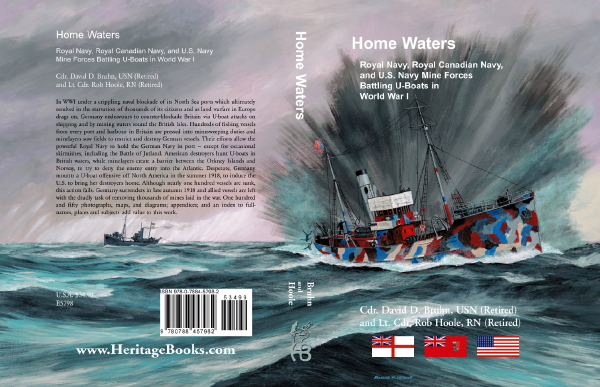 Back and front cover of 'Home Waters'
The book's cover shows 'They Opened the Seaways' by Richard DeRosset which depicts a mine detonation off the port quarter of the British-built Mersey class minesweeping trawler USS Richard Bulkeley. The wooden-hulled vessel was sunk with the loss of her Commanding Officer and six crew members while engaged in post-First World War clearance of the North Sea Mine Barrage stretching from the Orkney Islands to Bergen, Norway.
MCDOA President Paddy McAlpine and Rear Admiral Paul Ryan USN (a former COMINEWARCOM) have contributed forewords to 'Home Waters'.
Foreword by Rear Admiral Paddy McAlpine CBE RN
Foreword by Rear Admiral Paul Ryan USN
Foreword by Dwight A. Messimer
The book is due to be launched early in the New Year, if not earlier, to mark the 100th anniversary of the end of the First World War. I will be donating my proceeds towards Project Vernon, the campaign to erect a monument at Gunwharf Quays in Portsmouth to celebrate the minewarfare & diving heritage of HMS Vernon which previously occupied the site.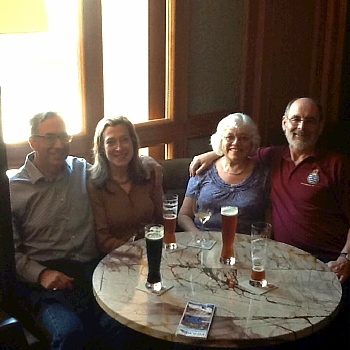 Co-authors David Bruhn & Rob Hoole with our wives
in San Francisco in 2014
Watch this space for further news.
---
15 Nov 17 - MCDOA AGM, Operational Updates and Annual Dinner

The deadline for applications for this year's AGM, operational updates and annual dinner on Friday 24 November 2017 is mid-day today. Last year's dinner coincided with the UK-hosted ABCANZ conference and was attended by a record crowd of 145 members and guests (see entry for 20 Nov 16 in News Archive 56 for more photos).

Paddy McAlpine, our outgoing President, has kindly agreed to be the Guest of Honour at this year's dinner which is wholly fitting as this will be his last as our senior serving MCD Officer. Please help give him the send-off he so richly deserves as our only ever MCD officer to achieve flag rank.
Rob Walker, our Honorary Secretary, has provided this list of dinner attendees to date (23 November):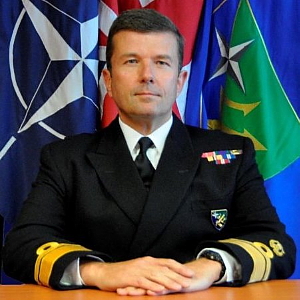 Guest of Honour
Rear Admiral Paddy McAlpine CBE
Deputy Commander Naval Striking and Support Forces NATO
(DCOMSTRIKFORNATO)
WO(D) Dan Archer
Lt Cdr David Bartlett MBE RN
Lt Cdr Richard Battrick RN
Dr John Bevan


Lt Keith Broughton RN


Lt Cdr Stephen Brown RN
WO(D) Andy Brunton MBE
Cdre Phil Burrell RN
Lt Col Andrew Callahan
Lt Cdr Jonny Campbell RN
Lt Col Mike Canham RE
Lt James Carpenter RN
Lt Cdr Jon Cox RN
WO(D) Mo Crang
Lt Cdr Mike Critchley RN


Cdr Don Crosbie RN




Lt Cdr Nigel Davies RN


Cdre Mark Durkin RN
Lt Cdr Brian Dutton DSO QGM RN
Mr Simon Edwards (Broughton)
Mr Willie Fleming
Cdr Patrick Gale RN
Lt James George RN
Lt Cdr Ian Geraghty RN
Mr Glyn Gilbert
Lt Cdr Kev Giles RN
Lt Cdr Richard Gobey RNR (Gobey)
Lt Cdr Steve Gobey RN
Capt Dan Groom RE
Lt Cdr Stuart Harper RN
Cdr Justin Harts USN (O'Flaherty)
Lt Cdr Bob Hawkins MBE RN
Lt Cdr Sean 'Central' Heaton RN
Lt Cdr Dan Herridge RN


Lt Cdr Martyn Holloway RN

Mr Gareth Hoole (Hoole)
Lt Cdr Rob Hoole RN
Maj David Hough RE (REBDOC)
Mr Adam Hunkin (Hunkin)
Cdr David Hunkin OBE RN
Cdr Phil Ireland DSC RN
Lt Cdr Sam Jane RN
Lt Cdr Andy Kent RN
Lt Cdr Bill Kerr RN
2Lt Rory Kerr R Welsh (Kerr)
Lt (David?) Lee RN
Lt Cdr David Louis RN
Lt Bob Lusty RN
Cdr Dougie MacDonald RN
Cdr Martin Mackey RN
Lt Cdr Alasdair Magill RN
Mr Ted Mangion
Lt Cdr Alex Manning RN
Lt Cdr David Marshall RN (Marshall)
Lt Cdr Mike Marshall MBE RN
Lt Cdr Steve Marshall DSC RN
Mr Tony Marshall (Bevan)
Maj Bob Mather RE
Lt Cdr Stuart McAlear RN
Lt Cdr Paul McDermott RN
Cdr Del McKnight RN
Lt Charles Morton RN
Cdr Al Nekrews QGM RN
Capt Chris O'Flaherty RN
Capt Ivan Olbrechts RE (REBDOC)
Lt James Oxley RN
Lt Cdr Andrew Penfold RN
Mr Lawrence Pinkney (Giles)
Lt Cdr Ben Piper RN
Mr Eric Piper (Piper)
Mr James Piper (Piper)
Capt Jason Poole RN
Cdr Simon Pressdee RN
Lt James Preston RN
Lt Cdr Gregg Powell RN
WO(D) Ray Ramsay


Cdr David Ramsden RAN


WO(D) John Ravenhall
Capt Roger Readwin RN


Cdr Keith Riches RN


Lt Cdr Peter Robinson RN
Cdr Stuart Robinson RN
Cdr David Sandiford RN
Lt Cdr Alex Scott RN


Miss Julie Scott (FCO)


Cdr Jason Scott RN
Col Zac Scott (Nekrews)
Lt Cdr Chris Sherman RNR
Cdr Ashley Spencer RN
Lt Cdr Ben Stait RN
Lt Cdr Dave Stanbury RN
Lt Rob Stone-Ward RN
WO1 Scott Vessey RE
Mr Chris Taylor (MoD)
Cdr Ben Vickery RN
Lt Cdr Peter Waddington RN
Lt Cdr Charlie Wheen RN
Lt Cdr Steve White RN
Lt Cdr Max Wilmot RN
Cdr Charlie Wilson OBE RN
Lt Cdr Graham 'Tug' Wilson MBE RN
Capt Mike Williams RLC (REBDOC)
Mr James Young (Kerr)
* LMCDO '67 50th Anniversay celebrants shown in blue
* LMCDO '77 40th Anniversary celebrants shown in purple
* LMCDO '92A 25th Anniversary celebrants shown in red
* LMCDO '92B 25th Anniversary celebrants shown in green
The evening will follow the traditional format commencing with pre-dinner drinks in the bar at 1900 followed by food and refreshments and a hearty sing-song to the musical accompaniment of HMS Nelson's Volunteer Band before retiring to the bar. N.B. As roving photographer, I request that attendees only stand on their chairs for 'Bubbles' during the singalong as images of rows of 'bums', however interpreted, are not particularly edifying.

The dinner is open to MCDOA and affiliated association members and their guests only. If a non-member wishes to attend the dinner who is eligible to join the Association (serving or retired), they are required to complete the membership process prior to being offered a place at the dinner. As in days of yore, serving and former serving WO(MW)s and WO(D)s are also eligible to attend at the guest rate without the need for a sponsor. If lack of space becomes a problem (as nearly happened last year), members will be restricted to one or possibly two guests each with others being placed on a reserve list. We don't want to turn bona fide members away.
The cost of the dinner will be £45 for members and £50 for guests. This will include a four-course meal, wine, and the Association will put a healthy kitty behind the bar if approved as usual at the AGM. JFD UK has again kindly offered to provide the port for the evening. Accommodation in HMS EXCELLENT transit block has been reserved.
This year marks the 50th anniversary of:
LMCDO '67: Course Officer: Hec Donohue RAN. Students: David Bartlett, Jack Birkett, Nigel Davies, Peter Fougstedt SAN, Pat Gale, Mike Harwood, Geoff Mullett, Chris Niven RN/RNZN and David Ramsden RN/RAN
Feb 1967 MW Conversion from CDO: Student: Mike Gillam
Apr 1967 MW Conversion from CDO: Students: Philip White MBE (later Balink-White), Brian Braidwood, Bryan Barrett, Peter Hicks, Edward 'Jake' Linton BEM RAN and Douglas 'Pony' Moore GM BEM RAN.
Nov 1967 MW Conversion from CDO: Course Officer: Brian Braidwood. Students: Tag Caisley, Hec Donohue RAN, John Hendrick, Tony Johnson-Newall and Charles 'Chuck' Maginley RCN.
Regrettably, I only have these photos: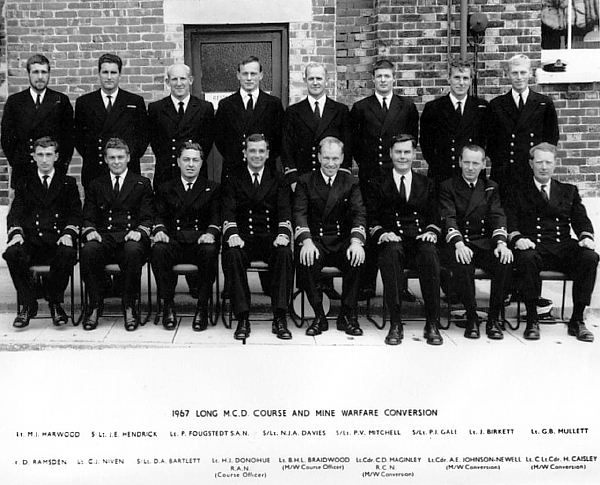 1967 Long MCD Course & Nov 1967 Mine Warfare Conversion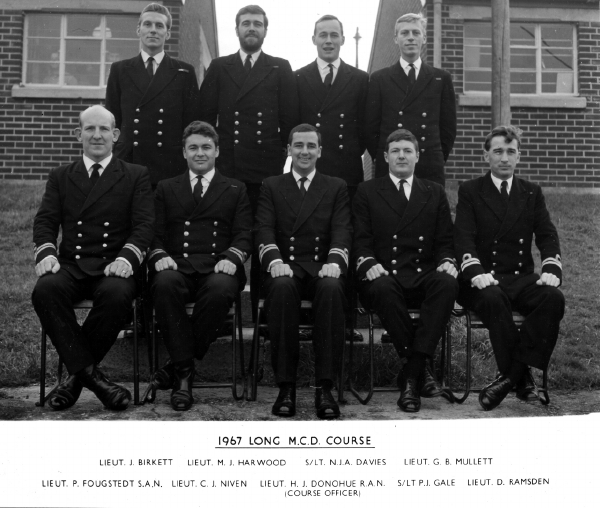 LMCDO '67 Course Photo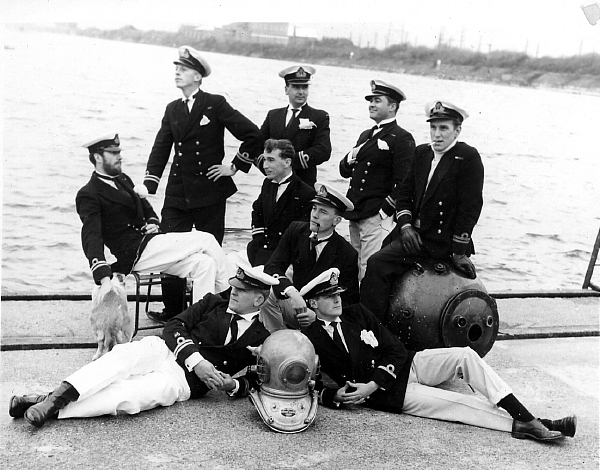 LMCDO '67 - 'The Final Few'
We will also celebrate the 25th anniversary of LMCDO 92A: Course Officer: Alan Trevarthen. Chief Instructor: Dave Morris. Students: Don Crosbie, Tim Lambie and Tony Watt.LMCDO 92B: Course Officer: Alan Trevarthen. Chief Instructor: Dave Morris. Students: Keith Broughton, Jason Scott and Tim Lewis and LMCDO 92B (MW module): Course Officer: Jim Acton. Chief Instructor: Tony Mulrain. Students: Keith Broughton, Jason Scott, Tim Russell and Clive Smith).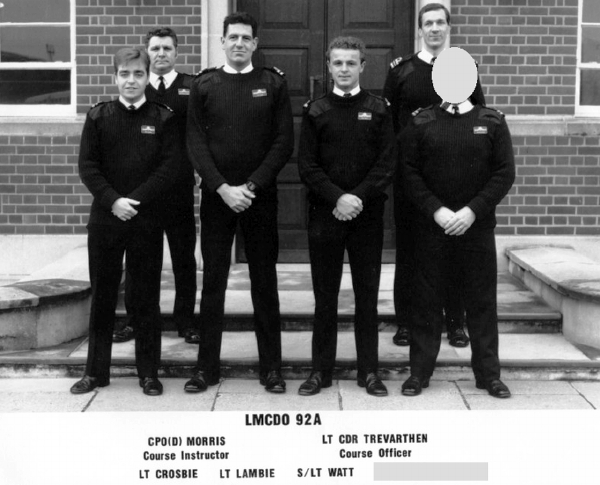 LMCDO '92A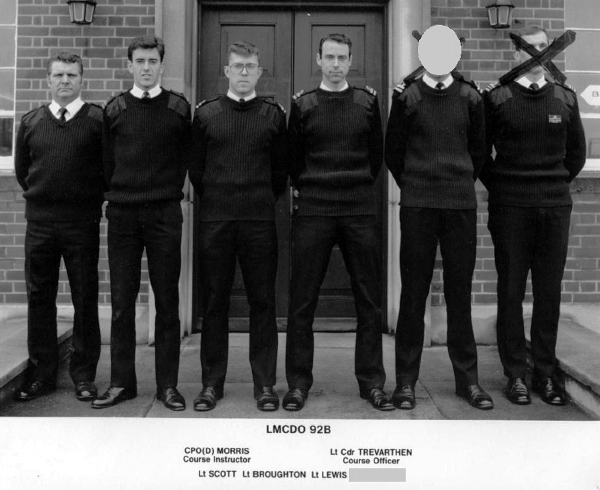 LMCDO '92B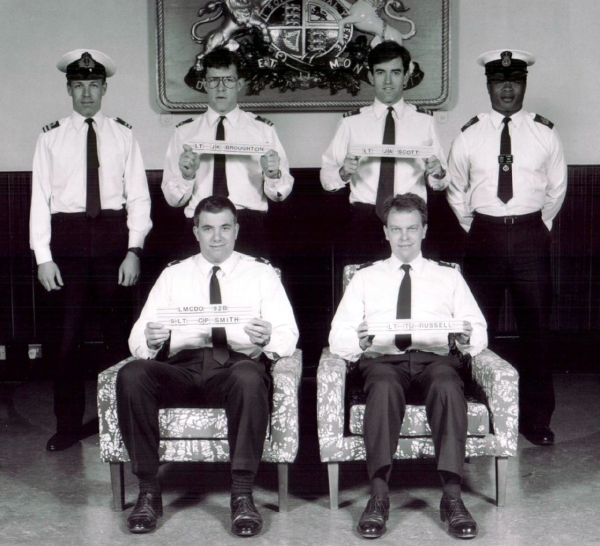 LMCDO '92B MW module
Operational update briefs will be held in the Reclaim Conference Room at Fleet Diving Headquarters in the Bridge Building on Horsea Island commencing at 0900. Lunch will be provided in the HI Officers and Senior Rates Mess from 1200 with the AGM starting at 1315. Members are encouraged to attend this important serial and make your voices heard to the committee.
Payment for the dinner can be made by cash, cheque or online bank transfer. Please ensure you send hard or soft copy application forms. The closing date for applications will be Friday 10 November or before if all spaces are taken. If you are due to leave the Royal Navy and deserve being dined out for free, please make Rob Walker aware and discuss your choice of 'gizzit' with him.
Download and complete the calling notice and booking form here. It is also available on the website's Forthcoming Events page.
Peter Davis, our Hon Treasurer, requests that
a. Cheques should be submitted with completed booking forms (or else list the guests on the back of the cheque). Those paying online need to annotate their payment reference on their ticket proformas. Cheques and Bank Transfers are the preferred methods of payment.
b. Hosts should pay for all their guests in a single payment to prevent a large number of random cheques/bank transfers.
---
14 Nov 17 - RN Minewarfare Heritage: Ldg Wireman Jasper Moody and HMS Elfreda
I received this enquiry yesterday:
"Hi,
I came across your website whilst trying to find out some information about may late father's time spent in the Royal Navy on board a minesweeper, HMS Elfreda. His details are:
Name: Jasper Joseph Moody
Rank: Leading Wireman
Service Number: CMX97262
Award: MID (The London Gazette 11/12/1945 Page 6004)
It would be great if you could add his details to your site information. If there's any information that you can find out why he was awarded the MID [Mention in Despatches] I would be really interested in reading it and most grateful.
Many thanks,
Tim
Tim Moody
Director
TM Electrical Consulting Ltd
Oxford
England"
This was my reply:
"Hello Tim,
Thank you for your email which has been passed to me by Rob Walker, our Association Secretary.
I have added your late father's name to the list of 'WW II Awards for RN Minesweeping' in the MCDOA website's 'Branch History' section.
His post-war award of a MID (Mention in Despatches) is most likely to have been for general service above and beyond the call of duty, not for any specific act or incident. That's why the list of recipients in the London Gazette is so long.
As you are aware, HMS ELFREDA was a Catherine class minesweeper built at Associated Ship Builders in Seattle. She was ordered on 6 Dec 1941, laid down on 7 Sep 1942 and launched on 25 Jan 1943 as the Auk class BAM minesweeper USS OVERSEER (AM 321). She was transferred to Britain on lend-lease and commissioned into the Royal Navy as HMS ELFREDA (J 402) on 22 Dec 1943. She was returned to the US Navy after the war and sold to the Turkish Navy in March 1947. Renamed TCG CESMI (M505), she was finally withdrawn from service in 1974.
I have attached a scanned excerpt about the Catherine class minesweepers from 'Fleet Sweepers At War' by Jack Williams. It contains several references to HMS ELFREDA and a photo of her.
Best wishes,
Rob Hoole"
From Chapter 7 of Fleet Sweepers At War by Jack Williams:
The BAM-class
The first difficulty with this class is to determine the nomenclature. These ships have been variously listed as being of the CATHERINE or GAZELLE or 'CHANCE' class. Most official wartime papers appear to favour 'CATHERINE', but this is difficult to understand as she was not the first to be completed, which is usually the reason for the classname, and there seems no other reason than that she appears first in the alphabetical fleet list. The first ships of the class to be completed were STRENUOUS (completed as USS USAGE) and TOURMALINE (completed as USS VITAL), but neither were chosen as the class-name. The more correct title in my view would be the BAM-class. All of them were originally ordered and built for the US Navy and given US Navy designation as AMs. This designation of AM was used to denote Auxiliary Minesweeper, which, in US terms, meant that they were auxiliary to the Fleet, and not, as in the Royal Navy terminology, that they were auxiliary minesweepers such as the trawler sweepers. They were in fact the equivalent of the British Fleet Minesweepers. All US Navy ships were given a two or three letter designation often denoting their category (eg. DE being destroyer escorts). So this class were in fact British AMs, meaning that they were AMs built for the Royal Navy, and hence can be shortened to BAMs.
The BAMs were 22 ships of the American 'AUK' class of AMs, built in America and transferred to Britain under Lease-Lend arrangements. Originally 32 were allocated but the US Navy retained ten of these. The builders were:
Associated Shipbuilders, Seattle (AM9-1 6, 22-29)
Savannah Mcy & Foundry Co., Georgia (AMI7-21)
Gulf Shipbuilding, Chickasaw, Alabama (AM3I-32)
Gulf Shipbuilding, Madisonville, Alabama (AM30, 129-130)
Displacement of these vessels was about 1100 tons (standard) and 1200 tons (deep), although the designed displacement was about 900/1100 tons; the increase being probably due to the extra MIS gear and armament fitted. Dimensions were - 221 feet long (overall), 32 feet beam and 9 feet draught. The BAMs were Diesel-Electric, twin-shafted; four diesel generators and four motors, giving a designed speed of 18 knots, and a sweeping speed of 12 knots. Armament was a single 3-inch HA/LA, six 20mm Oerlikons, four depth charge throwers and two rails. Minesweeping gear of Oropesa, LL and SA (hammer) was fitted to deal with all types of mines. Radar and Asdic (Sonar) sensors were fitted. Designed complement was about 80 but this rose to more than 100 after commissioning. Although it is sometimes claimed that a few of the class (e.g. TATTOO) were rivet-built, it hasn't been possible to verify this, and it is more commonly thought that they were in fact of welded construction.
Fleet List:
Pendant No.
Name
Original No.
Builder
Completed
J12
J16
J23
J28
J340
J341
J345
J402
J403
J404
J405
J406
J342
J346
J352
J407
J400
J401
J375
J338
J374
J339
CATHERINE
CATO
PIQUE (ex-CELERITY)
CHAMOIS
CHANCE
COMBATANT
CYNTHIA
ELFREDA
FAIRY
FLORIZEL
FOAM
FROLIC
GAZELLE
GORGON
GRECIAN
JASPER (ex-GARNET)
MAGIC
PYLADES
STEADFAST
STRENUOUS (ex-USAGE)
TATTOO
TOURMALINE (ex-VITAL)
ex AM 9
ex AM 10
ex AM 11
ex AM 12
ex AM 13
ex AM 14
ex AM 15
ex AM 16
ex AM 25
ex AM 26
ex AM 27
ex AM 28
ex AM 17
ex AM 18
ex AM 19
ex AM 29
ex AM 20
ex AM 21
ex AM 31
ex AM 129
ex AM 32
ex AM 130
Seattle
Seattle
Seattle
Seattle
Seattle
Seattle
Seattle
Seattle
Seattle
Seattle
Seattle
Seattle
Savannah
Savannah
Savannah
Seattle
Savannah
Savannah
Chickasaw
Madisonville
Chickasaw
Madisonville
8.7.43
20.7.43
30,8.43
22.10.43
13.11.43
13.11.43
7.12.43
22.12.43
24.3.44
14.4.44
28.4.44
18.5.44
28.7.43
28.8.43
22.9.43
12.8.44
25.10.43
24.11.43
29.9.43
18.5.43
26.10.43
6.7.43
The names chosen by the Admiralty for this class show little or no recognition of the problems which might be faced by the crews. Names such as FAIRY and CYNTHIA can hardly be considered appropriate names for warships. However, with the exception of ELFREDA, all of the class bore names of ships which had previously served with the Royal Navy; PIQUE and GORGON (both 5th of the name and with 4 Battle Honours) and PYLADES (7th of the name with 2 Battle Honours) are names associated with earlier notable service. PIQUE was actually christened as CELERITY, but because of the possibility of confusion with another ship named CELEBRITY, she was renamed three months after commissioning while on passage to UK.
The first of the class to arrive in the UK was GAZELLE in October 1943, when she was allocated to the 40th Minesweeping Flotilla. By the end of November four more of the flotilla had been commissioned and were completing work-up at Bermuda - CATHERINE, CATO, GORGON and PIQUE. The last named didn't leave for UK with the others, but, after spending Christmas at New York, proceeded to St. John's, Newfoundland from where she sailed with the Algerine PERSIAN on 6 January 1944, arriving at Londonderry on 13 January. With the arrival of GRECIAN, STRENUOUS (designated Senior Officer ship) and TOURMALINE in January the flotilla was complete, but in February CATHERINE took over as Senior Officer when STRENUOUS and TOURMALINE were both found to have serious defects and both were paid off into Reserve at Hartlepool. Replacing these two were MAGIC and TATTOO still under work-up with other units of the 41St MSF in Canada, and arriving at Rosyth in late February.
As each ship arrived in UK they were sent for alterations which were necessary before they could be used by the Royal Navy. Bunks were removed to allow for a greater complement (about 100 instead of the designed 80), but the greater problems were concerned with their diesel electric machinery. One visitor from an Algerine (Lieutenant John Nicholas RNVR) recalled how he got an electric shock as he stepped into the wardroom. His shoes had been repaired with riveted soles and the deckplates were live. The ships had to be 'anglicised' to cope with these problems...
-------------------------------------
On 25 June [1944] while sweeping PIQUE sustained damage from an exploding mine and retired to Devonport for repair. A few days later GAZELLE had a sweep wire wrap around her screws while sweeping off Arromanches, and she also went to Devonport for repair. On the night of 6/7 July the flotilla suffered a tragic and bitter blow. The flotilla were again in their place on the 'Trout Line', with MAGIC and CATO the two ships anchored at the tail end. This was the night chosen by the Germans to launch their new weapon against the ships in the anchorage. The weapon was the 'Neger' ('Marder' to the Germans), a human torpedo launched from Villers-sur-Mer. This was a one-man weapon consisting of an electrically propelled carrier body with an underslung explosive torpedo, steered by the pilot sitting in a plexi-glass covered cockpit on the carrier. Their first successful targets were the two BAMs of the 40th MSF, MAGIC and CATO. Both sank very quickly with the loss of 26 and 25 men respectively. MAGIC was the first to be attacked and blown up, and many of her crew were rescued and taken on board CATO, the nearest ship, which herself blew up a short time later. As a result of this disaster, MS40 ordered the flotilla to remain under way instead of being at anchor on the 'Trout Line', which meant that the crews had even less sleep than hitherto. The flotilla were further depleted on 11 July when GORGON was damaged by a mine and needed repair, and she was followed by CATHERINE on 20 July.
At the end of July both PIQUE and GAZELLE were back with the flotilla along with two replacements, TATTOO and ELFREDA. However, the latter didn't remain long as she went on 17 July to Hull for repairs and refit which were not completed until mid-September.
The 40th MSF continued sweeping off Normandy throughout August. While all the activity was taking place preparatory for Normandy, other BAMs had been arriving in UK and working-up at Granton (minesweeping) ready for operational duty. Allocated to join MAGIC and TATTOO (SO) in the 41st MSF were PYLADES, CYNTHIA, and ELFREDA, the latter two being under repair at Devonport. At the end of June they were joined at Plymouth by the others of the flotilla...
-------------------------------------
In mid-June STEADFAST of the 40th MSF and PYLADES of the 41st MSF were detached from their respective flotillas to join the Algerine 18th MSF off Normandy, following mine damage to RATTLESNAKE. On 30 June STEADFAST went to Devonport for repair and on completion rejoined her old flotilla, the 40th. On 8 July as the 18th MSF prepared to get under way after a night on the 'Trout' Line a group of German human torpedoes (the Negers) attempted to break through the ring of protective ships. Units of the flotilla, particularly ORESTES, began to engage the enemy, but at about 0650 PYLADES was hit in the stern by a torpedo...
Eleven men of PYLADES were killed or missing and a number of others injured. With the loss of PYLADES and MAGIC, and the transfer of TATTOO and ELFREDA to the 40th MSF, the 41st MSF was left with only COMBATANT, CHANCE, CHAMOIS and CYNTHIA. However, with the arrival in the UK of FAIRY, FOAM, FLORIZEL and FROLIC a re-organisation took place and the 42nd MSF under the senior officer ship COMBATANT came into existence.
By July the flotilla was operational and assisting in sweeping off Normandy. During a sweep on 21 July CHAMOIS was shattered by an acoustic mine exploding very close by, and which caused a lot of internal damage but no leaks...
At Hartlepool CHAMOIS was found to be beyond repair and declared a Constructive Total Loss. In August CHANCE, after a long period of sweeping was required to go to Devonport for a replacement of her Number 3 engine. Both flotillas (40th and 42nd) remained sweeping off Normandy and the Belgian/Dutch coasts during the winter of 1944/45.
-------------------------------------
In November 1944 ELFREDA was engaged in a special task. With the tugs GRIPER and JAUNTY towing the experimental 'Stirling' craft CYRUS (a 4000 ton barge), ELFREDA was in command of Operation 'Hoover', an attempt to clear the Le Havre approaches of 'Oyster' [pressure] rnines. In a Force 5-6 wind, the tugs had great difficulty in manouevring the unwieldy craft through the crowded anchorage, and after impaling an American LST she was eventually secured to a buoy. The handling party of nine seamen from ELFREDA were then taken off, much to their relief. Further attempts, partly successful although no mines were swept, were made in the next few days. However, during the winter gales which began soon after, CYRUS broke from her moorings and, despite ELFREDA pumping oil around her, she went aground in the mouth of the River Seine.
Although CYRUS was used later for static sweeping, ELFREDA's task was finished and she returned to the flotilla. After sustaining damage in the Channel on 4 December ELFREDA went to Portsmouth for repair. In January 1945 the 40th MSF of CATHERINE (SO). ELFREDA (now repaired). GAZELLE, GRECIAN, PIQUE, TATTOO, GORGON and CHANCE were put under Nore Command and based at Harwich. This meant dawn to dusk sweeping for the flotilla, clearing a channel across the North Sea to the Hook of Holland. On 2 March CATHERINE collided with the Halcyon SPEEDWELL off Harwich, damaging her minesweeping gear. Also working out of Harwich was the 42nd MSF of FAIRY (SO), COMBATANT, CYNTHIA, FLORIZEL, FOAM, FROLIC and STEADFAST, with JASPER joining in April. In January FAIRY, COMBATANT, FROLIC and FOAM with the danlayer HERMETRAY carried out a high percentage wire search off North Foreland, accounting for nine mines, and followed this up with a LL/SA sweep which raised five more mines. In March FROLIC suffered a near miss mine explosion off Harwich which caused widespread damage and she went to Flushing for repair which took until October.
At the end of April the 40th MSF were attached to the Rosyth Command and based at Aberdeen. Their main task was to clear an area of the northern end of the British East Coast Mine Barrage now that the war in Europe was almost at an end. On 6 May the flotilla left Rosyth to sweep ahead of the cruisers BIRMINGHAM and DIDO and four destroyers to clear a passage through the Skaggerak to Copenhagen where they arrived on 9 May. Numerous mines were cut during this sweep. The flotilla then returned to Rosyth from where they left with another force, including the cruiser DEVONSHIRE carrying Crown Prince Olaf of Sweden, and again swept through the Skaggerak and made for Oslo, arriving there on 13 May...
-------------------------------------
Following this brief respite, ELFREDA and the 40th MSF returned to Aberdeen from where they continued mine clearance sweeping off the north east coast of Scotland. Also based in Scotland at Rosyth were the 42nd MSF and both flotillas worked clearing the many minefields in the East Coast Barrage. During the latter half of 1945 many of the ships of both flotillas went off for refit and repairs, ELFREDA, GORGON and TATTOO enjoying the delights of Rotterdam and FROLIC and FLORIZEL at Flushing.
For the BAMs the war was now over, but they continued for some more months enaged in the massive clean-up operation of the many minefields around Britain. At the end of 1945 both flotillas were operating off the East Coast, the 42nd MSF mainly working from Dover, often with Algerine sweepers. On 24 and 25 November 1945 the 40th MSF swept 70 mines, of which 25 were credited to PIQUE. Early in 1946 both flotillas moved north again, this time to the west coast of Scotland, based at Aultbea (Loch Ewe) or at Iceland. But as the year drew to its close their service with the Royal Navy was at an end, and all were handed back to the United States Navy for disposal.
A number were prepared in British ports after sale by the USN and transferred to the Turkish Navy: CATHERINE, CHANCE, ELFREDA, FROLIC, GRECIAN, PIQUE, TATTOO and TOURMALINE.
Several after return to the USN were sailed to Greece for disposal some transferring to the Greek Government: COMBATANT, FLORIZEL, GORGON, JASPER, STEADFAST.
Returned to United States: CYNTHIA, FAIRY, FOAM, GAZELLE,
Sold Mercantile: CHAMOIS, STRENUOUS.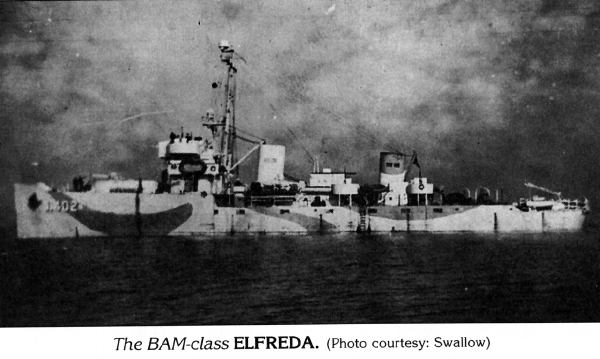 ---
From Tim Moody (the original enquirer):
"Hello Rob,
Thank you very much for the information you sent me about HMS Elfreda. I have passed it on to the rest of my family who I know will all be very interested.
Thanks for also including Dad's details on your website. It make a fitting tribute to the brave effort he and his colleagues made during the war
I have managed to find the book you found the section of information in on Amazon so I will be reading this in the next few days
I found a very rare photo of Elfreda (now TCG Cesme A-595) anchored off Izmir in Turkey in 1964 after the USN had sold her. She was stricken from the Turkish Navys records soon afterwards (1967) and I expect she was then scrapped.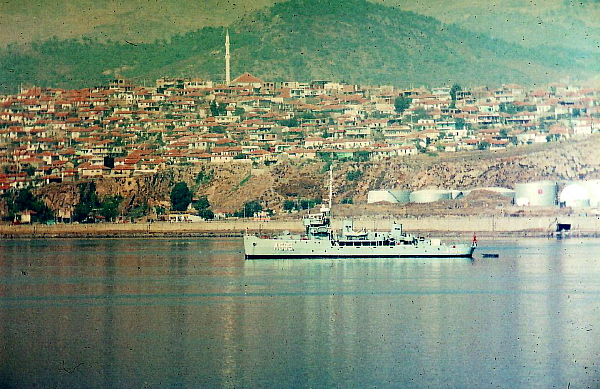 TCG Cesme (ex-HMS Elfreda) at Izmir in Turkey in 1964
Kind regards,
Tim Moody"
---
13 Nov 17
Reduction in MCM Flotilla to result in halving of Gulf MCMV force?
The Royal Navy has maintained four minehunters in the Gulf, each rotating every three years, since 2006. Most recently, the HUNT class HMS Chiddingfold (MCM2 Crew 1) has been relieved by HMS Ledbury (2/7) and the SANDOWN class HMS Penzance (1/1) by HMS Blyth (1/8). Chiddingfold and Penzance returned to Portsmouth and Faslane respectively at the beginning of September (see entry for 1 Sep 17 in News Archive 59). Other MCMVs based at the Mina Salman Support Facility in Bahrain, imminently due for re-commissioning as HMS Jufair, comprise the HUNT class HMS Middleton (2/4) and the SANDOWN class HMS Bangor (1/6) together with their 'mother ship' RFA Lyme Bay.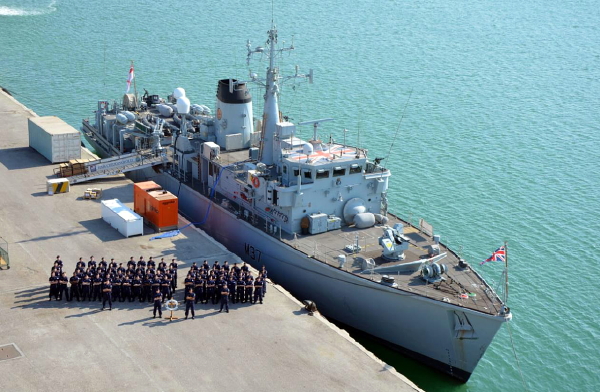 HMS Chiddingfold alongside in Bahrain
(RN website photo)
The unmanned HUNT class MCMVs HMS Atherstone and HMS Quorn have been undergoing deep refit in the ship hall at Portsmouth Naval Base since December last year. Under a project called JICARA, this has left MCM2 Crew 6 (ex-HMS Middleton) free to man the offshore patrol vessel HMS Tyne on fishery protection duties until the end of the year with MCM2 Crew 7 (currently manning HMS Ledbury) then programmed to man her sister ship HMS Mersey.
On 26 October, The Times published this article reporting plans to dispose of Atherstone and Quorn among other 'adjustments' in Defence, i.e. cuts. On 27 October, The Birmingham Mail published this article stating that the two ships are to be decommissioned in a formal ceremony at Portsmouth on 14 December:
Royal Navy ship that carries town's name to be scrapped
HMS Atherstone is to be decommissioned after more than 30 years of service...
The ship had been pulled in to receive new engines, but those plans have now been scrapped and the minesweeper will be decommissioned along, with her sister ship HMS Quorn later this year. In a letter written by [MCDOA member] Lt Cdr Sam Jane of the Royal Navy to Ray Jarvis, it read:
"As an affiliate of HMS Atherstone, I write to you to inform you that the Royal Navy has taken the difficult decision to remove the ship from active service. To that end she will be ceremonially decommissioned alongside her sister ship HMS Quorn at Portsmouth Naval Base on Thursday, December 14. Your commitment and support to these vessels over the years has been very much appreciated by both the Commanding Officer and crews who have served in HMS ATHERSTONE as well as the wider Royal Navy."
The disposal of the two HUNTs would reduce the size of the RN MCM flotilla from 15 hulls to 13 (6 of the original 13 HUNTs and 7 of the original 12 SANDOWNs). However, plans exist to move to modular MCM systems employing remote operated surface vessels and autonomous underwater vehicles (AUVs) deployable from a range of platforms or even from ashore. Such systems include ARCIMS (ATLAS Remote Combined Influence Minesweeping System) which has already been trialled extensively by the RN with a view to possible adoption.
Fake news or fact? The Sunday Times published this article on 12 November:
Royal Navy plan to cut minehunters in Gulf risks wrath of Pentagon
"Gavin Williamson, the new defence secretary, risks angering America over plans to slash the British fleet of minehunter ships in the Gulf.
Admirals are considering removing two of the Royal Navy's four minehunters that are permanently stationed in the Gulf, according to well-placed sources. Britain's minehunters are highly valued by America as a deterrent against Iran using mines to block the Strait of Hormuz, the world's most important choke point for oil supplies. In late 2011 Iran threatened to close the strait in response to sanctions..."
This response was published by 'Sir Humphrey' on the Thin Pinstriped Line blog on 12 November:
We Must Prevent a Minehunter Gap!
"The Sunday Times reports today (PAYWALL LINK) that the Royal Navy is thinking of removing two of the four MCMV vessels that it has permanently based in the Gulf. This is seen as inevitable following the removal of a pair of Hunt class from service as an in year savings measure. The worry is that there will be significant damage to bilateral relations with the US over this issue.
The RN has maintained a reasonable presence in the Gulf for many years, which is built around three core roles –
a. The ability to provide a surface escort (either AAW or ASW) that can operate in a high end war fighting environment, and integrate into US CVBGs.
b. An MCMV squadron and support ship to provide an integrated ability with the USN to ensure an effective mine clearance capability in the region.
c. Support ships such as tankers, stores ships and a repair capability (now on the LSD) to support wider coalition operations.
This force is also augmented on a regular basis by other deploying units which over recent years have included submarines, helicopter carriers and LPDs, hydrographic vessels and so on. It is commanded from Bahrain through the 1* UK Maritime Component Commander, a 'dual hatted' individual who not only exercises control over UK ships in region, but acts as a deputy for the Commander US 5th Fleet, primarily on matters linked to the 31 nation Combined Maritime Forces HQ..."
Watch this space for further developments in the public domain.
---
News from HMS Grimsby
I am grateful to Lt Cdr Charlie Luxford, Commanding Officer of HMS Grimsby (MCM1 Crew 7) for this newsletter which I have received via the Ton Class Association (TCA). I write a column titled 'MCMV News' for the Associaton's bi-monthly newsletter 'Ton Talk'.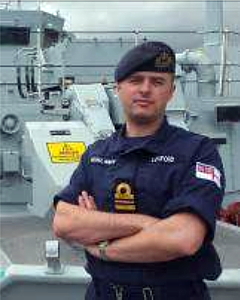 "Hello and welcome to all,
I write to you very proudly as Commanding Officer of the First Mine Countermeasures Squadron Crew Seven in HMS GRIMSBY, your ship.
Having recently returned from Operation Kipion in the Persian Gulf [in HMS BANGOR], Crew 7 have taken ownership of GRISMBY in Rosyth Dockyard where she is being fitted with a brand new 3D sonar which will greatly increase her mine hunting capability. As the first Sandown to receive the new Sonar, the crew is currently engaged in taking back ownership of GRIMSBY from Babcock staff, training to use the new equipment and preparing for the ship to enter the water before the big move back on board.
By next year we confidently expect to be conducting trials on GRIMSBY and the new equipment in and around UK waters, in order to maintain the UK's commitment to its Mine Countermeasure Capability and to keeping the sea's navigationally safe, to safeguard our interests at home and abroad.
After a period of sea trials, we will begin our force regeneration for Operation Kipion and our next deployment, we very much hope within the next year to take this opportunity to re-strengthen our affiliation and give back to yourselves and our community that provide us with such great support throughout our time at sea. Your continued support means a great deal to all of the Ship's Company, I wish you all the best and if you have any queries please do not hesitate to contact my Gunnery Officer SLt Toby Howett.
Yours Aye,
Charlie Luxford
Lieutenant Commander C Luxford Royal Navy
Commanding Officer
HMS GRIMSBY"
---
12 Nov 17 - Daily Telegraph obituary for Lt Colin Churcher MBE RN
As ever, I am indebted to Capt Peter Hore RN for writing this obituary for MCDOA member Colin Churcher which appeared in yesterday's Daily Telegraph (see entry for 15 Oct 17).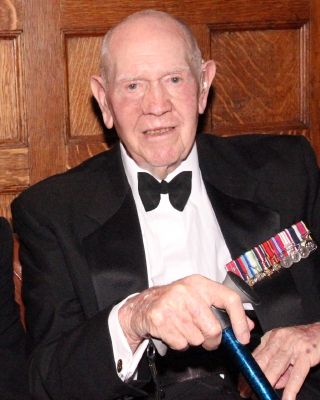 Colin Churcher at MCDOA Annual Dinner
in November 2015
Peter has been kind enough to supply this original draft of his obituary for publication here:
Lieutenant Colin Churcher, who has died aged 91, was a clearance diver who disposed of unexploded ordnance at Blackfriars Bridge and Walthamstow reservoir.
At low water, at 0300 on February 3, 1968 Churcher, second-in-command of the Portsmouth Clearance Diving Team, entered the Thames under Blackfriars Bridge and followed a marker line down towards what was a suspected bomb. At ten feet down the visibility was zero, and at fifty feet, at the bottom of the line, he could feel a cylindrical object half-buried in the riverbed at an angle of about 30 degrees. Digging through the 3-inch thick crust of the riverbed with his diving knife and into the gooey mud below, he pushed his arm down along the cylinder until he found the slinging point where it had been suspended from an aircraft. Reaching to the other side he stretched his hand through the goo until he found a fuze pocket: estimating its size in the dark, Churcher realised that he was embracing a 550 lb wartime German bomb and that the fuze was intact.
Back on the surface, he recalled: "I gave a briefing to the team and sent two divers down to do a bit more digging but told them not to knock the bomb or move it from its current angle. The tide had started to flood again, so they would only have about 15 minutes. The next slack water would be at 0900 and I decided that we would carry out the lift at that time.
"We had a busy time for the next four hours, making a rope sling which to fit around the bomb, with a ring at the top where we could secure the lifting hook. It was very important that the bomb was kept at the same angle because, as we had been unable to see the fuze, any difference in the attitude of the bomb might start its clock counting down. Any attempt to remove a 25 year-old unknown fuze in total darkness at a depth of 60 feet in a fast flowing river would be an act of sheer folly. The Germans also fitted a booby device, which would activate the bomb if the main fuze was withdrawn. The bomb was only a few feet away from one of the buttresses of Blackfriars Bridge. Had it detonated, it could have brought the bridge down."
Churcher and his diving team started diving again just before the next high water, carefully lifting the bomb onto the salvage vessel Broadness, all the while keeping it at the same angle and eventually taking out to sea. At last Churcher was able to examine the fuze, an electric impact type, "but we will never know why it hadn't functioned." At 1630, having lived close to this deadly object for many hours, Churner saw it lowered to the seabed and countermined. There was the rumble of a full order explosion, a white plume of water rose 100 feet into the air, and the blast was felt in Southend two miles away.
Asked at a press conference what had been the scariest moment, Churcher explained that on the way from Portsmouth to London in the diving team's Landrover, he had been pulled up by a police patrol near Petersfield, to be asked "what's the hurry?" and, when he had explained, to be told "Follow me!" The journey through red traffic lights, up the wrong way on dual carriageways, bumping across central reservations, had frightened the life out of him "but we arrived in record time".
Churcher and his team were invited to appear on Sunday Night at the London Palladium and the Lord Mayor of London invited the team to a civic luncheon at the Mansion House. Diffidently he told a senior naval order that the Blackfriars bomb was nothing out of the ordinary, and thus he denied himself what many others thought deserved the highest of awards.
Churcher was again called to take personal charge of a long operation, while exposing himself to great personal danger, and he displayed the same outstanding skill, coolness and courage when, in the afternoon of February 6, 1970, routine maintenance at West Warwick reservoir, Walthamstow revealed a 1,500 lb German mine, fitted with a dangerous combination of actuating and anti-removal devices, stuck in the embankment. Notwithstanding the risks, overnight Churcher steamed the explosive out of the mine, and by the next morning had filled several sandbags with explosive which he could burn without causing an explosion. This time he was awarded the MBE for service in the highest traditions of the Service.
Colin Churcher was born into a mining family in Birtley, Durham, was schooled locally, and volunteered for the Royal Navy in 1943. He saw wartime service on Arctic convoys and in the Far East in the destroyer Myngs, as a rating, and was commissioned as a gunner before he qualified as a clearance diver. He served on exchange service with the USN 1974-75 and finally retired in 1983. His autobiography, To Render Safe (1990), is a detailed social history, modestly and humorously told, of life on the lowerdeck and in the wardroom of the Royal Navy, and its professional standards, over forty years from 1943.
After a first marriage, Churcher married Hilda Cutts in 1995 who survives him with two stepsons.
Lieutenant Colin Churcher, born April 15, 1926, died September 29, 2017
Over the past few years, Peter has been extremely cooperative in writing tributes to members of our small community for publication in the Daily Telegraph. Other examples have included (in alphabetical order):
Cdr Philip Arthur Balink-White MBE RN
Lt Cdr 'Uncle Bill' Filer MBE GM RN
Lt Cdr Ian Fraser VC DSC RD* RNR
Surgeon Vice Admiral Sir John 'Jab' Harrison
Surgeon Vice Admiral Sir John 'Doc' Rawlins KBE, FRCP, FRAeS
Lt Cdr 'Robbie' Robinson MBE RN
Lt Arthur 'Bubs' Russell MBE RNVR
---
11 Nov 17 - Lest we forget

They shall grow not old, as we that are left grow old;

Age shall not weary them, nor the years condemn.

At the going down of the sun and in the morning,

We will remember them.

Robert Laurence Binyon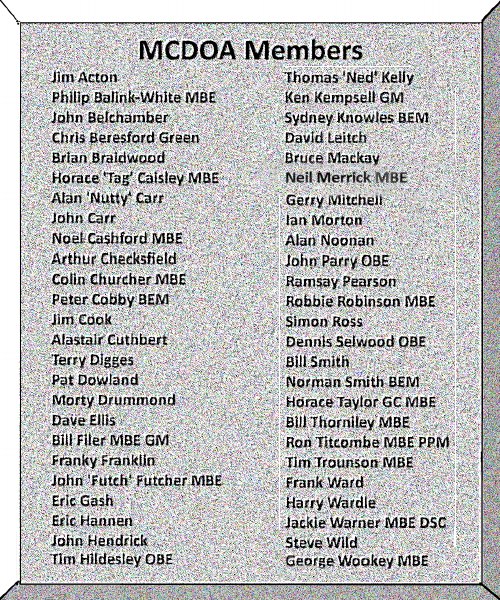 The website's Branch History section contains a list of RN & RM personnel killed while serving in Minewarfare, Diving and EOD roles since the beginning of the Second World War although it is by no means comprehensive, especially where minesweeper crews are concerned. Generically, I have titled it RN Bomb & Mine Disposal Casualties.
A list of officers who have died since qualifying as CDOs and MCDOs when courses first began in 1952 can be found in the entry for 7 Oct 17.
---
10 Nov 17
SDU1 deals with 'suspicious package' at Devonport Naval Base
The Mirror website contains this article and the Plymouth Herald website this article reporting that members of Plymouth-based Southern Diving Unit 1 (SDU1) were called out to deal with a 'suspicious package', believed to have originated in Northern Ireland, at Devonport Naval Base today. Its discovery caused the evacuation of HMS Vivid.
The package turned out to be benign.
---
SDU2 deals with Canadian pipe mine at Lee-on-the Solent
The Royal Navy website contains this article, the Portsmouth News website this article and the ITV News website this article describing this morning's removal and safe detonation by members of Portsmouth-based Southern Diving Unit 2 (SDU2) of a six-metre length of Canadian pipe mine laid under the airfield at what was formerly HMS Daedalus, the Royal Naval Air Station at Lee-on-the-Solent. The articles feature Lt Cdr Jonny Campbell (OIC SDU2).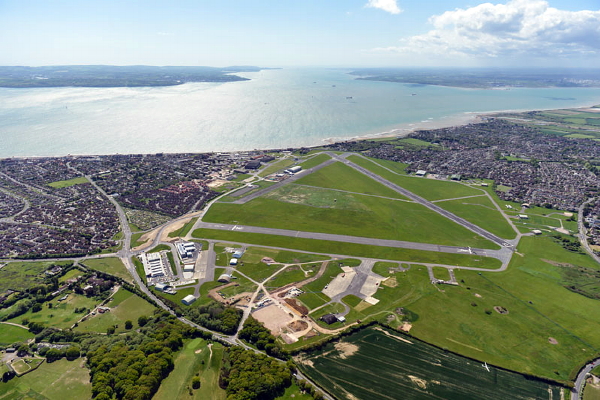 The former HMS Daedalus at Lee-on-the-Solent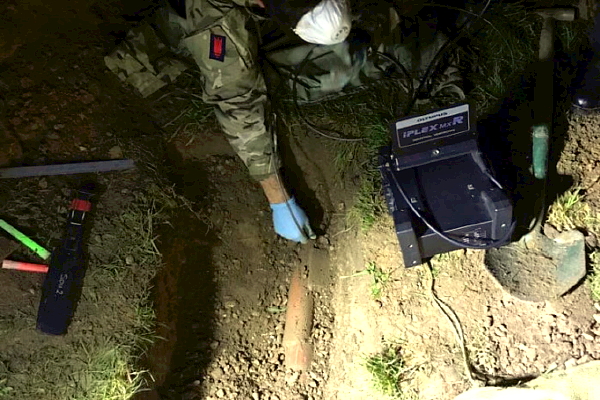 Pipe mine at Lee-on-the-Solent
(Portsmouth News image)
During the early part of the Second World War, more than 250 sections of pipe bomb – each about 18 metres long and containing 55kg of explosive (slightly more than a modern Stingray torpedo), were buried so the naval airfield could be destroyed in the event of a German invasion. Not all of them were cleared after the war and 33 (EOD) Regt of the Royal Engineers conducted a five-week operation to remove the remainder in 2006 as described in this article on the BBC News website and this article on the Southern Daily Echo website.
Also see this informative article on the Think Defence website:
Airfield Pipe Mines – OP CRAB STICK
---
9 Nov 17 - Fleet Diving Squadron presented with Desmond Wettern Award
Congratulations to the Fleet Diving Squadron (FDS), commanded by MCDOA member Del McKnight, on winning the Desmond Wettern Fleet Award for the best contribution to the positive image of the Royal Navy as tweeted by the First Sea Lord here: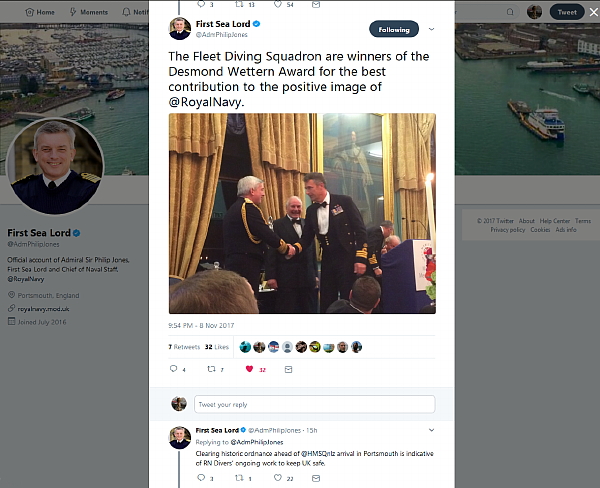 The award has been presented annually since 1993. It comprises a cut glass ship's decanter mounted on a plinth of oak from HMS Victory and bearing a silver plate inscribed 'Heart of Oak'.
---
8 Nov 17 - RN Minewarfare Heritage: Lt Charles Tanner GM RNVR and AB Percy Fouracre BEM
LEST WE FORGET
On 20 April 1943, Lt Charles Graham Tanner RNVR was gazetted for the award of the GM (George Medal) and A/AB Percy Fouracre was gazetted for the award of the BEM (British Empire Medal) "for gallantry and devotion to duty". They had undertaken the disposal of bombs and mines in the London area between October and November 1942 while attached to HMS Vernon.
Both Tanner and Fouracre were killed on 22 November 1943 while attempting to render safe two unexploded German GG parachute mines from the wreckage of a crashed Dornier Do-217 at Out Newton, Yorkshire. Tanner was aged 35 and is buried in Tilford (All Saints) Churchyard near Farnham in Surrey. Fouracre was aged 32 and is buried in West Buckland (St Mary) Churchyard in Somerset.
Chris Ransted, author of Bomb Disposal and the British Casualties of WW2 and Disarming Hitler's V Weapons: Bomb Disposal, the V1 and V2 rockets sent me this well illustrated article he researched about Charles Tanner in 2013, I thought it appropriate to share in view of tomorrow's significance:
Lt Cdr Charles Graham Tanner GM RNVR
---
7 Nov 17 - HMS Middleton hosts Washington Redskins cheerleaders
HMS Middleton (MCM2 Crew 4), one of the four RN MCMVs currently deployed in the Gulf on Operation KIPION, has tweeted this photo with a caption stating that she has hosted the Washington Redskins?!?: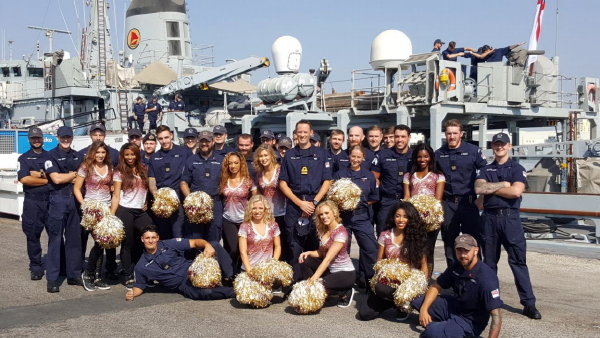 The Redskins cheerleaders appear to have done the rounds of RN and USN ships in Bahrain during the third stop of their third stop of their 50th Tour.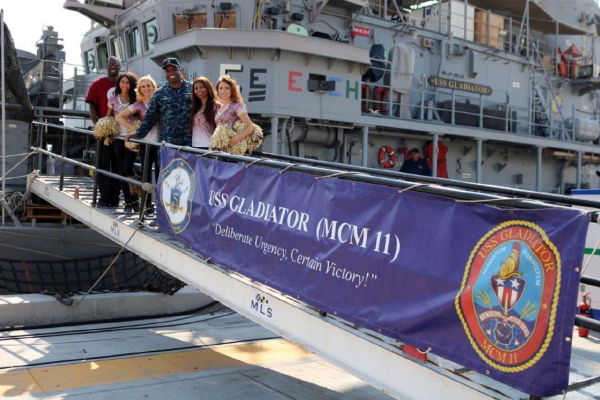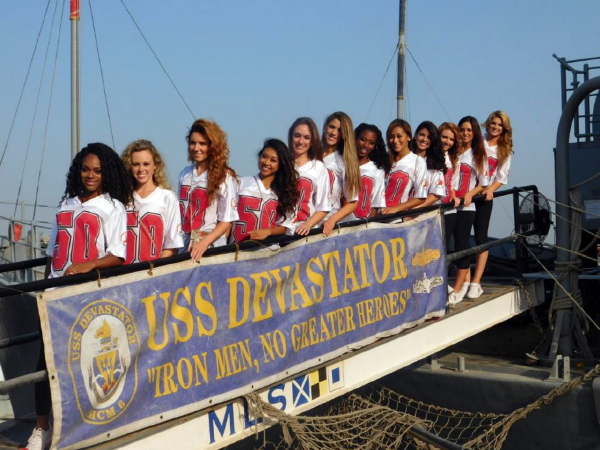 ---
6 Nov 17 - RN Minewarfare Heritage: New Book
The late Lt Bernard Upton MBE RNR survived the sinking of the Bangor class minesweeper HMS Cromarty when she was mined in the Straits of Bonifacio in the Mediterranean on 23 October 1943. He was still very active and sailing his own yacht single-handed at the age of 94 as well as giving presentations to branches of the RBL and other organisations. His yacht was a Fairey Atalanta, which he built in a printer's yard in 1959.
Former WO(MW) Dixie Dean MBE, Chairman of the Minewarfare Association (MWA), and I had been corresponding with Bernard's nephew, Sqn Ldr Richard James MBE RAF (Rtd), since October 2009 with a view to publishing Bernard's memoirs. Sadly, Bernard passed away at his home in France on Friday 22 April 2016 before this could be achieved (see entry for 2 May 16 in News Archive 54).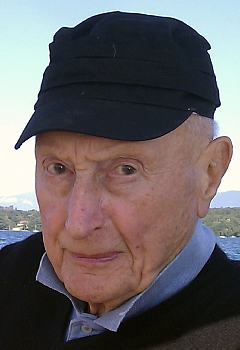 Lt Bernard Upton MBE RNVR
(11 Jul 1919 - 22 Apr 2016)
MCDOA member Neil Marriott attended Bernard's funeral in Janvry, 40km south-west of Paris, on 27 Apr 16 and provided an account of the service (see second entry for 10 May 16 in News Archive 54).
Richard has now published a book on behalf of his uncle. It is called 'On the Road to Normandy and a little beyond' - A Sailor's Life Story'.
The Foreword has been written by MCDOA President Paddy McAlpine: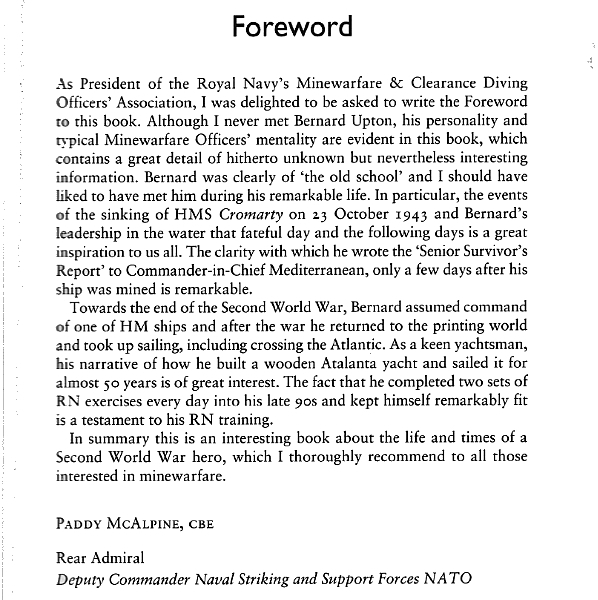 The well-illustrated book is a fascinating read and costs £10 including post & packing. Email Richard James, Bernard's nephew, to place your order.
_____________________________________
LEST WE FORGET
Shipmates of Bernard Upton lost when HMS Cromarty was mined on 23 October 1943
BARBER, Jack, Stoker 1c, D/KX 101547, MPK [Missing Presumed Killed]
BARMBY, Edwin R, Able Seaman, P/JX 275326, MPK
BARRETT, David C, Ty/Sub Lieutenant, RNVR, MPK
COLUMBUS, Harold W, Signalman, P/JX 325706, DOW [Died Of Wounds]
COOPER, James J, Stoker Petty Officer, D/KX 82197, MPK
COX, Richard E, Ty/Act/Warrant Engineer, MPK
DICKENS, James W, Ty/Leading Cook (S), C/MX 72720, MPK
FERNIE, Thomas E, Ty/Act/Lieutenant, RNR, MPK
GALLAGHER, Peter J, Stoker, RNPS, LT/KX 157769, MPK
GIBBONS, Horace N, Ty/Petty Officer, C/JX 137860, MPK
JONES, William, Ty/Act/Leading Telegraphist, D/SSX 34120, MPK
LEEWORTHY, Frederick W D, Ty/Leading Seaman, D/J 97504, MPK
MOORFIELD, John A, Coder, D/JX 293565, MPK
O'BRIEN, Melvin E, Able Seaman, D/SSX 24305, MPK
PINCKNEY, Erlysman P H, Act/Commander (Hannibal, O/P), MPK
ROBERTSON, David D, Stoker 1c, C/KX 130280, MPK
TASSELL, Alan, Able Seaman, D/KX 99367, MPK
TROKE, Walter E, Ty/Lieutenant, RNVR, MPK
TRUELOVE, Stanley, Ordinary Seaman, D/JX 419878, MPK
WATKINS, Harry, Ty/Act/Petty Officer Telegraphist, D/JX 155532, MPK
---
2 Nov 17 - RN divers undertake new boat-handling course
The Royal Navy website contains this article announcing that the first of a new twin-engine outboard Arctic 22 boat-handling course has taken place at HMS Raleigh for four clearance divers. The course was delivered by instructors at the Royal Navy School of Seamanship School on the River Lynher. The article features AB(D) Andy Waller.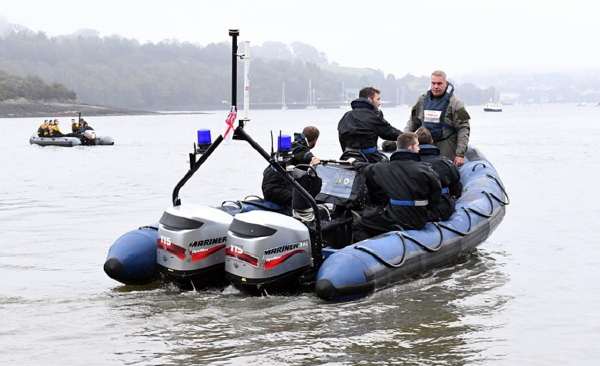 Arctic 22 boat-handling course at HMS Raleigh
(RN Website photo)
---
1 Nov 17 - Launch of 'Operation Tadpole'
The Portsmouth News contains this feature describing the launch of MCDOA member Dr John Bevan's new book Operation Tadpole: The Royal Navy's underwater diving operations, Gibraltar 1940 - 1945 (see entry for 17 Sep 17 in News Archive 59). The book describes the wartime activities of Lt William 'Bill' Bailey CBE CBE, DSC, GM* RNVR who led the Underwater Working Party in Gibraltar against the Italian Decima MAS frogmen riding human torpedoes to fix explosive devices to the hulls of ships assembled at Gibraltar.
I had the privilege of meeting with John Bevan and Bill Bailey's son Andrew to discuss the book's preparation in September last year (see entry for 22 Sep 16 in News Archive 55).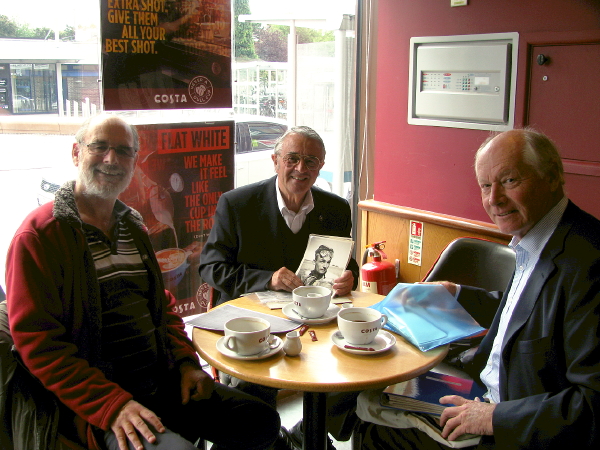 Yours Truly (Rob Hoole) with John Bevan and Bill Bailey's son Andrew
Left: Andrew Bailey with his father's medals
Right: Bill Bailey's medals after being put on display at the HDS diving museum at Stokes Bay
John Bevan and Andrew Bailey were also present at the Vernon Minewarfare & Diving Monument's 'Falklands 35' Charity Dinner held at Trinity House in London in July (see entry for 28 Jul 17 in News Archive 59).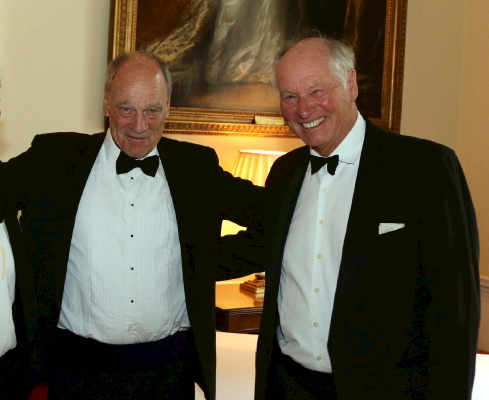 David Ouvry, son of WWII bomb & mine disposal officer Cdr John Ouvry DSO RN
and Andrew Bailey, son of Lt William 'Bill' Bailey CBE GM* DSC RNVR
at the Vernon Monument's Charity Dinner at Trinity House on 19 July 2017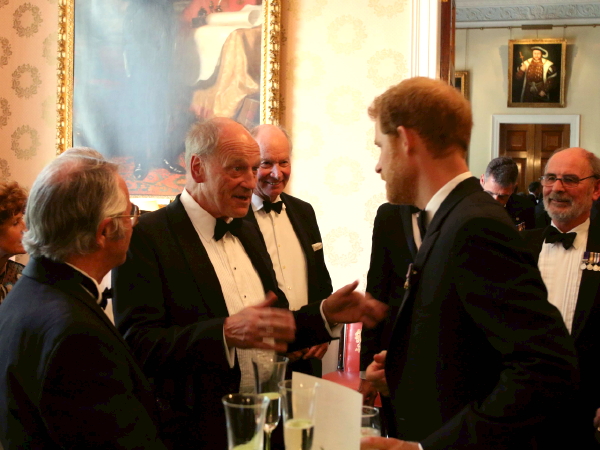 John Bevan, David Ouvry and Andrew Bailey with Prince Harry at the Vernon Monument's
Charity Dinner at Trinity House on 19 July 2017
Signed copies are available at Waterstones, Commercial Road, at £9.99. For a more personal signed copy, if you want to buy a copy as a Christmas present, contact Dr Bevan on (023) 9260 2260 or via info@submex.co.uk plus £1.30 p+p.
---
30 Oct 17 - HMS Middleton completes charity endurance event
HMS Middleton (MCM2 Crew 4), one of the four RN MCMVs currently deployed in the Gulf on Operation KIPION, has tweeted this photo with a caption stating that her ship's company has not only smashed the Three Peaks Challenge twice but also managed to climb Mt Everest and cycle Lands End to John O'Groats, all in the sports facility in Bahrain. The event has helped raise funds for the Fatboys Charity Helping Children with Cancer.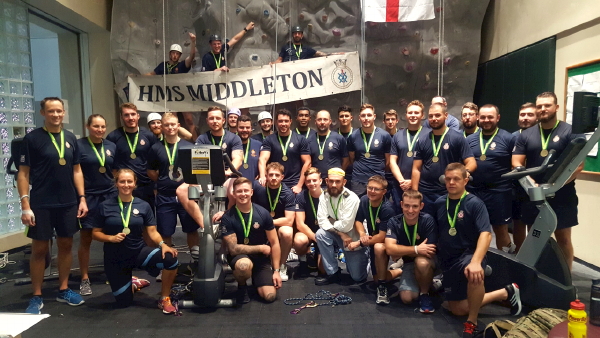 ---
28 Oct 17 - Our President meets Boris
No prizes for guessing the identity of the person with MCDOA President Paddy McAlpine in this recent photo.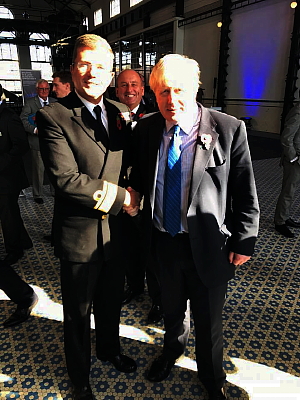 ---
27 Oct 17 - HMS Middleton in the Gulf
The Royal Navy website contains this article reporting the clean-up operation performed by ship's company members of HMS Middleton (MCM2 Crew 4) around British war graves in St Christopher's Old Cemetery in Manama, Bahrain. The article also reports the ship's recent visit to the port of Khawr Khuwayr in RAK (Ras al-Khaimah), the northernmost of the seven emirates which make up the UAE. She was visited by Sheikh Ahmad bin Saqr al Qasimi, a member of the ruling family and chairman of the economic zone. The article features AB(MW) Stephen Richardson and AB(D) Sean Esson.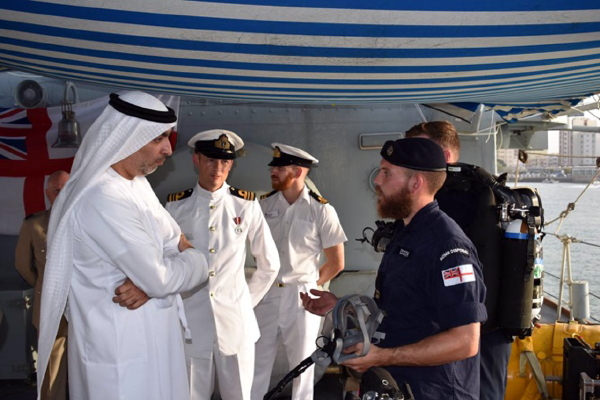 Sheikh Ahmad bin Saqr al Qasimi on board HMS Middleton in RAK
(RN website photo)
---
26 Oct 17 - John Craig selected for promotion to Captain RN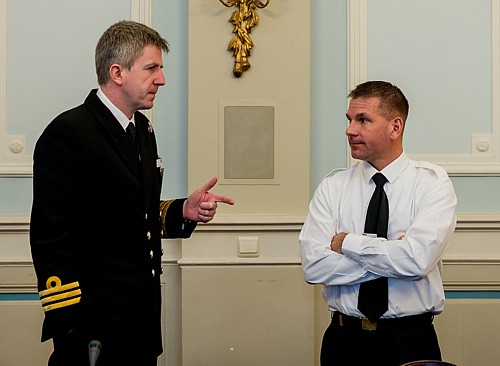 MCDOA members John Craig and Nick Gwatkin at a NATO MW Conference
in January 2014
Apart from other priorities, your humble webmaster is currently preoccupied with finalising a book about minewarfare in the First World War with co-writer Cdr David Bruhn USN (Rtd). This has meant temporarily suspending additions to this page although it will be updated retrospectively when circumstances permit. Nevertheless, I am delighted to publish this announcement received this morning from MCDOA member John Craig:
"Rob,
You may hear of it by other means, but I am finally able to confirm that I will be joining the hallowed ranks of such luminaries as Jim Nisbet, Jason Poole, Chris O'Flaherty, Roger Readwin and Pete Laughton in the MCD OF5 fraternity.
I am due to take over as the Chief of the Staff (COS) to the Commander UK Maritime Force (COMUKMARFOR) on Tue 21 Nov and, pleasingly, one of my first tasks will be to validate the Mine Warfare Battle Staff the following week.
While I cannot be certain, I suspect that our branch is as well-represented at OF5 level as it has ever been, which ought to be an encouraging sign for those MCDs starting out in their careers.
Great news for me – obviously – but also, I hope, an indicator of the strength-in-depth [Apologies – I couldn't resist the pun!] of the branch.
Yours aye,
John Craig
J A CRAIG
Commander Royal Navy
Naval Staff – Head of Strategic Studies"
I am sure all members of our community will join me in congratulating John on his well deserved promotion effective from 21 November.
---
25 Oct 17 - Interesting article on the likely future of MCM
Readers may find this article on the USNI News website of interest:
Mine Countermeasures Evolving Towards Mix-And-Match Capabilities, Personnel
ANNAPOLIS, Md. — The Navy is trending towards a mix-and-match set of people, platforms and sensors to detect and destroy mines, a departure from the simpler legacy mine countermeasures setup with a single helicopter type and a single wooden-hull ship class, set for replacement by the new Littoral Combat Ship and its neatly defined mission package...
One trend is operating the land-based Expeditionary Mine Countermeasures (ExMCM) Company, which falls under the Explosive Ordnance Disposal community at Navy Expeditionary Combat Command, aboard Navy ships.
"We've taken our ExMCM company with their Mk 18 family of (unmanned underwater vehicle) systems, we've put them aboard cruisers and destroyers and had them do extensive rehearsals of the actual operations – and in some cases, in exercises and operations we've actually used those platforms," Capt. Michael Egan, Commander of Task Force 52 within U.S. Naval Forces Central Command, said at the conference.
"We are already working off of amphibious ships, not only the [USS Lewis B. Puller (T-ESB-3)] and the [decommissioned Ponce (AFSB-I-15)] before that, but also the British auxiliaries. We're not just limiting ourselves to our own ships, we're working with our allies and our coalition partners and their ships as well."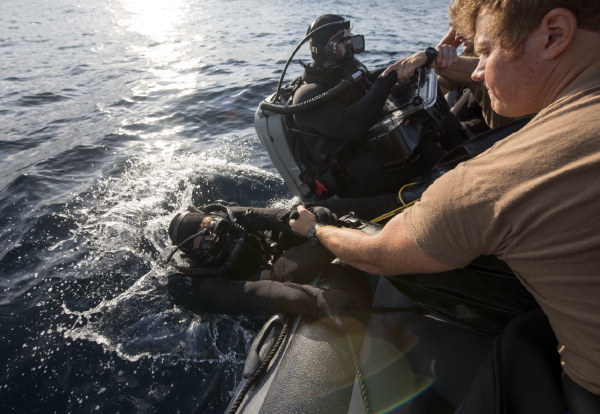 Sailors assigned to Explosive Ordnance Disposal Mobile Unit (EODMU) 2 and Expeditionary
Mine Countermeasures Company (ExMCM Co.) 202, are lowered into the water during
Mark 16 dive training on 16 Aug 2017
(US Navy photo)
...The captain noted that the British Navy operating in 5th Fleet was eager to support MCM operations off a non-traditional platform.
---
22 Oct 17 - Lest we forget
Was this the first Royal Navy 'clearance diver'?
AB Robert George TAWN C/JX137109 of HMS Vernon was gazetted on 9 August 1940 for the award of the DSM (Distinguished Service Medal) "for coolness, courage and resource when dealing with a magnetic mine in a tideway". He had performed the first underwater RMS (Render Mine Safe) attempt on a GC mine in Poole harbour in 42 feet of water from HMS Vernon's echo-sounding yacht 'Esmeralda' on 14 June 1940 although the mine exploded while being towed ashore.
On 14 January 1941, he was gazetted for the award of the BEM (British Empire Medal) "for gallant conduct and devotion to duty".
On 6 March 1941, he was killed at the age of 24 by an exploding mine in Falmouth harbour while manning a boat towed by 'The Mouse', a small motor launch belonging to HMS Vernon which was specially fitted with Hotchkiss propulsion (no propeller). He is buried in the Commonwealth War Graves part of Falmouth Cemetery. If anyone would send me a clear image of his headstone via my Webmaster address, I'd be very grateful.
The cemetery should also contain the grave of Ldg Sea Ivan Vincent WHARTON C/JX113809 of HMS Vernon who was killed in the same incident. Lt Reginald Bruce SUTHERLAND RNVR, also of HMS Vernon, was killed in the same incident while diving. His body was never found but his name is inscribed on the Portsmouth Naval Memorial.
Lt J F NICHOLSON RNVR, PO BENHAM plus one other person manning 'The Mouse' survived.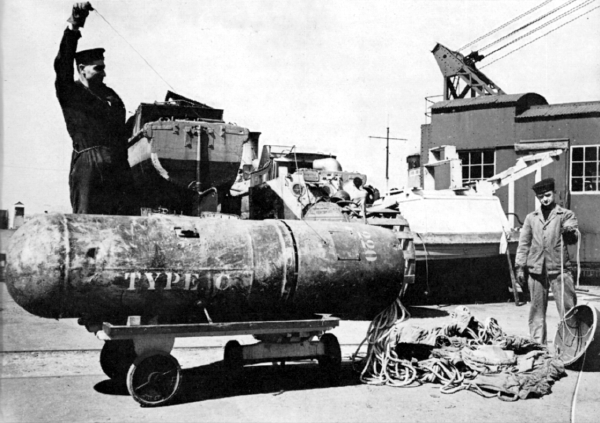 A recovered German GC magnetic ground mine, complete with parachute,
at HMS Vernon during the Second World War
Postscript: Eureka! (With a little help from Tony Sexton and Aggie Dennis.)
Left: AB Tawn's headstone in Falmouth Cemetery
Right: Ldg Sea Wharton's headstone in Falmouth Cemetery
There is no disputing AB Tawn's award of the DSM: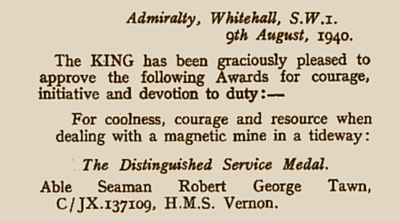 London Gazette entry for AB Tawn's award of the DSM
However, it appears that he has erroneously been credited on his headstone with the MBE whereas he was actually awarded the BEM.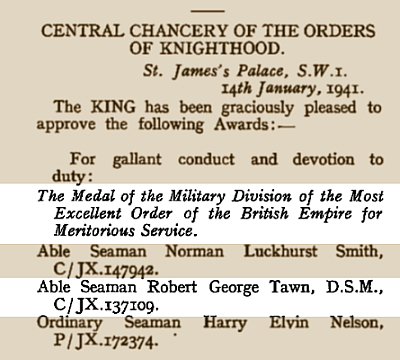 London Gazette entry for AB Tawn's award of the BEM
AB Tawn's record on the Commonwealth War Graves Commission website has been amended and now reflects his award of the BEM: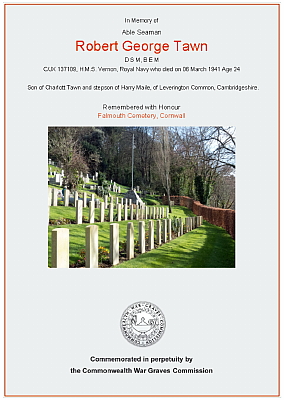 Commonwealth War Graves Commission
commemorative certificate for AB Tawn
---
21 Oct 17 - Update on SNMCMG2
Standing NATO Mine Countermeasures Group 2 (SNMCMG2), currently commanded by MCDOA member Justin Hains embarked in the survey vessel HMS Enterprise, includes HMS Pembroke (MCM1 Crew 5). The group finished participating in the French-sponsored Exercise BRILLIANT MARINER 2017 on 13 October (see entry for 3 Oct 17). SNMCMG2 and HMS Pembroke have posted or tweeted these images.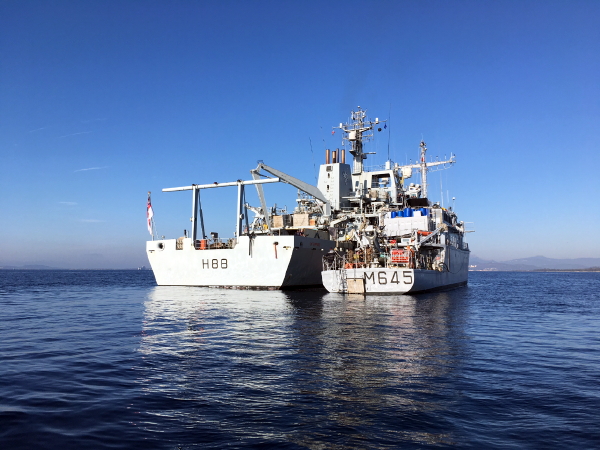 The French minehunter FS Orion alongside HMS Enterprise during BRILLIANT MARINER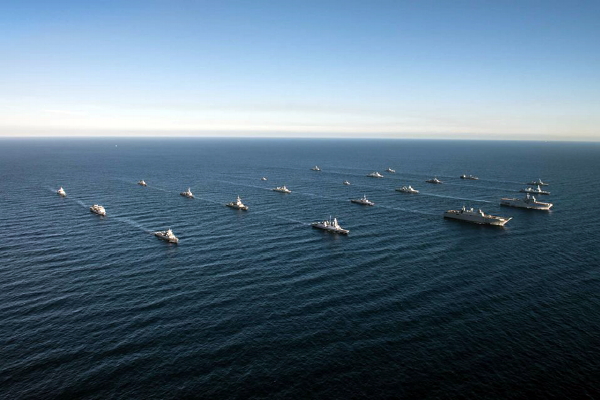 Above and below: Ships in formation, including HMS Diamond, during Exercise BRILLIANT MARINER 2017
Above and below: Ships in formation, including HMS Diamond, during Exercise BRILLIANT MARINER 2017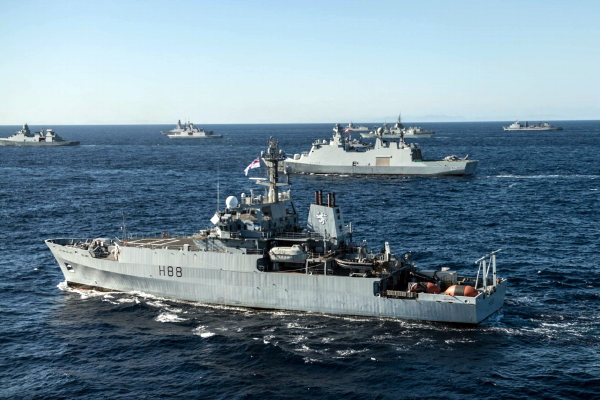 The group arrived at Vlore in Albania two days ago after visiting Cagliari in Sardinia.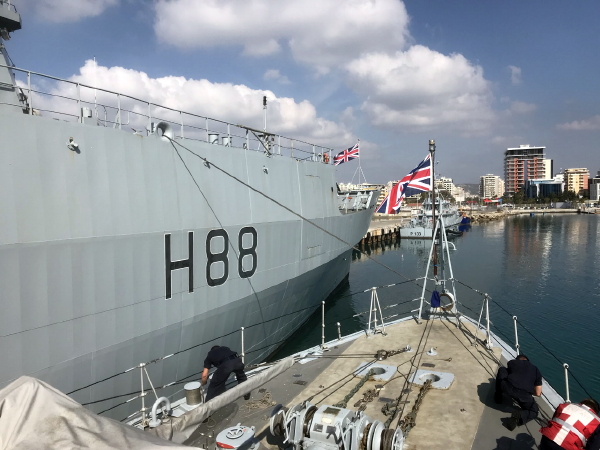 Above and below: HMS Pembroke alongside HMS Enterprise with other units of SNMCMG2
in Vlore, Albania astern of the Albanian patrol vessel Lisus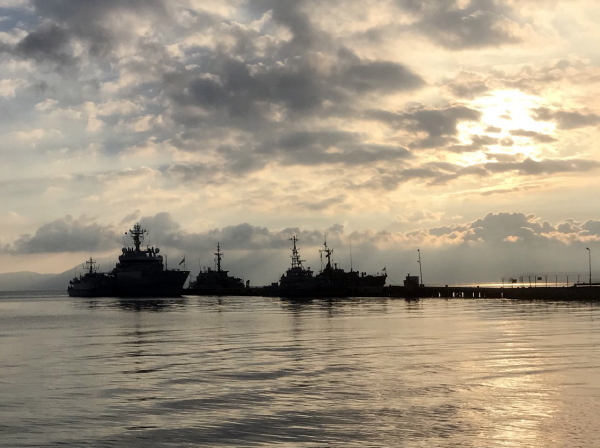 ---
20 Oct 17 - SDU1 investigating trawled-up 'torpedo' in Plymouth
The Plymouth Herald website contains this article, including video, reporting that the fishing vessel Admiral Blake brought potentially live ordnance into port resulting in the evacuation of Plymouth Fisheries and the closure of Sutton Harbour. Members of Plymouth-based Southern Diving Unit 1 (SDU1) attended the incident.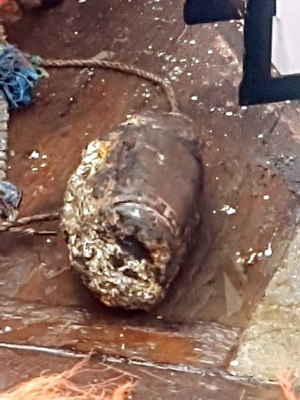 Item trawled-up by fishing vessel Admiral Blake
(Plymouth Herald image)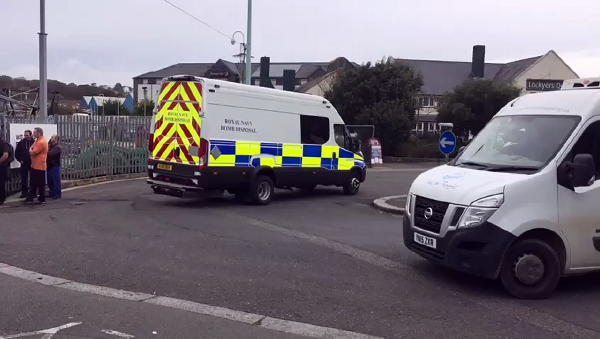 SDU1 EOD vehicle departing the scene
(Plymouth Herald image)
Postscript: The harbour has now been re-opened.
---
19 Oct 17 - LS&GC presentation
The Royal Navy website contains this article reporting the presentation of the Long Service & Good Conduct medal to Tony Wallace by Rear Admiral Bob Tarrant, Commander Maritime Operations (COMOPS) at a recent ceremony in Plymouth. Tony qualified as an MWO in 2005 and later as a PWO. Among his many other appointments, he underwent initial sea training in HMS Atherstone and served as OPS of HMS Hurworth and HMS Brocklesby as well as XO of HMS Chiddingfold before working in the UK Maritime Component Command (UKMCC) HQ in Bahrain.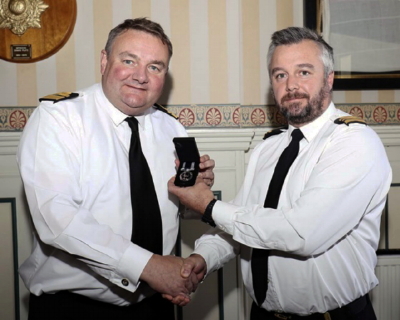 RAdm Bob Tarrant presenting LS&GC medal to Tony Wallace
(RN website image)
---
18 Oct 17 - SDU2 retrieves chemical bombs in Lincolnshire
The Royal Navy website contains this article describing the eight-day operation by members of Portsmouth-based Southern Diving Unit 2 (SDU2) to recover canisters of mustard gas from Stixwould Lake near Woodhall Spa in Lincolnshire (see entry for 9 Oct 17). The article features PO(D) 'Chuck' Norris.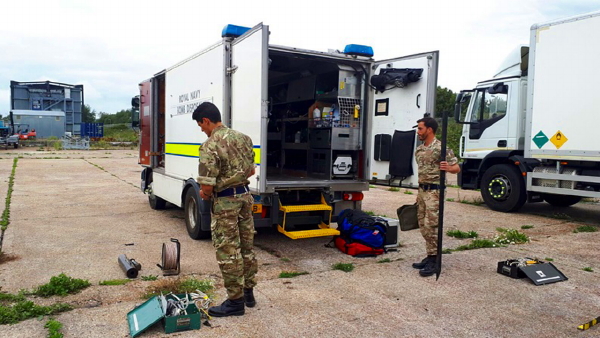 RN website images
---
17 Oct 17 - Multinational minewarfare exercise off South Korea
The US Navy website contains this article announcing the start of Multinational Mine Warfare Exercise (MN MIWEX) off the east coast of the Republic of Korea (ROK) on 15 October. Participating nations for the week-long exercise include Canada, the Philippines, the ROK and the USA. US units include staff from MCMRON 7, Mine Countermeasures Helicopter Squadron 14 Det. 2A and the Avenger class MCMV USS Chief.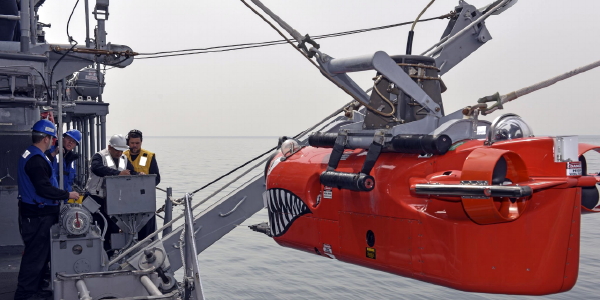 Launch of MNV (Mine Neutralisation Vehicle) by Avenger class MCMV USS WARRIOR
during Exercise FOAL EAGLE off South Korea in March this year
(US Navy photo by Mass Communication Specialist 2nd Class Jermaine M. Ralliford/Released)
Prior to the exercise, US Naval Forces Korea and the ROK Navy hosted a three-day MCM symposium in Busan attended by delegates from nine United Nations Command 'Sending States' including Australia, Canada, Japan, New Zealand, the Philippines, South Africa, Thailand, Turkey and the UK.
---
16 Oct 17 - Update on book about JIM trials
I am grateful to Richard Castle for this news regarding his forthcoming book about Royal Navy trials of the JIM atmospheric diving suit (see entry for 18 Sep 17 in News Archive 59):
"Hi Rob,
Just to keep you in the picture.....
Three contacts (as you know) all useful and actually confirming most of what I thought. All responded to and info passed over.
Bob Lusty of HMS Reclaim sent a letter with info from DHB Ltd which was excellent. I returned info and a few pics for his amusement.
Always interested if anyone else shows up.
The words are nearly written and the issue is mainly typos, photographs, input from ex-AEDU/RNPL staff and a front cover. Too late for Christmas so holding for publication in March 2018.
A thanks to you and the website for adding to my knowledge as well as giving me an idea to increase the coverage of these types of joint jobs undertaken by MoD and Navy. Let me know if I can return the favour at any time.
Cheers,
Richard Castle"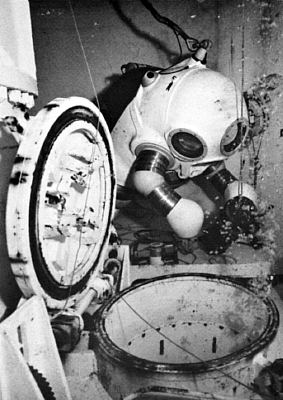 "JIM" demonstrating his ability to assist in
submarine rescue
---
15 Oct 17 - Funeral of Lt Colin Churcher MBE RN
I am grateful to Ray Clarke, Honorary Secretary of the Aberdeen branch of the Royal Naval Association, for this follow-up to the funeral of MCDOA member Colin Churcher at Baldarroch Chapel and Crematorium near Aberdeen on 6 October (see entry for 5 Oct 17):
"Rob,
Apologies for this somewhat delayed email.
I trust that you received an update regarding the actual funeral held 1300 Friday 6th Oct. Unfortunately, but as we had thought, no actual serving uniforms were present. However, we did what we could to give Lt Churcher the send-off he deserved. The coffin was dressed with a white ensign, officer's cap, medals and sword.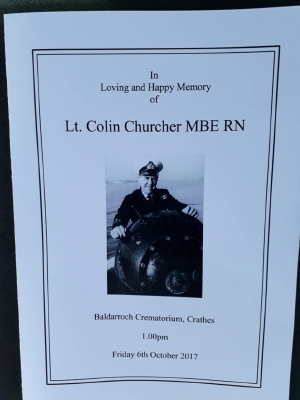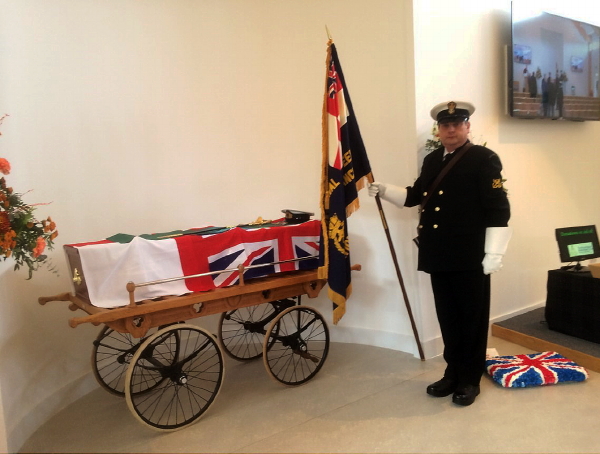 The RNA provided the six pall bearers in RNA uniform and members of Aberdeen Sea Cadets provided the standard bearer and coffin party. The padre, the Sea Cadet padre for Scotland and Northern Ireland, Lt Cdr (SCC) Emsley Nimmo and the additional divers' verse was included in 'Eternal Father' as per request.
We were fortunate perhaps in that the crematorium manager was ex-Army and, knowing what to expect, gave every assistance. I hope that our debt to Lt Churcher was satisfied.
If I am correct ex-CPO(D) Kevin 'Ginge' Reynolds was the chap who travelled up from Rosyth (85 miles) on a motorbike; no mean feat given his years. A Bravo Zulu there perhaps. [It wasn't Ginge because he had been on crutches for the previous few days and drove his car. BZ anyway but does anyone know who rode from Rosyth on his motorcycle?]
Rob, it was a pleasure to have been of assistance both to yourself and to Colin's family who impressed me with their dignity. I found Hilda to be a delightful lady. I had no shortage of volunteers for the funeral party plus Emsley Nimmo and the staff at both the funeral director's and the crematorium could not do enough.
Yours aye,
Ray Clarke
(Hon Sec Aberdeen Branch RNA)"
I would like to put on record my deep appreciation to Ray Clarke and Emsley Nimmo for their cooperation in arranging a proper send-off for Colin and once more extend our community's sincere condolences to Hilda and the rest of Colin's family.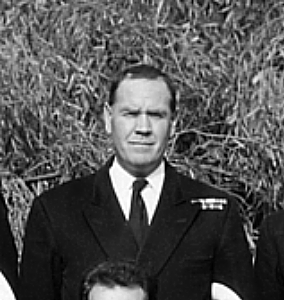 Lt Colin Churcher MBE RN on CDO
course in 1964
Watch this space for news of a possible obituary in the Daily Telegraph.
---
From MCDOA member Dougie MacDonald:
"Hello Rob,
Sorry to have been absent. I'm often in Aberdeen but on this occasion was working in NZ.
I remember Colin as a VM [Victualled Member - aka 'liver-in'] in VERNON; not easy with a northern family.
Failed to track down [Gordon] Stamp and I understand that [David 'Topsy'] Turner is in Hawaii. I'll do better next time.
Dougie"
---
14 Oct 17
LS&GC presentations
Congratulations to MCDOA Chairman-elect Roger Readwin (Captain Mine Warfare & Patrol Vessels, Diving and Fishery Protection (CMFP)) and MCDOA member Bob Hawkins MBE (1st Lt of our new aircraft carrier Queen Elizabeth (QNLZ)) on being presented with their Long Service & Good Conduct (LS&GC) medals including two clasps for Bob.
Left: Capt Roger Readwin RN with fellow recipient LET(CIS) S H Patterson
Right: Presenter Cdr Darren Houston (Cdr of QNLZ) with Bob Hawkins
Left: Obverse and reverse of RN LS&GC medal
Right: Bob Hawkins' LS&GC medal with its two clasps
The eligibility regulations were updated on 1 October 2016 to permit the award of the LS&GC medal, previously awarded only to ratings and warrant officers, to all RN officers serving after 29 July 2014 who had achieved at least 15 years of service with no misconduct. A clasp is awarded for each additional period of 10 years' service with a clear record.
---
SNMCMG1 visits Belfast
The Belfast Telegraph website contains this article and the ITV News website this article, both including video, describing yesterday's arrival of Standing NATO Mine Countermeasures Group 1 (SNMCMG1) in Belfast for a weekend courtesy visit after its participation in Exercise JOINT WARRIOR 17/2.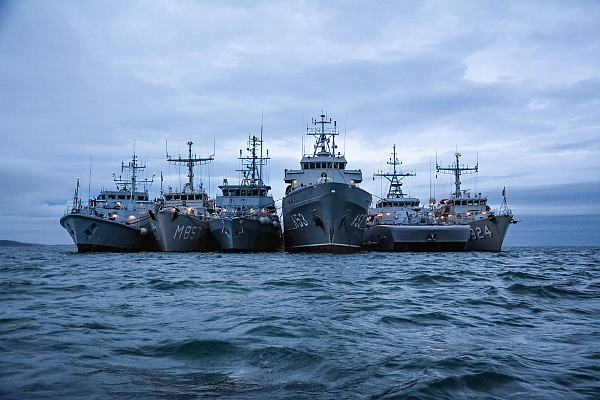 Ships of SNMCMG1 rafted up in Belfast Lough
(NATO website photo)
The group comprises the Latvian coastal minelayer and command ship LVNS Virsaitis, the Estonian minehunter ENS Sakala (formerly HMS Inverness), the German minehunter FGS Sulzbach-Rosenberg; the Norwegian minesweeper HNoMS Rauma, the Belgian minehunter BNS Primula and the Dutch minehunter HNLMS Makkum.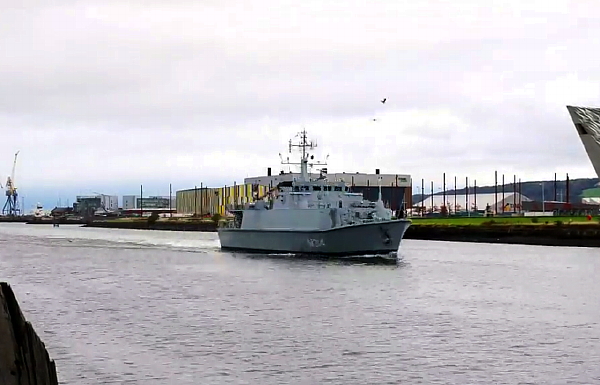 ENS Sakala (formerly HMS Inverness) entering Belfast yesterday
(Belfast Telegraph image)
---
13 Oct 17 - SDU2 frees torpedo from tanker's anchor
The Royal Navy website contains this article and the Daily Mail website this article describing how members of Portsmouth-based Southern Diving Unit 2 (SDU2) freed a trials torpedo impaled on the fluke of an anchor belonging to the 3,000 ton chemical/oil products tanker Skaw Provider off Portland on Tuesday. The torpedo was taken out to sea and destroyed.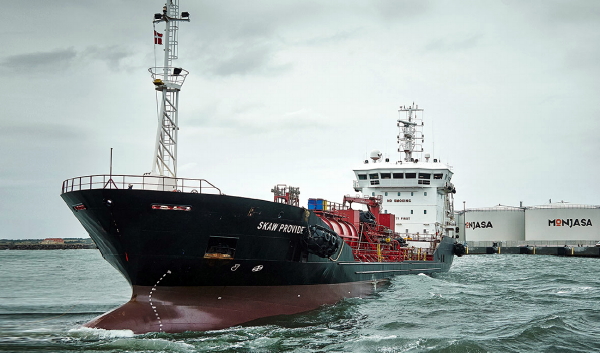 MV Skaw Provider
The article features Lt Cdr Jonathan Campbell, OIC of SDU2.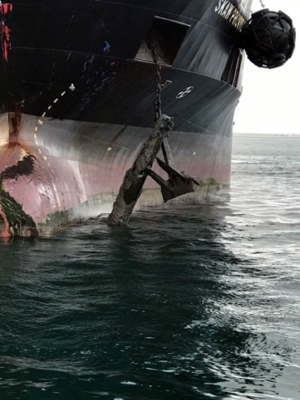 The torpedo impaled on Skaw Provider's anchor
(RN website image)
---
12 Oct 17
Death, funeral and DT obituary of Capt Ian Powe RN
Capt Ian Powe RN died peacefully at St Thomas' Hospital on 2 September 2017 aged 84.
As ever, I am grateful to Capt Peter Hore RN for writing this obituary which was published in the Daily Telegraph today. This is an excerpt:
"On the night of January 14/15 1968 a severe earthquake struck western Sicily, killing several hundred people, injuring many more and leaving 100,000 people homeless. The Italian government asked for help from the Royal Navy at Malta, where Powe commanded the 7th Mine Countermeasures Squadron (MCMS), consisting of several small Ton-class minesweepers. Without waiting for orders, Powe loaded his ships with disaster relief stores, medical teams and a small detachment of soldiers, and sailed overnight.
The squadron's entry next morning to the small port of Trapani was greeted by a violent aftershock which shook the sea and shore, and hundreds of refugees rushed from the town towards the jetty. Powe restored calm and in liaison with the mayor commandeered a convoy of lorries to take him inland to the Belice valley, where the damage was greatest; they followed debris-strewn roads which had been split and were hanging in ribbons over precipices, through villages which had been flattened or had fallen into the valleys below. Powe set up a headquarters at Montevago, the soldiers erecting tents for accommodation and a marquee as a field hospital, while Powe's 40 sailors dug in the rubble and began to repair utilities. He was joined by 12 Italian Boy Scouts who had been on a camp, and two retired British aid workers from Save the Children who chanced to have retired locally.
The immediate relief effort was hampered by a lack of planning at local level, excessive bureaucracy, a lack of supplies, and a tendency to treat outsiders with suspicion. After 36 hours soldiers from the Italian army arrived, who placed themselves under Powe's orders; they brought a searchlight which, when played on a White Ensign which Powe had ordered to be hoisted on the one standing telegraph-pole, brought in hundreds of survivors from the countryside. For the next week, despite cold weather and several aftershocks which mainly struck at night, Powe oversaw the rescue efforts. Subsequently the 7th MCMS was awarded the Wilkinson Sword of Peace, while Powe himself was praised by his commander-in-chief for his "initiative and judgment in dealing with the situation, which was not only serious but required considerable tact and understanding".
The people of Montevago named the main road in the rebuilt town "Via Comandante Powe" and an adjoining road "Via Marina Inglese", and they invited the Powes to return in 2018 to commemorate the 50th anniversary of the earthquake...
...After a deployment in the Far East as first lieutenant of the frigate Londonderry, his was an early promotion to commander when he took command of the minesweeper Walkerton and the 7th MCMS. In 1969, when Powe's squadron left Malta, crowds lined the walls of Barrakka heights to wave a sad farewell, the last to go after two centuries of British warships based on the island..."
A private funeral will be followed by a Memorial Service at 1100 on Tuesday 17 October at St Paul's Knightsbridge, SW1X 8SH. All are welcome.
Donations, if desired, to Cancer Research UK c/o Chelsea Funeral Directors, 260b Fulham Rd, SW10 9EL. Tel: 020 7352 0008."
The DT obituary can also be viewed on the MCDOA website here: Captain Ian Powe Royal Navy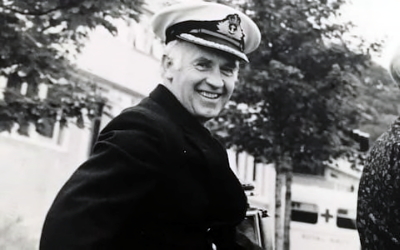 Capt Ian Powe RN
(17 Oct 1932 - 2 Sep 2017)
---
SDU1 detonates 25lb shell
The BBC News website contains this article, including video, describing yesterday's disposal, presumably be members of Plymouth-based Southern Diving Unit 1 (SDU1), of a 25 lb shell used as a doorstop at a farm near Bovey Tracey in Devon.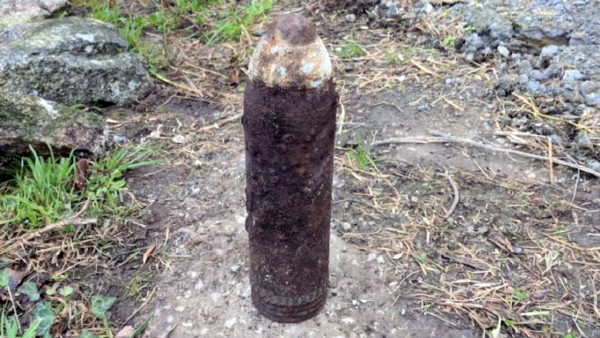 ---
11 Oct 17 - MW course graduation
Congratulations to the AB(MW)s who successfully qualified on the latest course at HMS Collingwood.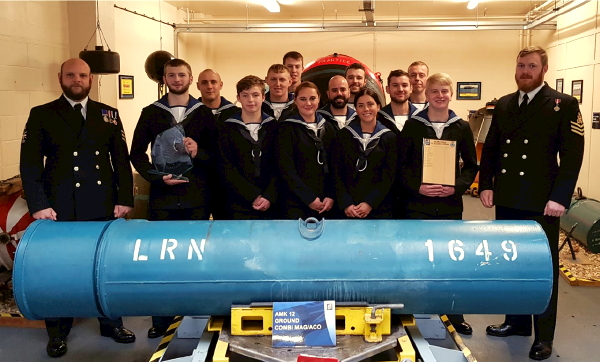 ---
10 Oct 17 - HMS Hurworth and HMS Ramsey in JOINT WARRIOR
The Forces TV website contains this article, including a comprehensive video, describing the involvement of HMS Hurworth (MCM2 Crew 5) and HMS Ramsey (MCM1 Crew 4) in this year's second Exercise JOINT WARRIOR off Scotland. Both ships' crews are due to fly to the Gulf in December to man other minehunters currently based in Bahrain for Operation KIPION.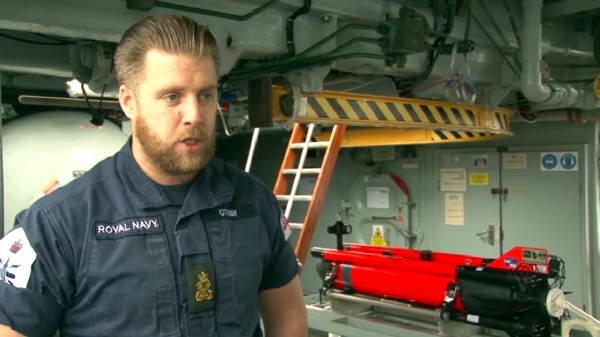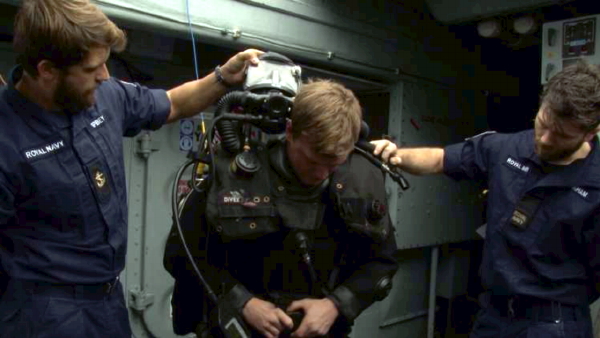 The Royal Navy has published these images on its Facebook page showing HMS Hurworth recovering a large drill ground mine she detected in a depth of 48 metres while part of a Task Group of three Royal Navy minehunters and three French Navy minehunters during JOINT WARRIOR. The mine was detected on sonar before being identified with a Sea Fox Mine Disposal vehicle. Two divers then attached strops to it for recovery by davit.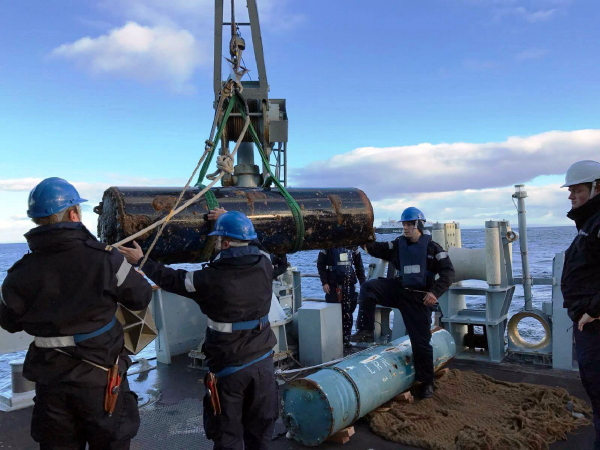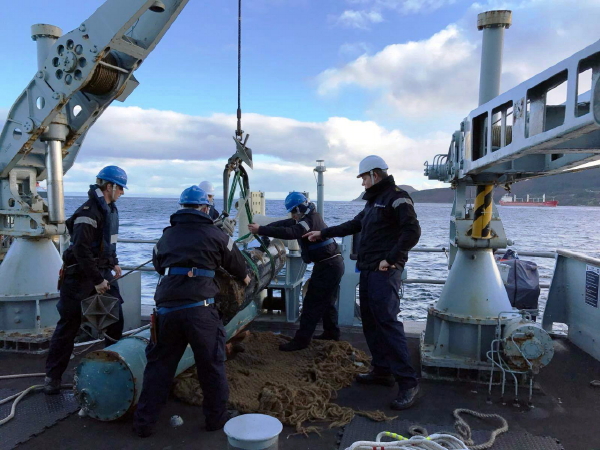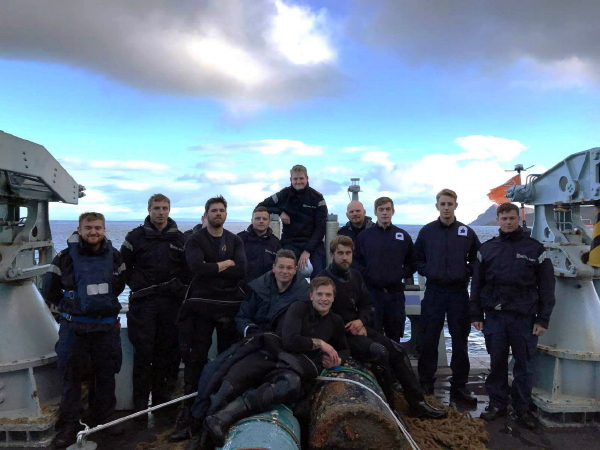 ---
9 Oct 17 - RN bomb disposal unit called to mustard gas find in Lincolnshire
The Lincolnshire Live website contains this article, including video, dated 6 October and this article dated 10 October reporting the attendance of "a Royal Navy Bomb Disposal Dive Team", presumably members of Portsmouth-based Southern Diving Unit 2 (SDU2), at a lake near Stixwould near Woodhall Spa in Lincolnshire following the initial discovery of cylinders of mustard gas on 1 October. The operation has also involved an Army bomb disposal unit plus fire & rescue and ambulance services and the Environment Agency.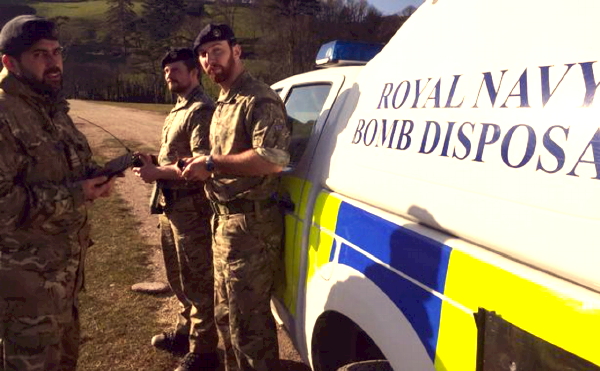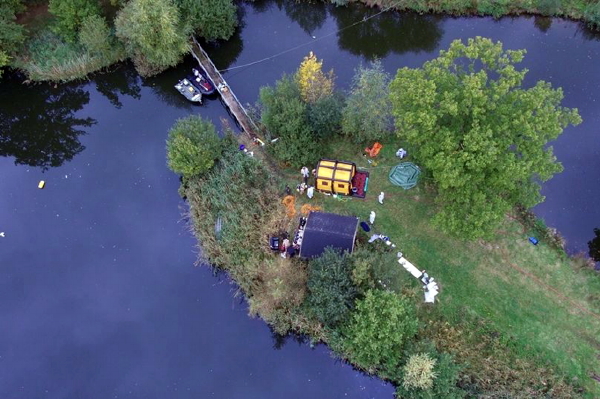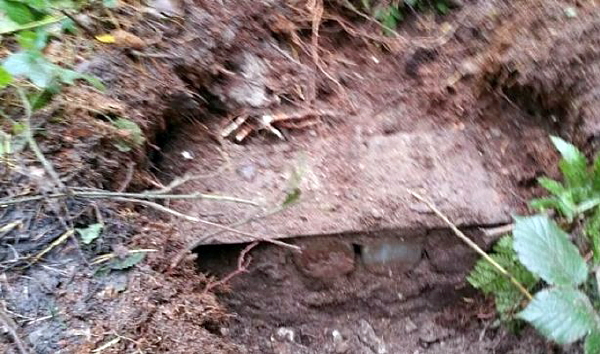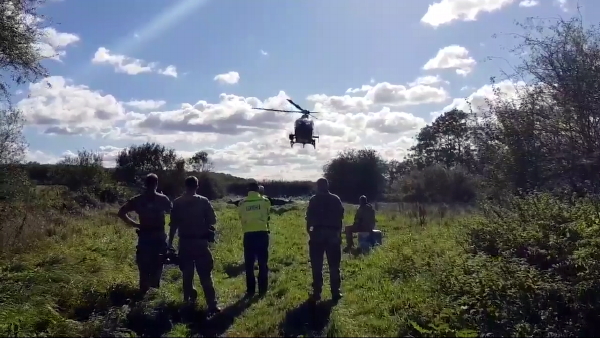 ---
8 Oct 17 - John Bevan as 'That Infernal Diver'

MCDOA associate member Dr John Bevan (Chairman of the Historical Diving Society (HDS), founder of the Diving Museum, celebrated author, world record-breaking deep diver and trustee of the Vernon Minewarfare & Diving Monument charity) made a thoroughly convincing John Deane, inventor of the first practical diving helmet, when he performed the role with Lee Players at the Diving Museum on Saturday night (see entry for 23 Sep 17 in News Archive 59).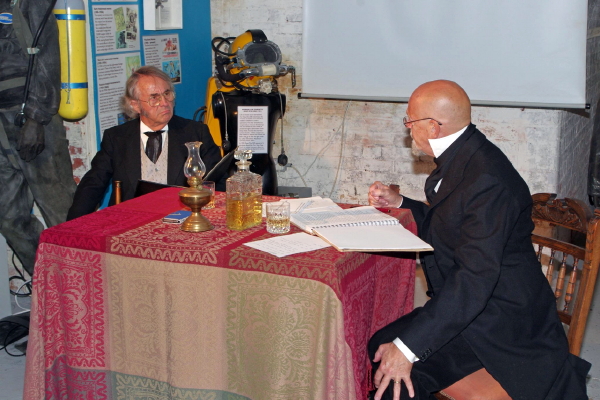 The Diving Museum in No. 2 Battery at Stokes Bay is run entirely by volunteers. It will be open 1000 to 1600 at weekends until 29 October when it will close for the winter except by special arrangement.
---
7 Oct 17 - RN CD Roll of Remembrance
Some time ago, I was asked by the all-ranks Royal Navy Clearance Divers' Association (RNCDA), of which I am member 076 (my LMCDO course year), to help compile a list of deceased RN divers and I have now researched all officers who qualified QDD, CDO and MCDO since October 1944. This list does not include those engaged in diving and/or EOD before these courses began apart from some war veterans such as the late Peter Roberts VC DSC, 'Uncle Bill' Filer MBE GM and Gordon Gutteridge OBE who were granted 'grandfather rights'. Most individuals died from natural causes and they appear in order of date of death. Please advise me of any omissions.