---
29 Sep 08
SDU2 blows wartime mine off Sheerness
The BBC News website contains this article, featuring CPO(D) Sid Lawrence, which describes the disposal yesterday of a German WWII 'GC' mine off Sheerness by Southern Diving Unit 2 (SDU2). The Portsmouth News website contains this article and the Sheerness Times Guardian website contains this article about the same incident. The Navy News website contains this article including the photo shown below.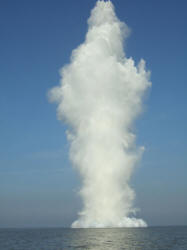 Mine blown off Sheerness by SDU2
(Navy News photo by CPO(D) Sid Lawrence)
---
HMS Ledbury on NATO Exercises in Mediterranean
The RN website contains this article describing the continuing deployment of HMS Ledbury in the Mediterranean with Standing NATO MCM Group 1 (SNMCMG1) under the Command of MCDOA member Chris Davies embarked in HMS Roebuck.
FGS Homberg and HMS Roebuck manoeuvre close to
HMS Ledbury in a recent navigation exercise
(RN website photo)
---
26 Sep 08 - John Beavis in Cancer Run
MCDOA member John Beavis, who has been on exchange with the Canadian Navy at the Defence Research and Development Centre (DRDC - formerly DCIEM) in Toronto for the past two and a bit years, informs me that he and his wife are competing in the Scotiabank Toronto Waterfront Half Marathon on 28 September to raise money for the Against Breast Cancer charity.
You can sponsor John via his page on the Just Giving website here.
---
Post Race feedback from John Beavis on 1 Oct 08
"Hi all,
Just a brief e-mail to say a big THANK YOU for your generous donations; it was greatly appreciated! All completed in 1:36, so pretty respectable all in all and am now nursing the blisters!
Thanks again and due to your help we've raised £205.00 for Against Breast Cancer.
John and the team"
---
25 Sep 08 - New Personal Updates
The Members Only area contains updates with photos from MCDOA past-Chairman Chris Ameye and MCDOA past-Treasurer Dave 'Spidey' Ince who transferred to the Royal Australian Navy in November 2006. They have just renewed acquaintance with each other in Afghanistan.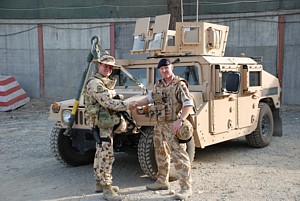 "Haven't we met before?" - MCDOA members
Dave Ince and Chris Ameye in Afghanistan
---
24 Sep 08 - HMS Brocklesby in Maintenance Period
The RN website contains this article describing activities on board HMS Brocklesby since summer leave. Several members of her MW Department feature in her photo gallery here.
---
23 Sep 08
RN EOD Team destroys object on Chesil Beach
The following links provide news and pictures of the disposal of an explosive object on Chesil Beach in Dorset this morning by a Royal Navy EOD team, presumably SDU1:
---
News of HMS Blyth
The RN website contains this article about the activities of HMS Blyth as she approaches the end of her time in the Gulf.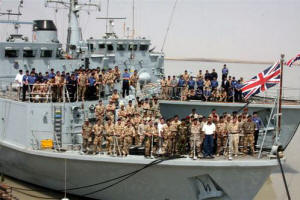 HMS Blyth (foreground) and HMS Atherstone
in Umm Qasr, Iraq earlier this month
(RN website photo)
---
21 Sep 08 - Annual Minewarfare Association Reunion
Well done to Taff Reader, Pete Mills and all the other organisers of the Minewarfare Association's Annual Reunion in HMS Collingwood last night. Here is a selection of photos of some of the attendees:
Left: Dixie Dean with Bob 'Mitch' Mitchell
Right: Slinger Wood, Ed Smith and Dick Barton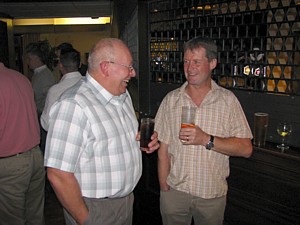 Gary Abnett with Pete Mills
Left: Steve Downey with Ian 'Herman' Gearing
Right: Benny Bennion and Steve Doyle
Left: Polly Porter and Nat Coles
Right: Taff Reader, Pawl Stockley and Jim Hawkins
A welcoming speech was given by MW Association Chairman Pete Mills.
MW Association Chairman Pete Mills
Assembled MW Association Reunion attendees
Among the other highlights was Steve Harvey's presentation of a whisky decanter set (including silver mine stopper) to Pawl Stockley who will be leaving the RN next April.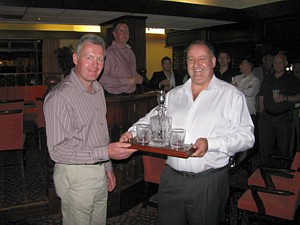 Nat Coles presents decanter set to Pawl Stockley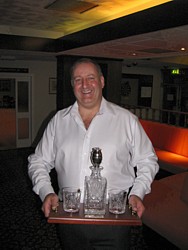 Pawl Stockley with his retirement decanter set
Don't forget that the embryonic RN Minewarfare Association is open to MW specialists of all ranks, including MWOs and MCDOs. Membership applications can be downloaded from its website here.
---
19 Sep 08 - Prospective sculptors of Project Vernon Statue given acquaint
Yesterday, the three sculptors short-listed to create the statue in Gunwharf Quays to commemorate the Minewarfare and Diving heritage of HMS Vernon attended a familiarisation day in the Portsmouth area. The aim was to provide each sculptor with sufficient background information to produce a maquette (miniature) of a statue of a mine with a clearance diver to enable us to select a single design for the full-scale version. For further information, see the Project Vernon website.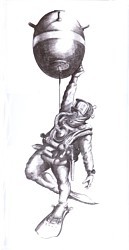 Conceptual design for
Project VERNON statue
After assembling at Gunwharf Quays for an introductory brief by the Project Manager, MCDOA member David Carey, the sculptors and their companions were accompanied to the Mine Warfare Operational Training Centre (MWOTC) at HMS Collingwood where MCDOA member Ian Berry gave a presentation about RN minewarfare before a tour of the mining deck. As well as David Carey and Ian Berry, those present included Rob Hoole and Tony Griffiths representing the MCDOA, serving WO(MW) Cris Applegarth and retired WO(MW) Dixie Dean representing the RN Mine Warfare Association and serving WO(D) Andy Carss and retired CPO(D) Mike Handford representing the Association of RN First Class Divers. MW Association members WO(MW) Nat Coles and CPO(MW) Taff Reader of MWOTC were also present for at least some of the visit.
Above and below: Project Vernon statue sculptors and hosts at MWOTC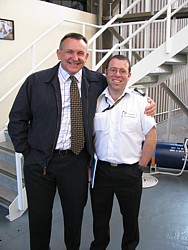 CD Branch Champion WO(D) Andy Carss with
MW Branch Champion WO(MW) Cris Applegarth
We then returned to Gunwharf Quays where we were joined by MCDOA member Frank Ward, artist John Terry of Fleet Graphics, and ex-RN Gunwharf Quays Operations Manager Sean Sweeney MBE to show the sculptors possible locations for the statue.
Gunwharf Quays Operations Manager Sean Sweeney MBE briefs sculptors
After lunch in the adjacent Café Rouge, we took the sculptors to Fleet Diving Headquarters at Horsea Island to show them examples of appropriate diving dress and equipment before dispersing our separate ways. I'd like to thank everyone who made our day possible.
---
16 Sep 08 - HMS Ledbury Exercises off the French Coast
The RN website contains this article describing the involvement of HMS Ledbury in a major MCM exercise off the south coast of France.
FGS Homberg closes HMS Ledbury to pass tow
(RN website photo)
---
14 Sep 08 - Quick update on Russian Sea Mines
Retired members wishing to refresh their knowledge of Former Soviet Union (FSU) sea mines might find this article on the Russian Gidropribor Central Research Institute's website of interest.
---
13 Sep 08 - News from HMS Ramsey
I am grateful to Lt Marc Taylor RN, the Navigating Officer of HMS Ramsey, for forwarding this update:
"As part of Operation Aintree, the new Ship's Company of HMS RAMSEY flew out to Bahrain at the beginning of July to conduct a swap with the outgoing team who will take over HMS SHOREHAM in the UK after some well deserved leave.
For many of the fresh faces it was a culture shock, leaving behind a gloomy Faslane and stepping out into a raging sun and 45 degree heat. After having a few days to acclimatise to their new surroundings, RAMSEY was out to sea with the Ship's Company putting their new platform to the test. RAMSEY had to hit the ground running since it wouldn't be long before the team from the Flag Officer Sea Training (FOST) organisation would make the trip out to Bahrain to assess her Operational Capability.
RAMSEY spent several days at sea exercising all of her capabilities including the use of her remote controlled mine hunting vehicles, Mk 44 Mini Guns and Mine Clearance Divers. Time was also allocated to safety drills such as man over board and damage control exercises. Operating with another Sandown class vessel, HMS BLYTH, the opportunity was also taken to undertake manoeuvres in close company.
HMS Ramsey in Bahrain
As part of the Coalition Forces in the Gulf region, RAMSEY is primarily tasked with Mine Countermeasure operations, which includes ensuring commercial sea lanes remain open. RAMSEY also assists in counter terrorism operations, helping to promote stability in the Gulf. The Commanding Officer of HMS RAMSEY, Lt Cdr Nick Borbone RN, commented:
"It was sad to say goodbye to HMS SHOREHAM, however we are now in an environment that will fully test our capability and we are making an important contribution to regional operations."
After successfully completing her FOST Assurance Visit, RAMSEY is now available to the operational commander for tasking. HMS RAMSEY left the UK in November 2006 as part of Operation Aintree and is due to return to the UK at the end of 2008."
---
12 Sep 08
HMS Cattistock in Falmouth for start of Tall Ships Race
Today's Portsmouth News contains this article describing the participation of HMS Cattistock in the Regatta at Falmouth this week to celebrate the start of the Funchal 500 Tall Ships Race. Tomorrow, Cattistock will accompany the sailing ships from Falmouth, across the Bay of Biscay to Ilhavo (Port of Aveiro) in Portugal, on the first leg of their race to Madeira.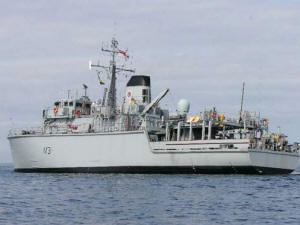 HMS Cattistock in the turn
(RN website photo)
---
RN Diving Heritage
At the annual RN Divers' Reunion held last June, I was privileged to sit and chat with Ray 'Brum' Maries BEM, a venerated member of the Association of RN First Class Divers (AORNFCD).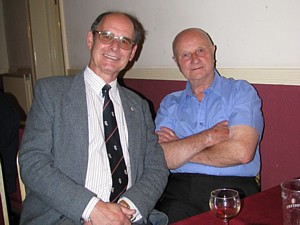 Rob Hoole and Ray 'Brum' Maries BEM
Ray was awarded a Mention in Despatches and the British Empire Medal for his exemplary service with Naval Party 1572 ('P' or 'Port Clearance' Party 1572) during operations to clear explosive ordnance, including booby traps, from ports, harbours and anchorages as the Allies advanced through Europe after the invasion of Normandy. The 'P' Parties were the immediate fore-runners of the Royal Navy's Clearance Diving branch. At the end of the evening, Ray passed me some copies of photos showing divers being dressed during training at HMS Vernon(D) based at Brixham between October 1944 and October 1945. The 'D' signified the unit's accounting base at Dartmouth.
Initially, 'P' Parties were equipped with the 'P-party Mk I Suit' which embodied the infamous Sladen suit developed for human torpedo 'charioteers', otherwise known as 'Clammy Death' owing to its ability to pinch delicate parts of the body when under pressure. The suit was entered via the loose folds of an aperture in the front which were then folded concertina-like and clamped. It was used in combination with an enlarged derivative of the Davis Submerged Escape Apparatus (DSEA), a closed-circuit breathing system using pure oxygen.
Trainee being dressed in Sladen 'Clammy Death' diving suit
However, the thin Sladen suit was deemed too flimsy for arduous clearance work and DSEA was unsuitable for diving in depths greater than 30 feet. Consequently, 'P' Parties tended to use Siebe Gorman's 'Shallow Water Diving Suit' which incorporated the Admiralty Neck Salvus (ANS) Self-Contained Diving Apparatus using a closed-circuit enriched oxy-nitrogen mixture. This photo shows a trainee being dressed in what I believe to be a 'Shallow Water Diving Suit'.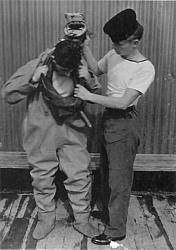 'P' Party trainee being dressed in Shallow Water Diving Suit at HMS Vernon(D)
(Courtesy of Ray 'Brum' Maries BEM)
Eventually, 'P' Parties were equipped with the 'P-party Mark II Suit' which was more durable and incorporated a modification of the existing Salvus apparatus. This was the first truly successful attempt to use mixture breathing in a closed circuit. The following illustration from Deep Diving and Submarine Operations by Sir Robert H. Davies depicts all three types of diving suit worn by 'P' parties.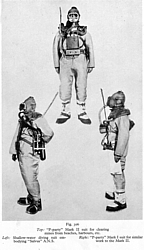 Diving suits used by 'P' Parties
This sequence of photos shows a trainee being dressed in Siebe Gorman's 'Mine Recovery Suit' (MRS), a completely non-magnetic two-piece self-contained helmet suit which was developed earlier in the war and used a 45/55 oxy-nitrogen mixture. The MRS was generally worn by the Officer-in-Charge of the relevant 'P' Party to render safe any ordnance found by members of the team during their search.
'P' Party trainee being dressed in Mine Recovery Suit (MRS) at HMS Vernon(D)
(Courtesy of Ray 'Brum' Maries BEM)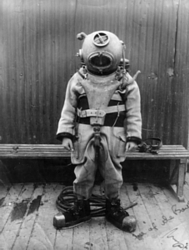 'P' Party trainee in MRS
(Courtesy of David Shane)
This illustration from Deep Diving and Submarine Operations by Sir Robert H. Davies depicts a diver in MRS going about his hazardous work: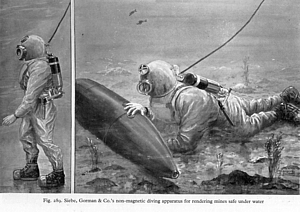 Diver in Mine Recovery Suit (MRS)
This photo from my archives shows Lt Cdr George Gosse GC RANVR, OIC of 'P' Party 1571 in MRS after rendering safe one of several German 'Oyster' pressure mines in Bremen docks in May 1945.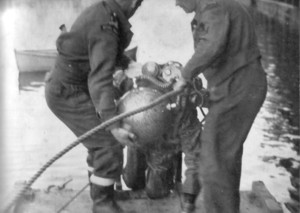 Lt Cdr George Gosse GC RANVR in MRS
This illustration from Deep Diving and Submarine Operations by Sir Robert H Davies depicts 'P' Party members performing their various tasks: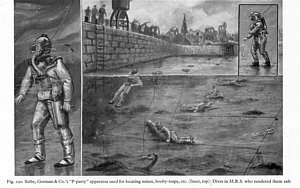 'P' Party members at work
Thank you for the photos Ray. I hope to renew our acquaintance at next year's reunion.
---
11 Sep 08 - Project VERNON Update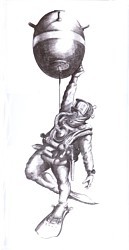 Project VERNON Statue
(Conceptual Design)
During the past few weeks there has been a flurry of activity involving the project to erect a statue in Gunwharf Quays commemorating the Minewarfare and Diving Heritage of HMS Vernon. Thirteen leading sculptors expressed an interest in producing the statue and a committee comprising members of the MCDOA, the Minewarfare Association and the Association of RN First Class Divers (AORNFCD) has selected three of them to produce 'maquettes' (miniatures) of their proposed designs.
Action is currently being taken to establish the project as a charity with members of the above organisations as trustees. When this has been achieved, fund-raising will begin in earnest. Much credit is due to MCDOA member Dave Carey, the Project Manager, for his hard work behind the scenes and meticulous attention to detail.
For further information about progress, look at the latest Blog entry on the Project VERNON's website at http://vernon-monument.org. Why not pledge a donation or offer other support while you're there?
---
10 Sep 08 - RN Minewarfare & Diving Heritage
In April I published an article about the death of ex-CD Derek 'Dan' Neave including his service with the clearance diving team attached to the 51st Minesweeper Flotilla (51st MSF) c.1956 (see entry for 22 Apr 08 in News Archive 22). This team was normally embarked in HMS Brenchley.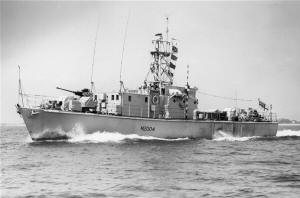 HMS Brenchley
(TCA photo)
Former FCPO(D) Dave 'Mona' Lott in Australia has also drawn my attention to the 50th MSF's diving team embarked in HMS Diver around the same time and has provided this photo: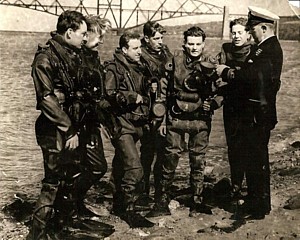 50th MSF Diving Team
(normally embarked in HMS Diver)
When I eventually asked Mona to identify the individuals shown, he sent this reply:
"G'day Rob,
When I looked at the date of the original sending I decided that you should get 10 out of 10 for determination. Left to right are:
Dave Lardner (later to be CPO(CD1) i/c Med Team after relieving Ernie Foggin) who was then killed in a civilian diving accident a few years later.

Ginger Andrews, later to be FCPO(D).

Ernie Whitmore, (I think I saw a photo of him when he attended one of the Divers' reunions a couple of years back.

Nutty Carr, later I think Lt SD Carr.

LM(E) N J Grant, HMS Diver's Leading Stoker who was also a shallow water (ships') diver.

A very young (and at the time not bad looking), Robert Keir (Bob) Adam, later CPO(CD1).

Bringing up the rear, but otherwise always in front, Lt Cdr Bill Filer.
Apart from Grant, all were CD's from the 50th Unit based at Queensferry on board HMS Diver although Dave Lardner was on loan from HMS Lochinvar. I guess the 51st and the members of their diving team onboard HMS Brenchley (including myself) are just out of the photo, and round the headland underwater and working as usual, as opposed to posing for happy snaps...(LOL)
P.S. They didn't actually dive as their proto canisters were empty; not that they would have noticed any difference! I shall also forward to Bob Adam so in view of my above remarks we may get a rapid, possibly heated reply. Mind you any form of warmth was welcome in those days of just wearing thin blue undersuits under the rubber bag...
Dave (Mona) still in Eden NSW"
Although 'Uncle Bill' Filer hung up his fins long ago, he remains a stalwart member of the MCDOA and celebrated his 91st birthday last month. He can be found on his favourite bar stool at the Lee-on-the-Solent Tennis Club most lunchtimes.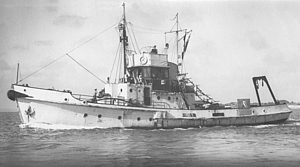 HMS Diver
(TCA photo)
At various times, the 50th MSF included the Ley Class inshore minehunters (each fitted with Multiple Towed Gradiometer (MTG)) HMS Brearley (1957-60), HMS Brinkley (1956-60) and HMS Burley (1955-56). It also included the Ham Class inshore minesweepers HMS Chillingham (1957-58), HMS Inglesham (1954-58), HMS Reedham (1959) and HMS Yaxham (1959-62) and the Ton Class minesweepers HMS Boulston (1956-57), HMS Clarbeston (1962-62), HMS Glasserton (1955-62), HMS Highburton (1958-62), HMS Shoulton (1960-62) and HMS Sullington (1955-56).
The 50th MSF was based at Port Edgar on the Firth of Forth from 1955. In 1958 it moved to Portland where it was renamed the 50th (Portland AUWE Trials) Minesweeping Squadron before becoming the 3rd Minesweeping Squadron (3rd MSS) on 1 October 1962. In 1966, this became the 3rd Mine Countermeasures Squadron (3rd MCMS) shortly before it incorporated the RN's first minehunter HMS Shoulton (1967-78), along with the minesweepers HMS Glasserton (1964-78) and HMS Wotton (1971-78). The 3rd MCM Squadron was disbanded in 1978 but reformed at Rosyth (with funnel badge trident pointing up instead of down) in 1984. This, in turn, was disbanded when the last MCMVs left Rosyth in Sep 1993.
In the meantime, the 51st MSF remained at Port Edgar and was renamed the 51st MSS in 1958. On 1 October 1962, it was renamed the 1st Minehunting Squadron (1st MHS) comprising HMS Shoulton, HMS Bronington, HMS Brinkley and HMS Brenchley. On 1 January 1966, this squadron combined with the 2nd and 5th (Vernon) Minesweeping Squadrons to form the 1st Mine Countermeasures Squadron (1st MCMS).
On 24 January 1972, the Second MCM Squadron was re-formed at HMS Vernon following the return of HMS Hubberston and HMS Bossington from Hong Kong where they had been members of the Sixth MCM (Dragon) Squadron. The 2nd MCM Squadron was completed with the arrival of HMS Upton, HMS Lewiston and HMS Iveston later in the year.
---
9 Sep 09 - HMS Atherstone and HMS Blyth make history
Todays Portsmouth News contains this article describing how Portsmouth-based HMS Atherstone, accompanied by Faslane-based HMS Blyth, have made history by becoming the first RN ships to enter an Iraqi port since the invasion of 2003.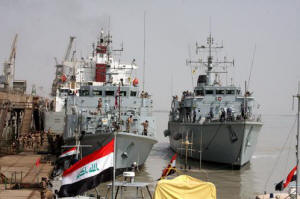 HMS Blyth and HMS Atherstone arriving in Umm Qasr
(RN website photo)
---
5 Sep 08
Remembrance Service for Lt Cdr Ian Fraser VC DSC RD* RNR
The remembrance service for Ian Fraser (see entry for 2 Sep 08) will be at St James Church, Victoria Road, New Brighton, Wallasey at 1500 on Thursday 11 September. Follow M53 signs for New Brighton Station and the church is close by. Rig of the day will be blazer and slacks or suit and medals. Submariners will muster at 1445. All are then cordially invited back to the Grove Hotel, Grove Road, Wallasey for a reception and drinks. This is ten minutes from the church and is quite easily reached.
---
From MCDOA member John Grattan:
"Dear Rob,
Unfortunately I will not be able to attend Ian's funeral as I will be abroad. He and I met at the 1958 Divers' dinner which was also attended by Peter Roberts, another V.C. holder. I saw much of Ian whilst driving HMS Dingley and the HSCDT [Home Station Clearance Diving Team] because he came down to Vernon on many occasions. In fact he tried to persuade Stuart Honour and me to leave the RN and join his company in Liverpool; but we were having so much fun at that time that we did not give it much consideration. Years later ['76 to'78] he and I were on the AODC [Association of Offshore Diving Contractors] Safety committee and we wrote much of the offshore safety legislation. He was a wonderful colleague with a crystal clear mind and great fun to be with.
Peter Roberts taught me to drive the only chariot then in existence, based at Horsea - great fun and a hell of an experience. Furthermore neither of us were much good at driving the submersible canoes also based at Horsea. I wonder what happened to all that kit. Is it any wonder that we were so very proud to join a Branch with such eminent members at that time?
Happy days and wonderful memories.
Yours,
John"
---
HMS Blyth and HMS Atherstone visit Iraq and HMS Pembroke completes refit at Rosyth
The RN website contains this article about the arrival of HMS Blyth and HMS Atherstone in the port of Umm Qasr in Iraq, the first visits by RN ships since 2003. It also contains this article about the return to sea of HMS Pembroke following her refit at Rosyth.
---
HMS Penzance visits Penzance this weekend
The Navy News website contains this article announcing a visit to Penzance by HMS Penzance this weekend. She will be open to the public at West Dock on Saturday 6 and Sunday 7 September from 1000 to 1400. Admission is free.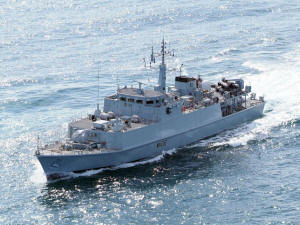 HMS Penzance
(Navy News photo)
---
3 Sep 08 - HMS Ledbury update
The RN website contains this article describing the operations of HMS Ledbury off La Spezia in Italy with her fellow members of Standing NATO MCM Group 1 (SNMCMG1).
HMS Ledbury's fellow members of SNMCMG1
(RN website photo)
---
2 Sep 08 - Death of Lt Cdr Ian Fraser VC DSC RD* RNR
The Daily Telegraph website contains this obituary for submariner and diver Lt Cdr Ian Fraser RNR who died on Monday aged 87. He was the last surviving RN holder of the Victoria Cross, awarded for navigating the midget submarine XE-3 into the heart of Singapore harbour on 31 July 1945 and attacking the 10,000 ton Japanese cruiser Takao. LS James Magennis, his diver, was decorated with the VC for the same mission. After planting three limpet mines at each end of the Takao, Magennis had to exit the submarine again to free one of its two-ton side charges, timers already ticking, which had only partially released and prevented the craft from moving.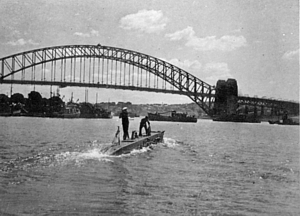 XE Craft exercising on the surface
in Sydney Harbour
Immediately after the war, Ian Fraser recruited fellow divers to form his own 'Frogman show' which performed at various venues around the country.
Left: Ian Fraser's Frogmen Show
Right: Divers in 20,000 gallon tank at Belle Vue, Manchester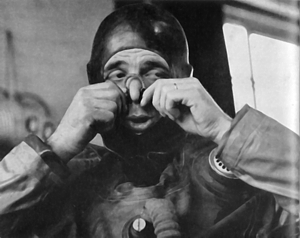 Ian Fraser adjusts his noseclip
In 1965 Ian Fraser formed Universal Divers and North Sea Diving Services and expanded into seabed exploration and the maintenance of North Sea oil and gas rigs. After selling out to the Blue Star Line in 1975 he continued to serve with Star Offshore Services Marine Ltd until 1982. He entitled his memoirs Frogman VC and I have a copy on my bookshelf. I was invited to comment on BBC Radio 4's PM programme today and a recording of my interview can be heard here. I regret the sound quality is less than perfect owing to the need to compress the file for use on the website.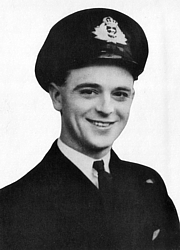 Lt Cdr Ian Fraser VC DSC RD* RNR
(18 Dec 1920 - 1 Sep 2008)
---