Items from The News, Navy News and Warship World are reproduced by kind permission of David Brown, Jim Allaway and Mike Critchley respectively. Click on the thumbnails to enlarge them.
---
29 Jun 05
MCD Promotion
I am sure all members join me in congratulating MCDOA member Paddy McAlpine on his selection for promotion to Captain RN on today's signal. My thanks to MCDOA member Kev Giles for this welcome news.
---
International Drumhead Ceremony
Today's International Drumhead Ceremony on Southsea Common was a truly spectacular affair attended by 9,000 people. The arena was ringed by junior officers from IFR ships, each bearing the national flag of his/her navy, as well as standard bearers from a host of UK naval associations and other maritime organisations. Click for higher resolution versions of the photos.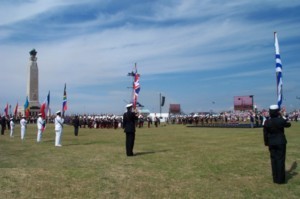 Naval officers from many nations ring
the arena on Southsea Common
The religious focus was moving without being maudlin and there were contributions from Christian, Jewish and Moslem clerics. The highlight for me was the stirring virtuoso performance by the large RM marching band accompanied by a range of choirs although the over-flight of a solitary Sea Fury and Harriers in 'missing man' formation also drew gasps of awe. Kate Adie's live interviews of veterans and schoolchildren, interlaced with big-screen videos of the RN in action including soundtrack, were also thought-provoking and helped put our ethos into perspective. HMS Illustrious made a fitting backdrop as she passed the War Memorial right on cue. A half-scale mast of Victory with sails unfurling to display schoolchildren's commemorative works of art formed an eye-catching centrepiece and a superb background for reunion photos after the formalities.
Afterwards, I stopped to chat with Bob Dean who was manning the Ton Class Association's stand, one of many present in a huge blue marquee. He and Stan Hudson were kept busy throughout the weekend answering queries from prospective TCA members.
Le

ft: Bob Dean tells Rob Hoole the number of new TCA members recruited so far

Right: Another new member signs up while Stan Hudson and Bob Dean have a chat
---
28 Jun 05
International Fleet Review at Portsmouth
Today's IFR in the Solent includes the Hunt Class MHSCs HMS Cattistock, HMS Chiddingfold, HMS Ledbury and HMS Middleton and the Sandown Class MHCs HMS Bangor, HMS Grimsby, HMS Pembroke, HMS Ramsey, HMS Shoreham and HMS Walney among almost 170 warships from 35 countries.
---
"It fell on to the back of a lorry, Chief."
Ex-CD1 Perry Mason has kindly drawn my attention to an amusing article in The Guardian describing a Scottish fisherman's recovery of a Remote Controlled Mine Disposal System Mk II (RCMDS II) vehicle alleged to belong to HMS Penzance. [I wonder if the fisherman realises it can carry a live Mine Disposal Charge that can be detonated remotely.]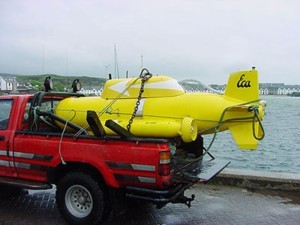 Land-deployable PAP vehicle?
---
27 Jun 05
Joan Hawkins
I arrived back in UK last night to hear the sad news of the death of MCDOA member Bob Hawkins' wife Joan on the afternoon of Monday 13 June in hospital at Balloch on Loch Lomond. She had been suffering from brain cancer (Glioblastoma) but her final hours were mercifully swift and peaceful and her family was around her. Joan's funeral was held at Cardross Crematorium on Friday 17 June and was attended by family members and friends including many MCDOA members and Flag Officer Sea Training (FOST) - Rear Admiral Roger Ainsley. I know Kev Stockton, Tony Griffiths and others attempted to spread the word as widely as possible in my absence.
Like many others among you, I have spoken to Bob and expressed my inadequate sympathy for him and their sons Cameron and Jamie, Joan's parents Jim and Sheena and her sisters Sine and Morag.
Donations in Joan's memory can be made to Cancer Research UK.
---
Horsea Diving Fatality (Continued)
The Scotsman has reported that all charges in the manslaughter case against former PO(D) Tony Watt (See items for 9 & 10 Jun below) were dropped on Friday 17 June.
---
Last Portsmouth Entry for Brecon, Cottesmore and Dulverton
I have received word that the Hunt Class MHSCs HMS Brecon, HMS Cottesmore and HMS Dulverton, late of the disbanded Northern Ireland Patrol Squadron, will make their final entry into Portsmouth on Wednesday 28 September before being handed over to the Disposal Reserve Ships Organisation (DRSO). See you on the Round Tower.
---
Return of the Webmaster
Mrs Webmaster and I have just returned from a wonderful fortnight on the Ionian island of Kefalonia.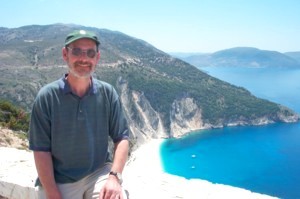 Webmaster at Myrtos Beach
Apart from references everywhere to 'Captain Correlli's Mandolin', there were also several reminders of the Royal Navy. HM S/M Perseus was mined off the island in Dec 1941. The only survivor, a Stoker called John Capes, escaped from a depth of 52 metres using the Davis Submerged Escape Apparatus (DSEA). He was sheltered by the islanders for 18 months before re-joining the Allies. As his presence on board had not been registered before sailing, the Admiralty refused to believe his story until the wreck of the sub was discovered in 1997. By this time, Capes had died.
HMS Daring provided the first disaster relief after the 1953 earthquake destroyed all but one village on the island and the Kefalonians remain eternally grateful. When a ship's company reunion was held in our hotel at Sami in 2003, a local man had tears in his eyes as he recounted how the sailors had pulled his pregnant mother out of the ruins of her home. But for this rescue, he would not have been around to tell the tale.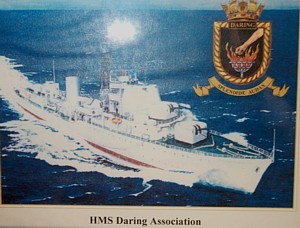 Picture on display in Pericles Hotel, Sami
---
11 Jun 05
Webmaster Offline
The Webmaster will be offline for the next few days but will publish any interim news retrospectively on his return.
---
Queen's Birthday Honours 2005
Many congratulations to WO(MW) Pawl Stockley on his appointment as an MBE in today's Queen's Birthday Honours. [Best I keep quiet about certain events then, Pawl, but it will cost you a pint at the next MW Reunion ;-). BZ!].
---
Operation Telic Battle Honours
The Ministry of Defence has announced the award of the Battle Honour 'AL FAW 2003' to several units participating in Iraq combat operations, including:
HMS Sandown
The MCMVs and the Survey Vessel HMS Roebuck qualified for the Battle Honour:
"... by meeting the criteria of 'successful war service' and achieving 'complete frustration of the enemy's intention at the time', taking into account the significant level of threat under which they were operating, in the maintenance of the sea lines of communication and the clearance of the Khawr Abd Allah waterway between the 22 and 28 March 2003. This route was needed to provide early and secure access to a deep water port which had been extensively mined. The operation culminated in the highly-publicised entry of RFA SIR GALAHAD into Umm Qasr on 28 March 2003. Between them, the minesweepers and the attached survey ship were awarded 2 MBE, 1 DSC, 1 MiD, and 2 QCVS."
---
Horsea Diving Fatality (Continued)
The following item from today's Portsmouth News describes the second day of the trial of PO(D) Tony Watt and features former WO(D) John 'Tiny' Timms.

---
Annual Minewarfare Branch Reunion 10 Sep 05
The calling notice and application form for this year's Minewarfare Branch reunion at HMS Collingwood on Saturday 10 September may now be downloaded via the 'Upcoming Events' page of the Members Only area of the website. This function is open to all Minewarfare qualified Officers, Warrant Officers and Senior Rates and will include a welcoming drink, a sit-down 2-course meal with wine, a cash bar, a disco (with the volume at a reasonable level) and a raffle, all for £17 per ticket.
---
Exploding the Myths of Bomb Disposal
The Army held an extravagant media demonstration of EOD at Goojerat Barracks, Colchester and Fingringhoe Range on 2 June. The full report is on the Ministry of Defence website at:
http://news.mod.uk/news/press/news_headline_story.asp?newsItem_id=3280
---
Horsea Diving Fatality
The following item from today's Portsmouth News describes the opening of the trial of PO(D) Tony Watt following the death of Lt Paul McAulay RN during diving training at Horsea Island in Nov 2002.

---
New Diving System
Ex-CPO(D) Perry Mason has drawn my attention to the following webpage describing a possible breakthrough with a revolutionary diving system.
http://www.isracast.com/tech_news/310505_tech.htm
---
New Website about Leigh Park
Phil Hammond, Chairman of the Staunton Park Genealogy Centre, has kindly incorporated my information about the wartime evacuation of the Mine Design Department of HMS Vernon to Leigh Park in a new website at http://leighpark.stauntoninfo.co.uk/26557.html. He has also removed the previous website's reference to "vandalism carried out by the Royal Navy" when explosive charges were trialled in the ornamental lake.
---
4 Jun 05
MCD Promotions
MCDOA member Paul Guiver has pointed out that three MCDOs were selected for promotion to Lt Cdr on the last signal, effective from 1 Oct 05. Belated congratulations are in order for Paul Guiver, Neil Marriott and Paul McDermott. Sorry guys but nobody told me at the time.
---
Displays by the Defence Diving School
MCDOA member Simon Pressdee reports that the Defence Diving School (DDS) is putting on two external displays in the Portsmouth area which might interest members who live in and around the south. Both the displays will show modern Diving and EOD equipment as well as boats and vehicles. Confirmed display items will be all current in-service diving equipment, a selection of historical diving equipment, one of Northern Diving Group's Pinzgauer all terrain area diving team vehicles, diving boats, ordnance (hopefully FFE'd!) and the obligatory divers in the tank.
The displays will be at the entrance to the Collingwood Field Gun Day on Sat 18 Jun and on a prestigious plot between Victory Building and No.1 Basin during the International Festival of the Sea 30 Jun to 3 Jul.
If you'd like any more information regarding the displays, please contact Simon at DDS on 023 9222 4108.
---
Decommissioning of Brecon, Cottesmore and Dulverton
It is understood that HM Ships Brecon, Cottesmore and Dulverton will decommission at Faslane on 14 July 2005. They will probably be towed to Portsmouth in September for disposal by the Disposal Reserve Ships Organisation (DRSO - run by David Hilton).
---
2 Jun 05
Blyth on the Blocks
The following item from today's Portsmouth News describes the acquisition of £1 million's worth of concrete blocks on which to dock ships in Portsmouth Naval Base and features HMS Blyth.

---
RN Procures REMUS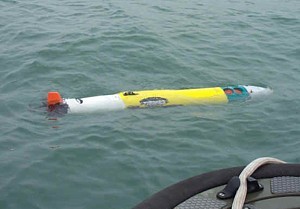 REMUS
(Photo courtesy of Trevor Newman of QinetiQ)
The following announcement was made by the Ministry of Defence on 30 May 05:
ROYAL NAVY 'ROBOTS' TO HUNT DOWN UNDERWATER MINE MENACE

The Royal Navy is to take delivery of a fleet of high-tech unmanned underwater 'robots' to help track down deadly sea mines.

Known as REMUS - short for Remote Environmental Monitoring Units, the battery-powered vehicles will scan the seabed in water up to 100 m deep to ensure there are no underwater mines lurking to destroy ships and landing craft.

Under the £2.75Million programme 10 vehicles will be bought by the Defence Procurement Agency before entering service early next year. It will be the first time the RN has had an advanced unmanned underwater vehicle capable of detecting hidden shallow water mines - traditionally a dangerous job that has been carried out by naval divers.

Defence Procurement Minister Lord Drayson said: "REMUS will give the Royal Navy the ability to undertake rapid mine reconnaissance in very shallow water - cold and dangerous work in an area which up until now could only be done by divers. It is an advanced new capability that I am delighted to say will not only reduce the risk to divers during mine detection operations, but also help the Royal Navy undertake a wide range of other important tasks, from supporting search and salvage operations to protecting our ports and harbours against terrorist attack."

Sea mines are one of the most deadly threats facing our naval forces, relatively cheap and easy to plant they can cause major problems for amphibious forces and are often notoriously difficult to detect.

The 1.6 m long torpedo shaped vehicles use advanced detectors to pin-point the location of mines, before returning to their naval handlers for the raw data to be collected and evaluated.

There are some jobs however that the REMUS robots cannot do - the task of clearing the mines it finds will still fall to highly trained naval divers.

The vehicles, manufactured by Hydroid Inc, are expected to stay in service until 2011, and are part of an ongoing initiative by the MOD to introduce unmanned equipment to undertake hazardous tasks.
---
1 Jun 05
Navy News Items
The following MCD-related items from the June issue of Navy News include: a ship of the month feature about HMS Ramsey (CO - MCDOA member Martin Mackey); the assembly of all 13 previous Commanding Officers to celebrate the 20th birthday of HMS Hurworth (featuring her current CO - MCDOA member David Hunkin); a detail from an article about HMS Dulverton and HMS Cottesmore helping to commemorate the liberation of the Channel Islands; and the commissioning of a painting of HMS Cottesmore.
---
New Personal Update
The Members Only area contains a fresh update with photos from Martin Mackey in HMS Ramsey at sea with SNMCMG1.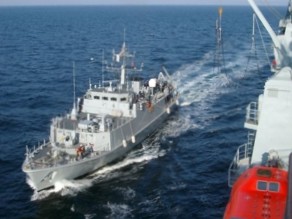 HMS Ramsey - RAS with RFA Fort Victoria
---
31 May 05 - International Fleet Review Participants
The list of ships, including MCMVs, participating in the International Fleet Review in the Solent on 28 June 2005 can be found at:
http://www.trafalgar200.com/tallship_main.html
---
30 May 05 - An Inspector Calls
I stumbled on the following webpage by accident. It contains an illustrated article describing the visit of an HSE Diving Inspector to the civilian diving area at Horsea Island. The article is from 'Diver' magazine a couple of years ago but, in view of the current focus on health & safety in RN diving, it remains topical and is most enlightening.
http://www.divernet.com/technique/1102inspector.htm
---
27 May 05 - Rationalisation of MCM Squadrons
The following item from today's Portsmouth News describes the long-expected rationalisation of RN MCM Squadrons and features Yours Truly. One of the three squadrons is to be disbanded following the reduction of MCMVs from 22 to 16 over the course of this year.

---
23 May 05 - Visit to RMS Queen Mary 2
Yesterday, your humble webmaster and 'Mrs Webmaster' were privileged to be among a group from the Nautical Institute's Solent Branch shown around Cunard's QM2 at Southampton. The ship had returned that morning from a Med cruise that included a stop in Cannes where George Lucas was presented with his Film Festival trophy in a ceremony onboard. Yesterday was change-over day and the ship was due to sail on the evening tide to make her first trans-Atlantic crossing of the season.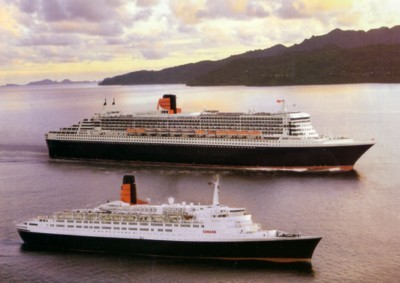 QM2 behind QE2 showing their relative sizes
QM2 is the largest passenger ship in the world and everything about her is stunning. Note that her maiden voyage took place only 18 months after her keel was laid.
| | |
| --- | --- |
| Builder | Chantiers de l'Atlantique, St Nazaire, France. |
| Keel laid | 4 July 2002 |
| Launched | 12 March 2003 |
| Maiden voyage | 12 January 2004 |
| Length overall | 1,132 ft (344.4 m) only 116 feet shorter than the Empire State Building is tall (1,248 ft). Invincible class carrier is 686 ft long and Nimitz class carrier is 1,101 ft long. |
| Breadth | 148 ft (45.1 m). Invincible class carrier is 110 ft wide. |
| Gross Registered Tonnage | 146,182 tons (151,400 tonnes). |
| Displacement | 74,800 tons (76,000 tonnes). Invincible class carrier displaces 21,652 tons. |
| Height above keel | 238 ft (72.5 m) - 14 decks or storeys. |
| Complement | 1,292 |
| Passengers | 3,108 |
| Propulsion | 4 x Rolls Royce Mermaid pods consisting of 2 azimuthing pods, each rated at 21.5 MW (reversible motors with 360 deg rotation) and 2 x fixed pods each rated at 21.5 MW (reversible motors). The propellers are on the front of each pod. |
| Total Propulsion power | 86 MW (115,328 HP) - Invincible class carrier has 72 MW. |
| Bow Thrusters | 3 x 3.2 MW bow thrusters for manoeuvring. |
We were given a guided tour of the ship by Emily Whealleans (Commodore Ronald Warwick's PA) before being shown around the bridge by the Commodore and given lunch. Commodore Warwick's father was the first Captain of the QE2 so it obviously runs in the family.

Grand Lobby on 3 deck (not obvious here
but it rises almost the height of the ship).
3-storey Britannia Restaurant (one of 10 onboard).
Captain's table is largest in centre of restaurant.

Illuminations - 600+ seat lecture room and cinema
with planetarium dome that lowers over 150 of the seats.
There is also a 1,000 seat theatre onboard.
Club G32 Disco (named after ship's build number)
and Commodore Club (among the 14 bars onboard).
Grand Ballroom

Part of the Ship's Library
Sun deck aft and swimming pool (one of four onboard).
Note Mrs Webmaster wearing a fetching hat in the form
of a container ship, created specifically for the occasion.
Spare pod propeller blades on forward observation deck.

View of ship from the fully enclosed port bridge wing.
Bridge (148 ft wide) on 12 deck. Cdre Warwick explains the manoeuvring
controls and navaids on the port bridge wing console.
Some of the wives relax in port bridge wing rest area
(I've never seen a coffee table, easy chairs and pot plants
on a ship's bridge before). The equipment on the after bulkhead
is a training simulator for manoeuvring the ship.
Your humble webmaster and the NI group
assembled on starboard bridge wing.
---
21 May 05 - HMS Brecon's Decommissioning Cocktail Party 1 Jul 05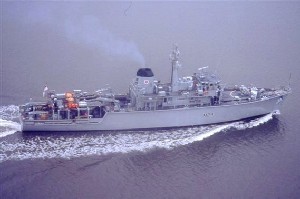 HMS Brecon
HMS Brecon's decommissioning CTP will be held at 1900 on Friday 1 July 05 at Portland. Former COs and officers who served in Brecon are invited with their partners. E-mail 235@a.dii.mod.uk (for attention of Navigating Officer) or Tel 93255 4248 (MoD) / 07785 285632 (Civil). Provide name, e-mail address & details of service in ship. Nominal charge of £5 per person. Make cheques payable to 'Wardroom Mess HMS Brecon' and send to HMS Brecon, BFPO 235 before 16 June.
---
20 May 05 - Photo of RN Mining Course (Part Two)
CPO(D) Bernie Lovell at SDU1 has come up trumps regarding the identity of the mines in the second entry for 1 May 05. His enquiries with Sandy at the Explosive Ordnance Disposal Technical Information Centre (EODTIC) reveal that Eguermin's photo shows models of British EM (Electro Mechanical) mines described in a 1891 report by the Vernon Torpedo School (click on diagram below). The mines were powered by dry cell batteries and the smaller casks probably acted as recovery floats.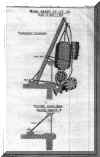 This leads us to believe that Eguermin's photo could date as far back as the early 1890s. Thanks to Bernie and Sandy for helping to clear this up.
---
18 May 05
Inquest Verdict on Lt David Christie RN
The following item from today's Portsmouth News describes the inquest into the death of Lt David Christie RN who succumbed while diving in Portsmouth Harbour in March 2002. The resolution of this sad drawn-out affair comes as a relief and I am sure all members join me in offering David's family and friends our deepest sympathy.

---
New Personal Update
The Members Only area contains the latest news from Bill Chambers in Naples.
---
Gentlemen Who Lunch
Continuing the MCDOA website's occasional Good Pub Guide, our 'Not Quite the Last of the Summer Wine' trio of Barlow, Holloway and Hoole ventured forth yesterday for our weekly away-day. As regular readers might have surmised, we take for our inspiration the character of Harris in 'Three Men in a Boat' by Jerome K. Jerome:
"... I wonder now, supposing Harris, say, turned over a new leaf, and became a great and good man, and got to be Prime Minister, and died, if they would put up signs over the public-houses that he had patronised: 'Harris had a glass of bitter in this house'; 'Harris had two of Scotch cold here in the summer of '89'; 'Harris was chucked from here in December 1886'.

No, there would be too many of them! It would be the houses that he never entered that would become famous, 'Only house in South London that Harris never had a drink in!' The people would flock to it to see what could have been the matter with it."
After much discussion at Barlow's cottage in Emsworth while poring over maps, calibrating compasses, synchronising watches, assigning call signs and selecting RV positions in case of separation, we packed our rucksacks with emergency provisions, water bottles, torches, insect repellent, mosquito nets, spare socks, snow shoes, sun block and zimmer frame repair kits then headed into West Sussex with a deep sense of adventure in our hearts. Having successfully negotiated the speed camera a mile eastwards along the A259 (old A27), we stopped at Southbourne to quench our by now considerable thirsts at The Travellers' Joy on the left hand side of the busy main road.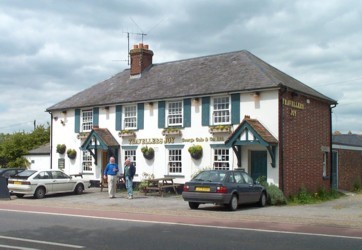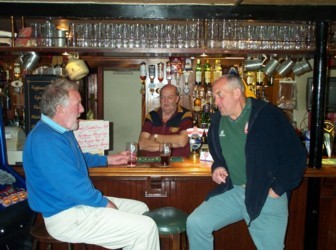 The Traveller's Joy at Southbourne
Entering the vestibule, we discovered a door on the left led into a discreet non-smoking restaurant containing a small bar while a door on the right opened into the large main bar equipped with a pool table and a distracting flashing electronic games machine at the end of the counter (just to the left of Barlow in the photo). People were eating in the restaurant but the main bar was empty. We scanned the bar food menu which mainly featured pizza. The proprietor's brother (ex-RAF but friendly enough) acted as our host and regaled us with tales of his recent triple by-pass surgery. The pub was reasonable but seemed somewhat stark and lacking in atmosphere, perhaps because we were the only clientele. Then there was that whirring and flashing games machine that became increasingly irritating and difficult to ignore. We each enjoyed a decent pint of HSB or Butser before making our excuses and leaving. The Travellers' Joy is recommended as a pub at which to stop off en route but not for a specific visit.
---
Our next port of call was The Old House at Home in rustic Chidham. Again, we were the only customers but the decor and atmosphere seemed much warmer.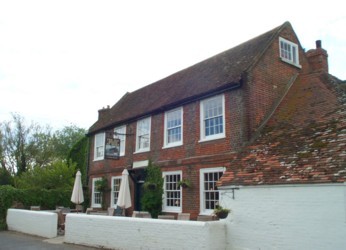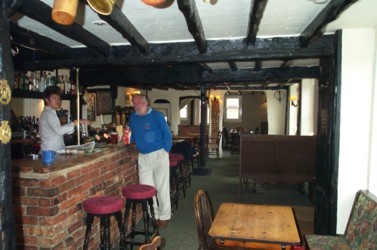 The Old House at Home at Chiham
We were looked after extremely well by the owner's son, Alex Gordon, who is bound for university later this year. Several years ago, his father Chris established a sailing school on the Mill Pond at Emsworth with a few Wayfarers and Optimists. This small enterprise grew to become Sunsail, the world's largest and most successful sailing and water sports company (HQ at Port Solent marina adjacent to Horsea Island). Chris Gordon sold Sunsail in 2001 and bought The Old House at Home last year.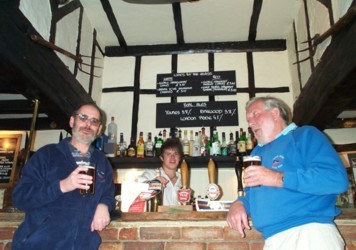 Hoole & Barlow with Alex Gordon behind the pumps
We enjoyed drinking the Tetleys and looking at the imaginative menu (lots of Italian stuff and not just pizza) but we were too late to avail ourselves of it. A friendly hostelry set in tranquil rural surroundings, The Old House at Home is well worth a visit before the summer hordes arrive.
---
16 May 05 - MWO Course Photos
The 'Photo Galleries' in the Members Only area contain 'new' pictures of past MWO courses, including MW modules of past LMCDO courses, courtesy of Tim Russell.
---
14 May 2005 - News from Alan Padwick
Alan Padwick has provided a fascinating account of his life afloat with Sarah on their narrow boat Queen of Sheba. 'Divers on the Cut' has been added to the website's 'Dit Box' and includes photos of several familiar faces including Dave Forsey, John Lang, Brian and Wendy Mansbridge, Tim and Deborah Paul, Frank Spragg and Mike Wignall. For those who have not seen Alan for a while, he now sports a flourishing full set.
Alan and Sarah also have a website, Sheba Enterprises, displaying examples of their artistic talents.
---
13 May 05 - MCDOA Summer BBQ
The Association will hold a barbecue on Saturday 9 July at Horsea Island. Families will be welcome. To make the most of the summer weather, the event is being staged outside the dining hall commencing at 1600. In addition to some excellent char-grilled cuisine, there will be music, a cash bar and other activities, including face-painting for the children (big and small), tombola and traditional mess horse-racing (all proceeds going to charity). Car parking will be available outside Reclaim Building.
Rig will be casual and a prize will be awarded for the 'best' hat as judged by the Committee. The event will be free for fully paid-up MCDOA members and only £5 per head for guests and associated non-members! So come along (with your hat) and have a great afternoon.
Please return the Booking Form (available via the 'Upcoming Events' page of the Members Only area) to the Hon Sec by post or e-mail before 0900 Monday 4 July at the latest to make sure that you don't miss out.
Online members are requested to spread the word among others.
---
12 May 05 - Today's Promotions Signal
Frank Ward reports that MCDOA members Andy Elvin and Martin Woolley have been selected for promotion to Commander to date 30 Jun 06. Congratulations and WMP to both of you. Just don't fail the fitness test after all that high-living abroad!
---
11 May 05 - New Personal Update
The Members Only area contains a personal update from MCDOA member Mark Warlow in Canada.
---
7 May 05
Navy News Items
The following MCD-related items from the May issue of Navy News include: HMS Hurworth's 20th birthday party; the Baltic deployment of HM Ships Ramsey, Bangor, Grimsby, Ledbury and Cattistock plus HM Canadian Ships Shawnigan and Goose Bay and FDU3 (featuring MCDOA member Martin Mackey - CO of HMS Ramsey); the visit of the Commodore Devonport Flotilla to HMS Northumberland in refit (featuring MCDOA member Chris Flaherty - Senior Naval Officer); the disposal by SDU2 of a historical explosive shell; a letter about the wartime evacuation of much of HMS Vernon to Roedean School for Girls, a feature about X-craft; and a commemorative badge available from the Veterans' Agency for all who served in the British Armed Forces 1939-1945.
---
New Personal Update
The Members Only area contains the latest news from MCDOA member Dave 'Spidy' Ince on exchange at SupSalv in the USA.
---
6 May 05 - MCDOA Committee News
The MCDOA Committee met yesterday at HMS Collingwood with Chris Ameye, the new Superintendent of Diving, as our newly installed Chairman. Formal minutes will be available in the Members Only area of the website when received from Tony Griffiths our Honorary Secretary.
Please get your bids in ASAP for the extremely reasonably priced Ladies Night at HMS Collingwood on Fri 27 May (details and application forms available via the 'Upcoming Events' page of the Members Only area). Also, keep your diaries clear for the BBQ at Horsea Island on Sat 9 July (details to follow). Weather permitting, it will be a fun event for all the family.
It has been proposed that Association funds be put towards providing a specially designed silk tie to mark the 40th anniversary of the MCD Branch next year. Members are requested to offer their views about this idea or provide alternative suggestions to our Hon Sec.
---
4 May 05 - Thanksgiving Service for Cdr Eric Hannen RN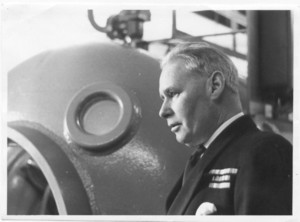 Eric Hannen on board HMS Reclaim when SofD
Eric was given a good send-off at St Faith's Parish Church in Lee-on-Solent today by a throng of family, friends and representatives of the MCDOA, the Lee-on-Solent Sailing Club and Probus. Familiar faces included Morty Drummond, Brian Dutton, Bill Filer, Tony Griffiths (MCDOA Secretary), Rob Hoole (MCDOA Vice Chairman), Julian Malec and Tug Wilson (MCDOA Treasurer). Both Tony Griffiths and Tug Wilson wore uniform. Coincidentally, Brian Dutton's step-daughter Beth is a curate at St Faith's.
Peter Sutton, the vicar, mentioned several interesting facts about Eric's life and career in addition to those included in the item dated 28 April. Eric was born in 1919 in Lee-on-Solent where his grandfather had helped give the town its name. His first job was as a deckhand on the barque Parma during a passage to Calcutta. He then served in the Merchant Navy with the Ellerman Line until the beginning of WW II when he joined the RNR as an Ordinary Seaman. He was soon commissioned and transferred to the regular RN at the end of the war. He retired from active service in the rank of Commander in the late 1960s after filling many high profile posts including Superintendent of Diving. He then worked for Vosper Thornycroft before dedicating himself to charitable works and the Lee-on-Solent Sailing Club where, like his father before him, he became the Commodore. He was described as a keen sailor, a colourful and outspoken 'character' in the local community and, above all, a very kind man. The service also included the reading of a poem by Eric's daughter Pru.
A reception was held afterwards at the Lee-on-Solent Sailing Club and I took the opportunity to offer Eric's widow Betty (a former Wren) and other family members our sincere condolences. Tug Wilson has provided a donation to the RNLI in Eric's memory on behalf of the Association.
---
3 May 05 - Gentlemen Who Lunch
Continuing the MCDOA website's occasional Good Pub Guide, our 'Not Quite the Last of the Summer Wine' trio of Barlow, Holloway and Hoole visited The Blue Bell in Emsworth today.
It was the first time that all three of us have managed to get together for several weeks because Holloway has been away. He says he's been on a course but I have my suspicions. He's always seemed a bit shifty-eyed to me and I know these days some categories of prisoner are allowed out on day release towards the end of their sentences. I tried checking for an electronic tag but he cleverly kept both his ankles well covered. Judging from his hurry to get to the pub, he's certainly suffered some degree of alcohol deprivation recently.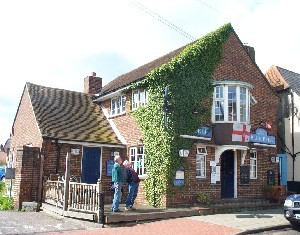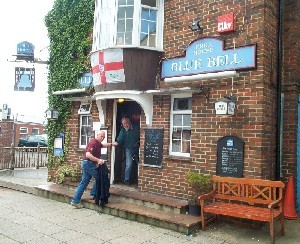 The Blue Bell in Emswoth
The Blue Bell is traditionally appointed with oak beams, an open fire and pictures of old Emsworth around its walls. It has a single bar with tables of varying sizes distributed in alcoves as well as in the main bar area. A good variety of beer and food is served and its baguettes (e.g. steak and onions or BLT on white or brown) are crusty, well-filled, reasonably priced and very tasty. The owner is an ex-TAS man who has a habit of saying "Cut left" or "Cut right" when serving but at least he doesn't use a ruler to clear customers out of the way.
We drank 'Shires' and found it delicious. Spookily enough, this is also the beer served at The Bull in Ambridge (you need to be a fan of the Radio 4 'Archers' serial to understand). Our food was accompanied by the arrival of the pub's two resident English Springer Spaniels. They promptly lay down at our feet and provided me with some much-needed intelligent company during our meal.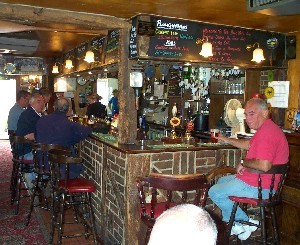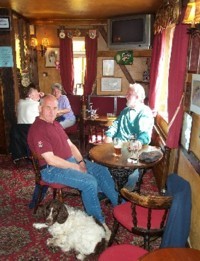 Inside the Blue Bell
The Blue Bell has always been one of our favourite haunts and we are sure to be back soon. This friendly pub is well recommended.
---
2 May 05 - Cdr Eric Hannen RN - Funeral Arrangements
The private cremation of the late Cdr Eric Hannen RN will be followed by a public Memorial Service at St Faith's Parish Church, Lee-on-Solent at 1530 on Wed 4 May.
No flowers but donations to be made to the RNLI via Solent Funeral Services (023 9271 7039). I intend to be among those representing the Association at the Memorial Service.
---
1 May 05
Navy News Items
The sale of this month's Navy News has been delayed until after the General Election on 5 May.
---
Photo of RN Mining Course
Marc Lemaire of the BE-NL Minewarfare School (Eguermin) in Ostend has asked me to help identify the subject of this photo which he believes shows a course at HMS Vernon being instructed in mining or the laying of anti-submarine netting.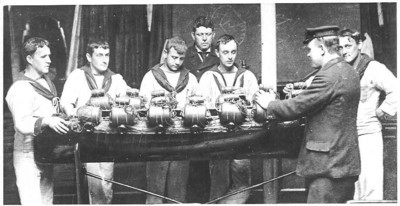 Mining Training in HMS Vernon c.1890
The style of uniforms suggests it dates from c.1900. Buoys for boom defences (anti-submarine netting) were normally spherical, not cylindrical, so the objects on the scale model of the launch are more likely to be mines.
According to 'Mines, Minelayers and Minelaying' (1949) by Captain J. S. Cowie CBE RN, the UK developed two main types of controlled mines for harbour defence before the First World War:
a. The 500 lb observation mine fired electrically from the shore.

b. The 76 lb electro-contact mine which could be switched on or off from the shore.
Both types of mine were barrel-shaped like those in the model but the relative size of the objects in the photo suggests they are the smaller 76 lb version, otherwise the launch would probably have sunk. Cowie (pp 27/28) states:
"In 1873 an Admiralty Torpedo Committee was set up in this country, and extensive explosive trials were carried out against HMS Oberon, an old paddle-wheel ship of 950 tons, with her hull strengthened to represent that of HMS Hercules, at that time the most strongly constructed ship in existence. In so far as the mines were concerned, in their report issued three years later, the Committee confined themselves to a consideration of the two types already standardised for protective purposes, and generally agreed to be essential adjuncts to the gun defences of a harbour."
Cowie's next paragraph is particularly significant:
"The Royal Navy, as already stated, had adopted these mines for the rapid defence of a temporary fleet base, and had also developed the countermine. This involved the running from a specially rigged launch, of a line of electrically fired mines in the vicinity of a minefield laid by the enemy for the protection of one of his own harbours, with the object of detonating them or rendering them mechanically ineffective. The seamanship involved in this performance, to say nothing of the technical complexity, needs no emphasis, but for many years this was to remain one of the principal methods of dealing with enemy mines, the alternative in the case of controlled mines being to creep for the electric cables with grapnels fitted with explosive charges."
The photo seems to fit the description of this convoluted 'countermine' system, especially the reference to a 'specially rigged launch', and bears an uncanny resemblance to the model at HMS Defiance shown in the bottom picture of the web page at: http://www.cyber-heritage.co.uk/navyand%20army/lab1.jpg. HMS Defiance was the RN Torpedo School at Devonport, Plymouth in the early 1900s when the old Torpedo Branch of the Royal Navy was still responsible for Minewarfare. HMS Vernon was the Torpedo School at Portsmouth. Conventional moored minefields using similar looking contact mines were laid from larger ships as shown on the web page at: http://www.cyber-heritage.co.uk/defweb/mine.jpg.
The old Plymouth Clearance Diving Team's museum contained several photo albums showing mining instruction at HMS Defiance. I have asked CPO(D) Bernie Lovell of SDU1 to check if this photo (or anything like it) is included in the albums so we can identify the subject and date.
Can anyone else shed any further light?
---
28 Apr 05 - Commander Eric Hannen Royal Navy - Former SofD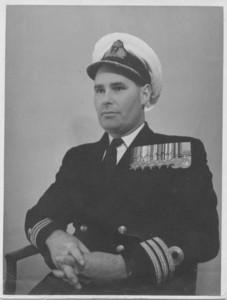 Cdr Eric Hannen RN
I regret to announce that Cdr Eric Hannen RN, a former Superintendent of Diving (SofD), passed away on Monday night. He was aged 85 or 86. Eric was originally in the RNR but transferred to the regular RN and became a member of the Anti-Submarine Branch based at HMS Osprey prior to its amalgamation with the Torpedo Branch in Oct 1946 to form the TAS Branch based at HMS Vernon. He later made a particularly significant contribution to the MCD Branch.
In the late 1950s, RN deep diving was discontinued as an economy measure. HMS Reclaim's equipment was sold to Argentina and she was sent to HMS Lochinvar at Port Edgar on the Forth for use as an MCM Support & Diving Trials Ship. The last course for deep divers took place in 1960 although clearance diving training and its tender Miner III remained at HMS Vernon. Almost immediately, two valuable research torpedoes were lost in Scottish lochs at depths of over 450 feet. Vernon was asked to recover them but the then SofD (Cdr J R Carr) had to reply that the RN could no longer reach these depths.
In June 1961, Swiss mathematician Hannes Keller achieved a new deep diving record of 725 feet (222 metres) in Lake Maggiore, beating Reclaim's old record of 600 feet (183 metres) set on 12 Oct 1956 by Lt George Wookey RN in Sor Fjord, Norway. This prompted the Superintendent of the RN Physiological Laboratory (RNPL) to request a meeting with the new SofD (Eric Hannen) and his deputy (Bill Filer) at the Admiralty Experimental Diving Unit (AEDU) in Vernon. As the result of Eric Hannen's subsequent well-argued submission to the Admiralty, the Deep Diving Trials Unit (DTU) was established at RNPL Alverstoke in 1963. Bill Filer was put in charge of DTU and Morty Drummond relieved him as DSofD. Reclaim began to concentrate on deep diving once more and, in 1965 at Toulon, she demonstrated her capability to send divers down to 600 feet for a whole hour. Thus began a new era of RN saturation diving and, in 1970 at DTU, John Bevan and Peter Sharphouse of the RN Scientific Service at RNPL established a new deep diving record by spending 10 hours at a simulated depth of 1,500 feet (457 metres).
Eric was also responsible for the introduction into the Fleet of Ships' Diving Officers and Ships' Divers. He was relieved as SofD by Cdr Phil White (now Philip Balink-White) in 1966, the year the MCD Branch was formed.
For most of his life, Eric lived at Lee-on-Solent where his father ran the Inn By the Sea in Portsmouth Road after retiring as a Cape Horner in sailing clippers. Eric loved the sea too and was the Godson of Charles E. Nicholson (of Camper & Nicholson fame), designer of the 128 ft steel-hulled J Class yacht Velsheda, still to be seen sailing in the Solent. He attended Velsheda's launch in 1933 and raced in her regularly during the 1930s. In 2004, he celebrated 70 years as a member of Lee-on-Solent Sailing Club and was guest at a special party held in his honour. Pictures of the event, including Eric in pride of place, can be seen on the LOSSC website.
As an active member of the MCDOA, Eric attended many of our functions. We offer our deepest condolences to his widow Betty and their children Mike, Peter and Priscilla (Pru) and grandchildren Lucy and Ben.
Details of any funeral service will be published when known.
---
27 Apr 2005 - Mark Durkin and Bernie Thompson Dine on board HMS Victory
It was announced in today's Daily Telegraph that MCDOA members Mark Durkin and Bernie Thompson dined on board HMS Victory at Portsmouth last night with Vice-Admiral Sir James Burnell-Nugent, Second Sea Lord and Commander-in-Chief Naval Home Command. The dinner was held in honour of the Head of the Iraq Navy, Commodore Mohammed Jawad.
---
25 Apr 05
MCDOA Ladies Night 27 May 05
The 2005 Ladies Night will be held on Friday 27 May in the Wardoom, HMS Collingwood. The evening will again be subsidised by the Association allowing you to enjoy a superb hot fork buffet dinner, including wine on arrival, coffee and mints, for the excellent price of only £20 per head for members/partners and £25 per head for other guests.
The application form may be downloaded via the 'Upcoming Events' page in the Members Only area or by e-mailing the Webmaster. The deadline for bookings is Monday 23 May.
---
HMS Mirtle
The following item from today's Portsmouth News describes 'HMS Mirtle' and features your humble webmaster.

---
23 Apr 05
Latest Update from Martin Mackey
The Members Only area contains a fresh update (including photos) from MCDOA member Martin Mackey at sea with NATO as CO of the Sandown Class minehunter HMS Ramsey. Now, what about the rest of you?
---
HMNZ Ships Santon and Hickleton Reunion
TCA member Gerry Wright is interested in arranging a reunion in June 2006 for those who served in the minesweepers HMNZS Santon and HMNZS Hickleton. This will commemorate the 40th anniversary of the last hot action by a ship of the RNZN. E-mail gerrywright@xtra.co.nz for details.
---
16th Minesweeping Squadron Reunion in Australia
The following account, written by Cdr John Foster RAN (Rtd), is reproduced from the latest issue of the Ton Class Association's newsletter 'Ton Talk':
"Around 140 veterans who served with the 16th Minesweeping Squadron during Indonesian Confrontation operations held a Reunion in November on the 40th anniversary of the commencement of Confrontation by the Sukarno Government in order to destabilise the new Malaysian Federation. All six ships, CURLEW, GULL, HAWK, IBIS, SNIPE, and TEAL were well represented and wives and partners attended bringing the reunion numbers up to 250. For many present it was the first time that officers and sailors had seen each other for forty years and there was not surprisingly a small recognition problem to begin with! It was a remarkable effort by the organisers to get such strong numbers of men who were scattered all around the continent.

The reunion was organised by Rod Clarey, Chairman of the 16th MSS Social Club and was held in the Northern New South Wales town of Yamba, it being reasonably located to suit members from most States. Some old shipmates travelled from the USA and beyond to attend. The Australian Department of Veterans Affairs lent its support to the occasion through the national programme of "Saluting their Service Commemoration Grants".

The Reunion was held on the weekend of 12-14 November in fine weather and the full programme included a large get-together in the Yamba Bowls Club auditorium on the Friday evening, a cruise on the beautiful Clarence River on Saturday followed by a formal Reunion dinner with the finest seafood from the East Coast and a very lively band which concentrated on hits of the 60s, naturally!

On the Sunday, jackets and medals were worn and the Squadron vets, led by the Maclean City Pipe Band, one of the nation's finest, marched to the Yamba Cenotaph, where a commemorative service was held. The Salute was taken by Commodore Jim Dickson, OA, MBE, RAN (Rtd). A member from each ship laid a wreath. A farewell outdoor barbecue lunch was held on the Sunday and before dispersing, there were many appropriate acknowledgements to those who made the occasion a great success.

Whilst the occasion was instrumental in rekindling old friendships and the swapping of sea stories, it was also a way of demonstrating the success of the minesweepers in Borneo and the Straits. The participation of Commonwealth forces in supporting Malaysia in those days is not widely known by the Australian public, but after all this time the Malaysians have now decided to strike a medal as a long overdue thank you to those who participated."
---
21 Apr 05 - David & Dorothy Bartlett celebrate Golden Wedding Anniversary
The following item from today's Portsmouth News features the Golden Wedding Anniversary of MCDOA David Bartlett and his wife Dorothy. I am sure all members join me in offering them our warmest congratulations.

---
10 Apr 05 - HMS Vernon and Roedean School for Girls
The well-illustrated story of the wartime evacuation of much of HMS Vernon to Roedean School for Girls has recently been added to the 'My Brighton and Hove' website. Tony Drury, the ex-RN contributor, also runs a fascinating website at www.royalnavyresearcharchive.org.uk.
---
8 Apr 005 - Three Hunt Class MCMVs to Decommission in September
The following item appeared in the latest newsletter from Maritime Books:
"It was announced on 23 March that the Northern Ireland Patrol Squadron which was to be withdrawn "by April 2007" has been stood down. The three ships of the squadron, BRECON, COTTESMORE and DULVERTON will now decommission in September this year."
---
4 Apr 05 - Departures of MCMVs
The following item from today's Portsmouth News describes the departure from Portsmouth of HMS Ramsey (CO - MCDOA member Martin Mackey) today and HMS Bangor, HMS Grimsby, HMS Ledbury, HMS Cattistock, HMCS Shawinigan and HMCS Goose Bay tomorrow.
---
3 Apr 05 - Your Website
4,066 separate visits were made to the MCDOA website in March with 82,772 hits registered on individual web pages by people in 55 different countries. This is nearly four times the figures recorded a year ago and numbers continue to rise steadily.
Members often tell me how much they enjoy reading the personal updates in the Members Only area but relatively few contribute anything themselves. So, if the cap fits, please take a few minutes to type out a brief update and e-mail it to me at webmaster@mcdoa.org.uk. I can only do so much without your help and you can be assured that any contributions will be widely appreciated by other members.
---
2 Apr 05 - Update from Martin Mackey
The Members Only area contains a personal update from MCDOA member Martin Mackey who has just assumed Command of HMS Ramsey.
---
1 Apr 05
Navy News Items
The following MCD-related items from the April issue of Navy News include: the award of the James Acton Minewarfare Trophy to FDU2 (featuring MCDOA members Paul Jones (CO FDS) and Paul McDermott (CO FDU2)); LMCDO Course diving at DEODS; the resurrection of an old diving badge; charity cycling by HMS Ledbury; and a palace appearance by trainee CD James Hitchcock.
---
Port Solent Disappears!
Experts were stumped this morning by the overnight disappearance of the Port Solent marina, shopping and residential complex. This aerial photograph shows Horsea Island with the Royal Navy's diving training facility at Horsea Lake sitting in isolated splendour.

---