---
30 Jun 16 - Wartime shell detonated in Dorset
The Dorset Echo website contains this article describing last Sunday's disposal, presumable by members of Portsmouth-based Southern Diving Unit 2 (SDU2) of a Second World War 25 lb shell found by a fisherman at Friar's Head in Kimmeridge.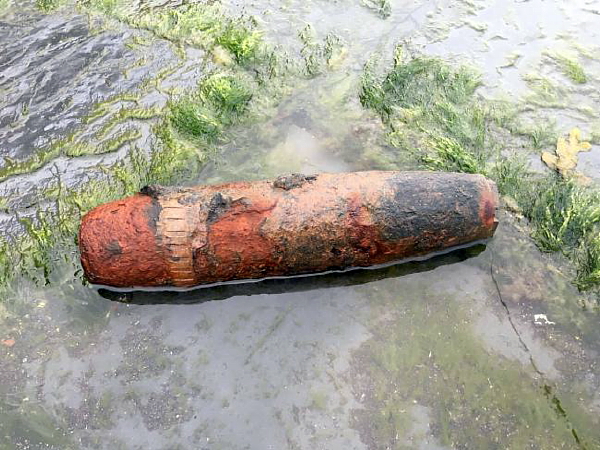 (Photos by Kimmeridge Coastguard)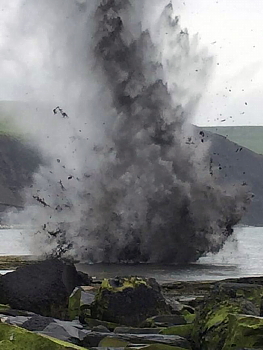 ---
29 Jun 16 - HMS Fittleton Disaster: 40th Anniversary Services of Remembrance and Commemoration
I am grateful to former WO(MW) Dixie Dean MBE and MCDOA member Mick Beale for drawing my attention to this announcement regarding ceremonies in memory of HMS Fittleton. She capsized and sank with the loss of 12 lives in the North Sea on 20 September 1976 after a collision with HMS Mermaid while on passage to Hamburg: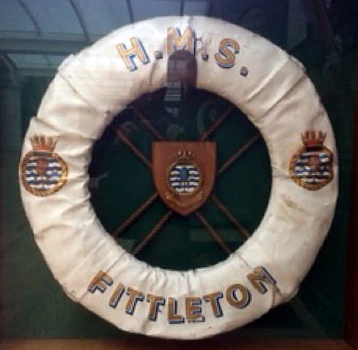 Lifebuoy salvaged from HMS Fittleton at HMS President
(London Division RNR)
"This year marks the 40th Anniversary of the loss of HMS Fittleton and twelve of her ships company.
On Sunday 18 September 2016 at 1500 there will be a service of remembrance at Fittleton parish church in Wiltshire and on Tuesday 20 Sep 16 at 1930 there will be a commemoration at HMS President [Commanded by MCDOA member John Herriman]. The majority of those on board were reservists from London division, although there were others from Sussex division and the regular RN.
For more details contact the Ton Class Association Secretary, Peter Down, on 01449 721 235 or email him at this address."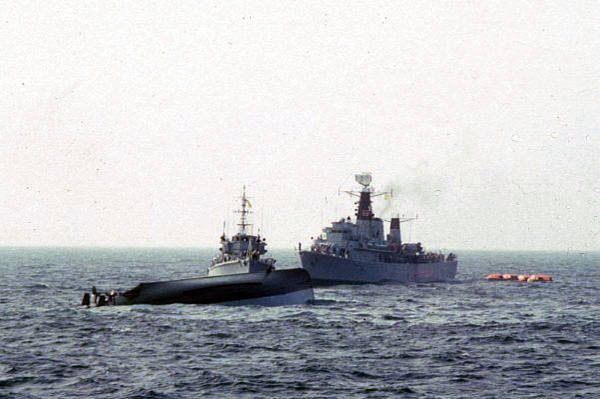 Capsized HMS Fittleton with HMS Hodgeston and HMS Mermaid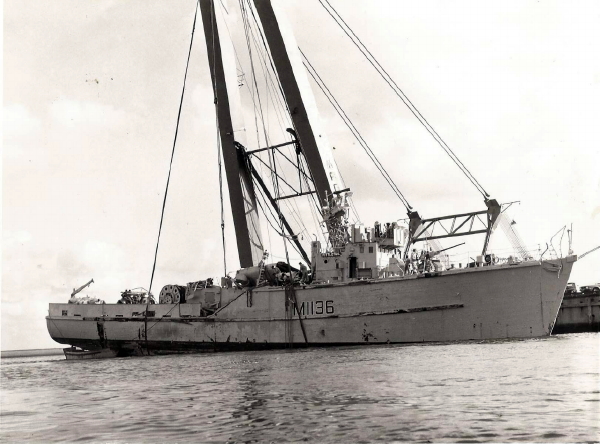 Salvage of HMS Fittleton by the floating crane Magnus II
Left: HMS Fittleton at Den Helder
Right: HMS Fittleton being brought home to Chatham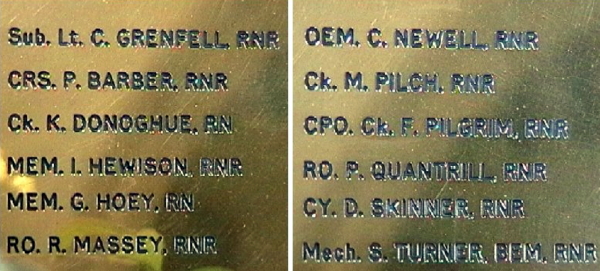 Part of memorial plaque in All Saints Church, Fittleton listing personnel lost in HMS Fittleton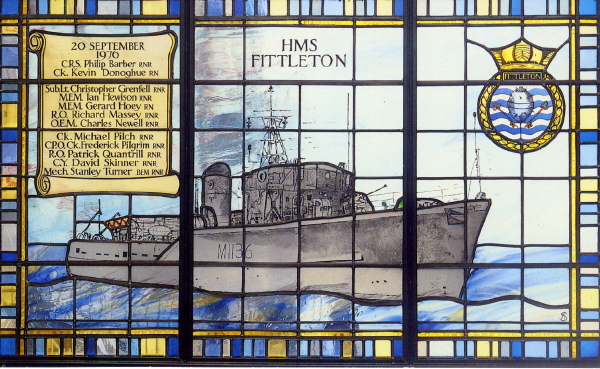 HMS Fittleton memorial window at HMS President (London Division RNR)
---
28 Jun 16
Award of LS&GC clasp and medal
Congratulations to WO1(MW) Craig Campbell MBE on being gazetted for the award of a clasp to his Long Service & Good Conduct medal and to PO(D) Darren Lewis on being gazetted for the award of the Long Service & Good Conduct medal.
---
Gentlemen Who Lunch
Insufficient time to write a full Good Pub Guide review this week although I can recommend the Young's Bitter and the Prawn & Crayfish Salad. The MCDOA's 'Not Quite the Last of the Summer Wine' trio of Barlow, Holloway and Hoole held its regular Tuesday lunchtime gathering today in the pleasant courtyard behind the Sussex Brewery next door to Barlow's cottage in Emsworth. As ever, we were well looked after by the pub's Greek hostess, Katya.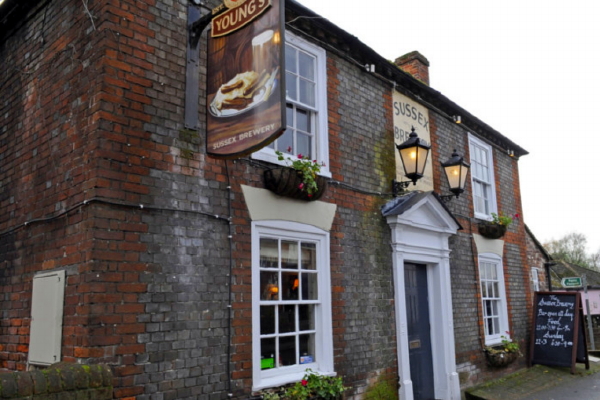 Left: Barlow, Holloway and Hoole
Right: Barlow, Katya and Holloway
---
27 Jun 16 - AORNFCD raises £444 for the Vernon Monument
Congratulations to the committee and members of the Association of RN First Class Divers (AORNFCD) for raising £444 towards the Vernon Monument at their gathering in Portsmouth earlier this month.
The proceeds came from the raffle of a miniature of the monument and a copy of 'United & Undaunted - The First 100 Years', a history of Royal Australian Navy diving signed by co-authors Jake Linton BEM (Patron of the RANCDA) and Hec Donohue. This book was kindly brought from 'Down Under' by Taff Sweeney, a Minewarfare & Clearance Diving Officer who has served a total of 50 years in RN and RAN uniform.
This generous donation is in addition to the thousands of pounds the AORNFCD has already contributed and once again demonstrates its continuing support in the best possible way. We're getting there!
---
26 Jun 16 - HMS Ledbury marks WW1 centenary and Armed Forces Day
Personnel from HMS Ledbury (MCM2 Crew 7) marked yesterday's Armed Forces Day by leading tributes to the fallen of the Battles of Jutland and the Somme when they paraded through their namesake market town in Herefordshire (see first entry for 16 Jun 16). The town has had an affiliation with HMS Ledbury over several years, including the granting of the Freedom of the town in 2007.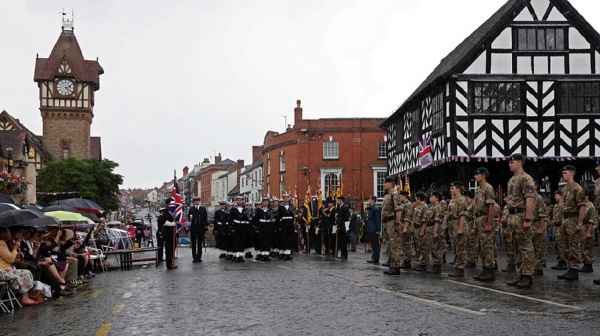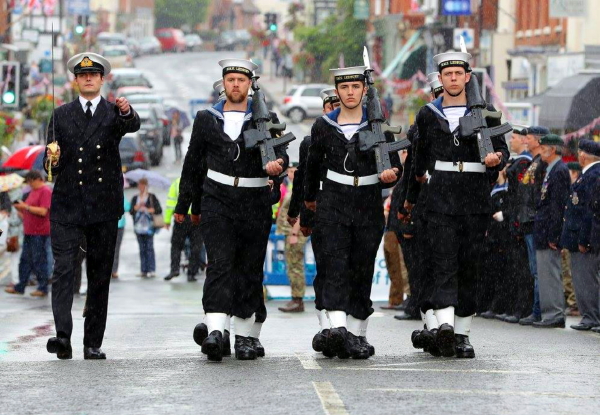 The salute was taken and the Guard was inspected by former First Sea Lord, Admiral Sir Jock Slater GCB LVO DL, who seved as a junior officer in the inshore minesweeper HMS Yaxham and later commanded the TON class minesweeper HMS Soberton. He was a specially invited guest.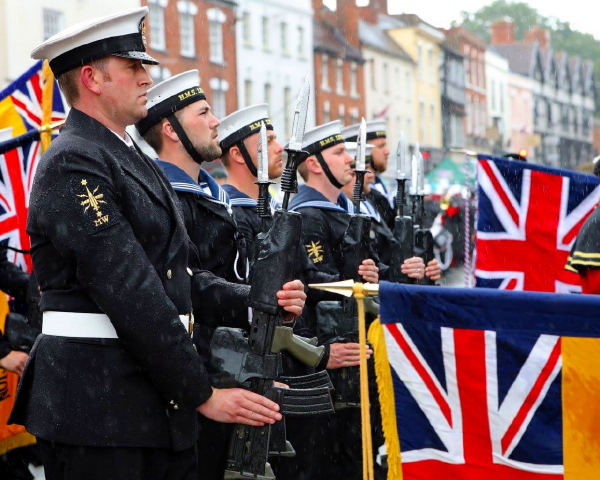 The Royal Naval Reserves Diving Branch had previously marked Armed Forces Day in their own way from the bottom of the 30m Submarine Escape Training Tank (SETT) in Gosport.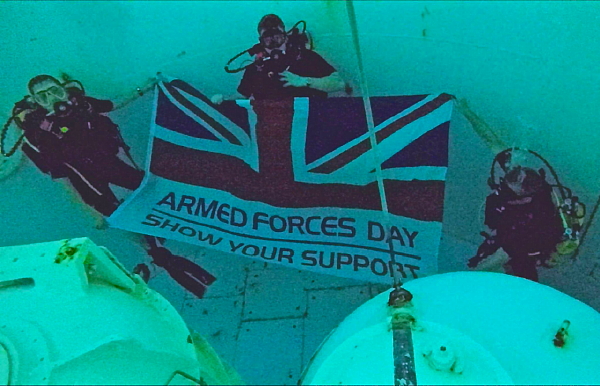 All photos from the Royal Navy.
Postscript: On 27 June, the RN website published this article covering the same story about HMS Ledbury.
---
25 Jun 16 - HMS Blyth in Grimsby for Armed Forces Day
The Forces TV website contains this article, including video, describing the arrival of HMS Blyth (MCM1 Crew 8) in Grimsby as the main attraction for today's Armed Forces Day.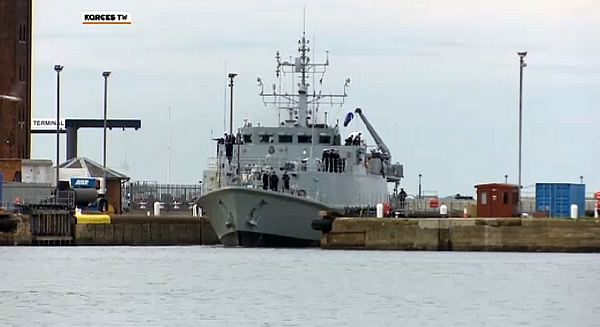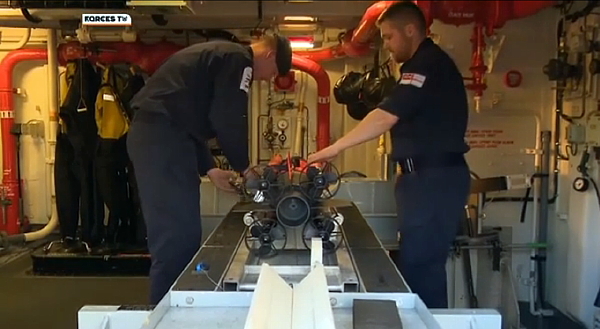 ---
24 Jun 16 - HMS Hurworth tackles Three Peaks Challenge
The Royal Navy website contains this article describing how ten personnel from HMS Hurworth (MCM2 Crew 1) have undertaken the Three Peaks Challenge. This involved climbing Ben Nevis in Scotland (4,414 ft), Scafell Pike in England (3,200 ft) and Mount Snowdon in Wales (3,560 ft), all within 24 hours. The team raised £800 for its chosen charity.
Left: The team at the base of Ben Nevis
Right: AB Sean Candler unfurls the Navy's standard at the summit of Snowdon
(RN website photos)
The article features XO Simon Reeves, LS(D) Luke 'Rocky' Halbauer and AB Sean Candler.
Postscript: On 2 July, the Portsmouth News published this article covering the same story.
---
23 Jun 16 - NDG deals with ordnance on beach at Nairn
The Scotsman website contains this article (featuring PO(D) Adrian Wilcock) and the Aberdeen Press & Journal website this article (including video) describing last Monday's disposal, presumably by members of Faslane-based Northern Diving Group (NDG), of five items of Second World War ordnance. The four solid shot shells and a barrage rocket with its warhead still intact were found on the beach at Duck Island near Culbin Forest to the east of Nairn in the Scottish Highlands.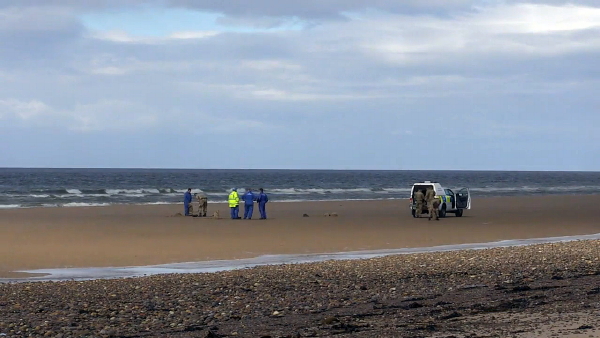 ---
22 Jun 16 - Gentlemen Who Lunch
The MCDOA's 'Not Quite the Last of the Summer Wine ' trio of Barlow, Holloway and Hoole have each been on their holidays recently so yesterday was our first Tuesday get-together for over a month. We called on fellow MCDOA member Jon Riches (Superintendent of Diving 1987 to 1990) in Bishop's Waltham and he introduced us to his local, a fine pub at nearby Dundridge called the Hampshire Bowman.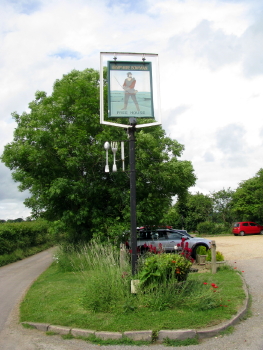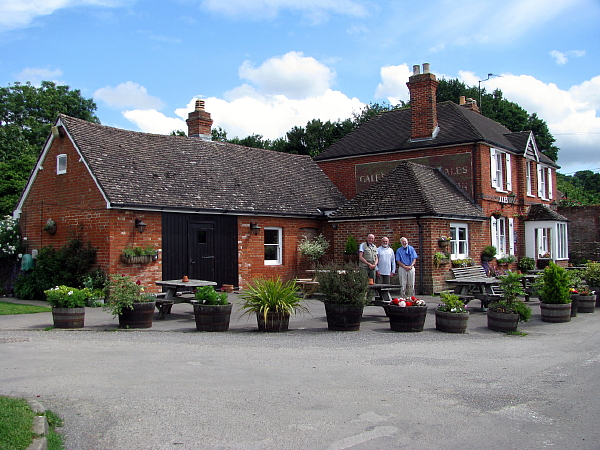 Set in spacious grounds with plenty of outdoor seating, this country pub has a good selection of real ales, reasonably priced food and friendly, efficient service. Riches chose to drink his usual Bowman Ales Swift One ("A pale, golden quaffing ale. Hoppy throughout with a dry finish") while the rest of us opted for pints of Oakleaf Quercus Folium ("Traditional hoppy bitter with a malty aftertaste"). Both of these locally brewed ales were poured from casks behind the bar and tasted delicious.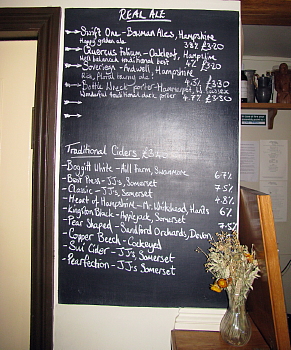 Holloway selected a tuna mayonnaise sandwich on granary bread while Riches and I plumped for jacket potatoes with a generous filling of bacon and melted brie. These came from the basic bar menu but there is also a more adventurous main menu and 'specials' board for those requiring something more substantial (link). Our dishes arrived promptly and were perfect in every way.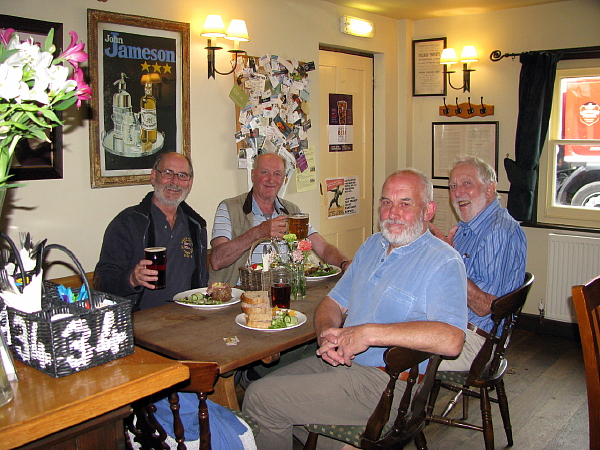 As a bonus, we even encountered some friends of fellow MCDOA member Jules Malec but isn't it strange how we always seem to be the last to leave?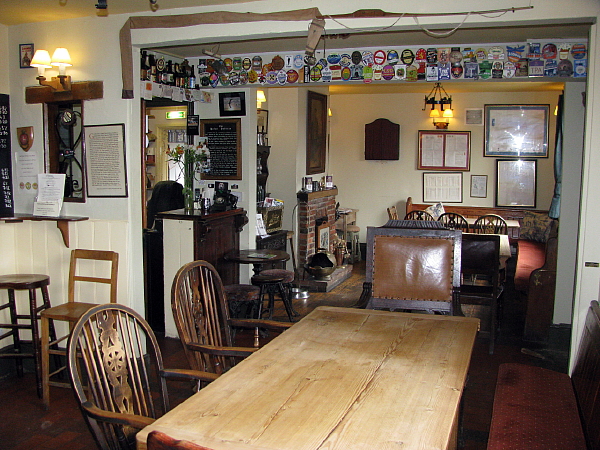 The Hampshire Bowman is clean, airy, well-appointed and in good decorative order. It is highly recommended for a visit and the MCDOA's occasional Good Pub Guide awards it a thoroughly well-deserved five mines (or diving helmets) out of five.
---
21 Jun 16 - Are there any surviving LCOCU divers?
I have received this request:
"Hello,
I work for a TV production company in Bristol called Tigress productions as a researcher making short films for BBC1's 'The One Show'. One of our presenters, Andy Torbet, sent through this article from your website about the frogmen who were first ashore on D-Day:
http://www.mcdoa.org.uk/Operation_Neptune_Frogmen_The_First_Men_Ashore_on_D_Day.htm
We are really interested in looking further into this and I'm wondering if you know who might be the best person for me to speak with? We're hoping to see whether any of the first frogmen are still alive and whether we might be able to interview them, and hope that you might be able to point me in the right direction?
Many thanks for your time,
Ida-May Jones | Researcher,
The One Show"
The only LCOCU (Landing Craft Obstacle Clearance Unit) diver I ever knew was MCDOA Honorary Life Member Lt Cdr 'Robbie' Robinson MBE, a personal friend who passed on in February 2004. If you know of any others still around, or their surviving relatives, please contact me via my Webmaster email address.
---
20 Jun 16 - MCM2 Crew 2 returns from the Gulf
The Royal Navy website contains this article announcing the return of MCM2 Crew 2 after manning HMS Middleton on Operation KIPION in the Gulf for the past seven-and-a-half months. They flew into RAF Brize Norton and will be taking over HMS Brocklesby after a spot of post-deployment leave. HMS Middleton has been taken over by MCM2 Crew 6 (ex-HMS Cattistock). The article features AB(MW) Dylan Bonas.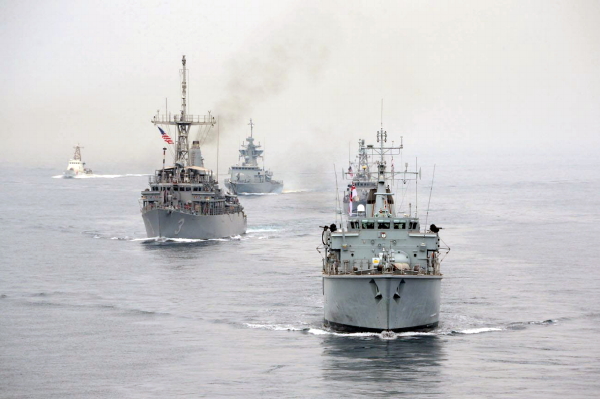 HMS MIddleton in company with allied ships in the Gulf
(RN website photo)
Welcome back, everyone.
---
19 Jun 16 - RN Minewarfare & Diving Heritage: HMS Miner VI
The Daily Telegraph website contains this obituary for Rear Admiral John Bethel Hervey CB OBE. I was struck not only by his remarkable acts of derring-do in submarines but also by the fact that his first command was the minelayer HMS Miner VI.
HMS Miner VI was launched on 7 February 1942 at Philip & Son, Dartmouth. She was employed initially by HMS Vernon for minelaying and minelaying training and from 1950 for the purposes of 'general administration and organisation'. She was also used for seaward defence training and possibly as a diving tender.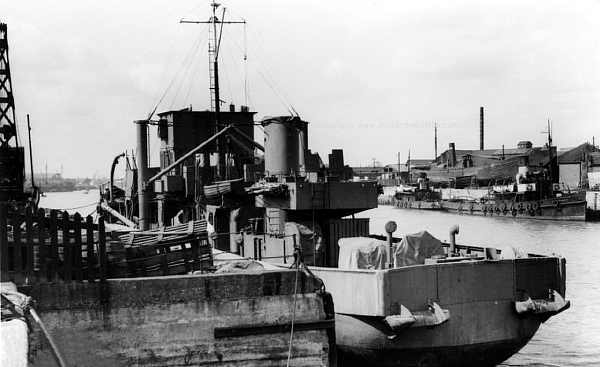 HMS Miner VI in April 1949 with her stern minelaying doors plainly visible
In the mid-1950s, HMS Miner VI deployed to Malta where she was used as a torpedo recovery vessel by the 1st Submarine Squadron. In July 1965, she was fitted with a compression chamber and supported the Mediterranean Fleet Clearance Diving Team during submarine escape trials (Exercise UPSHOT 4) with HMS Orpheus. UPSHOT 4 eventually achieved submarine escapes from a keel depth of 500 ft but UPSHOT 5 with HMS Osirus in July 1970 achieved escapes from a keel depth of 600 ft.
Miner VI was sold privately on 16 August 1968 and converted into a ferry, successively renamed Minor Eagle, Jylland II and Cominoland, still operating in Malta. She was sunk as an artificial diving reef off Gozo in 2006 (see videos here). How many other ships have given better value for money?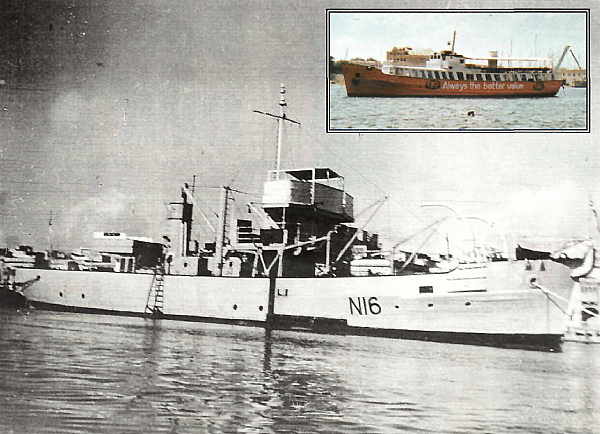 HMS Miner VI in Msida Creek, Malta during the 1950s and inset as the ferry MV Cominoland
in Sliema Creek, Malta in 2002
(Navy News photo)
---
18 Jun 16 - RN Minewarfare & Diving Heritage: Operation RHEOSTAT ONE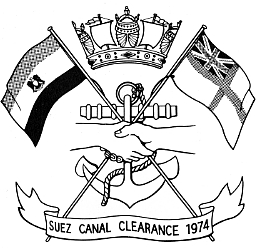 Operation RHEOSTAT ONE, the 1974 clearance of the Suez Canal following the Yom Kippur War of October 1973, was one of the most significant events in Royal Navy post-war minewarfare & diving history. The US Navy's name for the operation was NIMBUS STAR. Rear Admiral James Rapp CB, then serving as a Sub Lieutenant in HMS Abdiel, the Command & Support ship of the Task Group (TG 65.2), edited a limited distribution illustrated account of events in hardback. Apart from HMS Abdiel, TG 65.2 comprised the Ton class minehunters HMS Bossington, HMS Maxton and HMS Wilton plus the FCDT (Fleet Clearance Diving Team).
According to MCDOA member Bob White MBE who led the FCDT at the time:
"...What did we achieve? As well as finding an aircraft, a personnel-carrier and several lorries, we located and destroyed a total of 7,043 explosive items, ranging from .22 bullets to 1,000-lb bombs; we swam 303 kilometres, we saw the Pyramids, and we sincerely hope that war does not break out again so that we shall have to start all over again..."
After twenty-nine weeks operating in the Canal, the overall haul of explosives found by Task Group 65.2 comprised:
Gelignite: 458 sticks
TNT (including ordnance found in barges, lighters and lorries): 209 tons
Missiles: 78
Anti-Personnel Mines: 517
Anti-Tank Mines: 137
Anti-Tank Rockets: 145
Aircraft Drop Tanks: 3
Rockets Various: 14
Shells Various: 328
Cluster Bombs: 9
Bomblets: 508
Bombs: 1000 lb x 5, 750 lb x 3, 500 lb x 11, 250 lb x 8
Mortar Bombs Various: 48
Grenades: 192
Small Arms Ammunition: 6,473 rounds
Miscellaneous Items: 334
Scare Charges: 201
By far the largest quantity of assorted weapons and ammunition was included among the 209 tons of TNT found in lorries and lighters lying on the bottom of the Canal. One such lighter alone contained about 175 tons of ordnance. Their loads probably included thousands of items of all the types of ordnance listed above and contained equipment made in the USSR, USA, Egypt, Czechoslovakia, Israel, Denmark, Britain and Switzerland.
A follow-up operation, RHEOSTAT TWO, was undertaken in 1975 because the Canal Authority was worried that more ordnance might have been exposed as a result of dredging. This operation involved HMS Abdiel with HMS Sheraton and HMS Hubberston. When the Suez Canal clearance operations were completed, the canal and its lakes were considered 99% clear of mines. The canal was then reopened by Egyptian President Anwar Sadat aboard an Egyptian destroyer, which led the first convoy northbound to Port Said in 1975. It had been closed since the Arab/Israeli Six Day War in 1967.
Rear Admiral Rapp retired in 2005 after being Director General Trafalgar 200 for which he was appointed a CB in the 2006 New Year Honours. He had previously served as FOST (Flag Officer Sea Training) but his naval career also included serving in HMS Bronington as Navigating Officer under the Command of HRH the Prince of Wales and later commanding her sister ship HMS Walkerton. He also commanded the Type 22 frigates HMS Brazen, HMS Brilliant and HMS Cornwall. I am most grateful to him for granting me permission to publish a digital PDF version of his work with these words:
"Rob Hoole's request to 'publish' a digital version of my Operation RHEOSTAT book to interested groups made me realise that I'd not taken the book off the shelf for many years! I'm delighted that it will now get a wider airing, 42 years after we spent a hot but rewarding few months in the Suez Canal in 1974 (and for some of us a couple more in 1975).
After ABDIEL I found myself in BRONINGTON before heading for Observer training but I returned once more to the TON world in 1983 to command WALKERTON in the Fish Squadron. I have happy memories from those days many years ago and I hope those who have not seen my 'record' of Operation RHEOSTAT will enjoy reading it."
I trust that those who did not receive a copy at the time will find this of interest. Read and enjoy.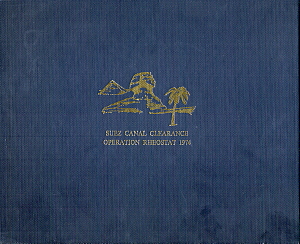 Suez Canal Clearance - Operation RHEOSTAT 1974
---
17 Jun 16
News from SNMCMG2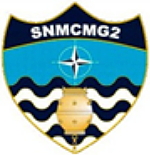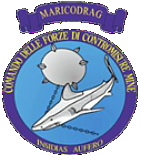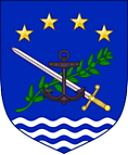 I am grateful to MCDOA member Dave Stanbury, Principal Staff Officer of Standing NATO Mine Countermeasures Group 2 (SNMCMG2) for this update on ITALIAN MINEX 16:
SNMCMG2 AND EUMARFOR COMBINE FORCES TO TAKE PART IN EX ITALIAN-MINEX16
HOSTED BY MARICODRAG, LA SPEZIA, ITALY
SNMCMG2 composed of TCG Cezayiryli Gazai Hasanpasa (Flagship), ESPS Turia, TCG Edincik and ITS Gaeta joined forces with the recently activated EUROMARFOR, composed of NRP Joao Roby (Flagship), FS Capricorn, ITS Milazzo and ESPS Duerro in order to participate in the exercise ITALIAN-MINEX 16.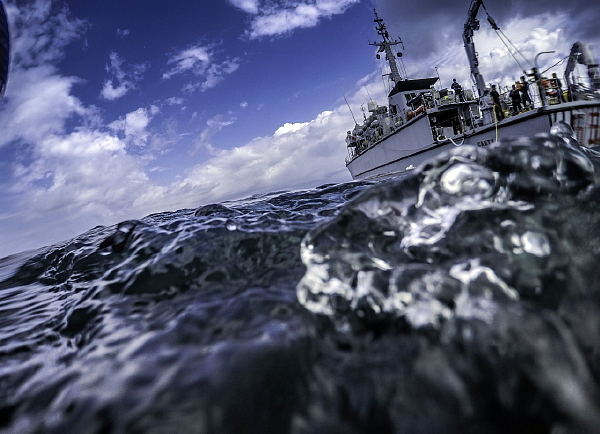 ITS Gaeta
The Italian Minex is an annual exercise, scheduled by the Italian Navy Fleet Commander (CINCNAV) and usually conducted by only the Italian Mine Warfare Forces Command (MARICODRAG).
The exercise, already in full swing, is taking place in the Ligurian Sea, with the main objective being to train naval assets in the conduct of Mine Countermeasures (MCM) Operations and to open and secure the sea lanes of communication in and around the vital Naval Port of La Spezia under a fictional scenario.
The fictional, but realistic scenario has seen all participating units carry out and initial week of Combat Enhancement Training and also Force Integration Training (CET/FIT) under the constant threat of attack from Air, Surface and Sub Surface Combatants. The week has been very demanding for the Crews of each unit and the training activities have been aimed at enhancing common working practices, unit co-operation and interoperability in the framework of MCM Operations.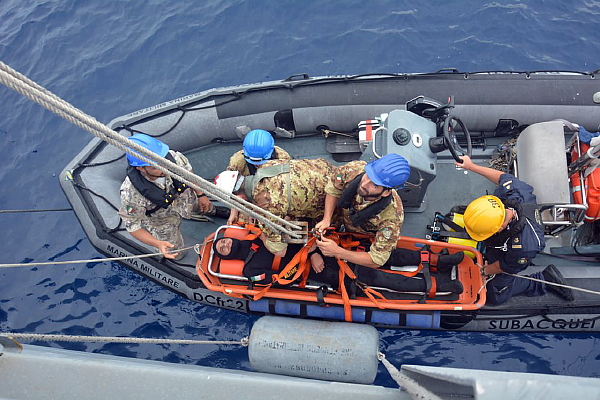 Recovery of diver casualty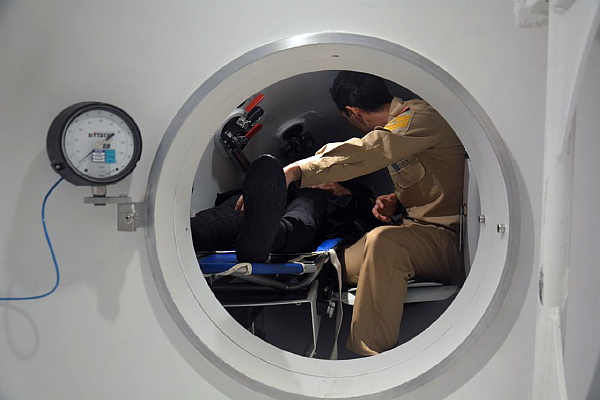 Chamber treatment of diver casualty
For the detection of exercise shapes 'mines' and decoys, the crews from the multinational force, have been using an array (no pun intended) of SONAR types, Autonomous Underwater Vehicles (AUVs), Remote Operated Vehicles and specialist Divers.
During the exercise so far, 11 exercise shapes 'mines' have been hunted and countermined, by recovery, onboard the MCMVs however, as one may expect two historic mines have also been discovered (probably from WWII).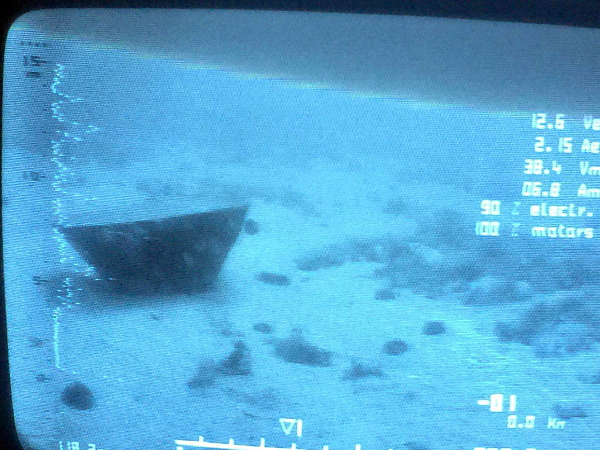 Inverted replica Manta ground mine
Left: Corroded moored mine married unit failure
Right: Chemical horn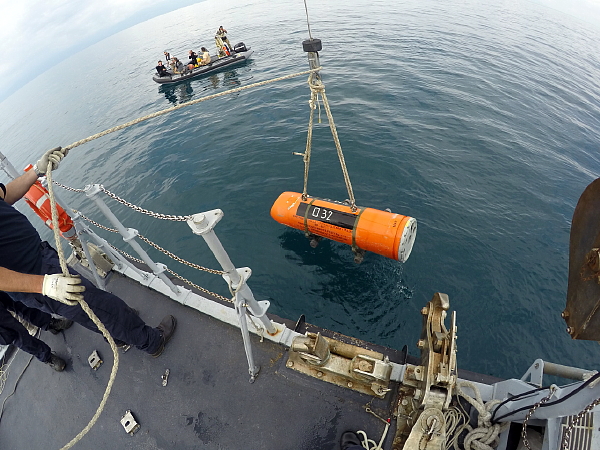 Exercise ground mine recovery
The exercise, so far, has been very beneficial for all crews. All units, on completion of mine offload will enjoy a short Logistic Support Period in La Spezia before completing the final phase of the exercise.
---
Death of The Leopard Man of Skye
Today's Daily Telegraph contains this obituary for Tom Leppard, known as 'The Leopard Man of Skye', who died on 12 June at the age of 80 (see entry for 23 Jun 07 in News Archive 18).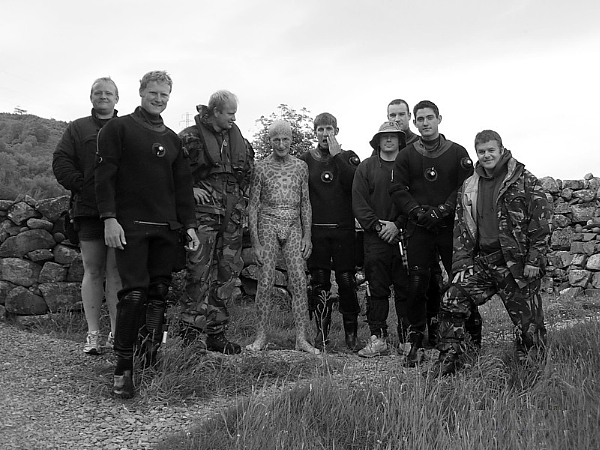 MCDOA member Richard 'Soapy' Watson and LMCDO '07 with 'The Leopard Man of Skye' in
2007, the year before he moved into a care home in Inverness admitting that he was getting
"too old" for the weekly canoe trip to collect his shopping (Tom Leppard, not Soapy

)
---
16 Jun 16
HMS Ledbury to commemorate heroes of Jutland and the Somme
The Royal Navy website contains this article announcing that personnel from HMS Ledbury (MCM2 Crew 7) will lead tributes to the fallen of the Battles of Jutland and the Somme when they parade through their namesake market town in Herefordshire on Saturday 25 June. The ship has recently emerged from a lengthy refit at Portsmouth, which has included replacing her Deltic diesel engines with modern, more efficient Caterpillars among other upgrades.
---
HMS Middleton hosts Bahraini junior officer
The Royal Navy website contains this article describing how HMS Middleton (MCM2 Crew 2), currently deployed in the Gulf on Operation KIPION, has hosted a Royal Bahrain Naval Force officer for a day of discussions while alongside in Bahrain. Second Lt Faisal M Mohammad Al Binali attended Britannia Royal Naval College (BRNC) at Dartmouth as an Officer Cadet and has since retained a strong affiliation with the RN.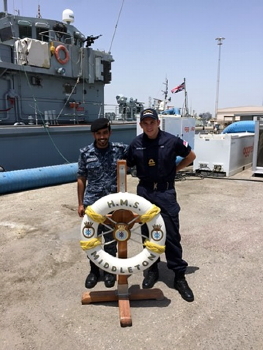 Lt Al Binali with Sub Lt Byron Linn RN,
Navigator of HMS Middleton
(RN website photo)
---
15 Jun 16 - HMS Chiddingfold competes for Cutter Rose Bowl
The Royal Navy website contains this article describing how HMS Chiddingfold (MCM2 Crew 5), currently deployed in the Gulf on Operation KIPION, accepted a challenge from HMS Temeraire, the Portsmouth alma mater of RN Sport, Adventurous and Physical Education (inc Executive Health), to compete for the bi-annual Cutter Rose Bowl. This involved submitting their cumulative total best 20 1km row times with XO Scott Hamer setting an impressive early benchmark of 3min 0.9sec that remained unbeaten. Only time will tell to see whether Crew 5 managed the fastest 20km total out of the fleet so far this year.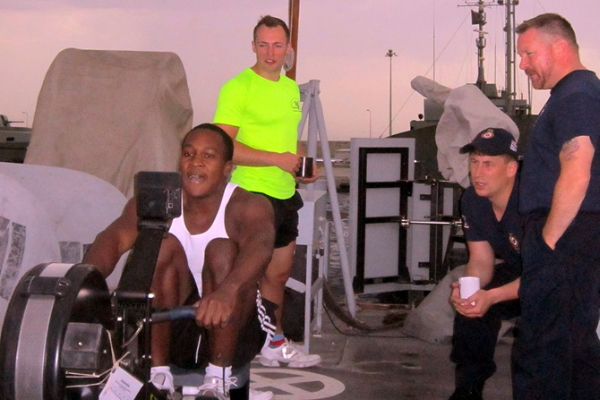 CPO Glevan Robinson, Chiddingfold's DMEO, setting a time for rowing 1 km
(RN website photo)
---
14 Jun 16
HMS Pembroke encounters Queen Elizabeth in Baltic
The Royal Navy website contains this article and the Navy News website this article describing an encounter between HMS Pembroke (MCM1 Crew 1) and the 90,000 ton Cunard luxury liner MS Queen Elizabeth in the Baltic during Exercise BALTOPS 16. The meeting took place just south of the Swedish Island of Öland on Saturday 11 June, the Queen's official 90th birthday, as HMS Pembroke was transiting to her next area of operation with Standing NATO Mine Countermeasures Group 1 (SNMCMG1). The article features AB(D) Callum O'Conner.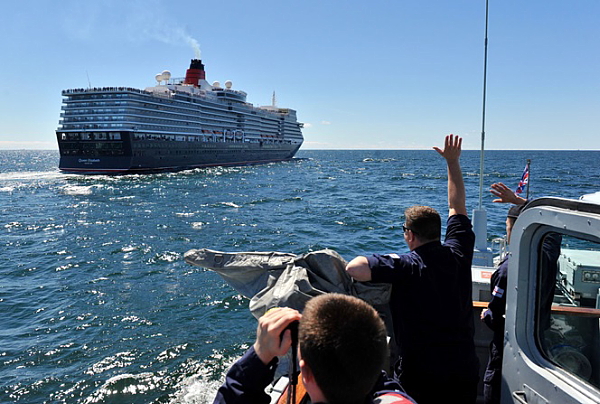 Bridge team of HMS Pembroke waving at MS Queen Elizabeth
(RN website photo)
---
RFA Lyme Bay takes over as minehunter 'mother ship' in Gulf
The Royal Navy website contains this article announcing that RFA Lyme Bay has taken over from RFA Cardigan Bay as 'mother ship' to British and allied minehunters in the Gulf with a two-week Anglo-American workout.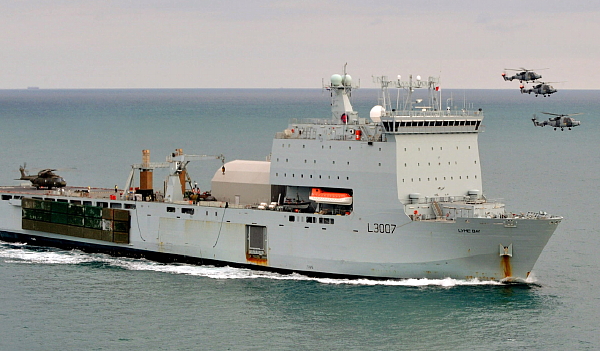 RFA Lyme Bay
(RN website photo)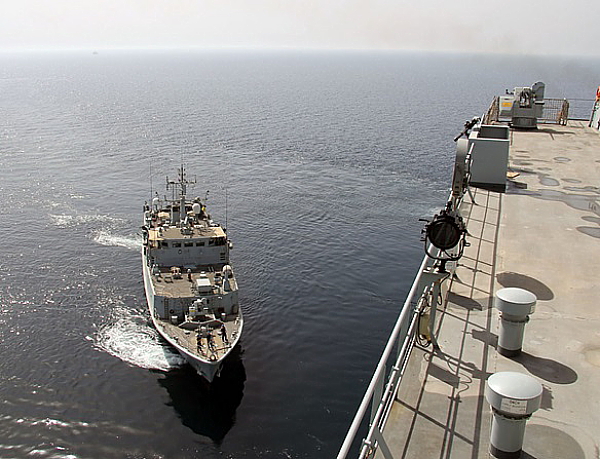 HMS Bangor coming alongside RFA Lyme Bay
(RN website photo)
---
13 Jun 16
HMS Ramsey supports Isle of Man TT bike race
The Royal Navy website contains this article describing how personnel from HMS Ramsey (MCM1 Crew 7) have been recognised for their outstanding efforts in helping keep people safe during the Isle of Man TT Races during the ship's visit from 3 to 9 June (see entry for 4 Jun 16). Chief Constable of Isle of Man Constabulary Gary Roberts, presented the ship's company with a certificate, thanking them for their "community spirit, showing support and professionalism to help keep people safe".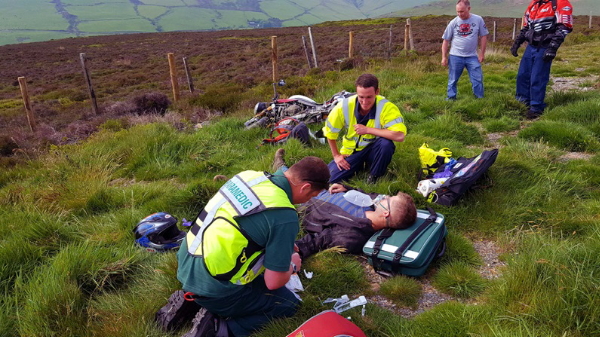 HMS Ramsey's Sub Lt Chris Fraser-Shaw assisting a paramedic
after a motorcyclist was thrown from his motorcycle
(RN website photo)
Sailors from the ship lent their assistance, acting as marshals and supporting both the police and ambulance service with their first-aid and fire-fighting skills.
---
HDS Diving Museum Newsletter

This month's Historical Diving Society (HDS) museum newsletter can be downloaded here: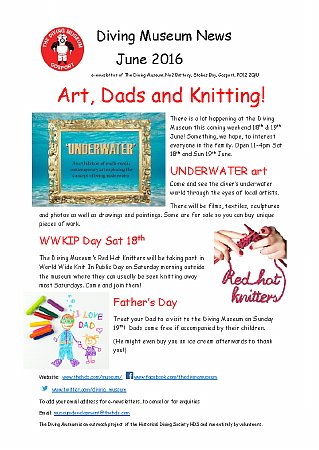 ---
12 Jun 16 - Change of crew for HMS Hurworth
The Royal Navy website contains this article announcing that MCM2 Crew 1 (ex-HMS Quorn) has taken over the manning of HMS Hurworth from MCM2 Crew 3. Crew 3 is due to take over one of the Hunts in the Gulf. The article features PO(MW) Craig Smith, MCM2 Crew 3's Operation Room Supervisor.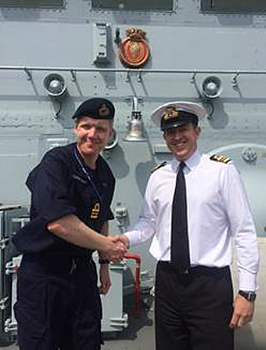 Lt Cdr Conor O'Neill taking over Command
of HMS Hurworth from Lt Cdr James Baker
(RN website photo)
---
11 Jun 16 - HMS Quorn exercises her Freedom of the Borough
The Royal Navy website contains this article describing how the ship's company of HMS Quorn (MCM2 Crew 1) exercised its right on 1 June to march through the borough of Melton Mowbray with "swords drawn, bayonets fixed, bands playing and colours flying" (see second entry for 12 May 16).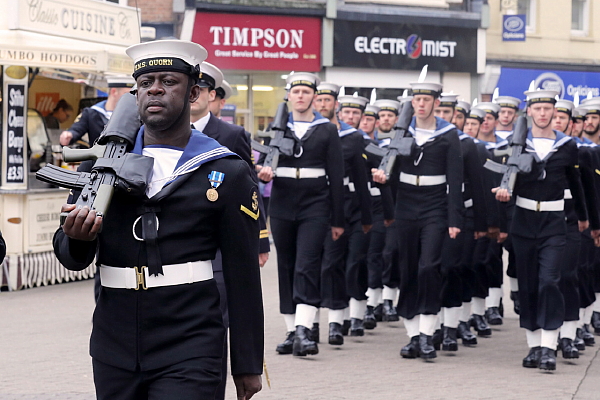 Ironically, the band was provided by the Boston Sea Cadet unit TS Cottesmore which was affiliated with HMS Quorn's sister ship HMS Cottesmore before she was decommissioned in 2005 and recommissioned in 2011 as LNS Skalvis in the Lithuanian Navy.
---
10 Jun 16 - HMS Atherstone cyclists perform D-Day tribute ride
The Portsmouth News website contains this article and the Royal Navy website this article describing how 13 of the ship's company of HMS Atherstone (MCM2 Crew 4) cycled 84 miles to honour the fallen of D-Day. They visited Sword, Gold, Juno and Omaha beaches in Normandy and met 93-year-old Sapper Ted Young, Royal Engineers, a D-Day veteran of Juno Beach.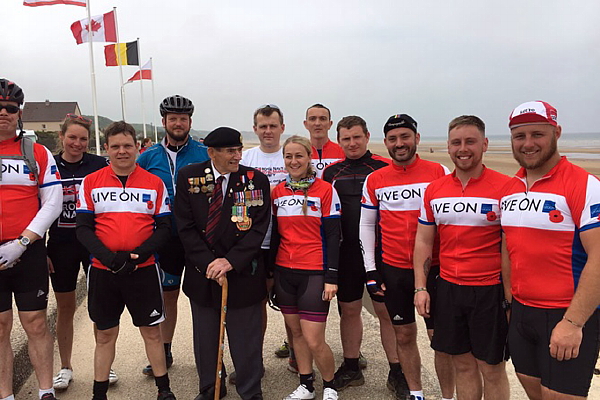 Sapper Ted Young surrounded by cyclists from HMS Atherstone
(RN Website photo)
The idea was conceived by PO(MW) Garry Belcher, the ship's Bosun, who said that being in Caen for the 72nd anniversary of the landings was the ideal time to tackle the challenge. The cyclists completed their ride in ten hours and raised over £1,300 for the Royal British Legion.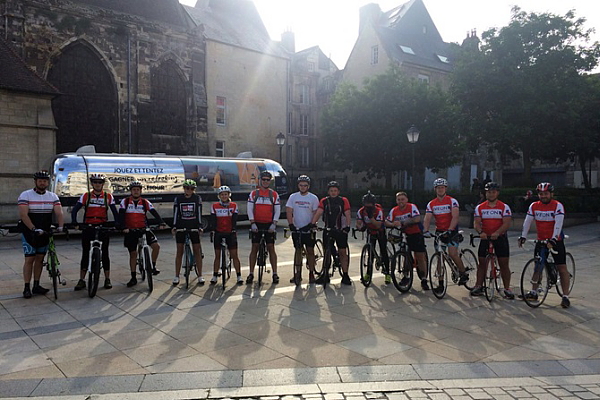 All thirteen of HMS Atherstone's cyclists
(RN website photo)
I am sure that all members of our community will join me in congratulating everyone involved in this charitable effort.
---
9 Jun 16 - Sponsor Geoff Goodwin in the Round the Island Race for the Vernon Monument
Last month, MCDOA member Geoff Goodwin raised £1,260 for the Vernon Monument when he won the Gosport Peninsula Charity Pursuit trophy in his Contessa 32 yacht 'Wizard'. Now he is at it again and I am grateful to him for this this announcement:
"Dear Friends,
Following our success in the Gosport Peninsula Charity Pursuit in WIZARD we are planning to take part in the 2016 Round the Island Race. We are seeking sponsorship to raise funds for the same charity, Project Vernon.
PROJECT VERNON
In the hours leading up to the D-Day landings, Royal Navy divers cleared 2,000 bombs, mines and other obstructions from the approaches to the beaches. Without this work there would have been many more casualties and the landings might not have been successful. Following on from this, these diving teams cleared the explosive ordnance from the ports of Europe making them safe for shipping which enabled the resupply of allied invasion forces across the continent.
The Royal Navy has continued this work, clearing the seabed and beaches in every theatre of war since 1945, including: Suez, following the Arab/Israeli wars of the 1960s and 70s; the Falklands in 1982; during and after two Gulf Wars and in Afghanistan. They have carried out many other operations in the UK and worldwide at the same time and since. The discovery of World War II weapons and other explosives off our coasts is still a frequent occurrence.
There is no statue to commemorate this work, nor any memorial to those who lost their lives. The Vernon Project aims to put this right by erecting a statue on the site of the old HMS VERNON (now Gunwharf Quays) where these personnel were trained and based.
Please give generously at:
http://uk.virginmoneygiving.com/GeoffGoodwin
To find out more about Project Vernon visit:
http://www.vernon-monument.org
Many thanks,
Geoff Goodwin"
During the 1970s, Geoff was the First Lieutenant of HMS Laleston (where we briefly served together in 1973) and HMS Bossington, both based at HMS Vernon. In 1982, I relieved him as LMCDO Training Officer in HMS Vernon whereupon he assumed Command of HMS Wolverton in Hong Kong. MCDOA members of a certain age may remember him allowing us to use the wardroom at HMS Dolphin for our annual dinners when he was the establishment's Commander in the mid-1990s, despite the risks to the chandeliers!
---
8 Jun 16 - HMS Pembroke in Baltic exercise
The Royal Navy website contains this article describing the participation of HMS Pembroke (MCM1 Crew 1) in Exercise OPEN SPIRIT 16 (17 to 27 May) off the coast of Lithuania where she helped locate and dispose of 18 items of wartime ordnance. The ship was operating as a member of Standing NATO Mine Countermeasures Group 1 (SNMCMG1) but the exercise involved 14 NATO and partner nations overall comprising Belgium, Canada, Denmark, Estonia, France, Germany, Latvia, Lithuania, the Netherlands, Norway, Poland, Sweden, the UK and the USA.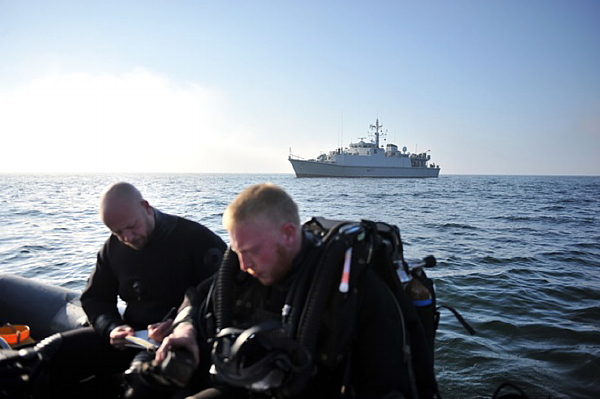 Divers from HMS Pembroke preparing to tackle a First World War Russian mine
in the approaches to Klaipeda harbour
(RN website photo)
Ships of SNMCMG1 involved in Exercise OPEN SPIRIT 16
(RN website photos)
---
7 Jun 16 - Brief Encounter in Cyprus
MCDOA past-Chairman Paul Jones (LMCDO '88B) left the Royal Navy as the Commanding Officer of HMS Excellent a couple of years ago to spend retired life with his wife Yvonne and their pets at their villa in Northern Cyprus. They enjoy an active social life which appears to give Paul ample opportunity to express his 'inner self'.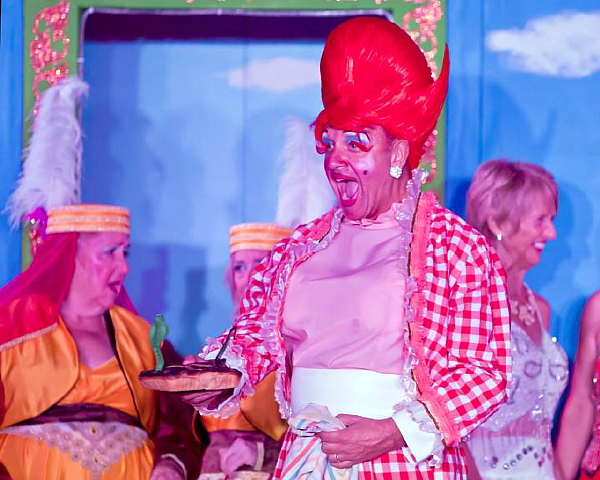 Paul Jones as pantomime dame 'RhumBaba' in last year's Royal British Legion
Christmas production of 'Ali Baba and the 40 Thieves' in Kyrenia
In 1987, fellow MCDOA member Chris Tarmey (LMCDO '77) left the Royal Navy early after exchange service with the RAN and the USN and on NP 2030 (FCDT 5) and NP1007 (Sat Diving Team in MV Seaforth Clansman). He then pursued a highly successful entrepreneurial career in the ROV industry and we sat together at last year's MCDOA dinner in HMS Excellent (see entry for 23 Nov 15 in News Archive 52).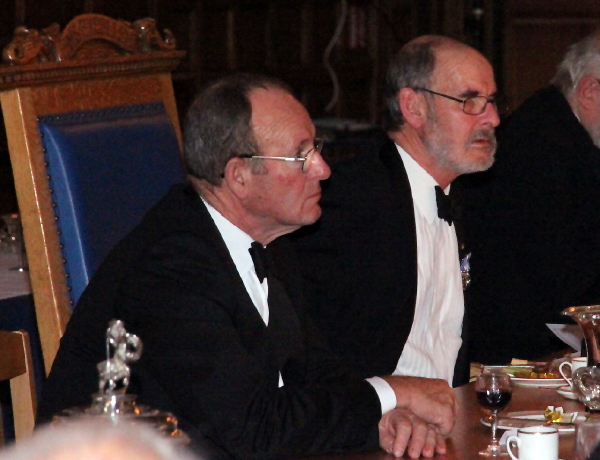 Chris Tarmey and Yours Truly (Rob Hoole) listening to the speeches at the MCDOA's
Annual Dinner in the wardroom, HMS Excellent on 20 November 2015
Last week, I learned that Chris and his wife Judy were stranded in Northern Cyprus awaiting the delivery of engine parts for their motor cruiser 'Christiana'.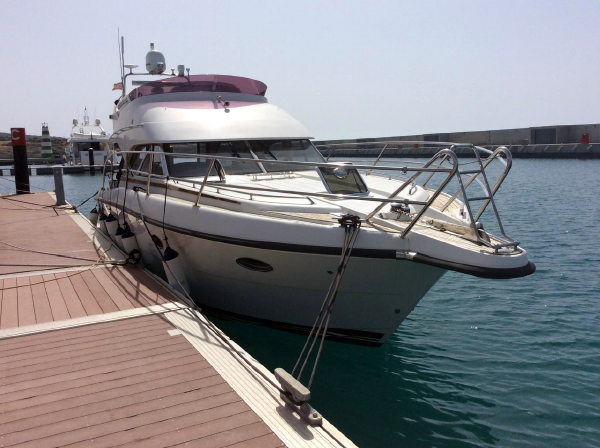 Chris Tarmey's boat 'Christiana' at a marina in Northern Cyprus
I put Chris and Paul in touch with each other and received this welcome news from Chris yesterday:
"We have awarded ourselves three days 'Survivors Leave' and moved into the lovely Korineum Golf Resort in the hills near Kyrenia where three nights with half board and two rounds of golf each are a very reasonable total of €460 including an upgrade to a sea view room. When fellow former MCD officer Rob Hoole heard about this he engineered a get together for us with former Superintendent of Diving, Commander Paul Jones who now lives out here....Most enjoyable: a couple of beers and a few dits. He has picked a great spot in which to retire.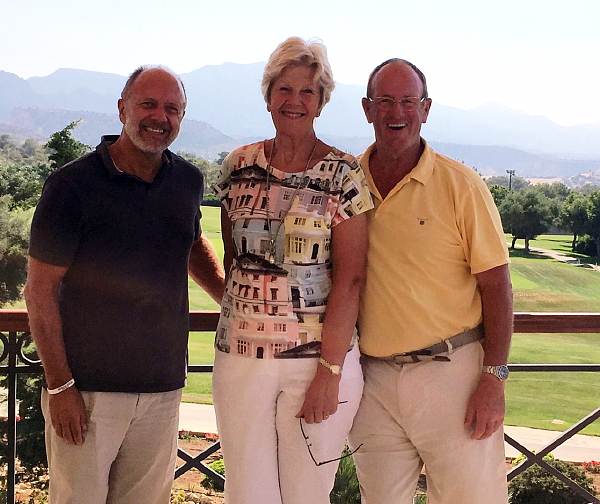 Paul Jones with Judy & Chris Tarmey at the Korineum Golf Resort
near Kyrenia in Northern Cyprus yesterday
Best regards,
Chris Tarmey"
Don't you love it when a plan comes together?

---
6 Jun 16 - D-Day
Operation NEPTUNE comprised the D-Day landings on the Normandy coast exactly 72 years ago today. It included the minewarfare & diving operations to sweep the assembly areas and approach channels free of mines and clear anti-invasion obstructions, many of them rigged with explosives, in the shallow waters off the beaches.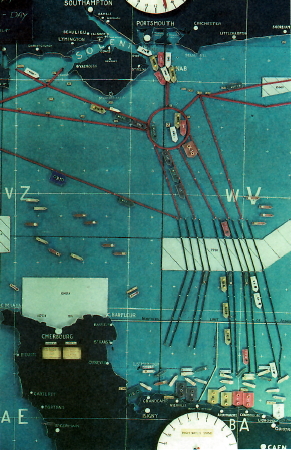 Detail of wall map in Southwick House showing
coastal routes, 'Piccadilly Circus' and the
approach channels to the invasion beaches
HMS Vernon produced 1,500 lights for danbuoys to mark the edges of channels plus 200 flashing lights for the ends of channels. On the night, they all worked well and gave a 'fairyland look' to the whole area of sea between the Isle of Wight and the beaches.
Further background is available in the website's Dit Box:
Operation Neptune: The Minesweeping Operation 5-6 June 1944
Operation Neptune: Frogmen - The First Men Ashore on D-Day
See also this article on the Divernet website.
---
5 Jun 16 - The original D-Day
Today would have been the 72nd anniversary of D-Day had bad weather not forced General Eisenhower, the Supreme Allied Commander, to postpone the start of Operation OVERLORD, the invasion of Normandy, by 24 hours. Eisenhower used Southwick House, the wardroom of the now decommissioned HMS Dryad, as his D-Day headquarters. This is the framed print of a watercolour of Southwick House presented to me when I was dined out at HMS Dryad shortly before leaving the Maritime Warfare Centre at Portsdown (and the Royal Navy) in late 2002.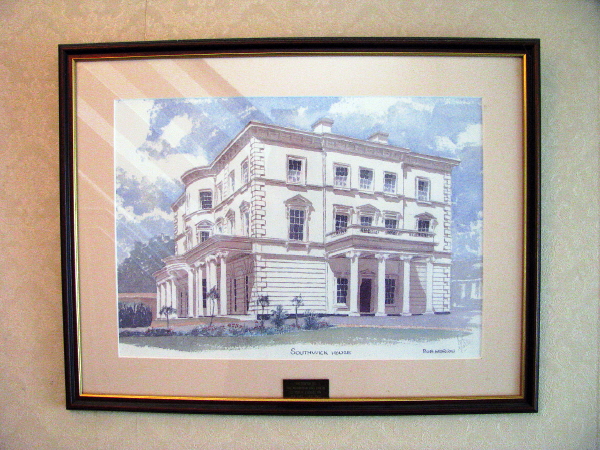 Fellow MCDOA member Doug Barlow, my old sea daddy and best man, had undergone Radar Plotter training at HMS Dryad as a 20-year-old Able Seaman in 1948. On Friday 6 August 2004, he and I attended a lunchtime function in the wardroom at HMS Dryad before the bar shutters were lowered for the last time. This gave us a final opportunity to look around Eisenhower's map room while it was still in Royal Navy hands.
Left: Barlow and Hoole in front of the map frozen at H-Hour on D-Day
Right: Artist's sketch of the map room at Southwick House on D-Day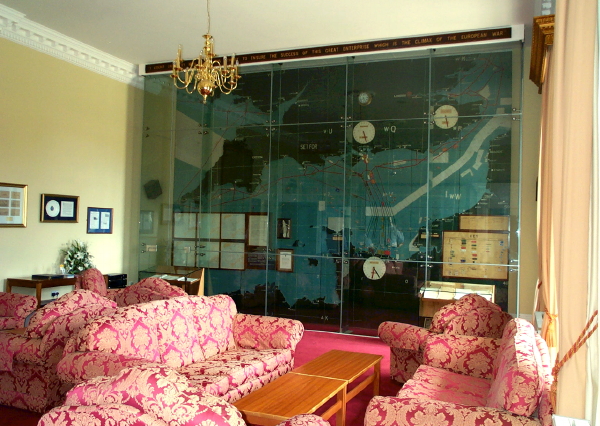 A wider view of the D-Day map at Southwick House in August 2004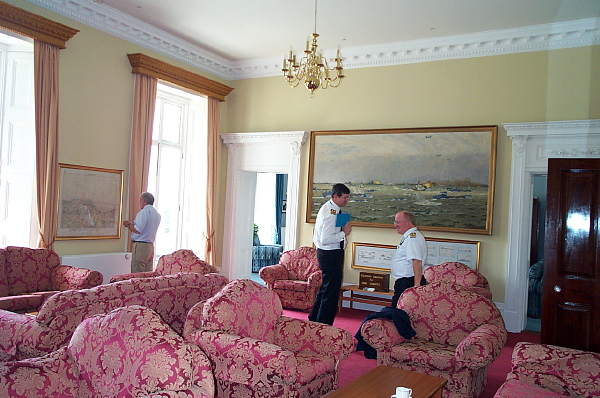 Above and below: Other end of the map room in 2004. The individuals are MCDOA members
Doug Barlow and Angus Benton with Rob Scott (MWC 1st Lt) on the right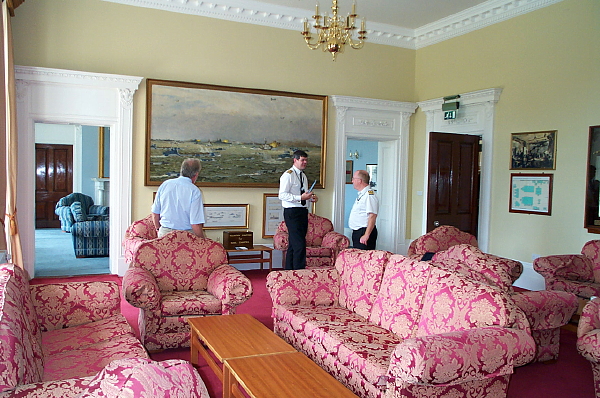 HMS Dryad was decommissioned in 2004 and became the home of the Defence College of Policing and Guarding where Southwick House remains the officer's mess. Followers may have watched this BBC video of Prince Harry, Commodore-in-Chief Small Ships & Diving, meeting Normandy veterans.at Southwick House last Thursday.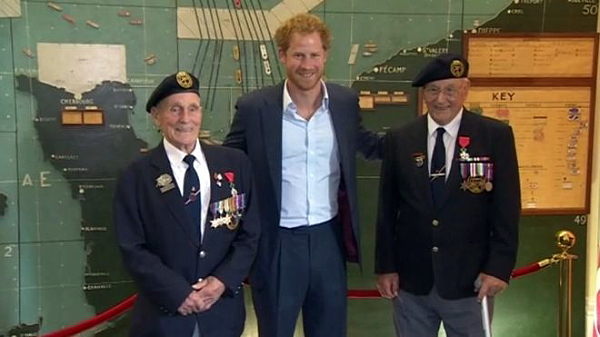 Prince Harry with Normandy veterans in the map room at Southwick House on 2 June 2016
On the same day, Mrs Webmaster and I performed our good deed for Armed Forces Day early by hosting Normandy Army veteran Ted Bullock and his ex-RN companion Dave Wilson for a break in their journey from Berwick-on-Tweed. As last year (see second entry for 4 Jun 15 in News Archive 50), we fed and watered them before delivering them to the Continental Ferry Port to cross the Channel for the D-Day anniversary events in Normandy.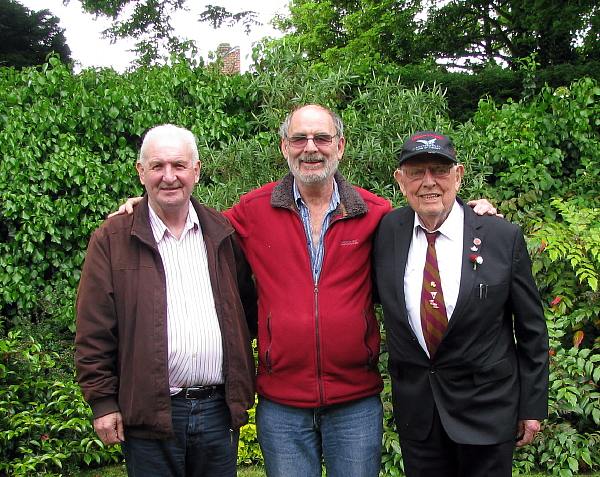 Dave Wilson, Yours Truly (Rob Hoole) and Ted Bullock
Legion d'Honneur holder Ted still helps run the Army cadet unit where he lives and raises money every year for the Royal British Legion's Poppy Appeal.
General Sir Miles Dempsey was the Commander of the British Second Army which comprised all the British and Canadian troops who landed on D-Day. On 4 June 1944, the day before the original D-Day, he and his staff attended a church service at Christ Church in Widley at the top of Portsdown Hill.
Those who attended this service returned on 6 June 1948 to present two stained glass windows to commemorate their vigil waiting for the weather to abate sufficiently for the landings to start.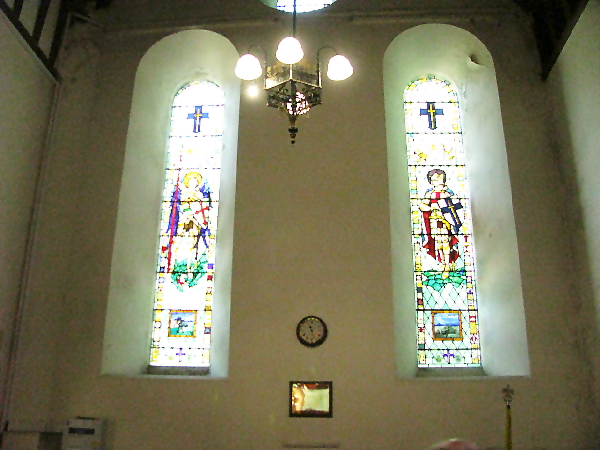 This morning, Mrs Webmaster and I attended the D-Day commemorative service at Christ Church and happened to bump into MCDOA member Jim Nisbet's parents Jack and Rosemary. Jack is ex-Royal Navy and told me that he had served as Third Hand of the TON class minesweeper HMS Wilkieston.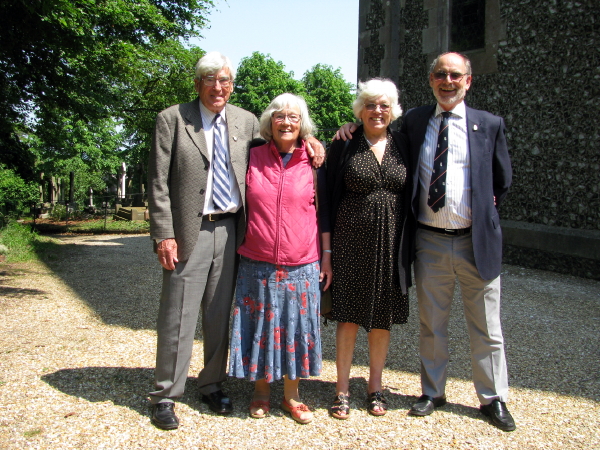 Jack & Rosemary Nisbet with Rob & Linda Hoole outside Christ Church on Portsdown Hill
Isn't it a small world sometimes?
Postscript: Sadly, Ted Bullock passed away quietly at home in Berwick-upon-Tweed on 10 October 2016.
---
4 Jun 16 - HMS Ramsey visiting Isle of Man
The Isle of Man Today website contains this article announcing the start of a week-long visit to the Isle of Man by HMS Ramsey (MCM1 Crew 7). Members of the ship's company were due to help marshal the TT Superbike race today and be driven around the TT course in a convoy of supercars featuring Ferraris, McLarens and Porches on Monday.
Despite the extraordinary tidal range, ex-RN Dave Skillicorn, a local resident, was able to capture this image yesterday of the ship berthed in Douglas.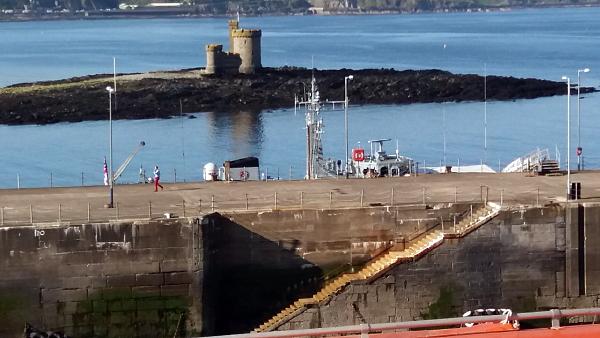 HMS Ramsey alongside Victoria Pier in Douglas, IOM
(Photo courtesy of Dave Skillicorn)
---
3 Jun 16 - HMS Shoreham at Rosyth
I am grateful to MCDOA member Bob Hawkins MBE, 1st Lt of the aircraft carrier HMS Queen Elizabeth being completed at Rosyth, for these photos of HMS Shoreham (MCM1 Crew 8) undergoing an SP(D) - Support Period (Docking) - at nearby Babcock's.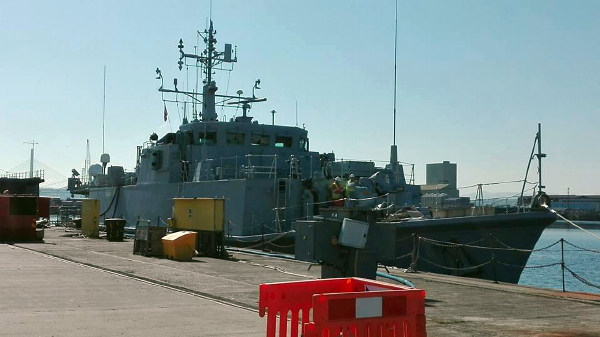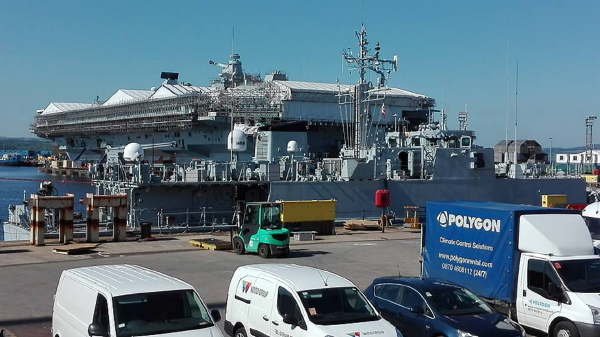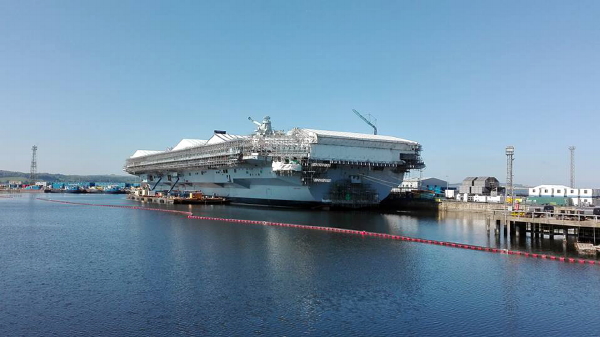 ---
2 Jun 16 - News from HMS Chiddingfold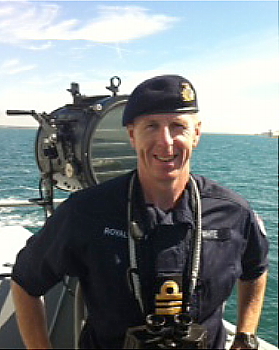 I am grateful to MCDOA member Steve White, Commanding Officer of HMS Chiddingfold (MCM2 Crew 5) currently on Operation KIPION in the Gulf, for this email and his ship's May newsletter which can be downloaded here:
"Sirs, Ma'ms, Ladies and Gentlemen,
Another month has already passed and your ship is at sea working alongside RN and USN mine-hunters as part of Exercise Poseidon Assurance. We have now entered the last full month of our deployment and have a busy six weeks ahead prior to handing over to MCM2 Crew 3.
Thank you once again for all your continued letters and emails of encouragement, I always ensure I share them round the ship.
Until next month, kind regards,
Steve
Lieutenant Commander S J White Royal Navy
Commanding Officer
HMS CHIDDINGFOLD
MCM2 Crew 5 - Leading the Hunt"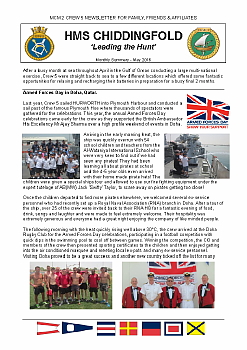 ---
1 Jun 16 - One HMS Quorn honours another
The Royal Navy website contains this article describing how members of the ship's company of today's HMS Quorn (MCM2 Crew 1) have honoured the 130 personnel lost when the Hunt class destroyer HMS Quorn was sunk off Normandy on 3 August 1944.
"From one Quorn to another.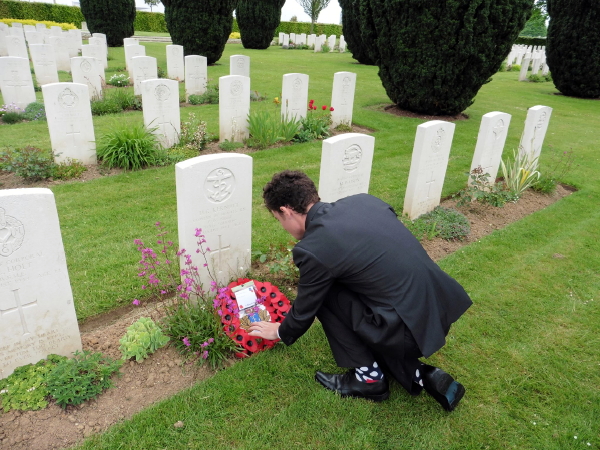 AB(MW) Matthew Brown placing a wreath
(Navy News photo)
Minewarfare specialist AB Matthew Brown places a wreath at the foot of the grave of Yeoman of Signals Henry George Kernutt, killed at the age of 23 when HMS Quorn was lost 70 years ago. Four sailors from the Portsmouth minehunter made the short Channel crossing to Normandy to pay their respects to those killed on the previous ship to be named after the Leicestershire hunt.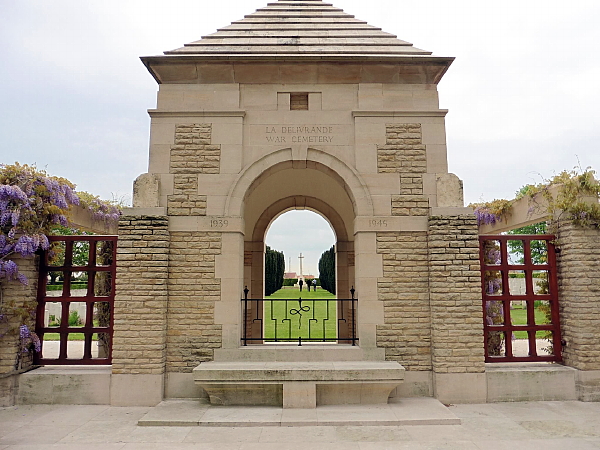 The War Cemetery at Douvres-la-Délivrande
(Navy News photo)
In June 1944 the wartime destroyer was assigned to the covering force safeguarding the invasion of Normandy from U-boat and surface attack. Two months later, Quorn was still on station and, even though the fighting had moved inland, supplies of ammunition, food and spare parts still flowed to the front through the beaches of Normandy.
On August 3, Quorn was attacked by one of the Nazis' new kamikaze weapons – either a Linsen (a motor boat packed with explosives) or a Neger one-man submarine carrying an 18in torpedo – as part of a massed assault by the Germans on the invasion fleet. Quorn's starboard side was torn apart and within two minutes, the destroyer broke in two and sank; 16 crew were eventually rescued (some spent eight hours in the water) out of a ship's company of 146.
The bodies of 11 of the 130 men killed were eventually washed up on French shores and subsequently laid to rest in three Commonwealth War Graves Commission cemeteries at La Crotoy – near the mouth of the Somme, 100 miles from the wreck site – and Tilly-Sur-Seulles and Douvres-la-Délivrande in Normandy.
The coxswain of today's Quorn, PO(D) Paul Hawkshaw, led the group – PO(CS) Antonio Hole, ET(ME) Vinnicombe and AB(MW) Brown – as they visited the three graveyards to pay their respects, laying a wreath at the foot of the headstone to each man.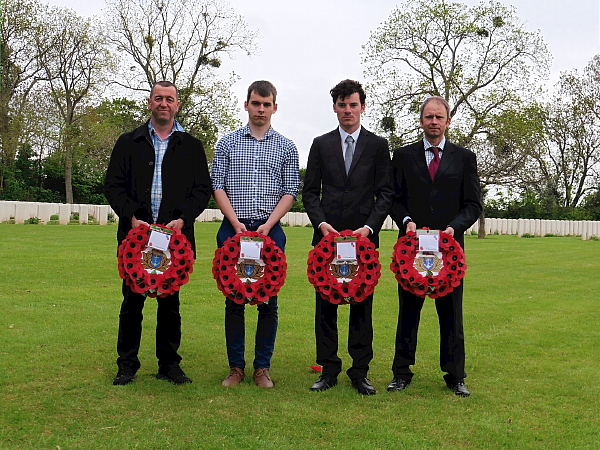 PO(CS) Antonio Hole, ET(ME) Vinnicombe, AB(MW) Matthew Brown and PO(D) Paul Hawkshaw
(Navy News photo)
"It is unusual to find sailors in graves – most were lost at sea – so this made it hit home," said PO Hole.
AB Brown added "It was deeply moving to visit the graves of men who served on the previous Quorn."
They are readying their ship for a major revamp in Portsmouth – undergoing the upgrade the entire Hunt class is receiving. The ship's company will transfer to HMS Hurworth where they'll train for a deployment to the Gulf early in 2017."
---
30 May 16 - AORNFCD's 28th Anniversary AGM & Social
I am grateful to Brian 'Troy' Tempest, Secretary of the Association of RN First Class Divers (AORNFCD) for this kind invitation:
"Hi Rob,
Would you mention on your site for any MCDOs who would like to come to the AGM & Social on Friday 10 June at the Royal Maritime Club in Portsmouth to drop me a line at this email address? At present we are not charging for the food as we already have 50 members and 12+ guests coming but we will add any money we get from guests to the Vernon Monument raffle. I need to know numbers in case we need more bar staff and food.
Hope you are all well,
Troy"
The programme for this event is:
1800 - 1855 Meet in main bar.
1859 - 1935 AGM in lounge
1945 Tot time
1945 Drink & toast
2150 Raffle
2359 Bar closes
0030 Clear the premises
A tiny dicky-bird tells me that Taff Sweeney (50 years in uniform: 24 years RN and 26 years RAN) will be making a rare excursion from Australia among some other 'foreigners'.
---
29 May 16 - HMS Atherstone alongside at BRNC Dartmouth
I am grateful to Sub Lt Rich Fulton, N2 of HMS Atherstone (MCM2 Crew 4), for these unusual aerial photos taken on 23 May while his ship was berthed outboard of the harbour training ship Hindostan (ex-HMS Cromer) during a three-day visit to BRNC Dartmouth. The photos were taken by one of Rich's friends who is a Merlin pilot.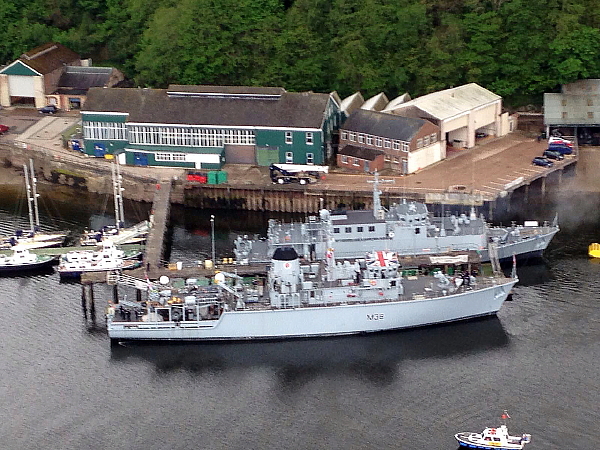 Above and below: HMS Atherstone and Hindostan on Sandquay Jetty at BRNC Dartmouth
Coincidentally, MCDOA member Bob Hawkins MBE, the First Lieutenant of the new aircraft carrier HMS Queen Elizabeth, was visiting fellow member Sean O'Reilly in Dartmouth at the same time and they cruised past Atherstone in Sean's boat.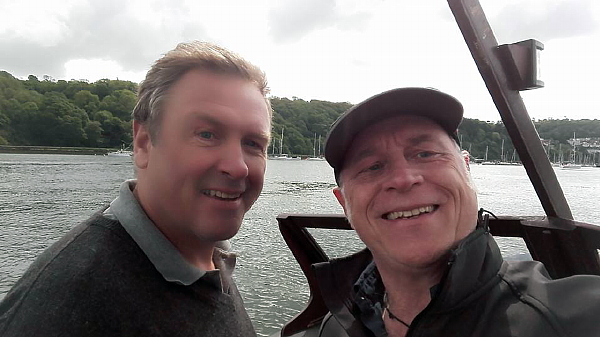 MCDOA members Sean O'Reilly and Bob Hawkins on Sean's boat
Bob's photos of HMS Atherstone on Sandquay Jetty at BRNC Dartmouth
Bob and Sean qualified together on LMCDO '82 with a certain MCDOA webmaster as their course officer. Most recently, Bob was the Officer of the Royal Guard during yesterday's widely publicised ceremony at Rosyth commemorating the centenary of the Battle of Jutland which resulted in the loss of 9,823 lives (6,784 British and 3,039 German) and 25 ships (14 British and 11 German).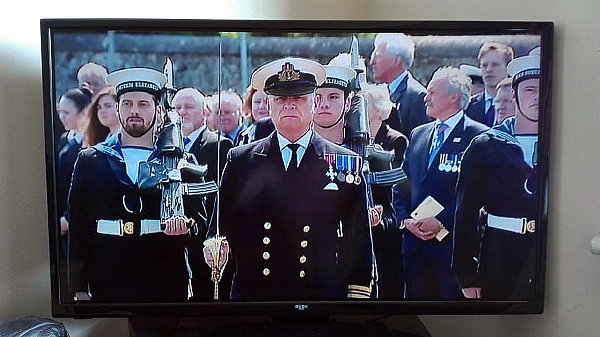 Bob Hawkins on national TV as Officer of the Royal Guard provided by HMS Queen Elizabeth
for the ceremony at Rosyth to commemorate the centenary of the Battle of Jutland
---
28 May 16 - SNMCMG2's 17th Anniversary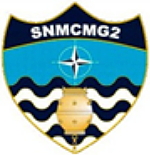 I am grateful to MCDOA member Dave Stanbury, Principal Staff Officer of Standing NATO Mine Countermeasures Group 2 (SNMCMG2) for these photos taken on the occasion of the Group's 17th anniversary, including its designation as Standing Mine Countermeasures Force Mediterranean (MCMFORMED) 27 May 1999 to 2 September 2001 and Mine Countermeasures Force South (MCMFORSOUTH) 3 September 2001 to 1 January 2005.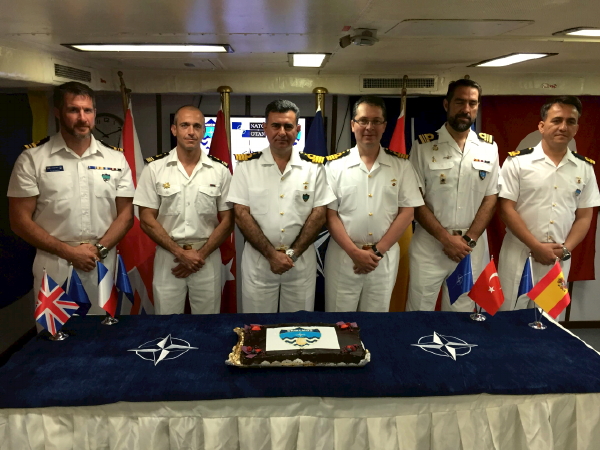 Dave Stanbury (far left) with Cdr SNMCMG2 and Commanding Officers of SNMCG2 ships
---
27 May 16 - Sea day in HMS Atherstone
I was privileged to spend a day at sea in HMS Atherstone (MCM2 Crew 4) yesterday as a member of the Ton Class Association (TCA). Other guests included affiliated friends and family of ship's company members, Amy Jarvis (the ship's sponsor who launched her 30 years ago), the Mayor and Deputy Mayors of North Warwickshire and the village of Atherstone respectively, Ton Class Association members (including me) and a veteran of the Royal Naval Patrol Service (RNPS - Harry Tate's Navy) who had served in the minesweeper BYMS 2206 off Gold Beach on D-Day during the invasion of Normandy.
We were met at Portsmouth Naval Base's Trafalgar Gate by Sub Lt Richard Fulton (N2) who directed us on board a dockyard bus which took us to Chiddingfold's berth at South Jetty.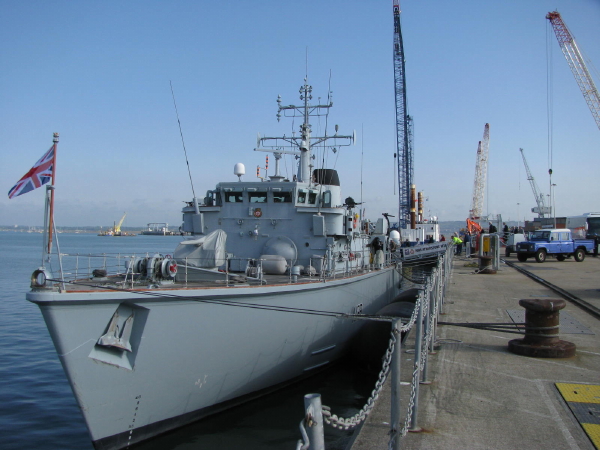 We were greeted on board the ship and given a short safety brief by Tom Hazel, the XO...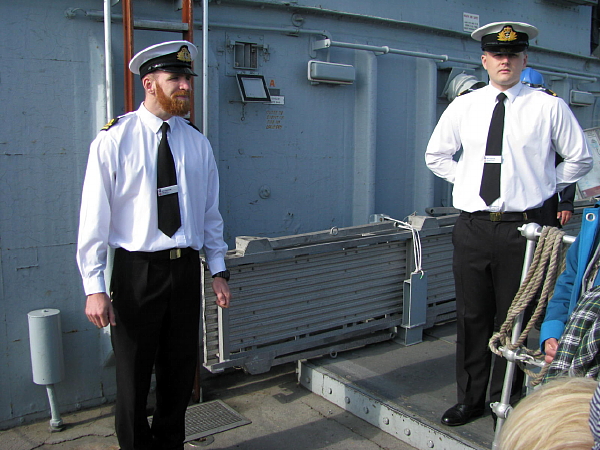 Tom Hazel (XO) and Jonathan Davies (XOA) of HMS Atherstone
...before being served tea and coffee on the flag deck which gave everyone the opportunity to get acquainted with each other.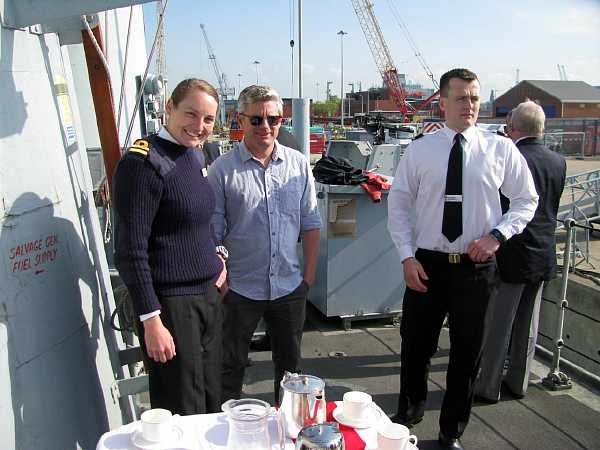 MCDO Lucy O'Callaghan (Ops) and Jonathan Davies (XOA) flanking a guest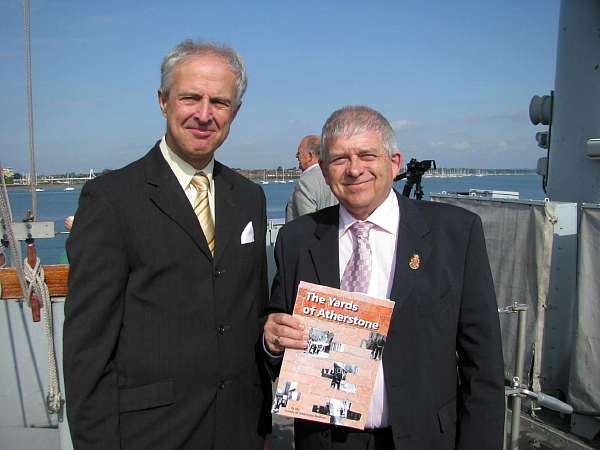 Cllr Tony Clews and Cllr Ray Jarvis, respectively the Deputy Mayor and Mayor of Atherstone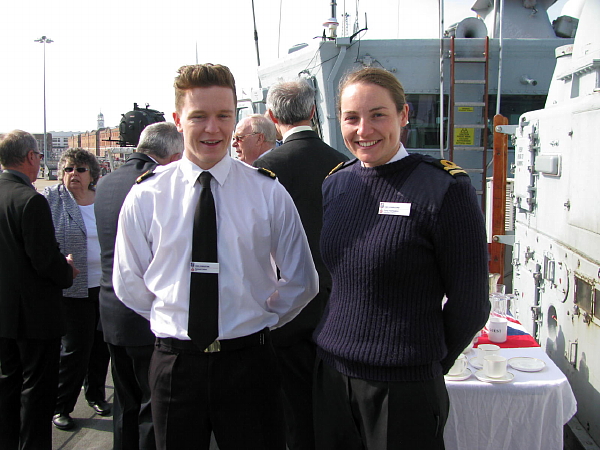 Richard Fulton (N2) and Lucy O'Callaghan (Ops)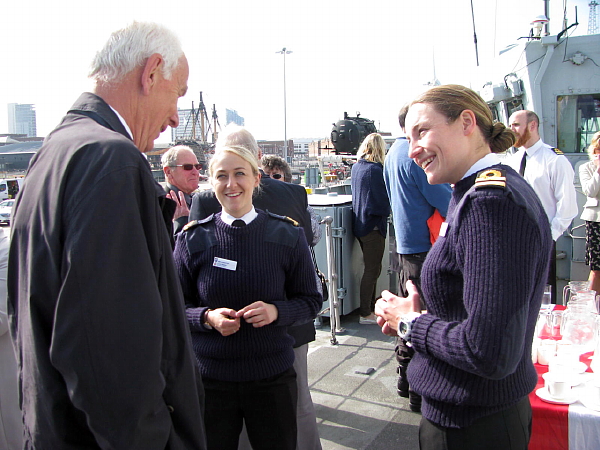 Lauren Webber (NO) and Lucy O'Callaghan (Ops) chatting with a guest
While we were still alongside, we were treated to the sight of Birmingham University Royal Naval Unit's P2000 Training Patrol vessel HMS Exploit putting to sea.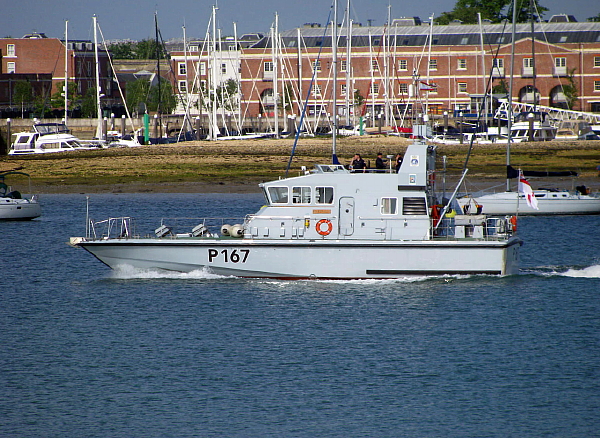 We were then given a warm welcome by Mark Headley, HMS Atherstones's Commanding Officer. I am sure it is no coincidence that he (along with MCDOA member Steve White, the current CO of HMS Chiddingfold) was also responsible for an affiliates' visit to Middleton and Ledbury in Portsmouth Naval Base 18 months ago although the weather prevented us from sailing (see entry for 11 Dec 14 in News Archive 48). I am delighted to say that Mark was selected for promotion to Commander last month.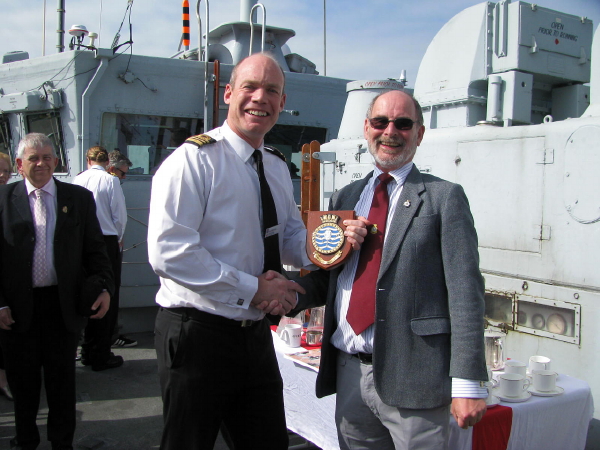 Mark Headley (CO) receiving TCA wall shield from Yours Truly (Rob Hoole)
I then wandered around the upper deck while the ship was preparing to sail.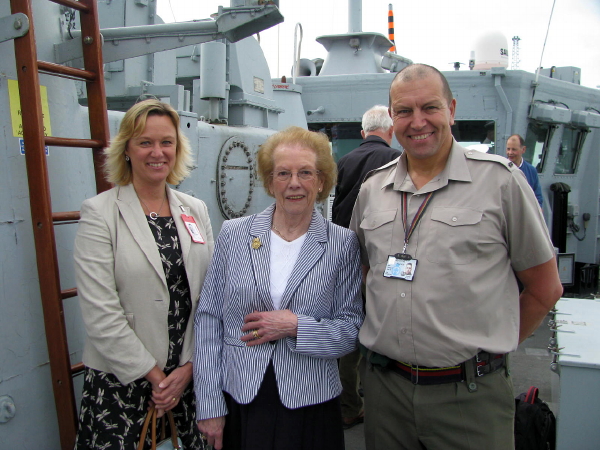 WO2 Gary Kingston (MCM2's Divisional Officer) and his wife Marie flanking Amy Jarvis, wife of
the then Deputy Controller of the Royal Navy, who launched HMS Atherstone on 1 March 1986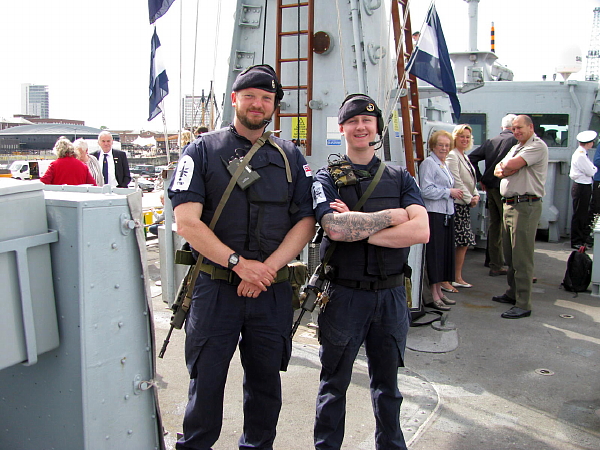 LS(MW) Matt Staunton and ET(WE) Stephen Owen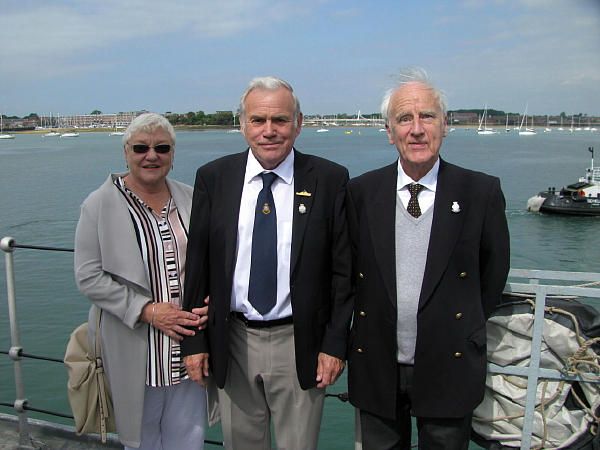 TCA members Keith Horwood and Steve Parker with Keith's wife Lynn
HMS Bulwark was visiting Portsmouth as part of her preparations to commemorate the 100th anniversary of the Battle of Jutland in and around Scapa Flow. She was embarking the massed band of the Royal Marines and the Royal Navy's ceremonial Royal Guard. She will be supporting the Jutland 100 national commemorations at Kirkwall and at Lyness with her sailors, marines, and landing craft playing a key role in events.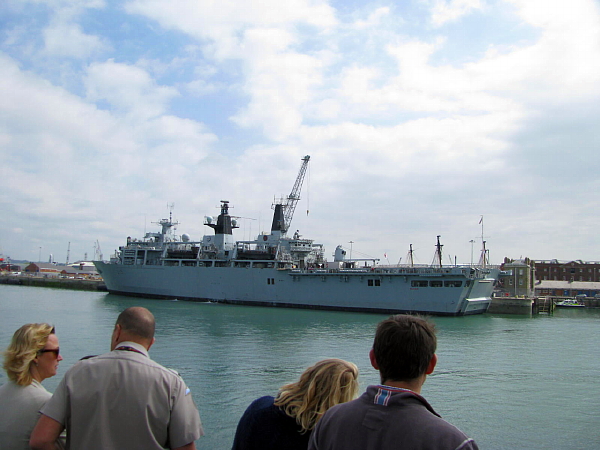 HMS Bulwark
Jan is an avid ship-spotter and I often see her on the Round Tower when MCMVs arrive and depart Portsmouth.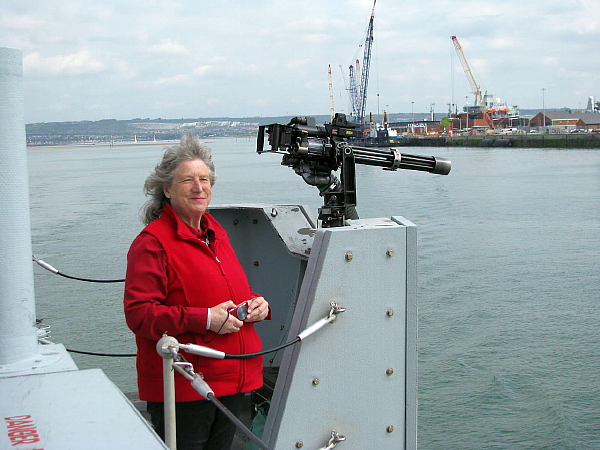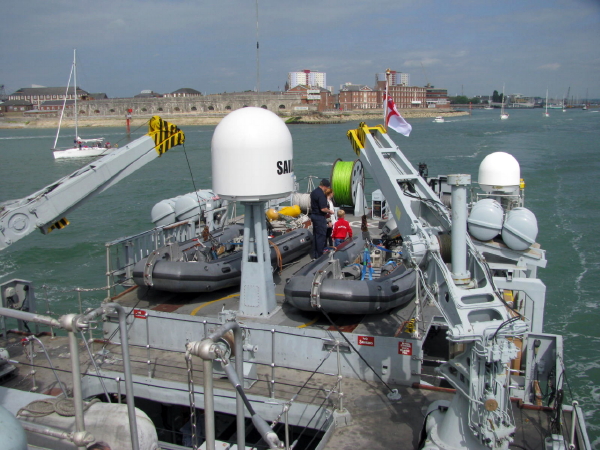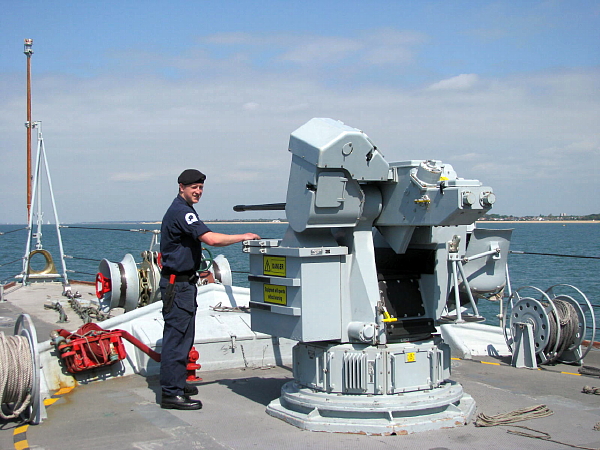 AB(D) 'Henry Morgan by the 30 mm
The ship was prepared for any eventuality.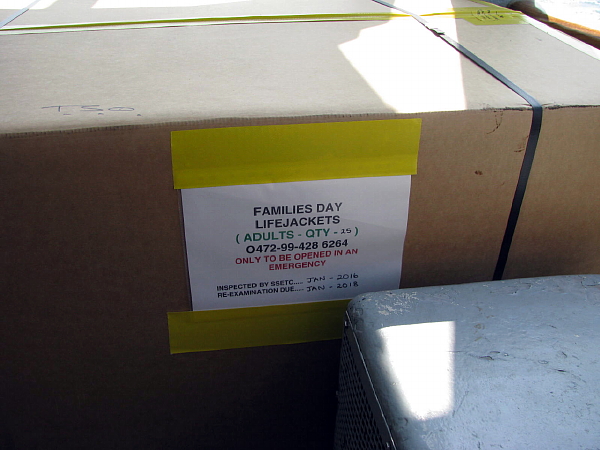 For old time's sake.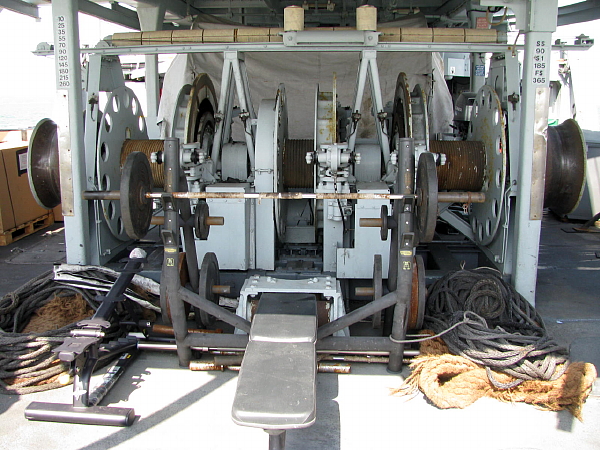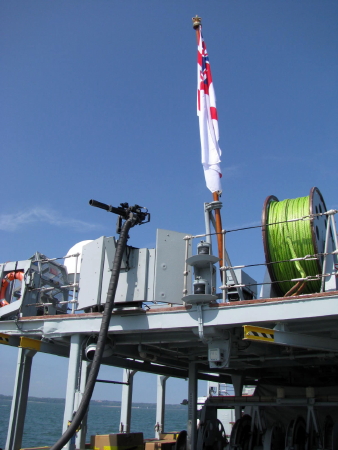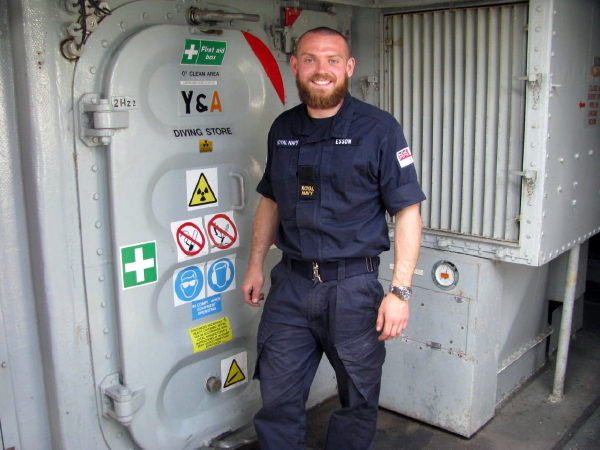 AB(D) Sean Esson outside the Diving Store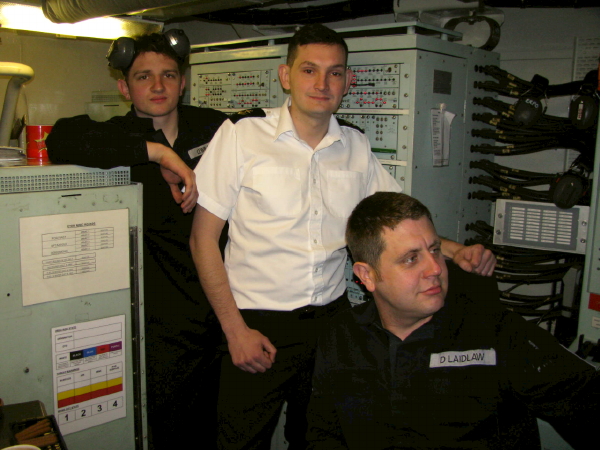 ET(ME) Ryan Lewis, LET(ME) Jamie Simpson and LET(ME) Dave Laidlaw in the
Machinery Control Room
CPOET(WE) Kev Rose (WEO) and WOET(ME) Scott Johnson (MEO) in the Burma Way
Although we withessed a Search & Rescue exercise, I do not know whether it was for our benefit.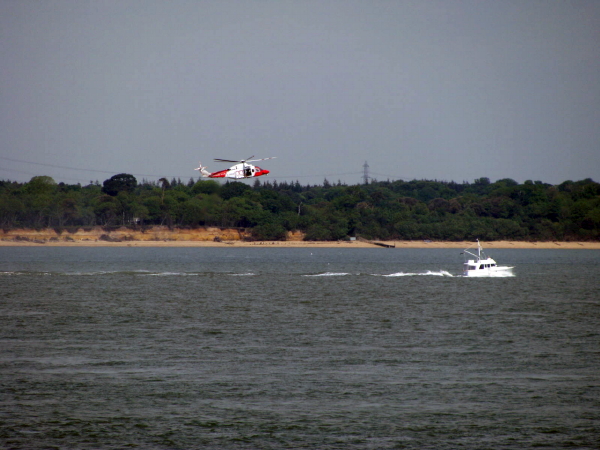 We anchored off Cowes for lunch which comprised a choice of spaghetti bolognaise or, I believe, chicken fricassee with rice. I chose the former and it was delicious.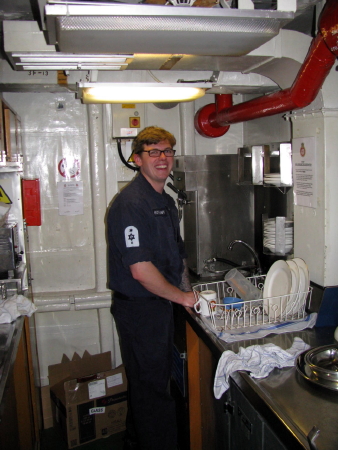 Steward Will Pickering in the Wardroom Pantry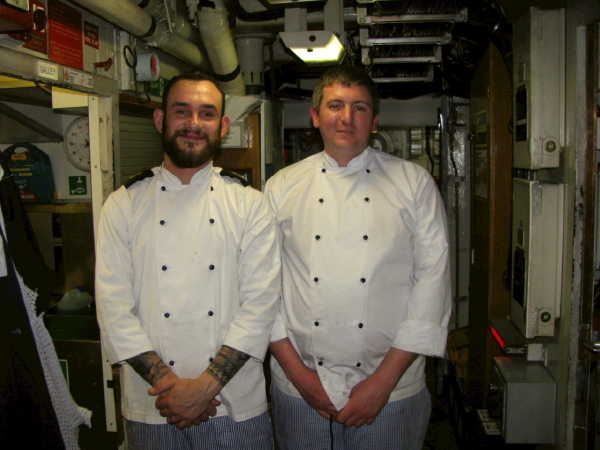 Ldg Chef Stan Matthews and Chef Stevie Houghton outside the Galley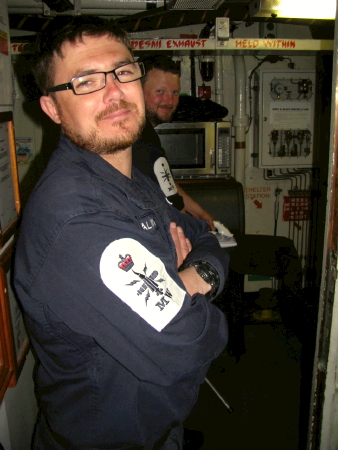 PO(MW) Daniel 'John Boy' Walton (Ops Room Supervisor)
with LS(MW) Matt Staunton behind him
While the ship was at anchor, Mark Headley the CO had another chat with the visitors on the forecastle before the guests were divided into groups for tours of the ship.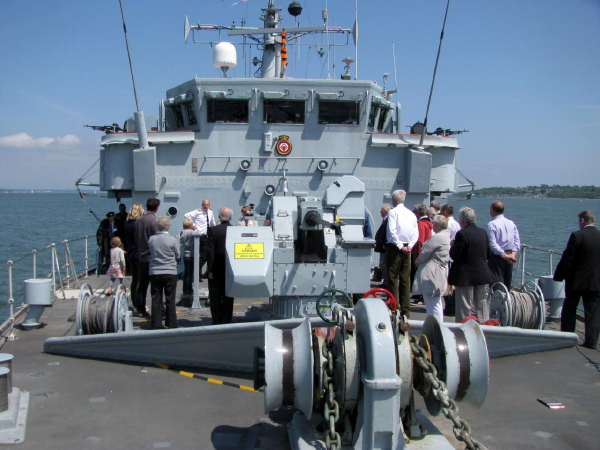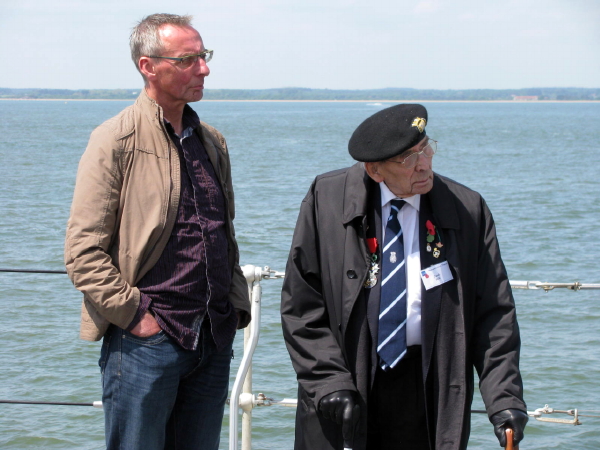 Stephen Hill with his Second World War RNPS veteran father Jack Hill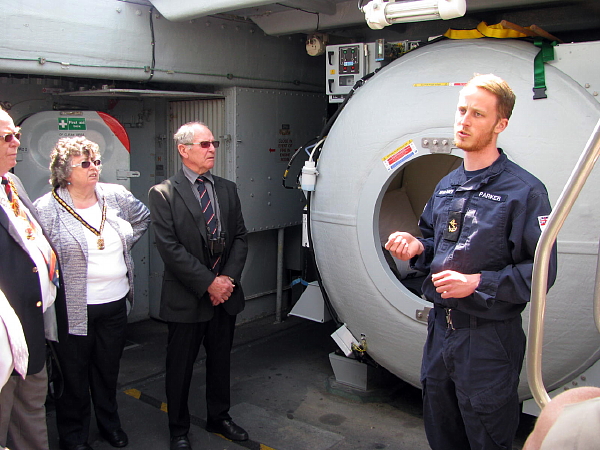 LS(D) Fess Parker in front of the Compression Chamber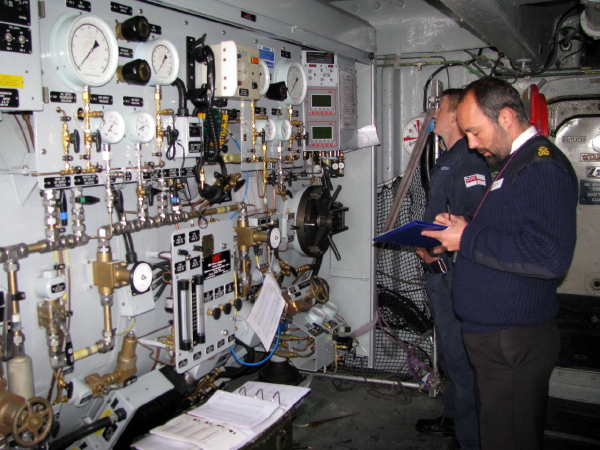 PO(D) Andy Groves (Cox'n) and AB(D) Henry Morgan at the controls of the Compression Chamber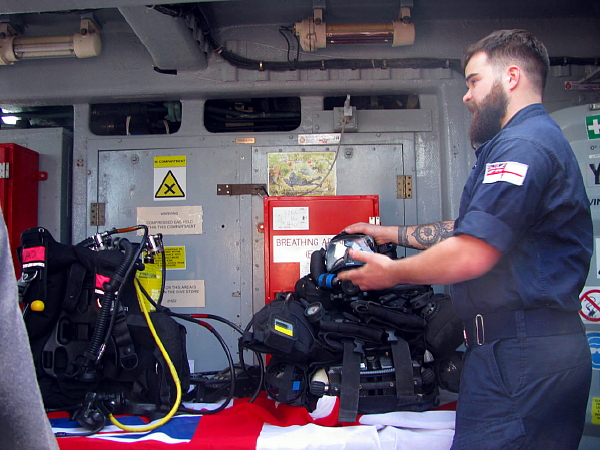 AB(D) Tristan 'Soapy' Watson demonstrating the sets used by the ship's diving team
Left: Cllr John Smitten, Mayor of North Warwickshire in foreground
Right: Cllr Wendy Smitten, Mayoress of North Warwickshire on left
The name boards listing previous Commanding Officers of the ship made for interesting reading. I have had a soft spot for Atherstone ever since John Bailey, her first CO, took the trouble to ascertain that I was to be the first CO of HMS Berkeley, the next Hunt class MHSC on the stocks at Vosper Thornycroft in Woolston. He was thus able to arrange for me, uniquely among Hunt class COs, to attend the launch of my own ship (together with my wife and John & his wife) on 3 December 1986. Other COs of particular interest include MCDOA members Nigel Davies, Mark Durkin, current MCDOA Chairman Mark Atkinson, Justin Hains, Ben Vickery and Si Pressdee.
All too soon, it was time to weigh anchor and head back to Portsmouth.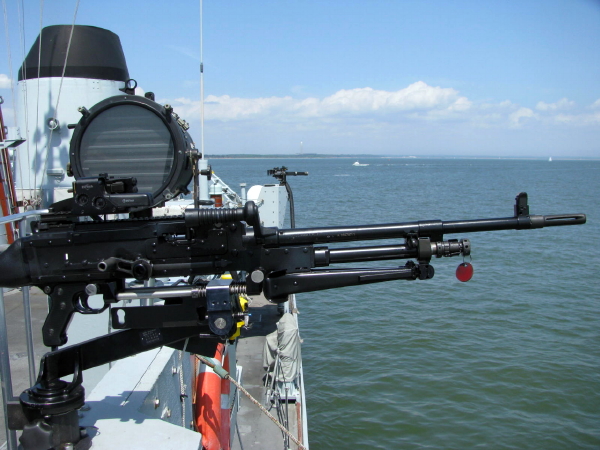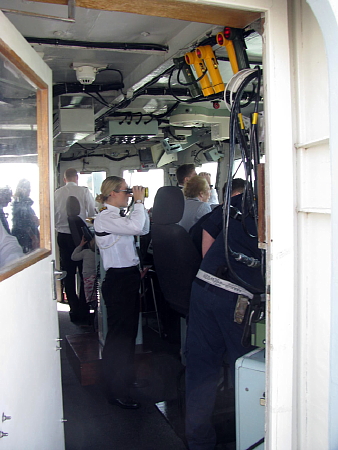 Before departing, we had a group photograph taken on the forecastle with the CO and ship's officers.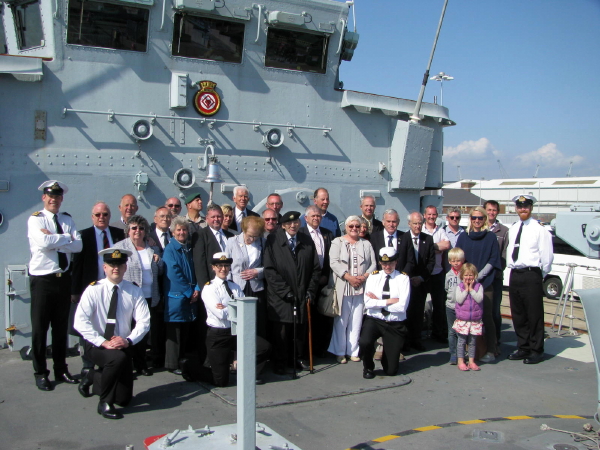 I would like to thank Mark Headley and his entire ship's company for making us feel so welcome and giving us such a splendid experience. They have a ship to be proud of and I wish them all the very best in whatever the future holds for them.
---
26 May 16 - SDU1 deals with ordnance on beach in Ceredigion
The Cambrian News website contains this article describing yesterday's disposal of live ordnance by members of Plymouth-based Southern Diving Unit 1 (SDU1) on the beach near Ynyslas Point in North Ceredigion, Wales. It was the second such incident in the past few weeks.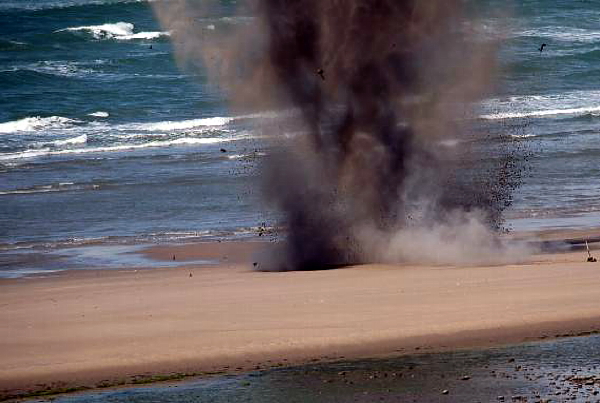 ---
25 May 16 - Funeral of Cdr Timothy Ian Hildesley OBE RN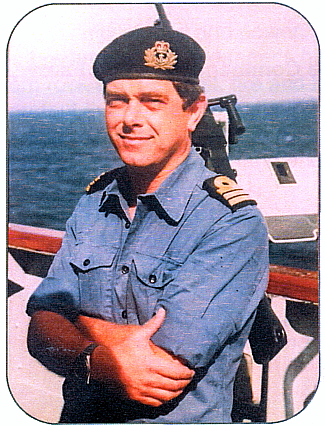 St Ann's church in Portsmouth Naval Base was well filled with family members (including Tim's wife Jill, son Simon and daughters Nikki and Pippa), their grandchildren, Tim's brother Phil and their many friends and Tim's former colleagues for yesterday's Thanksgiving Service for the life of Tim Hildesley (see entry for 10 May 16). MCDOA members included Chris Ameye, Mike Critchley with his fiancée Sigi, Brian Dutton DSO QGM with his wife Audrey, Steve Field, Dave Forsey MBE, Kim Godfrey, Geoff Goodwin, Martyn Holloway with his wife Ann, Rob Hoole, Bob Lusty, Dougie MacDonald, Julian Malec with his wife Margy, Ralph Mavin, Ian Morton, John Murphie, Dan Nicholson with his wife Christine, Simon Nicholson, Jim Nisbet (in uniform), Tim Paul MBE, Jon Riches with his wife Ann, David Sandiford with his wife Pauline, Richard Simmonds OBE, Colin Welborn with his wife Jo, Bob White MBE with his wife Anne, and Steve Window. Non-MCDOs Capt Chris Morrison (former MCM2 and COMMW) and Cdr Andrew Gordon-Lennox were present and it was also good to see Dixie Dean MBE (Chairman of the Minewarfare Association (MWA)) and former CD1 Brian 'Bill' Cornick. The weather was perfect as mourners arrived and mingled outside St Ann's to renew acquaintances.
We entered to the evocative strains of Elgar's 'Nimrod' and took our places before the entry of the casket, draped with a white ensign and surmounted with Tim's cap, sword and medals. The officiating chaplain was the Revd Colin Noyce RN who also happens to be the recently appointed chaplain to the Ton Class Association (TCA) following the sad demise of John Oliver OBE and his wife Margaret in February last year. After the Welcome & Introduction, Prayers of Penitence and a moment of quiet reflection, we sang the hymn Love Divine, All Loves Excelling. Tim's brother-in-law Tony then read Paul's First Letter to the Corinthians Chapter 13 (So now faith, hope, and love abide, these three; but the greatest of these is love.). Tim's grandsons Sam and Finn then read Tennyson's famous poem, Crossing the Bar.
Tim's brother Phil then delivered this moving tribute titled My Brother:
Tim Hildesley 1945 - 2016
The year was 1949. Tim and I were living with our parents in a remote village on the coast of East Africa in what was then Tanganyika (now (Tanzania}. I can vaguely remember it as being a very small collection of bungalows, isolated, with dirt roads, hot and humid climate for most of the year, with a District Commissioner (our father), a doctor and a few rather gin-sodden Europeans.
The one consolation I remember was that we were right on the coast and that the sea was readily available and warmly enticing. Tim and I spent most of our waking moments playing in the shallows, often with a large tree trunk and our small African friend whose name I recollect was Nmya. The locals did a lot of fishing and there was a small port, with a jetty and fishing boats coming in and out every day which we, as curious boys, took an interest in.
One day, I don't know how it happened, but Tim fell into the sea and disappeared beneath the jetty. One of the local fishermen dived in and managed to drag out a bedraggled and sobbing child who was instantly taken home to our mother. She, with typical practical maternal common sense, turned him upside down, shook him heartily to get any remaining sea water out of him (he swears that he swallowed at least a pint) and told him to stop crying. We all from then onwards say that this was why Tim, like the immortal Captain in HMS Pinafore, was never ever sick at sea! (Or hardly ever!)
We were not long in East Africa, but had to return to UK in the New Year of 1950 due to an unfortunate accident to our mother which led to both of us ending up as full time boarders at a Prep School in Surrey. A lot has been written and said about boarding schools and there are passionate feelings for and against. As someone who has spent all his career in boarding schools, it won't come as a surprise to you to hear me say that I am a huge advocate for good boarding schools. The school Tim and I finally ended up in was and still is a small, successful school between Stow-on-the-Wold and Chipping Norton called Kingham Hill and the important role that this place played on both our lives cannot be underestimated. It was founded by a wealthy Christian philanthropist and it was there that we learned about sound Christian values, ethics, principles; how to live with other people and respect them; leadership, discipline, the importance of learning; team playing through sporting activities and the importance of the community. Tim and I have always kept in touch with the school and firmly believe that our time there prepared us really well for the rigours of life and successfully launched us both ultimately into our future careers.
On leaving school Tim spent a couple of years at the North Gloucestershire Tech studying for an OND, but during that time he applied for and was accepted into the Navy. He went to the Royal Britannia Naval College at Dartmouth and there he went through all the rigours that that establishment could dream up as it processed young men for the role of future Naval Officers. I remember going down to Dartmouth with our mother to attend his passing out parade. We did not own a car in those days and so went by public transport. I don't remember the details of our journey there, but vividly remember the return journey. Having decanted Mother on to a train to take her back to Cheltenham, Tim introduced me to his pride and joy and latest acquisition. I am not sure whether it was an Austin or a Morris, but it was an ancient car even in those days. It was black, box-like, upright and it was all Tim's. He had no licence or insurance to drive this car and the car was barely fit for the road. Anyway Tim had bought it from a friend for a knock-down price and this was the way he wanted to get home. We set forth and he drove from Dartmouth to Cheltenham, the car coughing and spluttering up and down every hill and he coasting it through towns as silently as possible as the exhaust pipe was about to drop off and we did not want to attract the attention of the police force! We made it and then Tim quickly sold the car - probably very wisely.
Tim had a distinguished career in the Navy, all of which is well documented. He had postings all over the world: from the Far East to the Middle East, from the West Indies to Scotland and from Brussels to the USA. He was involved in the latter part of the Falklands War and also in the Gulf Wars. Diving was his speciality and he had a preference for small ships. If you have not seen them already, you can read the many tributes from those who served with him if you google his name [or see them appended to the entry for 10 May 16]. We thank you for the respect and affection you clearly had for Tim if you posted a tribute.
Jill entered his life before he was posted to the Far East for the second time. I seem to remember that she caught a bus for Hong Kong from Victoria Coach Station - as you did in those days! This broke down innumerable times before it reached the South Coast of England, but eventually got her to India after many hair-raising experiences and eventually to Tim in Hong Kong. There they were eventually married. Nikki was born in Portsmouth whilst Tim was settling into his new job in Charleston, South Carolina and Simon and Pippa followed on later. I remember that they bought their house in Drayton Lane just as my wife Sue and I were getting married and about to move to South Africa and that was in 1975. This has been their home for all those years and Tim managed to transform it, through his DIY expertise, into an important statement and into a family home.
He enjoyed designing things, making things and bringing his ideas into a creative whole. Not for him the easy way out and to bring in a little man to do the job. If you want a job done properly, you do it yourself - a good lesson he learnt at school. His house became a good solid family home in which he and Jill brought up all three of their children and in which he entertained family and friends and which was a safe haven for Jill and the family when he was at sea.
Tim was a consummate professional. He had always wanted to join the Navy and was thrilled when he eventually did. He had a natural aptitude for dealing with people, was totally focussed in all that he did and would never ask anyone to do something that he had not done first himself. He was fortunate in his postings abroad, particularly when he was sent to Barbados, which he and Jill fell in love with and to which they returned twice every year after retirement, the last time being November 2015. Wherever he went, he met people and made friends, so that when he decided to throw a party to celebrate his big birthday last September, it was no surprise that people travelled from far and wide to be with him on that very special occasion and nor was it a surprise that he made reference to every single person who was present in his speech.
He achieved a great deal in the Navy, but was always modest about his achievements, never flaunting the MBE, which he was awarded as a result of his exploits in the first Gulf War and then some years later, the OBE. But we all can take great pride in his achievements and the resulting awards. As in his professional life, so in his family life. He had clear values and principles and never deviated from the course that he set. Nikki, Simon and Pippa will testify that there were ground rules at home and that they had to be obeyed, but, having said that, he was no Captain von Trapp whose children responded to a whistle! He was firm but fair and justifiably proud of all three of his children - the way they developed and their achievements - and, of course, he adored his grandchildren.
Tim's untimely death has greatly saddened us all and most particularly his close family. His big operation seemed to have been successful and we were all optimistic about his future, but then everything went wrong. At least we know that he did not suffer in the end and he slipped away peacefully. Jill and the family wish to thank everyone for their expressions of sympathy - for the cards sent and messages of support and love that have come from far and wide and for your presence here today. Even Tim would have been lost for words!!
Tim's most recent Full Time Reserve Service colleague, Lt Cdr Phil Dickinson (whose office was next to mine at MWC Portsdown for the last five years of my own career), then provided this detailed account of Tim's naval career:
A short service history of Commander Tim Hildesley OBE RN
Tim joined the Royal Navy on the 20th September 1964 on a 10-year Supplementary List Commission.
He served as a Midshipman in HMS WILKIESTON which was taking part in the anti-insurgency in Indonesia, subsequently joined the World War II vintage destroyer HMS VERULAM, working out of Portland in which he gained his Watchkeeping and Ocean Navigation Certificates in 1966 and then spent seven months in HMS IVESTON working around Scotland and Northern Ireland.
In keeping with the times, he clearly made an early decision that diving was his main focus and undertook the Long Mine Clearance and Diving Course in 1968, following the successful completion of which, he was appointed to the TON class minesweeper HMS SHERATON in the Far East in early 1969.
Successive appointments to MCD training-related positions in HMS VERNON and an exchange in Charleston, South Carolina serving with the US Navy but which also included a period conducting Mine Clearance operations in the Suez Canal, came between 1970 to 1974 after which he undertook the Principal Warfare Officers' Course at HMS DRYAD. His PWO job took him to the Type 12 frigate HMS RHYL and then to Flag Officer Plymouth's staff in Devonport, during which time he was promoted to Lt Cdr.
Command of HMS BRINTON, initially the only minehunter in the Fishery Protection Squadron, but subsequently in the Mine Countermeasures Flotilla, was the result of that successful appointment, giving him the first of four ship commands, based in Rosyth. This Command also included a period in Command of the Squadron in the absence of the Senior Officer.
A very short spell in the aircraft carrier HMS HERMES preceded a tour as the XO of HMS BIRMINGHAM, which he described to me as three winters in succession as the ship pounded south to the Falkland Islands twice during the British summer.
The prize for a most successful Type 42 appointment was a period on the Staff of Commander-in-Chief Fleet, this time as Fleet MCD officer (FMCDO) but also including a period as an Acting Commander and overseas service as RNLO Cairo in Op HARLING, which earned him his MBE. In turn this resulted in a second Command, this time HMS DULVERTON, commencing in early 1985. This command lasted until mid -1986 when it was time to go to Greenwich for the RN Staff Course, which coincided with promotion to Commander. On completion, he was appointed in Command of MCM Squadron 4, and HMS ABDIEL, an appointment which included Operation CIMNEL, a Mine Clearance operation in the Arabian Gulf and a further deployment to the same area in due course.
More shore Service followed this busy time at sea as Head of the Mine Warfare, Diving, Demolition and Seamanship Faculty of SMOPS. As a sideline, Operation GRANBY took place during this appointment and Tim was an instant volunteer, running the Royal Navy cell in HQ British Forces Middle East Riyadh.
The pinnacle of his Sea Command was as COMSTANAVFORCHAN, a NATO Command with ships provided by other NATO members and Tim in HMS HURWORTH, from April 1992 to April 1993. He was described as distinguishing himself in this appointment, as a fine diplomat and an excellent leader. His reward was an OBE and a Staff job in MOD!
Following that he moved abroad in April 1996 to be the leader of the British Military Advisory and Training Team in the eastern Caribbean, based in Barbados, an island he and Jill grew to love and to which they returned many times. He finally left BMATT and the RN in October that year.
I met Tim in 2001 when he was most active in persuading me to move into the world of "personnel" and we served together for five years in Naval Recruiting, before he made a fine bid for freedom and moved to work for the EU Military staff in Brussels from which he retired from Service for a third time in 2009.
It has been my great privilege to work with him and count him as a firm friend.
Tim's son Simon then gave a witty and thought-provoking review of his dad's role in the family. This was followed with an address by Colin Noyce before we sang the hymn Lord of All Hopefulness. After more prayers, the Commendation and Farewell, popular naval entertainer and ex-GI Shep Woolley piped 'The Still'. A minute later, he piped 'The Carry On' and we sang the naval hymn Eternal Father. After the Grace, we left the church to the sound of Bach's Jesu, Joy of Man's Desiring.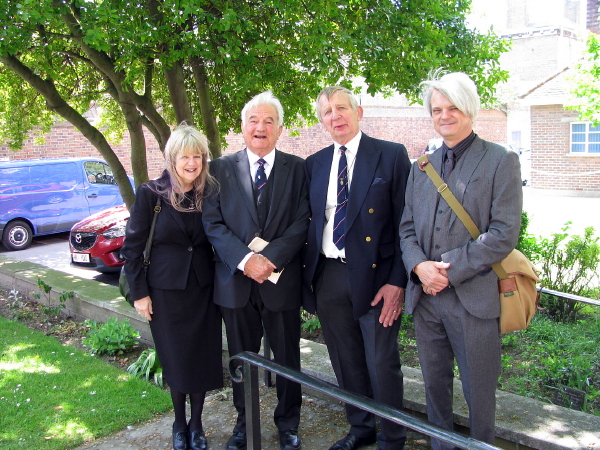 MCDOA members Dave Forsey and Ralph Mavin flanked by Dave's daughter Cathy and son Paul
Most of us re-grouped in the wardroom at HMS Nelson where we toasted Tim's memory and shared the odd story. Before leaving, I managed to capture this scene of Tim's wife Jill and her three grandsons with just a few of those present.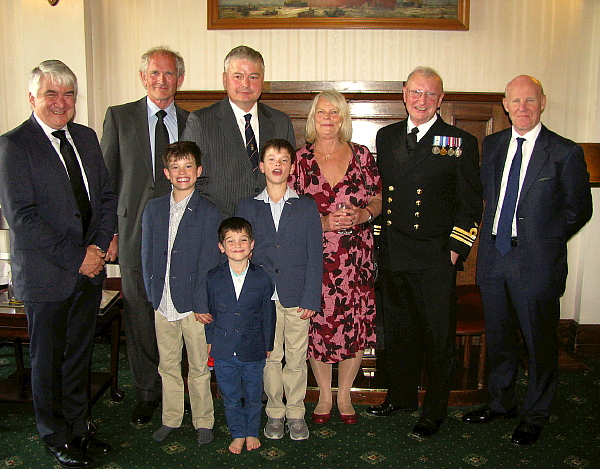 MCDOA members John Murphie, Steve Field, Kim Godfrey and Chris Ameye flanking
Jill Hildesley and Phil Dickinson (in uniform) plus grandsons
I am sure that all members of our community will join me in expressing our sincere condolences to Jill and Phil and their families and wish them well through this difficult time. If desired, donations in memory of Tim should be made to MSA (Multiple System Atrophy Trust) via Barrells Funeral Directors at 'Lawnswood', 245 Fratton Road, Portsmouth PO1 5PA or 380 London Road, Waterlooville, Hampshire PO7 7TA (Contact James Martindale on 023 9282 4831).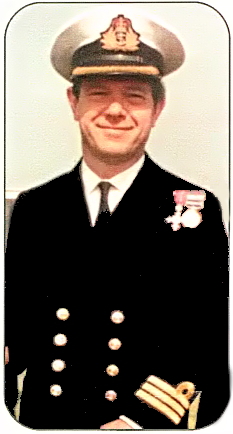 Cdr Timothy Ian Hildesley OBE RN
(29 Aug 1945 - 9 May 2016)
Postscript: Sadly, Cdr Chris Lightfoot, a PWO(N), died peacefully at home on the morning of 28 May only four days after attending Tim's funeral in a wheelchair. He had been diagnosed with Multiple System Atrophy (MSA), a terminal condition, a few years ago. Chris had served in HMS Shoulton 1976-77, HMS Abdiel in 1988 and was Commander Fishery Protection between 1996 and 1997. He left the Royal Navy as the Base Commander at Portsmouth in 2002.
---
24 May 16 - HMS Ramsey visits Dublin with SNMCMG1
The Royal Navy website contains this article describing the recent activities of HMS Ramsey (MCM1 Crew 7) with Standing NATO Mine Countermeasures Group 1 (SNMCMG1) including a port visit to Dublin where she hosted His Excellency the British Ambassador to Ireland, Dominick Chilcott. The article features MCDOA member Tim Davey, Commander First MCM Squadron (MCM1).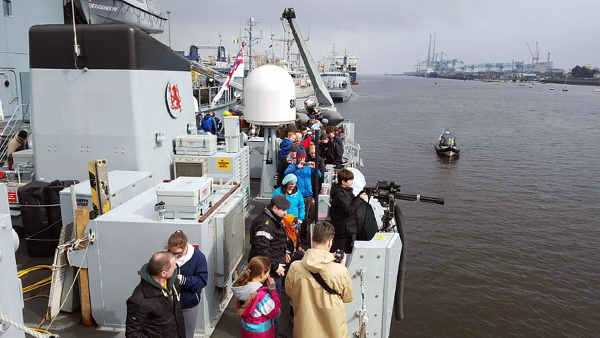 HMS Ramsey alongside in Dublin
(RN website photo)
Coincidentally, HMS Atherstone (MCM2 Crew 4) visited Dublin this month, too (see first entry for 13 May 16).
---
23 May 16 - Lest we forget
I am grateful to Robin Bennett, Honorary Secretary of the Royal Engineers Bomb Disposal Officers' Club (REBDOC) for drawing my attention to this important anniversary. The Malta War Diary website contains this entry for 23 May 1941, exactly 75 years ago today:
MINE EXPLODES WHILE BEING DEFUZED
Two Royal Navy Bomb & Mine Disposal officers were killed today when a mine they were working on exploded. Electrical Lieutenant Antony Gusterson Rogers, GM and Commissoned Boatswain Lord J H Sheldon, GM were trying to disarm the mine when it detonated, killing them both instantly. The Royal Navy team is responsible for dealing with all unexploded mines and have been under pressure in recent weeks with the large numbers dropped on land as well as in the two main harbours.
Boatswain Sheldon has been involved in bomb disposal in Malta since June 1940, when he volunteered to assist Royal Army Ordnance Corps officers following the first Italian attacks of the war. He was awarded the George Medal in September last year for his work. Since last month Boatswain Sheldon has been in charge of Naval ratings who assist in the uncovering and removal of parachute mines, and all unexploded bombs within Royal Navy premises.
Elect Lt Rogers was also awarded the George Medal in September last year while he was serving in mine disposal in London. Both officers have been recommended for a posthumous additional award for 'gallantry and undaunted devotion to duty' during their service in Malta.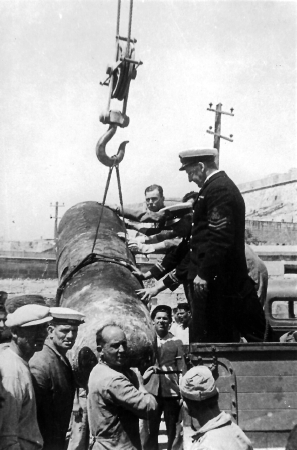 RN Bomb & Mine Disposal Team in Malta
(National War Museum Association, Malta)
Commissioned Boatswain Sheldon was gazetted on 14 January 1941 for the award of the George Medal (GM) "for gallantry and undaunted devotion to duty" during bomb & mine disposal operations in Malta on 7 September 1940. Following his death exactly 75 years ago, he was gazetted on 19 August 1941 for the award of a Mention in Despatch (MID), posthumously, "for gallantry and undaunted devotion to duty" during mine disposal operations in Malta.
Elect Lt Antony Rogers RNVR, originally attached to HMS Calliope (RNR Tyne Division), had received his training in rendering mines safe at HMS Vernon. He was gazetted on 20 December 1940 for the award of a MID "for courage, coolness and devotion to duty" during bomb & mine disposal operations. As the article above states, he was gazetted on 23 January 1941 for the award of the GM "for gallantry and undaunted devotion to duty" during mine disposal operations in London in September 1940 while attached to HMS Vernon. Following his death exactly 75 years ago, he was gazetted on 19 August 1941 for the award of a second MID, posthumously, "for gallantry and undaunted devotion to duty" during mine disposal operations in Malta.
Both officers were awarded MIDs on their deaths, instead of bars to their George Medals, because the GM could not be awarded posthumously until 1977.
---
22 May 16 - Geoff Goodwin victorious in Gosport Charity Pursuit
Hearty congratulations to MCDOA member Geoff Goodwin and his crew for winning the Gosport Charity Pursuit trophy on Saturday (see second entry for 16 May 16). His yacht 'Wizard' achieved 8th place in the race with a time of 3 hrs 33 mins but raised the most sponsorship and thus won overall.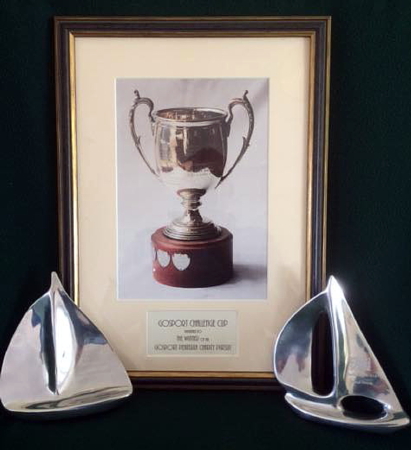 Geoff has provided this account of events:
"The Gosport Peninsular Charity Pursuit took place in the Solent on Saturday 21st May 2016. Twenty boats took part with the first start at 1000, which included Wizard with a crew comprising Phil Webb, Steve King and me. The weather was great for sailing but not so good for the suntan; wind was up to about 15 knots from South to Southwest with showers (but we had 21 knots while handing the light spinnaker). The course involved the start and finish off Gilkicker, out to the Nab and back to Browndown before the finish.
The Pursuit was followed by the prize giving, a Hog Roast BBQ, and live music from a local Samba Band (brilliant!) and the Stokes Bay Strummers (mmm?) at Hornet Services Sailing Club, attended by some 210 crew members, families, friends, organisers and sponsors. There were prizes for:
Best dressed yacht – sponsored by boatshed.com (sartorial elegance is never a strong suit for Wizard crews!)
Youngest average crew – sponsored by ASTO (no hope for us there then!)
Oldest average crew – sponsored by the Trafalgar Society (pipped at the post!)
Highest fundraiser – sponsored by The Fighting Cocks PH
First overall in the event – sponsored by You Boat
....and a surprise award for the boat that made the most "noise" on VHF.
The event raised approximately £4,600 for local charities.
Hornet boats featured strongly and three received awards: In the Pursuit (race?) the first yacht to finish, taking line honours, was Crazy Horse with a corrected time of 2:59:21. The yacht in first place with a corrected time of 2:57:11 was Isa Lei. Wizard won the prize for the most sponsorship raised which was £1,200+ to date. Taking account of: order of registration for the event (1st), the amount of sponsorship raised and position in the Pursuit (8th) the first overall prize went to Wizard.
Many, many thanks!!
Geoff Goodwin"
Geoff and his crew are raising funds for the erection of the Vernon Monument at Gunwharf Quays and you can still sponsor them on Virgin Moneygiving here:
Team Wizard's fundraising page
Please dig deep and don't forget to add the Gift Aid which boosts your contribution by 25%. The deadline for donations is Saturday 4 June.
---
21 May 16 - News from HMS Grimsby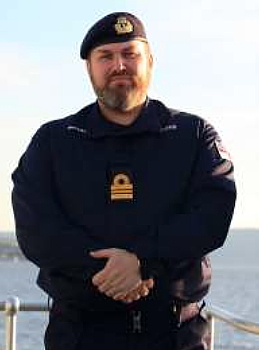 I am grateful to Lt Cdr Neil Griffiths, Commanding Officer of HMS Grimsby (MCM1 Crew 5), for this update received via the Ton Class Association ((TCA). I write a column titled 'MCMV News' for the Associaton's bi-monthly newsletter 'Ton Talk'.
"My last letter to you was six months ago and I felt an update appropriate, having returned from our successful deployment last year just prior to Christmas.
You may remember I wrote to you after having left the UK in early September last year and made our way through the North Sea to Hamburg to join the Standing NATO Mine Countermeasures Group One (SNMCMG1). This Group consisted of a flotilla of mine countermeasures vessels from eight different nations as part of NATO's rapid reaction force. Over the space of four months we took part in a number of multi-national exercises that took us all over Europe and into the Mediterranean.
On departing the Group at the beginning of December, the challenge was getting home through the same adverse weather we had been battling with throughout the entire deployment. This threatened to delay our return in time for Christmas. After pushing the Ship and the Crew hard through heavy weather, we finally arrived back in UK waters in mid-December.. However we were forced to seek refuge in Portsmouth and the decision was ultimately made to go dormant in HMNB Portsmouth rather than risk missing greatly deserved post-deployment leave and Christmas with our families. Unfortunately, this meant that HMS Grimsby was denied a homecoming celebration in Faslane, something that is already a rarity for the crews of mine countermeasures vessels.
Since our return from SNMCMG1, the Crew has been working hard to achieve a very tight schedule invóMng a maintenance period in Rosyth and general training for the Ship's Company. Looking forward, Crew 5 is now regenerating themselves and HMS Grimsby, in order to tackle the challenges of a full pre-deployment work-up This will prove our readiness for the forthcoming tasking to 'the Arabian Gulf as part of the Standing UK Mine Counter Measures commitment based in Bahrain. The crew will sadly leave HMS GRIMSBY in June and fly to the Gulf to take ownership of another of the Sandown Class, at which time Lt Cdr Will Blackett and his Crew will take the reins.
Regrettably we do not have a visit scheduled to Grimsby due to the constraints of our programme in the time we have left in her but I know the next crew are looking forward to visiting at some point soon. After having planned several visits earlier this year that ultimately had to be cancelled due to adverse weather, I am disappointed that I never got to show you your ship and her Crew. That said, if there are any opportunities in which myself or the Crew can support you and the team, please get in touch and we will do our utmost.
It has been an eventful and fulfilling tenure thus far and I thank you again for your continued support of HMS Grimsby, and I wish you all the best.
Yours aye,
Neil Griffiths"
---
19 May 16 - Dangerous Game: Spot the familiar faces
The Ton Class Association (TCA) has been licensed by the Imperial War Museums (IWM) to host the minewarfare documentary 'Dangerous Game' on its website. This 1976 film covers 60 years of dealing with the threat of mines, from the opening days of the First World War, right up to the aftermath of the 1973 Arab-Israeli conflict which closed the Suez Canal, plus a visit by HMS Bronington to London. Watch out for the Fleet Clearance Diving Team. Sir Bernard Miles, the veteran character actor who played CPO Hardy in 'In Which We Serve', provides the rather sombre voiceover.
I was on board HMS Bronington and HMS Lewiston for sea training with LMCDO '76 (all wearing orange foul weather jackets) when the film was shot. Bronington was day-running from Rosyth in the Firth of Forth and we appear in the minesweeping scenes on board her and Lewiston. The film accompanied the James Bond feature 'The Spy Who Loved Me' when it was released in 1977. It is remarkable for containing many familiar faces from the RN minewarfare & diving community, including those of HRH Prince Charles, later Rear Admiral Roy Clare CBE, later Rear Admiral James Rapp CB, former MCDO Jim Ringrose, former WO(D) Peter Still, former CPO(MW) Sam Cook and MCDOA members Bernie Bruen MBE DSC, Dave Ellis, Terry Iles, Chris Meatyard, Jim Hewitt (later RCN), Chris Thompson, Gerry Kelly (later RAN), Kjell Rein (RNoN) and me among others.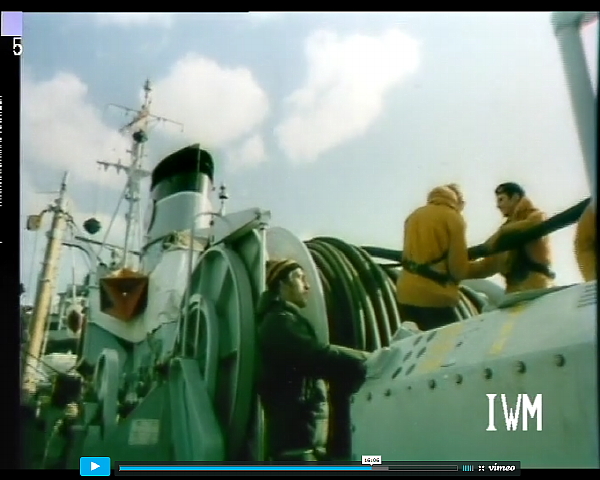 A beardless Yours Truly (top right) on board HMS Lewiston in 'Dangerous Game'
The film crew was led by André de Toth, a sinister-looking film director in the same mould as Ingmar Bergman, who wore an eye patch and a beret. He was accompanied by a harassed female PA with a clipboard and an oppressed cameraman. We had to dissuade de Toth from streaming him on an Oropesa float to capture a unique shot of the ship during sweeping operations. As class leader one day, I enjoyed a late lunch with the Prince of Wales in Bronington's wardroom and taught him how to make a 'chip butty'. He still remembered this episode several years later when we chatted at Clarence House.
The 20-minute film can be accessed and viewed via the TCA website here: Film – Dangerous Game
---
By Dixie Dean MBE, Chairman of the Minewarfare Association:
"Also having a starring role in Dangerous Game were CPO(MW) Dusty Miller (crossed the bar), PO(MW) Hollie Holdworth (starring as the Instructor on the Mining Deck at HMS Vernon), CPO(MW) Topsy Turner (starring as the Search Operator) and CPO(MW) Bob Mitchell (2nd Sonar operator) just to name a few. I gave Diane Miller a copy of the DVD when Dusty passed away. She was absolutely delighted and donated a bottle of pussers to the MW Association Raffle. Unfortunately Diane passed away recently so I hope Dusty's children now have the DVD."
---
18 May 16 - Gentlemen Who Lunch
The relentless quest for the perfect pub by the MCDOA's 'Not Quite the Last of the Summer Wine' trio of Barlow, Holloway and Hoole plus Hoole's mate Lez continues. Yesterday it was a return to the Woodmancote in West Sussex. We drank the Woodies real ale which was excellent, as was the food. The pub has been refurbished since our last inspection (see entry for 23 Jan 08 in News Archive 21) and its previous award of four and a quarter diving helmets/mines out of five on the MCDOA's Good Pub scale is now upgraded to four and a half.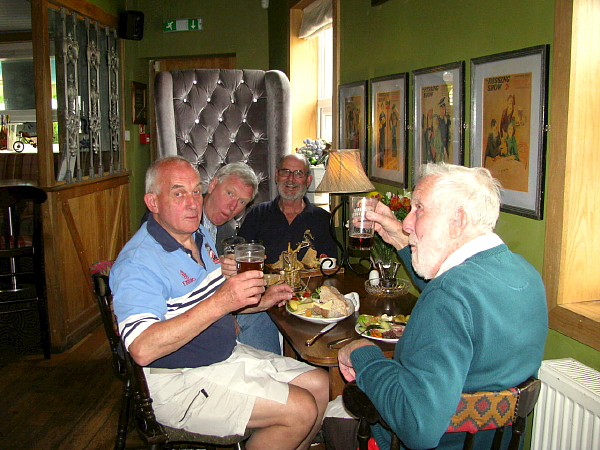 Barlow even found a friend (apart from the retired Crab he already knew who was celebrating his 91st birthday).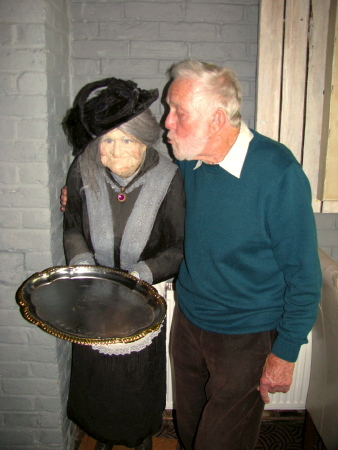 ---
17 May 16 - A gathering at Gunwharf Quays, formerly HMS Vernon
MCDOA member Dave Carey, Project Manager of the Vernon Monument, made a flying visit to Portsmouth yesterday before heading back to Dubai in the evening. He invited a few people for an al fresco lunch at the Old Customs House pub (formerly the Captain's offices in HMS Vernon) including fellow MCDOA members Martyn Holloway and Yours Truly (Rob Hoole). We were joined by Carrie Hands, a former WRNS and WRNR officer who specialised in NCS (Naval Control of Shipping) then NCAGS (Naval Co-operation and Guidance for Shipping) and spent a considerable amount of time at HMS Vernon during her career.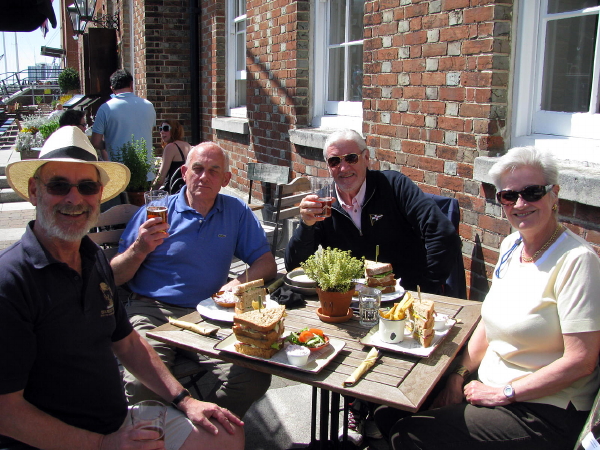 Left to right: Rob Hoole, Martyn Holloway, David Carey and Carrie Hands
As it was such a beautiful day, I took the opportunity to have a closer look at the old place. In the days of HMS Vernon, the top floor of The Old Customs House (No.58 Building) accommodated (left to right) the offices of the Captain, his PA, his Secretary, the Commander, the Commander's Assistant, the First Lt and the Training Commander. The ground floor accommodated the Typing Pool, the Main Signal Office, the Registry, the Base Engineering Officer, the Barrackmaster, the WRNS Unit Officer and the Civilian Administration Officer.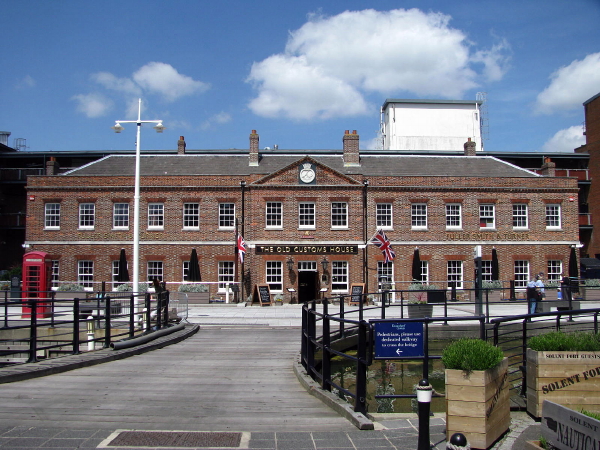 The Old Customs House pub, formerly the Administration Building in HMS Vernon
The Service Certificate Office was halfway up the stairs on the right in what is now the pub's toilets.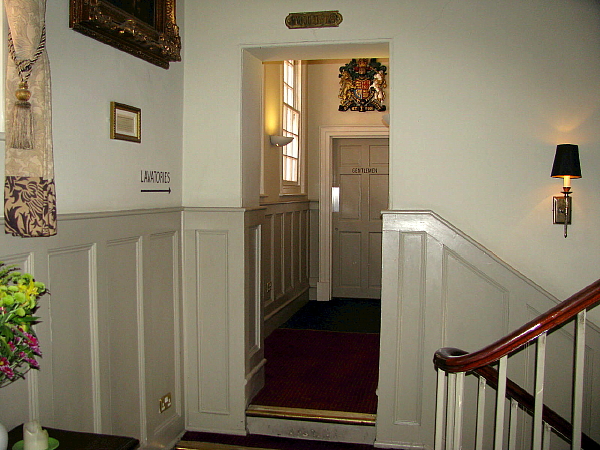 The former SC Office
The Commander's Office at the top of the stairs, in which many a recalcitrant sailor was 'weighed' off, is now one of the pub's many dining areas.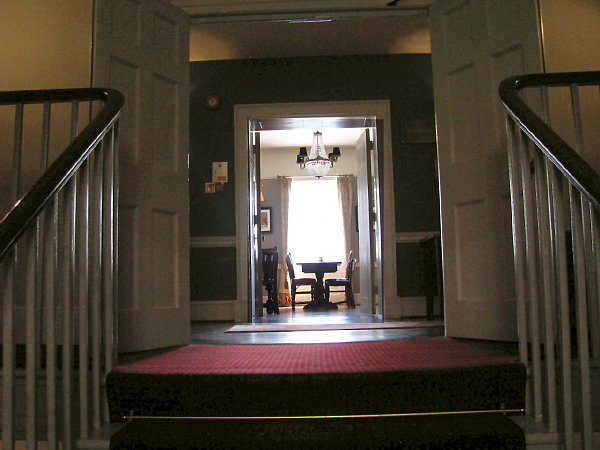 The former Commander's Office
English Heritage insisted that No.58 Building remained intact, including the room layout. It was built circa 1811 (around the same time as No.21 (Vulcan) Building) as Gunwharf's Storekeeper's Offices and may be the oldest purpose-built office building in the country. From my 'Bible':
"...A new storekeeper's offices building was constructed on the southern edge of Old Gunwharf, facing the bridge connecting both wharves. Officers and clerks now had an excellent view of their valuable guns and stores, and the loading and off-loading operations from hoys and wherries. From its modest size this is a grand building in a classical style with an elegant central pediment; it was also well-planned for its purpose. The Flemish brickwork has alternating red stretchers and dark kiln-burnt headers, typical of the new buildings at Gunwharf."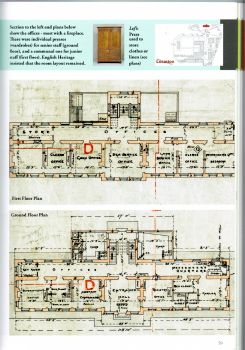 Gunwharf Storekeeper's Offices
(No.58 Building) circa 1811
In 1973, HMS Laleston used half the lock-keeper's cottage, at the head of Vernon Creek outside the main entrance to Creasy Centre, as her ship's office while she was in refit. The other half of the building accommodated the establishment's barber.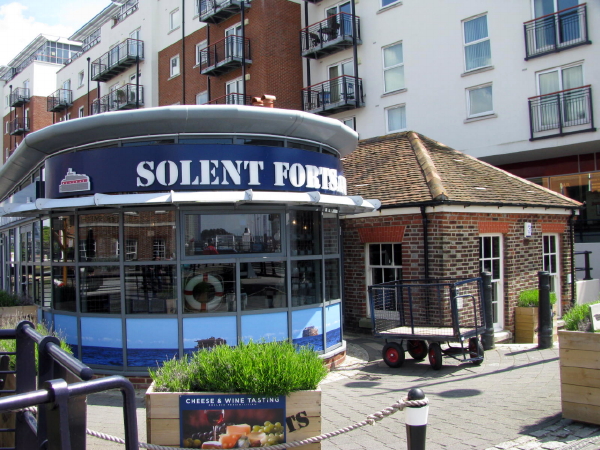 The photo below shows members of HMS Laleston's ship's company loading a trampoline aboard a van in front of the lock-keeper's cottage in early 1974 with a youthful 'Yours Truly' on the right. 'Lally', HMS Vernon's diving tender, was in DED and we were taking the trampoline to the ship's adopted Sunshine Home for Blind Children at Ogmore-by-Sea near the village of Laleston in the Vale of Glamorgan where we also did some redecorating. The faces of POMEM George Brewster and Gunner's Yeoman AB 'Zeb' Zirnis can be seen lifting the trampoline and that of LS 'Mac' MacSkimming on top of the van.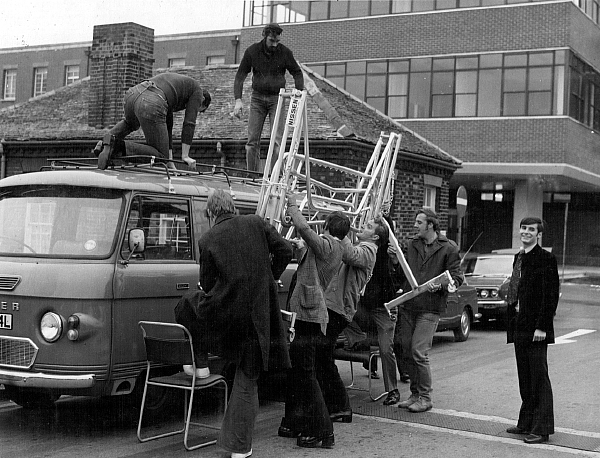 Loading a trampoline with the Lock-Keeper's Cottage and Creasy Centre in the background
(Yours Truly far right)
Other reminders of HMS Vernon remain, too, including the crane that stood beside Vernon Creek, a Mk 8 torpedo, an M Mk1 moored mine and the figurehead of HMS Marlborough near what was once Marlborough Pier.
Above: 'Vernon Creek' at Gunwharf Quays in 2016
Below: A similar view from the bridge of HMS Laleston in 1974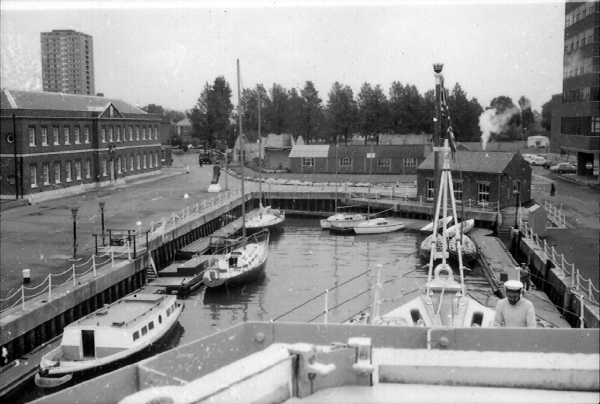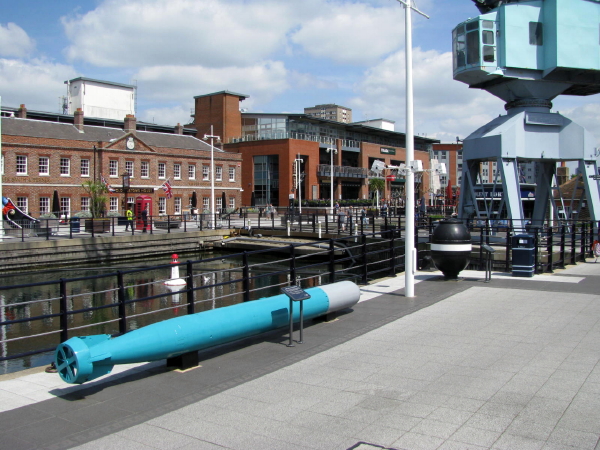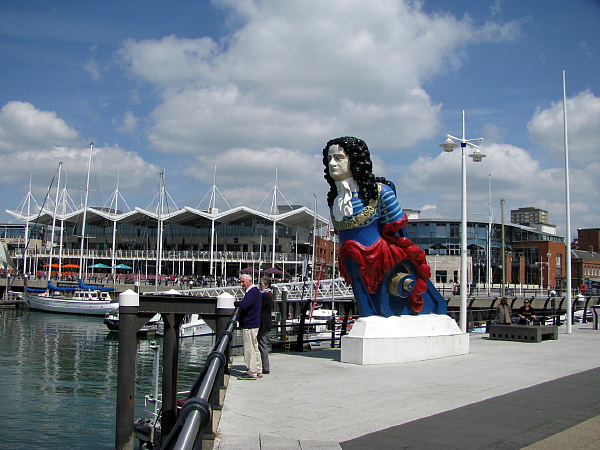 Gunwharf Quays has an annual footfall of eight million people. Won't the Vernon Monument be a marvellous addition?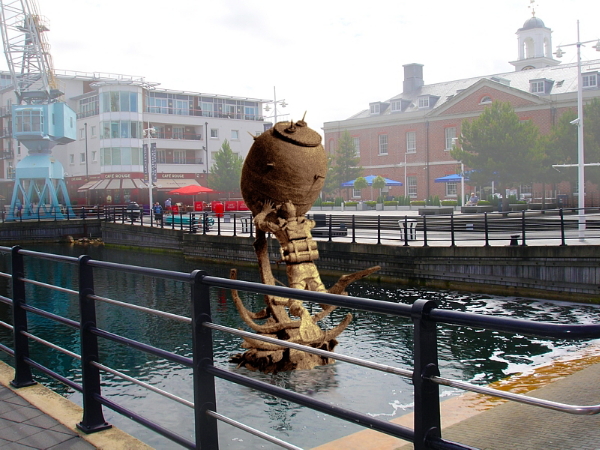 Artist's impression of the almost twice life-size 14-ton Vernon Monument
in situ at Gunwharf Quays
---
16 May 16
Arrangements for the funeral of Cdr Timothy Ian Hildesley OBE RN
I have received this announcement from Tim Hildesley's wife Jill:
"The service to celebrate Tim's life will take place on Tuesday, 24th May, at 11.30 am and will be held at St.Ann's Church in the Naval Base, Portsmouth.
If you would like to join us, please email me your names and car registration number in order to gain entry to the Dockyard; please email asap. Access is off the A3. Please follow signs for the Naval Base. We are planning to have drinks after the service at HMS Nelson wardroom from 1pm.
We would like to thank you for all the cards and flowers and emails you have sent through over the last week. It is so lovely to read the tributes.
If you have any funny anecdotes or memories of your time with Tim we would really like to hear them. Family flowers only. If you would like to make donations, Tim would have chosen the MSA Trust; details to follow,
Much love,
Jill, Nikki, Simon and Pippa"
Normal vehicle access to Portsmouth Naval Base is via Trafalgar Gate from the M275 (Directions). Photo ID (e.g. a driving license) is required for entry.
I am appending tributes to Tim to the entry for 10 May 16 as I receive them.
---
Sponsor Geoff Goodwin in his race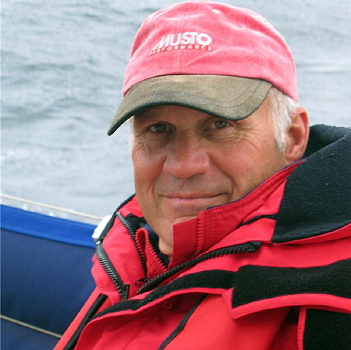 MCDOA member Geoff Goodwin is raising funds for the erection of the Vernon Monument at Gunwharf Quays while racing in the Gosport Peninsula Charity Pursuit in his Contessa 32 yacht 'Wizard' on Saturday 21 May.
Geoff is the former OIC of the Joint Services Adventurous Sail Training Centre and current Vice Commodore of Hornet Services Sailing Club which also occupies the former MTB base (HMS Hornet) in Haslar Creek opposite Gunwharf Quays (previously HMS Vernon) in Portsmouth Harbour.

Sponsor Geoff and his crew on Virgin Moneygiving here:
Team Wizard's fundraising page
Please dig deep and don't forget to add the Gift Aid which boosts your contribution by 25%. The deadline for donations is Saturday 4 June.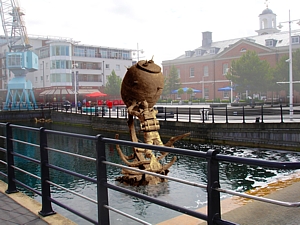 Artist's impression of the Vernon Monument
in situ at Gunwharf Quays
During the Second World War, HMS Vernon was the alma mater of naval personnel awarded 23 George Crosses and at least 134 George Medals (including 16 bars) for bomb & mine disposal (including minesweeping) on land and at sea. Countless British Empire Medals, Distinguished Service Medals, Mentions in Despatches and King's Commendations for Bravery were awarded to personnel associated with HMS Vernon for naval minelaying, minesweeping, diving and bomb & mine disposal while hundreds of other personnel were appointed OBEs and MBEs in the military lists. Many of the awards were posthumous because several personnel were killed or seriously injured while serving in these roles. If we don't do anything to remember them, I doubt anyone else will.
Since the Second World War, personnel associated with HMS Vernon, its ships and diving teams have been awarded at least one Distinguished Service Order, 10 Distinguished Service Crosses, 69 British Empire Medals (including one bar), 14 Queen's Gallantry Medals and 35 Queen's Commendations for Bravery among other honours and awards for gallantry, in naval minewarfare, diving and EOD operations from the waters of the North Sea, Mediterranean, South Atlantic, Arabian Gulf, South China Sea and the Gilbert & Ellis Islands to the badlands of Iraq and Afghanistan.
No single public monument or memorial exists to celebrate these individuals or commemorate the minewarfare, diving and EOD heritage of HMS Vernon. The Vernon Monument, designed by world renowned Australian sculptor Les Johnson FRBS and chosen by an all-ranks committee of serving and retired minewarfare & diving personnel after an exhaustive and transparent competitive process, will be a fitting tribute to these and future heroes in our community. Unlike some organisations who falsely claim to be charities, it is registered with the Charities Commission: 1128677 - THE VERNON MINE WARFARE AND DIVING MONUMENT. Let's give it all the support it deserves, and then some. For example, we only need the cost of 20 or so limited edition diving watches to reach our target and secure our people (past, present and future) the lasting public recognition they deserve.
---
15 May 16 - HMS Pembroke in Exercise BALTIC FORTRESS 16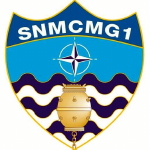 HMS Pembroke (MCM1 Crew 1) joined Standing NATO Mine Countermeasures Group 1 (SNMCMG1) in April and recently visited Riga in Latvia (see second entry for 6 May 16). Most recently, the Group has participated in Exercise BALTIC FORTRESS 16.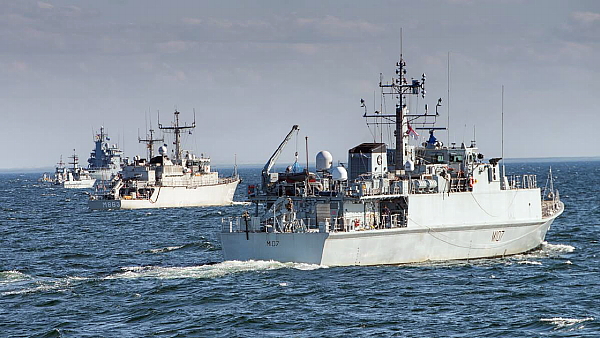 HMS Pembroke with other ships of SNMCMG1 during Exercise BALTIC FORTRESS 16
(SNMCMG1 photo by WO Artigues, French Air Force)
---
14 May 16 - MCMVs to be refitted in Portsmouth ship hall
The Forces TV website contains this article, including a video featuring Capt Phil Milburn RN (Captain Mine Warfare & Patrol Vessels, Diving and Fishery Protection (CMFP)), announcing that the old BAe Systems ship hall in Portsmouth Naval Base is to be used for refitting MCMVs undercover.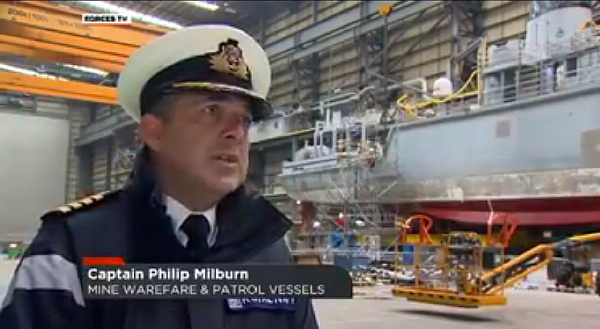 The ship hall was last used to build blocks of the Queen Elizabeth class carriers for assembly at Rosyth. It now houses HMS Brocklesby (MCM2 Crew 7) which is undergoing a major overhaul and modification.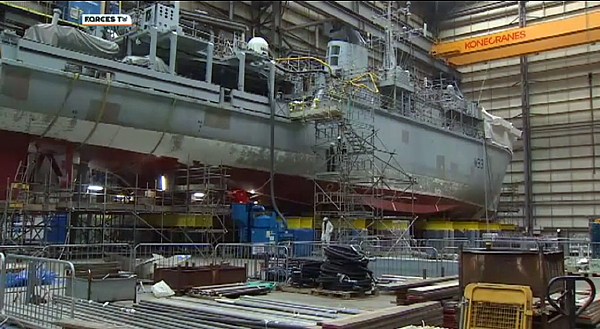 ---
13 May 16
HMS Atherstone visiting Dublin
The Coast Monkey website contains this article announcing that HMS Atherstone (MCM2 Crew 4) is visiting Dublin today.
---
Diving training at Horsea
The Portsmouth News contains this article describing a day of training at the Defence Diving School (DDS) on Horsea Island. The article features MCDOA member Mick Beale and LS(D) Luke Palmer.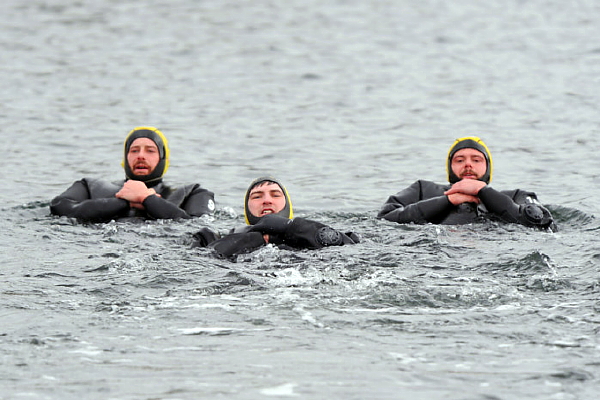 Defence correspondent Tom Cotterill (centre) flanked by AB 2s Andrew Gibson and Fraser Malek
(Portsmouth News photo by Sarah Standing)
Postscript: Thanks Mick (and Nelly and Donkey among others) for making my son Gareth feel so welcome when you bumped into him at the Apsley during your leaving run last Friday.
---
12 May 16
HMS Middleton hosts Japanese Admiral in the Gulf
The Combined Maritime Forces website contains this article describing how HMS Middleton (MCM2 Crew 2) worked with the Japanese Maritime Self Defence Force Uraga class minesweeper tender JS Uraga and the Hirashima class coastal minesweeper JS Takashima in the Gulf during the recent International Mine Countermeasures Exercise (IMCMEX 2016). She also hosted Rear Admiral Hideki Yuasa (Commander of the Japanese Mine Warfare Force) and Captain Toshihiro Takaiwa (Commander of Mine Sweeper Division 51).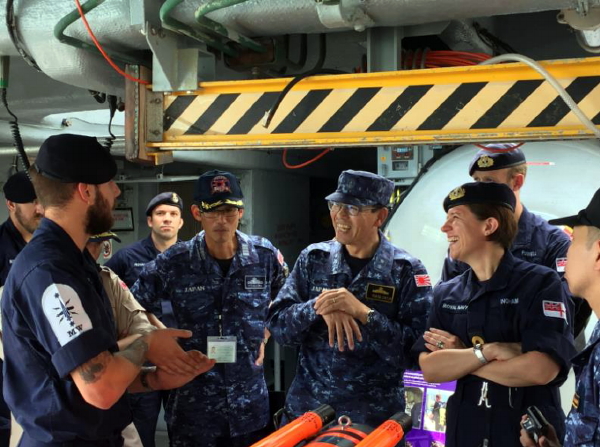 Rear Admiral Hideki Yuasa, Commander of the Japanese Mine Warfare Force,
receives a brief on the Seafox mine disposal vehicle on board HMS Middleton
(Photo: Combined Maritime Forces)
Postscript: The Royal Navy website published this article on 16 May covering the same story.
---
HMS Quorn to exercise Freedom of Melton
The Melton Times website contains this article announcing that the ship's company of HMS Quorn (MCM2 Crew 1) will exercise its right to march through Melton Mowbray in Leicestershire 'with bayonets fixed, drums beating, and colours flying' on Wednesday 1 June. This will be the first occasion since the ship was granted the Freedom of the Borough in 2006.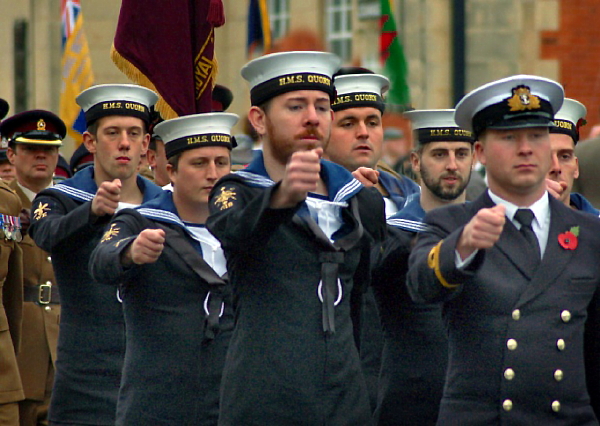 HMS Quorn's ship's company in Melton's annual Remembrance Sunday parade last year
---
11 May 16
SDU2 detonates practice bomb found at Aldbrough
The Hull Daily Mail website contains this article, including video, describing the disposal of a "28 lb practice bomb" (actually a Mk 76 Mod 5 25 lb practice bomb containing a pyrotechnic flare) found by some dogwalkers on the beach at Aldbrough in Yorkshire on Sunday. The bomb was removed and detonated yesterday on the beach at Mappleton, presumably by members of Portsmouth-based Southern Diving Unit 2 (SDU2).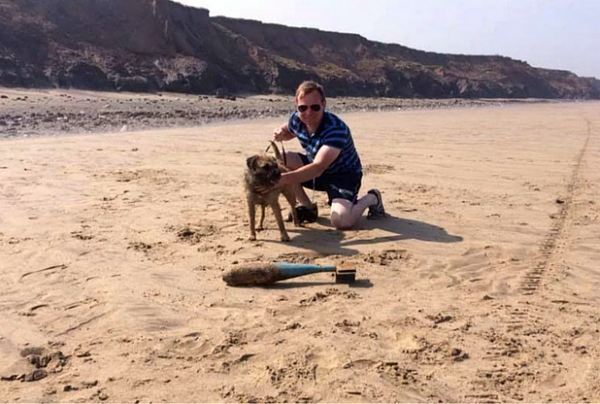 This ordnance appears to be from a buried cache exposed by the elements a few years ago:
Mail Online 23 July 2012: Holiday beach cordoned off after landslip sends more than a THOUSAND Second World War bombs and rockets tumbling onto the sands
---
Gentlemen Who Lunch
Continuing the MCDOA website's occasional Good Pub Guide, its 'Not Quite the Last of the Summer Wine' trio of Barlow, Holloway and Hoole, aided and abetted by Hoole's old mate Lez Howard, lunched at The Shoe in the pretty village of Exton in the Meon Valley yesterday.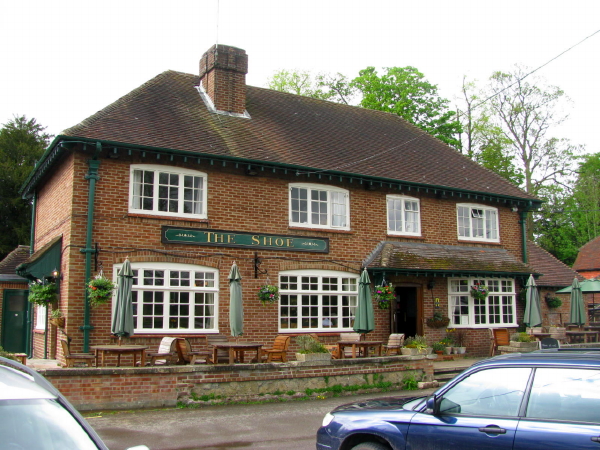 This gastropub has a pleasant beer garden set next to the River Meon just across the road but the weather was not conducive to using it on the day of our visit.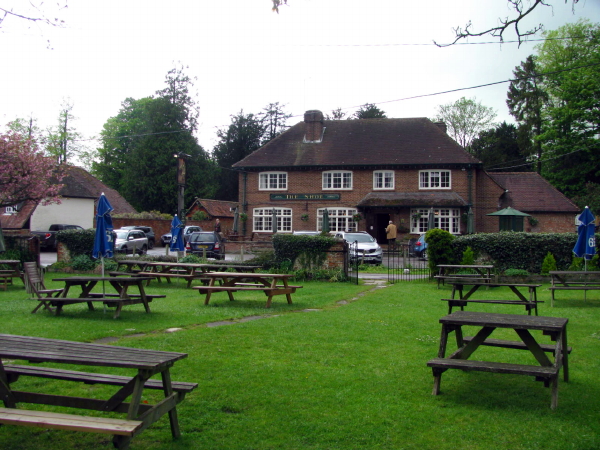 On entering the pub, the first thing that meets the eye is an attractive display of bread products, baked on the premises, beside the long bar.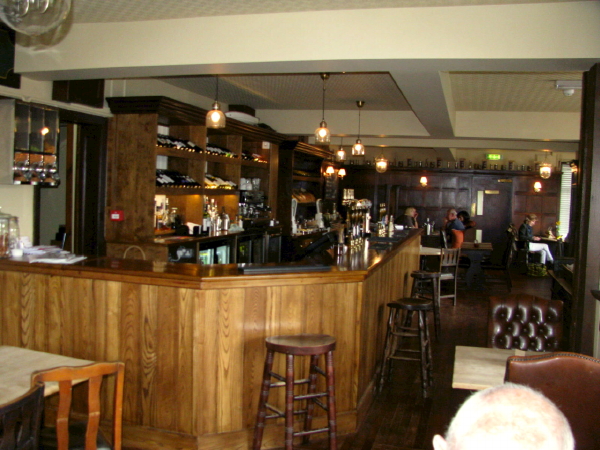 We sat inside in hospitable surroundings and chose to drink the Wadworth rum-infused Swordfish ale (5% ABV) which proved highly satisfying. The menu was highly imaginative and Barlow and Holloway chose the rich home-made tomato, lentil and basil soup with crusty bread while Howard and Hoole had home-baked seeded baguettes, well-filled with ham and piccalilli accompanied by a generous salad garnish.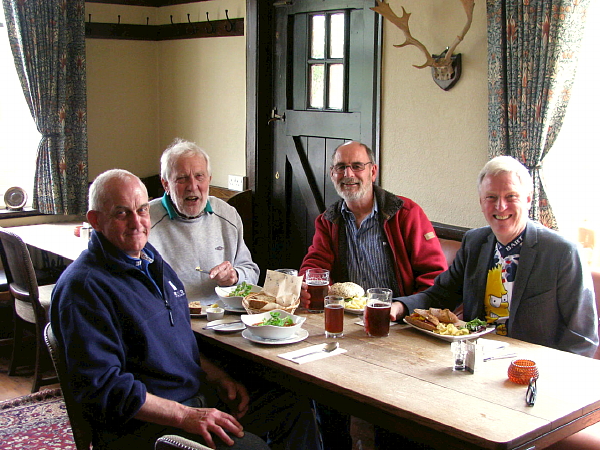 The Shoe has a good range of real ales, tasty food, courteous and efficient staff, attractive decor and pleasant ambience. All this means a well-deserved award of five out of five mines (or diving helmets).
On our way home, we decided to pop into the Thomas Lord in West Meon which had been our original destination anyway had we not taken a wrong turning.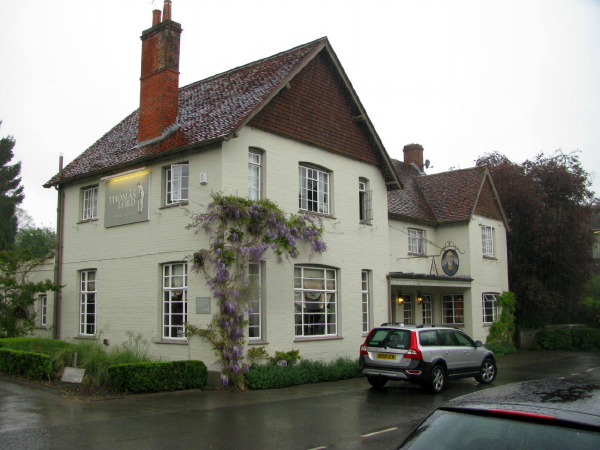 We enjoyed our pints of Bishop's Tipple and cups of coffee while sitiing in easy chairs by the unlit fire.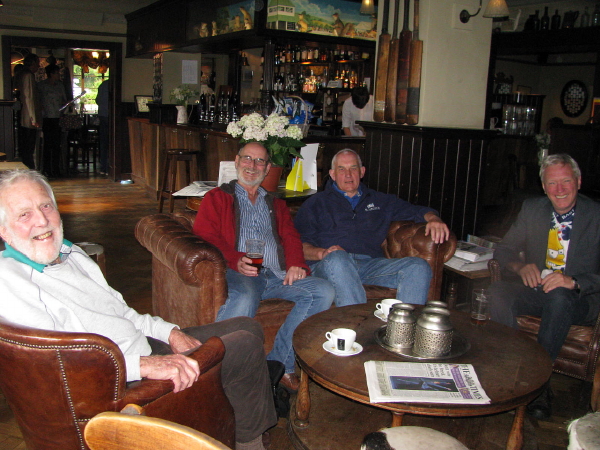 The pub was comfortable enough but seemed somewhat gloomy compared to The Shoe. Perhaps it was the effect of the rain outside.
I won't pass further judgement as we didn't sample the food or stay long enough to be able to make a fair decision. However, the beer was certainly good.
---
10 May 16
Death of Cdr Timothy Ian Hildesley OBE RN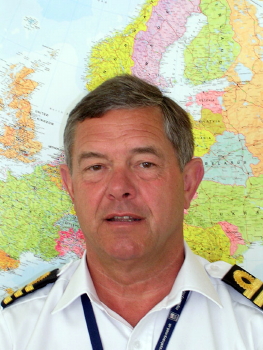 Cdr Tim Hildesley OBE RN
I regret to report that MCDOA member Tim Hildesley passed away yesterday after a combination of cancer and strokes. No further information is available at the moment but I am sure that everyone will join me in extending our sincere condolences to his wife Jill and their family. I have spoken with Jill and offered any help possible.
Tim was educated at Kingham Hill School near Chipping Norton in Oxfordshire between 1956 and 1962 and joined the Royal Navy as a cadet at Dartmouth in 1964. After passing out, he served in ships in the Far East during the Indonesian Confrontation. During his full and varied naval career, he served in HMS Wilkieston, HMS Verulam, HMS Iveston, HMS Sheraton, HMS Vernon as MWTO, on exchange in the USA, HMS Rhyl, as SMCDO and OIC of Flag Officer Plymouth's Clearance Diving Team, as CO of HMS Brinton, XO of HMS Birmingham, as Fleet MCDO, as CO of HMS Dulverton, as Commander Fourth MCM Squadron, as Training Commander at HMS Vernon, as NATO's Commander Standing Naval Force Channel (COMSTANAVFORCHAN) in HMS Cattistock and HMS Hurworth, as Cdr of Vernon Site (post-HMS Vernon), in DOR(Sea) at the Ministry of Defence and as Head of the British Military Advisory and Training Team in Barbados. When I helped host members of the Algerines Association at HMS Vernon circa 1990, he was the only member of our staff who had served in this class of minesweeper (as a midshipman) although I can't remember which one.
Overall, he was involved in the Suez Canal mine clearance in 1972, the Falklands War in 1982, the Red Sea mine clearance in 1984, the Iran/Iraq Tanker War mine clearance in 1987 and the first Gulf War in 1991 as well as more routine periods patrolling off the UK coast clearing Second World War explosives and countering illegal fishing, drugs and arms smuggling. After completing his 'active' service career in 1999, he was a Reservist for three years and worked for the Navy as a Civil Servant for six years in the Directorate of Naval Recruiting.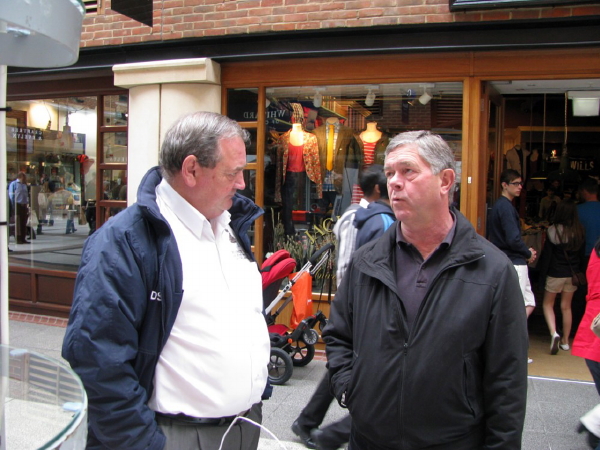 David Sandiford, MCDOA co-founding Chairman and former Superintendent of Diving, chatting
with Tim Hildesley at a Project Vernon promotion in Gunwharf Quays in April 2012
Tim was appointed an MBE in June 1985 for liaison services with the Egyptian Navy during the Suez Canal clearance (Operation RHEOSTAT) and an OBE in the 1994 New Year Honours for his work as COMSTANAVFORCHAN.
---
From MCDOA member Chris Thompson:
"Rob,
I am currently touring France for a month or so, and in the middle of nowhere just bumped into a Jeff (Geoff?) McFarlane and his wife Anne - an ex-submariner who told me of Tim Hildesley's death from cancer in May. This is devastating news and just goes to show how infrequently I look at the MCDOA web pages.
Amongst other memories, we were COs together for our four Hunt deployment to the States in 1985 with John Rayner and Dave Sandiford - a truly memorable event with very many happy remenices. It is sad that I hadn't kept up to date as I would have wished to attend the funeral and record my sad condolences.
I suppose we are all approaching our autumn years, but winter should still be a long way off, and it is a cruel act of fate that took Tim so early.
All the very best from both Tricia and myself,
Chris
---
From MCDOA member Peter Waddington:
"Rob,
Having been away sailing in the Med and on the West Coast of Scotland for a number of weeks, and thus divorced from the internet et al, I just today thought to catch up with the MCDOA website, and was shocked to read of Tim's untimely death.
Our paths seldom crossed in subsequent years, except at the occasional social event, but I was his Course Officer for the 1968 LMCDO Course. He was a stalwart member of the course, as thoroughly reflected in his subsequent career; even then renowned for his boundless energy and mischievous sense of humour. I seem to remember him and John Rayner being dubbed by the others as 'the terrible twins'. The fact that I pictured him then and on more recent encounters as one of those few who remained eternally youthful makes his passing seem doubly poignant.
In 1968, I was present at an informal party on board HMS Laleston in Falmouth with the late 'Dutchy' Holland and Tim's fellow course members. This was the evening when I believe he first met Jill, and if you can let me have an address, I should like to write to her.
Regards,
Peter
---
From MCDOA member Bill 'Chippy' Norton:
"Rob,
I was shocked to hear about Tim Hildesley. He looked so hale and hearty when last I saw him earlier in the year. We both worked together under Alan 'Shiner' Wright MBE and Karl Lees in the Diving training section at HMS Vernon when I was Deepwater D.O. circa 1969/70 but our paths had not crossed much since. Great guy.
We phoned Jill before we left for Spain, and gave our condolences on her sad loss, but will not be able to attend the memorial Service. Please give our apologies.
Yours Aye,
Bill"
---
From former WO(D) Ray Ramsay:
"Hi Rob,
I had the honour of knowing Tim, over the years our paths crossed many times. A splendid man and officer.
Unfortunately I will not be able to attend his funeral. I would be obliged if you would pass my condolences to his family.
Regards,
Ray"
---
From MCDOA member Stu Harper:
"Rob,
Such very sad news.
Tim was a cornerstone of the Branch, the Association and was a good friend and mentor to so many of us. I for one will miss his tremendous enthusiasm for all things M C and D and his wonderful sense of humour and joie de vivre.
Our thoughts are with Jill and the family.
Stu"
---
From MCDOA member Kim Godfrey:
"Rob,
It is with great sadness that I heard the news. Cdr Tim has been a stalwart of our close community and I particularly remember his continual humour and leadership in the Tanker war of '87. Throughout my MCDO career he was always 'there' so he will be sorely missed.
To paraphrase someone else: "We won't cry because you are leaving, we smile because you were there"
Best regards,
Kim Godfrey
---
From MCDOA member Dave Forsey MBE:
"A dear friend. We had planned to attend the 2018 MCDOA Dinner to celebrate the 50th anniversary of our LMCDO Course but, alas, not to be. Devastated.
"
---
From MCDOA member Dougie MacDonald:
"Hello Rob,
Colin [Welborn] told me that Tim was not faring too well only a few weeks ago; so very sad that he has gone. A gentleman and an excellent mentor. I have a lot to thank him for. Not least for the art of the almost painless .ollocking be it for spelling his name incorrectly or being adrift in taking up your command. I echo the comments about sense of humour and mischievous grin.
Thoughts with his wife and family.
Best,
Dougie
---
From MCDOA member Martin Woolley:
"Rob,
Yesterday I was enjoying a call from my home in the USA to a UK based MW friend from my time in Command of HMS Hubberston and was truly stunned when I learnt the devastating news of Tim's death. This is a tragic loss of an incredibly kind, cheerful and outstandingly supporting man.
I first met Tim when I was a Midshipman on board HMS Birmingham in 1982 during a nine-month deployment to the Falklands. As XO of "the Brum", Tim was both a friend and kind mentor who put me onto the MCDO career path and thereafter offered kind, worldly and sage advice throughout my career. He was an outstanding man, a friend to all he met, and an outstandingly professional Naval Officer who will be greatly missed.
Please pass on my sincere condolences to Jill and the family. May he rest in peace.
Kind regards,
Martin Woolley"
---
From MCDOA member Julian Malec:
"Dear Rob,
Tim richly deserves the many plaudits given to him for his illustrious active service career. He and I were near contemporaries in the MCD world, but we hardly ever met until he joined the Directorate of Naval Recruiting as a Civil Servant in December 1999. We then worked together until I retired in January 2006. In those years in DNR we became good friends. He ran the support function of DNR, looking after both people and things, and he was fantastically good at it. He was unflappable, quiet and firm and, with him, everyone knew where they stood. Together we spent many lunchtimes walking round Gunwharf deep in conversation.
After we both retired we met occasionally with other DNR staff for fish and chips at Mother Kelly's or at the Eastney Tavern. He was extremely good company. Last September Margy and I were deeply privileged to be invited to his 70th birthday party in HMS Nelson. This was a a really great and happy occasion where Tim and Jill had gathered together family and friends from throughout his life. We had no inkling at all then that he would be taken away so soon. Earlier this year I visited him in QA and Jon Riches and I went to see them both at home soon after his first operation. He had suffered much after the twelve hours in theatre, but when we met he was upbeat, and facing the difficulties ahead with great courage. His quick decline was a terrible blow.
I am much saddened at the loss of such a fine man and good friend. My thoughts are with Jill, and Nikki, and Pippa and Simon and the grandchildren. RIP.
Yours ever,
Julian Malec"
---
From MCDOA member Steve Gobey:
"Rob,
Very sad news indeed. Tim was the Boss when four Hunts and the ageing ABDIEL set off into the unknown for the 'Tanker War' / Operation CIMNEL in 1987 but we were in good hands with a professional and good humoured leader at the helm. l remember him saying, "We'll be alright as long as we have plenty of cold white wine." He was right!
RIP Tim. My sincere condolences to the family.
Steve"
---
From MCDOA President Paddy McAlpine CBE:
"Very sad news. An excellent officer, very welcoming senior member of the Branch during my early days and great mentor of junior MCDOs. One of those all round nice guys.
May he now rest in peace."
---
From MCDOA past-President Colin Welborn:
"Dear Rob,
Personally devastated. Tim was my Boss and then with Jill and Jo great, great friends. They showed us Barbados!
There is no justice. None of us will see a greater man walk by.
Regards,
Colin"
---
From MCDOA founding Chairman David Sandiford:
"Very sad news indeed. I served with Tim on several of occasions the best being driving our Hunts together. He was also a good supporter of the Vernon Monument Project.
A good chum and a giver of sound advice. Our thoughts are with Jill and the family."
---
From MCDOA former Chairman Chris Ameye:
"Rob,
Yesterday our community lost one of its finest Officers. Tim was an outstanding professional, a true Gentleman and a friend and mentor to many; he will be terribly missed. Our thoughts are with Jill and family at this very sad time.
Hope you & family are all well.
As ever,
Chris"
---
From MCDOA fomer Chairman Paul Jones:
"Wow! That's sad - he seemed a permanent feature throughout my junior MCM time and often seen and talked about in latter years."
---
From former WO(MW) Dixie Dean MBE, Chairman of the Minewarfare Association:
"Very sad news. He was my boss as the Commander 4th MCM Squadron in Rosyth and when we deployed to the Gulf in 1987 on OP CIMNEL. Then again when he was the Training Commander in Gunwharf Site (SMOPS).
A very nice man and a very good officer who mentored many a HUNT CO and young MCDs alike. I enjoyed working for him on all occasions.
RIP, calm seas and fair winds on the other side."
---
From MCDOA member Mike Kooner MBE:
"Hello Rob,
So sad to hear of the death of Tim. It is far too soon.
I remember that fundraising day at Gunwharf and was out of shot during that particular photograph. It was probably the last time I met up with Tim and had no idea he was unwell. We served together in the Gulf during the tanker war and rehearsals for what was to follow.
Please pass on Joan's and my condolences to his family.
Best wishes,
Mike"
---
From MCDOA former Vice Chairman Jon Riches:
"Rob,
What very sad news and another stalwart of the Branch passes on. Tim and I have been chums for many years and one of the highlights of last year was when my wife and I were invited to his 70th birthday party in HMS Nelson Wardroom where we celebrated this milestone surrounded by all his family. A memorable and wonderful evening and a privilege to be there. Tim was his normal warm hearted and generous self.
He had a full career and was deservedly decorated for his support to the Clearance Divers and Minehunters during the Suez Canal Clearance in the 1970s. A very professional officer who made a success of all his appointments. In his early married life he served in Hong Kong and he also had a very successful exchange appointment in Barbados which he not only thoroughly enjoyed and made many friends but was held in high esteem by the local defence forces.
He was a good friend and will be sorely missed. He was devoted to his family who have lost a very much loved husband, father and Grandfather.
My wife and I send our deepest sympathy to Jill and family.
With great sadness,
Jon"
---
From MCDOA member Jim Nisbet:
"Can confirm that Tim passed away yesterday, Monday 9th May at 4.30pm. He introduced me to the MCM business when he was XO of HMS Birmingham and I was at Art College! He then inspired me to try for MCD.
Thoughts with Jill and his children."
---
From MCDOA member Ian Geraghty:
"I remember the day in the photo well. Very sad news."
---
From MCDOA member David Bence:
"Sad indeed."
---
From MCDOA member Nick Stanley:
"Sorry to hear this - a good man."
---
From MCDOA member Richard Hill:
"Such sad news. Tim helped me a lot in my early years in Rosyth.
RIP."
---
From MCDOA member Bob Hawkins MBE:
"Devastating news - very sad.
Tim was one of many impressive MCDOs I met soon after qualifying on LMCDO 1982. Many years later I followed in his footsteps to be the Brit Minewarfare PEP Officer embedded in the USN - Tim was the very first PEP to work with their Minewarfare Command, in 1971, and started the tradition of the Brit MCM PEP being deployed on Ops - in Tim Hildesley's case the post-Vietnam War mine clearance in the Gulf of Tonkin.
RIP Tim - we'll miss you, your professionalism and your superb sense of humour."
---
From MCDOA member Chris Tarmey:
"Add to his CV: Boss 1 of the Plymouth Clearance Diving Team. And what a terrific Boss and friend he was to me when I joined the Team as Boss 2 in 1978 or 79.
One of the world's really nice guys and I am so sad to hear that he has died."
---
From MCDOA member Geoff Goodwin:
"Rob,
Very sorry to hear that. He was always so cheerful and positive. Always saw the funny side. Treated everyone as an equal.
I would like any further information as you get it
Thanks,
Geoff"
---
Funeral of Lt Bernard Rollin Upton MBE RNVR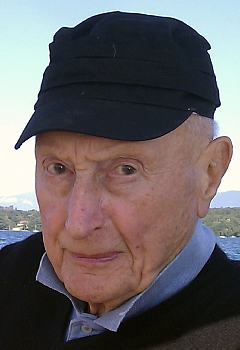 Lt Bernard Upton MBE RNVR
(11 Jul 1919 - 22 April 2016)
I am grateful to MCDOA member Neil Marriott for this account of the funeral of Bernard Upton (see entry for 2 May 16):
"Rob,
Some words following the passing of Lt Bernard Upton (Rtd).
I had the privilege of attending the funeral of Lt Bernard Upton RNVR (Ret'd) (1919-2016) in Janvry, 40km SW of Paris, on 27 Apr 16. He served as a Naval Officer during WWII and survived the sinking of HMS CROMARTY, which hit a mine on 23 Oct 1943; below is his personal account (witness statement) of the event. Married to a French lady after his short military career he has an extensive family on both sides of the channel, with home for some being in Paris and Janvry, where his nephew-in-law is Mayor. Lt Upton spent many years in France and Paris.
The service was a very private affair on a sunny (and snowy) spring day in a beautiful village, during which his family had a lot of loving words for their war hero following what was clearly a very full and active life. With a love of the sea he spent many years building a yacht which he sailed throughout the Channel and Mediterranean. With some very strong feelings about the War in which he served he had wished to publish his memoires on the subject; his family has typed his thoughts and his nephew, Sqn Ldr Richard James RAF (Ret'd), will take the project to completion.
I was also joined by Cdr Gary Criddle RN who had some previous contact with Lt Upton on the production of his book. Dressed in No 1s we were able to provide some minor ceremonial aspects to his service, including the undressing of his coffin and presentation of an Ensign and his Medals and Beret to his family.
As one of the few remaining survivors of WWII his presence at commemorations will be missed.
Kind regards,
Neil"
_____________________________________________________________________
To C in C Med. Copies to CMS Med, Senior Officer 14th Minesweeping Flotilla.
Date: 27 October 1943.
From: Surviving Officer HMS CROMARTY (Sub Lieutenant B R UPTON RNVR).
Report on the loss of HMS CROMARTY
Submitted
HMS "CROMARTY proceeded from Maddalena at 0635 hrs on 23rd October 1943 with HMS ships; SEAHAM, BOSTON, POOLE, KAI, 2 x Merchant Navy ships and an Italian Motor Launch (M/L) fitted with sweeps. It was intended that the four fleet sweepers should stream stbd: 'O' veered to 15 feet, 25 kite, 300 fathoms. The Italian M/L streamed her double sweeps, sweeping ahead of the fleet sweepers and leading through channel swept by herself through Straits of Bonificio. During the initial streaming sweeps the M/L appeared to be experiencing difficulty with her sweeps, the starboard float running very low and difficult to see, both floats were without flags and did not appear to have a very wide spread. The first part of the sweep was completed and re-swept, KAI dan-laying. A channel of minimum width of ½ a mile was established, negative result.
A signal was sent to M/L – who had now taken up station ahead of ships, asking her if her starboard sweep was functioning correctly. Reply; yes but running low (a signalman from SEAHAM was on board). At approximately 1115 the sweepers were on a Westerly course led by M/L, sweeps streamed. CROMARTY hoisted 'mine in sight on portside'. The mine was cut by M/L with her port sweep and passed down the port side of the ship, 10 yards away. The sweep deck personnel went over to the portside of the ship to look at the mine, which was a very large mine painted Prussian blue with red horns, five in all, four in each corner of upper half and one on top, possibly Italian type 'J', no large cover plate was seen. Shortly after the mine had passed the beam, a second mine was seen under the water by the port wing lookout. Able Seaman Kelly stationed near the .5 inch gun repeated this as; 'mine under water on port side.' This mine passed down the portside of the ship, within three yards of the ship's side and was seen by all the people on portside of quarter deck, who were looking at the first mine.
After cutting the first mine, the Italian M/L sent CROMARTY a signal saying that her port sweep was being towed and not functioning correctly. A few seconds after the second mine was seen under the water on the port side, the lookout, Able Seaman Allin who was stationed right in the bows reported 'mine ahead under the water'. All bridge survivors heard this report and saw the lookout jump away. The CO gave the order 'Hard a starboard', the ship had completed about 15 degrees of swing when an explosion occurred.
This felt like a very shallow pattern exploding under the ship which shuddered and came to a stop. A great amount of gear went up in the air forward of the bridge, the sweeping crew took shelter whilst the debris was coming down. Almost immediately the ship was hit, she began to settle forward with a list to starboard.
I shouted to the man on the deck to get as much life-saving material loose as possible and everyone loosened off the baba wood rafts and cut the splinter mattress loose from around the pom-pom. The Chief Bosun's mate let go the lashings and spare floats. We tried to free the big Carley float which was between the two vent shafts of the engine room, but this could not be freed.
The Chief Bosun's mate took a party of men and lowered the motor boat and the Chief stoker with party lowered the whaler. The Chief Engine Room Artificer (ERA) went down to the engine room and made an inspection.
Meanwhile, I had proceeded up to the bridge, first I tried up past the chart room and CO's cabin, but there was too much wreckage and the ship was listing badly to starboard, so I climbed up to the bridge by means of the outside ladder on the after end of the bridge. The funnel was still intact with some of the stays, but was bent at the base and was leaning at an angle to starboard. The bow was cut clean off in the vicinity of the 3 inch ready use locker, the whole of the stern and 8 foot of bow was turning back to lay alongside the starboard of the ship. The mast had broken off level with the roof of the bridge and was laying across the ship on top of the starboard .5 inch gun. Two of these were covered with 3 inch shells, some of which had separated, many of these were seen lying around the bridge. One of the Telegraphists was sitting on the seat of the .5 badly injured, so I shouted to some men on the pom-pom deck to come and carry the wounded from the bridge. We got the Telegraphist down with the two other bodies. On the upper bridge, the Navigator was dead with heavy head injuries and Commander Maddalena was covered by debris and could not be extricated. On returning to the deck, the whaler was almost lowered and one of the unconscious seaman (Ordinary Seaman Truelove) had been placed inside. Unfortunately the ship began to list very quickly and the bow was now lying alongside the starboard side and trapping the bow of the whaler and making it difficult to get her free. The list was such that the whaler's davits were beginning to touch the whaler in the water and take it down. On the port side, the motor boat had caught up on the falls and although originally in the water, was clear again as the ship listed onto her starboard side. She broke from her after fall and filled with water. A 10 foot dinghy was lashed near the pom-pom and launched shortly after the explosion, but this filled with water quickly as the plug could not be found.
After the explosion, the ERA in the engine room tried to contact the bridge but received no reply, so he stopped both engines. The lights were out but the engine room was almost intact. The engine room was evacuated as the list became acute. The ship was abandoned as she rolled over onto her starboard side; no-one had taken to the water before this and whilst abandoning the ship, the crew behaved exceptionally well, helping the injured into the water, and taking those who could not swim with them.
Two Stoker Petty Officers (SPO), one of whom could not swim managed to climb onto the bottom of the ship as she rolled over, stern raised slightly in the air. The swimmer of this pair managed to persuade the non-swimmer into the water before the ship disappeared.
There was a lot of oil fuel on the water, but this was not too inconvenient, as it kept the sea down as it was roughening as the wind freshened. Plenty of material was floating around, and the balsa rafts, splinter mattress, and Oropesa floats were all used. The Chief ERA, several ratings and myself shouted out to the others to rally round ourselves, so that we could get everyone together and support the wounded and non-swimmers.
This was achieved to a certain extent and we managed to help everyone in a fairly small area. There appeared to be a strong tide which seemed to be taking us away from the other sweepers, which by now were some distance away. The Italian M/L was not seen at all after we hit the mine, but her floats were and she appeared to have steamed out of the minefield. Whilst in the water, a floating mine, probably cut by one of our 'K' cutters a few seconds before we were hit, exploded on contact with our starboard Oropesa float, nearly capsizing SEAHAM's whaler, which was coming to our assistance. Fortunately as the explosion was on the surface, little effect was felt by the men in the water. The swimmers were picked up by the boats which were now on the scene, the two motorboats taking the injured and the two whalers took the un-injured. The Doctor from the BOSTON was in our motor boat and greatly assisted the rescue work, besides giving great confidence to the injured. Our party consisting of the Chief ERA, 2 stokers, 1 seaman and self were picked up by the SEAHAM whaler and taken to the BOSTON. The pull-back seemed to take a long time as the tide was strong, eventually a returning motor boat gave us a tow. Some of the survivors went to a MMS but were later taken to BOSTON. All survivors, including the Commanding Officer (CO), were taken to Maddalena in the BOSTON, whose Doctor worked un-tiringly to keep alive several seriously injured men.
On interviewing the surviving bridge personnel and key ratings, there seems to be no doubt that we were hit by the third mine which was reported under the surface of the water by an able seaman and for which we altered course. The mine struck the ship under the Seaman Petty Officers' Mess, but the magazine did not explode; many 3 inch shells were blown up into the air and were lying on the bridge, in the motor boat and the whaler and several were seen by other ships to explode in the air. The ship struck at approximately 1120 hrs and disappeared at 1126 hrs capsized. The bow cut off through 3 inch magazine, but floating stern uppermost. The bulkhead forward of No 1 boiler room smashed in, allowing the oil fuel to run out of Nos 1 & 2 tanks. There were no survivors from No 1 boiler room. All survived from No 2 boiler room and the engine room.
The SPO in No 2 boiler room shut off the oil fuel of the boiler and loosened the safety valve before evacuating with his staff through the air-lock. It was not possible to get forward of the canteen owing to the water and there being no deck. The Canteen Manager was in the canteen at the time of the explosion when the deck gave way and he saved himself by hanging on to the canteen door. The First Lieutenant had left me in charge of the sweep deck, whilst he went to inspect the galley at about 1115 hrs and was last seen by the Leading Cook (Officer) near the Petty Officers' Mess a few seconds before the explosion. The cook escaped by the galley hatch having his left hand and arm badly burned on the stove. The Wireless Telegraphy (W/T) office was not in use, 'intercom' watch being kept on the bridge, using 2150 kcs. Several ratings were thought to be near the Coxswain's Mess, the other missing men were in no 1 boiler room and on the bridge.
The CO and Sub Lieutenant Barrett were found on the pom-pom and only the CO showed signs of life. They were blown from the upper bridge to the pom-pom deck. The Navigator was killed on the bridge and the Executive Officer was last seen with the First Lieutenant. The Classified Book (CB) chests in the CO's cabin were loosened and flung out of position, they went down with the ship. The 3 safes contained all Secret Publications and CBs, except those issued to the W/T office and Yeoman. All W/T books were in the small safe in the W/T office. All signal books except FSB and MSAP were in the small CB chest, those 2 books were being used but were dragged down with the ship as they were on the lower bridge. No other secret documents were loose, except the chest which was being used by the Navigator and this was not visible. Depth Charge primers and detonators removed.
---
9 May 16
HMS Blyth has Families Day at Faslane
The Royal Navy website contains this article describing a Families Day held by HMS Blyth (MCM1 Crew 3) alongside at Faslane on 25 April. The article features MCDOA member Tim Davey, Commander First MCM Squadron.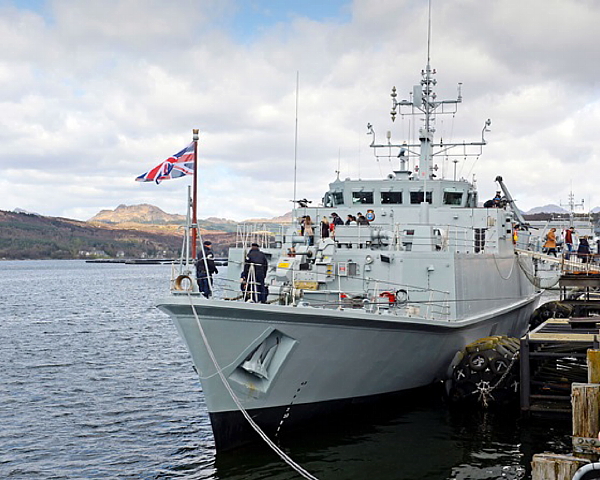 HMS Blyth during Families Day alongside at Faslane
(RN website photo)
---
NDG deals with shell brought ashore in Campbeltown
The Daily Mirror website contains this article describing how a Campbeltown fisherman nicknamed 'Captain Calamity' netted a 17" Palliser shell and brought it ashore in Campbeltown, Argyllshire. The ordnance was identified by members of Faslane-based Northern Diving Group (NDG) last Wednesday and kept under guard on the jetty overnight before being detonated on the beach at Machrihanish.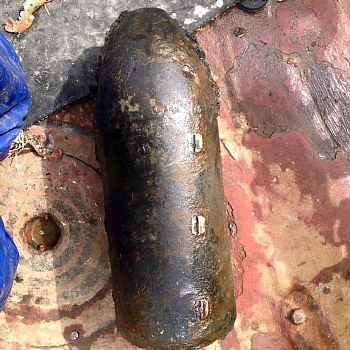 ---
8 May 16 - 'Divers Verse' of the Naval Hymn
I am occasionally asked for the words to the 'Divers Verse' of the Naval Hymn (Eternal Father), as penned by the late MCDOA honorary life member Lt Cdr 'Uncle Bill' Filer GM MBE. Bill's fellow MCDOA honorary life member, the late Lt Cdr 'Robbie' Robinson MBE, told me that he never liked its inclusion (normally just before the final verse) because it ruins the integrity of the 'Holy Trinity' as expressed in the hymn's first three verses (i.e. God the Father, God the Son (Christ), and God the Holy Ghost/Spirit) which is then summarised in the final verse.
However, for those who would like to make a note, here is the verse in question:
O Ruler of the mighty deep,
The safety of our divers keep;
In darkest depths of cold and murk
Wherein the threat of danger lurks;
Throughout this world of inner space,
Their ventures with Thy blessings grace.
---
7 May 16 - A new book from David Bruhn
I am grateful to my good friend and fellow naval historian Cdr David Bruhn USN for this notification:
"Hi Rob,
I wanted to make you aware that Eyes of the Fleet: The U.S. Navy's Seaplane Tenders and Patrol Aircraft in World War II is now available from Heritage Books. Additional information about the book, including the first chapter, may be found on my website.
I will send you a copy when I have some in hand.
Sincerely,
David Bruhn"
Book Description
Cloaked by jungle foliage, the unheralded seaplane tenders operated ahead of the Fleet, like the Navy's famed PT boats. As Halsey's South Pacific, MacArthur's Southwest Pacific, and Spruance's Central Pacific forces advanced toward Japan, these ships served as afloat-bases for patrol planes referred to as the "eyes of the fleet." The large fabric-clad PBY "Catalinas" and later PBM "Mariners" combed the seaways for Japanese forces and carried out bombing, depth charge, and torpedo attacks on enemy ships and submarines. Nighttime anti-shipping operations - "Black Cat" or "Nightmare" missions - were dangerous and daytime combat operations even more so, when encounters with more maneuverable and heavily-armed fighters necessitated hiding in clouds to survive. The Japanese were keen to destroy the scouts and their floating bases, and seaplane tenders often lived a furtive existence, particularly early in the war. Pilots, plane crews and shipboard personnel received scores of awards for valor, including the Medal of Honor, Navy Cross, Distinguished Flying Cross, and Silver and Bronze Star Medals.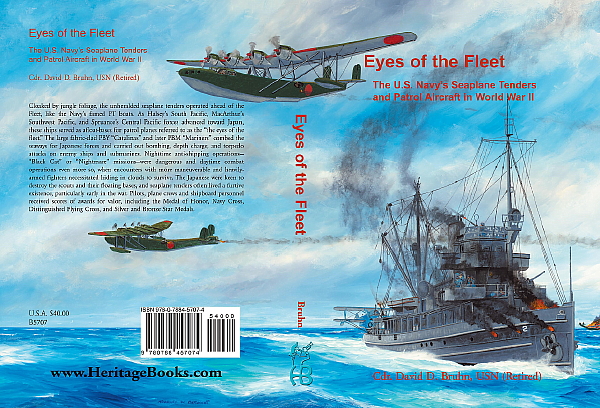 David and I have collaborated on several of his books. He commanded the Avenger class MCMVs USS Gladiator and USS Dextrous in the Gulf during the late 1990s. This gave us something in common as I was the first CO of the Hunt class MHSC HMS Berkeley (now HS Kallisto in the Greek Navy) and took her to the Gulf for an eight-month deployment in 1988/9. David lives in California and my wife and I were able to spend some time with him and his wife Nancy while visiting San Francisco in October 2014.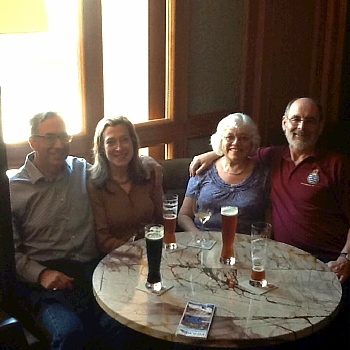 As chronicled on this website, David has previously written these books which include the stories of several US minesweepers transferred to the Royal Navy, including the tragic tale of BYMS-72:
Wooden Ships and Iron Men, Volume I: The U.S. Navy's Ocean Minesweepers, 1953-1994
Wooden Ships and Iron Men, Volume II: The U.S. Navy's Coastal and Motor Minesweepers, 1941-1953
Wooden Ships and Iron Men, Volume III: The U.S. Navy's Coastal and Inshore Minesweepers, and the Minecraft that Served in Vietnam, 1953–1976
He followed this series with MacArthur and Halsey's "Pacific Island Hoppers": The Forgotten Fleet of World War II. This describes the US Navy's acquisition of schooners, ancient ferry boats, luggers, fishing trawlers, tuna boats, tugs, launches, lighters, surf boats, ketches, yachts, and yawls to ply shallow, reef-infested South and Southwest Pacific waters to support ground combat forces on Japanese-held islands.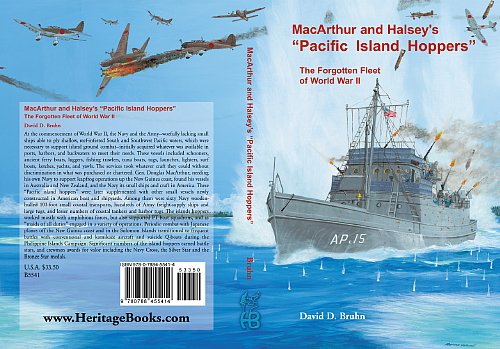 His next book was Battle Stars for the "Cactus Navy": America's Fishing Vessels and Yachts in World War II which covers the US Navy's equivalent of the Royal Naval Patrol Service (RNPS) in World War II including the fishing vessels requisitioned by the US Navy for use as coastal minesweepers (AMc) and base minesweepers (AMb).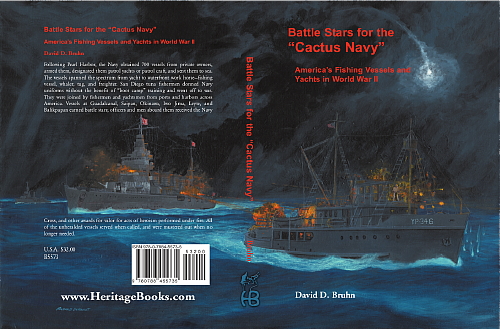 He then wrote We Are Sinking, Send Help!. Although this focuses mainly on the work of the US Navy's tugs and salvage ships in the African, Mediterranean, and European theatres during the Second World War, it also lists and describes the activities of RN minesweeping and clearance diving forces tasked with clearing the waters off the coast of Normandy for the D-Day landings as well as the port of Cherbourg and its approaches.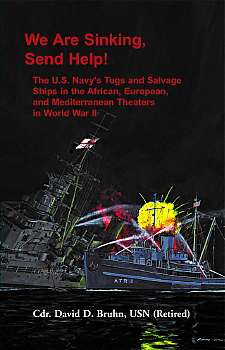 ---
6 May 16
HMS Atherstone congratulates Leicester City on winning Premier League Championship
Following my second entry for 3 May 16, the Royal Navy website has published this article describing HMS Atherstone (MCM2 Crew 4)'s celebration of Leicester City winning the Premier League Championship.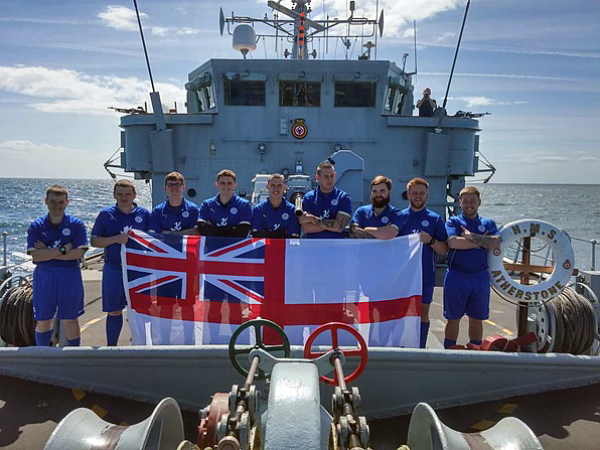 As this article on the Leicester City FC website describes, the club donated replica football kit to HMS Atherstone last year while she was deployed on Operation KIPION in the Gulf. Known as 'The Foxes', Leicester City is the closest Premier League team to the ship's affiliated town of Atherstone in Warwickshire. HMS Atherstone's football team is called 'The Flying Foxes' after their ship's badge.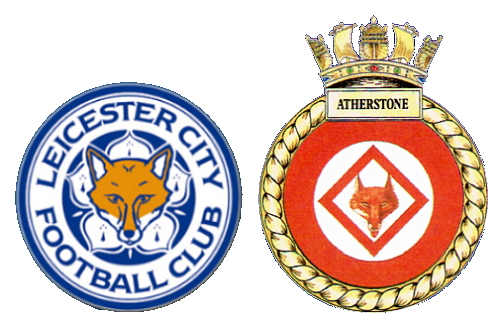 The article on the Leicester City website, dated 13 November 2013, also contains this interesting bit of heritage although HM Trawler Leicester City was actually converted for an ASW (Anti-Submarine Warfare) role. Built at Southbank-on-Tees by Smith's Dock, she was launched in 1934, requisitioned by the Admiralty in September 1939 and assigned to the 30th Anti-Submarine Group based at Scapa Flow until returned to her owners in 1946:
"...HMS Atherstone is shortly due to leave the Gulf region to start her 6,700-mile journey home to the UK after three-and-a-half years away, but is not the only minesweeper to receive kit from the Foxes. During the Second World War, the [ship's] company of HMS Leicester City were also supplied with various items of clothing by the Club including scarves, socks, mittens, sweaters and of course, football kit. Formerly a fishing trawler named Leicester City, HMS Leicester City was officially given its title at a ceremony in Grimsby which was attended by several directors of the Club at the time, including Arthur Needham, whose son Sid Needham was also Director and Chairman for many years."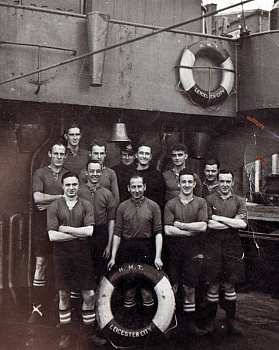 HMT Leicester City's football team
---
SNMCMG1 in Riga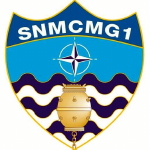 The ships of Standing NATO Mine Countermeasures Group 1 (SNMCMG1) are currently visiting Riga in Latvia and I couldn't resist this wonderful photograph of them rafted up together in the Baltic earlier in the week.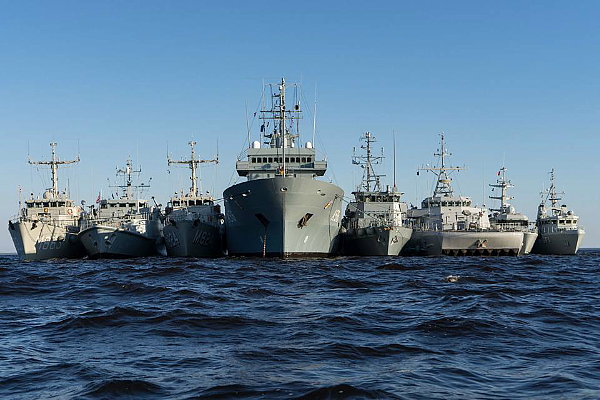 Left to right: HNLMS Vlaardingen, HMS Pembroke, BNS Primula, FGS Donau,
FGS Dillingen, HNoMS Otra, MSD6, MSF1
(Photo courtesy of Lt Hauser)
HMS Pembroke (MCM1 Crew 1) has been assigned to SNMCMG1 for three months and will be representing the Royal Navy at Kiel Week (Kieler Woche) 18-26 June (see second entry for 27 Apr 16).
---
5 May 16 - News from HMS Chiddingfold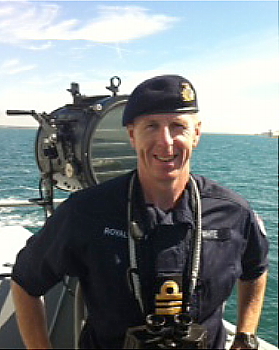 I am grateful to MCDOA member Steve White, Commanding Officer of HMS Chiddingfold (MCM2 Crew 5) currently on Operation KIPION in the Gulf, for his ship's April newsletter which can be downloaded here: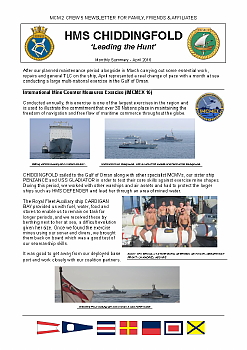 ---
4 May 16
NDG deals with pyrotechnic device at Lytham St Annes
The Wigan Today website contains this article describing yesterday's disposal, presumably by members of Faslane-based Northern Diving Group (NDG), of an item of ordnance found off the beach at Lytham St Annes. The item was suspected of being "a man overboard marker from the Second World War era".
---
Award of LS&GC medal
Congratulations to PO(D) B L Winter on being gazetted for the award of the Long Service & Good Conduct medal.
---
Gentlemen Who Lunch
Continuing the MCDOA website's occasional Good Pub Guide, its 'Not Quite the Last of the Summer Wine' trio of Barlow, Holloway and Hoole, aided and abetted by Hoole's old mate Lez Howard, lunched at The Earl of March in the picturesque village of Lavant, West Sussex yesterday.
The rear of the pub commands a majestic panoramic view of the South Downs with the grandstand at Goodwood racecourse just visible atop a distant hill.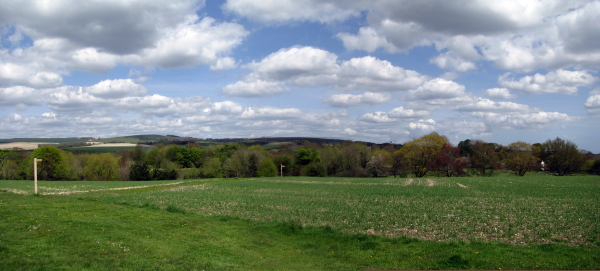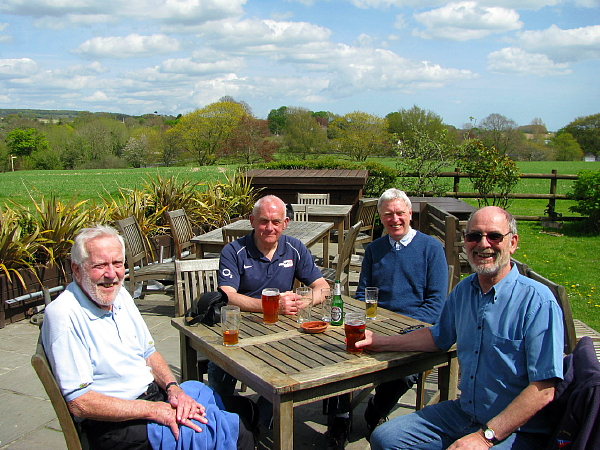 This is a very classy country gastropub. We made do with crusty seeded baguettes packed with slices of flavourful roast beef and a generous salad garnish, all washed down with pints of Timothy Taylor. However, there is an extremely sophisticated menu for those who would prefer something more substantial. Overall, the establishment is awarded a well-deserved five mines (or diving helmets) out of five.
Afterwards, we adjourned to Barlow's cottage in Emsworth where his wife Jill had the usual tea and stickies waiting for us. The weather had remained so nice that we were able polish these off on the lawn.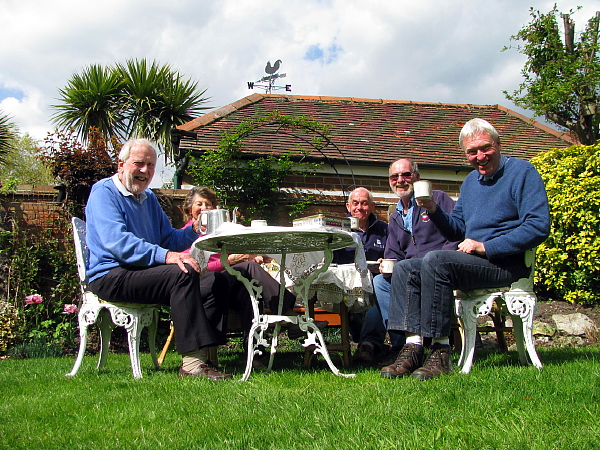 ---
3 May 16
HDS Diving Museum Newsletter

This month's Historical Diving Society (HDS) museum newsletter can be downloaded here: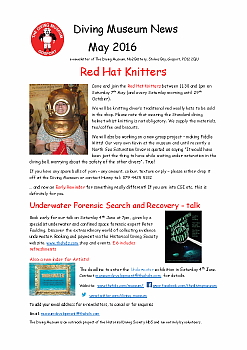 ---
Premier League championship for Leicester City
I am sure that the ship's company of HMS Atherstone (MCM2 Crew 4) will be as happy as anyone about Leicester City winning the Barclay's Premier League championship yesterday. See the second entry for 4 Nov 15 in News Archive 52 for further background.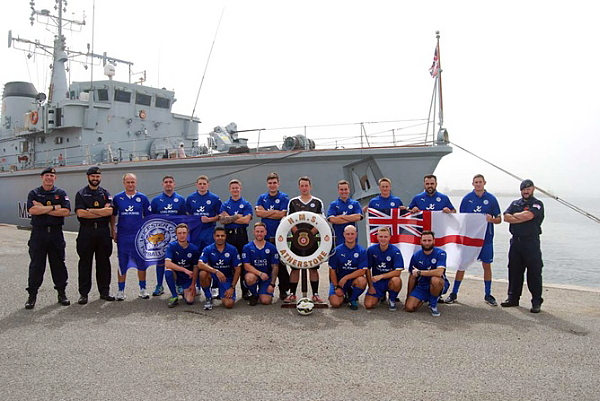 HMS Atherstone's football team, The Flying Foxes, in the Gulf in November 2015
(RN website photo)
HMS Atherstone returned to Portsmouth from a three-year deployment in the Gulf in December (see entry for 23 Dec 15 in News Archive 52).
---
2 May 16 - RN Minewarfare Heritage: Lt Bernard Rollin Upton MBE RNVR
Former WO(MW) Dixie Dean MBE, Chairman of the Minewarfare Association (MWA), and I have been corresponding with Sqn Ldr Richard James RAF (Rtd) since October 2009 about the service record of his Uncle Bernard with a view to having his memoirs published. At the time, 'Uncle Bernard' (aka Lt Bernard Upton MBE RNR) was the only living survivor of HMS Cromarty, the Bangor class minesweeper mined and sunk in the Straits of Bonifacio, Mediterranean on 23 October 1943. He was still very active and sailing his own yacht, a Fairey Atalanta which he built in a printer's yard in 1959, single-handed at the age of 94 as well as giving presentations to branches of the RBL and other organisations.
Sadly, we have received word from Richard that Bernard passed away at his home in France on Friday 22 April and a memorial service was held for him at Janvry Church, 36 km south-west of Paris, on Wednesday 27 April.
Richard has compiled this account of his uncle's eventful war service and kindly allowed me to publish it here:
BERNARD UPTON'S WAR SERVICE
Bernard Upton was born on 11 July 1919 in Nottingham and attended Ripley School, Surrey from 1929 to 1932, then moved to Shrewsbury School where he graduated with a Certificate of Education in 1937. He was a keen and proficient footballer at school. His father, Arthur Upton, a Graphic Designer and well-regarded artist from The Strand, London encouraged him to go into the printing business, so Bernard trained at the London School of Printing for eighteen months.
On 23 November 1939 Bernard volunteered to join the Royal Navy Volunteer Reserve as an Ordinary Signaller. He was recorded as 5ft 101/2 inches tall, with a 38 inch chest, light brown hair, hazel eyes, pale complexion and a scar on his right thigh. He was given the service number of JX/171100. He trained at HMS Royal Arthur, Ingoldmells, near Skegness from 4 December 1939, when he was drafted to the base depot ship HMS Pembroke IV (Southend Base) Chatham until 2 September 1940 when he started his Signaller (Convoy) training.
On 11 October 1940 he was drafted to HMS President 3, a shore establishment of the Royal Naval Reserve, based on the northern bank of the River Thames near Tower Bridge in the London Borough of Tower Hamlets. On 1 January 1941 he was a Signalman in Convoy Southend. During this time, he applied for commissioned service and was successful, so on 11 March 1941 he was posted to HMS King Alfred, Brighton for officer training and on 22 May 1941 he was promoted to Temporary Sub Lieutenant. He was a member of the Grenville Cadet Division and he was assessed as a swimmer. He was paid £40 officers' outfitting gratuity.
From 1939 to 1941 his character was assessed as "very good" for three years running and his efficiency was 'satisfactory' in December 1940 and 'superior' in June 1941.
On 14 November 1941 Bernard applied for a transfer to minesweeping duties, whilst serving on HMS Pygmalion, at Liverpool XN Service, where he had been a watch-keeping officer for six months. He was assessed as: Professional Ability – 5, Personal Qualities – 6, Leadership – 5, Intellectual Ability – 4, Administrative Ability – 5.
His CO, Captain Hart wrote: "A good type of Officer. He is conscientious, keen to learn and of strictly sober habits. He has made steady progress in acquiring knowledge of the duties of a seaman. His application for transfer to Minesweeping is recommended."
On 27 November 1941 he was paid a further £5 officers' outfitting gratuity. On 10 December 1941 he was drafted to HMS Lochinvar, a minesweeping training "stone frigate" (shore establishment) of the Royal Navy, sited at Port Edgar on the Firth of Forth in Scotland.
A week later he went to HMS Claverhouse another shore training establishment, which was at Leith near Edinburgh. On 2 January 1942 Bernard was posted to HMS Spartiate, a Royal Navy shore establishment based in the St Enoch Hotel, Glasgow.
On 3 February 1942, Bernard joined HMS Cromarty in the UK and she sailed south. Bernard formed a life-long friendship with his new Commanding Officer, Commander C G (Bunty) Palmer, DSC & Bar, MiD, of the Royal New Zealand Navy Volunteer Reserve (RNZNVR). HMS Cromarty was part of the fleet (Force H) tasked with the capture of Diego Suarez, a port on the island of Madagascar, at that time a French Vichy colony. This was successfully seized by 7 May 1942 after a two-day assault. The flotilla also supported the landings at Majunga and Tamatave. The minesweepers cleared a channel to the anchorage at Courier Bay and then continued to sweep for mines during the two-day battle with the Vichy forces as well as rescuing downed aircrew. The Flotilla was then sent to the Eastern Fleet based at Kilindini. In September 1942, the Flotilla participated in the capture of Majunga and completed the occupation of Madagascar.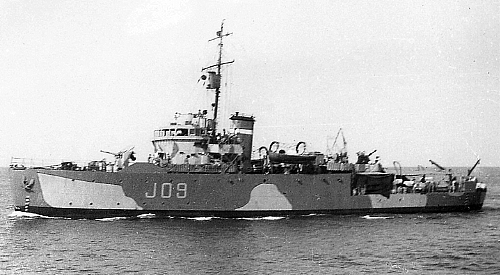 HMS Cromarty
HMS Cromarty and the 14th Minesweeping Flotilla were then transferred to the Inshore Squadron based in Alexandria just as the Battle of El Alamein started on 23 October 1942. On 29 October 1942, Bernard was certified as "competent to take charge of a watch at sea as a lieutenant and to perform efficiently the duties of that rank". HMS Cromarty was designated to provide support to the Eighth Army as it advanced. The eight minesweepers in the Flotilla completed "the longest continuous minesweeping operation in naval history", covering 1,800 nautical miles (3,334kms) and opening six major ports. The Flotilla also escorted convoys to Malta. They would sweep for mines in the daylight and fight off enemy aircraft attacks at night.
The 14th Minesweeping Flotilla was then assigned to the fleet supporting the invasion of Sicily, which was codenamed Operation HUSKY. On 12 July 1943, HMS Cromarty and HMS Seaham captured the Italian submarine Bronzo off the coast of Sicily, assisted by the cruiser HMS Uganda. HMS Cromarty attacked a second contact with HMS Pendant and successfully sank a second Italian submarine. Bronzo, an Acciaio-class submarine was commissioned into the Royal Navy as HMS P714. On 29 January 1944, P714 was transferred to the Free French Navy as Narval T4.
On 19 September 1943 the 14th Minesweeping Flotilla opened the Italian port of Crotone, then swept the channels into Syracuse and Augusta, which led to the capture of Sicily by Allied forces. They also carried out ASDIC (Anti-Submarine Detection Investigation Committee) patrols around the anchored transports.
HMS Cromarty, having been in the thick of the action for over 18 months, was sunk on 23 October 1943, in the Straits of Bonifacio, between Sardinia and Corsica in preparation for the landing on the southern French coast, near Sardinia, ironically having struck a mine. Five officers and 20 ratings were lost; 61 other crew including the Commanding Officer and Bernard survived. Commander Palmer was severely injured having been blown off the bridge and onto the aft gun position. He was evacuated to a hospital in North Africa, and placed on the dangerously ill list in November 1943 and only removed from the seriously ill list in January 1944. By 1945 he was walking again. Commander Palmer recalled the event in a letter to Bernard, the other surviving officer a few months later:
"We were preceded by a captured Italian shallow draft sweeper. It was not long after 'Out Sweeps' that the Italian cut a mine. Suddenly I saw my forward lookout point ahead, turn and shout. I ordered 'Hard a starboard' hoping to clear the mine. We actually struck the mine at 1123. I remember no more."
Bernard was appointed an MBE (London Gazette of 2 May 1944) "for good services to the survivors in the water when HMS Cromarty was lost". Bernard had spent over an hour in the water before he was rescued. Despite her short life of less than two years, HMS Cromarty was described as the "outstanding ship of the gallant 14th Minesweeping Flotilla". Bernard was picked up by HMS Madelina and taken to Malta, where he was put on the strength of HMS St Angelo. He then had a lift on a landing ship tank (LST) to Algiers. Bernard was given three weeks leave and took the opportunity to visit his former skipper Bunty Palmer in hospital in Algiers.
On 31 December 1943 he was posted back to HMS Pembroke, near Chatham. Bernard took the opportunity to visit the Admiralty to discuss his next posting. The Admiralty Officer asked him where he would like to go, and Bernard wanted to complete the anti-submarine course in the USA. The Admiralty Officer had also been at Shrewsbury School, so Bernard's request was granted. In January 1944, Bernard travelled to HMS Eaglet, Liverpool and then took a troopship to the USA. This was shown on his records as serving at HMS Saker, which was a "stone frigate" and historically the ship to which Royal Naval personnel serving in the United States of America were assigned. Bernard then completed the ASDIC course. (At the start of World War 2, British ASDIC technology was transferred for free to the United States. Research on ASDIC and underwater sound was expanded in the UK and in the US. Many new types of military sound detection were developed. These included sonar buoys, first developed by the British in 1944, dipping/dunking sonar and mine detection sonar).
On 8 February 1944 Bernard was promoted to Temporary Lieutenant. Armed with the very latest information, he joined the Catherine class (aka BAM - originally US Auk class) minesweeper HMS Florizel and was involved with mine-sweeping the South West Approaches coastal convoy routes, then minesweeping off the Normandy Beaches in May and June 1944, in preparation for D-Day. HMS Florizel had a huge amount of generating equipment on board for countering magnetic mines, and the ship's company also included a contingent of scientists. Bernard was Mentioned in Dispatches (MiD) (London Gazette of 30 May 1944) "for courage and skill in dangerous minesweeping", in the Sicilian campaign.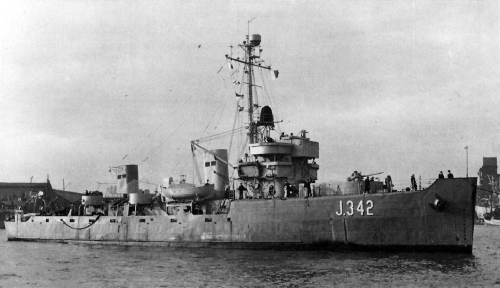 HMS Gazelle, a sister ship of HMS Florizel
On 25 August 1944, Allied troops, with the help of the French resistance led by General Charles de Gaulle, liberated Paris after four years of German occupation. The "Battle of the Bulge", which was the last German offensive on the Western Front, began in December 1944. On 5 April 1945 Bernard's annual confidential report was written on the occasion of his ship, HMS Florizel reducing to nucleus complement. He was assessed as: Professional Ability – 7, Personal Qualities – 6, Leadership – 5, Intellectual Ability – 6, Administrative Ability – 6.
His CO, Commander M A O Biddulph wrote: "A very competent, hardworking and promising young officer. He has displayed the greatest interest and enthusiasm in his duties, notably that of Gunnery Officer. He has spared no pains in maintaining the armament in a highly efficient state. He is a capable and trustworthy Officer of the Watch at sea. Quiet and unassuming but of good address, he gets on well with his seniors and juniors, and men trust him and work well for him."
The report was countersigned by Commander R L S Gaisford, Senior Officer of the Harwich-based 42nd Mine Sweeping Flotilla.
On 12 April 1945, just three weeks before VE day, Bernard was posted to the Loch class frigate HMS Loch Tralaig, which had just been built. She was the second RN ship to be fitted with turbine propulsion machinery. They sailed to Tobermory to work-up then carried out special machinery trials in the Clyde to measure the amount of noise being made by the new propulsion system. They were then tasked to escort and tow surrendered U-Boats from Londonderry to Loch Ryan prior to their destruction in Operation DEADLIGHT. In October 1945 they escorted merchant ships carrying ammunition from Cairnryan for scuttling in the NW Approaches.
On 26 October 1945 Bernard had another confidential report on the occasion of the Relief of the Commanding Officer of HMS Loch Tralaig. He was assessed as: Professional Ability – 5, Personal Qualities – 5, Leadership – 5, Intellectual Ability – 5, Administrative Ability – 4. His CO, Lt Commander M S Work wrote: "This officer is very conscientious and hardworking but is inclined to be dreamy. A very good Gunnery Officer who has a sound knowledge of his duties. His knowledge of electrics is slight but he is learning and takes an interest in his work".
On 10 December 1945, Bernard was credited a balance of £28 18s 11d for his participation in Exercise ORLANDO. On 13 December 1945, Bernard was sent to command HMS Rye, another Bangor Class Minesweeper, to replace Lieutenant J C Stout, but this appointment was cancelled on 27 December 1945. The same day, another report was raised, on the occasion of a Recommendation for status of Qualified Officer on HMS Loch Tralaig. Bernard was assessed as: Professional Ability – 7, Personal Qualities – 7, Leadership – 6, Intellectual Ability – 7, Administrative Ability – 6. His CO, Lt Barritt wrote: "An extremely hardworking and conscientious officer, he has carried out the duties of Gunnery and Torpedo Officer in this ship in a very able manner. Upton has the happy gift of being a very good mixer and his presence in the Wardroom will be missed. This officer has applied to return to Fleet Minesweepers as 1st Lieutenant, for which appointment he is thoroughly recommended. I shall be very sorry to lose the services of this officer." The report was forwarded with the full concurrence of the Greenock Maintenance Captain Alexander.
On 9 January 1946, Bernard was granted the status of "Qualified Officer".
On 27 January 1946, Bernard was posted to command the Halcyon class minesweeper HMS Gleaner to replace Lieutenant W C B Williamson. Gleaner's task was to take enemy poison gas ships from Bremen to 40 West to be scuttled.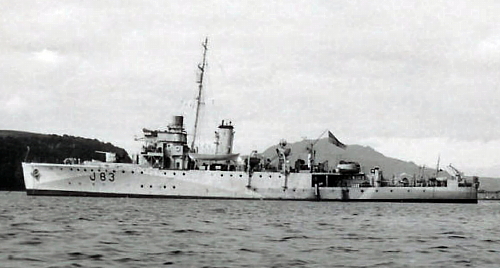 HMS Gleaner
The next report was on 14 June 1946 on the occasion of HMS Gleaner being paid off. He was assessed as: Professional Ability – 5, Personal Qualities – 6, Leadership – 5, Intellectual Ability – 6, Administrative Ability – 7. His CO, Lieutenant Commander E H Moore wrote: "A thorough and energetic officer who has proved to be a very satisfactory First Lieutenant in a Fleet Minesweeper. This officer has a high sense of loyalty, is keen on games, particularly cricket. He does not suffer any physical defect." His Senior Officer, Commander Hoare then wrote: "Has not much sense of humour. Is shortly due to be released from the Service and anxious to resettle in civilian life."
On 1 July 1946 a new war excess rate of pay was started and Bernard's pay, as a Temporary Lieutenant increased to 19 shillings a day.
HMS Gleaner berthed at Falmouth on 2 September 1946 and the RN administrators requested that Bernard's accounts be closed the following day, with the notation "Officer discharged to leave".
On 10 October 1946 Bernard received a war gratuity of £118. The next note on 4 December 1946 states a "nil balance and Officer paid in full."
Bernard was de-mobbed as a RNVR Lieutenant in December 1946. In July 1947 he applied to be enrolled in the Royal Naval Volunteer Supplementary Reserve, stating that "I am a British subject of pure European descent and that my parents are of British Nationality."
In October 1951 the Admiral Commanding Reserves wrote a confidential letter to the Director of Naval Intelligence (DNI) asking him whether there was "any security objection to Bernard Upton undergoing periods of official training in Naval ships and establishments?" DNI replied that there was no security objection.
On 8 January 1952, Bernard completed a 12-day minesweeping course at HMS Vernon, and that is the last entry on his records.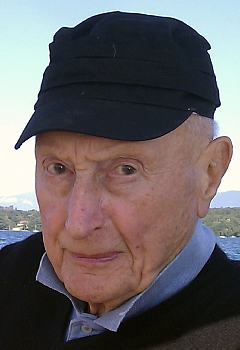 Lt Bernard Upton MBE RNVR
(1919 - 2016)
I have passed my condolences to Richard on the loss of his Uncle Bernard and expressed my best wishes for the publication of his book. Richard has provided this intriguing extract:
...We arrived at the entrance of Tripoli harbour one day before General Montgomery and the 8th Army. Our Captain Lt Cdr "Bunty" Palmer was expecting that we would be allowed to enter the harbour to give the crew some rest, but this was not possible.
The Germans had closed the entrance with sunken ships so we were ordered to Homs, on the east side of Tripoli to clear a small minefield in which two warships had been sunk in December 1941. Twenty-four hours later, we were back at the entrance of Tripoli harbour.
A South African salvage vessel was working on the block ships. "Gantroos" was in the process of moving a 10,000 ton ship and there were also several smaller vessels to be pulled away. In 24 hours, the gap was wide enough for a big ship to enter.
Then came a real surprise, Winston Churchill and General Montgomery came alongside in a motor launch and called up to our Captain "Thank you."
Later on, General Montgomery boarded our ship and asked "Bunty" if he could address the crew. The crew were assembled on the quarter-deck at the after end of Cromarty, a very small space where the gear for sweeping mines was placed. It was my station when we were working. The whole ship's company should be assembled in two or three lines to hear the General.
At that moment, every military command which should have been stored in my head disappeared. The presence of such a high ranking officer paralysed my brain.
The General then took command with a short lesson in military drill and then explained his military objectives and how the flotilla could contribute. He thanked everyone for what had been achieved since 23 October on this long sweep of 1,400 miles. The supply convoys and escort were always on time. Neither the weather nor the enemy had succeeded to upset the plans and he was very grateful.
He and "Bunty" walked around the decks and he asked various technical questions. During this walk-about, he noticed our pet monkey "Jimmy", who was a vicious animal, but possessed an ability to sense danger before its arrival in 30 minutes.
Seeing Jimmy, Monty made a gesture to pat its head. At the speed of light, the monkey jumped on the General's forearm and buried his fangs into the flesh. Pandemonium. Our sick-bay rating rushed in, applied a large dose of iodine.
Monty smiled and said, "Now to work. Next battle Rommel."
---
1 May 16 - AB(MW) and AB(D) help secure Inter-Services Rugby Championship for Royal Navy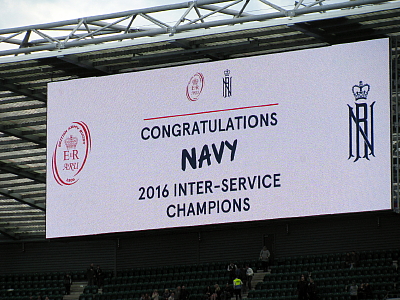 The Bottom Line
Although I have witnessed Royal Navy victories against the Army at Twickenham in the past, I have never attended a match as exciting as yesterday's thrilling performance with a capacity gate of 82,000 fans in attendance. The Royal Navy scored the first try to achieve an opening scoreline of 7-0 but soon trailed 7-26 thanks largely to two well-deserved tries by the Army's Fijian-born Bath and England flier Semesa Rokoduguni.
The Royal Navy's comeback started early in the second half with an inspired try by AB(MW) Gareth Rees followed by another try by AB(D) Rhys Dimmock-Williams, both serving with MCM2, to add to a penalty try. The score was 26-26 with two minutes left to play when the Army kicked a penalty to lead 29-26. In the last nail-biting minute, the Royal Navy's Jon Humphrey kicked a wondrous 45-metre penalty to draw 29-29, share the Babcock Trophy with the Army and clinch the Inter-Services Trophy for 2016.
The icing on the cake was former MCDOA Secretary Richard 'Soapy' Watson's son Ben, a NA(AH) at RNAS Culdrose, making an impact as the Royal Navy's No.8 in the second half.
Many thanks to MCDOA Secretary Mark Shaw for organising the MCDOA coach from Horsea (although he was unable to attend on the day) and to MCDOA Chairman Mark Atkinson for acting as Busmeister and keeping good order while ensuring the beer and food flowed freely. The hog roast and associated activities in the coach park at Twickenham were brilliant.
The day started innocently enough at 0715 in the mess at Horsea with bacon butties washed down with a tinny although the odd bizarre costume was in evidence.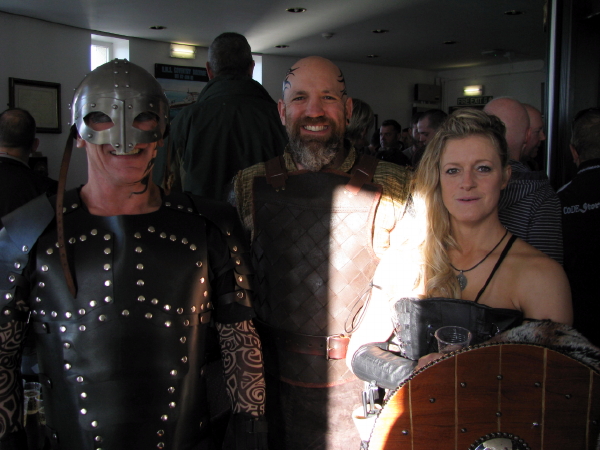 It was then time to load the beer on the coaches under the watchful supervision of SofD & MCDOA Chairman Mark Atkinson.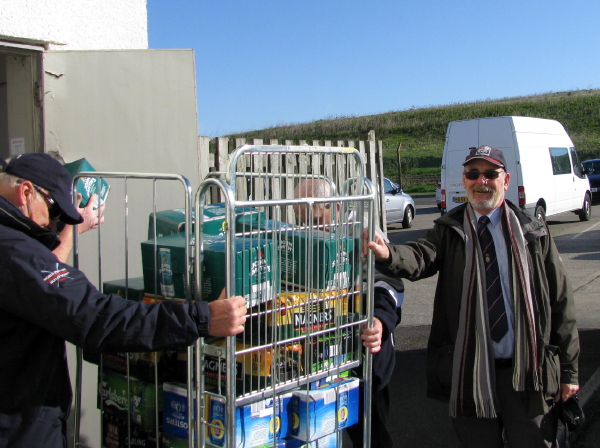 The stop-off at Fleet Services produced the usual unusual sights.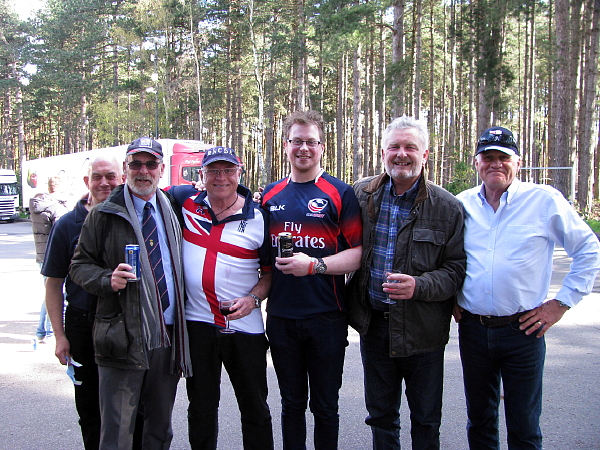 MCDOA members Martyn Holloway, Yours Truly (Rob Hoole), Bob Hawkins with his son Jamie,
Simon Neil and Geoff Goodwin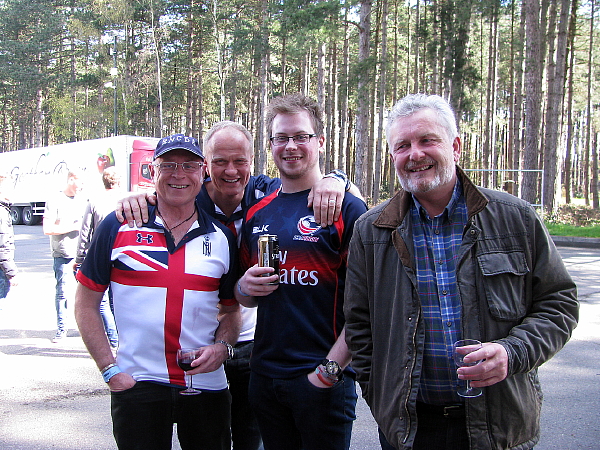 MCDOA members Bob Hawkins, Richard 'Soapy' Watson, Bob's son Jamie
and Simon Neil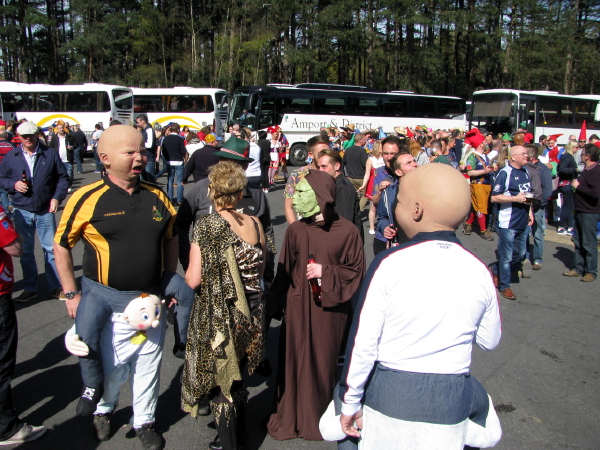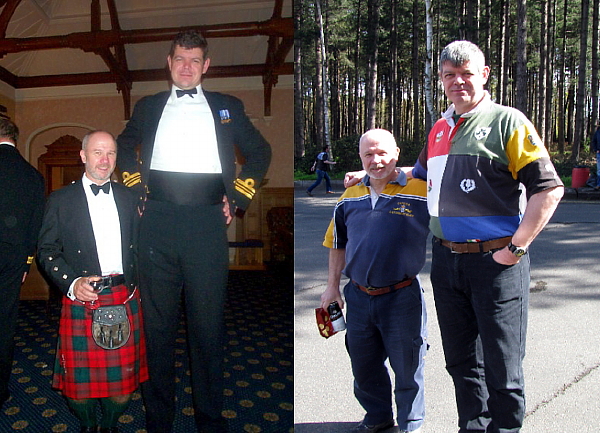 MCDOA members Big Bill Kerr (left) and Wee Angus Benton (right) reunited after 13 years
Martyn Holloway, Lez Howard and I watched the first half of the UK Armed Forces (formerly Combined Services) Under-23s playing their Oxbridge counterparts before we adjourned to the hog roast in the car park. In the event, the UKAF team went down to the Oxbridge XV 30-36 but MCDOA President Paddy McAlpine CBE (Vice President of RN RFU & Chairman of UKAF RFU) and former England record-breaking player Jason Leonard OBE (President of the RFU) presented the trophy. Jason Leonard also presented the Man of the Match award.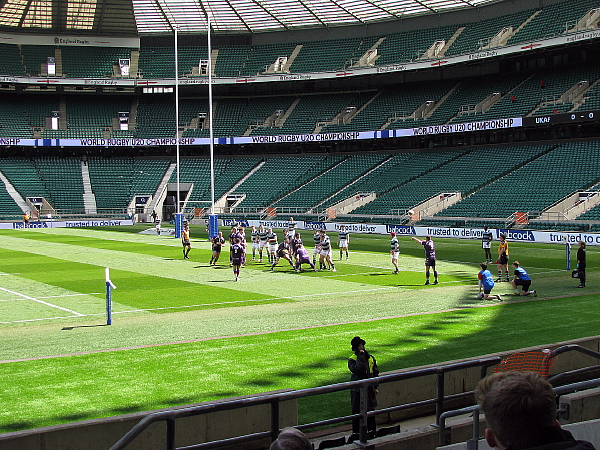 The main event started with all the usual razzamataz.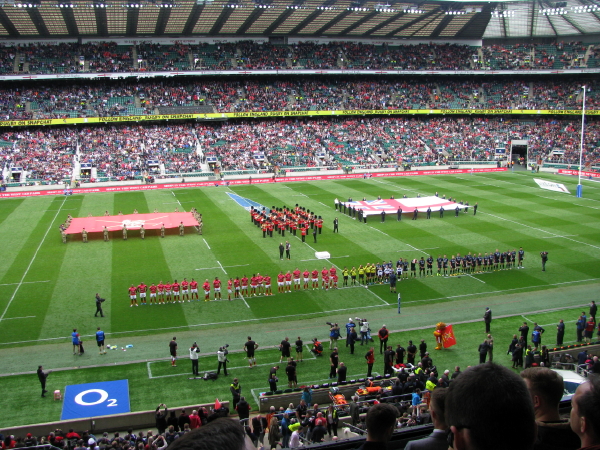 The rest, as they say, is history, but I know that Ben Watson's mother Suzi, who sat next to me for the second half, will savour every moment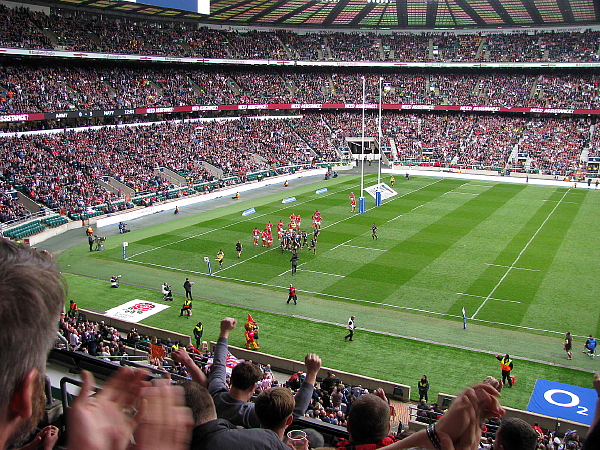 My good friend and next-door neighbour Lez Howard stood in for Doug Barlow but two-thirds (Holloway & Hoole) of the MCDOA's original 'Not Quite the Last of the Summer Wine' trio was there to share the occasion.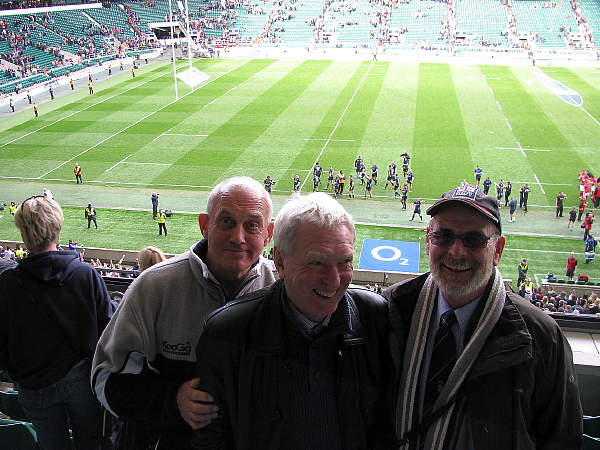 Certain celebrations ensued in the coach park and in the coach on the way back to Portsmouth.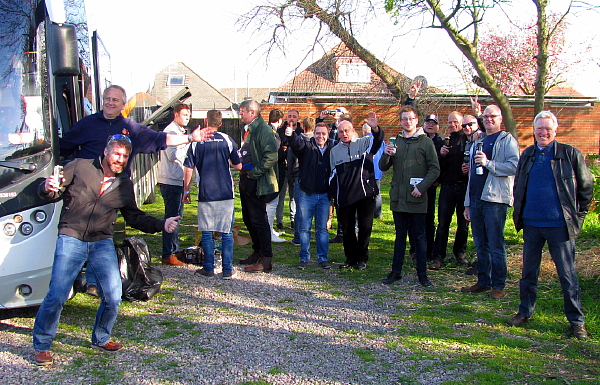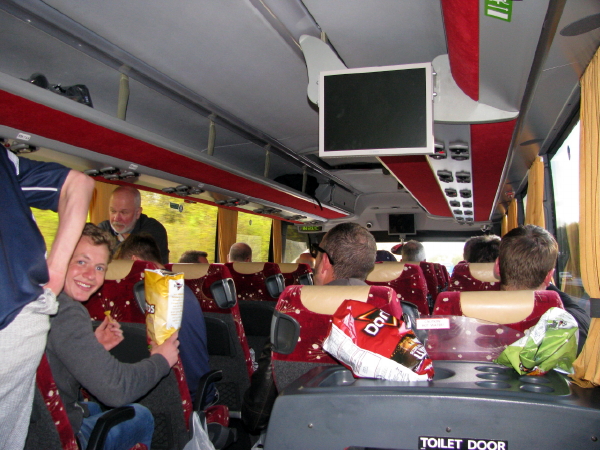 See you all again next year.
Postscript: The Daily Telegraph has published this account of the match:
Navy secure Inter Services Championship with thrilling 29-29 draw with Army at Twickenham
Post Postscript: The official description of the match is available on the Army v Navy website here:
Navy Snatch Draw After Dramatic Fightback to Win Inter Services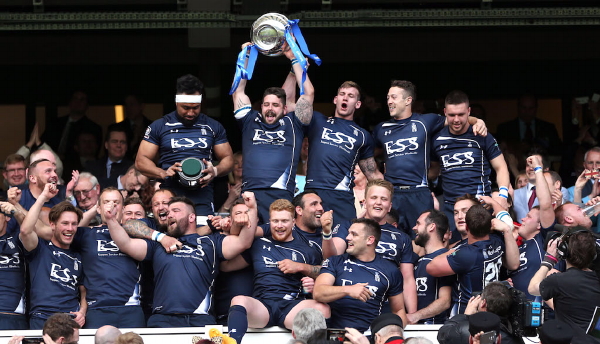 ---
29 Apr 16 - A surprise reception for Wendy
I have just returned from Fleet Diving Headquarters on Horsea Island where Wendy from the Registry was given a pleasant birthday surprise by some of the staff.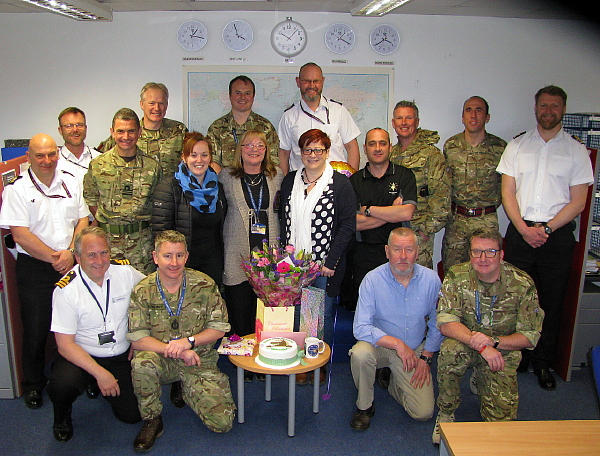 ---
28 Apr 16 - Lt Cdr to Cdr promotion signal: MCD winners (and slip-streamers!)
I am grateful to MCDOA member John Craig for this welcome news:
"Rob,
As I know that the wider community, retired and/or dispersed, like to track the success (or otherwise!) of their protégés, I have summarised the key extracts from today's Lt Cdr to Cdr promotion signal as follows:
MCD winners:

NAME

SPEC

CURRENT LOCATION

A/CDR J (Justin) HAINS

PWO/MCD

DJW (NORTHWOOD)

LT CDR A (Al) N NEKREWS QGM

MCD

SDG

LT CDR I (Ian) H RICHARDSON

MCD

MOD A BLOCK

LT CDR A (Ash) C SPENCER

MCD

FOST MPV DCST

Non-MCD Slip-streamers (Former/Current MM COs):

LT CDR A (Andy) S BROWN MBE

PWO

NCHQ CNPERS (Former Hunt Class CO)

LT CDR M (Mark) J HEADLEY

PWO

MCM2 CREW 4

LT CDR P (Peter) M HIGGINS AFC

PWO

MCM1 CREW 8

LT CDR M (Maryla/Millie) K INGHAM

PWO

MCM2 CREW 2
[Married to Cdr Andy Ingham, current FOO

and a former Hunt Class driver himself!]

LT CDR C (Conor) M O'NEILL

PWO

MCM2 CREW 1
If I have missed anyone, I apologise in advance, but claim mitigation for my potential ineptitude by noting that I have spent a lot of time deployed/overseas in recent years, and haven't been paying close enough attention to the comings and goings in No.2 Basin!
In related news, MCDOA member Roger Readwin's promotion to Captain has today been confirmed with effect from a date to be notified in July 2016. He is expected to take over as Captain MFP in due course, which is great news for the branch… although it does commit us to another couple of years listening to his 'dit' [note deliberate use of the singular] at the annual dinner!

Yours aye,
John Craig
J A CRAIG
Captain Royal Navy
DCOM to CTF 150
[Dual-hatted as COMUKMARFOR Staff Operations Officer (SOO) / N3]"
Many thanks to MCDOA members Tim 'Castro' Castrinoyannakis and Rory Armstrong for their As&As (Alterations & Additions) to John's message above.
Congratulations and best wishes to all those selected.
Postscript: The Portsmouth News has since published this article about MCDOA member Al Nekrews' selection for promotion.
---
27 Apr 16
HMS Cattistock on Exercise JOINT WARRIOR
Watch a video showing HMS Cattistock (MCM2 Crew 6) taking part in Exercise JOINT WARRIOR, a UK tri-Service multinational exercise that involves numerous warships, aircraft, Royal Marines and troops:
https://www.facebook.com/royalnavy/videos/10154131008218205/
---
HMS Pembroke joins SNMCMG1
I am grateful to Lt Cdr Jim Lovell, Commanding Officer of HMS Pembroke (MCM1 Crew 1), for this update received via the Ton Class Association (TCA):
"Good morning,
HMS PEMBROKE deployed from Faslane at the weekend under NATO as part of Standing NATO Mine Countermeasures Group 1 (SNMCMG1). We'll be operating in the Baltic region for the next three months before a home visit to Pembroke in the summer and returning back to Faslane. The ship will also be representing the RN at Kiel Week in June.
Yours aye,
Jim"
---
HMS Penzance hosts Lord Mayor of London in Bahrain
The Royal Navy website contains this article reporting a visit by Alderman the Lord Mountevans, the Lord Mayor of London, to HMS Penzance (MCM1 Crew 4) in Bahrain. The Lord Mayor was accompanied by His Excellency Simon Martin CMG, the British Ambassador to Bahrain.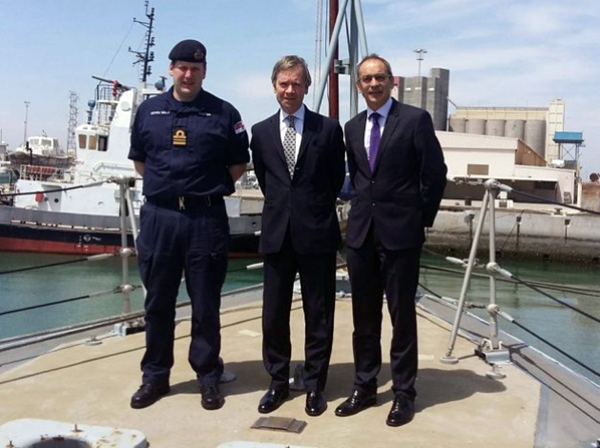 The Lord Mayor (centre) with the CO and British Ambassador on board HMS Penzance
---
26 Apr 16 - NDG awarded Fleet Effectiveness Trophy
The Helensburgh Advertiser website contains this article announcing the award of the Fleet Effectiveness Trophy in the category of best Fleet Diving Unit to Faslane-based Northern Diving Group (NDG). The trophy was presented to MCDOA member Tony Hampshire, CO of NDG, by Rear Admiral John Weale, Flag Officer Scotland Northern Ireland, at a ceremony on Tuesday 12 April.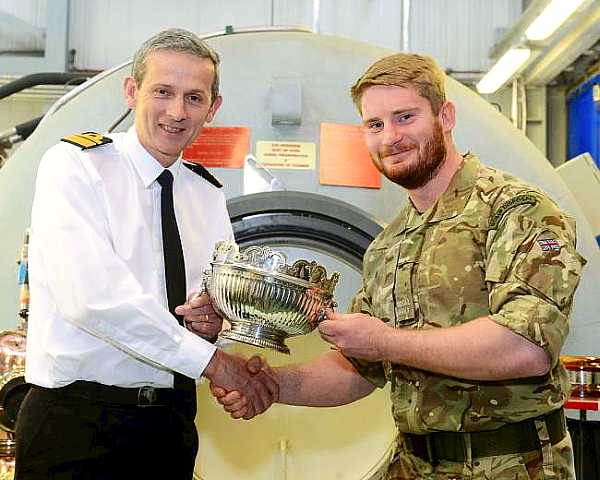 Last year the group was involved in safely disposing of 727 items of ordnance. Twenty-nine of the call-outs they received were to remote islands and peninsulas meaning that the group covered over 25,000 road miles. NDG was also recognised for its underwater engineering expertise. Members of the team conducted over 450 operational dives totalling some 18,929 minutes underwater.
Already this year, the group has performed 29 EOD tasks which have involved 131 items of unexploded ordnance.
---
25 Apr 16 - A fairytale ending
Earlier this month, former WO(MW) Dixie Dean MBE, Chairman of the Minewarfare Association (MWA), received a query from a lady called Gill Shaddick in Sydney, Australia. In December 1969, the vessel in which she was sailing accidentally entered communist Chinese waters and the crew was arrested by the authorities. After a few days, they were released in international waters and were found by HMS Hubberston of the Hong Kong Patrol Squadron. The ship had been searching for them and was anchored awaiting further instructions. In Gill's own words, the Captain was "the most awesome guy" but she failed to record his name. She is about to publish a book and would like to mention him.
I was able to ascertain from Mike Coombes, who runs the database for the Association of RN Officers (ARNO), that HMS Hubberston's CO between 1968 and 1970 was Lt Cdr (later Rear Admiral) Christopher 'Kit' Hope Layman CB DSO LVO who was CO of HMS Invincible 1984-6 and left the RN from the International Military Staff at Brussels in 1990. He has been The Gentleman Usher of the Green Rod since 1997. Dixie duly relayed this information to Gill.
Gill has now sent this reply:
"Dear All,
Just to let you know I tracked down Kit Layman through St James's Palace and have just had the most delightful email from him. He well remembered the incident and I hope to have a drink with him when I am over from Australia later this year.
Also since I contacted you a literary agent has taken me on which moves my book a step nearer publication. Will let you know when that happens!
Kind regards,
Gill"
Gill also tells me that Rear Admiral Layman lives in the small town where her parents lived and is a stone's throw from her brother's house. She will probably visit the UK in September and stay with her brother for a few days during which she and Kit Layman will catch up for a drink. She maintains an online blog at:
Gill Shaddick: The writer's journey
---
21 Apr 16 - Death of Lt Alan 'Nutty' Carr RN
I have received this sad news from Nutty's daughter Debby:
"Dear all,
I am so sorry to tell you, but my father 'Nutty' Alan James Carr died on the 6th April after a long fight with prostate cancer which had metastasised to his bones. The last year was very hard on him, but he said he had enjoyed a great life and had no regrets. He donated his body to science, which turned out to be the Bristol Anatomy School which I like to think he would consider a "shipshape and Bristol fashion" destination and find amusing.
I will miss him terribly but we both enjoyed going through his photos and I will forward some more photos in due course.
Kind regards,
Debby Carr"
Read about Nutty's remarkable RN diving career and look at some of his wonderful photos in the entry for 29 Nov 15 in News Archive 52.
---
From MCDOA member Dougie MacDonald:
"Hello Rob,
We are all getting towards that age. Sorry to hear about Nutty. I recall meeting him at a MCD CTP in NELSON with both his daughters and my Dad. He was kind enough to invite me out to visit him in his pad in West Sussex.
Another good man down.
Dougie"
---
20 Apr 16 - HMS Chiddingfold officers participate in MN Liaison Scheme
The Royal Navy website contains this article reporting the week-long passage of two sub-lieutenants from HMS Chiddingfold (MCM2 Crew 5 commanded by MCDOA member Steve White) on board the 320,000 tonne Chevron crude oil tanker MV Libra Voyager as part of the Royal Navy's Merchant Navy Liaison Scheme. They traversed the Bay of Bengal, the Malacca Straits, the Singapore Straits and the Gulf of Thailand before arriving at Map Ta Phut in Thailand. Their final stop was Singapore where they were hosted by Cdr Andy Lamb OBE, the Defence Attaché to Singapore.
---
19 Apr 16 - MCM1 Crew 4 earns Jim Acton Mine Warfare Efficiency Trophy
The Royal Navy website contains this article announcing the award of the Jim Acton (formerly Plessey Marine) Mine Warfare Efficiency Trophy to MCM1 Crew 4, currently manning HMS Penzance in the Gulf. The award was chiefly for their efforts while manning HMS Pembroke during a period that included a NATO deployment to the Baltic, two busy Joint Warrior exercises off Scotland and then achieving a 'very satisfactory' score during Operational Sea Training before transferring to HMS Penzance. The article also features AB(D) Ahmet Demirezon.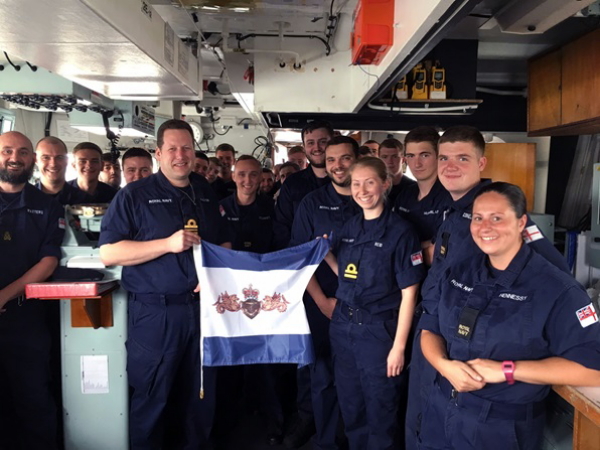 MCDOA member Jim Acton (LMCDO '87B) was killed by an earthquake on 16 Aug 1999 while in Golcuk Naval Base, Turkey to help plan a major NATO minewarfare exercise as MCM1's SOO. He was 37.
---
15 Apr 16 - IMCMEX: The world's largest MCM exercise
The Royal Navy website contains this article describing this year's biennial Intrnational Mine Countermeasures Exercise (IMCMEX) which focuses on keeping two of the world's most important 'choke points' for shipping open: the Straits of Bab-al-Mandeb, at the foot of the Red Sea, and the Strait of Hormuz – gateway to and exit from the Gulf.
Nearly three dozen countries from six continents are involved in the three-week exercise, either directly as participants or observing proceedings. Eight nations have committed ships to the exercise: aside from the Royal Navy, vessels from the USA, Iraq, Japan, Kuwait, Saudi Arabia, the United Arab Emirates and Pakistan are involved. In addition seven countries have dispatched specialist teams such as boarding parties, divers and bomb disposal experts.
---
11 Apr 16 - HDS Diving Museum Newsletter

This month's Historical Diving Society (HDS) museum newsletter can be downloaded here: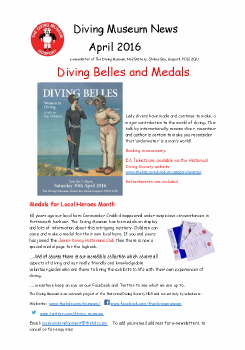 Speaking of diving belles, here is the inside of a Christmas card sent out by HMS Vernon's Monthly Dippers & Ships' Divers Selection Centre circa 1982. Click on the image for a larger, higher resolution version showing the red stripe removed.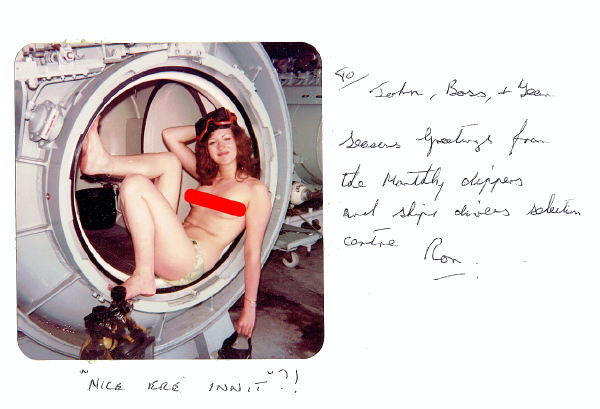 ---
7 Apr 16 - SDU1 deals with mortar bomb near St Ives
The Plymouth Herald website contains this article describing yesterday's disposal by members of Plymouth-based Southern Diving Unit 1 (SDU1) on Lelant beach of a mortar bomb uncovered at an address near St Ives in Cornwall.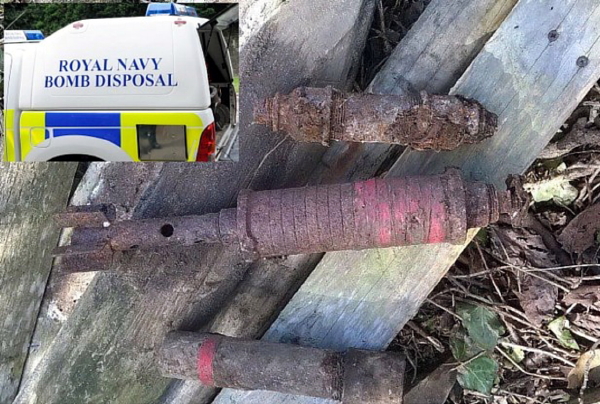 ---
6 Apr 16 - NDG detonates wartime torpedo in Scapa Flow
The BBC Scotland website contains this article, including video, describing today's detonation of a wartime torpedo by members of Faslane-based Northern Diving Group (NDG) in Scapa Flow, Orkney (see first entry for 2 Mar 16 in News Archive 53). The torpedo is thought to have been launched by Günther Prien's U-47 when he attacked and sank the anchored battleship HMS Royal Oak with the loss of 833 lives in October 1939.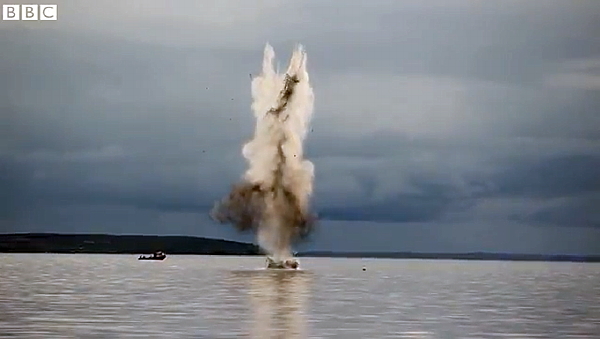 The video features an interview with MCDOA member Tony Hampshire who superseded fellow member Steve Brown as CO of NDG in January (see entry for 11 Feb 16 in News Archive 53).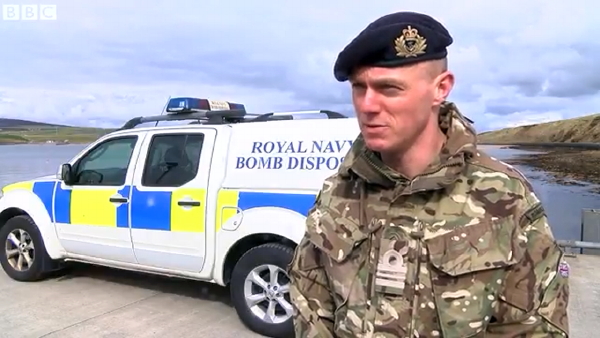 ---
5 Apr 16
Award of LS&GC clasp
Congratulations to CPO(D) 'Sharky' Ward Peers on being gazetted for the award of a clasp to his Long Service & Good Conduct medal.
---
SDU1 skips a pebble
The North Devon Journal website contains this article describing a call-out today for members of Plymouth-based Southern Diving Unit 1 (SDU1) to investigate a suspected 'First World War grenade' discovered at Devon County Council's Knowle Hill Recycling Centre in Exmouth. The item transpired to be a pebble.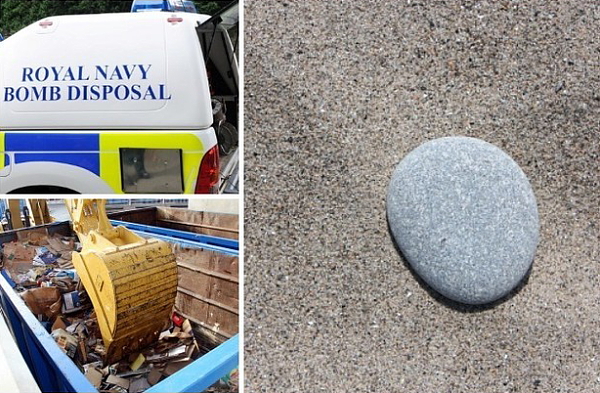 ---
Gentlemen Who Lunch
The MCDOA's 'Not Quite the Last of the Summer Wine' trio comprising Barlow, Holloway and Hoole ventured out today for its usual Tuesday gathering and lunched al fresco at The Lamb Inn near West Wittering before enjoying a further pint in The Crown & Anchor at Dell Quay. Both pretty pubs in West Sussex are highly recommended for a visit.
The Lamb Inn at West Wittering
Unfortunately, the heavens opened just as we left the Crown & Anchor but this failed to dampen spirits.
The Crown & Anchor at Dell Quay
Slightly wetter on the outside but by no means undaunted, we then made our way back to Barlow's cottage in Emsworth for a sumptuous tea provided by his hospitable wife Jill.
---
4 Apr 16
NDG detonates artillery shell at Kilcreggan
The Lochside Press website contains this article describing this afternoon's detonation by members of Faslane-based Northern Diving Group (NDG) of what is thought to be a Second World War artillery shell on the beach at Kilcreggan in Argyll & Bute.
---
News from HMS Chiddingfold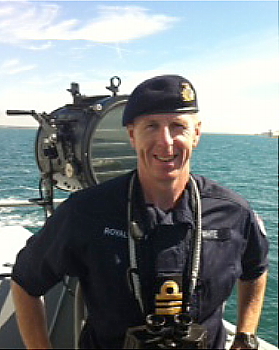 I am grateful to MCDOA member Steve White, Commanding Officer of HMS Chiddingfold (MCM2 Crew 5) currently on Operation KIPION in the Gulf, for his ship's March newsletter which can be downloaded here: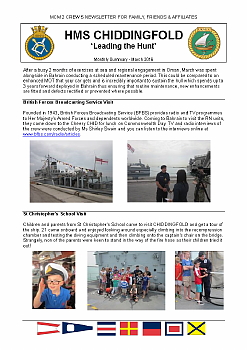 ---
3 Apr 16 - Memorial service for Cdre Andy Cameron
I have received this news from MCDOA member Dougie MacDonald, among other sources, regarding Andy Cameron who died on Wednesday 23 March. He had been suffering from cancer but it is understood this was not the immediate cause of his death:
"Hello Rob,
Please would you distribute the message below to your constituents. Andrew was a great friend of the branch.
The announcement of Andrew's death will be in the Daily Telegraph on Tuesday 5 April. There will be a memorial service to celebrate Andrew's life in Portsmouth Cathedral at 1500 on Wednesday 20 April. Anne hopes that the service will be upbeat and that friends won't feel the need to wear black. Anne and the family would be delighted to welcome everyone for small eats and a drink or two following the service, at the Royal Naval Club & Royal Albert Yacht Club in Pembroke Road.
Best,
Dougie"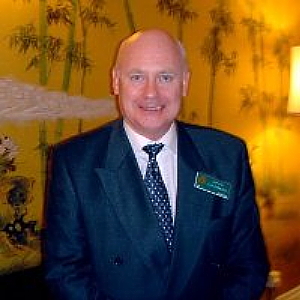 Cdre Andrew John Brunt Cameron MA FCMI
(17 Dec 1953 - 23 Mar 2016)
A PWO(U) by specialisation, Andy was promoted Commander in December 1989 while in Command of HMS Brocklesby. His other appointments included HMS Seahawk, HMS Flintham, HMS Southampton, HMS Dryad, HMS Achilles, exchange service with the RAN, CINCFLEET, JSDC Greenwich, MoD London, CINCNAVHOME, CO of HMS Westminster, MWC Southwick, FOTR, JMOTS Northwood, RCDS London and NCHQ at HMS Excellent. His final appointment in the Royal Navy was as Commodore Portsmouth Flotilla (COMPORFLOT) from to
Andy
National Strategy Consultant for the Defence Council of Brunei from January to June 2009
June 2009 to May 2012
Change Consultant (End of Life Service Development) for Marie Curie Cancer Care from October 2009 to May 2010
Change Director of the Arthritis and Musculoskeletal Alliance from May 2010 to November 2010
Non-Executive Director of the Solent NHS Trust from April 2015 until his death
Chairman of the Beacon NHS Charity from April 2015 until his death
I am sure that all members of our Association will join me in extending our sincere condolences to Andy's wife Anne and their family.
---
2 Apr 16 - A new book from Paul Henke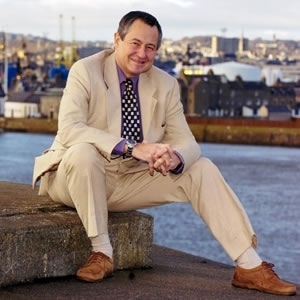 MCDOA member Paul Henke, a prolific author, has published a new work:
Introducing Gumshoe
One of my readers made a comment to me a few years ago about how much he liked novellas. Ideal he said, for a plane or train journey. So for some time I've been toying with the idea of writing a series of stories of less than 30,000 words but with a new character and in a different genre.
I have always liked the detective stories of the '40s and '50s so I have created Frank O'Brian, an American Private Investigator working in New York in 1946. He has trained as a lawyer, worked for the Office of Strategic Service - the forerunner to the CIA - during WWII and after being demobbed become what is known colloquially as a gumshoe.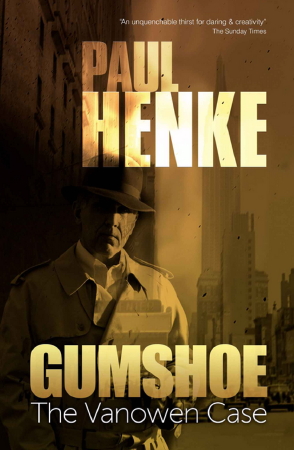 My intention is to write exciting stories with enough twists and turns to keep the reader guessing as to who has committed the crime. Also, of course, there's the added benefit of writing a story without mobile phones, computers, e-mail and the rest of social media. What a heavenly time it must have been! The first story is now available on Kindle. The second is ready to be published and a third is in the pipeline.
I hope you enjoy the first one. You can download it here from Kindle
Find more books by Paul on Amazon here.
---
1 Apr 16 - Second MCD Admiral for the Royal Navy
Hearty congratulations to MCDOA member Michael 'Mickey' du Jour OBE on being gazetted for promotion to Rear Admiral today. Mickey joins our President, Paddy McAlpine CBE, as only the second RN MCD officer ever to achieve flag rank.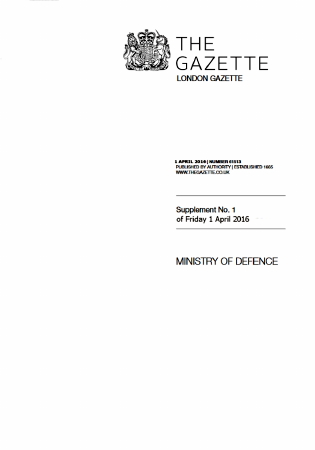 I was privileged to be Mickey's Long Course Officer at HMS Vernon when he qualified on LMCDO '83C and I spotted his potential then. He is currently Director Recreational Capability in the Defence Equipment & Support (DE&S) organisation at MOD Abbey Wood near Bristol. I am sure that all members of our community will join me in wishing him and his delightfully mischievous Czech wife Plat the best of good fortune for the future, whatever it holds. Let us hope he proves to be more than a one-day wonder.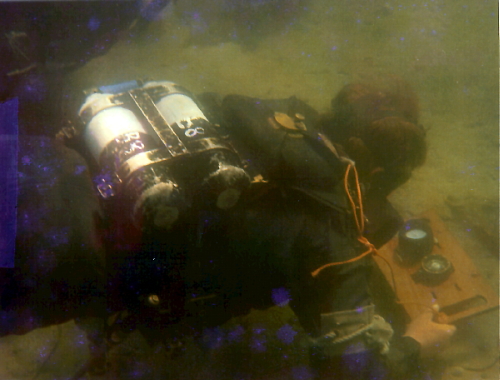 Mickey du Jour performing a compass swim while on LMCDO Course in 1983
---