---
| | | |
| --- | --- | --- |
| | Have you ordered your miniature of the Vernon Monument yet? It is being sold in a variety of sizes, finishes and prices to raise funds for the planned sculpture at Gunwharf Quays in Portsmouth to celebrate the Minewarfare & Diving heritage of HMS Vernon which previously stood on the site. Be part of the solution, not part of the problem. 'Project Vernon' is officially supported by Portsmouth City Council, Gunwharf Quays, the MCDOA, AORNFCD, MWA, RNCDA and the TCA. Click here for details. | |
---
31 Mar 17
Death of former FCPO(D) Peter 'George' Hann Alderton BEM
I was saddened to receive these tidings from ex-CPO(D) Mick Kester this morning:
"Hi Rob,
Sad news. I have just heard from ex-CD 'Rocky' Stone here in Plymouth that former FCPO(CD1) Peter 'George' Alderton passed away at home last night after a long battle with illness.
I will keep you up to date.
Best regards,
Mick"
I knew from George's wife Elsie that he had been dignosed with bowel cancer early last year. Despite six months of chemo, the tumour spread to his liver and lungs.
George Alderton served in the Royal Navy between 1953 and 1976. His eventful naval diving career including time in the Plymouth Command Deep Diving Team, Flag Officer Scotland & Northern Ireland's CD Team, the Mediterranean Fleet CD Team, the Far East Fleet CD Team and the Joint Services Bomb Disposal School at Horsham. After leaving the RN, he became a civilian commercial diver with Sub Sea Offshore. See second entry for 5 Sep 13 in News Archive 43 although the website contains many other references to George.
Here is a selection of photos George sent me a while back with the captions he provided: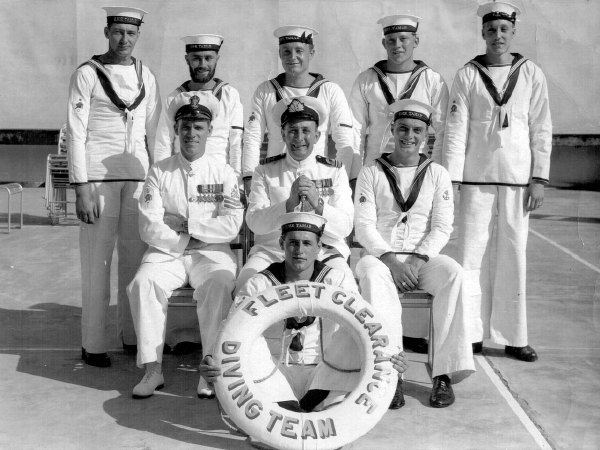 Far East Fleet Clearance Diving Team at HMS Tamar in Hong Kong in 1954
Back row: ABs Hough, Nield, Sherris, S(D) Drewitt and Chaplin
Middle row: PO Butler, Harry Wardle, L/S Sayer
Front: L/S Alderton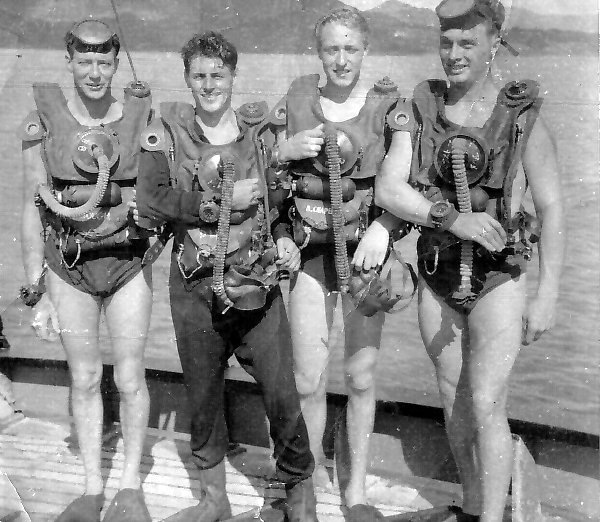 AB Hough, L/S Alderton, AB Chaplin and L/S Sayer dressed in UBA on O2 self-demand
for Tolo Harbour Day attack swim in Hong Kong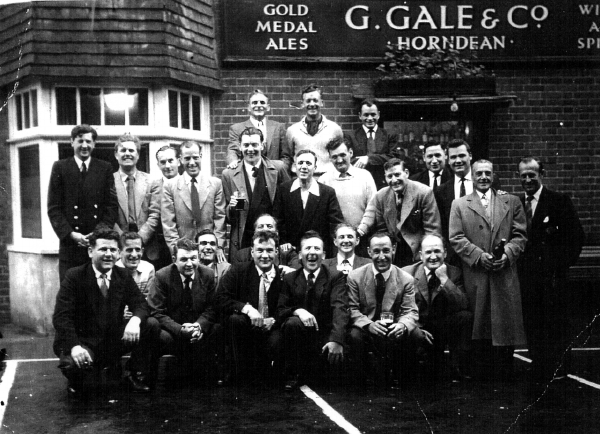 Divers' Thrash (plus some TAS Apes) in 1956
Back row: Johnny Peach, Ginger Bryant BEM, Steve Hargreaves (TAS)
Middle row: 'Bootlace' Webster, Ron Flanagan, 'Brookie' Brooke-Foster, Nick Carter,
Dutchy Holland, Duplock (TAS), Bill Lapner, Jan Gripp, ? (TAS), Albert Strange
Front row: Ted Rose, Spike Wheeler, Scants Scantlebury, Taff Coleman, Robbie Robinson (behind Dave),
Dave Lardner, Dave Black, Geordie Witherall BEM, Spero Collar, Badger Otley, ?, ?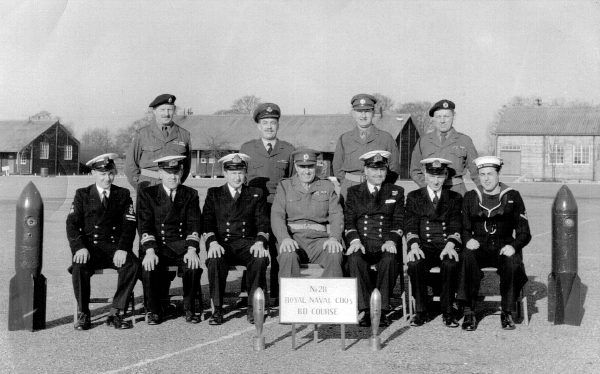 CDOs' Bomb & MIne Disposal Course at JSBDS Horsham in 1958
Sitting: PO(D1) Geordie Witherall, Lt Mike Hodgeson, Lt John Grattan OBE, Maj Arthur Hartley
GM MBE RE (Course Officer and author of 'Unexploded Bomb – A History of Bomb Disposal'),
S/Lt Ewan Graham RAN, Lt Tony Johnson-Newall, L/S Alderton BEM
(George Alderton reached L/S(CD1) from AB(CD3) in six years.)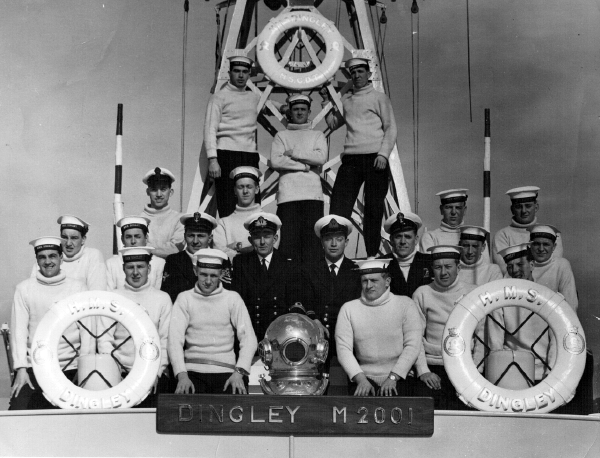 HMS Dingley, diving tender of the 51st Mine Sweeper Squadron based at HMS Lochinvar at
Port Edgar, in March 1959 with John Futcher MBE as CO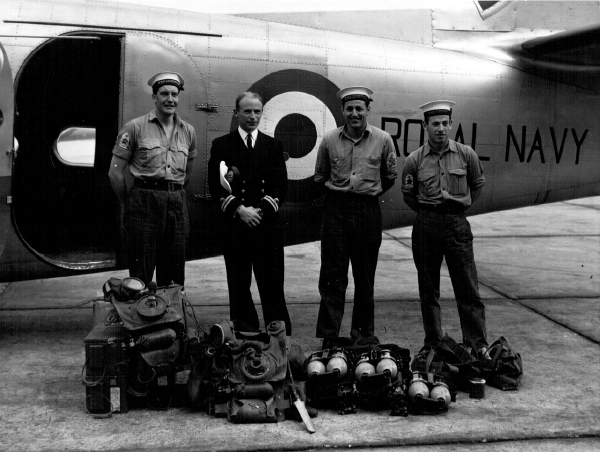 Pat Dowland and George Alderton centre with an AB Scott each end. En route to Scapa Flow
to demolish iron railway lines acting as anti-submarine obstacles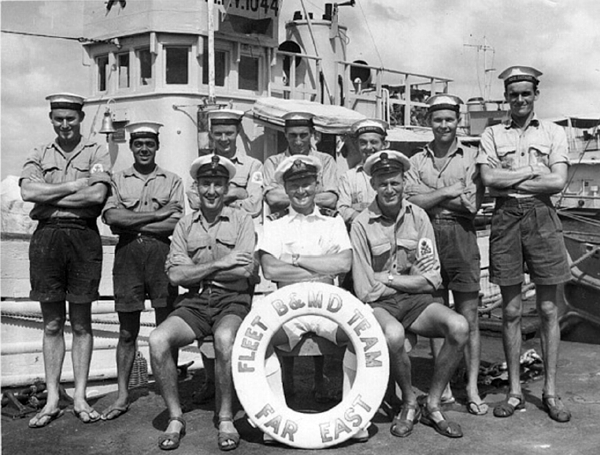 Far East Fleet B&MD Team in Singapore late 1950s with Peter Messervy MBE GM as OIC
plus Ginge Andrews, Frank Newman, Charlie Kempson, Tug Wilson and Jock Graham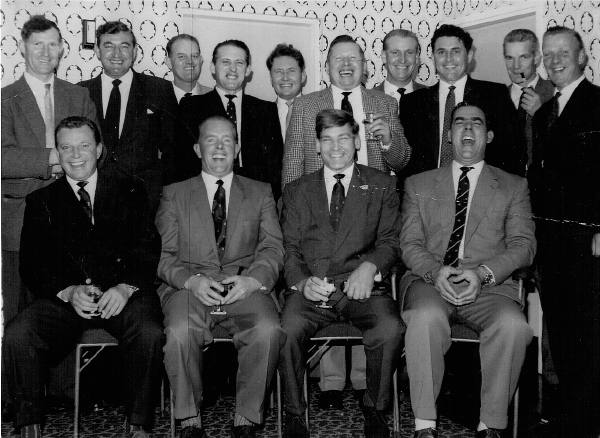 Possibly Plymouth in the early 1960s
Back row: Jerry Lock, Derby Allen, Ginge Howe, Scouse Davis, Knocker White, Geoff Burgess,
Jim Cook, Nutty Carr, Nobby Clark
Front row: John Futcher MBE, Bill Filer GM MBE, Peter Roberts VC DSC, Alan 'Shiner' Wright MBE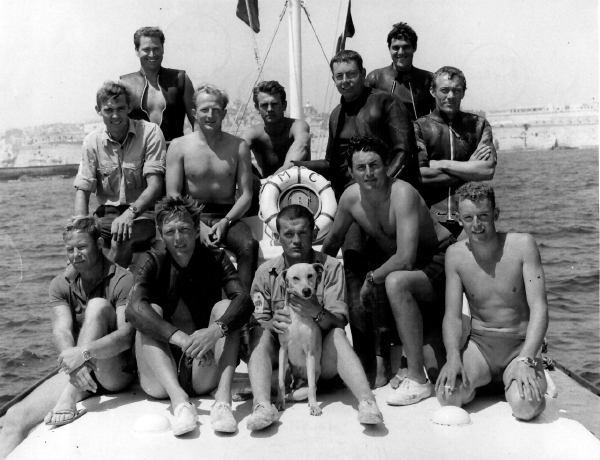 Mediterranean Fleet Clearance Diving Team on Manoel Island, Malta in 1966
Neil Primrose BEM
Dudley North
Harry Neave
John Grattan OBE
Mike Stewart
Alf Slingsby BEM
Tug Wilson
Gabby Haines
Wiggy Bennett
Nick Curtin
George Alderton
Ian Duxbury
'Deeps' the Dog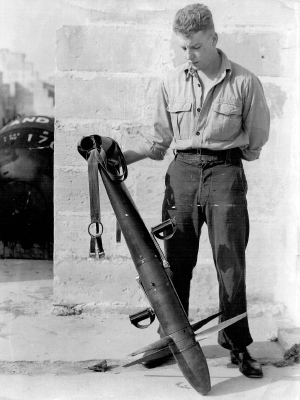 AB Jeff Robinson giving Dimitri Rebikoff's 'Pegasus'
underwater scooter a dubious look in Malta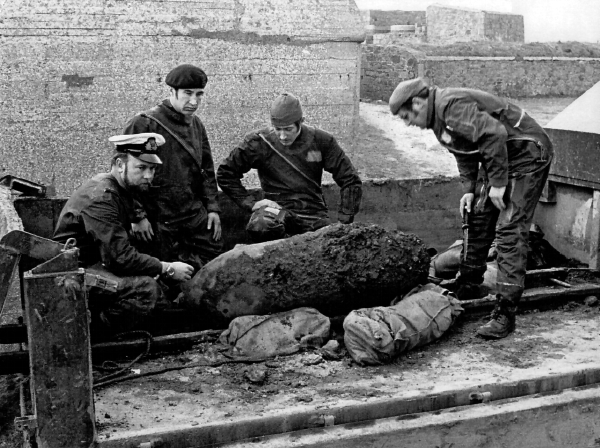 Lt Bob Pilling, ABs Williams and West and CPO George Alderton BEM with unexploded
British 1,000 lb bomb dropped by a Mosquito during a low level attack on a German U-Boat
alongside in Jersey. The bomb was dropped from insufficient height to be armed and
was recovered when inner harbour was dredged to deepen water for boat moorings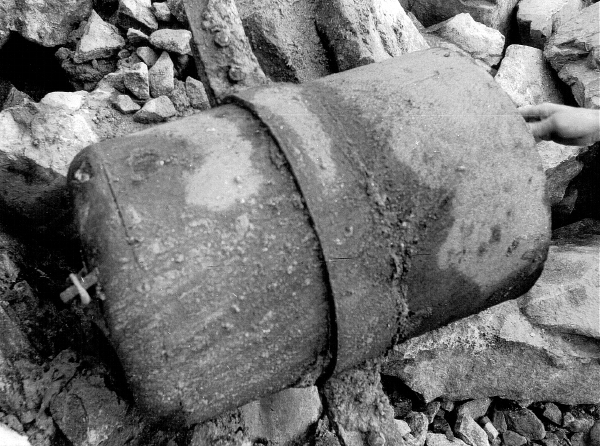 One of several depth charge-sized mines in Jersey. Shore-controlled electrically induced
detonation. They covered a wide area of approach and were laid in fairly shallow water.
Note the anti-roll bars.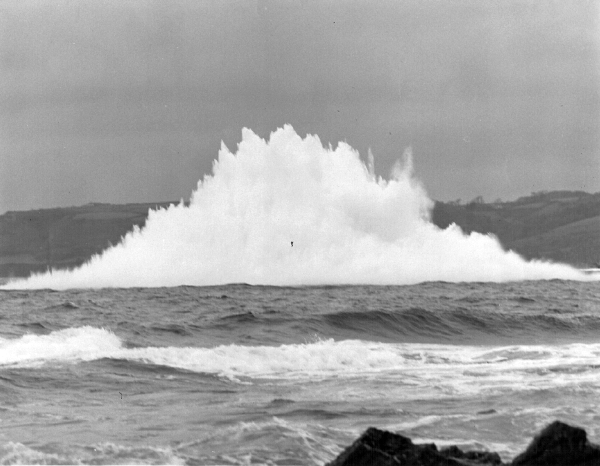 A German GC ground mine banged by George. It was dropped by a trawler just outside
Plymouth breakwater. Note the Double LL float in the centre of the white water.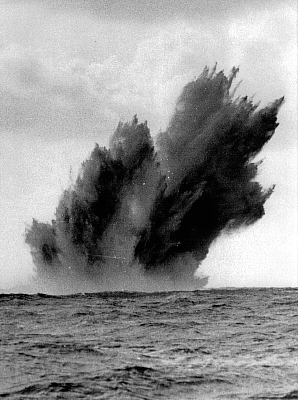 A German GC ground mine banged by George
off Plymouth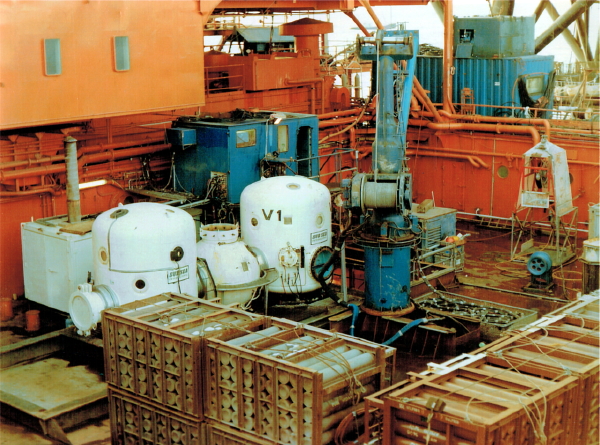 Subsea Offshore saturation diving system crammed on to a drilling rig
On 31 August 1956, George was awarded this commendation by the Commander-in-Chief (see entry for 17 Jan 08 in News Archive 21):
COMMANDER-IN-CHIEF'S COMMENDATION
P. H. ALDERTON,
Official Number P/SSx 865649, Leading Seaman, H.M.S. Vernon
On 25th July, 1956, H.M.S. Burley and H.M.M.F.V. 766 were engaged in special trials off Falmouth, involving the use of clearance divers. At about 1230, for the second day in succession, a shark was seen circling the M.F.V. and it was decided by the Diving Trials Officer to kill it before diving was resumed.
A motor dinghy put off from the M.F.V. with the Diving Trials Officer and three occupants. When the dinghy was near the shark, two 14 oz charges, joined by a length of cod-line, were successfully thrown across its back. The dinghy promptly turned away but the shark swam underneath it and the charges then exploded. The boat virtually disintegrated and the occupants were hurled into the water. Leading Seaman Alderton was on the forecastle of the M.F.V. at the time of the explosion. He immediately took charge of the M.F.V., ordering it to proceed towards the wreckage. Shortly afterwards he was relieved in the wheelhouse by the Coxswain who had been below, and he then arranged for the medical chest to be in readiness. When the M.F.V. was among the wreckage, four men dived into the water to bring in the survivors.
Leading Seaman Alderton appreciated that two were dead and two conscious but seriously injured. He therefore brought the injured men inboard first, where he applied first aid to the Diving Trials Officer and checked that the other casualty's injuries were being treated.
I have commended Leading Seaman Alderton for his initiative and prompt action which undoubtedly saved the injured men from drowning and ensured that they were given first aid at the earliest possible moment.
GEORGE CREASY,
Admiral of the Fleet, Commander-in-Chief.
31st August, 1956
On 28 May 1957, George was gazetted for the award of the British Empire Medal (BEM) as a LS(D) for gallantry and skill in rendering safe a German mine underwater and in darkness in the West India Dock, London on 26th January 1957 (see entry for 28 Mar 2011 in News Archive 33).
I am sure that all members of our community will join me in extending our sincere condolences to Elsie and her family on their loss.
---
From ex-CD Jim 'Tommo' Thomson:
"He was really funny at times, Rob. We were once out in the sound with a class of SDs with me as second dickie. George said get the class in the bows for a question and answer session, which I did. He then held up a nose clip and said, "Does anyone know what this is called in German?"
No response from the class.
He then said, "Nosenclippen Earencleeren." It brought the house down."
---
From ex-CD John Curran:
"I served with George in HMS Drake. We used to call him 'Gorgeous George'. He was a good man. Sorry to see him go."
---
From ex-CD Alan 'Charlie' Chapman:
"George was the WO(D) in charge of the school in Guzz in the early 1970s when I did my ships' divers course. When I joined in 1973 as staff he was still there. He was always a big man but one of the fairest and honest people I've had the pleasure to work for. He always had time to lend an ear and listen if you had a problem.
I hope that the details of his funeral will be posted as i still live in Guzz and would love to go and pay my final respects to one of the best.
---
From former FCPO(D) Dave 'Mona' Lott BEM:
"Not such a G'day,
Many thanks for your notification of the sad loss of yet another good bloke as anyone that knew George would most certainly agree.
Whenever I receive these very sad final tidings my mind reflects back to those days when we were all untouchable and the "Grim Reaper" was given little to no consideration. However, many years have now passed and I am quite saddened when viewing old photographs of teams that I served with to note how many good blokes have departed into the care of "The Great Keeper." I can only say that it was a pleasure have been allowed to serve with them or even to have known them, and George certainly came from that group.
Rest in peace George, and thank you for your able assistance in making Clearance Diving the best branch in the RN.
Dave (Mona) Lott
Eden, NSW, Australia
---
From MCDOA member John Grattan OBE:
"Dear Rob,
George and I were on CD Course together in 1958. He was the first (if not only) killick CD1. He was the epitome of a "Tiddly Sailor", always charming, clever and full of knowledge which he was willing to pass on to the officers on course. I certainly learned a great deal from him as well as Mac MacRae-Clifton and Geordie Witherall
He was then with me in HMS Dingley, releasing Ginger Bryant BEM as the Team CD1 so I gave him the Acting Local Rate which he wore with distinction as well as running a happy and successful team. I think Alf Slingsby, then a very wild young AB, is now the only other survivor of that team!
We were next together in the Med Team and he had not changed at all; still highly professional, enthusiastic and ready to lead from the front. He was ably supported by Elsie and they were the ideal couple. Sadly he was hit by an air-trapping embolism and spent over nine hours in a one-man chamber which affected him badly for a long time.
We were in Strongwork together for two years and have kept in touch.
All who knew George have lost a great friend but we are richer for having known him. RIP my old friend of so many happy memories.
Yours aye,
John"
---
EOD callout for SDU2 at Folkestone
The following articles published on the Kent Live website describe the progress of yesterday's EOD incident at Folkestone harbour, presumably attended by members of Portsmouth-based Southern Diving Unit 2 (SDU2):
A bomb has been found in Folkestone Harbour
Bomb experts confirm when Folkestone Harbour device will be removed
Bomb disposal experts reveal what they found at Folkestone Harbour
The suspicious object transpired to be either a pressure vessel or a canister.
---
30 Mar 17 - Awards of LS&GC and promotions to WO
Congratulations to CPO(MW) Gary Burridge, PO(MW) 'Sticky' Green and PO(D) Joe Gow on being gazetted for the award of the clasp to the Long Service & Good Conduct medal and to CPO(MW) Chris 'Chip' Miles on being gazetted for the award of the LS&GC medal.
Postscript: Former WO(MW) Dixie Dean MBE, Chairman of the Minewarfare Association (MWA), has kindly informed me that CPO(MW) Chris 'Chip' Miles has also been selected for promotion to WO1(MW) along with CPO(D) Nick 'Jack' Frost (DEMS TRG REGT CMD WING) and CPO(D) Keith 'Satch' Satchwell (FDU3) who were selected for promotion to WO(D).
---
29 Mar 17 - Rankins visited by the Welborns in Australia
Having hosted MCDOA member Dan Nicholson and his wife Christine at their newly-built house at Mooloolaba on the Sunshine Coast of Queensland earlier this month (see entry for 2 Mar 17), Allan and Marie-Louise Rankin have just said goodbye to MCDOA past-President Colin Welborn and his wife Jo.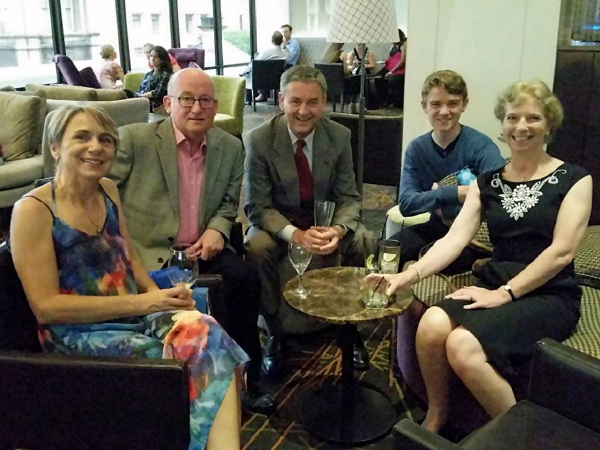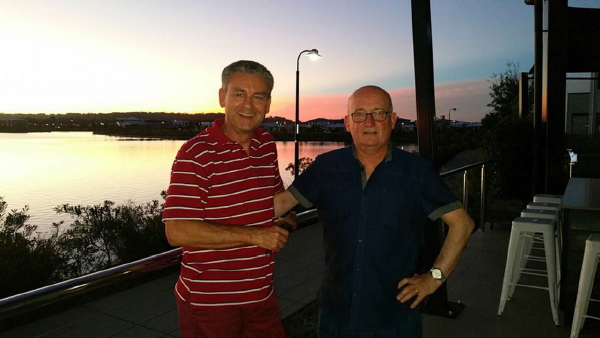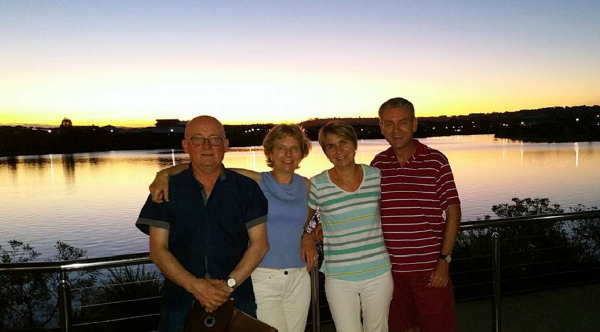 Allan and Colin were fellow members of LMCDO '79 with Tony Rose as their Course Officer and Len Hewitt as their Chief Instructor.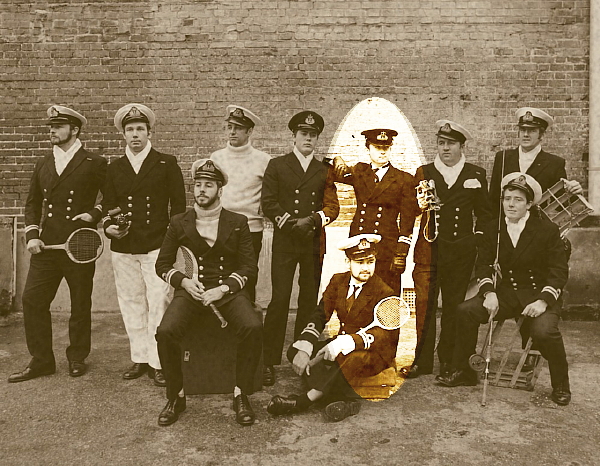 Postscript: Colin and Jo Welborn headed on from Australia to New Zealand and Colin has sent me this message concerning former MCDOA Hon Sec David 'Topsy' Turner who transferred from the RN to the RNZN in 2004 (see entry for 17 Sep 16 in News Archive 55):
"Dear Rob,
You are aware that Topsy left NZ when he knew Jo and I were inbound? Well, I found him.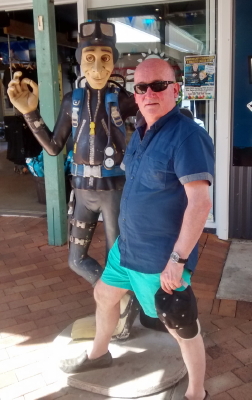 Regards,
Colin"
---
28 May 17 - Vernon Monument collection box
Mrs Webmaster and I were blessed with a visit by my younger Seattle-based sister and one of her daughters at the weekend. Our own '30-somethings' from Wales, Southsea and the Isle of Wight joined them at Gunwharf Quays on Saturday afternoon and my sister took the opportunity to make a donation towards the Vernon Monument via the collection box kindly provided by the management.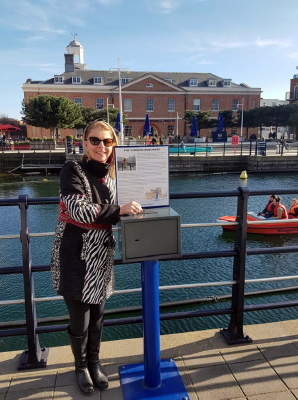 Congratulations to members of the Minewarfare Association (MWA) for raising £420 towards the cost of the monument at their reunion on Saturday. This is on top of the thousands they have already contributed and reflects their continued support for the project. Our glass (mine) is over two-thirds full and a significant fundraising event is being planned for July. Watch this space.

When it is erected, the striking monument will be a tangible tribute to past, present and future members of our minewarfare, diving and EOD community and be seen by the 8 million annual visitors to Gunwharf Quays on the previous site of HMS Vernon. The sooner we raise the balance of funds required, the sooner our monument will reach fruition. Are you doing your best to help?
Here is one way that can cost as little as £1 per week with the chance of winning prizes. Every 10 tickets bought brings in at least £260 for our cause each year:
Portsmouth Lottery: The Vernon Monument
---
27 Mar 17 - HMS Chiddingfold leads the way
The Royal Navy website contains this article reporting the recent participation of HMS Chiddingfold (MCM2 Crew 1), along with various other coalition warships, recently took part in 'MCMEX 17-2' in the international waters off Bahrain. Other participants included HMS Bangor (MCM1 Crew 7), HMS Penzance (MCM1 Crew 1) and the US Navy's Avenger-class MCMVs USS Devastator, USS Gladiator and USS Dextrous.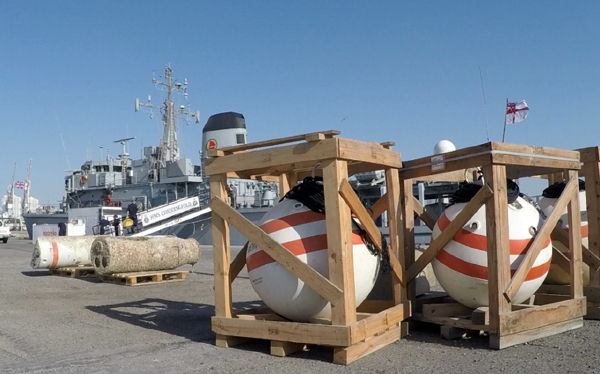 (RN website photos)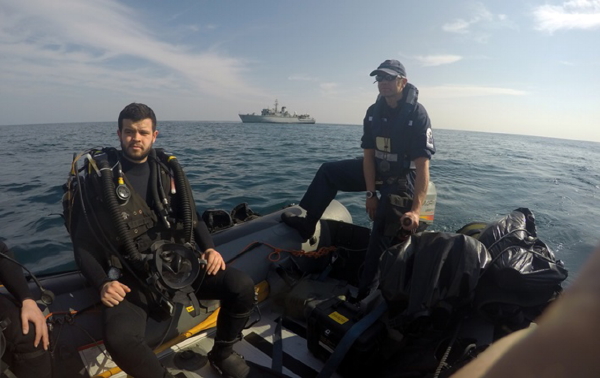 ---
26 Mar 17 - SNMCMG1 to participate in JOINT WARRIOR 17-1
After heavy seas and seamenship exercises, Standing NATO Mine Countermeasures Group 1 (SNMCMG1), including HMS Ramsey (MCM1 Crew 4), has arrived in Glasgow ready to participate in Exercise JOINT WARRIOR 17-1 with an overall total of 28 ships.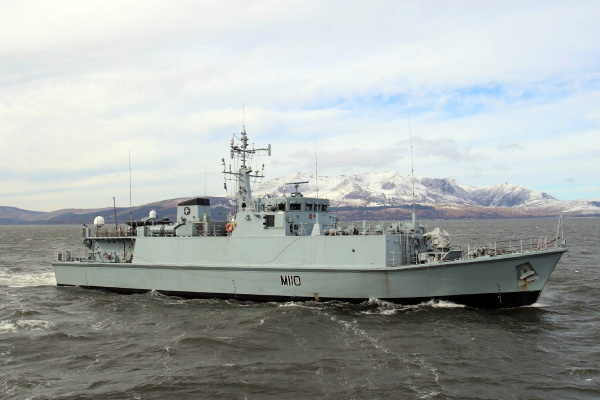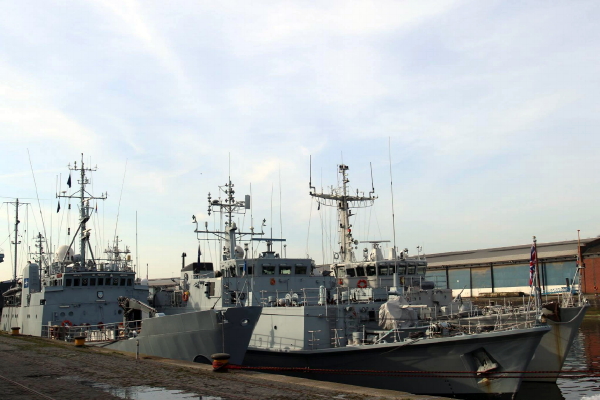 ---
25 Mar 17 - Gentlemen Who Lunch
Last Tuesday found the MCDOA's 'Not Quite the Last of the Summer Wine' trio of Barlow, Holloway and Hoole visiting The Royal Oak at East Lavant in West Sussex for its weekly gathering. It was a lovely spring day to visit this country pub in a pretty village although it wasn't quite warm enough to sit outside for any length of time.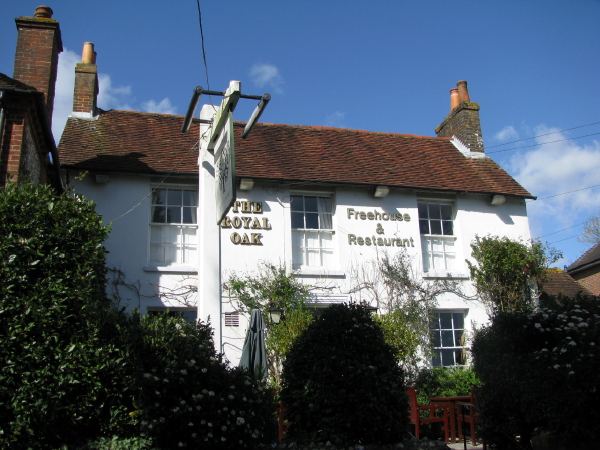 The road outside is quite narrow but there is a sizeable car park opposite the pub.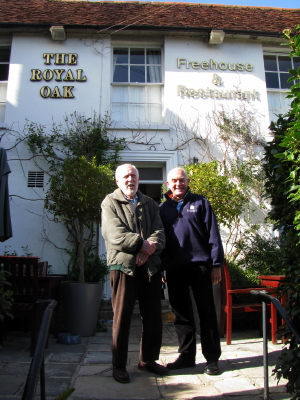 We enjoyed Young's ale from the cask and some simple but good food.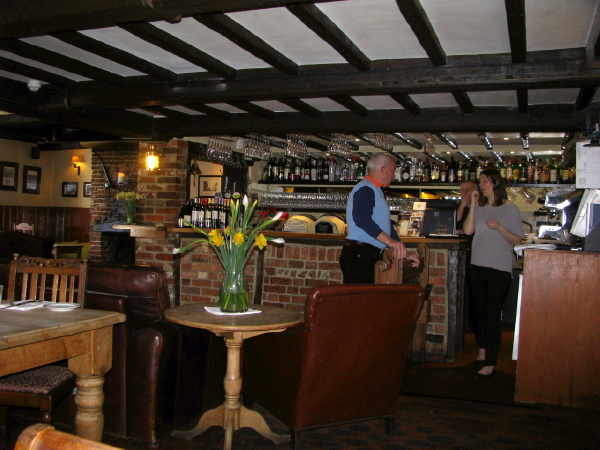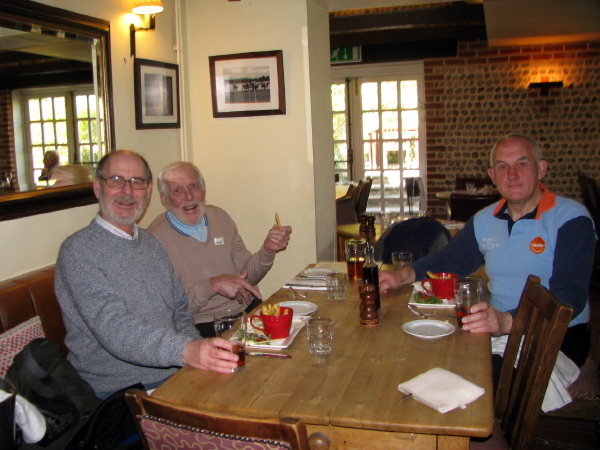 On Saturday night, Barlow and his wife Jill had attended the variety show at the London Palladium performed as a tribute to Dame Vera Lynn on her 100th birthday. Dame Vera was too frail to attend herself but the Queen stood in for her and Doug regaled us about having been invited backstage for drinks afterwards by two former First Sea Lords (Lord (Alan) West of Spithead and Sir Jonathon Band) as well as the Honorary Vice Admiral of the United Kingdom (Sir Donald Gosling) with whom Doug was evacuated to my boyhood town of Salcombe as an 'Arethusa Boy' in 1944.
---
24 Mar 17 - Daily Telegraph obituary for Sub Lt Adam Bergius DSC RNVR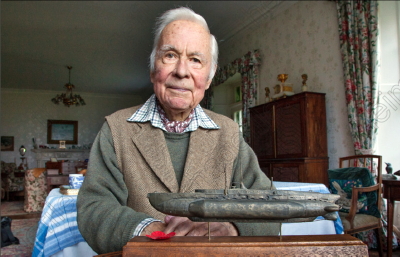 The Daily Telegraph has published this obituary for Second World War X-Craft diver Adam Bergius. Here is the complete text:
Adam Bergius, daring diver in midget submarines – obituary
Adam Bergius, who has died aged 91, was one of the exceptionally daring men who manned midget submarines known as X-craft during the Second World War.
At 21.20 on the night of July 30 1945, in the Mekong Delta, the submarine Spearhead slipped the tow on the midget submarine XE-4. The Australian Lieutenant Max Shean DSO, commanding XE-4, had orders to trawl for and cut the underwater telephone cables from Saigon to Singapore and Hong Kong to Saigon, thus forcing the Japanese to use wireless communications, which could be intercepted and deciphered.
For this difficult task, hampered by the tide and in rough weather, Shean's crew consisted of his first lieutenant, Sub-Lieutenant Ben Kelly from Edinburgh, Chief Engine Room Artificer "Ginger" Coles from Newbury, diver Sub-Lieutenant Ken Briggs and the 20-year-old Scot, Sub-Lieutenant Adam Bergius. The 30 ton, 52 ft midget submarine, powered by a Gardner diesel, completed the 40-mile underwater journey towards Saigon, at which point Shean began to drag a steel grapnel and chain weighing about 80 lb along the sea bed. He made a number of runs through waters crowded by fishing junks, before being brought up suddenly as the grapnel caught the Singapore cable. Briggs, wearing a heavy diving suit, was the first to leave the submarine. He returned soon with a short length of cable as evidence of a job well done.
About an hour later, the Hong Kong cable was found, by further trawling, at a much greater depth and Bergius emerged from the X-craft. He recalled: "The cable lay about 40 ft from where our submarine had come to rest. The water was a bit muddier than Loch Striven where we had done our training, but I didn't have much difficulty in finding the cable." Bergius's air-powered cutter failed, however, and, exhausted by the effort, he was obliged to return to XE-4 to rest. Entering the wet-and-dry chamber Bergius was offered the chance to abort his solo mission on the seabed, but, after a spell of breathing mind-clearing air rather than pure oxygen, he resolved to leave the midget submarine, taking with him a replacement cutter. In that period underwater breathing apparatus was in its infancy, the water was deeper than expected and only a short time before two highly trained divers had been lost attempting to cut cables at similar depths. However, Bergius was successful at the second attempt, and returned with a length of cable as proof that it had been cut. He proudly kept it as a souvenir.
For gallantry, perseverance and outstanding skill he was awarded the DSC.
Adam Kennedy Bergius – "Jock", as he was known in submarines – was born in Glasgow into the Teacher's whisky family and educated at Kelvinside Academy and Glenalmond College. His love of the sea began during summer holidays at Kirn, Argyll, in his rowing boat Puddock. Later he sailed in the motor-ketch Dodo IV, designed for his father by William Fife III. The Navy would turn him into a consummate navigator, and postwar he crewed in Latifa (Fife's most famous yacht) in the New York to Bermuda race, and sailing became a lifelong affair.
Bergius joined the Royal Navy in 1942 and, after seamen training at HMS Ganges near Ipswich, he was drafted to the auxiliary minelayer Armageddon, based in the Kyle of Lochalsh, and employed laying the Northern Barrage, a minefield in the Iceland-Greenland gap. He underwent officer training at HMS King Alfred, where in 1944 the 19-year old newly promoted midshipman saw a notice about special and hazardous service, and volunteered without knowing what the service was. Soon he found himself on a train to Ardtaraig House on Loch Striven, then known as HMS Varbel II, which was the home of the 12th Submarine Flotilla. Bergius trained as a diver there and at the Kyles Hydropathic Hotel, practising exiting and entering X-craft using a small floodable chamber aptly called the wet-and-dry chamber, and learning to cut underwater nets and place explosives.
In November 1944 he travelled from Barrow-in-Furness to Faslane by a special train pulling XE-4, which was heavily disguised as a food container, while he and the rest of the crew sat in a first-class carriage. Six XEs were readied for service in the Far East and redesignated as the 14th Submarine Flotilla under the command of Captain WR "Tiny" Fell. They embarked in the New Year of 1945 at Port Bannatyne in the former SS Clan Davison known in wartime as the depot ship HMS Bonaventure. Bonaventure steamed via the West Indies and the Panama Canal to Pearl Harbor, where it soon became apparent that senior officers of the US Navy did not want the X-craft, considering them to be suicide weapons and resenting the fact that they did not have a version. However, at lower levels of command Captain Fell, their cheerful and determined commander, was received with enthusiasm and respect and obtained permission to proceed to Australia.
Bonaventure anchored for a warm-water work-up at Whitsunday Island in the Barrier Reef, which Bergius found to be a wonderland of colour and light, teeming with corals, sea plants and fish of every shape and colour. He could swim as freely as a fish and, breathing pure oxygen, made no noisy bubbles to destroy the peaceful underwater world. On one exercise, however, he stood on a stingray and the barbed sting lodged in his calf. His friend, "Ginger" Coles, sat with him through the subsequent convalescence. On another dive, he found an anchor cable going down outside a reef and pulled himself down until he was amazed to discover what appeared to be an old sailing ship. There were two men on the foredeck and he was just about to strike up a conversation – hallucination is an early sign of oxygen poisoning – when he heard the words of his fellow diver ring out: "You're all right, carry on normal breathing, Sir." It was a command which he was happy to follow for some 70 years.
After his time in X-craft, Bergius piloted the steam tug Empire Sam and a convoy of barges and small craft to Hong Kong on what he called a pleasure cruise through the Philippines. Next he was navigator of Spearhead in which he spent a week at sea searching for Japanese on the surrounding islands and monitoring the blossoming smuggling trade.
Postwar Bergius joined Teacher's. His natural role was in sales and marketing and he enjoyed promoting the brand worldwide. Though he rose to be chairman, he was not happy when the firm was taken over by Allied Brewers in the 1980s, and his carefree style was cramped by what he described as the "fun-less grim world of over-educated sales advisers". In 1995 he published a light-hearted book, Make Your Own Scotch Whisky, including a spoof recipe.
From 1963 he lived at Glencreggan on the west coast of Kintyre, with views to the islands of Gigha, Islay and Jura, and half a mile of foreshore, rough shooting, farmland and fishing in a small loch. The house's drawing room was fitted with a wooden sprung floor where he hosted ceilidhs. In the late 1970s he added 1,300 acres of Oronsay to the Glencreggan estate.
Another love of his life was a 1926 British racing green Bentley which he bought for a song in 1949 and nicknamed "the Hippo". Bergius thought nothing of plunging into its innards or scouring Glasgow's scrap merchants for spares. The Hippo was sold in the 1980s but, thanks to Bergius's maintenance, is still regularly exhibited.
In an after-dinner speech in 2013, Bergius reflected that to serve in submarines was to become a member of the strongest, most loyal union of men, and that the greatest joy of all is that companionship and feeling part of a team. He married Fiona Sillars in 1951, who predeceased him in 2011, and he is survived by their four sons and a daughter. His brother, William Bergius, was drowned when the destroyer Gould was torpedoed in March 1944.
Adam Bergius, born 26 March 1925, died 3 March 2017.
---
23 Mar 17
Ledbury gears up for the Gulf
The Royal Navy website contains this article describing the preparation of HMS Ledbury (MCM2 Crew 7) for deployment to the Gulf later this year to take over from HMS Chiddingfold (MCM2 Crew 1) on Operation KIPION. The article also features HMS Blyth (MCM1 Crew 8) which has been undergoing OST (Operational Sea Training) at the same time as Ledbury.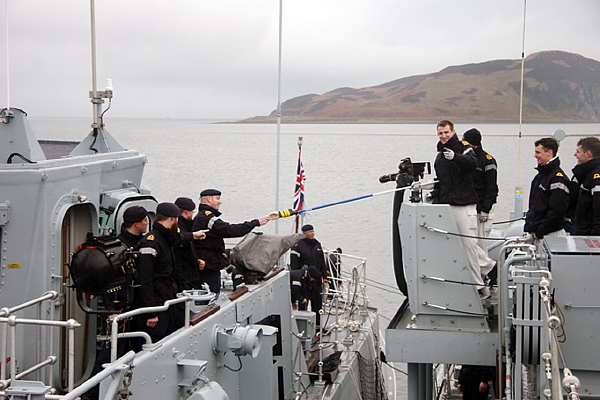 HMS Ledbury's CO (Lt Cdr Jim Harkin) on right 'shakes hand' with HMS Blyth's CO
(Lt Cdr Peter Ware) while their ships are undertaking OST
(RN website photo)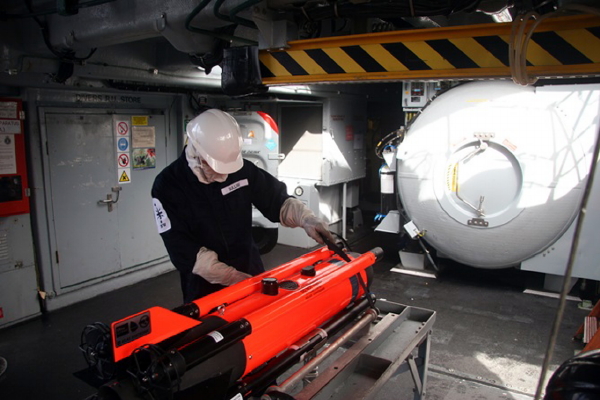 LS(MW) Jordan Sullivan preparing SeaFox mine disposal vehicle for deployment
(RN Website photo)
---
Hurworth leads the Hunt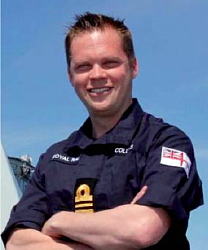 I am grateful to Lt Cdr Charlie Collins, Commanding Officer of HMS Hurworth (MCM2 Crew 5), for informing me that his ship has been awarded the coveted Jim Acton Minewarfare Efficiency Trophy as the best MCMV in the Second MCM Squadron for 2017. The award was presented by Commander Portsmouth Flotilla (Cdre Peter Sparkes) in recognition of MCM2 Crew 5's outstanding work in the ship's generation and deployment to the Gulf.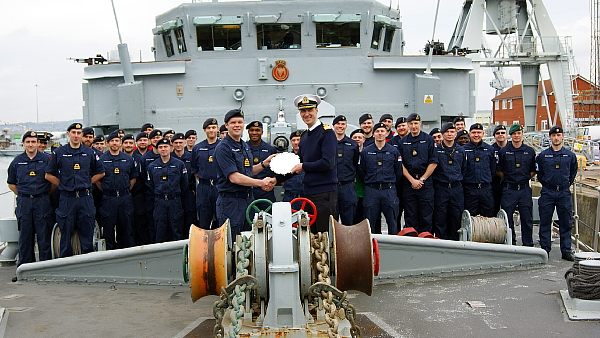 Above and below: Capability demonstrations and interactive stances for the 300 senior officers, ACSC
students from JCSC Shrivenham and members of the media making their Maritime Combat Power
(old-style Staff College Sea Days) visit to Devomport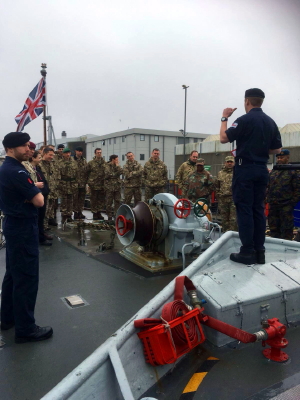 The late MCDOA member Jim Acton (LMCDO '87B), in whose name the trophy is awarded, was killed by an earthquake on 16 Aug 1999 while in Golcuk Naval Base, Turkey to help plan a major NATO minewarfare exercise as MCM1's SOO. He was 37.
---
22 Mar 17
Death of former CPO(CD1) Ron Maitland-Flanagan
Ex-CD Spike Wheeler has reported the death of former deep diver and cloak-and-dagger merchant Ron Maitland-Flanagan (aka Ron Flanagan) on 18 March at the age of 92. Further information will be published as I receive it.
Left: Ron Maitland-Flanagan (in green beret) in October 2006 with the late MCDOA members
Morty Drummond and George Wookey MBE (with his wife Patrice) in front of plaque at
Sørfjorden near Bergen marking 50th anniversary of George Wookey's record-breaking
600 ft dive from HMS Reclaim on 12 October 1956.
Right: Ron Maitland-Flanagan (with walking stick) and his companion Margaretta Soulsby
in HMS Cattistock's wardroom in May 2007 during a visit by members of the
Ton Class Association.
See 'HMS Reclaim - A World Record Breaker' in the website's Dit Box plus entries for 16 Oct 06 in News Archive 16 and 4 May 07 in News Archive 18.
---
From John Soanes, Chairman of the Ton Class Association:
"Rob,
I have been in touch with Ron's son (Ron Maitland Flanagan Jnr). Ron lived his last days with him in Worth, West Sussex.
As far as funeral arrangements are concerned there will be a private family only cremation service in Worth, West Sussex, date not yet known. The SBS are involved in arranging for the scattering of his ashes at sea, followed by a reception. No details of dates yet. His son will be in touch when arrangements have been confirmed,
Sadly his friend and companion Margaretta passed away in March 2016.
Yours Aye,
John"
---
From ex-CD Jim 'Tommo' Thomson:
"Hello Rob,
Ron was a man larger than life! RIP.
A couple of years ago, my oppo Sean 'Mick' Curran sent me a few photos which I put into this file: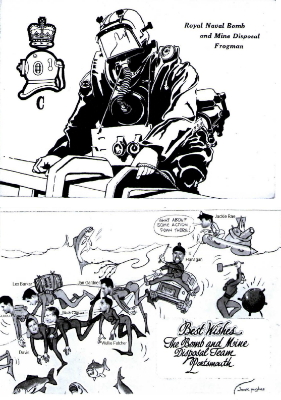 (Click to download)
Ron Flanagan was the Chief of the Pompey B&MD in 1963-64 when Mick was a member of the team. A couple of the photos are of a blast bomb which the team dealt with somewhere in Norfolk. I have put names to the divers I knew. I have also included a bit from the Guzz team, and the dive on the Prince of Wales in 1966.
Sean lives in Plymouth and we have been friends for a long time.
Best regards,
Tommo"
---
Alan Broadhurst seriously ill at QA Hospital
I have received word from Michael 'Jacko' Jackson via David Bond that former CPO(D) Alan Broadhurst collapsed while representing the British services at the Remembrance Day parade in Northern Cyprus where he lived and would have died without a swift brain operation. With the help of family and friends, he was brought back to the UK a month ago for treatment at Queen Alexandra's hospital near Portsmouth.
Joe Maher visited Alan yesterday and Jacko will visit him today. He is unable to handle lots of people but a one-to-one with a familiar face is good. His wife Angela has manage to secure accommodation in Cosham to be near him. Visits from past colleagues might help his recovery.
Alan served for 22 years and worked with the likes of John Grattan, Bill Lampard, Gerry 'Pincher' Martin, Joe Maher, Norman Slingsby, Harry Neave, etc. He ran the Old Library Lodge & Restaurant at Arisaig on the west coast of Scotland before conducting commercial diving training at Fort William and eventually moving to Cyprus from where he and his wife enjoyed sailing their yacht around the Mediterranean for several years.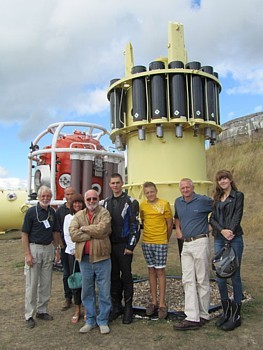 Alan Broadhurst (in sunglasses) with his
family and museum volunteers including
former FCPO(D) John Dadd (extreme left)
in front of HMS Reclaim's diving bell
during a visit to the HDS Diving Museum
at Stokes Bay in September 2013
See the entries for 14 Jun 10 in News Archive 30 and 9 Sep 13 in News Archive 43.
Anyone wishing to visit Alan is requested to email his intention to Jacko Jackson via this address or call him on his mobile: 07590 230591.
---
Funeral of Lt Cdr Ian McConnochie RAN
I am grateful to MCDOA member Dan Nicholson for this contribution concerning the funeral in Australia of Lt Cdr Ian McConnochie RAN who was born in Portsmouth and started off in the Royal Navy (see entry for 15 Feb 17):
"Hello Rob,
Back last evening from our Antipodean wanderings and getting over the remaining jet-lag.
As coincidence would have it, Chris and I arrived in the Sydney area with the full intention of visiting Ian and Pat McConnochie. But, as it happened, we arrived on Friday, 13 Feb - the very day that Ian died. Wearing my only long-sleeved shirt, freshly ironed and sporting an RN MCDO tie borrowed in haste from Bill Lampard (what else are fellow-Long Course mates for?), I felt a bit under-dressed. However, we were both able to attend Ian's funeral on Monday 20 Feb at a crematorium north of Sydney and made to feel very welcome.
Not surprisingly, it was very well attended by the good and the great of the RAN MCD fraternity including Vice Admiral Russ Crane and many others we knew and whom some RN MCDOs might remember from RAN/RN Exchange and VERNON days... Neill 'Dinga' Bell, Garry Kennedy, Russ Crawford, Edward 'Jake' Linton, etc.
Prior to that period, Ian and I shared an office on the staff of COMINEWARCOM in Charleston, South Carolina and became firm friends. I can recall that our Admiral assigned us both to somewhat 'sensitive projects' (e.g. the RN MDW) which caused some concern in Pentagon circles. But we thoroughly enjoyed our time together. Being the only 'Foreign & Commonwealth' MCDOs within 400 miles, we shared lots of fun and some good parties too! Martyn Holloway relieved me in July 1976 and, I have no doubt that together, he and Ian continued the friendly banter between the three nations!
Ian was a very sad loss to all who knew him. Those who had the privilege to serve with him, quickly realised that he was a determined fighter. This was never more true than towards the end of his life and his 64 years of marriage to Pat!
Kind regards,
Dan"
---
15 Mar 17 - Gentlemen Who Lunch
Our 'Not Quite the Last of the Summer Wine' trio of Barlow, Holloway and Hoole assembled at The Crown in Emsworth for our weekly gathering yesterday because Barlow had an appointment for a blood test in the nearby surgery.
The pub was nearly empty but I noticed two adults with a delightful little girl. The girl's mum recognised me and turned out to be the sister of an old family friend. She is married to an RN clearance diver (initials KM) currently serving at the Defence Diving School (DDS) on Horsea Island. The other adult was her father who was celebrating his birthday with his daughter and grand-daughter. Small world sometimes, isn't it?
The Crown has a special two-course menu for 'seniors' and Holloway and I took advantage of it: fish & chips for Holloway and ham, egg & chips for me. Both went down well accompanied by pints of 'Proper Job' Cornish ale.
"I'm not hungry," said my old sea-daddy, mentor and best man Barlow who was recovering from having fallen asleep in the sun on the beach in Dubai last week. He was persuaded, however, to have a starter portion of Welsh rarebit. When Holloway and I chose a delicious apple and cinnamon crumble with ice cream for pudding, Barlow decided he had to have something too. So much for not being hungry!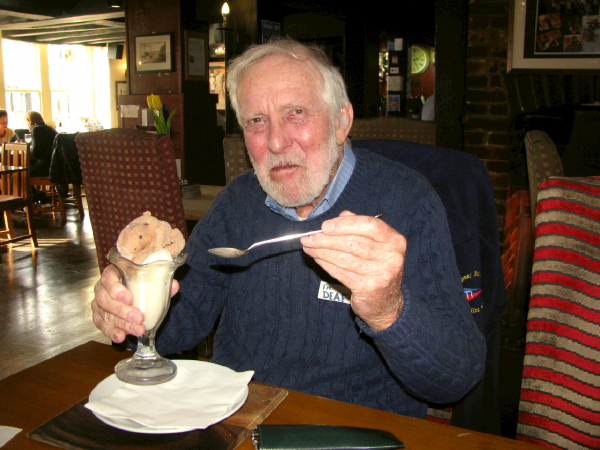 "I'm not hungry"
It was then back to Barlow's cottage where Jill had tea (including a freshly-baked fruit cake) ready for us on the table. Phew!
---
14 Mar 17 - Award of clasp to LS&GC
Congratulations to CPO(MW) Andrew 'Nobby' Clark on being gazetted for the award of the clasp to his Long Service & Good Conduct Medal.
Earlier this year, Nobby was presented with the US Navy & Marine Corps Commendation Medal by Capt Andy Jordan RN (Captain of HMS Collingwood), for his work as OIC of the US Mine Hunting Unit in Bahrain under the Command of CTF52 (see entry for 5 Mar 17).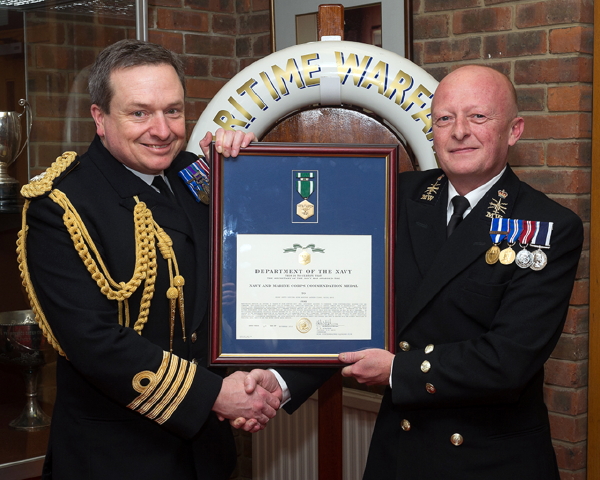 ---
12 Mar 17 - Another bomb found in Portsmouth harbour
The Portsmouth News website contains this article reporting the temporary closure of Portsmouth harbour this evening after the discovery of another wartime bomb during dredging operations. The RN bomb disposal team, presumably members of Portsmouth-based Southern Diving Unit 2 (SDU2), was stood down after the bomb was deemed to be 'not viable'.
---
11 Mar 17 - SNMG1 and SNMCMG1 join forces
The German tanker and Belgian, Norwegian and Spanish frigates of Standing NATO Maritime Group 1 (SNMG1) and the Dutch, Estonian, Norwegian and UK MCMVs of Standing NATO Mine Countermeasures Group 1 (SNMCMG1) have joined forces to participate in training conducted by Flag Officer Sea Training (FOST) in the English Channel following a combined visit to Plymouth last weekend (also see this article on the Daily Mail website).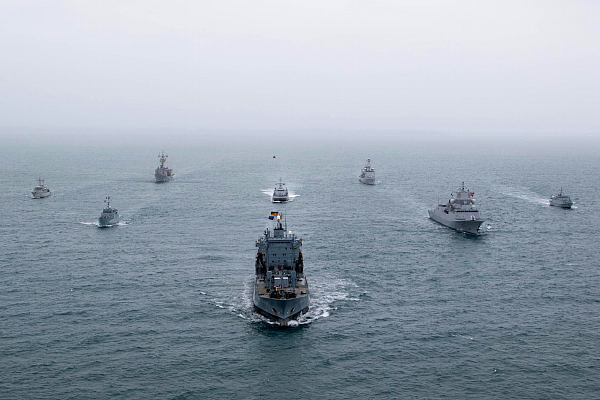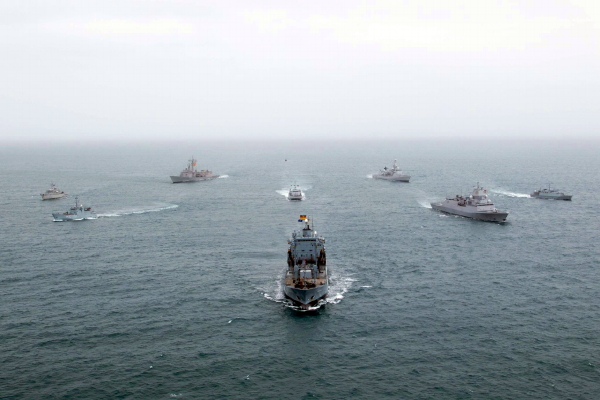 The Royal Navy MCMV currently assigned to SNMCMG1 is HMS Ramsey (MCM1 Crew 4):
In the meantime, the German, Polish, Romanian, Spanish and Turkish MCMVs of Standing NATO Mine Countermeasures Group 2 (SNMCMG2) are participating in the annual Romanian-Bulgarian bilateral Exercise POSEIDON 2017 in the Black Sea.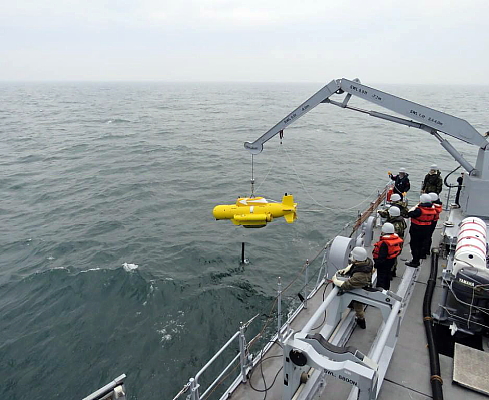 ---
10 Mar 17 - Falklands 35th Anniversary events, Gosport 20/21 May
I am grateful to former FCPO(D) John Dadd BEM for this information:
"Dear All,
I have received the following information from Smokey Cole, the CEO of the Falklands Veterans Foundation, so would you be kind enough to remind the readers of your excellent websites that this year is the 35th Anniversary of the Falklands War.
There is a programme of events, details below, being run by Gosport Borough Council and the Falklands Veterans Association, the highlight of which is a Memorial Service and Freedom Parade at the Falklands Gardens, Gosport, on Sunday 21st May. As a resident of 'Turk Town', I try to attend these events, but regretfully never see too many other Clearance Divers. I cannot believe they are overcome by shyness so, this is a three line whip calling all the 'Forgotten Heroes'.
"From: Falklands Veterans Foundation
Date: 13 February 2017 at 14:30:53 GMT
To: 'FVF'
Subject: Saturday, 20 and Sunday, 21 May 2017
Many thanks for registering an interest in the above and being so patient. I have at last got an update for you - the weekend is on!
Saturday, 20 May 2017
A social evening will be held at the Warrant Officers and Senior Rates Mess HMS Sultan, Military Road, Gosport, Hampshire PO12 3BY, to include light entertainment and pig roast. Bar Open: 1830 -2300. Tickets: £20 pp. Book early as tickets are limited. Cheques should be made payable to 'Falklands Veterans Foundation' and sent to 167 Stoke Road, Gosport, Hampshire PO12 1SE. If paying by bank transfer please pay to: Account Name: Falklands Veterans Foundation - Bank: HSBC – Account No: 01620282 – Sort Code: 40-22-17 – please use reference SUL35.
Dress code: Smart casual (no jeans or trainers please)
You will need to supply me with the full names of all those wishing to attend. If you intend taking a vehicle onto the base I will also need the Make/Model/Colour and Registration Number as a list must be supplied to HMS Sultan's Main Gate 72 hrs prior to the event. Access will denied if you are not on the list.
Sunday 21 May 2017
Memorial Service and Freedom Parade
1000 - Veterans muster in Gosport Bus Station
1030 - Veterans march into position in the Falklands Gardens
1100 - Memorial Service Roll of Honour Families of those KIA lay flowers
o/c - Parade through the High Street, the salute being taken by The First Sea Lord, a Falklands Veteran and the Deputy Lord Lt of Hampshire Admiral Ian Hutchinson
o/c - Reception on Walpole Park
Dress Code: Smart dress with medals
Again, you will need to supply me with the names of any family members who wish to attend the reception after the Memorial Service and Freedom Parade.
Please ensure, when replying, you let me know which Ship/Unit you served in during the conflict.
You will receive a confirmation email when you have confirmed that you wish to attend either or both events.
If you apply to attend the Saturday event your name will not go on the list until payment has been received and cleared by the bank – confirmation of this will be sent via email.
I look forward to seeing you in May.
Kind regards,
Chief Executive
Falklands Veterans Foundation"
If we can get a decent turnout and to remind the public who we are, I can supply (from the museum) a standard helmet draped with a diving flag, which we could March behind as a unit.
Interested? Then the muster point is the bus stand at the right hand side of Gosport Bus Station, facing the harbour.
If you are looking for somewhere to go after the beer tent, there is free entry to the Diving Museum for all Falklands Vets and their families on Sunday, May 21st.
I look forward to seeing you all.
Yours aye,
John Dadd"
See The Forgotten Few of the Falklands in the website's Dit Box. I am sure Smokey would welcome responses from MCM personnel too, especially those manning the minesweeping trawlers of the 11th MCM Squadron.
---
9 Mar 17
Mystery object
I am grateful to MCDOA member Maj Les Rutherford, an ex-REDE (Royal Engineer Diving Establishment) officer, for this query. Can you help?
"Hi Rob,
The pictures below are currently doing the rounds of the 'old and bold' ex-military divers in the Diving Museum's crew in an effort to identify the tool. See Ann's email to me:
"Hello Les,
We have been approached by an auctioneer to see if we could identify this object. They were told it was a diving mallet.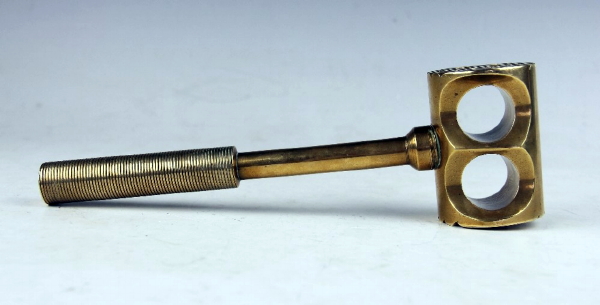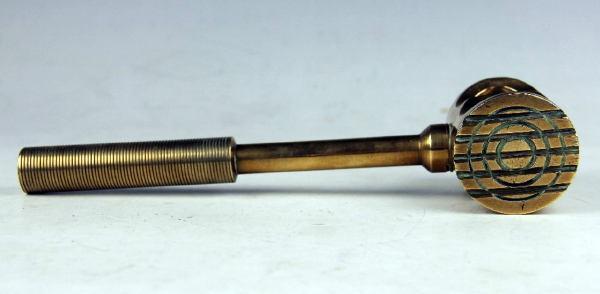 Mike Fardell (our secretary and former Royal Marine) says he thinks it might be a tool used by mine clearance personnel. That is what we have told the auctioneers but before they sell it as such I thought it might be worth getting a second opinion to save our reputation as 'diving implement know-alls'. No one else has ever seen such a thing. Do you know what it is?
Thanks,
Ann"
Mike F throwing in the 'mine clearance' comment made me immediately think of you. So if you, or any of the MCDOA community fancy a crack at this, we'd be grateful for your help.
With my RE engineer (not necessarily BDO) head on, I'm thinking some sort of key as well as possibly a mallet. The countersunk machined holes in the head look like they could be used to locate on lugs or pins to turn something. Was it part of a depth charge release kit perhaps? It doesn't appear to be the copper - berilyum colour that I remember from my 8B1 days either. We may yet find that it turns out to be a really posh auctioneer's gavel or a 19th Century British Rail guard's brake handle, but knowing you like a challenge I thought I'd give you a shout.
Hope you are both well and surviving the UK weather we are seeing on the news.
REgards,
Les"
If anyone feels able to help, please contact me via my Webmaster email address.
---
From former FCPO(D) Mick Fellows MBE DSC BEM*:
"Rob,
I believe the tool is a serving mallet used to wind the wire serving around a steel wire rope splice to protect sailors hands from sharp wire ends. The serving wire was fed through the two holes and the flat end used to hammer the end serving into shape.
Mick"
---
New transatlantic challenge for David Hosking
In February 2011, MCDOA member David Hosking MBE (Leader of Team Hallin), sponsored by fellow MCDOA member John Giddens (founder & former Chief Executive of Hallin Marine - Hallin is his middle name - and currently Operational Concept Developer of Tasik Subsea), broke the transatlantic rowing record (see second entry for 8 Feb 11 in News Archive 33).
The Daily Mail reported the team's achievement in its own inimitable fashion:
Naked ambition! Why one woman rower stripped off with her five-man crew to break a world record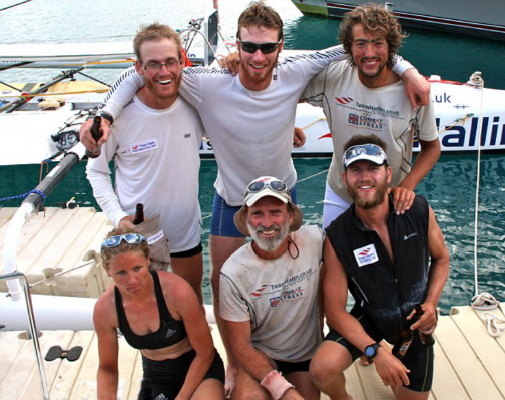 David Hosking (kneeling centre) with Team Hallin in Port St Charles, Barbados
on 7 February 2011 after breaking transatlantic rowing record
David is now undertaking a fresh challenge, which he first announced in the entry for 9 Dec 15 in News Archive 52, and is requesting support:
Dear Friends, Family and Supporters,
On behalf of Team Hallin and our adopted charity Combat Stress - Thank You again for all your tremendous support in our past Ocean Rowing and Ocean Sailing Adventures. In ten days time I will head off to the West Indies to prepare for Team Hallin's next Transatlantic Ocean Attempt - a two-handed epic sailing voyage of some 4,000 miles from Antigua to the UK. On arrival in Antigua I will spend around five weeks refitting the boat 'Celtic Dawn' [a Westerly 33 Ketch] with kind help from the boat's owner Ted Manning. On the 24th of April 2017, my son Edmund will join me in Antigua. After a short set of sea trials and safety briefings we hope to depart Jolly Harbour in Antigua around April 2017 for our return trip across the Atlantic Ocean to Poole in the UK.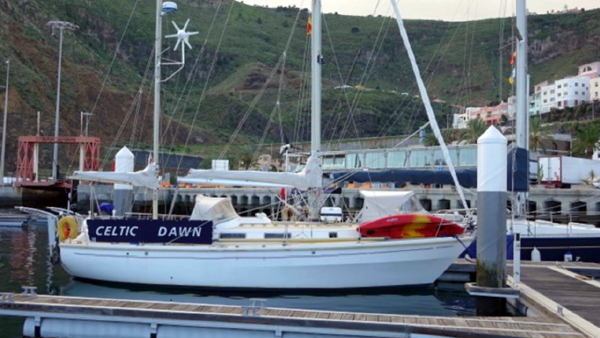 Please show your continued support for us and Team Hallin by following Celtic Dawn's slow progress across the Atlantic on our Yellow Brick Satellite tracker map/blog site at:
https://my.yb.tl/oceanrowingboathallinmarine2 or on Facebook at - # Hallin Marine or on Twitter at: Team Hallin Marine@Team_Hallin.
To support 'Combat Stress' please consider making a small donation either before, during, or after after this Trans-Atlantic Attempt - to do so please go to my Just Giving site at:
https://www.justgiving.com/fundraising/CelticDawnAtlantic2017 or text the code 'DHGB 99' to give £5 directly to Combat Stress.
I'll be updating the above blog as the refit work in Jolly Harbour progresses from 22 March and the Team Hallin YB satellite tracker should go live from early April.
Very many thanks indeed for your continued support.
Kind regards,
David and Edmund Hosking
Team Hallin - Atlantic W to E short-handed sailing attempt for Combat Stress
---
8 Mar 17 - Horsea Island Mess Membership
MCDOA Committee member Graham 'Tug' Wilson MBE (ex-SD MCDO & CD1) is the Associate Members' Rep for the new all-ranks mess at Horsea Island. I am grateful to him for this announcement and invitation:
As some of you will be aware, Horsea Island, which encompasses the Fleet Diving Squadron, Defence Diving School and the Diving Standards Teams (formerly the Diving Inspectorate) now has its own official Officers, Warrant Officers and Senior Ratings Mess. The mess is situated above the dining hall within Gunwharf Building and has recently undergone a major refurbishment. A variety of historical diving memorabilia has been acquired and is on display creating a cordial and welcoming atmosphere.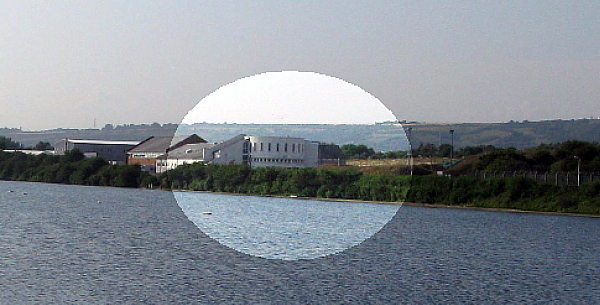 The Mess has a fully stocked bar and is available for members to host functions/gatherings for a nominal donation to Mess funds. Catering is available and can be arranged in advance through ISS.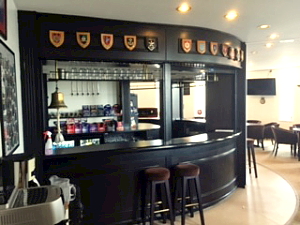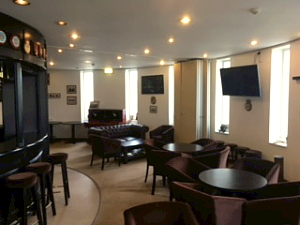 Associate Membership is open to all ex-serving Officers, Warrant Officers and Senior Ratings of the Clearance Diver branch. Royal Engineer divers who have served in a permanent staff appointment either within the Diving Inspectorate or the Defence Diving School are also eligible.
Associate members will be eligible to attend mess functions (Trafalgar & Pickle nights, Army sponsored dinners etc) subject to numbers on a first come basis.
Annual subscriptions for Associate members are £12.00 per year.
For more information including joining forms, please contact either:
Graham "Tug" Wilson. Tel: 02392 224137
or
CPO(D) James "Smudge Smith or CPO(D) James "Smudge Smith. Tel: 02392 224116
---
7 Mar 17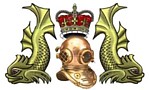 Happy Birthday to the RN Clearance Diver branch
Like the Queen, the Royal Navy's Clearance Diver Branch is celebrating its Sapphire Anniversary this year. It is 65 years old today and was established in accordance with Admiralty Fleet Order 857/52 dated 7 March 1952.
---
MCDOA gathering in London on Thursday 6 April
I am grateful to MCDOA member Andy 'Sharkey' Ward for extending this invitation:
"Dear all,
As it seems some time since the last gathering of the brethren in London I thought I'd make the effort to organise one.
I'm looking at Thursday 6 April, venue tbc but central London to allow for easy access to Waterloo. It will follow the standard format of a few quiet beers followed by dinner. If this date appears unpopular, I'll look at a date later in the month, after Easter leave time.
Please pass this on to any other ex or serving MCD/MW officers who are interested in attending. I look forward to hearing from you all.
Kind regards,
Sharkey
07969 239364"
Sharkey can be emailed via this address.
---
6 Mar 17 - 30th Anniversary of Zeebrugge ferry disaster
The BBC website contains this article commemorating the 30th anniversary of the capsizing of the cross-channel Ro-Ro ferry MV Herald of Free Enterprise on 6 March 1987. The ship flooded and rolled over shortly after leaving Zeebrugge with its bow doors open, resulting in the deaths of 193 passengers and crew.
Some brave deeds were performed by individuals that night:
Twenty-five Royal Navy divers were eventually recognised for their involvement in the rescue and salvage operation, as described in this Navy News article published in February 1988: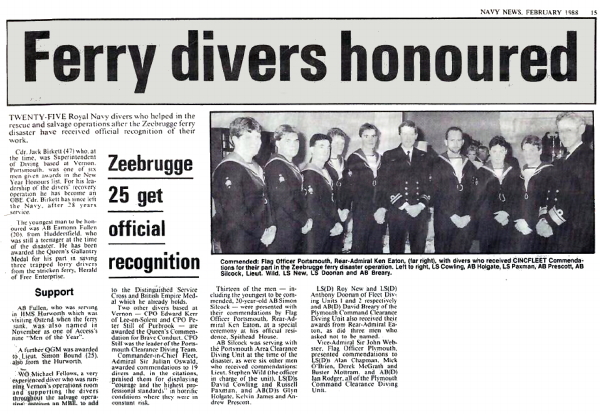 ---
5 Mar 17 - Presentation of US medal to CPO(MW) Nobby Clark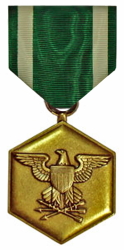 I am grateful to MCDOA member Dave Stanbury for these photos, taken by Mr Keith Woodland of HMS Collingwood, showing the presentation of the US Navy & Marine Corps Commendation Medal to CPO(MW) Andrew 'Nobby' Clark by Captain Andy Jordan (Captain of HMS Collingwood), for his work as OIC of the US Mine Hunting Unit in Bahrain under the Command of CTF52.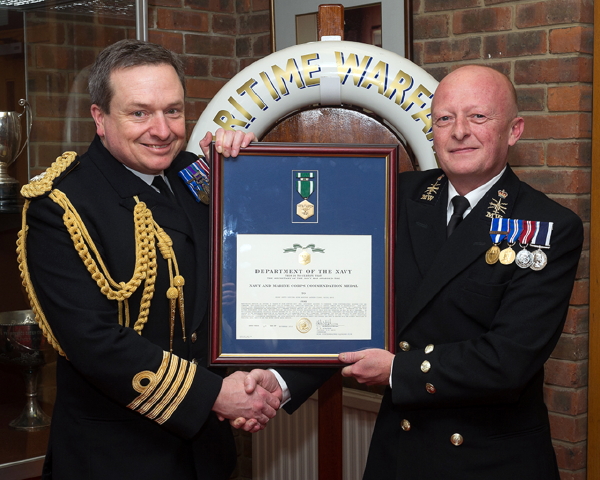 Captain Jordan presenting CPO(MW) Andrew 'Nobby' Clark with his medal
and commemorative certificate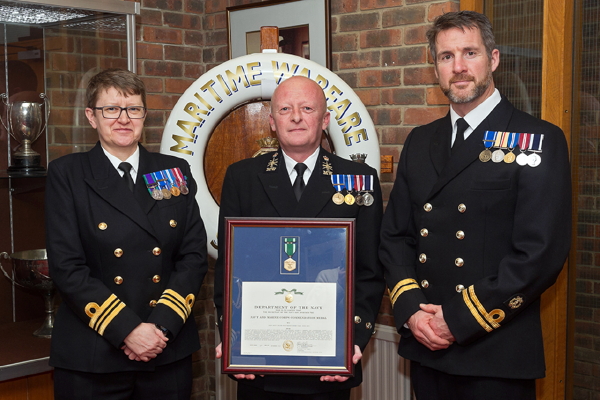 Lt Cdr Jack McWilliams (OiC MWOTC), CPO(MW) Andrew 'Nobby' Clark (CPO 3 MWOTC)
and Lt Dave Stanbury (2iC MWOTC)
The US MHU is an experimental unit operating unmanned surface vessels towing a AN/AQS-24A mine hunting sonar in the Gulf. This system is filling an existing capability gap and is being developed as one of the mission packages for the Littoral Combat Ship (LCS).
Commodore Eric Wirstrom USN, the principal guest at our last annual dinner (see entry for 20 Nov 16 in News Archive 56), has just relinquished his post as CTF 52/MCMRON 5 in Bahrain and is returning to the USA to work at US Fleet Forces Command in requirements and programming.
---
4 Mar 17 - SDU2 in joint Army/Navy bomb disposal operation
The Royal Navy website contains this article, the BBC website this article and the Evening Standard website this article describing today's removal and disposal by members of Portsmouth-based Southern Diving Unit 2 (SDU2) of a wartime German SC 250 kg bomb rendered safe overnight by an Army EOD team. It had been unearthed during excavation work at Brondesbury Park near Brent in north-west London and was detonated at the MOD Shoeburyness Range near Southend in Essex. The Royal Navy article features PO(D) Craig Waghorn. All photos Crown copyright.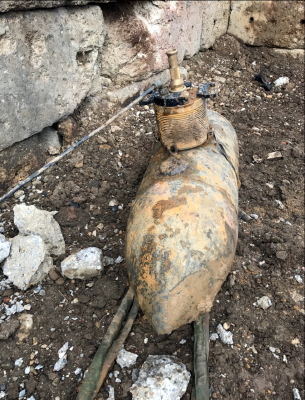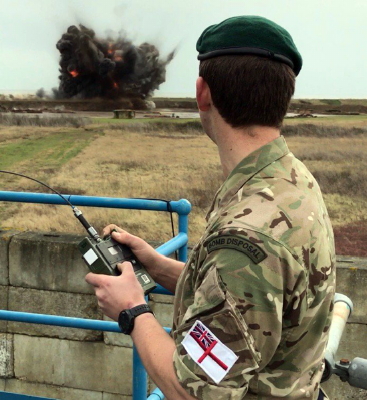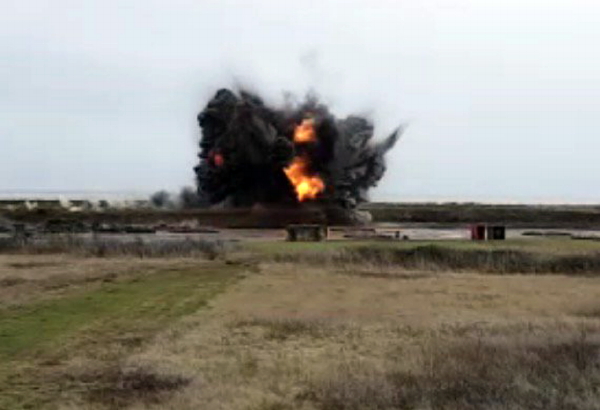 Postscript: The Portsmouth News has since published this article (including video) covering the same story. It not only mentions PO(D) Craig Waghorn but also names LS(D) Matthew Smark, AB(D) Steve Lundsten and AB(D) Liam Boardman who initiated the detonation of the bomb.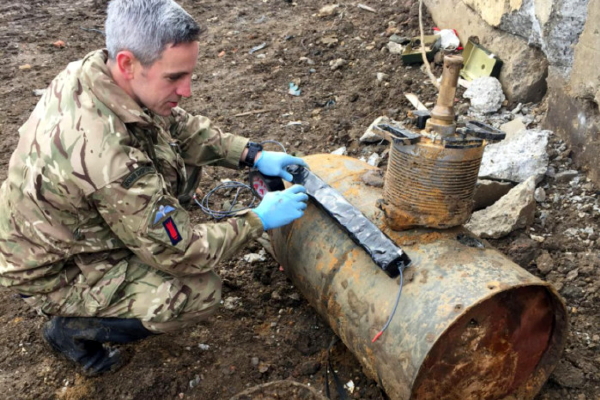 ---
3 Mar 17 - NDG deals with suspected hand grenade
The Daily Record website contains this article describing a call-out for members of Faslane-based Northern Diving Group (NDG) to deal with a suspected hand grenade found in a drain in Dean Castle Country Park in Kilmarnock. It is believed to have been a toy.
---
2 Mar 17 - Rankins visited by Nicholsons and Lintons in Australia
I am grateful to Allan Rankin for allowing me to share this photo of himself earlier today with his wife Marie-Louise, flanked by MCDOA member Dan Nicholson and his wife Christine and RAN ex-MCDO Jake Linton and his wife Anne.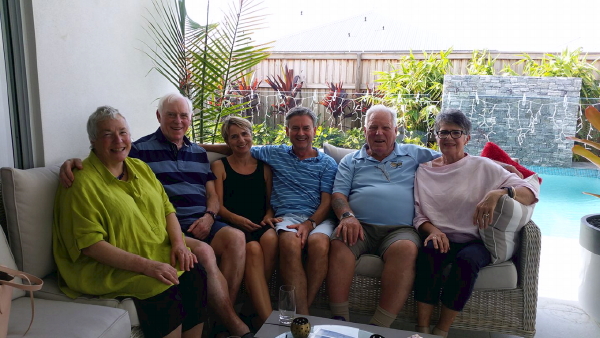 Allan qualified on LMCDO '79 as an RN officer but transferred to the Royal Australian Navy in 1988. He has just left the RAN as a Commander after a naval career spanning 42 years and moved from Canberra to a newly-built house at Mooloolaba on the Sunshine Coast of Queensland. Dan and Chris have been visiting Australia from the UK and looked in on Allan before moving on to New Zealand.
Cdr Edward 'Jake' Linton BEM RAN was a founding member of the RAN CD branch as an AB and is the Patron of the RAN CD Association (RANCDA). He undertook his SD training at HMS St George at Eastney (now Fraser Gunnery Range) and his CDO MW conversion course at HMS Vernon during the mid 1960s before completing a two-year exchange appointment in HMS Aisne. He and Dan served together as exchange officers on the staff of COMINEWARCOM at Charleston, South Carolina in the mid-1970s and they worked together again when Dan had an exchange posting in Australia 1978-79. They have often visited each other since then (see entry for 15 May 06 in News Archive 14). Read Jake's remarkable story in A Clearance Diving Experience in the website's Dit Box.
---
From RANCDA Patron Cdr Edward 'Jake' Linton BEM RAN:
"Hi Rob,
A couple for your MCDOA website.
Dan Nicholson and Allan Rankin at Allan's house in Mooloolaba
Cheers,
Jake"
---
25 Feb 17 - Daily Telegraph obituary for Lt Eric Worsley MBE GM RNVR
As ever, I am grateful to Capt Peter Hore RN for agreeing to produce this obituary, published in yesterday's Daily Telegraph, for veteran Second World War bomb & mine disposal officer Eric Worsley who died on 30 December 2016 (see entry for 30 Dec 16 in News Archive 56). The published obituary omits some information and images contained in this, the original version: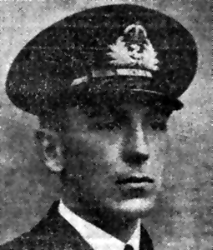 Eric Worsley
Eric Worsley, who has died aged 102, was twice within eight months decorated for his bravery in dealing with unexploded bombs.
On October 19, 1940 Worsley was on a routine patrol during an air raid over Portsmouth harbour, when at 13.30, after the 'all-clear' sounded, he was called to the naval training establishment at HMS Collingwood where 4,000 trainees were sheltering from a 250 kg bomb which was buried nose-down in an open space between buildings. He recalled "the tail fin was just visible above ground. The fuses were not visible but I knew that German clockwork fuses had a time delay that could be between about an hour and up to 96 hours. It wasn't an option to attach a rope to the tail fin and yank the bomb out of the ground because the Germans had a nice combination of clockwork and anti-disturbance fuses. I decided to dig while everybody was in the shelters."
"When a driver and his mechanical excavator volunteered to help "in less than half an hour a circular moat was excavated around the bomb and at least a good yard away from it. I could now work away with my spade – wondering all the time what the position of the fuses would be. More earth had to be removed before they could be identified by reading its number. As soon as there was sufficient room to feel the head of the fuse, I ripped off one of the tubular struts from the tail fin, placing one end on the fuse and the other end to my ear. Was there a sound of ticking, or was it my imagination? I doubled over to the nearest shelter, hoping to find a doctor with a stethoscope. I was lucky, the stethoscope made the tick sound like that of an alarm clock.
"It was 15.30. More earth had to be removed to allow the fuse to be withdrawn. But what if it should drop out on the removal of the locking ring and there was an anti-withdrawal device fitted? Answer – borrow a reel of cod-line, find a stick to hold the fuse in position after unscrewing the locking ring; attach the end of the line to the stick, and carefully unreel the line out to the shelter of some sandbags 50 yards away, and then pull smartly on the line. Hoorah – no booby trap!"
"By 16.00, feeling more relaxed, I removed more earth to get at the second fuse, expecting it to be an anti-disturbance type. After another hour the second fuse was ready for identification. A bit of broken mirror helps, for this one too is underneath. What? – a second timed fuse? The stethoscope confirms it. I know what to do, but it's now 1700. Still feeling sick in the stomach – feet like lead – fingers clumsy from the intense effort needed to stay and finish the job, but thankfully the cod-line method works again, and there's the indescribable relief of unscrewing the primer.
"What a glorious relief to report to the senior officer, accept a tot of whisky, and watch all hands emerging from the shelters. The clock setting was for 7 hours. Hallelujah."
Worsley was awarded the George Medal for gallantry and undaunted devotion to duty.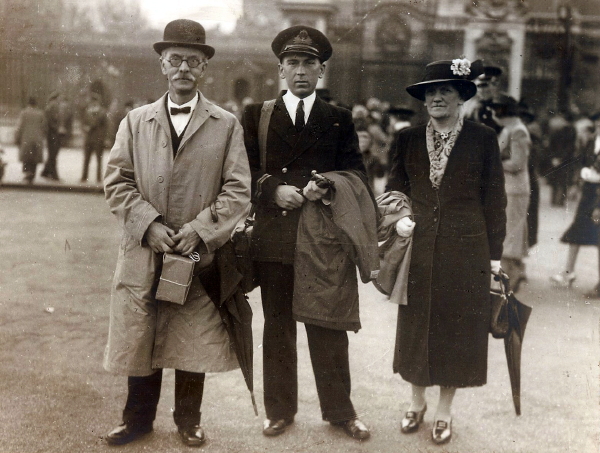 Eric Worsley at Buckingham Palace with his parents in 1941
Eric Worsley was born in Nantwich and educated after, winning scholarships, at Winsford Verdin Grammar School and Queen Mary College, London. He was the science master at Thetford Grammar School when in late June 1940 he was recruited into the Navy as a bomb disposal officer: his only concern was whether he had inconvenienced his headmaster by leaving school precipitately. On his first day in the uniform of a sub-lieutenant RNVR he crossed the road to avoid the embarrassment of being saluted by an approaching sailor. A few months later, after a ten day course during which he witnessed a German bomb being disarmed and disassembled, and armed only with his knowledge of science and his personal bravery, he was regularly risking his life to search for and render harmless incendiary and explosives devices over a swath of southern England.
Based in Portsmouth his personal transport was a 500cc Norton motorbike, and his protection from the police a tin-hat painted white: his team followed in a van loaded with their equipment.
March 10/11, 1941, the Second Blitz on Portsmouth was, Worsley recalled, "memorable". About 20.00 a 250kg bomb crashed through the roof of a shelter, where a numerous Wrens had taken cover: the girls reportedly raised their legs to let the bomb go by and slither to rest without exploding. It was the easiest of jobs to defuse, but Worsley remembered the sweat shining on his assistant's face as he held a torch for Worsley to see.
In the morning he investigated a bomb crater outside St Ann's church in the dockyard, using a probe specially made for him consisting of a 12-foot steel rod made in sections so that it could be screwed together like a fishing rod. Worsley pushed this down the hole until it came up against something solid, and then, by attaching a microphone and headphones, he listened for any ticking. Worsley was able to give a warning but the bomb was buried too deep to tackle, and at 1330 it exploded without causing any loss of life. Meanwhile another bomb in the dockyard was buried about 15 feet down and Worsley and his team dug a shaft, shoring up the sides as they burrowed: this was an easy job, he wrote, even when the Admiral Sir William 'Bubbles' James and Mr Robert Menzies, the Prime Minister of Australia, came over to sightsee his work. James was impressed by the cool and efficient manner in which Worsley dealt with the emergency.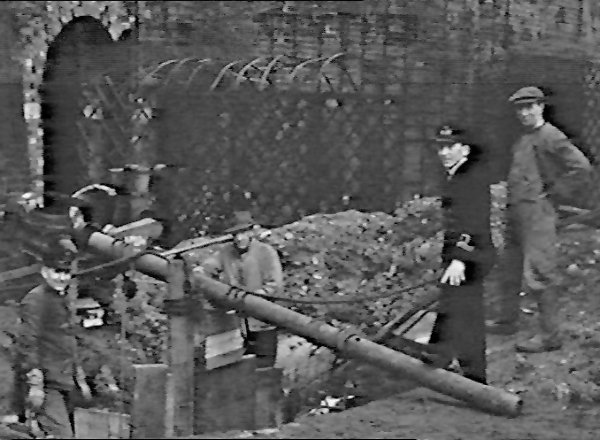 Eric Worsley excavating a UXB (unexploded bomb) at Admiralty House
in Portsmouth Dockyard in 1941
Worsley was awarded the MBE for his bravery and devotion to duty during air raids on Portsmouth.
Worsley was rested by being sent to a desk job in the Admiralty but was rapidly bored and volunteered to retrain as an aircraft direction officer and completed his war 1943-5 in the cruiser Royalist and the carrier Glory.
Postwar Worsley lectured in physics at Hull University, and he settled at Hessle, Yorkshire.
A staunch Methodist, he was modest and unassuming, a lover of all outdoor sport, who took up croquet in old age, and played his last tennis aged 100 against his granddaughter Katie O'Brien, the former ladies' Wimbledon No 1.
In 1947 he married Sheila Hoskin who survives him with their son and two daughters.
Eric Worsley, born April 9 1914, died December 30 2016
Over the past few years, Peter Hore has been extremely cooperative in writing tributes to members of our small community for publication in the Daily Telegraph. Other examples have included (in alphabetical order):
Cdr Philip Arthur Balink-White MBE RN
Lt Cdr 'Uncle Bill' Filer MBE GM RN
Lt Cdr Ian Fraser VC DSC RD* RNR
Lt Cdr John 'Futch' Futcher MBE RN
Surgeon Vice Admiral Sir John 'Jab' Harrison
Surgeon Vice Admiral Sir John 'Doc' Rawlins KBE, FRCP, FRAeS
Lt Cdr 'Robbie' Robinson MBE RN
Lt Arthur 'Bubs' Russell MBE RNVR
---
24 Feb 17 - Gentlemen Who Lunch
Last Tuesday saw MCDOA members Martyn Holloway and Yours Truly (Rob Hoole) joined by fellow member Jon Riches for their regular Tuesday lunchtime gathering. The reunion took place at Ye Olde George Inn in the picturesque village of East Meon.
There was the usual lamp swinging but Doug Barlow, the regular third member of the MCDOA's 'Not Quite the Last of the Summer Wine' trio was too busy preparing for his excursion to Dubai to join us on this occasion.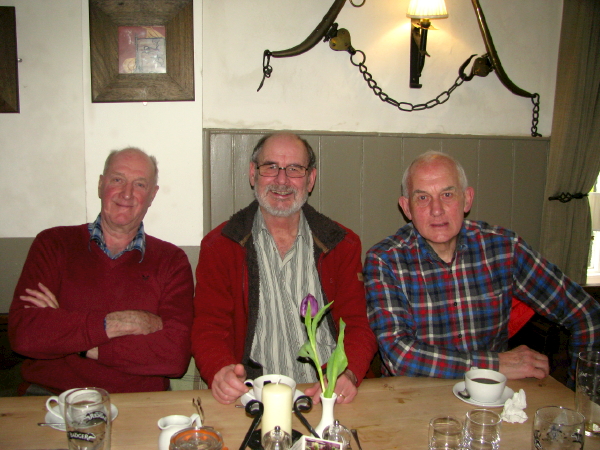 Riches, Hoole and Holloway at Ye Olde George Inn in East Meon on Tuesday
To put personalities in context, Jon Riches (RN Superintendent of Diving 1987-90) qualified on the first ever LMCDO course after the formation of the Branch in 1966 i.a.w. DCI 278/66, Martyn Holloway qualified in 1970 and I qualified in 1976.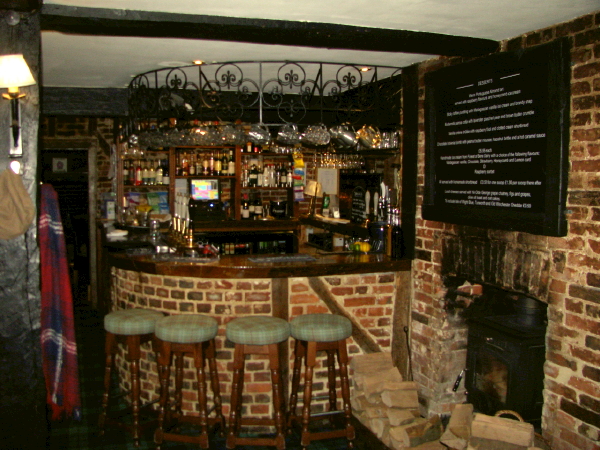 ---
23 Feb 17
RN minehunters participate in Gulf exercise
The US Navy website contains this article and the US Naval Forces Central Command (CENTCOM) website this article reporting the start of the 22nd iteration of Exercise KHUNJAR HAAD, an annual multilateral mine countermeasures exercise in the Gulf of Oman, on 22 February. Participating ships include the minehunters HMS Bangor (MCM1 Crew 7) and HMS Middleton (MCM2 Crew 8), their support ship RFA Lyme Bay, the RN destroyer HMS Daring, the US minehunter USS Dextrous and coastal patrol ships USS Monsoon and USS Squall, the French frigate FS Forbin and the Royal Navy of Oman patrol vessels Al Shamikh, Al Batinah and Al Bushra.
---
NDG deals with mortar bomb on Rosemarkie Beach
The Aberdeen Press & Journal website contains this article and the Forces TV website this article, including video, describing today's disposal of a mortar bomb reportedly being played with yesterday by children on the beach at Rosemarkie on the Moray Firth. The video includes an interview with MCDOA member Tony Hampshire, CO of the Faslane-based Northern Diving Group (NDG).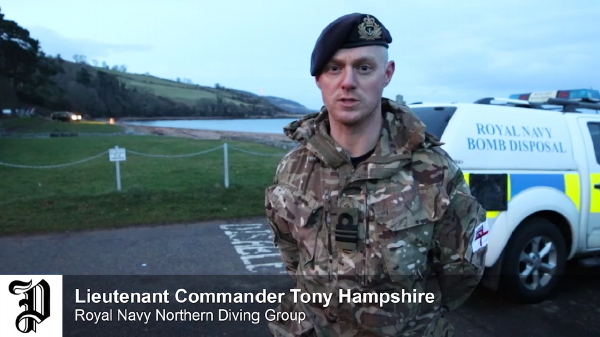 ---
22 Feb 17 - Another wartime bomb dredged up in Portsmouth
The Portsmouth News website contains this article reporting this morning's closure of Portsmouth harbour again after a 500 lb German SC250 wartime bomb was dredged up at 0330 during preparations for the arrival of the new aircraft carriers being completed at Rosyth. Portsmouth-based Southern Diving Unit 2 (SDU2) was involved in its removal and disposal.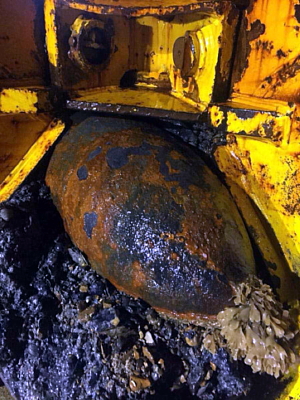 Bomb caught in the dredge head
(Portsmouth News photo)
MCDOA President-elect Roger Readwin (Captain Mine Warfare & Patrol Vessels, Diving and Fishery Protection) was on the Round Tower to witness the detonation in the Solent.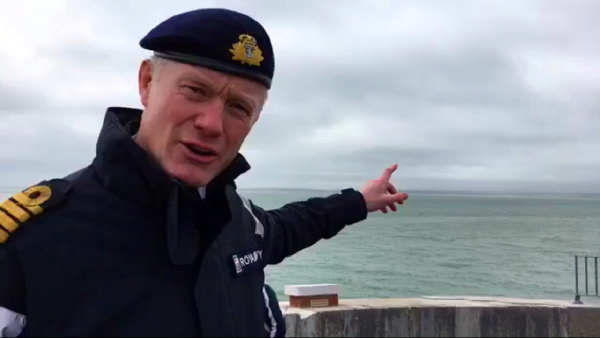 Roger Readwin on the Round Tower in Portsmouth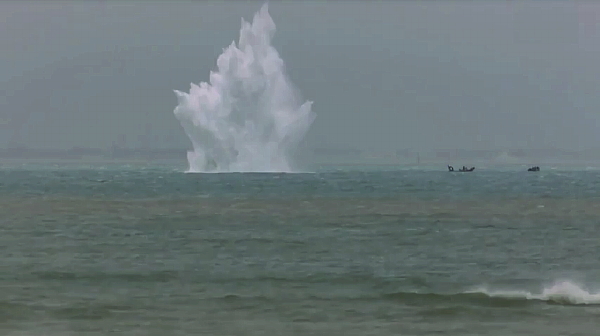 Screen capture from a video showing the detonation
Post script: The BBC website contains this article and the Royal Navy website this article reporting the incident. They feature Lt Mike St Pierre RCN, the Canadian exchange OIC of SDU2.
---
21 Feb 17 - Navy Divers surface from course with honours
The Royal Navy website contains this article reporting the completion of Clearance Diver course 1601 at the Defence Diving School (DDS) on Horsea Island where certificates and divers' badges were presented by Commodore Toby Williamson (Commander Operational Training). The article features MCDOA members Andy Woollven (CO DDS) and Trev Orton (OIC RN Diver Training).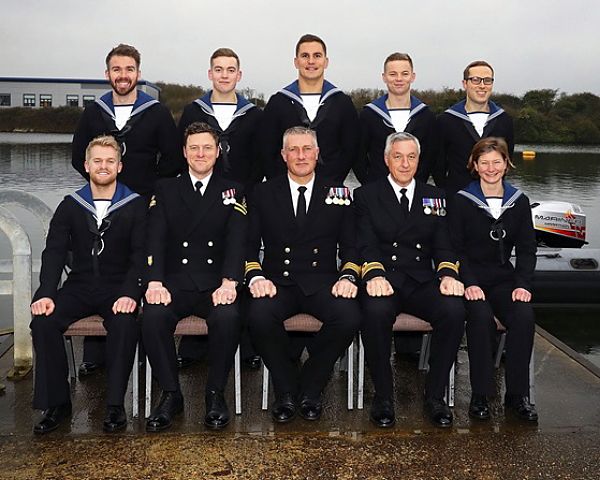 1601 Course
Top row: AB Tetlow, AB Ballinger, AB Price, AB Pendrous, AB Bennett
Front row: AB Chumbley, PO(D) Les Cockerton (Instructor), Cdr Andy Woollven (CO DDS),
Lt Cdr Trevor Orton (OIC RN Diver Training), AB Haigh
(RN website photo)
---
17 Feb 17 - SDU2 deals with explosive relic at Portsmouth
The Royal Navy website contains this article and the Portsmouth News this article describing the disposal by members of Portsmouth-based Southern Diving Unit 2 (SDU2) of another explosive relic dredged up in Portsmouth harbour in preparation for the arrival of the new aircraft carriers. The RN website article features PO(D) Scotty Eaton.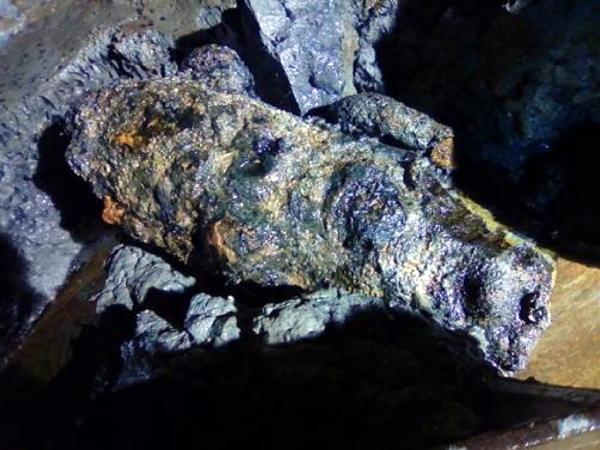 The explosive relic, thought to be "a British-made Armstrong Whitworth munition"
(RN website photo)
---
16 Feb 17 - MCDO and MWO promotions
Congratulations to the following MCD and MW officers who have been selected for promotion to Lt Cdr effective from 1 October 2017:
MCD Officers
Location
Scott HAMER
Catherine KER
Ian McCLELLAND
David MILN
Simon REEVES
David STANBURY
Max WILMOT
NRC WWE (Birmingham)
MWS DDS
MCM1 Crew 3
Exchange Australia
MWS COLLINGWOOD (Course)
MWS COLLINGWOOD WTG
DARING
MW Officers
Location
David BAILEY
Thomas WALL
FOST MPV
MWS COLLINGWOOD (Course)
I am grateful to MCDOA member Dave Stanbury for supplying this information.
---
15 Feb 17 - Death and funeral of Lt Cdr Ian McConnochie RAN
I have heard from MCDOA member Cdr Edward 'Jake' Linton BEM RAN (Patron of the Royal Australian Navy Clearance Divers' Association (RANCDA)) and Capt Mick Edwards OAM RAN (National President of the RANCDA) that Australian MCDO Lt Cdr Ian McConnochie RAN passed away on Monday 13 February with his wife Pat by his side. Ian saw active service in Korea and Vietnam and was a past President of the NSW RAN CD Association, contributing greatly to taking the State-based CD Association to a National Association. He was also a member of the HMAS SYDNEY Association.
Ian was born in Portsmouth in October 1931 but lost his father, an Engine Room Artificer, when the submarine HMS UNDAUNTED was sunk in the Mediterranean in May 1941. He joined the RN as a Writer in April 1949 and transferred to the RAN in October the following year when his mother and sister emigrated to Australia. He was promoted to commissioned rank in 1963, transferred to the Seaman Branch and qualified first in his class as an MCDO. He left the Service in January 1980 and was responsible for these articles on the Naval Historical Society of Australia website:
McConnochie – History of a Family's RN Service 1845 to 1980
The RAN Clearance Diving Team in Vietnam 1967 to 1971
RAN Clearance Diving Operations in the Gulf War 1991
In 1974, Dan Nicholson relieved his fellow MCDOA member. the late Tim Hildesley OBE, as the RN exchange officer on the staff of COMINEWARCOM at Charleston, South Carolina where Jake Linton was the RAN exchange officer. Dan and Jake were later relieved by MCDOA member Martyn Holloway and Ian McConnochie respectively but Dan renewed his friendship with Ian during an exchange posting in Australia 1978-79.
In November 2005, Dan visited Ian at his home in Sydney (see entry for 28 Nov 05 in News Archive 12):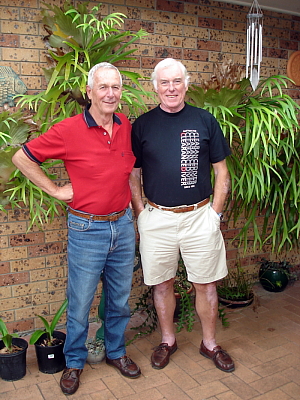 Ian McConnochie & Dan Nicholson in 2005
Ian McConnochie will be laid to rest at 1130 on Monday 20 February at Hillside Chapel, Palmdale Lawn Cemetery & Memorial Park. Palmdale Road, Palmdale NSW 2258. Uniforms for serving members. Medals are appropriate. POC: Eric McKenzie +61 (0)428 899376.
---
From MCDOA member Dan Nicholson:
"Hello again Rob,
Thanks for the details about Ian's funeral. Can't guarantee appropriate attire but glad to report that we will be there.
Regards,
Dan"
---
From MCDOA member Martyn Holloway:
"Rob,
Very sad to hear but in peace at last after a long fight.
Dan is visiting Oz at present and no doubt will make every effort to attend.
Martyn"
---
From MCDOA member Dan Nicholson:
"Thanks Rob,
We have just arrived in Oz and had planned a visit to see Ian THIS WEEK! We will see his wife Pat.
Regards,
Dan"
---
14 Feb 17 - LS&GC and VRSM awards
Congratulations to CPO(D) G W Spence and PO(D) M A Sharrock on being gazetted for the award of the Clasp to the Long Service and Good Conduct Medal and to PO(MW) D V Dean on being gazetted for the award of the Long Service and Good Conduct Medal. Congratulations also to LS(D) C M E Fullen RNR on being gazetted for the award of the Volunteer Reserves Service Medal.
---
28 Jan 17 - Can you help with these enquiries?
I received these enquiries yesterday. I will research them at some point but, regrettably, my attention is currently focused elsewhere. If anyone can help answer them in the meantime, I would be extrememly grateful.
_________________________________________________________
Chariot Mk II Human Torpedo
From Gary Wallace-Potter of the Historical Diving Society:
"Hi Rob,
I wonder if you can help. We recently had an inquiry from the grandson of Sidney Woollcott. He has been researching his wartime actives, but has particulary asked for any information about the Mk II Chariots. Anything you can help with or direct me to?
Best regards,
Gary"
My main Chariot bible is Chariots of War by Robert W. Hobson which contains details and photos of an abandoned Mk II seen by Sidney Woollcott at Pounds scrapyard in Portsmouth before it was restored at Teeside Training & Enterprise at Middlesbrough. It is now on display at the amazing Eden Camp Museum in Malton, North Yorkshire.
_________________________________________________________
Records of Naval Bomb Disposal (EOD) Teams in 1970s - 1990s
From Robin McDermott:
"Dear Lt Cdr Hoole,
Please excuse this unannounced approach, particularly from a pongo, but I am currently engaged in researching the early years of bomb disposal robots (focussing on Wheelbarrow) in the British Armed Forces. I am aware that Royal Navy EOD teams serving in the 1980s were equipped with Wheelbarrow, chiefly as I understand it for the defence of their own establishments.
Following my initial enquiries for the National Museum of the Royal Navy, where (apparently) there are no associated objects or archives in its collections, I was pointed in your direction. Might the Association be in a position to help me with this?
Whilst I acknowledge that it is unlikely that you will have any 3D objects, I wondered if your membership might be able to provide individual accounts of the Royal Navy's use and deployment of Wheelbarrow, especially if it is accompanied by photographs or similar.
I should add that I am an ex-ATO, so I already have a little knowledge in this field.
Best wishes,
Robin McDermott"
_________________________________________________________
TON class MCMV binnacles
From John Soanes, Chairman of the Ton Class Association:
"Rob,
To my ancient eyes, the binnacle on the bridge of Bronington seems rather different to any other I have seen.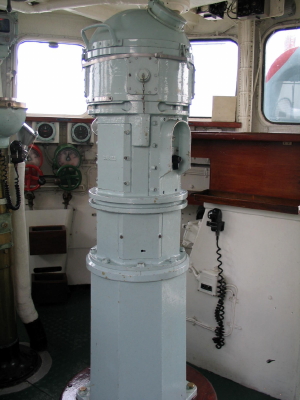 Was it special?
John"
_________________________________________________________
Decompression or Recompression chamber?
From David Reith of the Surface Warship Association of Modellers:
"Hi Rob,
My name is David Reith and I'm a member of the Surface Warship Association that builds scale model warships. I wonder if you could help me. I'm currently building a 1/48 scale model of HMS Quorn MCMV. My question is about the chamber on the quarterdeck. Is this a De- Compression Chamber or a Re- Compression Chamber?
One other item. I am the assistant event rep of Area 4 of the SWA. We've attended one of your book launches (Last of the Wooden Walls) in Portsmouth Dockyard in the past (see entry for 10 Mar 12 in News Archive 37). If you have any events like this in the future and would like us us to put on another model display, please drop me an email.
Thank you for your help.
Dave & Andrea"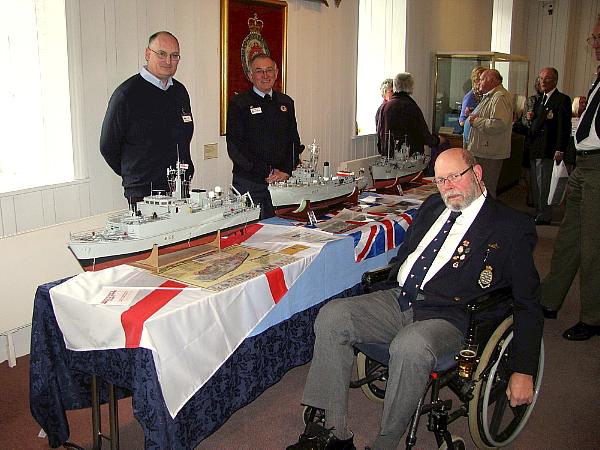 Dave Reith and David McNair-Taylor with their models of HMS Penzance, HMS Kirkliston
and HMT Sir Galahad (with TCA member Barry Barnes in the foreground) at the
launch of Last of the Wooden Walls in March 2012
_________________________________________________________
Rolex Military Submariner (MilSub) diver's watch
From an enquirer (name withheld for obvious reasons):
"I am contacting you after being given your details by Mrs Christine Harper of Naval Historical Branch (Naval Staff) in HM Naval Base, Portsmouth.
I have a very rare Naval Divers watch that was issued by Rolex in the 1970s to either Royal Navy divers/ SAS/ SBS. It is a Rolex 5513 Military submariner (milsub). There are only around one hundred remaining around the world, and since Rolex do not have any records since their archives were cleared in 2011 you are my only hope for some simple, basic information, ie: which dockyard or ship it was issued to, even a name. The serial number is 3927017, the m.o.d number is 0552/923-7697 and year 529/76.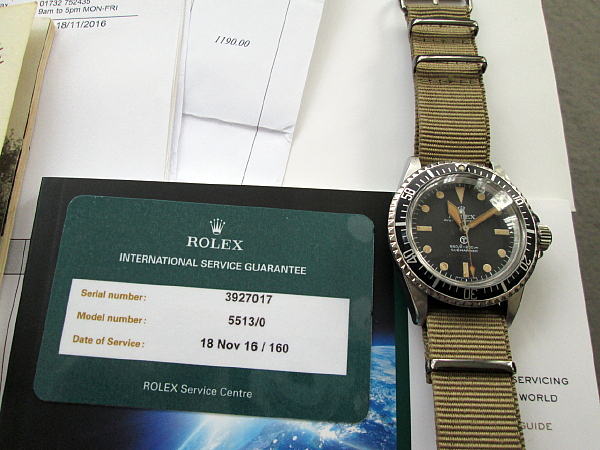 I am also awaiting communication from the SBS at Hamworthy."
_________________________________________________________
If anyone can help with any of the queries above, please send me an email via my Webmaster address and I will forward it to the relevant enquirer. I will publish responses here in due course unless asked otherwise.
---
27 Jan 17 - FCDT clearance of Grand Harbour, Malta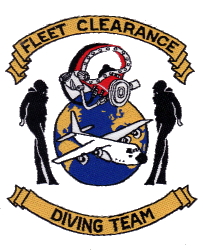 1984 Operation
The Times of Malta has published this article recalling the 1984 operation, undertaken partially by members of the Fleet Clearance Diving Team (FCDT) based at HMS Vernon, to help clear Grand Harbour of wrecks and unexploded bombs.
Former CD Paul Jeacock, one of the FCDT divers involved, has kindly given me permission to publish these images of the operation: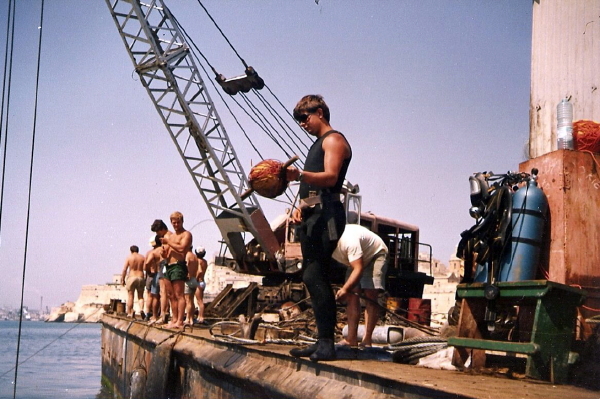 Paul Jeacock fishing for divers in Grand Harbour, Valetta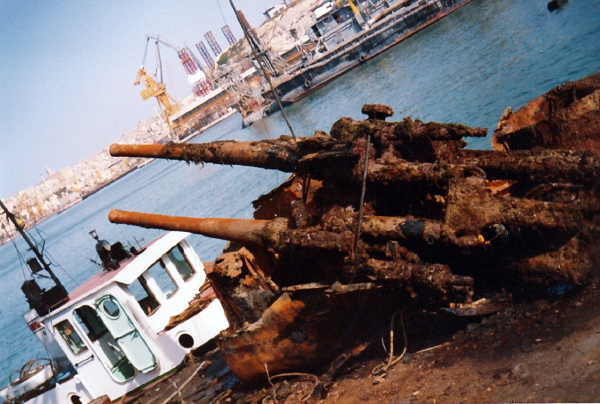 Twin-barrelled gun belonging to an unidentified British destroyer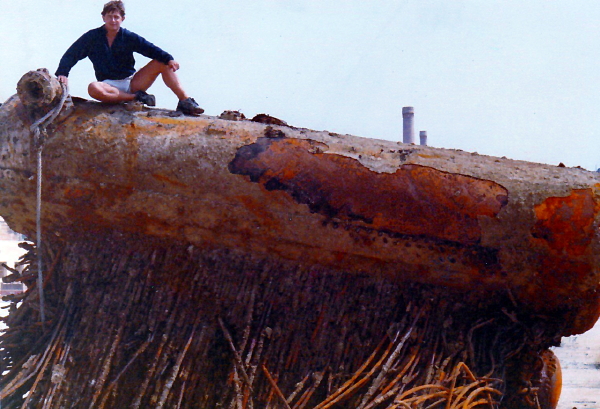 Two-thirds of HMS Jersey's boiler/superheater. Single dive. Single lift.
Above and below: Torpedo tubes from HMS Maori lying off Boiler Wharf in Senglea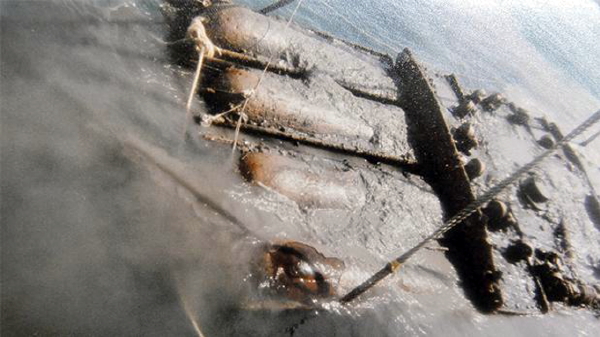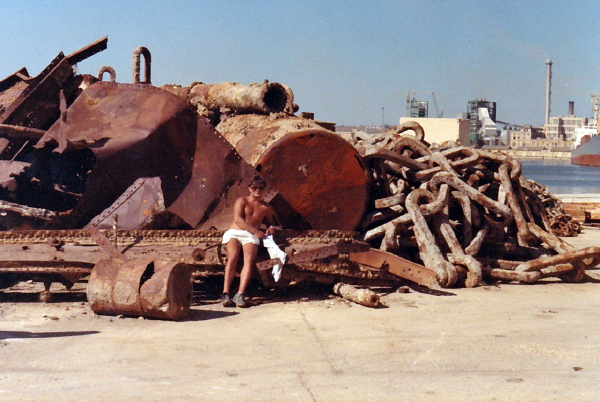 Recovered chains, mooring anchors, buoys and other debris
David Schembri (Mayor of Qrendi), who features in the Times of Malta article, has kindly provided this photo of some of the FCDT divers involved in the 1984 operation: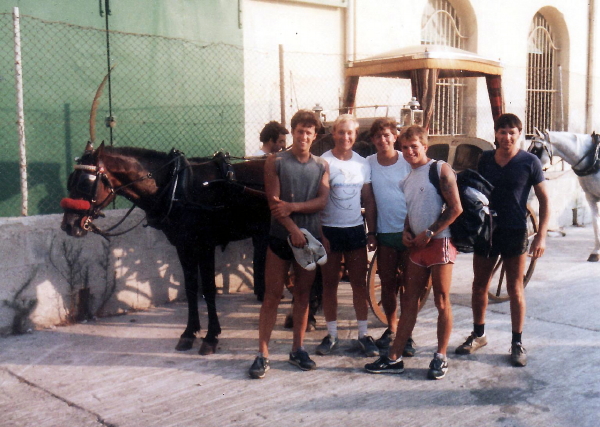 Left to right: Bungy Williams (TBC), Rich Edwards, Paul Jeacock, George Rennie and Taff Onda
---
From David Schembri, Mayor of Qrendi in Malta:
"Dear Rob,
Many thanks for the information re the Grand Harbour clearance that was not just restricted to the SS Talabot but also included the HMS Maori torpedoes, the superheater \ boiler of HMS Jersey, the 30 ton sinkers of the floating dock, mooring chains and anchors, as well as a large amount of WWII debris.
The work was carried out by many dedicated and loyal AFM EOD and PWD divers answering directly to Dom Mintoff. The clearance and salvage of the wrecks and debris were carried out with the Sea Wolf, an 'A' frame tug boat owned by Cassar Ship Repair Ltd and a grab dredger, the Giddiem owned by the Dredging Works Ltd, and the said Dutch Tuglift 'A' frame.
The overall official in charge of the operations was Col Albert Camilleri with myself responsible for diving operations and the liaising with the Army and civilian divers. Both Col Camilleri and myself answered directly to Perit Mintoff and where daily meetings were held in this regards. One must however be fair to comment that the RN Fleet Clearance divers took ownership of the recovery and disposal of the torpedoes from Boiler wharf, and assisted in the lifting of the SS Talabot hull off Pinto Wharf.
The Royal Navy clearance divers formed an integral part of the salvage team due to their expertise in unexploded ordnance. Prior to the salvage works, an underwater video survey was carried out by the Hydrography department of the ports department with the assistance of a small and selected team of divers and where hours of underwater video footage of the obstructions proved useful in the Anglo Maltese negotiations in order to clear the fareway to the China Dock designed for super tanker repair works as well as the Pinto and Crucifix Wharf designed as a cruise liner passenger terminal.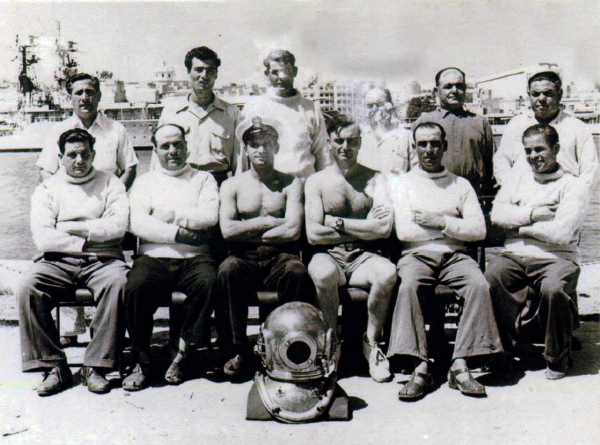 Maltese divers at the RN Diving School on Manoel Island including two from my village of Qrendi
Thanks a million once again for helping to rediscover our past history and the courage and unselfishness of many others.
David"
_________________________________________________________
1972 Operation
A similar operation had been conducted by FCDT divers in 1972. As a result, MCDOA member John O'Driscoll was gazetted for his appointment as an MBE and CPO(CD1) Bernard Edward 'Donkey' Bray and PO(CD1) (later FCPO(D)) Victor John 'Vic' Humphrey for their award of the BEM (Supplement to The London Gazette of Monday, 6th August 1973):
CENTRAL CHANCERY OF THE ORDERS OF KNIGHTHOOD
St. James's Palace, London S.W.1.
7th August 1973
The QUEEN has been graciously pleased to give orders for the following appointment to the Most Excellent Order of the British Empire: To be an Additional Member of the Military Division of the said Most Excellent Order, for Gallantry:
Lieutenant John Francis O'DRISCOLL, Royal Navy
Lieutenant O'Driscoll was the Officer-in-Charge of the Fleet Clearance Diving Team which was engaged in clearing a large number of unexploded bombs from the wreck of the SS Talbot (sic) in Grand Harbour, Malta. The SS Talbot (sic) had been bombed and set on fire on 26th March 1942 and because of her dangerous cargo was scuttled. From 16th October to 11th December 1972 the Fleet Clearance Diving Team recovered 73 bombs with a combined weight of 19,500 Ibs. All the bombs were fused and heavy corrosion had made them stick together. Many of the bombs were buried in the mud and had to be cleared by water jetting which meant that the divers had to work entirely by touch, visibility being nil. Each bomb had to be broken out individually using a winch and wire strop and up to two tons tension had to be applied to break each bomb out. Once the bombs were brought to the surface they had to be continually hosed down to prevent crystallising and becoming extremely dangerous. The successful completion of this lengthy and highly dangerous operation was due largely to the coolness and courage of Lieutenant O'Driscoll. His determination and leadership were of the very highest order and in the best traditions of the Service."
_________________________________________________________
The QUEEN has been graciously pleased to approve the award of the British Empire Medal for Gallantry (Military Division) to the undermentioned:
Chief Petty Officer Clearance Diver First Class Bernard Edward BRAY P/J898304P
Petty Officer Clearance Diver First Class Victor John HUMPHREY P/J90S626P
Chief Petty Officer Bray and Petty Officer Humphrey were the Seconds-in-Command of the two shifts who were working under Lieutenant O'Driscoll during the period 16th October to 11th December 1972. Their coolness both whilst diving themselves and directing the operations of others was instrumental in the success of the highly dangerous operation of removing the bombs from the wreck of the SS Talbot (sic).
The leadership and courage shown by Chief Petty Officer Bray and Petty Officer Humphrey were of the highest order and in the best traditions of the Service.
Note that "SS Talbot" was actually SS Talabot. Confusingly, HMS Talbot was the name of the wartime base in Malta of the 10th Submarine Flotilla.
Interestingly, the burning ammunition ship SS Talabot was scuttled in Valetta harbour on 22 March 1942 by Lt (later Lt Cdr) Dennis Arthur Copperwheat RN of HMS Penelope, aka 'HMS Pepperpot' owing to the number of shrapnel holes in her structure caused by German bombs and shells. He had qualified as a Torpedo Officer at HMS Vernon and was gazetted for the award of the George Cross for his heroism (Third Supplement to The London Gazette of Friday, 13th of November 1942):
CENTRAL CHANCERY OF THE ORDERS OF KNIGHTHOOD
St. James's Palace, S.W.1
11th November, 1942
The KING has been graciously pleased to approve the Award of the GEORGE CROSS to:
Lieutenant Dennis Arthur Copperwheat, Royal Navy, H.M.S. Penelope
For great bravery at Malta. During heavy air attacks on Valletta, Lieutenant Copperwheat was sent in charge of a party of men from H.M.S. Penelope to scuttle a Merchantman, laden with ammunition, which was burning in the harbour. Owing to the fires, it was impossible to place scuttling charges in the holds, and they had to be slung over the side of the ship. As they worked, ammunition was exploding all round them from burning stowages on deck. The ship lay 40 yards from the shore, to which the electric cables for firing the scuttling charges could only just reach. Lieutenant Copperwheat sent his working party to shelter, and stayed himself fo fire the charges from a position where he was exposed to the full blast of the explosion, which lifted him bodily. But for his brave action the ship must have blown up, and grave damage would have been done to the harbour.
Moreover, much of the ammunition was saved and some very heavy bombs, part of the cargo, were soon afterwards dropped in Italy.
---
26 Jan 17 - Advance Australia Fair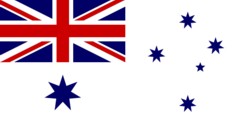 Happy Australia Day to all our mates down under.
The Tasmanian Chapter of the RAN Clearance Divers' Association (RANCDA) has kindly extended this invitation (see entry for 17 Jan 17):
Clearance Divers Association Reunion 11-17 September 2017 in Tasmania
The Reunion
The Tasmanian Chapter of the RAN Clearance Divers Association (RNCDA) extends an invite to all members, ex-serving Clearance Divers, current Clearance Divers, and their families to attend the 2017 Biennial Clearance Diver's reunion. An invitation is also extended to the diving and EOD communities of allied and Commonwealth defence forces around the world.
Tasmania, the island state, where much is considered world heritage, offers a unique setting for the reunion.
The reunion activities will be focused in the Hobart area as well as a deployment to the West coast wilderness. We have chosen the West coast to showcase some of the stunning areas and activities Tasmania has to offer. A packed program will give visitors the opportunity to not only catch up with old colleagues and fellow warriors, but encourage new friendships while fostering the younger generation to continue the growth of the Association.
The organisation of any reunion poses many challenges. We ask that you please bear with us and assist by indicating your intention to attend events early.
If you have any questions you can contact me direct and I will endeavour to answer them. Please pass the message on and we look forward to hosting you in Hobart September 2017.
United and Undaunted.
Corry Van den Broek
See here for further details.
---
22 Jan 17 - Diving Museum calendar of events in 2017

The 2017 calendar of events at the Historical Diving Society (HDS) Diving Museum at No.2 Battery in Stokes Bay is available for download in pdf format here: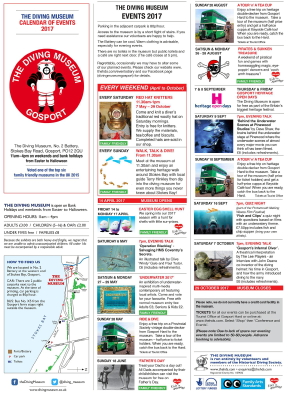 The museum will be open at weekends between 1100 and 1600 from Easter to Halloween. Volunteer guide Mike O'Meara states that there will a significant new exhibit so, even if you have already made a visit, it is well worth coming back again this year.
---
21 Jan 17 - Award of third clasp to VRSM
Congratulations to WO1(MW) Davey Annan RNR on being gazetted for the award of the third clasp to his Volunteer Reserves Service Medal (VRSM). Davey, a 55 year-old IT specialist from Leith, has spent 32 years in the Royal Navy Reserves and has served on the minewarfare battle staff of Commander UK Mine Countermeasures Force (COMUKMCMFOR) in Bahrain.
I am grateful to Cdr Neil Meharg RD RNR, SO1MW(R) at HMS Hibernia, for pointing out that Davey has been a WO since July 2016 and is not a CPO as stated in the London Gazette.
---
20 Jan 17
World War Two bomb removed from River Thames
The Royal Navy website contains this article, the Portsmouth News website this article, the BBC website this article (including video) and the ITV website this article reporting the removal and disposal of a German SD 50kg bomb dredged up from the River Thames in Central London last night. The operation, conducted by members of Portsmouth-based Southern Diving Unit 2 (SDU2) and the Metropolitan Police, forced the temporary closure of Waterloo Bridge, Westminster Bridge and the Victoria Embankment.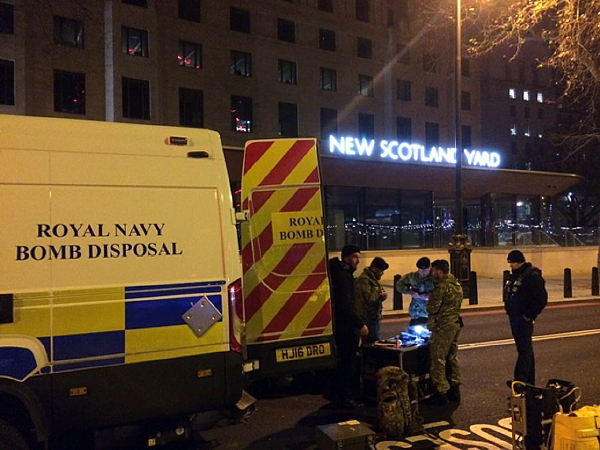 RN website images
The Royal Navy article features MCDOA member Del McKnight (CO Portsmouth-based Fleet Diving Squadron (FDS)) and Mike St-Pierre RCN (OIC SDU2).
---
Divers shed light on wreck of RN's worst wartime accident
The Royal Navy website contains this article describing a recent survey of the wreck of the dreadnought HMS Vanguard, torn apart by an explosion in Scapa Flow in July 1917 with the loss of all but two of her 845 personnel.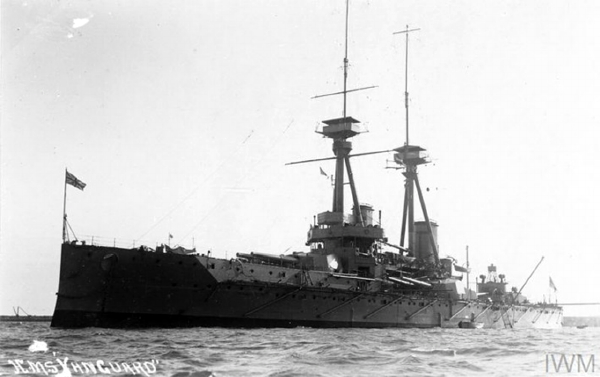 The dreadnought battleship HMS Vanguard
(Royal Navy website)
The specially approved survey of the war grave was conducted by civilian divers operating from the Orkney-based diving tender MV Huskyan.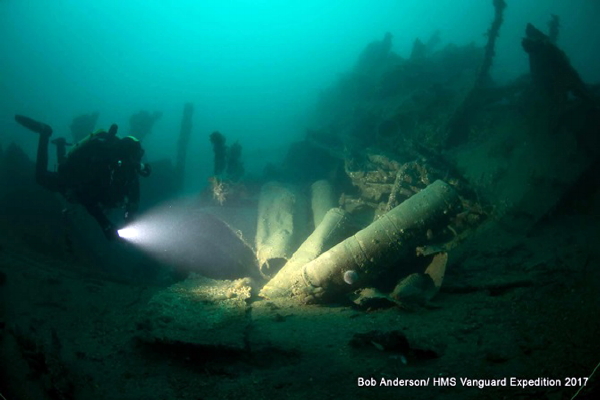 Above and below: The wreck of the dreadnought battleship HMS Vanguard
(RN website photos)
The wreck of HMS Vanguard was last visited by the Royal Navy in 2009 when divers from HMS Bangor placed a weighted wreath and white ensign on her shattered hull (see entry for 23 Oct 09 in News Archive 28).
---
19 Jan 17 - Commander UK Maritime Forces speech at Palace of Westminster
The Royal Navy website contains the text of this speech delivered by Rear Admiral Alex Burton (Commander UK Maritime Forces) to the All Parties Parliamentary Group for the Armed Forces at the Palace of Westminster on Monday 16 January 2017. These excerpts are of particular interest:
INTRODUCTION
Welcome to 2017 the 'Year of the Royal Navy'. How true for a year that will see some extraordinary statements of our island nation's ambition; cutting steel on the Type 26, the arrival of HMS Queen Elizabeth [of which MCDOA member Bob Hawkins MBE is 1st Lt] and much, much more. But I want to steer clear of this well publicised and hugely exciting strategic intent and spend a few minutes describing why, for those on operations and those of us supporting operations, every year is the year of the Royal Navy.
2016 was no exception, with on average a third of our service deployed – a shame then that, if you relied solely on the press, you would be forgiven for thinking that 2016 saw your navy alongside on half pay, seeking employment as prison hulks. So let me dispel those myths.
Why me this evening? Well, I am the Royal Navy's only sea going, fighting, Admiral - in army parlance my peer is General Commanding Three Division Patrick Sanders and for the historians; Sandy Woodward is my forbear.
Let me start with a short reflection on the exploits of a couple of Warships.
HMS DARING [Previously commanded by MCDOA President Rear Admiral Paddy McAlpine CBE]
First, HMS Daring the Type 45 destroyer you may remember photographed in the summer alongside. Fair, I'd suggest - getting her only leave before deploying in September on a 9 month deployment East of Suez and the Gulf - an area of the world that the Royal Navy could almost call home having spent half a century in the region providing reassurance, deterrence and when required, hard power.
Daring arrived in theatre on the day that an Emirati civilian ship was attacked by the Yemani Ansar Allah group. In the following 7 weeks she conducted 17 transits between the Southern Red Sea and Bab-El-Mendeb Strait. This was protecting shipping ranging from HMS Bulwark, HMS Ocean and the maritime joint expeditionary Task Group to 650,000 tonnes of merchant shipping, equivalent to 17 typical WW2 transatlantic convoys of approximately 50 ships.
I have spent much of my time at sea in the region and I would observe it is the perfect example of a congested battle space - a large number of Gulf warships and aircraft conducting operations in the vicinity of the Straits against Houthi forces ashore, as well as continuous merchant traffic passing through the choke point. So there is a very real risk of misidentification.
HMS Daring remained ready and available for operations for every day she was tasked; spending 39 days in Defence Watches, a heightened but sustainable internal posture, with a further 97 hours at Action Stations, the Ship's highest protection posture with every seat manned. That is longer than she spent alongside during that tasking. HMS Daring is still deployed and will not return until May...
OPERATIONS
Beyond this, the surface fleet has conducted 50 named operations from chasing Russian submarines in the wilds of the North Atlantic to our decade of duty providing mine countermeasures in the Gulf, and spent 7,106 days at sea, of which 2,630 days almost 40% has been on operations. 30% of the Fleet have deployed away from the UK which does not include those mine countermeasures and hydrographic and patrol vessels more permanently deployed.
A final fact may put into perspective everything I have mentioned about the tempo and intensity of Royal Navy operations; of the personnel who spend more than 1,900 days away from their families over the course of their career the Royal Navy has 5,260, the Army 310 and the RAF 25.
Effective and calibrated unit action relies on effective command and here the Royal Navy has been the benchmark upon which many other Navies have judged themselves for years.
2016 was a pretty routine year for us but what might surprise you is how intense that routine is:
THE GULF
Let's start in our second home: For the past 13 years the Royal Navy has held the Deputy Commander's position in the Gulf for all coalition forces. Cdre Will Warrender is the Commander of all Royal Naval forces in the region but he is also the right hand man to the US Navy Admiral, Cdr Fifth Fleet. He has a small team of 86 people and perhaps I can bring to life his responsibilities.
With an area of operations covering over 4 million square miles spanning the Eastern Mediterranean, Red Sea, Arabian Gulf, Northern Arabian Sea and Indian Ocean south to Diego Garcia, he commands over 1000 RN/RM/RFA personnel. They support a range of aircraft to achieve over 3,000 flying hours including embarked Wildcat and Merlin helicopters, the Merlin detachment operating in support of the Royal Omani Coastguard conducting Maritime Security Operations and the venerable Sea Kings embarked in RFA Fort Victoria who provide a surface search and airborne early warning capability. We have come a long way since HMS Jufair closed its doors in 1971 and it will not be long before JUFAIR reopens back in Bahrain [planned to re-commission in July 2017].
Staying in the Middle East Region: One of these coalition task forces was commanded by my deputy for 5 months last year and has a standing responsibility for counter terrorism and drugs in the sea areas. Leading this fight he commanded vessels from the Navies of Australia, France, Pakistan, the United States and the United Kingdom. He has provided 431 ship Days of support, 2 Focused operations resulting in 80% of the coalition seizures of heroin and 100% of the seizures of hashish, removing over 2000 kgs from making their way to the streets. Equally important has been the Key Leader Engagement with regional partners including Tanzania, Seychelles and the Kingdom of Saudi Arabia.
And this year we will be bringing to life a key tenet of the Lancaster House agreement. We will form a combined battlestaff with our French colleagues to deliver this task as CTF 150 again, and current plans have us repeating this in 2019. So, not exercises but frontline combined operational command with the French.
Finally, sticking to the Middle East, Command of the Minewarfare task group in the Gulf has been vested in the Royal Navy since 2006. This means routinely taking command of a multi-national MCM Task Force of up to 700 people including air, surface and underwater MCM assets alongside the command and support ship from the Royal Fleet Auxiliary and the four mine counter-measures ships permanently based in Bahrain.
It is worthy of note that many of our mine warfare Senior Rates may conduct 8 tours in a 10 year period in the Middle East. Indeed, some personnel have never deployed in the traditional sense as they simply fly from the UK to Bahrain and back..."
---
18 Jan 17 - MCDOA trio celebrates 30th anniversary of entering BRNC Dartmouth
Having featured MCDOA Martin Mackey in yesterday's entry, I was delighted to receive this message from him today:
"Hi Rob,
I thought you'd be interested to hear about a recent reunion that took place over the weekend 6 – 8 Jan 17. Don Crosbie, Chris O'Flaherty and I had the pleasure of meeting up at BRNC to celebrate our 30th anniversary since joining the RN, along with over 30 others of our entry nicely mixed between serving officers and retirees.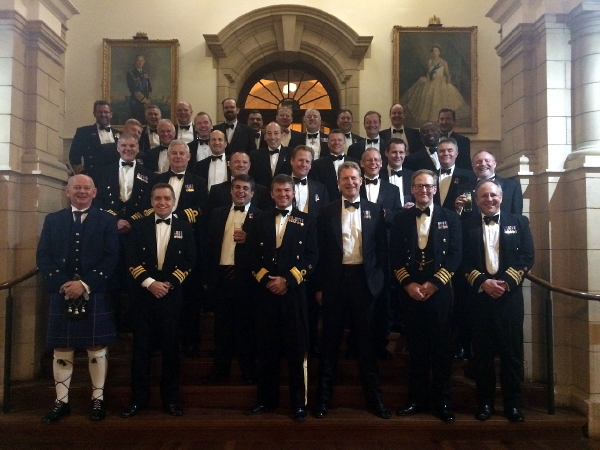 Reunion of BRNC Dartmouth's 1987 entry
We thoroughly enjoyed ourselves over the whole weekend which was marked by a mess dinner on the Saturday evening at the college with a fantastic meal on the upper gallery in the Senior Gun Room (and songs), after dinner drinks in the Senior Gun Room bar and then a lock-in until the early hours of the Sunday morning at the Royal Castle Hotel. We had a fantastic time and the three of us made the most of catching up.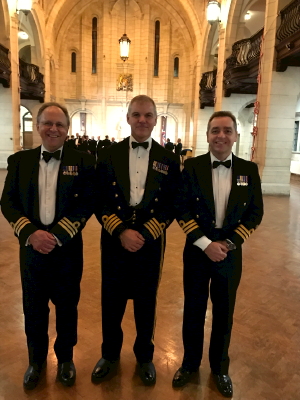 Martin Mackey, Chris O'Flaherty and Don Crosbie
on The Quarterdeck at BRNC Dartmouth
One of the celebrants is now serving in the RAN and told me that they don't sing at mess dinners anymore. I can't imagine a mess dinner without singing. As ever, hooting with the owls and soaring with the eagles is becoming much more difficult to do these days, not so much the hooting, but definitely the soaring.
Chris is currently DCOM CTF 52 in Bahrain, Don is the RNLO to Commander 7th Fleet and CINC Japanese Self Defence Fleet, and I'm on the Directing Staff of ACSC at JSCSC. Both of them will have finished their current jobs and be back in the UK well before the next MCDOA dinner. We all hope to be there.
Regards,
Martin
[If you want to expand the abbreviations in my text for the readers: DCOM CTF 52– Deputy Commander, Commander Task Force 52; RNLO – Royal Navy Liaison Officer; CINC – I'd hope everyone knows that; ACSC – Advanced Command and Staff Course; JSCSC – Joint Services Command and Staff College (Shrivenham).]"
---
17 Jan 17 - RAN CD Association Biennial Reunion - Tasmania
I am grateful to Capt Michael 'Mick' Edwards OAM RAN, National President of the Royal Australian Navy Clearance Divers' Association (RANCDA), for this invitation which I am sure applies to all ranks of Clearance Diver:
"Good evening,
I am pleased to advise that planning is presently underway for our Biennial reunion in Tasmania Sep 2017. Accordingly, your members, particularly those having served on exchange or with RAN personnel, are cordially invited to attend.
Details are available at www.tascdreunion.com. Please disseminate as required.
United and Undaunted.
Mick
Michael Edwards | President
RAN Clearance Divers Association"
Mick was one of four RAN exchange officers who underwent Minewarfare training with MCDOA members Martin Mackey and Jonathan Lee at HMS Nelson (Gunwharf), previously HMS VERNON, in 1991 prior to serving as Ops Officer of HMS Atherstone.
Here are MCDOA members Martin Mackey and Jonathan Lee celebrating the 25th anniversary of MWO 1/91 at the association's dinner last year (see entry for 20 Nov 16 in News Archive 56):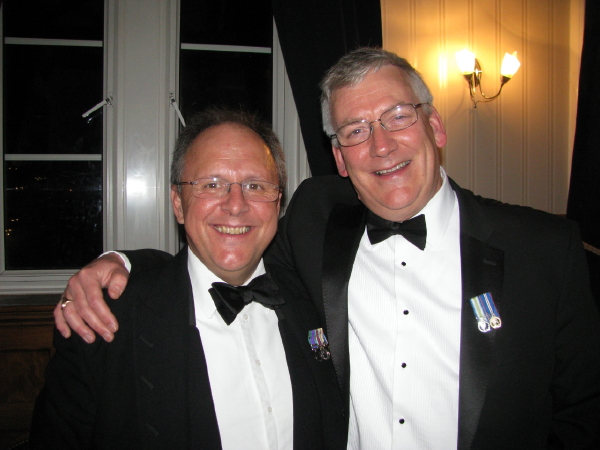 ---
From Capt Mick Edwards OAM RAN:
"Thank you Rob,
Of course I regret that none of us could muster the time to make it back for the 25th. I am sure our passage back will be inevitable and only a matter of time (if we are allowed in!). Now that you have also dragged some of the more reticent of our warriors from their hiding spaces by revealing emails, I will be able to email them in future!
The Colonials on this 1991 Vernon course included:
Front:
Myself - Lt Cdr Michael Edwards, OAM (Rtd) - see www.oropesa.com.au
Cdre Jay Bannister, RAN
Rear:
Cdr Scott Hamilton, RAN
Capt Bryan Parker, RAN
(All the above were inducted into the the 'Caledonian Northern Scotland Naked Drinkers Club')
Lt Cdr Paul Davey, RN (in the photo he had switched to the dark side - although he will always belong to us!!!)
United & Undaunted.
Best wishes,
Mick"
---
15 Jan 17 - A message from ex-CD James Coombes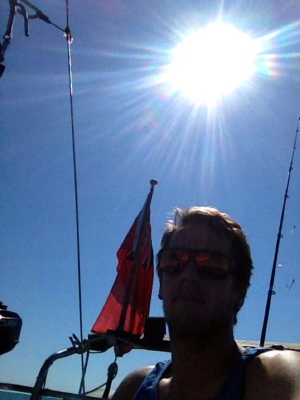 Former Royal Navy Clearance Diver James 'Pat' Coombes and his family had to abandon their 50 ft yacht Dove II in the Caribbean on 21 December after its rudder disintegrated as reported in the entry for 11 Jan 17. James has since sent me this message:
"Hi Rob,
I'd like to thank everyone who has helped us out already. The funds we've raised up to now have helped us buy a dinghy and engine to get around St Martin. A guy here has given us the use of his boat to stay on at anchor in the lagoon.
We are very grateful for everyone's help as we have lost everything. The support messages from all around the world are keeping us sane.
We have been in contact with the US Coast Guard and Chris Parker who is a weather routeing expert. We are not sure if our yacht is going to drift around the north of the islands or pick up on the north Atlantic current towards Bermuda. We are trying to keep positive but we are slowly losing hope as the days pass by.
James (Pat)"
In the spirit of Branch solidarity, please consider donating via the Coombes' Go Fund Me webpage if you haven't done so already. It was set up by Will Marks who was on board the yacht Tilly Mint which rescued Pat and his family from their drifting boat. All funds from the campaign go directly into James 'Pat' Coombes' bank account.
GoFundMe: Coombes Family - Rescued at Sea
---
14 Jan 17 - Polish MCM support ship visits Portsmouth
The Royal Navy website contains this report of the visit to Portsmouth of the Polish Navy's multitask logistical support ship ORP Kontradmiral Xawery Czernicki. She appears to be designated as the next flagship of Standing NATO Mine Countermeasures Group 2 (SNMCMG2) in the Mediterranean.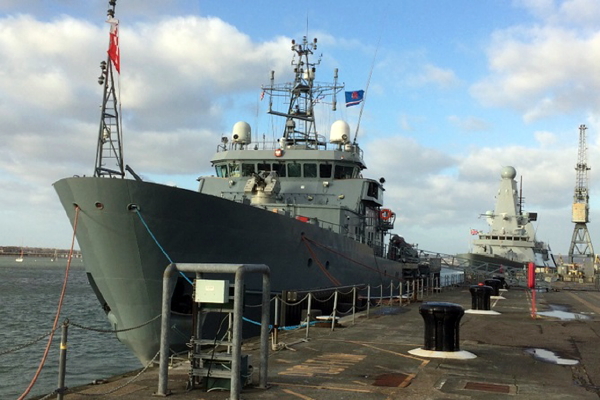 ORP Kontradmirał Xawery Czernicki alongside in Portsmouth Naval Base
(RN website photo)
---
13 Jan 17 - SDU1 deals with wartime phosphorous grenades in Plymouth
The Plymouth Herald website contains the following articles (including videos) telling the unfolding story of the disposal of ten 'Dad's Army' self-igniting phosphorous (SIP) grenades by members of Plymouth-based Southern Diving Unit 1 (SDU1) near the Derriford roundabout on Tuesday 10 January.
Tavistock Road CLOSED after workers find eight grenades
Royal Navy bomb squad at scene of unexploded grenades on Tavistock Road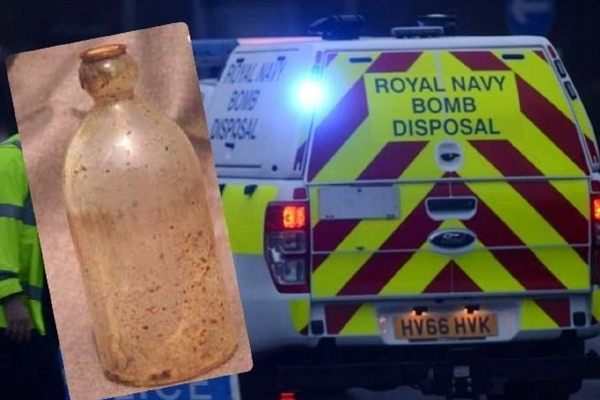 Watch as Royal Navy bomb squad remove objects in Tavistock Road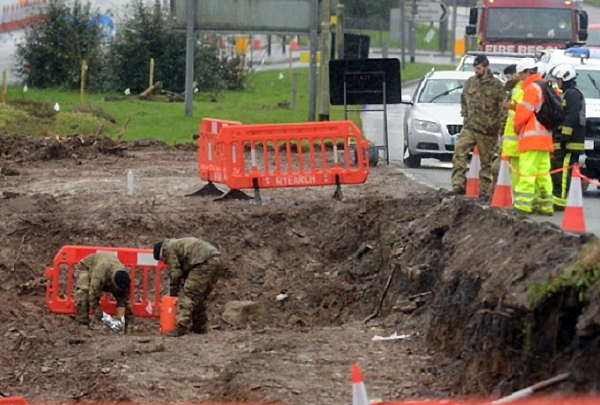 Bomb squad reveal exactly what they found - and blew up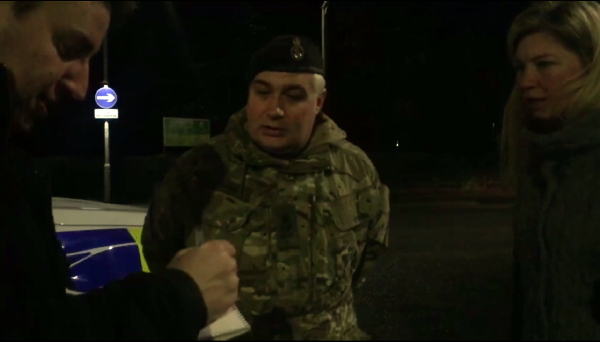 ---
12 Jan 17 - RN Bomb & MIne Disposal Heritage: The Whitstable mines
I received this query earlier today:
"Good morning,
My name is Mark Harrison and I am an archaeologist and historian researching the defence works that were constructed along the Kent Coast during WW1 and WW2. During the course of my work I have come across two interesting stories, both involving parachute mines that landed on the inter-tidal mudflats to the west of Whitstable at Seasalter.
The first was rendered safe and taken to Whitstable from where it was driven to HMS Vernon for examination. It appears this action was painted by war artist Eric Ravilious.
The second case involved two mines that sunk into the mud, following an attempt to destroy by use of a charge. Two excavation shafts and a railway had to be constructed to remove the mines and render them safe.
Do you have an historian that may be able to assist in my research?
Best wishes,
Mark
Mark Harrison BSc(Hons) FSA
The Forgotten Frontline - Director"
_________________________________________________________
I sent Mark this response:
"Hello Mark,
Oddly enough, I received a query back in 2010 about 'Dangerous Work at Low Tide' which depicted the second successful clearance of a World War II German parachute mine, on Whitstable Sands, in early 1940. It came from James Russell who was researching a book about the English war artist Eric Ravilious and I included the resulting exchange of emails in the fourth part of the entry for 31 Mar 10 in News Archive 29 of the MCDOA website:
Also see:
https://www.facebook.com/pages/Ravilious-in-Pictures-Sussex-and-the-Downs/178658518971
http://jamesrussellontheweb.blogspot.co.uk/p/ravilious-at-dulwich-picture-gallery.html
Historian Chris Ransted, author of 'Bomb Disposal and the British Casualties of WW2', sent me this extract from 'Of Mines and Men' by Lt Cdr G.A. Hodges GM VRD RNR. It describes the event portrayed in the Ravilious painting.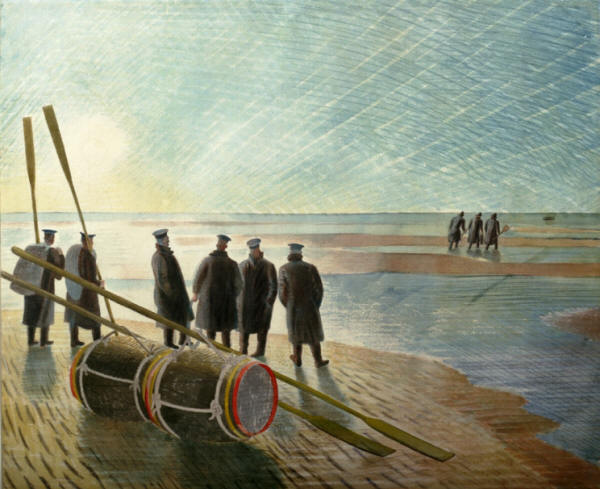 Dangerous Work at Low Tide by Eric Ravilious, 1940
(MOD Art Collection)
I am blind copying James and Chris on this in the hope that they might shed further light on the Whitstable incidents.
Best wishes,
Rob"
_________________________________________________________
I was then delighted to receive this response from Chris Ransted:
"Hi Mark,
Have you looked at the file ADM 1/14438 at The National Archives? It covers:
HONOURS AND AWARDS (85): Mine disposal services, 1941-1943 with photographs of operations: awards.
STRATEGY AND TACTICS (82): Mine disposal services, 1941-1943, with photographs of operations: awards.
I have attached these photos of the recovery of the two acoustic mines at Seasalter that are in the file.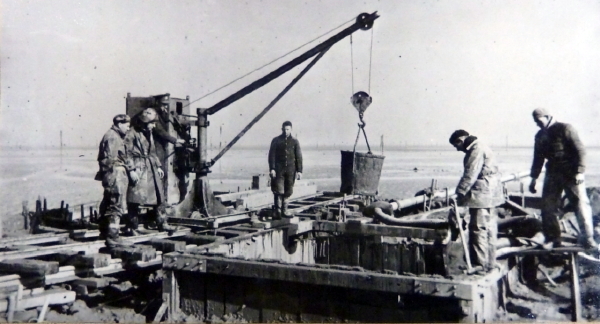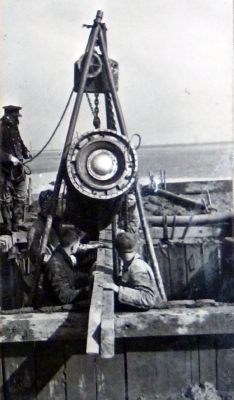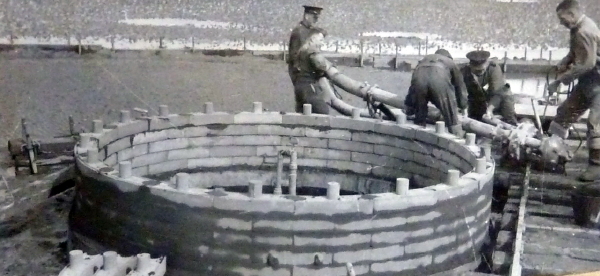 As it happens I am just in the process of having another book published on wartime bomb disposal and I mention these two Seasalter mines. I can't really add anything to the information held in the file mentioned above, other than a bit of background on Leading Seaman (Act.) R.N. Pensioner Frederick Henry Roberts Pickett who was in charge of the party of Seamen digging for the mines. He was born in Plumstead in 1900 and joined the navy as a boy in 1915 and initially served on the troop transport ship, HMS Powerful.
Hope that's of help.
Best regards,
Chris"
_________________________________________________________
The war artist Eric Ravilious also created these paintings in his 'Submarine Series' of 1940: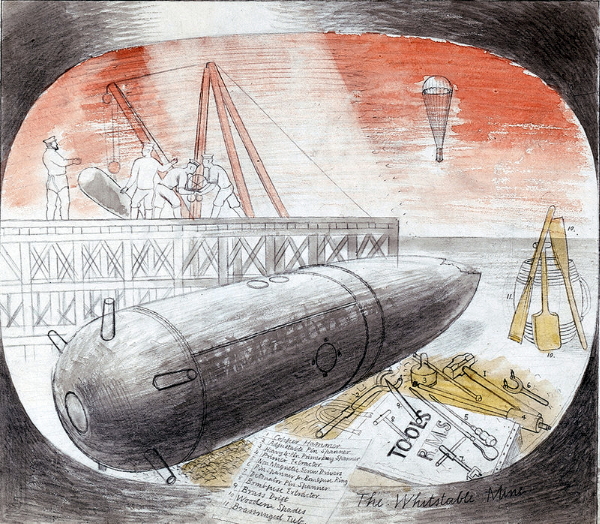 The Whitstable Mine by Eric Ravilious, 1940
(National Maritime Museum, Greenwich)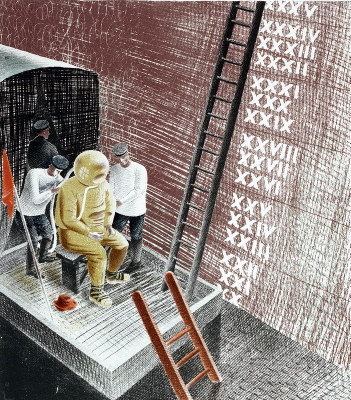 The Diver by Eric Ravilious, 1940
(National Maritime Museum, Greenwich)
_________________________________________________________
Mark Harrison replied to Chris's email thus:
"Hi Chris,
Many thanks. I was aware of the file but not the exact reference number. I think this image may be from the same file. Sorry about the quality. We are hoping to locate both shafts using geo-physics but I need to focus the potential locations by overlaying archive images with contemporary images. These shots also show a range of other conflict archaeology - in particular anti-invasion obstacles (scaffold fencing, posts etc.).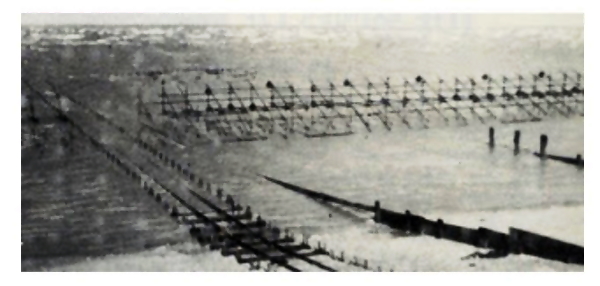 We are also hoping to pinpoint the location of the single mine that was painted by Ravilious. We have confirmed where it was brought ashore.
Thank you for your help.
Mark
Mark Harrison FSA
The Forgotten Frontline - Director"
_________________________________________________________
Mark Harrison also sent this message:
"Hi Rob,
Many thanks. I will keep you apprised of our findings.
Mark Mark Harrison FSA
The Forgotten Frontline - Director"
_________________________________________________________
Finally, art historian James Russell sent this message:
"Dear Mark and Rob,
Thanks for getting in touch. This is a fascinating story, but I'm afraid I can't add anything except to say that 'Of Mines and Men' is well worth reading - though I'm sure you already know that, Rob.
Actually there is one little thing. A couple of years ago I curated a Ravilious exhibition at Dulwich Picture Gallery and included 'Dangerous Work at Low Tide'. Who should turn up but the son of Commander West, who led the defuzing operation. It turned out that he had another Ravilious picture, painted for Commander West and showing HMS Actaeon.
Good luck with the project,
James"
The 'Commander West' to whom James refers must have been Harold West DSC*. This is from WW II Awards for RN Diving and Bomb & Mine Disposal in the website's 'Branch History' section:
NAME

RANK/RATE
UNIT

DATE
GAZETTED

AWARD

REMARKS

WEST
Harold

Lt RN

Lt RN

Lt RN

Lt RN

HMS Escort
HMS Vernon

RN Barracks, Portsmouth

HMS Pembroke
(Torpedo School, Chatham)

24 Apr 40
24 Apr 40
20 Dec 40
4 Mar 41

MID2
DSC
MID
Bar to DSC

RMS - First MID awarded for devotion to duty in rescuing, rendering first aid to, and caring for, many survivors from a Liner sunk by the enemy.

DSC awarded for courage and skill in securing and stripping live enemy mines without regard for his own safety.

Second MID awarded for courage, coolness and devotion to duty. Mine Disposal.

Bar to DSC awarded for gallantry and skill. German parachute mine RN Barracks, Portsmouth.
This is an excerpt from my friend and colleague Hans Houterman's excellent Unit Histories website:
West,
Harold
<![if !vml]> <![endif]>
Married 1st ((12?).1922, Medway district, Kent) Mary Kathleen Keogh (1900 - (03?).1926); ... children (daughter Mary Keogh West married Lt.Cdr. Charles Philip Bowers, RN).
Married 2nd (12.10.1946, St George's Church, RN Barracks, Chatham) Mary Henrietta Forbes, 2nd Officer WRNS, daughter of William Henry K. Forbes (1874-1958), and Mrs Forbes, of Muswell Hill.

05.04.1892
St Pancras, London
-
12.03.1967
Chichester district

| | |
| --- | --- |
| Seaman | ? [J907] |
| A/Gnr. | 01.03.1918 |
| Gnr. | ?, seniority 01.03.1918 |
| Cd.Gnr. | 01.03.1928 |
| Lt. | 08.03.1939 (retd 05.04.1942) |
| A/Lt.Cdr. (retd) | > 08.1942, < 02.1943 |
| Lt.Cdr. (retd) | 08.08.1947 |
| A/Cdr. (retd) | < 07.1945 |

| | | | |
| --- | --- | --- | --- |
| <![if !vml]> <![endif]> | DSC | 24.04.1940 | Stripping live enemy mines [investiture 07.05.40] |
| <![if !vml]> <![endif]> | DSC | 04.03.1941 | German parachute mine [RN Barracks, Portsmouth] [investiture 08.04.41] |
| <![if !vml]> <![endif]> | MID | 24.04.1940 | Rescue liner survivors |
| <![if !vml]> <![endif]> | MID | 20.12.1940 | Mine disposal |

| | | | |
| --- | --- | --- | --- |
| 28.06.1918 | - | (01.1919) | HMS TB 92 (torpedo boat) |
| 12.08.1920 | - | (04.1922) | HMS Versatile (torpedo-boat destroyer) |
| 13.01.1923 | - | (08.1923) | HMS Hecla (special torpedo vessel; depot ship) |
| (01.1925) | | | No appointment listed |
| 26.04.1927 | - | (07.)1928 | HMS Wild Swan (destroyer) (for torpedo duties) (China) |
| 10.10.1928 | - | (08.1929) | HMS Ambuscade (destroyer) (for torpedo duties) (Mediterranean) |
| 03.1930 | - | (04.1930) | HMS Woolston (destroyer) (for torpedo duties) (Mediterranean) |
| (01.1931) | - | (03.1934) | No appointment listed |
| 05.03.1934 | - | (05.)1934 | HMS Cardiff (cruiser) (Reserve Fleet, The Nore) |
| 28.09.1934 | - | (02.)1938 | HMS Woolwich (destroyer depot ship) (for torpedo duties) (building at Govan, then Mediterranean) |
| (06.1938) | - | (08.)1938 | No appointment listed |
| 15.08.1938 | - | (08.1939) | HMS Caledon (cruiser) (for minesweepers in reserve) (for torpedo duties) (Reserve Fleet, The Nore) |
| (1939?) | - | (1940) | HMS Escort (destroyer) |
| 09.01.1940 | - | (04.1946) | Torpedo School, Chatham [HMS Pembroke] [in command since > 06.1944, < 07.1945] |
This is the Ravilious painting of HMS Actaeon owned by Harold West: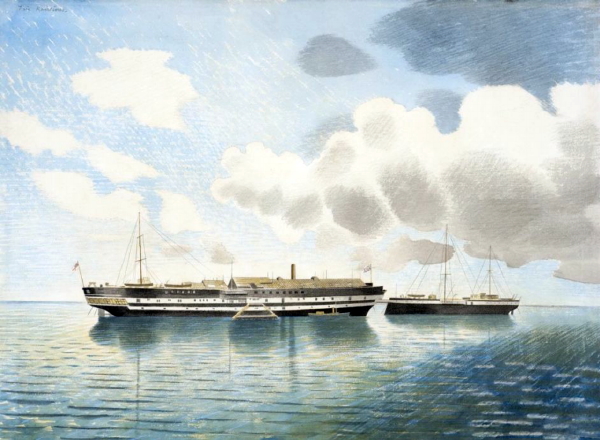 HMS Actaeon (the former HMS Ariadne) by Eric Ravilious, 1942
(Cdr Harold West DSC* RN)
Regular devotees of the MCDOA website will know that the hulk of the HMS Actaeon depicted in the painting is the former 26-gun screw frigate HMS Ariadne (1859). As Ariadne, she and the hulks of the 50-gun fourth rate frigate Vernon (1832) and the lighter Florence Nightingale were commissioned as HMS Vernon on 26 April 1876 to become the floating home of the Royal Navy's Torpedo Branch at Portsmouth, independent of HMS Excellent.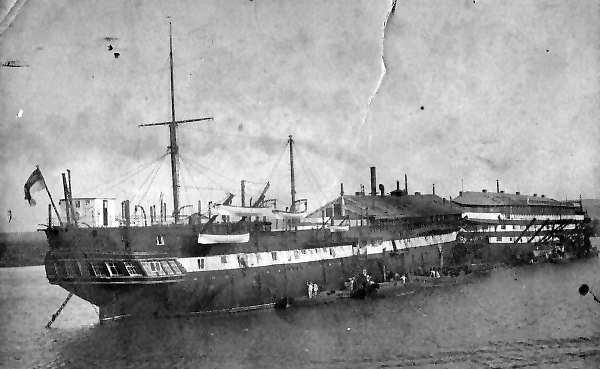 HMS Ariadne (the later HMS Actaeon in the painting above) as part of HMS Vernon in 1896
The hulk of Ariadne (1859) was used for accommodation but was renamed Actaeon in 1905 after moving to Sheerness where she became a floating torpedo school. In November 1906 she was joined by the hulk of the former screw corvette HMS Dido (1869) which was renamed Actaeon II. The floating establishment was also used as an auxiliary First World War patrol base between 1914 and 1918 but closed in 1921 and the vessels were broken up in 1922. Harold West commanded the Torpedo School ashore at Chatham during the Second World War and probably wanted a painting of its predecessor.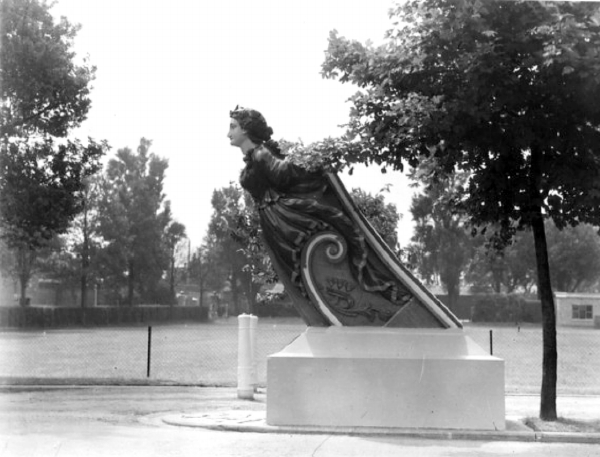 HMS Ariadne's figurehead at HMS Vernon in the 1980s
Confusingly, the hulk of the 50-gun frigate HMS Vernon (1832) was also renamed Actaeon (VERNON IV) in 1886. She replaced the hulk of the original Actaeon (1831), added to the RN's then embryo floating mining and torpedo school at Portsmouth in October 1879, and was used as a workshop. She was sold in 1923 when HMS Vernon moved ashore to what was then the Army's Gunwharf and is now the marina, shopping and residential development known as Gunwharf Quays.
HMS Actaeon (VERNON IV), the former HMS Vernon, in 1904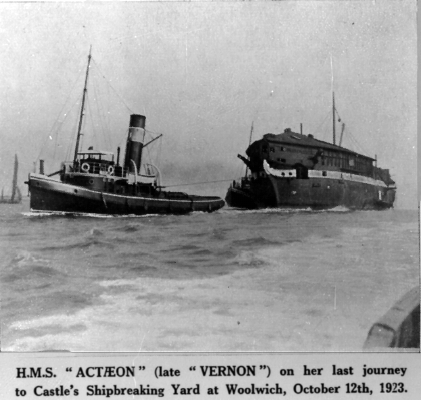 ---
11 Jan 17 - A former RN Clearance Diver who needs our support
The Daily Mail website contains this article and The Times website this article (behind a paywall) describing the plight of the Coombes family who crossed the Atlantic last month and had to abandon their 50 ft yacht Dove II in the Caribbean on 21 December after it lost its rudder. The head of the family is James 'Pat' Coombes (nicknamed after the well-known actress), a former RN Clearance Diver who served in HMS Chiddingfold and HMS Grimsby.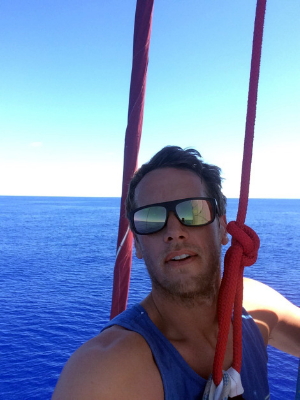 Former RN CD James 'Pat' Coombes
This is an extract from the family blog:
"James
November 4, 2016 · by westerlyadventures · in James.
Hi.
I'm dad, husband and captain. I am the reason we have started this crazy adventure. I have wanted to sail the world since I was a child. I joined the Royal Navy at 21 and became a clearance diver for 8 years. I then met Fran, left and lived in Newquay, working as a carpenter and creating our little family. This has been its own adventure but the pull to cross oceans has remained. We have worked hard to finally fulfil this dream. This summer I got some miles under the belt crossing the Atlantic from Grenada to Portugal with a good friend and feel confident to move my family off land and onto water."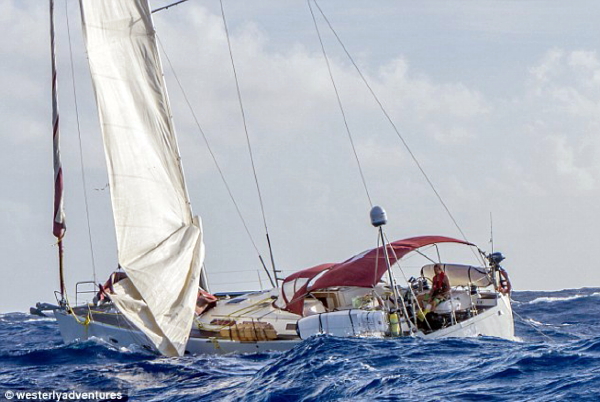 This is the latest extract from his family's blog:
Where to go from here?
January 11, 2017 · by westerlyadventures · in Uncategorized. ·
Ok family, friends and readers. I've been letting Fran run with the blog and oh my god she's been doing a Stirling job. 170,000 views in the last 5 days, we're blown away by all the support and generosity we are receiving from people all around the world. My writing skills are nowhere near Fran's so please bear with me and my babbling. I keep meaning to sit down and write my side of the story, to try and give a little insight into what I think went wrong for us. My head is in all out find the boat mode at the moment, with no time to sit down and concentrate on writing it all up. I'll get there soon I hope.
I've put help posts on various sailing forums in hope that someone comes back to me saying they've spotted the boat. I've had a lot of positive help and advice feedback, but I've also had numerous people giving me the should've, would've, could've comments.
Within hours of posting on the first forum I had a guy contact me, offering me to come and stay on his yacht, then we could go out and search for Dove II. His name is John Blair from Tenby, Wales on board his 42′ Bavaria 'BALLYHOO' in Falmouth harbour, Antigua. When I met John, we got along great as we had a lot in common. He runs a mackerel fishing boat out of Tenby and has spent his life on the sea. I cannot express in words how grateful I am.
I also want to thank Glenn Tuttle the net manager at Seven Seas cruising association's HF radio service "KPK" who has links with the US Coastguard and Navy and Chris Parker from marine weather and communications.
Finally thank you to Will Marks for setting up a gofundme site and Bethany Rush for linking it to the blog by clicking help us out at the top of the home page. You're both awesome.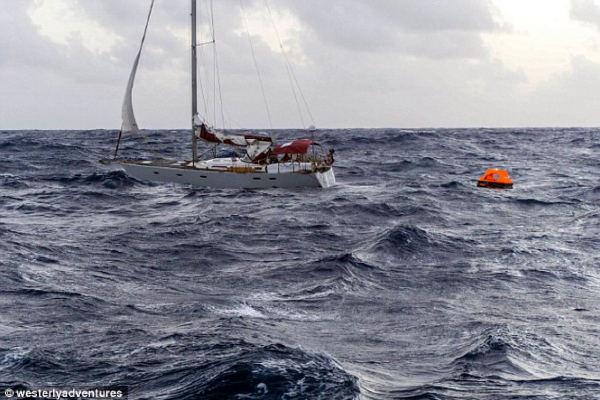 A GoFundMe webpage has been set up by Will Marks, a fellow sailor in the Caribbean:
"On December 21st, 2016 the Coombes family were forced to abandon Dove II, their sailboat and home, in the middle of the Atlantic Ocean. James, Fran, Tony, Heath, and Isla were at the beginning of their journey around the world when catastrophe struck. After saving money for years, preparing the boat for months, and having made it 3/4 of the way across the Atlantic, their rudder completely disintegrated because of heavy wind and waves. With no way to control the boat, they spent three days being punished by 4 to 6 meter waves while trying to jury rig an emergency rudder. With their repair attempts being repeatedly thwarted by the bad conditions, they were forced to abandon ship into their liferaft and be rescued by another sailboat.
The Coombes family is safe, but they have been left with nothing. They were able to take little more than the clothes on their backs when they abandoned ship. Their wordly possessions and their very home itself were left behind on Dove II. They are currently stuck in St. Martin, trying to figure out how to move forward.
While the family is currently attempting to recover the boat, the outlook is not good. The search costs as well as the future expense of re-establishing their lives are going to be enormous. Let's rally behind this wonderful young family and help them get back on their feet after this disaster.
Thank you so much."
In the spirit of branch solidarity, please help if you feel able:
GoFundMe: Coombes Family - Rescued at Sea
---
From an anonymous serving MCDOA member:
"Rob,
I read about Pat Coombes and his family's ordeal in The Times. While it's easy to be a 'Monday morning quarterback' in terms of reflecting on the fine line between adventure and irresponsibility the simple fact is that they are in a tight spot and need a bit of help. I myself will be donating a day's diving pay to the fund and perhaps our generous community might consider doing the same. After all, none of us are terribly far from our own 'hero to zero' moment…
By all means stick this on the news page; preferably anonymised but happy to have it attributed to me if you don't 'do' anonymous!"
---
10 Jan 17 - Awards of LS&GC medal and clasp
Congratulations to CPO(D) G W Grayson on being gazetted for the award of the clasp to the Long Service & Good Conduct medal and to CPO(MW) S Baxter on being gazetted for the award of the Long Service & Good Conduct medal..
---
7 Jan 17 - ENS Cowan (ex-HMS Sandown) joins SNMCMG1
The Naval Today website contains this article reporting that ENS Admiral Cowan (ex-HMS Sandown) has joined Standing NATO Mine Countermeasures Group 1 (SNMCMG1) which normally operates in the Baltic. The Estonian minehunter is named after the Royal Navy's Admiral Sir Walter Henry Cowan who helped Estonia and Latvia fight for independence from the Russian Empire. Admiral Cowan commanded a light cruiser squadron sent to the Baltic in 1919 to help keep sea routes open for the two countries.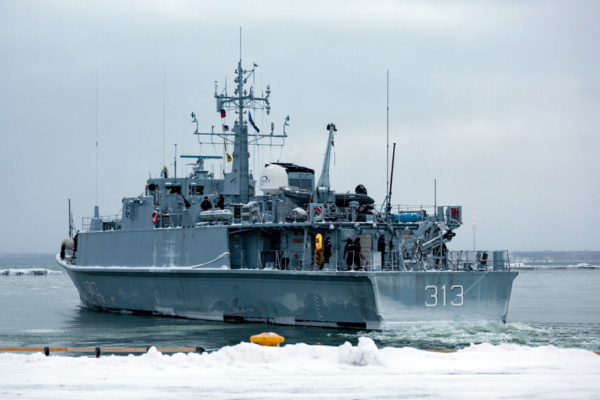 ENS Admiral Cowan (ex-HMS Sandown)
(Estonian Navy)
---
6 Jan 17 - Fire destroys former HMS Ledsham
The Forces TV website contains this article reporting that the former Ham class inshore minesweeper HMS Ledsham has been destroyed by fire. She was berthed at Deptford where she had become the centre of an artist's cooperative called the Minesweeper Collective which comprised a printing studio and venue for art and music events. From The Minesweeper blogspot:
History of the Ham Class Minesweeper LEDSHAM
THE MINESWEEPER:
HMS LEDSHAM (M.2706) was built by J. Boison, in Poole 1954, Hull and launched on 30 June 1954.
Completed 22 March 1955.
1955 to 1956 Senior Officer's ship 232nd Mine Sweeping Squadron.
1957 to 1965 Operational Reserve, Rosneath. Then Land Cradled.
1967 Clyde Division RNR as Accomodation Ship. Possibly did service on the Suez Canal for clearing the mines.
21 April 1971, she was sold to Metal Recoveries, Newhaven for BU.
She is entirely wooden and a rare surviving example of shipbuilding.
Click on this link to see the minesweeper HMS LEDSHAM coming alongside HMS GANGES, for ten seconds at the very beginning of this archival film from 1956, with the crew and the Duke of Edinburgh on board.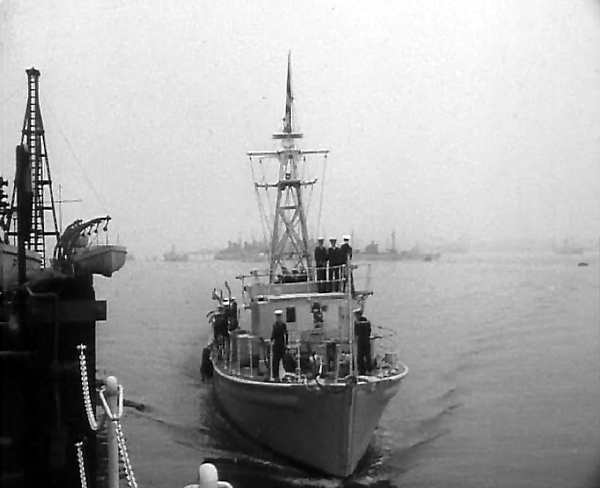 HMS Ledsham at HMS Ganges during a visit by the Duke of Edinburgh in 1956
---
1 Jan 17 - New Year Honours
Congratulations to PO(D) Martin 'Doc' Doherty on being gazetted for his appointment as an MBE (Ordinary Member of the Order of the British Empire) in the Military Division of the New Year Honours.
The full list of military honours and awards is available here:
The Military Division of the New Years Honours list 2017
---