21 Mar 19 - Latest issue of Rope Signal from the HDS

I have adjusted the latest issue of Rope Signal, the newsletter of the Historical Diving Society (HDS), for ease of reading here (click to expand). Helen Rutherford is married to MCDOA member Maj Les Rutherford RE, a retired Sapper diver and EOD specialist.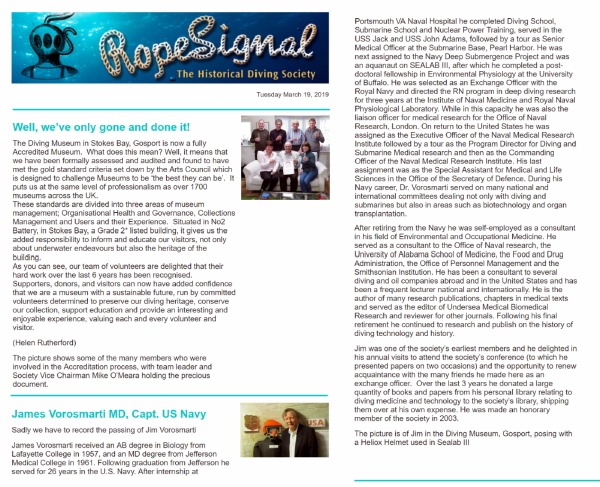 The newsletter announces a significant milestone for the society's Diving Museum in being recognised by the Arts Council as a fully accredited museum. The origins of this magnificent achievement are mostly down to the museum's founder, MCDOA member Dr John Bevan, who is also founding Chairman of the HDS, a record-breaking ex-Royal Naval Scientific Service* diver, prolific author, editor of Underwater Contractor International magazine and a trustee of Project Vernon, the non-profit charity adopted by the MCDOA and endorsed by the AORNFCD, TCA, RANCDA and, most recently, the RNCDA** to erect a Minewarfare & Diving Monument at Gunwharf Quays on the former site of HMS Vernon.
These photos show the challenge confronting us in No.2 Battery at Stokes Bay in 2010 with John Bevan pictured in the first (see entry for 22 Aug 10 plus others in News Archive 31):
It certainly looks different now.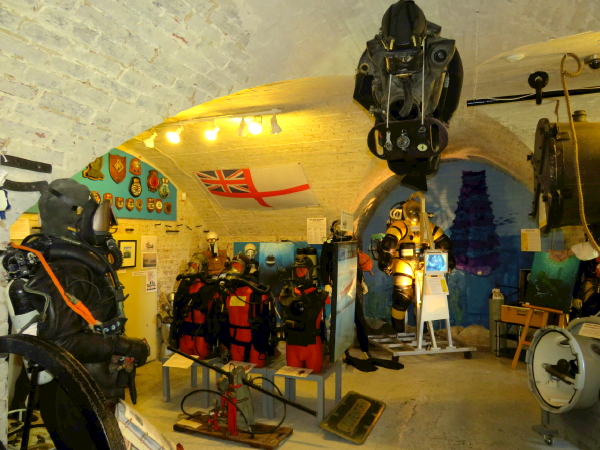 Apart from John Bevan, much of the credit for this latest coup belongs to the HDS's hard-working band of volunteers and supporters, especially to ex-CD Mike O'Meara, Vice Chairman of the HDS, who performed the lion's share of the complex paperwork needed to convince the Arts Council that the museum complies with its exacting standards.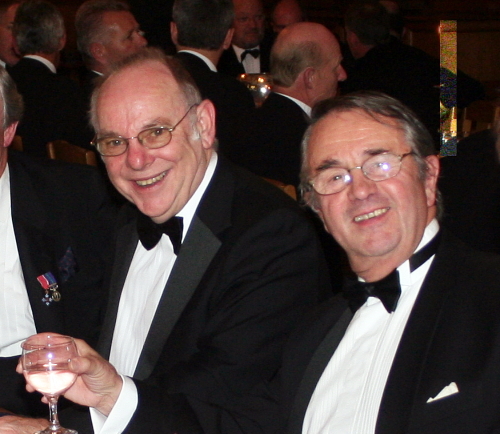 Mike O'Meara with John Bevan at an MCDOA Dinner
Mike O'Meara plus other HDS Museum volunteers
Congratulations, Mike, and thank you for your selfless efforts.
I was personally saddened to read of the death of Capt Jim Vorosmarti MD USN, a world-renowned specialist in underwater medicine. Exceedingly witty and intelligent, he was a true gentleman whom I greatly admired and respected. I had the privilege of sharing a platform, and later a dinner table, with him at the HDS Conference in Poole in 2011 and again in 2015.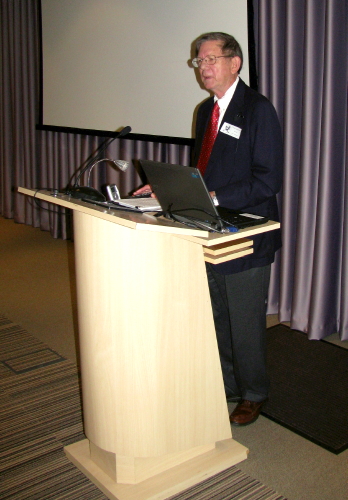 Jim Vorosmarti presenting at HDS Conference
in Poole in October 2011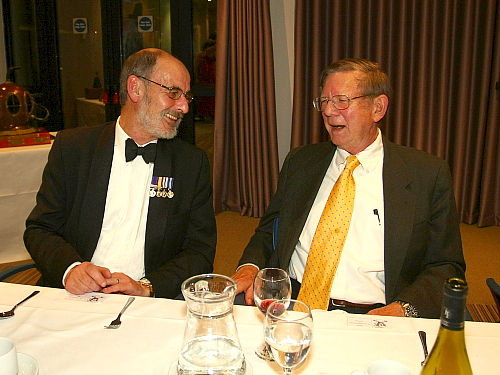 Yours Truly (Rob Hoole) with Jim Vorosmarti at HDS Annual Dinner
in Poole in October 2011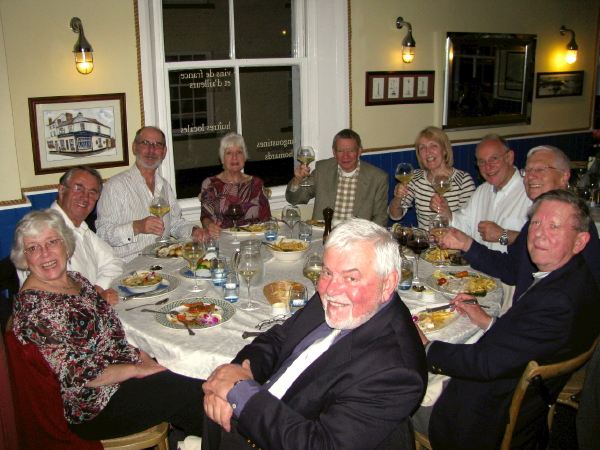 Jim Vorosmarti (near right) at HDS pre-Conference Speakers' Dinner in Poole
in October 2015 with John Bevan, Mike O'Meara and Yours Truly (Rob Hoole)
When the late John Hendrick, a former MCDO, suffered a stroke at the HDS Annual Dinner in Southsea in November 2010, Jim sprang into action and gave him the treatment he needed until the paramedics arrived. John subsequently recovered and Jim's prompt action may well have prolonged his life until he eventually crossed the bar in July 2017.
I am sure all members of our community will join me in extending our sincere condolences to Jim's family, friends and colleagues.
* The Royal Naval Scientific Service
"The Royal Navy had sponsored and carried out a good deal of scientific research in the nineteenth century, and a number of establishments such as HMS Vernon and the Admiralty Experiment Works had been set up, but the forerunner of the Royal Naval Scientific Service was the Board of Inventions and Research, established in 1915 to initiate, investigate and advise on proposals for the application of science and engineering to naval warfare, including inventions sent to the Admiralty by members of the public. In 1918 it became the Scientific Research and Experiment Department and in 1946 the Royal Naval Scientific Service...
With the formation of a unified Ministry of Defence in 1964 the RNSS was replaced by the Department of the Chief Scientist (Navy) and the constituent headquarters directorates gradually lost their separate identity..."
** RNCDA Endorsement of Project Vernon
As minuted on its website, the RNCDA unanimously agreed at its Third AGM, held on 14 October 2017, that it "...would support the Vernon Project and help raise funds towards its completion. These amounts would be on a case by case decided by the committee."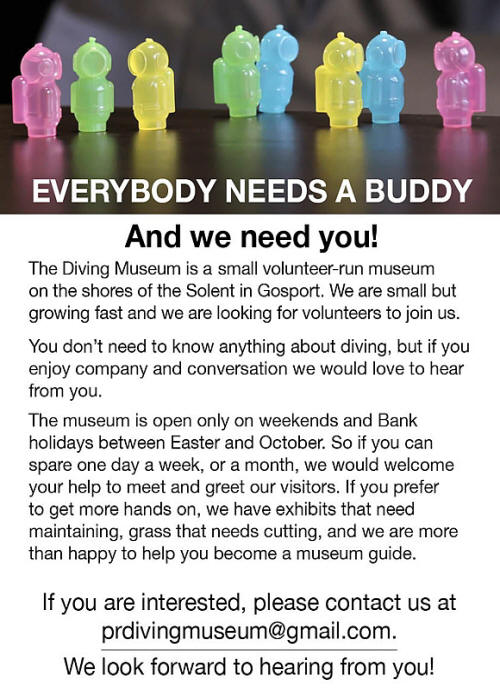 ---
20 Mar 19 - Recent tweets
Click on the linked dates to see all associated photos and videos.
HMS Bangor (MCM1 Crew 8)
11 Mar 2019 - A rare bit of Scottish sunshine gave TweetO a chance to snap HMS Grimsby with the snow capped mountains in the distance. Our sister ship is currently training with FOST to make sure they're ready to fight and win.
HMS Blyth (MCM1 Crew 1)
14 Mar 2019 - One of our crew keeping watch. We remain vigilant on operations at all times in the Middle East.
HMS Brocklesby (MCM2 Crew 8)
15 Mar 2019 - Red noses have invaded today! The ship's company spent time raising money for Comic Relief with a cake sale.
11 Mar 2019 - With a Ship's Company from across the UK and Commonwealth, we are in Bahrain celebrating Commonwealth Day,
11 Mar 2019 - Thank you to the Learning & Development team for sending out language resources for Ship's Company. Being able to speak another language helps our Sailors to interact with our allies across the world.
5 Mar 2019 - Chefs reunited in the Royal Navy. Two Ex Gurkhas now chefs serving together within HMS BROCKLESBY's Crew.
HMS Chiddingfold (MCM2 Crew 2 commanded by MCDOA member Daniel 'Doc' Morris)
7 Mar 2019 - Basin Trial successful. Well done the marine engineers. Still some work to do; Crew 2 are working into the weekend to get the job done.
HMS Hurworth (MCM2 Crew 7)
8 Mar 2019 - Happy international women's day from HMS Hurworth! Our XO who is also the ships Mine Clearance Diving Officer having fun as she brings the ship in.
HMS Ledbury (MCM2 Crew 1)
15 Mar 2019 - What a tremendous and proud achievement as we accomplished rowing a total of 710 nautical miles and raising a staggering £4200 for SANDS: Stillbirth and neonatal death charity.
A special thanks to 'Dickie' Davies for organising such a great 24 hour event.
15 Mar 2019 - Watch below as we counted down the end of 24 hours of rowing, all for the SANDS charity. Its still not too late to contribute at the Just giving page. https://bit.ly/2u4rSIM
15 Mar 2019 - Almost finished the Row challenge when Vice Admiral Malloy can over to support our SANDS charity row.
"Sir, Thank you for your support"
14 Mar 2019 - Over half the distance covered already. Go Ledbury. All in aid of SANDS. Help our great effort.
Just Giving page. https://bit.ly/2u4rSIM
14 Mar 2019 - We are raising money for SANDS the stillbirth and neonatal death charity.
You can contribute through the Just Giving page. Search: Joshua Beale - Row the Gulf.
HMS Middleton (MCM2 Crew 4)
18 Mar 2019 - Looking forward to welcoming you onboard the mighty MIDD! We may be small, but we bring a lot to the party.
ACSC 22
18 Mar 2019 - As part of MCP19, UKACSC will visit a number of Royal Navy ships to learn more about their capabilities and what life is like on-board. You can find out more about the RN Fleet here: https://bit.ly/2z4V2v9
14 Mar 2019 - Great to see our new sailors getting to grips with basic military skills. No matter whether chef, engineer, warfare or aviator, these basic skills underpin our professional Royal Navy.
HMS Raleigh
14 Mar 2019 - Military training week and the Gould 35s have been getting to grips with how to safely handle, clean and fire a SA80 assault rifle.
6 Mar 2019 - Although we are still finishing up a maintenance period,- there's plenty of time to hone our other skills before heading to FOST. We've been in the simulators at HMS Collingwood practicing day and night pilotage.
6 Mar 2019 - A great opportunity at an early stage to learn teamwork and leadership, essential no matter what branch you join - well done all!
HMS Raleigh
6 Mar 2019 - We've also selected the Gould 35 management team. Congratulations to the newly appointment class leaders, deputy class leaders and mess bosuns.
HMS Ramsey (MCM1 Crew 2)
18 Mar 2019 - Dressing lines rigged? Navigation lights on? All departments ready? Final cleaning complete? HMS Ramsey ready for her Material and Safety Check with FOST MPV.
15 Mar 2019 - It was a great pleasure to host Admiral Lanba, CNS Indian Navy, on board HMS Ramsey today as part of his visit to the UK, strengthening the relationship between the Royal Navy and the Indian Navy.
11 Mar 2019 - Happy Commonwealth Day to all 53 member states and more importantly our friends.
8 Mar 2019 - Celebrating International Women's Day on board HMS Ramsey. AB(MW) Halsall is one of our team who ensures we deliver on operations protecting the UK's interests at home and overseas.
6 Mar 2019 - HMS Ramsey exchanging her ID with HMS Hurworth. Flashing light signals were the Royal Navy's secondary means of communications after flag signals and are still used during times of radio silence or spoofing.
6 Mar 2019 - "SHIP IS IN POSITION - LET GO!" HMS Ramsey anchoring in the Scottish Exercise Areas. This is our Navigating Officer's favourite seamanship evolution.
5 Mar 2019 - "CARRY ON WITH THE SWIMMER!" Action shots of HMS Ramsey conducting a man overboard exercise.
MASTT (Maritime Autonomous System Trials Team commanded by MCDOA member Dave Stanbury)
15 Mar 2019 - Another successful week for MASTT! Four new Operators and one new Operator/Supervisor in the Fleet!
14 Mar 2019 - Gusty winds may have hampered R100 training for MASTT this week, in Portsmouth Hbr, but it has not dampened spirits or the desire for knowledge!
13 Mar 2019 - MASTT heavily engaged in the R100 L1&L2 Maintenance module of the Course today, at HYDROID Europe, Portchester.
11 Mar 2019 - Another week, another training course for the members of MASTT! REMUS 100 Operator/Maintainer Course. More news to follow!
HMS King Alfred
19 Mar 2019 - Congratulations to everyone awarded their Initial Minewarfare Course certificate this weekend!
Well done to reservists from HMS King Alfred, HMS Calliope, HMS Wildfire, HMS Vivid & HMS Flying Fox. Welcome to a Reserve career in a great branch supporting Royal Navy mine clearance!
Grey Funnel Line
13 Mar 2019 - HMS Penzance [MCM1 Crew 4] has completed a 10-month refit.
---
19 Mar 19 - Yet more memories of Overseas Long Minewarfare & Clearance Diving Officer (OLMCDO) Courses
I am grateful to Rear Admiral Allan du Toit RAN for this addition to the entry for 16 Mar 19:
"Good morning Rob,
Here is the 1971 OLMCDO course photo from Andrew Rennie as promised. The course included officers from Burma, India, Iran, Norway, Singapore and South Africa. Andrew tells me that Lt Rosengrew, or 'Rosie' as he was known, was by far the best diver on course - a true Viking!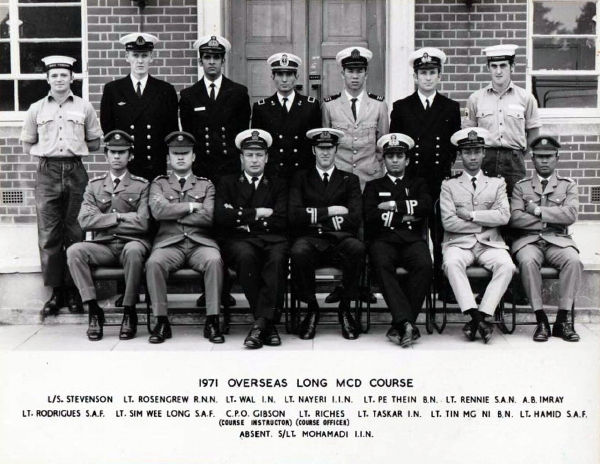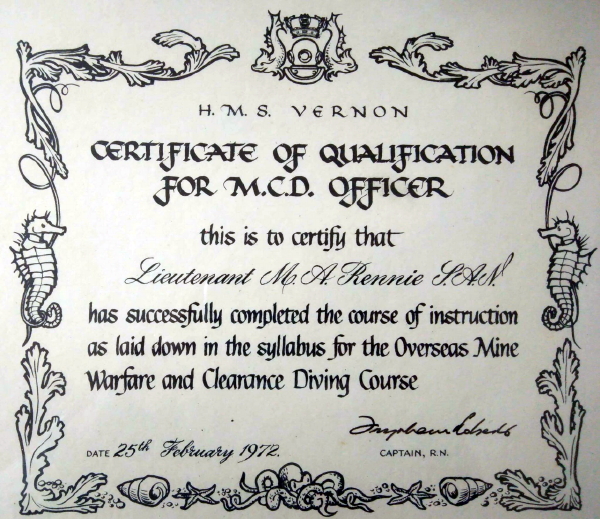 Only too pleased to help. I served in SAS Pretoria (1975) as a midshipman under training, SAS Windhoek as Gunnery Officer and subsequently SAS Durban on two separate postings as Navigator and First Lieutenant. I was subsequently relief CO of SAS Durban for three months in 1984. All my minehunter time in the SAN was spent as MHCO and then First Lieutenant in the brand new German designed River class minehunters which were fitted with Thomson 2021 sonar and PAP MDVs.
Keep up the great work.
Best wishes,
Allan"
More discussion of OLMCDO '71 is available in the entry for 30 Jul 14 in News Archive 47.
---
From MCDOA member David Burstall:
"Hello Rob,
Re the 1971 Overseas LMCDO Course, you have a lieutenant from the Imperial Iranian Navy, Lieut Nayeri, but I did not know him. He was long after my time as I left Iran in about 1961 after two years there, having taken over from Mike Gillam.
Whilst I later had time as I/Diving in 1969, again I left before Nayeri joined. We did however have a Petty Officer from the IIN undergoing training as a CD1. He was the victim of a horrendous accident when the portable chamber, in which he was decompressing suddenly blew its door off, subjecting the diver to explosive decompression. The poor chap died. I can't remember his name, nor what the final finding was of the Board of Enquiry. At that time I believe I was either the First Lieut of HMS Vernon or involved in re-writing the Diving Manual, shortly before retiring.
Regards,
David"
---
18 Mar 19 - Cover art received for latest minewarfare book
Your humble webmaster has received a preview of the cover of 'Enemy Waters', the third and final book of the trilogy I have co-authored with Cdr David Bruhn USN that covers naval minewarfare during the First and Second World Wars. 'Home Waters' and 'Nightraiders', the first two books of the trilogy, have already been published (see entry for 9 Jan 19).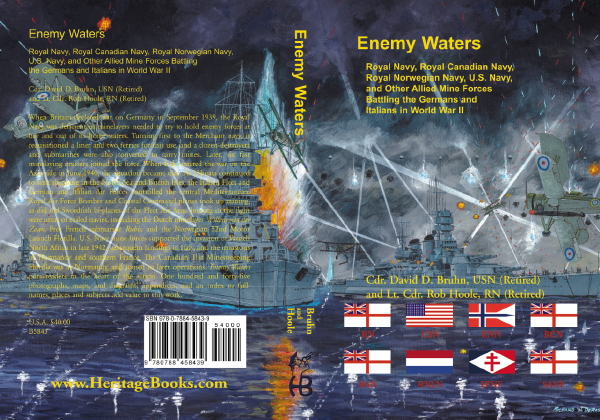 This is the text on the back cover:
Enemy Waters
Royal Navy, Royal Canadian Navy, Royal Norwegian Navy, U.S. Navy, and Other Allied Mine Forces Battling the Germans and Italians in World War II
When Britain declared war on Germany in September 1939, the Royal Navy was deficient in minelayers needed to try to hold enemy forces at bay and out of its home waters. Turning first to the Merchant Navy, it requisitioned a liner and two ferries for this use, and a dozen destroyers and submarines were also converted to carry mines. Later, six fast minelaying cruisers joined the force.
When Italy entered the war on the Axis side in June 1940, the situation became dire. As U-boats continued to sink shipping in the North Sea and around the British Isles, the Italian Fleet and German and Italian Air Forces controlled the central Mediterranean. Royal Air Force Bomber and Coastal Command planes took up mining, as did old Swordfish bi-planes of the Fleet Air Arm.
Joining in the fight were units of exiled navies, including the Dutch minelayer Willem van der Zaan, Free French submarine Rubis, and the Norwegian 52nd Motor Launch Flotilla. U.S. Navy mine forces supported the invasion of French North Africa in late 1942, subsequent landings in Italy, and the invasions of Normandy and southern France. The Canadian 31st Minesweeping Flotilla was at Normandy, and joined in later operations.
Enemy Waters puts readers in the heart of the action. One hundred and forty-five photographs, maps, and diagrams; appendices; and an index to full-names, places and subjects add value to this work.
MCDOA past-President Paddy McAlpine has kindly written one of the forewords to 'Enemy Waters', as he did for 'Home Waters':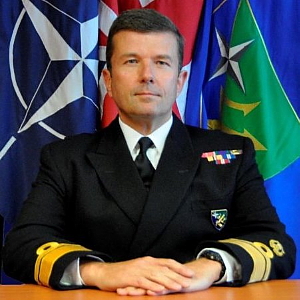 Rear Admiral Paddy McAlpine CBE
Foreword
Enemy Waters, the third book in the excellent Mine Warfare trilogy by Commanders Bruhn and Hoole will evoke many memories for those who have served at sea and experienced the challenges posed by sea mines, whether they are modern and newly laid or still highly dangerous WWII relics.
Having joined the Royal Navy to dive in an attempt to emulate my childhood hero Jacques Cousteau (that amazing military leader, scientist, film maker and inventor of the aqua lung), I eventually found myself as a newly qualified Mine Clearance Diving Officer (MCDO) and Operations Officer on board HMS Chiddingfold, a Hunt-class mine countermeasures vessel. We were preparing to deploy to the Persian Gulf in a small task group that included HMS Berkeley, commanded by co-author of this excellent book, Rob Hoole. A hugely experienced and capable MCDO during his active service, Rob has gone on to thrive as a successful author as well, a widely acknowledged and a highly respected naval historian, specialising in mine warfare and diving.
Working up in the middle of the English Channel before we deployed to relieve the other RN Minehunters that were keeping the Strait of Hormuz open at a time of increasing tension, we started the day off as we usually did with System Operator Checks or "SOCs." A chance to turn all the gear on and test it with the maintainers ready to finely tune it up was always welcome. We slowed down to mine hunting speed, turned on the 193M Sonar and, purely by chance, discovered a very solid sonar contact on which to run out the submersible. As soon as the Chief Petty Officer Mine Warfare saw the sonar contact, his mine hunting antenna was immediately raised. "That's a mine!" We launched the submersible, got it into position and with about ten metres to run, turned on the searchlight and video recorder. Into view came a fully intact, German WWII mine. After the usual reactions and preps, the divers went down to neutralise the threat.
As interesting a start to the morning as this was, it was not the first and certainly was not to be the last intact WWII sea mine found in the English Channel during that year and in every year since. They continue to turn up today during similar chance encounters, or in trawlers' nets, or are uncovered on the beaches at extremely low tides; and mine warfare and diving specialists from the navies on both sides of the Channel continue to regularly deal with old WWII ordnance.
Mines, old or new, remain a potent weapon in wartime and a threat to all shipping once the shooting ashore has ended. During WWII the Channel was strewn with them and for very good reason. This relatively cheap-to-manufacture weapon always achieves a high return on investment if offered a target. Countering the mine threat must be part of every amphibious plan to open the approaches to chosen landing areas for the amphibious forces and provide access to the ports and harbours for supporting shipping and follow-on forces once the battle has moved inland. This book not only reinforces this point but also reminds those designing the navies and amphibious forces of the future that ignoring the lessons of the past would be folly.
Paddy McAlpine CBE
Rear Admiral Royal Navy (Retired)
'Enemy Waters' will be printed and published within the next couple of months. Watch this space.
As with 'Home Waters' and 'Nightraiders', the £10 profit from the sale of each personally signed copy of 'Enemy Waters' will be donated to Project Vernon, the installation of a monument in Gunwharf Quays in Portsmouth, formely the location of HMS Vernon, to commemorate the establishment and celebrate the work of members of the minewarfare & diving community - past, present and future. Proceeds to date have added £1,500 to the kitty (over £250k raised so far) but more is needed for Phase 2, the means by which the monument's full significance will be explained to the annual footfall of 8 million visitors who will see it.
---
17 Mar 19 - Exciting News for Project Vernon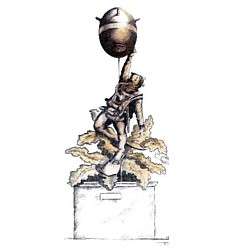 Talented sculptor Mark Richards has been awarded the commission to design, create and install the Vernon Minewarfare & Diving monument and a contract has been signed with a "Ready for Installation" date of 1 March 2020.
Mark's one-and-a-quarter scale structure will take the form of a British Mk 17 moored mine complemented by two divers wearing equally iconic CDBA (Clearance Diver Breathing Apparatus). Respectively, these elements will represent members of the mine warfare & diving community and celebrate their work - past, present and future.
The sculpture will stand proud of the surface of Pool B which is the middle of the three basins leading from the main gate in Gunwharf Quays, the residential, retail and marina development in Portsmouth. This was previously occupied by HMS VERNON, the Royal Navy's alma mater of mine warfare & diving and base for mine countermeasures vessels. Here, it will be seen by a footfall of 8 million visitors per year. An artist's impression of the monument in situ will be released shortly.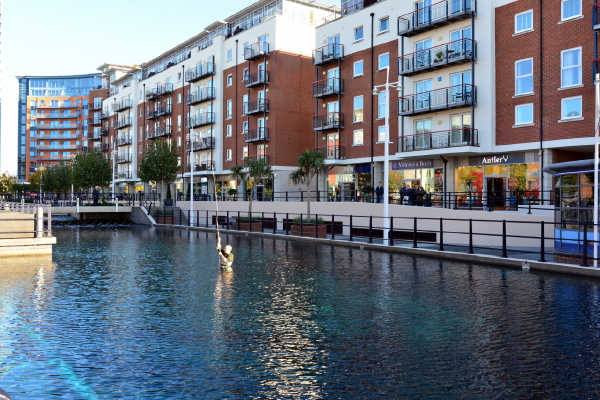 Mark Richards 'measuring up' in Pool B at Gunwharf Quays in October 2018
It is intended to dedicate the monument next spring in the presence of a VVIP. In the meantime, fundraising continues for Phase 2, the means by which everything the monument signifies will be explained to the public.
Mark Richards has started publishing a blog to update supporters on his progress which will be available at: http://vernonmonument.blogspot.com
Other examples of his work can be seen at: www.markrichards.eu
Project Vernon has been adopted by the MCDOA and endorsed by the AORNFCD, TCA, RANCDA and, most recently, the RNCDA at its AGM in October 2017. As chronicled on this website, it has been a long slog to coax the money out of people but the end is finally in sight. A huge thank you to all Project volunteers and other supporters.
Postscript: The latest newsletter is available here:
Project Vernon Newsletter 24 March 2019
---
16 Mar 19 - More memories of Overseas Long Minewarfare & Clearance Diving Officer (OLMCDO) Courses
I am grateful to Rear Admiral Allan du Toit RAN for this response to the entry for 21 Feb 19:
"Dear Rob,
Trust that all is well with you.
I just read the MCDOA 'Latest News' with much interest as always. I noted the OLMCDO course photos, in particular the photo of OLMCDO Course '66, which featured Lt L.J. (Woody) Woodburne, SAN (arms folded), who topped the course.
After serving as OIC of the Diving School in Simon's Town on his return from the LMCDO course at HMS Vernon, he went on to command two Ton class minesweepers [SAS Mosselbaai and SAS Johannesburg] before volunteering to become a submariner, commanding the second of the SAN's new French-built Daphne class submarines, SAS Emily Hobhouse, on her commissioning in 1971. While in command of Emily Hobhouse, Woody became one of only two South Africans to ever be awarded the Van Riebeeck Decoration, the highest South African decoration in the field, which he received for conducting Special operations.
Woody went on to have a very distinguished career in the SAN, culminating in his promotion to Vice Admiral and appointment as Chief of the Navy from 1990-92. He passed away in 2013 after a long battle with a degenerative disease.
Additionally, I have also reviewed the QDD, CDO, MCDO and MWO List to see if there were any obvious SAN officers missing. There are two that I am aware of.
Firstly, Lt M.A. (Andrew) Rennie (Capt SAN and subsequently Cdr RAN) who did the OLMCDO course in 1971. Andrew tells me that the course started in Oct 1971 and finished in Mar 1972. He also had Iranian officers on course with him. He then did two months as MCDO in HMS NURTON operating out of Rosyth. He will see if he can dig out his course photo and I will scan and send it to you.
The second is Lt Paul Nicholas (later Cdr SAN) who did the OLMCDO course in either 1974 or 1975, the last South African to attend the course before the termination of the Simon's Town Agreement in June 1975 and the onset of political isolation because of apartheid.
Of note, Richard Lowther (LMCDO '69) transferred across to the SAN in the early 1970s and subsequently ran local LMCDO and MWO courses in Simon's Town. By this time the SAN was in the process of converting two of its ten Ton class sweepers to minehunters with Sonar Type 193 and PAP 104 MDVs.
Hope this all helps with the Branch history.
Best regards,
Allan"
More information about 'Woody' Woodburne is available on Wikipedia here:
Vice Admiral Lambert Jackson 'Woody' Woodburne DVR SD SM SAN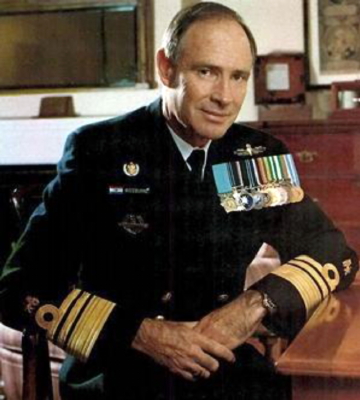 Vice Admiral 'Woody' Woodburne DVR SD SM SAN
Allan du Toit, who originally trained as a PWO and MWO, had a fairly eventful career in both the South African Navy and the Royal Australian Navy, too:
Rear Admiral Allan Kendall du Toit AM RAN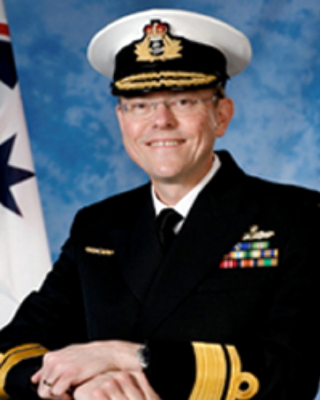 Rear Admiral Allan du Toit AM RAN
He was appointed Chair of JFD Australia on 1 March 2019:
JFD Australia announces new chair as it further strengthens its local commitment
---
15 Mar 19 - Navy divers blow up Welsh wartime 'bombs'
The Royal Navy website contains this article reporting the routine clearance of ordnance on the Gower Peninsula in South Wales by Southern Diving Group (SDG) members of Plymouth-based SDU1 and Portsmouth-based SDU2. The article features MCDOA member Sean 'Central' Heaton and CPO(D) Andrew 'Tex' Marshall.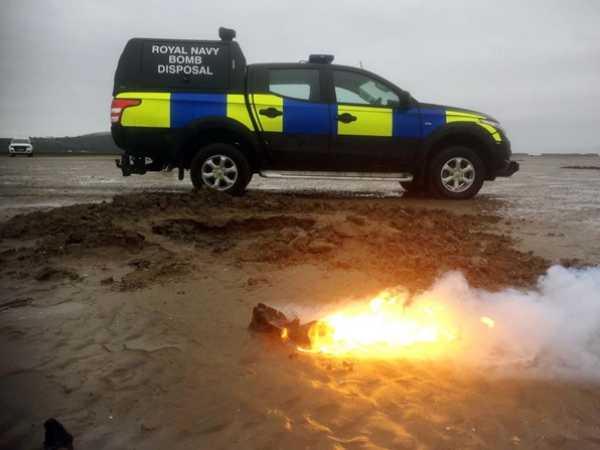 Royal Navy images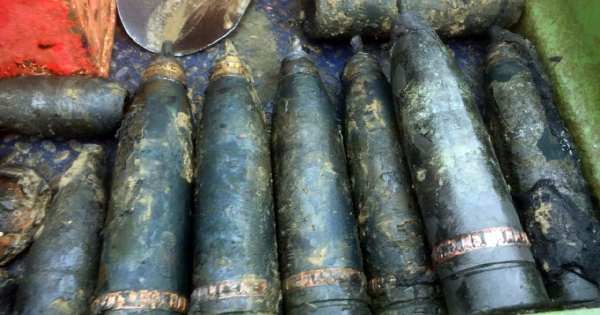 ---
14 Mar 19 - HMS Ledbury's 'Row the Gulf' in memory of Harry
By Josh Beale of HMS Ledbury (MCM2 Crew 1), currently serving in the Gulf on Operation KIPION:
"The Crew of HMS Ledbury will row the entire Gulf [today] using five rowing machines combining each distance. A minimum of 650 nm is the goal in 24 hours.
My wife and I lost our son Harry after 22 weeks due to a condition called hydrops fetalis which, sadly for us, was incurable. Harry was born on 7th March 2015 and shortly died in our arms after. Whilst we were in hospital we were provided with a SANDS [Stillbirth and Neonatal Death Support] memory box which enabled us to create and keep precious memories. This provided us with much comfort as we left the hospital heartbroken with empty arms.
This is just one of the ways SANDS support parents going through this tragic time. Losing a baby at any stage affects millions of people every year and so providing funds to SANDS will help those who require bereavement support as well as promote research in antenatal practice that could help to reduce the loss of babies' lives.
Baby loss can happen at any stage of pregnancy and each family has its own story and pressures that come with it. Funding this charity means supporting health professionals to improve the quality of care and services provided to bereaved parents and their families as it did for us."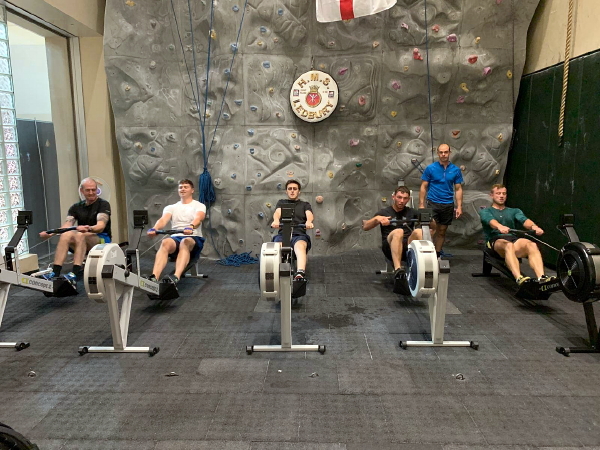 Just past the halfway mark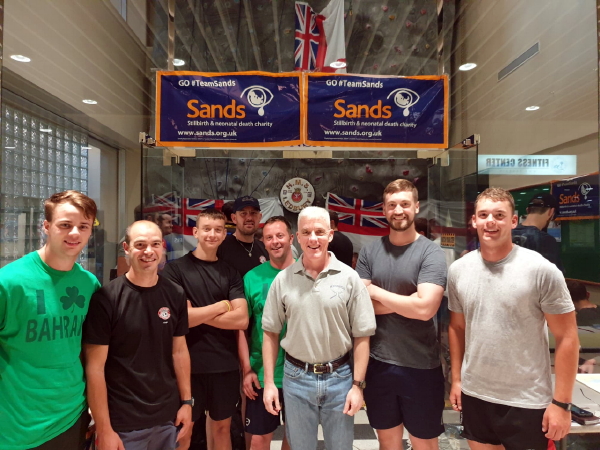 A visit by Vice Admiral James Malloy USN (Commander US 5th Fleet)
just before the end of Ledbury's SANDS charity row
Postscript: Ledbury completed her row at about 0830 GMT on Friday 15 March but a few donations are still required to reach the £2,000 target via Josh's Justgiving webpage here:
Fundraising for SANDS, the stillbirth and neonatal death charity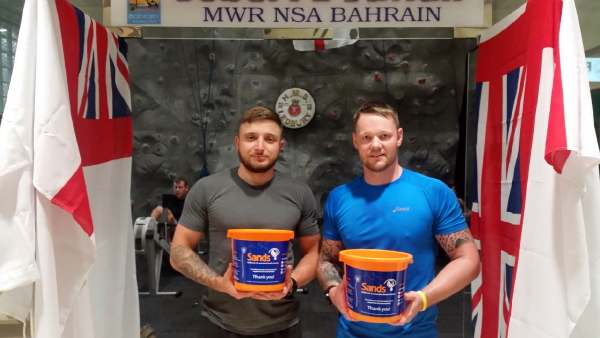 Josh Beale (right)
---
13 Mar 19 - RN Minewarfare Heritage: The Southsea Connection
The next time you are wandering through Southsea, ponder this man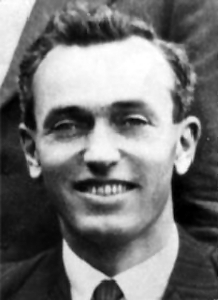 Sir Charles Frederick Goodeve OBE FRS
Charles Goodeve was born in Neepawa, Manitoba in Canada on 21 February 1904. He was the son of Frederick W. Goodeve, an Anglican clergyman, and spent his early childhood in Stonewall, Manitoba, but grew up in Winnipeg. He attended the University of Manitoba, passing his B.Sc. exams in 1925 in chemistry and physics, and received an M.Sc. in electrochemistry in 1927. In the same year, he was awarded a Research Fellowship to study at University College London where he was appointed a Lecturer in Physical Chemistry in 1930 and Reader in 1937. He was awarded a D.Sc. from the University of London in 1936.
Goodeve had joined the RCNVR (Royal Canadian Naval Volunteer Reserve) in Winnipeg in 1923. After arriving in England, he joined the RNVR (Royal Naval Volunteer Reserve) and was promoted to Lieutenant Commander in 1936. On 6 September 1939, he started work at HMS Vernon, the Royal Navy's torpedo and minewarfare establishment in Portsmouth (on the site of what is now Gunwharf Quays) specialising in ways to counter the threat of mines.
In the opening months of the Second World War, shipping around the UK was almost paralysed owing to so many vessels being sunk or seriously damaged by mysterious underwater explosions; 200,000 tons of shipping were sunk in November 1939 alone. The mystery was solved on 23 November 1939 when Lt Cdr (later Cdr) John Garnault Delahaize Ouvry DSO RN rendered safe a German 'GA' magnetic parachute mine that had inadvertently been dropped on the mudflats at Shoeburyness without the self-destruction mechanism functioning. Unlike conventional moored mines set off by contact with a target, it was discovered that this ground mine lay on the seabed and was activated by the magnetic effect of a ferrous ship or submarine passing over it.
For their actions, Lt Cdr Ouvry and his team were decorated by King George VI on the parade ground of HMS Vernon on 19 December 1939, notably the first RN decorations of the war.
The mine they rendered safe is exhibited on board the cruiser HMS Belfast, now a museum ship on the Thames in London, which was taken out of the war for three years by an identical mine on 21 November 1939.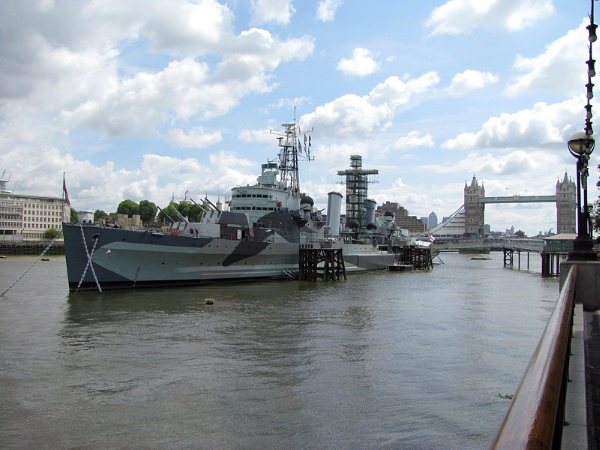 John Ouvry's son David with Rob Hoole and the late Lt Noel Cashford MBE RNVR
beside Ouvry's mine on board HMS Belfast on 7 July 2009
To counter the magnetic mines, Charles Goodeve proposed the "Double Longitudinal Sweep" (Double L) comprising charged electrodes at the ends of two cables towed behind a minesweeper. Canoe Lake in Southsea was chosen to trial his system. Goodeve thought up an ingenious cover plan. In the deepest of confidence, the sailors and police were told that a new secret device for detecting enemy ships was being tried.
On a bitterly cold winter day, ice had to be swept aside before the trial could start. Sailors began towing their model ships backward and forward across the lake as a decoy operation, watched by an ever growing crowd of housewives, small boys and policemen. Separate from this, Lt (later Cdr) Raymond Geoffrey Manning Collins RN of HMS Vernon's Minesweeping Department (the officer in charge of the project) and two sailors rowed a dingy, containing the mechanism of the German magnetic mine recovered by Ouvry, across heavy 'Double L' insulated sweep cables laid across the bottom of the lake. At a signal from the dinghy, an electrical current, provided by Army searchlight generators, began flowing through the submerged cables and a spasmodic flickering on a dial in front of Collins announced the firing of the German mine's mechanism at all the corners of the sweep.
Making his way through the crowd still staring fascinated at the little wooden models, Goodeve hurried back to HMS Vernon. On his desk lay an envelope marked "Top Secret", and he extracted a brief, emphatic memorandum with a Whitehall note-heading:
"You should discontinue any research on the lines you have indicated in your latest report. It is clear to me that the method you suggest will prove self-cancelling and cannot work".
Goodeve's 'Double L' magnetic mine sweep was put into production and rapidly achieved results. The first, by now buoyant, cable was delivered on 18 January 1940 and over 1½ million yards were manufactured by the end of the war.
By February 1940, the first magnetic mines had been swept by the 'Double L' sweep, its electrodes suspended beneath what many of our community will remember as inflateable 'Double L' floats. Special wooden motor minesweepers (MMS aka 'Mickey Mouse'), modelled on Yarmouth trawlers, were commissioned and they operated most effectively: 74 mines were swept by March 1940 and nearly 300 by the end of June.

Married buoyant cable and electrodes of 'Double L' open loop magnetic sweep
Goodeve also developed methods of 'wiping', 'deperming' and fitting degaussing coils to reduce the magnetic signature of warships and merchant ships, thus rendering them safer from the threat of magnetic mines. He was elected a Fellow of the Royal Society in 1940.
Goodeve's other wartime accomplishments included the 1940 British production of the Swiss-designed Oerlikon 20 mm cannon for anti-aircraft protection on warships and merchant ships. In 1942, the Third Sea Lord, Vice Admiral Sir William Wake-Walker, appointed Goodeve Assistant Controller Research and Development, with broad oversight of the Navy's research and development efforts. His group, renamed the Admiralty's Directorate of Miscellaneous Weapons Development (DMWD), then worked on developing plastic armour and the 'Hedgehog' anti-submarine spigot mortar. By the end of the war the weapon had accounted for some fifty U-boats.
Goodeve was appointed an OBE in the 1944 New Year Honours for his work in weapon development. In 1946, he was created a Knight Bachelor and awarded the US Medal of Freedom with Silver Palm. His work on degaussing ships to counter the magnetic mine was recognised by the Royal Commission on Awards to Inventors in 1957 when he received an ex gratia payment of £7,500 which he generously shared with those who had helped him. Further information about his wartime work is available in The Secret War 1939 – 1945 by Gerald Pawle.
The scope and scale of Charles Goodeve's post-war achievements are too great to describe here in full but he was a director of the Industrial and Commercial Finance Corporation from 1965 to 1974, of Technical Development Capital Ltd from 1966 to 1974, and of the London and Scandinavian Metallurgical Company from 1968 until his death. He was Vice-President of the Parliamentary and Scientific Committee from 1950 to 1962, a member of the Lord President's Council on Scientific Policy from 1953 to 1956 and a member of the National Industrial Fuel Efficiency Service from 1968 to 1972. He was a Vice-President of the Royal Society from 1968 to 1970, Scientific Adviser to the British Transport Commission from 1948 to 1958 and a Governor of Imperial College from 1961 to 1973. He was Master of the Worshipful Company of Salters from 1958 to 1959, President of the Chemical Section of the British Association in 1956 and a Member of Council of the Tavistock Institute of Human Relations from 1967 onwards. He received honorary doctorates from the Universities of Manitoba (1946), Sheffield (1956), Birmingham (1962), Newcastle upon Tyne (1970) and Salford (1974).
Charles Goodeve was stricken with Parkinson's disease towards the end of his life but carried on with characteristic fortitude, never losing his sense of humour. He died on 7 April 1980 and his memorial service, arranged by the Metals Society and held at Holy Trinity Church in South Kensington on 19 June 1980, was attended by many friends from every phase of his life. Lord Sherfield gave the address and concluded with these words:
"This is not really an occasion for sorrow. It is rather one for expressing gratitude for the great and varied achievements of a full life and for giving thanks for Charles's humanity, his services to our society and his friendship with us all. We cherish his memory."
I have consulted several sources to compile this biography (e.g. Navy List Research, The London Gazette, The Torpedomen – HMS Vernon's Story 1972-1986 by Rear Admiral Nicho Poland CB CBE, etc.) but the best internet references are:
http://naval-museum.mb.ca/people/sir-charles-goodeve
http://www.goodeveca.net/CFGoodeve/cfg_bio.html#vernon
Contrary to the information on the webpages above stating that Goodeve was in the dinghy, it states in Rear Admiral Poland's book that the Canoe Lake trial was actually conducted by Lt (later Cdr) Raymond Geoffrey Manning Collins RN of HMS Vernon's 'Minesweeping Department' although Goodeve was the mastermind. After HMS Vernon was heavily blitzed on the nights of 9-10 March 1941 when 100 personnel were killed by a direct hit on Dido Building, Collins went on to head its 'Future Sweeps Section' in the Albert Hotel in Southsea.
Interestingly, the 'Future Sweeps Section' was joined by Vernon's 'Acoustic Sweeps Section' after its previous home on Clarence Pier, off which an acoustic signature range had been laid, was bombed. The 'Acoustic Sweeps Section' was later re-located in Kimmerghame House at Fettes College in Edinburgh. In the meantime, Vernon's 'Controlled Mining Department' was split between the Lennox garage in Southsea and Hillside House in Purbrook. Vernon's 'Instructional Book Production Department' was first evacuated to 5 South Parade in Southsea (until recently the Rose Lodge Nursery School owned and run by MCDOA co-founding Chairman David Sandiford) before moving to a country house called Ryecroft at Ropley near Alresford.
All in all, it seems that Southsea was strongly connected with HMS Vernon's successful trial and development of mining and minesweeping systems during the Second World War.
---
12 Mar 19 - Far East Fleet CD Team presento
I am grateful to former CPO(D) David 'Jimmy' Bond for these photos he was passed by a friend who has a shop in Weymouth called Books Afloat: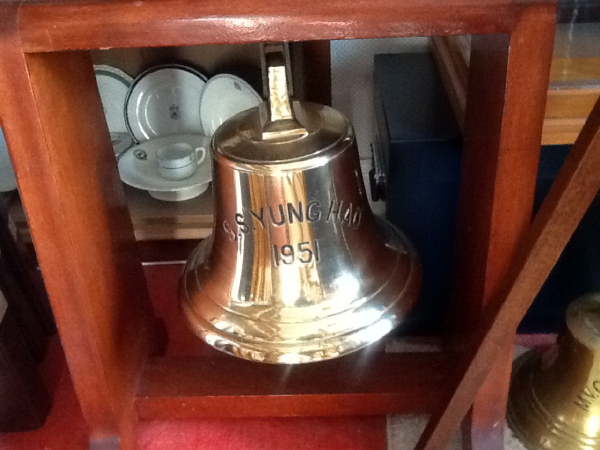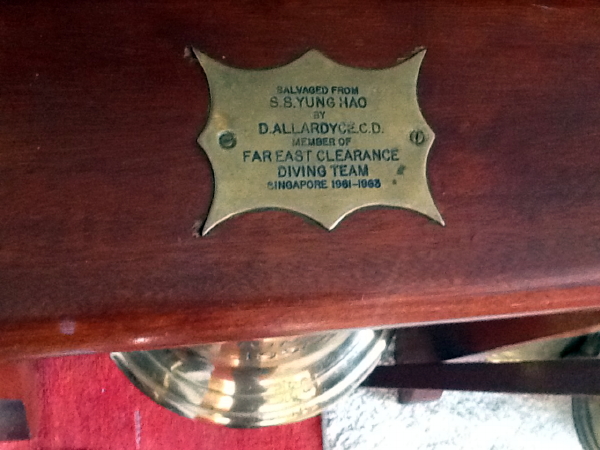 It seems the bell was recovered by Jock Allardyce of the Far East CD Team in the early 1960s. Does anyone remember the occasion?
This photo of members of the Far East Clearance Diving Team in the early 1960s was sent to me by ex-CD1 Leo Whelan who crossed the bar on 9 October last year. He took it on the beach at Pulau Tioman and it shows Jock Allardyce kneeling on the left: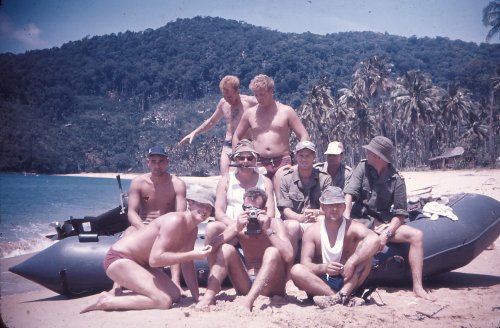 Back Row: Ginge Turton, Pincher Martin (Brum), Trevor Gibson
Middle Row: Dave Coote, Bungy Edwards (Boy Seaman on board HMS Repulse),
Ginge Bishard, Lt Cdr David Burstall (MCDOA member)
Front Row: Jock Allardyce, Stafford Cripps, Jesse James
Also see 'The Far East Fleet Clearance Diving Team' by Mike Gillam in the MCDOA website's Dit Box.
---
From MCDOA member David Burstall:
"Hello Rob,
What a wonderful set of memorabilia. I regret I can't help much.
Re the FEFCDT - We visited Pulao Tioman for a beach clearance exercise with the Fleet when the photograph was taken with Jock Allardyce & Co in it. He did not dive on the SS YUNG HAO in my time. I note from his dates that he was with the Team from '61 to '63. I was there from '62 to '64, so the dive must have been in Mike Gillam's time. I took over from him in December '62.
There was an incident I had with Jock Allardyce (dates I can't remember), when he was on the bottom on the end of his life line, when suddenly the attendant yelled out: "Diver not answering! I've lost the diver!" and he pulled up an empty life line. There was a strong tide running, so the whole team looked all round to see if he had bobbed up to the surface. We spotted him about 50 yards away floating on the surface. The gemini was sent off pdq.
Jock was hauled in and brought back to the MFV. He had had to cut himself loose on the bottom as his life line had got tangled in the wreck. He was given a bollocking for frightening the living daylights out of us, followed by a tot. I can't remember what we were diving on at the time, but it was not the YUNG HAO.
Regards,
David"
---
From MCDOA member Mike Gillam:
"Very many thanks, Rob, although the team photo was taken shortly after my time (we left in December 1962).
On the beach at Pulao Tioman brings back many happy memories of warm sea, giant clams and coconuts. D. Allardyce CD, FECDT 1961-63, as shown on the plaque, has to have been one of my lads but I cannot now recall much about him – the perils of age!
I have no recollection of the SS Yung Hao or its bell. It must have been after my time. David Burstall should know more.
Yours,
Mike"
---
11 Mar 19 - PCDT Members in 1982
My old LMCDO '76 course mate Bernie Bruen MBE DSC, who superseded me as Boss 2 on the Plymouth Clearance Diving Team (PCDT) in early 1982, has passed me these photos of team members during his tenure: Boss 1 was MCDOA member John Wiseman.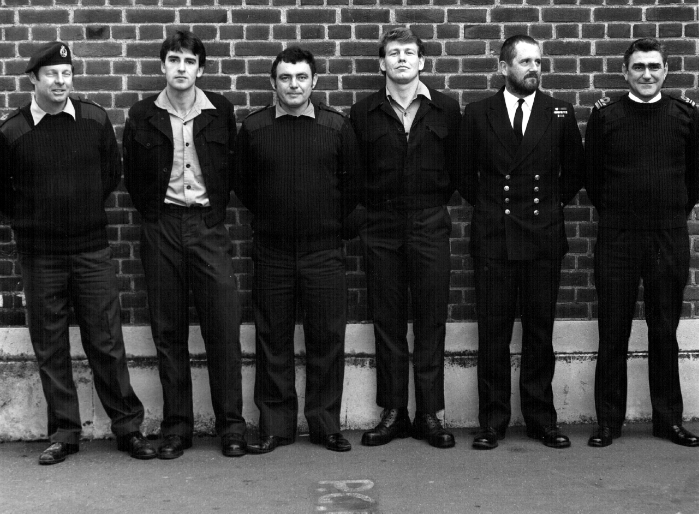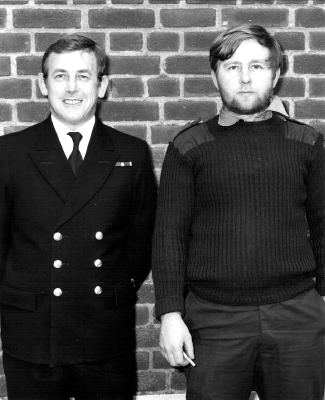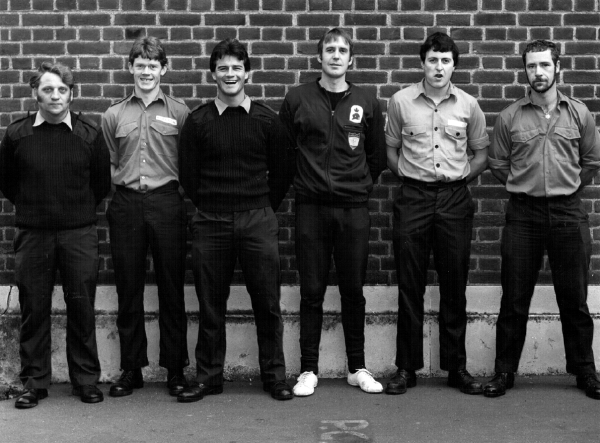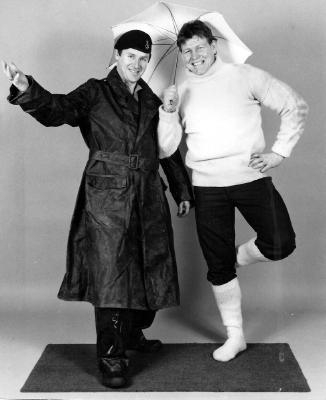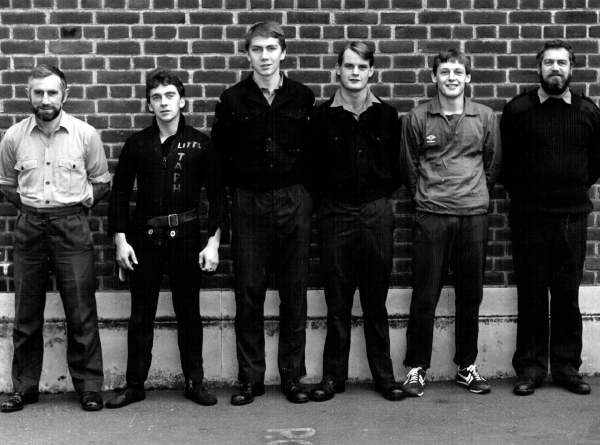 ---
10 Mar 19 - SDU2 deals with unexploded shell at Portslade
The Brighton Argus website contains this article reporting a call-out on Wednesday, presumably for members of Portsmouth-based Southern Diving Unit 2 (SDU2), to dispose of a dredged-up unexploded shell at Portslade in East Sussex.
---
9 Mar 19 - RN Diving Heritage: Plymouth Clearance Diving Team premises and FDT Datchet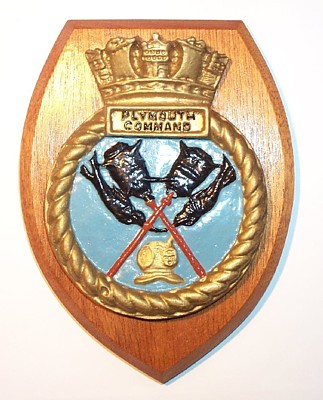 I am grateful to my old LMCDO '76 course mate Bernie Bruen MBE DSC, who superseded me on the Plymouth Clearance Diving Team (PCDT) in early 1982, for these black and white images. They show PCDT's old premises, including the waterfront, in the corner of HMS Drake in January 1973.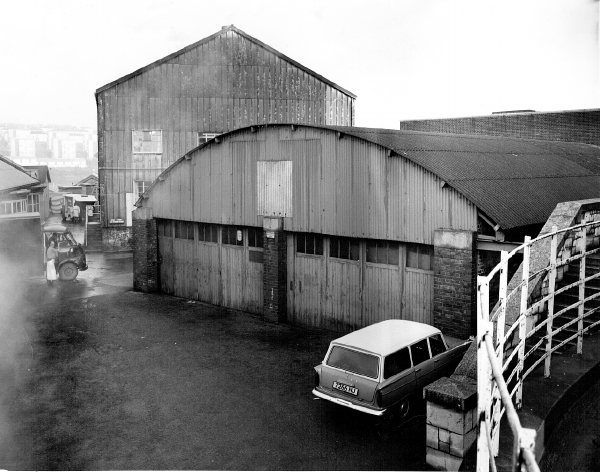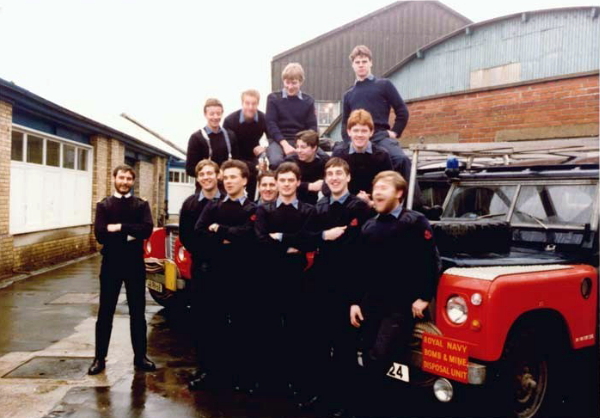 From my album: PCDT Redwingers in 1980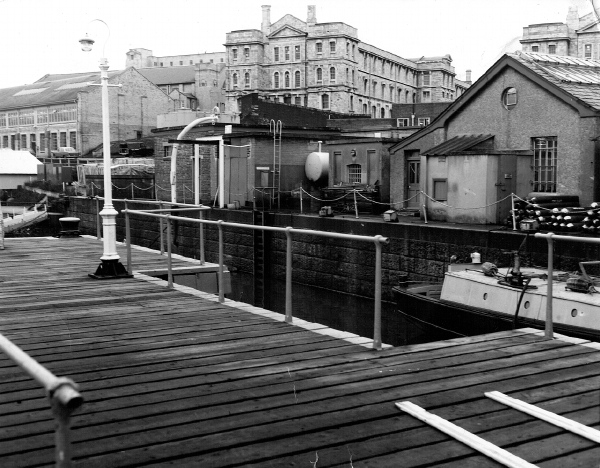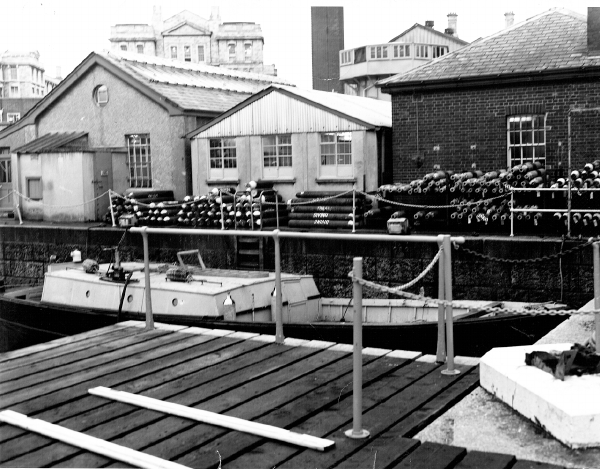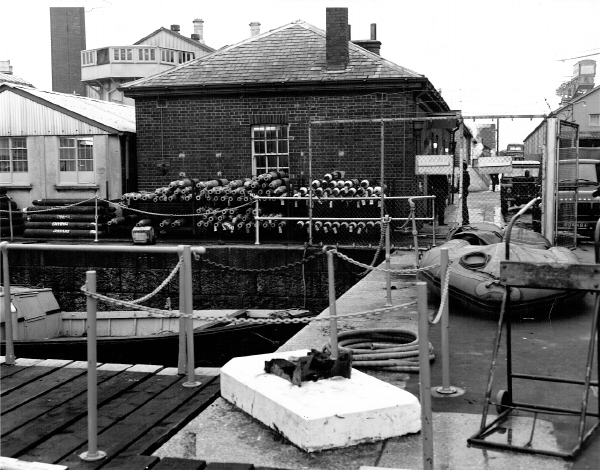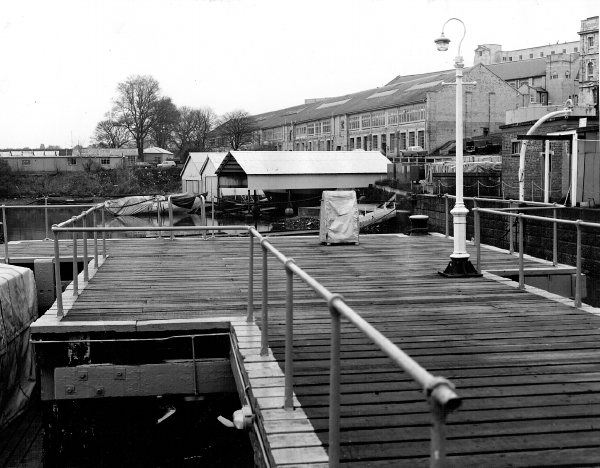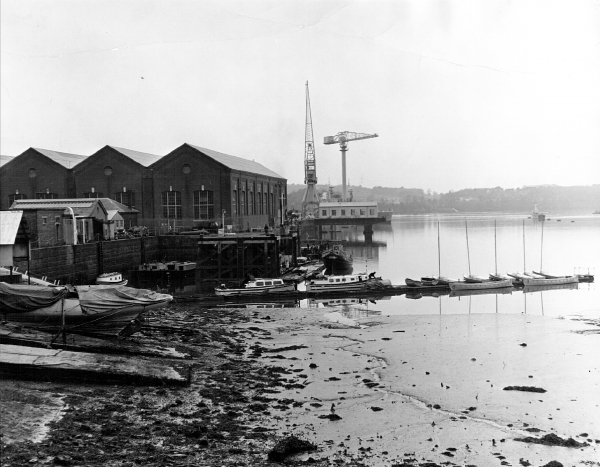 The original RN Diving School at Devonport was accommodated on board the hulks of the floating training establishment HMS Defiance. These photos are from the collection of the late RN diver Ernie Croft and were supplied by fellow Historical Diving Society (HDS) member Phil Thurtle (see entry for 20 Jun 09 in News Archive 26):
Left: The vessels making up HMS Defiance in the Tamar until the mid-1950s comprising front left
HMS Vulcan (originally a small torpedo boat carrier) with the old screw frigate HMS Inconstant
alongside her. Bringing up the rear is the old 1st class protected cruiser HMS Andromeda. Just
visible behind them is the battleship HMS Howe with an RFA in the distance. The minelayer
HMS Ariadne is on the distant trot.
Right: Ernie Croft with George Wookey and team at Devonport Navy Days in 1953
A few key dates to the best of my knowledge:
Jul 1969: Post of CinC Plymouth replaced by Flag Officer Plymouth. CinC Plymouth's Clearance Diving Team became FO Plymouth's Clearance Diving Team (PCDT).
Nov 1986: PCDT renamed Plymouth Clearance Diving Unit (PCDU), still under the Command of FO Plymouth.
Sep 1995: PCDU renamed Southern Diving Unit 1 (SDU1) and joined SDU2 (ex-FO Portsmouth & Medway Bomb & Mine Disposal Team, ex-Portsmouth & Medway CD Team, ex-Portsmouth CD Team, ex-Portsmouth Area Clearance Diving Unit (PACDU) to form the Southern Diving Group (SDG) under the Command of the Deputy Superintendent of Diving (DSofD) as a newly badged CINCFLEET officer.
Feb 1996: Post of Flag Officer Plymouth abolished.
Mar 1998: Southern Diving Group and Northern Diving Group joined with the Fleet Diving Group (FDG) to form the Fleet Diving Squadron (FDS) commanded by CO FDS directly under CINCFLEET (Navy Command's Fleet Commander since April 2012).
PCDT conducted Ships' Diver aptitude tests into the late 1980s. It moved into its new premises in 1987.
PCDT's fleet diving tender circa 1980 was FDT Datchet which came from HMS Vernon in exchange for FDT Ixworth.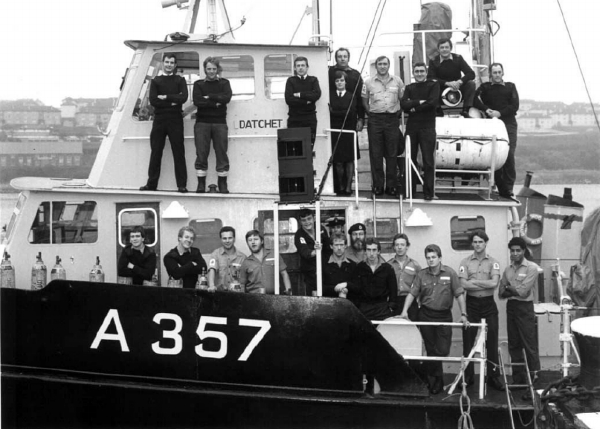 From my album: PCDT Datcheteers in 1980
FDT Datchet was built by Vospers (Singapore) in 1968 and brought to the UK when Sembawang Naval Base closed in 1971 after serving with the Far East Fleet Clearance Diving Team (See 'The Far East Clearance Diving Team' by Brian Braidwood in the website's Dit Box). After working with HMS Vernon and then PCDT from 1979 as the only RN-manned vessel wearing a blue ensign, she was sold to Severn Seas Shipping Ltd of Appledore/Bideford, Devon in 1994 and is pictured as MV Datchet in several of the website's News Archives. On 4 April 2008, she was involved in a collision with the motor yacht Lady of Rudding while towing a barge off Tintagel in Cornwall. This is the official report on the Government website:
Collision between motor yacht Lady of Rudding and dumb barge, towed by workboat Datchet, with 1 person injured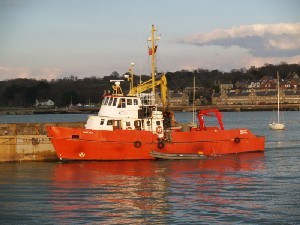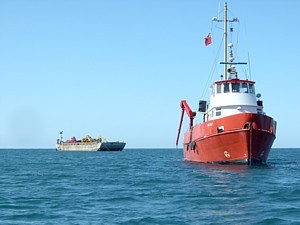 Early last month, former CPO(D) Cris Ballinger BEM sent me this photo he took while rowing on the Penryn River in Cornwall. It shows Bideford-registered MV Datchet in a decrepit state.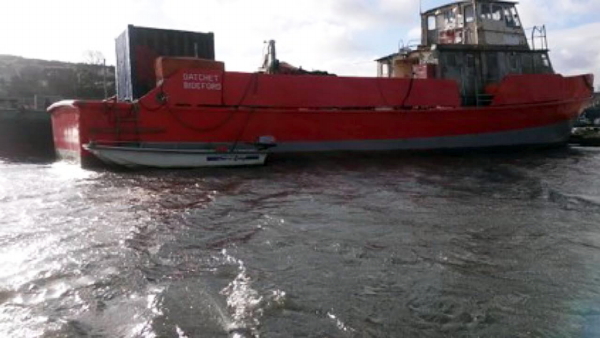 More photos and information, not all of it accurate, can be seen on this page of the Captain's Voyage Forum:
---
From MCDOA member Jon Chapple in Canada:
"Hello Rob,
Greetings from the west coast (left coast, best coast, etc.) of Canada!
Wonderful to see the old photos of PCDT/PCDU/SDU1 (aka "The Guzz Team").
Just to contribute to part of "A few key dates to the best of my knowledge".
01 Sep 1995: PCDU renamed Southern Diving Unit 1 (SDU1) and joined SDU2 (ex-FO Portsmouth & Medway Bomb & Mine Disposal Team, ex-Portsmouth & Medway CD Team, ex-Portsmouth CD Team, ex-Portsmouth Area Clearance Diving Unit (PACDU) to form the Southern Diving Group (SDG) under the Command of the Deputy Superintendent of Diving (DSofD) as a newly badged CINCFLEET officer.
In fact the then-incumbent of the post of SMCDO to FO Plymouth, dual-hatted as OIC PCDU, took command of the newly formed SDG. I know this as it was me!
On forming, the SDG was brought under the Superintendent of Diving and thence CINCFLEET. I have attached a photo of the CO SDG Board from SDG headquarters in Plymouth.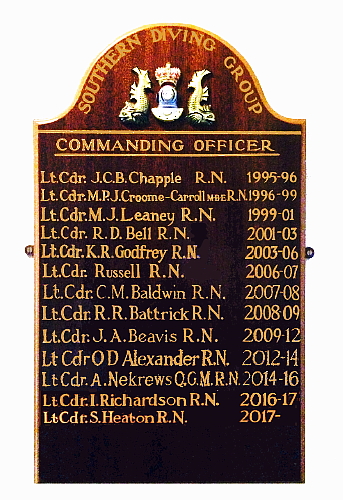 Board showing COs of Southern Diving Group
(Enanced to make names more legible)
The reorganisation of the diving branch that led to the creation of SDG and NDG was spearheaded by Charlie Wilson OBE (SMCDO, CINCFLEET Northwood), ably supported by Chris Davies (FOSNI SMCDO / OIC SNICDU) and myself (FO PLYMOUTH SMCDO / OIC PCDU). I recall that this task was dropped on us by Fleet with very little notice as apparently nobody had considered what would happen to the area clearance diving units when the posts of FO Plymouth and FO Portsmouth were abolished.
I am still with the Aqua Lung group, presently the Vice-President of Aqua Lung Canada, Victoria, British Columbia. Although many miles and 8 time zones from the UK, I am an avid reader of the 'Latest News' on the MCDOA website. Keep up the great work!
Yours aye,
Jonathan (Jon) Chapple
Lt Cdr RN (Ret'd)
Last Officer-In-Charge, PCDU
First Commanding Officer, SDG"
By Webmaster: Very happy to set the record straight, Jon. It was the Fleet Clearance Diving Team (FCDT), later the Fleet Clearance Diving Group (FDG), that was originally headed by DSofD when the area CD Teams were administered by SofD. Area CD teams even had to send him their monthly ROPs (Reports of Proceedings).
Back in the day it was all very convoluted if highly centralised. Although the area CD teams operated under their respective Flag Officers (often under the auspices of CINCNAVHOME (CinC Naval Home Command), SofD at HMS Vernon was responsible to CINCNAVHOME and CINCFLEET (via FMCDO - the Fleet MCD Officer)) for all RN diving issues including domestic and global operations, diving safety standards, experimental and deep diving trials, training standards, diving & EOD systems & equipment development & procurement (via MOD DOR(Sea)), equipment allocation (by no means consistent across the teams) as well as inspections of diving units (CD and Ships' Diving Teams) and their equipment, often hand in glove with CWTA (Captain Weapons Trials Assessment).
---
8 Mar 19 - First Issue of 'The Squashed Beetle'
I am grateful to Lt Ewan Blackburn RN for this email:
"Sirs, Ma'ams, Ladies and Gentlemen,
Let me introduce myself.
I am Lt Ewan Blackburn, the Staff engineer officer and Media officer for the Mine Warfare Battle Staff currently on generation prior to our deployment later in the year. As such I will be leading on all media releases and products for the staff.
Please find attached to this email, the first of our quarterly newsletter "The Squashed Beatle". This will follow our generation from formation, generation and through our deployment.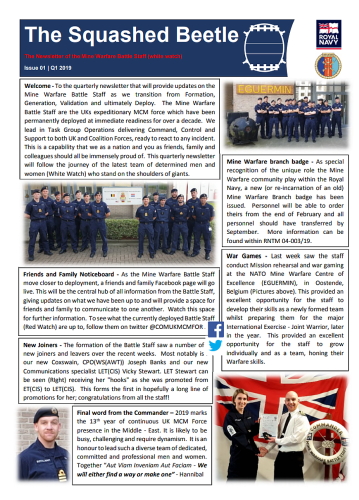 If anyone would like to reach out to the staff regarding media, I am always available on this email and will endeavour to answer your questions as soon as possible
Hopefully this will be of interest for you and I look forward to hearing from you in the near future.
Kind regards,
Ewan Blackburn
Lieutenant Royal Navy
Mine Warfare Battle Staff White"
---
Postscript to a fairytale ending
In April 2016, a request was received by former WO(MW) Dixie Dean MBE, Chairman of the Minewarfare Association (MWA), from a lady called Gill Shaddick in Australia. She wanted to know the identity of the CO ("the most awesome guy") of the Ton class minehunter HMS Hubberston in December 1969 when her British family's yacht was seized by Communist Chinese forces and then released into Hubberston's care (see entry for 25 Apr 16 in News Archive 54).
With the help of Mike Coombes, custodian of the Association of RN Officers (ARNO) Navy List database, I was able to identify the CO as Lt Cdr (later Rear Admiral) Christopher 'Kit' Hope LAYMAN CB DSO LVO, a former Gentleman Usher of the Green Rod. Our information enabled Gill to track down Kit Layman via St James's Palace and thank him personally when she visited the UK last October.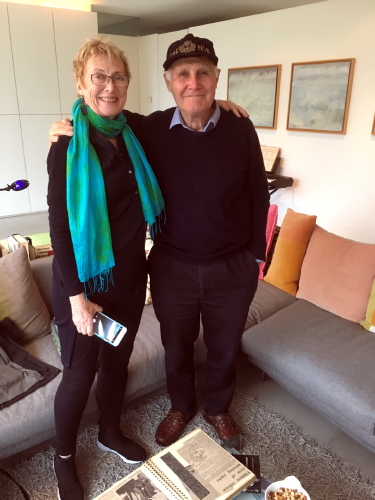 Gill Shaddick and Kit Layman
Kit Layman joined the Royal Navy in 1956 and served for 35 years in many parts of the world. He commanded five ships of different sizes from HMS Hubberston based in Hong Kong to the aircraft carrier HMS Invincible. In 1982 he was commanding HMS Argonaut and the Seventh Frigate Squadron in the Falklands war when his ship suffered damage and casualties but came home safely. As a Rear Admiral he spent a happy time as Commander British Forces Falkland Islands. His last appointment was at NATO Headquarters for three interesting years during which time the Soviet Union and its empire collapsed. On retirement he worked for various companies and charities and his local Community Council, was appointed Gentleman Usher of the Green Rod (an Officer of the Order of the Thistle) and wrote two books.
Gill intended chronicling her Hong Kong experiences in a memoir and has now sent this email:
"Dear Dixie [Dean], Rob [Hoole] and Mike [Coombes],
As promised I am letting you know that my memoir, 'The Hong Kong Letters', has at last made its way to print. We are having a launch in Sydney at the end of the month, but it is already available on Amazon or through The Book Depository.
Thank you so much for all your help.
Gill Shaddick"
Here is the Amazon.co.uk listing for Gill's book:
The Hong Kong Letters: A Memoir by Gill Shaddick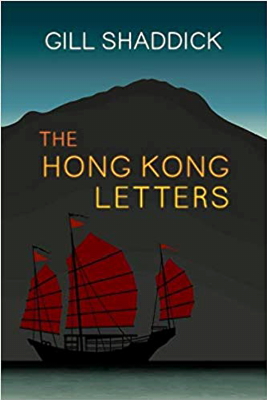 ---
7 Mar 19 - US Navy developments in Expeditionary MCM
The USNI website contains this article, including a video, describing recent US Navy developments in expeditionary mine countermeasures. It focuses on unmanned systems like those being investigated by the RN's MASTT (Maritime Autonomous System Trials Team commanded by MCDOA member Dave Stanbury). Such systems keep the man out of the minefield while speeding up the MCM operation and offer clandestine solutions to exploratory and possibly clearance operations. The article also contains some interesting facts about the manning of the units.
SAN DIEGO, Calif. – The Navy is investing in its explosive ordnance disposal (EOD) force, doubling the number of unmanned systems platoons in the community in the next couple years and improving the technology on their unmanned underwater vehicles.
The increase will add about 100 personnel to man the new platoons and the EOD Mobile Units they report to. The investment in these unmanned systems platoons – along with the expeditionary mine countermeasures (ExMCM) companies that command and control them – is helping the Navy's EOD community have a greater presence around the globe.
ExMCM companies include unmanned systems platoons that use the Mk 18 Mod 1 Swordfish and the Mk 18 Mod 2 Kingfish to search bodies of water for potential dangers; an EOD mine countermeasures platoon with highly trained EOD techs that can reacquire a threat and either neutralize it underwater or safely bring it out of the water for study; and a five-person post-mission analysis cell that analyzes sonar and video data and makes recommendations on how to proceed to the ExMCM company and the higher headquarters at the EOD Mobile Unit.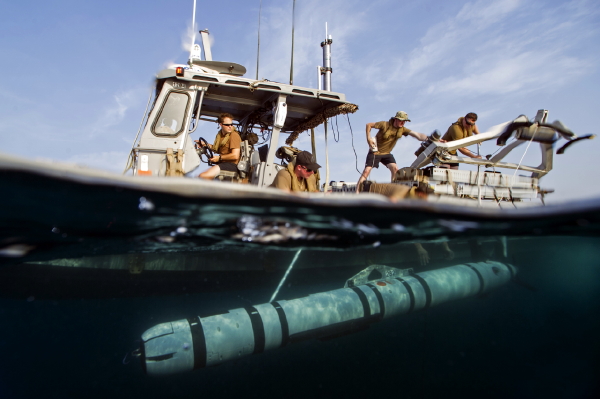 ARABIAN GULF (Aug. 2, 2016) From left to right, Machinist Mate 1st Class Micah Patterson,
Boatswains Mate 1st Class Stephen Wodraska, Engineman 2nd Class Richard Meyer,
Mineman 1st Class Coy Tully and Mineman 3rd Class Pete Calvert, assigned to
Commander, Task Group 56.1, launch a MK 18 MOD 2 unmanned underwater vehicle
from a rigid-hull inflatable boat during Squadex 2016.
(USN Combat Camera photo by Mass Communication Specialist 1st Class Blake Midnight/Released)
ExMCM companies have been particularly active recently, developing procedures to operate on and employ platoons from a variety of U.S. and international navy ships and aircraft. Along with the upcoming increase in the number of companies, they are making themselves more adaptable and capable of handling threats as they evolve.
EOD Mobile Unit 1 – based at Naval Base Point Loma in San Diego, and the only West Coast unit with ExMCM companies – invited USNI News to join a demonstration mission with an unmanned systems platoon to better understand the community and how it is growing.
EOD Mobile Unit 1 commanding officer Cmdr. Jeremy Wheat told USNI News that the ExMCM companies have been developing embarkation plans and tactics to deploy on the Littoral Combat Ship, cruisers and destroyers, amphibious and auxiliary ships and even partner-nation warships. A recent push has been developing tactics to take the unmanned systems platoons and their UUVs from a ship and employ them forward via helicopter instead of via the platoons' 11-meter rigid-hull inflatable boats (RHIBs) to give them more range...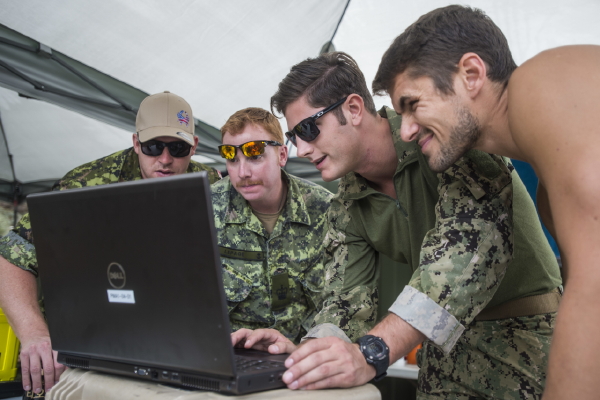 CHINHAE, Republic of Korea (Oct. 18, 2016) Lt. j.g. Jonathon Ferris, assigned to Explosive
Ordnance Disposal Mobile Unit (EODMU) 1, reviews the mission data from a MK 18 MOD 1
Underwater Unmanned Vehicle (UUV) with participants in Clear Horizon (CH16)
in Chinhae, Korea. CH16 is a live-action exercise which enhances cooperation
and improves capabilities in mine countermeasures operations, with participating
nations including Republic of Korea Navy, United States, Australia, Canada,
New Zealand, Philippines, Thailand, and the United Kingdom.
(USN Combat Camera Photo by Petty Officer 2nd Class Daniel Rolston/Released)
The Navy has eight unmanned systems platoons now and will grow to 16 in the next three years. Each platoon has six smaller Swordfish and six larger Kingfish UUVs, as well as RHIBs and auxiliary equipment to operate the UUVs. Unlike other parts of the EOD community, the men and women in the unmanned systems platoons are not EOD techs but rather pull from a range of fleet ratings... [see the linked article for more]
These photos were also taken during recent CLEAR HORIZON MCM exercises off South Korea. It would appear that such exercises with the Republic of Korea have now been curtailed by US Presidential edict.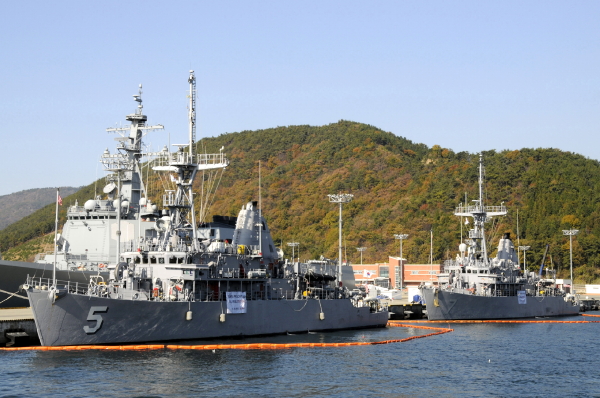 CHINHAE, South Korea (Nov. 21, 2009) Mine counter-measures ships USS Guardian (MCM 5)
and USS Patriot (MCM 7) are moored in the port of Chinhae for Exercise Clear Horizon.
Clear Horizon, an annual exercise conducted with the Republic of Korea Navy,
is one of the largest, international, mine counter-measures exercises in the world.
(USN photo by Mass Communication Specialist 1st Class Richard Doolin/Released)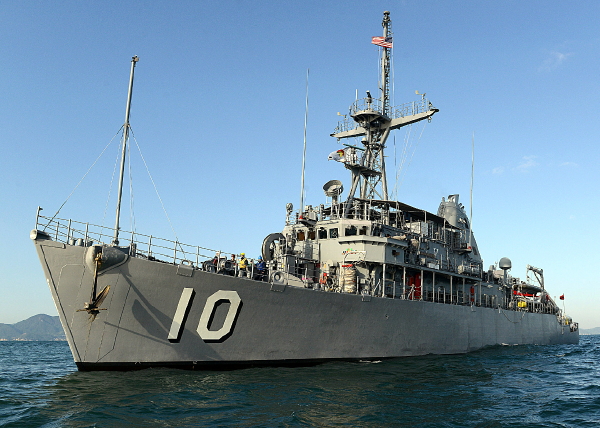 WATERS SOUTH OF THE KOREAN PENINSULA (Oct. 23, 2014) The Avenger-class mine
countermeasure ship USS Warrior (MCM 10) participates in Exercise Clear Horizon 2014
off the coast of the Korean peninsula. Clear Horizon is an annual bilateral exercise
between the U.S. and Republic of Korea navies designed to enhance cooperation
and improve capabilities in mine countermeasure operations.
(USN photo by Mass Communication Specialist 1st Class Frank L. Andrews/Released)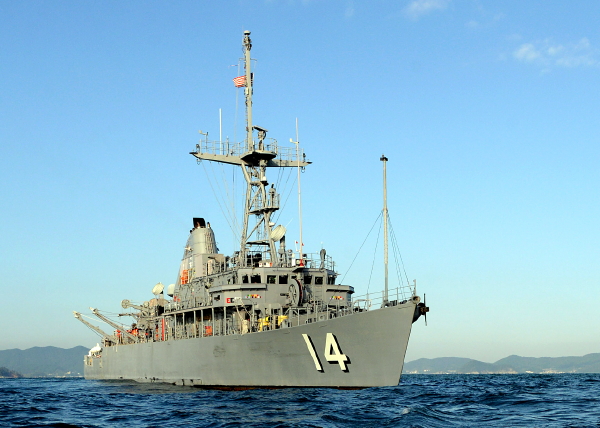 WATERS SOUTH OF THE KOREAN PENINSULA (Oct. 23, 2014) The Avenger-class mine
countermeasure ship USS Chief (MCM 14) participates in Exercise Clear Horizon 2014
off the coast of the Korean peninsula. Clear Horizon is an annual bilateral exercise
between the U.S. and Republic of Korea navies designed to enhance cooperation
and improve capabilities in mine countermeasure operations.
(USN photo by Mass Communication Specialist 1st Class Frank L. Andrews/Released)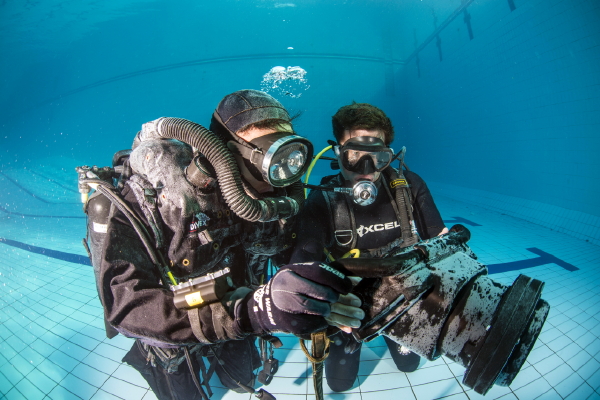 CHINHAE, South Korea (Nov. 5, 2015) Explosive Ordnance Disposal (EOD) technician 2nd Class
Andrew Dixon, right, assigned to EOD Mobile Unit (EODMU) 1, demonstrates the functions
of the DNS-300 underwater sonar system to Republic of Korea Navy UDT/SEALs during
Clear Horizon 2015 on Commander Fleet Activities Chinhae. Exercise Clear Horizon
is an annual bilateral exercise between the U.S. and Republic of Korea navies that
focus on increasing capabilities and coordination between ships, and aircraft in
mine countermeasures in international waters surrounding the Korean peninsula.
(USN photo by Mass Communication Specialist 2nd Class Daniel Rolston/Released)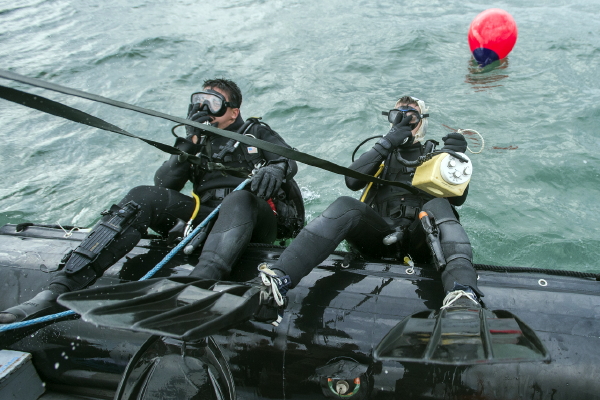 CHINHAE, Republic of Korea (Nov. 12, 2015) Explosive Ordnance Disposal Technician
3rd Class Corey Barker, right, and Explosive Ordnance Disposal Technician Seaman
John Dirks, both assigned to Explosive Ordnance Disposal Mobile Unit (EODMU) 5,
perform water entries during Exercise Clear Horizon on Commander Fleet Activities
Chinhae. Exercise Clear Horizon is an annual bilateral exercise between the U.S.
and Republic of Korea navies that focus on increasing capabilities and coordination
between ships, and aircraft in mine countermeasures in international waters surrounding
the Korean peninsula. EODMU5 is assigned to Commander, Task Force (CTF) 75,
the primary expeditionary task force responsible for the planning and execution
of coastal riverine operations, explosive ordnance disposal, diving engineering
and construction, and underwater construction in the U.S. 7th fleet area of responsibility.
(USN Photo by Mass Communication Specialist 2nd Class Daniel Rolston/Released)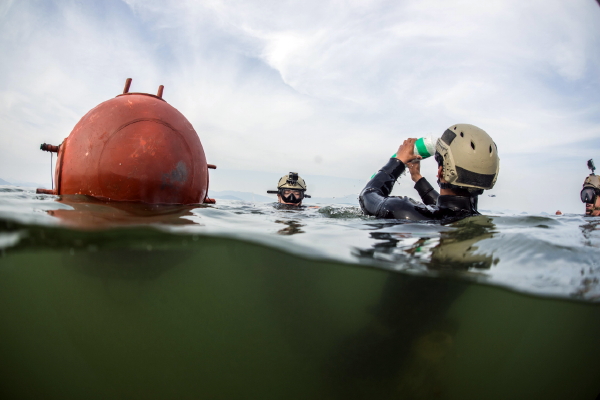 CHINHAE, Republic of Korea (Oct. 19, 2016) Members participating in Clear Horizon (CH16)
conduct live demolition operations in the waters south of Korea. CH16 is a live-action exercise
which enhances cooperation and improves capabilities in mine countermeasures operations,
with participating nations including Republic of Korea Navy, United States, Australia, Canada,
New Zealand, Philippines, Thailand, and the United Kingdom.
(USN photo by Petty Officer 2nd Class Daniel Rolston/Released)
---
6 Mar 19 - Latest Awards of LS&GC and VRSM
Congratulations to WO1(MW) A M Coles and PO(D) T S H Lawrence on being gazetted for the award of the 2nd Clasp to the Naval Long Service & Good Conduct Medal and to PO(D) D McGrath RNR on being gazetted for the award of the 2nd Clasp to the Volunteer Reserves Service Medal.
---
5 Mar 19 - Recent tweets
Click on the linked dates to see all associated photos and videos.
Commander SNMCMG2
4 Mar 2019 - SNMCMG2 is now taking part in Exercise POSEIDON off Romania and we welcome ESPS TAJO to the Group.
3 Mar 2019 - We celebrate today Bulgarian National Day alongside Constanta.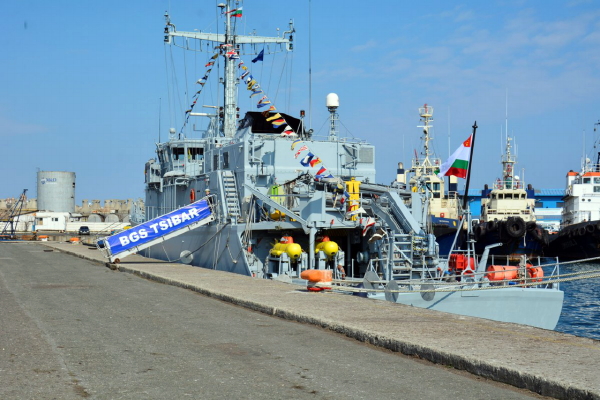 HMS Brocklesby (MCM2 Crew 8)
26 Feb 2019 - It was a pleasure to welcome Rear Admiral Bath, Assistant Chief of Naval Staff to our mess to discuss future ops & feedback experiences in the Middle East. Congrats to LET(ME) Griffiths, McKnight and ET(ME) Gammon who were presented with Good Conduct Badges.
18 Feb 2019 - Busy and successful time conducting training and Maritime Security Operations suppporting CTF152.
17 Feb 2019 - Another busy and successful period conducting training and Maritime Security Operations working in company with HMS Shoreham in support of CTF152.
HMS Chiddingfold (MCM2 Crew 2)
26 Feb 2019 - SITREP: with a little over two weeks until our Ready for Sea Date Inspection, Crew 2 crack on with essential exercises. Much to achieve. team focus and resilience.
20 Feb 2019 - Nearly home...
HMS Exploit
20 Feb 2019 - Welcome back!
HMS Ledbury (MCM2 Crew 1)
28 Feb 2019 - Getting personal – Crew from the French Destroyer FS CASSARD embark in HMS Ledbury at sea for 48 hours to see how the 'Small Ships' do it during Ex KHUNJAR HADD 2019.
26 Feb 2019 - 'The Fighting Aces' at sea participating in Exercise KHUNJAR HADD 2019. Getting straight to the business of Mine Hunting operations, recovering a Seafox Mine Disposal System after investigating simulated underwater contact.
HMS Middleton (MCM2 Crew 4)
3 Mar 2019 - Fantastic - 3000 followers! Thank you for following us. We'll try to keep you informed and entertained! Have a photo - one of our officers under training snapped this shot in between showers the other day.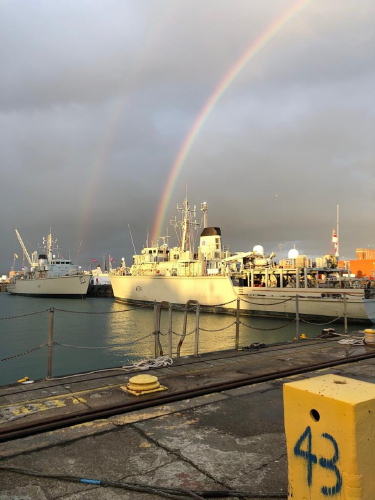 1 Mar 2019 - Sea survival is one of the basic skills every professional mariner needs to be familiar with. But we'll always come to the rescue of any shipmate who falls overboard! Well done on completing your first week Gould 35s!
1 Mar 2019 - Storybook Waves, run by the brilliant Aggie Westons charity, is a wonderful way to support parents and children when their sailor is deployed away from home.
27 Feb 2019 - Thanks to the Royal Navy Historical Branch we have confirmed HMS Middleton's motto: Verite sans Peur - Truth Without Fear. We think it's a good leadership perspective as well!
27 Feb 2019 - Like the Gould 35s, HMS Middleton is on a journey - ours ends with FOST Final Inspection in the same week that our newest sailors pass out into the Fleet. We'll be wishing you well every step of the way!
22 Feb 2019 - Congratulations to LET(ME) Patterson, who has received his General Service Medal 08 (Gulf of Aden) - a well earned recognition of a busy deployment.
20 Feb 2019 - Welcome back to 2 Basin HMS Chiddingfold!
HMS Chiddingfold (MCM2 Crew 2)
20 Feb 2019 - Glad to be back!
19 Feb 2019 - Back onboard - hurrah!! Congratulations Crew 2 and BAES Maritime, good luck for harbour trials and looking forward to seeing you back in 2 Basin.
19 Feb 2019 - The enterprise between BAe and the Royal Navy is bringing HMS Chiddingfold out of her refit. The Ship's Staff are moving back on board and bringing her home to 2 Basin. A busy year ahead. We'll keep you posted.
HMS Ramsey (MCM1 Crew 2)
27 Feb 2019 - Red sky at night, sailor's delight. Beautiful evening in Scotland. The day may be over however operations continue on board HMS Ramsey.
27 Feb 2019 - What a beautiful morning in Scotland with perfect sailing conditions. Great to see HMS Cattistock from MCM2 during the pilotage. Safe watch all and all the best from HMS Ramsey with your future tasking.
25 Feb 2019 - Great sunset over Arran tonight. If you look closely you will see RFA Tideforce conducting her sea trials in the Scottish Exercise Areas. From HMS Ramsey all the best and have a safe watch.
HMS Shoreham (MCM1 Crew 7)
25 Feb 2019 - HMS Shoreham accompanied by HMS Ledbury with vessels from Oman, USA and France have taken part in Exercise KHUNJAR HADD's 2019 MCM Protection Phase.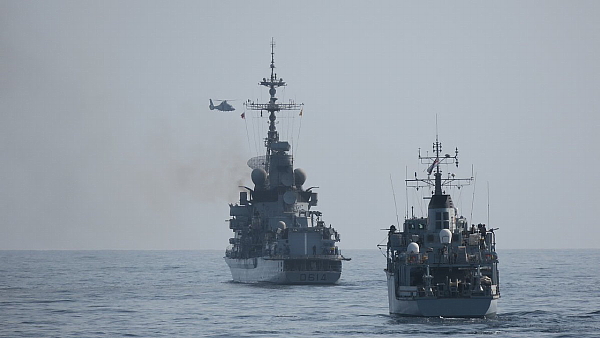 MASTT (Maritime Autonomous System Trials Team commanded by MCDOA member Dave Stanbury)
4 Mar 2019 - In early 2020, MASTT will commence training and trialling the MMCM UK/FR Project's Systems. Here you can see the L3ASV Maritime Mine Countermeasures Unmanned Surface Vehicle (Apollo) on trials, off Plymouth, Devon.
27 Feb 2019 - Future of the Royal Navy, AUV, T45 and QE, basking in the record breaking February 2019 temperatures.
21 Feb 2019 - Dial 1 for REMUS..... Lack of GPS fix was a brief issue for MASTT's COXN, as he tried to send the Mission Start Command to a reluctant REMUS 100, during the SeeTrack Training Course.
21 Feb 2019 - The team from MASTT brought some welcome sunshine back with them from San Diego, while testing Comms with their IVER3 during the SeeTrack Traing Course.
21 Feb 2019 - Cox'n at the Helm. SeeTrack Training Week, with SeeByte, in Portsmouth Hbr.
Navy Lookout
4 Mar 2019 - HMS Grimsby on the Clyde this morning.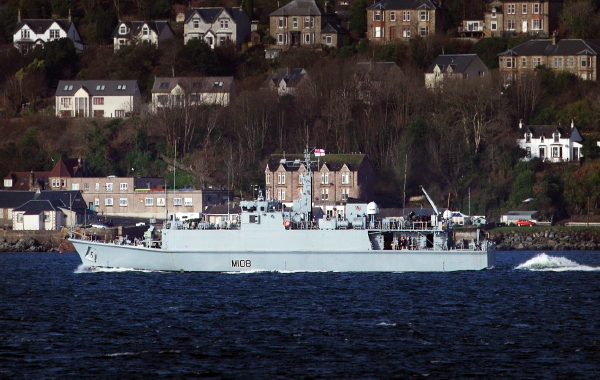 ---
4 Mar 19 - Another satisfied customer in Australia
Mick Parker is an MWO in the Royal Australian Navy. A few weeks ago he ordered copies of Home Waters: RN, RCN and USN Mine Forces Battling U-Boats in World War I and Night Raiders: USN, RN, RAN and RNLN Mine Forces Battling the Japanese in the Pacific in World War II, both co-authored by your humble Webmaster, to present to a fellow MWO on his retirement from the RAN.
I was gratified to receive this email from Mick on Saturday:
"Hi Rob,
Just an update on the two books I ordered and presented to David 'Lefty' Wright after 35 years of service.
All his fellow minewarfare officers in the office signed the books and we presented them to him last week. He was very impressed and really loved them. He especially appreciated that you had signed both books.
The timing of the presentation was perfect and he admitted that he was going to order the books the next day.
Thanks again for your help with this order. Would you be willing to let me know when your third book is published?
Kind regards,
Mick Parker"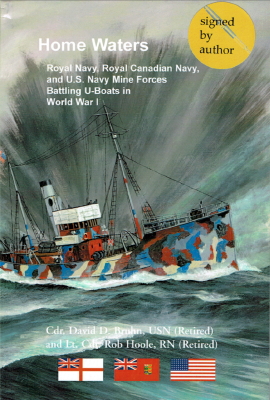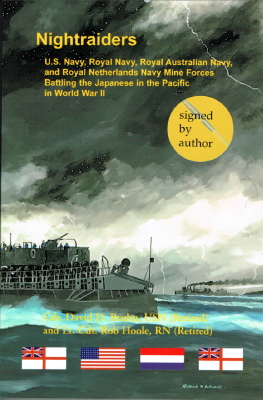 Enemy Waters, the third volume of the trilogy, will cover the minewarfare battle against Germany and Italy during the Second World War including naval bomb & mine disposal at sea and on land. It is due to be published in a couple of months. I am donating the £10 profit from the sale of each signed copy to Project Vernon, the campaign to erect a monument in Gunwharf Quays to celebrate the minewarfare & diving heritage of HMS Vernon, which previously occupied the site, and those involved in minewarfare & diving - past, present and future. £1,500 has been added to date with more expected.
On a related note, I have recently had cause to correspond with MCDOA Honorary Member Vice Admiral Russ Crane RAN, former Chief of the Royal Australian Navy, regarding a forthcoming book by my sometime co-author Cdr David Bruhn USN. 'On The Gunline' will be devoted to the 270 USN and 4 RAN ships that served on the gunline in Vietnam.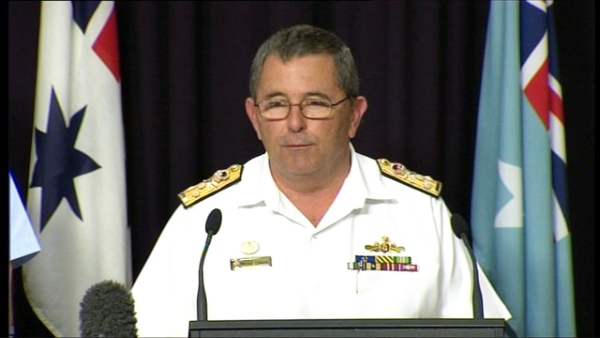 Vice Admiral Russ Crane AO CSM RAN
I received this reply from Russ today:
"Rob,
Wonderful to hear from you...
The Australian commitment to Vietnam beyond the CDs and Helicopter Flight is not well known in Australia. Vietnam is seen largely as being very Army or should I say land-centric. Our three DDGs and Vendetta did a great job on the Gunline and mirrored the commitment and professionalism of other Australian forces in the same conflict. It's a story that needs greater attention here in Australia.
Lots happening in the MCM and CD space as well over here at the moment. Besides a number of book releases in which Jake [Linton], Hec [Donohue] and Mike Turner feature prominently, there is a developing appetite in the historical podcast environment for the Navy MCM and CD story to be told. Jake, Hec and I, plus a few others, will be working with one podcast to tell some of the story early next month. Also I am facilitating a small fundraiser for the Navy Clearance Divers' Trust (of which I am a Trustee) here in Aus where we'll be talking with one of our CPO(CD)s who was heavily involved in the Thai Cave rescue [see entry for 24 Jul 18 in News Archive 63]. Basically a chat about his life as a CD culminating with the Thai Cave job. Looking to educate Corporate Australia and hopefully get them to part with some of their hard earned cash in support of the CD Community through the Trust. So a bit going on. Clearly you are keeping very busy as well.
Please remember me to the guys in UK. I often reflect very fondly on my time in the RN both when under training and during my exchange time. Good times and lots of great memories.
Russ"
---
3 Mar 19 - Celebrating friendship with former CPO(D) Clive 'Taff' Thomas
I called in on Taff Thomas today and can report that he is hale and hearty.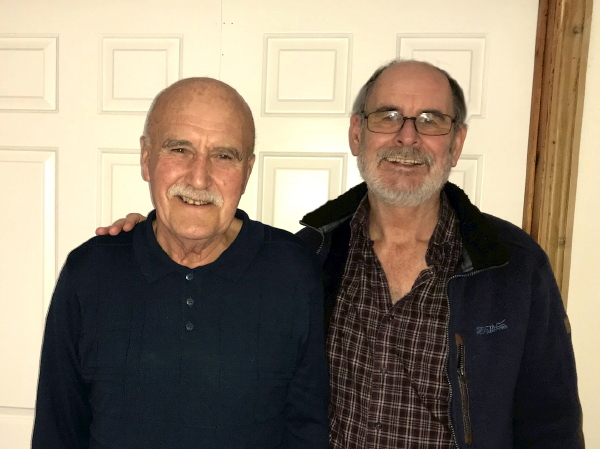 Taff Thomas and Yours Truly (Rob Hoole)
More than forty years ago, Taff was one of a succession of coxswains we had from the ERP (Emergency Relief Pool) during a dire shortage of PO(D)s while I was XO of HMS WILTON. Our other coxswains included MCDOA member Jon Cox, Trev Kirton, Michael 'Harry' Harrison QGM and the late lamented Dougie 'Basher' Briggs and Bill McGovern. This was in the days when only Ldg Divers and above were allowed to dive deeper than 42 metres so I spent much of my time underwater or as standby diver, with Taff as supervisor, whether or not I was on watch as MHCO (Minehunting Control Officer).
---
From former CPO(D) Cris Ballinger BEM:
"Hi Rob,
Saw your photo of Clive and yourself. Here's one when he had hair.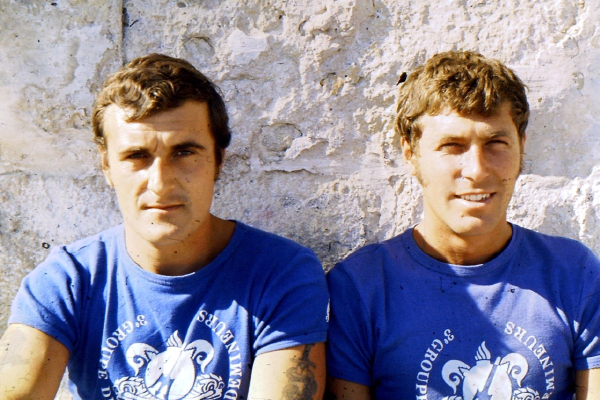 Where did the years go?
Cris"
By Webmaster: Where indeed, Cris. Where indeed.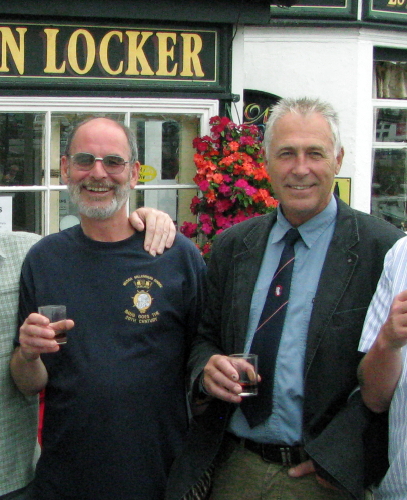 ---
2 Mar 19 - RN Minewarfare Heritage: Memories of Lt Cdr Mike Gillam RN
I have just received this email from MCDOA member Mike Gillam and thought its contents should be shared:
"Many thanks, Rob, for reminding me of Brian Braidwood's long and interesting account of his time as FCDO of the Far East Fleet CD Team. I re-read my copy and it brought back many memories.
I feel fortunate to still be soldiering on towards my ninetieth (another couple of years to go) and am still asked to spin a few 'salty yarns' and tell how it used to be. However, I have finally removed myself from the local circuit telling the story of my great uncle who opened up the Upper Yangtze Gorges to steam navigation having now been video-recorded for posterity.
I was so interested in reading 'Home Waters' that I jotted down a few thoughts, but I never got around to sending them to you. On receiving my copy, I looked forward to dipping into it as I invariably do with books of reference. However, I found myself so interested that I have been reading it in full, right from the start including the three forewords.
So, I started to ask myself the question why. Why I am reading 'Home Waters' like a novel? Then I thought back and remembered the extent of my experience of Minewarfare.
I was made aware of the damage a mine can cause early on in my career when, as an acting Sub Lt, I spent a few months in HMNZS ROTOITI off the west coast of Korea. Having ventured behind the lines up the Han River to drop a few 4" shells at 10 to 10 each morning just outside the demilitarized zone to concentrate their minds on making peace, we returned to Kure, Japan for some routine maintenance where we secured along one side of a large pontoon with a destroyer, the USS ERNEST G SMALL on the other side. She had lost her entire bow having struck a mine off the East Coast, said to have been one of those left over from the Russo/Japanese war of 1904. We both remained alongside with some difficulty when the eye of a particularly bad typhoon passed over us, losing the brow and parting many wires. Being that close to a ship with no front end certainly concentrated our minds but the ship's company still referred to her as the ERNEST G SMALLER!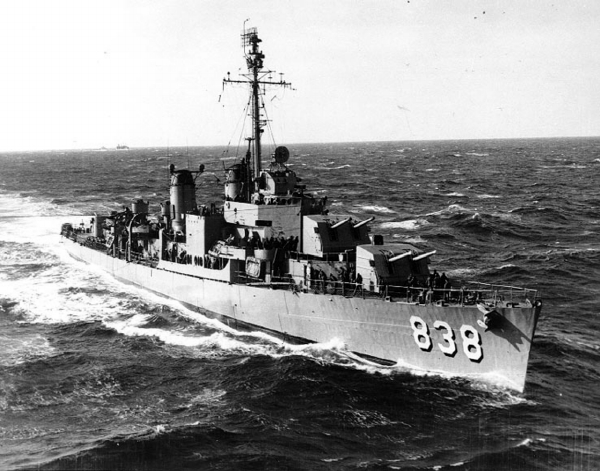 Gearing class destroyer USS Ernest G Small on 17 November 1950
(US Navy photo)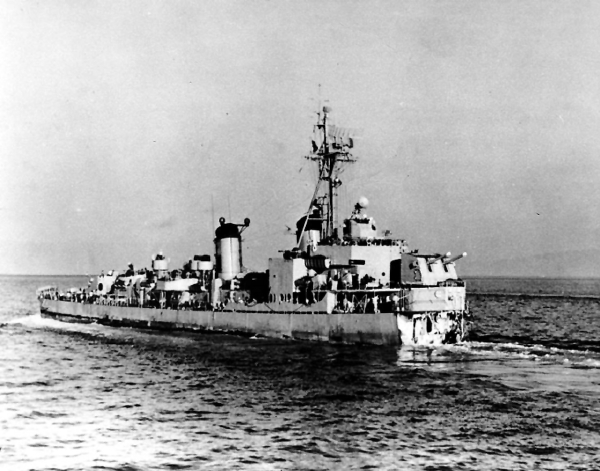 USS Ernest G Small steaming astern while on passage to Kure, Japan after losing
her bow to a mine off the east coast of Korea on 7 October 1951
(US Navy photo)
I gained my watch-keeping ticket as a confirmed Sub Lieutenant while serving in the Algerine class MSO HMS FIERCE, leader of the 2nd Minesweeping Squadron, the last such squadron in the Mediterranean Fleet, where I served as 'office boy' to Captain MS2 and deputy sweep deck officer to the First Lieutenant. The squadron also included HM Ships PLUCKY, CHAMELEON and RIFLEMAN. Thus, I experienced deploying single and double Oropesa sweeps; 'A' sweeps with two, three or four ships in tandem; the complicated loop sweep that superseded the 'L' and 'LL' sweeps; and the Acoustic Hammer and Displacer acoustic sweeps.
On one major minesweeping exercise we carried the Med FCDT with FCDO Pip Piper and CD1 Sam Stanley, my first acquaintance with Clearance Diving. This led directly to my application for the CD Officers course. This was supported by both Pip Piper and Morty Drummond who was Squadron MCM Officer to the other MSO squadron that just happened to be in Malta passing through on its way home from the Far East.
Later on, I relieved the Staff TASO in MANXMAN as SOO/SMCDO to the Inshore Flotilla FES conducting joint MCM exercises with the US, Malaysia, Thai, Japanese and Philippine navies where we were having to devise the tactical use of a mixed force of MS and MH vessels in a variety of scenarios. On one occasion I spent ten days in a USN ship helping to run the exercise for the US Commodore i/c as his staff officer was not sufficiently senior or experienced.
In my First Lieutenant's time in the Dartmouth Training Squadron we acted as guard ship to the RNR Coastal Minesweepers on Exercise ROCKHAUL, their annual jolly to Gibraltar, and my final appointment in the service was back at HMS VERNON as IMW responsible for all MCM training.
Thus, having spent most of my naval career associated with Minewarfare in one respect or another, it is no wonder that I have been fascinated by your account of the early days and the involvement of the USN of which I was unaware. I look forward to reading the next two books.
My apologies for cluttering up your in-box with my reminiscences but I thought you might be interested.
Just one addition; my term-mate and same house at the RN College, JMN (John) Walton who I still meet at our annual term lunch (there are only about a dozen of us left) was the first, I believe, First Lieutenant of the first 'Ton', HMS CONISTON. We will chat about your books when we next meet.
Yours,
Mike"
---
1 Mar 19 - MWA Southern Area 'Dit Session'
Last night's highly enjoyable Minewarfare Association (MWA) monthly 'Dit Session' took place in The Crown in Fareham. Attendees included Dixie Dean, John Gunter, Peter Hitchcock, Peter 'Taff' Reader and Peter Whitehead plus joint-MCDOA/MWA members Bill Kerr, George Turnbull and 'Yours Truly (Rob Hoole).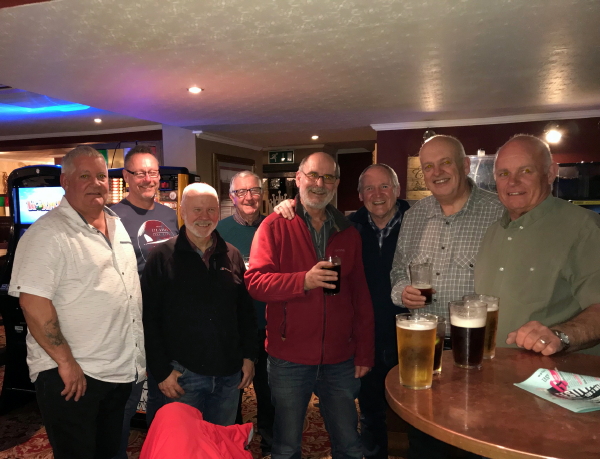 George Turnbull claimed it was the first time Peter Hitchcock had bought him a pint in over 40 years.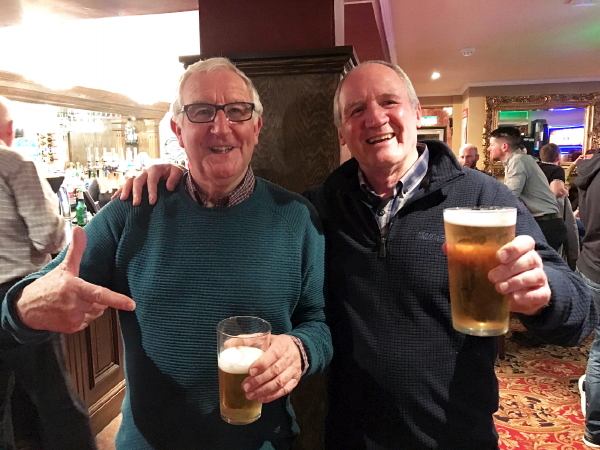 ---
I am again grateful to MCDOA member Dave Stanbury, OIC of the Maritime Autonomous System Trials Team (MASTT), for the second part of his contribution (see entry for 24 Feb 19):
The threat of mine warfare is now more prominent than ever and, with 95% of the world's commerce moving by sea, the security of our waters, coastlines and populations remains a key issue for maritime nations.
There has been a shift in recent times towards using unmanned assets such as AUVs and ROVs thus removing the man from the threat. The RN is beginning to invest in unmanned underwater vehicles (UUVs) to conduct Mine Countermeasure (MCM) missions in support of their EOD teams in challenging conditions. These vehicles have been primarily used to detect, classify, identify and localise mines.
MASTT personnel have recently completed training IVER3 at Ocean Server which has tied in nicely with SeeTrack software training with SeeByte, who offer a range of software solutions to maximise the capabilities of UUVs for MCM missions.
SeeByte have offices in Edinburgh, Southampton, UK and San Diego, USA. However, their Training Team arranged the MASTT SeeTrack V4 Training Course to be conducted locally, in Portsmouth and out on the water in Portsmouth Harbour. They offer a wide range of training and support options, ranging from help with installation and on-site implementation, to training, maintenance and post-installation support.
SeeByte's smart software provides MASTT with the capability to rapidly plan a mission, gather data and integrate it into one layered image of the underwater space in a significantly reduced time. Equipment independent, the SeeTrack software is compatible with leading brands of UUVs and Off-board Assets. The training at both Ocean Server and SeeByte was vital for the Operators at MASTT to conduct successful Stability Trials of the IVER3 and REMUS100 vehicles over a week of various contact re-acquire missions against varying Tidal Streams, in the South Coast Training area X5050.
This also affords mosaicing of SONAR for measuring coverage in near-real time.
Geo-reference video enables fast access to video and localisation of contacts.
Contact management tools enabling effective management of hundreds of contact.
STANAVFORCHAN initially comprised MCMVs from Britain, Germany, Belgium and the Netherlands with the temporary attachment of ships from the USA and Denmark. When Norway and Denmark joined the force in 2000, its operating area was significantly expanded and it was renamed Mine Countermeasures Force Northern Europe (MCMFORNORTH). The assessment of new threats led the team to becoming a global-scale group. In 2002, the force was renamed NATO Response Force MCM Force Northern Europe. In the same year the group was joined by ships from NATO new members Poland, Lithuania, Latvia and Estonia. The force has since changed its name to Standing NRF Mine Countermeasures Group One in January 2005 and to Standing NATO Mine Countermeasures Group One (SNMCMG1), its current title, in 2006. Command is rotated annually and its Commander is supported by an international maritime battle staff. MCMVs normally rotate every 6 or 12 months.
Chris Davies, my 1st Lt in HMS Berkeley in 1989, was the last RN officer to command the group.
Watch a live video stream of the salvage of the Norwegian frigate (see entry for 8 Feb 19). Refresh as necessary.
The following articles describe recent EOD incidents involving Royal Navy diving units:
I am grateful to MCDOA member Dave Stanbury, OIC of the Maritime Autonomous System Trials Team (MASTT), for this contribution:
IVER3 Training Courses are an annual affair. The inaugural training course, taught by Ocean Server, commenced in Feb 2018 at MASTT in HMNB(P). Recently, Ocean Server (now named L3 Ocean Server) secured new premises in San Diego and were keen for a 5-man team from MASTT to be trained by the same team at their new location.
Training for MASTT was staged over a week long period of classroom planning and post-mission analysis using the updated software package which MASTT has just had installed on their new GETAC Laptops, along with Level 1 maintenance training. The week also included harbour surveys of wrecks, beach approaches (for amphibious operations) and open ocean missions.
The new premises and two seagoing vessels offered easy access to sheltered waterspace and reliable weather although the rain, at times, was torrential. Additionally the location is in very close proximity to their major End User/Customer (the US Navy).
The timing of the course was planned to take place just prior to the first set of IVER3 Stability Trials in 2019 which will take place in the South Coast MW Training area off Selsey. This trial will assess, for MHC and DSTL, the effects of tidal currents, below and above 1 knot, on lawnmower and re-acquire missions.
"My grandfather (Sidney Smith) was on the minesweeper HMS Romney during Operation IRONCLAD (1942 Madagascar) and was subsequently awarded the DSC by the King. HMS Romney detonated two harbour mines during the morning of the landing on 5th May.
I was wondering if you have any more information on the action.
Appreciate any further information.
As you already know, Operation IRONCLAD was the Allied amphibious invasion of Diego Suarez in Madagascar in May 1942. It is described in various sources including this page in Wikipedia:
In March 1942, the Bangor class minesweepers BOSTON, CROMARTY, CROMER, POOLE, ROMNEY, SEAHAM and WHITEHAVEN of the 14th Minesweeping Flotilla arrived in Gibraltar from the UK. BEAUMARIS remained behind owing to problems with her turbines and was subsequently transferred to another flotilla for duties in home waters. RYE also stayed in the UK undergoing a refit but it was intended that she would join the others later.
Despite their primary role as minesweepers, these ships were intended to act as escorts and anti-submarine vessels in the Mediterranean to replace heavy losses in the Fleet. However, on arrival at Gibraltar, the flotilla then had to proceed the long way round to join the Mediterranean Fleet at Alexandria via Freetown and the Cape of Good Hope then through the Suez Canal.
After oiling at Durban, CROMARTY, CROMER, POOLE and ROMNEY were ordered to join the Eastern Fleet in the Indian Ocean, leaving BOSTON, SEAHAM and WHITEHAVEN to continue their passage through the Suez Canal and into the Mediterranean.
Having joined the Eastern Fleet, the four Bangors then joined up with the invasion fleet, which included the aircraft carriers ILLUSTRIOUS and INDOMITABLE, the battleship RAMILLES, the cruisers DEVONSHIRE and HERMIONE and numerous destroyers, bound for Madagascar and Operation IRONCLAD. The task of the sweepers was to sweep ahead of the assault force then clear an area to seaward of the landing beaches at Courier Bay, from where the troops would march to Diego Suarez. Thereafter, the sweepers were to carry out routine sweeping during the operation.
In the initial phase of the landings, which took place on 5 May 1942, a number of mines were cut. It all turned out to be a bit of a shambles, all of them losing minesweeping gear in the process.
By 19 May, their work at Madagascar was completed and the four Bangors of the 14th MSF, now on loan to the Eastern Fleet, sailed for Mombasa. They remained in the Indian Ocean for the next few months attached to the Kilindini Escort Force, engaged on escort duties to and from Aden. On 22 September, they left the Eastern Fleet and sailed for the Mediterranean via the Red Sea and the Suez Canal. They subsequently re-joined BOSTON, SEAHAM and WHITEHAVEN at Alexandria.
The award of your grandfather's Distinguished Service Cross is gazetted here:
It was awarded to Mr. Sidney Smith; Commissioned Engineer, Royal Navy (among several others) "For bravery and enterprise while serving in H.M. Ships, Transports and Royal Fleet Auxiliaries in the successful operations which led to the surrender of the important base of Diego Suarez".
I regret I have no more detailed information about the action.
I wish to thank you greatly for the research and I will place the write-up with the medal in a showcase for the family.
It is sometimes forgotten that Minewarfare & Clearance Diving officers of many foreign navies were trained at HMS Vernon. Nationalities included Agentinians, Australians, Bangladeshis, Canadians, Germans, Indians, Iranians, Malaysians, Netherlands, New Zealanders, Norwegians, Pakistanis, Portuguese, Singaporeans, South Africans and Sri Lankans. Where possible, I have included their names in the QDD, CDO, MCDO & MWO Course Nominal Lists 1944 to Feb 2015 in the Branch History section of the website but I have been unable to acquire comprehensive records or photographs.
I have tried to maintain contact with course members where possible and am most grateful to Capt Hartmut 'Fiete' Walz FGN for sending these photos of his own course (OLMCDO '72) plus OLMCDO '66 and OLMCDO '70: