Items from The News, Navy News and Warship World are reproduced by kind permission of David Brown, Jim Allaway and Mike Critchley respectively. Click on the thumbnails to enlarge them.
---
28 Sep 05 - Final Entry for three Hunt Class MCMVs (See also article for 23 Sep below)
HM Ships Brecon, Cottesmore and Dulverton entered Portsmouth for the last time under the white ensign today in ideal weather. The trio of ships had passaged from Faslane and anchored at Spithead overnight. Your humble MCDOA Vice Chairman & Webmaster was able to embark and witness their final act at sea in company with (as shown below from left to right):
Rear Admiral David Snelson - CINCFLEET's Chief of Staff (Warfare) and Rear Admiral Surface Ships

Cdr David Hilton RN - Former MCDOA Chairman and an ex-CO of Cottesmore

Cdre Dick Twitchen - Commodore Portsmouth Flotilla (COMPORFLOT) and my old boss at the Maritime Warfare Centre (MWC))

Cdr James Morley RN - CO of HMS Lancaster and an ex-CO of Dulverton

Capt Colin Welborn RN - MCDOA President, Captain Mine Warfare & Patrol Vessels, Diving and Fishery Protection (CMFP) and an ex-CO of Dulverton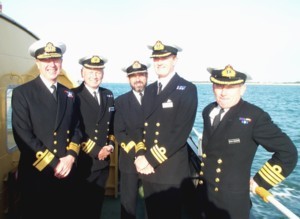 Senior boarding party en route to the anchorage
Having had no small interest in the design of Brecon's first-of-class weapons system and in her subsequent operator training and tactical development, I was particularly grateful to be able to accompany Rear Admiral Snelson on board courtesy of her CO Lt Cdr Charlotte Atkinson. Brecon and her ship's company were well turned-out and the ship still seemed operationally 'raring to go' with her two RIBs (Rigid Inflatable Boats - fitted in all three ships for their Northern Ireland Patrol Squadron role) ready for launch. Perhaps someone in Australia would bring this reassuring fact to the attention of her first CO, expat-MCDO Jack Birkett who transferred to the RAN and now lives in Sydney. Other familiar MCD names from Brecon's earliest days (c.1980) include Graham Sharp Paul (plank-owning OPS then XO - later transferred to RAN), Peter Robinson (plank-owning CORRO who later qualified MCD), Dougie MacDonald (OPS) and Gerry Kelly (XO - later transferred to RAN).
HMS Brecon and her RIB stowage
At 1000, the ships weighed and Cottesmore and Dulverton passed Brecon to exchange ceremonial marks of respect.
HMS Cottesmore (left) and HMS Dulverton (right)
Cottesmore and Dulverton then fell in astern of Brecon to transit the approach channel from Outer Spit Buoy.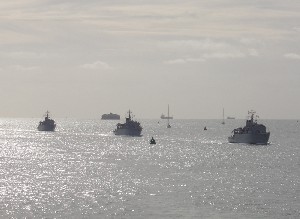 Formation One for entry into Portsmouth Harbour
A good crowd had gathered on the Round Tower to watch the three ships pass.
View of Round Tower well-wishers from Brecon and vice-versa
Next came Cottesmore and Dulverton
A Royal Marines band was waiting on the jetty and struck up as the ships began to arrive.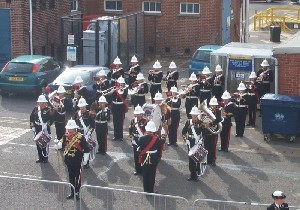 The Royal Marines on cue
Brecon berthed bows east in Portsmouth Naval Base just past the entrance to No. 2 Basin. Cottesmore then berthed bows west astern of her and Dulverton berthed alongside Brecon.
Cottesmore berths alongside the wall then Dulverton comes alongside Brecon
Finally, with all three ships secured safely alongside, families and a host of VIPs from affiliated towns and organisations boarded to pay their respective welcomes and farewells.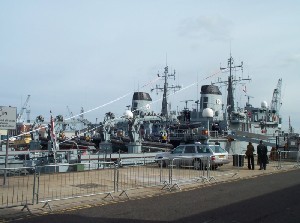 Brecon and Dulverton alongside
---
New Personal Update
The Members Only area contains an update from MCDOA member Dan Nicholson who is bound for China and Australia.
---
Fleet Bridge Card Online
Members may be interested to know that the Royal Navy Fleet Bridge Card is available online (but only the issue for Mar/Apr 05).
---
26 Sep 05 - HMS Middleton salutes Gypsy Moth
The Royal Navy website contains a News Item showing HMS Middleton acting as the start platform for yesterday's departure of Gipsy Moth IV on her second historic round the world voyage.
---
24 Sep 05 - New Personal Update
The Members Only area contains a fresh update from MCDOA member Jon 'Tadpole' Cox in Spain.
---
23 Sep 05 - Final Entry for three Hunt Class MCMVs
HM Ships Brecon, Cottesmore and Dulverton will enter Portsmouth for the last time on Wed 28 Sep (ETA 1000 at Outer Spit Buoy). MCDOA President Colin Welborn (current CMFP and ex-CO of Dulverton) will be embarked in Dulverton and former MCDOA Chairman David Hilton (ex-CO of Cottesmore) will be embarked in Cottesmore. Your humble MCDOA Vice Chairman & Webmaster Rob Hoole (plank-owning ex-CO of sister ship Berkeley - now the Hellenic Naval Ship Kallisto) will be embarked in Brecon, first-built of the original 13 Hunt Class MHSCs (Mine Hunter Sweeper Coastal). Please e-mail me photos of this event, especially any taken from shore, via webmaster@mcdoa.org.uk so that I can post a selection on the website.
David Hilton has provided this picture of the current CO of Cottesmore, Lt Dan Knight, with Commodore Peter Hudson flanked by other former COs including David himself (far left) and fellow MCDOA member Chris Thompson (far right). Sadly, HRH the Duke of York and former MCDOA Chairman Brian Mansbridge were otherwise engaged. The photo was taken on board Cottesmore the evening before her joint-decommissioning ceremony with Brecon and Dulverton at Faslane on 14 July (see entry for 4 Aug below). Click for a higher resolution version.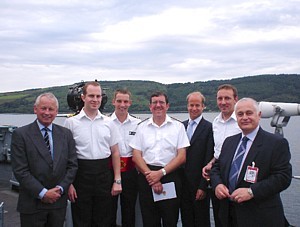 HMS Cottesmore's Final Bash
---
22 Sep 05 - New Personal Updates
The Members Only area contains fresh updates from MCDOA members Jon Riches in France and David 'Spidey' Ince on exchange in the USA.
---
20 Sep 05
Temporary Addition to 'Not Quite the Last of the Summer Wine' Trio
Barlow, Holloway and Hoole were joined by fellow MCDOA member Ian Morton for some Adventurous Sail Training today during a gentle trip up Fareham Creek. We sailed past HMS Fearless, in which Barlow once served as the Boatswain, and HMS Intrepid (both awaiting disposal on the DRSO trots) and moored near the bridge by the Roundabout Hotel for lunch.
lan is currently the Support Manager of HMS King Alfred, the RNR unit on Whale Island. He is offering any member of the MCDOA a 10% discount on advertised rental prices for his property in Plockton just north of Kyle of Lochalsh. Details can be seen at: www.church-view.com.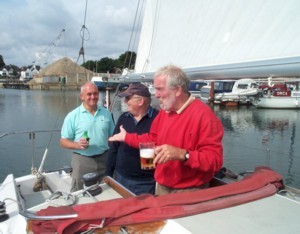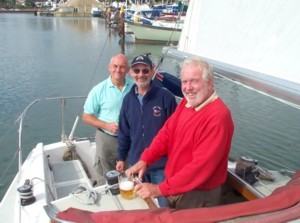 Left: Holloway, Morton and Barlow. Right: Holloway, Hoole and Barlow.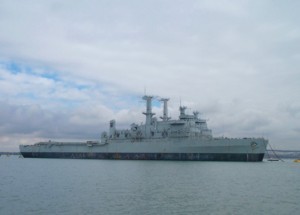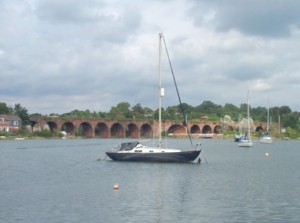 Left: HMS Fearless (HMS Intrepid beyond). Right: View of Fareham Roundabout Bridge.
---
New Personal Update
The Members Only area contains an entertaining update from MCDOA member Steve Marshall including photos of our Association's Chairman Chris Ameye (SofD) and WO(D) Buck Taylor plus mentions of MCDOA members Jon Chapple, Andy 'Sharkey' Ward and Mark Warlow (all in Canada) and David 'Topsy' Turner in New Zealand.
---
19 Sep 05 - MCDOA Annual Operational Update, AGM and Dinner 4 November 2005
The Calling Notices and Booking Forms for this year's MCDOA Operational Update and AGM at Fleet Diving HQ, Horsea Island and the Annual Dinner in HMS Excellent are now available for download via the Upcoming Events page of the Members Only area.
---
15 Sep 05 - HMS Ramsey hosts Ton Class Association members
Your humble webmaster was privileged to be among a group from the Ton Class Association (TCA) which visited the Sandown Class minehunter HMS Ramsey at Portsmouth today courtesy of her CO, Martin Mackey, a fellow member of both the TCA and the MCDOA.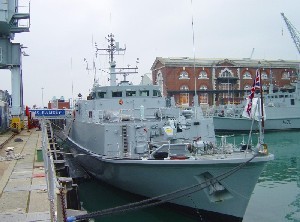 HMS Ramsey at her berth
Our group was met at Unicorn Gate by HMS Ramsey's liaison officer, Sub Lt Paul Hanlan (a budding submariner but a nice enough chap) who directed us to her berth in No. 2 Basin. After a welcome from the CO, we were given a presentation about the ship and her capabilities by XO Lt Neil Griffiths and Ops Officer Lt Gemma Mountney. [Hey, you two - I know neither of you is eligible for the TCA but isn't it about time you joined the MCDOA?]
Ops gives the brief while the audience is all eyes and ears
We were then shown around the ship and given plenty of opportunities to chat with members of the ship's company and compare notes on Tons and Sandowns.
ORS shows an underwater CCTV picture of a mine and then CO elaborates on a point
Our visit was rounded off with drinks and a hot buffet lunch in the wardroom with the officers and senior rates. A big thank you, to everyone concerned, for your warm welcome and generous hospitality.
Ton vs Sandown comparison using original plans of HMS Coniston, and a group shot of hosts and visitors
While onboard, I also enjoyed talking to the Cox'n (PO(D) Andy 'Tonks' Tonkinson), the ORS (PO(MW) Steve Harvey), LS(D) 'Jacko' Jackson and LS(MW) Gareth Stockley whose father, Pawl, happens to be a WO(MW) well known to many MCDOA members. Gareth is getting married next week so best wishes to him and his bride.
---
14 Sep 05 - HMS Mirtle features at Village Open Day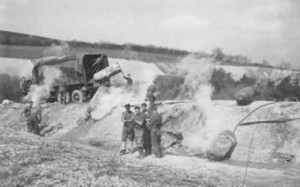 'HMS Mirtle' in full swing
Last Saturday, the Buriton Heritage Bank held an open day which featured a display about the activities of 'HMS Mirtle'. Buriton is just outside Petersfield in Hampshire and 'HMS Mirtle' was the nickname given to the mine investigation range, established during the Second World War at a nearby quarry, where bombs and mines were taken for steaming out by HMS Vernon's mine investigation teams. The photograph below shows the Buriton Heritage Bank's curator, Doug Jones, standing beside the display. Click for a higher resolution version.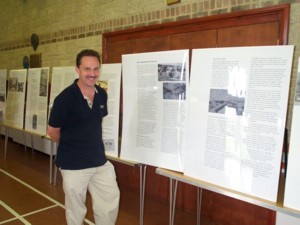 Doug Jones with his display about 'HMS Mirtle'
Further details of 'HMS Mirtle', including photographs, can be found in the articles for 18 Feb and 4 Mar in News Archive 9.
---
12 Sep 05 - The Power of Advertising
The following e-mail has been received from author John Burnett (see item for 17 Aug below):
"Dear Rob,

I want to thank you for putting out the word about the book on EOD. I must say, the reaction has been impressive, getting responses from all over the globe as a result of your appeal. The book is still in its initial stages and it won't be released for some time, yet when it does, you can be sure your contribution will be well acknowledged.

Again, many thanks.

Brgds,

John Burnett"
My thanks to all who contacted John and contributed to his book.
---
10 Sep 05 - Whoops!
The following item, taken from the Sep/Oct 05 issue of Warship World, brought back vivid memories of arranging the traditional mine explosion demonstration in the Forth for warships en route to the thrice-yearly JMC (Joint Maritime Course) training exercises around the coast of Scotland.
"A Krivak class frigate of Russia's Baltic Fleet, NEUKROTIMY, partially sank in the Neva River at St. Petersburg on 30 July.

The ship arrived in St. Petersburg for celebrations to mark Russian Navy Day on 26 July. Four days later, a dummy mine (reportedly containing 30 kg of explosive) exploded, splitting welds in the hull and flooding the engine room. The mine was supposed to create a huge splash that would spray spectators on the river bank.

The ship was moved to a dock for repairs pending an investigation."
Also of interest, Warship World reports that the US Navy's Osprey Class minehunters PELICAN and HERON are being sold to Greece while CARDINAL and RAVEN are being sold to Egypt. The Dutch Navy has sold the Tripartite minehunters ALKMAAR, DELFZIJL, DORDRECHT, HARLINGEN and SCHEVENINGEN to Latvia.
---
9 Sep 05 - Clearance Diver Receives Gallantry Award
Many congratulations to LS(D) Garth Spence on the award of the Queen's Commendation for Bravery (QCB) among the latest Operational Honours announced by the Ministry of Defence. Garth received his award for:
"... displaying the highest possible levels of professionalism and courage during the operation to recover the crew of the stricken Canadian Submarine HMCS Chicoutimi in atrocious weather conditions in the Atlantic Ocean. Leading Seaman Spence, from the Northern Diving Group, embarked in HMS Montrose at short notice and volunteered to be part of the casing party given the task of establishing a towline to the submarine.

Whilst the team were preparing the submarine to receive a towline from a small seaboat alongside, a Canadian Seaman was washed overboard and became entangled in an underwater obstruction, unable to break free. Leading Seaman Spence's citation explains:

"Quickly realising the life-threatening position of the trapped seaman", Leading Seaman Spence - without regard of his own personal safety - "removed his own lifejacket and dived into the water".

Despite the terrible sea conditions he managed to free the sailor. In effecting this brave rescue Leading Seaman Spence "placed himself in a life-threatening position to preserve the life of a fellow mariner."

On hearing that he had been awarded the QCB, Leading Seaman Spence paid tribute to his shipmates:

"I was over the moon when I heard that I had received the commendation, it was totally unexpected and I feel very honoured to receive it. Having already been awarded the Maritime Commendation from the Canadian Navy I really thought that was an end to it.

"Looking back at the rescue, although I was confident that I could complete the task, even in the extreme conditions that day, I now realise that I could not have done it without the skill of the other personnel involved, particularly the boat driver, Leading Seaman Ronnie Harding from HMS Montrose. I was nominated as the safety swimmer to go into the water, something I am trained to do as a Navy Diver, but without the incredible skill he used to handle to RIB in those conditions, I would not have been able to get us both out of the water."
Further details of the rescue may be seen in the item for 1 Nov 2004 in News Archive 8 of the website.
---
8 Sep 05 - Gentlemen Who Lunch
Continuing the MCDOA website's occasional Good Pub Guide, this Tuesday our 'Not Quite the Last of the Summer Wine' trio of Barlow, Holloway and Hoole visited The Barleycorn on the A259 at Nutbourne in West Sussex. This departure from our customary day's sailing during the summer months was caused by the uncertain state of the morning's weather. As it transpired, conditions would have been perfect but we were forced to drown our sorrows instead.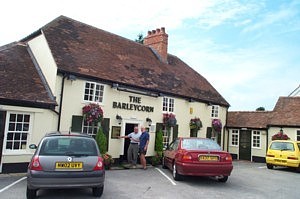 The Barleycorn at Nutbourne
Despite the pub's recent refurbishment, it has managed to retain its pleasant traditional character and atmosphere but is now much lighter and airier. There is a good selection of ales on the pumps and our trio sampled the Landlord (Timothy Taylor), Spitfire (Shepherd Neame) and Haymaker (Hook Norton), all of which met with unanimous approval. The Haymaker, 4.9% ABV and brewed in Banbury during July and August, had a good rich bitter flavour and proved especially satisfying.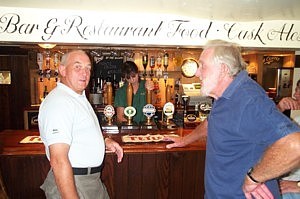 Holloway & Barlow - "Who got the last one in?"
Taking advantage of the sunshine, our trio moved to the rather stark but tranquil (at least it was until Barlow got into his stride) gravelled area outside where a few pot plants would add some welcome cheer. The pub offers a wide variety of reasonably-priced snacks and meals including sandwiches but no baguettes. Holloway and Hoole ordered baked potatoes with chilli and were rewarded with enormous spuds bursting with delicious filling and accompanied by cole slaw and a garnish of green salad. Of particular interest to our group, The Barleycorn offers the over-50s a special price of £5.95 for a range of starter and main course (including the option of steak) Monday to Friday 1200 - 1430 and 1800 - 1900.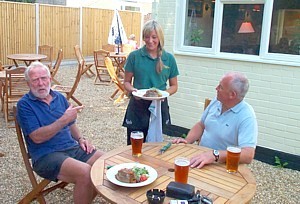 Barlow & Holloway appraise the Dish of the Day
We owe our thanks to Louise, Loretta and Jenny who provided us with swift and pleasant service and handled our gentle badinage in such amiable fashion. This pub is well recommended for both food and drink and receives 4 diving helmets (or mines if you prefer) out of 5.
---
6 Sep 05 - Anniversary of Herald of Free Enterprise Disaster
The BBC is contemplating making a documentary to commemorate the 20th anniversary of the 'Herald of Free Enterprise' ferry disaster off Zeebrugge in March 1987. I have already contacted the principal RN divers involved but if any other member of the CD Branch believes he can make a significant contribution and is willing to do so, please contact me via webmaster@mcdoa.org.uk.
---
3 Sep 05 - Navy List 2005
Members may be interested to know that the 2005 edition of the Navy List is available online via the reference library of the Royal Navy Community website. This relatively new website, packed with useful information and contacts, is well worth delving into. It even has a link to our own website on its 'Associations' page.
---
1 Sep 05 - Navy News Items
The following MCD-related items from the September issue of Navy News include: HMS Hurworth supporting the New Trafalgar Dispatch; HMS Penzance winning the Thales Communications Trophy; HMS Ledbury ship's company members running for charity; HMS Dulverton hosting Lochaber Sea Cadets; and HMS Liverpool's ship's divers in the Caribbean.
---
31 Aug 05 - Another Forsey Family Achievement
Alan Padwick, the MCDOA's self-appointed temporary art critic, has provided an article with pictures describing the further artistic achievements of Paul Forsey, son of MCDOA member Dave and his wife Kathy. Following Paul's success in producing an illustrated Children's Bible, he was commissioned to create a mosaic history of Newbury in the pavement outside the town's library. Alan's article, A Forsey Achievement, can be seen in the Dit Box.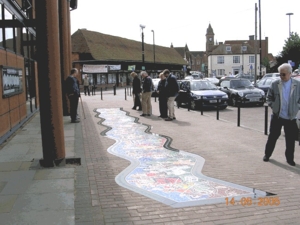 ---
30 Aug 05 - Appeal for WW II Veterans of HM Ships Plover and Apollo
The WW II minelaying operations of HMS Plover and HMS Apollo will feature in a TV documentary to be broadcast next year. These operations resulted in the sinking of at least three U-boats in the Bristol Channel. Innes McCartney, the diver and historian who discovered the wrecks of the U-boats, is keen to interview WW II veterans of Plover and Apollo. If you can help, please contact me via webmaster@mcdoa.org.uk.
---
27 Aug 05 - Bank Holiday Warning about Pyrotechnics
The Royal Navy website features some statistics on RN EOD call-outs so far this year and includes a warning by PO(D) Steve Vernon of SDU2 about the hazards of pyrotechnics found on the beach.
---
25 Aug 05 - Paul Guiver in USA
While on exchange with the US Navy, MCDOA member Paul Guiver visited Leon Lyons in Florida. Leon has what is probably the world's most extensive private collection of diving memorabilia, particularly diving helmets. Paul has sent these photos of his impressive range of artefacts plus Leon himself sporting a modest beard!
A website showing Leon Lyons and his collection in greater detail can be accessed via the link above.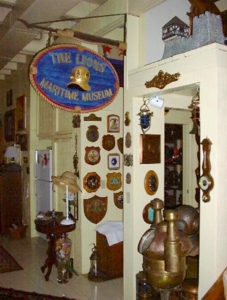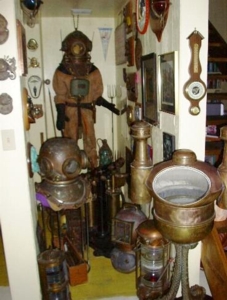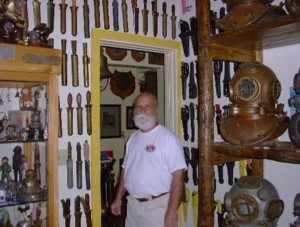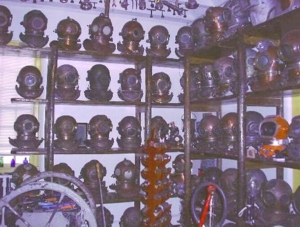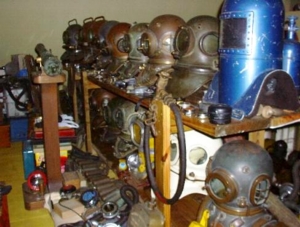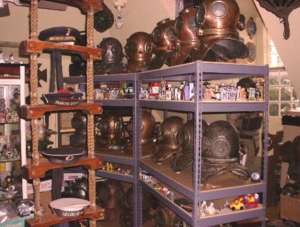 ---
24 Aug 05 - HMS Hurworth on Parade at Weymouth
MCDOA associate member Gerry Mitchell has obliged us with the following pictures of HMS Hurworth's ship's company parading on Weymouth sea front yesterday during the New Trafalgar Dispatch ceremonies (see items for 19 and 23 Aug below).
The New Trafalgar Dispatch arrived from Portland at 1100 and was welcomed by Lord Digby (former Lord Lieutenant of Dorset), who presented the Dispatch to the Mayor of Weymouth. Lord Digby is a descendant of Henry Digby, Captain of the 64 gun ship "Africa" at the Battle of Trafalgar. Weymouth was the favourite seaside resort of King George III who reigned at the time of Trafalgar and the people of Weymouth commemorated the event with a Historical Tableau. The Weymouth Concert Brass Band was on parade and Royal Marines buglers sounded a fanfare.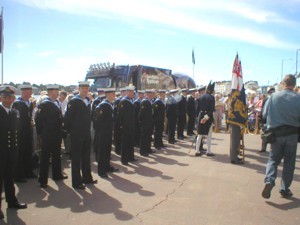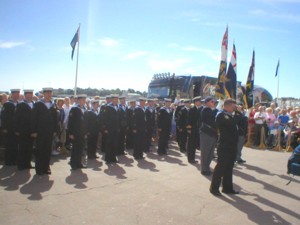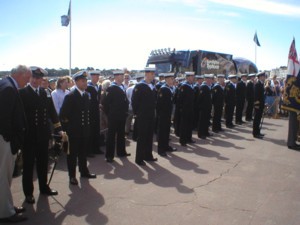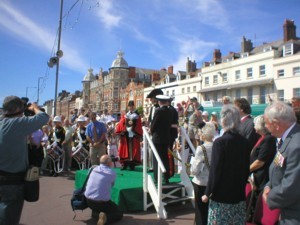 ---
HMS Hurworth at Weymouth
Nigel Godsell, known to many members from his days as a MoD scientist at Bincleaves (AUWE, DRA, DERA and finally QinetiQ), has kindly supplied the following photos of HMS Hurworth alongside at Weymouth today for the New Trafalgar Dispatch (see also first item for 19 Aug below).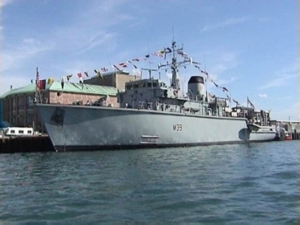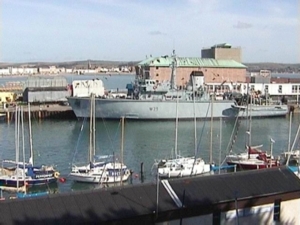 ---
New Personal Update
The Members Only area contains an update from MCDOA member Darroch Woodward who is bound for a loan appointment in Oman.
---
20 Aug 05 - Change to Appearance of Website
As you can see, the appearance of the website is being altered to comply as closely as possible with DPR(N)'s recommended RN corporate identity criteria, i.e. branding. This is being achieved in stages and means that, for the time being, some pages will look inconsistent and some functions may not operate as intended.
---
HMS Hurworth to visit Weymouth
HMS Hurworth will be open to visitors during a three day visit to Weymouth from Tues 23 Aug as part of the 200th anniversary of the Trafalgar Dispatch (the delivery of news to London of Britain's victory at the Battle of Trafalgar and of Nelson's death).
MCDOA associate member Gerry Mitchell reports that Weymouth's New Trafalgar Dispatch ceremonies will take place on the Promenade by the Jubilee Clock 1115 - 1150 on 23rd August and he will be assisting Rear Admiral John Croydon (Deputy Lieutenant for Dorset) in that area. He understands that Hurworth will be entering harbour on the morning of the event. Their ship's company will join in the occasion at the Jubilee Clock and Gerry will be showing them their position. Some may not recognise him in his RNA blazer, his RN uniform having disappeared many years ago! [Or has it just 'shrunk' a bit like mine, Gerry?]
---
Ton Class Association members will visit HMS Ramsey at Portsmouth on Thurs 15 Sep thanks to Commanding Officer Martin Mackey, a fellow member of both the MCDOA and the TCA.
---
New Personal Update
The Members Only area contains an update from new member John Beavis, First Lieutenant of HMS Cattistock.
---
17 Aug 05 - Help Wanted for New Book about EOD
John Burnett, author of 'Dangerous Waters' (about modern piracy and terrorism on the high seas) and 'Where Soldiers Fear to Tread' (a relief worker's tale of survival), has requested help with his next book which will feature Explosive Ordnance Disposal (EOD) from the operator's perspective. He is keen to talk to those with recent first-hand experience and would particularly like to hear from anyone who has worked with Army EOD teams in the UK and abroad as well as divers who have conducted mine disposal at sea or dealt with stockpiles ashore during the two Gulf wars.
If you are prepared to help, please contact Chris Ashcroft or e-mail John direct at j.burnett@modernpiracy.com.
---
8 Aug 05
Decommissioning of HMS Leeds Castle
The following item from today's Portsmouth News describes the final entry into Portsmouth of HMS Leeds Castle prior to her decommissioning and features MCDOA President Colin Welborn under an unintended pseudonym [looks like it's catching - see entry for 3 Aug below].

---
New Personal Update
The Members Only area contains an update from MCDOA member Ian Morton.
---
7 Aug 05 - Rescue of Russian Submersible Priz
Congratulations to the UK Submarine Rescue Service (UKSRS), comprising personnel from the Royal Navy and James Fisher Rumic Ltd, on their impressive achievement in rescuing the crew of the Russian submersible Priz.
MCDOA member Richard Osbaldestin of the Northern Diving Group (NDG) has written a detailed description of the UKSRS for the current issue of the 'Minewarfare & Diving' magazine. The UKSRS is based in Renfrew about 10 minutes from Glasgow airport and according to Richard, NDG has the lion's share of the Fleet Diving Squadron's support commitment owing to its location at Faslane and close association with the submarine service. The Scorpio 45 Remotely Operated Vehicle (ROV) that cut the Russian submersible free is used in association with the LR5 rescue submersible which has a three man crew. RN clearance divers assist in the launch and recovery of the vehicles, operate the rescue chamber at the stern of the LR5 and operate the recompression chambers used for the transfer and treatment of survivors.
A NATO Submarine Rescue Service (NSRS) is due to enter service in 2007. This project is being managed by the UK Defence Procurement Agency on behalf of the UK, France and Norway. The NSRS will be commercially operated by Rolls Royce as the prime contractor and will complement the planned replacement of the USN's Deep Submergence Rescue Vehicles (DSRVs) Avalon and Mystic. Perry Slingsby, the manufacturer of the 20+ year old LR5, will provide its 600m capable replacement as well as a replacement for the ageing Scorpio ROV. The replacement ROV will be a modified variant of the PSSL Triton, a heavy duty ROV in widespread commercial use.
---
Decommissioning of HM Ships Brecon, Cottesmore and Dulverton
MCDOA member David Hilton has kindly provided the following photos taken during the decommissioning of HMS Brecon, HMS Cottesmore and HMS Dulverton at Faslane on 14 Jul 05. All three ships are due to enter Portsmouth for disposal on Wed 28 Sep 05 - ETA 1000 at Outer Spit Buoy.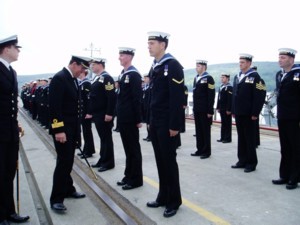 Decommissioning Parade - the Commodore
is Peter Hudson, a former CO of Cottesmore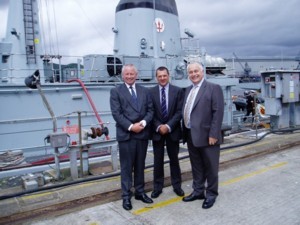 MCDOA members David Hilton (a former CO of Cottesmore),
Steve Gobey (a former CO of Brecon) and Chris Thompson
(another former CO of Cottesmore). Incidentally, that's Chris
with a beard almost 30 years ago sitting
between two Soviet naval officers in the right hand picture
of the article for 3 Aug below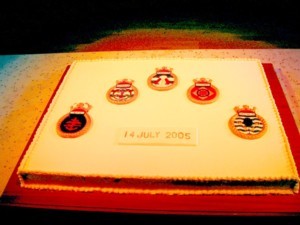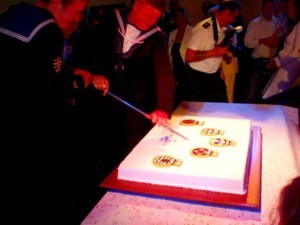 Decommissioning cake decorated with badges of Northern Ireland Squadron,
Dulverton, Brecon, Cottesmore and MCM3.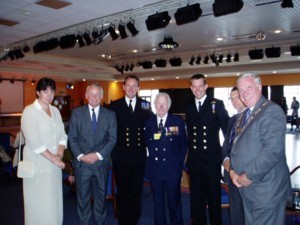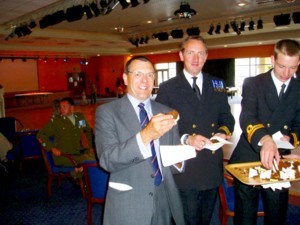 Current and former COs of Cottesmore with Mayor of Cottesmore
while Steve Gobey feeds the inner man
---
Decommissioning of HMS Invincible
HMS Invincible, the Mission Essential Unit for many MCM operations and exercises, decommissioned yesterday at Portsmouth. As a salute to her, here is a photo I took the previous day while sailing with fellow MCDOA members Doug Barlow and Martyn Holloway. Note the Sea Harrier ranged on the ski-jump and the Chinook on deck amidships. Click for high resolution version.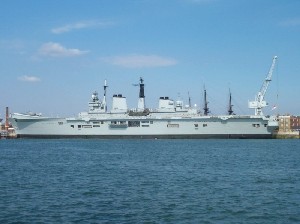 ---
3 Aug 05 - Unexploded Bomb and Follow-Up to Buster Crabb Incident
The following items from today's Portsmouth News describe the disposal of a wartime bomb [possibly undertaken by SDU2 - have they become coy all of a sudden?] and new revelations regarding the visit of the Soviet cruiser Ordzhonikidze which brought Khrushchev and Bulganin to Portsmouth in April 1956. The latter item features Yours Truly (Rob Hoole) under an unintended pseudonym.
Curiously enough, my Long MCD course helped host officers from the next Soviet ship to visit Portsmouth, the cruiser Obratzovy, exactly 20 years later in 1976. Following a reception on board their ship, we took them to a country pub for beer and skittles and I still remember the wry smiles on their faces when they discovered we were naval divers from HMS Vernon.
Soviet naval officer with Terry Iles' wife Janet and Neil Pattenden
while Chris Thompson promotes Glasnost
---
2 Aug 05 - Search Engine Added to Website
A Freefind search engine box has been added to the Home Page to facilitate searches within the public area of this website.
---
1 Aug 05
Navy News Items
The following MCD-related items from the August issue of Navy News include: the decommissioning of ships of the Northern Ireland Patrol Squadron (HMS Brecon, HMS Dulverton and HMS Cottesmore); Baltic mine clearance operations by HMS Bangor, HMS Cattistock, HMS Grimsby and HMS Ledbury (featuring Commander First MCM Squadron and MCDOA member Jason Scott); a Manchester Ship Canal transit record for HMS Middleton; the activities of HMS Shoreham; a letter about MCMV (HMS Houghton) Replenishment at Sea in former times; and the arrival of the new CO of HMS Northumberland (featuring ship's First Lieutenant and MCDOA member Chris Flaherty).
---
Unexploded Shell in Solent
The following item from today's Portsmouth News describes the disposal of an unexploded shell in the Solent, presumably undertaken by SDU2.

---
30 Jul 05
20th Anniversary RN Divers' Golf Championships
The Annual Divers' Golf Championships took place in perfect weather at Southwick Park yesterday. Credit must go to the Club's staff for the outstanding condition of the course and for their support throughout the day's activities. The organisation of Sean Meleady, Yorky Tudor, Jim Lynch & Co worked with clockwork precision starting with the bacon butties and coffee at 0715 and ending with the evening barbecue, cabaret by Shep Woolley, presentation of awards, live music and raffle. Thanks are also due to all the sponsors who provided trophies, prizes and goodies for each participant and to the members of the scoring committee. A good sum was raised for Pincher Marten's chosen charity for this year, the Naomi House Hospice for Children, situated just north of Winchester.
Participating MCDOs included Mick Beale, John Coggins, Rob Hoole, Gerry 'Pincher' Martin, Paddy McAlpine, David Sandiford and Tug Wilson.
---
Update from Martin Mackey
The latest update and photos from MCDOA member Martin Mackey, Commanding Officer of HMS Ramsey, is now available in the Members Only area of the website.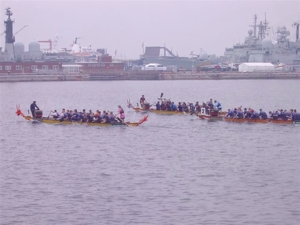 Ramsey's Dragon Boat Team during IFR
---
20 Jul 05 - MCDOA Annual Dinner
In accordance with tradition, we will celebrate the 25th anniversary of the 1980 Long MCD Course at our annual dinner in HMS Excellent on Fri 4 Nov. Course member Dougie MacDonald, the current Commander of HMS Nelson, has kindly offered to coordinate reunion arrangements and accommodation requirements. Other course members included Mark Benians, Roger Davies, Keith Harvey, Alex Manning, Morten Meibom (RNoN), Dave 'Doc' O'Connell, Ron Short (RNR), Dave 'DC' Smith (RNR), John Staveley, Kevin Wright and Course Boss Pat Gale so please spread the word.
David Cartlidge has also initiated a 35th anniversary reunion of the 1970 Long MCD Course. He has contacted fellow course members Terry Digges, Martyn Holloway, Tim Paul, Tim Trounson, Mike Wignall and Course Boss Alan Padwick but is keen to trace David 'Doc' Leitch, Les Maynard and Bob Page. If anyone can help, please inform me via: webmaster@mcdoa.org.uk.
[By Webmaster: Jim Sykes has since confirmed that both David Leitch and Bob Page passed away some years ago but I have managed to obtain Les Maynard's contact details in Australia and have passed them to David Cartlidge.]
---
14 Jul 05 - HMS Shoreham and the Global Challenge
The following item from today's Portsmouth News describes HMS Shoreham's role in this Saturday's return to Gunwharf Quays (formerly HMS Vernon) of the Global Challenge yachts after their 10-month round the world race. MCDOA member Mark Benians sailed the Buenos Aires to Wellington leg in BG Spirit, the overall winner.

---
12 Jul 05 - MCMVs around Portsmouth
While out sailing with MCDOA associate member Doug Barlow in the Solent today, I took this photo of HMS Cattistock and HMS Chiddingfold entering Portsmouth. [Shame about the cargo net, though.]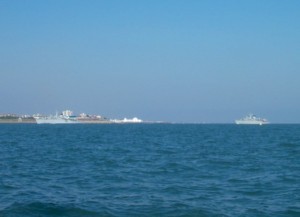 I also captured the poignant sight of HMS Sandown, HMS Inverness and HMS Bridport, now decommissioned and awaiting disposal on the trots in Portsmouth harbour.
---
10 Jul 05 - MCDOA Barbecue
Yesterday's barbecue at Horsea Island was a thoroughly enjoyable occasion thanks to the gorgeous weather, the idyllic backdrop of the lake, the organisation of our Hon Sec Tony Griffiths and his wife Debbie and the cooking skills of Tony and your humble webmaster. Attendees included: former First Lieutenant of HMS Vernon Brian Baker and his wife; Doug Barlow and his partner Jill; David and Dorothy Bartlett; Colin and Hilda Churcher with their guests Graham and Edna; Brian and Audrey Dutton and their three grandsons; David and Deidre Edwards; David and Kathy Forsey; Tony and Debbie Griffiths; Rob Hoole; Ralph and Liz Mavin and their son Luke with his girlfriend Amy; and Frank and June Ward.
Despite some stiff competition, the prize for silliest hat was won by Ralph and Liz Mavin, their son Luke and his girlfriend Amy who appeared collectively as Goldilocks and the Three Bears.
Debbie's face-painting and the horse racing proved popular and a small sum was raised for charity. How about seeing a few more members next year?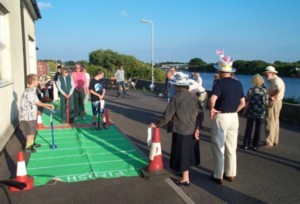 ---
7 Jul 05
International Fleet Review and International Festival of the Sea
MCDOA member Kim Godfrey reports that the Southern Diving Group (SDG) searched for ordnance throughout IFR and IFOS. They completed over 3,600 minutes of diving aimed at preventing harm coming to the Royal Family, politicians and other VIPs. For those in the Portsmouth area who heard on local radio that this duty was undertaken by Police divers, it was in fact conducted by a combined cadre of RN divers from SDG, the Northern Diving Group (NDG), the Defence Diving School (DDS) and the Second Mine Countermeasures Squadron (MCM2).
Kim has promised to provide some photos of these activities for the website in the near future.
---
New Funny
An amusing topical photograph has been added to Vol II of the Funnies in the Members Only area of the website.
---
6 Jul 05 - MCDOA Committee Meeting
The minutes of the MCDOA Committee Meeting held at Fleet Diving Headquarters on 5 May 2005 are now available in the Members Only area. They include a 'State of the Nation' update by our Chairman (and current RN Superintendent of Diving) Chris Ameye.
---
2 Jul 05 - International Festival of the Sea
As shown below, MCDOA member Simon Pressdee and other Defence Diving School (DDS) staff are doing sterling work on their display at IFOS in Portsmouth Naval Base. Click for higher resolution versions of the photos.
I regret lack of time prevented me from visiting any of the MCMVs open to the public before they closed their gangways but I did see former Fleet Diving Tender FDT Ixworth. She has been renamed Amazon Hope 2 by the Vine Trust (a Scottish charity) and converted into a floating medical centre for service in the Amazon.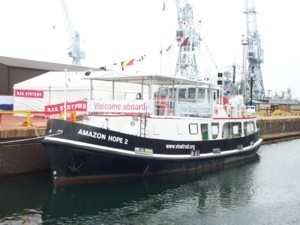 Admiral Lord Nelson and Emma, Lady Hamilton put in an appearance as did our good friend Shep Woolley who was among the host of performers appearing on one of the many stages.
---
1 Jul 05 - Navy News Items
The following MCD-related items from the July issue of Navy News include: a visit to DDS by the Chief of the Iraq Navy (featuring MCDOA members Bernie Thompson and Chris Lade); the rationalisation of MCM Squadrons; the MCTA's role in upgrading Hunts with Sonar 2093 and NAUTIS 3 (featuring HMS Quorn); HMS Shoreham's role in the Mersey River Festival and another article about her sporting exploits; HMS Dulverton's role at Oban in a commemoration of the Battle of Trafalgar; the procurement of the REMUS UUV for MCM; and a new life in the Amazon for the former Fleet Diving Tender FDT Ixworth. [Nice to know she survived so long after being blown up - see 'When Things Go with a Bang!' in the Dit Box.]
This month's Navy News also carries a front page feature about the award of the Al Faw 2003 Battle Honour to several MCMVs and other units as described in the item for 11 Jun in News Archive 10.
---