Items from The News, Navy News and Warship World are reproduced by kind permission of David Brown, Jim Allaway and Mike Critchley respectively. Click on the thumbnails to enlarge them.
---
31 Dec 2004 - Military Division of the New Year Honours List
The Military Division of the New Years Honours list for 2004 has now been published. There are no MCD, MW or CD recipients as far as I can tell. If you know otherwise, please inform me at webmaster@mcdoa.org.uk.
Attention is also drawn to the announcement of the award of the Wilkinson Sword of Peace in the item for 21 Dec 2004 below.
---
30 Dec 2004
Mark Benians and Global Challenge
MCDOA member Mark Benians (LMCDO '80) is due to arrive in Wellington, NZ around 3 Jan at the end of his leg of the Global Challenge round the world yacht race. His yacht BG Spirit is currently in second place out of the 12 boats that sailed from Buenos Aires on 28 Nov. I hope some of our Kiwi friends will be there to give him the welcome he deserves.
---
Inverness Paying Off
The following article and photograph showing HMS Inverness entering Portsmouth for the last time appeared in the Jan/Feb 2005 issue of Warship World.

---
29 Dec 2004 - Article on RN Minewarfare & Clearance Diving
The following article about RN Minewarfare & Clearance Diving appeared in the Nov 2004 issue of Pennant (the Journal of the Forces Pension Society).

---
23 Dec 2004 - New RAN Clearance Divers' Association
The following e-mail has been received from Tony Ey in Australia:

"G'day Fellas,

Just to let you know about our new website listed below. It is the official site of the RAN Clearance Divers' Association. We already have a link to your site on ours.

Cheers,

Tony Ey

Webmaster"
[By Webmaster: I have included the RANCD Association's website on the Web Links page.]
---
21 Dec 2004 - Wilkinson Sword of Peace Awards
It was announced today that the 2003 Special Award of the Wilkinson Sword of Peace has been awarded to the Joint Force EOD Group comprising bomb disposal experts from the Royal Navy, Army and RAF. This group was specifically set up in January 2003 for operations in Iraq. Some of its personnel were among the first Coalition troops to enter the country on 20 March 2003, dealing with a wide range of unexploded munitions including Iraqi booby-traps and mines. Three soldiers from the Group were killed, one of them while clearing munitions from around an Iraqi family's home. A programme of mine awareness briefings was quickly arranged for local communities, particularly school-children. By the end of 2003, the Group had safely disposed of half a million munitions. Our congratulations to all RN Clearance Divers who have participated in the Group.
Royal Fleet Auxiliary Sir Galahad has also been recognised for her humanitarian role during the operations in Iraq. Originally deployed with Royal Marines as part of the Amphibious Task Group, Sir Galahad took in the first shipment of humanitarian aid for the Iraqi civilian communities while fighting was continuing. Laden with emergency supplies, many of them donated by Kuwait, Sir Galahad had to wait for a route to be cleared into Iraq's only deep-water port, Umm Qasr. She was led through a swept minefield by HMS Sandown and picked her way up the waterway, littered with wrecked vessels, all the time highly vulnerable to attack. As a result, several hundred tons of aid were delivered to southern Iraq just eight days into the conflict. Congratulations to those who served in Sir Galahad, Sandown and all the other MCMVs and CD units that contributed to this achievement.
---
18 Dec 2004 - BBC Radio Home Truths (Again)
I am always keen to raise the profile of the MCDOA even if it sometimes means having the mickey taken out of me. This excerpt was broadcast on BBC Radio 4's 'Home Truths' programme today. The reader doesn't sound anything like me... or does he? I think we should be told.
Home Truths clip (wav file - 1.3 Mb)
---
17 Dec 2004 - Festive Cheer from Hurworth
The following item from today's Portsmouth News describes the return to Portsmouth of HMS Hurworth (CO and MCDOA member David Hunkin) for a Christmas break from her Fishery Protection duties.

---
8 Dec 2004 - Letter from Veronica Checksfield
Tug Wilson, our Honorary Treasurer, has received the following letter of appreciation from the widow of the late Captain Arthur Checksfield RN.
"Dear Lt Cdr Wilson,

Thank you very much for your letter enclosing such a generous cheque from the Minewarfare and Clearance Diving Officers' Association to the Shipwrecked Fishermen and Mariners Royal Benevolent Society in memory of my late husband, Captain Arthur Checksfield.

Your gift has been forwarded to the Society, who will be writing to you with their appreciation. The charity was Arthur's favourite and such a worthy cause in memory of him with his love of the sea.

Thank you also for such enormous support from the MCDOA through the Vice Chairman Lt Cdr Rob Hoole. It has all been so much appreciated.

Thank you MCDOA.

Yours Sincerely,

Veronica Checksfield"
---
1 Dec 2004
EOD Task in Portsmouth Harbour
The following item from today's Portsmouth News describes the disposal of a wartime AA shell, presumably undertaken by SDU2.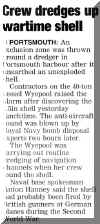 ---
Navy News Items
The following MCD-related items from the December issue of Navy News include the Dartmoor escapades of ship's company members of HMS Hurworth and the granting of the Freedom of the City of Inverness to HMS Inverness before she decommissioned.
---
26 Nov 2004 - SDU2 In Action
The following item from today's Portsmouth News describes an EOD job performed by SDU2 featuring CPO(D) John Meekin.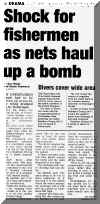 ---
25 Nov 2004 - Whereabouts of Tony Lumbard
A request was made at the AGM for contact details for Lt Cdr A G 'Tony' Lumbard, an MCDO who retired from the RN in the late '70s. If anyone can help, please e-mail me at webmaster@mcdoa.org.uk.
---
24 Nov 2004
History of the MCD Branch
My book of photographs of MCMVs is now with Maritime Books and is due to be published as part of their RN in Focus series in the Spring. I next intend writing the definitive history of the MCD Branch and its antecedents with a view to publication shortly after the 40th anniversary of the Branch (25 Feb 06) although the scale of the task might make the 50th anniversary more likely.
I would be grateful for any assistance with this project such as the donation or loan of relevant personal recollections, documents or photographs. If you feel able to help, please e-mail me at webmaster@mcdoa.org.uk.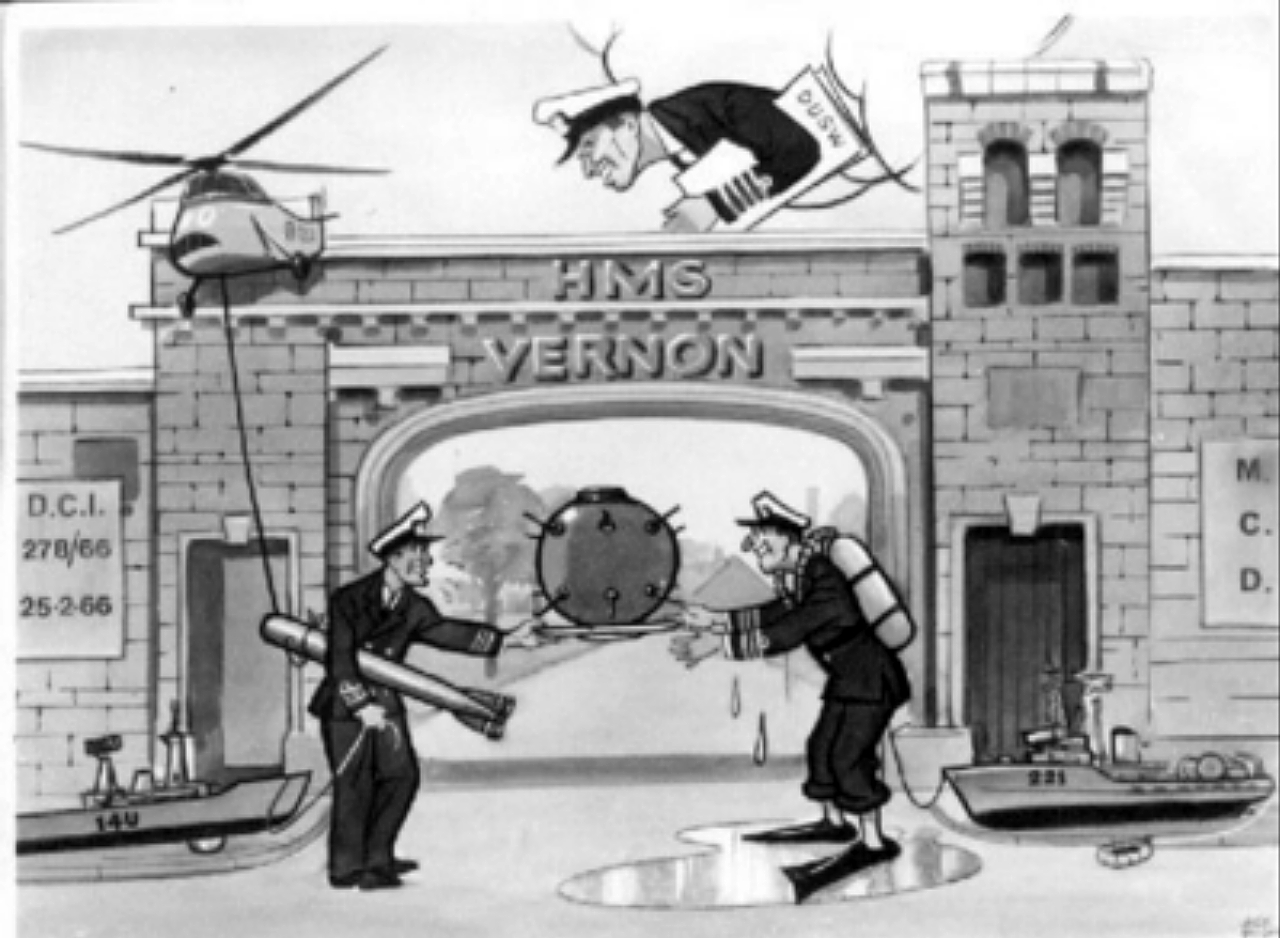 ---
Nautical Institute Presentations
As a committee member of the Nautical Institute's Solent Branch, I have managed to persuade MCDOA member Dan Nicholson to talk about the RNLI (from which he retires in Dec) to NI & RIN members, Master Mariners and their guests at the Warsash Maritime Centre (WMC) on Wed 16 Feb 05.
Other upcoming NI presentations include:
Wed 12 Jan 05 - Maritime Operations in Operation Telic (Current and on-going in The Gulf) by Rear Admiral D G Snelson - WMC.
Wed 16 Feb 05 - The RNLI by Lt Cdr Dan Nicholson RN - WMC.
Wed 16 Mar 05 - Ship Design and Performance by Stephen Payne (Cunard), David Barber (P&O) and Prof Tony Molland PhD FRINA of the Southampton School of Ship Science - WMC.
Tue 19 Apr 05 - Collision Regulations (COLREGS) in Practice - Joint-seminar with the Royal Institute of Navigation to include contributions from a fisherman, a ferry master, a high-speed vessel master, the RN, a yachtsman/yachtswoman, a tanker master, the MCA and Penny Hare (Head of RYA Sail Training) - HMS Collingwood.
MCDOA members who wish to attend any of these events are requested to e-mail me at webmaster@mcdoa.org.uk.
P.S. WMC has a well-stocked bar and the beer is cheap!
---
Minewarfare & Diving Magazine
MCDOA member Alex Bush informs me that he is putting together the next issue of the MAD magazine for publication in the Spring. Submissions are requested by the end of December and I am sure he would be especially grateful for anything from overseas.
Send your contributions to:
Lt Cdr Alex Bush RN

Editor Minewarfare & Diving Magazine

Maritime Warfare School

HMS COLLINGWOOD
Newgate Lane

Fareham

Hants

PO14 1AS

Tel: 01329 333432
---
18 Nov 2004
More about HMS Inverness
The following item from today's Portsmouth News describes the final entry of HMS Inverness into Portsmouth harbour and features CO and MCDOA member Dave Bence and Yours Truly.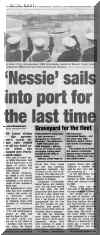 ---
Final Portsmouth Entry for HMS Inverness
On a typically grey, cold and blustery November morning, HMS Inverness (CO and MCDOA member Dave Bence) wore her decommissioning pennant as she made her final entry into Portsmouth today for handing over to the Disposal Reserve Ships Organisation (DRSO) on 17 Dec. She was granted the Freedom of the City of Inverness on 22 Oct during a ship's visit and decommissioned at Faslane on 15 Nov. Click on the picture for a higher resolution version.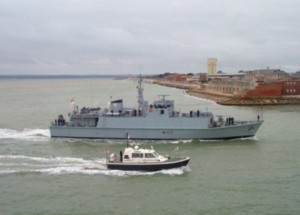 A nice touch was provided by members of HMS Brocklesby's ship's company, led by XO Jason White and Ops Iain Wood, who signalled Inverness by light from the Round Tower and gave her three cheers as she passed. Brocklesby is currently in refit having Sonar 2193 and NAUTIS 3 installed.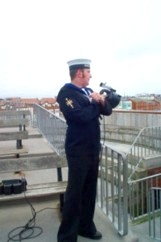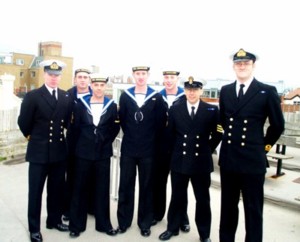 ---
17 Nov 2004 - Sinking of FDT Ironbridge
David Hilton has kindly provided this picture of the last moments of MV Ironbridge, better known throughout the CD branch as the Fleet Diving Tender 'Yo-Yo'. She went proudly upright to the sea bed along with Boxer and Brave during a mid-Atlantic High Seas Firing trial in August this year.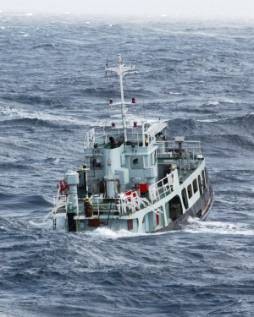 FDT Ironbridge's last moments
As the Base Services Manager at Portsmouth, David runs the Disposal Reserve Ships Organisation (DRSO) which prepared the ships by removing oils and fuels and as many plastic and other non-perishable materials as possible. This was to comply with the London Dumping Convention that governs the deliberate sinking of vessels at sea. The work took the small Royal Navy team at DRSO 15 months and involved many other activities such as hosting and informing the contractors who carried out the independent Environmental Impact Survey and the target preparation teams which included personnel from the USA.
---
16 Nov 2004 - Gentlemen Who Lunch
Continuing the MCDOA website's occasional Good Pub Guide, our 'Not Quite the Last of the Summer Wine' trio of Barlow, Holloway and Hoole visited the 'Forest of Bere' in Denmead today to commiserate with Barlow on his umpty-sixth birthday. This traditional village pub has a welcoming atmosphere and a real fire in the grate. Everyone agreed this was the best place for it and was probably a wise safety precaution.
The bar menu contains a short but imaginative selection of food and we all elected to try the bass. This was served promptly by the cheerful staff. We were immediately struck by its lack of normally distinctive 'fishy taste' and the fact that it was served in sparkling clean 'sleever' pint glasses. Noting that Holloway's choice of moussaka was accompanied by the chips he usually contrives to pinch, Barlow settled for the more reasonably priced smoky bacon flavoured crisps. These were served at room temperature and arrived thoughtfully wrapped in a hermetically sealed cellophane packet. Barlow's only complaint was that they lacked the little blue paper twist of salt which he fondly remembered from previous visits. Hoole went for the bacon, lettuce & tomato sandwich on granary bread (known to the cognoscenti as a 'BLT Pain Gran'). This came delicately presented on a freshly prepared bed of red paper napkin. To round off the meal, the trio consumed the last two available portions of bread & butter pudding with custard divided between three plates which tasted delicious (the bread & butter pudding - not the plates!).
The pub welcomes most riff-raff and it was good to see former CPO(D) Jasper Peters who popped in for a quiet pint (or so he thought) in the middle of his hectic business schedule. We also bumped into a group of people at the next table who knew Barlow of old but we apologised for this before leaving. Total cost of the meal was fourpence not including the £20 tip.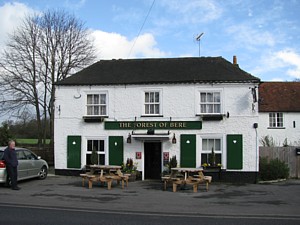 Forest of Bere at Denmead
---
12 Nov 2004 - MCDOA Northern Dinner
Bob Hawkins reports that there are only about 20 places left for the Annual MCDOA Northern Dinner in HMS Neptune on 25 Feb 05. This is a Friday and will mark the exact anniversary of the founding of the Minewarfare and Clearance Diving Branch in 1966! Any 'Northerners' please call him on 01436 674321 ext 4459 or 07768 542180 or e-mail him at fost-mpv-dcst@a.dii.mod.uk to register your interest.
---
11 Nov 2004 - Five Bells
The 2004 issue of the MCDOA Newsletter 'Five Bells' is now available for download in the Members Only area. It will be sent to offline members by snail mail with the minutes of the AGM.
---
10 Nov 2004 - Help Wanted
The Gunwharf Quays marina, shopping and residential development (formerly HMS Vernon) contains a monument describing the part played by the Army in the history of the site as shown in the photograph below.
It has been proposed that some sort of monument should be provided to reflect the significant part played by the Royal Navy at HMS Vernon, including the activities of the Diving, Minewarfare and possibly the Torpedo (later TAS) branches. If any MCDOA member (or anyone else in our minewarfare & diving community) feels able to pursue this project including the suggestion of an appropriate design for a monument or plaque and the investigation of issues involved such as planning permission, costs, fund-raising and public liability insurance, please contact the Webmaster. No further progress is likely unless a suitable volunteer steps forward.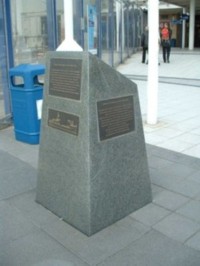 Army monument in Gunwharf Quays
---
7 Nov 2004 - Martin Mackey to Command HMS Ramsey
Warm congratulations to Martin Mackey on his appointment to relieve fellow MCDOA member Tony Watt as Commanding Officer of HMS Ramsey to date 14 Mar 05.
---
6 Nov 2004 - AGM and Annual Dinner Follow-Up
Thanks to all the presenters who provided such revealing insights into the state of the Branch at Horsea Island yesterday. The free lunch proved popular and the AGM dealt with several matters of interest; the minutes will be published on the website in due course.
Largely thanks to Tony Griffiths (our Hon Sec), last night's dinner at HMS Excellent was one of the best if not the best the association has held to date. The food and service were impeccable, the speeches were highly entertaining, the singing led by Bernie Bruen was lusty and the free bar was a definite hit. We are indebted to Capt Colin Welborn our President for stepping in as principal speaker in place of Capt Nick Stanley who was unable to attend owing to illness. Our leavers Bertie Armstrong, Mike Croome-Carroll and Martin Jenrick were all given good send-offs and the night was made particularly special by the presence of contingents from Australia, Canada and the Middle East. Colin Welborn, Tim Curd, Allan Rankin and Taff Sweeney were all present to celebrate the 25th anniversary of their LMCDO course.
Those unable to attend the dinner can get a flavour of the evening from the photographs published in the Photo Galleries of the Members Only area. Those who attended the dinner may prefer to look at something more edifying or risk suffering eternal remorse. You have been warned!
---
3 Nov 2004 - Paul Henke to visit Portsmouth
The following item from today's Portsmouth News describes the impending visit of MCDOA member Paul Henke to Portsmouth on 11 Nov to sign copies of his new book, 'Havoc'. Paul qualified on LMCDO '74 and served as XO of HMS Maxton before leaving the RN in 1977. He subsequently joined the RNR where he was promoted Lt Cdr in 1982. The incredible account of his short but exciting naval diving and EOD career, including how he trained the Prince of Wales (then CO of HMS Bronington), can be found in this interview published by The Scotsman on 30 Sep 04.

---
1 Nov 2004 - Navy News Items
The following MCD-related items from the November issue of Navy News include: the rescue of a sailor from the fire-stricken submarine HMCS Chicoutimi by Leading Diver Garth Spence (featuring MCDOA members Mark 'Doc' Savage (XO HMS Montrose) and John Law (CO Northern Diving Group)); a 'Ships of the Royal Navy' special about HMS Bangor; the final entry of HMS Sandown into Portsmouth before paying off; the disposal of wartime ordnance in the Baltic by HMS Shoreham; the participation of FDU2 (featuring CO and MCDOA member Andy 'Shakey' Stevens - soon to transfer to the RAN) in Exercise Bersama Lima in the South China Sea with forces from Australia, New Zealand, Malaysia and Singapore; the Annual Divers' Golf Championships at Southwick Park; and an obituary for the late Arthur Checksfield (first CDO to be promoted Capt RN).
---
29 Oct 2004 - Members' Updates
The Members' Updates section of the Members Only area contains recent contributions from MCDOA members Jon Riches, Matt Offord, John Lang, Darroch Woodward, Steve Gobey, Hamish Loudon, Mike Critchley, Mark Kessler, Ian Richardson and Martyn Holloway.
---
28 Oct 2004 - Pennant Article
Members of the Forces Pension Society may be interested to know that the November issue of its journal 'Pennant' contains an illustrated article (pp. 48-49) on RN Minewarfare & Clearance Diving written by Yours Truly.
---
27 Oct 2004 - John Peel
The following item from today's Portsmouth News describes the sad passing of John Peel and features Yours Truly.

How ironic that in a month that has seen two popular members of the RN Clearance Diving community apparently struck down by heart attacks, John Peel should succumb to the same fate within three weeks of receiving an MCDOA tie (see item for 9 Oct 04). His jocular words about the tie's red stripe matching perfectly "...the veins pulsing in my forehead..." now have a poignantly prophetic ring. They turned out to be the last words he ever broadcast. Without wishing to follow the current trend for over-sentimentality, I grew up with the comforting sound of his voice on the radio during the past four decades and shall miss it in future.
Now, would someone please send me a bit of cheerful news to publish?
---
22 Oct 2004 - Funeral of CPO(D) Colin 'Icy' Coldwell
From John Lang:
"Hi Rob,

Jon 'Tadpole' Cox, Tony Sexton, Spike Spears and his wife Leslie and I managed to get to Colin's funeral and say our goodbyes to a well-loved character. We met with his widow, Doreen, who seemed to be very pleased to see us. As you can imagine it did not take long for the pub afterwards to be 2 fathoms deep in hairy tales, most of which involved Icy himself.

The other guys knew him as a CPO whereas my memories are of an A/B. Nonetheless it proved to me yet again what a great bunch the diving crowd are. I think we all had to be slightly mad to do the job in the first place but that is probably why the branch is so full of memorable characters.

All the best,

John"
---
From Tony Sexton:
"Rob,

Jon (Tadpole) Cox, Tony Sexton, John Lang, Spike and Leslie Spears and Carl Massey bade a fond farewell to Icy Coldwell today in a short but touching service performed by an ex-army Chaplain from Sheffield. Whilst reading through some of the tributes and stories, he stopped and remarked, "He seems quite a character, I wish I had met him." Those of us that were lucky enough to do so have lost a friend who will stay in our memories for a very long time.

After the service, we went on to the Milton Arms with his widow Doreen and the family for 'a bit of a bite' with only myself getting lost on the way (I was never any good at compass swims either). Luckily Tadpole was on hand with a mobile phone and a running commentary of pubs he was passing (all of which I am sure would have seen Icy in at some time over the years). We started telling all the old stories to Icy's brother and nephews, taming them down slightly as ladies came present, (most of which I am sure Icy had told already however, only better of course!).

It was a lovely send off to a real character. It was windy but the sun was shining and strangely there wasn't an eider duck to be seen.

Take care,

Tony"
---
From Jon Cox:
"I can only echo Tony's sentiments, a dignified farewell to an old friend. Doreen, his widow was very pleased that some friends from his Navy life were able to make the service. I was able to get a picture of Doreen and ourselves for posterity.

Jon (Tadpole) Cox"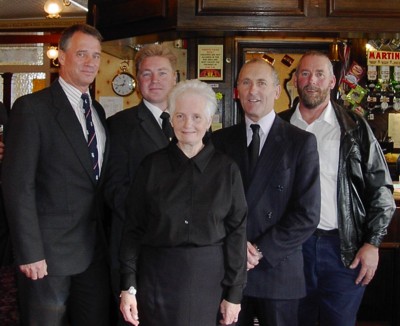 ---
20 Oct 2004 - MCDOA Dinner & AGM Attendees
The list of MCDOA Dinner & AGM attendees on the 'Upcoming Events' page in the Members Only area of the website has been updated. We will be dining out Bertie Armstrong, Mike Croome-Carroll and Martin Jenrick this year. A good cross-section of our association will be present so send your response to our Hon Sec Tony Griffiths ASAP if you have not already done so.
---
18 Oct 2004 - Funeral of CPO(D) John Martin 'Jim' Quinn
Owing to an unexpectedly high attendance, there were more people standing than sitting for the funeral of Jim Quinn at Portchester Crematorium today. Jim's widow Julie was overwhelmed by the number of his former naval colleagues who turned up. As we left, she told me she knew nearly all our names from Jim although she had not managed to meet everyone herself.
MCDOs present included Simon Nicholson (MCDOA Chairman and SofD), David Hilton (former MCDOA Chairman and SofD), Yours Truly (Rob Hoole - MCDOA Vice Chairman), 'young' Tug Wilson (MCDOA Treasurer), David Bartlett, Mick Beale, Steve Field and Graham 'Pincher' Martin. Other familiar faces included Nick Carter, Albert 'RN' Chapman, John Cobb, John Dadd, Dixie Dean (ex-WO(MW)), Tony Devitt, Paddy Doonan, Mick Fellows, Jimmy Green, Colin 'Scouse' Kidman, Bill 'Budgie' McGovern, Mo Moss, John Peach, Buck Rogers, Les Sharpe, Tim Sizer, Jim Thomson, Yorky Tudor, Willy Wilkes and 'not-so-young' Tug Wilson plus several others I did not get round to seeing; forgive me for those I have left out.
After the service, several 'old ships' congregated in the Seagull in Portchester to raise a jar or two in Jim's memory.
---
17 Oct 2004 - Ton Class Association Reunion
MCDOA members Doug Barlow, Martyn Holloway and Yours Truly (Rob Hoole) managed to survive a superb Ton Class Association annual reunion at Babbacombe in Devon this weekend. They caught up with several old friends from Vernon, Lochinvar and Cochrane MCM days including Jeremy Stewart, Bruce Nicolls, Pat Barron, George O'Connor and Mike Cox.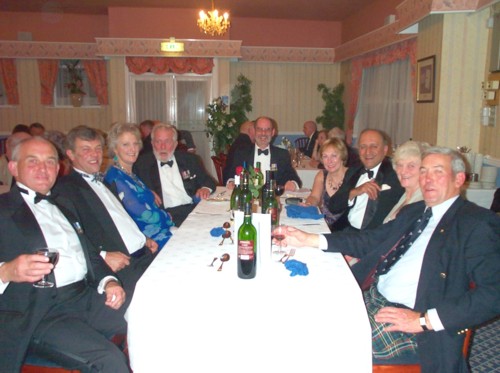 MCDOA trio with George & Sarah O'Connor,
Mike Cox & partner Marcia and Pat & Jill Barron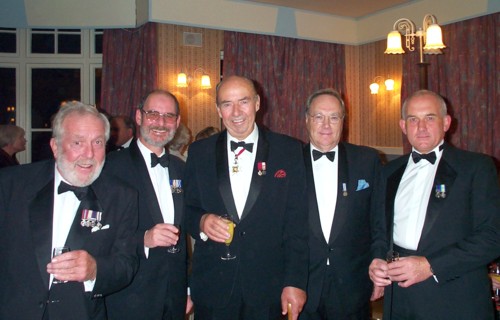 MCDOA trio with Vice Admiral Sir John Cox KCB
(President of the TCA) and TCA member John Preston
Please take note of the Australian Ton Class reunion in November and the mini-reunion in Portsmouth in March, details of which are shown among the entries for 12 Oct below.
---
14 Oct 2004 - CPO(D) Colin 'Icy' Coldwell
For the second time in a week, I regret to announce the passing of a well known figure among the RN Clearance Diving community. Retired CPO(D) Icy Coldwell died on 4 Oct, apparently from a heart attack. He leaves a widow, Doreen, to whom we offer our deepest sympathy. I can supply her address if it is required.
Icy was active in all areas of naval diving from bomb & mine disposal and teaching at the school to working on the staff of SofD. Perhaps he will best be remembered, however, for his time with the Saturation Diving Team (renamed FDU3) and helping Duncan Bridge run NP1007 on board the saturation diving vessel MV Seaforth Clansman in the early '80s. In 1981 he was instrumental in the recovery of Holland 1, the Royal Navy's first submarine which had sunk near the Eddystone off Plymouth in 1913 while under tow to the breaker's yard in Wales.
The funeral will be held at Barnsley Crematorium, Doncaster Rd, Ardsley, Barnsley, South Yorkshire, S71 5EH (Tel: 01226 206053) at 1100 on Thursday 21 Oct. If anyone intends going by train into Doncaster and needs a lift from the station, give Tony Sexton a call on 077 7066 6812 because he will be passing it on the way.
---
From Tony Sexton:
"Rob,

Perry Mason sent me an e-mail this morning about where to send flowers or donations so I rang the funeral directors (H. Cooke & Sons, 19 The Stead, Hoyland Common, Barnsley S74 Tel: 01226 743283) and asked if they had received any specific requests from Doreen (Colin's Widow). They said no but they were talking to her that afternoon and would get back to me. 10 mins later Doreen herself rang me. She is a lovely strong lady (I met her once many years ago). She is in good spirits, considering, and is overjoyed that members of the branch are getting in touch and wanting to come to the funeral to pay their respects. She has arranged some food after the service at the Milton Arms, Armroyd Lane, Elsecar, Barnsley S74 8ES Tel No: (01226) 742278 and would love to meet any members of the branch or friends of Icy. She had a laugh with me that she has arranged an ensign and Icy's cap for the coffin but she could only get an Army Chaplain and hoped that nobody would mind!

Looking forward to seeing as many of you there who can make it and just wish I had made the short trip to have one last drink with Icy himself whilst I had the chance."
---
From Dave Hilton:
"Rob,

Thank you for the very sad news about Icy. Icy and I were on the same CD course together (DCD 59) back in 1967/68 - David Lott, Dusty Miller and Ron Hartshorn were our course instructors. He was a very good friend and work colleague and will be sadly missed. We were even in the same MCM Squadron in the Far East (6th MCM Squadron in Hong Kong) in 1969 and I often baby sat for him!!

Icy was a real character and will be sadly missed by all who knew him

David"
---
From Mike Kooner:
"Rob,

It is with deep regret that you have informed me of the deaths of two divers I served with during their time in the RN.

Icy, I knew way back in the 1960s when he was the ice man (tanky) on board HMS VICTORIOUS. He was i/c (well, always there) diving store 4 G starboard and showed me how to store ship: one crate of beer for the NAAFI, the other crate into his store (coincidentally on the RAS route).

I later met him in the Branch and had many happy hours in his company both professionally during my sat diving days and the school and socially. A great character and thoroughly professional seaman and diver.

Jim I knew from the school when he was one of my instructors. All his courses did well and I well remember I had a creak taken out of my back by a local osteopath against RN rules at the time of course.

One day Jim struggled into my office. He was stooped with a bad back. I remember saying well I can't tell you this officially but give this man a call. The PMO had recommended Jim bed rest and pills, he could not be doing with that nonsense.

A couple of days later I saw Jim upright sprightly and beaming. "It was like a miracle with Jesus laying on hands," he quipped in an evangelical piss-taking manner. He had taken the illegal route of his boss and luckily it had worked!

Always cheerful, full of jokes and a fine diver and instructor. He will be missed.

We have lost two great characters of the branch and please pass on my deep and sad loss to their families. Men of their time!

Mike"
---
From Keith Riches:
"Hi Rob,

Thanks for that. Sad news. Icy was Coxswain when I was the Jim of Nurton in '78. Quite a character and several memories come flooding back, none of which would pass the 'PC' test!

If it wasn't for work, I would have made the effort to get to Barnsley.

Yours aye,

Keith"
---
From John Lang:
"Rob,

Colin was a diver I served with when Jimmy of Kirkliston in Hong Kong.

You never had a dull moment when he was around. I remember one occasion when on our way to Singapore there was a 16 year old junior seaman 'Pony Moore' who had been honking over the side for two days. He was leaning over the side retching away. Colin, ever the father figure, put his arm round Pony and I can hear him now in his South Yorkshire accent say to Pony, "Now then, Pony, have you got a lump in your throat?" to which Pony replied, "Yes." Colin looked at him sympathetically and said, " Bloody hell, Pony, that'll be your arsehole."

He was also a very brave man. One night in the islands to the North of Hong Kong, I instigated a night attack exercise during which the divers were carrying experimental flares. Colin and his buddy did not turn up at the expected time. It must have been a good 20-30 minutes before we found them. The flare had failed. Colin's buddy had convulsed on oxygen and died. Colin brought him to the surface and tried to resuscitate him until we eventually found them. There was no moon and it was a pitch black night and must have been a very frightening experience. Sadly, despite all our efforts the lad could not be resuscitated onboard. This experience never stopped Colin from being the professional diver and I was always happy when buddied up to him.

I am not far from Barnsley and will be attending his funeral.

Cheers,

John Lang"
---
From Bill Norton:
"Rob,

Thank you for the reports on Jim Quinn and Icy Coldwell. It does seem to be a bad season so far.

Icy was with me in the Sat Team when we did the 300m dives from the USN Mk1 System off Panama City and thereafter when we first commissioned Seaforth Clansman. He was a great character who could well have fitted into some of the 'Tugg' cartoons. He was also a very good diver and a steady hand in all circumstances. Very sad that he should go prematurely.

Loved the article on Arthur Checksfield. I knew that he would never 'retire' but had no idea that he would make so much out of village life.

I will be in UK next week and will give you a call.

Regards,

Bill"
---
13 Oct 2004
Gentlemen Who Lunch
For the first instalment of an occasional MCDOA website Good Pub Guide, our 'Not Quite the Last of the Summer Wine' group, comprising MCDOA members Doug Barlow, Martyn Holloway and Yours Truly, visited The Crown Inn in the village of Cootham near Pulborough, West Sussex during our weekly away-day yesterday. The pub has been owned for just over a week by Paul 'Jay' Jeacock and his partner Emma.
Jay was a MW rating in HMS Hubberston in 1983 during Keith Riches' time in Command. With Keith's support, he transferred to the CD Branch and served twice with the Fleet Team before leaving the RN as a Leading Diver. After 3 abortive years as a train driver, he left British Rail to run the Sussex Police Underwater Search Unit from which he retired recently.
The pub is a 13th Century listed inn and is well worth a visit for the available selection of beers alone. The food and atmosphere are superlative and we wish Jay and Emma the best of luck in their enterprise. Do drop in sometime.
Click on the pictures below to enlarge them.
---
Annual Dinner Update
MCDOA member Bill Kerr has just announced that he intends bringing our Canadian friends Cdr Chris Deere, Cdr Jim Penman (Rtd) and Lt Rollie Leyte to the annual dinner. As Bill is currently in Oman, this seems quite a feat!
The Upcoming Events page of the Members Only area contains a list of dinner and AGM attendees to date.
The Members' Updates page of the Members Only area contains some highly informative dinner responses and personal updates from MCDOA members Dave Bence, Simon Elliman, Duncan Bridge, Phil Ireland, Alastair Cuthbert, Julian Malec, Wave Crookes, Chris Ashcroft, Dave Ince, Kev Stockton, Geoff Goodwin, Harry Parker, Gordon Stamp, Dave Hunkin and Bob Hawkins with more being added daily.
---
12 Oct 2004
CPO(D) Jim Quinn
I regret to announce that retired CPO(D) Jim Quinn died last Wednesday, apparently from a heart attack. He leaves his wife Julie and his children Dawn and Neil to whom we offer our deepest sympathy. Apart from his many other naval diving roles, Jim was Course Instructor for LMCDO '78 as shown below.
The funeral will be held at Portchester Crematorium at 1345 on Monday 18 Oct. As Course Officer, Dave Bartlett is providing a floral tribute on behalf of LMCDO '78.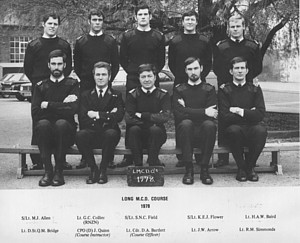 ---
From Commodore Gary Collier RNZN (LMCDO '78):
"Thanks Rob - very sad news indeed.

For my fellow course members, I will not be able to make the funeral but would hope that LMCDO '78 is well represented. My thoughts will be with you at that time and I would be very willing to contribute my share towards a wreath or whatever alternative you consider appropriate. Would you please also pass on my sympathy to his family or, if someone has the address, I could send something personal from down under.

GC"
---
From Charlie Wilson:
"Rob,

Sorry to hear that. I took him up to Captain's Requestmen for the Bar to his LS&GC Medal in about '88, telling him at the time that he had joined the Navy 6 months before I was born.

Charlie"
---
From Duncan Bridge (LMCDO '78):
"Rob,

Am in Italy working on text phone. I will pay whatever is needed for tribute from my course. Jim made '78 the happiest year of my life.

Duncan"
---
From Dave Hilton:
"Rob,

Thank you for this very, very sad news about Jim. Jim and I were the best of diving buddies, having shared many a run ashore together back in the old Portsmouth Bomb Team and in Falmouth when he was second instructor to the Long Course to Mona Lott (late 1970s) some years ago in the Falmouth days in particular! I have many fond memories of our exploits together and will sadly miss him. I aim to be at his funeral.

David"
---
Ton Class Reunions
Our Australian friends may be interested to know that a Ton Class reunion will be held 12-14 Nov 04 in Yamba, NSW. The cost will be A$70 for three functions. Contact Rod Clarey at rod.clarey1@bigpond.com for details.
MCDOA members Doug Barlow, Martyn Holloway and Yours Truly will be among those attending the Ton Class Association (TCA) annual reunion at Babbacombe this weekend. There will also be a TCA Spring Mini-reunion at the Royal Sailors' Home Club in Portsmouth 11-13 Mar 05. This will include a social evening and hot buffet on Sat 12 Mar at a cost of £21 per person. Cheques made payable to the Ton Class Association should be forwarded to reach Peter Down, Honorary Secretary, Ton Class Association, 5 Shaw Moor Avenue, Stalybridge, Cheshire, SK15 2RB by 1 Feb 05.
For more information about the Ton Class Association, check out their website via the Web Links page.
---
9 Oct 2004 - BBC Radio 4 Home Truths Follow-Up
Thanks to some nifty footwork by our Hon Sec Tony Griffiths in getting a new association tie to me in time, John Peel signed off 'Home Truths' on BBC Radio 4 today with yet another mention of the MCDOA (see item for 5 Oct 2004).
MCDOA 'Tie Clip' (wav file - 608 Kb)
Postscript: Sadly, these were the very last words broadcast on 'Home Truths' by John Peel. He suffered a heart attack while on a working holiday in the city of Cuzco, Peru with his wife Sheila and died on 25 October at the age of 65.
---
8 Oct 2004
Guest of Honour for Annual Dinner
The Guest of Honour for our annual dinner on 5 Nov will be Captain Nick Stanley Royal Navy (Captain Minewarfare and Patrol Vessels, Diving and Fishery Protection). The Members' Updates section of the Members Only area contains several goodwill messages from those unable to attend on the night.
---
Last Word on Sandown
The following item from today's Portsmouth News describes the final entry of HMS Sandown into Portsmouth harbour yesterday.

---
7 Oct 2004
HMS Sandown's Last Entry
I stood on the Round Tower this afternoon to take this photo of HMS Sandown entering Portsmouth for the last time. Click on it for a higher resolution version.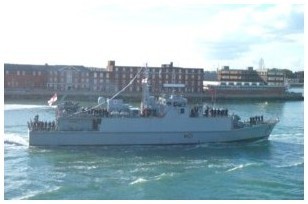 ---
Fire on board HMCS Chicoutimi
I am sure all members join me in extending our heartfelt condolences to our Canadian colleagues on the death of Lieutenant Chris Saunders after the fire on board the submarine HMCS Chicoutimi (formerly HMS Upholder). Our thoughts lie with his bereaved family, friends and shipmates and those others who suffered injury as a result of this tragic incident.
---
6 Oct 2004
HMS Sandown to Wear Paying Off Pennant Tomorrow
The following item from today's Portsmouth News announces tomorrow's final entry into harbour by HMS Sandown and features MCDOA members Yours Truly (Rob Hoole) and Peter Williams (MCM2). Spare a thought for MCDOA member Frank Ward who was Sandown's first Commanding Officer.

---
Bernie Bruen Update
MCDOA member Bernie Bruen has checked in after his single-handed transatlantic attempt. He left Plymouth in his yacht on 1 May but injured his back during particularly heavy storms and was forced to turn back. He is selling up in Cornwall and is currently restoring a house in France where he intends to live with his second wife and her two children. He is looking for a buyer for his self-build ocean-going yacht and his Iridium satellite phone. If he can't sell the boat (£6,000 o.n.o) which has been featured in Classic Boats magazine, he says he will have to torch it. If you are interested, please e-mail him at timzare@amserve.com. He tells me he is looking forward to seeing everyone at the annual dinner.
---
5 Oct 2004 - MCDOA Mention on Radio 4
The sound clip below was broadcast on John Peel's 'Home Truths' on BBC Radio 4 this week. The reader was meant to say Roedean was renamed 'HMS Vernon (R)', not just 'HMS Vernon', but it is a nice dit.
Roedean Dit (wav file - 1.2 Mb)
---
4 Oct 2004 - Last Entry for HMS Sandown
The following item from today's Portsmouth News alludes to this Thursday's final entry of HMS Sandown into Portsmouth harbour before she is put up for disposal.

---
1 Oct 2004 - Navy News Items
The following MCD-related items from the October issue of Navy News include the activities of HMS Cattistock, HMS Sandown and HMS Ledbury as well as articles about a mysterious minelike object in the Aegean featuring CPO(D) Simon Lovell, the installation of the miniature submarine X24 in a new hall at the RN Submarine Museum and the involvement of MCDO Adrian Cassar (CO of HMS Grafton) in a farewell to the outgoing Personal Secretary to RNLO (Gulf).
This issue of Navy News also includes a large section for Young Readers about MCM and MCMVs featuring MCDOA member Ian Richardson of HMS Grimsby.
---