---
17 Sep 21 - A fleeting visit by Cdr Chris Deere OMM RCN
It was good to see MCDOA member Chris Deere today. He is making a fleeting visit to the UK and fellow members gathered for lunch with him at the Old Customs House pub in Gunwharf Quays (previously HMS Vernon) where we had the obligatory photograph with the Vernon Mine Warfare & Diving Monument.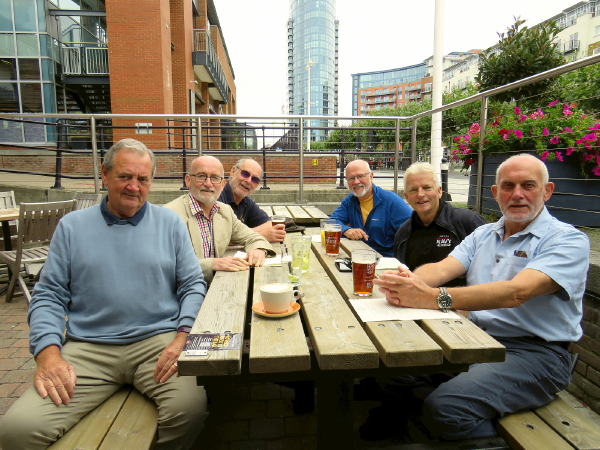 Left to right: David Sandiford, Colin Welborn, Rob Hoole, Bill Kerr, Chris Deere
and Martyn Holloway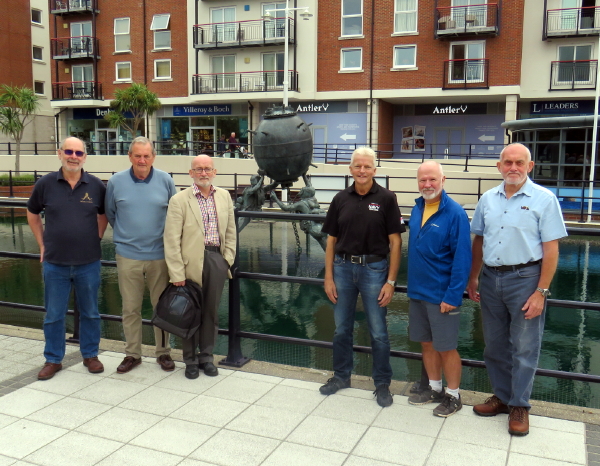 Left to right: Rob Hoole, David Sandiford, Colin Welborn, Chris Deere, Bill Kerr
and Martyn Holloway
Chris, a Commander in the Royal Canadian Navy, served on exchange at HMS Vernon and is a regular visitor this side of the pond.
---
10 Sep 21 - Cdr Martin Mackey launches Squirrel scouts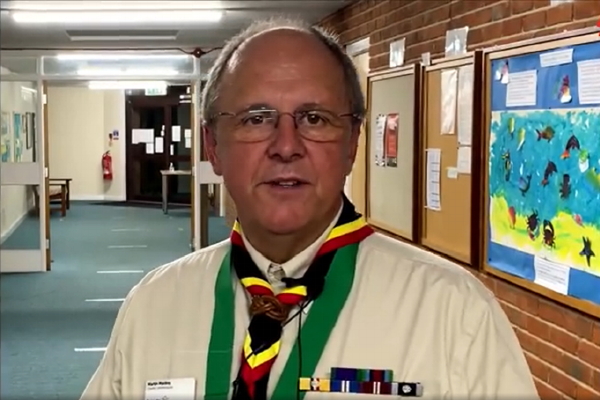 Martin Mackey launching Squirrel scouts
For some reason I expected this new organisation, announced by MCDOA member Martin Mackey, to be secret. Watch the video here:
Squirrels Scouts launch in Hampshire
Martin is the County Commissioner (lead volunteer) for Hampshire Scouts (see entry for 8 Aug 21):
---
6 Sep 21 - Out of Service dates for HUNTs and SANDOWNs
Sandown Class MCMVs (Mine Countermeasures Vessels) will all be gone by 2025 instead of 2031 as previously stated. The UK Parliament website contains this question and answer:
Question: "To ask the Secretary of State for Defence, what the planned out-of-service date is for the (a) Hunt class mine countermeasures vessels and (b) Sandown class mine countermeasures vessels."
Answer: "On current plans, the Hunt Class Mine Countermeasures Vessels will leave service between 2029 and 2031 and the Sandown Class Mine Countermeasures Vessels will leave service between 2021 and 2025."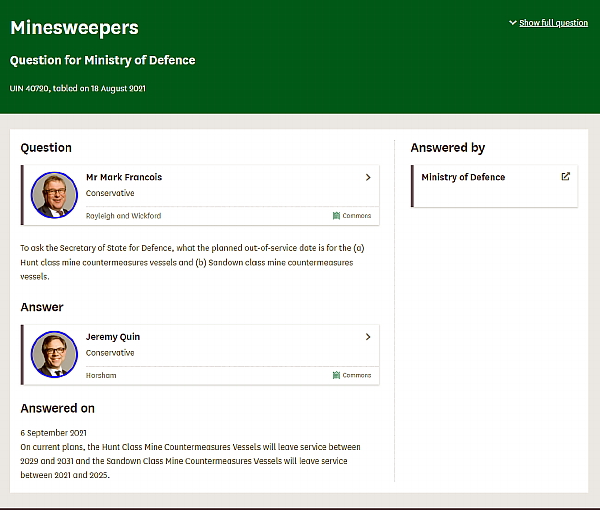 ---
4 Sep 21 - MSM for WO1(D) Simon 'Ruby' Murray
Congratulations to Simon 'Ruby' Murray on being presented with the MSM (Meritorious Service Medal) at Admiralty House in Portsmouth on 2 September.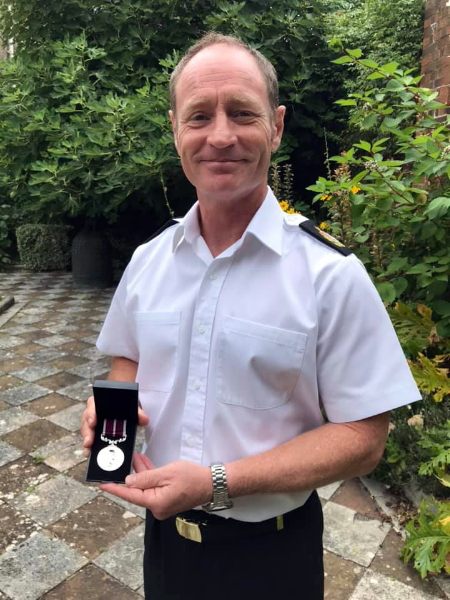 The Meritorious Service Medal is awarded "for good, faithful, valuable and meritorious service, with conduct judged to be irreproachable throughout" and recipients must have served at least 20 years. No more than fifty-one such medals are awarded annually in the Royal Navy and Royal Marines combined and this total is seldom reached.
Ruby was gazetted for the award in July (see entry for 6 Jul 21). Coincidentally, WO1(D) Si Crew was awarded the MSM in June's Queen's Birthday Honours.
---
3 Sep 21 - 'P' Party diver Johnny Payne BEM visits Diving Museum
The Portsmouth News website contains this article and the Royal Navy website this artice reporting Wednesday's visit of last surviving 'P' Party diver Johnny Payne BEM and his wife Jill (see entry for 5 Aug 21) to the Historical Diving Society's museum at Stokes Bay near Gosport. He was presented with a framed collection of commemorative memorabilia. Well done CD Branch legend Eamon 'Ginge' Fullen QGM for arranging the event.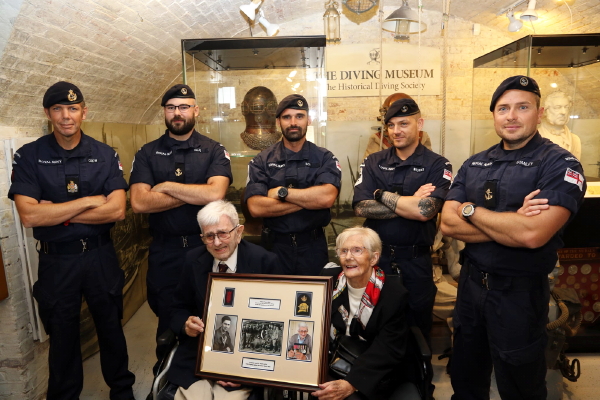 Johnny & Jill Payne with members of the Fleet Diving Squadron at the HDS Museum
(Royal Navy photo)
The visit was also covered by the BBC's South Today and ITV's Meridian News.
ITV: 96-year-old World World Two diver honoured at special ceremony
---
2 Sep 21 - Middleton and Bangor en route to the Gulf
The Royal Navy website contains this article reporting the passage of HMS Middleton (MCM2 Crew 7) and HMS Bangor (1/8) to the Gulf to relieve HMS Brocklesby (2/6) and HMS Shoreham (1/7), respectively, on Operation Kipion MCM. En route, they have visited Lisbon, Gibraltar, Augusta in Sicily and Souda Bay in Crete.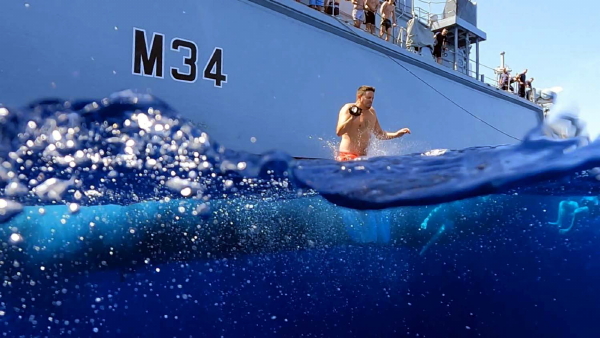 HMS Middleton has 'Hands to Bathe' in the Mediterranean
(Royal Navy photo)
---
1 Sep 21 - Recognition for Lt Cdr Steve Window
Congratulations to MCDOA member Steve 'Steamy' Window on being gazetted for the award of the 2nd clasp to his VRSM (Volunteer Reserves Service Medal). Steamy joined the RNR after leaving the RN and the clasp indicates 20 years of qualifying service as a reservist.
This photo shows Steamy (third left) being installed as a Liveryman of the Honourable Company of Master Mariners in 2018 (see entry for 10 Feb 18 in News Archive 61).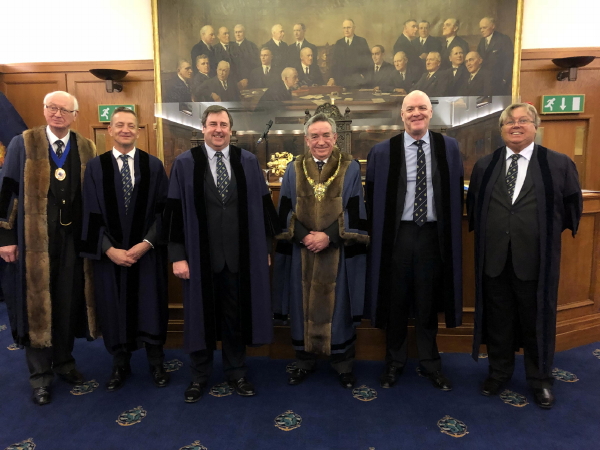 ---
20 Aug 21 - Brocklesby and Shoreham on their way home from the Gulf
The Royal Navy website contains this article reporting the return passage of HMS Brocklesby (MCM2 Crew 6) and HMS Shoreham (1/7) after their three-year deployment in the Gulf on Operation Kipion MCM.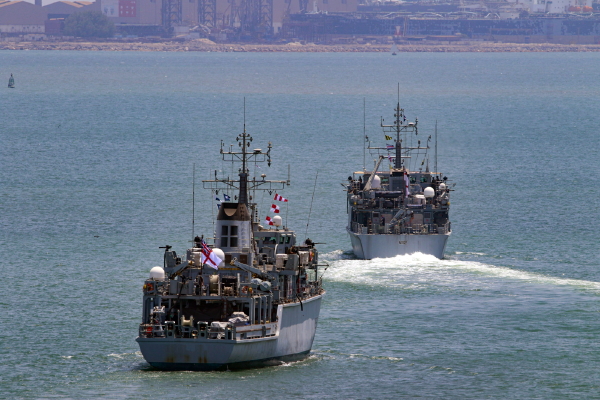 HMS Shoreham leading HMS Brocklesby out of Bahrain
(Royal Navy photo)
---
11 Aug 21 - RN Diving Heritage to be Recognised in Documentary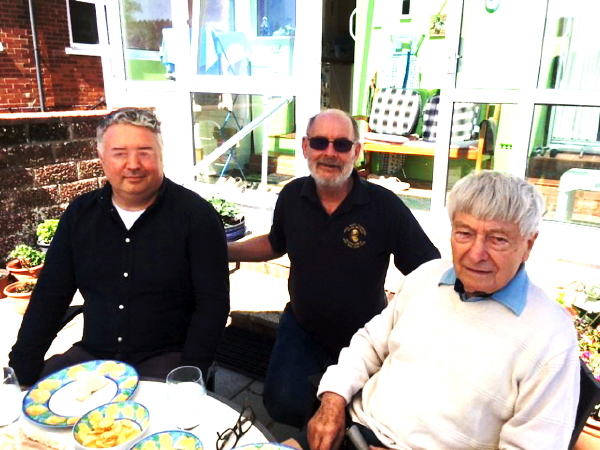 Olivier Lemaître, Yours Truly and David Bartlett
Yesterday, I joined MCDOA member Lt Cdr David Bartlett MBE and French documentary maker Olivier Lemaître for a discussion about the UNESCO-sponsored recovery of the temple of Augustus Caesar from the flooded island of Philae in Egypt in 1977/78. David, who had just relinquished Command of VERNON's diving tender HMS LALESTON, led divers of the RN Fleet Clearance Diving Team to find and recover the sandstone blocks of the temple, immersed in 30 ft of water and buried in visibility-obscuring mud following the construction of the Aswan high dam in the 1960s. The temple was subsequently re-assembled on the island of Agilka (sometimes spelled Agilkia), which was landscaped to replicate the flooded island of Philae, and then renamed Philae itself.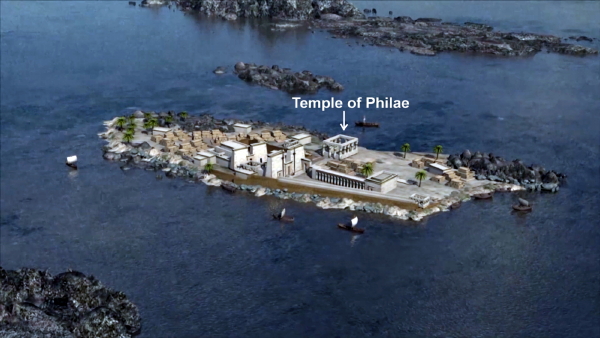 Graphic representation of Agilka Island annotated with Temple of Philae
David dug out his slide presentation of the operation and mentioned that Agatha Christie's Poirot book, 'Death On The Nile', was being filmed at the same time. The cast, which was staying in the nearby Old Cataract Hotel, took a great interest in proceedings and the actress Bette Davis was extremely grateful to have one of her necklaces recovered from the water by one of the RN divers.
Having already produced one documentary on the subject, Olivier plans to make another. In 1976, David's fellow MCDOA member Lt Cdr Ed Thompson MBE had led a similar operation by members of the Fleet Clearance Diving Team to recover the Diocletian Gate which was reassembled on Agilka island, subsequently renamed Philae. In 2007, he was involved in the making of a documentary, first broadcast on Channel Five in March 2008, called 'Monster Moves: Rescuing Ramesses', which replicated the re-construction process.
This memento was produced by Portsmouth Graphics Pool in HMS VERNON and presented to the Egyptian Ministry of Culture on completion of the operation to recover the temple of Augustus Caesar from the flooded island of Philae in 1977/78.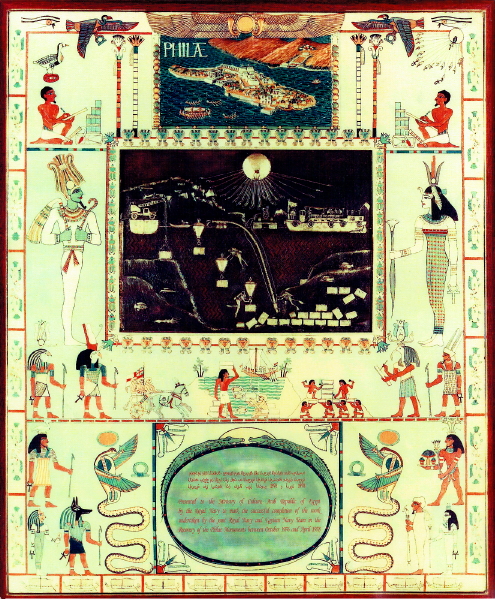 Also see: Return to Egypt - Aswan
---
9 Aug 21 - Shoreham's divers take on Dubai's newest visitor attraction
The Royal Navy website contains this article reporting that the divers of HMS SHOREHAM (MCM1 Crew 7) had the privilege of plunging 60m to the bottom of the world's largest artificial pool, Deep Dive Dubai, prior to its official opening. The team unfurled the White Ensign, lifted weights and played chess in the pool.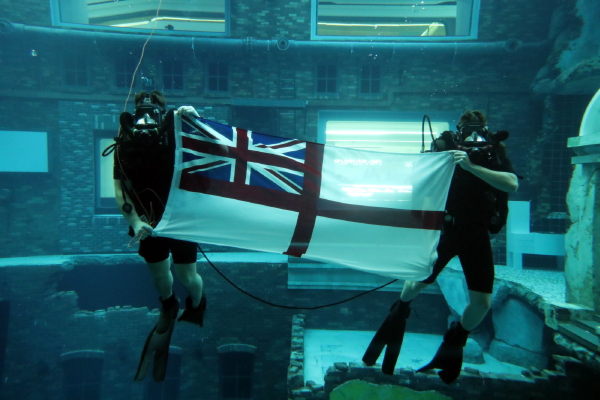 HMS Shoreham's divers at Deep Dive Dubai
(Royal Navy photos)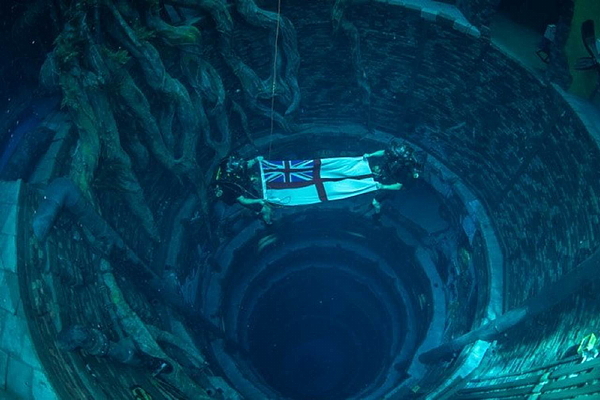 ---
8 Aug 21 - Army kudos for Cdr Martin Mackey RN
The Hampshire Scouts website contains this article describing the presentation of the Chief of the General Staff's Commendation to MCDOA member Martin Mackay. The award was announced in the Army section of this year's Queen's Birthday Honours (see entry for 21 Jun 21 in News Archive 72).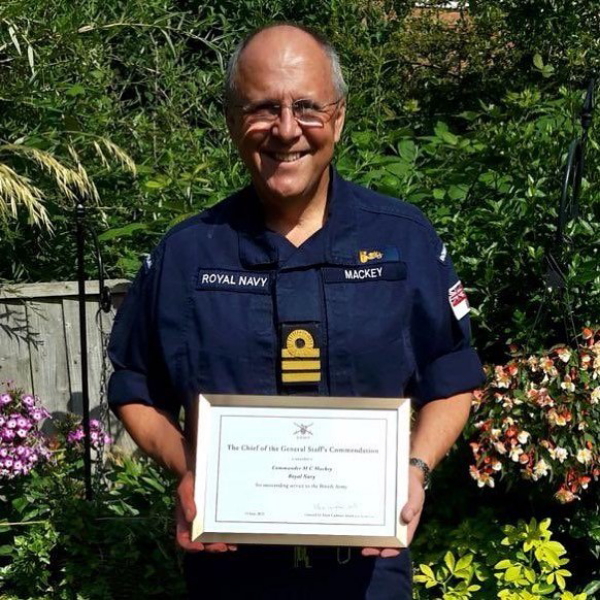 Martin received his award:
"...for his contribution to EOD and Search capabilities during the COVID pandemic, as well as his sterling work with the national Scouting movement. His support to SJC(UK) during the pandemic was outstanding, and he led his team in support of the Welsh Govt with exemplary professionalism."
The Scouting relates to Martin's volunteer work as the County Commissioner (lead volunteer) for Hampshire Scouts.
---
6 Aug 21 - HDS WEG visits Horsea Island
The weather proved kind for Wednesday's visit of the Historical Diving Society's Working Equipment Group to the Defence Diving School on Horsea Island where we gave a standard diving experience to 12 Navy and Army divers. Many thanks to Ty Burton for organising and running the event.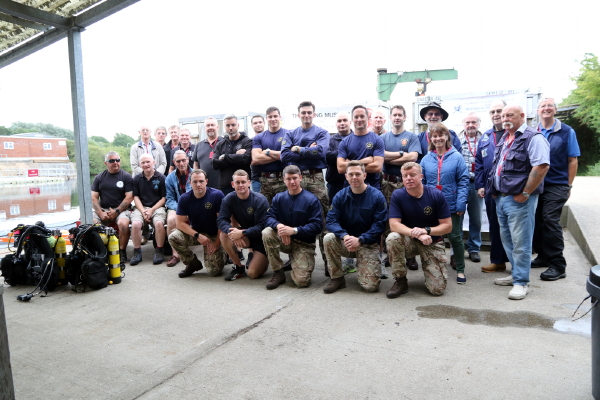 Above and below: DDS Staff and students with HDS members at Horsea Island
(Photos courtesy of Roger Forster)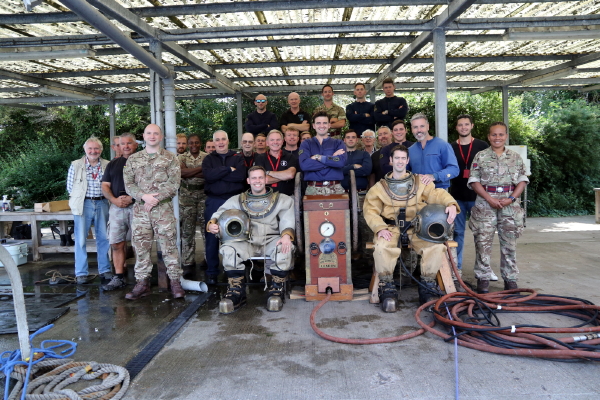 Yours Truly spent time on the pump with fellow MCDOA member Les Rutherford.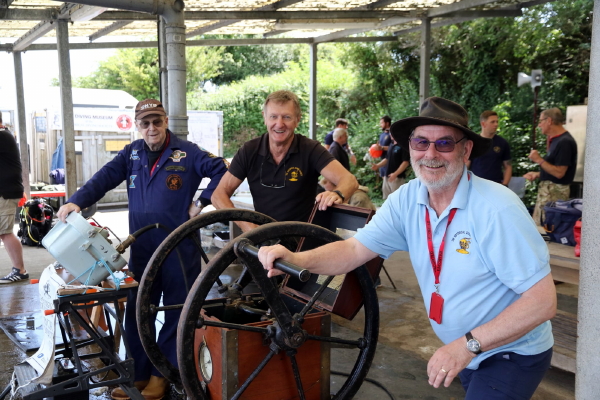 ---
5 Aug 21 - Johnny Payne BEM: The Last 'P' Party Diver?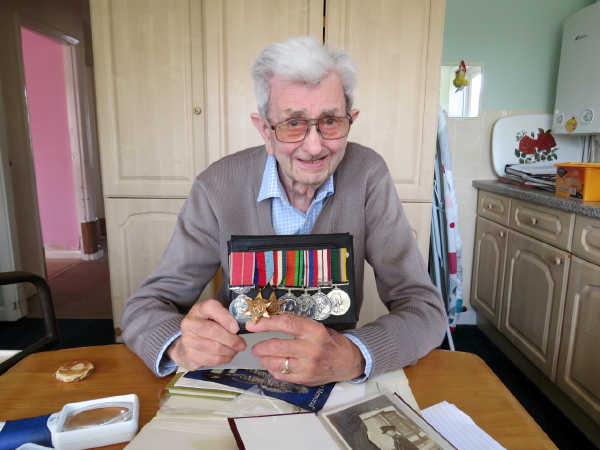 I am incredibly grateful to CD Branch legend and Guinness Book of Records star Eamon 'Ginge' Fullen QGM for allowing me the opportunity to meet Johnny Payne today. Johnny, aged 96, is quite possibly the last surviving Second World War 'P' Party diver, one of the daring few who cleared the newly liberated Continental ports of German ordnance and explosive booby traps after D-Day. They searched the harbours at Cherbourg, Caen, Dieppe, Le Havre, Boulogne, Rouen, Calais, Dunkirk, Antwerp, Ostend, Terneuzen, Zeebrugge, Flushing, Amsterdam, Rotterdam, Hamburg, and Bremen. Sixty mines were cleared at Bremen alone.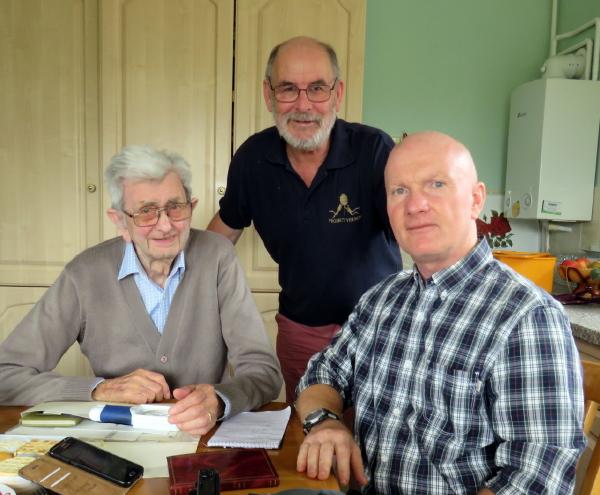 Remarkably, the 'P' Parties only suffered one fatality, AB William Brunskell of 'P' Party 1571 who died of his wounds after a German V-2 rocket hit the Cinema Rex in Antwerp where he was watching a film on 16 December 1944. Today, we learned from Johnny that two other 'P' Party divers were in the same cinema and pulled the gravely injured AB Brunskell from the ruins.
'P' Party divers in Antwerp Oct 1944
Johnny was a member of 'P' Party 1571 and was awarded the BEM (British Empire Medal) for his bravery. He is mentioned in the authoritative 'Open The Ports - The Story of the Human Minesweepers' by J Grosvenor & Lt Cdr L M Bates. Ginge intends featuring him in the next of his excellent series of CD Chronicles.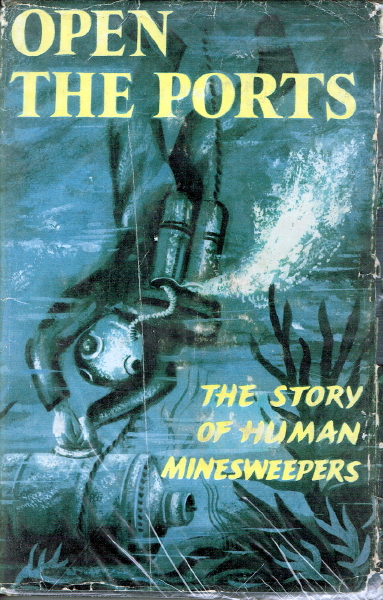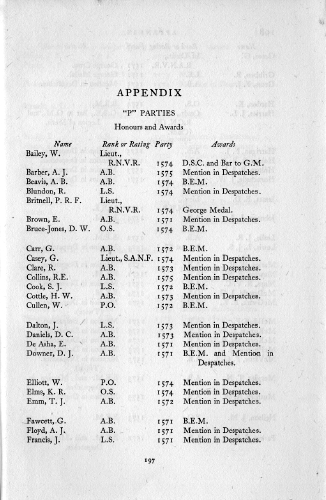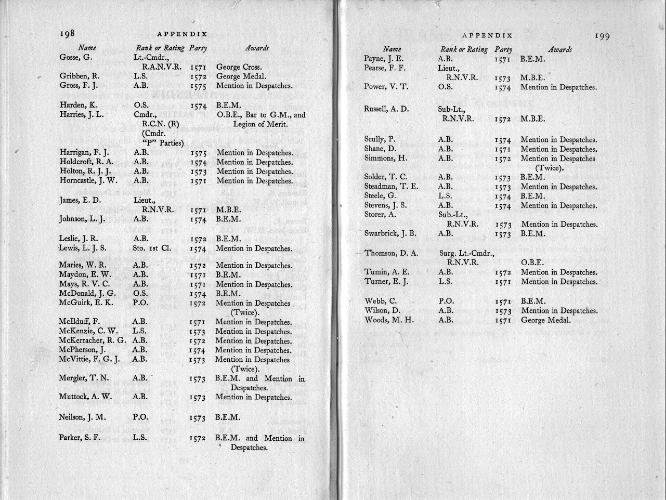 Of particular interest, Johnny was one of the few recipients of the Naval General Service medal with the 'Bomb & Mine Clearance 1945-53' clasp. This was awarded for six months' consecutive service in the disposal of bombs and mines after 3 September 1945 in almost any part of the world. According to Wikipedia, only 145 of these clasps were issued, nine of them posthumously. Members of the RAN received 60, mostly for work in the Solomon Islands and New Guinea.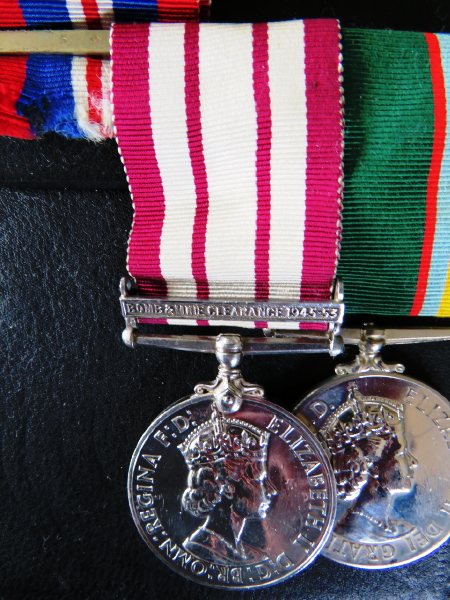 Read more about the 'P' Parties in the entry for 25 Oct 19 in News Archive 68 and elsewhere on the MCDOA website.
---
4 Aug 21 - Blyth and Ramsey paid off
The Royal Navy website contains this article and the Forces.net website this article reporting today's decommissioning of HMS BLYTH (MCM1 Crew 2) and HMS RAMSEY at Rosyth. They are to be refurbished and transferred to the Ukraine after 51 years of combined service. This will leave only five Sandown class minehunters in the RN MCM flotilla.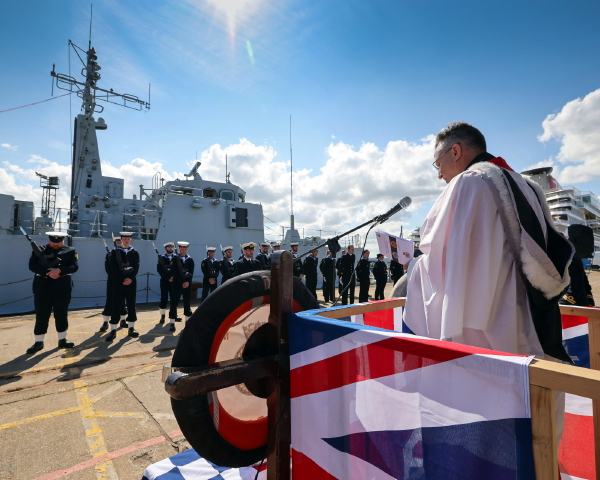 HMS Blyth and HMS Ramsey being paid off at Rosyth on 4 Aug 2021
(Royal Navy photo)
---
28 Jul 21 - Gentlemen Who Lunch
Yesterday, the MCDOA's 'Not Quite the Last of the Summer Wine' trio of Barlow, Holloway and Hoole returned to The Shoe in Exton, Hampshire for the first time in over five years to enjoy a convivial meal with MCDOA past-Vice Chairman Jon Riches and fellow-traveller Lez Howard (Hoole's next-door neighbour).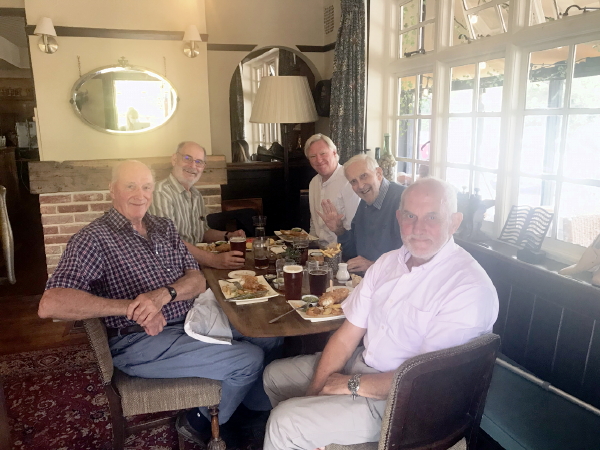 Boys' day out at The Shoe in Exton on 27 July 2021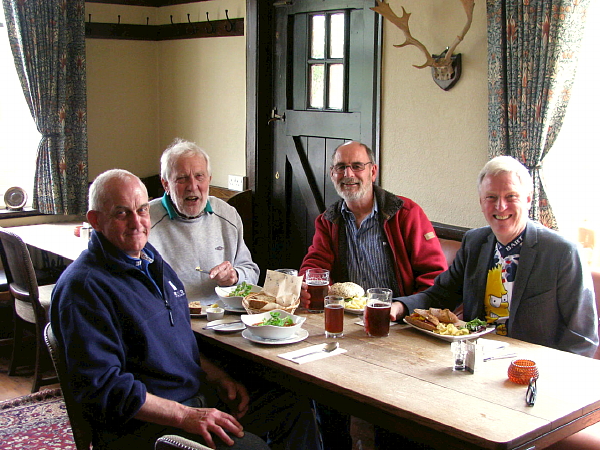 Flashback to boys' day out at The Shoe in Exton on 10 May 2016
We had hoped to be joined by MCDOA past-President Colin Welborn but he is currently experiencing some medical issues and we wish him well as soon as possible.
---
22 Jul 21 - American kudos for Dave Stanbury
Congratulations to MCDOA member Dave Stanbury, the outgoing Mine Warfare N5 Head for the US Fifth Fleet's CTF 52 (Comander Task Force 52), on being awarded the US Navy & Marine Corps Commendation Medal as he completes his six-month tour in Bahrain.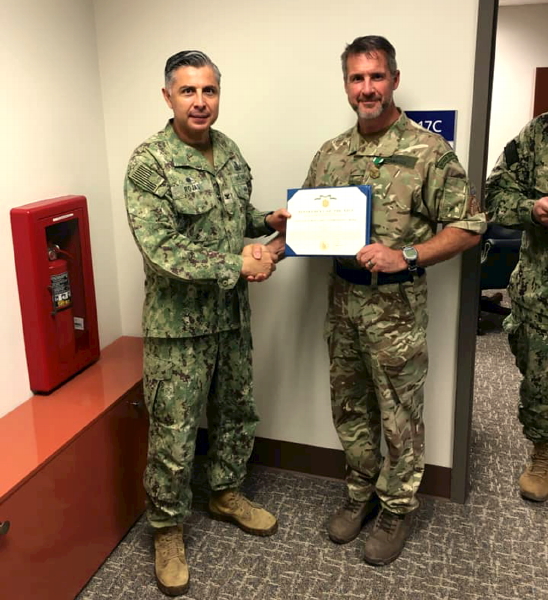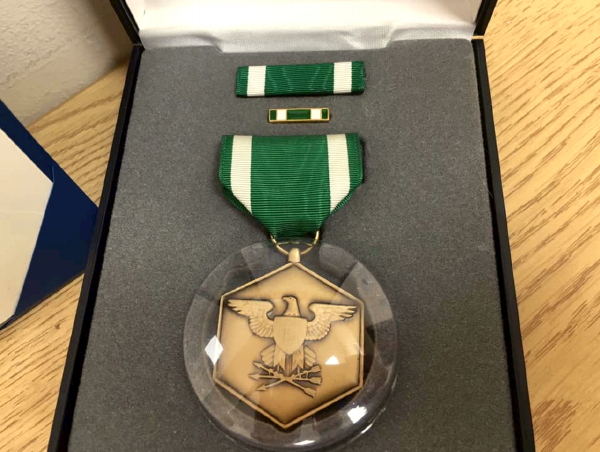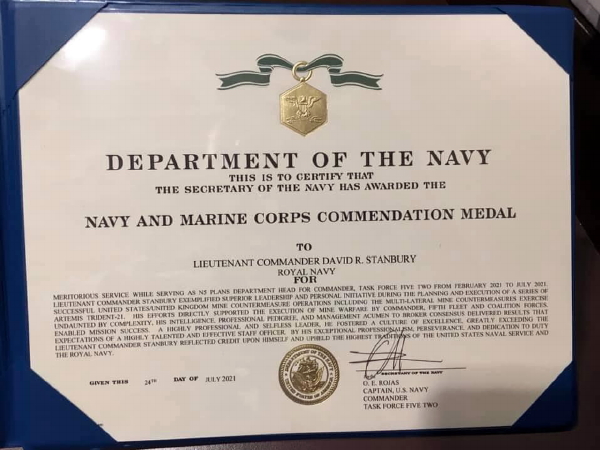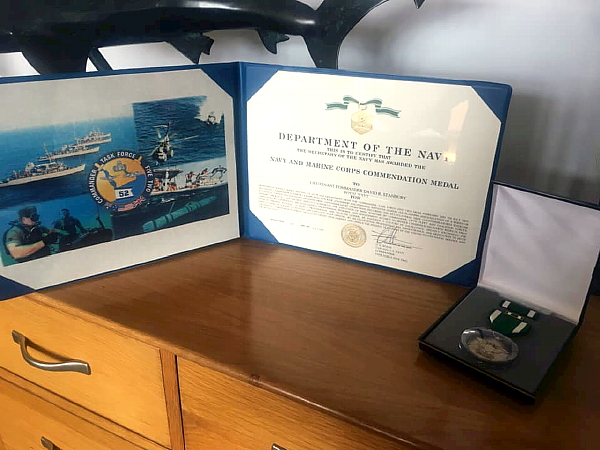 Dave says he would have been unable to focus on his job without the support of his wife Emma.
---
19 Jul 21 - Funeral of former FCPO(D) Derrick George 'Tom' King BEM
I am grateful to Eamon 'Ginge' Fullen QGM for this account of the funeral of Tom King who crossed the bar on 1 July (see entry for 1 Jul 21).
"Hi Rob,
Tom's funeral was attended by several CDs including Mike O'Meara, Cris Ballinger BEM, Rob Vaughan and me.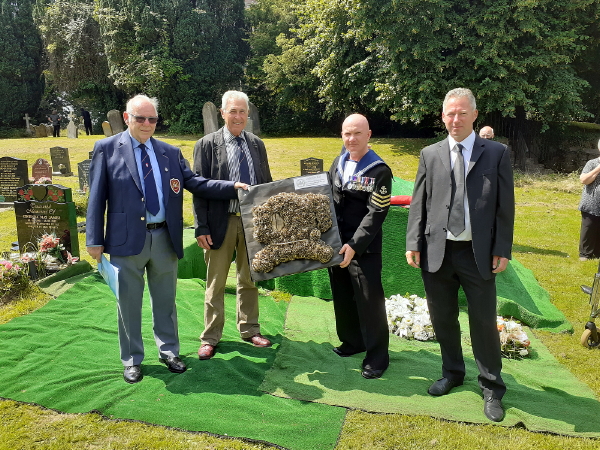 Mike O'Meara, Cris Ballinger, Ginge Fullen and Rob Vaughan at Tom King's funeral
The RNCDA sent a divers' wreath which was laid in front of the coffin. Mike read a personnel eulogy to Tom and the meaning of the 5 Bells tribute. I rang the 5 Bells, which was an honour, and The Last Post was played by two Royal Marines as requested on behalf of the RNCDA. It was a very personnel and moving service and a good send off for one of the oldest Standard Divers and Clearance Divers among us.
Here's another pic of Tom.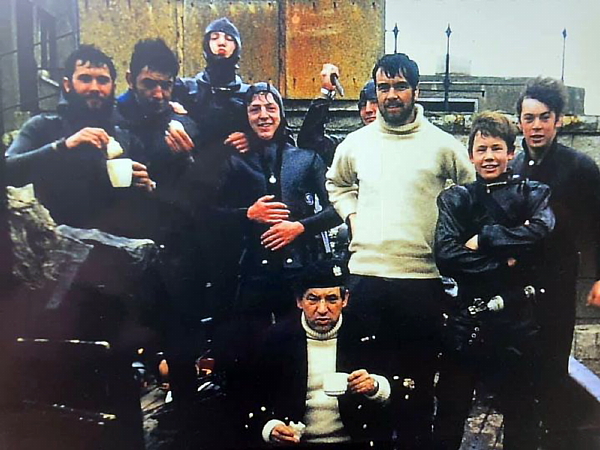 Tom King sitting down enjoying a cuppa
Regards,
Ginge"
Postscript: I am grateful to Mike O'Meara for sending me a copy of the Order of Service for Tom's funeral:
---
From Mike O'Meara, Chairman of The Historical Diving Society:
"Rob,
I thought you meant be interested to read Tom's eulogy:
Good afternoon,
My name is Mike O'Meara and I am a former Royal Navy Clearance diver. I served under Tom on my first clearance diving team - the Plymouth Command Deep Diving Team - after qualifying as a CD in 1969. I am very honoured to be able to deliver this tribute to my first team Chief Diver Tom King on behalf of the RNCDA.
Since the age of 5 when I was given a book on RN Divers and their endeavours, during and after WW2, the stories involving divers like Tom and his generation were the inspiration which caused me to join the RN and become a diver as soon as I was old enough.
I am here today with fellow clearance divers Cris Ballanger and Ginge Fullen, to pay our respects to Tom. I have chosen to speak about just seven of the many RN Operations in which he was involved. I have selected these because I wish to convey the sheer breadth of experience his service life involved; the complexity, technical challenges, constant physical risks, and the frequent trauma which he faced with courage, humanity and his own unique sense of humour throughout his service life.
Tom joined the RN in 1945 at HMS Ganges as a boy seaman bugler. Following his training in 1946 he was drafted to HMS Belfast in the Far East. Together with 300 other young boy sailors he joined the still war damaged aircraft carrier HMS Formidable which transported them from the UK to their respective ships dotted along their route as they sailed east, finally dispatching Tom together with 60 other young boy seamen to the Belfast in Hong Kong.
His time aboard was shortly after the end of WW2 and the surrender of Japan; the Chinese Civil War was in full swing; so - politically Asia was in turmoil and with the Royal Navy tasked with monitoring major events and walking a political tight rope. Indeed, HMS Belfast was later the flag ship controlling all naval activities which led to the successful but bloody escape of HMS Amethyst from Chinese National forces on the Yangtze River.
This was the backdrop to Tom's initiation into naval life. Literally in at the deep end, and not for the last time either. Having completed her tour of duty in the Far East and returned to the UK in 1948 he left HMS Belfast to begin his long and illustrious diving career.
This began at HMS Vernon in 1948 where be commenced training to become a Standard Diver (D3). His instructor was CPO Ernie Foggin, already a legend, and Tom must have been listening and learning very intently because in time he too became a legend. Tom said of him "He didn't stand any nonsense, but he was fair." We would all say the same about Tom.
Initially Tom was sent to a wreck disposal team based on HMS Skomer a trawler based in Dover where, following heavy WW2 shipping losses, the dive team were fully engaged in wreck dispersal all around the south coast of the UK. The work involved a combination of heavy lifting to recover wrecks, - or the use of explosives to collapse a wreck to make them less of a hazard to navigation. As a young newly qualified standard diver this was indeed a baptism by fire or another case of in at the deep end!
In January 1950, the submarine HMS Truculent was rammed by a tanker in the Thames Estuary and sank with the loss of 64 men. Tom's ship was at Chatham at the time and together with his team members was immediately drafted in to help. They picked up many bodies on route before they commenced the actual diving operation. This involved passing heavy rigging underneath the hull to lift her before moving her to a sandbank to recover the remaining bodies.
In 1953 he joined HMS Maidstone's Submarine Rescue Team called SUBSMASH. Subsequently in June 1955 HM Submarine Sidon sank alongside Tom's ship in Portland. This was due to a torpedo explosion in No. 3 tube. Fire, toxic gases, and smoke accompanied the blast. Twelve men in the forward compartments died instantly and seven others were seriously injured. Tom and his team mobilised once more. Tom was a D2 at the time and was the first diver down. He found the submarine laying over on her starboard side at an angle of 40°; with 3 feet of the damaged torpedo protruding out of No. 3 tube, with the bow of the submarine 6 to 8 feet in the mud. This was the first dive of a highly technical and extremely challenging diving operation - initially to confirm whether other trapped crew members were still alive.
Tragically, having established there were no further survivors the decision was made to physically lift the Sidon. This involved tunnelling through the thick mud beneath her hull in order to pass the heavy lifting wires. This task - even today is always a highly risky operation. Tom was several feet in when the tunnel he was jetting through the thick mud collapsed around about him - trapping him completely. As Tom said; "There was no panic even though it took well over an hour to get me out. Ray Ellen started air-lifting around me giving my foot a welcoming squeeze every now and again to assure me he was still there. We soon lifted her, and they ran her aground on Chesil Beach to retrieve another torpedo that was badly damaged and still in the tube." Yet another case of in at the deep end for Tom.
As the RN phased out standard diving equipment, the clearance Diving Branch was formed and Tom made the transition from Standard Diver to Clearance Diver in the late 1950s.
On one occasion in the 1960s one of Tom's divers became trapped in a suction grill and was drowning. With no regard for his own safety Tom jumped in, released him, and brought him around with lifesaving breaths. For this he deservedly received a civilian award for lifesaving.
During the 1960s the RN was tasked with testing the operation of aircraft ejection seats underwater. This was a highly risky set of underwater trials which started at Horsea Island and moved onto deep water trials in Scotland. Tom and his team members took it in turns to be strapped into the ejection seats, then pulled or dropped -- at speed to simulate crashing and immersion before testing the operation of the ejection seats. This work created the precious lifesaving capability which even today's fighter pilots still benefit from - with their ejection seats having the proven capability to eject safely underwater before being carried safely to the surface and rescue.
When I first met him in 1969, I was a newly qualified Clearance Diver 2. I joined the Plymouth Command Deep Diving and Bomb, and Mine Team. Tom was Chief of the team. He greeted me with the following briefing:
"Welcome to the best team in the branch. If you are going to fit in here, you'd better be prepared to out dive – and out drink 'em all!
Naval training depends upon the ethos "Always obey the last order"; consequently I did my very best to comply. Shortly afterward we all mobilised to Jersey where we spent 22 weeks removing 164 x 1,000-pound bombs in various stages of decomposition and damage and from the wartime wreck of the Arnold Mask, a German freighter sunk by the RAF during WW2 as she approached Jersey. Tom was awarded a BEM for valour for this job, and it was well deserved.
Tom went on to be appointed as one of the first Fleet Chief (Warrant Officer) Divers in the CD branch when they were reinstated in 1974. Tom nominated me for my CD1's course and for this I will always be grateful to him for his act of faith and support.
One of the first things Tom would have learned when he started his diver training in 1948 were his lifeline signals. There is no doubt when he was trapped in the mud beneath HM Submarine Sidon he was relying on lifeline signals including the occasional reassuring squeeze on his leg from his rescuer.
Although today's diver often has the ability to talk to the surface, all Navy Divers to this day are still taught lifeline signals. Equipment fails and when you are on your own on the seabed or trapped in thick mud as Tom was - in the pitch black and with zero visibility - the rope tied to your shoulder is literally your lifeline. There are many signals: some give directions, some are routine, others are reserved for emergencies. But the one that holds the most meaning for us all is 5 Bells. Depending upon circumstances this has three interpretations: "I have found my work; I have started my work; or I have completed my work."
Over the years 5 Bells has been adopted as our salute to a fallen diver. "5 Bells my friend, stand down, your work is done,"
And so, - with respect, and love, Ginge will now sound the last 5 bells for our brother, Royal Navy Warrant Officer Diver Tom King BEM.
Regards,
Mike"
---
13 Jul 21 - Gentlemen Who Lunch
The MCDOA's 'Not Quite the Last of the Summer Wine' trio of Barlow, Holloway and Hoole was back in action yesterday with a return visit to The Fox Goes Free, nestled in the beautiful South Downs at Chalton near Goodwood in West Sussex. Exceptionally, we were accompanied by our ladies to help celebrate our imminent release from most Covid lockdown measures.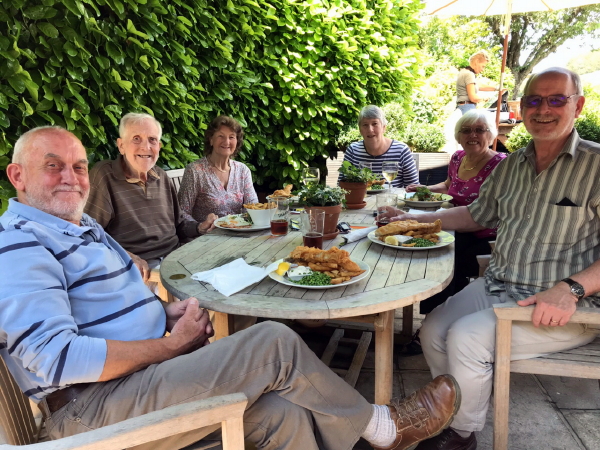 "What are those black animals in the field?" asked Barlow.
"Buffaloes," replied Holloway.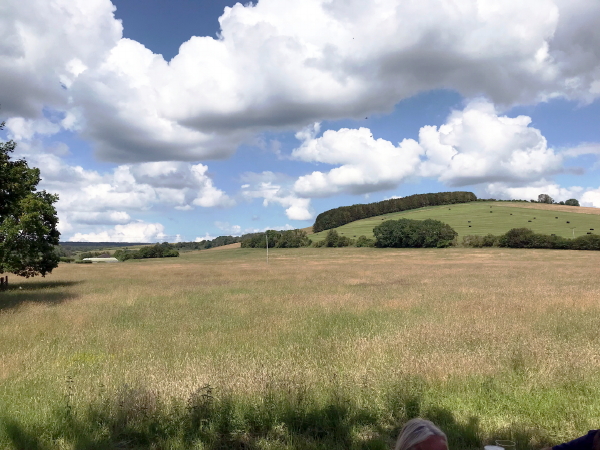 They were actually cylindrical bales of hay wrapped in black plastic.
---
11 Jul 21 - Canadian kudos for Neil Marriott
Congratulations to MCDOA member Neil Marriott, our Naval & Air Attaché in Ottawa, on being awarded a Command Commendation and coin by Vice Admiral Craig Baines RCN, the Commander of the Royal Canadian Navy. Neil also received personal coins from Cdre Jason Armstrong RCN, the Director General Naval Force Development.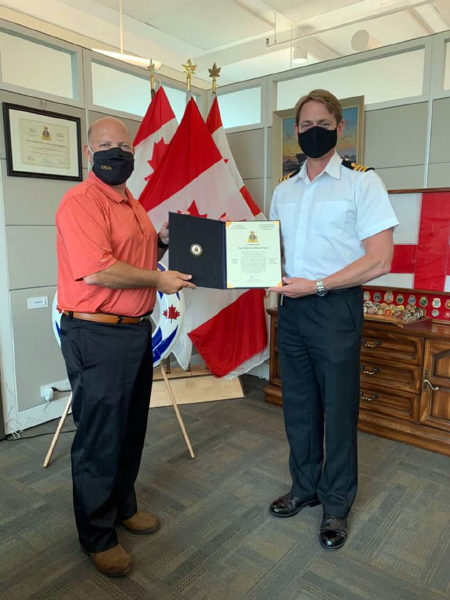 ---
10 Jul 21 - Northern Diving Group exercises Freedom of Orkney
The Royal Navy website contains this article reporting yesterday's presentation of the Freedom of Orkney to Faslane-based Northern Diving Group (NDG), commanded by MCDOA member Mark Shaw. This privilege, granted in May, gives NDG the right to march through the streets "with bayonets fixed, drums beating and with colours flying".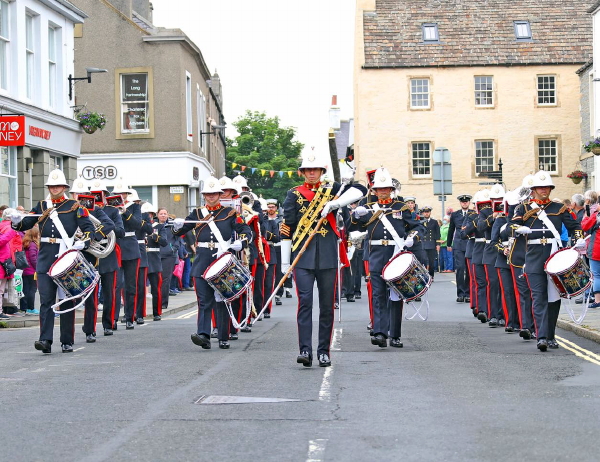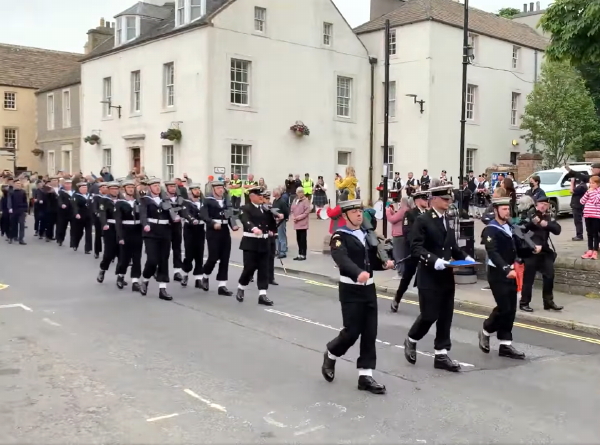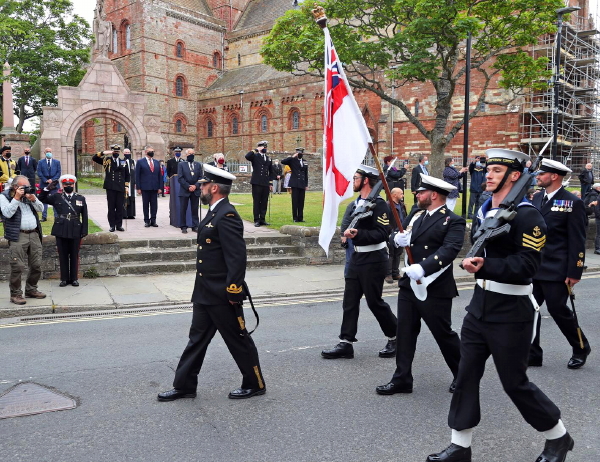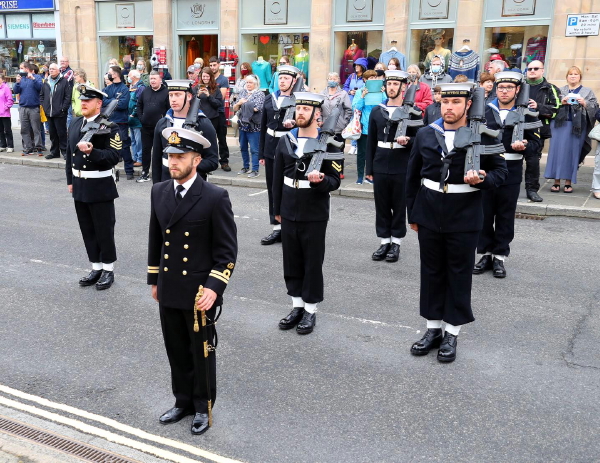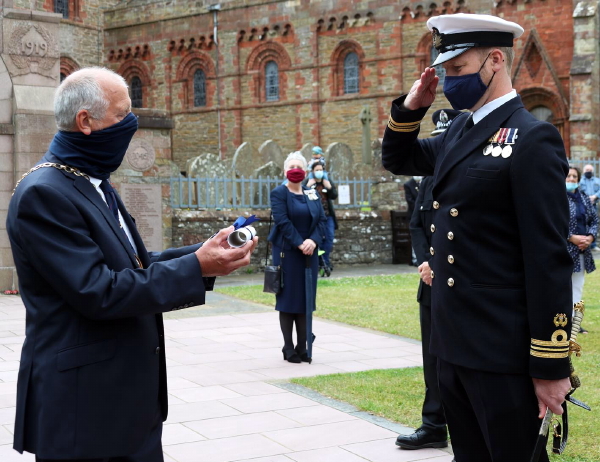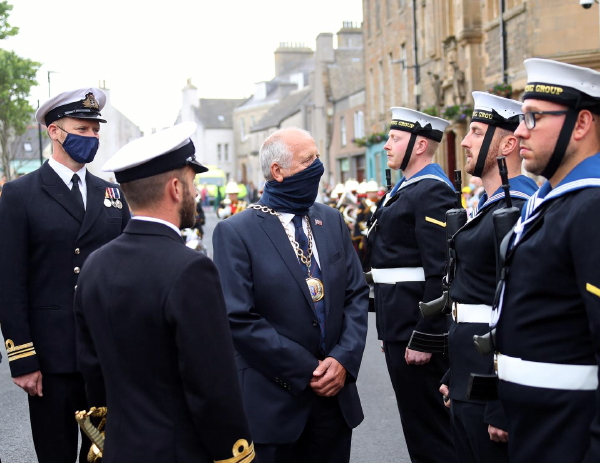 ---
9 Jul 21 - Arrangements for the funeral of former FCPO(D) Derrick George 'Tom' King BEM
According to Eamon 'Ginge' Fullen QGM, Tom's funeral (see entry for 1 Jul 21) will take place on 19 July at midday at St Thomas a Becket Church, Red House Lane, Shirenewton, Chepstow, NP16 6RG. The service and burial is in the same church.
The small village church can only hold 30 under current restriction but the service can be relayed outside. Also, the family is having a wake in a local inn – all semi-outside so room for all.
Anyone who knew Tom and wants to attend, possibly say a few words and/or ring 5 bells is requested to contact Ginge Fullen.
---
8 Jul 21 - An impressive quartet of MCDOs
I am grateful to MCDOA member Dan Herridge for this news item:
"Rob, I hope you are well?
I have just stepped off from HMS TAMAR's Final Inspection and we had quite the inspection team, all MCDOs:
Capt Simon Kelly RN (Commanding Officer HMS ALBION)
Capt Ben Vickery RN (Captain Patrol, Underwater Exploitation and Diving - previously MFP)
Cdr David Louis RN (Commander Offshore Patrol Squadron)
Lt Cdr Dan Herridge RN (Deputy Commander Sea Training - FOST Ships)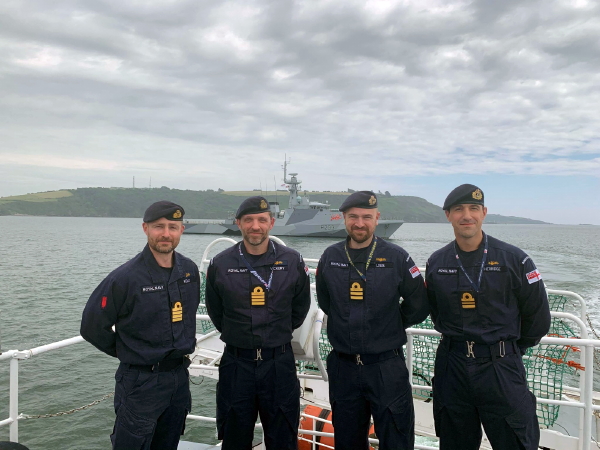 Si Kelly, Ben Vickery, David Louis and Dan Herridge
If there was a Onesie brave enough, we could have had a dip!"
FAO Si, Ben and David - Under our newly introduced system, please apply anew for MCDOA membership here and comply with the new payment arrangements on being accepted; don't forget to cancel any existing Standing Order. This is a prerequisite for attending future MCDOA functions including this year's dinner at HMS NELSON on 26 November.
---
6 Jul 21 - WO1(D) Simon 'Ruby' Murray awarded Meritorious Service Medal
Congratulations to Simon 'Ruby' Murray on being gazetted for the award of the MSM (Meritorious Service Medal). The medal is awarded "for good, faithful, valuable and meritorious service, with conduct judged to be irreproachable throughout" and recipients must have served at least 20 years.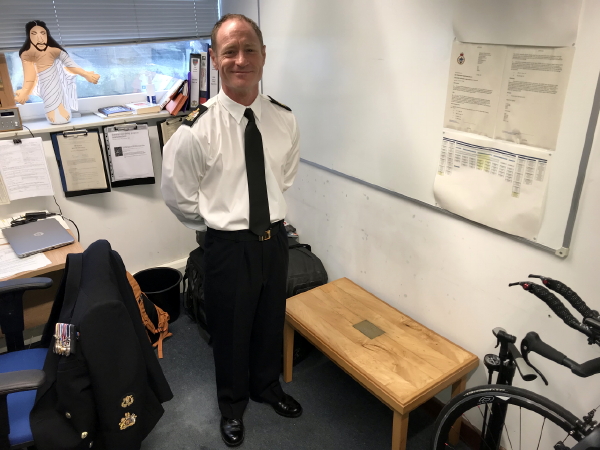 Coincidentally, WO1(D) Si Crew was awarded the MSM in last month's Queen's Birthday Honours. No more than fifty-one medals are awarded annually in the Royal Navy and Royal Marines combined and this total is seldom reached.
---
2 Jul 21 - A different sort of 'Bobby' on the door at No.10
On Thursday 24 June, the Prime Minister held a reception in honour of Armed Forces Day in the Rose Garden of No.10 Downing St. The attendees were drawn from service personnel who had contributed to Op RESCRIPT, Defence's support to the Government's COVID Response and Recovery.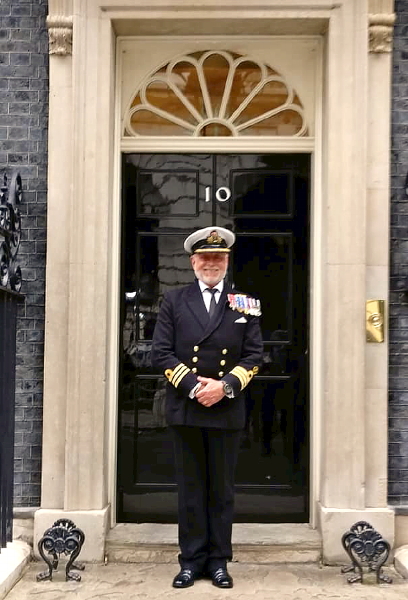 MCDOA member Bob Hawkins MBE is the Maritime Operations Centre's interlocutor with Standing Joint Commander (UK), facilitating the Royal Navy's contribution to this effort. He was selected also as the PM wanted to meet a few servicemen who have been serving in excess of 40 years, in Bob's case 43½ years now, having joined on 4 January 1978, and since with unbroken service as a Regular.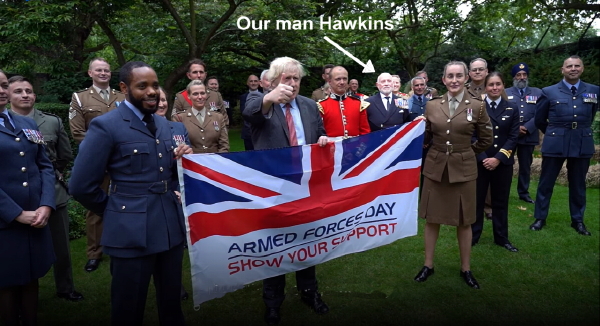 Bob became a Ship's Diving Officer in April 1980, and qualified as a Minewarfare & Clearance Diving officer at HMS VERNON in 1982. He had two exceptional course officers.

---
1 Jul 21 - Death of former FCPO(D) Derrick George 'Tom' King BEM
I have received these sad tidings from CD branch legend Eamon 'Ginge' Fullen QGM:
"Hi Rob,
Sad news. Tom King died this morning, aged 91.
I spoke with Jan his wife and she will let me know the funeral details later.
Regards,
Ginge"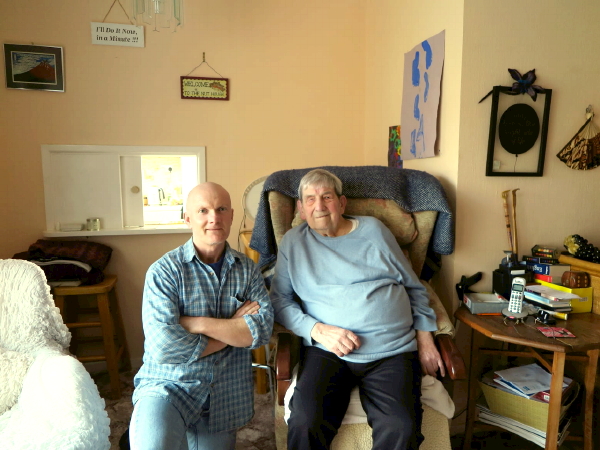 Ginge Fullen with Tom King
Ginge has kindly provided the following biography:
Tom King BEM
I have met with Tom several times when I was passing by his place. The first time I had met him he told me he had been on the wreck disposal teams as a Standard Diver after the war and I filed it away in my head for future chronicles. Although at over 90 years old and sadly not so mobile undoubtedly Tom did some very tough diving in his day. I very much enjoy my chats with Tom, many of his stories are of a bygone era in diving which will never be repeated.
Tom's recollections: I joined the Navy in 1945 at HMS Ganges. We were just the second lot of boys there since it had been closed during the war. As a boy seaman, I was drafted to HMS Belfast in 46 in Hong Kong with Charlie Charlwood who I knew at Ganges and was a good mate. 300 or so boy seaman travelled out on HMS Formidable and dropping lads off along the way on different ships. 60 or 70 of us were drafted on to the Belfast. We saw an Admiralty fleet order saying they were looking for divers and it was extra money.
Within a couple of months, we joined Vernon to start training to become a Standard Diver (D3). We were one of the very first D3 class's to go to Vernon and not be trained at Whale Island (HMS Excellent) which had been the home to diving since it first started in the Navy. HMS Deepwater had just been moored permanently alongside Vernon and used as the Diving School. Ernie Foggin D1 was our instructor, he didn't stand any nonsense but he was fair. It was Ernie who started calling me Tom (not Derek) after a bare-knuckle boxer in the Navy in the 1930's called Tom King who would make a fortune.
After qualifying you could be used as a diver on the wreck disposal teams or as a salvage diver, you didn't get a choice. I was sent immediately to a Wreck disposal team based on HMS Skomer which was an Isle class trawler based in Dover where we were busy getting rid of wrecks all around the south of the UK. We did lift a lot of wrecks or items from them but also use explosives to collapse the wrecks in on themselves and make them less of a problem to shipping. Whilst doing this job in January 1950 the submarine HMS Truculent was rammed by a tanker in the Thames Estuary and sank. Sixty-four men died as a result of the collision. Unfortunately, most of them died when they escaped the submarine in the dead of night into the strong running tide with no support boats in place to pick them up. Our ship was at Chatham at the time and several of us were drafted in to help. We picked up many bodies on route.
In 1953 I joined HMS Maidstone of the 2nd submarine squadron. On board were two D1 and six Divers that formed part of the 'SUBSMASH' team. Propeller changes and other underwater engineering jobs were just coming in then so we were doing a lot of diving. HMS Sidon was alongside us when it sank. I was the first Standard Diver to dive on her. In 1955 or 56 I picked up my PO's rate and immediately did my D1 course in Vernon. He and all the others I think turned over to CD in the end. I then swopped over to CD1 with Dutchy Holland, Albert Strange CD 2 (only pure CD on the course) and Ginger Bryant in around 1958.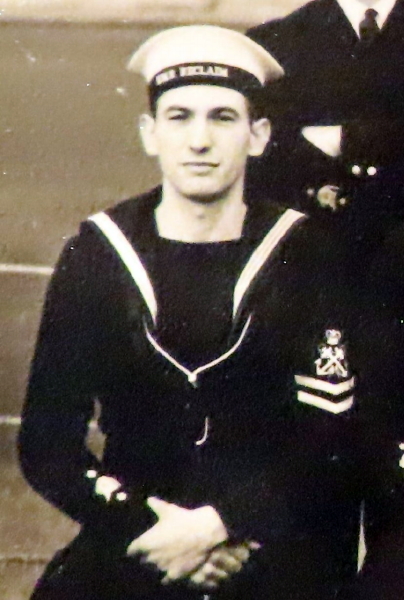 Tom King as a 'square rig' Petty Officer Diver (Second Class)
I got a draft to Bomb and Mine Disposal (Chatham) to relieve Pat Christmas. I remember one call out we had to a buoyant mine that was washed up on a beach. There was a large crowd around us that we just could not get rid of. Curly then grabs a seven-pound maul and walked up to it, swings and hits it with an almighty clang. He then turns around to me and shouts "It's not acoustic Tom". It helped get rid of a few onlookers especially the ones who had not seen 'Dummy Mine – please report to etc on the side. I stayed around two years until Chatham closed down in 1960. The Portsmouth CD team took over bomb disposal duties for the area we had covered.
Around 1960 or so I returned to Vernon where the boss of the diving School Nosy Parker said: "Don't drop your bags, King, you're going to AUWE and taking over there". It was the start of the underwater ejection seat trails. In 1962/63 I headed out to the Far East team as Chief based in Singapore. In the mid-1960s I returned to Vernon to instructing CD1s and Officers courses before getting the Devonport Diving School then Plymouth Clearance Diving Team. In the late 1960s the team spent several weeks undertaking the extremely hazardous task of clearing unexploded bombs from the wreckage of the S.S. Arnold Maersk in Jersey. Loaded with 500 kg bombs that were fused. We would lift four at a time, dump them in deep water and go again. Other CD's involved were Darby Allan who died in the 1970s, Baz Davis and George Porter. I did get an award for this job (BEM) but all the divers involved in this deserved an award as much as I did. On another job, we were looking for a young girl of five years or so in a river in Hampshire. One of my divers Bill Swinfield got his head stuck in a suction grill on a large sluice gate. Half drowned I managed to pull him out and after giving him rescue breaths managed to bring him around. I was presented with a civilian lifesaving award though which I'm very happy had a positive outcome for the diver.
In 1971 I joined the aircraft carrier HMS Eagle Aas the only CD i.e. to supervisor 40 odd Ships Divers. They soon pulled me off there during a world cruise to be made up to Fleet Chief. Dutchy Holland and I were the first two Diving Fleet Chiefs (Warrant Officers) since they stopped them at the end of the war. He went north to Scotland, I went south to Vernon. I left the Navy as Fleet Chief in the School in Vernon in 1974. I went into the civilian diving industry after that.

Click for Tom King's BEM citation
I am sure all members of our community will join me in extending our sincere condolences to Tom's family and close friends.
---
From MCDOA member John Lang:
"Hi Rob,
Sorry to hear the news about Tom. He was a force to be reckoned with on our 1966 MCDO course. Had a great deal of time for him as well as respect.
He was the type of human being you never forgot. I'm glad he had such a long innings.
John Lang"
---
From MCDOA member Jon Riches:
"Hello Rob,
I was sad to read of the death of Tom King. He was our diving instructor for the 1966 LMCDO Course. He was an excellent instructor and we all benefitted from his deep knowledge of RN diving. I have very fond memories of Tom and how he gently imposed his authority over us young and sometimes unruly young officers.
Our careers diverged after the Course and I did not serve with him again. He certainly had a good innings!
Best wishes,
Jon"
---
From former CPO(D) Mick Kester:
"Sorry to hear the sad news of the death of Tom King. I had the privilege of being a member of his team during the Arnold Maersk operation off Jersey,and again, at a later date,with the late George Alderton and Ted Rose.
Tom was a man's man through and through.
RIP Tom
Micky Kester"
---