---
24 Jun 21 - News from Cdr Jason White QGM RN
I am grateful to MCDOA member Jason White, our Defence Attaché in Algiers, for this update:
"Dear Rob,
Decima and I are enjoying the Defence Engagement lifestyle in Algiers. The diplomatic community is tight-knit here and we've made a lot of good friends and relationships.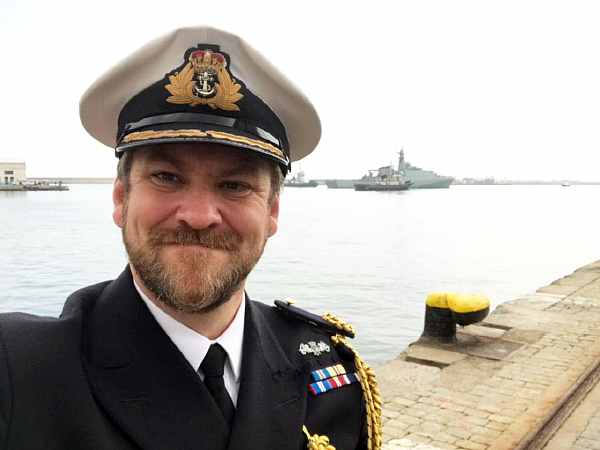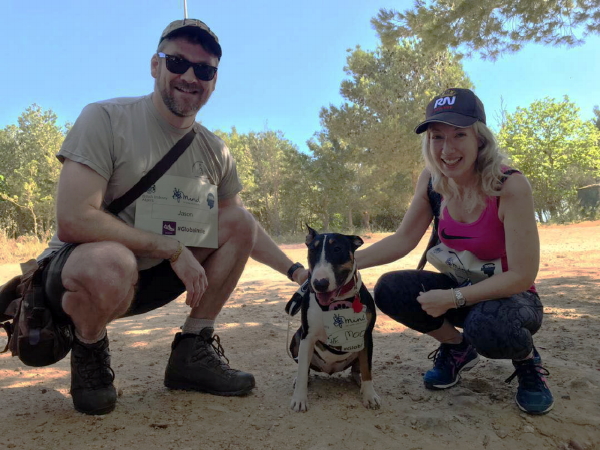 The presentation of the bar to my Long Service & Good Conduct medal was a complete surprise but thank you to Capt Andy Ingham and Ian Richardson for putting such nice words together (or the Ambassador just chose to say the nice bits).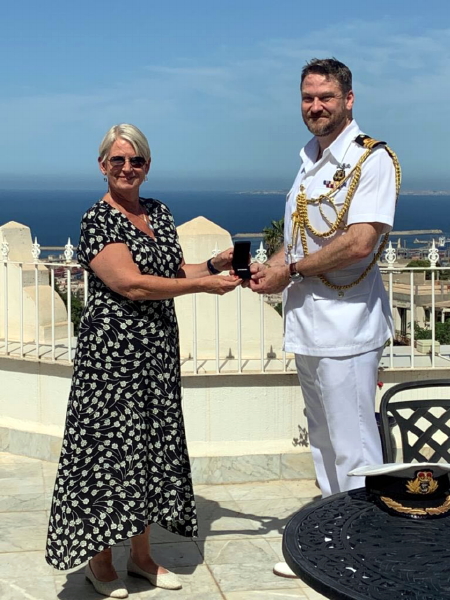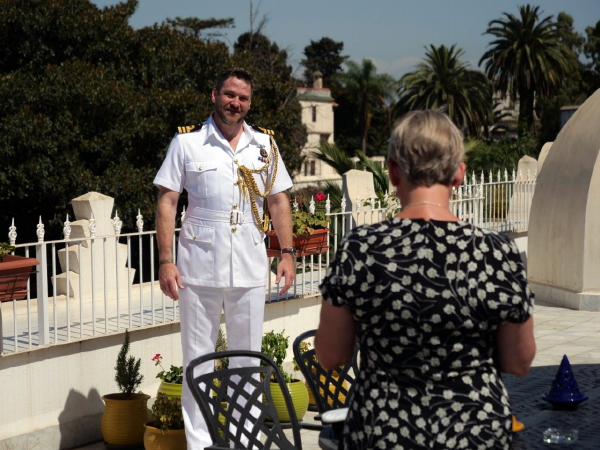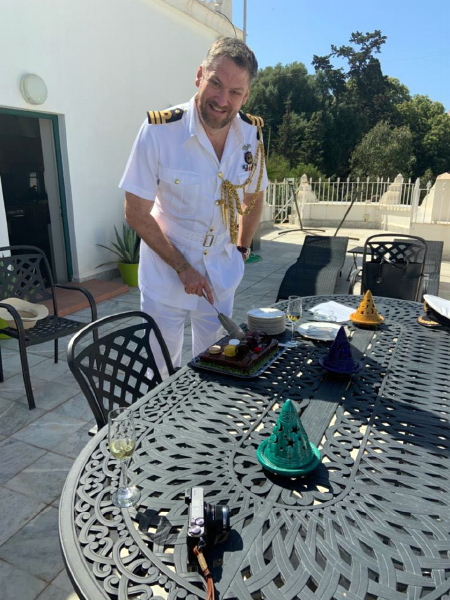 I'm missing the RN diving community but diving here is much easier than in the UK! However, my first dive with the French DA (pilot) and US DA (Green Beret) was an eye opener...
We're very happy for visitors as soon as travel opens up!
Jason"
---
23 Jun 21 - Horsea Island during the Second World War
We all know about Horsea Island, right? Read on:
Horsea Island Landing Craft Slipways during WWII
My thanks to MCDOA member Chris O'Flaherty for bringing this intriguing bit of history to my attention.
---
21 Jun 21 - Queen's Birthday Honour missed earlier
Late congratulations to MCDOA member Martin Mackey on being awarded a Chief of the General Staff's Commendation in the Queen's Birthday Honours as promulgated in this article on the Army website.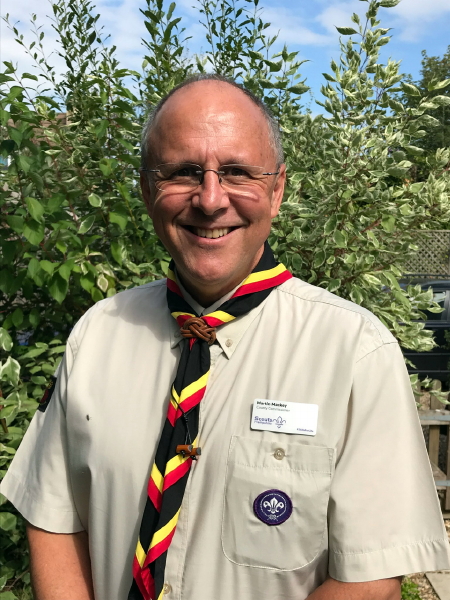 Martin Mackey in May 2020
Martin received his award:
"...for his contribution to EOD and Search capabilities during the COVID pandemic, as well as his sterling work with the national Scouting movement. His support to SJC(UK) during the pandemic was outstanding, and he led his team in support of the Welsh Govt with exemplary professionalism."
The Scouting relates to Martin's volunteer work as the County Commissioner (lead volunteer) for Hampshire Scouts.
---
20 Jun 21 - News from Cdr Allan Rankin RAN
Allan qualified on LMCDO '79 as an RN officer but transferred to the Royal Australian Navy in 1988. He left the RAN as a Commander in 2017 after a naval career spanning 42 years and moved from Canberra to a newly-built house at Mooloolaba on the Sunshine Coast of Queensland where I visited him in 2018.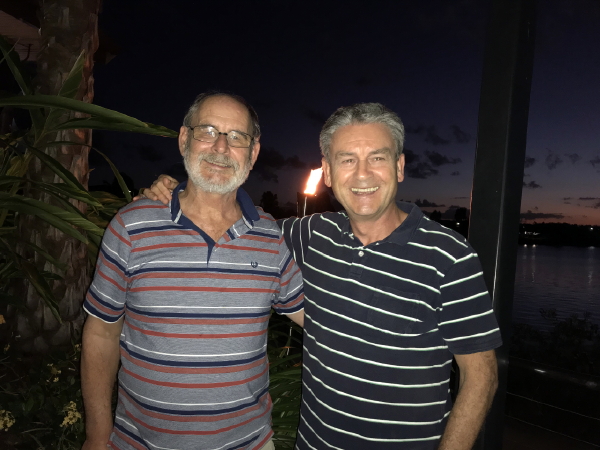 Your humble webmaster with Allan Rankin in Mooloolaba in April 2018
I am grateful to Allan for this update:
"Hi Rob,
I recently had a visit from ex-WOCD Joe Cook and his wife Irene who now live in a little village called Laidley, near Toowoomba in Queensland. Joe had a successful career in the RN as a CD in the sixties and seventies, and eventually joined the RAN as a saturation-diving qualified CPOCD in 1982.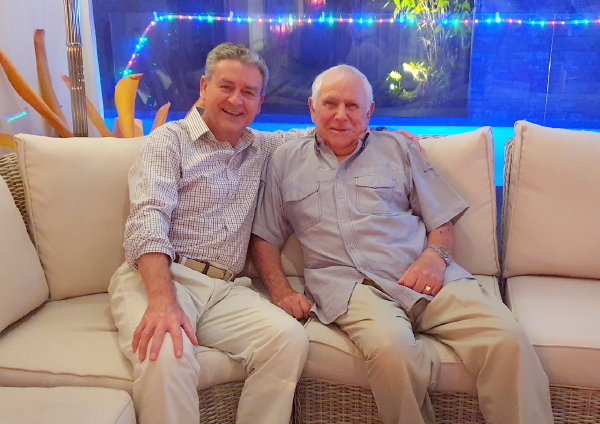 Allan Rankin with Joe Cook in Mooloolaba in June 2021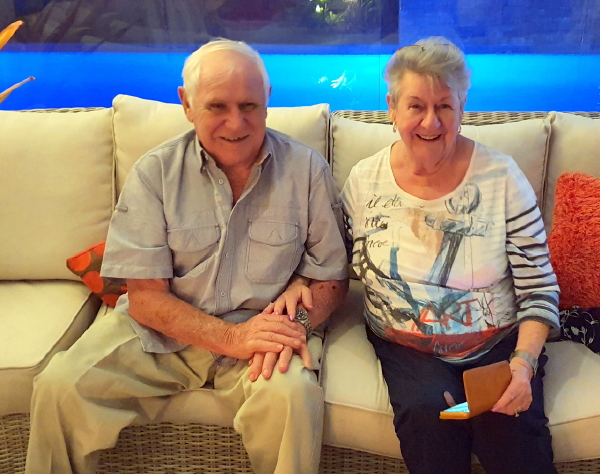 Joe and Irene Cook in Mooloolaba in June 2021
I served with Joe at the RAN Diving Training School at HMAS PENGUIN when on exchange in 1985/86, and we became good friends. He subsequently served in AUSCDT One and was promoted to WOCD before he retired from the RAN in 1996. I believe he turned 80 sometime last year.
While here, Joe mentioned you by name and told me that he follows the RN MCDO Association web page to get news about the RN Diving Branch, although he doesn't use Facebook. I would be grateful if you would consider posting the attached pictures on the MCDO Association page so that some of Joe's old colleagues might remember him.
Thanks and kind regards,
Allan"
---
By Mick Creasey:
"Hi. Joe was my PO when I was an ME1 attached to the FCDT at HMS Vernon. Please pass on my regards to him and his wife."
---
By Mick Fellows MBE DSC BEM*:
"Glad to see Joe looking so well. Although we never served together, he and I are old friends from the early '60s. He left his mark on the RN CD Branch.
---
By John Greenwood:
"Joe was my first coxswain and later PO on the Fleet Clearance Diving Team."
---
By Colin 'Scouse' Kidman QGM:
"Good to see Joe looking well. We qualified CD1 on the same course in 1972."
---
By Trevor Rees Halstead:
"My PO. One of the good guys."
---
By Eric Piper:
"Joe was my boss at Weymouth on the Bincleaves-based Portland Clearance Diving Team; a great guy and mentor.
Please pass on my best wishes to him"
---
By Francis Stanley:
"Joe was my coxswain on the Shoulton. A lovely guy. Please pass on my best regards."
---
By Mo Crang:
"Joe was my coxswain on the Shoulton and taught me loads, Thank you, Joe."
---
17 Jun 21 - Lt Cdr David Bartlett MBE RN Attends Memorial Service
MCDOA member David Bartlett was a Torpedo & Anti-Submarine branch UC3 (Underwater Controller 3rd Class) sonar operator in the submarine HMS Sidon alongside at Portland on 16 June 1955 when the volatile HTP (High Test Peroxide) fuel exploded in one of her torpedoes causing the loss of 13 lives. David was among the injured and spent several months recovering in hospital.
An annual memorial service is held at Portland to commemorate HMS Sidon's sinking and David was one of the three remaining survivors who attended yesterday's event.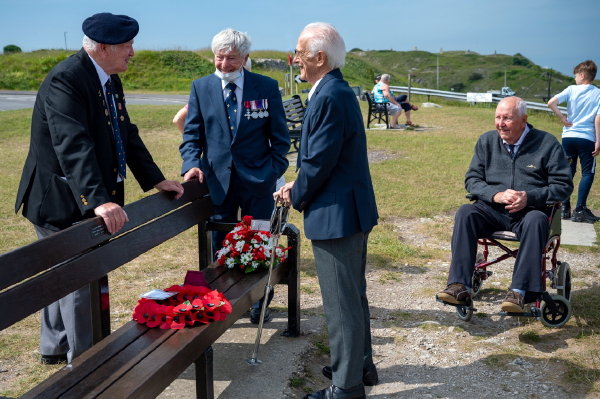 David Bartlett (standing centre) at yesterday's Memorial Service for HMS Sidon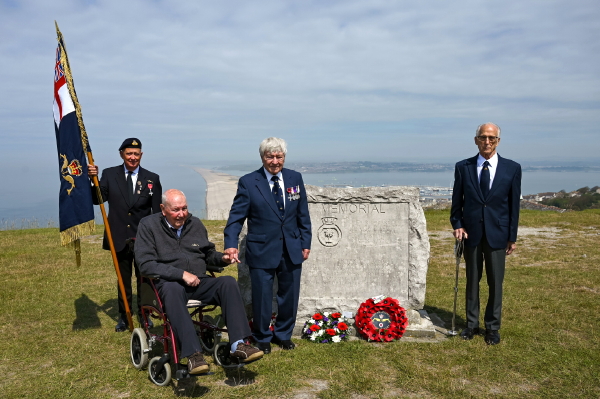 David Bartlett (standing centre) at yesterday's Memorial Service for HMS Sidon
David was commissioned as an officer in 1962 and qualified as a Minewarfare & Clearance Diving Officer at HMS Vernon in 1967.
---
15 Jun 21 - Gentlemen Who Lunch
The boys were back in town today for the first time in over 15 months. The MCDOA's 'Not Quite the Last of the Summer Wine' trio of Barlow ("I served in three battleships and three cruisers, y'know."), Holloway and Hoole enjoyed lunch at the Sussex Brewery in Emsworth. Thank you Cecile, our hostess, for your forbearance.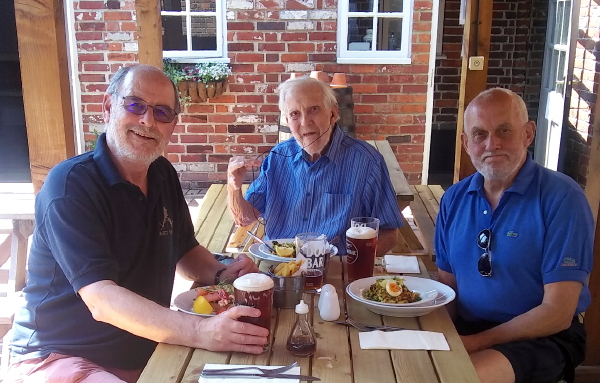 Left to right: Rob Hoole, Doug Barlow and Martyn Holloway at the Sussex Brewery today
---
11 Jun 21 - Queen's Birthday Honours
Hearty congratulations to MCDOA member Al Nekrews QGM, CO of the Fleet Diving Squadron, on his appointment as an OBE in the Queen's Birthday Honours announced tonight. In January 2019, Al became the first Royal Navy trustee of the Felix Fund, the bomb disposal charity. MCDOA member David Hunkin OBE has since become a trustee, too.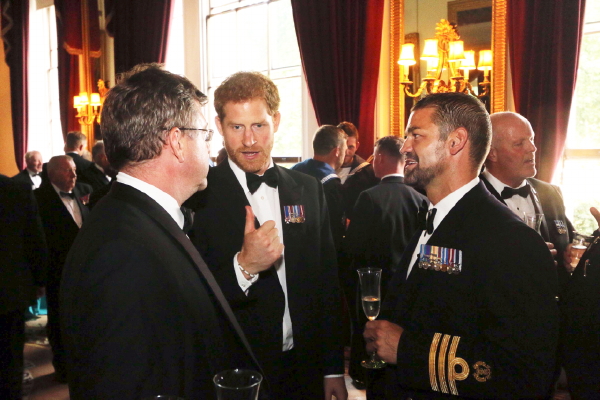 Cdr Al Nekrews QGM RN (right) with Prince Harry and fellow MCDOA member Keith Broughton
at Project Vernon's 'Falklands 35' Fundraising Dinner at Trinity House in London
on 19 July 2017
Congratulations as well to WO1(D) Si Crew of the Fleet Diving Squadron on being awarded the MSM (Meritorious Service Medal).
---
23 May 21 - News from Cdr David 'Topsy' Turner RNZN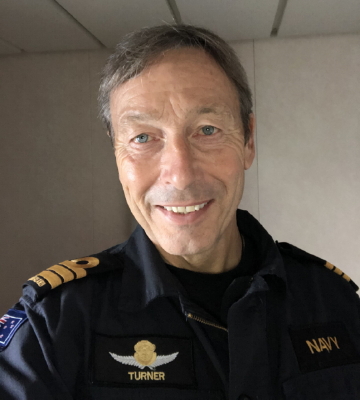 Cdr David 'Topsy' Turner RNZN
MCDOA member David 'Topsy' Turner joined the Royal Navy in 1974 and I was his course officer when he qualified as an MCD officer in 1984. He transferred to the RNZN in 2004 and has since commanded HMNZS Canterbury and HMNZS Philomel, concurrently acting as the Naval Base Commander in Devonport, NZ. I am grateful to him for his latest update:
"Kia ora Rob - I feel like it's been an absolute age since I last sent an update from down under so whilst we have a surface interval I'll string a few bits together.
Yvonne and I returned to NZ in December after almost 3.5 years in Hawaii where I was posted as the first New Zealander (I can say that as a passport holder and All Blacks card carrying Kiwi) to the USINDOPACOM HQ in Honolulu where I also worked in the NZ Consulate as the military advisor to the Consul-General. It was a great posting as you will imagine and we made many, many friends.
On return to NZ I went into a new position as the NZDF Director Diving Operational Readiness - no staff, no money and no job description. Minor setbacks such as those are not enough to deter this warrior of the sea so in no time at all I'd recruited Lt Wesley Moir (an RN-trained MCDO) as my offsider, written my job description and found a pot of money. The next step was to establish the Directorate of Diving (think SofD type organisation) and bingo - we are off to the races! I tried to do this when I first got here in 2004 but there was no appetite.
Now that we have a new diving vessel (HMNZS MANAWANUI) and other capabilities on the way such as a new shallow water rebreather, Littoral Manoeuvre Craft and Autonomous Systems, I've struck gold and am busy putting this establishment together before I move on in August.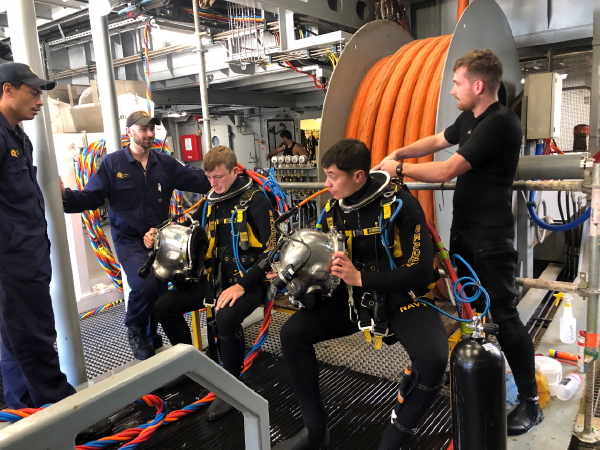 I thought that I'd be asked to hang up my fins at the end of the year when my contract comes to an end but I was in for a nice surprise. In August I start a three-month language training course after which I'm to be promoted to Captain and posted to Seoul in January for three years (option for a 4th) as the Defence Attaché (how cool is that?). That will see me through to almost 68 by the time I have leave and resettlement. Resettlement!!! After 20+ years service I qualify for three months resettlement which I can convert into leave if needs be so I know what I'll be doing!
In the meantime I'm currently at sea for the next two weeks with MANAWANUI observing the release of our subsea search and recovery capability using the SSBA diving system, ROV and recovery crane. This is a first for us and seeing these young fellas after they have dived through the moon pool in a wet bell to 50 metres at night to conduct hydraulic tool and broco training is a joy to behold - I am very jealous.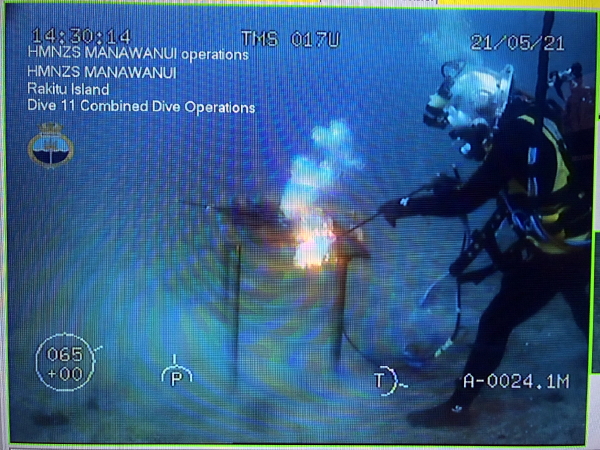 Regards to you all,
Topsy"
I am sure all members of our community will join me in congratulating Topsy on his forthcoming promotion and wishing him and Yvonne all the best for their future.
---
12 May 21 - Latest LS&GC Awards
Congratulations to WO1(D) Kristopher Fenwick QGM (pictured second right) on being gazetted for the award of the 1st clasp to his Long Service & Good Conduct medal, signifying '25 years of undetected crime'.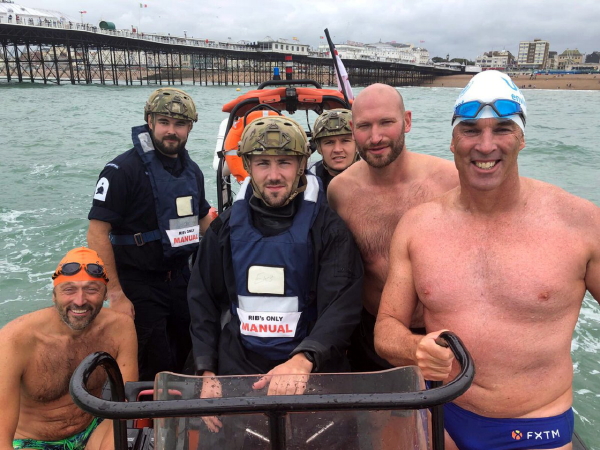 Kris was previously awarded the QGM (Queen's Gallantry Medal) "for his calm and inspiring leadership when disposing of an un-exploded 500lb German Air Dropped SC 250 bomb which was raised to the surface by a dredging vessel, in Portsmouth Harbour on 22nd February 2017."
---
23 Apr 21 - Charlie Wheen assumes Command of HMS Argyll
Congratulations to MCDOA member Charlie Wheen on assuming Command of the Type 23 frigate HMS Argyll today.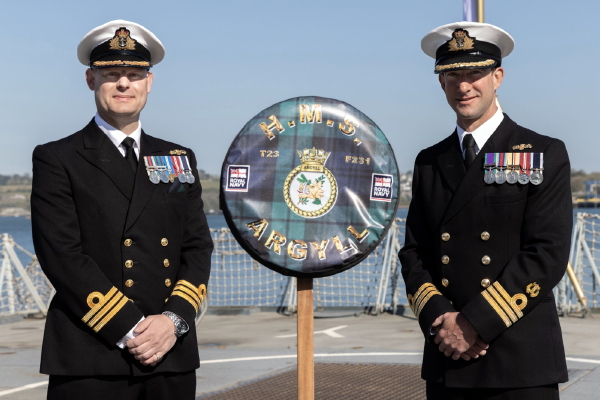 Cdr Charlie Wheen (right) assuming Command of HMS Argyll from Cdr Andy Ainsley (left)
(Royal Navy photo)
Charlie has previously commanded HMS Cattistock and HMS Middleton.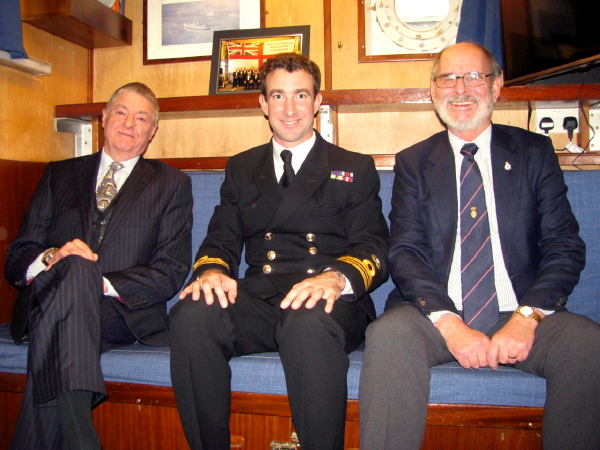 Charlie Wheen as CO of HMS Cattistock in December 2017 flanked by fellow MCDOA members
Pat Gale (first CO of Cattistock) left and Yours Truly (first CO of sister ship Berkeley) right
---
21 Apr 21 - Latest LS&GC Awards
Congratulations to CPO(D) Ward 'Sharkey' Peers on being gazetted for the award of the second clasp to his Naval Long Service & Good Conduct Medal and to PO(D) Peter Birse on being gazetted for the award of the Naval Long Service & Good Conduct Medal. A second clasp to the LS&GC signifies 35 years of 'undetected crime'.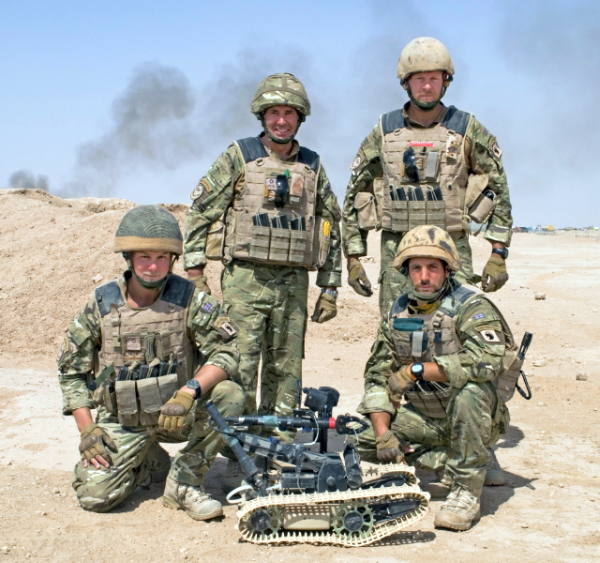 Ward 'Sharkey' Peers (second left) as a PO(D)
in Afghanistan in 2010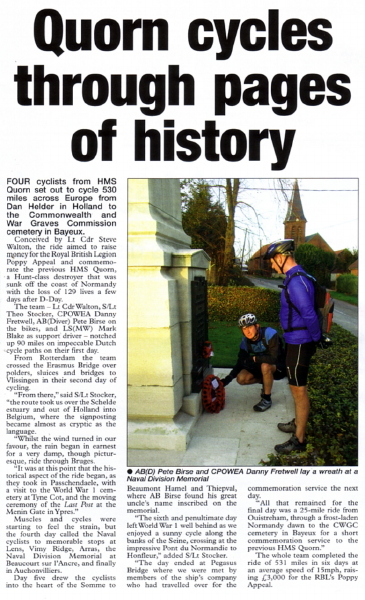 Navy News article featuring Pete Birse as an AB(D)
in HMS QUORN in 2008
---
10 Apr 21 - Death of Cdre Richard Moore RN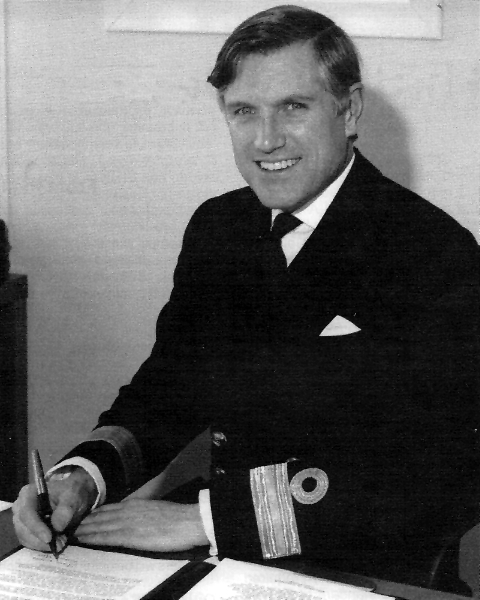 Cdre Richard Moore as COMMW in 1993
MCDOA member Derek Leach has informed me that Richard Moore, his course mate on LMCDO '73, crossed the bar this morning after a long and stoic fight with Parkinson's, a particularly cruel disease. Richard served as the MCDOA's first President from 1992 to 1995.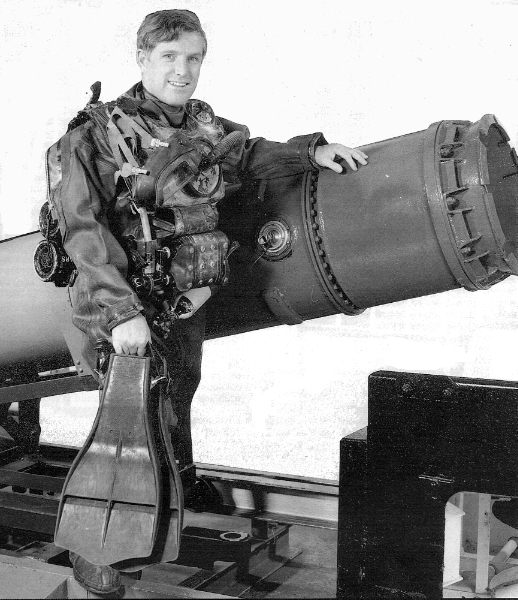 Richard Moore in CDBA with an A Mk 12 ground mine in 1989
Richard originally joined the Royal Navy as an artificer apprentice but was commissioned as a marine engineering officer in 1964. Shortly after graduating from the engineering college at HMS Manadon in 1966, he transferred to the Seaman branch (now Warfare branch) and served in HM Ships Plover (1967), Hermes (1968), Yarmouth (1969/70), Eagle (1971), London (1972), Brinton (1974/75), Amazon (1976/77), Brilliant (1981) and Intrepid (1986/87). He was also the naval minewarfare applicator at AUWE (Admiralty Underwater Weapons Establishment) on Portland (1978/80), our man in MOD DNW (1983), COMSTANAVFORCHAN embarked in HMS Abdiel (1984/85), OIC RN Presentation Team (1988), our man in MOD DOR(Sea) (1992/93) and COMMW (Commodore Minor War Vessels and Minewarfare) before leaving the Royal Navy in 1995. He then worked for Plessey Sonar Systems which later became GEC Marconi and was ultimately taken over by Thales.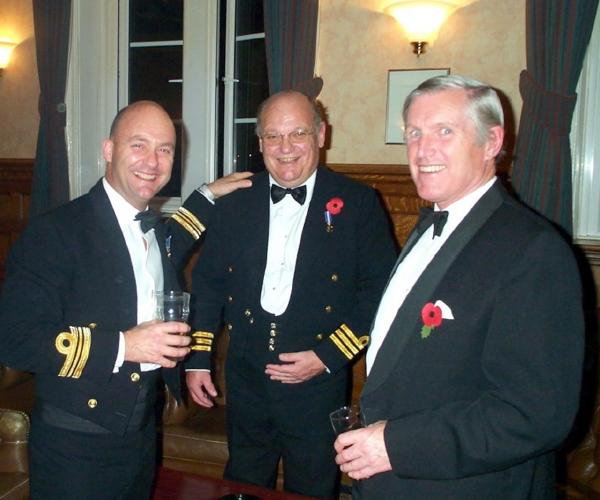 Richard Moore (right) at the MCDOA Annual Dinner in November 2004
In retirement, Richard applied himself to sailing, fishing, maintaining his low golf handicap and restoring cars and furniture. He was also an active supporter of Project Vernon, the campaign to install the mine warfare and diving monument at Gunwharf Quays, the former site of HMS Vernon.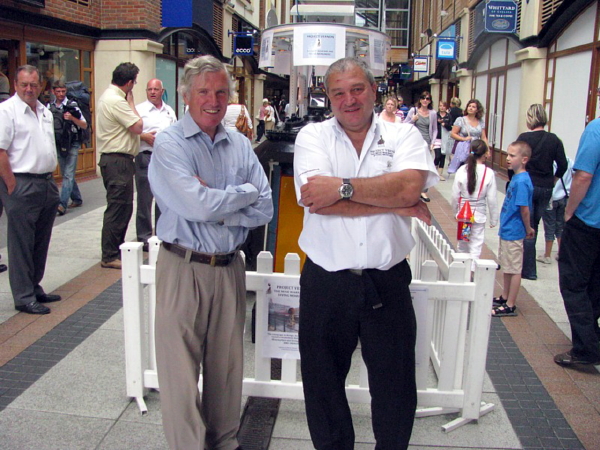 Richard Moore and former CPO(D) Steve 'Peggy' Neil at a Project Vernon promo weekend
at Gunwharf Quays in July 2009
I am sure all members of our community will join me in extending our sincere condolences to Richard's family.
This is starting to look a bit ominous.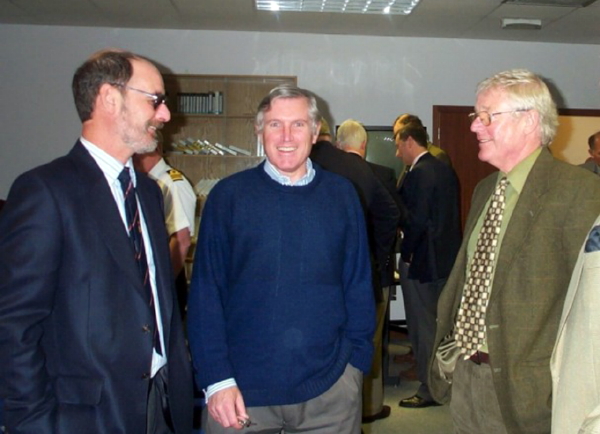 Yours Truly with Richard Moore and Peter Robinson, both deceased
during the past six weeks, at the MCDOA's AGM in 2003
---
From MCDOA member Darroch Woodward:
"Rob,
This is sad news indeed. He was my first Commodore of our branch after I qualified, and having briefed him, hosted him onboard, called in on him at his office, and even taken him for a dive so he could get his minutes, I remember him as a calm and charming gentleman.
May he Rest In Peace. Please pass my best wishes to his family.
Darroch"
---
From MCDOA member Tim Paul MBE:
"Dear Rob,
Really sorry to hear of Richard's passing. We have lost a true professional who did much to cement the standing of the MCD branch within the RN and MOD at a formative time. He will be sadly missed.
Best wishes,
Tim Paul"
---
From MCDOA member Jon Riches:
"Hello Rob,
Again very sad news and another good man gone.
I first met Richard in 1967 when he was serving in HMS Plover at Lochinvar and I was 1st Lt of Bronington. We were 'passing ships' until our paths converged when I relieved him in MOD as the DNW MCD desk officer. He gave me an excellent turn over extended to two weeks due to a stamina sapping series of farewell parties!
Always smart and cheerful which, with his urbane demeanour and undoubted professional expertise, led to thoroughly deserved high rank . I always enjoyed being in his company.
My thoughts are with his wife and family,
Jon"
---
From MCDOA member Andy Stribley (LMCDO '73):
"Dear all,
Very sad news about Richard's passing. He was an extremely calm, focused and professional colleague to have on our diving course but sadly our paths didn't cross again professionally. We only met on a couple of occasions; once in a torrential downpour in West Bay when he happened to be driving past, and at a dinner in Portsmouth.
My memory of him is always triggered best by the photo on the website of the class of '73 out to dinner (in the Il Colosseo I think it was?).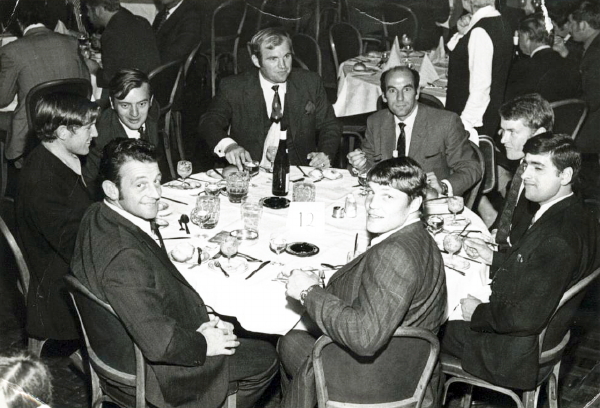 Members of LMCDO '73 out for dinner
Clockwise from top: George Dance, Alan Bayliss, Derek Leach, Mike Kooner MBE,
Steve Epperson USN, CPO(CD) Vic Rashleigh BEM RAN, Richard Moore and Andy Stribley
My deepest condolences to his whole family.
Best wishes,
Andy Stribley"
---
From MCDOA member Alan Bayliss (LMCDO '73):
"Hello Rob and fellow course members.
I am sorry to read Richard has been taken from us. Please pass my condolences to his son via Derek.
I last met up with 'Sir Richard' at an MCDOA Northern Dinner about seven years ago. It was then that I knew he was not in the best of health.
Our paths crossed a couple on service occasions. Richard was COMSTANAVFORCHAN, i.e. the Commander of the NATO mine countermeasures force comprising twelve ships. The UK ship was HMS CATTISTOCK of which I was the 1st Lt. Another time we met up was when he was COMMW and I was on his staff as the Route Survey Officer, Richard came with me on my last dive at the age of 55.
'Sir Richard' was a smart and well respected officer who would always point you in the right direction. I much enjoyed working for him.
Five Bells,
Alan Bayliss"
---
From MCDOA member Mike Kooner MBE (LMCDO '73):
"Dear Rob,
So very sad to hear about the passing of our friend Richard. I have known him since we qualified as MCDOs in 1973. He was an exceptional officer and a trustworthy colleague: a true gentleman. An accomplished golfer and athlete who was the first in our branch to achieve flag rank.
Please pass on my best wishes and condolences to Anne and his wider family.
Best wishes,
Mike"
---
From MCDOA member Dougie MacDonald:
"Hello Rob,
My heartfelt condolences to Richard's family.
Richard was a tower of strength, he was bullied by FOSF and refused to cascade perceived sh.t downwards to the MCM Flotilla because it was not warranted. If I can live up to his values, I'll be proud.
Dougie"
---
From MCDOA member Dan Nicholson:
"Hello Rob,
Many thanks for letting me know about Richard's passing. He shared the honour of coming to the end of his life the same week as another very well known and admired Naval Officer.
Kind regards,
Dan"
---
9 Apr 21 - Death of HRH the Duke of Edinburgh
A sad day for the nation:
"It is with deep sorrow that Her Majesty The Queen announces the death of her beloved husband, His Royal Highness The Prince Philip, Duke of Edinburgh. His Royal Highness passed away peacefully this morning at Windsor Castle.
Further announcements will be made in due course.
The Royal Family join with people around the world in mourning his loss."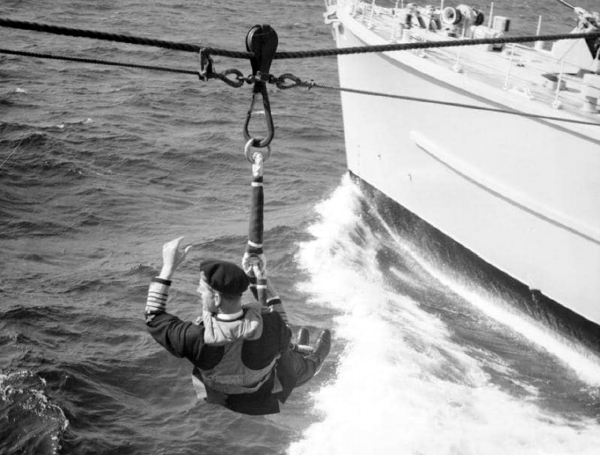 The Duke of Edinburgh undertaking a jackstay transfer from the frigate HMS Eastbourne
to the Ton class minesweeper HMS Walkerton off Malta in 1960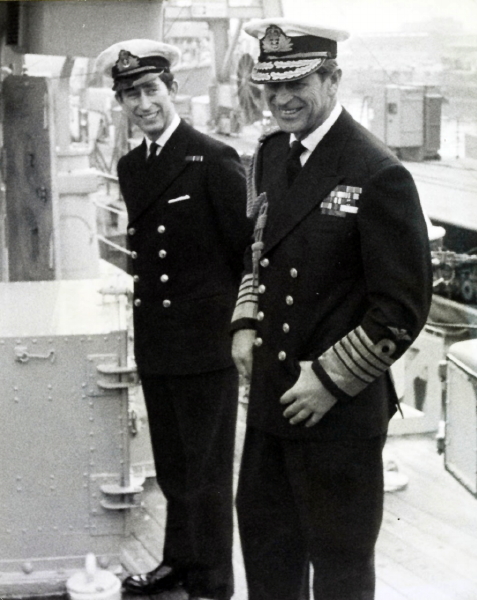 The Duke of Edinburgh visiting the Ton class minehunter HMS Bronington
in 1976 when she was commanded by HRH the Prince of Wales
---