Items from The News, Navy News and Warship World are reproduced by kind permission of David Brown, Jim Allaway and Mike Critchley respectively. Click on the thumbnails to enlarge them.
---
30 Sep 06 - Funeral of the late Lt Cdr George Alan 'Franky' Franklin RN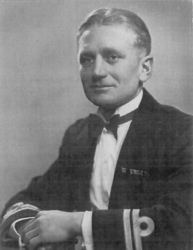 Franky Franklin
1918 - 2006
Fellow MCDOA committee member David Edwards accompanied me to Westbury-on-Trym near Bristol yesterday to attend the funeral of MCDOA member 'Franky' Franklin (see entry for 22 Sep 06). MCDOA members John Grattan and Jack Smith were also present. Franky's casket was draped in the white ensign and I was privileged to lay the MCDOA's floral tribute prominently at the foot of the catafalque.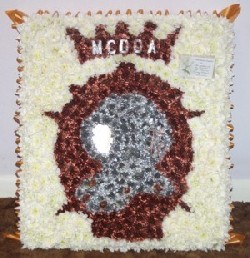 MCDOA Floral Tribute
John Grattan provided a fitting tribute to Franky's naval achievements including the revelation that he was awarded a Mention in Despatches. I have since discovered that this was awarded in June 1944 for his outstanding leadership, skill and devotion to duty on convoy escort duty in the North Atlantic while serving as an Acting Gunner (T) in the modified 'W' Class destroyer HMS Wanderer. John also related how, in 1950, Franky was among the first to qualify as a CDO (with Morty Drummond) and later served as 'I Diving' in HMS Vernon, OIC of the Med Fleet Clearance Diving Team in Malta and as the naval diving equipment applicator at the Admiralty Underwater Weapons Establishment (AUWE) at Portland. On retiring from active naval service, Franky worked for the Hydrographer at Weymouth and Taunton. Franky's son Alan then used humorous verse to describe his father and we learned that his other achievements including his marriage to Pauline (whom he met at Portland while she was serving in the WRNS) and his services as a parish councillor, school governor, scout leader and chairman of his residents' association. The Naval Hymn and Cwm Rhondda (Guide Me O Thou Great Redeemer) were sung with gusto (particularly the Bread of Heaven chorus). Reflecting Franky's tremendous sense of fun, we left the service to the sound of Eric Idle singing 'Always Look on the Bright Side of Life'. We then attended a reception in the spacious Georgian house where Pauline, Alan and Alan's sister Linda have separate apartments.
A week before he died in the Bristol Royal Infirmary, Franky had been on a family holiday in Majorca where he swam every day. Many of us will miss him but I am sure he is now happily advising that great Diving Supervisor in the sky.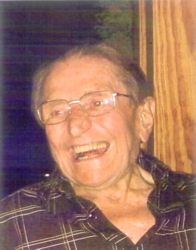 Franky in Majorca Sep 2006
---
I have since received this kind message from Franky's son Alan:
"Dear Rob,

Thank you for all your support, advice and understanding regarding the death of my father and subsequent funeral. I hope it does not seem strange if I say that I felt the funeral was a success in that it represented all aspects of my father's life and also, I hope, reflected the humorous side of his personality.

Thank you again from Pauline, Linda and me.

All the best. Keep up the important and good work.

Alan"
---
29 Sep 06 - SANDOWN leaves Portsmouth for Rosyth
The following item from today's Portsmouth News describes the departure from Portsmouth of the decommissioned minehunter Sandown. She is being towed to Rosyth where she will be prepared for handover to the Estonian Navy.

---
28 Sep 06 - Diving Heritage Spotters' Question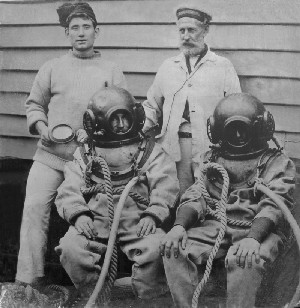 Can anyone help Mark Lavington with his query regarding the above photo of two naval divers in early standard diving dress? I think the RH attendant bears an uncanny resemblance to Keith Riches but I could be wrong ;-).
"Dear Lt Cdr Hoole,

I wonder if you can help me. I was recently given a photo (attached) for our diving club by Sandy Bange who is an ex-RAF diver. He cannot remember how he came by the photo which is mounted on a 3 feet square wooden board and is in rather a sad state. The attached copy has been repaired using Photshop.

I think the photo is great and would love to identify when and where it is likely to have been taken. Also, who are the four men in the photo? The sailor's cap tally clearly reads HMS Vernon.

I would be grateful for any information.

Kind regards,

Mark Lavington

Appledore Sub Aqua Club SAA 035

c/o 10 Riversmeet, Appledore, Devon, EX39 1RE"
---
From Dr John Bevan (Chairman, Historical Diving Society):
"Rob,

I can offer a couple of pointers. The stamped corselets (rather than badged) means they are pre-1902. The "speaking tube" attachments means they are post-1885 and Royal Navy. The way the chap on the right is dressed suggests he at least is a trainee.

So was this at HMS Excellent? The absence of sharp shadows suggest the day was overcast, probably a Tuesday, at around 1530 hours, facing south.

The uniforms mean they are Royal Navy but can you work out what vintage from the uniform? When did white hats go out and blue ones come in?

Best wishes,

John"
---
From George Wookey in Australia:
"Rob,

I cannot recognise any of these four men and am of the opinion they were around well before World War II. I joined the RN in Feb 1939 and qualified Diver 2 in Aug 1944 at the Gunnery School, HMS Drake, Devonport.

The equipment shown in your photograph is, I believe, pre-WWII as the corselet is the 12-bolt type. Later models were 6-bolt.

Good luck with your investigation.

Yours aye,

George Wookey"
---
From former CPO(CD1) Michael 'Shiner' Brassington:
"Back left: Shiner (the good looking one).

Back right: Albert [Chapman].

Front left: Nose belongs to Gabby [Haines].

Front right: Mona [Lott] blacked out to cut links [with a hammer and chisel].

Shiner"
---
From former FCPO(D) Dave 'Mona' Lott in Australia:
"As it is a 12-bolt helmet with ropes instead of telephone lines, it is definitely pre-ME! I think that it actually pre-dates an "Aristotle" Shiner [Brassington] as well (if that's possible!).

It has to come from the era of a wooden-walled Vernon, so they might have qualified at Whale Island. The photo of the future Diving training tank in use at Whaley (Davis, Deep Diving and Submarine Operations page 5) shows the 12-bolt helmet in use at the time.

Mona"
---
From Cdr Alastair Wilson RN (Naval historian and author):
"Dear Rob,

The photo is pre-1900, probably pre-1895. I have a feeling that I've seen it somewhere before.

I think the RH attendant is an Armourer, of Petty Officer's rate. In those days, both 1st and 2nd class Petty Officers wore the sailor's round hat. He certainly looks to be in his mid-late 30s (in age). Looking at the Uniform Regs for 1887 suggests that the date is after that, because the RH attendant's uniform seems to be a cross between what was laid down for POs and that for Tiffs. But I suspect that then, as later, Divers were a law unto themselves when out on a job!

Yours,

Alastair"
[By Webmaster: We seem to have bracketed the probable date between 1887 and 1895 and the probable location as the Diving School at HMS Excellent.]
---
From Harry Parker:
"Deep mystery here; the younger attendant appears to have a webbed foot.

Before my time.

Harry"
---
From John Grattan:
"Dear Rob,

I am pretty certain that the mystery photo was on the wall in the corridor outside Bill Shelford's office when he was Managing Director of Siebe Gorman at Teddington. As you know, he was the first S of D and, when he left the Andrew, he jumped straight into that job. I remember asking Bill whether it was a staged photo and he said it was an original and in the office because all the gear was early Siebe equipment sometime at the end of the previous century. i.e. in the 1890s. How it got from there to a Scubee branch I have no idea: probably snaffled by someone when Teddington closed down. My Team and I were in Teddington (the divers from HMS Dingley) whilst the ship was in a maintenance period in the autumn of 1959. That is a long time ago and I wish I could prove it exactly.

We did the CDBA "pepper-pot" relief valve trial and a lot of fun it was too. Teddington had the only 'wet' recompression chamber and we had to work our guts out to try to beat the valve. George Roby, one of the early and great divers but killed by a crane in Mombasa, won the competition we had set up by lifting 33 hundred-weight through a foot every minute for 13 minutes at 180 foot pressure - that is a hell of a lot of effort I think you would agree.

Bungy Williams was the No 2 boffin working under Bill Filer [John Carr was S of D] and was in overall command of the trial. He got too cheeky one day, taking the mickey out of 'de boys', and got his come-uppance (see photo below). Vic Humphrey and I did the dirty deed with Len Graham looking on. Len and I were on the '58 course together and he went straight to Dingley as No 1 [First Lieutenant]. I took over from Johnny Futcher after the ECDU.

Bungy Williams getting his come-uppance

Whilst doing photos, here are two more. The first is Captain [later Admiral] Morgan-Giles speaking at the 1959 Divers' Dinner with Bill Shelford on his right and John Carr on his left. The second is Stuart Honour, 'Sarge' Sarginson only a few weeks after having his arm blown off by a mine cover-plate at Birling Gap, George Wookey and myself at the same dinner. Stuart and I picked up Sarge and Joe Brooks for the dinner and our passengers had 2 legs and 3 arms between them! [By Webmaster: Joe Brooks was awarded the DSC for the X-24 midget submarine attack on the German supply ship Barenfels in Bergen harbour in April 1944. He later lost his legs in an accident involving an explosive charge under his diving boat.]

1959 Divers' Dinner

Left: Captain (later Rear Admiral Sir Charles) Morgan-Giles flanked by Bill Shelford and John Carr.

Right: (l to r) John Grattan, George Wookey, 'Sarge' Sarginson and Stuart 'Jazz' Honour.

Enough - I hope this is of some interest.

Yours,

John"
---
From Mark Lavington (who posed the original question):
"Hello Rob,

Have just read the comments on the `Latest News' page. Thank you for publishing the photo. The information regarding the Siebe Gorman office is interesting. I have had the photo printed onto a canvas stretched on a 60cm x 60cm wooden frame, so it lives on in my hallway.

I'll keep an eye on your site with interest to see if there is any more information posted.

Thanks again,

Mark"
---
25 Sep 06 - MW Branch Reunion
BZ to Taff Reader for organising yet another splendid Minewarfare Branch Reunion in the WOs and SRs' Mess at HMS Collingwood on Friday night. There was a respectable attendance and Pete Mills emceed in fine style. Peter Whitehead hijacked the calling of the ever popular raffle (even I won a prize!) that had been organised by Larry Lamph, Basher Briggs and Bunny Warren. This raised over £500 which will be used to subsidise next year's event, establish a website and help with the possible future formation of a Royal Navy Minewarfare Association.
MCDOA members present included John Murphie, Tom Russell, George Turnbull, Clive Smith, Tony Griffiths, Neil Holden and Yours Truly. Sorry about the quality of the pictures shown below but the lighting was not conducive to photography.
Left: Dodger Long, Ed Smith, Dick Barton, Nigel Sizer and Rob Hoole
Right: John Murphie, Clive Smith and Tom Russell with their ladies
Reunion attendees sit for dinner
---
22 Sep 06 - Lt Cdr G A 'Franky' Franklin RN
I regret to report that MCDOA member Franky Franklin succumbed to cancer last Tuesday (19 Sep). He was 88.
'Uncle Bill' Filer informs me that Franky and Morty Drummond were the first to qualify as CDOs after the RN CD Branch was formed in Feb 1952. Among his other attributes, Franky helped dress and tend Lionel 'Buster' Crabb for his ill-fated dive under the Soviet cruiser Ordzhonikidze during her visit to Portsmouth in Apr 1956. He also ran the Med Fleet CD Team at Malta during the late 1950s and served as 'I Diving' (old title of DTO) in HMS Vernon.
I have spoken with Franky's wife Pauline who tells me that a memorial service will be held at 1330 on Friday 29 Sep at Canford Crematorium Chapel, Canford Lane, Westbury-on-Trym, Bristol B59 3PQ. I will provide a floral tribute on behalf of the MCDOA but Pauline asks that others make donations in Franky's memory to the cancer charity of their choice. I can provide her contact details to anyone who would like to write or telephone personally.
Until fairly recently, Franky was a regular attendee of Association events and I am sure all join me in extending our deepest sympathy to his wife Pauline, their son Alan, daughter Linda, and their respective families. I will append tributes and memories below in the usual manner.
---
From Julian Malec OBE:
"Dear Rob,

Thank you for this sad news. I liked Franky enormously. He was always kind and generous to more junior members of the Branch, and took care to make sure that we were included. I thought the world of him, not least because, as we stood eye to eye, we could talk easily to one another. At an MCD Dinner in Dolphin he told me that he was Crabbie's dresser on that grim day in April 1956 when Lionel was killed. After he had reported that Lionel had not returned (I think he told the Captain of Vernon but probably he told the Cdr first), he was directed to go on leave and not leave a forwarding address. That he did, and so stayed out of the limelight as the story was embellished.

I spoke to him on the phone last Spring and he told me how fit he was, going swimming a couple of times a week. Now he is dead and we are the poorer for his passing.

Please pass my sad condolences to Pauline. Although we only spoke twice in the last 10 years, I will miss knowing he was there at the end of the phone.

Yours,

Julian"
---
From John Grattan:
"Dear Rob,

Behind his wonderful smile and gentle nature Franky hid a hard but fair man who did nothing but credit to himself, his family and the Branch. His passing is a great loss but those of us who knew him are richer for the fun and memories he has left us. He also served as a Retired Officer in 'Droggies' office at Taunton and was of tremendous help to me with his introductions, historical research and knowledge of historical charts. Like the divers many 'Droggies' will also be missing him and saddened by his passing on.

I have a memory that he relieved Pip Piper as C.O. of the Med Team in '58 but cannot be sure. Sadly I lost touch but would much appreciate Pauline's telephone number. I will certainly attend Franky's Memorial Service next Friday.

Thank you, yet again, for keeping us all in touch, however sad the news may be on occasions.

Yours,

John"
[By Webmaster: I have passed Pauline's telephone number to John.]
---
From former CPO(CD1) Michael 'Shiner' Brassington:
"Dear Rob,

This is sad news. We were in contact recently, reminiscing. He had dropped me in it by using my launch [for the dive under the Soviet cruiser Ordzhonikidze] when I was duty watch on board the Deepwater. I never knew at the time why I didn't get defaulters.

I would like to send my own letter to Mrs Franklin if I may.

Shiner"
[By Webmaster: I have passed Pauline's address to Shiner.]
---
From Alan Padwick:
"Dear Rob,

I am sorry to hear about Franky. Sadly I am very much in mourning myself as my "little sister" (13 years younger than me) is in her last hours after a long four year fight against cancer. My deepest sympathies to anyone who has to cope with the dreadful disease, whether their own or their loved ones.

Alan"
---
From former FCPO(D) Dave 'Mona' Lott in Australia:
"Rob,

I thank you for the information re my old boss (GAFfer.) The news was, of course, received with a great deal of inevitable sadness. The Gaffer was my boss in the MFCDT in the late 50's, a magnificent experience all round for a young CD. Your announcement sent my mind racing back to those glorious days. Very fortunately (for me anyway), I had been in contact with him recently after these many years. I'm not so sure that Franky saw it that way... Our first telephone conversation went something like this:

"G'day, Sir. Dave Lott here."

"Who?"

"Dave Lott. Mona."

"Not the Mona?"

"Yes, Sir."

"Good grief! I thought you were safely tucked away in Australia!"

"I am, Sir."

"Thank God for that," said he. We both laughed profusely...

I am only in contact with one other remaining member of the MFCD team from those great days, Les Maynard, and will pass on your sad news to him.

Yes, the Gaffer will be sadly missed but very definitely not forgotten. Please pass on the sincere condolences of the small band of the Oz group ex-CDs to Pauline and family.

Dave (Mona) Lott"
[By Webmaster: Mona has since been in touch with Les Maynard, also living in Australia, and has asked me to pass on Les's sincere condolences to Pauline. He also wishes to be remembered to us all.]
---
From George Wookey in Australia:
"Thank you for your e-mail - very sad to hear of the passing of Franky with whom I served in Portsmouth and well remember Buster Crabb's attempt to examine the Ordzhonikidze. I later served with Franky in Malta, a very happy period. I would appreciate Pauline's contact details as convenient to enable me to write to her.

Yours aye,

George"
[By Webmaster: I have passed Pauline's address to George.]
---
From Mike Gillam:
"Rob,

Franky was a great guide, mentor and friend to me during my early days in the Branch; I shall always be grateful to him.

Please send me Pauline's address. It is likely that family duty will prevent me from attending the memorial service.

Mike"
[By Webmaster: I have passed Pauline's address to Mike.]
---
From Morty Drummond:
"Dear Rob,

Sally and I were so sorry to hear about Franky. He was totally a part of life at Vernon until he moved West. We both liked him so much. He was always cheerful and amusing.

I first met him when I was doing my CDO course. I started on my own at HMS Lochinvar in May 1950, being taught by Gordon Gutteridge and John Crawford. After about a month Franky came and joined the course, which made it much more fun. He always used to joke that I bullied him, because I had already got my half stripe and he had not yet got his!

I imagine the appointments people would be able to give more details of his different jobs. He will be greatly missed.

Yours,

Morty"
---
From Harry Parker:
"Rob,

Thanks for the sad news about our old friend Franky. Please let me have Pauline's address. You do a great job.

Best wishes,

Harry"
[By Webmaster: I have passed Pauline's address to Harry.]
---
13 Sep 06
Thanksgiving Service for Captain Paul Canter CBE FNI Royal Navy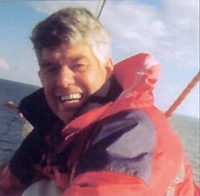 Paul Canter
1943 - 2006
Today, your humble webmaster made the sorrowful trip to St Peter's Church, High Cross at Froxfield near Petersfield to attend a Thanksgiving Service for the life of Captain Paul Canter RN who died suddenly after attending divine service in the same church a week ago last Sunday. He was 62.
Paul Canter was not an MCDO but many of our Branch will have encountered him because he was one of those special people who seem to crop up wherever you go. He joined the Royal Navy in 1962 and was a little 'd' before qualifying on the last Long 'G' Course. During his naval career, he commanded the Ton Class minehunter HMS Gavinton and the Type 21 frigate HMS Active as Captain of the Fourth Frigate Squadron (Captain F4). He later served as Commodore Amphibious Warfare and as the Director of the Maritime Tactical School. Before his untimely death, he was the Honorary Secretary (and past Chairman) of the Nautical Institute's Solent Branch of which I am the current Vice Chairman. He was also a Younger Brother of Trinity House, a member of the Anchorites and was actively involved in organising Tall Ships and other maritime events including the International Festival of the Sea and the International Fleet Review. He was a keen sailor, skier, tennis player, cricketer, choral singer and church-goer and was an energetic organiser of activities in his village as well as a devoted family man. From my point of view, he was the epitome of a naval officer and a perfect gentleman.
The church was packed to the gunwales for the Thanksgiving Service and the first reading was given by Admiral Sir John Brigstocke. The First Sea Lord, Admiral Sir Jonathon Band for whom Paul had acted as Best Man, then described his brilliant leadership qualities, his deep interest in people and the significant contribution he made to the Royal Navy and to the maritime world in general. Many other familiar high-ranking figures were present and MCDOA members included Jon Riches, John Arrow and Doug Barlow.
I am sure all MCDOA members will join me in extending our condolences to Paul's widow Christina (whom he met in Falmouth during a visit by HMS Blake) and to their daughters Melissa, Rose and Laura.
---
New Personal Updates
The Members Only area contains updates from Clive 'The Dive' Rogerson somewhere in the Mediterranean and David 'Spidey' Ince, currently back in the UK between his exchange job with the USN and his transfer to the RAN.
---
9 Sep 06 - Yesterday's Operational Honours and Awards
The following item from today's Portsmouth News describes the circumstances of yesterday's award of the QGM to MCDOA member Jason White and LS(D) Nobby Hall for their services while serving in SDU2.
---
8 Sep 06 - Today's Operational Honours and Awards
Warm congratulations to MCDOA member Paddy McAlpine on being appointed as an OBE for his services in Iraq. Further congratulations to MCDOA member Jason White and LS(D) Gary 'Nobby' Hall on being awarded the QGM for their attempts to find survivors inside the capsized Belgian trawler Noordster off Beachy Head while serving in Southern Diving Unit Two (SDU2) in December last year. The full list of honours and awards is available via this link.
The following item from today's Portsmouth News describes the circumstances of Paddy's award.

---
2 Sep 06 - Annual MW Branch Reunion
This year's MW Branch Reunion will be held in the palatial surroundings of the WOs & SRs' Mess, HMS Collingwood 1900 - 0100 on Saturday 23 September. It is open to all Minewarfare qualified Officers, Warrant Officers and Senior Rates. Price £19 per head. Standard routine involves a welcoming drink, a sit-down two-course meal with wine, a cash bar, a disco (with the volume at a reasonable level) and a raffle. Booking details are now available on the 'Upcoming Events' page in the Members Only area.
---
1 Sep 06 - Navy News Items
The following MCD-related items from the September issue of Navy News include:
---
27 Aug 06 - New Navy List and Fleet Bridge Card
Links to the 2006 edition of the Navy List and the Jul/Aug 06 issue of the Fleet Bridge Card are now available in the Royal Navy section of the Web Links page.
---
23 Aug 06 - Martyn Holloway and Dan Nicholson all at sea
From Martyn Holloway:
"Rob,

Officer Nicholson, having recently retired from teaching lifeboat coxswains how to drive their lifeboats, persuaded me to go for my RYA Yachtmaster Offshore ticket (he being an examiner in these matters). This would need lots of practice in borrowed yachts while we delivered and recovered them for those who did not fancy the channel crossing (I wonder why not?).

Anyway all was well until the wind got up and we started surfing down the waves (Pic 1).

At this point Officer Nicholson sent me below to fix and do all that complicated course to steer stuff; yes I did feel unwell but held onto my lunch. Pics 2 & 3 were taken in the calmer waters of the Rade du Brest.

Where we made the duty Frenchman on Operation PIKE dip his ensign (Pic 4).

Me, Dan, Dan's wife Chris, and JD - a friend of the Nics (Pic 5).

We ended up doing L'Abervrach to Fowey on one tack in 17 hours."
---
15 Aug 06 - Diving Heritage - Old Style SABA (Swimmer's Air Breathing Apparatus)
Members who share fond memories of using the old style SABA air set in the 1960s and 1970s may appreciate this picture from an advertisement that appeared in the Summer 1966 issue of the RN Diving magazine.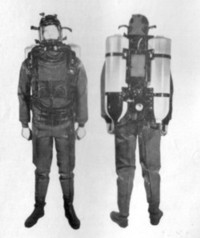 Old Style SABA
This anonymous article appeared elsewhere in the same issue:
"A great many of the CDs I have met have complained to me that the SABA set is an unnecessary, heavy and complicated piece of equipment and, on first seeing and using it, one is inclined to agree with them. Why then has the Admiralty seen fit to design and develop such an expensive set when there are quite a number on the market which would apparently do the same job just as well?

I think the answer lies basically in the fact that they are looking at the problem from the point of view of the professional who feels quite at home in the water in any type of equipment, whereas the SABA was designed for use by the amateurs, i.e. Ships' Divers who are, strictly speaking, only part-timers.

The requirements are for a compressed air set which is easy to breathe from (high morale value, little diver fatigue), naturally buoyant, with an endurance which is adequate for ship's bottom searching and, of course, the set must be safe and sailor-proof when in use. These conditions are admirably filled by the SABA. The diver has practically nothing to do with regard to operating the set apart from equalising when he runs out of air. He can't make a mess of that as there is only one valve within reach. That one is already closed so the only thing he can do is open it.

Breathing is no problem at all as the diver is breathing away to exhaust from a very sensitive demand valve, via efficient non-return valves so that there is no chance of CO2 poisoning. With the type of reducer in use at present there is little or no chance of air starvation except at exceptional depths from which the endurance limitations of the set would naturally exclude the average Ships' Diver."
Plus ça change!
N.B. Click on the image above for a much more interesting view of the set.
---
14 Aug 06 - HMS Hurworth departs Portsmouth for Mediterranean
The following item from today's Portsmouth News describes the departure of HMS Hurworth from Portsmouth for a four month deployment to the Mediterranean.

---
13 Aug 06 - Radio interview with Lt George Wookey RN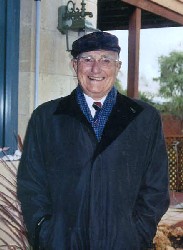 George Wookey in June 2005
Troy Tempest, Secretary of the Association of RN First Class Divers, has supplied the photo above plus this link to a recent Australian Broadcasting Company (Perth) radio interview with 600 ft world deep diving record breaker George Wookey (see item for 6 Aug). Ignore the interviewer's introductory reference to George joining the Royal Navy about a year before World War One; he obviously meant to say World War Two. In the interview, which lasts around 11 minutes, George tells the remarkable story of his dive and other experiences including his eventful passage to Australia in an MFV. It is good to hear that the Norwegians have invited George and his wife Patrice to Bergen in October to celebrate the 50th anniversary of his historic feat. [Late news: Morty Drummond, CO of HMS Reclaim and senior diver present at the time of the record-breaking dive, has been invited to Bergen too.]
One of the most comprehensive accounts of George's dive is available via this link although the original accompanying photos seem to have disappeared.
---
12 Aug 06
Death of Lt Cdr David Arthur Lambert RAN (formerly RN)
It has been reported that ex-CDO Lt Cdr David Lambert RAN died on 10 August. He transferred from the RN in the mid-1960s and was once the CO of the RAN Diving School at HMAS Rushcutter. I would be grateful for any further information about him.
---
From Jake Linton in Australia:
"Hi Rob,

More CDOs passing on, sad to say; this time Dave Lambert. Dave was an RN submariner in the early 1950s out here on exchange with the submarine squadron on one of the T Boats. He went back to the UK and qualified CDO then came out to Australia again on exchange as the OIC of the Underwater Research and Development Unit at HMAS RUSHCUTTER and the Diving School. He eventually joined the RAN and his last posting was in the RANR at HMAS LEEUWIN.

My understanding is that he passed away on 10 August and the funeral will be on 14 August at St Mary's Catholic Church, Denmark, Western Australia at 1:30 pm followed by interment in Denmark, WA.

Hope you're all well and sorry to hear about your travel difficulties in the UK.

Cheers,

Jake"
---
From Morty Drummond:
"Dear Rob,

Thank you for your e-mail about David Lambert. We were in HMAS Rushcutter together. I will write to Shirley.

All the best,

Morty"
---
From John Grattan [suitably abridged]:
"Dear Rob,

Here is my favourite dit about Dave; written as it was and I hope you do not have to censor out too much.

The scene starts in mid 1966 when Dave Lambert was First Lieutenant of HMS Victorious with Dennis Selwood as the Diving Officer. The ship visited Malta and the pair of them turned up at the diving centre at Manoel Island for a midday gargle. A young Surgeon Lieutenant [Nick H] from HMS St Angelo practically lived with the CD Team as he fancied himself as a dab hand in the water and very much as one of the boys. No one really minded as he was a good lad and we could put up with him overstaying his welcome on occasions.

Dave asked Marjorie and me to the usual cocktail party whilst Nick was in my office but we had a previous engagement. Nick, typically, jumped in and said he and Elaine would go instead! Dave and I just looked amazed but he agreed. I gathered later that Dave took a shine to Elaine and, about an hour after they had got back home, he turned up with four small Maltese boys as if on safari. One had a case of Marsavin on his head, the next four baguettes, the next olive oil and the last had a box of other goodies.

Well after midnight that night, the 'phone went....

| | |
| --- | --- |
| Nick H. | "You go me into this f****ing mess - get me out of it. It's a f****ing shambles here and it's all your bloody fault." |
| J.G. | "What the hell are you talking about?" |
| N. | "It's that f***ing idiot Lambert. He's on his hands and knees - trying to kiss the tender parts of Elaine's thighs!" |
| J. | "Is she enjoying it?" |
| N. | "What a f***ing stupid question. You f***ing divers: you're all bloody mad and are all the f***ing same. I should never have got to know you etc, etc....." |
| J. | "O.K. then - you sort out Dave." |
| N. | "I can't - he's too bloody big - you stupid b*****d." (Nick also knew that Dave had been the heavyweight champion of the Royal Navy for a number of years.) |
| J. | "If you want my help don't be so bloody rude." |
| N. | "I am sorry - just pleeeeeeeeeeeeeeeeeease, pleeeeeeeeeeeeeeeeease help." |

I drove round to their flat and Nick was half right. Dave was so inebriated he was incapable of any serious shenanigans even if he'd tried! Elaine had a Mona Lisa type smile on her face whilst Nick was hopping about like a chicken that had lost its head. Like all gentle giants, Dave came home quietly. I turned him in and took him down to Customs House steps in the morning. He never got on Nick's Christmas card list.

Dave Lambert was one of nature's great characters; the world is poorer for his passing.

Yours,

John"
---
From George Wookey in Australia:
"Hi Rob,

Thank you for your e-mail. Yes, we were aware of Dave Lambert's death. He had been very sick for quite a long time. Patrice and I attended the funeral in Denmark [Western Australia], which was well attended by friends and family, after which he was buried in the Denmark Cemetery - a sad farewell.

We do not know Shirley's new address, but mail sent C/O the Denmark Post Office would reach her.

Yours aye,

George"
---
From Alastair Cuthbert in Borneo:
"Hallo Rob,

Sad to hear from you and the RN network that David Lambert joined the numbers of Divers Down. We are holidaying in darkest Borneo where the Internet has not yet penetrated the jungle and heard this news on arrival in Sandakan a couple of days ago. Have been in touch with David and Shirley all along and will be contacting Shirley when we arrive home on 4 September.

Thanks for keeping us up with the latest news.

Regards,

Alastair"
---
HMS Hurworth to deploy to Mediterranean
The following item from today's Portsmouth News describes the busy deployment programme for HMS Hurworth, due to sail Portsmouth at 0800 on Monday for four months in the Mediterranean.

---
10 Aug 06 - The Historical Diving Society Conference and Dinner 21 October 2006
The Historical Diving Society (HDS) was founded in 1990 and is now a thriving organisation with sister bodies throughout the world. You may well have seen its fascinating journal, the Historical Diving Times published thrice-yearly, or watched its members demonstrating a variety of vintage diving equipment at events like Navy Days or the International Festival of the Sea. The President is Surgeon Vice Admiral Sir John 'Doc' Rawlins KBE, FRCP, FRAeS, a pioneer of RN diving medicine and honorary member of the Association of RN First Class Divers (AORNFCD). The Chairman is Dr John Bevan, former RNPL scientist and deep-diving record breaker at the Royal Naval Diving Trials Unit (DTU). The HDS has much to offer the naval diver although anyone with an interest in diving can join. Individual membership costs £30 per year and details are available on the HDS website.
John Bevan has assured me that non-members of the HDS can attend its Conference and Dinner to be held this year in London on Saturday 21 October. The conference (£20 per attendee) will take place in the modern lecture theatre of the Museum of Docklands housed in one of Britain's oldest surviving warehouses. The following speakers will give presentations on different aspects of diving history:
Richard Larn will cover the history of Royal Navy diving and diving equipment in a talk entitled 'One Size Fits All'. He first dived in 1947 with a Draeger closed set purchased from Exchange & Mart for the princely sum of ten shillings (50p). He was a Second Officer in the Merchant Navy followed by 22 years in the Royal Navy which he left as a Chief Petty Officer Mechanician Diver. As well as being founder and managing director of Prodive Ltd, the commercial diver training centre in Falmouth Docks which trained 1,000 commercial divers, Richard has dived all over the world, worked on dozens of historical wreck sites, including the Mary Rose, and is an acknowledged authority on UK shipwrecks (see www.shipwrecks.uk.com). He is the author of some 42 books and hundreds of articles on shipwrecks and the sea including the monumental Shipwreck Index of the British Isles. From 1976 to 2000 he was the founder and joint-curator (with his wife) of the Charlestown Shipwreck & Heritage Centre near St Austell and was responsible for locating and salvaging the wreck of the Association off the Isles of Scilly. He has now been diving on shipwrecks for an incredible 59 years and is still active, being the current licensee of the Bartholomew Ledge wreck site on the Isles of Scilly where he and his wife Bridget live. This is the oldest known wreck site in the islands (c.1555) and, in 2004, it was the subject of a joint survey operation by a local team and Wessex Archaeology.

Lt Col Peter Chitty has been described as the 'father of army diving' and for once the catchpenny title is true [personally, I think Peter would agree that this description applies more accurately to Major General Sir Charles William Pasley FRS KCB (1780 - 1861) but who's counting?]. He is, perhaps, the ultimate authority on the history of army diving, his long career having spanned the introduction of many new systems as Officer-in-Command of the Army Diving School at Marchwood [and later in HMS Vernon]. He is also a member of the Mary Rose Information Group. He will be speaking on the long history of diving in the Royal Engineers, beginning in the 1830s when the Corps of Sappers & Miners pioneered military diving (and subsequently taught the Navy to dive at HMS Excellent!).

Dr Peter Earle has researched and written books on a variety of historical subjects ranging from kings to corsairs. It was whilst researching the life of Sir William Phips and his salvage of the Concepcion in the late 1600s that he came across the log book of Phips' vessel, the Henry. This provided the vital position data that enabled Seaquest International to relocate the wreck in just two days of searching and recover an incredible treasure. Dr Earle is currently working on a new book covering the exploits of treasure divers from the 1690s to the middle of the 19th century. His talk will probably concentrate on attempts to recover the supposed Vigo Bay treasure in the 18th and 19th centuries.

Dr Norman McIver had a distinguished career in occupational medicine, with particular reference to the diving industry, which led to many honours and awards. He has directed companies in the hyperbaric medicine field and acted as advisor to many organisations. During something of a career break, he also served as Regimental Medical Officer for a Gurkha regiment. He was intrigued by the chance discovery that railway companies had been among the largest employers of divers in the country (clearly, not everyone wanted to be a train driver!) and his talk will cover this fascinating but little known field.
The annual dinner (£55 per attendee) will be held on the Elizabethan, a modern replica of a Mississippi river steamer. Guests will dine in the elegant saloon as it cruises the Thames from Putney Bridge to the Thames Barrier. The application form for the HDS conference and/or dinner can be downloaded and printed via this link. Please note that there are two pages to it.
---
9 Aug 06
Prince Harry appointed Patron of Royal Navy Small Ships and Diving
According to this article on the Royal Navy website, the Queen appointed new Royal Patrons of various Royal Navy Commands yesterday in recognition of the strong links between the Royal Navy and the Royal Family. Prince Harry has been appointed Commodore-in-Chief of Small Ships and Diving.
---
New Personal Update
The Members Only area contains an update from Alan Noonan of DIVEX.
---
7 Aug 06 - RN Divers Swim Across Channel Underwater
The following item from today's Portsmouth News describes a charity underwater relay swim across the English Channel by a team of seven divers that included MCDOA members John Bainbridge and Mike Leaney.

---
6 Aug 06 - 50th Anniversary of RN 600 ft World Deep Diving Record
This year will see the 50th anniversary of the world deep diving record achieved by Lt George Wookey RN when he descended 600 ft (183 m) from HMS Reclaim in Sor Fjord, Norway on 12 October 1956. He used oxy-helium and wore a Siebe Gorman helmet and a flexible standard diving suit. Since then, this depth record has been exceeded many times but never by anyone using a traditional Siebe Gorman helmet.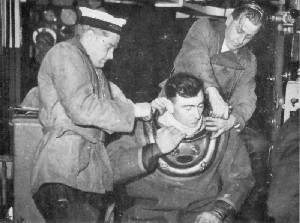 George Wookey being dressed for his 600 ft dive
George Wookey now lives in Western Australia and I invited him to join our Association. Today, I received the following reply:
"Dear Rob,

Thank you for your letter of the 2nd August.

Thank you for your invitation to join the MCDOA - I would be delighted. Having perused your website in the sections you suggested, I was impressed with the volume and details of so many events and histories.

May I add a few words of greeting from my wife and me at Quindalup, Western Australia, and express the hope that we shall have the pleasure of meeting some of your members at the celebrations in Bergen in October.

As regards the recorded suited dive to 600 ft, I was fortunate enough to be in the right place at the right time. Of the diving team aboard Reclaim, only five actually dived prior to myself diving to 600 ft. According to my records they were: Chief PO Diver Linscott who dived to 545 ft, PO Helps to 450 ft attended by PO Flanagan, PO Edwards to 400 ft and PO Compton to 350 or 400 ft. Early the morning after the 600 ft dive, Reclaim weighed and returned to Portsmouth.

As regards you adding my e-mail address to your 'virtual grapevine', I certainly have no objection.

All the best,

Yours aye,

George"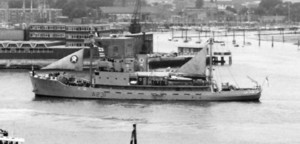 HMS Reclaim
MCDOA member Morty Drummond was the Commanding Officer of HMS Reclaim during the series of dives. He was described as "...a tower of strength as, being a diver himself, he knew most of the answers and he led the team all the way, and his encouragement was a big factor in the success of the dive." Poignantly, Dr Val Hempleman of RNPL, whose thanksgiving service was held on 26 July (see entry for 27 Jul), was embarked to oversee the application of decompression tables he had developed specially for the occasion.
Information about the celebrations in Bergen, as mentioned by George, is available via this link. Ignore the reference to 2005 at the top of the page; it's obviously a typo. It is good to see that both George and Dr John Bevan (former scientist at RNPL and world deep diving record-breaker in his own right) will be addressing the seminar. Representatives from the British Embassy and Royal Norwegian Navy will be present along with the Coast Guard vessel KV Andenes. I will have to ask our Chairman (SofD) whether the RN will be represented too.
---
4 Aug 06 - Funeral Service for WO(D) Ted Morrison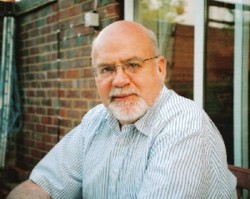 Ted Morrison RIP
Many thanks to former WO(D) Colin 'Scouse' Kidman for providing Troy Tempest and me with a lift to Ted's funeral service near Bristol yesterday. The ceremony was extremely well attended by family, friends and former colleagues. Other CDs we encountered included MCDOA member Jon Cox, WO(D) Windy Gale (in uniform - nice to see, Windy), Jimmy Green, John Dadd, young Donkey Bray, Michael 'Harry' Harrison, Cris Ballinger and Rick Rickard (sorry to those I've missed out - I know there were more). It was also good to see Magnus Kimber, Chris Chapman and other staff from the MCM and Diving Equipment Project teams at Abbey Wood as well as former WO(MW)s Peter Whitehead and Barney Barnett. Ted's wife Janet, son Ian and daughter Laura all expressed their pleasure at seeing so many people who featured in Ted's life and career.
In a voice filled with emotion, former WO(D) Jimmy Green provided this eulogy:
"It's always been a cliché in the Royal Navy that you make many acquaintances but few friends and even fewer good friends. I am proud to admit that Ted and I shared a healthy good friendship which goes back over 40 years. It started by accident when he was living in Hambledon and I lived in Denmead. My car was off the road for some reason and Ted offered to pick me up and take me to work in HMS Vernon but he forgot and left me stranded. When he did remember, he promptly phoned me up to apologise and came back to collect me.

So what can I tell you about Ted that you don't already know? To be honest, very little. But from a personal perspective, I knew him to be a very devoted family man who deeply loved his wife Janet, daughter Laura and son Ian. He was very proud of their achievements and the way in which they matured in life. He was a proud man the day that Laura and Simon married, at the same time knowing he was not well.

I also knew him to be a very loyal, trustworthy, brave, astute and inquisitive man. This showed itself time and time again not only when serving as an RN Clearance Diver but also during the time we both served together on the RN Saturation and Deep Diving Trials team. We did some extremely dangerous diving trials for which Ted offered himself up as one of the subjects to be tested. He is one of the few people to free ascend from 80 metres to the surface in earnest. This happened during one of our trials. The doctors informed us that decompression is not required if the ascent is within 5 minutes of leaving surface, providing the subject is closely observed; he was certainly observed that day!

Ted reached the top of his profession in the Diving Branch as a FCPO(D) later to be titled correctly as WO(D). During his exchange to the USA, Ted had to sit their Master Divers' examinations. He beat all the Americans at their own game and achived top marks which qualified him to run the whole of their experimental diving unit in Panama City. It was whilst there that the Falklands war started. A group of us was tasked to travel to Savanna in Georgia to join Stena Inspector [now RFA Diligence]. Ted travelled the 350 miles from Panama City to wish us well, producing bottles of comfort to send us on our way which obviously got consumed before he departed the next day.

There is documented evidence that late one night, or early morning, in Tarbert in Scotland, he and I were seen dressed in full Scottish regalia. There is also proof that he, being the true Scot, wore traditional underwear whilst I displayed a loud pair of pink pants.

We will grieve over Ted's passing but live on our own memories of what Ted was and what he meant to us all, which was someone who led by example, had high morals, and deserved and received the respect of all who had the privilege of knowing him, professionally and socially."
After the service, we adjourned to Cleve Rugby Club where we chatted over refreshments and toasted Ted's memory with rum. Subsequently, Ted's son Ian sent the following message:
"On behalf of myself, Ian Morrison, and my family, I would like to thank those who have posted such kind messages of condolence, sympathy and fond memories of my father, Edward Stuart Morrison. We have enjoyed reading of your relationships to "Ted" as you will have known him and it is a great comfort to us that we are able to rediscover how highly respected he was by so many. We are doing our best to carry on, but we miss him terribly.

Thank you once again.

The Morrison Family"
---
2 Aug 06 - Navy News Items
The following MCD-related items from the August issue of Navy News include:
A full-page article about Southern Diving Unit Two (SDU2) featuring OIC Jason White [As the MCMD naval applicator at Portland when Jason was a young MoD civil servant applying to join the RN, I must confess to a certain vicarious pride in his achievements].

A dive on the wreck of the submarine M2 by Ops Officer Iain Andrews, LS Barry Neul and AB Jamie Lockie of HMS Atherstone.

The presentation of a mine to a Scottish whisky distillery by MCDOA member John Law, WO(D) Steve Strange and RAN exchange diver Brad Eames of the Northern Diving Group (NDG).

The reformation of the First MCM Squadron at Faslane, including the re-instatement of the red lion funnel badge, featuring MCDOA member Chris Davies (MCM1) and OM(MW)s Tim Purslow and Mike Mellor of HMS Penzance.

A day at sea in HMS Ramsey for T.S. Bee Sea Cadets featuring MCDOA member Martin Mackey.

The renewal of affiliations by HMS Quorn.

More activities of HMS Quorn featuring XO Stephen Walton.

Reciprocal visits between T.S. Venomous Sea Cadets and HMS Quorn.

A weekend at sea in HMS Quorn for members of HMS Sherwood's Ceres Division (Nottingham RNR).

---
1 Aug 06
HMS Brocklesby arrives in Portsmouth
The following item from today's Portsmouth News describes the arrival of HMS Brocklesby at her new base in Portsmouth as a member of the Second MCM Squadron. This completes the reorganisation of the MCM squadrons in Portsmouth and Faslane.

---
New Personal Update
The Members Only area contains an update from Tim Hildesley in Belgium.
---
31 Jul 06 - RN Divers to feature at Plymouth Navy Days
The RN website contains this article describing the participation of Southern Diving Unit One (SDU1) in this year's Navy Days, 26-28 August in Devonport Naval Base.
My mind goes back more than 25 years to providing the loudspeaker commentary for Navy Days performances by the Plymouth Clearance Diving Team (PCDT) in pre-SDU1 days. Twice-daily to the booming sound of the James Bond theme and lots of flash-bangs, Royal Marines in assault craft and steely-eyed CDs in Gemini dinghies zoomed in noisily while other divers swam in stealthily using old-style CDBA-O2-on-demand to rescue Miss Busty Cumquick who was being held hostage by the 'baddies' on an island in the middle of the basin. Miss Cumquick was played by AB(D) Growth Ansell with the aid of two balloons and a platinum blonde wig. He started enjoying his role so much that we changed it the following year to a nasty megalomaniac scientist intent on dominating the world. When the damsel in distress had been rescued (or the mad scientist had been captured) by our heroes and all of the bad guys had been eliminated, I concluded each performance by initiating an explosion from my commentary box. This 'demolished' the island (actually a moored pontoon) in spectacular fashion thanks to several turns of detonating cord wrapped around the pontoon on underwater outriggers.
Worryingly, I never knew what to expect from the lads for their final performance of the week. One year, I received the all clear and duly blew up the island. As the plume of water, dust and other debris settled I watched in amazement as a figure, dressed in a Wee Willie Winky nightgown and cap and carrying a candle, slowly emerged from the camouflaged shed representing the baddies' hide-out on the island I had just 'destroyed'. While the water continued to cascade around him, he rubbed his eyes, looked around, gave a theatrically nonchalant yawn and then went back into the shed. The crowd all thought it was part of the normal show and roared with laughter. Boy, did we have a team talk that night although I had a job trying to keep a straight face.
The following year, the lads were kind enough to 'post' a day and night flare through the door of my commentary box just as I was winding up. Despite some coughing and spluttering, I managed to finish the commentary but ended up with the only day-glo orange set of No 5s in the Royal Navy!
---
30 Jul 06 - Funeral Arrangements for former WO(D) Ted Morrison
The funeral for Ted Morrison will start at 1200 on Thurs 3 Aug at Westerleigh Crematorium, Bristol BS37 8QP. A map of the local area can be seen via this link.
Tributes to Ted are being added to the entry for 29 July below.
---
29 Jul 06
Death of former WO(D) Ted Morrison
In a week that has already seen one memorial service for a friend of the MCD Branch, I regret to announce the death yesterday of Ted Morrison, a former WO(D) who will be widely known and respected among the MCDOA membership and beyond. He was 58.
Ted was a wonderful man involved in all areas of the Diving Branch including an exchange job with the US Navy Experimental Diving Unit (NEDU) in Panama City and trials and development work with HMS Challenger. After retiring as a WO(D), he carried on his connection with the Branch as a MoD civil servant, initially as a Naval Staff Author responsible for the upkeep of our CBs and BRs at HMS Collingwood. On being relieved by former WO(D) Jimmy Green, he joined the MCM IPT (Integrated Project Team) at Abbey Wood and was responsible for the procurement and introduction of new minewarfare and diving equipment before being promoted to a post in MoD Main Building in London where he was serving when struck down by throat cancer.
I enjoyed Ted's company and relied on his friendly professional advice on many occasions. I am proud to have known him and am sure all join me in extending our condolences to his wife Janet, son Ian and daughter Laura who married last year. Another sad day.
Ted's funeral is planned for Thurs 3 Aug in Bristol. I will post further details when available.
---
From Bill Norton in Spain:
"Rob,

How very sad. My e-mail and thoughts were too late. Ted was such a dependable, steady and loyal guy with a wonderful sense of humour who did a great job for me personally, for the Service as a whole and for divers in particular.

Please pass on my condolences to his family. Having survived the same problem myself, I know how difficult it must have been for Ted and themselves. Such a sad loss.

Bill"
---
From Dan Nicholson:
"Thanks Rob for giving out the sad news about Ted who was my L/Diver in my first MCD job in HMS Brereton (9th MCM Squadron in the Gulf). Sadly, I will be unable to attend as we are abroad this next week. You will all be in my thoughts. No doubt some other members of that team will be there, e.g. Tadpole Cox, Bob Oulds and Taff Thomas. If you see them, please remember me to them.

Regards,

Dan"
---
From former FCPO(D) Dave 'Mona' Lott in Australia:
"Rob,

I don't have to ask the rest of the Oz contingent for their feelings over this latest shock and loss.

Ted was a quiet-spoken, efficient and very knowledgeable instructor who was a very fine example as a CD1 when we had the honour to know him. We are also not at all surprised at his subsequent achievements. To each of us came an immediate vision of Ted and his quiet infectious smile. What a sorrowful day.

The Oz group offers its sincere condolences to Janet, Ian and Laura. "We had truly not forgotten him." "
---
From Mike Kooner MBE:
"Rob,

So sad to hear about Ted. You will know that I also worked very closely with him during my active service career and he was a very nice man with so much information. I regarded him as a friend during that period of time. Unfortunately, I am out of country until 8/11 Aug but please pass on my best wishes to his family.

For info, I decided to leave the MoD in June as the commuting was too much to and from Liverpool, but it was a great job and I plan to become a man of leisure or look for something to keep me interested and active.

Best wishes,

Mike"
---
From Jon Cox in Spain:
"Rob,

A very sad day to hear about the death of Ted. He was a very good friend and colleague; I was proud to have known and worked with him. The branch and world is a sadder place without him.

I shall look to the website to find out details of the funeral, which I will attend.

Yours,

Jon Cox"
---
From Julian Malec OBE:
"Dear Rob,

Many thanks. How very sad. Ted was the Coxswain of HMS Iveston in 1972. He and I became good friends and because he later went to Panama City (after I had returned from that place), we met and talked occasionally.

He was a fine, very straight man. Moreover, he impressed the USN divers with both his attitude and capability and they did not like to be impressed by Limeys.

We are all the poorer for his passing.

Julian Malec"
---
From David Hilton:
"Dear Rob,

I am saddened by the sudden death of Ted. We were great friends. I was his second dicky on his CD course - we were on the same CD1's course - we went through SD together - dived together, etc. I will certainly try to be at his funeral.

Our thoughts go to Janet and his kids. Do you know why - he must only be about 58?

All the best Rob,

David"
---
From Mike Welford in Australia:
"Rob,

Another sad event. They seem to be coming thick and fast. It must be that time in our lives although WO(D) Ted Morrison was younger than me. Condolences are of course in order to his family and friends. Sadly, I do not recall him although Jimmy Green is known to me. I trust he is well?

Mike

P.S. The weather is cold 'down under' (certainly in the Canberra Region) although we are digging our gardens ready for Spring. I have seen few people of the MCDO ilk for a while now but have a work reunion and may catch up on CD News then. I trust you and yours are well?"
---
From Alan Noonan:
"Hi Rob,

It was receiving the sad news of Ted Morrison's death from another MCDOA member that made me realise that my personal details need updating as I was not on the mailing list. Would you kindly assist in having my records updated.

Unfortunately I will not be able to attend Ted's funeral as I fly out to Cape Town today. We became very good friends during our time working together and he will be sorely missed.

I hope this finds you in good health.

Regards,

Alan"
[By Webmaster: Alan (ex-Fleet Air Arm) is an associate member of the MCDOA. I worked with him when he was a MoD civil servant in the MCM & Diving Division at Southwell on Portland Bill and later at Egdon Hall in Weymouth before the move to Abbey Wood. He now works for DIVEX and I can provide his contact details on request.]
---
From Kevin Wright in the USA:
"Rob,

You may have already heard, but it is with great sadness I must let you know of the death of Ted Morrison. He died on Saturday night after a brief and intense battle with cancer.

Since first diagnosed at the back end of last year, he faced this last challenge with the same stoicism, bravery and pragmatism that he had shown countless times before as a WO(D). He was a true friend and professional rock during the seven years we worked together and the feelings of premature loss that many of us must feel on hearing the news are immeasurable. I was privileged to work with Ted throughout my career predominantly on the RN Sat programme in all its iterations and through all its problems. From the time I first met him at the USN NEDU [Navy Experimental Diving Unit] in the early 80's through and over the hurdles of setting to work and developing Challenger's system and then latterly in the MOD, I was witness to the universal admiration and respect Ted won from all those with whom he came into contact wherever he worked and wherever he travelled in the World.

It was a quality he demonstrated again and again over the years, not least with the US Navy, where he insisted on qualifying top of his group as US Master Diver before going on to head the test and evaluation lab at NEDU. It was an achievement that no one from this side has ever replicated. It's universally acknowledged that his direct contributions to the advancement of the Deep Diving and Sat world both here and abroad were immense. He encouraged those he led, and those he supported, to believe that excellence and impossible were routine achievements - a factor that contributed, in no small part, to the success of numerous man-in-the sea 'world firsts'.

Ted left every circumstance a better one than he found it, both in and outside the service. After he left the service even at the same time as taking up a new career, he found time to pass on his unique undersea knowledge and experience to a new generation, bringing his unique sense of excitement and joy of the underwater world directly to schoolchildren across the country in his Scuba for Schools initiative.

I am sure that there will be many in the branch who, like me, were proud to call him a friend and will miss him greatly. I would be grateful if you would let them know the news through the MCDOA network

The cremation will take place at 1200 on Thursday at Westerley Crematorium, Nr Bristol Glos. Ted's wife, Janet, has asked that any donations be made to Macmillan Nurses who helped Ted and the family so much during these last months.

Yours aye,

Kevin Wright"
[By Webmaster: Kevin missed my original e-mailed announcement because he was out of country.]
---
From Derek Clarke (Managing Director of DIVEX):
Ted was very well known to DIVEX and we considered him a friend as well as our 'client'. The news of his death is very sad and shocking as I was not personally aware of his illness. I will not be able to make it to the funeral but please pass on sincere condolences from myself and all at DIVEX who knew and worked with Ted.
[By Webmaster: Derek is an associate member of the MCDOA.]
---
From Chris Chapman:
"Hi Rob,

Sad news indeed. Ted joined our diving procurement team at Portland in the mid-nineties where he made significant contributions to the team's output. A most likeable and hardworking guy who became a good friend. He always had the service user's best interests at heart and will be missed.

I will attend on Thursday.

Regards,

Chris"
[By Webmaster: Chris is an associate member of the MCDOA.]
---
From Tony Welch:
"Rob,

Knowing that WO(MW) Barnett, "with two ts as in spagetti", would be saddened by the news, I forwarded this morning's message by text. He's in a field while having a house built near Denmead. Any chance you could e-mail me with the details of the funeral? I can't always get onto the website due to a dodgy link. Barney is keen to attend and I will text the info.

Many thanks,

Tony"
[By Webmaster: I have sent Tony the details and hope Barney makes it to the service.]
---
From former CPO(D) Eddie 'Scouse' Kerr in Spain:
"Hi Rob,


Know you will be there or thereabouts. Give Ted's family my regards. Many good dits flowed back and forth and we shared many pot messes. He left too early.


Yours,


Eddie Kerr"
---
From Ted Morrison's son Ian:
"On behalf of myself, Ian Morrison, and my family, I would like to thank those who have posted such kind messages of condolence, sympathy and fond memories of my father, Edward Stuart Morrison. We have enjoyed reading of your relationships to "Ted" as you will have known him and it is a great comfort to us that we are able to rediscover how highly respected he was by so many. We are doing our best to carry on, but we miss him terribly.

Thank you once again.

The Morrison Family"
---
2006 RN Divers' Golf Championship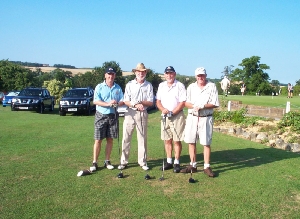 The accompanying photo shows former WO(D) John Dadd with his team before driving off the first tee yesterday morning at the annual RN Divers' Golf Championship at Southwick Park. Held in support of charity, the gruelling 36-hole event concluded with a barbecue, prize-giving, raffle and karaoke session in the clubhouse with families and friends. Participating MCDOA members included Paddy McAlpine (who earned one of the top awards), Martin Mackey, Martin Jenrick, Yours Truly and our own MCDOA treasurer Tug Wilson.
The day was held in glorious weather and ran extremely smoothly thanks to the organisational skills of Sean Meleady who was also master of ceremonies in the evening. Thanks to all of Sean's team and the club's staff and sponsors for making it such an enjoyable occasion. Sean is looking for someone else to run next year's event and already has his eyes set on Tug.
---
Thanksgiving Service for Dr Val Hempleman
The RN diving community in general, and the MCDOA in particular, were well represented at yesterday's Thanksgiving Service for Val Hempleman at St Mary's Church, Alverstoke (see entries for 20 July and 21 July below). RN attendees included Surg Cdre Jim Sykes (MOIC INM and MCDOA associate member) in uniform, Surg Capt Ramsay Pearson (MCDOA honorary member), Surg Capt David Elliott, Chris Ameye (S of D and MCDOA Chairman) in uniform, Rob Hoole (MCDOA Vice Chairman & Webmaster), Tug Wilson (MCDOA Treasurer) in uniform and Dusty Miller (former CPO(D) at DTU). Other MCDOA members included John Grattan, Morty Drummond, Julian Malec, Bill Filer, Ralph Mavin and Chris Sherman. There was also a large contingent of RNPL scientific staff who had worked for Val during his long tenure as Superintendent.
The Reverend Ted Goodyer officiated during an upbeat ceremony that included tributes to Val by his sons Andrew and Robert, his niece Nicola and former RNPL colleague Dr John Bevan. These revealed that Val had been born in Darlington in 1922 and was fascinated by chemistry from an early age, so much so that he blew up his family's garden shed. He read chemistry and physics at St Catherine's College, Cambridge from 1940 but was called up for service at RNPL in 1942. When he returned to complete his studies after the war, university had lost much of its appeal because he had been 'doing it for real' during the interim. We were told how he displayed a wonderfully quirky sense of humour, imbued his children with an insatiable curiosity about the world and beyond, and was highly respected by his staff and others while at RNPL. Afterwards, we adjourned to the Alverbank Hotel for a reception where old friends and colleagues mingled with Val's family and chatted for a couple of enjoyable hours. Thank you to all those who helped pay Val the respect he deserved. I think we did him proud.
This afternoon, I received this kind communication from Val Hempleman's son Andrew:
"Dear Rob

It was lovely to talk to you yesterday and thank you so much for coming to the service and giving me the print out with all the messages from members of the MCDOA – quite a community you have there. Cdr Chris Ameye said some very nice things to us afterwards and it was great that so many people turned out after all these years.

I have attached a copy of the photo that was on the order of service. If it is not good enough, please tell me and I can rescan it very easily. I have also attached a copy of John Bevan's tribute as I think Bill Filer, if I'm not mistaken, requested a copy. John Bevan is writing an obituary for DIVER magazine and also for Underwater Contractor International magazine.

Many thanks,

Andrew"
---
Old Vernon Diving Magazines
Diving Magazine Vol 1 No 1 - front and back covers
I am indebted to former Chief Diver Michael 'Shiner' Brassington for providing me with an almost complete collection of 'Diving Magazine', published by the Diving Section in HMS Vernon between 1951 and 1967. Thank you Shiner. I intend republishing the occasional article for the benefit of website visitors, perhaps on the 50th anniversary of its first appearance. However, to kick off, here is a selection from the very first issue, Vol 1. No 1., published in July 1951.
CALLING ALL WATERY WELDERS [July 1951]

I have been asked by the Editor to compile a note or article for the magazine, that may be of interest to underwater welders.

Since the re-commencement of training of underwater welders in 1949 we have had some 21 candidates through the School who successfully qualified. Of these, we have also had two of them return to the School for a 14-day refresher course.

The Inspector of Diving (Lt Cdr [Morty] Drummond RN), Mr Gordon (Cmd. Bsn, Q.D.D., R.N.) and the Training Staff would be very grateful for any information regarding any underwater work carried out using the underwater welding technique with details of the job and any points of interest.

P.O. Foggin, whom most of the 1st's will remember as their instructor, is now serving in H.M.S. Liverpool somewhere in the Mediterranean.

Shpt. Harfield - I am sure you will all join me in extending the heartiest congratulations on the occasion of his promotion to the rank of Commissioned Shipwright Officer. Thank you, lads!!!

LIST OF UNDERWATER WELDERS

A. Sykes, C.P.O.

E. Foggin, P.O.

A. Williams, P.O.

E. Hallin, L/S

A. Robertson, Shpt.

E. Ferrari. Shpt.

G. Stevens. Shpt.

P. Hardiman. Shpt.

W. Stanton. Shpt.

L. Harfield. Shpt. (Cd.)

K. Jeffery. Shpt.

L. Radice. Shpt.

K. Lane. Shpt.

R. Brown. Shpt.

D. Moore. Shpt.

F. Smith. Shpt.

D. Miller. Shpt.

P. Hobbs. Shpt.

G. Young. Shpt.

D. Boyle. Shpt.

P. Southcott, Shpt.

P. White, Shpt.

J. Turner, Sapper (R.E., T.A.)

M. Harkett, Corporal (ex-R.E. Parachute Regt.)

This list is open for more names

Concluding my very brief letter and hoping to hear from you in the near future, even if it's only to pass the time of day, but don't forget any interesting items for the magazine will be welcomed with open arms.

Yours fraternally,

A. SYKES, C.P.O.

Feed in that rod
H.M.S. RECLAIM [July 1951]

By Robbie
For the past two months we have seen quite a bit of activity. Having quietly settled down to Easter leave period, we were rudely awakened by Subsmash, the recalled lads arriving back by all sorts of craft. We saw the strange sight of a few shore-bound natives on the trip with us too. After the first lap was over, the routine was governed by the tides, all likely contacts were investigated, using surface decompression to give maximum time on each contact. This was somewhat limited.
One thrill was provided by Nobby Hall when he fouled a derrick on a merchant ship - no doubt you have read the narrative in the Press - he is now known as "All in a day's work Hall". The Press have already published all the details to date of finding the "Affray". We are now a "Daily Mirror" ship proper. What price fame? Now the buzz is we will be using helium for the next dive on "Affray" commencing Monday, 25th June. All those lovely bottles to hump around.
The faces are pretty much the same in the old grot. We have had Sopey [sic] and Taff Lewis lent to us from Guzz, Jack Cullen has also joined the happy throng, likewise Harry Simms from Chatham in lieu of "Bullet Maker" Scott, although we believe he is to stay until the end of this "Do". That is about it for the time being - act green, keep clean.
RESCUE ATTEMPT COMMENDED [July 1951]
Lieutenant J. Brooks, D.S.C., R.N., serving in H.M.S. Solebay, has been officially commended by the Commander-in-Chief, Home Fleet, Admiral Sir Philip L. Vian, K.C.B., K.B.E., D.S.O., R.N., for his courage and determination in attempting to save the lives of six officers travelling in a car that was driven accidentally over the quayside at Setubal, Portugal on the 20th October, 1950, and sank in more than four fathoms of water.
"On hearing the alarm," the official citation reads, Lieutenant Brooks "collected a pair of 'frogman's' flippers and without a visor dived into the water in an endeavour to locate the car."
When he reached the bottom of the harbour in his initial dive, he was unable to see the car owing to the darkness. In a subsequent dive he carried a torch, but was unable to locate the vehicle.
The pressure, due to the depth of water, caused a bleeding from the nose and ears, an injury from which Lieutenant Brooks, who put on breathing apparatus and continued the search after the arrival of diving gear, took several days to recover.
---
26 Jul 06 - 'Not Quite the Last of the Summer Wine' Trio back in action
Yesterday found our intrepid 'Not Quite the Last of the Summer Wine' trio of Barlow, Holloway and Hoole out on the water in the good ship 'Dougout'. Barlow has been off-colour recently but is now back to his old self and cracking jokes again - unfortunately.
As we wandered along the pontoon at Whale Island's sailing centre, who should we see but MCDOA member Steve Field standing in the cockpit of his yacht. Then, up popped the head of Steve's yacht-owning partner, MCDOA member Chris Sherman, who had been doing something technical with the fuel tank; I just hope he complied with H&SE criteria. After a brief chat, we slipped and sailed down harbour, passing the harbour training ship HMS Bristol (XO George Turnbull) along the way. As we passed the Semaphore Tower, I made my usual mobile phone call to MCDOA member David Hilton to wind him up but there was no reply; I expect the building is being sold for redevelopment like the rest of the naval base and will be turned into a super casino one day.
Left: Leaving harbour with HMS Bristol astern. Right: Gunwharf Quays (formerly HMS Vernon)
Strangely enough, we saw three Sandown Class minehunters berthed on the old HMS Dolphin submarine jetty in Haslar Creek. Does anyone know why? [David Hilton has since informed me they are Sandown, Inverness and Bridport undergoing preparations for their transfer to the Estonian Navy.]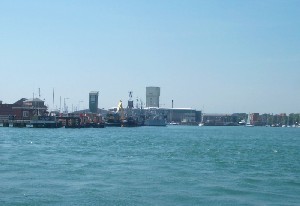 Sandowns alongside in Haslar Creek
Anyway, our trio had a glorious day's sailing in the Solent and anchored off Wooton Creek on the Isle of Wight. Here, we opened the bar, had a swim and then enjoyed a leisurely lunch before sailing 'full and by' all the way back to our berth. Funny old thing, the sea. Can't live with it, can't live without it!
Left: Holloway & Barlow crochet a new mainsail. Right: Hoole finds Dougout's speed a bit slow for water skiing
---
25 Jul 06 - HMS Bangor's final farewell to Portsmouth
The following item from today's Portsmouth News describes the departure of HMS Bangor from Portsmouth for her new base port at Faslane:

---
24 Jul 06 - New Personal Updates
The Members Only area contains some high profile updates from Russ Crane (RAdm RAN) in Australia, Garry Collier (Cdre RNZN) in New Zealand and Phil Burrell (Capt RN) in India. Keep them coming!
Phil Burrell at the Indian Navy Diving School
---
23 Jul 06 - New Personal Update
The Members Only area contains an update from Martin Nutt in Oman.
---
21 Jul 06 - Dr Henry Valence Hempleman - Obituary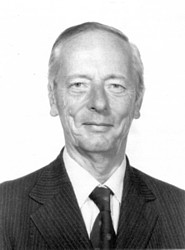 Dr Val Hempleman
25 March 1922 - 14 July 2006
John Towse (former RNPL scientist, diving historian and first diver on the Mary Rose with the late Alexander McKee on 10 May 1966) has provided the following words about the late Dr Val Hempleman whose Thanksgiving Service will be held at St Mary's Church, Alverstoke at 1230 on Wednesday July 26th (see first item for 20 Jul 06). Sadly, John informs me he is unable to attend the service owing to a prior engagement in the South of France.
"Dr Hempleman died on the 14th July 2006. He was 84 years old. Known as Val or "Hemp" to his many colleagues, friends and associates he was employed as a Ministry of Defence scientist for most of his working life. He joined the Royal Naval Physiological Laboratory (RNPL) in the early 1950s, as a young scientist, after he had obtained a honours degree in Physiology and Chemistry at Cambridge University.

He rapidly gained acknowledgement for his early research at RNPL and became internationally known for his original work on decompression tables for divers and tunnel workers. Together with his co-workers, he developed the post war diving tables for the Royal Navy including those for the world record Oxy-Helium dive of 600 fsw (183 msw) in 1956. He had conceived a revolutionary change to decompression theory, the first since the earlier work of Haldane in the early 1900's.

From this early beginning his working life and beyond was always dominated by his dedicated interest in successfully decompressing both Naval personnel and civilians from excessive atmospheric pressures, in the sea, in tunnels and from pressure chambers within the laboratory. After progressing through many different aspects of the physiology of man under pressure, including original work into Submarine Escape and Rescue, his continued promotions resulted in eventually becoming Superintendent of RNPL in 1968.

He gained a PhD. for his original work in the prevention of decompression sickness.

In 1968 his work for Civil Engineering and Tunnel Workers resulted in the safer and deeper air diving "Blackpool Tables". His Oxy-Helium diving tables were released to the industrial world.

Apart from successfully helping to extend the depth at which submariners could escape from submarines, he was Superintendent for at least two world firsts in Diving Physiology. The first of these was in 1970 when two young laboratory scientists, following a long RNPL tradition, volunteered for a series of experimental "dives" in the laboratory's deepest chamber which Hemp had been instrumental in procuring for the site at Alverstoke. In March 1970 RNPL proved to the world that man could reach and survive in pressure equivalent to 1,535 feet (457 metres) of seawater. This dive was 300 feet beyond the predicted maximum of around 1,200 feet (366 metres). Our American colleagues were kind enough to describe this event as "a hyperbaric moon landing".

The routine work of the laboratory continued until, in the mid 1970's, we were given the task of exploring the deepest depth which man could achieve with our existing facilities. This resulted in another long series of experimental dives which culminated, in 1980, with two other young volunteer scientists achieving another world first by men living and returning from 660 metres (2,165 feet of seawater). The results of this experimental dive produced at least two more successes with the same two volunteers successfully completing over a week at 540 metres (1,772 feet) in Oxy-Helium. On a shallower note two volunteers completed the deepest Oxy-Nitrogen saturation exposure for 7 days at a depth of 61 metres (200 feet). This, together with control dives, completed the programme and, in 1983, Dr Hempleman presented the findings to the scientific world at a prestigious meeting, "Life at High Pressure" to the Royal Society in London.

He fully supported a project to construct a new chamber at Alverstoke, which is now installed, with a working depth equivalent to 1,500 metres (4,921 feet)

Dr Hempleman was a dedicated researcher and sympathetic Superintendent. His interest was far more devoted to science than administration, although he coped very adequately with the latter. A very kind, modest and gentle man he will long be remembered with affection by all who knew and worked for him.

He leaves a widow Barbara, who also worked at RNPL in the early years, and two married sons Robert and Andrew with grandchildren, Aston, Freya and Lucy. Our heartfelt sympathy and condolences are extended to all the family."
I intend to be among those representing the MCDOA at the Thanksgiving Service and will bring 'Uncle Bill' Filer (venerable MCDOA member and long-time OIC of DTU). I understand other attendees will include: Surg Cdre Jim Sykes (Medical-Officer-in-Charge at INM and MCDOA associate member); Surg Capt Ramsay Pearson (our only MCDOA-elected Honorary Member since Robbie Robinson passed away); Surg Capt David Elliot (diving medicine specialist); Cdr Chris Ameye (Superintendent of Diving and MCDOA Chairman); Lt Cdr Tug Wilson (MCDOA Treasurer & Membership Secretary); and Dr John Bevan (world deep-diving record-breaker at RNPL, diving historian, editor of Underwater Contractor International and Managing Director of SUBMEX Subsea Consultants).
Val Hempleman was instrumental in ensuring the RN was at the fore-front of deep diving in his day including the establishment of several world records. We should mark his passing accordingly. I am sure the family would appreciate seeing as many serving MCDOs and/or CDs as possible representing the Branch in uniform as well as retired naval divers. Any takers please?
---
From John Grattan OBE:
"Dear Rob,

Thank you again for keeping us all in the picture although this news is particularly sad for me. I have been trying to recall all the diving trials I did under Val's direction and it comes to quite a list spread over a number of different teams. Suffice it to say that he was a wonderful man to work for - 1959 to 1970 covers the years when he and I were closely involved on many occasions. Not only was he quite brilliant with a mind that many would envy, but he always remained humble and willing to listen to other's ideas - an amazing trait for a man of such great stature.

I would like to attend the Service of Thanksgiving please but cannot do so in uniform.

Yours aye,

John"
---
From Jim Sykes (Medical-Officer-in-Charge at the Institute of Naval Medicine):
"Thanks Rob,

Yes, I had heard via the RNPL network. I intend to go to the Thanksgiving service in uniform to represent INM. Given Val's contribution to naval diving, will the MCDOA be represented? He will certainly be known to a number of the older contingent, Reclaim and other deep divers of the late 60's and early 70's.

Jim"
---
From Peter 'Doc' Benton:
"Rob,

I had heard via John Florio who let me know that Val had passed away a couple of days ago. If I can, I intend to try to get up from Plymouth on Wednesday.

What you might not be aware of is that Val continued to make a large contribution to RN diving even after he retired. Up until I think it was 2000, he was the Chairman of the ethics committee that reviewed all diving related research. Thus he had an input into the testing of most of the equipment currently in service plus the submarine escape work that Alverstoke carried out in the late 1990s early 2000. Perhaps of even greater significance he was responsible for a lot of the work that resulted in good old Table 11. So you see it is not only the old and bold divers who are touched by his work.

Regards,

Peter"
---
From Julian Malec OBE:
"Dear Rob

Thanks for the information. I hope to be there.

Julian Malec"
---
From former FCPO(D) Dave 'Mona' Lott in Australia:
"Sad days as another bites the dust. He was a real gentleman, the sort that I didn't really mind getting a bend from! And he gave me a couple, I'll tell you."
---
From Bob Lusty:
"Rob,

Sorry I can't make Val's service. I held him in high regard for his friendly advice when Diving Officer of HMS Reclaim; a time, we could say, when the Royal Navy's deep diving programmes were world class owing to the efforts of people like Val.

Yours aye,

Bob Lusty"
---
From Alastair Cuthbert in Australia:
"Rob,

Thank you for the news of Val Hempleman's death. I am sorry to hear it but glad that I knew him, if briefly, whilst on CDO course in 1957. He came to subject us to a number of bounce dives on air to 300 feet, down as fast as possible, and up again as fast as possible (left us itching but otherwise unscathed!) as part of his research. Also an interesting talk on the latter. Due to distance I regret I shall be unable to attend the service."
---
From Grenville Johnson MBE in Saudi Arabia:
"Hello Rob,

Thank you for the information. Val Hemplemen was the boss of AMTE PL when I was at DTU so he was the second RO on my 206, etc. I had little to do with him but remember him as an interesting and very polite man. Please pass on my regards to Uncle Bill & Jim Sykes, etc.

Regards,

Grenville"
---
From Mike Welford in Australia:
"Rob,

I did my experimental diving with Val while I was IMW at VERNON in the mid/late '70s with Dennis Selwood (as my buddy) and Bill Filer supervising. We were only doing 'bounce' dips trying to prove the tables and our decompression generally completed an hour before 'closing time'.

We never got a hit.....!

My condolences to his surviving family.

Mike"
---
From Bernard Eaton (Publisher of DIVER magazine):
"Dear Rob

Val Hempleman was our physiology consultant for many years, even before his retirement. He was a great help in suggesting or approving speakers for our underwater conferences, and for advising on diving physiological matters. He was also a very good friend.

Kind regards,

Bernard Eaton"
---
From Alan Padwick OBE:
"Dear Rob,

Thank you for taking the trouble to send me the information. I remember him from my early days and, the few times we met, he seemed quite a character.

Alan"
---
From Bill Norton in Spain:
"Rob,

Thanks for the note. I had picked it up on the Divers' Association weekly update. MRU for the funeral, I'm afraid, but I will ask Ramsay Pearson to give my condolences."
---
Death of Dr Val Hempleman
Today's Daily Telegraph contains this announcement of the death of Dr Val Hempleman:
HEMPLEMAN.—Dr Val (H.V.) died peacefully on July 14th 2006. Much loved husband of Barbara, devoted father of Robert and Andrew and beloved grandfather. Private cremation followed by a Service of Thanksgiving at St Mary's Church, Alverstoke on Wednesday, July 26th at 12.30 p.m. Family flowers only. Donations, if wished, to the Stroke Association c/o Churcher & Tribbeck Funeral Directors, 3 Stoke Road, Gosport, Hants. PO12 1LT.
Val Hempleman graduated from St Catherine's College, Cambridge in 1942 and led the development of deep diving procedures and decompression tables at the Royal Naval Physiological Laboratory (RNPL) at Alverstoke in the 1960s and 1970s. He will be familiar to many members who undertook experimental dives with AEDU at DTU and in HMS Reclaim or witnessed his annual report at MCD Conferences in HMS Vernon. I had my own contact with him when I was a volunteer 'guinea pig' undergoing 90 metre Tri-mix dives under 'Uncle Bill' Filer's supervision at DTU. In 1970, he was the Superintendent of RNPL when two volunteer members of the Royal Naval Scientific Service, 26-year-old John Bevan and 21-year-old Peter Sharphouse, broke the world's deep-diving record by staying for 10 hours at the simulated depth of 457m. He later became the Physiology Consultant for DIVER magazine. I am sure all members join me in expressing our condolences to his family.
---
Horsea Island Barbecue
Last Saturday's joint MCDOA & AORNFCD barbecue at Horsea Island was a wonderful experience thanks once again to the glorious weather and the tireless efforts of our Hon Sec Tony Griffiths and his wife Debbie. But don't just take my word for it. Read what former CPO(D) Gabby Haines had to say afterwards:
"Thanks to Tony and Debbie, Troy and Rob for providing a splendid evening's barbie last night. I expected hundreds and settled for 35-ish. Apart from the old wrinklies like Ted Setchell, myself, Jimmy Bond and Troy, the remainder were MCDO's who outnumbered us. [By webmaster: Tim Sizer and his family were there too.] I was more than pleased to see Martyn Holloway for the first time in 35 years. He was one of the MCDO class I instructed back in 70-71-ish. We took to the lake, myself, Rob & Linda, Martyn and Ted (in that order), swam, floated and yarned for about 40 minutes. The water was 22 degrees C and the only thing that got us out was the smell of Tony's barbecue. We had a lot of fun horse racing, treasure hunting and playing other silly games (but serious when you've bet a whole £1!!) and managed to acquire a bottle of gin before a welcome lift back to the Marriott from Ted and Jean Setchell.

Finale - the rumours are out that Horsea Island will not be around indefinitely. I think the RN has a limited use for it nowadays but this is just my opinion. If it turns out to be true, the old adage will surely apply. If it stays still paint it, and if it doesn't, then build on it. I bet there are construction firms out there with their tongues hanging out. May I say finally to all CDs that if the same event occurs next year, hopefully, and the sun is out, then come along, have what may be the end-of-an-era fling and get back in the lake!! There's nowt like it.

Five bells,

Gabby"
Left: Meeting old friends
Right: Rob & Linda Hoole, Gabby Haines and Ted Setchell have a dip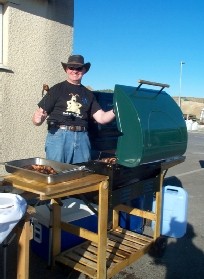 Tony Griffiths - Our chef for the day.
Left: Horse racing at Horsea
Right: Ted and Gabby chill out
Left: Troy Tempest and Rob Hoole in discussion
Right: The Sizers were there too
I can only echo Gabby's words. This is the second year we have arranged a barbecue at Horsea with a mediocre attendance. At £5 per head for a fantastic spread and free first drink (subsequent drinks £1), I don't know what else we can do to attract more people. Even so, we raised a tidy sum to put towards the proposed project to commemorate Diving and Minewarfare at HMS Vernon.
---
New Personal Update
The Members Only area contains a 'hauling down' report, including photos, from Martin Mackey who relinquishes Command of HMS Ramsey tomorrow.
---
18 July 06 - Funeral Arrangements for Ray Ross
Terry Gosling has sent these details of the funeral arrangements for Ray Ross:
"The funeral will take place at Dundee Crematorium at 1145 on Friday 21 July 2006. Family flowers only please. Donations to the Dundee Hyperbaric Centre would be welcome.

If any people are thinking of attending from Aberdeen and would be interested in joining a bus, please let me know soonest. If there is sufficient interest, I will see what can be arranged.

Best regards,

Terry Gosling"
I can supply Terry's e-mail address on request.
---
14 Jul 06
Diver Down - Ray Ross
Terry Gosling has informed me of the death this morning of Ray Ross. Terry says:
"Ray was a CD in the 60s and I worked with him in the early 70s as a diver and supervisor. He had a long career in management at various companies as a diving/subsea consultant. Latterly, he had been acting as a Company Rep for operating companies. When he was taken ill he was in Egypt working for Gupco [Gulf of Suez Petroleum]. Ray was diagnosed with a brain tumour and died peacefully today after a short illness. He came from and lived in Dundee. He was an amazing man. In his younger days he was a world class swimmer and he was a champion at his weight in ju-jitsu. Ray was one of those people that you could rely on, really rely on. If he said he would do something it was done. He will be sadly missed. I will promulgate funeral details, etc., as they become known."
---
From Graham 'Chuck' Berry via Terry Gosling:
"Bob 'Florrie' Ford has kept me updated with Ray's situation. Ray was my partner on my CD course. I think the class number was DCD 63 around 67/68. Funnily enough, since I left the service in 1973 we never did meet up. Where does all the time go? Jan 'Dave' (Commander) Hilton was around at the same time. Dave, I think, is now living on the Isle of Wight.

I stayed at Ray's house for the night while on course. At the time he was breeding Newfoundland dogs or certainly fond of them. Terry Settle was also in our class. Terry stayed in to become a Fleet Chief. Another class member was John Salisbury now working ROVs with SS7.

Cheers,

Chuck"
---
RNZN Unveils Plaque to Commemorate 11th MSS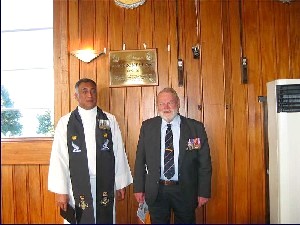 Chaplain Wayne Toleafoa and 11th MSS representative Gerry Wright
The 'Latest News' page of the Ton Class Association's website contains an article describing last month's unveiling of a plaque to commemorate the 11th Minesweeping Squadron in the Naval Memorial Chapel at HMNZS Philomel overlooking Aukland harbour. The 11th MSS comprised the Ton Class minesweepers HMNZS Hickleton and HMNZS Santon converted for patrol duties and lent to the Royal New Zealand Navy from April 1965 to October 1966 for service during the Indonesian Confrontation. For their "courageous, cool and controlled actions in the face of enemy fire", Lt Cdr Peter Norman Wright RNZN (CO of Hickleton) was awarded the DSC and AB Charles Kenneth Taylor (Hickleton) was awarded the DSM.
Peculiarly, Hickleton and Santon were commissioned into the RNZN at Singapore and were the only RNZN ships never to visit New Zealand.
---
13 Jul 06 - Request for Help - Sladen 'Clammy Death'
Robert Hobson is chairman of the Underwater Heritage Trust and has three WW II British "Chariot" human torpedoes on display at Eden Camp Museum, Malton near York. He has contacted me because his 60 year old frogman suit with O2 rebreather (probably the Sladen Mk 2 'Clammy Death' which evolved into the Shallow Water Diving Dress) is perishing and he has been unable to find a replacement. He is now considering having four replicas made but has been unable to find a suitable manufacturer.
Can anyone help him, either by providing original suits in good condition or the name of a company that could manufacture replacements? If so, contact me via webmaster@mcdoa.org.uk or phone Robert direct on 020 8467 8656.
---
11 Jul 06 - HMS Quorn XO Cycles for Charity
The following item from today's Portsmouth News describes a charity bike ride from Den Helder to Arnhem by Steve Walton, the MWO First Lieutenant of HMS Quorn. During the past three months, HMS Quorn has raised over £2,000 for charity through events undertaken by members of her ship's company including PO(D) 'Ruby' Murray, AB(D) Broadhead and OM(MW) Loftus. See this article on the RN website for further details.

---
8 Jul 06 - Make mine a whisky!
The Bruichladdich whisky distillery's website contains this article and the Royal Navy website contains this article, both describing the recent presentation of a UK Mk 17 moored mine to the distillery by members of the Northern Diving Group including MCDOA member John Law (CO), WO(D) Steve Strange and RAN exchange diver Brad Eames.
The distillery's webpage also shows this whisky bottle label commemorating the embarrassing loss of a familiar piece of MCM equipment. No names, no pack drill but you may wish to look at the second item for 28 Jun 05 in News Archive 10.
---
7 Jul 05 - New Books about George Cross Recipients
Marion Hebblethwaite maintains a George Cross Database and is now producing a series of books about GC recipients, their deeds and personal backgrounds. To date, she has covered recipients with surnames beginning A to G and asks me to point out that these include several naval personnel engaged in wartime bomb and mine disposal:
Lt Cdr Robert Selby Armitage GC GM RNVR (Vol 1)
Lt Cdr John Herbert Babbington OBE GC RNVR (Vol 2)
Lt John Bridge GC GM* RNVR (Vol 2)
Lt Cdr Francis Haffey Brooke-Smith GC RNR (Vol 2)
Lt Cdr John Bryan Peter Duppa-Miller (originally Miller) GC RNVR (Vol 3)
Lt Peter Victor Danckwerts MBE GC RNVR (Vol 3)
Lt Jack Maynard Cholmondeley Easton GC RNVR (Vol 3)
CPO Reginald Vincent Ellingworth GC (Vol 3)
Lt Cdr Leon Verdi Goldsworthy GC GM DSC RANVR (Vol 4)
Lt George Herbert Goodman MBE GC RNVR (Vol 4)
Lt Cdr George Gosse GC RANVR (Vol 4)
See the George Cross Database for details of Marion's books and how to order them.
---
6 Jul 06
All the Nice Girls...
The online Daily Record of 4 July contains this article describing how HMS Blyth (XO Paul Smith) was forced to repel a drunken mob of jealous locals trying to board the ship at Stornoway on the Hebridean island of Lewis last weekend. The BBC News website contains this article regarding the incident. A less traumatic account of HMS Blyth's recent activities can be found in this article from the 'Frontline News' section of the Royal Navy website.
---
First MCM Squadron reforms at Faslane
The Royal Navy website contains this article (featuring MCDOA member Chris Davies - MCM 1) about the First MCM Squadron's return to Scotland after several years based at Portsmouth. Farewell MCM 3 (again!).
---
5 Jul 06 - New Personal Update
The Members Only area contains a comprehensive update, including photos, from David 'Topsy' Turner who transferred to the RNZN two years ago. Now, how about the rest of you?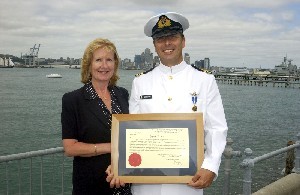 Topsy with Yvonne and his RNZN Commission
---
2 Jul 06 - Joint MCDOA & AORNFCD Barbecue at Horsea Island
The joint MCDOA and Association of RN First Class Divers barbecue at Horsea Island will start at 1600 on Saturday 15 July. The booking form is now available for download via the 'Upcoming Events' page of the Members Only area of the website. Members of the AORNFCD are being advised separately by Troy Tempest.
In addition to some excellent char-grilled cuisine, there will be music, a cash bar and other activities including tombola, swimming, 'treasure hunt', guess the weight of the cake, traditional mess horse-racing (for the children - big & small) and, of course, the opportunity to get together with old friends & colleagues and their families for a great social event. Car parking will be available. Rig will be casual with a prize awarded for the 'best' t-shirt as judged by the Committee. All this for the excellent price of only £5 per head, so come along (wearing your t-shirt) and have a great afternoon.
To allow us to cater for the occasion we need an indication of numbers at least 48 hours in advance so please return the booking form to our Hon Sec by 1200 on Thursday 13 July to make sure that you don't miss out. Let's have a good turnout to ensure the revival of this once-popular traditional Vernon event.
---
1 Jul 06 - Navy News Items
The following MCD-related items from the July issue of Navy News include: a deployment to Norwegian waters by HMS Bangor; the disposal of wartime mines by SDU2 and HMS Quorn; the rescue of a whale by members of the Defence Diving School (featuring MCDOA member Richard 'Soapy' Watson); the commemoration of the Corfu Channel mining incident by HMS Lancaster; and a visit to Thurrock Sea Cadet Unit's TS Iveston (ex-HMS Iveston) by the Duke of York.
---