---
22 Dec 21 - Latest LS&GC Awards
Congratulations to CPO(MW) James Bergh-Roose and PO(MW) D Crayon on being gazetted for the award of the Naval Long Service & Good Conduct medal signifying 15 years of 'undetected crime'.
---
21 Dec 21 - Merry Christmas!
Merry Christmas and a Happier New Year to all members of our community.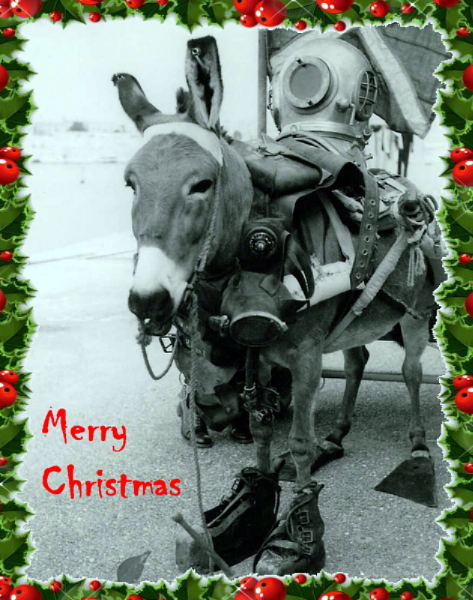 ---
6 Dec 21 - Capt Ben Vickery RN presents awards to HMS PEMBROKE personnel
Ben Vickery, who qualified as an MCDO in 2004, is Capt PUXD (Captain Patrol, Underwater Exploitation and Diving) or CMCM/COMMW/Capt MFP in old money. He recently visited HMS Pembroke (MCM1 Crew 4) to present PO(MW) 'Blood' Reid and PO(D) Craig Maddock with their Long Service & Good Conduct medals and PO Gray with a Herbert Lott award for his outstanding contribution to the ship's Marine Engineering department (all photos Royal Navy).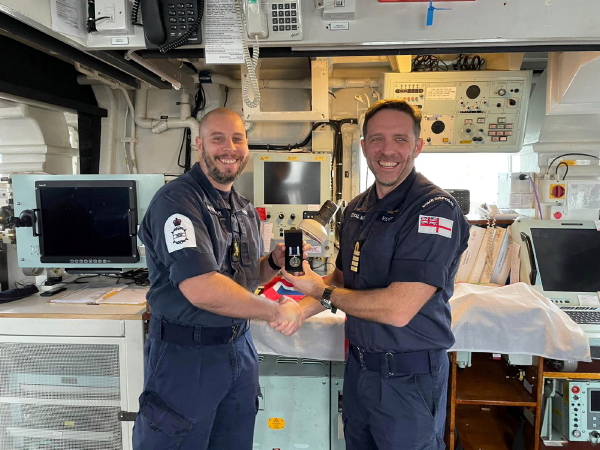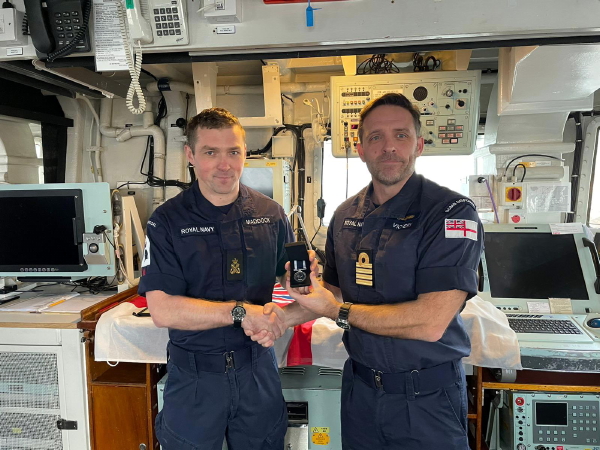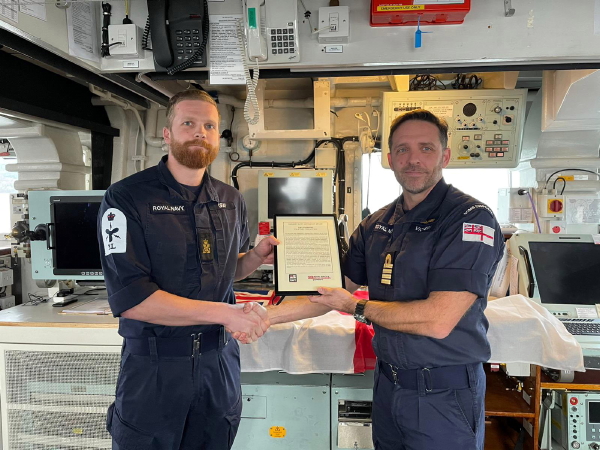 Ben Vickery was endorsed at our recent AGM to supersede Capt Roger Readwin as the MCDOA's next President (you just need to join the Association i.a.w. the new system, now Ben).
---
1 Dec 21 - Operational Updates, AGM and Annual Dinner (Part 3)
Here is a selection of photos taken during last Friday's MCDOA Annual Dinner held in HMS NELSON's wardroom.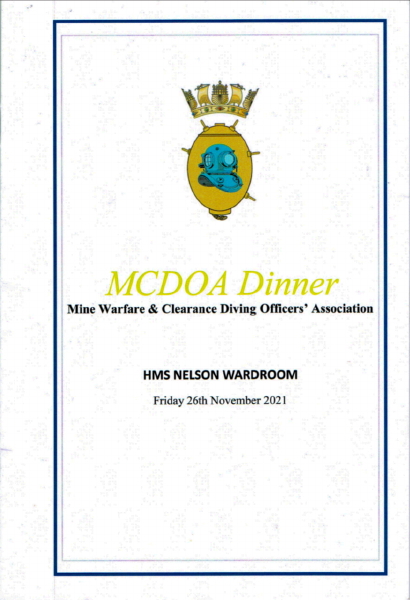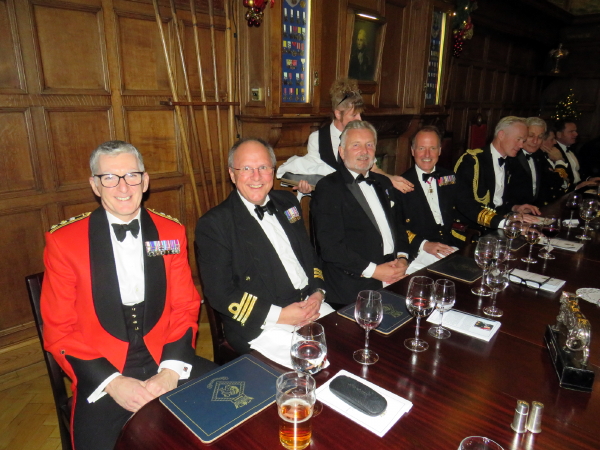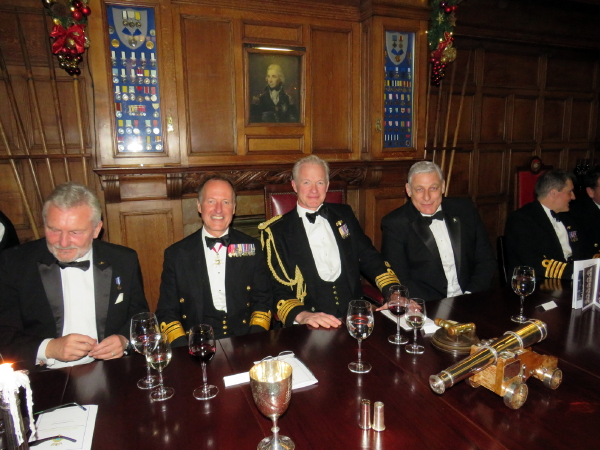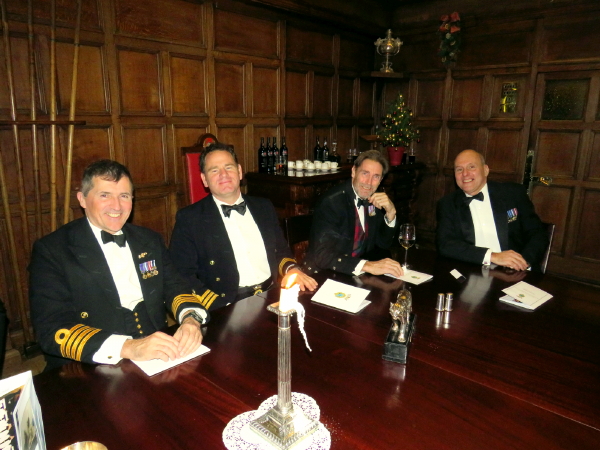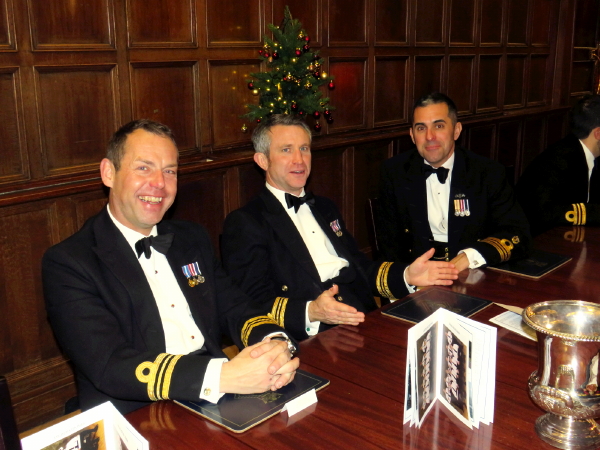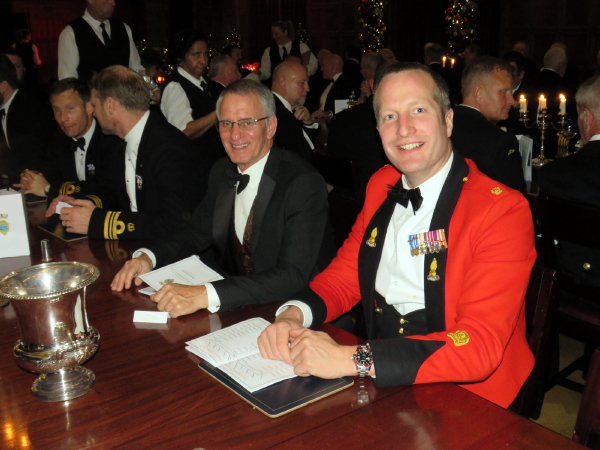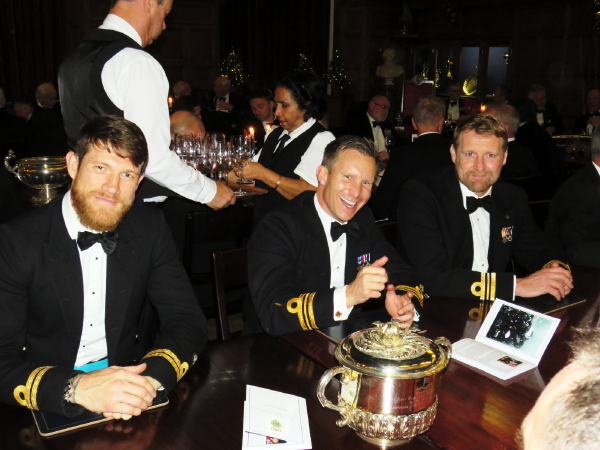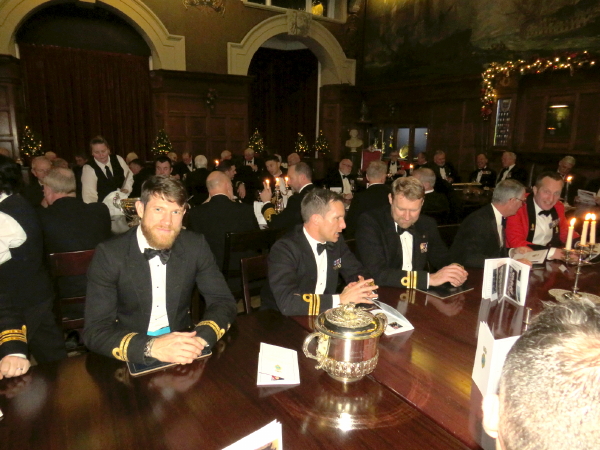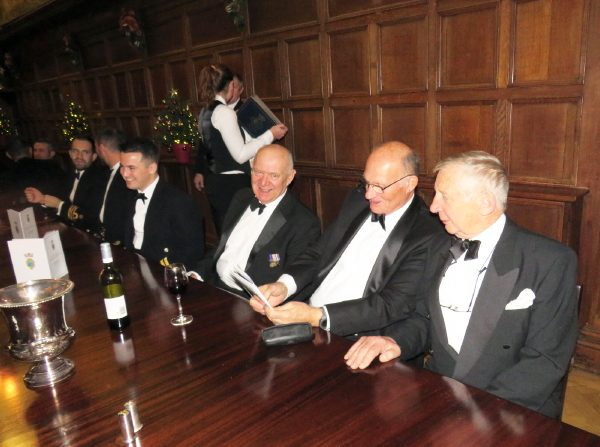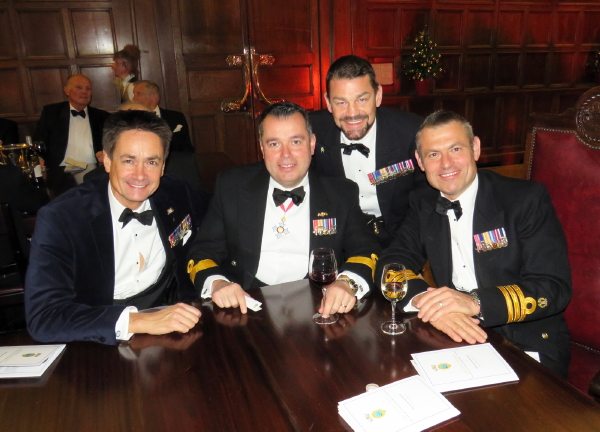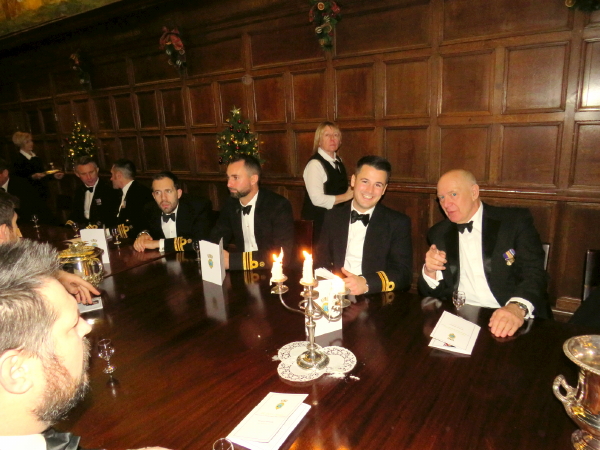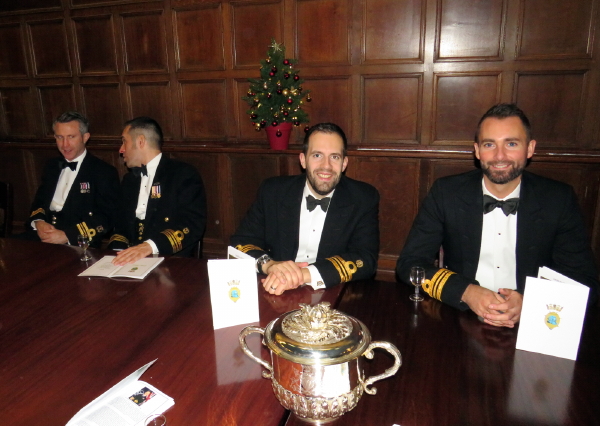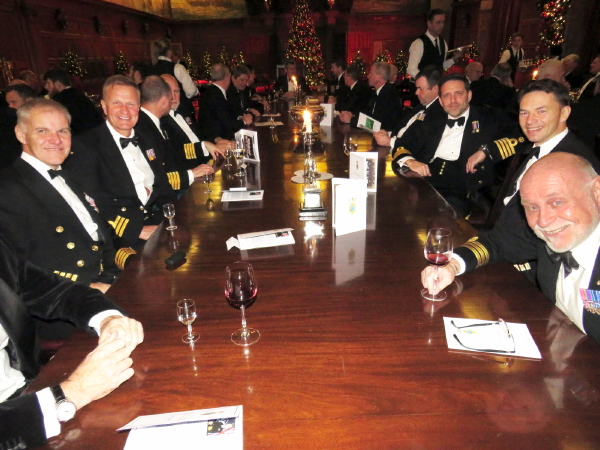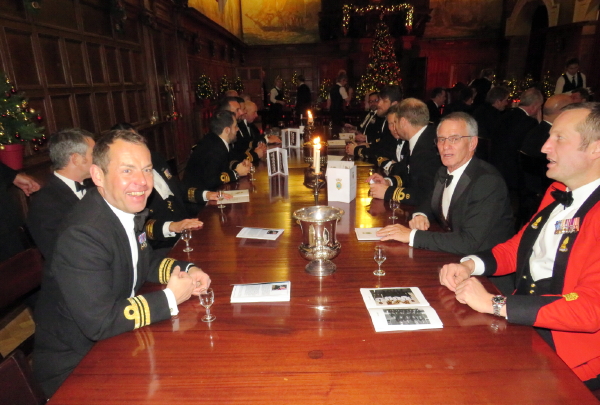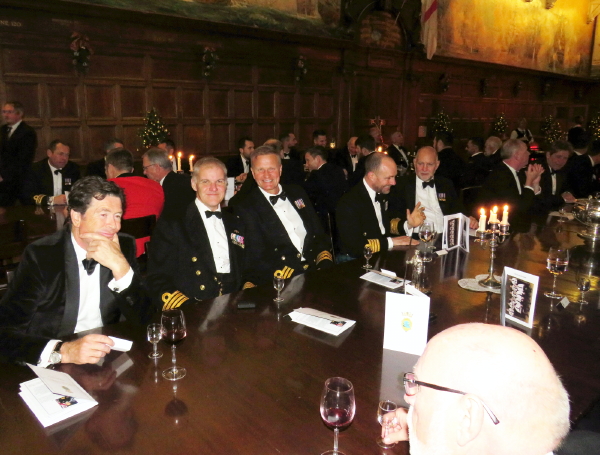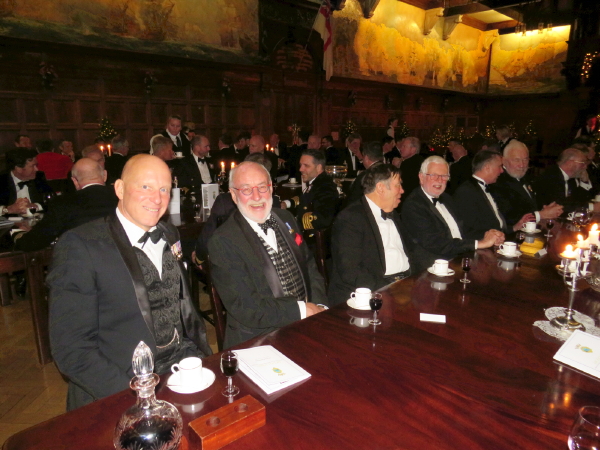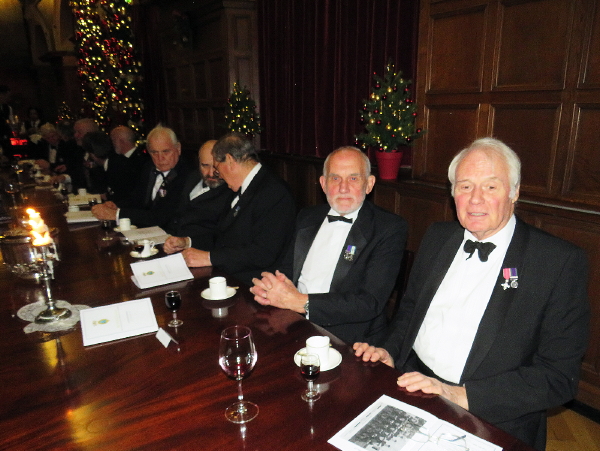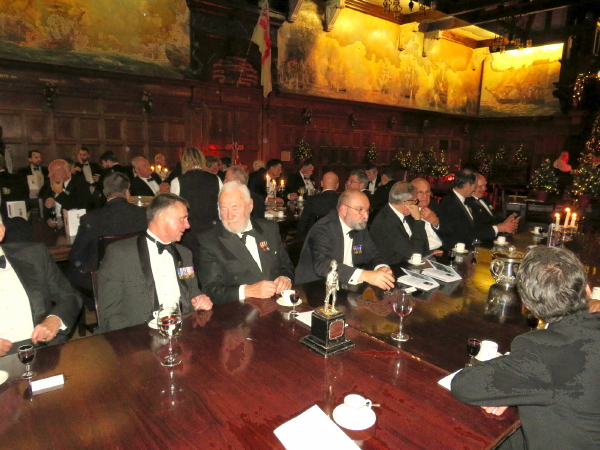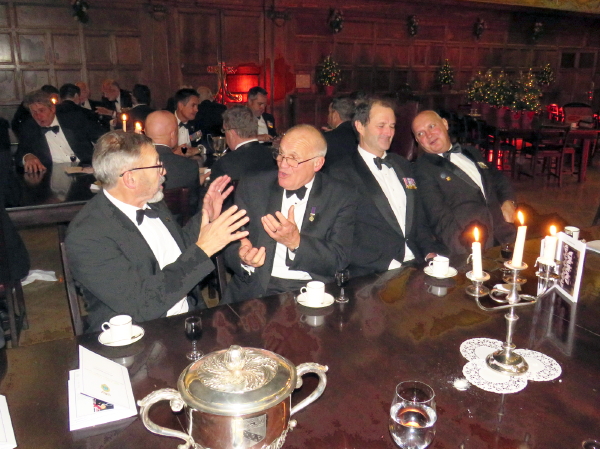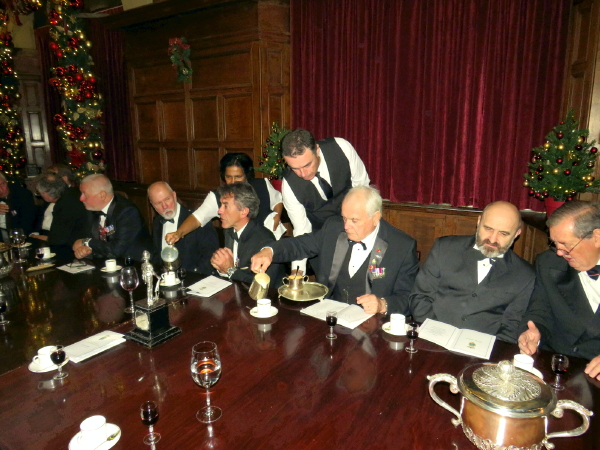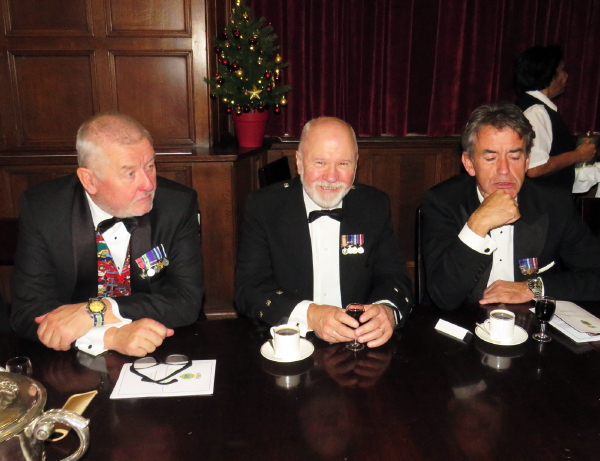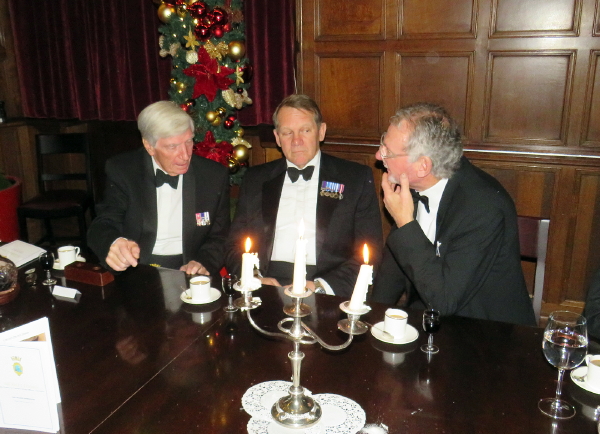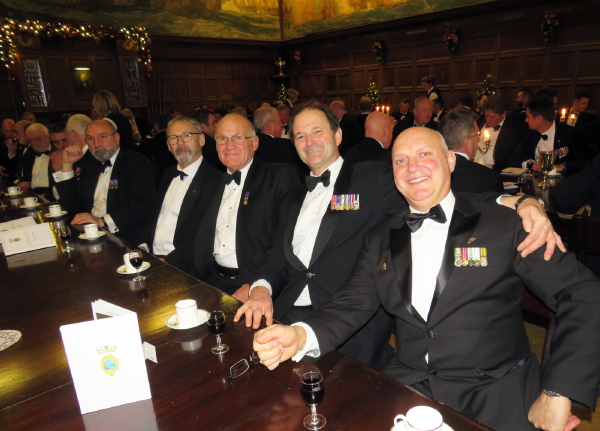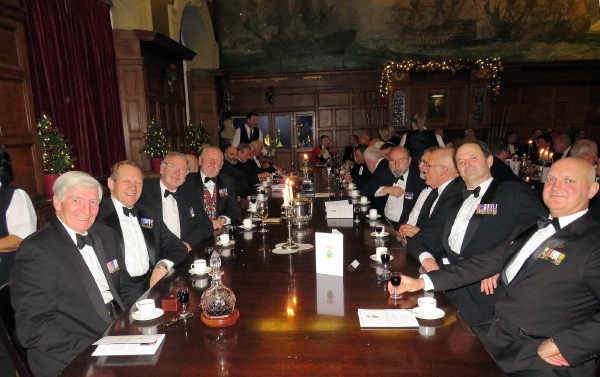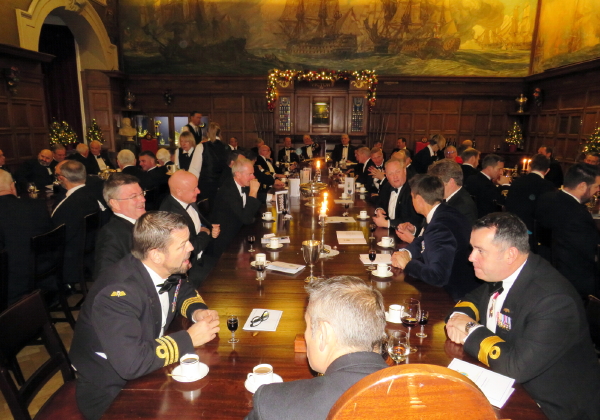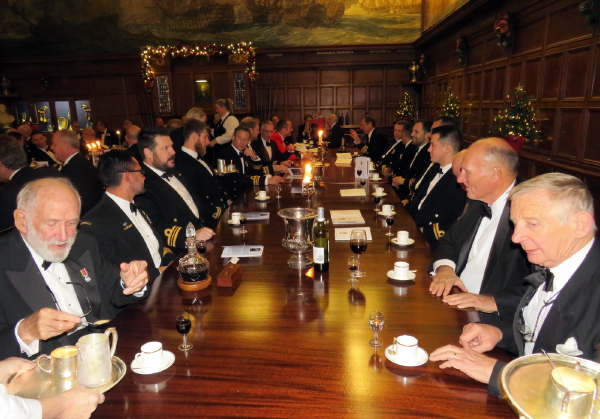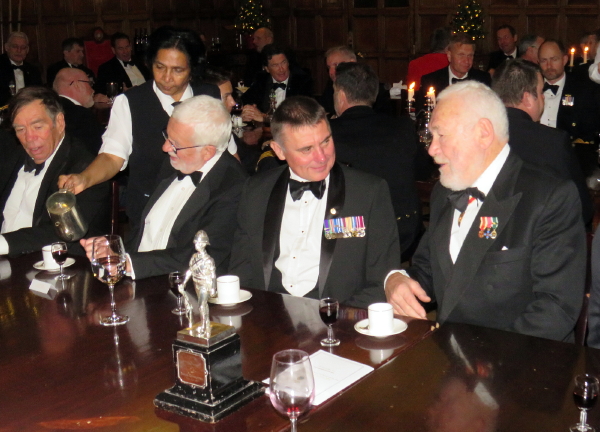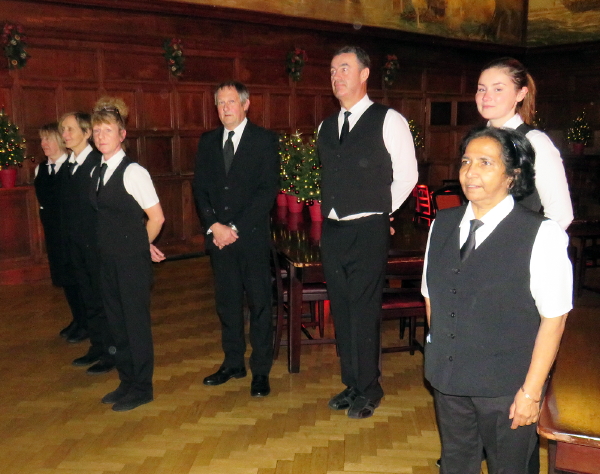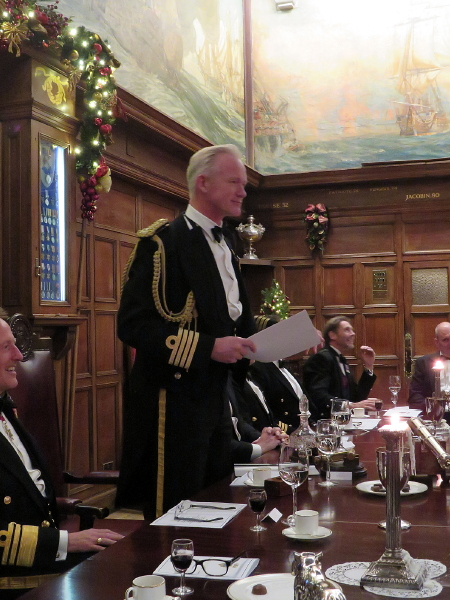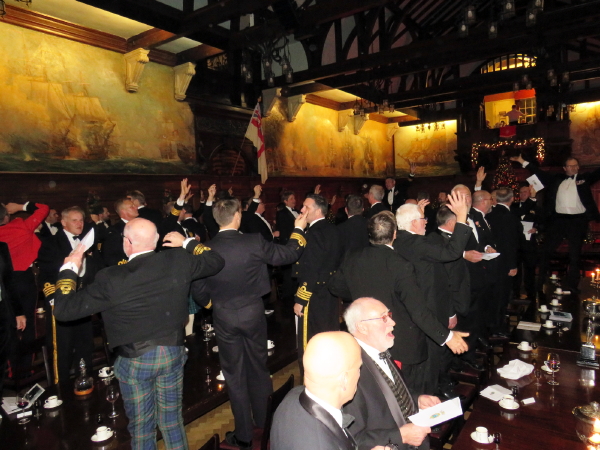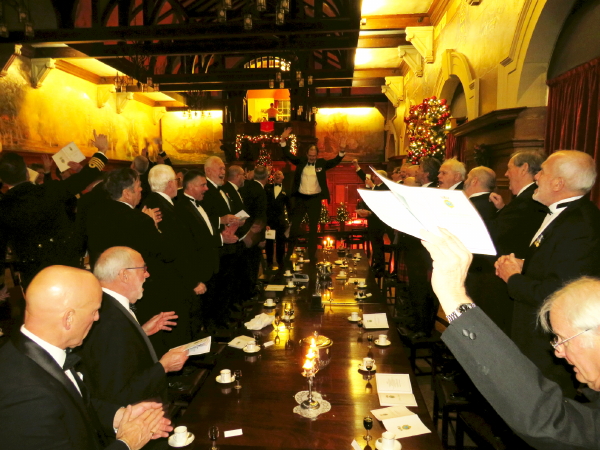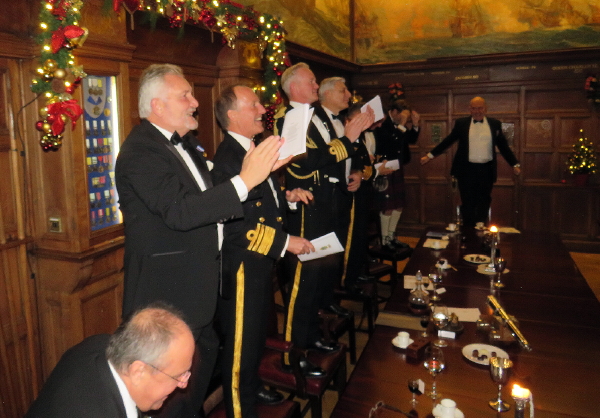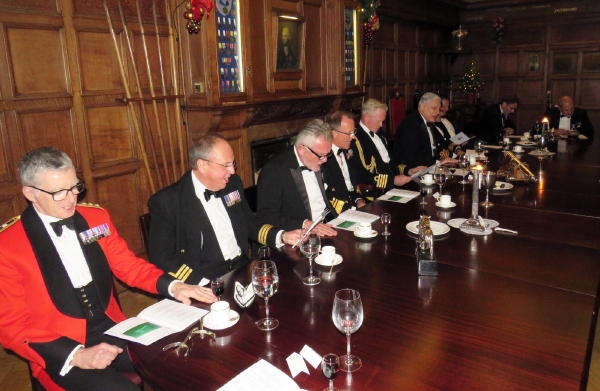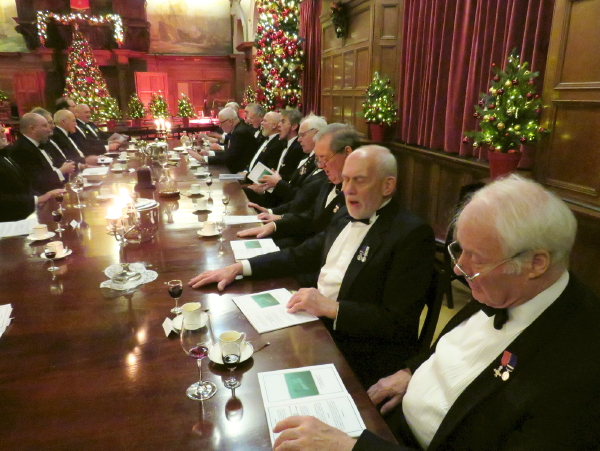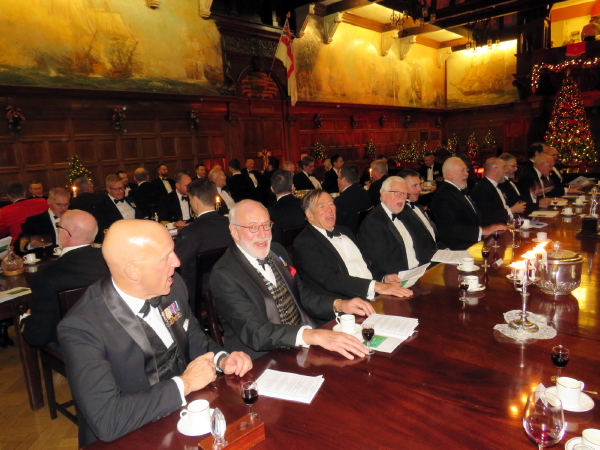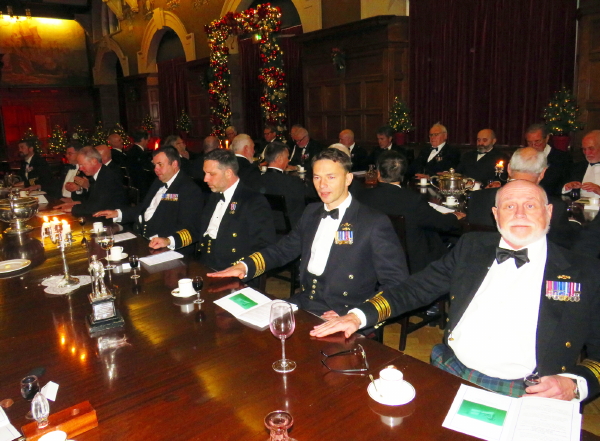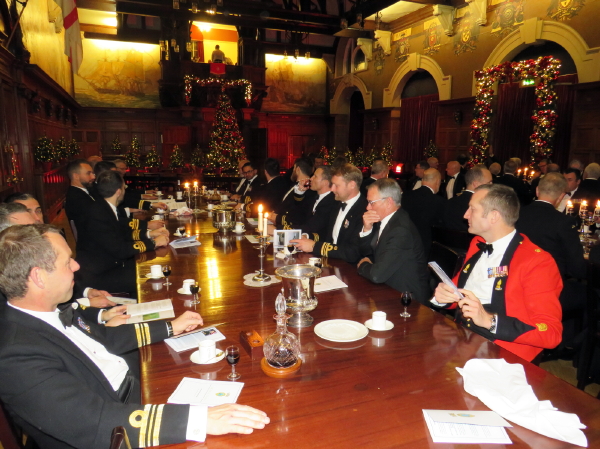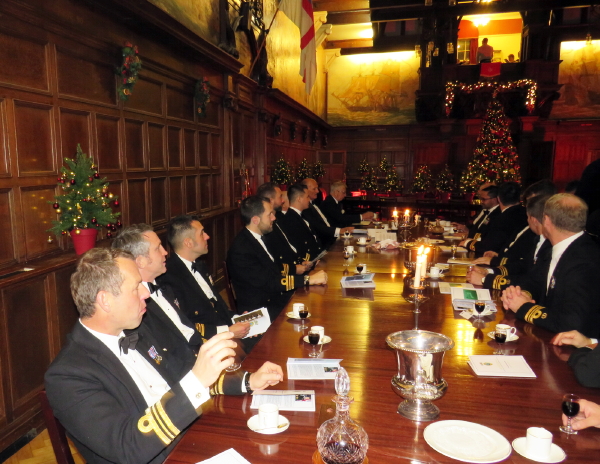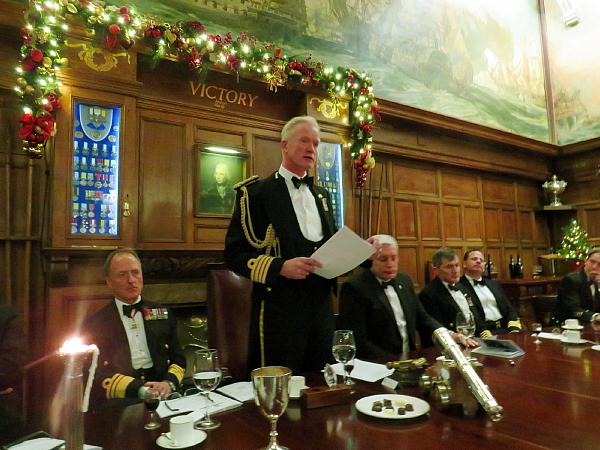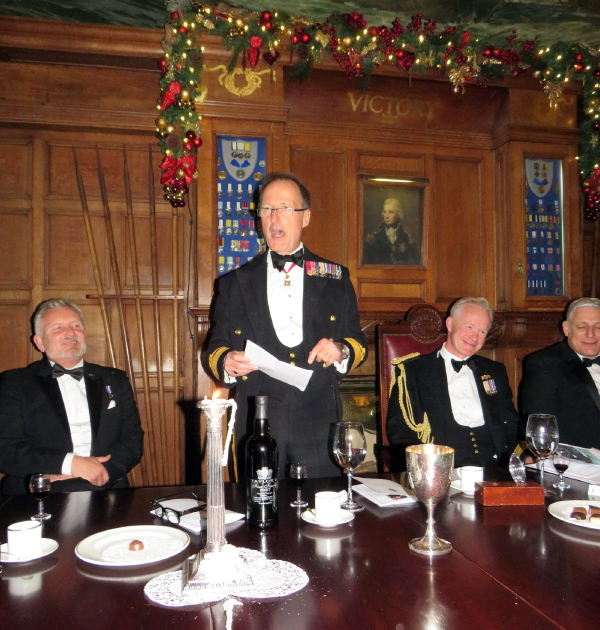 ---
30 Nov 21 - Operational Updates, AGM and Annual Dinner (Part 2)
We returned to the wardroom at HMS NELSON for last Friday's annual MCDOA Dinner because the galley at HMS EXCELLENT is being renovated. The food and service were excellent and the singing accompanied by NELSON's volunteer band, was as lusty as ever, Well done to all those involved in the function's organisation, particularly Ben Brown, our Hon Sec.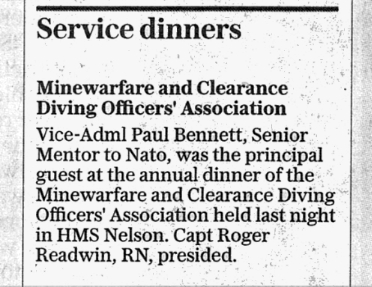 As announced in the following morning's Telegraph, Capt Roger Readwin ADC RN, President of the MCDOA, presided for the evening and our Guest of Honour was Vice Admiral Paul Bennett CB OBE. We also dined out Jim Nisbet and Kev Giles from the Royal Navy in style. Leaver Justin Hains had to cancel his attendance so we will have to dine him out next time round. Martyn Holloway and Tim Paul MBE were present to celebrate the 51st anniversary of their LMCDO course in 1970 having been unable to celebrate its 50th anniversary last year owing to the Covid pandemic.
The dinner began with the usual reunions and dit-spinning in the bar.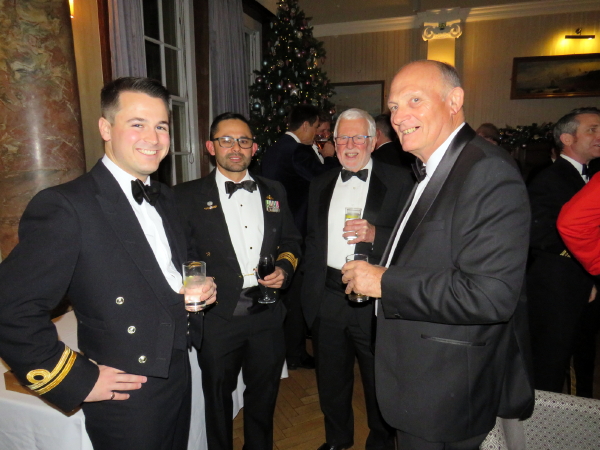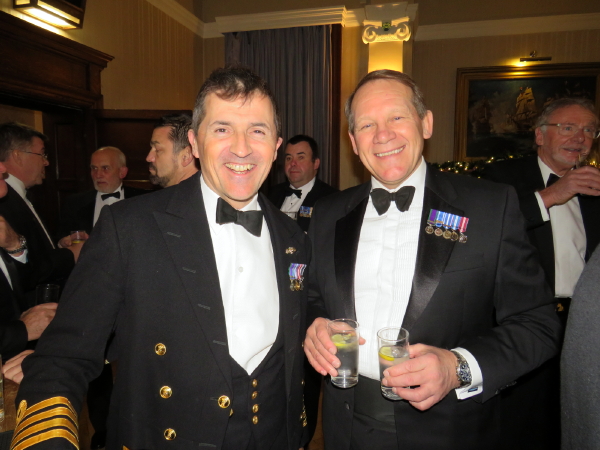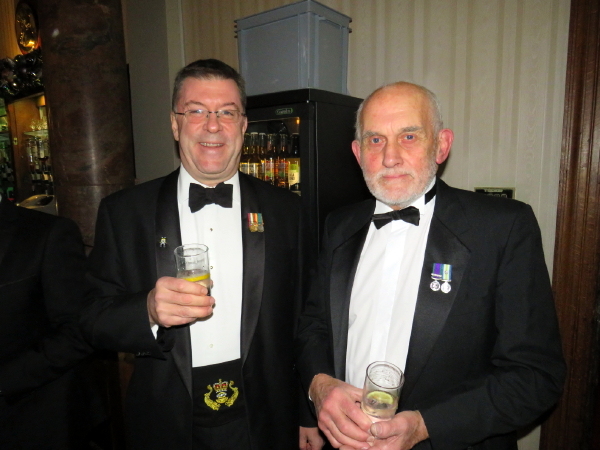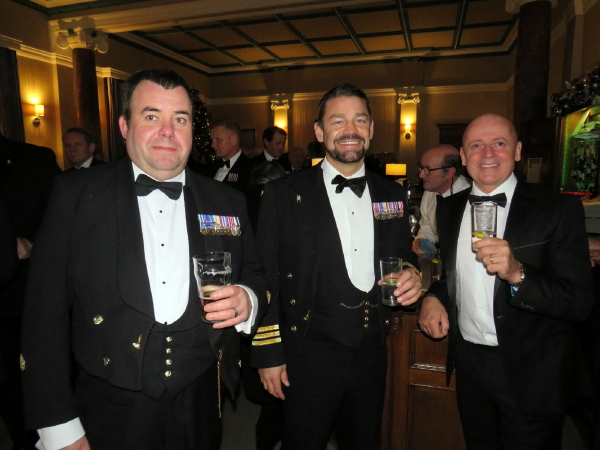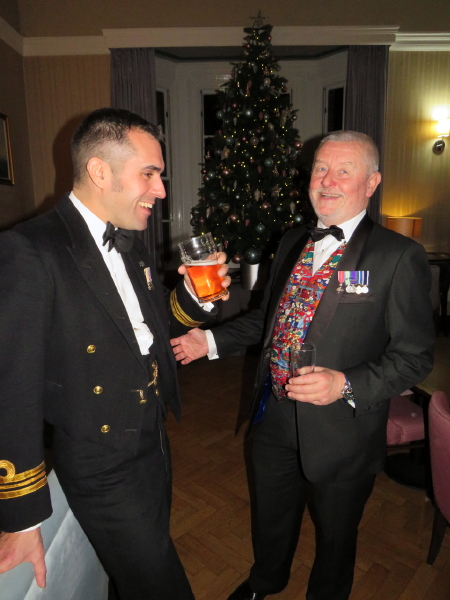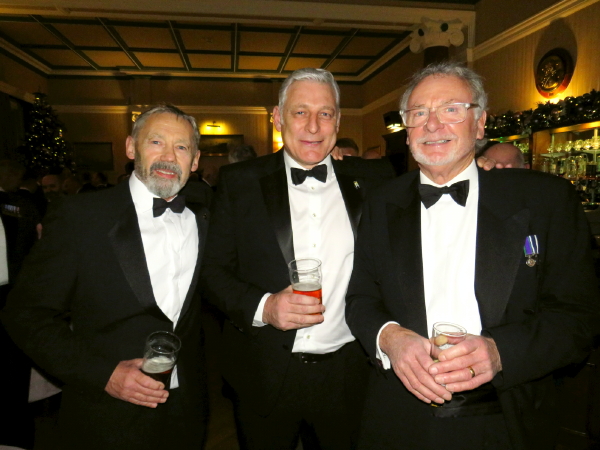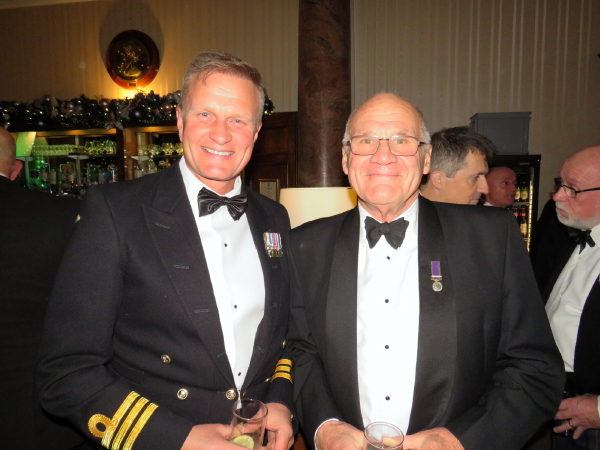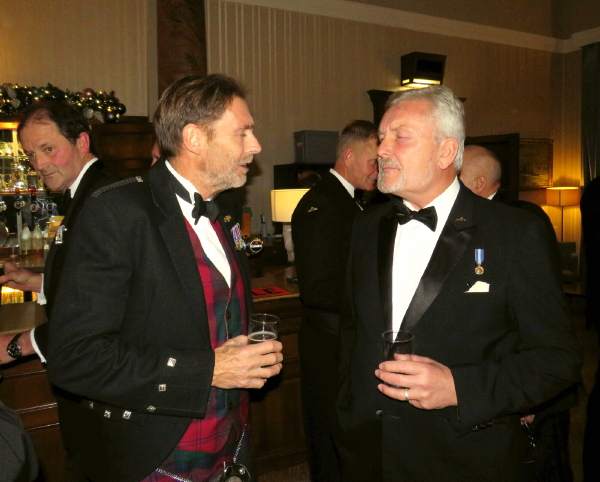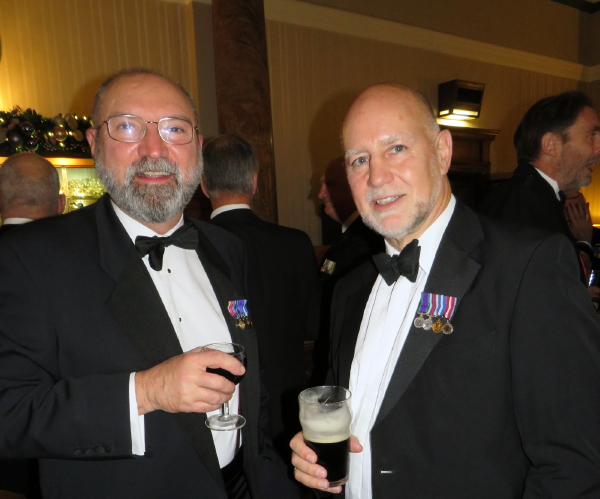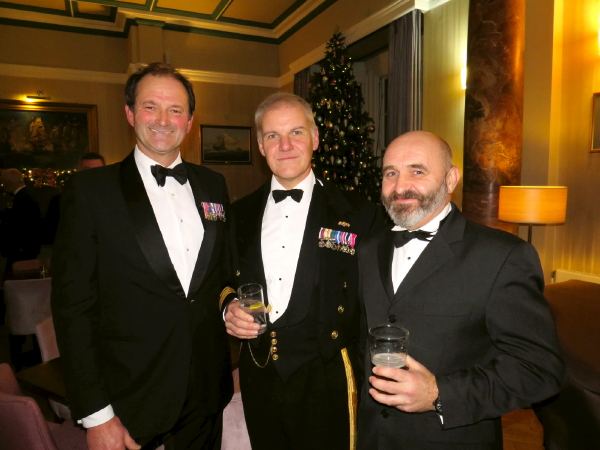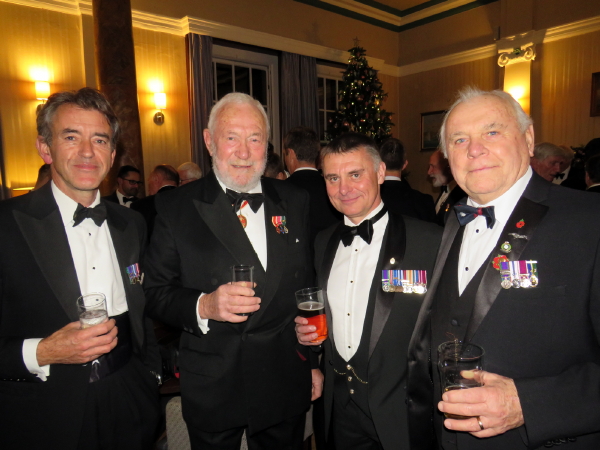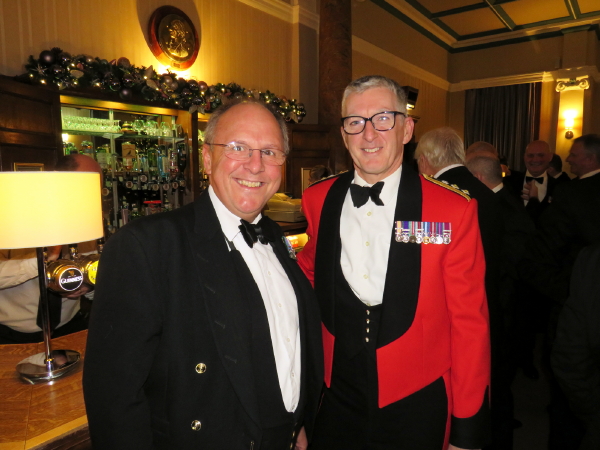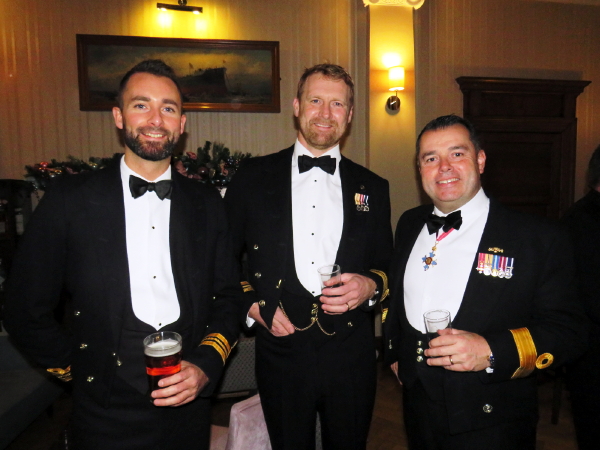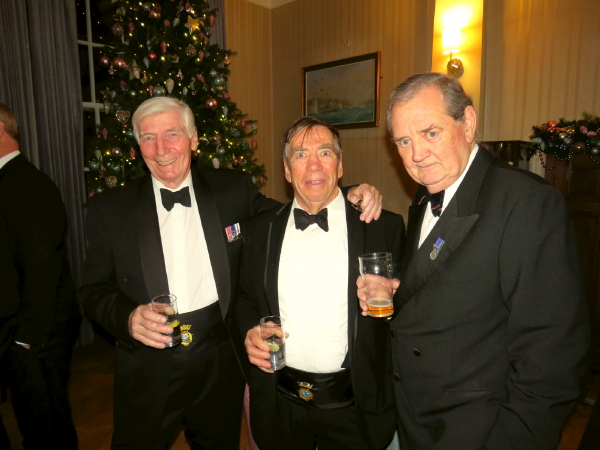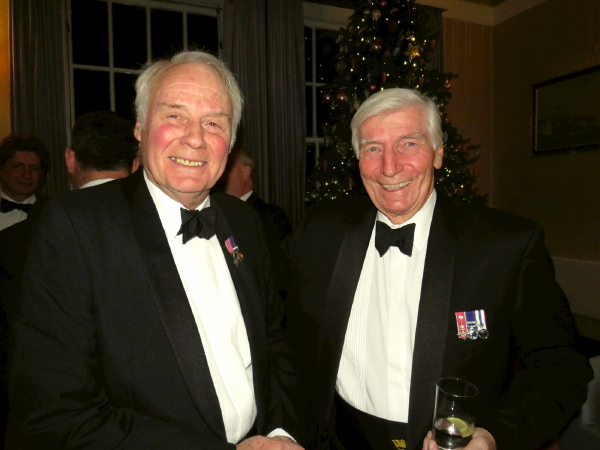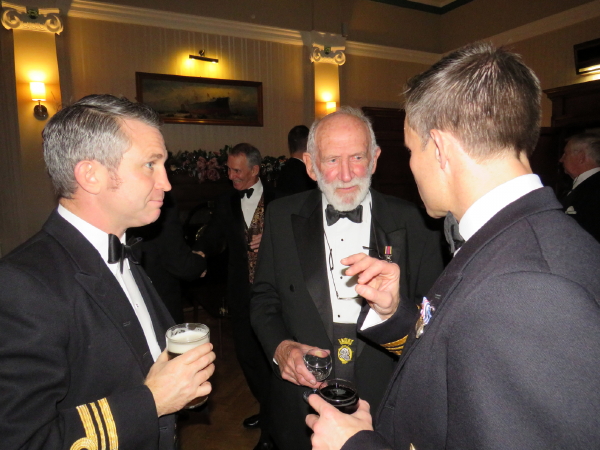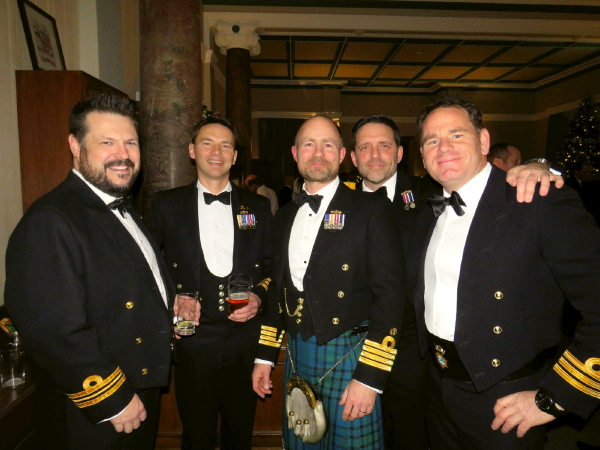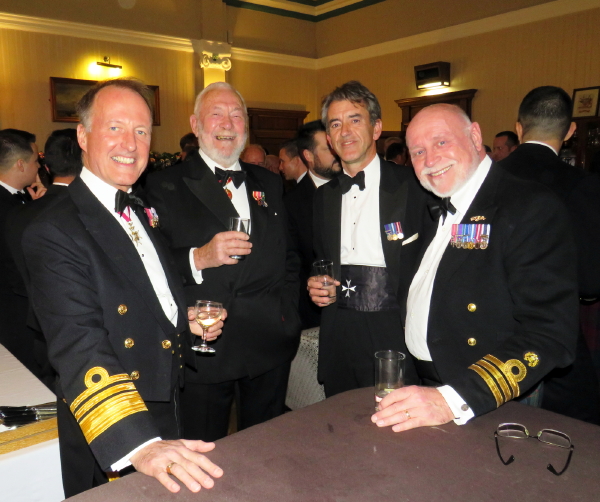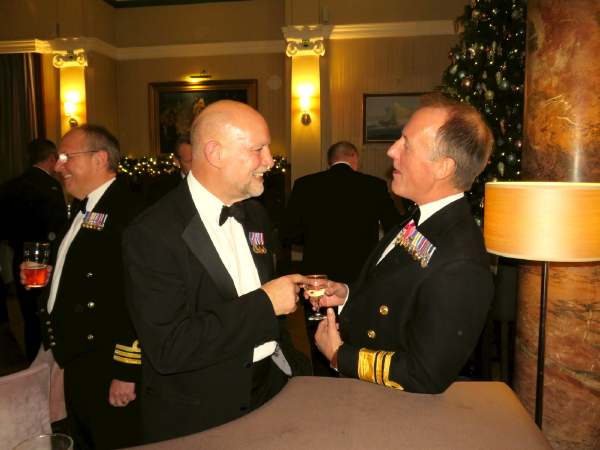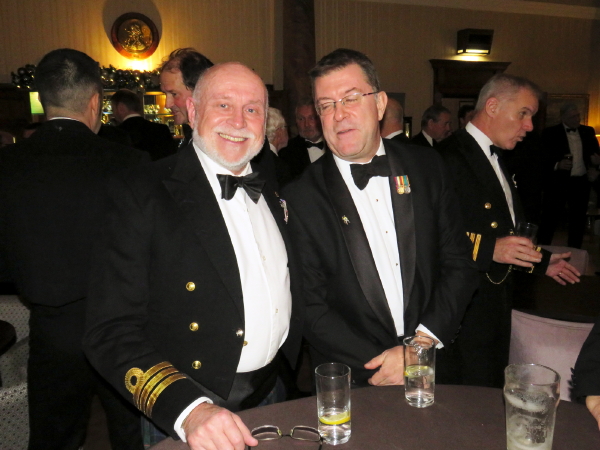 P.S. I was there too.

---
29 Nov 21 - Operational Updates, AGM and Annual Dinner (Part 1)
After a two-year lapse owing to the pandemic, the MCDOA was back in action again last Friday with its Operational Updates and AGM at Fleet Diving Headquarters on Horsea Island and the annual dinner in the wardroom of HMS NELSON instead of HMS EXCELLENT where the galley is undergoing renovation. Many thanks to Ben Brown, our Honorary Secretary, for his time, effort and organisational skills.
The day kicked off with Operational Update briefs, kindly delivered by Kyle De-Banks, Olly Alexander, Alex Coleman, Ben Stait and Sean 'Central' Heaton. They were extremely informative and we owe them a huge debt of gratitude for their much appreciated candour and enthusiasm. For me at least, this is always a highlight of the day and I thoroughly recommend next year's session to any member wanting to be brought up to date with the enormous changes taking place in RN MCM, Diving and EOD.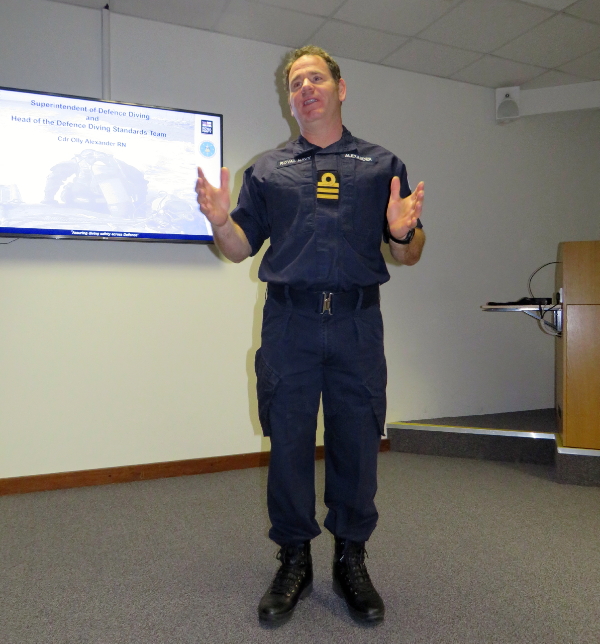 Our Chairman Olly Alexander, Superintendent of Defence Diving, delivering his
State of the Nation address
Kyle De-Banks delivering his diving operational brief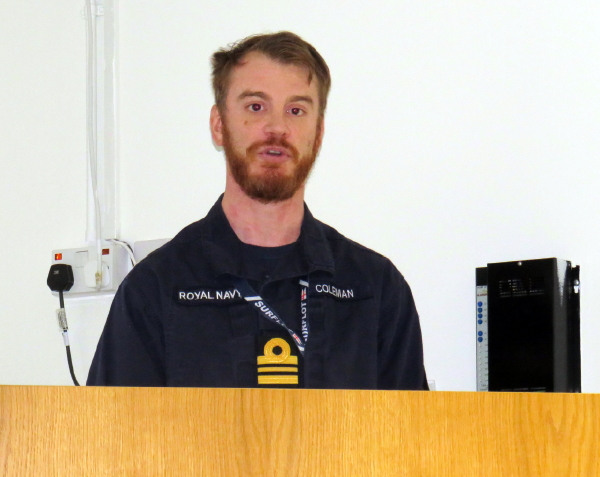 Alex Coleman, Chief of Staff (SOO in old money) to MCM2,
delivering an MCM operational update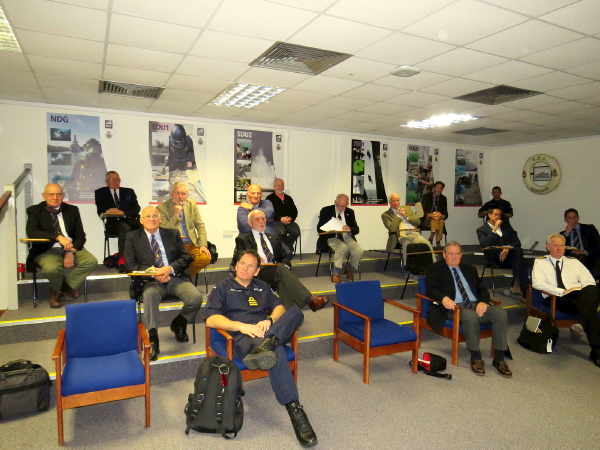 The socially distanced audience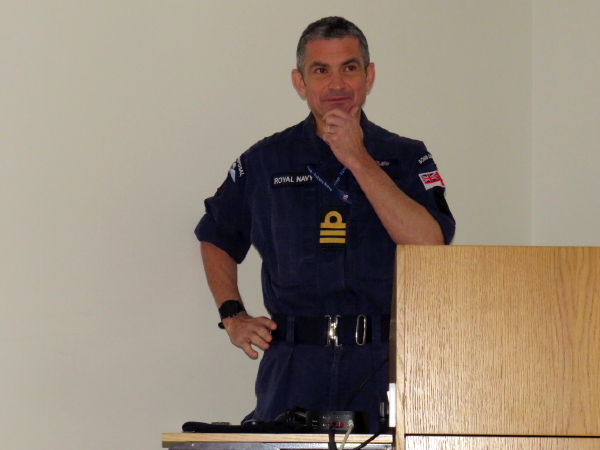 Capability Development Manager Ben Stait delivering his equipment update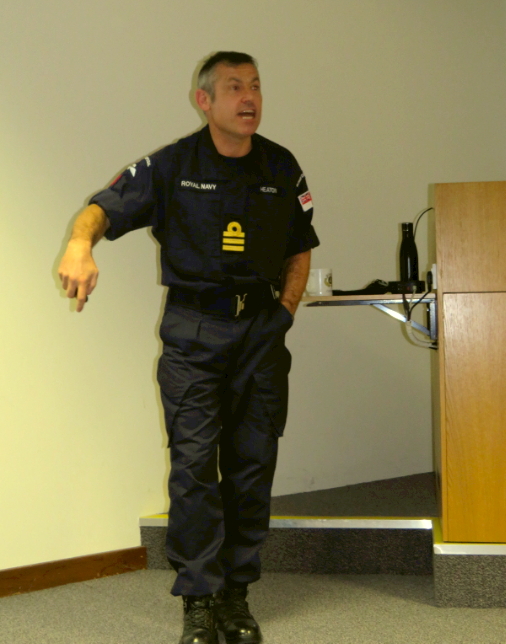 Sean 'Central' Heaton, CO Fleet Diving Squadron, delivering his brief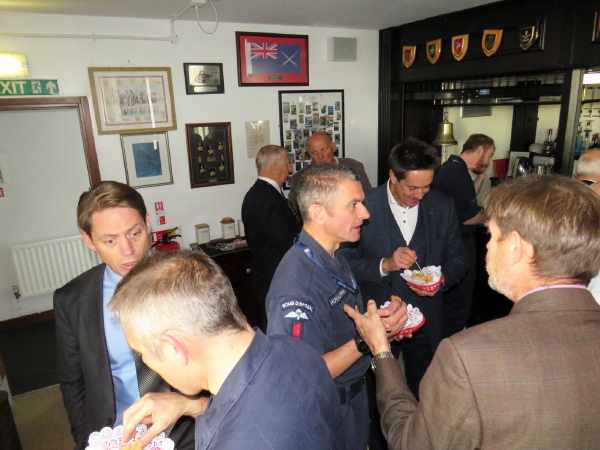 Above and below: Lunch in the bar at Horsea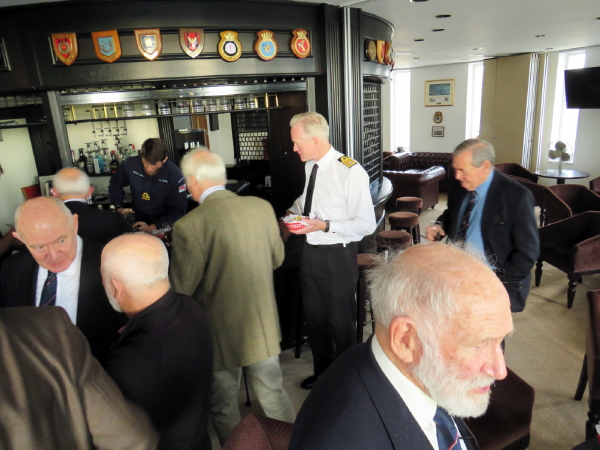 After an Association-funded lunch of scampi & chips in the basket in the Horsea mess, we re-convened for the AGM. The major points of this were:
a. Our finances are healthy but some people, many of whom cannot be identified, are still paying annual membership subscriptions via Standing Order. This includes subscriptions at the 'new' rate of £15 and many at the 'old' rate of £10 which has been obsolete for the past 12 years. Standing Order payments (for those who need to pay) were superseded almost a year ago by the credit card/PayPal system on our MOJO database. Please cancel any existing Standing Orders as only you have the power to do this.
It is emphasised that ALL past members need to re-apply for membership online and, when approved, pay using the new system. To do this go to the MOJO website here:
https://membermojo.co.uk/mcdoa
N.B. The MOJO website is compliant with GDPR legislation and allows you to keep your own contact details up to date. It also means that all bona fide members are guaranteed to be sent emails containing updates and news of forthcoming events instead of relying on my outdated personal address book and failing memory.
b. Capt Roger Readwin, our Honorary President, is being promoted to Commodore and will become our next Naval Attache in Washington, DC next June. Capt Ben Vickery, currently Captain Patrol, Underwater Exploitation & Diving (Capt MFP, COMMW or CMCM in old money) has kindly agreed to supersede him as our next President.
c. Surg Cdr Simon Phillips RN, Head of Diving Medicine at the Institute of Naval Medicine, was unanimously approved as an Honorary member of the MCDOA in recognition of his contribution to RN diving. Sadly, we only have one other surving Honorary member: Vice Adm Russ Crane AO CSM RAN who is a former Chief of the Royal Australian Navy.
d. A new 'Affiliate Member' category has been established for WO(MW)s, WO(D)s and members of the Royal Engineers Bomb Disposal Officers' Club (REBDOC) with which the MCDOA is affiliated. Such people may apply for this (free) type of MCDOA membership, citing a full MCDOA member as a referee. When approved, they will be able to apply to attend MCDOA functions in their own right instead of having to ask a bona fide member to act on their behalf.
e. Cdr Bob Hawkins MBE RN has replaced Lt Cdr Martyn Holloway RN as an MCDOA committee member. Martyn has stepped down after yielding many years of valuable service.
f. MCDOA members are urged to organise remote gatherings of fellow members and request a subsidy from the Association to help fund the event provided all those present entitled to MCDOA membership have become members.
g. Kev Giles has kindly volunteered to act as Social Secretary.
---
20 Nov 21 - Meritorious Service Medal for WO1(D) Simon 'Si' Crew
Congratulations to Si Crew on being gazetted for the award of the MSM (Meritorious Service Medal). The medal is awarded "for good, faithful, valuable and meritorious service, with conduct judged to be irreproachable throughout" and recipients must have served at least 20 years. No more than fifty-one such medals are awarded annually in the Royal Navy and Royal Marines combined and this total is seldom reached.
Si's award was previously published among the Queen's Birthday Honours in June.
---
Latest LS&GC Awards
Congratulations to CPO(D) Darren 'Daz' Carvell MBE on being gazetted for the award of the 1st clasp to his Naval Long Service & Good Conduct medal, signifying 25 years of 'undetected crime'. Daz was appointed an MBE in the 2019 New Year Honours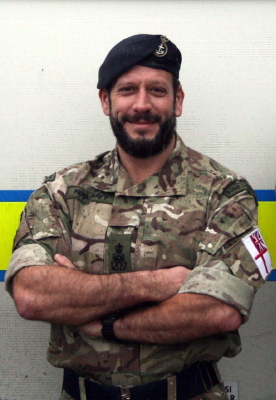 Daz Carvell as a PO(D) in 2018
Congratulations as well to LS(D) Dan Tarbox on being gazetted for the award of the Naval Long Service & Good Conduct medal signifying 15 years of 'undetected crime'.
---
7 Nov 21 - Lest we forget

They shall grow not old, as we that are left grow old;

Age shall not weary them, nor the years condemn.

At the going down of the sun and in the morning,

We will remember them.

Robert Laurence Binyon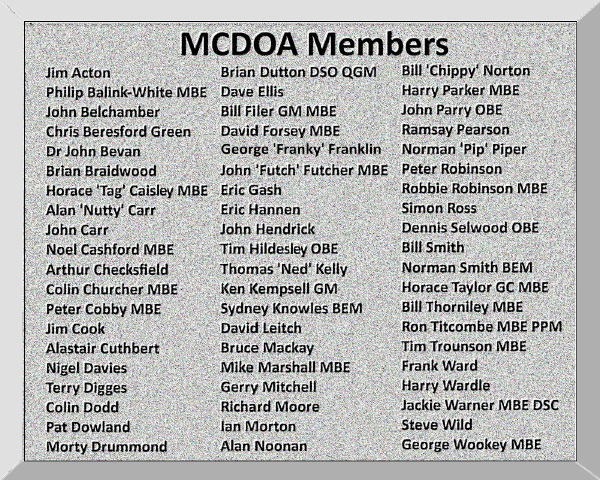 ---
29 Oct 21 - New pewter statuette of Vernon Monument
An announcement by MCDOA member Paul Guiver BEM, founder of Divers' Gifts & Collectables: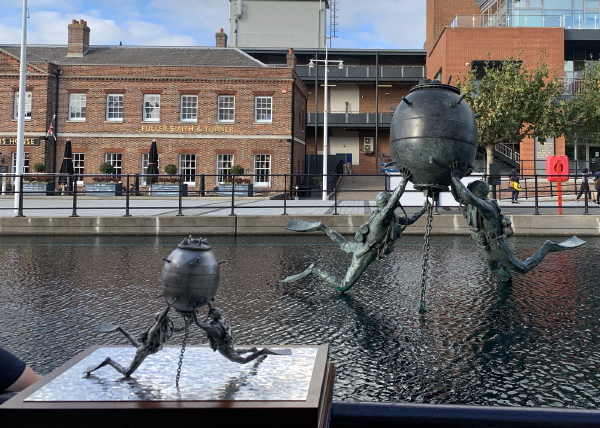 "Divers Gifts & Collectables are delighted to announce that we have agreed to embark on the running of the Vernon Minewarfare & Diving Monument Project shop.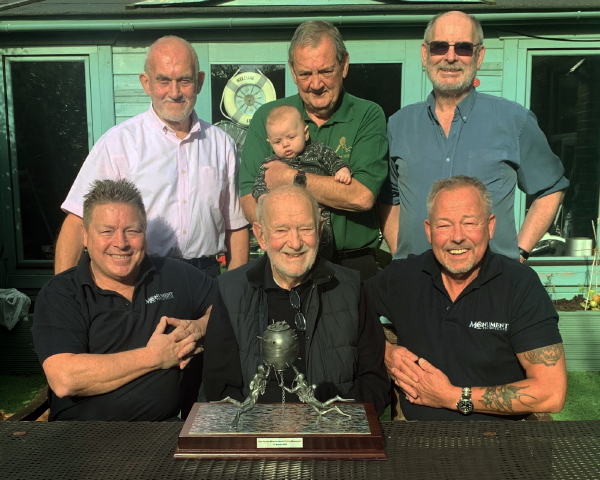 We now have the sole responsibility for retailing all existing project merchandise and have been granted a licence to produce new lines and gifts in the future. A substantial contribution from all sales in this range will be made to the Vernon Monument Project Charity. The first of these new items is The Vernon Minewarfare & Diving Monument handcrafted pewter statuette. These are available to order now, with shipping from 20th December.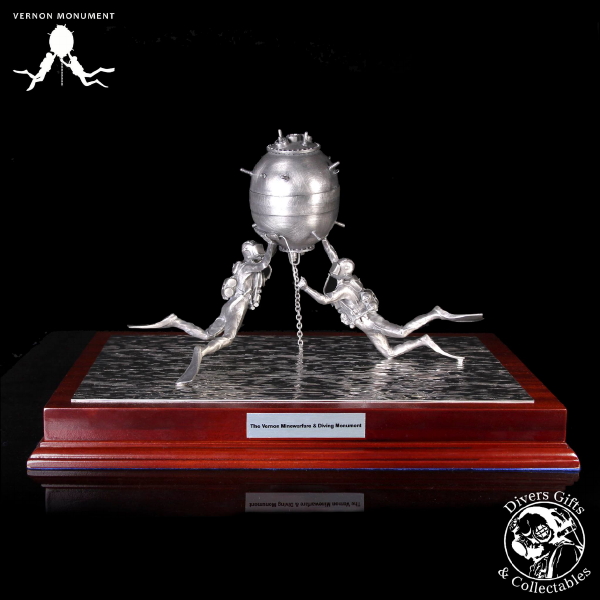 To promote the launch of the new store customers who use code LAUNCHPROMO21 at checkout will receive a 20% discount off of some of the existing project Vernon items. This is a limited offer so act quickly! The new webstore can be located HERE
Vernon Monument merchandise at Divers Gifts"
---
28 Oct 21 - Date set for re-programmed Vernon Monument dedication ceremony
An announcement from MCDOA co-founding Chairman David Sandiford, Project Manager for the Vernon Mine Warfare & Diving Monument: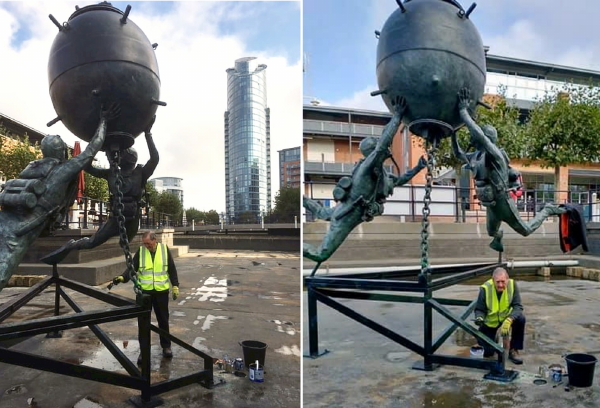 "This announcement is to let all of our supporters know that we have now set 15 July 2022 as the provisional date for the Monument Dedication Ceremony to take place at Gunwharf Quays in Portsmouth, our monument's gracious hosts.
As you might imagine we looked at a variety of dates, not least of which was the second anniversary of the actual unveiling by Commodore Jeremy Bailey on 17 March 2020, but decided to go for the summer in the hope that Covid would no longer have its grip on us. The intention will be for an event similar to that planned for 2020 but without the actual unveiling which we deliberately completed to get the monument "Open to visitors".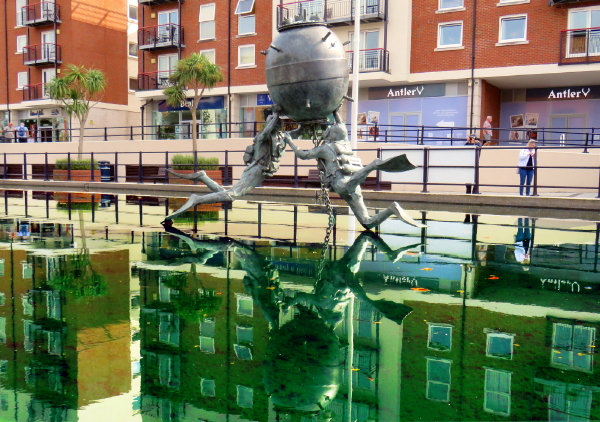 Please watch for further announcements as our plans develop. We hope to see you there."
---
27 Oct 21 - Latest MW, Diving and EOD News
For all the latest news of naval minewarfare, service diving and bomb & mine disposal, see the Project Vernon Facebook group here:
www.facebook.com/groups/vernonmonument
I update it daily unless I'm 'off the grid' for some reason.
---
24 Oct 21 - News of Cdr Jason White QGM RN
MCDOA member Jason White is our Defence Attaché in Algiers. Here he is with his Army and RAF counterparts prior to attending their local Trafalgar Night dinner.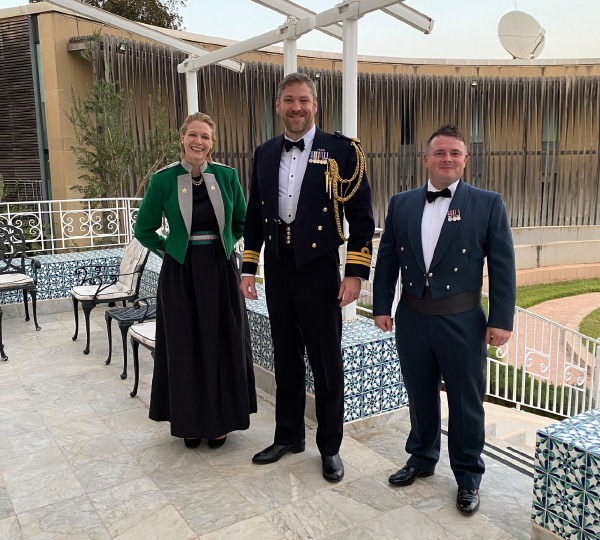 ---
15 Oct 21 - Latest LS&GC Awards
Congratulations to PO(D) Phil Brierley, PO(D) Craig Madddock and LS(D) Ed Maddy on being gazetted for the award of the Naval Long Service & Good Conduct medal.
---
1 Oct 21 - Topsy Turner awarded his fourth stripe
MCDOA member David 'Topsy' Turner joined the Royal Navy in 1974 and I was his course officer when he qualified as an MCD officer in 1984. Significantly for our Association, he was our Honorary Secretary at the beginning of the millenium.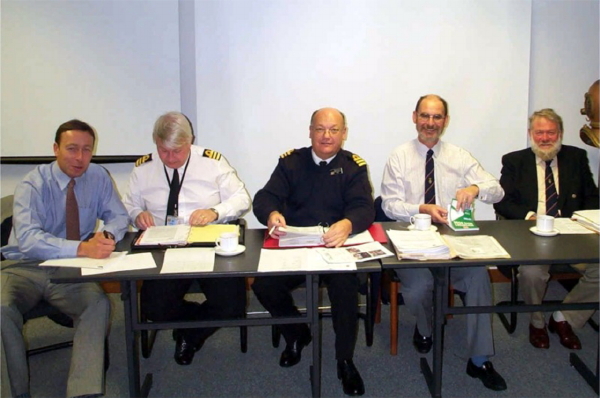 .
MCDOA Committee in 2003 with Topsy far left as Honorary Secretary
Topsy transferred to the RNZN in 2004 and has since commanded HMNZS Canterbury and HMNZS Philomel, concurrently acting as the Naval Base Commander in Devonport, NZ. He is due to be posted to Seoul in South Korea in January for three years as New Zealand's Defence Attaché:
I am grateful to him for this follow-up to his update in the entry for 23 May 21 in News Archive 72:
"Hi Rob,
October is quite a special month for me. In the first instance 1 October 2021 marks the 80th anniversary of the Royal New Zealand Navy when in 1941 it ceased being the New Zealand Division of the Royal Navy and became a navy in its own right.
Secondly, 1 October 2021 marked the date that I was promoted to Captain, RNZN. The Chief of Navy (Rear Admiral David Proctor) promoted me on Zoom from his Managed Isolation Facility (an Auckland hotel) following his overseas trip. My wife Yvonne did the honours and, because we did it via Zoom, I was able to invite far more guests than if we had conducted the promotion face to face (or mask to mask) in Devonport Naval Base. Accordingly I was able to invite friends, family and shipmates from UK, Germany, Bahrain, South Korea, Australia, Cook Islands and Hawaii.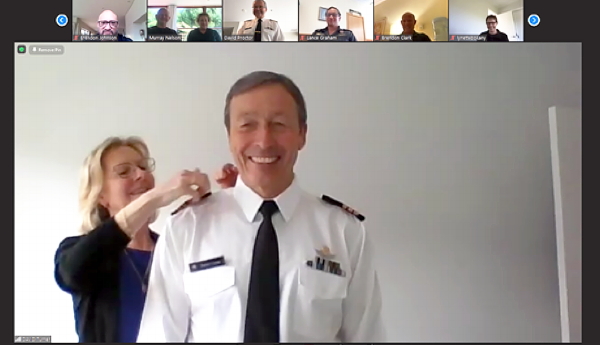 Finally, 8 October 2021 will mark 47 years service in two navies and a stark reminder of how long it's taken me to get from a Junior Electrical Mechanic to Captain.
What is it they say about fine wines, cheese and malt whiskies??
Yours Aye,
Topsy"
I am sure all members of our community will join me in extending our heartfelt congratulations to Topsy and wishing him and Yvonne our sincere best wishes for their future.
---