Items from The News, Navy News and Warship World are reproduced by kind permission of David Brown, Sarah Fletcher and Steve Bush respectively. Click on the thumbnails to enlarge them.
---
"Greetings from Bahrain!
A thousand apologies for not keeping you updated with what we are up to. I'm not sure if you are aware but we 'crew swap' every six months from ship to ship in our two MCM Squadrons. Because of that, it's like starting from scratch every time you take on a new hull...
A quick run down – we are MCM1 Crew 1 (first of eight crews in the Faslane-based Sandown Squadron). Our last ship was BLYTH which we brought out of refit last December and worked up until handing her over to Crew 4 in April. After some pre-deployment leave, we flew out to the Middle East in June and took over HMS PEMBROKE from Crew 2 which is now back in the UK. It's all very confusing!
There are four MCMVs based in Bahrain – all on three to four year stints before being swapped with a UK-based ship. Currently, it's PEMBROKE, RAMSEY, MIDDLETON and QUORN. Our crew is due back in the UK to take over BANGOR early next year...
Kindest regards,
Martyn"
These are the photos Martyn included:
HMS Pembroke manoeuvring with HMS Ramsey
Left: HMS Pembroke leads HMS Albion and HMS Sutherland
Right: PHOTEX during Exercise SEA KHANJAR
31 Aug 11
Japan, US and UK in Joint Minesweeper Exercises
I am grateful to MCDOA President, Captain Colin Welborn RN, for drawing my attention to this article on the Japan Security Watch website describing a forthcoming exercise in the Gulf involving Japanese, US and UK mine countermeasures forces.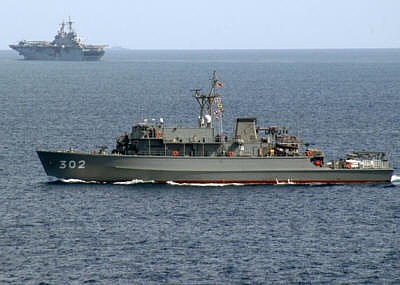 Japanese minesweeper JDS Tsushima
(US Navy photo)
---
Gentlemen Who Lunch
It is some time since the MCDOA's very own 'Not Quite the Last of the Summer Wine' trio of Doug Barlow, Martyn Holloway and Rob Hoole forayed into the countryside to seek out new pubs for the benefit of fellow members. To help set matters right, yesterday found us visiting the village of Amberley in West Sussex. This happens to be where Barlow's elder daughter Carol (a teacher) and son-in-law Peter (a retired airline pilot) have spent the past four years renovating their beautiful home.
After touring Peter and Carol's house and garden and admiring their impressive handiwork, our trio accompanied Peter to the nearby pub. This was The Black Horse, a large but pretty building with a sheltered if somewhat neglected beer garden tucked behind it.
The Black Horse at Amberley, West Sussex
This delightful country pub has a chequered history but is now under new ownership. It is traditionally appointed and has a small but tasty range of ales. Holloway was driving so I chose the Hop Back Summer Lightning which is fairly strong at 5% ABV while he plumped for the Harvey's Sussex Best Bitter at 4% ABV. Green King IPA (3.6% ABV) was also available on the pump. Having more conservative tastes, Barlow opted for the John Smith's keg bitter but he did buy the first round.
The bar menu contained a good selection of reasonably priced meals, even more so when we saw the size of of the portions. I chose a sandwich of prawns in Marie Rose sauce on wholemeal bread for less than £6 while Holloway ordered one with tuna. Having a smaller appetite, Barlow asked for a child's portion of scampi and chips. The well-filled one-and-a-half round sandwiches were made from chunky slices of bread and accompanied by beautifully cooked chips and a green salad while Barlow's child's portion must have been designed with a particularly well-built infant in mind. We all tucked in with gusto. Surprisingly, the pub was all but deserted throughout our sojourn.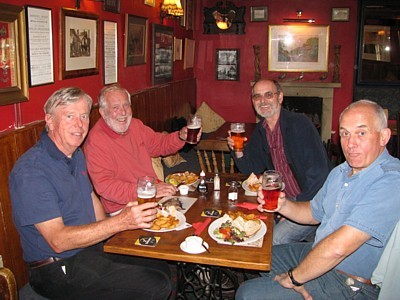 Peter and his father-in-law Barlow with Hoole and Holloway
A little later, we were joined by Peter and Carol's son Will and then by Carol herself with her black labrador puppy, Molly.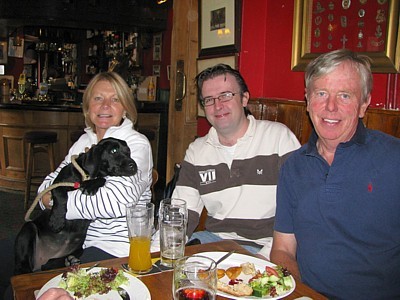 Carol, Will and Peter with the adorable Molly (see below)
After a most enjoyable meal, we returned to Peter and Carol's house for a farewell coffee before boarding Holloway's car to head back to our respective abodes. The photos below are for all those who remember uncompromising rugby referee Holloway as a roughty-toughty clearance diver and booming boatswain Barlow as the terrifying scourge of the seven seas.
Left: A besotted Holloway with the adorable Molly
Right: Barlow's partner Jill gets her hands on him
The Black Horse at Amberley is well worth a visit and is awarded four mines/diving helmets out of five on the MCDOA's Good Pub Guide scale of excellence.
---
30 Aug 11 - HMS Bangor 'really making a difference' off Libya
The Navy News website contains this article and the RN website contains this article describing the recent good work of HMS Bangor off Libya. Bangor is commanded by MCDOA member Neil Marriott and the articles feature PO(MW) Steven 'Stirling' Moss and AB(D) James Oakley.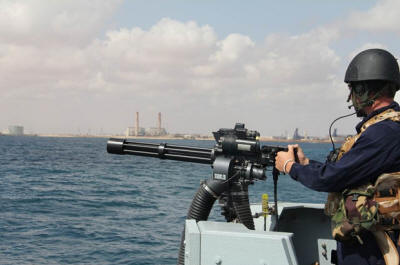 One of the Mk 44 miniguns on board HMS Bangor off Misurata
---
28 Aug 11
Navy News items
The August issue of Navy News contains these items of particular MCDOA interest:
---
News from the Chiddingfold, Leconfield & Cowdray Hunt
I am grateful to our President, Capt Colin Welborn RN, for drawing my attention to these wittily-written and well-illustrated articles on the Chiddingfold, Leconfield & Cowdray Hunt website:
Colin says he doesn't subscribe to Horse & Hound but he has recently got back in the saddle. I'm quite partial to the Fox & Hounds myself.
---
27 Aug 11 - News from MCM1
I am grateful to MCDOA member Dave Bence (Commander First MCM Squadron) for this contribution:
"Rob,
I am fairly poor at providing updates on myself or indeed the First MCM Squadron. Tempo is fairly high and July and August saw four of my seven hulls in JOAs [Joint Operational Areas] and five of my eight crews committed to operations.
Whilst my staff and I are currently the on-call MWBS [Mine Warfare Battle Staff], as things stand PEMBROKE and RAMSEY (MCDOA member Alex Bush in Command) are in the Gulf and BANGOR (MCDOA member Neil Marriott in Command) is off Libya. In fact, I am typing this email from Valetta where I have just come out to visit Neil's team - just enjoyed a dive too! I probably can't say any more than that but I have attached a couple of photos.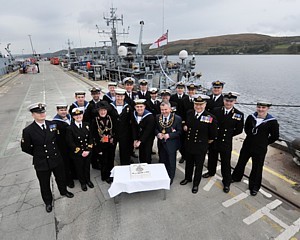 HMS Walney decommissioning cake
Left: Prince Harry flanked by MCDOA members Mark Durkin (Capt MFP) and Dave Bence (MCM1)
Right: Prince Harry (Commodore-in-Chief Small Ships & Diving) with Dave Bence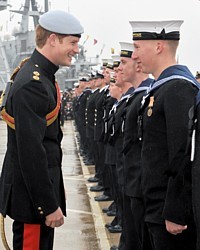 Prince Harry presenting Op TELIC
medals to 1MCM personnel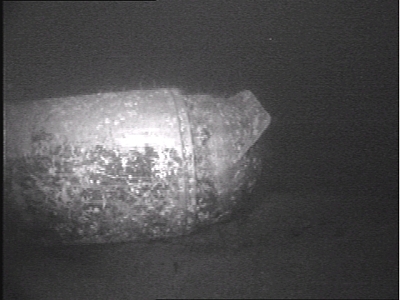 World War II German GN ground mine found in the entrance to
Loch Ewe during Exercise JOINT WARRIOR earlier this year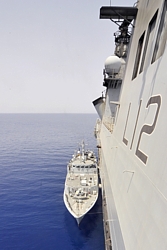 HMS Bangor alongside HMS Ocean off Libya
Even with all the operational activity, I along with five others are swimming the length of Loch Lomond (23 miles) in a relay on 1 September in aid of the charity 'Canine Partners'. This poster provides details and the webpage for donations is at www.justgiving.com/mcm1: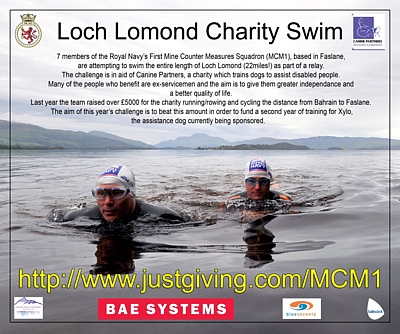 Anyhow, I hope you are well and I hope to send you some more photos soon.
Dave"
---
26 Aug 11
HMS Walney's bell to be given a new home
The North-West Evening Mail website contains this article describing a poll conducted by Barrow Borough Council to determine where the bell of the decommissioned minehunter HMS Walney should be displayed.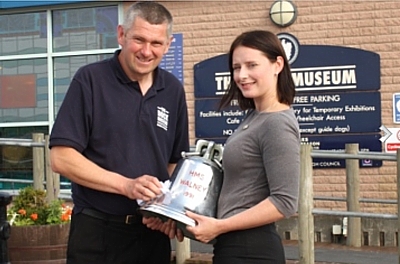 HMS Walney's bell in Barrow
Postscript: The North-West Evening Mail printed this follow-up on 5 September 2011.
---
Bomb Squad rush to Sidmouth auctioneers
The Sidmouth Herald website contains this article describing a call-out for Southern Diving Unit 1 to deal with an iteme of ordnance discovered at an auction house in Sidmouth.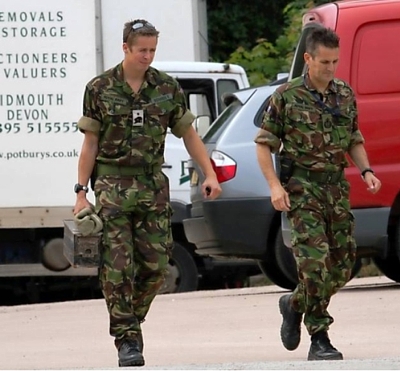 Members of SDU1 remove ordnance from the scene
---
25 Aug 11 - Sailors should take a Long Look at a spell Down Under
The Navy News website contains this article describing Exercise LONG LOOK, the long-running exchange programme involving the RN, RAN and RNZN. It features Northern Diving Group's AB(D) Simon Lund, currently on exchange with the RAN.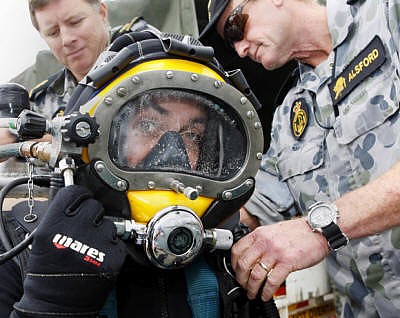 AB(D) Simon Lund prepares to inspect the hull of HMAS Newcastle
in the warmer waters of Sydney Harbour
(Navy News photo by LA(Phot) AJ Macleod)
---
24 Aug 11 - French clearance divers rescue a trawler
Something out of the ordinary but I stumbled across this article on the French Navy website. It describes this morning's rescue of the fire-stricken trawler 'Lambada' 19 nm off the Ile d'Oleron by Brest-based French clearance divers operating from their support vessel 'Styx'.
---
22 Aug 11 - HMS Grimsby's homecoming
The MoD website contains this article featuring MCDOA member Dave Bence (Commander First MCM Squadron), the RN website contains this article and the Navy News website contains this article describing Friday's return of HMS Grimsby to Faslane after her two-and-a-half year deployment in the Gulf.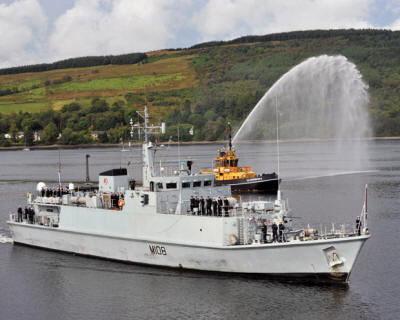 HMS Grimsby returns to Faslane 19 Aug 2011
(Navy News photo by POA(Phot) Ian Arthur, RNR Air Branch)
Welcome back to everyone and enjoy your well-deserved leave.
---
20 Aug 11
Death and Funeral of ex-CPO(MW) Alan 'Albert' Hilton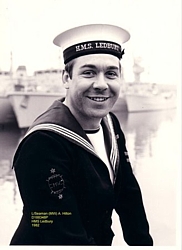 Alan 'Albert' Hilton in 1982
A few days ago, Julie Vasey advised me of the death of her partner, Alan Hilton, on Sunday 7 August while he was travelling in Spain.
I have now been informed that Alan's funeral will take place on Tuesday 30 August. The service is at 1300 in East Hardwick Church, East Hardwick village, Pontefract. Burial will then be at South Kirkby Cemetery, Moorthorpe. A wake will be held from 1500 (approx) at the Kyte Hotel, Darrington (01977 600661). If you are able to attend, please advise MWA Chairman Dixie Dean MBE via this email address.
I am sure all members will join me in extending our sincere condolences to Julie on her loss.
---
Hunt class minehunters feature in 'Horse & Hound'
I have been passed this article titled 'Sweeping the Seas' published in the latest issue of Horse & Hound. It describes the links between the Hunt class minehunters and the hunts visited last month by the MW Riders when they pedalled 1,200 miles around the country for charity:
The article mentions several members of the RN minewarfare community including WO(MW) Wayne 'Pony' Moore, CPO(MW) Anthony 'Pinta' Beer and MCDOA members Ben Stait and Ben Piper.
---
19 Aug 11
Funeral of Lt Cdr Horace 'Tag' Caisley MBE RN
Enid Caisley has advised me that Tag's funeral will take place at Portchester Crematorium at 1100 on Thursday 1 September. I will be among those representing the Association.
I have started appending tributes to Tag to the entry for 17 Aug 11.
---
Daily Telegraph obituary for Surgeon Vice Admiral Sir John Rawlins KBE, MA (Oxf), BB, BCh, FRCP, FFCM, FRAeS
As ever, I am grateful to Capt Peter Hore RN for agreeing to write this obituary for Sir John Rawlins, President of the Association of RN First Class Divers (AORNFCD) and the Historical Diving Society (HDS), which appeared in today's Telegraph.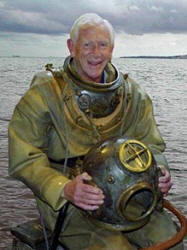 Surg Vice Admiral Sir John Rawlins
(12 May 1922 - 29 July 2011)
---
18 Aug 11 - HMS Chiddingfold's homecoming
MCDOA member David Sandiford joined me on the Round Tower this morning to welcome the Hunt class minehunter HMS Chiddingfold and her current ship's company (MCM2 Crew 5) back to Portsmouth after her three-and-a-half year deployment in the Arabian Gulf. Apart from having been Superintendent of Diving and co-founding Chairman of the MCDOA, David was also Chiddingfold's first Commanding Officer.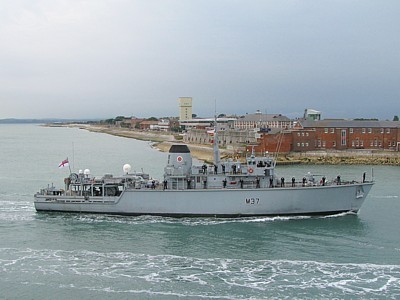 The ship was piped into harbour by Larry Cunningham, a resident of Old Portsmouth who once spent four days on board an aircraft carrier as a soldier and delights in adding some spectacle to such occasions.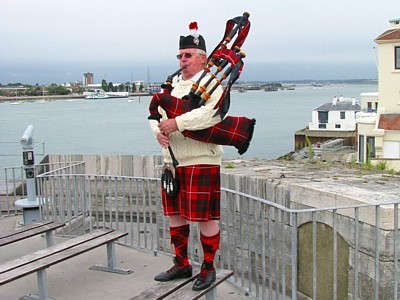 Welcome home to everyone on board the 'Cheery Chid'. Enjoy your well-deserved leave.
While at anchor at Spithead, the ship featured on last night's BBC TV's South Today programme and I was able to capture these screenshots:
Don't forget that HMS Chiddingfold's ship's company has been running, cycling and rowing the distance from the Gulf to Portsmouth and is still collecting for its chosen charity, The Prostate Project. Donations are still being accepted at:
www.justgiving.com/hmschiddingfold-challengehome
It should not be forgotten that the Sandown class minehunter HMS Grimsby is returning to Faslane tomorrow after a similarly long deployment in the Gulf.
Postscript: The Portsmouth News website contains this article, the RN website contains this article and the Navy News website contains this article describing Chiddingfold's homecoming.
---
17 Aug 11 - Death of Lt Cdr Horace 'Tag' Caisley MBE RN
I regret to report that MCDOA Committee member David Edwards has informed me of the death of MCDOA member Tag Caisley on Saturday 13 August.
Few will forget Tag conducting CWTA inspections of our MCMVs or leading the singing with his rich baritone voice, engaging in hilarious repartee with the RM band master or displaying his sparkling wit after our dinners in HMS Vernon and at other venues following the formation of the MCDOA.
I have expressed our sincere condolences to Tag's widow, Enid, and will publish further details when available.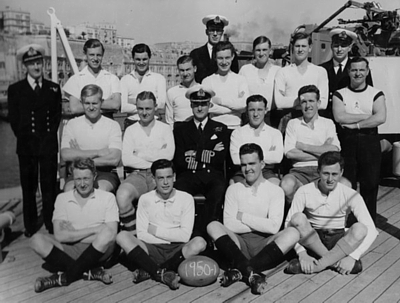 Cruiser HMS Liverpool's rugby team 1950/1 at Malta
with AB Tag Caisley extreme left in front row
(A/PO Doug Barlow sitting extreme right in second row)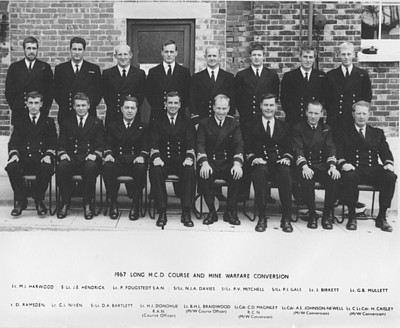 1967 Long MCD Course and MW Conversion at HMS Vernon
with Lt Tag Caisley RN extreme right in front row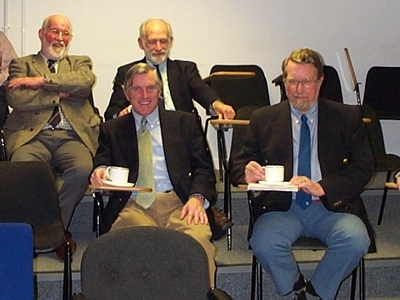 MCDOA Past President Cdre Richard Moore taking coffee with
Lt Cdr Tag Caisley during MCDOA AGM at Fleet Diving HQ in 2002
---
From MCDOA committee member Martyn Holloway:
"Rob,
Very sad news indeed with the passing of 'Tag' Caisley of whom I have many fond memories. His leading of the sing song choir at mess dinners probably remembered best by most.
As a newly qualified MCDO and harrassed fish boat First Lieutenant in 1971, I first met Tag when he visited to dust off the 193 Sonar after refit. Quite clearly we were not ready and after some huffing and puffing he relaxed and guided us all through the necessary HATS & SATS with characteristic humour and good nature. His positive and friendly approach to getting things done was a classic lesson in man management that I have never forgotten.
A few years later while serving on exchange with the US Navy as a junior Lieutenant I happened across a memo that announced Tag's impending visit to Charleston for a NATO meeting. I sent him a picture post card offering pool side accommodation in my bachelor pad ashore away from the sterile BOQ. A few days later I was summoned to the office of Commander Mine Warfare Command in the form of Rear Admiral Roy Hoffman where his Chief of Staff had just handed him a signal from HMS VERNON that said 'PERSONAL FOR LT HOLLOWAY RN. YR 21C PC WMP.'
Unaccustomed to the brevity of the signal, where the USN always deemed it essential to write volumes, Admiral Roy demanded to know the meaning of this coded message and why it had been addressed to me personally, a most junior member of his staff and a foreigner to boot. After taking a moment to decipher Tag' s cryptic note I was able to put the Admiral at his ease. Thereafter he would often quote the example as to why the Royal Navy often seemed to have the edge on the USN. Needless to say Tag's visit went without a hitch and we took the opportunity to catch up and enjoy much of what Charleston had to offer. I have enjoyed his friendship ever since.
I shall miss Tag greatly, his untimely death is a sad loss to us all. He was one of the great characters of his time and I am proud to have known him.
Martyn"
---
From MCDOA member Bob Lusty:
"Rob,
Thanks for the email. Sorry to hear about Tag. He introduced singing to mess nights. Unfortunately, I will be in Italy on 1 Sept. I hope for a good turnout.
Best regards,
Bob"
---
From MCDOA member Dougie MacDonald
"Rob,
I have been sitting here trying how to describe Tag. His wit, grit, voice, humour and drive were unique. But that does not paint the real picture - a great man with a great sense of occasion. I can't put it in words sadly.
Dougie"
---
16 Aug 11 - News from HMS Chiddingfold
I am grateful to Lt Peter Davis, the Operations Officer of HMS Chiddingfold, for this update which he is happy for me to publish:
"Dear Rob,
I am writing to you from the Cheery CHIDDINGFOLD, which is currently sat at anchor in Spithead 2 awaiting her cue to return to her old base port.
It has been more than three and a half years since CHID last passed through the gap and exited Portsmouth Harbour in Jan 2008. I must admit that she is looking tired and ready for the refurbishment that will commence on completion of leave . Apologies to any former XOs who may catch a glimpse of us as we enter, but we have been strictly directed NOT, repeat NOT, to carry out cosmetic painting before our return for a major painting package (not that you ever encouraged that anyway!).
CHID is to be the first Hunt Class to receive an entirely new engine plant to replace the Paxman Deltics that have carried the flotilla so far over the past 30 years (and a good few Ton Class before that, I hear you say). A number of other areas of the ship will also receive a welcome overhaul and "refit" although the ship will remain "in Fleet time" with MCM2 Crew 5 supporting the work.
Sadly our Command team will also be changing as Lt Cdr Charles Maynard will hand over the reigns to Lt Matt Brock as Senior Naval Officer once we return alongside and I will be moving up the bed to try and fill Matt's shoes as XO on completion of XO Desig course in December. Matt and I, like the rest of Crew 5, will be in need of the respite afforded by the maintenance package in order to recover from the epic amount of rowing, riding and running we have conducted on the way back in order to support Prostate Cancer. The team has done an amazing job and it was very pleasing for us to watch the oldest member of the ship's company (and one of the strongest contributers), CPO(MEM) Sharkey Ward, row the final metres to complete the challenge in Biscay. We are still avidly collecting for this worthy cause so please visit the website at www.justgiving.com/hmschiddingfold-challengehome.
In writing to the MCDOA website at this late stage in our deployment (and my career as an MCDO), I do feel rather remiss. Having qualified in 2008/9 and rejoined the Squadron as an Operations Officer direct from course, I have enjoyed an interesting ride for the past two and a half years. Having tasted small ship life previously as a bright eyed Gunnery Officer in the days of Sweeping and Fishery Protection, I was somewhat surprised to return, after brief sabbaticals in Iraq and Joint Intelligence, to a very different environment. The most striking difference being the permanent presence of the UK MCM flotilla in Bahrain and the amount of time that individuals from the MCM Squadrons spend there.
Bahrain has a sounding resonance for me personally. During this deployment I very sadly lost my father-in-law, Lt Cdr Nick Humphrys, to his battle with cancer. Unfortunately, owing to the current operational cycle and being away from home for more than 18 out of the past 24 months, I was unable to talk to him at length about his time in the Royal Navy, which spanned some 30 years, before he died. However, being in Bahrain gave me great heart, as it was there, in 1969 that Nick began his naval career as a young YO in the Ton Class, HMS YARNTON.
The Op KIPION MCM units, as we are now known, do not fall under a single Squadron organisation as the 9th MCM Squadron did back then. However, we do still share the same waters and while a much larger American cousin may have replaced HMS JUFFAIR, I take great solace that I am carrying on the family trade and treading the same sand. I would be greatly interested to hear from any former 9MCM or HMS JUFFAIR personnel as I believe that the current generation of "Desert Muppets and Divers" would be interested to know they are by no means alone in having to spend time in "Arab Pompey" as it is colloquially known. Any valuable photos or personal accounts would be received with very great interest.
Yours aye,
Peter H Davis"
Peter informs me that Chiddingfold has an ETA of 1000 at Outer Spit Buoy on Thursday morning before entering Portsmouth harbour as announced in this article in the Portsmouth News. I will be on the Round Tower with my camera to help welcome her home and would be glad of any company.
---
15 Aug 11 - Canadian Navy to become 'Royal' again
I hope our Canadian friends are as pleased as we are about the decision to reinstate the Royal Canadian Navy:
Daily Telegraph: Canada reinstates word 'Royal' into names of Air Force and Navy after 43 years
Canadian naval officers had their executive curl restored on 11 June last year.
---
13 Aug 11 - Ex-RFA to be named after last WW I veteran
The Sydney Morning Herald website contains this article describing the renaming of the recently transferred RFA Largs Bay as HMAS Choules in honour of the late Claude Choules who served in both the RN and the RAN. As the acting torpedo officer at Fremantle, Claude Choules disposed of the first German mine to wash up on Australian soil during WW II near Esperance on Western Australia's south coast.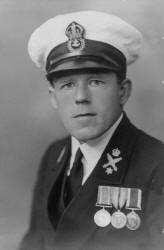 Claude Stanley Choules
(3 Mar 1901 - 5 May 2011)
---
12 Aug 11 - Forthcoming charitable events
This year's BUPA Great South Run is being held in Portsmouth & Southsea on Sunday 30 October. MCDOA member Al Nekrews and CPO(D) Ian 'Scouse' Fleming of Southern Diving Unit 2 (SDU2) will be running the course in full bomb disposal kit to raise funds for the British Limbless Ex-Service Men's Association (BLESMA). Their online sponsorship page can be found here.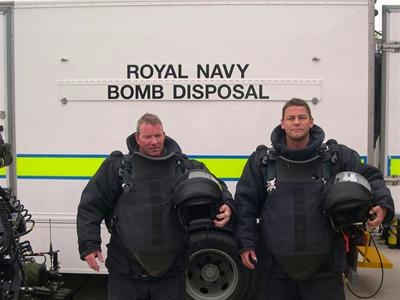 Ian 'Scouse' Fleming and Al Nekrews
Ex-CPO(MW) Dorian 'Simmo' Simmonds will be participating in the Great South Run once again to raise funds for the Crohn's in Childhood Research Association (CICRA). His 14-year-old daughter Neve is a sufferer and he will be accompanied on this occasion by his younger son Leigh. Their online sponsorship page can be found here.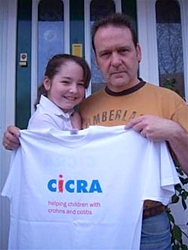 Simmo and Neve
Last but not least, ex-MW Wayne 'Ronnie' Barker, webmaster for the Minewarfare Association (MWA), will be walking 28 miles from Tamworth to Selly Oak on Saturday 3 September to raise money for SSAFA Forces Help. Among other things, this supports the Norton Homes providing short term accommodation for families visiting injured loved ones at Selly Oak Hospital in Birmingham. His group's online sponsorship page can be found here.
Please give these members of the RN minewarfare & diving community the support they deserve.
---
11 Aug 11 - HMS Middleton shows what she can do in the Gulf
The Navy News website contains this article describing a demonstration day by HMS Middleton in the Gulf.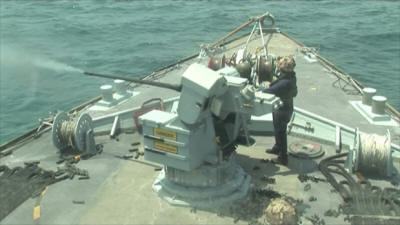 HMS Middleton firing her 30mm cannon in the Gulf
(Navy News photo by Lt Gary Turner, UKMCC)
---
10 Aug 11 - News from HMS Grimsby
Lt Cdr Antony Crabb, the Commanding Officer of HMS Grimsby, has kindly provided this update:
"I write to provide you with the latest news regarding your affiliated ship's most recent activities, recognising that it has been some time since I last wrote in early February 2011. As ever, the ship has been extremely busy, and the crew has been active in ensuring the ship is able to meet the requirements of the intense programme in the Persian Gulf. The period has been dominated by a series of operational tasks, visits and exercises including a number of firsts. The ship joined other Royal Navy units in exercising with the United States Navy, the Omani Navy and other regional counterparts, whilst visiting Iraq, Oman, and the United Arab Emirates.
In early April, the ship joined HMS CHIDDINGFOLD and RFA LYME BAY for the transit to the Northern Arabian Gulf before proceeding up the Khawr Abd Allah with HMS CHIDDINGFOLD for a short visit to Umm Qasr, Iraq. Both ships entertained UK, US and Iraqi VIPs, whilst also employing the visit to continue ongoing training initiatives with the Iraqi Navy. For the crew it was an opportunity to re-visit 'old-friends' from a similar visit in early 2009.
On return from the Northern Arabian Gulf, HMS GRIMSBY joined a collection of UK, US and regional counterparts mine-hunting vessels for an exercise in the Central Arabian Gulf under the auspices of the US MCM Command in the region. Exercise ARABIAN GAUNTLET was the first test for the crew working with Coalition units, and was a successful confirmation of the ship's mine-hunting capacity. Almost immediately on completion of this first exercise, the ship once again joined RFA LYME BAY for the transit outside the Persian Gulf to Oman, for the Royal Navy of Oman's (RNO) Exercise KHUNJAR HADD. The transit east of the Strait of Hormuz represented the first time HMS GRIMSBY had left the Gulf since early 2009. Although not focussed on minehunting, the exercise was an excellent opportunity to work with the RNO across a broad spectrum of warfare areas, and afforded the ship's dive team an opportunity to visit some spectacular dive sites.
The final exercise of the period was with United States Navy mine-hunting vessels in the bi-annual Exercise SHAMAL. Challenging both nations' mine-hunting forces in the testing conditions, HMS GRIMSBY once again proved her resilience and achieved credible results. Throughout, HMS GRIMSBY has proved the most capable minehunter amongst the UK force in the Persian Gulf, with consistently outstanding results in all exercises, high readiness rates through diligent maintenance of equipment, and crucially, the upbeat 'can-do' attitude of her crew. A final, short, maintenance period and series of weapon and machinery trials were the final requirements before HMS GRIMSBY sailed from Bahrain for the final time on 28 Jun, to begin the long six-thousand mile journey towards the UK. HMS GRIMSBY handed over to her sister ship HMS RAMSEY. As expected, the crew's morale is high as the ship's bow is turned towards home; the crew has been away since Dec 2010, and the ship departed the UK in late 2008.
This letter affords me the opportunity to introduce the next Commanding Officer of HMS GRIMSBY. Lt Cdr Giles Palin RN will assume Command on 3 August 2011, and have the honour of returning the ship to her home port of Faslane. I am sure he will do his utmost to keep you apprised of the ship's programme and successes. Additionally, I am hopeful that he will benefit from an opportunity to visit Grimsby in early 2012 and re-kindle the links that have been stretched whilst the ship has been in theatre for these three years.
After a successful three years in the Gulf, the ship's bow is once again turned towards home.
Yours,
Antony Crabb
A Crabb
Lieutenant Commander Royal Navy
Commanding Officer"
---
9 Aug 11 - Minewarfare Charity Riders Sniff Out Hunts
The RN website contains this article describing the MW Charity Ride completed last month by staff from the Minewarfare Operational Training Centre (MWOTC) at HMS Collingwood (see entry for 28 Jul 11).
MW Cyclists entering Gunwharf Quays,
the former site of HMS Vernon
Donations can still be made online at MW Charity Riders' Fundraising Page.
---
8 Aug 11 - CO of HMS Shoreham to command HMS Portland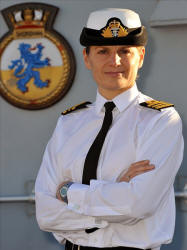 Lt Cdr Sarah West RN
Congratulations to Lt Cdr Sarah West, the current CO of HMS Shoreham, on being selected for promotion to Commander and being appointed in Command of the Type 23 frigate HMS Portland from April next year.
Sarah has previously commanded HMS Pembroke, HMS Ramsey and HMS Penzance and her tenures have included active service on Operation TELIC MCM (now Operation KIPION) in the Gulf.
---
7 Aug 11 - Minehunters muster in Malta
I am grateful to MCDOA member Martin Mackey (Commander Second MCM Squadron) for this contribution:
"Hi Rob,
Just returned from a three day visit to HMS CHIDDINGFOLD (MCM2 crew 5) on her journey back home from the Gulf. I flew out to Valetta, Malta, last Thursday where I met up with the ship and her 'playmate', HMS GRIMSBY, at the end of what had been a very successful period of post-Op KIPION 'decompression'. Coincidentally, HMS BANGOR, with MCDOA member Neil Marriott in command, was also alongside for a short stand-off from OP UNIFIED PROTECTOR – the NATO title for the Libyan war. I took the opportunity to catch up with him, the new, just joined CO, of HMS GRIMSBY, Giles Pallin, and CHID's soon to be outgoing CO, Charles Maynard. All three had different stories to tell. The following day CHID and GMBY sailed from Valetta to continue their journey home with a slight detour to drop me off in Cagliari, Sardinia, on Saturday afternoon.
During my time on board, crew 5 were working hard on their Run, Ride, Row Home Challenge. On leaving the Gulf, they set out to run, ride and ride the length of the trip from the Gulf to Portsmouth, a journey of 6200 miles using their on board exercise machines. I helped them out with a mere 21km of running and riding, but, with a final concerted effort, they should achieve their aim by the time they return home. They are raising money for Prostate Cancer. Whilst I know that members have been giving money towards other charities and Project Vernon, but if you would like to donate, their justgiving website is:
http://www.justgiving.com/hmschiddingfold-challengehome/
Attached are a few pics.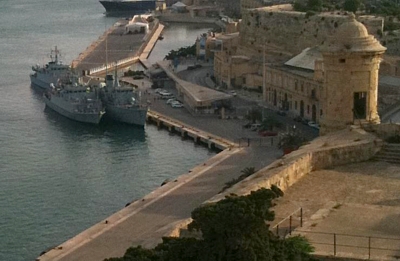 Alongside Valetta, Malta, 4 August 2011. HMS CHIDDINGFOLD
alongside with HMS GRIMSBY outboard. HMS BANGOR astern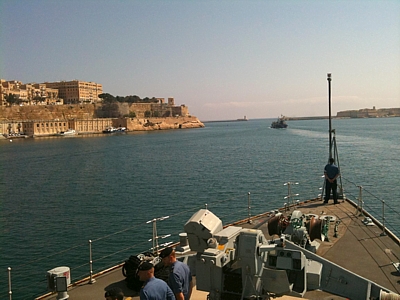 HMS CHIDDINGFOLD sails Valetta, 5 August 2011
'homeward bounders' with MCM2 embarked
Regards,
Martin"
---
6 Aug 11 - Times obituary for Surgeon Vice Admiral Sir John Rawlins
The Times has published this obituary for Sir John Rawlins (see entry for 30 Jul 11). In a life that saw the receipt of many honours and awards for outstanding work that spanned myriad medical and scientific fields, these excerpts are of particular interest:
"John Rawlins was internationally recognised as one of the pioneers in aviation medicine, diving research and operations...
While working at the London Chest Hospital, he became liable for National Service and was assigned to the navy in May 1947. According to Rawlins, it was after a particularly riotous mess dinner that he inadvertently volunteered for a course in aviation medicine, a field new to him and one which, linked to his diving, was to become a life-long enthusiasm.
Appointed to the carrier Triumph in the Mediterranean, he never missed an opportunity to gain first hand experience of carrier-borne flying operations and their considerable hazards. He took up spear-fishing while in Malta and, adapting the equipment designed by Jimmy Hodges, an ex-midget submarine colleague, he built his own compressed-air diving equipment. This incorporated a hydrostatically controlled "demand valve", the design of which was copied into the navy's first swimmers' air breathing apparatus some five years later...
In 1958 he was attached to the Royal Naval Physiological Laboratory to work on diving research, including preliminary studies into the long term effects of saturation diving using rats and various gas mixtures. He returned to the IAM and worked there until 1964 when he was selected as the navy's Man of the Year and awarded the Erroll-Eldridge Prize for his notable contributions to flight safety and health. Promoted to surgeon commander, he was appointed to the carrier Ark Royal for three years as the medical and diving supervisory officer, also captaining the ship's judo team. This was followed by three years exchange service with the US Navy's medical research institute at Bethesda, Maryland, where he worked on thermal protection for deep diving with particular attention to the Sealab III programme...
After his naval career, Rawlins worked mainly in the field of underwater technology. Besides his numerous fellowships, he was a director and chairman of a number of companies, including Deep Ocean Technology Inc, Trident Underwater Engineering (Systems) and Medical Express. His diving expertise was recognised by the award in 1995 of the Reg Vallintine Award of the Historical Diving Society of which he was President and the Colin McLeod award of the British Sub-Aqua Club with its honorary life membership. He was much in demand as a lecturer and presented technical papers to various groups in the UK, France, Sweden, Japan and the USA..."
---
5 Aug 11
Jordan visit for Royal Navy minehunters as ships swap places in Gulf
The RN website contains this article and the Navy News website contains this article describing a visit to Aqaba in Jordan by HMS Chiddingfold and HMS Grimsby. The minehunters were relieved last month by HMS Quorn and HMS Ramsey respectively after completing three years in the Gulf.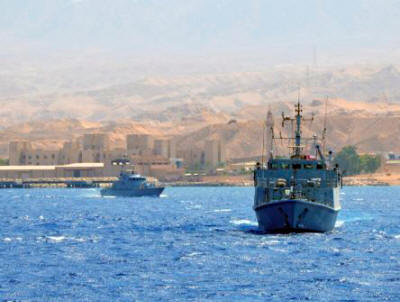 HMS Grimsby manoeuvring with Jordanian patrol boat
(Navy News photo)
---
Navy divers help commemorate Mary Rose anniversary
The BBC website contains this article, the Ministry of Defence website this article and the Portsmouth News website this article describing how the Fleet Diving Squadron (FDS) has helped the Royal Mint create a floating commemoration to mark the 500th anniversary of the maiden voyage of the Mary Rose. It features MCDOA Honorary Treasurer Richard 'Soapy' Watson, Chief of Staff of the FDS.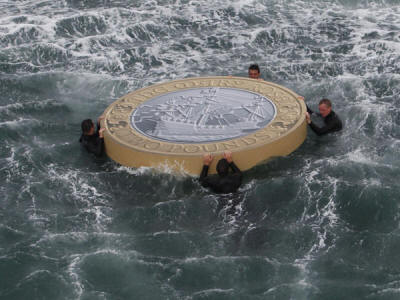 FDS divers positioning the floating replica of the £2 coin
over the Mary Rose wreck site in the Solent
---
4 Aug 2011
News from HMS Quorn
This update has been received from Lt Cdr Phil Dennis RN, the Commanding Officer of HMS Quorn:
"Hello from HMS Quorn,
I hope this letter finds you well after what has been several busy and challenging months on board for all of the ship's Company. First and foremost as the ship's new Commanding Officer I would like to take this opportunity to formally introduce myself and welcome you to the latest news instalment from your affiliated unit.
I joined the ship at the beginning of April 2011 and have settled in well with, what has proven to be, an enthusiastic and welcoming ship's Company. I joined the Royal Navy in April 1995 and served in HM ships Brazen, Sheffield and Leeds Castle prior to undertaking Fighter Controller training. Following appointments in both HMS Newcastle and HMS Illustrious, I then served as one of the Staff Warfare Officers at Fleet Operational Sea Training at Devonport. Later appointments included positions as the Gunnery Officer, and later the Operations Officer, in HMS Lancaster as well as the Air Warfare Officer, and then Senior Warfare Office, back in HMS Illustrious. Prior to joining the Second MCM Squadron, I spent 6 months as the Deputy Staff Officer Operations in Bahrain supporting the 11 RN units in theatre and a short spell at Northwood as part of the Fleet Operations Staff. I previously commanded Quorn's sister ship, HMS Middleton, in the Arabian Gulf in 2010.
Since our last update letter, Quorn has completed her training programme in preparation for our deployment to the Gulf. We sailed from Portsmouth on 15 May in good weather and with a fantastic turnout from friends and family to wave us off at Round Tower, arriving in the heat of the Arabian Gulf after a two month transit. As one of the four MCM Vessels based in the Arabian Gulf, HMS Quorn will now operate for the next three years conducting maritime security operations and training with the UK's regional partners and coalition nations. Quorn's presence in the Gulf is key to operational requirements and will provide both a valued and necessary service in its three years of operational duty.
The programme leading up to deployment has been a very busy one in preparation for the rigours of operating in this environment. The ship and her Company were tested to their limits with a demanding six week training programme under the watchful eye of Operational Sea Training staff at Fastens in Scotland. This training is essential and tests the capability of the crew to ensure that we are able to deal with any situation which may arise on board. March was therefore fully consumed with fake wars, Imaginary bombings, aggressive terrorist attacks and the perpetual fires. floods and casualties. The crew's reactions were first class and much was learnt from the training, subsequently enabling Ouorn to achieve a firm pass at OST.
En route to the Gulf we have enjoyed several port visits, enabling us to maintain our operational capability by embarking fuel, food and stores, and also affording the crew the chance to seethe sights and sample the local culture. Our transit through the Mediterranean saw the ship conducting maritime security operations in support of NATO, monitoring the required Merchant traffic and disrupting unlawful use of the maritime environment.
A short fuel stop was carried out in Gibraltar and although it was only for ten hours, most of the crew managed to get ashore with some even taking part in the infamous 'rock run'. A visit to Malta gave the crew an opportunity to have some additional time off and view the sights of this beautiful and historic city; the entrance to the Grand Harbour at Valletta in Malta being particularly impressive. An additional aim for the visit was to re-affirm the very strong links between Malta and the United Kingdom and the Royal Navy in particular. In mid June, HMS Quorn began the long transit through the Suez Canal and down the Red Sea. Despite being a difficult transit for the upper deck gun crews due to the sweltering heat, this has afforded the crew an opportunity to acclimatise to the hot temperatures that they are now experiencing in their new operating base, with daily temperatures at times exceeding 45 degrees Celsius.
Despite reports of pirate activities, the transit was quiet with HMS Ouorn and HMS Ramsey acting together to monitor the activities of small vessels and reach the port of Djibouti safely. Upon leaving Djibouti, we began our transit to Salalah for a brief fuel stop before making our way to Muscat. Following this, the ship made its way to Fujairah for a final stop before finally arriving in Bahrain on 7 July.
On a final note. I look forward to my time onboard HMS Quorn and will endeavour to keep all affiliated parties fully up to date with the ship's movements, operations and training. I am immensely proud of the crew and the ship and I am sure that Quorn's good name will continue for many years to come.
Thank you for your continued support of the ship and her Company."
---
News from HMS Cattistock
This update has been received from Lt Cdr Adam Northover RN, the Commanding Officer of HMS Cattistock:
"...I will be handing the ship over in early August to Lieutenant Commander Steve Higham. Rest assured I'm leaving her in very capable hands...
The crew is currently carrying out their final preparations for Operational Sea Training (OST) in October before deployment to the Gulf in the New Year. This period involves a variety of training serials such as Main Engine Space fires, Navigation and Seamanship evolutions such as coming to a buoy to put the crew through their paces.
Closer on the horizon are routine engine trials and detached dive serials this week off the coast of Cornwall which will lead us up nicely to one of the the most challenging pilotages the crewand I will have ever carried out for our visit into the heart of Bristol up the River Avon this weekend. We are very excited to be part of the Bristol Harbour Festival (Friday 29 July to Monday 1 August) in one of the most historically significant maritime centres in the country. The ship will be at the forefront of the event when we host ship Open to Visitors weekend on Saturday and Sunday. Perhaps you can join us!
A final thank you. I've very much enjoyed my time in Command of YOUR ship and wish you all the best for the future. Steve Higham will be in touch very soon."
---
3 Aug 11 - HMS Cattistock at the Bristol Harbour Festival
I am grateful to MCDOA member Steve Gobey for this contribution:
"Hi Rob,
Good to see Martin's pictures of CATTISTOCK arriving in Bristol on the MCDOA website [see third entry for 1 Aug 11]. Sally and I were there to witness her arrival and departure too! I was the 'Pontoon Marshal' for three pontoons of narrowboats, cruisers and yachts on the opposite side of the harbour. A very busy but enjoyable weekend and a lovely cruise on the River Avon from and to Bath.
CATTISTOCK looked very smart and impressive in the harbour and seeing her brought back fond memories of my LEDBURY and BRECON time but Sally soon reminded me that nostalgia is a thing of the past and I should concentrate on my narrow boat command and Harbour Festival duties! Unfortunately these, and the crowds, prevented me from popping round to say hello.
Attached are the views from Narrow Boat FROBISHER of her arrival and departure.
A couple of days at home now to catch up on domestics then it's off up the canal in the other direction to the Thames for a couple of months. We hope to find Dan and Chris Nicholson later in the year somewhere 'up north' but that will have to be by camper!
Hope all's well at your end.
Best regards,
Steve"
---
2 Aug 11 - Combined Cadet Force units visit DDS
MCDOA President Captain Colin Welborn RN (the Royal Navy's Chief of Staff for Youth) has kindly sent me this message and the appended news item:
"Rob,
Sorry it's been quiet on this bearing. The cadets' visit to DDS and the FDS was an outstanding event at a time when the training and operational tempo is massive. It just shows the quality of our people who continue to deliver so much and actually change individuals' lives. It is easy to say 'sorry we are busy' but for the cadets it was a life-enhancing visit. They saw dynamic organisations and it was the highlight of their summer.
Regards,
Colin"
COMBINED CADET FORCE UNITS VISIT DDS
Divers from the Defence Diving School (DDS) hosted members of various Combined Cadet Force (Royal Navy) units from around the country on 12 and 13 July 2011. Forty cadets, aged between 13 to 18, visited Horsea Island as part of their annual summer camp based at HMS Excellent. The cadets were introduced to diving training and learned about different diving courses, diving equipment used and had the opportunity to try on some gear under the supervision of AB(D) Rimmer. A tour of the Fleet Diving Squadron (FDS) concluded their visit, where they were hosted by LS(D) Lacy and had the opportunity to see bomb disposal equipment, meet serving personnel and learn about operations in which RN divers can expect to be employed.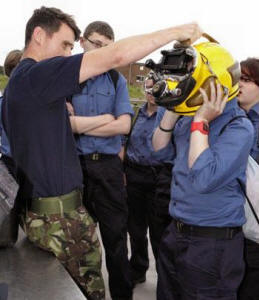 AB(D) Rimmer introduces cadets to OSDS
The annual CCF(RN) summer camp is designed to give cadets a wide variety of experience and practical activities with a nautical theme. This year, there was a drive for more interface with serving personnel, to give them a real incite into Service life. They also had tours of the Portsmouth based Type 23 frigate, HMS Westminster, and conducted practical fire fighting at HMS Excellent. Their visit to DDS was an enjoyable experience and one of the cadet camp's highlights.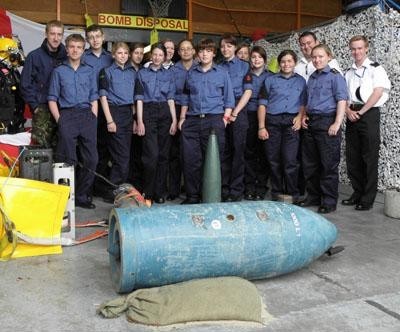 Cadets visit Southern Diving Unit 2 (SDU2)
---
1 Aug 11
Mine clearance in and around the port of Misrata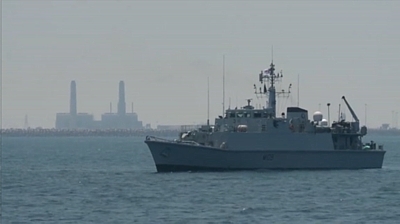 HMS Bangor off Misrata July 2011
Project Vernon volunteer Jennifer Tankard has drawn my attention to this video on NATO Channel TV showing the operations of HMS Bangor off the port of Misrata in Libya. It features MCDOA member Neil Marriott (Bangor's Commanding Officer) and PO(MW) Paul Garland.
Neil Marriott on Bangor's bridge
---
Ian Geraghty and the Clipper Round the World Yacht Race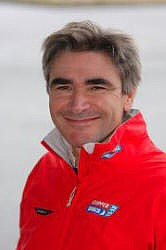 Ian Geraghty
Good luck to MCDOA member Ian Geraghty who is competing on board Geraldton Western Australia for all eight legs of the Clipper Round the World Yacht Race. The fleet set off from Southampton today under the watchful eyes of HMS Illustrious. The Portsmouth News published this article about Ian's preparations last month and another featuring him today although it is not available online.
Follow Ian's progress on his blog here and on Facebook here. He is raising funds for Sail4Cancer and donations may be made via this webpage.
---
HMS Cattistock arriving in Bristol
I am grateful to MCDOA member Martin Mackey (Commander Second MCM Squadron) for forwarding these photos of HMS Cattistock arriving in Bristol last weekend for the Harbour Festival with the University Royal Naval Unit (URNU) patrol boats HMS Raider and HMS Tracker.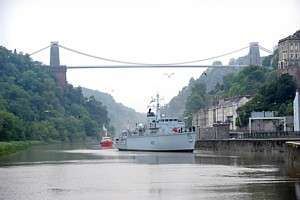 HMS Cattistock with the Clifton Suspension Bridge
spanning the Avon Gorge in the background
Left: HMS Cattistock turns in the river
Right HMS Cattistock shapes up to berth with HMS Raider and HMS Tracker already alongside
The turn in the river was certainly tight and, as Martin remarked, you don't often see an MCM vessel with a CBD (Constrained by Draught) shape hoisted!
Attendees then enjoyed a cheese and wine buffet while renewing old links, swapping yarns and viewing the memorabilia Soapy has put on display.
Left: Soapy fixes the draw with Morty and Sally Drummond looking on and Bill Norton in the background
Right: Dave Sandiford, Jim Sykes and John Coggins and his wife Rae hope for a prize
Left: Still hopeful of a prize in the raffle
Right: Mick Beale, Pete Still and Soapy Watson
Left: Taff Thomas and Pete Still share a joke
Right: Bob Lusty, Rob Hoole and Bill Norton
Left: Irene Strange flanked by Mick Beale and Soapy Watson
Right: Irene Strange and Rob Hoole
It was a thoroughly enjoyable evening and Soapy deserves our immense gratitude for taking the initiative in the first place and then putting everything together.
---
Royal Navy divers can't keep up with 12-year-old Ella!
MCDOA Honorary Secretary Mick Beale has drawn my attention to this article in today's Portsmouth News which describes the participation of 12-year-old Cystic Fibrosis sufferer Ella Hamza in the charity swim around Portsea Island on Saturday.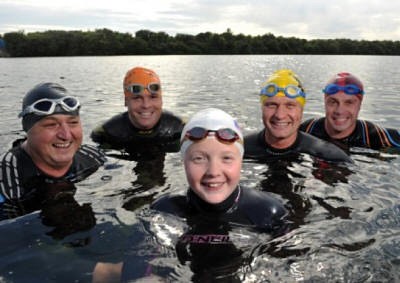 Ella Hamza, front, with MCDOA members Mick Beale, John Beavis,
Richard 'Soapy' Watson and Chris Stephenson
(Portsmouth News photo by Steve Reid)
---