Items from The News, Navy News and Warship World are reproduced by kind permission of David Brown, Sarah Fletcher and Steve Bush respectively. Click on the thumbnails to enlarge them.
---
23 Dec 08 - Remembrance Service for Lt Walter Erskine Prior RNVR
Yesterday I was privileged to convey wartime bomb & mine disposal officer Lt Noel Cashford MBE RNVR and his wife Brenda, a former Wren, to Aldwick near Bognor Regis for a Service of Remembrance for Lt Walter Erskine Prior RNVR.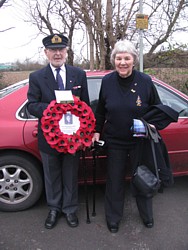 Noel and Brenda Cashford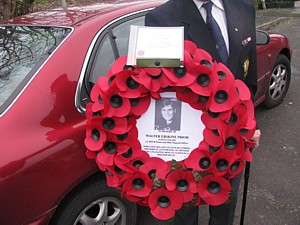 Close-up of Noel Cashford's wreath
Exactly 63 years previously, Walter Prior, a friend and colleague of Noel Cashford, was killed while attempting to render safe a mine on the beach at Aldwick. The service was held near the spot where he met his untimely end on 22 December 1945 at the age of 23. It was conducted by the Revd Canon Dr Lawson Nagel, Vicar of Aldwick, and attended by Nick Gibb MP, local councillors, representatives of the Royal Naval Association and the Royal British Legion and others. Wreaths were laid by Noel Cashford and Cllr Jill Ostler, wife of Richard Ostler who organises this annual event.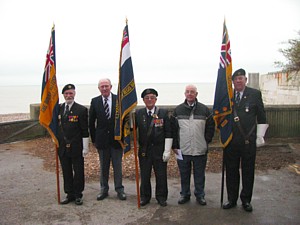 Local RNA and RBL representatives
Attendees at the Service of Remembrance
Left: Nick Gibb MP reads the lesson
Right: Noel Cashford after laying his wreath
Left: Plaque commemorating the death of Lt Walter Erskine Prior RNVR
Right: Adjacent beach where Lt Walter Erskine Prior RNVR was killed in December 1945
A reception was held afterwards at the Aldwick Parish Council offices. Lt Walter Erskine Prior RNVR has no surviving relatives and I would like to express my deep appreciation on behalf of our Branch to everyone involved in helping to keep his memory alive.
---
14 Dec 08 - Former RN diver has ashes scattered by torpedo explosion
Troy Tempest, Secretary of the RN First Class Divers' Association, has drawn my attention to this article on the Daily Telegraph website which describes how the ashes of ex-RN clearance diver Derick Redfern were scattered off Plymouth by Southern Diving Unit 1 during an underwater training exercise earlier this month.
---
12 Dec 08 - MCDOA members attend TCA Christmas Lunch
MCDOA members Doug Barlow, Brian Dutton, Bob Lusty, Martyn Holloway and Rob Hoole were among those who attended yesterday's Ton Class Association's Portsmouth area Christmas lunch in the Royal Maritime Club (formerly the Home Club). Les Sharpe of the Association of RN First Class Divers also joined in the fun.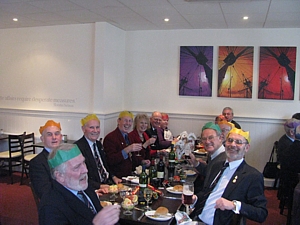 Sharpe, Dutton, Holloway, Barlow, Hoole and Lusty
at TCA Christmas lunch
Other TCA revellers enjoy themselves
---
11 Dec 08 - News from HMS Ramsey
I am grateful to Lt Marc Taylor RN, the Navigating Officer of HMS Ramsey, for sending us this update:
HMS RAMSEY – NOVEMBER WEB SITE UPDATE
November proved to be a busy month for HMS RAMSEY……….
The month started with a joint UK-US mine clearance exercise, aptly named 'Find A Way Or Make One'! This included the hunting and disposal of exercise mines as part of a task group that comprised both US and UK Mine Hunters. The exercise provided excellent training for Ramsey's mine warfare and diving teams who had the opportunity to detect, classify and dispose of realistic mine contacts using explosive charges. The whole team also faced a significant challenge from the weather which was uncharacteristically bad for the Arabian Gulf with winds up to 40 knots experienced at times. It should however prove to be good preparation for the forthcoming winter passage back to the UK.
Following the exercise, Ramsey was tasked to accompany HMS Chiddingfold to Umm Qasr in Iraq. The visit, the first overnight stay by UK warships since 2003, was aimed at supporting the crucial role of the Naval Transition Team (NaTT) in delivering an additional element of afloat-training to the Iraqi Navy, also coincided with Remembrance Sunday commemorations. The Ships' Companies of Chiddingfold and Ramsey, along with their Iraqi, American and NaTT counterparts, each fielded a platoon of Officers and Ratings to take part in a service of remembrance. After laying a wreath on behalf of his ship, the Commanding Officer of HMS Ramsey, Lt Cdr Nick Borbone RN said:
"Conducting the ceremony here in Iraq is a poignant reminder that Remembrance Day is not just about those who gave their lives in past wars and conflicts, but also about those who today continue to make the ultimate sacrifice in the service of their country."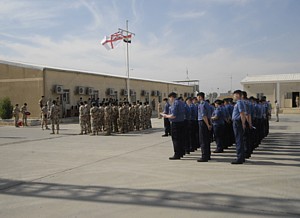 Sailors from Ramsey and Chiddingfold attend
a Remembrance Day service in Umm Qasr
Following the Remembrance Day service, members of the Iraqi Navy were invited onboard Ramsey and Chiddingfold for tours, with Iraqi personnel keen to see how the Royal Navy operates on a daily basis. On completion of the tours, the sailors were given capability demonstrations on both ships, including seamanship drills, diving, launching and recovering the Remote Controlled Mine Disposal Vehicle (RCMDV) and ship borne fire fighting. The demonstrations will hopefully have provided some ideas to the Iraqi Navy on how best to develop their own procedures for operating the similar sized Patrol Boats which are expected to be in service in 2009.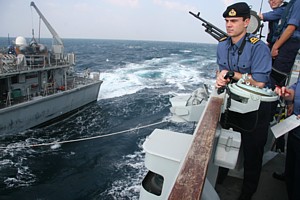 Gunnery Officer Lt Matt Besant oversees
a Light Line Transfer with HMS Blyth
On departing Umm Qasr after a successful visit Ramsey and Chiddingfold were joined for the passage down the river by members of the Iraqi Navy. During the river transit Ramsey and Chiddingfold conducted Officer of the Watch Manoeuvres and a force protection exercise with an escorting Iraqi Patrol Boat before commencing the transit back to Bahrain.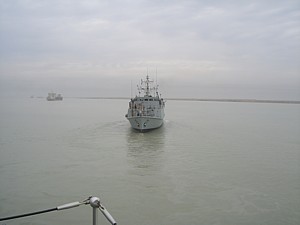 Ramsey departs Umm Qasr after a successful visit
After a brief period of respite in Bahrain, Ramsey once more headed out into the Central Arabian Gulf to conduct underwater survey operations in company with HMS Blyth. This often painstaking work is essential to ensure that detailed mapping of the sea bed along heavy shipping lanes is maintained thereby contributing to overall regional maritime security. At the end of the tasking, Ramsey's Ship's Company enjoyed a good, if expensive, visit to Abu Dhabi.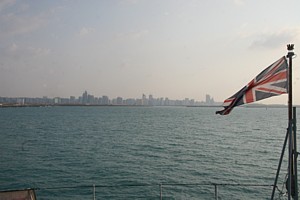 A hazy Abu Dhabi skyline
Following the delay into the Arabian Gulf of the two ships due to relieve Ramsey and Blyth caused by defects to one of the units in the Mediterranean, Ramsey's team now prepares for Christmas in Bahrain. While it is not quite what we all hoped for, the Ship's Company is determined to make the best of it and there are several events being planned to mark the festive season in style and several people will also take the opportunity for their families to join them for a short break over Christmas.
Ramsey and the team will continue with operations in the Arabian Gulf in the New Year until relieved by the incoming ships sometime in January after which we will head for home. All of us in HMS Ramsey would like to wish our friends, affiliates and readers a very happy Christmas and best wishes for 2009.
---
10 Dec 08 - Northern Diving Group kept busy
The RN website contains this article describing how NDG has been called to deal with two explosive devices found at sea within 15 hours of each other.
Archive picture of sea mine disposal operation
(RN website photo)
---
9 Dec 08 - Upcoming Events
The 'Upcoming Events' page in the Members Only area has been updated to show the full programme of MCD-related functions for the forthcoming year.
---
8 Dec 08 - News of former Fleet Diving Tender Datchet
I am grateful to MCDOA member Martyn Holloway for forwarding this notice from the Chichester Harbour Conservancy website:

LOCAL NOTICE TO MARINERS NO. 18 OF 2008
DREDGE AND BENEFICIAL DISPOSAL
1. General
Mariners are advised that a maintenance dredge of Emsworth Yacht Harbour will commence Monday 8 December 2008. The dredged material will be towed in 27-metre split hopper barges by the 23-metre MV Datchet.
2. Disposal
The dredged material will be released at the Treloar site in the harbour entrance in position: 50° 46´.895 N, 00° 56´.050 W. Disposal of dredged material will take place during the period HW -6 hours to HW -2 hours and will follow the tides through the full 24 hour period.
3. Towed Vessels
The towing and towed vessels will display the lights prescribed by the collision regulations. The tows may be alongside or astern. MV Datchet will maintain a listening watch on channels 16 and 14.
4. Mooring
A mooring for MV Datchet has been laid in the Emsworth Channel in approximate position: 50° 49´.3 N, 00° 56´.8 W. This vessel is now on site.
5. Cancellation
These works are expected to continue for six weeks, a further notice will be issued on completion.
JQ Davis OBE
Manager & Harbour Master 4 December 2008
Chichester Harbour Conservancy
Harbour Office
Itchenor
Chichester
PO20 7AW
T: 01243 512301
W: www.conservancy.co.uk
E: harbourmaster@conservancy.co.uk
Having last seen Datchet some 30 years ago when she was my first 'Command' in the Plymouth Clearance Diving Team (PCDT), I find it fascinating that this long-soldiering vessel should end up working not a million miles away from the MCDOA's 'Not Quite the Last of the Summer Wine' trio's favourite haunt of Emsworth and my sailing club at Thorney Island. Lt Col John Davis OBE RM, Chichester's Harbour Master, has kindly sent this recent photo of Datchet at work in the harbour together with this data sheet.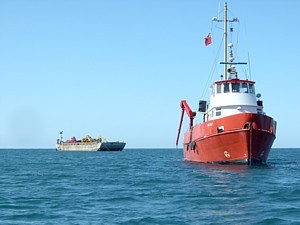 MV Datchet at work in Chichester Harbour
(Chichester Harbour Conservancy photo)
She's definitely the same 'Ratshit Datchet' as she was affectionately known by Royal Navy divers all those years ago. Originally used in UK waters for deep diving training by HMS Vernon in the mid-1970s, she was swapped for PCDT's MFV, FDT Ixworth, in 1979 and sold in 1994. As PCDT's diving tender, she became the only Royal Maritime Auxiliary Service (RMAS) craft with an RN crew and was thus entitled to wear the white ensign. She had an HP compressor, air bank and a six-man compression chamber on her quarterdeck. Since then, she's obviously had a paint job, been re-engined and fitted with bow thrust and other auxiliary machinery such as the deck crane.
Left: Members of LMCDO '76 on board FDT Datchet as she leaves Falmouth in 1976
Right: Hoole exiting FDT Datchet's chamber after a 54m dive with surface decompression in 1976
Built by Vospers in Singapore for the Far East Fleet Clearance Diving Team, Datchet was named on 18 December 1968 and given the pendant number A357 after sea trials (see The Far East Clearance Diving Team by Brian Braidwood in the website's Dit Box). She had a steel hull and, if memory serves me right, a comparatively fragile marine plywood superstructure. One of the Malaysian clearance diving officers I trained at Vernon in the 1980s told me that her sister ship was employed by the Singaporean Navy. I will always have a soft spot for her so it's nice to see that she's still going strong. I won't dwell on the stories I could tell but suffice it to say that she led an interesting and improbably charmed life in all manner of places.
Left: FDT Datchet and Plymouth CD Team in 1981 with your humble webmaster top left
Right: MV Datchet photographed by MCDOA member Duncan Bridge at Cowes in 2006
One of Datchet's less endearing attributes while in RN service was her propulsion machinery comprising two Gray Marine diesels originally destined for use in landing craft. These turned both screws in the same direction and made ship-handling a nightmare. I literally have the scars to prove it, sustained while manoeuvring her alongside Queen's Jetty in Falmouth at low water when I dipped my head in order to see the positions of the shoreside bollards through the bridge window. As I spun the wheel, the pointed end of one of the spokes took a neat chunk out of my chin; one of the reasons I've sported a 'full set' almost continuously ever since!
---
7 Dec 08 - RN Minewarfare Heritage
I have received this e-mail about CPO Torpedoman Robert Bloxsome who was decorated for mine disposal early in the Second World War:
"Sir,
I have recently looked at your website, concerning Mine Clearance Awards, and found it very interesting. Of particular interest was the information on my great grandfather, Robert Charles Bloxsome. I am in possession of CPO Bloxsome's divisional documents and can confirm that his war service was as follows:
6 Sep 39 - 7 Sep 39 - Pembroke
8 Sep 39 - 13 Sep 39 - Vernon
14 Sep 39 - 24 Mar 42 - Pembroke
25 Mar 42 - 12 Sep 44 - Daedelus
12 Sep 44 - 14 Oct 44 - Pembroke - discharged on compassionate grounds
After 31 years in the Mob - I think he had done his bit!! I am also in possession of his trade certificates as a Torpedo Engineer. I am however puzzled as to the awarding of a DSM on the 24 April 1940. I do not appear to have any guidance as to what this was for - other than stripping mines, though family legend has it that he was on a team that stripped the first mine of a certain type. I have read the book 'Service most Silent' (which though dated is interesting), and see no indications of a particular incident which could lead to this award. It is also interesting to see that he was based at Pembroke at this time - was that the Eastern region MCD team in the war???
Many thanks for your help, and any further help you could provide would be greatfully appreciated, likewise if I can be of any further assistance please get in touch.
R G Anders"
At the time of his award, CPO Bloxsome was a member of the Torpedo Branch which was then responsible for all things minewarfare. This responsibility passed to the combined Torpedo & Anti-Submarine (TAS) Branch on its formation in 1946. In 1975, the Operations Branch was formed and TAS ratings transferred to either the Sonar or the Minewarfare sub-branch. Since then, the Minewarfare sub-branch has remained virtually intact despite the introduction of the Warfare Branch in 1993. I sent Mr/Ms Anders the following reply:
"Hello Mr/Ms Anders,
Thank you for your interesting query.
This is an excerpt from pages 1 & 2 of the online London Gazette of 23 April 1940, Issue number 34835 (link):
"To be a Companion of the Distinguished Service Order
Lieutenant - Commander Roy Berryman Edwards, Royal Navy, H.M.S. Watchful; for courage and skill in securing and stripping live enemy mines, without regard for his own safety.
His Majesty has also been graciously pleased to approve the following Awards for services of the same kind:-
The Distinguished Service Cross.
Commander Edward Owen Obbard, Royal Navy.
Lieutenant Harold West, Royal Navy.
The Distinguished Service Medal.
Chief Petty Officer Edward George Spriggs, C/J-47033, H.M.S. Watchful.
Chief Petty Officer Charles Edward Syrett, C/J.9062.
Chief Petty Officer Robert Charles Bloxsome, C/J.28834.
Able Seaman Douglas Walter Wilson, C/JX.I46933, H.M.S. Watchful.
Able Seaman Sydney Charles Keen, Pens. 6356, 01.36458, H.M.S. Watchful.
Mention in Despatches.
Lieutenant Geoffrey Ambrose Hodges R.N.V.R."
Your information helps fill in the gap regarding your great-grandfather's unit at the time of his award. Among other things, HMS Pembroke was home to the RN's Chatham-based Torpedo School (equivalent of HMS Vernon at Portsmouth) and he must have been involved in stripping some of the earliest mines of the war. I suspect the award was made for a series of tasks rather than for any one in particular. Mind you, the Germans were always changing something about their mines to keep our people on the hop so he is quite likely to have helped defeat a certain type.
Of note, Cdr Obbard and Lt West were attached to HMS Pembroke's Torpedo School at the same time and it is possible that your great-grandfather worked with one if not both of them. Later in 1940, several RN Render Mines Safe Officers (RMSOs) and Bomb Safety Officers (BSOs) were based with their teams at HMS Pembroke for bomb disposal operations all over the country during the Blitz.
I am blind copying this to some other people who might be able to help.
Best wishes,
Rob Hoole"
Wartime RNVR Bomb & Mine Disposal Officer and author Noel Cashford MBE has since provided the following additional information:
"Hi Mr/Ms Anders,
I am not 100% certain but if I saw a photograph of CPO Bloxsome it may ring a bell.
I seem to think that he worked with Lt E Tewson RNVR who was awarded the GM after rendering safe the first 'T' mine (acoustic/magnetic) which washed ashore at Portland. Unfortunately in those days the names of NCOs and seamen crew were frequently not reported despite the fact that torpedo/mine CPOs were the lifeblood of we who became Bomb & Mine Disposal officers in the 1940s. They tended to be moved about, not staying with any officer for long. In the early months of WW II CPOs worked alone rendering safe dozens of mines washed ashore and recovering them. CPO Bloxsome may have been one of these brave men.
If he was at HMS Watchful he would possibly be with Cdr Roy Berryman Edwards DSO RN based at Great Yarmouth who was killed with USN Ensign John M Howard on the 11th June 1942 at Corton near Lowestoft. Any honours or awards CPOs received were richly deserved.
Having published four books I will search my records and if I find reference I will contact you.
Yours aye,
Noel Cashford MBE
ex-Lt RNVR Bomb & Mine Disposal Officer"
If anyone can provide any further background, please let me know.
---
5 Dec 08
Service of Thanksgiving for the late Lt Cdr Chris Beresford-Green RN
MCDOA member Peter Waddington has kindly provided this account of the Service of Thanksgiving held at noon today for the late MCDOA member Chris Beresford-Green:
"Rob,
I have just returned from Pitlochry, where I attended the Service of Thanksgiving for Chris Beresford-Green. It was very well attended, both by ex RN personnel and by friends from Pitlochry; indeed the small church was virtually full. On the MCD side Nigel Davies, Hamish Loudon and I were there, together with Alf Slingsby, Albert Chapman and a number of other divers, whom I regret I didn't recognise and didn't get a chance to speak to, amongst all the family and other people there. Nigel gave a very nice tribute during the service, covering Chris's naval career,and concluding with the traditional "Five Bells", and this was followed by a tribute to his involvement with the work and social life of Pitlochry, by one of his local friends.
We were greeted on arrival at the Church by Lieutenant Commander Paul Beresford-Green (in uniform), and later by Virginia and the remainder of the family (except brother David, who was unable to make it from Canada). They were all very friendly, pleased to see us, and grateful for the condolences which we conveyed, and we were all invited to the local hotel for refreshments and to meet the family and friends after the service.
Regards,
Peter"
I know that other naval divers present included Sandy Bruce, Andy Lettice, Bill McGovern, Ginge Reynolds, Pete Wannerton and Leo Whelan.
---
Former HMS Cottesmore and HMS Dulverton to join Lithuanian Navy
The Thales UK website contains this press release describing the reactivation of the former RN Hunt Class minehunters HMS Cottesmore and HMS Dulverton for sale to Lithuania. I was privileged to be with them when they were last at sea under the white ensign on 28 September 2005 as covered in News Archive 11.
The former RN Sandown Class minehunters HMS Sandown, HMS Inverness and HMS Bridport are already in the Baltic serving in the Estonian Navy.
---
4 Dec 08
A message from our President: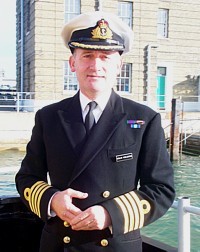 Captain Colin Welborn RN
"Rob,
WOW! What can I say? Thank you and the team for dining us out on Friday. The evenings get better and better and it will just get harder each year to do better still. All the ingredients were there on Friday: venue, food, wine, music but all surpassed by the people. Very emotional moment for me, especially with Paul Jones 'roasting' me!! He and I go back a long way (as do many others) but he came to my aid during a particular crisis and I will always be in his debt. He, like all in that mess, would be first choice as a 'wingman'.
The day is a master class for which you and the committee need to be thanked. I remember the lean years where it may have simply failed but for the stalwarts. Tony is an unsung hero for the way he just cracks on and grips the socials plus plus. I appreciate it's wrong to single individuals out when it is such a team effort but ... he gets my vote each time. What a fantastic afternoon it had been, the formal evening hit all the right notes: spectacular music, outstanding meal, great conversation and raucous sea shanties. What else could one ask for, especially in such a setting? To think we once used NELSON!!
I must say how impressed I am by the young people, both serving and sons; clearly meeting those golden strands of fulfilling potential in their academic, spiritual and social lives, all within a framework of order and high expectations. It's not about winning, but wanting to is what really matters and the dynamics between us older ones and the youngsters clearly works. There was an atmosphere that night to covet: any future enemies should be afraid because you cannot buy that sort of camaraderie. It really has been a rare privilege to be on the journey with all the MCDOA. I count myself lucky to have so many friends and the Royal Navy should reflect that our community represent many large pieces that make up the mosaic which is the history of the Naval Service. So, finally - thank you for your generous hosting of us. It was a real privilege and I look forward to helping sustain the momentum of the Vernon project.
Of course, Rob and Frank, there is the 'last' word. Rob - Vernon and Harlequin nights are an important but close memory as is your guitar coupled with those moments when you were the Duty Diving Officer and shared much with us on course - the man with a 'tingle' who said he had not peed for 18 hours who you then pressed down and he simply could not stop when it was explained how we might extract the pee if he didn't fill the bucket - those were the days! Frank who provided guidance to those 1st Lts (ex-'79 LMCDO Course) who were the bane of his life in MCM2 but you have to admit Frank, CTPs and the parties after were never, ever, never dull!
On, on!
Regards,
Colin
P.S. In my next life I shall be a 'webmaster'. They have far more power than either a Time or Sea Lord."
---
From Robin Bennett, Secretary of the Royal Engineers Bomb Disposal Officers' Club:
"Rob,
It was great to see you and the guys at the dinner yesterday. As ever, a splendid evening with good food, good company and good singing. Many thanks for inviting me and my fellow REBDOC members.
Yours aye,
Robin"
---
From MCDOA member John Giddens in Singapore:
"Rob,
Thank you very much for a splendid MCD event last night. I know these things don't organise themselves!! Unfortunately there were so many people there who I hadn't seen for years and there was not enough time to speak to everyone for very long – including yourself. You seem to be keeping well, and I hope there is another time to catch up with you.
I am heading back to Singapore this afternoon with a suitably sore head, and re-charged memories of a great team of people in the MCD world.
Best Regards,
John Giddens"
---
From MCDOA member Dave Forsey:
"One nameless member appeared to develop a mysterious rash between leaving the dinner and reaching his digs! Was it something he ate (or drank)?"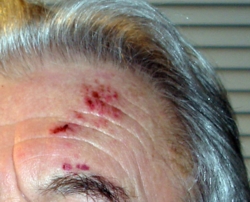 Ouch!
---
From MCDOA member John Staveley in La Spezia:
"Just a quick thanks for the dinner last Friday, and the effort y'all must have devoted to putting it on. The food, speeches, company and service were all great - even the singing was quite impressive. A faultless evening really, expect that it seemed not to last long enough for me to get round everyone I wanted to speak to.
Thanks again,
JRS"
---
From MCDOA member Bob White:
"Rob,
Very many thanks for all your hard work and organisation to make the dinner such a success. It was good to catch up with "old" friends. I must try and get there again before I am "50". A most enjoyable evening and I am grateful to you for all the arrangements you made.
Bob"
---
From MCDOA member Darroch Woodward in Canada:
"Paul, Rob, Tony and Soapy,
Believe it or not, this has sat in my drafts box for five days - and I have only just realised I have not sent it. Absurdly overdue, I must still express my thanks for a splendid day on Friday 28 November. The morning brief and lunch was a particularly good update on the state of the branch, its people and equipment, and a good chance to chat socially and professionally with some legends, as well as some of those I have served with. The dinner was quite outstanding and obviously a special night for me, which often played on my emotions. Having flown from Vancouver, I was particularly grateful to see most of my own course there, but with so many people coming up to show envy for my 5 month ski sabbatical and / or wish the best for establishing a civilian career thereafter in Canada just as the world plunges into major recession, I don't think I ever got the chance to talk in depth until at dinner sat amongst those much older, those I have served with, including two Canadians, those who have followed, and guest serving or civilian sons. In danger of sounding old at a mere 46, I have to endorse what Captain Welborn has already alluded to. Those much younger still clearly have the mental and social skills and the mindset that is key to the future of the branch, the RN and Britain. With the current trend to moan about the quality of our youth and how "Bah humbug, it's not as good as it used to be", it is a pleasure to observe such detractors are often wrong.
Paul, thank you for your own kind comments in your speech. Having worked with you at various times in my career and had the pleasure of you being my Boss at Fleet HQ (as was), I am always impressed by your countless jokes and dits. I was particularly amused to be proclaimed at the outset of your speech as the poshest MCDO in the branch, and have my panic with an O2 fire on my back in a chamber regaled at the end. I do hope, however, that I remain the only diver in the world to ever have that type of fright! One of the last to leave in a state of wobbly reverie with other stragglers, I suddenly recalled your parting reminder to collect my glass diver; I reassure you I found it and thank the association. Tony you obviously have much to do behind the scenes for such a day and knowing your character from our time on both MWO and XO desig course, I know you are quietly key to much that happens. But Rob in particular, your own longstanding dedication to the MCDOA and in particular the website is all too often taken for granted by us all; long may your commitment remain as it will be hard for others to emulate - thank you.
To end, having invested much passion in the MCD business, I will always remain interested to know what is going on, and particularly wish the branch much with CDLSE and a resurgence in MCM diving capability. I will always treasure the strong camaraderie that ties the branch together and gives us our reputation within the RN service. It has been a privilege to serve as an MCDO as our people at all ranks and rates represent the finest, most enduring, perhaps greatest egos, and certainly some of the most amusing characters. Having also had the privilege to work with many NATO and ABCANZ divers throughout my career, particularly as a result of one exchange and one loan service appointment, I know that trait is in fact present in all our clan worldwide, be they from one of the four other nations who speak English as their first language rather badly, speak it better even though a second language (the Dutch), or come from completely different cultures. An extraordinary and exceptional body of people.
Take care all, and if anybody in the branch is skiing or boarding this winter in Whistler, I look forward to seeing you on the slopes or serving you in some bar.
Regards,
Darroch Woodward"
---
Ledbury's back with a stowaway
The Portsmouth News website contains this article, featuring AB(D) James Shell, which describes how HMS Ledbury has returned from the Mediterranean with a stowaway.
---
3 Dec 08 - Updates on HMS Cattistock and HMS Ledbury
The RN website contains this article about the latest activities of HMS Cattistock and this article about HMS Ledbury.
HMS Ledbury with USS Barry
(RN website photo)
---
1 Dec 08
Significant Developments for Project Vernon
Last week saw some significant developments for Project Vernon, the campaign to erect a statue at Gunwharf Quays to commemorate the Minewarfare and Diving heritage of HMS Vernon. Australian Les Johnson FRBS was selected as the sculptor of choice following his presentation of a maquette judged as most closely satisfying the criteria established by the project committee. More details and pictures are available on the Home Page of the Project Vernon website.
Les Johnson's maquette
John Terry FCSD, Head of Fleet Graphics and ex-Portsmouth Graphics Pool at HMS Vernon, has produced a stunning oil painting entitled 'Danger at Depth'. This was initially intended to provide guidance to the competing sculptors but he has now donated it to the cause. It has already gone the rounds of the Defence Diving School on Horsea Island, the Minewarfare Operational Training Centre at HMS Collingwood and the MCDOA Annual Dinner at HMS Excellent and will be displayed at gatherings of other participating organisations throughout the coming months. Individuals will be given the opportunity to purchase limited edition prints with the proceeds going towards Project Vernon but advanced orders can be placed now via the project website's Purchases page. Hurry as they are already proving extremely popular and your early action will help the project committee gauge future fundraising requirements more accurately.
John Terry's painting
'Danger at Depth'
---
Navy team in action
The Portsmouth News website contains this article describing the disposal of a wartime shell off Harwich, presumably by SDU2.
---
Navy News Items
The December e-edition of Navy News contains the following MCD-related items:
---
30 Nov 08 - RN EOD Heritage - Leading Seaman Harry Fenemore RAN
Regular visitors to this website will know how much I cherish our historical links with other Commonwealth navies. I was therefore delighted to receive this e-mail from Mike Turner concerning LS Harry Fenemore RAN:
"Dear Rob,
From 1957 to 1990 I was a boffin at the RAN Research Laboratory in charge of the Mine Warfare Group providing scientific and technical support to RAN minesweepers and the Clearance Diving Branch. Currently I am writing a history book for the Naval History Section at the Sea Power Center-Australia and have found your website on honours and awards very useful. There is an omission from the listing. Leading Seaman Harry Fenemore RAN was awarded the DSM as per the London Gazette, 1 January 1942, page 33, position 1. I have not been able to access this notice for the citation but am told that it makes no specific reference to B & MD.
Harry Fenemore was born in Tringford, England on 17 June 1900. He joined the RN in 1916 and saw active service in HM Ships Ganges, Bacchante, and Barham during WW I. He emigrated to Australia and transferred to the RAN in 1920. After active duty in the Med in HMA Ships Stuart, Vampire and Vendetta he was loaned to the (Suez) Canal Mine Clearance Party as a diver from 28 March 1941 to 31 December 1941 (see attachment). The DSM was awarded for diving on a German GD mine that was lying too close to three ships to be swept or countermined. He dived in magnetically safe Standard Dress not knowing if the mine was an active acoustic mine (which would almost certainly have proved fatal). He rendered the mine safe by removing the primer extender and primer spring, removing the primer, cutting the detonator leads and removing the detonator. This is described in the attached USN letter from Mine Explosive Investigation Unit No.1 that was operating with two RANVR officers of note (Cliff and Goldsworthy) in the Solomons and Borneo in 1945.
Tragically Harry Fenemore died on 5 February 1947 during a routine underwater inspection of a wharf as a civilian contractor.
Regards,
Mike Turner"
I have confirmed that Harry Fenemore's award of the Distinguished Service Medal (DSM) in the 1942 New Year Honours appears in Seedie's Roll of Naval Honours and Awards 1939-1959. His name and the circumstances of his award have now been added to the list of recipients of 'WW II Awards for RN Diving and Bomb & Mine Disposal' in the website's 'Branch History' section and I have informed Mike accordingly.
---
29 Nov 08 - MCDOA Operational Updates, AGM and Annual Dinner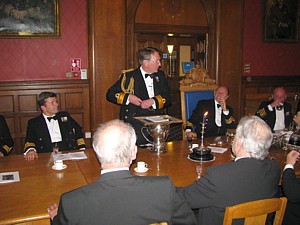 Rear Admiral Cooling speaks
Yet again I can't believe our luck in having Tony Griffiths as our Honorary Secretary. Yesterday's highly informative operational updates, convivial lunch and productive AGM at Horsea Island followed by the superb dinner in the Wardroom at HMS Excellent went like a dream, all thanks to his tireless efforts and remarkable organisational skills.
We are also in debt to our Guest of Honour, Rear Admiral Bob Cooling, for his encouraging and entertaining speech, Cdr Simon Howell for graciously giving permission to use his mess in Whaley, Band Colour Sergeant Doug Scott BMus (Hons) PGDip RM and the stalwart players of HMS Nelson's Volunteer Band for their marvellous virtuosity, Chef de Cuisine Mark Stockwell and his brigade for our tasty fare and Maitre d'Hotel Richard Croughan and his staff for their efficient service and enthusiastic participation in the after-dinner singing. Those of us who were accommodated overnight on board HMS Bristol are also grateful to Lt Cdr Adrian Elston for granting us this very welcome privilege.
Our service leavers were well-roasted and it was good to see so many from the 1968 and 1983 LMCDO courses celebrating their 40th and 25th anniversaries respectively as well as guests from the Australian, Canadian and US Navies plus the odd Royal Marine, Sapper and Police Superintendent. The dinner was announced in the Daily Telegraph and The Times (online version here). I have published photographs of the day's events in the Members Only area of the website (N.B. Not for the faint-hearted!).
---
27 Nov 08 - A bit of Vernon nostalgia
On the eve of our annual dinner when we will celebrate, among other things, the 40th anniversary of the 1968 LMCDO Course of which the late-lamented Chris Beresford-Green was a member, I thought it appropriate to display the photo below, kindly supplied by Peter Waddington. It shows members of Deepwater Division being inspected by Admiral Sir Horace Law CB OBE DSC (then Commander-in-Chief Naval Home Command) during ceremonial divisions at HMS Vernon in 1971. Astern of him are LMCDO '68 Course Officer Lt Cdr Peter Waddington (then 'IDiving') and LMCDO '68 student Lt Tim Hildesley (then 'DO1') with Captain Stuart Farquharson-Roberts OBE (then Captain of HMS Vernon) bringing up the rear. I am reliably informed that the divers standing nearest in the front rank of the Deepwater platoon are the then PO(D) Dudley North, PO(D) Les Sharpe and LS(D) Jan Peacey - unless others know different.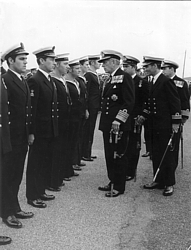 CINCNAVHOME Divisions
at HMS Vernon in 1971
---
26 Nov 08
Service of Thanksgiving for Chris Beresford-Green
From today's edition of The Scotsman:
"BERESFORD-GREEN Christopher (Pitlochry, Perthshire) Peacefully, in hospital, on Saturday, November 22, 2008, Christopher (Chris) Edward, Lieutenant Commander Royal Navy (Retired), much loved husband of Virginia, brother of David and father of Paul and Mark and their families. Service of Thanksgiving to be conducted at Holy Trinity Church, Perth Road, Pitlochry, at 12 noon, on Friday, December 5, followed by a private cremation. Donations, if desired, for the Royal British Legion, Scotland, c/o Gaulds Funeral Directors, 34 Atholl Road, Pitlochry, PH16 5BX, tel 01796 474001, email davidgauld@aol.com."
I will ask Soapy Watson, our Honorary Teasurer, to make a donation to the Scottish RBL on behalf of the MCDOA in lieu of a floral tribute.
---
MCDOA Committee Meeting Minutes
The minutes of the MCDOA Committee meeting held at Fleet Diving HQ on 28 Oct 08 have now been added to the Members Only area.
---
25 Nov 08
Death of Chris Beresford-Green
I regret to report the sad news from MCDOA member Dan Nicholson and Alf Slingsby that MCDOA member Chris Beresford-Green (LMCDO '68) passed away in hospital on Friday night as the result of the stroke he suffered several months ago. His funeral is expected to take place in Pitlochry and details will be published if and when known. I have contact details for Chris's wife, Virginia, for anyone who would like to send their personal condolences. In the meantime, I can only offer her and the rest of Chris's family, including his son Paul, a Lt Cdr in the RN, and his brother David in Canada, our deepest sympathy on Chris's untimely death. One could never hope to meet a nicer or a fairer man.
---
From MCDOA member John Lang:
Rob,
Just seen the sad news about Chris. If memory serves me right we served together in the Hong Kong squadron 69/70. Please pass on my condolences to his widow.
Yours aye,
John Lang
---
RN Diving Technology
Today's Portsmouth News contains the following item featuring PO(D) Al Reilly as part of a two-page article about the use of new technology in the Royal Navy following Staff College Sea Days at Plymouth last month:

---
24 Nov 08 - HMS Ledbury destroys mines in English Channel
The RN website contains this article describing how HMS Ledbury has been finding and destroying wartime ordnance in the English Channel over the past week. The article features PO(MW) Mark 'Ginge' Wilcockson and AB(D) Toby Jones.
HMS Ledbury destroys a mine in the English Channel
(RN website photo)
---
23 Nov 08 - Update from HMS Cattistock
Lt Cdr David Morgan, the Commanding Officer of HMS Cattistock, has kindly sent this update:
"Greetings from Portsmouth! Having crew-swapped from HMS Cattistock to HMS Atherstone in September last year, we successfully deployed to the Gulf and have now returned to HMS Cattistock.
Although I say greetings from Portsmouth, we seem to have spent very little time in port. On our return, we became the first Royal Navy ship in 25 years to visit the Channel Island of Sark, where I think we managed to meet almost half of the 600 inhabitants during our two-day stop-off. Next, we escorted the Funchal 500 Tall Ships Race on their first leg from Falmouth to Ilhavo in Portugal. The second leg has since taken them to their final destination in Madeira where they are celebrating the 500th anniversary of the first settlement on the island. On the way back, we stopped off in Villegarcia de Arosa in Spain, which was a forward operating base for the Royal Navy in the 19th Century with apparently some 30,000 of our sailors based there.
We visited the Channel Islands again last month, this time Guernsey, to take part in the annual celebrations that commemorate the islanders' defiance of the German regime during the Second World War. In 1943, the inhabitants turned out in large numbers to attend the funerals of the ships' companies of HMS Charybdis and HMS Limbourne. These ships had been sunk in the vicinity of the islands after attempting to intercept German convoys and many bodies from their ships' companies had washed up on Guernsey. Although the Germans continued to go through the required formalities of a military funeral, the islanders were forbidden from attending again.
Most recently, we have been patrolling the west coast of the UK on Fishery Protection duties and managed a short stand-off in Liverpool at the same time as HMS Illustrious. After our short stint employed on Fishery Protection we returned here to Portsmouth where we are now alongside for maintenance which also gives us the opportunity to catch up with family and friends."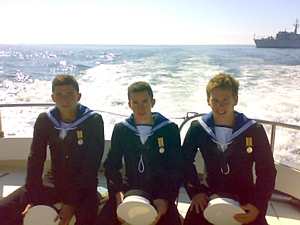 AB Taff Slee, AB Buckley and AB Jay Lynch catch
the liberty boat ashore in Sark to attend Church
(RN website photo)
---
22 Nov 08 - Memorial Service for former CPO(D) Dougie Stewart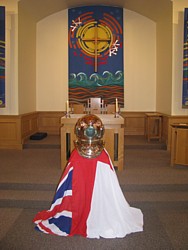 Altar in St Barbara's Church
HMS Excellent
A strong contingent of naval divers attended the Memorial Service for former CPO(D) Dougie Stewart today in St Barbara's Church at HMS Excellent. Serving divers in uniform included MCDOA members Chris Baldwin and Paul McDermott plus Kevin Ameira, Dan Archer, Paul Bhathena, Andy Carrs, Peter Digweed, Richard Ellis, Tim Gates, Chris Greenaway, Knocker Knowles, Alastair Reilly, Chris Rumming, Ken Smith, Col Taylor, Rex Turnbull (with his son Alex) and Scouse Vernon. Former RN divers included MCDOA members Rob Hoole and Graham 'Tug' Wilson plus Dave Barrett, Kevin Bell, Tony Candler, Mark Cheeseman, Dave Cherry, Ian Devine, Jim Donnelly, Eamon Fullen, Tim Gates, Richard Harker, Bob Lothian, John Meekin, Alan Murphey, Steve Reese, Dean Rushforth, Tim Sizer, Adrian Slater, Pete Still and Yorky Tudor. Dougie's former colleagues from the HSE included MCDOA members Steve Field, Mike Leaney and Chris Sherman plus Richard Martins, Brian McGlinchy, Pete Sieniewicz and Judith Tetlow.
The service was conducted by the Revd Tim Wilkinson RN of HMS Collingwood and started with a welcome that included Psalm 107 verses 23-4:
"They that go down to the sea in ships
and occupy their business in great waters.
These men see the works of the Lord,
his wonderful deeds in the deep."
After the singing of the hymn 'Immortal, Invisible, God Only Wise' to the organ accompaniment of Lyndon Ford, and the saying of prayers, Steve Field described how Dougie joined the Royal Navy in 1980 and served as a Radio Operator in the frigates HMS Diomede and HMS Argonaut before qualifying as a ship's diver. He qualified as an AB(D) in 1985 and then joined the Plymouth CD Team. He followed this by qualifying as a saturation diver in the Seabed Operations Vessel HMS Challenger and undertaking deep diving trials. After qualifying as a LS(D), he served with FDU3 and spent six months on exchange with the Royal Australian Navy as a participant in Exercise LONG LOOK. He then served with FDU1 and qualified as a PO(D) in 1998. As coxswain of HMS Quorn, he was involved in trials of the new CDBA and supervised its first 80m dive. He then served with FDU2 which included a deployment to Macedonia on Operation BESSEMER. This was when he impressed Army observers with his ability to blow the turret off a T-55 tank so that it landed back on upside down. Dougie's final job in the RN was at DDS on Horsea Island where he served with Steve Field. After leaving the Service, he spent two years with DIVEX and a further three years with the HSE's diving inspectorate before his untimely death last August Bank Holiday. Apart from testifying to Dougie's impressive professional skills as a diver and instructor, including his photographic memory of the Diving Manual, Steve also paid tribute to his wonderful sense of humour and his renowned talent for 'spinning dits'.
Mike Leaney then paid his personal tribute to Dougie which included the fact that they had served together in HMS Diomede. He read several tributes from people unable to be present including Mike Loane and Beach Younger, Martin Jenrick, Richard 'Soapy' Watson, Paul Guiver and Hazel Hancock of the HSE's Aberdeen office.
The congregation sang 'Lead us Heavenly Father' before John Meekin read from St John's Gospel 14.1 verses 1 to 7 and 25 to 37 (In my house there are many mansions). The Revd Tim Wilkinson then gave an address which tied in the Gospel reading's theme of fellowship and story-telling with Dougie's relationship with the naval diving community. Prayers, including the Naval Prayer, were followed by the Naval Hymn incorporating Uncle Bill Filer's special verse for divers. After the benediction, most attendees went on to raise a glass in Dougie's memory at the Mermaid in Port Solent, adjacent to Horsea Island.
Dougie's two young daughters, Rachael and Ella, did their father's memory proud today. They have our deepest sympathy, as does their mother Louise. We also extend our condolences to Dougie's parents, Bob and Betty, and to his sister, Jackie.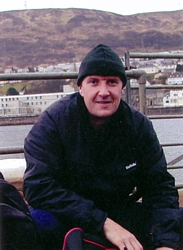 Douglas Robert Stewart
RIP
---
21 Nov 08 - 2008 MCDOA Annual Dinner attendees
This is the final list of attendees for the dinner in HMS Excellent on Friday 28 November:
Guest of Honour

Rear Admiral Bob Cooling


(Assistant Chief of the Naval Staff)
Official Guests
Captain Peter Lambourn RN (Captain Minewarfare, Diving & Fishery Protection)
John Terry FCSD (Head of Fleet Graphics)
Séan Sweeney MBE (Operations Manager, Gunwharf Quays)
Service Leavers
Colin Welborn (MCDOA President)
Charlie Wilson (

LMCDO '83A

)
Darroch Woodward
Other Members and their Guests
(Host's name in brackets)
Capt R S 'Jock' Alexander RN (Bob Hawkins)
Martyn Allen
Mark Atkinson
John Bainbridge
Robin Bennett ACIS (RE BD Officers' Club)
Ian Berry
John Bray OBE (Tony Griffiths)
Steve Brown
Keith Broughton
Benjamin Butterworth (Nigel Butterworth)
Nigel Butterworth (

LMCDO '83A

)
David Carey (

LMCDO '83B

)
Oliver Carey (David Carey)
Ryan Carey (David Carey)
Adrian Cassar
Jon Cox
Mike Critchley
Don Crosbie
Tim Curd
Cdr Chris Deere CN
Morty Drummond
Edward Durkin (Mark Durkin)
Mark Durkin
Brian Dutton
David Edwards
Simon Edwards (Keith Broughton)
Mike Emary (

LMCDO '68

)
Steve Field
John 'JJ' Forbes (RE BD Officers' Club)
Dave Forsey (

LMCDO '68

)
Dave Foster
John Giddens (

LMCDO '83A

)
David Giles OBE (Tony Griffiths)

Kev Giles
Lt Richard Gobey RNR (Steve Gobey)
Steve Gobey
Pete Greenwood
Geoff Goodwin
Tony Griffiths
Alan Hares
Cliff Hares
Paul Hares (Cliff Hares)
Stu Harper
Bob Hawkins
Neil Hemmings (Jon Cox)
John Herriman
Peter Hicks
Martyn Holloway
Rob Hoole (

LMCDO '83A

&

'83B Boss

)
Cdr Gareth Hughes RN (Bob Hawkins)
David Hunkin
Phil Ireland
Paul Jones
Bill Kerr
Mike Leaney
Rollie Leyte CN (Bill Kerr)
Martin Mackey
Dougie MacDonald
Ralph Mavin
Paddy McAlpine
Paul McDermott
Lt Col Peter McMullen RM (Don Crosbie)
Ian Morton
Simon Neil
Toby Neil (Simon Neil)

Al Nekrews
Lt Cdr Mike Oborn RAN (Don Crosbie)
Chris Flaherty
Sean O'Reilly
Richard Osbaldestin
Gary Pascoe (David Hunkin)
Simon Pressdee
Mr P Redman (Tom Russell)
Ian Richardson
Keith Riches
Simon Ridout (

LMCDO '83B

)
Peter Robinson
Stuart Robinson
Tom Russell
Les Rutherford
Mark Savage
Chris Sherman (

LMCDO 83A

)
Tim Sizer (Tug Wilson)
Lt Ash Spencer RN (Simon Pressdee)
John Staveley
Lt Chris Stephenson RN (Paul Jones)
Kev Stockton
Capt Simon Thomas RN (Colin Welborn)
Capt Kevin Tokarick USN (Bob Hawkins)
Alan Trevarthen
Peter Waddington (

LMCDO '68 Boss

)
Frank Ward
Richard 'Soapy' Watson
Bob White (

LMCDO '68

)
Graham 'Tug' Wilson
Iain Wood
Mr C Young (Tom Russell)
MRUs: Chris Ashcroft, David Bartlett, Alan Bayliss, John Beavis, Capt Martin Brooker RAN, Jon Chapple, Adrian Elston, John Higham, Tim Hildesley (LMCDO '68), Nigel Hill, Ken Kempsell, Mike Loane, Alex Manning, Steve Marshall, Jim Nisbet, Alexandra Norton, David 'Doc' O'Connell, Harry Parker, Tony Rose, Graeme Symes, David 'Topsy' Turner (LMCDO '83B) and Andy 'Sharkey' Ward.
See entry for 8 Oct for further details.
---
19 Nov 08 - TV programme about RAN Clearance Divers
The fourth and final episode of the Australian Broadcasting Corporation's excellent TV documentary series 'Navy Divers', which follows the progress of a Royal Australian Navy Clearance Divers' course, is now available to watch online via this link. All four episodes can be accessed via this link.
---
16 Nov 08 - Update from HMS Ramsey
I am grateful to Marc Taylor, Navigating Officer of HMS Ramsey, for sending this update:
"RAMSEY completed a five week maintenance period on the 11 Oct which included some much needed work to ensure the ship was well prepared to meet the rest of the programme in the Gulf and also for the long passage back to the UK. As a result of some re-structuring of programmes for the OP TELIC MCMVs, Ramsey learned in October that her deployment in the Gulf was to be extended until Feb 09 with the obvious impact to the ship's company being away from home for Christmas. In true naval tradition this was taken in good heart by the ship's company who realise that there is an important job for Ramsey to do in the Gulf but they were also pleased to hear that there likely to be an opportunity for all to take some leave to go home from Bahrain over the Christmas period. The remainder of October has been very active for the ship with a shakedown period following close on the heels of the extensive maintenance to ensure all elements of the ship were fully functional. This was followed by two periods of route survey tasking in the Central Arabian Gulf in company with our sister ship HMS Blyth. Route Survey operations are a very methodical but necessary operation within the Gulf that allow detailed maps of the seabed along major shipping routes to be compiled; it also provides an ideal opportunity to practice the majority of our mine hunting and diving skills which was fully exploited to ensure the team was well prepared for the forthcoming combined US/UK MCM exercise scheduled for November. The visit to Dubai was enjoyed by all and was a welcome, although expensive, change of scenery after Bahrain.
The final event of the month was a visit by the officer in overall charge of the Sandown MCMVs, Captain Garrett, Captain Faslane Flotilla, who spent time on board both Ramsey and Blyth to provide assurance to the Commander-in-Chief Fleet that the ships are performing to a high standard and have no issues that are likely to affect their operational capability. It is pleasing to say that he went back to the UK satisfied with what he had seen in both ships.
The highlight for October has been recovering the ship from an extensive maintenance period and taking her to sea in very good condition after five long weeks alongside. Ramsey now has a varied and interesting programme for the remainder of her time in the Gulf and we shall be sure to keep the website updated with the details."
Apparently, the Atlantis Water Park in Dubai was very popular with the ship's company.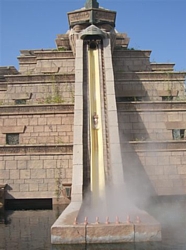 Atlantis Water Park in Dubai
---
14 Nov 08 - Memorial Service for former CPO(D) Dougie Stewart
A memorial service for ex-CD Douglas 'Dougie' Stewart, late of the Health & Safety Executive's Diving Inspectorate, will be held in St Barbara's Church at HMS Excellent on Whale Island, Portsmouth at 1000 on Saturday 22 November. Non-serving members who wish to attend should contact MCDOA member Mike Leaney of the HSE in advance so that he can arrange access to the establishment.
---
12 Nov 08
HMS Blyth update
The Navy News website contains this article describing HMS Blyth's preparations for returning to the UK after her 27-month deployment to the Gulf.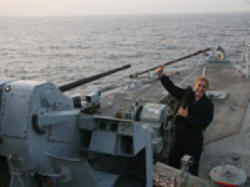 AB(MW) Mellor of HMS Blyth after
successfully hitting a gunnery target
(Navy News website photo)
---
TV programme about RAN Clearance Divers
The third episode of the Australian Broadcasting Corporation's four-part TV documentary 'Navy Divers', which follows the progress of a Royal Australian Navy Clearance Divers' course, is now available to watch online via this link.
---
11 Nov 08 - Bill Bauckham's Funeral
It was standing room only in the chapel at Portchester Crematorium yesterday with many past and present members of the Clearance Diving Branch supporting Bill's family and friends. Apart from MCDOA members Brian Dutton, Rob Hoole and John O'Driscoll, naval divers present included Chris Christie and Donkey Bray in uniform plus Cris Ballinger, Stan Bowles, John Dadd, Paddy Doonan, Bob Fraser, Don 'Jimmy' Green, Gabby Haines, Mike Handford, Vic Humphrey, Colin 'Scouse' Kidman, Gerry 'Pincher' Martin, Spud Murphy, Nobby Noble, Buck Rogers, Stew 'George' Sissons, Spike Spears, Stan Stanley, Pete Still, Troy Tempest, Tommo Thomson, Tiny Timms, Yorky Tudor, Willy Wilkes and many others. WO(MAA) Kev 'Taff' Williams also attended in uniform. I apologise to those I've missed out.
The service started with a reading of the 23rd Psalm. After prayers, the Reverend Ron Robinson of the Church of the Ascension in Stubbington Avenue, Portsmouth described Bill's life and career and paid tribute to his commitment to the Royal Navy and to his family. We learned that Bill was born on the River Tees in Cleveland and joined the Navy at the age of 16, eventually serving for 35 years before retiring as a CPO(D). He met his wife Nancy at a dance in Southsea while serving at HMS Vernon. Within days of their wedding in 1964, he joined the cruiser HMS Sheffield. The Revd Robinson quoted several glowing testimonials to Bill's prowess as a diver and as a diving instructor and of his other skills as a cook, handyman and gardener; he fed his family from his allotment for 34 years. During the committal, the congregation listened to a recording of Sarah Brightman singing Bilitis-Generique and the service finished with the Naval Hymn. Most people then moved on to a lively reception at the Cormorant in Portchester where we raised a glass in Bill's memory.
Our thoughts remain with Bill's widow Nancy, their children Alison, Eleanor, Ann and Robert and their grandchildren Anna, Andrew and Mia. I hope they take strength from the support we provided and the obvious esteem in which we all held Bill.
---
10 Nov 08 - Act of Remembrance by HMS Atherstone
The RN website contains this article describing the Act of Remembrance performed by HMS Atherstone in Bahrain on Sunday.
Remembrance Sunday on board
HMS Atherstone
(RN website photo)
---
9 Nov 08 - Lest We Forget

They shall grow not old, as we that are left grow old;
Age shall not weary them, nor the years condemn.
At the going down of the sun and in the morning,
We will remember them.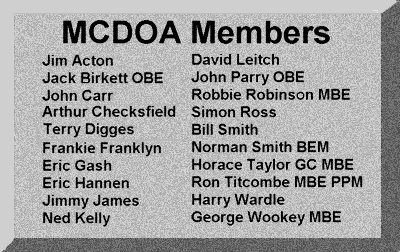 ---
8 Nov 08 - RNZN Divers use 'Classic Kiwi Ingenuity' to recover helicopter and body of pilot
The following online articles describe how RNZN Clearance Divers using REMUS and Seaeye ROVs helped detect and recover a helicopter and the body of its pilot from a 74m deep lake in New Zealand yesterday:
---
7 Nov - 08 Navy News Items
The November e-edition of Navy News has just been published online and contains the following MCD-related items: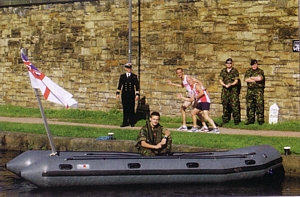 Chris Baldwin with other SDG runners
on the towpath
---
6 Nov 08
Long Term Dates for the Diary:
20-22 February 2009 - RN Minewarfare Association Northern Reunion
Polly Porter of the RN Minewarfare Association is organising an all-ranks Minewarfare reunion at the Norbreck Castle Hotel in Blackpool over the weekend of 20-22 February 2009. See this entry on the Minewarfare Association's website for further details.
27 Feb 2009 (TBC) - MCDOA Northern Dinner
MCDOA member Andy 'Sharkey' Ward, CO of the Northern Diving Group, has assured me that he will brief his relief, fellow MCDOA member Jason White, to organise the Association's 2009 Northern Dinner at HMS Neptune as usual. Traditionally, it is held on the closest Friday to the anniversary of the formation of the MCD Branch (25 Feb 1966).
22 April 2009 - Service of Thanksgiving for Lt Cdr Ian Fraser VC DSC RD* RNR
The Service of Thanksgiving for wartime X-craft submariner and diver Lt Cdr Ian Fraser VC DSC RD* RNR will be held in St Martin-in-the-Fields, Trafalgar Square on Wednesday 22 April 2009 starting at 1400. A formal announcement of the event will be made in The Times, Daily Telegraph, Independent and Navy News early in the New Year. Further details will be provided in due course.
12th June 2010 - RN Clearance Divers' Reunion on board HMS Warrior
Troy Tempest of the Association of RN First Class Divers is organising an all-ranks Clearance Divers' reunion on board HMS Warrior 1860 in Portsmouth for Saturday 12 June 2010. Full details will be promulgated on the new RN CD website in a couple of months but names and numbers will be required by 12 June 2009 with a deposit of £10 to secure a place. This will be open to all RN Divers and their guests on a first come, first served basis. Numbers will be limited so prospective attendees are advised to book early.
---
Divers' Dinner at Kimbell's Corner House, Portsmouth c.1960
Speaking of dinners, former FCPO(D) Dave 'Mona' Lott in Australia has sent me the following e-mail and photos of an annual divers' dinner at Kimbell's Corner House opposite the Theatre Royal in Commercial Road, Portsmouth in 1958. From 1959 onwards, the dinners were held in Kimbell's Clifton Room in Osborne Road, Southsea. This establishment enjoyed a second life as the Portsmouth Playboy Club during a brief period in the mid-1970s.
Mona says:
"I'm having a very nostalgic day after hunting down the photo of Taff Roberts CD1 RIP. Recent talk of the future divers' bash on board HMS Warrior and a call for the old days at Kimbell's Corner House in Portsmouth set me thinking which can be quite dangerous.
Among the "olde" happy but sad collection of my snaps is this one of some well remembered faces but the year definitely stumps me. Late 1950s early 1960s perhaps? From memory the blokes are as follows: nearest the camera Paul Scott - a Steamer converted to CD1 (deceased); then Trevor Gibson - CD1 (one of Shiner Brassington's old mates); Dadd Davis - CD2; Mick Corbett - CD1 (nice bloke, wonder where he went); Ted Rose - CD1 (deceased - he was always good for a laugh); I forget the name of the next person but I think he was a Diving section Schoolie. Opposite him is Taff Lawrence - MCDO (deceased); I forget the name of the next bloke but I believe he was a steamer; then there's a South African - CD(Q) and whose name is rattling around in my brain very annoyingly (just remembered surname of Dewey); yours truly is next; followed by Ken Blaylock CD1 (deceased); next is Thommo Thomas who was an AB CD3 on the Dingley with me; and at the end Dave Audoire - CD1. Between these last two in the distance facing the camera is MCDO Jim Cook who was to lose an eye in a car accident involving Johnny Lett - CD1. I think that MCDO John Grattan is maybe the second from Jim Cook's right.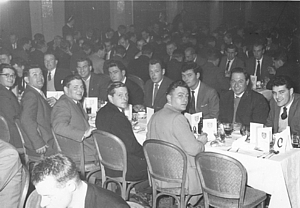 The Toffs at the next table are from front right to left: Willy Wilkes - CD1; Geoff Burgess D1 (deceased); Scobbie Beasley Artificer Diver; next is unknown; Mr Barrington ex-QDD and later civil servant at AEDU (deceased); diagonally to his left coming back along the table is Tag Caisley MCDO; next is unknown; I think the next is the one and only Tom Norman; next is D1 later converted to CD1 Ron (Flannel) Flanagan now Maitland-Flanagan; then good old Ernie Foggin - CD1 thoroughbred (deceased); and finally to Paul Scott ex-D1 converted to CD1 (deceased).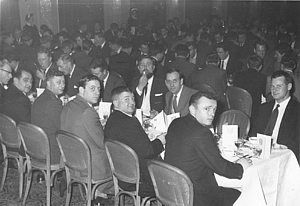 As some of you can probably remember, these functions were organised and thoroughly well run by Uncle Bill Filer and there were always several hundred highly enthusiastic members in attendance. It must have taken considerable expertise to organise these annual get togethers so they certainly had hold of the right bloke.
Hope you enjoyed this trip to visit old buddies.
Dave (Mona)"
---
5 Nov 08 -TV programme about RAN Clearance Divers
The second episode of the Australian Broadcasting Corporation's four-part TV documentary 'Navy Divers', which follows the progress of a Royal Australian Navy Clearance Divers' course, is now available to watch online via this link.
---
3 Nov 08 - Death of former CD1 Hugh 'Taff' Roberts BEM
Troy Tempest of the Association of Royal Navy First Class Divers (AORNFCD) has informed me of the recent death of Hugh 'Taff' Roberts. He served throughout the world, including the Far East, and was awarded the British Empire Medal for his services to clearance diving in the 1960 New Year Honours. The funeral took place at 1400 on Friday 31 October at St John's Church, Sleights, Whitby, North Yorkshire.
---
2 Nov 08 - Funeral arrangements for former CPO(D) Bill Bauckham
The funeral of Bill Bauckham (see entry for 26 Oct 08) will take place at Portchester Crematorium on Monday 10 November at 1330. Flowers to Barrells Funeral Directors, 245 Fratton Road, Portsmouth PO1 5PA (Tel: 02392 824831). A wake will be held in the Cormorant on completion.
---
30 Oct 08
Hamish Loudon in the news
From the Lochaber News of 23 Oct:
"Typical school holiday weather
I met Ken Jones of the P&J [Press & Journal] in the blustery, rain-lashed High Street this morning. "You need a master mariner's certificate to negotiate your way along from one end to the other," he remarked. Just then, Hamish Loudon, RN, hove into view. But, of course, unlike the press gang landlubbers, he wasn't making heavy weather of steering a middle course through the town..."
My thanks to ex-CD1 Perry Mason for providing this snippet about MCDOA member (and an old CO of mine) Hamish Loudon of Fort William.
---
DDS Divers complete Great South Run
The RN website contains this article about the participation of CPO(D) Ian 'Scouse' Fleming and a team from the Defence Diving School in last weekend's Great South Run in Southsea (also see entry for 24 Oct 08).
DDS Divers after Great South Run
(RN website photo)
---
28 Oct 08 - TV Documentary about Australian Clearance Divers
The first episode of a four-part Australian Broadcasting Corporation TV documentary called 'Navy Divers' describing the progress of an RAN Clearance Diver course can now be watched online here. It show candidates being put through the ten day clearance diver assessment test (CDAT).
---
27 Oct 08
HMS Grimsby and HMS Pembroke sail for the Gulf
The RN website contains this article announcing today's departure of HMS Grimsby and HMS Pembroke from Faslane. They are due to relieve HMS Blyth and HMS Ramsey who have been in the Gulf for the past 27 months.
---
HMS Brocklesby's Ship's Company earns another trophy
The RN website contains this article describing the award of the Desmond Wettern Fleet Media Award for Small Ships to the current ship's company of HMS Brocklesby, mostly for their work while manning HMS Chiddingfold in the Gulf.
---
26 Oct 08 - Death of Bill Bauckham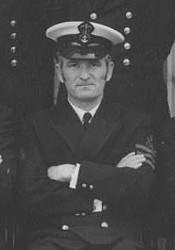 Bill Bauckham
Troy Tempest, the Secretary of the Association of RN First Class Divers, has passed me the sad news of the death of former CPO(D) Bill Bauckham from mesothelioma on Thursday 23 October. Bill was the Course Instructor for LMCDO '73 (Course Boss Ed Thompson), LMCDO '74 (Course Boss John O'Driscoll) and LMCDO '80 (Course Boss Pat Gale).
The family would like to keep things low key for the moment so please do not contact his wife who has been devastated during these past few months. Funeral arrangements will be promulgated when known.
---
From MCDOA past-President Richard Moore (former COMMW):
"Dear Rob,

I am very sorry to hear the news concerning Bill Bauckham - please pass on my sincere condolences to his family. As the MCDO Course instructor he took charge of a disjointed group of junior officers and welded them into a pretty effective team - most of the time!

He was a first class instructor who was well respected by his superiors and juniors alike. Bill employed his dry sense of humour to great effect and showed calmness when he and the Course were under stress.

Bill will be sorely missed - a true professional.

Warm regards,

Richard"
---
From MCDOA member Ed Thompson:
"Rob,
Many thanks for keeping the rest of us in touch with this sad news and all other happenings in the branch. Bill and I worked together with the LMCDO 1973 course, my contribution to it was made so very easy thanks to Bill.
He not only was an excellent Petty Officer and first class instructor, but a truly gentle, gentleman, the best of the best, whom I feel very privileged to have known for far too short a time.
My heart goes out to Bill's family.
Yours aye,
Ed Thompson"
---
From MCDOA member Mike Kooner:
"Hello Rob,
So sorry to hear about Bill. He was my course instructor and helped me and many others during that time and later
as we progressed through the branch. A splendid and very kind man. I never heard anyone say a bad word about him, which is a remarkable achievement for our branch and speaks volumes.
Regret we do not return to UK until 14 November and suspect will miss his funeral. When appropriate please pass on my condolences to his wife and family.
Best wishes,
Mike"
---
From MCDOA member Alan Bayliss:
"Thank you Rob for letting me know of the sad loss of a perfect Gentleman.
Billy was an inspiration to my LMCDO course. He got the best from us in a quiet, firm, efficient manner. He made men out of us boys.

Alan"
---
From MCDOA member Geoff Goodwin:
"Gentlemen,
Sorry for the delay in responding but I have been away.
Bill Bauckham was my Long Course instructor in 1974. He was, without question, an excellent and highly knowledgeable instructor and a shining example to us Lieutenants on course. As an instructor he had the ability to teach many of the aspects of theory, equipment and practical diving that were never in the BR. After qualifying, when supervising or planning some complicated job, I remember often thinking, "What would Bill do in this situation?" Even later on, when working on policy and the future of RN diving in the MOD, at Northwood running some operation or serving in a frigate, he would be the first person I would call to seek advice. I am one of many who have Bill to thank for my successes.
Bill had a dry and ready wit; he was able to relate to people at all levels and he was popular with everyone I know who met him. I was very saddened to hear of his death.
Geoff Goodwin."
---
From MCDOA member Andy Stribley:
"Dear Rob,
I was very sorry and saddened to hear of Bill Bauckham's death. He was a tower of strength and expertise as my course instructor, not to mention having a well-judged ability to turn a blind eye now and again.
A first rate person in all respects.
Kindest regards,
Andy Stribley"
---
From MCDOA member Stu Harper:
"Rob,
Very sad news indeed. Bill was a total professional who skillfully shaped so many Branch careers.
Best regards,
Stu"
---
From former FCPO(D) Dave 'Mona' Lott in Australia:
"Rob,
While on the website I saw that you have posted the extremely sad news about Bill Baukham, one of our old contemporaries. I would like to pass the sincere condolences of both Les Maynard and myself to Bill's family.
Memories are often recalled at sad times. One such memory comes from the night in 1965 when we hung Bill and Charlie Charlwood back over the side in Reclaim's bell during the six hundred feet bounce dive trials. They had both suffered significant bends that needed to be pressurised to depths greater than the Deck Decompression Chamber could provide. That was a very long night and one of considerable concern to all. We were all very glad to receive them back on board the following day. I guess this latest sad news places them together again on their longest and final stop.
Rest in peace old chums.
Les and Dave"
---
From MCDOA member Dougie MacDonald:
"Rob,
Bill was also the 1980 course instructor - I echo all the comments - a gentleman!
Dougie"
---
25 Oct 08 - New Personal Update
The Members Only area contains an update from MCDOA member Jon Chapple who settled in Canada eight years ago. It includes an attractive UK-based job offer for an ex-MCD.
---
24 Oct 08
Great South Run in Southsea on Sunday
This is a reminder that CPO(D) Ian 'Scouse' Fleming and a team from the Defence Diving School will participate in the BUPA Great South Run in Southsea on Sunday 26 October. Two of the team will be wearing 'new' CDBA weighing around 98 lbs. Ian's step-daughter Claire died from meningitis in 1989 and donations can be made to the Meningitis Trust via the team's web page at www.justgiving.com/navydiver. Well done to the divers of HMS Shoreham, among many others, for their magnificent contribution.
Former CPO(MW) Dorian 'Simmo' Simmonds will also be running in this event. His 11-year old daughter Neve has been suffering from Crohn's Disease for the past four years and donations to the Crohn's in Childhood Research Association can be made via his web page at www.justgiving.com/doriansimmonds.
This photo shows AB(MW) Ben Murphy with Paula Radcliffe MBE (Women's Marathon World Record Holder), Lt Cdr Oscar Whild RN (CO HMS Victory) and Luke Kibet (reigning World Marathon Champion and winner of last year's Great South Run) at the media launch of the Great South Run on board HMS Victory today.
Media launch of Great South Run on board HMS Victory
(RN website photo)
---
23 Oct 08 - RN Diving Heritage
I was contacted recently by author Philip Baker who is writing a novel featuring a 'P' Party diver during the final months of WWII. He needed some technical advice so I put him in touch with former AB David Shane, now 82, who was awarded a Mention in Despatches for his wartime service with 'P' Party 1571 in Western Europe under the Command of Lt Cdr George Gosse GC RANVR. The 'P' Parties, or Port Clearance Parties, were the direct antecedants of the Clearance Diving Branch and Gosse was the first man to render safe and recover one of several German GD 'Oyster' pressure mines found in the docks at Bremen in May 1945. David Shane, who discovered an Oyster mine in Ubersee Hafen himself, is mentioned in Open the Ports - The Story of Human Minesweepers by Grosvenor & Bates as having launched a newspaper called Noseclip in Bremen on VE Day. This was the daily paper of 'P' Party 1571 and, incidentally, the only paper in Bremen at that time. It was no respecter of rank or persons, the highlights of the day being given in an editorial by Penelope Protosorb. There was a serial, a personal column and even advice to the love-lorn from Wren Dell.
After the war, David helped dispose of legacy bombs and mines around the UK with some of the few remaining ex-'P' Party members. This photo shows him with fellow divers during an operation to find a German bomb in the Manchester Ship Canal in 1946. The divers are wearing the 'P-party Mk II Suit'.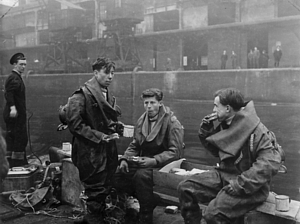 Manchester Ship Canal Bomb Disposal 1946
L to R: McCallum, Clark, Rixon and Shane
This newspaper clipping describes the operation:

In 1947, David found himself in Haifa with a Royal Naval diving team under the Command of Lt Cdr (later Cdr) Lionel 'Buster' Crabb OBE GM RNVR. Their task was to search for improvised explosive devices in and around the harbour and under ships during this difficult time when the newly emerging state of Israel was being established in Palestine. Under a United Nations mandate, British forces were trying to control the immigration of post-Holocaust Jewish refugees and were the frequent targets of bombings by fiercely Zionist groups such as the Hagana, the Irgun and the Stern Gang. These photos are from David's collection:
Left: Lionel 'Buster' Crabb (centre) and Lt W 'Jacko' Jackson RANVR (left) with RN Divers in Haifa 1947
Right: RN Divers in Haifa 1947 (David Shane second from right)
Left: Shane, Murray and Power in St Andrew's Hostel, Haifa - later bombed by the Irgun
Right: Hut used as diving store in Haifa 1947
Jewish refugee ships off Haifa 1947
Diving tender in Haifa 1947 (Destroyer HMS Chevron in background)
Left: Diver in 'P-party Mk II Suit' in Haifa 1947
Right: Power, Shane, Murray and McCallum in Haifa 1947
David Shane in Haifa 1947
I am most grateful to David for sharing these pictures of such a little-reported chapter of RN diving history.
---
21 Oct 08 - TV Programmes involving Clearance Divers
Last night's episode of 'The Unbreakables' on Channel Five TV featured contestants living on board HMS Bristol, completing circuits and a mud run at Horsea Island under the supervision of CPO(D) John Ravenhall, undertaking the DRIU (Damage Repair Instructional Unit) at HMS Excellent, experiencing the Dunker underwater helicopter escape trainer at RNAS Yeovilton, performing the 'Cliff & Chasm' field gun challenge and competing on the obstacle course at the RN Leadership Academy at HMS Collingwood. The programme can be watched again online for free via the Five TV website here but requires registration and downloading of the special player.
On 28 October, ABC1 TV in Australia will start broadcasting a four-part documentary series called 'Navy Divers' about the progress of an RAN Clearance Diver course. The first episode will show candidates being put through the the week-long clearance diver assessment test (CDAT) and it will be possible to watch the series online via the ABC website here. Producer Ed Punchard from Prospero Productions has first-hand experience of diving in dangerous environments. He was on board the North Sea oil rig Piper Alpha in 1988 and was one of only 62 survivors when it exploded killing 167 men.
---
20 Oct 08 - RN EOD Heritage and HMS Vernon photos
No prizes but who can spot the obvious safety hazard in these two photos taken during wartime RN Bomb & Mine Disposal days at Chatham Dockyard?
RN Bomb & Mine Disposal at Chatham Dockyard during WWII
That's right. It's the yard brush carelessly left lying on the ground by the workmen, ready to clout any unsuspecting sailor. But why isn't that man wearing a hat? I am grateful to Mike Friend for these photos from the collection of his father, Lt Peter Friend GM RNVR, a naval Bomb Safety Officer based at Chatham during the Second World War.
My thanks also to Peter Dick, editor of the Historical Diving Society's journal, the Historical Diving Times for the following photos taken at HMS Vernon in February 1957.
Left: HMS Vernon main gate
Right: HMS Vernon figurehead
Left: Diver in standard dress
Right: Diver in old style SABA (Swimmer's Air Breathing Apparatus)
Left: Ton Class minesweepers of the Vernon Squadron
Right: Vernon Squadron ship's screw change
---
18 Oct 80 - Minesweeper Books and Paintings
Author Cdr David Bruhn USN (Rtd) has sent me images of three paintings by Richard DeRosset for wider dissemination. Hidden Death at Wonsan depicts the mining of USS Pirate (AM 275) while sweeping Wonsan harbour on the east coast of Korea on 12 October 1950. USS Pledge (AM 277), the Japanese Minesweeper No.14 and the Republic of Korea Navy minesweeper YMS 516 (ex-RN BYMS 2148) were also lost in the same operation. This picture is used for the dust jacket of David's forthcoming book Wooden Ships and Iron Men: The U.S. Navy's Coastal & Motor Minesweepers, 1941-1953.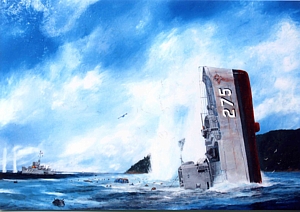 Hidden Death at Wonsan
by Richard DeRosset
Sea Battle off the Cua Co Chien River Mouth depicts a night encounter between the Ocean Minesweeper USS Endurance (MSO 435) and an armed trawler attempting to bring supplies into beleaguered Viet Cong forces on the Ca Mau Peninsula at the sourthern end of Vietnam in November 1970. The picture is used for the dust jacket of David's previous book Wooden Ships and Iron Men: The U.S. Navy's Ocean Minesweepers, 1953-1994.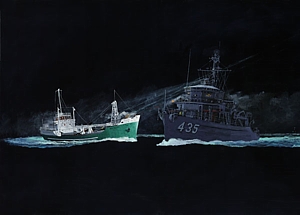 Sea Battle off the Cua Co Chien River Mouth
by Richard DeRosset
Richard DeRosset's latest painting, Moonlit Assault in the Aegean, depicts an attack on the British Yard Minesweeper BYMS 72 (also known as BYMS 2072) off Alinda Bay on the east side of Leros, one of the Greek islands comprising the Dodecanese archipelago, on 11 November 1943. After surviving three or four near misses, she was struck on her port side by a German aircraft-launched Henschel HS293 glider bomb. Badly damaged and with many of her crew dead and wounded, she tried to enter harbour at Portalago early the following morning for temporary repairs. However, while attempting to locate the narrow entrance, she was captured by units of a German invasion force on the eve of the battle for Leros. The graphic story of her loss can be read in this extract from David's forthcoming book, Wooden Ships and Iron Men: The U.S. Navy's Coastal & Motor Minesweepers, 1941-1953, published on the Naval History website.
Moonlit Assault in the Aegean
by Richard DeRosset
David Bruhn would welcome any comments on this painting via his e-mail address here. His books may be ordered via his website here.
---
17 Oct 08 - Paddy McAlpine in The News
Today's Portsmouth News contains the following article describing MCDOA member Paddy McAlpine's role as Director of the Joint Tactical Exercise Planning Staff (JTEPS - formerly JMOTS) in overseeing the conduct of Exercise JOINT WARRIOR (previously NEPTUNE WARRIOR and JMC):

---
16 Oct 08 - HMS Ledbury Westward Bound
The RN website contains this article describing the recent activities of HMS Ledbury as she heads west through the Mediterranean. She has just completed Exercise NOBLE MIDAS in Greek waters with fellow members of Standing NATO MCM Group 1 (SNMCMG1), under the Command of MCDOA member Chris Davies embarked in HMS Roebuck, and is now heading for Spain.
Ledbury's Clearance Diving Team - Lt Doc Morris, Lt Dave Louis,
PO Eddy Edmundson, LD Si Kimberley, AB Si Smyth,
AB Toby Jones and AB James Shell
(RN website photo)
---
15 Oct 08
New Personal Update
The Members Only area contains an update with photos from MCDOA past-Secretary David 'Topsy' Turner who transferred to the Royal New Zealand Navy in early 2004.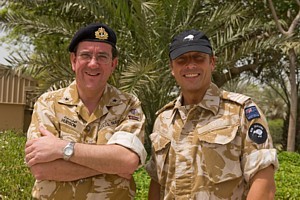 CTF 152 (Cdre Peter Hudson CBE ADC RN)
with Topsy Turner in Bahrain earlier this year
---
HMS Ramsey in the Northern Gulf
The RN website contains this article describing the latest activities of HMS Ramsey.
HMS Ramsey and HMS Blyth alongside in Bahrain
(RN website photo)
---
14 Oct 08 - Bill Chambers 'snapped up' by NATO
I have only just had my attention drawn to this article on the BBC News website describing how MCDOA member Bill Chambers is leaving after only nine months as Weymouth's harbour master to fill a billet at the NATO Joint Warfare Centre in Stavanger, Norway. See also this article from last July.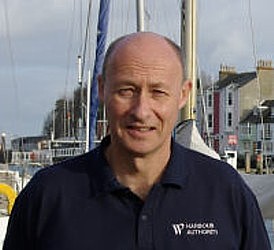 Outgoing Weymouth harbour master
Bill Chambers
---
13 Oct 08
SDU2 deals with hand grenade
The Portsmouth News website contains this article describing the disposal by SDU2 of a hand grenade found in a box of car boot sale curios on Saturday. The article features PO(D) Paul Bhathena.
---
Ton Class Association Reunion
Fellow MCDOA member Doug Barlow and I have just returned from the Ton Class Association's 21st Annual Reunion at Babbacombe in Devon. During a weekend blessed with fine weather, we renewed acquaintance with many members of the minewarfare and diving community, including MCDOA member Colin Churcher and his wife Hilda among the other 230 attendees, and had a thoroughly enjoyable time. Friday night was a warm-up for the main dinner on Saturday for which the guest of honour was Rear Admiral Mark Kerr CB CVO, now Chief Executive of Powys County Council, who reminded me that I had been his MCMG course officer in HMS Vernon. Also present was the TCA's President, Rear Admiral John Lippiett CBE MBE, now Chief Executive of the Mary Rose Trust.
Left: Admiral Lippiett and his wife Jenny draw their tot before dinner
Right: Other diners join the queue for their tot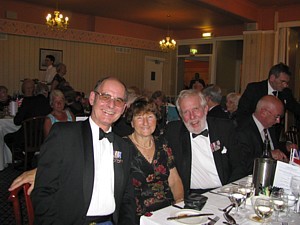 Rob Hoole & Doug Barlow flanking Doug's partner Jill
On Sunday, about a hundred of us attended a traditional naval church service before boarding the Dart Valley Railway steam train from Paignton to Kingswear where we took the ferry across to Dartmouth for lunch and a stroll around the town. We then cruised up the river on a pleasure boat, complete with bar and restaurant. The scenery along the sunlit river bank was glorious, particularly with the Cecile Oaks in their autumnal foliage, and I had much more time to enjoy it than as a naval cadet engrossed in 'boatwork' all those years ago. Incidentally, did you know that the name Dart is derived from a Celtic word meaning 'many oaks'? (Wiki link)
Left: Dart Valley Railway locomotive Hercules
Right: Dart Valley steam train passes Floating Bridge
Britannia Royal Naval College looked as impressive as ever and I spotted the former Sandown Class minehunter HMS Cromer, now resurrected as the College's harbour training ship Hindostan, alongside Sand Quay with an unsightly classroom erected on her superstructure.
Left: BRNC Dartmouth in all its glory
Right: Former HMS Cromer at Sand Quay
In the entry for 4 Oct 08, I mentioned that Philip & Son of Dartmouth had built all eight ships of the Miner class of controlled minelayers. Philips also built the WWII Bangor Class minesweepers HMS Whitehaven and HMS Worthing, the 105 ft motor minesweepers MMS 88 and MMS 300 and the 126 ft motor minesweepers MMS 1030 and MMS 1090 as well as the post-war Ton class minesweepers HMS Dartington, HMS Iveston, HMS Jackton and HMS Wotton. Sadly, the yard closed in 1999 and is due to be redeveloped as apartments with a hotel, spa, conference centre, expanded marina and sea training college (see here).
Left: Philip & Son Ltd shipyard at Noss, Dartmouth
Right: Stoke Gabriel up a quiet creek
After an hour and a quarter, we arrived at Totnes where we disembarked and returned to our hotel before dispersing for another year or two.
Totnes - End of the line
---
10 Oct 08 - New Personal Update
The Members Only area contains an update from Nigel 'Pusser' Hill in Florida.
---
9 Oct 08
New Personal Update
The Members Only area contains an update with photos from MCDOA member John Beavis on exchange with the Canadian Navy in the Experimental Diving and Undersea Group (EDUG) at the Defence Research and Development Centre (DRDC - formerly DCIEM) in Toronto. He is due to be relieved at the end of the year by fellow MCDOA member Neil Holden.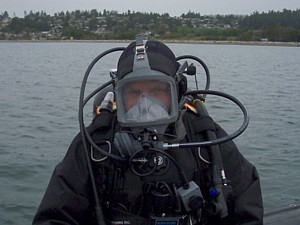 John Beavis conducting equipment trials
in Victoria, BC
---
Dan Nicholson afloat
Messing about in boats seems to be a particularly popular pastime with MCDOA members. Dan Nicholson has sent this photo of himself with his wife Christine on board their recently acquired narrow boat Waymark in Derbyshire earlier this year.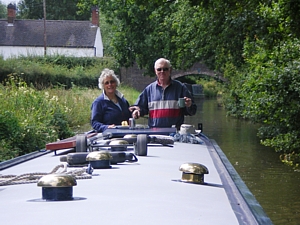 Dan & Chris Nicholson on board Waymark
---
8 Oct 08 - 2008 MCDOA AGM, Operational Updates and Annual Dinner
The calling notices and application forms for this year's MCDOA AGM and Operational Updates at Horsea Island and the Annual Dinner in HMS Excellent on 28 Nov 2008 are now available for download via the 'Upcoming Events' page in the Members Only area. The date has been specially chosen to provide the best possible window for seagoing members to attend but we will also be thinking of all those other members serving or living in far-off places and unable to join us this time round.
The day will start at Fleet Diving HQ on Horsea Island at 1000 with updates on RN minewarfare and diving activity over the past year. Following a free lunch, the AGM will start at 1330 and feature a presentation on the good progress achieved with Project VERNON, the erection of a statue at Gunwharf Quays in Portsmouth to commemorate the minewarfare and diving heritage of HMS Vernon, the site's former occupant.
The Annual MCDOA Dinner in the Wardroom Mess, HMS Excellent will start at 1930 for 2000. Thanks to the kind support of the Mess, the cost remains at a very reasonable £35 per head (£40 for guests). N.B. This function is subsidised by the MCDOA so entitled non-members must join the Association to attend; no masquerading as 'guests'. The time-honoured format will commence with pre-dinner drinks followed by an excellent meal, refreshments and service with a hearty sing-song to the fine musical accompaniment of the HMS Nelson Volunteer Band culminating in a nightcap or two. It is also hoped to display details of the Vernon Monument Project and the Clearance Diver's Life Support Equipment which is scheduled to replace CDBA next year.
Rear Admiral Bob Cooling, ACNS
(RN website photo)
This year we are very fortunate to have Rear Admiral Bob Cooling, Assistant Chief of the Naval Staff, as our Guest of Honour. We also expect to dine at least some of the following MCDOA members out of the Royal Navy: MCDOA Honorary President Colin Welborn, Mike Loane, Charlie Wilson and Darroch Woodward. These and any other leavers are requested to confirm their attendance with Tony Griffiths and tell him their choice of glass mine/diver 'gizzit'. Much as we would wish it otherwise, only our Guest of Honour and service leavers will dine for free. However, please note that service leavers must be of at least two years' standing as an MCDOA member to qualify for free dinner and a 'gizzit'. As membership only costs a tenner per year, payable by standing order, this is hardly unreasonable.
As customary, we will toast the 25th anniversary of LMCDO '83A (Course Officer: Rob Hoole, Course Instructor: Ray Ramsay, Second Dickies: the late MCDOA member Ned Kelly and the late Charlie Smithard plus Students: Roger Baileff (MW only), Nigel Butterworth, John Giddens, Dave Hosking, Chris Sherman and Charlie Wilson) as well as LMCDO '83B (Same instructional staff plus Students: Dave Carey, Mike Croome-Carroll, Andy Davies, Peter Harrison, Simon Ridout and Topsy Turner). Several members of the 1968 Long Course (Course Officer: Peter Waddington, Course Instructor: Dutchy Holland plus Students: Chris Beresford-Green, Jim Cook, Mike Emary, Dave Forsey, Tim Hildesley, Gerry 'Pincher' Martin, John Rayner and Bob White) are also expected to put in an appearance to celebrate their 40th anniversary. There will also be the usual international theme with members and guests expected from various parts of the globe.
Unfortunately, no accommodation will be available in the Mess but we have again secured the use of a mess-deck in HMS Bristol through the good offices of her Commanding Officer. It should be noted however that this is a very busy time for Bristol so priority will be given to our long-distance travellers. To ensure that you don't miss out on this great evening (and remembering that convention dictates that we only discuss those not present) please complete and return applications to Tony Grifiiths, our Hon Sec, by 21 November 2008.
---
7 Oct 08
HMS Brocklesby awarded James Acton Trophy
The Navy News website contains this article describing the award of two mine warfare trophies to the ship's company of HMS Brocklesby for their achievements while manning HMS Chiddingfold in UK waters, the Mediterranean and the Gulf. One of the awards is the James Acton Mine Warfare Efficiency Trophy, instituted to perpetuate the memory of the late MCDOA member Jim Acton who was killed in an earthquake while on duty as MCM2's SOO in Turkey in 1999. The article also features PO(MW) Antony 'Pinta' Beer.
HMS Brocklesby with the James Acton
Mine Warfare Efficiency Trophy
(Navy News photo by LA(Phot) Pete Smith)
---
RN Diving Heritage - George 'Sarge' Sarginson
A couple of months ago, I received this e-mail:
"Hi,
I have been looking at your website with interest, and this is the only contact address I can find, as I am not eligible to become a member. My late father was Sarge Sarginson and he is featured in two of the news archives. A John Grattan has included a photo of him and some anecdotal stories as has a George Wookey. I'd really love to contact anyone who knew my dad as I was only 12 when he died. If you could pass my email address to these people I would be really grateful. I also have lots of photos of diving and mine clearance stuff. I located this site after seeing an article in the paper about the Vernon monument.
Thank you for taking the time to read my message.
Kind regards,
Katherine Lewry (nee Sarginson)"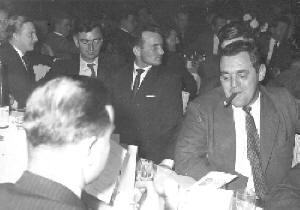 1959 RN Divers' Dinner
Left to right: John Grattan, George Wookey,
'Sarge' Sarginson and Stuart 'Jazz' Honour
Fellow MCDOA members will be aware of my admiration for many of the larger than life characters among our forebears in the RN minewarfare and diving community. I was already aware that Sarge Sarginson had been a clearance diver who had lost an arm while dealing with a moored mine on a beach but I knew little more about him. I have since discovered that he was born on 15 April 1931 and joined the RN in 1949 at HMS Royal Arthur when it was the new entry training establishment. His son Pete believes he qualified as a CD at HMS Lochinvar before joining HMS Vernon where he was in the Bomb & Mine Disposal Team led by Lt Cdr W Y McLanachan (or 'Mr Mac' as he was affectionately known). After leaving the RN c.1960, he worked on the civilian staff at the Royal Naval Physiological Laboratory (RNPL) at Alverstoke until 1966 when he worked for various commercial diving contractors until suffering a fatal heart attack in 1980.
As the result of Katherine's e-mail, I contacted several people of the same vintage as Sarge. Sadly, MCDOA member George Wookey had passed on but former FCPO(D) Dave (Mona) Lott, now living in Australia, sent Katherine this e-mail:
"Being also a vintage CD (age wise) I also knew your father and remember him with considerable affection. We shared the same large A1 divers mess in HMS Vernon during the early 1950's, long since converted to smaller more comfortable accommodation and now demolished. We had a couple of runs ashore in Portsmouth, he riding in the sidecar of my motorbike at considerable risk.
Sarge was quite an extrovert and extremely popular. We were all devastated when he got invalided out after losing an arm hit by shrapnel during a mine disposal job with Mr McLanahan, the Portsmouth Bomb & Mine Disposal Officer at the time. Very few details were released regarding the cause of this.
I don't think that I came across Sarge again till much later (1965) when I was in the Admiralty Experimental Diving Unit during the 600 foot dving trials from HMS Reclaim. Sarge was in charge of a very long and unwieldy (about 4 feet long) underwater camera. This camera didn't like being underwater and tried desperately to escape the clutches of any user. It was far too buoyant. I think that was the last time that I saw Sarge mainly due to my movements by naval drafting. I was pretty devastated to subsequently hear of his death. Sarge was one of those that I remember from days long gone with much regret at his loss, although there are now many in this same category and unfortunately not too many left of that same vintage. As his daughter you can certainly be proud of having been able to call him your Dad."
MCDOA member Bob Lusty then provided this snippet:
"Hi Katherine,
Your dad and I and ten others qualified CD3 in the early 1950s. Your dad was a Chatham rating. I was from Plymouth and we all met up at Portsmouth to complete the course. It was very demanding as reflected in the pass rate: 100 started from the three Naval Divisions and only ten qualified. We had joined an élite band of brothers and were chuffed. I was then posted to the Bomb & Mine Dispoal Team at HMS Lochinvar where the boss at that time was P J Messervy, a tough cooky but we had some realy good jobs. Your dad joined us later and I was pleased to have a classmate and friend in the team. They were exciting times.
I think I have a photo of us all on course at Broad Bridge Heath with the army learning about bombs. The last time I had contact with your dad was in industry circumstances. He was demonstrating a bell with an articulated arm which we took on contract and did the job somewhere in the North Sea."
Then MCDOA member John Grattan added his own contribution:
"Dear Katherine,
You probably know the full details of how your father lost his arm so I will not repeat the 'dit' unless you wish me to.
I sent Rob the photograph taken at the 1959 Diver's Dinner because Stuart Honour and I picked up your father and Joe Brooks that evening - we all had a giggle about our passengers having only two legs and three arms between them. That dinner was only three weeks after the accident, if I remember correctly. Isn't that a measure of Sarge's courage and spirit? I do know what happened because I was also on a B & MD job that day as there were just too many calls for Mac to deal with alone and I had to de-brief him later for the overall record. It was not unusual for the duty diving officer to take off another part of the unit to deal with something reported by the police as we felt it unfair on everyone if they had to wait for attention.
Lovely to be in touch - good luck - you deserve it with such a wonderful father.
Yours,
John"
Pete has sent me these photos which belonged to his father: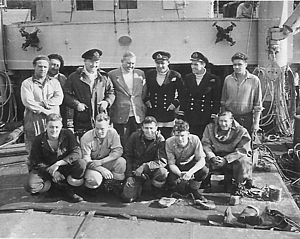 HMS Reclaim divers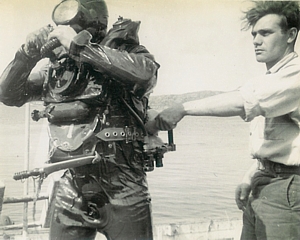 Sarge Sarginson tending diver in CDBA
Sarge Sarginson standing on mine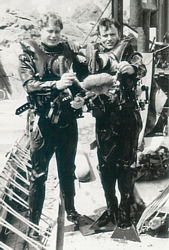 Ginger Bitchard and Sarge Sarginson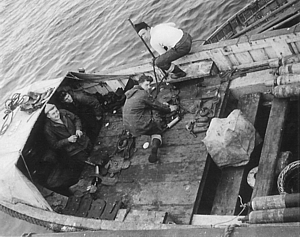 Sarge Sarginson in work boat
If anyone can put names to any other individuals in the photos, please contact me via my webmaster e-mail address.
---
From former FCPO(D) Dave 'Mona' Lott in Australia:
"G'day Rob,
I have just finished perusing your website that is, as always, full of interest. Perhaps just a small piece of help with one of the photos of Sarge and Ginger? This Ginge is Ginger Bitchard who qualified on the same 3's course as myself under the guidance of Hugh (Taff) Roberts. Ginge was resident at the King's Head pub in Weymouth, run by Mabel and her husband. I had a report from Gabby Haines about two years ago that he had been revisiting Weymouth and district and had bumped into Ginger during a visit to Shorty Barrett's (another character from the branch's old days) antique shop. Viewing the photo took my mind back many years....what a pity it can't do the same for the body.
My regards,
Dave (Mona)"
---
6 Oct 08 - HMS Ledbury finds wreck of WWII aircraft
The RN website contains this article describing the discovery of the wreck of a Second World War German bomber on the seabed off Southern Italy by HMS Ledbury. It features AB(MW) Gavin Twigden and LS(D) Simon Kimberley.
AB(D) Simon Smyth of HMS Ledbury
(RN website photo)
---
5 Oct 08 - New book relating to Wartime Bomb Disposal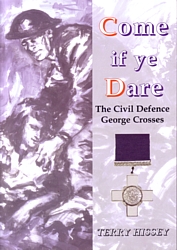 Front cover of 'Come if ye Dare'
When I was a young lad during the 1950s, men and women of all ages wearing black battledress and berets occasionally descended on the local common at weekends. They erected shelters from bits of timber and corrugated iron and were adept at assembling makeshift ovens and grills from odd bricks, gratings and pieces of sheet metal. My friends and I were fascinated by the whole experience and enjoyed sampling the results of cooking on these pioneering barbecues. These uniformed people of all ages were not members of some paramilitary organisation but belonged to the local Civil Defence (CD) Corps unit. They were rehearsing action to be taken in the aftermath of nuclear conflict but were also trained to deal with any other civil emergencies such as natural disasters.
The original Civil Defence Services were formed by the Home Office at the time of the Munich Crisis in 1938, a year before the start of the Second World War. They comprised members of the Air Raid Precautions (ARP) service, the Fire Prevention Service and the Auxiliary Fire Service. At their height during the Blitz, these services had 1,900,000 volunteers working as air raid wardens, fire-fighters, members of search & rescue teams, members of heavy and light rescue teams, first-aiders, stretcher bearers, auxiliary ambulance drivers, gas decontamination team members and messengers, etc. 7,000 of them were killed as the result of enemy action. The Civil Defence Services were disbanded in 1945 but the Civil Defence Corps, formed in 1948 largely due to the threat posed by atomic weapons, soldiered on until 1968.
Terry Hissey has kindly sent me a review copy of his first book, 'Come if ye Dare - The Civil Defence George Crosses'. It contains the fascinating stories of 11 wartime civilian recipients of the George Cross, instituted by King George VI in 1940 "...for acts of the greatest heroism or of the most conspicuous courage in circumstances of extreme danger". Although the GC is awarded to service personnel, it remains the highest decoration available to civilians and several awards were made for fire-fighting and the rescue of survivors from bombed buildings. However, MCDOA members should find the stories of civilians connected with bomb disposal of particular interest.
Take for example Dr Arthur Merriman OBE, GC, MA (Cantab), MEd (Dunelm), DSc, CEng, FIMechE, FRSE, DL. As a Senior Experimental Officer in 1939, he joined an organisation called the Directorate of Scientific Research in the Ministry of Supply. This was made responsible for the research, development and dissemination of bomb disposal methods and specialised equipment for all three services. Dr Merriman not only served as the Joint-Secretary of the Unexploded Bomb Committee but, in November 1939, he recovered the first German electric fuzes from bombs at Sullom Voe in the Shetland Isles. On 28 July 1940 he removed three fuzes from 50 kg bombs on the Isle of Wight and in August he defuzed 17 bombs over a period of ten days from as far afield as King's Lynn and Bristol. He defuzed many other bombs but, perhaps more importantly, he also designed the 'Steam Steriliser' for melting the explosive content of a bomb and allowing it to run out. This was first used on 11 Sep 1940 on a German 250 kg bomb containing two No.17 clockwork delay fuzes. Dr Merriman was gazetted for the award of the George Cross on 3 December 1940. He was also appointed an OBE and continued to work until long after the war as a Principal Scientific Officer (Technical Intelligence) at what is now DSTL Fort Halstead in Kent. The entry for him in Terry Hissey's book also describes his many other personal and professional interests, activities and achievements and makes for rapt reading.
Then there was Staff Officer Roy Harris GC. In 1938 he became the Chief Combustion Officer for Croydon Council but volunteered for the ARP Engineers Service at the outbreak of war. He was subsequently appointed to liaise between the ARP and the nearest Royal Engineers bomb disposal unit which was at Kingston although his Army record states he was attached to No.2 BD Section at Wallington. Initially he was responsible for pin-pointing unexploded bombs for the Sappers to deal with but, as they became over-stretched, he often became OIC at incidents and eventually undertook bomb disposal himself, sometimes disarming sensitive bombs using little more than the light of a dimmed torch. He was involved in 88 incidents altogether and on 18 September 1940, he removed the fuze of a 50 kg bomb that had fallen through a house because it had been impossible to obtain the services of an RE party. It was for this incident, plus another in which he dealt with a 6 ft long UXB in a garden, that Roy Harris was gazetted for the award of the George Cross on 17 December 1940.
My favourite account in the book describes the intriguing Charles 'Jack' Henry George Howard, the 20th Earl of Suffolk and Berkshire GC, BSc Hons (Edin), FRSE, and not simply because I have been assisting another author in New Zealand who is writing his biography. In his youth, the Earl of Suffolk sailed around the world as a deckhand on the clipper Mount Stewart. In 1925 he joined the Army but had to leave after six months owing to chronic rheumatism. He then bought and worked on a sheep farm in Australia before returning to the UK in 1934 to study at Edinburgh University. In 1938 he became the first person to graduate from Edinburgh with a First Class Honours Bachelor of Science degree in Pharmacology.
At the outbreak of the Second World War, the Earl had his application to join the Scots Guards refused owing to his age and the effects of the rheumatic fever. He subsequently joined the Directorate of Scientific Research at the Ministry of Supply and was sent to represent his Director General, Dr Herbert Gough, in Paris as liaison officer with the French Ministry of Armaments. In the face of the German invasion, he returned to the UK in the company of his long-time secretary, Miss Beryl 'Eileen' Morden, and Major Ardale Golding of the Royal Tank Regiment. The Earl personally obtained an armed escort from the French Navy to commandeer a ship, the SS Broompark, in which they arrived at Falmouth on 21 June 1940 together with a large and 'unusual' cargo comprising machine tools, £3,000,000 worth of industrial diamonds, scientific apparatus, the only supply of 'Heavy Water' then in existence and over 20 Professors and Chief Engineers with their families.
This part of the Earl's life would have been interesting enough if he had not formed the 'Holy Trinity' comprising himself, his secretary, Beryl Morden, and his chauffeur, Frederick Hards who drove their lorry emblazoned with a 'Bomb Disposal' sign. On behalf of the Ministry of Supply's newly formed Scientific Research Experimental Unit, the eccentrically-dressed Earl defuzed unexploded bombs in and around London with his secretary taking notes before taking the carcasses in the lorry to a corner of Richmond Park for steaming out. The Earl developed the idea of destroying bombs by burning rather than exploding them, or sawing the case in half to remove the charge. He also designed several bomb disposal devices and techniques for their use which were issued to the service bomb and mine disposal teams. These included thermite charges (courtesy of Brock's fireworks) that penetrated the cases and burned the explosive charges to destruction as well as trepanners and steam generators. The Earl's solution to the ZUS 40, a fuze that lay underneath the main fuze and set off the bomb or mine if disturbed, was to cut a hole through the bomb casing enabling him to remove a core containing the ZUS 40 as a complete unit. A further development was to ignore the ZUS 40 altogether and remove the main charge with a high-pressure steam jet.
Sadly, on 12 May 1941, the Earl was beaten by a particular bomb he had transported to Erith Marshes in North Kent. It exploded and killed the Holy Trinity as well as four members of 25 BD Company, Royal Engineers. He was gazetted for the posthumous award of the George Cross on 18 July 1941. Beryl Morden and Fred Hards, the Earl's partners in the 'Holy Trinity', were gazetted for the posthumous award of the King's Commendation "for Brave Conduct in Civil Defence" at the same time.
I thoroughly recommend this book to anyone with an interest in the history of explosive ordnance disposal. Written in an easy style, it is full of useful black and white illustrations and is well-researched and referenced. Above all, it brings to life some colourful and extremely brave individuals whose astonishing deeds should be recognised more generally. This 104-page paperback is published by the Civil Defence Association and is available direct from the author, Terry Hissey, or via Amazon Books. It is priced £12.50.
---
4 Oct 08 - Who remembers Miner III?
I have received the following e-mail:
"Good afternoon,
My late uncle was Lt Cdr A (Sandy) Sandison RN and he was the CO of HMS Miner III, certainly in 1964. I have had a look at your most interesting web site for information regarding the above and I am hopeful that this enquiry could be passed on to your membership.
I appreciate that technically neither my uncle nor the majority of the ship's company at that time would be members of the Association but hopefully some of the ratings and officers that were trained on board the ship would be.
Regards,
Chris Harris"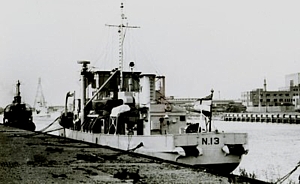 HMS Miner III in October 1964
HMS Miner III was one of eight 'M' Class controlled minelayers built during the Second World War. With a complement of 32, they had a length of 110 ft, displaced 300 tons and possessed two shafts powered by Ruston & Hornby diesels of 720 bhp total providing a maximum speed of 10 kts. They could each carry ten mines and, during the war, they were armed with a 20mm Oerlikon and two .303 machine guns on single mountings.
HMS Miner I - Launched 6 July 1939 at Philip & Son, Dartmouth. Renamed HMS Minstrel 7 Sep 1962. Sold 1967.
HMS Miner II - Launched 18 Aug 1939 at Philip & Son, Dartmouth. Renamed HMS Gossamer 1949. Sunk 18 Mar 1970 as a target off Portland.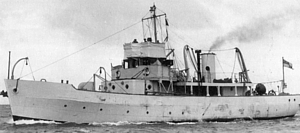 HMS Miner II
HMS Miner III - Launched 16 Nov 1939 at Philip & Son, Dartmouth. Commissioned as one of 12 minelaying lighters in February 1940. Capable of laying 26 mines (13 each side through the stern) and supplying and laying harbour defence cables. In reserve 1949-50 then became mining tender to HMS Vernon in 1951. Some mining rails removed during conversion to a diving tender in 1952 but remained able to lay six mines each side. Fitted with light alloy compression chamber aft and facilities for diving forward. Compression chamber re-sited closer to diving position in 1954 to facilitate surface decompression. Used mainly for 180 ft diving training from Falmouth in the summer and Tarbert, Loch Fyne in the winter. Also participated in several NATO minelaying and minesweeping exercises around the coast and assisted in sea training of SD officer candidates and juniors in her spare time. Replaced by HMS Laleston in 1967. Sold Feb 1977. Broken up at Sittingbourne.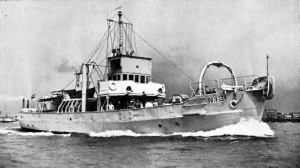 HMS Miner III circa 1957
HMS Miner IV - Launched 6 Aug 1940 at Philip & Son, Dartmouth. Broken up May 1964.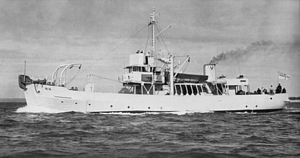 HMS Miner IV when attached to
HMS Vernon in June 1958
HMS Miner V - Launched 2 Nov 1940 at Philip & Son, Dartmouth. Converted to cable layer HMS Britannic 1960. Sunk as RAF target 6 Jun 1979.
HMS Miner VI - Launched 7 Feb 1942 at Philip & Son, Dartmouth and used as minelayer and minelaying training ship then for seaward defence training and possibly as a diving tender. Employed as torpedo recovery vessel by 1st Submarine Squadron in Malta during 1950s. Sold mercantile 16 Aug 1968 Malta. Converted into ferry and successively renamed Minor Eagle, Jylland II and Cominoland based in Malta. Sunk in 2006 as an artificial diving reef off Gozo.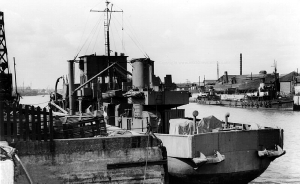 HMS Miner VI in April 1949
HMS Miner VII (i) - Ordered 3 Oct 1940 in Singapore. Destroyed on stocks Feb 1942 on fall of Singapore.
HMS Miner VII (ii) - Launched 29 Jan 1944 at Philip & Son, Dartmouth. Converted to stabilisation trials vessel and renamed HMS Steady in 1960. Sold Pounds Mar 1980 for breaking up.
HMS Miner VIII - Launched 24 Mar 1943 at Philip & Son, Dartmouth. Renamed HMS Mindful 7 Sep 1962. Sold 22 Feb 1965 to D. Arnold and renamed Rawdhan.
The Miners were based at HMS Vernon for the purposes of 'general administration and organisation' from 1950 as a result of the Korean War and the build-up of the seaward defence organisation at Portsmouth but they were also used for seaward defence training. At the time, Vernon was still using the pre-war mining tenders HMS Plover, HMS Nightingale and HMS Vesuvius for mining trials and clearance diving training. In 1955 it was finally decided to replace Nightingale and Vesuvius with Miner III and Miner IV. Nightingale and Vesuvius were sold for disposal in 1957 but Plover was refitted for further service under C-in-C Portsmouth's command until sold in 1969. Miner IV was used by Vernon for clearance diving training until 1961 when she was replaced by Miner III. In turn, Miner III was replaced by HMS Laleston, one of my old ships, in 1967. She was handed over to the Director of Marine Services at Pembroke Dock for buoywork until sold in 1977.
I have ascertained that Chris's uncle, Lt Cdr Archibald (Sandy) Sandison RN, was an SD TAS officer when in command of HMS Miner III in 1964 and 1965. His First Lieutenant was another SD TAS officer, Sub Lt T J Heppell RN, whom I believe I knew at Vernon as Tom before his retirement in 1977 as a Lt Cdr. Sandy Sandison was relieved as CO of Miner III by MCDOA member Jack Smith, a Qualified Deep Diver (QDD). Jack handed Miner III over to the Director of Marine Services at Pembroke Dock in Wales in 1967 before assuming Command of HMS Laleston, her replacement as HMS Vernon's deep diving tender.
If anyone has any memories of Miner III during the mid-1960s, please let me know via my webmaster address and I will put you in touch with Chris.
---
Since I published the article above, Chris has sent the following addendum:
"Hello Rob,
Thank you for your response and placing my enquiry on the MCDOA website. I recognised the name of my Uncle's 1st Lt as soon as I saw it. It was indeed Tom Heppel. I spent the best part of a week on board HMS Miner III in the early summer of 1964 at Falmouth. The ship was tasked with training divers at that time. I'm not sure if these were ship's divers or specialist divers and have fond memories of the experience to this day. The ship would make the daily transit from Falmouth harbour to a location in the adjacent bay and anchor whilst the diving training was carried out and return each afternoon to tie up along side an old floating dock that was at Falmouth Docks. As for me, I was a 3rd year Shipwright Apprentice at the time at HM Dockyard, Devonport and I can still feel the cold salt water on my bare feet when, armed only with a broom and a fire hose, I was introduced to the art of scrubbing decks by the Buffer.
I attach some photographs of Sandy. One of these concerns post-war mine disposal and at that time he held a Commisioned rank. I'm not sure where this was taken - somewhere on the south or west coast of the UK? The other photo I think was taken at the time of his involvement with Miner III and is probably at Vernon. This shows Miner III inboard of three Ton class minesweepers.
When I saw the details of the Miner class that you posted on the website, I was reminded about Miner VI. You'll probably be aware that she spent most if not all of her service life in the Med and, as you've recorded, she was sold to mercantile interests after the war. I've made several visits to Malta over the past six or so years and spotted the unmistakeable shape of a Miner class hull + funnel at anchor in Sliema Creek, albeit painted orange. Well that was up to a couple of years ago when she was sunk as part of an artificial reef between the main island of Malta and Gozo. I've got some photos of her at Sliema and of her "sinkex" if you would like them.
Regards,
Chris Harris"
The picture on the left shows Sandy Sandison as a Sub Lt 'dealing with' a British Mk 17L moored contact mine. The picture on the right shows Sandy in front of Miner III and three Ton Class minesweepers of the 3rd MCM Squadron, probably alongside their base at Portland.
---
3 Oct 08
SDU2 detonates artillery shell off Southsea
The Portsmouth News website contains this article describing the disposal of an artillery shell found on Southsea beach today. It was blown by members of SDU2 led by CPO(D) Kevin Amaira.
---
More publicity for Vernon Statue
The Portmouth News website contains this article about Project VERNON, the campaign to erect a statue in Gunwharf Quays to commemorate the Minewarfare and Diving heritage of HMS Vernon. It features the Project Manager, MCDOA member David Carey.
---
MCM 1 Crew 8 Returns from Gulf
The RN website contains this article describing the return of members of HMS Walney's latest ship's company from the Gulf where they have been manning HMS Blyth.
---
2 Oct 08 - HMS Cattistock joins the Tall Ships
The RN website contains this article describing the role of HMS Cattistock as official guardship for the regatta and first leg of the Funchal 500 Tall Ships Race which saw her escort the fleet from Falmouth to Ilhavo in Portugal.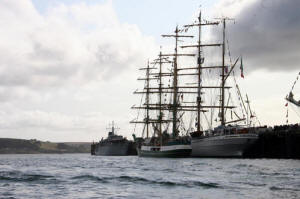 HMS Cattistock facing Alexander von Humboldt
and Cuauhtemoc in Falmouth
(RN website photo)
---
1 Oct 08 - Navy News items
Now that Navy News has begun archiving e-editions of the paper on its website here, I will no longer be scanning items and posting them on the MCDOA website. The October issue contains the following MCD-related articles:
---