---
31 Jan 20 - Latest tweets
Click on the linked dates to see all associated photos and videos.
HMS Cattistock (MCM2 Crew 6)
28 Jan 2020 - A great way to start the day during our recent week at sea.
Neil Watkin
20 Jan 2020 - HMS Cattistock outbound from Portsmouth this morning.
HMS Chiddingfold (MCM2 Crew 1)
21 Jan 2020 - It was a pleasure to host 6 young officers from HMS Prince of Wales on Friday. Hopefully now armed with some new knowledge and appreciation of the easily forgotten art of mine warfare.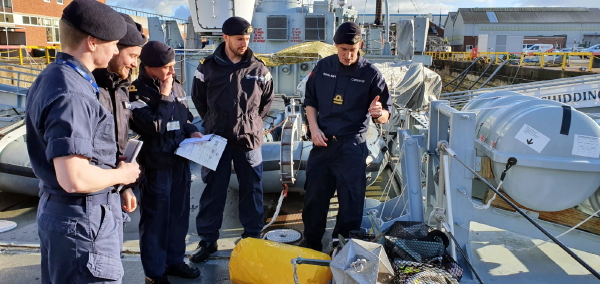 11 Jan 2020 - A short timelapse of our move into drydock yesterday. Lots more to come on this next week.
10 Jan 2020 - Busy dockyard this morning. Number of ships on the move (including us) getting ready to get back to it.
HMS Hurworth (MCM2 Crew 3)
29 Jan 2020 - When we are huge distances from land based medical care our initial actions can make the difference between life and...well... you know...
23 Jan 2020 - We are about to enter a short engineering support period in HM Naval Base Portsmouth. Our team will be working hard to make some material improvements to the ship. Our engineers make stuff happen! How many of the team can you spot?
22 Jan 2020 - It's not all cutting about the ocean blue with a knife between your teeth! A well run ship has well run logs. Each department has administrative duties which keep us safe, ready to fight and make sure we are looking after our people properly.
21 Jan 2020 - Spectacular sunset. The Navigation Officer took the opportunity to check our gyro compass is correct by taking a bearing of the sun as it sets, and comparing it to the nautical almanac value. He's keen!
21 Jan 2020 - Good morning everyone! Our reward for an early start - a stunning sunrise.
16 Jan 2020 - Allow me to introduce Ruth. Ruth gets thrown overboard so that we can train to recover a man overboard. She doesn't mind - I'm told she lives for this kind of stuff!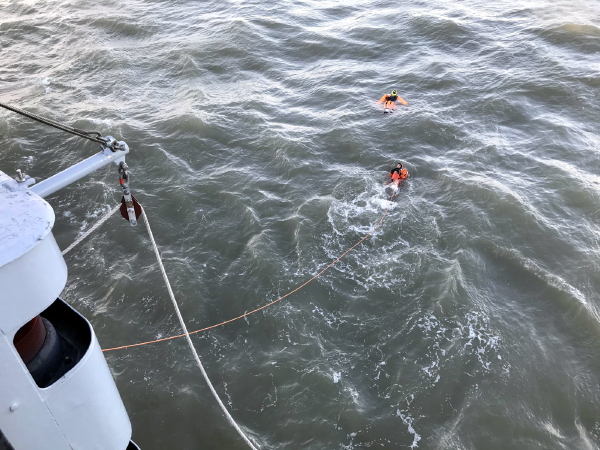 HMS Chiddingfold (MCM2 Crew 1)
17 Jan 2020 - Our Ruth really fancies a swim... but can't work out where all the water's gone! I wonder what would hurt more, a fall from here or from TML_2_4's helicopter.
17 Jan 2020 - Pipe down, you. Get back on your hook!
15 Jan 2020 - Queen's Harbour Master Pilots help us get safely in/out of HM Naval Base Portsmouth. They offer advice on berthing, tidal conditions, shipping movements and tug control. They then leave by boat to help another ship.
17 Jan 2020 - I'm pleased to report that due to the hard work and outstanding efforts of the crew we have been assessed by FOST staff as 'Ready to Train'. That means we are in a really good place to continue our preparations for deploying. Well done team!
14 Jan 2020 - A grey day at sea - Storm Brendan is on its way!
10 Jan 2020 - Lovely morning for it. Sun's out, guns out!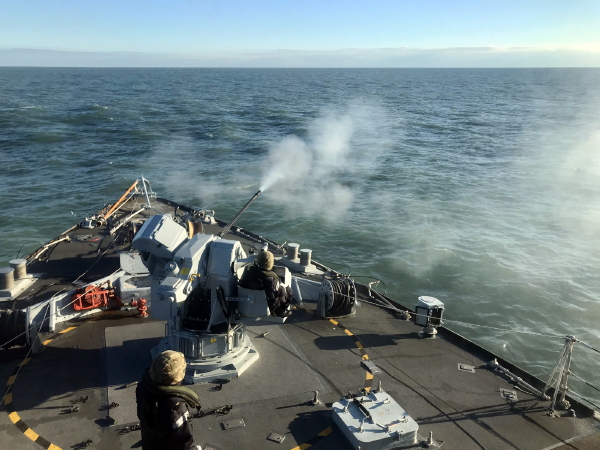 9 Jan 2020 - Time for a quick card game over lunch - loser washes the dishes! Reports are that the captain needs some remedial training. Other card games are available.
8 Jan 2020 - Hello 2020! We're back at sea on task. A day alongside is a day wasted.
8 Jan 2020 - Firefighting training. Navigation training. Seamanship training. Diving training. All in a days work!
HMS Middleton (MCM2 Crew 8)
23 Jan 2020 - Today we had the pleasure to award LS(MW) "Swifty" Taylor his first good conduct badge. Kindly presented by CDR MCM2.
21 Jan 2020 - Mighty Midd is preparing to return to sea. Including significant upgrades and 230v power for every bunk onboard as part of her £7.5 million refit. The Great Escape is on. To be continued.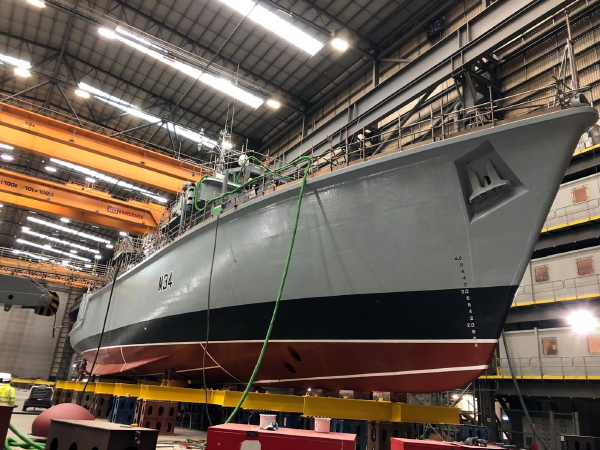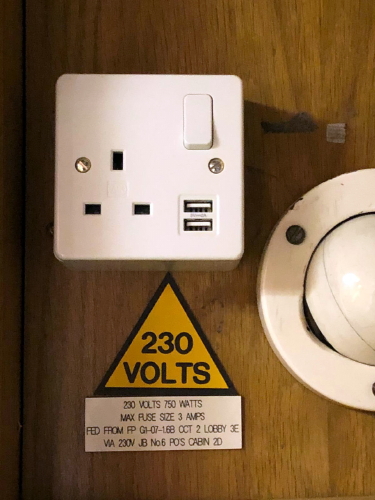 16 Jan 2020 - Warfare Officers on MCM2 Crew 8 honing their Navigational skills at HMS Collingwood. Preparing for when HMS MIDDLETON proceeds back to sea.
HMS Pembroke (MCM1 Crew 5)
20 Jan 2020 - The basic design of the Heavy Machine Gun, or HMG, dates back nearly 100 years. Updated and improved over many years, it provides a high rate of fire with significant stopping power against small boats and aircraft. We practice regularly to ensure we make the first rounds count.
19 Jan 20 - A beautiful, crisp afternoon on the Clyde, and perfect conditions for us to practice mooring to a buoy. Here's a cracking photo of our buoy jumpers getting ready for the Ship to approach, courtesy of our Leading Diver.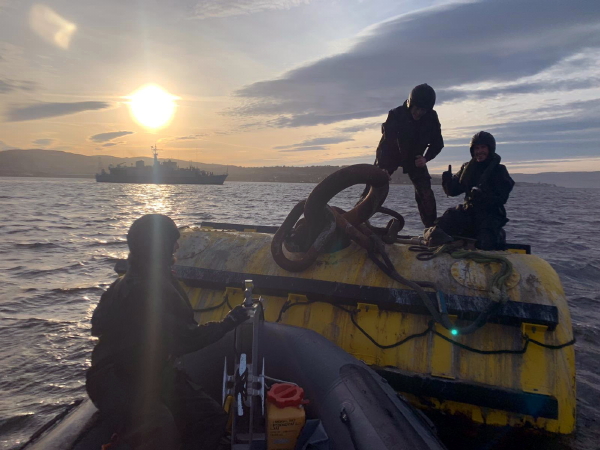 18 Jan 2020 - We were treated to this view of Arran shortly after sunset this evening, and now the METO* is confidently predicting good weather for tomorrow.
*Meteorological officer.
HMS Penzance (MCM1 Crew 3)
19 Jan 2020 - Stunning evening up here in Scotland. No need for filters! Can we keep this high pressure for a bit longer please?
HMS Pembroke (MCM1 Crew 5)
19 Jan 2020 - We concur, it's imposssible not to snap a picture or two. If you look carefully you may be able to spot HMS Penzance.
18 Jan 2020 - After a busy maintenance period we're back at sea and working hard to generate for deployment this year. A new year and lots to do... Proud to have our Effectiveness Award pennant flying for all our hard work last year. Time to carry on where we left off!
Simon Cox (MCM2)
28 Jan 2020 - A fantastic example of what the Royal Navy's Mine Counter-Measures (MCM) Squadron and sailors have been doing recently with NATO. BZ HMS Cattistock. Keeping the sea safe for all and disposing of historic sea mines.
MASTT (Maritime Autonomous Systems Trials Team commanded by MCDOA member Dave Stanbury)
29 Jan 2020 - With RNMB Hussar and CSB support boat safely launched and nestled together, alongside the finger jetty of Bedford Institute of Oceanography (BIO), in Bedford Basin, Halifax NS; MASTT complete their task of pontoon building, while the crane driver waits patiently.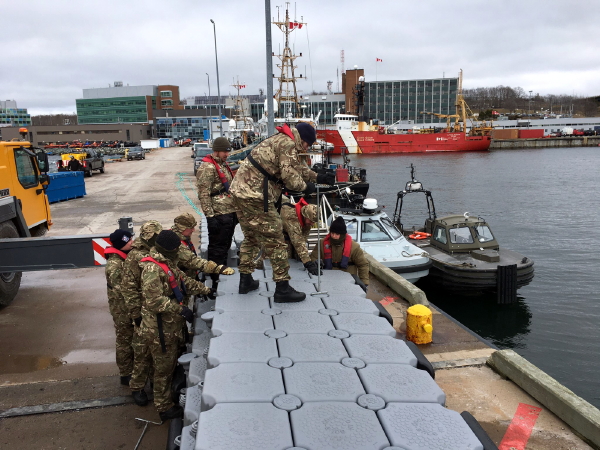 29 Jan 2020 - A view from afar. BIO Finger jetty, with the RN Sweep System nestled at the Far West end, prior to re-organisation and set up.
29 Jan 2020 - RN Sweep Demonstrator Cold Weather Trial: As MASTT begin to set up the Trial site, ready for next week's set-to-work, the hurdle of a CSB full of frozen water had to be dealt with. Now to get a frozen engine started.....
23 Jan 2020 - Match Day! MASTT maintained relations with the Mine Warfare Operational Training School yesterday, through a football match, at HMS Collingwood. The game was a close match, with MASTT winning 4-3 with the final goal scored, in extra time.
MCM2 Crew 4 (currently shipless and assigned 'VERNON 1' having just returned from manning HMS BROCKLESBY in the Gulf)
22 Jan 2020 - We'll be posting updates as we get ready and daily as we walk the Western Front Way. It's 600 miles on foot, reaching from Pfetterhouse at the foot of the Alps, to Niewpoort on the Channel coast. See more details here: www.thewesternfrontway.com
22 Jan 2020 - Along the way we will be visiting over 200 memorial sites commemorating the many battles fought along this stretch of Europe. We will be researching these before we go and hope to live broadcast updates from the route.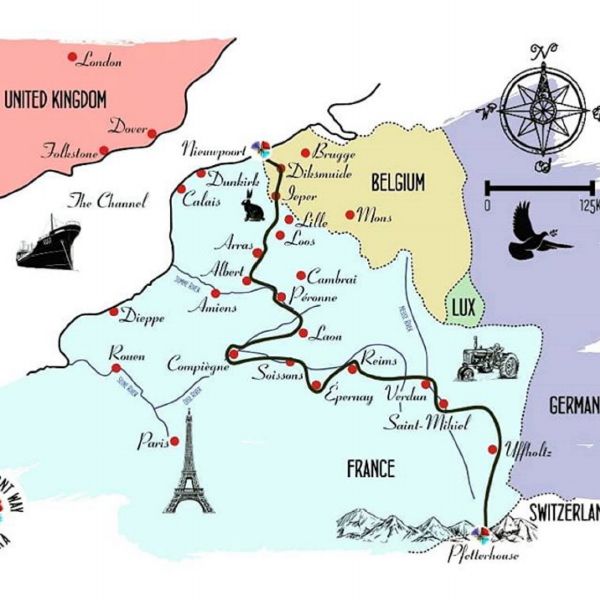 22 Jan 2020 - Of course if we are to raise a good amount of money for charity, a little help and sponsorship will go a long way. If you can help us, please visit our central Just Giving page: www.sponsorme.co.uk/stephenrichardson/western-front-way-600-royal-navy-expedition.aspx
22 Jan 2020 - Please follow us and spread the word - the more coverage the better. Thank you.
HMS Queen Elizabeth's original Ship's Cat
19 Jan 2020 - Minehunter HMS Cromer was decommissioned in 2001 and moved to BRNC Dartmouth where it is now permanently moored as a training ship. It was renamed Hindostan, after a previous training ship.
19 Jan 2020 - If you're going to be permanently moored somewhere, this isn't a bad view to have. Just checking out the buttons, levers and helm before I go and see what the BRNC Dartmouth Officer Cadets are up to below decks...
19 Jan 2020 - BRNC Dartmouth's training ship is a great place to consolidate damage control (fire & flood) training in a realistic environment. Come back please Mr Officer Cadet - I need help with vertical ladders.
19 Jan 2020 - The 'Q' is everywhere. He's the expert in charge of the Officer Cadets' training exercise & pops out of escape hatches all over the place. Alert, stealthy, agile - me & him have a lot in common. Just a hunch, but I think he might be something to do with the Royal Marines.
---
30 Jan 20 - MWA Southern Area Monthly Dit Session
Fellow MCDOA members Bill Kerr and your humble webmaster enjoyed a convivial gathering of Mine Warfare Association (MWA) members this evening in The Crown at Fareham.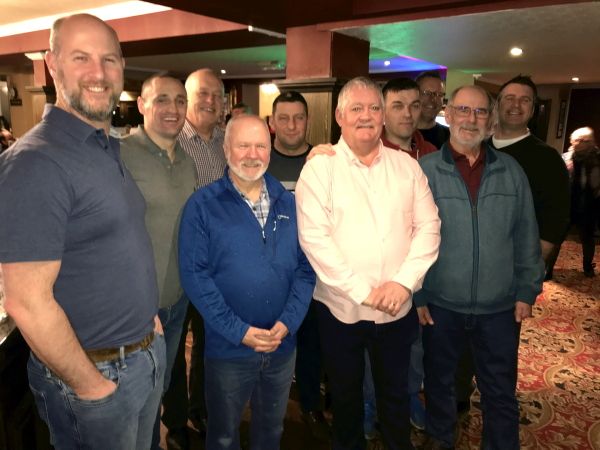 ---
29 Jan 20 - Casting of Vernon Monument update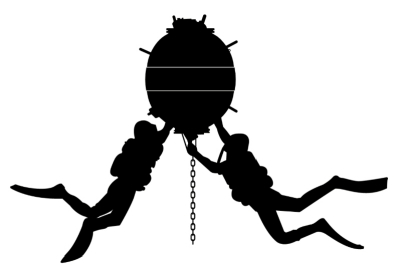 I am grateful to sculptor Mark Richards FRSS for these images showing the latest progress with the casting of the MCDOA-sponsored bronze one-and-a-quarter life-size Vernon Mine Warfare & Diving Monument at the Morris Singer Foundry at Lasham near Alton in Hampshire (see entry for 16 Jan 2020). The monument is due to be unveiled at Gunwharf Quays, the site previously occupied by HMS Vernon, on Wednesday 25 March.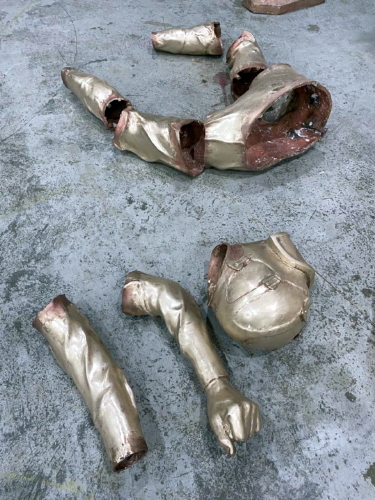 Mark says: "Please note that the hole in the underside of the fin is a patch removed so that the investment can coat the inside - this gets re-assembled in bronze. As you can see, the first bronzes have cast and all looks good. Once all the bronze bits are cast and chased (sprues removed and surface cleaned up), they are assembled and the welds chased back. This is very tricky on this one as the SS frame has to be incorporated into the assembly. Rather them than me!"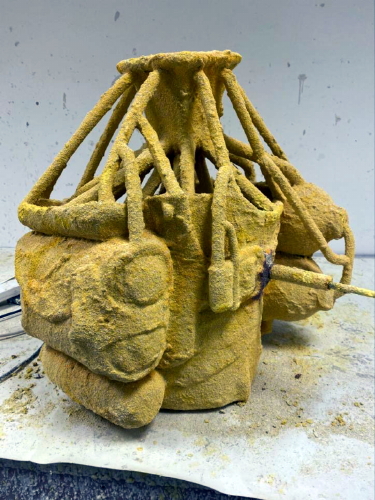 ---
28 Jan 20 - SDU2 deals with German grenade
The Christchurch Advertiser & Times website contains this article reporting the recovery by members of Portsmouth-based Southern Diving Unit 2 (SDU2) of a German M17 'egg grenade' found on Calshot Spit.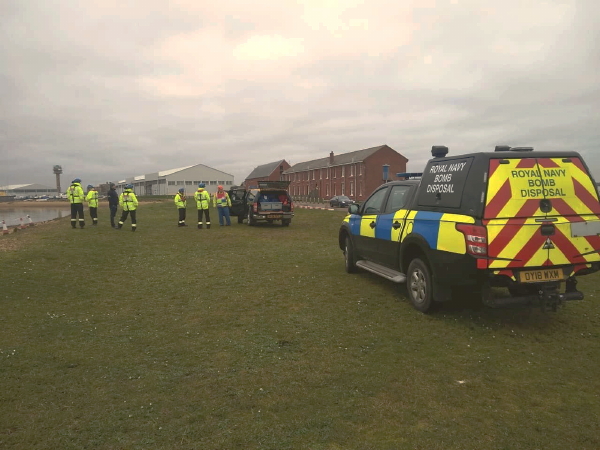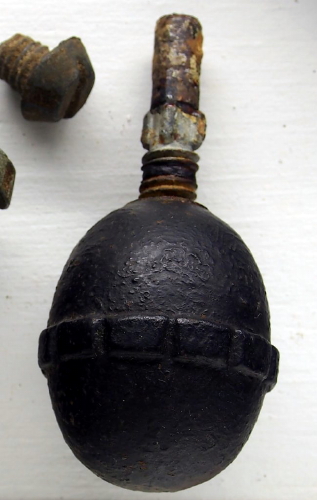 ---
26 Jan 20 - A new 'Diver Chronicle' from Ginge Fullen
I must thank CD branch legend Eamon 'Ginge' Fullen QGM for sending me the sixth in his excellent series of illustrated chronicles of veteran Royal Navy divers in which he has captured so many memories (see entry for 19 Oct 19 in News Archive 68) . His latest offering features Cris Ballinger BEM who joined the Royal Navy in 1959 but it also provides a well-researched chronology of deep diving in the RN from the first-hand accounts of many of those involved. It is packed with a wealth of detail and illustrations, not to mention the familiar (and not so familiar) names of those RN and supporting MOD legends on whose shoulders stand those in today's CD Branch. We are transported between RNPL's Deep Trials Unit at Alverstoke and its Canadian counterpart at DCIEM in Toronto; from Scottish lochs and Norwegian fjords to the warm waters of the Mediterranean, Florida, the Caribbean and California. This book tells an epic story and truly lives up to the achievements it describes.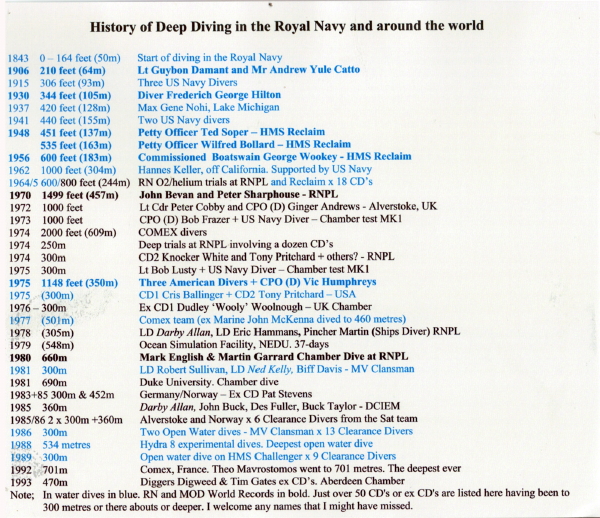 All six volumes of Ginge's chronicles to date should be available for sale from the RNCDA website's shop via www.rncda.com.
Cris Ballinger BEM
Fred Hilton:
Don Hodge:
Carl Massey:
Yorky Wilkinson:
Jim Cannon:
---
22 Jan 20 - SDU1 deals with mortar bomb in Devon
The Devon Live website contains this article reporting that members of Plymouth-based Southern Diving Unit 1 (SDU1) were called to a house on Beach Road in Woolacombe on Monday 20 Jan to deal with what was believed to be a Second World War mortar bomb.
---
18 Jan 20 - RN to begin unmanned mine hunting and survey operations
The Royal Navy website contains this article announcing that "unmanned mine hunters and survey technology will soon be on frontline duties with the Royal Navy... Initial operations are now being carried out by Project Wilton, the name for the Royal Navy's unmanned mine hunting and survey endeavours. Wilton currently have three boats – two remote controlled and the other manned – as well as multiple underwater vehicles. This kit will supplement the Royal Navy's current mine hunting missions carried out by the mine countermeasures ships of the Hunt and Sandown classes...".
---
17 Jan 20 - Latest MSM and LS&GC awards
Congratulations to WO1(MW) Steve Harvey and CPO(D) Willie Sharp MBE on being gazetted for the award of the Meritorious Service Medal (MSM). Fewer than 50 MSMs are awarded annually to Royal Navy Warrant Officers and Senior Rates.
Also, congratulations to PO(D) Nigel 'Pat' Patterson on being gazetted for the award of the 2nd Clasp to the Naval Long Service & Good Conduct Medal (LS&GC).
---
16 Jan 20 - Casting of Vernon Monument update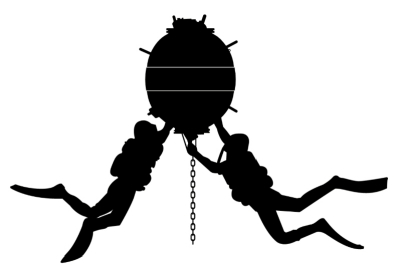 I am grateful to sculptor Mark Richards FRSS for these images showing the latest progress with the casting of the MCDOA-sponsored bronze one-and-a-quarter life-size Vernon Mine Warfare & Diving Monument at the Morris Singer Foundry at Lasham near Alton in Hampshire (see entry for 11 Jan 20).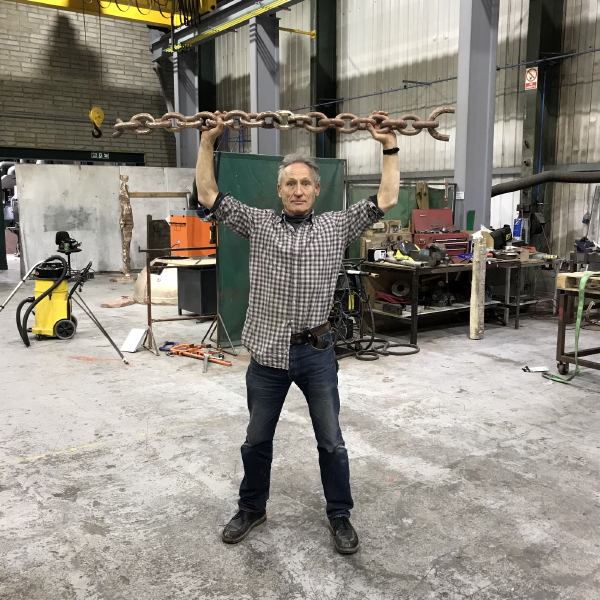 He says the green elements are wax sections being run up. The tubes, variously known as sprues or runners and risers, are to allow the bronze to flow and the air to escape.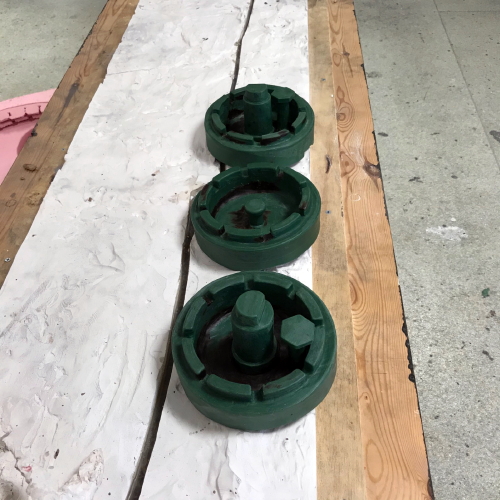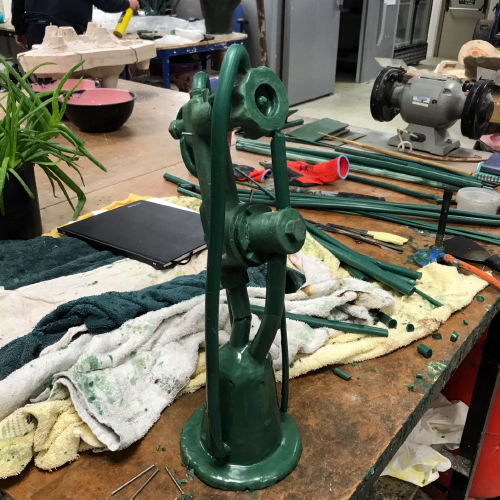 The yellow elements are sections being run up, cut up and in the final stages of investment.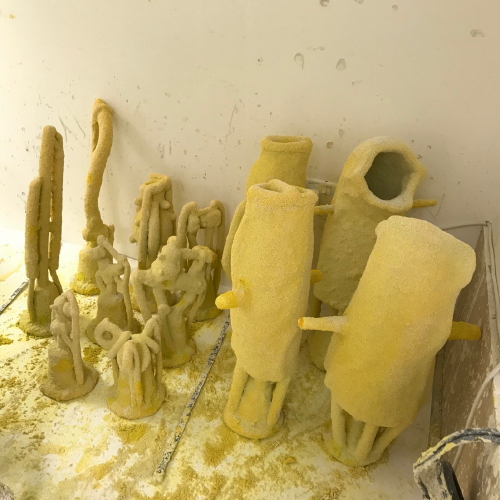 More information about the process here:
https://en.wikipedia.org/wiki/Investment_casting
---
15 Jan 20 - Funeral of Lt Cdr Harry Parker MBE RN
MCDOA members Peter Waddington and John Staveley attended Harry's funeral in Dunfermline today and I am grateful to them for their respective accounts of the service (see entry for 8 Jan 20).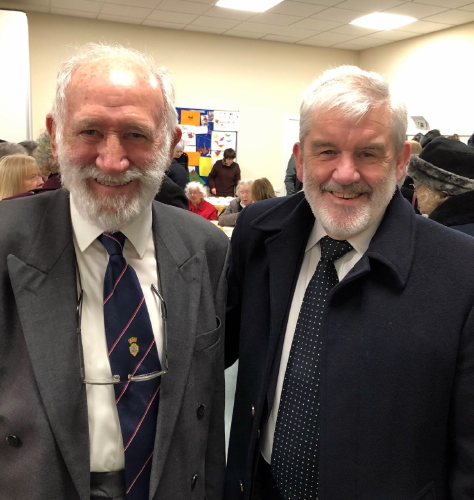 From Peter Waddington:
"Dear Rob,
John Staveley and I both attended Harry Parker's funeral this morning, met up, and exchanged histories, and both made our number, chatted with and were welcomed by his sons. We were the only MCDs there, the remaining large congregation being made up of Harry's extended family and friends, a large contingent from the RNA including Standard Bearer, and a few members of HMS Relentless Association, together with many of the regular congregation. These last were obvious witness to the fact that Harry was well known to them, and as mentioned during the service was a pillar of this Church and of the local community. We were told in later conversation with one of the RNA contingent that Alan Bayliss had intended to be there but is currently in hospital.
The service was a simple one of appropriate hymns and prayers, together with a eulogy presented by son Rev. Dr Nigel, which covered Harry's life, many interests and activities from childhood onwards, in family, RN service, local community and Church, tackling everything he touched with vibrant enthusiasm. It was alledged that he tended to treat his young sons like juniour ratings!
I see that John has just sent you a more detailed summary, including the note that he will forward a copy of the eulogy when he receives it from Nigel, so I will leave it at that. The attachment is a scan of the front cover of the Order of Service. It was pointed out that the photo was taken on the occasion of their Golden Wedding anniversay, and shortly before his wife died.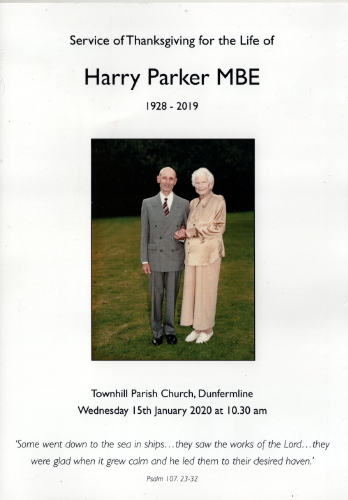 Regards,
Peter"
---
From John Staveley:
"Rob,
A congregation of about 200 included representatives of the HMS RELENTLESS Association, of which Harry was First Lieutenant, and the Rosyth and West Fife RNA, who paraded their standard. I am aware of MRUs, as it were, from Alan Bayliss, Dickie Wardrope, and Dougie MacDonald.
The service, led by the minister of the Parish Church of Townhill and Kingseat, included "The Lord's my shepherd", "Lead us, heavenly Father, lead us", and "Now thank we all our God", and readings from Psalm 107 (Some went down to the sea in ships) St Paul's 1st Letter to the Corinthians, and St John's Gospel.
One of Harry's four sons, the Revd Dr Nigel Parker, delivered an eloquent and moving eulogy which covered his early life in Leeds, joining the Navy as a Boy, submarine training, promotion, and his transition to MCM etc. On his retirement in 1973, the family settled in Dunfermline (when he started as RSO at CMCM) where he became deeply involved in the church, the community, and the Samaritans. Apparently, he considered seeking ordination but was dissuaded by his wife who asserted that he would run his church like a ship.
At the family's request, the naval contingent and church elders formed a guard of honour, as the organ played the Naval Hymn while Harry was borne out of the church."
---
14 Jan 20 - Gentlemen Who Lunch
The MCDOA's 'Not Quite the Last of the Summer Wine' trio of Barlow, Holloway and Hoole visited The Robin Hood at Rowlands Castle today and enjoyed a convivial lunch courtesy of our hostess Kelly who took this photo: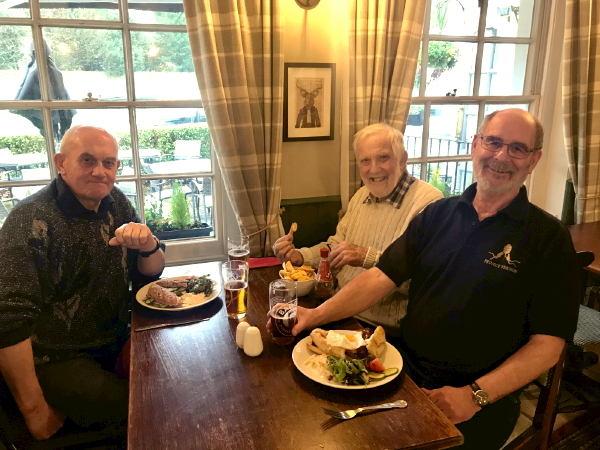 For the benefit of newcomers to this website, the three of us first met as single living-in members of HMS VERNON's wardroom mess in March 1973 and have tried to gather together most weeks since leaving the RN.
---
13 Jan 20 - HMS VERNON Minewarfare Heritage
On this day in 1940, Winston Churchill, accompanied by his wife 'Clemmie', paid a second visit to HMS VERNON as First Lord of the Admiralty (not First Sea Lord). He wore the uniform of an Elder Brother of Trinity House.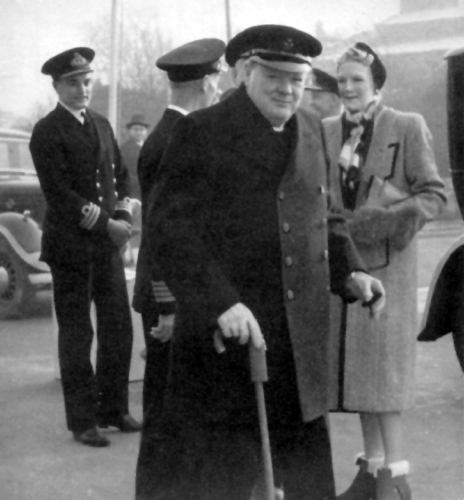 Churchill, who wasn't appointed Prime Minister until 10 May 1940, was concerned about German naval activity in the Baltic Sea and initially planned to send a naval force there but this was soon changed to a plan, code-named Operation WILFRED, to stop the shipment of Swedish iron ore to Germany by mining Norwegian waters. This became linked with a separate plan, code-named Operation ROYAL MARINE, to send naval mines down the Rhine to destroy German pontoon bridges, barges and shipping further downstream. Britain saw this as a way of striking back for the heavy damage and loss of life the Germans had inflicted with their magnetic mine, but the French vetoed the plan for fear that it would bring a wider German retaliation against them. Owing to disagreements about mining, both in the war cabinet and with the French government, WILFRED was delayed until 8 April 1940, the day before the Germans launched their successful invasion of Norway.
Churchill had first visited HMS VERNON as First Lord of the Admiralty on 21 September 1939 when he had shown immense interest in the work of the Mining Department which also had responsibility for mine design, the development of mine countermeasures and naval bomb & mine disposal at sea and on land.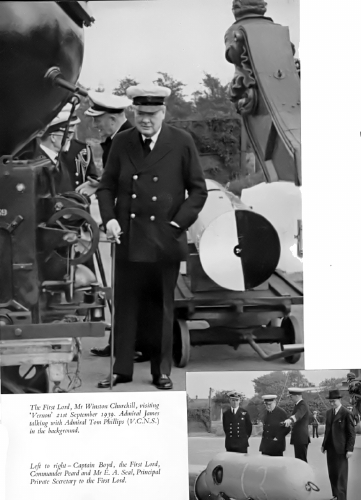 ---
12 Jan 20 - A new book from Cdr David Bruhn USN
My sometime co-author David Bruhn, prolific author of books about naval warfare including the trilogy 'Wooden Ships and Iron Men' about US-built minesweepers (including some in RN service), has published a new book called 'Gators Offshore and Upriver - The US Navy's Amphibious Ships and Underwater Demolition Teams, and Royal Australian Navy Clearance Divers in Vietnam'. This is a companion book to 'On The Gunline - US Navy and Royal Australian Navy Warships off Vietnam, 1965-1973' and contains material about the heroic actions of Royal Australian Navy clearance divers to thwart the efforts of North Vietnamese and Viet Cong swimmer-sappers to mine Allied vessels: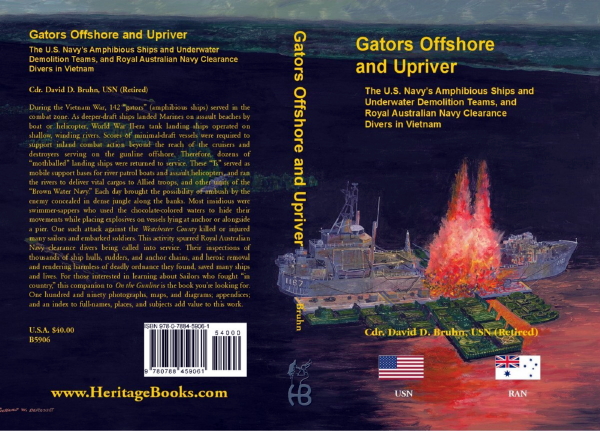 Book cover incorporating painting by Richard DeRosset, depicting a Viet Cong swimmer-sapper
mining attack on the tank landing ship USS Westchester County (LST-1167), on
1 November 1968, in which the US Navy suffered its greatest loss of life in a single
incident, as a result of enemy action, during the entire Vietnam War.
Book Description
During the Vietnam War, 142 "gators" (amphibious ships) served in the combat zone. As deeper-draft ships landed Marines on assault beaches by boat or helicopter, World War II-era tank landing ships operated on shallow, winding rivers. Scores of minimal-draft vessels were required to support inland combat action beyond the reach of the cruisers and destroyers serving on the gunline offshore. Therefore, dozens of "mothballed" landing ships were returned to service. These "Ts" served as mobile support bases for river patrol boats and assault helicopters, and ran the rivers to deliver vital cargos to Allied troops, and other units of the "Brown Water Navy."
Each day brought the possibility of ambush by the enemy concealed in dense jungle along the banks. Most insidious were swimmer-sappers who used the chocolate-colored waters to hide their movements while placing explosives on vessels lying at anchor or alongside a pier. One such attack against the Westchester County killed or injured many sailors and embarked soldiers.
This activity spurred Royal Australian Navy clearance divers being called into service. Their inspections of thousands of ship hulls, rudders, and anchor chains, and heroic removal and rendering harmless of deadly ordnance they found, saved many ships and lives.
For those interested in learning about Sailors who fought "in country," this companion to On the Gunline is the book you're looking for. One hundred and ninety photographs, maps, and diagrams; appendices; and an index to full-names, places, and subjects add value to this work.
Order your copy of David's latest publication from Heritage Books here:
Gators Offshore and Upriver - The US Navy's Amphibious Ships and Underwater Demolition Teams, and Royal Australian Navy Clearance Divers in Vietnam
---
11 Jan 20 - Casting of Vernon Monument update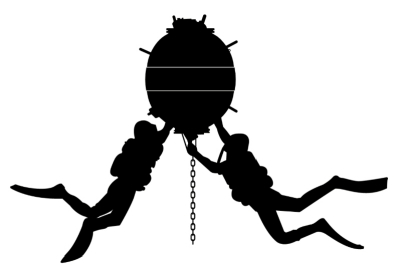 I am grateful to sculptor Mark Richards FRSS for this image showing him checking the wax on the torso of one the divers from the MCDOA-sponsored bronze one-and-a-quarter life-size Vernon Mine Warfare & Diving Monument (see entry for 21 Dec 19 in News Archive 68). From here it finds its way into bronze at the Morris Singer Foundry at Lasham in Hampshire.
The real McCoy courtesy of Mick O'Leary's Diving-Watch.net.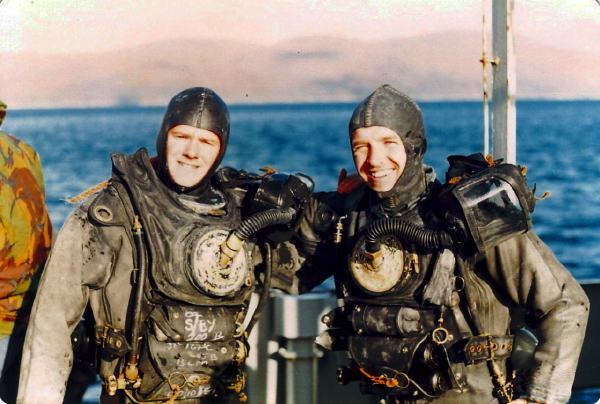 Steve 'Taff' Livingstone and Gary 'Geoff' Hurst wearing original CDBA
---
10 Jan 20 - Arrangements for the funeral of Lt Cdr David John Baden Forsey MBE RN
The funeral of MCDOA member David Forsey will start at 1130 on Friday 7 February at St Michael and All Angels Church, Church Lane, Enborne near Newbury, Berkshire RG20 0HB (see entry for 29 Dec 19 in News Archive 68). It is marked as 'Enborne Church' on Google Maps.
The committal and burial service will start at 1230 in the natural setting of Acorn Ridge, Redhill, Enborne near Newbury, Berkshire, RG20 0JN. This is within sight of Beacon Hill and Watership Down.
After the funeral, a reception will be held at The Craven Arms, Skinners Green Lane, Enborne, Newbury, Berkshire RG20 0HG. If you would like to attend, please inform David's daughter Catherine via this email address so that she and her brother Paul can gauge numbers.
The family has asked for donations in David's memory to be made towards Project Vernon, the erection of a monument at Gunwharf Quays in Portsmouth celebrating the mine warfare & diving heritage of HMS Vernon which previously occupied the site. This can be achieved online here:
If you are a UK taxpayer, please consider completing and submitting this Gift Aid Declaration which adds 25% to your donation.
Postscript: Many thanks to MCDOA member Peter Waddington for his generous donation towards the Vernon Monument in David's memory.
---
9 Jan 20 - Closure of SETT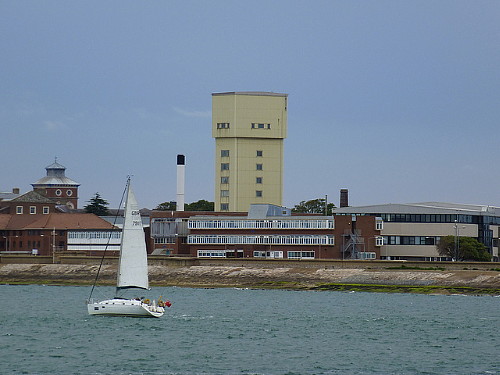 The Submarine Escape Training Tank at Gosport
The Royal Navy website contains this article and the Portsmouth News website this article announcing the closure of the Submarine Escape Training Tank (SETT) at Gosport on the former site of HMS DOLPHIN. Many members of our community will recall having performed free ascents from 100 ft, both with and without the benefit of submarine escape equipment, during various clearance diving courses.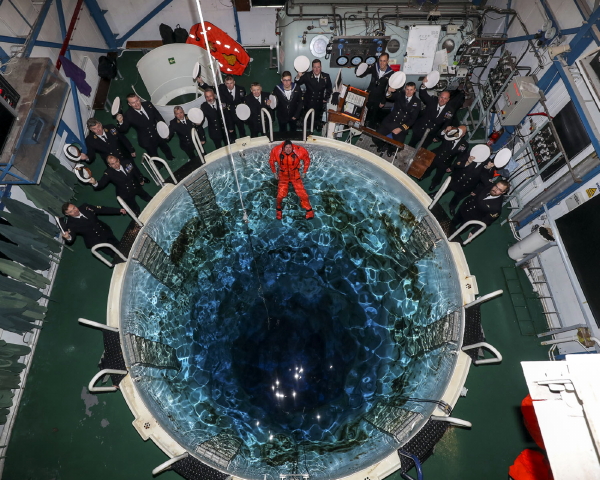 Submariners inside the SETT at Gosport for the last time
(Royal Navy photo)
---
8 Jan 20 - Death and funeral of Lt Cdr Harry Parker MBE RN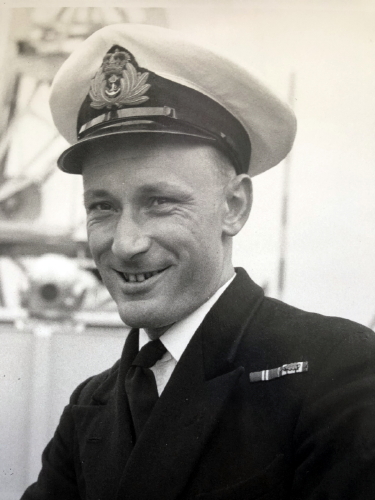 Harry Parker as CO of HMS Dingley and the 51st Minehunting
Squadron's CD Team in 1962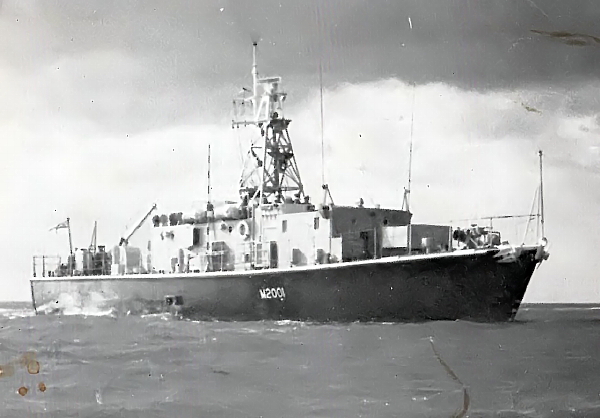 HMS Dingley as fitted with MTG (Multiple Towed Gradiometer) in the mid-1960s
It saddens me to pass on this announcement from MCDOA member Harry Parker's son Nigel:
"Dear Rob,
I apologise that I had not let you know earlier of Dad's passing. Do pass the word on through MCDOA and other networks you know of and who would appreciate knowing.
As you can see from this death notice in the Dunfermline Press, the funeral is not until next week. The HMS Relentless Association has been in touch.
PARKER Peacefully at the Queen Margaret Hospital, Dunfermline on Friday 20th December 2019, aged 91 years, Harry Parker MBE, ex-RN, proud member of Townhill Community and lately Whitelaw Court, husband of the late Mary, father to Simon, Martin, Timothy and Nigel and loyal family member to many more.
Funeral Service to take place in Townhill Church, Dunfermline 10.30am Wednesday 15th January, to which all are invited. Private cremation to follow.
Family flowers only please but if desired donations to the Samaritans and Townhill Church on leaving the service.
There are letters in Dad's files from those who speak of his professionalism, courage and wise tutoring of younger divers. So much unknown to us as a family.
Yours sincerely,
Nigel Parker (Rev Dr)
Son and next of kin."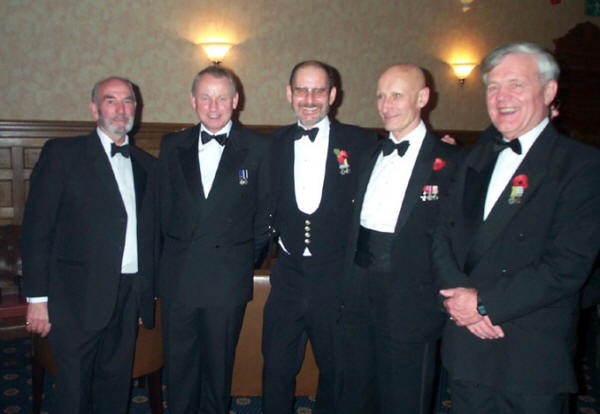 Yours Truly (Rob Hoole - centre) with Harry Parker (second right) at 2001 MCDOA Dinner
Harry qualified as a CDO at HMS VERNON in September 1955. He was awarded a MID (Mention in Despatches) in June 1957 "in recognition of gallant and distinguished services in the Operations in the Near East, October to December 1956" while serving in the tank landing ship HMS Lofoten which landed Royal Marines of 45 Commando during MUSKETEER, the Anglo-French amphibious operation to seize the Suez Canal after its nationalisation by Nasser. Although Harry left the Royal Navy in 1973, he continued to work as Captain MCM's RSO (Route Survey Officer at Rosyth until superseded by fellow MCDOA member Alan Bayliss in 1993. He was appointed an MBE (Civil Division) for his services in the 1993 Queen's Birthday Honours.
I am sure all members of our community will join me in extending our sincere condolences to Harry's family.
---
From MCDOA member Dougie MacDonald:
"Hello Rob,
I've only just picked this up and sadly I can't get there in time.
Harry and I worked together in Lochinvar Block and I learned a lot from him, and before in various ships of the MCM Flotilla. His wry smile and knowing look summed up his experienced view on life and diving. I shall miss his tutelage.
Best,
Dougie"
---
From former CPO(D) Mick Kester:
"Hi Rob,
Sorry to hear the sad news regarding the passing of Harry Parker. He was my first Diving Officer / 1st Lt in the tank landing ship HMS MESSINA in Bahrain in 1963. Under his leadership, our small diving team carried out various tasks in,and around the Gulf including screw and rudder changes and a heap of other repairs to Tank Landing Ships damaged during beach landings.
Harry was a great leader and inspiration to me and to many others. It was Harry who recommended me for CD.
From left to right, this photo shows Harry Pickering (D3), Mick Wilson (CD3), me (Shallow Water Diver) and Harry Parker (CDO).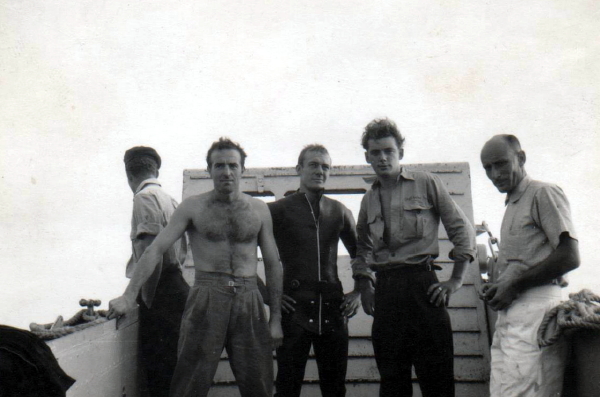 Best Regards,
Mick"
---
From MCDOA member Peter Waddington:
"Dear Rob,
I have just read your further piece of sad news re the passing of Harry Parker.
I never worked directly with Harry, but knew him as a friendly and sociable elder member of the branch, with whom I chatted at a number of social events, south and north; in more recent years the latter.
My only indirect connection with his work was when Captain MCM was still in command of HMS Lochinvar at Port Edgar, and I was based there in 1969/70 as XO of HMS Abdiel and MCM Staff Officer to MCM1. These, as I remember, were either the very early days or the start of Harry's long term as "Mr Route Survey", and I remember speaking on MCM1's behalf at an MCM conference at HMS Vernon about the perceived paucity of the projected Hunt Class build in view of the vital need for continual update of route surveys to protect the approaches to our strategic ports in general, and Faslane in particular. I remember also, at the conclusion of that talk, being fairly gently chided by the then MW Desk Officer at DNW, Cdr (later Captain) Garth de Courcy-Ireland, who made a pragmatic statement to the effect that "that is what we can afford, so that is what we'll get"!
As one of the slowly dwindling northern reps of the branch, I intend to be at the funeral in Dunfermline next Wednesday.
Regards,
Peter"
---
From MCDOA member Bob Lusty:
"Hi Rob,
Mike Gillam gave me the heads up regarding Harry. When I was working for Joe Brooks in the Acceptance Trials Diving Equipment Group, Joe was also the Course Officer for a new intake of qualifying CDOs. Harry was a member of this group as were Mike Gillam, Peter Roberts VC and Pat Christmas qualifying as a CD1. There were others but they fade from memory.
As well as continuing trials on the MRO kit, Joe fully involved us with his CDOs' course. We joined them in Joe's exciting exercises and second dicky work. I don't think there was another course quite like it as Joe Brooks trained for war!!! Ask Mike Gillam.
I never worked for Harry but met him several times during our time in the Branch. He was a kind gentleman and passed on good advice whenever we met.
Rest in peace Harry,
Bob Lusty"
---
From MCDOA member John Staveley:
"Rob,
I've just seen your post about Harry Parker.
Having retired from NATO, we moved back to Scotland last September and are living in Kirkliston, near Edinburgh. Having been a colleague of Harry in the Warfare Dept at COMMW, not to mention providing him with the results of countless route surveys before that, I plan to go to the funeral. Do you know who else from the Scottish community I might expect to see there?
Thanks,
John"
---
From MCDOA member Mike Gillam:
"Many thanks Rob,
Although I never served with Harry, we spent some amazing months together on course in 1955 as directed by Joe Brooks! After that, we occasionally met up from time to time.
I liked Harry. We got on well together and I had great respect for him.
Looking forward to meeting up with you et al in March.
Yours,
Mike"
---
7 Jan 20 - SDU2 deals with ordnance in West Sussex
The Spirit FM website contains this article reporting yesterday's disposal by members of Portsmouth-based Southern Diving Unit 2 (SDU2) of ordnance found on Medmerry Beach near Selsey in West Sussex.
---
3 Jan 20 - Dan Herridge superseded as CO of HMS Shoreham
The Royal Navy website contains this article reporting that MCDOA member Dan Herridge has been superseded as CO of HMS Shoreham on Operation KIPION MCM in the Gulf with the relief of MCM1 Crew 6 by MCM1 Crew 4. Dan and Crew 6 will now take over HMS Ramsey from MCM1 Crew 2 back in the UK.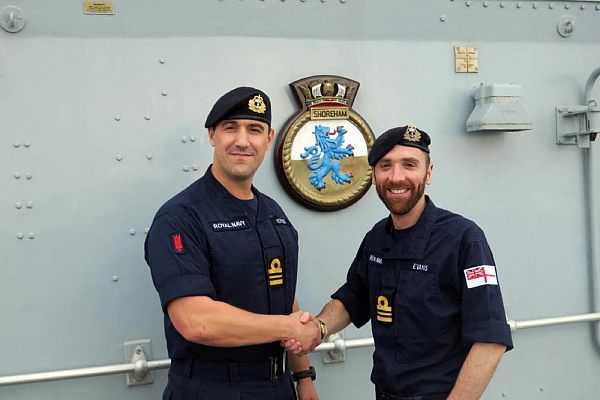 Dan Herridge handing over Command of HMS Shoreham to Lt Cdr Pete Evans
(Royal Navy photo)
---