---
28 Apr 17 - News from HMS Shoreham
I am grateful to Lt Cdr Ben Evans, Commanding Officer of HMS Shoreham (MCM1 Crew 2) for this newsletter which I have received via the Ton Class Association (TCA). I write a column titled 'MCMV News' for the Associaton's bi-monthly newsletter 'Ton Talk'.
"I trust this letter finds you well, and I would like to take this opportunity to introduce myself having recently assumed Command of Mine Counter Measures Squadron 1 (MCM1) Crew 2 in HMS SHOREHAM. In this letter I will endeavour to update you on the progress of the Ship and the programme for the future.
I joined the Royal Navy in 2002 and have served in a wide variety of ships, from Sandown Class Minehunters in the early stages of my career, to Type 42 Destroyers and Type 23 Frigates. Recently I worked at the Fleet Operations Headquarters as the Major Warship Scheduler then as the Deputy Fleet Operations Officer. Selected for Sea Command last year, I took Command of MCM1 Crew 2 and HMS SHOREHAM at the end of March 2017.
In May 2016, HMS SHOREHAM began a period of deep maintenance in a dry-dock at Rosyth Dockyard, Fife, alongside the new aircraft carrier HMS QUEEN ELIZABETH. This was her most extensive period of maintenance prior to ultimately returning to Bahrain for another three years. Sailing from Rosyth at the end of 2016, HMS SHOREHAM successfully completed her Sea Acceptance Trials and returned to HMNB Clyde, Faslane. Since our arrival back in our base port, the Crew have been working very hard to bring the Ship to the required standard to be ready to join NATO. Our generation for NATO tasking culminated with Directed Continuation Training and now we are making final preparations for our deployment. By the time you read this letter we will most probably be with our NATO partners improving interoperability in the Baltic Sea.
In early July this year, towards the end of our deployment, the Ship will be making a return to her home town of Shoreham. This will be a fantastic opportunity to host our affiliates on board, to engage with the Crew and to see how HMS SHOREHAM may have changed since you were last with us. I will be sure to distribute further information towards the time once a date has been finalised and make arrangements for all our affiliates to come aboard.
On behalf of HMS Shoreham and the 1st MCM Squadron I would also like to invite you to the up coming Faslane Flotilla Affiliates day on Wednesday 3rd May. Unfortunately due to our upcoming NATO commitment, HMS SHOREHAM will not be present at the event; however there will be three other units in our class alongside putting on a series of capability demonstrations. These will include ship's tours, Mine Countermeasure demonstrations, weapon demonstrations and diving capabilities display. As our Affiliate you are also invited to attend the Faslane Flotilla Dinner in the evening hosted in the Wardroom of HMS Neptune at HMNB Clyde. Should you wish to attend, please do not hesitate to contact me and I shall make arrangements to accommodate you on the day.
It is a pleasure and an honour to take Command of HMS Shoreham and I will be doing my upmost to build on the relationship between the Ship and affiliates generated by the previous Crews.
Finally, your Ship values highly the rich dialogue which has been shared between us in the past. I hope this letter to be a continuation of this valuable tradition. Our ties ashore are important to us as a Crew, and whilst it is not possible to engage with our affiliates everyday, your continued support is of the greatest importance to us.
I look forward to hearing from you in the future, and if you would like to follow our deployment then please follow this link to our RN Web page.
Yours sincerely,
Ben Evans
Commanding Officer"
---
27 Apr 17 - Falklands 35
Thirty-five years ago today, the 11th MCM Squadron sailed from Portland with MCDOA member Lt Cdr Martyn HOLLOWAY as Senior Officer in HMS CORDELLA. HMS PICT's conversion delayed her departure such that she joined the squadron on 30 April while 150 miles west of the Portuguese coast.
The elderly Ton class coastal mine countermeasures vessels (MCMVs) in service at the time were unsuited for the long passage and heavy seas expected in the South Atlantic. The first two of the new Hunt Class MCMVs were not yet operational so it was decided to requisition five deep sea trawlers from Hull and fit them with rudimentary minesweeping equipment. These vesels were commissioned into the Royal Navy and crewed mostly by the ships' companies of Ton Class MCMVs based at Rosyth: CORDELLA (HMS UPTON); FARNELLA (HMS WOTTON); JUNELLA (HMS BICKINGTON); NORTHELLA (HMS SOBERTON); and PICT (HMS BILDESTON). Originally, PICT was to be used solely as a stores ship. However, to minimise loss should ships be lost, stores were distributed evenly among the squadron allowing her to be utiised as a fully-fledged minesweeper too.
---
25 Apr 17
Falklands 35
Thirty-five years ago today, the Argentinean garrison at Grytviken on South Georgia surrendered. The same day, the Argentinean submarine ARA SANTA FE, severely damaged by depth charges from HMS ANTRIM's Wessex helicopter (Lt (now Rear Admiral) Chris PARRY CBE, son of the late MCDOA member Cdr John PARRY OBE RN), beached herself in Grytviken harbour. MCDOA member Lt (later Lt Cdr) David 'Doc' O'CONNELL MBE RN, embarked in HMS ENDURANCE, led a five-man team of ships' divers which spent three weeks clearing hazardous explosives and other materials from the submarine before re-floating her so she could safely be towed out to sea and sunk. He was subsequently appointed an MBE.
---
NDG called to deal with hand grenade near Lerwick
The Scotsman website contains this article and the STV website this article reporting that "Royal Navy bomb disposal experts", presumably members of Faslane-based Northern Diving Group (NDG), have been called to deal with a hand grenade found at Seafield Beach near Lerwick in Shetland.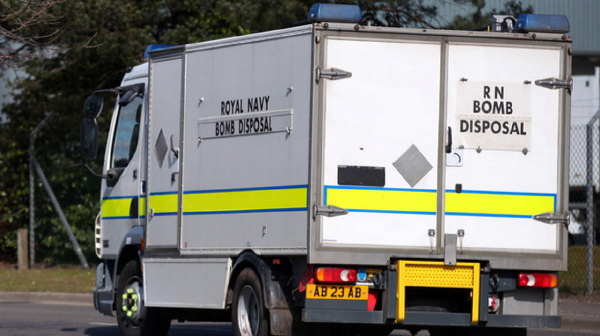 ---
20 Apr 17 - Lewis Hamilton visites HMS Middleton
The Sun newspaper website contains this article and the Forces TV website this article (including videos) describing a visit by British F1 racing car driver Lewis Hamilton to HMS Middleton (MCM 2 Crew 4) while the ship was alongside in Bahrain.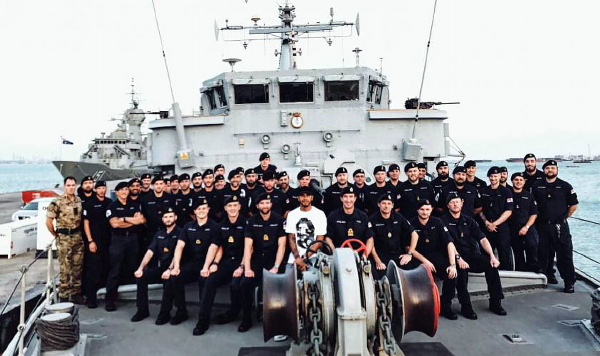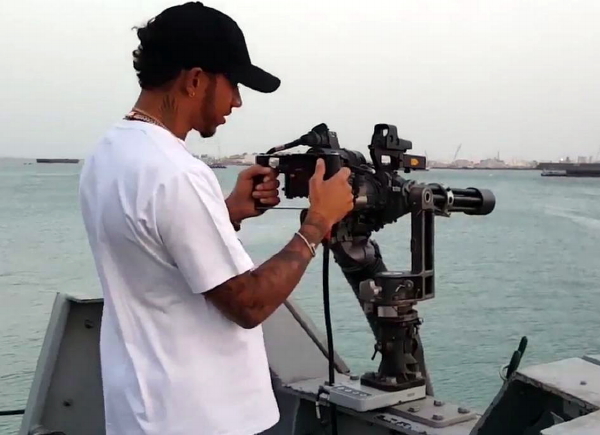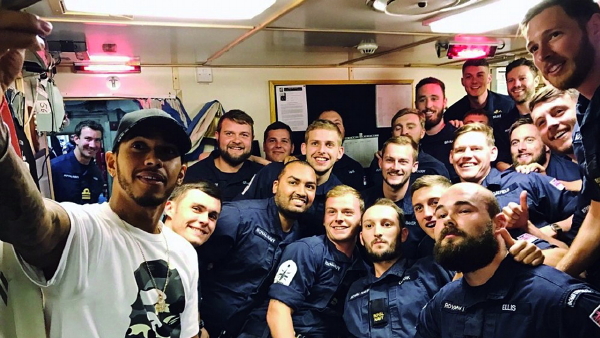 ---
19 Apr 17 - Interruption of website service
The MCDOA website is taking an indefinite break. Normal service will be resumed in due course whereupon the 'Latest News' page will be updated retrospectively.
---
18 Apr 17
Arrangements for the funeral of ex-CD1 Barry 'Baz' Davis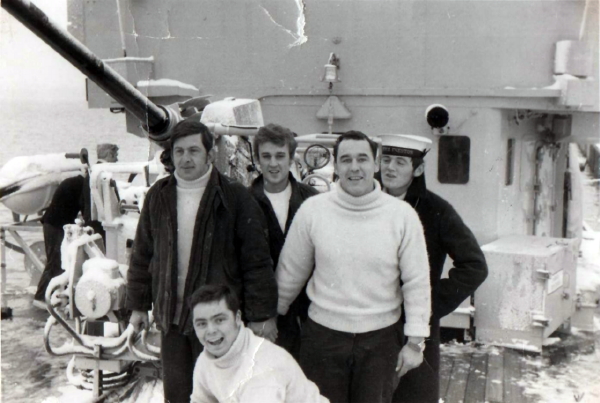 Barry 'Baz' Davis, standing in white coastal forces sweater, on board HMS Iveston c.1971
(Photo courtesy of John Harvey)
The Plymouth Herald contains this death notice:
DAVIS
Davis Barry. Passed away 31st March 2017. Husband of Jeanette, stepdad to Shaun & Cally. Dad to Paul, Shaun, Glen & Amanda.
So you want to be a diver? Wish number 1 to be. Your love of the deep blue sea. So you took a chance, joined the branch, got the pass and made CD1 First Class.
Wish number 2 was to run 1963 Guz Field Gun.
Now we'll grant your last wish to spread your ashes and swim with the fish. XX
Funeral service 25th of April 2017 at 2pm Weston Mill Crematorium, Plymouth. Family flowers only. Donations for HCTP507 can be made by retiring collection or sent to WYATT BROTHERS, 5-7 Durnford Street, Plymouth PL1 3QJ. Tel: 01752 600437.
Jeanette
Eventually, Baz's ashes will be scattered near the Mewstone off Wembury.
---
Arrangements for the funeral of ex-LS(D) Kev Winwood
Kev Winwood's funeral will take place at 1430 on Friday 28 April at Stranton Crematorium, Hartlepool with a gathering afterwards at a place to be determined.
---
14 Apr 17 - Objects found in pond at ARL Teddington
The following query has been received from former DRA/DERA/Dstl scientist Nigel Godsell:
"Hi Rob,
Once again I'm craving your indulgence.
Until the mid-1950s, the Admiralty Research Laboratory (ARL) at Teddington was still actively involved in minewarfare research, and mine countermeasures for that matter. Small-scale experiments were carried out in what was one of the ornamental ponds within Bushy Park, Teddington.
In recent times the ornamental ponds have been restored and, in the process, these objects were recovered from the mud.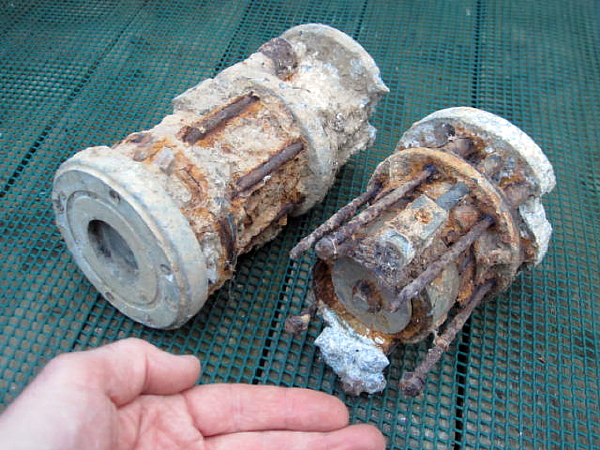 So the question is: any idea what they may be?
Cheers,
Nigel
P.S. I've also had contact with a guy who has been researching WWII (and just after) aerial minesweeping, because of the ARL involvement."
Over to you.
---
13 Apr 17 - Diving museum reopens for the summer season

The Historical Diving Society (HDS) museum in No.2 Battery at Stokes Bay reopens tomorrow after its winter closure. Click on the newsletter below to see what is in store for the new season: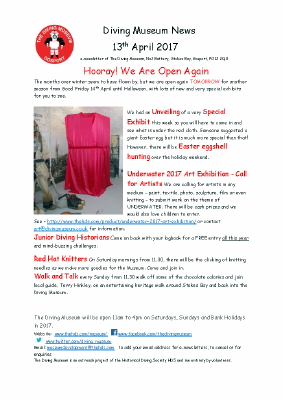 ---
12 Apr 17 - Funeral of former FCPO(D) Peter 'George' Hann Alderton BEM
I am grateful to ex-CD Alan 'Charlie' Chapman for this message (see first entry for 31 Mar 17 in News Archive 57):
"Rob,
Just to let you know that Peter (George) Alderton's funeral went off well in Plymouth today. It was attended by Colin 'Scouse' Kidman, Rocky Stone, David 'Jimmy' Bond, Mick Kester, Cris and Nigel Ballinger, Clive Egginton and me. There were only a few of us but we tried to do him PROUD as he deserved.
George was the first WO(D) I knew when I did my ships' divers course in 1972 and later in late 1973/74 when I joined the diving school in Guzz so I learnt quite a lot from him and the staff at the time. The guys who were there also had the greatest respect for George.
Yours aye,
Charlie"
---
From former CPO(D) Cris Ballinger BEM:
"Hi Rob,
I know I have asked before, but I have George Alderton's funeral Order of Service and I know you like to keep them, so once again if you give me an address I will post it on. As Charlie reported, Scouse Kidman was there and he may have passed it on already. Just let me know.
Although the service was was held just 500 yards from SDU1, it wasn't a particularly full church but I think the family were impressed nonetheless, I was certainly impressed with Mick Kester's eulogy. He struck just the right note.
We all retired to the St Elizabeth's House, Plympton for refreshments and story-telling on completion of the service.
Cheers,
Cris"
This is the Order of Service that Cris has been kind enough to send me. Click on the image to see the full document.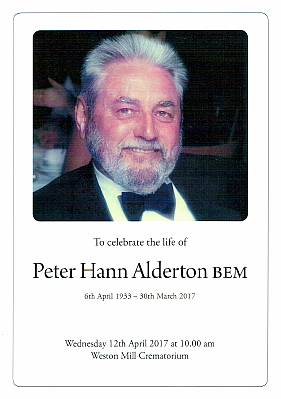 ---
From George Alderton's daughter Sue:
"Dear Rob,
I am writing to behalf of my mother Elsie Alderton.
Mum would like to say a big "Thank you" for all those who took time to write messages of condolence and tributes to my father. In addition, thank you to all those who attended his funeral and the many kind donations in respect to the chosen charity Marie Curie, who looked after Dad so very well during his last few weeks.
Kind Regards,
Susan O'Connell
(No 3 Daughter)"
---
11 Apr 17 - An appeal
It appears that ex-LS(D) Kev Winwood died in particularly tragic circumstances (see entry for 8 Apr 17) leaving a 13-year-old daughter who discovered his body.
The RNCDA has started a crowdfunding appeal which is available here:
JustGiving: We're raising £3,000 to give a Divers' Send off for Ex LS(D) Kevin Winwood
Please access the linked page and act accordingly.
---
10 Apr 17 - SNMCMG1 participates in Exercise ARIADNE
The NATO website contains this article describing the participation of Standing NATO Mine Countermeasures Group 2 (SNMCMG2) in Exercise ARIADNE 17 off Greece. The participants included 14 ships of different classes from Egypt, France, Germany, Greece, Italy, Poland, Romania, Spain and Turkey as well as several explosive ordnance disposal (EOD) teams, a ship-based helicopter and Mirage 2000 fighter jets.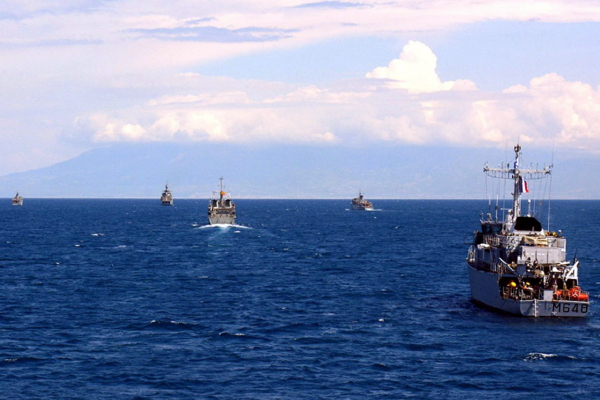 SNMCMG2 with other units during Exercise ARIADNE 17
(NATO website photo)
SNMCMG2 was represented by the Polish flagship ORP Kontradmiral Xawery Czernicki, the Spanish minehunter ESPS Tajo, the Turkish minehunter TCG Alanya and the German minesweeper FGS Rottweil. The Group was augmented by the Spanish minehunter ESPS Duero and the Romanian minesweeper ROS Axente.
Reportedly, SNMCMG2 is about to be commanded by the RN for the next 12 months.
---
8 Apr 17 - Another untimely death
It seems to be another sickly season. I have heard on the grapevine that ex-LS(D) Kev Winwood has passed away. He served in the Portsmouth B&MD Team, SNICDT and HMS Challenger among other ships and units.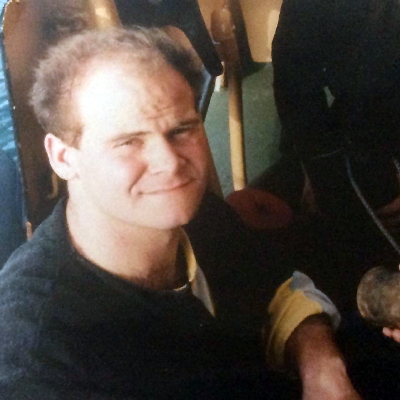 Kev Winwood
(Photo courtesy of MCDOA member Richard 'Soapy' Watson)
---
7 Apr 17
SDU1 deals with unexploded anti-tank mine
The Plymouth Herald website contains this article describing this morning's call-out for members of Plymouth-based Southern Diving Unit 1 (SDU1) to deal with an unexploded anti-tank mine uncovered during the renovation of a hotel at Woolacombe on the north Devon coast.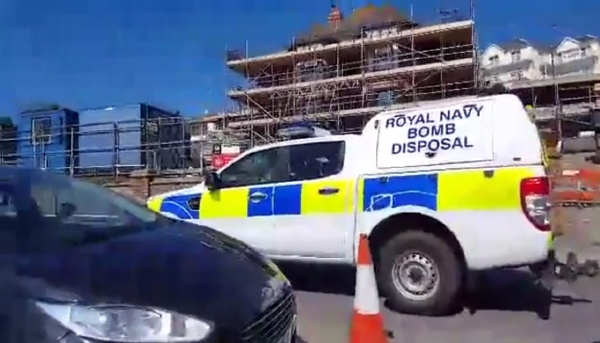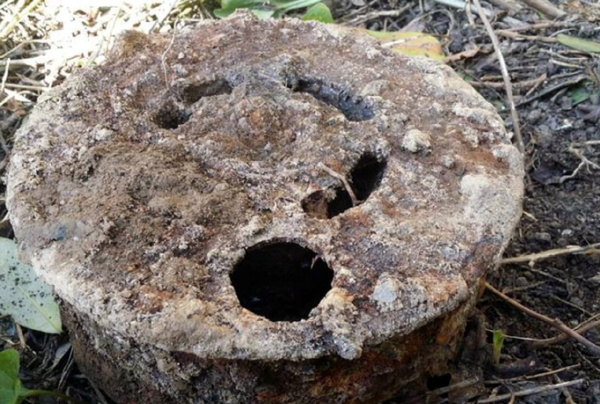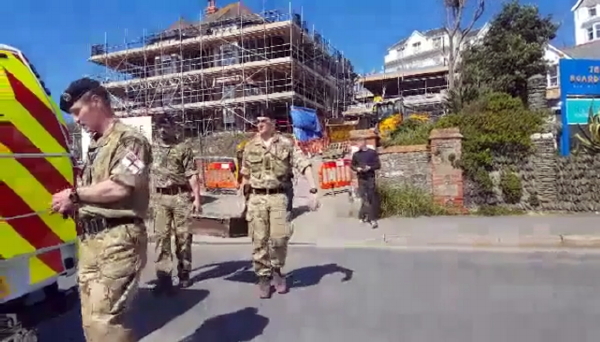 ---
Unveiling of the world's first successful diving helmet
People gathered in gorgeous weather today at the Historical Diving Society's museum at No. 2 Battery in Stokes Bay for the unveiling of the world's first successful diving helmet (circa 1823). Cllr Lynn Hook (the Mayor of Gosport) performed the honours accompanied by Kevin Casey (the Museum Officer). The helmet is on a three-year loan from the Science Museum and it has cost the Diving Museum £21,000, through a grant from the South East Museum Development Programme, to help buy items such as a cabinet in which to display the mask together with an alarm system.
Discerning readers may recognise MCDOA associate members Dr John Bevan (world record-breaking deep diver, HDS Chairman and Project Vernon trustee) and Gavin Anthony (formerly of the Royal Naval Physiological Laboratory (RNPL) at Alverstoke) plus former Clearance Diving Branch members John Dadd BEM, Jim 'Tommo' Thomson, Mike O'Meara and Dusty Miller who are volunteer guides at the museum. Former WO(D) Andy Brunton MBE, representing JFD, and former SBS diving officer Don Shiers, founder of Consortium Underwater Engineers Ltd, were also present.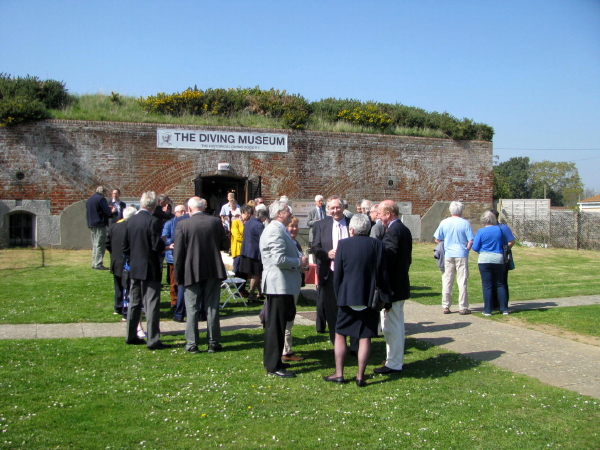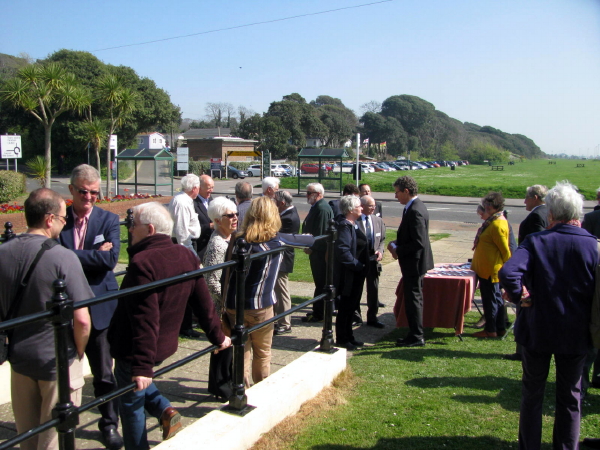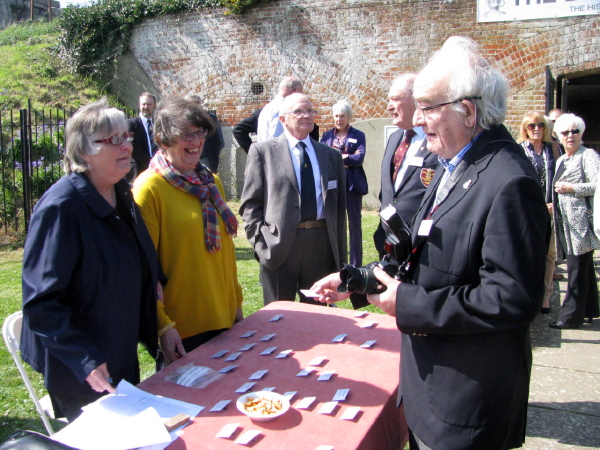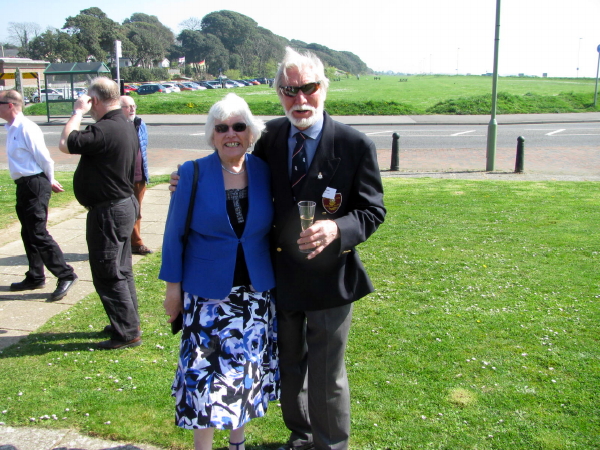 Former FCPO(D) John Dadd BEM with Mrs Webmaster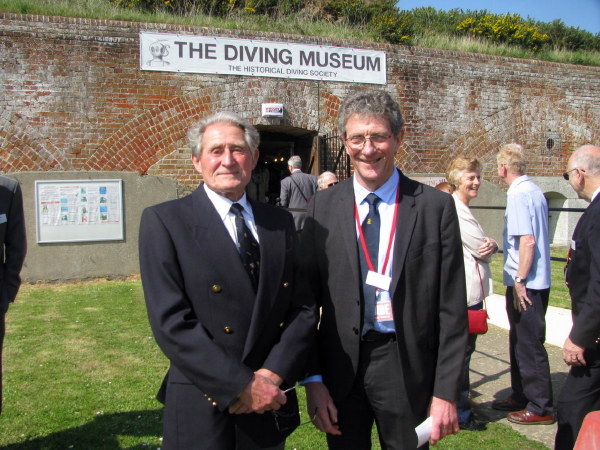 Ex-CPO(D) Dusty Miller with Kevin Casey, the Museum Offiicer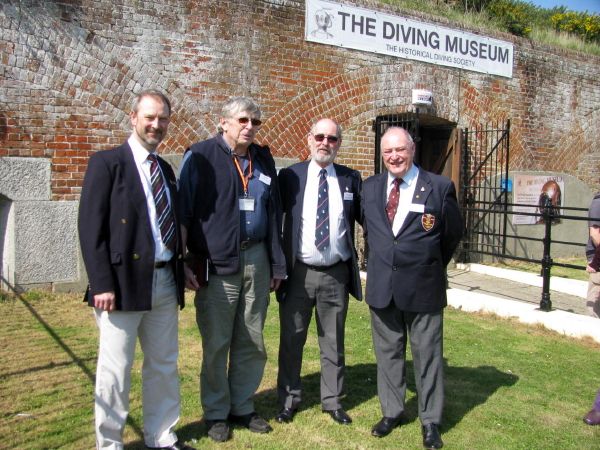 Garry Wallace-Potter, Peter Dick (Editor of the HDS Times), Yours Truly (Rob Hoole)
and ex-CD Jim 'Tommo' Thomson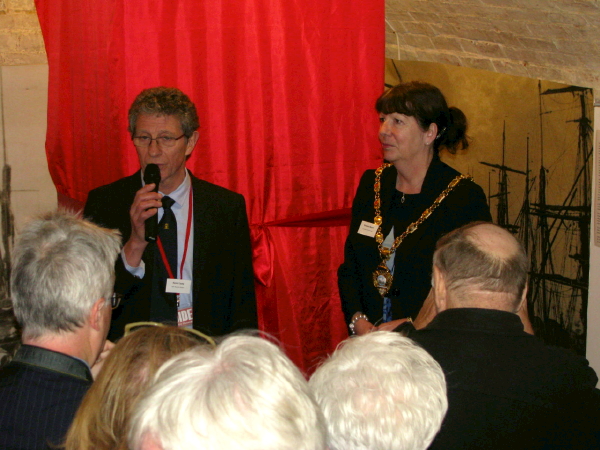 Kevin Casey the Museum Officer and Cllr Lynn Hook, Mayor of Gosport, starting the proceedings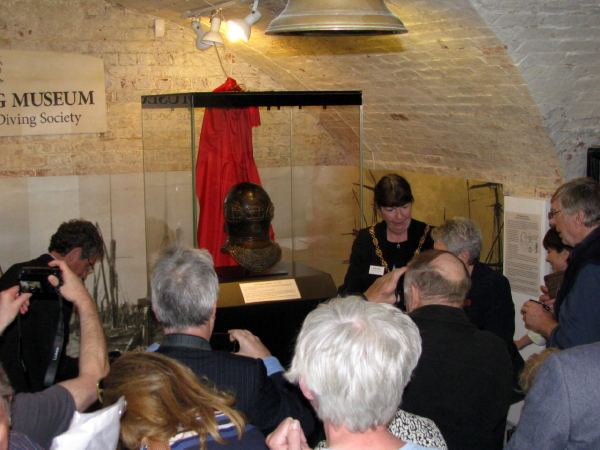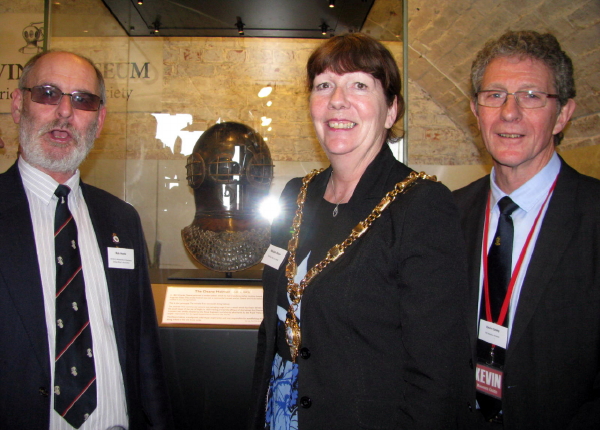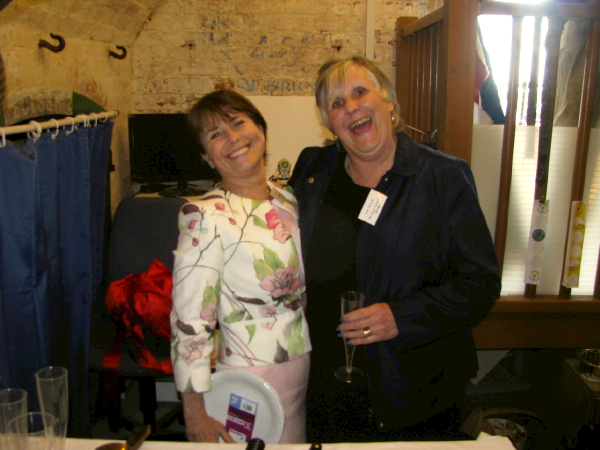 Ann Bevan and Una Smillie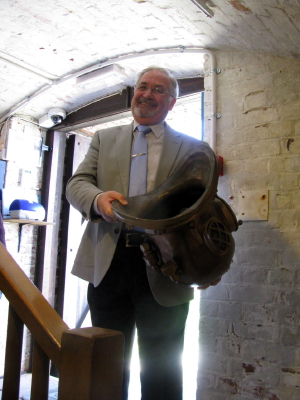 Give us yer money!
Charles and John Deane (1800-1884; known as The Infernal Diver) were the inventors of the diving helmet and have associations with Gosport. The helmet was used by Augustus Siebe as the basis for his first 'closed' 12-bolt diving helmet with which we are familiar today. In 1823 Charles Deane patented a "Smoke Helmet" to be used by firemen in smoke-filled areas. The apparatus comprised a copper helmet with an attached flexible collar and garment. A long leather hose attached to the rear of the helmet was to be used to supply air, the original concept being that it would be pumped using a double bellows. A short pipe allowed breathed air to escape. The garment was to be constructed from leather or airtight cloth, secured by straps. This was later developed into a diving apparatus when Deane altered the design with his brother, John. The helmet was used to dive on shipwrecks such as the Royal George in 1834 and the Mary Rose in 1836.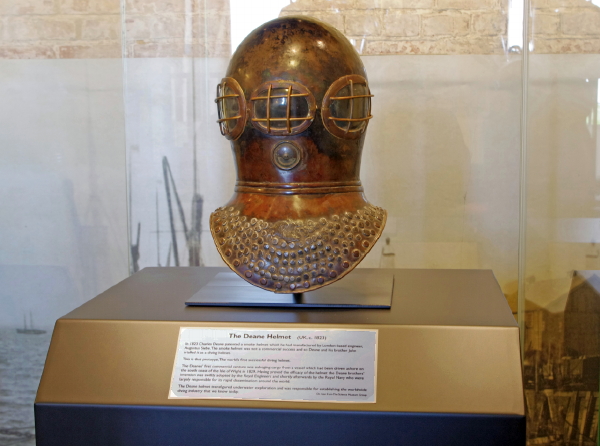 The centre of attention
Read more about the helmet's background here on Wikipedia:
The diving museum has certainly come a long way since our small band of volunteers first started work on the derelict structure which now houses it. Next objective, the Vernon Monument. Please provide all the support you can, and then some.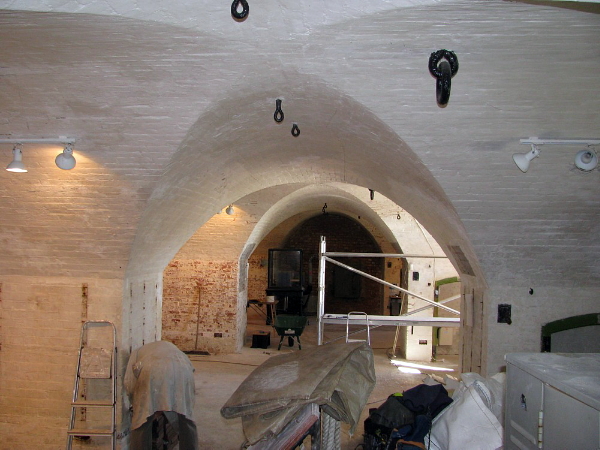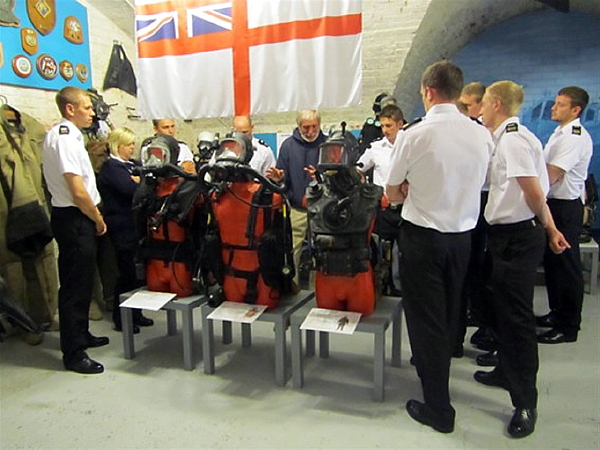 ---
6 Apr 17 - Death and funeral arrangements for ex-LS(CD2) David William 'Tilly' Tyzack MSM
I was saddened this morning to receive this email announcing Tilly's death:
"Good morning Sir,
By way of introduction, I am WO2 Colin Shearsby RM and have the dubious honour of being the Vice Chairman of the North Devon Royal Marines Association.
It is with regret that I inform you of the passing of one of your members - Dave "Tilly" Tyzack, Service number P/JW898422. Dave was also one of our stalwart members, attending functions and often out collecting with us...and normally having a laugh with the general public where he blamed "the booties" for making him stand in the cold, wet areas, especially as he was Senior Service.
He also assisted me by marshalling the Chivenor airfield leg of the Barnstaple Marathon where he took great delight in telling the runners (who had completed about 18 miles) that the end was just around his corner. In fact, just around Dave's corner was about a mile and a half of flat land where you could see other runners disappearing into the distance..!!
Dave's funeral will be held at 1430 on Monday 10 April 17 at the Methodist Church, Sticklepath, Barnstaple EX31 2DH followed by a family-only service at the crematorium. There will be an honour guard of serving Royal Marines and retired ranks from all Services and the coffin will be draped with the White Ensign, whilst also bearing his beret and medals.
On the subject of medals, we have noted he had a Mention in Despatches with a clasp for Near East - could you shed any light? The picture also shows his MSM."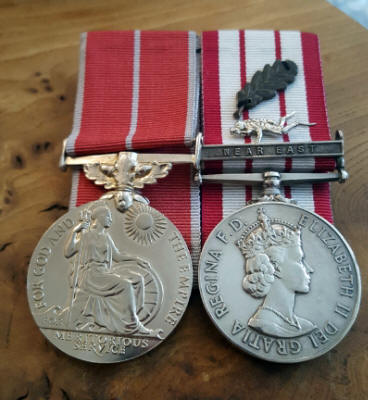 I am too young to have served with Tilly but I met him at various reunions and funerals.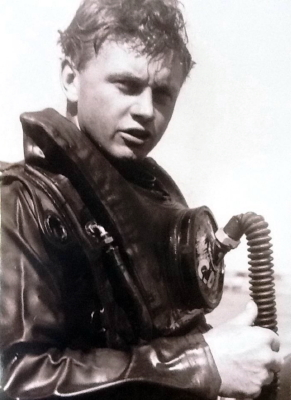 Pages 49 & 50 of the RN Diving Magazine Vol 5 No 1 (April 1957) contain an article titled CLEARANCE DIVING TEAM (AMPHIBIOUS) which covers the disbandment of what constituted the last remnant of the LCOCUs (Landing Craft Obstacle Clearance Units - informally called 'LOCKUs' - the RN & RM teams first ashore on D-Day) and its subsuming by the RM SBU (fore-runner of the SBS or was it a sub-unit?). The article mentions Dave 'Tilly' Tyzack as a member of the team.
MCDOA member Harry Parker, OIC of the CDT (Amphib) and author of the article in the Diving Magazine, is still very active and lives near Edinburgh. I have just told him on the phone about Tilly's death and he can provide no information about the Mention in Despatches oak leaf on the ribbon of his Naval General Service Medal (1915) with Near East clasp (Suez Canal 1956). He is not listed here whereas Harry is:
Naval-History.net: SUEZ CAMPAIGN, OPERATION MUSKETEER, November to December 1956
I have been unable to find any reference in the London Gazette website's archives to either the Mention in Despatches or the British Empire Medal (not an MSM) in the photo above but I will keep looking.
Page 5 of the RN Diving Magazine Vol 8 No 2 (June 1961) contains a Special Order of the Day announcing the award of a Commander-in-Chief's Commendation to Tilly for rendering first aid to a ship's diver from HMS Londonderry.
Page 13 of the RN Diving Magazine Vol 9 No 1 (April 1962) contains an article titled S.E.A.T.O Exercise by CPO(CD1) 'Mac' McKinley and Tilly describing the participation of the Hong Kong Fleet Clearance Diving Team in an exercise in Thailand.
Tilly started on the CD1 course in 1963 but did not complete it. According to his old course mate Gerry 'Pincher' Martin with whom I have just spoken, he left the Royal Navy shortly afterwards and joined the police force in Bournemouth.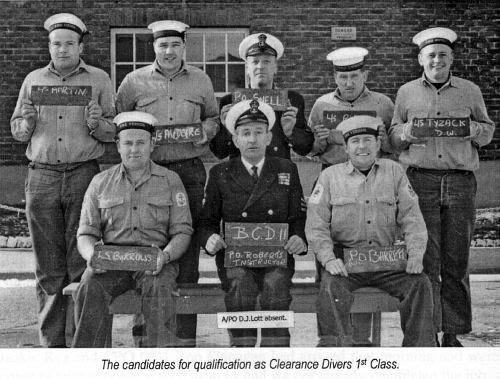 Dave 'Tilly' Tyzack (standing far right) on CD1 course at HMS Vernon in 1963
(Photo courtesy of former FCPO(D) Dave 'Mona' Lott BEM)
I hope Plymouth-based Southern Diving Unit 1 (SDU1) can spare a uniformed representative to attend Tilly's funeral. In the meantime, I am sure that all in our community will join me in extending our condolences to Tilly's family, close friends and former colleagues.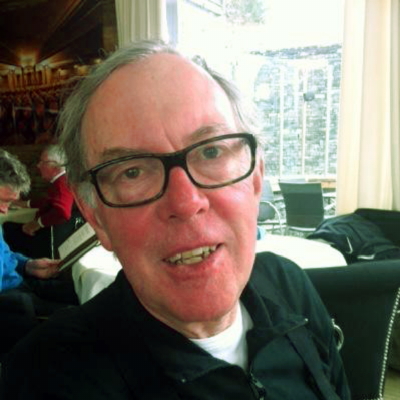 ---
From ex-CD Jim Tommo' Thomson:
"HI Rob,
Thank you for passing the sad news! Tilly was a killick twosie, when I was in Vernon in 1963. A few months ago he contacted me for some information on UBA, as he wanted to give a talk about CDs to a Ladies association in October. I asked him to send me the story of when he met 'Buster Crabb', I can't remember if I previously sent it to you so here it is:
"Hi Tommo,
Here is what I recall about Buster Crabb's visit to HMS Vernon in 1955.
My CD3 Course was nearing its end. I'm not sure of the exact date but the five of us remaining qualified in December 1955. There was myself Dave (Tilly) Tyzack, Ginger Bichard, Dave 'Mona' Lott, Frank (Darkie) Newman, Horrie Horrocks and our Instructor Taff Roberts. We had completed our morning dive in Pompey harbour and laid our topped-up sets on the deck of HMS Deepwater ready for the afternoon's dive. We were having our lunch in the dining mess in Vernon when the Alarm for "Exercise Awkward" sounded. We, being senior class, had to get to Deepwater as quick as possible to repel enemy frogmen.
We swiftly dressed up and onto O2. As we were about to jump into the harbour, Taff Roberts called "Stop. Off O2". He then introduced us to a short tubby man with reddish greying hair and long side burns. This was Commander Buster Crabb (retired). We had a vague idea who he was.
Taff then got myself and my dive partner Ginge Bichard to get him dressed up for a dive. When ready, we jumped into the harbour and Buster climbed down into the water. It took us several attempts to get him down, he got a nose bleed and had difficulty clearing his ears. Eventually we got him down to about 25ft. Our detail was to swim him up the harbour towards the reserve fleet and Portchester Castle. Keeping close to the jetty we swam under a couple of British warships, the next one we knew to be an American plus we knew that they have armed deck patrols even in the UK.
Buster swam up towards the sonar dome and produced a length of knotted cord and was about to start taking measurements. We got hold of him and indicated "No" and pulled him down to about 30 ft. We knew that the Americans would have dropped explosive charges if they suspected frogmen were nosing about under their ship. We swam him away towards the centre of Pompey Harbour where we knew Taff and our standby divers would be, ready to pick us up. We surfaced and got him in the safety boat. We informed Taff why we had surfaced so early. He turned to Commander Crabb and told him that it has cost thousands to train us young divers and to endanger us in such a way. The language then turned to Taff's native tongue that made us blush (Ha Ha).
We returned to Vernon where we made written statements in case anything came of our venture. That was the last we saw of Buster.
Shortly after this we qualified and in January I got my posting to join the Diving Attack Team based in Royal Marine Camp (Swimmer Canoist) now know as SBS Poole, Dorset. It was later in 1956 that we heard stories of Crabb's venture to explore a Russian battleship visiting the UK.
Hope this is okay.
Tilly"
RIP Tilly. Unfortunately I can't get to the funeral.
Same subject I'm afraid. Ex-CD1 Les 'Slinger' Wood EX CD1 told me this morning from Brisbane on Skype that Barry 'Baz' Davis, ex-CD1, offshore Diver and Life Support Tech, passed away suddenly on the 31st. of March, in Plymouth. The three of us worked together sometimes, RN and Offshore.
RIP Baz.
Best regards,
Tommo"
---
5 Apr 17 - A chat with former CPO(D) Alan Broadhurst
Alan and I sat and chatted in the sun this afternoon at St James Hospital in Milton where he is convalescing (see second entry for 22 Mar 17 in News Archive 57).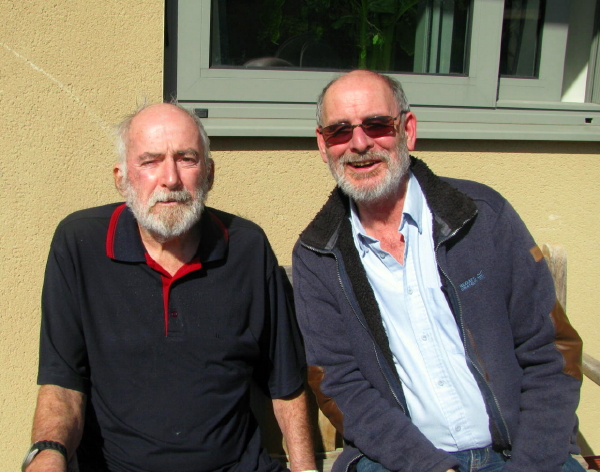 He sends everyone his regards.
---
4 Apr 17 - Arrangements for the funeral of former FCPO(D) Peter 'George' Hann Alderton BEM
George Alderton's funeral will take place at Weston Mill Crematorium, Plymouth PL2 2HA at 1000 on Wednesday 12 April (see entry for 31 Mar 17).
---
2 Apr 17 - Minehunter crews to man Offshore Patrol Vessels
The Royal Navy website contains this article announcing that MCM2 Crew 6, which recently returned from manning HMS Middleton on Operation KIPION in the Gulf, has taken over HMS Tyne in the Fishery Protection Squadron. The temporary ship-swap project called JICARA allows HMS Tyne's previous ship's company to bring into service her new sister ship HMS Forth, the first of five Batch 2 River class OPVs being built in Scotland. Later in the year, MCM2 Crew 7 (currently manning HMS Ledbury) will take over HMS Mersey allowing her crew to move on board HMS Trent.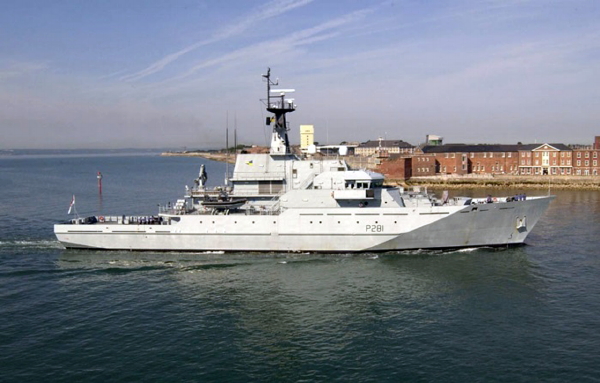 HMS Tyne entering Portsmouth hrbour
(RN website photo)
The article features MCD officer Alex Coleman, PO(D) 'Toby' Jones and LS(MW) 'Eddie' Edmonson.
---
1 Apr 17
Tower beside Horsea Lake to be replaced
On Thursday afternoon I found myself at Horsea Island where I renewed contact with Ldg Divers Kev McBride and Dave 'Mac' McNamara. Kev is married to an old family friend (see entry for 15 Mar 17 in News Archive 57) and I first met Dave when he was among the members of the Fleet Diving Squadron (FDS) attending the Ouvry 70th Anniversary Commemorative Event on board HMS Belfast in 2009 (see entry for 27 Nov 09 in News Archive 28).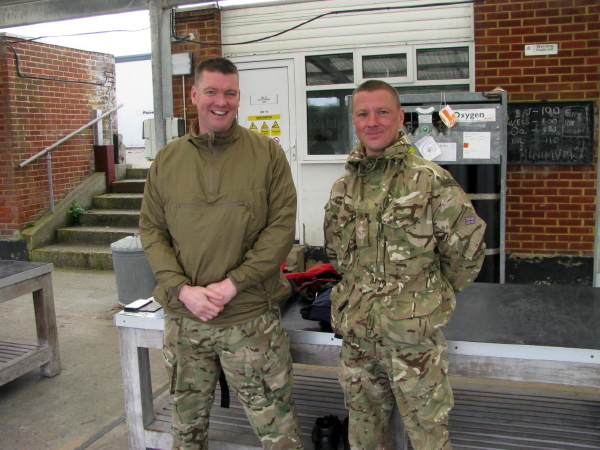 Ldg Divers Kev McBride and Dave 'Mac' McNamara
Kev and Dave were overseeing circuits being performed by members of HMS Dragon's ship's company. I chatted with Ldg Chef Richard 'Richie' Burden and Chef Lana Marshall who were watching their shipmates with some glee.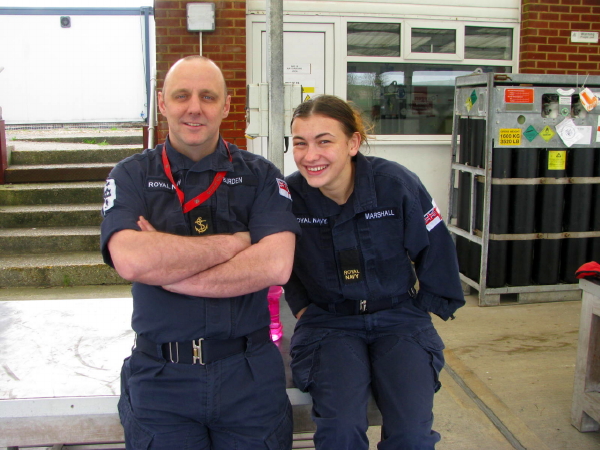 Ldg Chef Richie Burden and Chef Lana Marshall of HMS Dragon
The old tower, familiar to generations of trainee divers performing circuits at Horsea, is now in a sad state and has been condemned as structurally unsafe. It was reduced to two boards several years ago but is now cordoned off completely.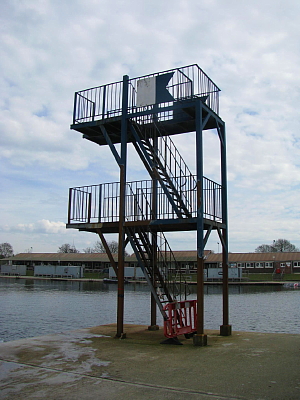 The remains of the condemned tower
Trainee divers are currently climbing and jumping from a mobile aircraft boarding ladder pending the construction of a new purpose-built tower.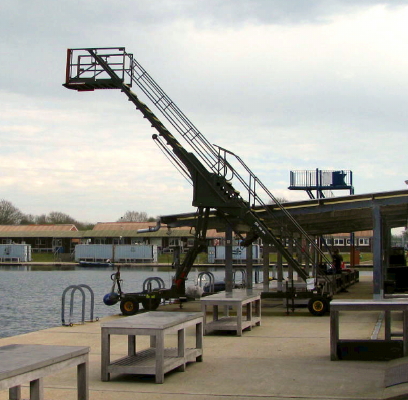 The mobile aircraft boarding ladder currently used at Horsea
Who else remembers the wonderful Horsea Island barbecues organised on summery evenings by the late Jimmy James? Jimmy, a long-retired Supply officer, was the Wardroom Mess Manager at HMS Vernon for decades and was elected an associate member of the MCDOA for services above and beyond the call of duty. He was a keen supporter of our social events and we were all smitten by his death in 2004 (see entry for 25 Apr 2004 in News Archive 6).
The late MCDOA member Frank Ward with Jimmy and Mary James
at an MCDOA Ladies Night in 2002
One of the highlights of the wardroom barbecues Jimmy organised on Horsea Island (where he had been born and lived as a child) was to strip off and leap into the water from the top board of the tower. We then swam out to place candle-powered 'port' and 'starboard' lanterns on the pontoon moored in the middle of the lake. In those days the tower had four boards, having been designed to be the same height as the flight deck of the Majestic class aircraft carrier HMS Massive.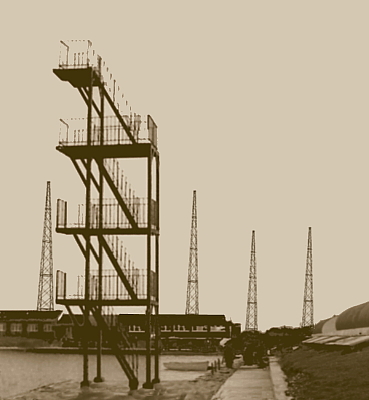 The original tower at Horsea Island prior to the removal
of the upper two platforms
---
A diving watch with a difference
An essential acquisition for all the bling collectors obsessed with paying thousands of pounds for the latest 'limited edition' diving watch that goes up to 13:
Bremont website: Diving watch with unique shark recognition technology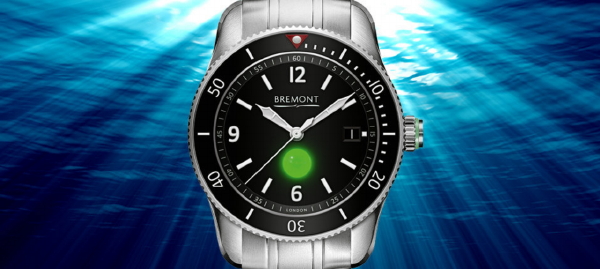 ---