(First published in the Jan/Feb 2006 (Vol 9 No 9) issue of Warship World and subsequently in the August 2006 (Vol 93 No 3) issue of the Naval Review)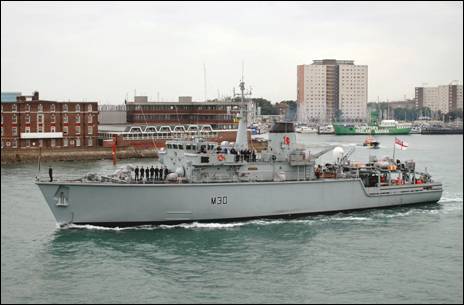 HMS Ledbury "The Last Minesweeper"
According to HMS Middleton's news page on the Royal Navy website, the minesweeping evolutions she conducted with HMS Ledbury off the Isle of Wight on 12 October 2005 constituted "the final deployment of sweep gear by the Royal Navy". As a former Minewarfare & Clearance Diving Officer, I felt extremely privileged to be invited to embark in HMS Ledbury for this significant occasion and was able to take this photo of her sweepdeck crew who were MCMG Course ratings on board for the week. They had just streamed the Combined Influence Sweep for the last time and had streamed the Oropesa mechanical wire sweep the previous day.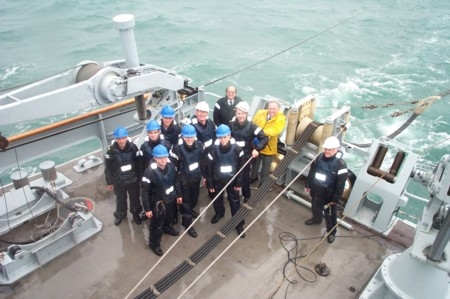 HMS Ledbury's Sweepdeck Team
At the time of writing, there had still been no official confirmation by the MOD but the withdrawal of minesweeping from the RN complies with its long-held objective of 'removing the man from the minefield'. This dictum should not exclude the future deployment of sweeps from remotely operated platforms should an Urgent Operational Requirement (UOR) arise, as in the case of the Shallow Water Influence Minesweeping System (SWIMS) used in the extremely murky estuarine waters of Iraq in early 2003 during Operation TELIC. In future, resources previously invested in mechanical and influence minesweeping systems are likely to be concentrated on minehunting systems and Remotely Operated Vehicles (ROVs) instead.
This historic event marked the end of more than 100 years of conventional minesweeping in the Royal Navy. At the start of the 20th Century, mine countermeasures (MCM) against existing crude moored contact mines were limited to dragging chains across the seabed between pairs of trawlers or fitting a variety of self-protective cow-catcher devices to the bows of warships. In December 1907, the Admiralty leased two Grimsby trawlers to trial a modified fishing trawl against a field of dummy moored mines at Portland. In 1908, this device was accepted into service as the 'A' (Actaeon) sweep and fitted to various types of vessel. At the same time, the Trawler Reserve was instituted for the mobilisation of 100 trawlers and 1,000 officers and ratings during periods of tension. By the end of WW I, the Trawler Reserve numbered 39,000 officers and men of whom 10,000 were employed in minesweepers.
At the beginning of WW I, British regular minesweeping forces comprised five Alarm and five Sharpshooter Class ex-torpedo gunboats that had been fitted with the 'A' sweep in 1908/9. One of these, HMS Circe, had been built in 1892. By the end of the war, British minesweeping forces totalled 726 vessels stationed at 26 home ports and 35 foreign bases. These included 110 purpose-built minesweepers, 412 trawlers, 142 drifters, 52 hired paddle steamers and 10 Dance Class 'Tunnel Tug' shallow draught minesweepers. The Germans had laid 43,636 mines worldwide including 1,360 minefields containing 25,000 mines in British waters. These were reckoned to have sunk 46 major RN warships, 259 merchant ships and 63 fishing vessels and damaged a further 84 merchant vessels. A total of 586 Allied merchant ships, representing 1,000,000 tons, were thought to have been lost to enemy mines and 214 minesweepers had been lost during hostilities.
During WW I, the torpedo establishment at HMS Vernon developed high speed wire sweeps for destroyers and introduced paravanes for the self-protection of major warships and merchant ships. These developments culminated in the Oropesa Mk 1, named after the trawler involved in its trial. This wire sweep could be deployed by a single sweeper but was not formally accepted into service until 1919. The Oropesa sweep was kept at the required depth by a multi-vane kite otter. Its end was diverted laterally by another kite on its side, or by an otter board, suspended beneath a streamlined float. A 'V' cutter at the end of the sweep severed the mooring cable of any mine left uncut by the serrated wire. The sweep proved effective in several types of vessel.
At the beginning of WW II, regular RN minesweeping forces comprised 40 fleet minesweepers of which 23 were ex-WW I coal-burning Improved Hunt (Aberdare) Class fleet minesweeping sloops (Smokey Joes) laid up at Malta and Singapore. The remainder comprised 17 Halcyon Class Fleet minesweepers and there were 4 minesweeping trawlers. By the end of the war, the RN had over 1,200 minesweepers in operation including Algerine, Halcyon and Bangor Class fleet minesweepers, British American Minesweepers (BAMS), Motor Minesweepers (MMS or 'Mickey Mouse') and British Yard Minesweepers (BYMS) as well as converted trawlers and drifters. 50,000 personnel were involved in minesweeping in the RN and the RN Patrol Service (RNPS - otherwise known as 'Harry Tate's Navy). The Germans laid over 120,000 mines and 30,000 minesweeping obstructors in north-western Europe alone plus many more in the Mediterranean. These were reckoned to have sunk 281 British warships of all types and 296 merchant vessels (521 Allied merchant ships altogether) and over 300 minesweepers, including 170 trawlers, had been lost during hostilities.
When the first German magnetic mine appeared in 1939, colliers were requisitioned and converted into mine destructor ships with huge electro-magnets in their holds. Scientists at HMS Vernon then developed the Magnetic Sweep Mk 1 (or 'M' Sweep) comprising thirty-four 27 inch-long magnetized bars towed on pendants 40 feet long and spaced 15 feet apart. The 'M' Mk 2 sweep, nicknamed 'the bosun's nightmare', carried seventy 27 inch magnets spaced 10 feet apart across its swept path of 700 feet. This in turn was replaced by the far more successful 'LL' magnetic sweep comprising two buoyant cables of different lengths equipped with strings of electrodes at their tail ends. A petrol-powered 35kW generator set and batteries pulsed the sweep at 3000 amps for 5 seconds each minute.
When the first German acoustic mine appeared in 1940, the Sweeping Division of HMS Vernon's Mine Design Department responded with the Sweep Acoustic (SA) hammer box. This contained a 'Kango' pneumatic road drill or an electrically driven riveting hammer striking a 7/16 inch thick 19 inch diameter steel diaphragm but the pneumatic hammers proved more reliable than the electric type. The 'A Mark 1' hammer box was fitted in the flooded bow compartment of converted trawlers but later versions were deployed on a boom over the bow. By 1942, the hammer box was common in a variety of minesweepers and sometimes towed abeam with the LL magnetic sweep. Later in the war, the Oropesa Mk 1 mechanical sweep was augmented by the lighter Oropesa Mk 2 which could be towed by small craft such as motor launches (MLs) or converted Landing Craft. This shallow water sweep, based on a German design, came into its own during the defence of Malta, the Normandy invasion and later in the Scheldt estuary.
Towards the end of the war, the Germans laid 'Oyster' pressure mines and experiments were conducted against these using a range of conventional minesweepers, large displacement ships, motor torpedo boats (MTBs) and steam gunboats (SGBs). Barges, honeycomb structures called 'Stirling Craft' and linked flotation tanks called 'Egg Crates' were towed across the mines but all met with unimpressive results. These ground influence mines proved so difficult to sweep that efforts were redoubled on producing minehunting systems that would eventually obviate the need to sweep.
In the 1950s, the Oropesa Mk 2 mechanical sweep was followed by the Wire Sweep Mk 3 (WS 3) fitted in 119 new Ton Class Coastal Minesweepers (MSCs). This sweep was streamed as a single Oropesa from one quarter or as a double Oropesa from both quarters. It was also deployed as an Armed Team Sweep (ATS) using two or more sweepers linked together and a Deep Armed Team Sweep (DATS) was achieved using the larger 'Algerine' kite to depress the sweep. Influence sweeping was performed with the Combined Towed Acoustic Sweep Mk 1 (CTAS 1) and Loop. This comprised an Acoustic Hammer (AH), an Acoustic Displacer (AD) and a pipe noisemaker, each producing different acoustic frequencies, towed in combination with the Magnetic Minesweep Mk 11(L) loop. Various configurations or 'rigs' were used depending on the type of mine expected.
In 1979, HMS Brecon was the first of 13 Hunt Class Coastal Minehunter/Sweepers (MHSCs) to enter service. These Glass Reinforced Plastic (GRP) constructed ships were equipped with the non-magnetic Wire Sweep Mk 8 (WS 8), streamed as a single ship Oropesa or as a Team Sweep. They were also fitted with the Combined Influence Sweep (CIS) comprising the Minesweeping System (Acoustic) Mk 1 (MSSA 1) with the Magnetic Sweep Mk 14 (MS 14) buoyant loop. With the CIS in closed-loop mode, a Towed Acoustic Monitor (TAM) provided feedback to the ship so the output of the Towed Acoustic Generator (TAG - known during its many years of trials as Osborne) could be optimised for prevailing environmental conditions.
In 1982, five commercial trawlers (Pict, Cordella, Farnella, Junella and Northella) were taken up from trade, fitted with wire sweeps and deployed to the Falkland Islands during Operation CORPORATE. They swept the Agentinian moored minefields off Port Stanley before the arrival of HMS Brecon and HMS Ledbury which used their minehunting sonar, submersibles and divers to find and dispose of the remaining mines and sinkers.
In 1986, the first of twelve steel-constructed River Class Minesweepers Fleet (MSFs) was introduced for service with RNR divisions. This was fitted with the Wire Sweep Mk 9 Extra Deep Armed Team Sweep (EDATS) for use against deep-laid short-tethered rising mines. In 2003, the UK developed and deployed the Shallow Water Influence Minesweeping System (SWIMS) as an Urgent Operational Requirement (UOR) to help clear the Shatt Al Arab and approaches to the port of Umm Qasr during the Iraq War. Combat Support Boats (CSBs), controlled remotely from MCMV mother ships, towed the Australian Defence Industries (ADI) Mini Dyad System (MDS) and Pipe Noise Makers (PNMs) ahead of the RN minehunters as precursor sweeps against ground influence mines.