MISCELLANEOUS PHOTOS

1949 - LS (later Lt Cdr) Doug Barlow with best man PO (later SofD and Capt RN) Arthur Checksfield

1950 - Diving Tender HMS Dipper
(not actual size)

1951 - PO (later Lt Cdr) Doug Barlow (last in middle row) with AB (later Lt Cdr) Tag Caisley (first in front row) - HMS Liverpool

1954 - Lt Cdr Morty Drummond (second officer from right) in Algerine Class minesweeper HMS Jaseur in Malta

1958 - Far East Fleet B&MD Team - CO Peter Messervy

1968 - LMCDO course at EGUERMIN, Ostend

1973 - Barlow & Hoole in one of Vernon's Bosun dinghies (N.B. all the windswept hair!)

1973 - LMCDO night out in Southsea: Moore, Stribley, Dance, Bayliss, Leach, Kooner, Epperson (USN), Rashleigh (RAN)

1975 - Hoole on board Cousteau's Calypso in the West Indies

1981 - Hoole (right) with best man Barlow (left) Bonvilston, South Glamorgan

1982 - Hoole (left) & Wiseman (right) hang around towards end of 54m dive off Cyprus

1982 - Wiseman (centre) & Hoole (far right) after 54m dive off Cyprus

1986 - Wiseman & Hoole at Rosyth

Sherman takes a giant leap for Diverkind

Sherman reports well

Dougie the Diver (open at your peril!)

Examples of RN Diving Equipment

1989 - HMS Berkeley (now HNS Kallisto) in Gulf - Hoole (CO), Davies (XO) and Ashcroft (Ops)

1989 - HMS Cottesmore in Gulf - Mansbridge (CO), Poole (XO)

Compass Swimmer

2002 - Hoole's last dive in RN

The five pictures below were provided by John Lang. All relate to his time as 1st Lt of HMS Kirkliston, 1969-1971 in Hong Kong as part of the Minewarfare Squadron. His ship was 2nd in command and the Kirk's COs during his time were Lt Cdr Mike Cole (FAA Observer) and Lt Cdr Ian Robinson (Gunner).

Lt John M Lang with a young disabled girl on the foc'sle of Kirkliston.

One of the projects he was very keen on was entertaining disabled youngsters. Kirkliston adopted this crowd from a special school in Hong Kong and this was a day at sea for them. As you can see everyone was thoroughly enjoying themselves.

The famous Suzie's Sideparty painted their ships and here's John with Lt Dave Forsey, 1st Lt of the squadron's senior ship (HMS Maxton if memory serves right) chatting to two of the girls from the side party. The girl to the rear was a sidekick of Suzie and was in charge of the gang painting Kirkliston during John's time as 1st Lt.

Dummy mine being recovered during exercises.

Minehunting short-scope buoy being recovered.

GOLDEN JUBILEE OF THE RN CLEARANCE DIVING BRANCH
The thumbnail photos below (click to enlarge but expect longish download times) feature mainly MCDOA members during RN CD Branch Golden Jubilee reunion events in Portsmouth over the Bank Holiday weekend 3-5 May 2002. The full programme of events was organised by a committee comprising Rob Hoole. Les Sharpe, Nick Carter and John Cobb. About 300 attended the reunion in the Home Club on the Friday and over 400 attended the dinner dance at the Guildhall on Saturday.
The weekend saw a good cross-section of divers past and present, ranging from ex-'P' Party members, Surgeon Vice Admiral Sir John (Doc) Rawlins KBE, FRCP, FRAeS (pioneer of naval diving medicine), Capt Chris Massie-Taylor OBE (MCDOA President & senior serving member of the Branch), Cdr Simon Nicholson (MCDOA Chairman & Superintendent of Diving) and Cdr Chris Ameye (CO of the Defence Diving School) through to current members of diving teams and ex-CD 3s (many of whom now seem to be company directors); not forgetting, of course, all the wives and partners at the dinner.
The weekend was rounded off nicely with a thanksgiving service at St Barbara's in HMS Excellent followed by refreshments in the Whaley Club. At the church service, Trevor Lynn (twice former Padre of HMS Vernon) delivered a highly entertaining address. It seems that when he first joined Vernon as a green young chaplain, he was told he would be expected to conduct baptisms in the diving helmet. "How will people hear me?" he asked. Some time later, he was actually photographed in the mining trials tank wearing full standard dress complete with taped-on dog collar and crucifix.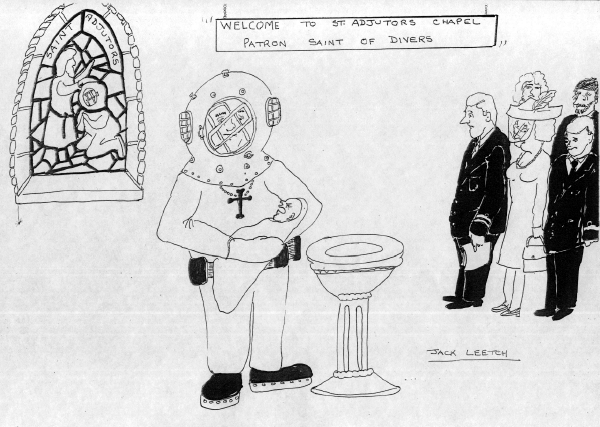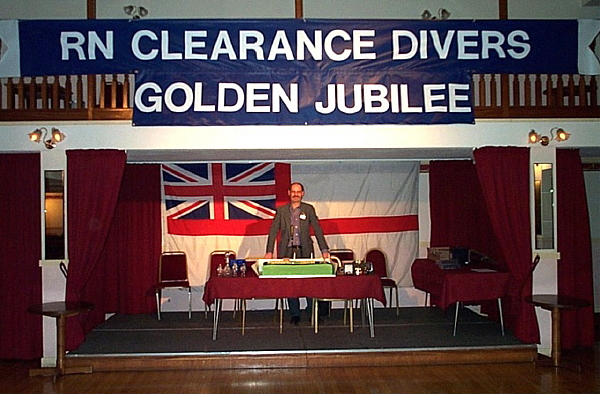 GOLDEN JUBILEE REUNION STAG NIGHT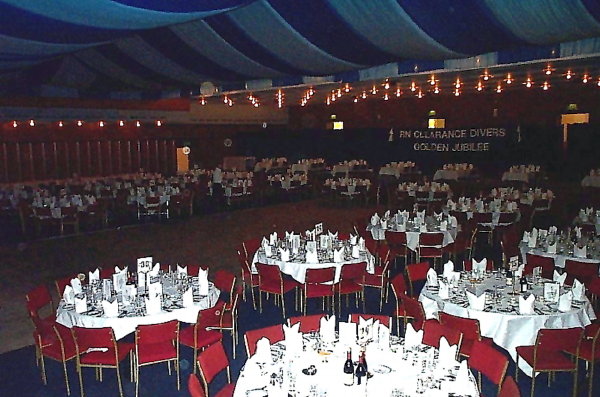 GOLDEN JUBILEE DINNER DANCE