Items from The News, Navy News and Warship World are reproduced by kind permission of David Brown, Jim Allaway and Mike Critchley respectively. Click on the thumbnails to enlarge them.
---
30 Sep 2004 - More on HMS Grimsby's Collision
The following item from today's Portsmouth News provides more details about yesterday's collision of HMS Grimsby with the Tilbury to Gravesend Ferry.

---
29 Sep 2004 - HMS Grimsby in Collision on Thames
HMS Grimsby collided with the Tilbury to Gravesend ferry 'Duchess M' early this morning, apparently after losing power. There were no casualties but the ferry, alongside at the time, has been put out of action. The excursion boat 'Princess Pocahontas' was also damaged.
---
25 Sep 2004 - Presentation about the Royal Navy
Commodore David Hughes, Naval Regional Officer for Eastern England, will give a talk on 'The Royal Navy Today' at the Liss & District RNA, the Royal British Legion Club, Rake Road, Liss, Hampshire starting at 2000 on Wed 6 Oct 04. If you wish to attend, please contact Bob Dean of the Ton Class Association on 01730 233596 or e-mail him at bobdean@tonclass.freeserve.co.uk. Apparently, the club has a well-stocked bar.
---
24 Sep 2004 - Mark Benians to sail in Global Challenge 2004
This year's Global Challenge round the world yacht race will start and finish at Gunwharf Quays (formerly HMS Vernon). MCDOA member Mark Benians (LMCDO '80) will sail the Buenos Aires to Wellington leg in BG Spirit and we wish him the very best of luck. His personal profile (including recent photo) can be found at www.bg-spirit.com/spirit/spirit_team_m_ben.htm. Mark will be around Gunwharf Quays during the race build-up and he hopes to be present at our annual dinner in Nov.

Programme of Events
25 Sep Yachts arrive Gunwharf Quays 1130 onwards.
26 Sep Public Open Day - Yachts open to visitors.
30 Sep - 3 Oct Gourmet French Market at Gunwharf Quays.
2 Oct Portsmouth Global Carnival. Parade starts Guildhall Square 1130 arriving Gunwharf Quays 1300.
2-3 Oct Race village plus maritime & gift fair. Music at the bandstand lunchtime & early evening.
3 Oct Race starts off Southsea Castle at 1330.
17 Jul 2005 Yachts return Gunwharf Quays.

Race Legs
Portsmouth (3 Oct 04) to Buenos Aires (3-7 Nov 04)
Buenos Aires (28 Nov 04) to Wellington (3-9 Jan 05)
Wellington (6 Feb 05) to Sydney (13-14 Feb 05)
Sydney (27 Feb 05) to Cape Town (4-10 Apr 05)
Cape Town (1 May 05) to Boston (3-9 Jun 05)
Boston (19 Jun 05) to La Rochelle (3-6 Jul 05)
La Rochelle (13 Jul 05) to Portsmouth (17 Jul 05)
Race Website
---
23 Sep 2004 - Thanksgiving Service for Captain Arthur Checksfield Royal Navy
MCDOA members Doug Barlow, Mike Gillam, Bob Lusty and Yours Truly (Rob Hoole) were privileged to be invited to attend a celebration of the life of former Superintendent of Diving Arthur Checksfield (see article and tributes dated 5 Aug) yesterday in the village of Fingest, Buckinghamshire where the tiny Norman church was packed to capacity. In a moving but cheerful service that ran along naval lines, Doug spoke about Arthur's eventful naval career, Mike read John Masefield's poem 'Roadways' and I called for 3 cheers at the end of the service.
Arthur lived in Lane End near Fingest with his second wife Veronica for 25 years following his retirement from the Navy. Tributes by family and friends described the huge impact he made on the local community. He set up a business called 'Sitting Pretty' for the manufacture and restoration of quality wooden furniture and bespoke bathroom fittings and even made wooden loo seats for sale in Harrods. He also dabbled in financial services, chaired local sports and fete committees, audited church funds, cut the grass in the churchyard, was Clerk to the Parish Council and was elected Chairman of the local branch of the Royal British Legion for 18 consecutive years.
After the service, a reception was held in the pub across the road from the church where examples of his exploits were displayed around the room. It is noteworthy that most of the locals knew little about Arthur's illustrious service career but held him in the highest esteem for his later achievements.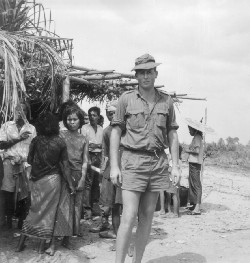 Big Arthur in Thailand 1959
---
20 Sep 2004 - MCDOA AGM, Operational Update & Annual Dinner 5 Nov 2004
Booking forms for these events are now available for download via the Upcoming Events page of the Members Only area of the website.
---
19 Sep 2004 - Minewarfare Branch Reunion
Congratulations to organiser Taff Reader and master of ceremonies Tony Mulrain for putting on such a splendid reunion in the opulent surroundings of the WOs and SRs Mess at HMS Collingwood last night. The three-course sit-down meal was cooked perfectly and incredibly good value at £15 per head.
Several familiar faces from the '70s and '80s were evident including Nigel 'Slim' Sizer, Dusty Miller, Ed Smith, Glyn 'Tommo' Thomas, Chris Howe and Dick Barton as well as many younger MW Branch members. Officers present included Tony Griffiths, Richard Hill, Rob Hoole, Paul McDermott, Tim Russell, Tom Russell, George Turnbull and Frank Ward.
---
14 Sep 2004
MCDOA Branch Update/AGM & Annual Dinner 2004
Our Hon Sec Tony Griffiths will produce application forms for this year's Branch Update/AGM and Annual Dinner (Fri 5 Nov 2004 at Fleet Diving Headquarters Horsea Island & HMS Excellent respectively) within the next week or so. A copy will be available for download via the Upcoming Events page of the Members Only area of the website in due course.
MCDOA members Taff Sweeney and Allan Rankin have announced their intention to travel from Australia to help celebrate the 25th Anniversary of their Long Course (LMCDO '79) at the dinner and it is hoped to have as many of the course present as possible. Other members of the course were Bill Chambers, Tim Curd, Colin Dodd, Sven Kalvoe (RNoN), Andy Ryan, Gordon Stamp and Colin Welborn and the Course Boss was Tony Rose so give them a nudge if you see them.
---
MCDOA Northern Dinner 2005
The next Northern Dinner will be held in the Wardroom, HMS Neptune on Fri 25 Feb 2005. This date will mark the 39th Anniversary of the formation of the combined MCD Branch. Booking details are available on the Upcoming Events page of the Members Only area of the website.
---
8 Sep 2004
New Home for X24
The following item from today's Portsmouth News describes the move of the X-craft miniature submarine X24 into its new gallery at the Royal Navy Submarine Museum in Gosport.

---
TV Documentary about the Sinking of HMS Pylades
UK Channel 4's programme 'The Wreck Detectives' will feature a one hour documentary about the sinking of the Catherine Class BAMS fleet minesweeper HMS Pylades off Normandy in Jul 1944. It is due to be screened at 1730 on Sun 19 Sep and will include diving and an interview with one of the survivors, Stanley Parker. Webmaster Rob Hoole advised the programme researchers before the wreck was selected for investigation.
Interesting articles relevant to the diving involved in the production of the programme and to the programme itself can be found at:
www.divernet.com/profs/0504detectives.shtml

www.channel4.com/science/microsites/W/wreck_detectives/prog_pylades.html
---
6 Sep 2004 - Wreck for Horsea Lake
The following item from today's Portsmouth News describes the placing of a 400-year old wreck in Horsea Lake. Rumour has it that MCDOA associate member Doug Barlow was able to provide expert advice having been the vessel's original boatswain.
---
3 Sep 2004 - Demise of Operator Mechanics
The following item from today's Portsmouth News describes the impending demise of the short-lived Operator Mechanic (OM). Some members may not be aware that Able and Leading rate Minewarfare specialists have been trained as Operator Mechanics over the past few years. This was intended to accompany the abolition of the old style OEM, CEM and REM and provide the OM(MW) with the necessary skills both to operate and to repair sonar and minesweeping equipment. It would appear this concept has not been entirely successful in practice.

---
1 Sep 2004 - Navy News Items
The following MCD-related items from the September issue of Navy News include the activities of HMS Quorn, charity work by HMS Chiddingfold and the diving team of HMS Ramsey (featuring CO and MCDOA member Tony Watt), the rebuilding of the Iraqi Navy (featuring MCDOA member John Murphie and MCDOA President Colin Welborn) and HMS Iveston in her new role as Thurrock Sea Cadet Unit's training ship.
The article about HMS Quorn describes how her Hunt Class destroyer namesake was sunk off Normandy in August 1944 by a German Marder or Neger human torpedo. A similar fate had been shared by the Catherine Class BAMS minesweepers HMS Cato, HMS Magic and HMS Pylades over a three day period in July 1944. Some sources state Biber midget submarines were among the perpetrators but these did not operate off Normandy until the end of August 1944. Detailed accounts of Biber, Marder and Neger operations can be found in Paul Kemp's book 'Underwater Warriors' (ISBN 1854092286).
---
19 Aug 2004 - Dave Forsey's Son Published
MCDOA member Dave Forsey's son Paul has had an illustrated Children's Bible published which, whilst having nothing to do with MCD or naval matters (apart from Jesus saving the fishermen!), might be of interest to members as it is the ideal gift for Grandchildren, Godchildren, friends, etc, particularly as the festive season is fast approaching.
For details of the book and his paintings which took over two years to complete, please look at his website at http://www.stepintothepicture.co.uk. Samples of the Bible and a Teacher's Guide can be seen online via these links. Anyone wanting further information or wishing to order books should contact Dave at daveforsey@ntlworld.com.
Paul has now been commissioned to produce a further 24 paintings based on the Old Testament to be published in a couple of years.
---
18 Aug 2004 - Shoreham deploys to Baltic
The following item from today's Portsmouth News describes the departure of HMS Shoreham for a 4 month deployment in the Baltic with MCMFORNORTH.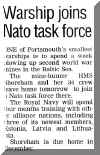 ---
15 Aug 2004 - New Personal Update
MCDOA member Chris Ashcroft's entertaining epistle from Nigeria can be read in the Members Only area.
---
12 Aug 2004 - SDU2 deals with 1919 vintage dummy torpedo warhead
The following item from today's Portsmouth News describes an EOD call-out for SDU2 and features MCDOA member Justin Hains.

---
7 Aug 2004 - HMS Nelson Wardroom Mess Life Membership
All MCDOs and MW Officers who qualified before HMS Vernon paid off as an independent Command (31 Mar 1986) are again reminded of their entitlement to free Honorary Life Membership of HMS Nelson Wardroom Mess as a legacy of the transfer of Vernon's remaining mess funds to Nelson on closure. Activation of Life Membership can be requested by writing to the Commander after which a mess number and pass can be obtained by appearing in person. Nelson holds no record of eligible officers' addresses so the onus is on the individual to make first contact.
The current Wardroom Mess President is MCDOA member Cdr Dougie MacDonald. All life members are encouraged to attend a convivial buffet lunch in the main bar on the last Friday of each month. There is a regular core of serving and retired MCDOs/MWOs and new faces are always welcome.
---
6 Aug 2004
HMS Quorn Hosts Veterans
The following item from today's Portsmouth News describes the visit by veterans of the Hunt Class destroyer HMS Quorn (sunk off Normandy in Aug 1944) to the modern minehunter bearing the same name.

---
MCDOA Committee Meeting Minutes
The minutes of the MCDOA committee meeting held at Fleet Diving Headquarters on 27 Jul 2004 are now available in the Members Only area of the website.
---
Obtaining Your Service Records & Reports
Those who have served in the British armed forces may (or may not!?!) be interested to know that under the provisions of the Data Protection Act 1998, they can download a Subject Access Request Form (SAR) via the MoD Veterans Agency to obtain copies of their old service records and reports. No charge is involved.
---
5 Aug 2004 - Captain Arthur Checksfield Royal Navy
I regret to announce that Arthur Checksfield died in hospital at High Wycombe on Monday 2 August following a fall at home. He was 77.
Known and respected throughout the MCD branch and far beyond as 'Big Arthur' on account of his impressive stature, Arthur Checksfield started on the lower deck as a Boy Seaman, became a Bosun PR and was promoted direct to the General List. On a poignant note, he was Doug Barlow's best man as a Petty Officer in 1949 when Doug was a Leading Seaman; they had met while training at HMS Dryad the previous year.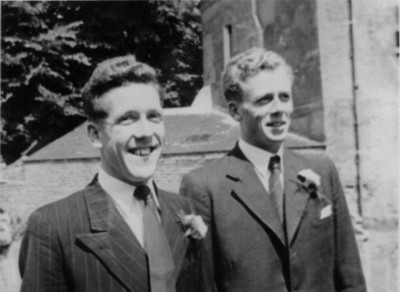 Doug Barlow with Arthur Checksfield 1949
Arthur undertook the LCDO course in 1956 and was the first ever CDO to reach the rank of Captain RN. On the way, he served as OIC of the Far East Fleet Clearance Diving Team based in Hong Kong (where he was mentioned in despatches for recovering a helicopter) and later in Singapore. Other diving appointments included the deep diving ship HMS Reclaim, I Diving (head of the Diving Training Section) in HMS Vernon and SofD (RN Superintendent of Diving) 1971-72 in HMS Vernon. Non-diving appointments included CO of HMS Yarnton, CO of HMS Whirlwind, First Lieutenant of HMS Eskimo, Commander of HMS Fearless, Captain 'F' in HMS Scylla, Chief of Staff to FOSNI (Flag Officer Scotland & Northern Ireland) and Chief of Staff to ACR (Admiral Commanding Reserves). He retired from the Royal Navy c.1980.
I spoke with Arthur on the phone quite recently but last saw him at an MCDOA cocktail party at Horsea Island about 8 years ago when I ended up driving him home. I have offered his bereaved wife Veronica my sympathy and support. His death was totally unexpected and she is obviously still coming to terms with it.
A private cremation will be held initially and details of any other services will be promulgated when available. I would welcome any tributes and personal reminiscences about him which I can pass to Veronica and place on the website for the benefit of all.
---
From Mike Gillam:
"Rob,

Arthur was a larger than life character who I relieved twice - as FCDO FES and as I Diving. There is a fund of stories about him - ask Bob Lusty. He was the first Clearance Diver to be a Post Captain - as I recall - but his first claim to fame, so he told me, was from his time in HMS Vanguard during the Royal visit to South Africa when he was Captain of the Royal Heads! He was also a Bosun PR directly promoted to the General List.

You will, no doubt, be receiving an avalanche of anecdotes."
---
From John Lang:
"Hi Rob,

Sorry to hear about Arthur. I did not know him very well having met him only the once in Hong Kong. I think he was the Exec Officer as a Commander on a visiting ship [By Webmaster: Probably HMS Fearless]. I seem to recollect signalling a welcome to Hong Kong from HMS Kirkliston. The result was a summons to his cabin! Many horses' necks later I staggered back to Kirkliston very much the worse for wear. Arthur had lived up to his reputation once again."
---

From non-member John 'Mike' Hegarty:

"Rob,

Just a rushed note to say how sad I was to hear of Arthur's demise. Many thanks for informing me and I compliment you on your kind tribute.

I found this picture of Arthur plus CDPR Course at HMS Vernon many years ago. It's a bit tatty but I thought it might be timely."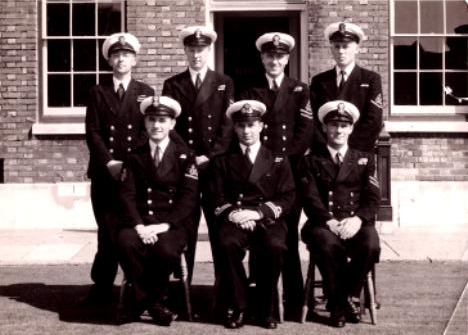 Back Row: Callister, Palferman, Brooks, Checksfield
Front Row: Hegarty, TAS Course Officer, Ripper
[By Webmaster: This photo probably dates from around 1950. John 'Mike' Hegarty (bottom left) went on to be XO of HMS Alderton and an 'ND' officer in aircraft carriers. Clifford 'Jack' Ripper (bottom right) became a 'D' and went on to be CO of HMS Clarbeston in the Vernon Squadron with Doug Barlow as his XO. As a Cdr in DNSy, he once gave me a security clearance interview.]
---

From Brian Braidwood:

"Dear Rob,

I was on the 1964 LCDO course which was sent to Falmouth for 2 weeks diving at the end of the summer. Arthur was "I Diving" and realised that the Vernon Summer Ball would take place at the end of our first week away. In his wisdom, he decided we were not doing at all well on our course and needed a 'pep talk' from him. He scheduled this to take place in his office at 1500 on the Friday and authorised us all to claim travel expenses from Falmouth to Vernon and return!

Yes, we enjoyed the ball!"
---

From Doug Barlow:

"Rob,

Arthur and I first met while under training at HMS Dryad in 1948. I was a Leading Seaman and he was an Acting Petty Officer sent down from Upper Yardman school for being too bolshie. We became firm friends and Arthur acted as my best man when I married in 1949.

Our paths crossed again fairly frequently. When I was the Master Rigger at Gibraltar c.1970 he visited as Commander of HMS Fearless and we had mutual concerns about berthing HMS Kent alongside her during the early days of the Wilson/Smith talks about the future of Rhodesia.

Around 1977 when I was Staff Officer at HMS Calliope (Tyne RNR Division), I took the division's ship to Rosyth and received scant interest from the dockyard about her defects. Arthur was then Chief of Staff to FOSNI and I must have mentioned my problems to him during our lunch together. Shortly afterwards, I found a queue of Captain Fleet Maintenance staff at my brow, all desperate to be of help."
---

From David Hilton (former Superintendent of Diving):

"Rob,

Thank you - very sad news. I remember him vaguely but I know he was a very good friend of John Hendrick."
---

From Jack Smith:

"Dear Rob,

I knew Arthur for many years and was one of the ushers for his wedding to Veronica. The RAF padre gave me the collecting plate with a fiver in it 'pour encourager les autres' but told me he wanted it back after the service.

When Arthur was Chief of Staff to Admiral Commanding Reserves in London, we returned from lunch one day and I discovered I had left my pass in the office. I asked him to vouch for me whereupon he told the door staff he didn't know me from Adam and walked off. I subsequently had to call my office from a public phone box and have someone bring my pass down before I was allowed back in.

One day, an RNR CO reported to us because he had damaged his ship. "Just let me know how much it is and I'll write a cheque to cover it," he told Arthur. Arthur went ballistic and the hapless CO found himself in front of the Admiral before being invited to take himself elsewhere."
---

From Steve Marshall:

"Hi Rob,

I was very sad to hear this, I served in HMS Scylla when Arthur was the Captain - I was a Killick and then PO. He was very popular with the crew, being very approachable and interested in what everyone was up to."
---
From Bob Lusty:
"Rob,

Some thoughts on Arthur. I first worked for Lt Arthur Checksfield in Hong Kong in 1959 as a CD2 and Killick of the Team together with CPO Ron Mcinley CGM, L/Sea Dave Tyzack, AB Hughey Harrison, AB John Cobb, AB Willy Wilkes and AB Lecornue. What a great boss. Each day after work we would all retire to the Dockyard club for drinks and fun. Sometimes Johny Peach would join us from his office in Kowloon. Every Sunday we had a banyan with friends, families and the team. I would drive our 70ft MFV around the many offshore Islands. The downside was that I was detailed to remain sober while the rest had a Hooley.

We had many interesting projects as Hong Kong Dockyard was closing down and the two great graving docks were being filled in as we withdrew from the Empire. We built a degaussing range for the Minesweepers using junks to drive the piles and performed night attacks against visiting RN Ships via RAF Kai Tak and the Dockyard/Naval Base. The teams defending the Dockyard never discovered our tactic of swimming from sea through the submerged storm drain outlets until the slope allowed us to walk and enter the dockyard via the manholes to cause havoc with the defenders. Arthur took the Admiral prisoner as his car slowed and stopped at the main gate. Stepping out of the shadows, he opened the door, slid alongside the Admiral, poked his finger into his side and ordered him to remain silent. The gate opened, the car passed into the streets of Hong Kong and the Admiral into the bag.

The team was scheduled to move to Singapore in the troopship Navasa. Arthur was dined out with other leavers. On the afternoon before the dinner he sent Ron McInley ashore for Chinese crackers, the traditional ships' paying off gesture from the China Station. He and Ron then threaded the crackers under and around the table ending up at Arthur's seat. The dinner got underway with the Governor of Hong Kong as Guest of Honour. The usual speeches were made and toasts proposed. Arthur, being junior, was last to reply. He stood up and flashed his lighter at the blue touch paper. After a pregnant pause, the crackers burst into life, the table collapsed, silverware, port, etc., all over the carpet and the Admiral looking like thunder. Luckily for Arthur, the quick-witted Governor saved his skin; he stood up, banned Arthur from Hong Kong for life and suggested that the anteroom would be more appropriate for coffee.

A month later we were back in Hong Kong, Arthur through the back door keeping a low profile while turning the patch over to Mike Gillam. We never saw them for a week. When they turned up, we hardly recognised them. There must be another story there - ask Mike.

On the way to Singapore in the Navasa, Arthur asked the team and wives for drinks. This was not well received on A Deck and the team was told to leave the officers' quarters. Not to be outdone, the next evening he joined us in our bar but was chased out by the RSM.

Being with Arthur was a non-stop hoot if you could keep up; not many could. There are many stories too numerous to write like our monthly team runs in Wanchai and Kowloon and our work with US Navy UDT Teams in Thailand in USS Cooke. Arthur was always on the edge of trouble with his seniors but had great charm and humour when needed and a lovely smile and chuckle when things got warm. What a man! All his team is saddened by his departure.

I hope that this gives you a flavour of the man."
---
From non-member Bob Norman in New Zealand:
"Hi Rob,

I first met Arthur Checksfield in Portsmouth Barracks in 1946. We became 'Checks' and 'Norm' as we have remained through the years during which we have stayed in touch, despite my living in New Zealand for close on fifty years. Years would pass without our meeting but our reunions, when they did occur, tended to be joyous and unforgettable, and afterwards, periods of recovery and recuperation were welcome. He was a great friend. We last met in 1991.

When we met in 1946 we were both Leading Seamen and soon afterwards found ourselves in HMS Theseus, a light fleet aircraft carrier. In those days the Fleet Air Arm was far from being self-sufficient in personnel and a seaman joining an aircraft carrier could quite easily find himself on the flight deck as an aircraft handler with an invitation to learn on the job. Such was Checks' fate, and his life included many 'hairy' moments. In many respects operating aircraft in those days was relatively primitive, and all the aircraft, still being propeller-driven, made the flight deck a challenging and exciting arena. I feel it was one of the first occasions when Checks' true qualities became obvious, both in the way he did his own job, and looked out for the safety of his own people.

In my view Theseus could not be described as a 'happy ship' and this tended to show in the form of our relaxation. A run ashore in Colombo was truly memorable; and waking one morning in Brisbane we discovered we'd each packed a bag. A careful and painful reconstruction of the events of the previous evening showed that we'd planned to desert for a life in the Queensland bush. Common sense prevailed and the Queensland bush was spared. However it showed another of Checks' qualities; a total and instant recall of the name of any pub in any part of the world associated with the two of us. In 1991 he effortlessly quoted The Lord Nelson in Colombo and The Pineapple Hotel in Brisbane."
---
Further thoughts from Mike Gillam:
"Rob,

I cannot now remember who qualified first (I think that I did) but I shall never forget our first real contact when I took over from him as Fleet Clearance Diving Officer, Far East Station at Singapore in early summer 1960. He had been based with the team in HMS Tamar in Hong Kong but had moved down when the Commander-in-Chief and his staff, of which he was one, moved to the Singapore Naval Base at Sembawang. Although my appointment also covered the diving school and the B&MD team led by Peter Messervy, it was with Arthur that I spent most of the week or so that we spent on the turnover. His first wife, Astrid, had gone home with the children when they left Hong Kong and so Arthur and I spent most of the time together.

It was an exciting time. Life with Arthur was never boring and as we hurtled from event to event I learned something of his service background. He had started life as a Boy Seaman and his first claim to fame, so he told me, was in HMS Vanguard during the Royal visit to South Africa when he was Captain of the Royal Heads. He soon was promoted to senior rate and was then commissioned as a Bosun PR. Then in the middle fifties he was selected for direct promotion to the General List after which he took the Long CD Course and was immediately given the 'plum' job of FCDO FES, a singular honour. The Fleet teams were usually only given to those who had undertaken several other, less glamorous jobs in the diving world.

The highlight of the turnover was our flying visit to Hong Kong. We flew into Kai Tak in the late afternoon, left our cases in the Wardroom at HMS Tamar (the old Tamar) and then proceeded on a tour of Arthur's old chums in the colony who included contacts in the Navy, the Army the civil authority, the police and the entertainment district of Wanchai. We also inspected and checked the diving stores held in Hong Kong, the ostensible reason for our visit. We spent very little time in the Wardroom Mess and had very little sleep. It was a continuous party that moved with Arthur from place to place. So long were we on the move that I recall having to borrow a razor at one establishment. I did not learn the real reason for Arthur's swift perambulation through the colony until some year's later. Apparently, it so happened that His Excellency the Governor was a guest at the mess dinner in HMS Tamar when Arthur made his formal farewell. He made a short speech saying how much he had enjoyed being in Hong Kong and thanking everyone for their help and support after which he sat down and lit the blue touch paper to the fire cracker that he had previously secured to the underside of the dining table. The dinner ended at this point and it is said that the Governor was heard to express his strong wish that Arthur should never return to the colony.

The return flight to Singapore provided the best opportunity for sleep that we had had for some days. Back in HMS Terror the turnover continued with a run through of the stores, the procedures, the confidential books and the contacts. It also included a special dinner at Arthur's favourite curry restaurant in Johore Baru. This turned out to be a small establishment down a quiet side street where we were the only Europeans. In deference to our lack of experience in eating with our fingers off a banana leaf, we were provided with a plate and spoon. Arthur liked his curries hot and authentic - the curry in this eating place was hot enough to shred the roof of your mouth.

Arthur looked after me and the turnover went well, just as it did on the next occasion that I relieved him as I Diving in HMS Vernon. It was a pleasure to follow Arthur because everything was in good order, there were no loose ends and his team was well motivated. I don't recall anyone who engendered such fierce loyalty in his team and his colleagues as Big Arthur."
---
Further thoughts from John 'Mike' Hegarty:
"Dear Rob,

Yes, over the years I knew Arthur I experienced many of his 'skylarks' (to put it nicely). Once qualified as Bosun PRs, we were both posted to Londonderry to the 3rd TS - AS work. He went to HMS Relentless and I to HMS Loch Ruthven to get our watch-keeping certificates. I seem to remember the Trophy Cupboard in Capt F's craft exploding as a result of some genius placing an explosive device causing some embarrassment to those attending a Cocktail Party. No names, no pack drill!.

Later we were both sent to the Portsmouth Squadron, Arthur to HMS Reclaim where he got the 'diving bug' and I went to HMS Redpole. My claim to fame was ramming the Danish Royal Yacht whilst acting 'N' of the ship, leaving Copenhagen Harbour. Our Captain got promoted and I was banished to HMS Eagle!

One short story might be indicative of his fun loving. Whilst at Fort Purbrook on course we both lived in Southsea. Occasionally I gave him a lift home on the back of my motorbike. One day we were on our way home, traffic busy as we went along Fratton Road, and came up behind a council Refuse Lorry with all its bits and pieces mounted along the rear. I overtook fairly close and as I passed the cab, was greeted with horns blaring, lights flashing, etc. I asked Arthur, "What the F is the matter with him!" He responded by muttering something like, "Could be this!!!!" I glanced to my left a trifle more and saw in Arthur's hand, outstretched and waving proudly, one Corporation Waste Bucket emblazoned with the city coat of arms and painted in Portsmouth blue. "They probably want this back," he remarked casually. So I made a quick turn and retraced my course to catch the lorry up where Arthur leant over and replaced the bucket.

Forgive me waffling on but that was but one of my memories of a great friend. Sadly, our paths went in different directions from then on but I watched his career with much interest. My wife knew Astrid very well, but again we just lost touch."
---
From Astrid, Peter and Robert Checksfield:
"Rob,

Bob Norman sent me his tribute to Arthur from New Zealand and mentioned there were other tributes on the Internet. Robert and Peter downloaded them. We have read them with interest and wish to thank you all.

We are sad to have lost Dad, but like all of you, we have lots of happy memories to be grateful for. His last words to me (Astrid) when he called last month were "I'm just off to the pub."

Thank you and kind regards,

Robert, Peter and Astrid Checksfield"
---
From non-member Dick Walker:
"Dear Rob,

I was Arthur's Dental officer aboard HMS Fearless. He was a larger than life figure who commanded a great deal of respect. He stopped my leave twice and still managed to share a drink with me after the event.

He came to my wedding in 1974 and we remained in touch every year at Christmas time. I last saw him a couple of years ago when he gave both myself and my wife a big hug. A formidable figure who was happy when you could "make it so".

He was never afraid to pull his weight as is evidenced by the picture below - A photo of Arthur leading his team in a Tug o' War competition.

We send our condolences to Arthur's family and wide circle of friends."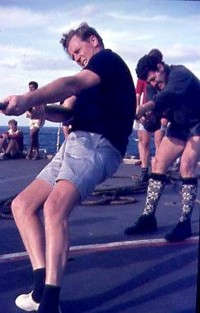 Arthur Checksfield in 1969
---
4 Aug 2004 - Benefits of MCDOA Membership
Those few MCDOs and MWOs who are not yet members of the MCDOA are encouraged to join forthwith using the application procedure available on the 'Membership' page. The annual subscription is still only £10.
Benefits of membership include eligibility for subsidised social events twice-yearly and the annual open day at Fleet Diving Headquarters. You will also qualify for access to the 'Members Only' area of the MCDOA website which contains: members' personal updates; details of forthcoming MCD, CD and MW events; LMCDO course photos; photos of MCDOA functions; MCD-related funnies; 'Five Bells' newsletters; minutes of MCDOA AGMs and committee meetings; and a message board.
If you satisfy the membership criteria shown on the 'About the MCDOA' page, why not join now?
---
1 Aug 2004 - Navy News Items
The following MCD-related items from the August issue of Navy News include the activities of HMS Inverness (featuring CO and MCDOA member Dave Bence), HMS Cattistock, HMS Penzance in MCMFORNORTH, Leading Operator Mechanic (MW) Course 26 and SDU2 plus a new ship's bottom search developed by HMS Liverpool's ship's diving team and a medal commemorating Admiral Vernon's victory at Portobello.
---
31 Jul 2004 - 19th Annual RN Divers' Golf Championships
Over a hundred players, including divers and their guests, enjoyed a glorious day at Southwick Park yesterday for the 19th Annual RN Divers' Golf Championships.
As usual, the day started at 0715 with bacon rolls and coffee in the clubhouse. This was followed by a photo of participating divers (wearing specially issued shirts) with the Secretary of the Southwick Park Golf Club. A welcome lunch break divided the morning and afternoon rounds and the day culminated in an evening barbecue for players and their guests, entertainment from an Elvis Presley impersonator, the usual presentation of trophies and a raffle. In view of the hot weather, the beer tent at the 12th tee (and its glamorous servers) was a particularly popular feature. A considerable sum was raised for this years' worthy causes chosen by Pincher Marten.
MCDOA members present included David Bartlett, Derek Clarke of Divex, John Coggins, Alan Hares of Solent Divers, Rob Hoole, Gerry 'Pincher' Martin, Paddy McAlpine, Trevor Orten and Tug Wilson. 28 prizes were awarded altogether and it was appropriate that Sean Maleady, who led the team organising the event, was overall Champion. If one of the organising committee will provide me with a list of other award-winners, I will include them on this web page.
Many thanks to Sean and his team and all the other people and sponsors involved in making the day such a success. Next year will see the 20th anniversary of the event and it is hoped to make it an extra special occasion.
A high resolution version (480 kB) of the photo below showing participating divers can be reached by clicking the picture but expect a long download time unless you are on broadband.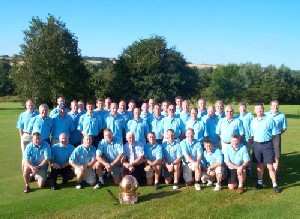 ---
26 Jul 2004 - Shake-up in Special Boat Service over claims it 'panicked and fled' in Iraq
The online version of a disturbing article from today's Daily Telegraph about SBS operations in Iraq can be found here.
---
23 Jul 2004 - HMS Grafton
The following item from today's Portsmouth News describes Commanding Officer Adrian Cassar's surprise at the announcement of HMS Grafton's early retirement from service.

---
22 Jul 2004 - Surface Flotilla to be Cut
As a result of the Defence White Paper 'Delivering Security in a Changing World: Future Capabilities' presented yesterday in Parliament by the Secretary of State for Defence, the following Royal Navy surface ships are to be paid off:
By Apr 2005

HMS Sandown (Sandown Class MHC)

HMS Inverness (Sandown Class MHC)

HMS Bridport (Sandown Class MHC)

By end 2005

HMS Cardiff (Type 42 DD)

HMS Glasgow (Type 42 DD)

HMS Newcastle (Type 42 DD)

By Mar 2006

HMS Norfolk (Type 23 FF)

HMS Marlborough (Type 23 FF)

HMS Grafton (Type 23 FF)

By Apr 2007

HMS Brecon (Hunt Class MHSC)

HMS Cottesmore (Hunt Class MHSC)

HMS Dulverton (Hunt Class MHSC)
These cuts will reduce RN MCM forces to 8 Hunts (out of 13 built) and 8 Sandowns (out of 12 built) with no replacements yet in sight. However, the Hunts will have been upgraded with wideband Sonar 2193 and NAUTIS 3 Combat Management System.
---
21 Jul 2004 - From MCDOA Member Mike Wignall
"You'll be aware from the odd post last year that I was developing an interest in Thames Sailing Barges. Things moved on and I was invited on to the organising committee of the Thames Sailing Barge Match [originated 1863] in Jan this year. Besides taking over as web master I suggested a major new initiative to raise the public profile of the barges in general and so attract commercial sponsorship for the annual match. This was thro' me producing a "Yearbook". We're now in the position of taking orders to build up a 'critical mass' so that we can go to print.
These barges get around the south coast in the summer on charters and also appear in the Southampton/IOW area during Cowes Week. Details of the Yearbook are at http://www.thamesmatch.co.uk/Yearbook.htm. At £4-95 we'll never get rich as it will just cover production costs and P&P but the whole point is to be able to offer advertising space to anyone who wants it in the 2005 edition - and so bring in funds that way."
---
17 Jul 2004 - Last Summer Ball at HMS Dryad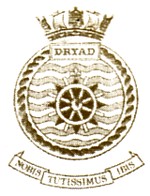 1,800 people attended last night's final summer ball at HMS Dryad (sorry, now HMS Collingwood (Southwick Park)), home of RN Minewarfare training in recent years. It was a fittingly lavish event with all the fun of the fair and familiar faces at every turn from CINCFLEET downwards; 1SL and 2SL may well have been there too but I didn't spot them. MCDOA members present included Chris Baldwin, Doug Barlow, Richard Cowley, Paul Jones, Kev Giles, Rob Hoole, Dougie MacDonald, Paddy McAlpine, Paul McDermott, John Murphie, John Parry and, I suspect, many others. Well done David Potts the erstwhile mess manager and everyone else involved in its organisation and execution.
The wardroom bar will open its shutters for the last time on Fri 6 Aug so if any other Dryad life members would like to join me for a final lunchtime drink, I'll see you there.
---
14 Jul 2004 - HMS Shoreham's New Remote Monitoring System
The following item from today's Portsmouth News describes HMS Shoreham's use of a new remote watch-keeping system during weekends and refits and features Peter Williams (MCM2). Good to know the Duty Commanding Officer no longer has to perform those middle watch compartmental rounds.

---
9 Jul 2004 - Minehunters Return to UK
Welcome back MCM2 (MCDOA member Peter Williams), HMS Walney, HMS Sandown, HMS Pembroke and HMS Middleton with their support ship RFA Sir Bedivere on their return to Portsmouth today from an 8,000 mile deployment to the US and Canadian eastern seaboard as part of Aurora '04. The ships left UK on 26 Apr and were the first RN MCMVs to cross the Atlantic since 1996. Port visits were paid to the Azores, Bermuda, Norfolk Virginia, Boston, Halifax Nova Scotia and St John's Newfoundland. More detailed accounts of their adventures including pictures can be found here.
---
5 Jul 2004 - HMS Cattistock Acceptance
The following item from today's Portsmouth News describes the acceptance of HMS Cattistock back into the Fleet after a £2.5m refit.

---
2 Jul 2004 - From the US Naval Minewarfare Association
"Hi Rob,

I'm going to forward your information to Mr. Joe Schreiber. He is our Historian/Public Relations Officer for the Naval Minewarfare Association and enjoys gathering any and all information pertaining to Naval Minewarfare. If you ever need any information about our mine sweepers, you can e-mail Joe. His e-mail address is on our web site.

I served on board the USS Pirate AM-275 in Korea. We were the flag ship for the mine squadron. The Pirate was the 2nd ship to be sunk in Korea. We went down in four minutes - but fortunately we only lost six men (below deck crew members). I put together a web page for the Pirate and it can be viewed by going to the "link page" on the NMA website and clicking on the Pirate link. After my tour of duty on board the Pirate, I was transferred to a Helicopter Anti-Sub Squadron.

I am the NMA Area Director and my main duty is planning our conventions in the Western part of the US (Area 3). I am working on our convention for 2006 and a lot of requests have come from the Seattle area.

By the way, we also have two members in our organization who live in the UK. They never come to any of our conventions (because of distance) but still remain members. One member named Robert GAGG from London served on board HMS PIQUE. The other member is Gordon MUSTARD from Surrey who served on board MMS-41. We also have two members from Ontario, Canada.

Rick Richard"
---
"Hello Rob,

I am the NMA Historian and Public Relations Director - also Past Vice President and past co-editor of The Silent Defenders, our quarterly magazine. If you would send me a mailing address, I will send you some additional information on the NMA and some back issues of TSD.

Best regards,

Joe Schreiber, Jr.,


WW II USS YMS 302 Sailor in the Pacific

850 North Citadel Avenue
Tucson,
AZ 85748-2729
(520) 290-8881"
[By Webmaster: We now have reciprocal links on our websites and I have passed Joe an address for further information.]
---
1 Jul 2004 - Navy News Items
The following MCD-related items from the July issue of Navy News include descriptions of the recent activities of: HMS Brocklesby; HMS Ledbury; HMS Shoreham & HMS Chiddingfold; HMS Bangor; HMS Blyth; HMS Ramsey & HMS Penzance; and HMS Grimsby plus articles about the sinking of the WW II Japanese cruiser Takao by the X-craft XE-3 and a wreath-laying ceremony by the Greek Navy to honour Royal Navy Patrol Service minesweeper BYMS 2077 which served in the 153rd Minesweeper Flotilla, not the 13th MSF as reported here.
There are also archive articles about HMS Gavinton as the first ship on the Rosyth synchrolift and HMS Brocklesby, HMS Brecon & HMS Bicester performing MCM operations after the 1991 Gulf War.
---