Items from The News, Navy News and Warship World are reproduced by kind permission of David Brown, Jim Allaway and Mike Critchley respectively. Click on the thumbnails to enlarge them.
---
27 Jun 2004 - Aurora '04 Deployment
The following item from the Jul/Aug issue of Warship World describes the deployment to the US and Canadian eastern seaboard of 18 RN ships including MCMVs HMS Pembroke, HMS Walney, HMS Sandown and HMS Middleton with RFA Sir Bedivere as the MCM command and support platform.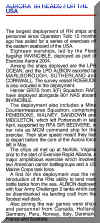 ---
19 Jun 2004 - MCDOA Ladies Night
Several MCDOA members and their wives enjoyed a delightful meal at Kam's Palace Chinese restaurant near Fareham last night. The food, service and ambience were excellent so well done to Frank Ward's mother for suggesting the venue. Also, many thanks to Tony Griffiths, our Hon Sec, for arranging such an enjoyable and reasonably priced event. Other attendees included Brian & Audrey Dutton, Geoff & Marnie Goodwin, Rob & Linda Hoole, Martyn & Ann Holloway, Chris & Sue Massie-Taylor, Ralph & Liz Mavin, Simon & Jeanette Nicholson and Frank & June Ward. Ralph Mavin's dexterity in sculpting various types of birds from the after-dinner mint foil wrappers showed his A-level Art studies are paying off; his creativity had our waiters awe-struck.
---
14 Jun 2004
Funeral Arrangements for the late CPO(D) Ray 'Scouse' Rowlands
The funeral service for Scouse Rowlands will be held at St Mellion church near Liskeard, Cornwall at 1300 on Friday 18 Jun then on to Bodmin Crematorium. Everyone is welcome to attend. There will be a gathering at the Coryton Arms (across the road from the church) after the service. Click here for map.
---
Bump for HMS Kent
The following item from today's Portsmouth News describes the aftermath of a collision between HMS Kent and HMS Argyll during a RAS off Plymouth last Thursday. A sad day for Jim Nisbet, CO of HMS Kent.

---
12 Jun 2004
Queen's Birthday Honours 2004
MCDOA member John Parry must be justifiably proud on the appointment as a CBE in today's Birthday Honours list of his son, Commodore (soon to be Rear Admiral) Chris Parry, my old boss at the Maritime Warfare Centre. Congratulations to both of you. The complete list of military awards can be found at: http://news.mod.uk/news_headline_story.asp?newsItem_id=2927.
---
Annual Divers' Reunion
Last night's RN Divers' reunion in Portsmouth, organised by the Association of RN First Class Divers, was a highly convivial affair attended in equal measure by past and present Clearance Divers. Attendees ranged from pioneer of naval diving medicine Surgeon Vice Admiral Sir John 'Doc' Rawlins KBE, FRCP, FRAeS (on particularly good form) through original 'P' Party member Ray 'Brum' Maries BEM to many past and current members of the Branch.
Familiar faces among the officers and CD1s included MCDOA treasurer Tug Wilson, 'Uncle Bill' Filer who made a brief appearance at the start, Jon 'Tadpole' Cox, Rob Hoole, Gerry 'Pincher' Martin, John Dadd, Stew 'George' Sissons. Mick Fellows, Jimmy Green, Colin 'Scouse' Kidman, Ron Hartshorn, Bill Bauckham, Troy Tempest, Joe Maher, Terry Settle, Chris Ballinger, Tony Devitt, Tim Sizer and several generations of 'Donkey' Brays. Pincher Marten and Henry Minn, both laid low in tragic circumstances, turned up in their wheelchairs and thoroughly enjoyed the occasion as did ex-CD Peter Anderson (remember Southern Sports/Peter Anderson Sports in Southsea?) who made a special trip from his yacht in Syracuse, Sicily to attend.
The traditional tot, served by well-known entertainer Shep Woolley, was dedicated to the memory of CPO(D) Ray 'Scouse' Rowlands who died last week.
---
11 Jun 2004 - Booking Forms for Forthcoming Events
Booking forms are available for download on the Upcoming Events page of the Members Only area for the MCDOA Ladies' Night on 18 June, the Annual RN Divers' Golf Championship on 30 July and the Annual Minewarfare Branch reunion on 18 September.
---
10 Jun 2004 - Death of CPO(D) Ray 'Scouse' Rowlands
I regret to announce that one of the true characters of the CD Branch, ex-CPO(D) Ray 'Scouse' Rowlands, died from a stroke in his sleep on the evening of 7 Jun while abroad. He was 53.
An often tempestuous individual with a soft centre and an intelligent mind, Scouse was a highly effective diver, supervisor and EOD operator who will be remembered by many members of our Association. He served in the Diving School and with most CD teams in the Branch. He was on the Plymouth Clearance Diving Team with me c.1980/2 and was later on the FOSNI team and coxswain of HMS Wilton; a hard man and a hard man to forget.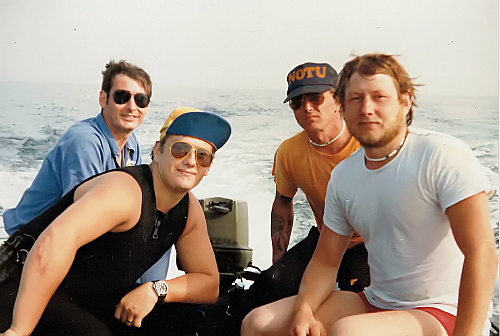 Scouse Rowlands driving a Gemini with Yours Truly in blue tracksuit off
Guernsey in September 1981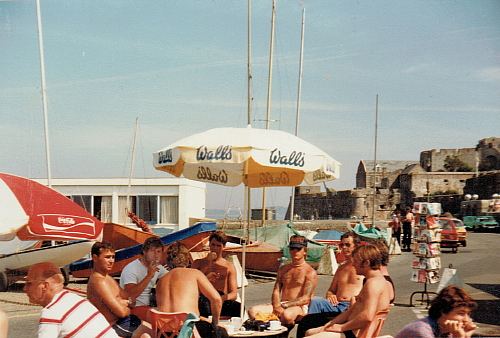 Scouse Rowlands in blue ballcap on jetty in St Peterpoint, Guernsey
in September 1981
His body is being flown home and funeral details will be promulgated when known.
---
8 Jun 2004 - Big Ship Command for MCDOA Members
Remember the days when MCDOs rarely commanded anything larger than an MCMV unless it was a squadron of MCMVs?
Now we have MCDOA members Adrian Cassar commanding HMS Grafton (Type 23 frigate), Mark Durkin commanding HMS Exeter (Type 42 destroyer) and Jim Nisbet commanding HMS Kent (Type 23 frigate). Our Chairman informs me that MCDOA members Chris Davies and Tony Watt have now been selected for 'big ship' Sea Command too. Our warmest congratulations and best wishes go to both of them.
---
5 Jun 2004 - SDU2 in Action Again
The following item from today's Portsmouth News describes the latest EOD activity of SDU2.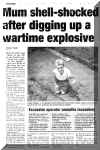 ---
1 Jun 2004 - Navy News Items
The following MCD-related items from the June issue of Navy News include descriptions of the activities of HMS Grafton in the Gulf (featuring CO and MCDOA member Adrian Cassar), HMS Exeter in the Far East (featuring CO and MCDOA member Mark Durkin) and HMS Chiddingfold at Portland plus a cutaway picture of HMS Sandown translated into Russian and a COMUKMARFOR bravery commendation for WO(MW) Pete 'Bomber' Mills in recognition of his actions in association with HMS Brocklesby and the RN's Shallow Water Influence Minesweeping System (SWIMS) during Operation Telic.
---
27 May 04 - HMS Kent Field Gun Team
The following item from today's Portsmouth News describes the formation of a Brickwoods Challenge Field Gun team by HMS Kent and features CO Jim Nisbet in the thick of it.

---
26 May 04 - RN Minewarfare Heritage: 60th Anniversary of D-Day
As we approach the 60th anniversary of D-Day on 6 June, it is appropriate to consider that 306 Allied minesweepers participated in the initial assault. These included 274 from the Royal Navy, 84 of which had been built in America under Lend-Lease. 32 minesweepers flew the US Navy ensign and 15 of the Bangor Class fleet minesweepers were built in Canada and manned by Canadians. The Canadian 31st MS Flotilla (Bangors) swept 78 mines in the first 7 days of the operation. 36 converted RN Fairmile 'B' MLs (Motor Launches) were also used to conduct skim sweeps ahead of fleet Minesweeper Flotillas and many converted landing craft undertook snag-line sweeps in the shallows.
British minesweeping forces assigned to Operation Neptune for the Normandy invasion included:
25 x Algerine Class fleet minesweepers

29 x Bangor Class fleet minesweepers

12 x Catherine Class BAMS (British American Minesweepers) fleet minesweepers

9 x Halcyon Class fleet minesweepers

9 x Aberdare Class ('Smokey Joes' - improved Hunt Class dating from WW I) fleet minesweepers

40 x BYMS (British Yard Minesweepers) coastal minesweepers

61 x MMS (Motor Minesweepers or 'Mickey Mouse') coastal minesweepers

38 x danlaying trawlers

36 x Fairmile 'B' MLs for inshore work.
It is worth noting that this comprised only 25% of the RN's minesweeping forces at the time; the rest were still involved in keeping UK coastal routes and port approaches clear or were operating in other theatres of the war.
Two ships in each fleet Minesweeper Flotilla were fitted with radio countermeasures to confuse the German fire control radar as were a number of BYMS and MMS. Escorting coastal craft and aircraft produced smoke screens to mask sweeping operations.
The danlaying force in the British sector included 8 converted fleet minesweepers built during the war and 25 pre-war trawlers each carrying 70 danbuoys. The coastal minesweepers (BYMS, American YMS and MMS) performed their own danlaying. Taut Wire Measuring Gear assisted the accurate measurement of distances along channels and ten underwater sonic beacons were laid, using radio navigation, to provide accurate reference points for the start of each main channel. HMS Vernon produced 1,500 lights for danbuoys to mark the edges of channels plus 200 flashing lights for the ends of channels. On the night, they all worked well and gave a 'fairyland look' to the whole area of sea between the Isle of Wight and the beaches.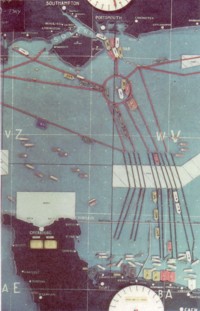 Southwick House D-Day Map
Some days before D-Day, a large circle of water (Piccadilly Circus) was swept a few miles south-east of the Isle of Wight connected to the existing swept channels off Southern England. On the night before the invasion, ten channels were cut south towards the Normandy coast. On the morning of the assault, channels and boat lanes were then swept into the beaches. These operations were broken down into 100 different serials, complicated by bad weather and severe cross-tides. The original intention had been for the fleet sweepers to wire-sweep and the coastal sweepers to influence-sweep but soon the fleet sweepers were also influence-sweeping and the BYMS, US YMS and some of the MMS were wire-sweeping on a wide scale too.
Despite coming under coastal battery fire and attack by E-boats, minesweeping casualties were relatively light to begin with. On 5 June, the sweeper USS Osprey was sunk in a moored minefield south of the Isle of Wight with the loss of six personnel and the fleet sweeper USS Tide was mined on 7 June with the loss of 21 personnel.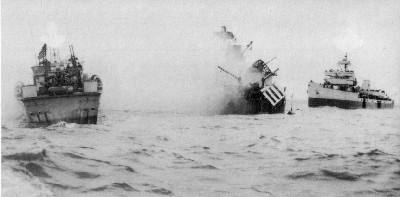 Mining of USS Tide 7 June 1944
Among other ships, however, mines claimed the destroyer USS Corry off Utah Beach three minutes before the assault hit the beaches and the American PC 1261 and 16 landing craft were lost later that day. On 7 June, the fleet destroyer HMS Swift was mined together with three more landing craft. On 8 June, the destroyers USS Glennon and USS Meredith, the destroyer escort USS Rich, the British netlayer Minster, the US LST 499 and several landing craft were all sunk in the same minefield while the destroyer USS Harding was heavily damaged.
Perhaps the greatest blow to British minesweeping forces occurred when three Catherine Class BAMS were lost off Normandy over a three day period a month after D-Day. On 6 July HMS Cato and HMS Magic were sunk by Marder or Neger human torpedoes. On 8 July HMS Pylades was sunk by a Marder or Neger. Some sources state Biber midget submarines were among the perpetrators but according to Enrico Doering (one of the Biber operators based at Fecamp), Bibers did not start operations off Normandy until August 1944.
With regard to other forebears of our Association, tribute must also be paid to the 120 officers and men who formed the ten Landing Craft Obstacle Clearance Units (LCOCUs). Wearing the Sladden 'Clammy Death' diving dress and oxygen breathing apparatus, they had the unenviable task of demolishing obstructions and clearing mines in the shallow water and on the beaches while under fire. Also to be remembered are the crews of the X-craft, many of whom were divers. They sat submerged in their midget submarines off the coast conducting surveillance for days before the assault and then acted as reference markers for the invasion forces. Shortly after the landings, the Northern European work of the 'P' (Port Clearance) Parties began in earnest and more on this subject can be found in the Branch History section of this website.
---
25 May 04 - Exploits of 'Ginge' Fullen
Several members will know (or know of) Ginge Fullen who retired a few years ago as a Leading Diver after 16 years in the RN. He is currently working as an RNR Clearance Diver in Dubai but spends much of his time acquiring world records for diving, mountain-climbing, skydiving, coal-carrying(?!?) and other feats, many with a twist that makes them even more challenging. Several charities have benefited from his impressive range of physical accomplishments.
In Aug 1999, Ginge achieved a world record for being the first to climb the highest peak in all 47 countries in Europe. His current project involves climbing the highest mountain in each of Africa's 53 countries and so far he has conquered 52 of them. He runs a fascinating new website (www.gingefullen.com) that includes some spectacular pictures of his adventures and I commend it to you. Don't miss the accounts of his initial CD training at Horsea and becoming a member of the Field Gun team. I know he would appreciate former colleagues signing his on-line guestbook.
---
20 May 04 - Death of ex-CD Trainee
The following item from today's Portsmouth News describes the untimely demise of a promising young ex-CD trainee in a swimming pool accident while on his terminal leave.

---
19 May 04 - Promotion for MCDOA Member
Hearty congratulations to MCDOA member Tony Watt, currently CO of HMS Ramsey, on being selected for promotion to Commander with effect from 30 June 2005.
---
18 May 04 - Today's Conundrum
This is a spotter's question but what was the significance of the prefix FY to the pennant numbers of some wartime naval trawlers and minesweepers? And no, it didn't stand for 'Fowey'.
I am particularly intrigued by a photo I have of a 105 ft 'short boat' MMS (Motor Minesweeper otherwise known as a Mickey Mouse) with FY 1758 painted on the hull. A boom-mounted SA Mk II acoustic hammer on the bow seems to have been air-brushed out by the wartime censor. This photo also appears in "Minewarfare Vessels of the Royal Navy - 1908 to Date" by Maurice Cocker where the vessel is described as HMS Emberley (HMCS MMS 119), a requisitioned ex-Canadian MMS completed at Stone, St Johns in 1941 and converted into a danlayer in 1942.
According to "Minesweeper - The Role of the Motor Minesweeper in WW II" by Michael Melvin, MMS 119 was completed by H Stone of St Johns, Newfoundland in 1941 and joined the 144th MS Flotilla at Grimsby in 1942.
According to "British Warships Since 1945 - Minesweepers" by Jack Worth, MMS 119 was built 1941-42 and renamed HMS Emberley as one of four Canadian MMS requisitioned by the Admiralty and converted into danlayers in 1942.
If this photo is of HMS Emberley (MMS 119), why does she show pennant number FY 1758? I can find no reference to this number anywhere. Even if the photo were taken after 1947 when 1500 was added to the pennant numbers of surviving 'short boat' MMS, it should show the pennant number as 1619. However, the obvious censorship casts doubt on the photograph being post-war.
The webmaster would be grateful for the first correct answer and will happily stand you a pint when we next meet.
---

From Nick Clark (www.harry-tates.org.uk):

"The 'FY' is actually an abbreviation for 'Fishery'; it meant that the vessel used the Fishery Pennant as the distinguishing letter, before the numbers as a visual callsign. It was usually written as 'FY' or sometimes 'Fy' and I would think the abbreviation was also used in visual signalling. The Fishery Pennant is of course the black and gold chequered flag used by Fishery Protection vessels.

According to Lenton & Colledge 'Warships of WWII - Part Six: Trawlers', the FY pendant number was applied to A/S (anti-submarine), M/S (minesweeping), D/L (danlayering), de-gaussing, mine wiping, and mine recovery vessels. Some air-sea rescue, A/P (auxiliary patrol), balloon barrage, and armed boarding vessels.

FY also applied up to 1940 for boom defence, boom gate, and N/L (netlayer) vessels, naval drifters, which later were Flag Z. Some years ago a full list of wartime allocated pennant numbers was published in Warships Supplement to the Marine News - Emberley is listed as Fy.1758.

I hope this helps."
[By Webmaster: Thanks Nick. It certainly does.]
---
14 May 04 - Members Only Access Problems
Members may have experienced intermittent problems recently when trying to access the Members Only area of the website. This has been caused by a fault with the website's domain server (wherever it is!). I have raised the problem with the company's technical section and they have promised remedial action so please be patient.
---
11 May 04 - MCDOA's Resident Naval Historian Provides Quote
The following item from today's Portsmouth News describes an amusing mix-up in the House of Lords regarding the nuclear-powered submarine HMS Trafalgar and Nelson's flagship HMS Victory. It features MCDOA Vice Chairman & Webmaster Rob Hoole in his capacity as a naval historian.

---
7 May 04 - Funeral of Lt Cdr John 'Jimmy' James
There was a packed house at Portchester today to give Jimmy a good naval send-off with the MCDOA, Portsmouth Retired Naval Officers' Association (PRNOA) and Pussers' 'White Mafia' all well represented. Jimmy's casket was draped in the white ensign with his cap, sword and medals displayed on top. Jimmy's son-in-law Peter and Bill Davenport of the PRNOA gave moving eulogies that focused on Jimmy's fairy-tale marriage to Mary, his naval service throughout and long after the Second World War and the kindness, integrity, good humour and quiet determination he demonstrated as long-time Mess Manager of HMS Vernon.
Familiar faces included Doug Barlow, David & Dorothy Bartlett, Morty Drummond, Mayor-elect of Petersfield Brian Dutton & his wife Audrey, David & Deidre Edwards, Martyn Holloway, Rob & Linda Hoole, Chris Massie-Taylor, Ralph Mavin, Ian & Elma Morton, John Parry and Frank Ward. It was especially good to see MCDOA past-president Chris Massie-Taylor there in uniform as it was his last day in the service; he was under instructions to return to his DN(Reserves) office after the funeral to pay his farewells. We were also delighted to see Capt Bill Alexander RN, Commander of HMS Vernon in the late '70s.
I provided a floral tribute on behalf of the MCDOA and Jimmy's wife Mary asked me to convey to members of the Association her deep appreciation for this and for all their happy memories in our company. The gathering in the wardroom HMS Nelson after the service was upbeat and convivial.
Our sympathies go to Jimmy's wife Mary (the VAD nurse Jimmy met and married in Malta 56 years ago), daughter Rowena, son-in-law Peter and Jimmy and Mary's grandchildren. It has been requested that personal donations in Jimmy's memory be made to the Rowans Hospice.
---
4 May 04 - HMS Grafton in Gulf
The following item from today's Portsmouth News describes the latest activity of HMS Grafton in Iraqi waters and features CO Adrian Cassar.

---
2 May 2004
Postponement of Ladies Night
It is regretted that the Ladies Night planned for 21 May has been postponed owing to unacceptably high costs. The Committee is investigating alternative arrangements for later in the year.
---
Army Navy Rugby Match
Several MCDOA members convened at the Army Navy Rugby match at Twickenham yesterday including Doug Barlow, Dave Hilton, Martyn Holloway, Rob Hoole, Paddy McAlpine, Dan Nicholson and David Sandiford. More MCDOs may have been present but, with a match attendance of over 44,000 including the obligatory streaker, it was difficult to tell. Former MCDOs' appointer Paul Wainwright also muscled in and tried to tell those of us on the Nelson coach where to sit.
The Rugby World Cup (William Webb Ellis Trophy otherwise known as 'Bill' - named after the boy at Rugby School who supposedly invented the game) was displayed on the touchline during the first half but disappeared at half time. Foul play is not suspected although there was a conspicuous bulge under David Sandiford's jacket when we left for home. Mind you, he had cornered the market on the bag meals issued at tea-time.
While the Navy team had the benefit of AB(Diver) Jamie Caruana of HMS Collingwood, the Army held the advantage with several more Fijian players. For the record, the Navy won the first half but the Army won the second half by a larger margin.
---
1 May 04
SDU2 Port Surveys
The following item from today's Portsmouth News describes the work of SDU2 in conducting security surveys of southern ports and features MCDOA members Justin Hains (new CO SDU2) and Kim Godfrey (CO SDG).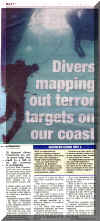 ---
Navy News Items
The following MCD-related items from the May issue of Navy News describe the disposal of a WW II German GC mine by SDU2 (featuring CO and MCDOA member Justin Hains); plans for security surveys of southern ports by SDG (featuring CO and MCDOA member Kim Godfrey); the sinking of HMS Scylla as an artificial reef featuring SDU1 (including SDG's possible involvement in the future sinking of HMS Brave, HMS Boxer and FDT Ironbridge affectionately known to generations of CDs as 'YoYo'); the fitting of Sonar 2193 in HMS Hurworth (featuring CO and MCDOA member Dave Hunkin and Ops Dave Griffin); and the arrival of HMS Grafton on Armilla patrol (featuring CO and MCDOA member Adrian Cassar).
---
30 Apr 2004
Funeral Arrangements for the late Lt Cdr John 'Jimmy' James RN
The funeral for Jimmy James (see article for 25 Apr below) will be held at Portchester Crematorium at 1000 on Fri 7 May. After the service, there will be a gathering at HMS Nelson by kind permission of the Commander (MCDOA member Dougie MacDonald).
---
MCM Upgrades Reaching Fruition
The following article from the May/June issue of Warship World describes significant new upgrades to Hunt and Sandown Class MCM systems and features MCDOA member Dave Hunkin, CO of HMS Hurworth. The article is a full 2-page colour feature so expect a long download time unless you are on broadband.

This issue of Warship World, published by Maritime Books, also contains a fascinating 2-page article on Bar Boats written by MCDOA associate member Doug Barlow and a revealing 2-page colour spread on the sinking of HMS Scylla for use as an artificial reef and divers' adventure playground. It is recommended reading. The website for Maritime Books can be found at www.navybooks.com.
---
29 Apr 2004 - Webmaster's Announcement
Some digital grapevine 'flash message' announcements, soft copies of Five Bells and event booking forms, etc., are bouncing because the intended recipients have changed their e-mail address. Please keep the webmaster informed of such changes if you wish to continue receiving these items. Any other members wishing to be added to the distribution list for 'breaking news' are requested to inform the webmaster by e-mail.
---
28 Apr 2004 - 50th Anniversary of Submarine Escape Training Tank
The following item from today's Portsmouth News describes the Golden Anniversary of the SETT run by Bob Mannion, a good friend of the Branch. Who will ever forget their first free ascent from the bottom although I think most of us found the brief infinitely more intimidating than the actual experience.

---
26 Apr 2004 - UK MCMV Deployment to US & Canadian East Coast, Suicide Boat Threat to HMS Grafton and First Woman Commodore for Clyde Submarine Base
The following items from today's Portsmouth News describe the start of a 3-month deployment to the US & Canadian eastern seaboard by HMS Middleton, HMS Sandown, HMS Walney and HMS Pembroke (featuring MCDOA member Peter Williams - MCM2); a possible suicide boat threat to HMS Grafton (CO and MCDOA member Adrian Cassar); and the appointment of Captain Carolyn Stait as the first woman Commodore of the Clyde Submarine Base, home of the Third MCM Squadron, the Northern Diving Group and FOST(MPV).
---
25 Apr 2004 - Lt Cdr John 'Jimmy' James RN
I regret to announce that Lt Cdr J E 'Jimmy' James RN died peacefully at home in Southsea last Friday afternoon.
As a retired wartime and post-war Supply Officer, Jimmy followed in the wake of the redoubtable John Canty as the long-serving Wardroom Mess Manager of HMS Vernon until shortly before its closure. He was elected as one of the first Associate Members of the MCDOA in recognition of his contribution to MCD social life during his tenure.
While at Vernon, Jimmy arranged and ran hundreds of highly successful VIP functions, Summer and Christmas Balls, mess dinners, parties, Horsea Island barbecues, establishment theatre nights, Roedean School visits and Searchlight Tattoo buffets. He also organised external events including exceedingly well-victualled trips to Twickenham for the Army Navy rugby match, Glorious Goodwood and to Epsom for Derby Day with all the trimmings of marquee, mess silver and service by attentive wren stewards. Even the Guards regiments were said to be envious. He was ever thoughtful as demonstrated by the packet of Alka Seltzers conveniently placed on the bedside table in every cabin on mess dinner nights. At Mess Committee meetings and during personal encounters, Jimmy hardly ever responded with an outright "Yes" to requests for something out of the ordinary. He usually gave a grave-faced but twinkle-eyed "I'll see what I can do." Invariably he took the requested action in his own quietly efficient stride after meticulous research and preparation. All in all, he helped give Vernon its well-deserved reputation as the friendliest shore side mess in the Navy.
On a personal note, I'll never forget the mild ticking-off he gave me as a young liver-in one Monday morning for having lit the fire in the main bar during a particularly cold winter week-end. He did not object to the fire per se but would have appreciated knowing in advance so he could have had the chimney swept. He also lent his encouragement to Doug Barlow and me when we started the infamous weekly Harlequin disco nights in the main bar (complete with portable dance floor) in the mid '70s after the nearby Nuffield United Services Officers' Club (NUSOC) closed down. At that time, few other messes would have allowed their younger members to 'let down their hair' in public rooms in such a manner.
Although he became increasingly frail in his later years, Jimmy continued to attend gatherings of the MCDOA, the Portsmouth Retired Naval Officers Association (PRNOA) and the Association of RN Officers (ARNO) as well as mess functions at HMS Nelson to the last. He was always supported by his diminutive but indomitable wife Mary, kindness personified, to whom we offer our heartfelt sympathy.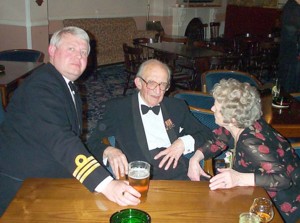 Frank Ward with Jimmy & Mary James at
an MCDOA Ladies' Night in Apr 2002
I will place more details of Jimmy's life and career on the website in due course. The funeral is likely to be held at Portchester Crematorium and details will be promulgated when available.
---
From Frank Ward:
"One of Life's 'Gentlemen' has left us. In Jimmy and Mary a more devoted and fun loving couple you could not hope to meet. Even in recent years when Jimmy was becoming very frail, he and Mary always attended the MCDOA functions and enjoyed the camaraderie of the Association. He will be missed by many and my sincere sympathy go to Mary and their Family."
---
From Paul Davey:
"Rob

I am sad to hear the news of the passing of Jimmy. He did however lead a very full life."
---
From Alan Padwick:
"Dear Rob,

I was very sad to read about Jimmy James. For me he epitomised the Vernon mess and made it the very special place it was. It is certain that he made it one of the best messes in the Navy, in my era. It had an atmosphere second to none, with a very happy staff and catering that was beyond anything I have experienced since. In the days when it was considered PC to have a decent lunch in the middle of the day, the mess was buzzing and there was always a stilton in pride of place in the middle of that lovely dining room, surrounded by other cheeses. Under Jimmy's leadership, during the times when I was part of the mess, we almost invariably won the prize for the best officers' cooks in the Fleet and the meals we ate certainly proved why.

I was lucky enough to win the Derby sweepstake one year, as organised by Jimmy. The prize was a dozen bottles of spirits, selected by the winner. I remember him clucking over me a bit as I was let loose in the cellars. It seemed that a dozen best cognac was not what the mess committee had in mind!

He also never forgot the day I put up my half stripe. The celebration was on board "Laleston", my new command, moored on maintenance jetty, devilishly and lavishly organised (at my expense!) by the present First Sea Lord who was my First Lieutenant. Jimmy never stopped reminding me of this event that he and I could barely remember through the fog of extremely good cheer.

Thinking of Jimmy brings back many good memories of very happy days associated with that delightful wardroom. It is sad to count the old guard down like this."
---
24 Apr 2004 - Award of Queen's Commendation for Valuable Service to PO(D) John Ravenhall
The following item from today's Portsmouth News describes the award of the QCVS to PO(D) John Ravenhall of HMS Ramsey and includes a tribute by CO and MCDOA member Tony Watt.

---
15 Apr 2004 - MCDOA Website Update
The website's Branch History section contains new items describing the history of naval Minewarfare and the development of the Minewarfare Branch in the RN. Additions have also been made to the Dit Box and the History of HMS Vernon.
---
13 Apr 2004 - BAe Systems developing MCM System for Littoral Warfare Vessel
The following item from today's Portsmouth News describes BAe Systems involvement in the design of a proposed new Littoral Warfare Vessel. (For a sneak preview, take a look at 'A 21st Century Short Story' in the website's Dit Box).

---
2 Apr 2004 - De-commissioning of HMS Dryad
The following item from today's Portsmouth News describes yesterday's paying-off ceremony marking the end of HMS Dryad as an independent naval establishment after 63 years in commission. The Pickford's lorries were lined up outside Coniston Block (the Minewarfare Training Section) as I drove past it at lunchtime today.

---
1 Apr 2004 - Navy News Items
The following MCD-related items from the April issue of Navy News describe home town visits by HMS Ramsey (featuring CO and MCDOA member Tony Watt) and HMS Dulverton (featuring CO and MCDOA member Peter Laughton), a round-Britain charity RIB trip by PO(D) Alistair Reilly of HMS Ledbury and a recruitment dive by SDU1.
---