Items from The News, Navy News and Warship World are reproduced by kind permission of David Brown, Jim Allaway and Mike Critchley respectively. Click on the thumbnails to enlarge them.
---
30 Mar 2004 - Message from MCDOA Member Bill Norton
"Dear All

Having returned to my abode in the not so sunny South, may I thank everyone who came to Robbie Robinson's funeral. It was a very good turnout, greatly appreciated by the family and a good send off for Robbie. Particular thanks to Rob for giving it such wide publicity and for his help with the arrangements.

For those who were only able to read the obituary in the Telegraph and the allusion to a Gallantry reward; always the pragmatist, Robbie took the option of becoming an instant "Admiralty Made" CPO as a battlefield promotion for his exploits in Normandy, rather than a decoration. He considered that the resultant increased pay and pension would be a more useful reward to him and Gwennie than a medal. Later, however, he was appointed as an MBE for gallantry with the crossed oak leaf emblem on the ribbon rather than the more usual citation for distinguished service.

Yours Aye

Bill Norton"
---
29 Mar 2004 - RN Divers' Golf Championship 2004
This year's RN Divers' Golf Championship (otherwise known as the Divers' Open) will take place on Fri 30 Jul at Southwick Park. It is being organised by Mel Meleady (Tel: 07810 694289). Further details, including a booking form, will be posted on the website when available.
---
26 Mar 2004 - Another Robbie Robinson Obituary, Sonar 2193 in HMS Hurworth and Artificial Reef to be checked by CDs
The following items from today's Portsmouth News include an obituary for Robbie Robinson, a description of wideband Sonar 2193 fitted in HMS Hurworth (featuring MCDOA member Dave Hunkin) and the announcement that HMS Scylla is to be sunk tomorrow and used as an artificial reef after being checked by RN CDs.
---
24 Mar 2004 - Bernie Bruen's Single-Handed Trans-Atlantic Attempt
MCDOA member Bernie Bruen reports that he will leave Weir Quay Boatyard on the River Tamar at 1600 on 1 May 2004 to start his unsupported, non-sponsored, non-stop, single-handed Plymouth/round Bermuda/Plymouth voyage in the boat he designed and built himself.
He will probably be serving crab sandwiches and Seaview champagne but if anyone would like to help load stores, etc., he should be alongside from about midday.
We wish Bernie fair winds and a safe and successful outcome to his endeavour.
---
From Martin Woolley:
"Rob,

Please pass on my very best wishes to Bernie for his forthcoming venture to Bermuda and back. If he discovers the Bermuda Triangle and is set off course to the south, tell him to find Key West, go into the Gulf of Mexico until he reaches Corpus Christi. We will assure him a fine welcome on arrival.

All the very best of luck Bernie."
---
23 Mar 2004 - Suspect IED in Portsmouth
The following item from today's Portsmouth News describes a call-out for a suspect IED in Portsmouth, presumably dealt with by SDU2.

---
17 Mar 2004 - Dates for the Diary
This year's Army v Navy rugby match will be played at Twickenham on Sat 1 May. For those interested, Messrs Barlow, Holloway and Hoole will be going on the coach from HMS Nelson. Why not join us?
Tony Griffiths (our Hon Sec) has confirmed that this year's Ladies Night will be held at the Royal Naval Club & Royal Albert Yacht Club on Fri 21 May. Further details and booking forms will be sent to individual members by e-mail or post in due course. We are looking for maximum attendance for this very reasonably priced yet thoroughly enjoyable five-star event.
---
15 Mar 2004 - Funeral of Lt Cdr Robbie Robinson MBE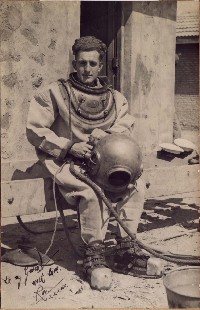 As expected, it was standing room only at Robbie's committal in Portchester yesterday and members of the family were well supported by representatives of the MCDOA, the ASWIs' (formerly TASIs') Association, the Portobello Association, the Ton Class Association and the Portsmouth Retired Naval Officers' Association plus a host of other friends and former naval colleagues. Familiar faces included Doug Barlow, Dave Bartlett, John Coggins, Morty Drummond, Brian & Audrey Dutton, David Edwards, Dave Forsey, Tim Hildesley, Martyn Holloway, Rob Hoole, Bob Lusty, Julian Malec, Ralph Mavin, Ian Morton in naval uniform (so nice to see one there; thanks Ian), Bill Norton, John O'Driscoll, John Parry, Ramsay Pearson, Tim Trounson and Frank Ward plus many others I have probably missed out. Apologies were received from Sir Nigel Essenhigh, John Grattan and Bruce Nicolls for their unavoidable absence.
Robbies's casket was draped in a white ensign with his cap, sword and colourful array of 13 medals displayed on the top. The naval hymn 'Eternal Father' included the verse for divers penned by Bill Filer. Bill Norton provided a fine no-nonsense eulogy during which he remarked that Robbie could never understand people who didn't suffer fools gladly; he didn't see why anyone should suffer them at all! Towards the end of the service, Bill rang 5 Bells on the ship's bell of HMS Laleston (Robbie's former command) in the interval between a Royal Marine bugler's note-perfect rendition of The Last Post and of Reveille; Robbie qualified for his own green beret to serve with 41 Independent Commando Royal Marines in Korea.
After the service, family and friends adjourned to Robbie's house in Drayton where many 'Old Ships' from various phases of his life discovered previously unknown connections; the air was thick with dits. It was all very uplifting and everyone seemed to have more of a spring in their step when they departed their separate ways. Robbie would have enjoyed it immensely.
Our deepest sympathy goes to Robbie's son Ron, his daughter-in-law Jacky and his grandchildren Tom, Beth and young Robbie who suffered us old codgers so gladly and mingled with us freely. The MCDOA is making a donation to the RNLI in Robbie's memory and Ron has asked me to express his particular thanks to the Association for our help with all the arrangements and for seeing Robbie off in such style.
For those unable to read Robbie's obituary published in the Telegraph on 13 Mar 04, the online version is available here. Many members' tributes to Robbie have also been appended to the article below dated 1 March 2004.
---
12 Mar 2004 - Supersession of MCDOA Honorary Secretary
Tony Griffiths has now relieved Topsy Turner as our Honorary Secretary. We welcome Tony to the Committee and offer Topsy our heartfelt thanks for all his efforts on behalf of the Association over the past few years. We wish him, Yvonne, Harry and Jenni the best of good fortune for their new life in New Zealand. Topsy, do keep in touch with your many friends 'back home'.
---
5 Mar 2004 - Presentation by Managing Director of Gunwharf Quays (formerly HMS Vernon)
I am a member of the Chartered Management Institute (CMI) which is organising a presentation by Mike Davidson, the Managing Director of Gunwharf Quays (formerly HMS Vernon). His presentation will describe the growth of the site from the early days, the process that was used to achieve this growth and a summary of what is on the current site. He will also discuss the latest developments at Gunwharf Quays including the effect the Spinnaker Tower will have on the area.
Date: Thursday 22 April 2004.
Time: 1800 - 1830 assemble for finger buffet. Presentation starts at 1900.
Venue: The Boardroom, Gunwharf Quays Management Ltd, Centre Management Suite (opposite M&S), Gunwharf Quays.
Cost: £8 for CMI members. £10 for non-members.

If any MCDOA members would like to attend this event, please e-mail me by 31 Mar at webmaster@mcdoa.org.uk or call me on 023 9278 9524. I will try to make a block booking.
---
4 Mar 2004 - Leading Diver 'George' Walters
The following item from today's Portsmouth News features Leading Diver 'George' Walters whose funeral was held today. It contains a tribute by MCDOA member John Burden, CO of the Northern Diving Group of which George was a member for the past 4 years.

---
3 Mar 2004 - Reappointment of Brian Mansbridge & Promotion for CO of HMS Brecon
The following items from today's Portsmouth News describe the reappointment of MCDOA member Brian Mansbridge (former Superintendent of Diving) to the board of the Portsmouth City Primary Care Trust and the promotion of HMS Brecon's female CO. Our congratulations to both of them for their individual achievements.
Just to bring him down to earth, here's a picture of Brian sitting on the heads in 1989 (when CO of HMS Cottesmore) in a Roman ruin in Tunisia between Paul Baker (then CO of HMS Chiddingfold) and me (Rob Hoole) when CO of HMS Berkeley.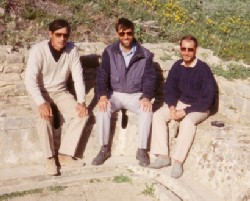 ---
1 Mar 2004 - Navy News Items
The following MCD-related items from the March issue of Navy News feature HMS Brecon (first woman CO of a British operational warship), HMS Chiddingfold, HMS Ledbury, HMS Brocklesby, HMS Inverness (featuring MCDOA members Dave Bence and Simon Pressdee), HMS Inverness (again), HMS Shoreham, HMS Grafton (featuring Adrian Cassar), SDU2 and the Ton Class Association.
---
1 Mar 2004 - Lt Cdr RSC 'Robbie' Robinson MBE
I regret this is becoming an unwelcome and painfully frequent duty. Surg Capt Ramsay Pearson has just confirmed that Lt Cdr 'Robbie' Robinson MBE died around midday on Thurs 26 Feb while in QA hospital at Cosham near Portsmouth. I last called in on Robbie at his home in Drayton about 3 weeks ago when he was developing a chest infection.
As many of you will know, Robbie was one of only two members of the MCDOA to be awarded honorary membership (Ramsey is the other) in recognition of their outstanding achievements and particular contributions to the Minewarfare & Clearance Diving fraternity. Newer members may not be aware that Robbie often contributed money to be spent 'behind the bar' when he became too infirm to attend our gatherings.
During his illustrious career, Robbie was a 'bunting tosser' in HMS Ajax at the Battle of the River Plate. He qualified as a Torpedo Gunner's Mate in HMS Marlborough in 1943 and volunteered for a Landing Craft Obstacle Clearance Unit in which, according to him, he had his kneecaps 'shot away' as a member of the Beach Clearance Party at Dieppe. As a petty officer at Normandy on D-Day, he described himself as having been 'filleted' when a shell or mortar bomb exploded in the water quite close to him. This incident is described on pp.118/119 of Waldron & Gleeson's book 'The Frogmen'. He was working in 6 ft of water and was saved by the kapok jacket he wore underneath his suit although he was knocked out and left paralysed for several hours. He also sustained a back injury that plagued him for the rest of his life. A Royal Engineer some distance further away was killed outright.
Robbie was commissioned after the war and, having qualified as a diver in Alexandria as a rating, he automatically became a CDO. He served for a spell with the Indian Navy and was later CO of HMS Laleston when she was HMS Vernon's Diving Training Tender. A certain Midshipman Nigel Essenhigh, later to become CINCFLEET and First Sea Lord, was serving in Laleston at the time and became one of Robbie's oldest and closest friends. As described on p.364 of Admiral Edmund Nicholas 'Nico' Poland's book 'The Torpedomen', Robbie then served for many years with the Weapons Trials Team in Vernon until the unit was disbanded in Sep 1983 after 113 years in existence. Robbie's last task in the RN was to turn out the lights and lock the doors on 28 Oct 1983. As Adm Poland says in his book, Robbie can thus fairly claim to be 'the Last Torpedoman'.
Robbie returned to Vernon on 31 Mar 1986 to be one of the few present at the hauling down ceremony to mark its closure as an independent establishment. The only other attendees were the colour party (one sub-lieutenant, one CPO (Caterer) and three young divers), Ramsay Pearson and Trevor Lynn the Padre.
Robbie was well know as 'the Bard of Vernon'. A prodigious reader and authority on literature, poetry, philosophy, history and the arts in general, he wrote many things himself and was awarded a Doctor of Letters degree for his efforts.
Whenever a significant event arose in Vernon's wardroom calendar (e.g. Portobello Night or visits by Roedean school where much of Vernon had been evacuated during WW II), Robbie was the Commander's first port of call for any historical information owing to his prodigious background knowledge and his deft penmanship. He ended up ghost-writing speeches for a long succession of Vernon Commanders throughout the 1970s and early 1980s.
In 1976, it was HMS Vernon's turn to host the 'Olympiad' challenge to HMS Excellent. This tournament had been established in the days when the Long Torpedo and Anti-Submarine (TAS) course of HMS Vernon vied against their arch-rivals the Long Gunnery (G) course of HMS Excellent. As the Long TAS course had been abolished with the inception of the PWO course, the responsibility for organising the Olympiad was passed to my Long Minewarfare & Clearance Diving Officers' (LMCDO) course. At my request, Robbie (a Long TAS Course graduate himself) penned a robust and witty challenge, a task he was frequently asked to undertake. I had his ode reproduced in flowery script by the graphics department and mounted on a 3 ft wide wooden replica of a limpet mine manufactured by the Vernon-based Portsmouth Craft Group (PCG).
Our LMCDO course duly transported the 'challenge' to Whale Island in a Russian-made black motorcycle and sidecar combination owned by Lt Cdr NA 'Bernie' Bruen MBE DSC (a fellow course member). On our arrival, we presented it to the infamous Cdr Frank Trickey, Excellent's Ceremonial Parade Commander and maestro of state occasions (e.g. Mountbatten's funeral). I had intended to lay the mine outside the wardroom door but Cdr Trickey insisted on taking it in his arms before inviting us in for a welcome drink. The following week, Cdr Trickey appeared outside Vernon's wardroom in a pony and trap with Whaley's response to Robbie's challenge. This led to the traditional competitive fun and games culminating in a mess dinner enjoyed on such occasions.
Similarly, Robbie penned most of the challenges and responses for the intervening 'Bone of Contention' matches between HMS Vernon and HMS Dolphin. The original 'bone of contention' had been the disturbance caused by returning Dolphin liberty men passing the Captain's old house in Vernon en route to the jetty but this was made manifest in the form of a huge white bone mounted on a wooden plinth. As with the Olympiad, the results of these inter-establishment competitions were always fixed so that the hosting challenger 'won' the trophy until the next year when it would inevitably change hands.
On a personal note, I have treasured the friendship of Robbie and his dearly departed wife Gwennie since I first joined Vernon as a sub-lieutenant in March 1973. One of Robbie's most thoughtful acts was to present my elder daughter Katy (now aged 21) with a copy of Louise M Alcott's 'Little Women' at her christening as a baby in the diving helmet font in Vernon's chapel in 1983 because she shared the same birthday with Miss Alcott.
The funeral will take place at 1200 on Mon 15 Mar at Portchester Crematorium.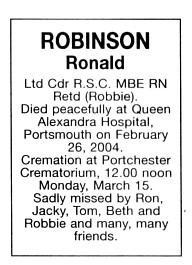 ---
From John Grattan:
"Dear Rob,

Thank you very much for your superb C.V. on Robbie although the occasion for its dissemination is very sad indeed. You do a wonderful job in keeping us all informed of both sad events as well as ones that are much more fun. I just hope that you are told often enough and strongly enough what a great (unpaid) job you are doing and how very much it is appreciated

Robbie was the second dickie on my 1961 Long T.A.S. Course (the course officer being Jo Streatfield-James) and they/we have remained friends to this day. In fact Jo told me that Robbie had moved on an hour after it happened as he and Sally were about to visit him in Queen Alexandra's. I next served with Robbie when he was head of the TAS/CD section at Hazlemere/Rowner when I was non-tech "draftee". In anybody's language he was a great man and I am pleased to have been one of his many friends."
---
From Jon Riches:
"Rob,

How very sad. I always had huge admiration for Robbie who set an example which was very difficult to live up to. After he retired I saw him regularly at lunchtime in the Pembroke Arms in Old Portsmouth. I think it was one of his favourite watering holes! Always cheerful and full of salty dits it was a pleasure to be with him.

I am in UK at the moment and return to France 10 Mar so hopefully I will be able to attend his funeral."
---
From Bill Norton:
"Rob,

I have just heard from Ron's son, also Ron, that arrangements have been made for the cremation at Portchester at 1200 on Monday 15th March. Understand no flowers but donations to the RNLI (to be confirmed.) Grateful you advise the Association accordingly.

I am in touch with Ramsay Pearson and will see if we can put together a potted history in addition to your first run. Very great loss for me, he has been a great personal friend since he was my D.O in Crossbow in '52/53."
---
From David Hilton:
"Rob,

Thank you. How very sad."
---
From Alan Padwick:
"Dear Rob,

Thank you for letting me know about Robbie. I entertained him and his wife on board "Laleston" in 1971 (or 72?) for a little party to celebrate his last day in uniform, if I remember rightly. The present First Sea Lord was my First Lieutenant and he was present, as was Sub Lieut David Habershon. He came out with a few dits that night! I wish I had written them down. Perhaps you had better inform Alan West in case he remembers the occasion?

Do promulgate details of the funeral in good time. If it is possible to get there, it would be good to send him off properly."
---
From Frank Ward:
"Rob,

Oh dear, more sad news. But when all the ticks are used up that's it. I will try my best to come to the funeral once we know when it is."
---
From Geoff Goodwin:
"Rob,

Sorry to hear about Robbie Robinson - one of life's great characters. I know you were closer to him than most. Please accept my sincere condolences.
---
From Paul Davey:
Thanks Rob,

Sad news but Robbie enjoyed a full and exciting life having achieved much."
---
From non-member Cdr Bruce Nicolls OBE (eminent naval historian & vexillologist):
"Rob,

Many thanks for the news about Robbie. A great loss, but for him a blessed relief from the suffering and a re-union with his beloved Gwennie. I hope to be able to make it to the funeral.

It was always fascinating to listen to him on my visits. I remember him telling me that it was he, as a member of the mess committee, who suggested that the Vernon wardroom should celebrate Portobello.

There was also a story about a report he had written for the Captain of Vernon in which he had used a Latin expression. The Captain told him to re-write it in English saying, "I am a Captain Royal Navy, not a bloody Centurion!"

Thanks again for your efforts - I am most impressed by the MCDOA website."
---
From John O'Driscoll:
"Dear Rob,

Thank you for your E-Mail regarding Robbie. Like many others, I have very fond memories of him from my time in the Navy. Unlike many others in our hallowed Branch, Robbie understated himself in every respect. He was particularly kind to me when I was a Midshipman in the 5th MCM Sqn in 1963 and as a newly qualified CDO in 1965.

He is a sad loss to us all and it can be truly said that he takes with him the unique qualities which made the backbone of what is now the MCDO Branch. They just don't make them like him anymore. Do you have any pictures of Robbie?

Thank you for all your efforts in keeping us "old hands" in the picture regarding the welfare of our fellow members. It has meant a great deal to me over the years."
---
From Dan Nicholson:
"Oh how sad to lose one of the few people in life that you meet and can always recall as a gentlemen. I would make every effort to attend the funeral.

Thanks Rob."
---
From Andy Walsh (former Canadian Navy exchange officer in Vernon):
"Rob,

Thanks for keeping me informed. George [Walters] was a member of my team and a friend. Robbie was also a friend. I wish I could do more from here [Hawaii]. Please stay in touch."
---
From Mike Gillam:
"Rob,

Robbie was a lovely man. Although we never served together, we met up from time to time in Vernon where he could often be found at the intellectual end of the bar dispensing wisdom born of long experience to younger members of the branch. He was intelligent, witty, knowledgeable and dignified - for a diver. I can add no additional information about him apart from the fact that as boy, he attended the Roan School at Greenwich, of which he was very proud. I know this because somehow, it emerged from one of our many conversations over a tall glass when I told him that my father attended the same school - many years earlier."
---
From Ron Robinson (Robbie's son):
"Rob,

Many thanks for this – there are some wonderful messages there. I've taken the liberty of e-mailing Mike Gillam, as I thought he might be interested to know that two of Robbie's grandchildren (Tom and Beth) also attended the Roan school, as did Robbie and Mike's father. As a matter of interest, so did Jo Streatfield-James, one of Robbie's oldest friends – small world!"
---
Further thoughts from Bill Norton:
"Here follows what I have remembered from many yarn-spinning sessions with Ron over the past fifty-two years, during which he hardly ever talked about his wars.

Ron, or Robbie as he was generally known, was born in 1921 into an army family which came from Southwold in Suffolk. His father was a regular soldier in the Royal Artillery and had served for some years in India with a mountain gun battery (the mules and screw guns of Kipling's poem). The family accompanied him when the battery was posted to Mauritius in the late 1920s and Ron had many happy memories of an Indian Army style of life on the island. After five years in Mauritius, WO Robinson was posted to Woolwich and the family settled in London. Ron won a scholarship to the local Grammar school but later decided to join the RN as a boy entrant, joining HMS Ganges at Shotley Gate near Ipswich in 1936. Being a bright lad he was selected for training as a signal boy. He was to write many years later that although life at "Shotley "was pretty hard, his main complaint was that he never actually understood what the training was for.

On completion of his training he was drafted to his first ship, the cruiser HMS Ajax. He was in Ajax as a signalman at the Battle of the River Plate and had a narrow escape when, in addition to the damage to the after turrets, the bridge and flag deck were damaged and the foremast shot down. After repairs, Ajax became part of the Med Fleet and Ron's next event was to qualify as a diver in the school at Alexandria. He transferred to the seaman branch at about this time because, "Some fool raised some CW papers on me and I could not progress as a bunting". Returning to the diving school at Chatham he was then drafted into the Dieppe landing force for demolition duties. I do not know the details but he was wounded there but safely evacuated. On returning to duty he then qualified as Torpedo Gunner's Mate in 1943 and was involved in some bomb and mine disposal duties before joining one of the LOCU (Landing Craft Obstacle Clearance Unit) teams being formed up in preparation for the landings in Normandy. As described in the book 'The Frogmen', Robbie, then a PO, was injured by a shell exploding nearby which damaged his back, but he believed that his life was saved by a kapok jacket which he was wearing under his suit. On recovery he joined the rest of the teams who assisted the "P" (Port Clearance) parties in clearing Cherbourg harbour, and then cleared the landing sites for the invasion of the heavily fortified island of Walcheren. Instead of getting a gallantry award for those operations he became an "Admiralty Made" CPO in late 1944. His team were standing by to support landings in S.E Asia but Robbie however was lent to the R.I.N as an Acting Sub Lt. and served in a ML during the Arrakan campaign. On return to U.K he reverted to his substantive CPO's rate. I believe he then had a period as submarine spare crew but in any event, at the start of the Korean war in 1949 he was drafted to 41 Independent Commando Royal Marines and served with them as an explosives and demolition specialist. The company was attached to the 1st US Marine Corps and formed the rearguard at the retreat from the Chosin Reservoir. He was not very impressed with the US performance.

Robbie was even less impressed when, on his return to Vernon after some 2 years unaccompanied service with 41 Commando, he was advised that he was now at the top of the seagoing roster. When he questioned this he was told that time with 41 was considered to be shore service. It is interesting that he had a most unusual set of campaign medals accrued from the different special forces activities he was involved in.

Robbie qualified as a Gunner (T) in 1952/53 and was appointed to HMS Crossbow (Cdr (later R Adm) Colin Madden, another Normandy survivor) where I, as a Boy 1st Class, met him for the first time. I have many memories of him in Crossbow when he seemed to be a very large man always busy about his torpedoes, depth charges and Squid mounting. In particular I remember him, on a bitterly cold day, diving to remove a berthing wire which had become foul of the starboard propeller while berthing between buoys at Gillingham Reach. No gloves of course, and his fingers swollen like sausages. I thought he was a real tough guy, but in fact as my DO when I became an Ordinary Seaman he was as gentle as a lamb. Well most of the time anyway. Our First Lieutenant was David Hepworth, another Shotley Boy, who also went on to become a Rear Admiral. Robbie told me that although David Hepworth had been his Captain in a submarine when Robbie was a CPO he could not have been more helpful in welcoming Robbie, as newly promoted Gunner, into the Mess in Crossbow.

After Crossbow, Robbie had a variety of TAS (Torpedo & Anti-Submarine) appointments ashore and afloat including HMS Carron and HMS Contest. He was the Assistant to Jo Streatfield-James as Course Officers for the 1961 Long TAS Course with John Adams as the Course TASI. The three remained good friends to the end. I am not sure that he ever became an MCD officer but he certainly continued as a Diver for as long as Ramsay Pearson would sign his medical chit. In 1962 Robbie was appointed as TASO of HMS Eskimo in the then Persian Gulf, where among many other activities he arranged and wrote the script for a revue called Shotley Motley which was performed by ex Ganges boys in the Squadron at Bahrain. On leaving Aden for the last time, after the withdrawal of British forces he wrote:

"Aden, O Aden,

Now that you're fading

Into the sunset, astern,

Please don't think me hateful

Or even ungrateful,

But, I never want to return."

Eskimo returned to Portsmouth and Robbie to Vernon where he was the training Planner before being appointed to Commodore Naval Drafting as the TAS drafting officer. He was then delighted to be appointed as CO of HMS Laleston where he recognised the potential talent of one of his young officers, Nigel Essenhigh, who subsequently went on to become First Sea Lord via HMS Reclaim and several other appointments on the way. Unfortunately his old back problem re-occurred during a stormy passage of the North Sea and Robbie found himself back where it all started, in HMS Ganges; this time however in the Sick Quarters. He told me that the Juniors were very impressed when they found out that he was an ex Ganges Boy and now had his own command. He was not able to continue at sea thereafter but did have command of one more of HM Ships when he was appointed to HMS Belfast, and handed her over to the museum authorities. I am not sure when he was appointed as an MBE or what the citation said, but he was very proud that he was entitled to wear the Oak leaf on the ribbon. On reaching normal retirement age he apparently was offered an extension with the acting rank of Commander to be the Commander's Assistant. He greatly appreciated the offer but declined it and instead took up the post as head of Sea Trials, as an RO1. There he continued to serve with distinction, forever tilting at windmills to do his best for the people who would man, and fight, the ships that were being produced.

Behind all this RN activity there was a great love story. After a whirlwind courtship while on Christmas leave in -1940??---, Robbie the dashing young sailor married Gwen, an even younger and certainly more attractive, girl next door. Despite all the separations and difficulties inherent in a Naval marriage Gwen supported Robbie through it all and their marriage was an outstanding success. He had a fund of stories of Gwen's ability to bring people down to earth and he used to compose a little ditty for her in his daily letters when at sea. Almost single-handedly for a time, Gwen brought up their son Ron. They were both extremely proud of "Young Ron" and his family and I know that Robbie adored his Grandchildren. In her lifetime Gwen firmly anchored the family and together they were a devoted couple. Robbie nursed Gwen through her final illness but never really recovered from her passing and his grief was palpable until his own end.

Robbie was greatly interested in history and the English language. For a long time he was the official historian of Vernon and personally took out preservation orders on the older buildings. At the final closing day of Vernon as a Naval establishment he was the only torpedoman there when they lowered the flag - truly the Last Torpedoman. He was very much in demand from researchers and well sought after as a speech maker and guardian of the traditions of Vernon and the TAS and Diving branches. In retirement he wrote a thesis on life on the lower deck in Nelson's time which earned him a D.Litt. I believe the major part of the thesis was included in a book written by a well known author of historical Naval books. He himself had a voracious appetite for factual historical books, mostly naval or military but also English and Indian history. He remained an independent soul to the end, only very reluctantly giving in to the social and medical services when even the devotions of "The boys", John and Dave, were no longer adequate. I understand that it was he who summoned the ambulance to finally take him off to hospital.

I could continue for a very long time recounting the life of my friend for so many years, my mentor and teacher, who in a way, was also a substitute father. He had a profound influence on all who knew him. He was that fast disappearing entity, a GENTLEMAN. I am proud to have known him and will miss him greatly."
---
From Dave Forsey:
"Rob,

Thanks for keeping us Berkshire exiles in touch. You do a wonderful job.

So sad to hear of Robbie's departure - he was one of the kindest, nicest blokes I ever had the good fortune to meet. He being an ex-Bunting Tosser, we communicators (me a sparker) had plenty of banter and in the '70s I spent quite some time with him and Gwennie instructing them on the mysteries of the "knitting machine" - a hobby of mine at the time.

Will strike South on Monday to be at the funeral - see you then."
---
From Bob Hawkins:
"Thanks for the news Rob, albeit unwelcome.

I've spoken to him many times but had no idea his war career was so illustrious. As on other occasions when acquaintances of mine have passed away, I wish I'd had more opportunity to get to know him better, but we just don't have the time at our infrequent gatherings.

I hope Sir Nigel has been notified; it would be splendid if he could make the funeral."
---
From Brian Mansbridge:
"Rob,

Thank you for the MCDOA update and your sterling efforts to properly mark the sad passing of Robbie.

He was a true Hero and Gentleman as the many responses reflect."
---
29 Feb 2004 - Minewarfare & Diving Magazine Update
Chris Baldwin reports that he received a wealth of material for the 2003 MAD magazine in early January and he has now sent it to the printers. Hopefully, it will appear on the streets before the end of 2003 (tax year, that is).
---
28 Feb 2004 - MCDOA Northern Dinner
The Photo Galleries in the Members Only area now contain pictures of the superb MCDOA Northern Dinner held in HMS Neptune at Faslane last night. The meal was preceded by a minute's silence in memory of LS(D) 'George' Walters of NDG who died so tragically last Saturday. His funeral will be held on Thursday 4 March.
Alan Bayliss presided for the evening with Ken Kempsell as 'Mr Vice'. We were lucky enough to have several marvellous guests including Topsy Turner as our leaver, Cdr David Steele (ex-HMS Lochinvar, former DBSO HMS Cochrane and now Deputy Naval Regional Officer Scotland, Northern England and Northern Ireland), Cdr James Leatherby (Cdr of HMS Neptune), Cdr Mike Percharde (former CO of HMS Ledbury and now Cdr Sea Training (Minewarfare & Patrol Vessels)), Capt Alan Wilson MN and Police Chief Inspector Fred Hall. Other attendees included Bertie Armstrong, Ian Berry, John Burden, Steve Gobey, Tony Griffiths, Rob Hoole, John Law, Mike Loane, Matt Offord, Richard Osbaldestin, Harry Parker, Peter Waddington and Frank Ward. Sadly, John Belchamber and Derek Clarke were snowbound and couldn't make it. Bob Hawkins' singing voice was also sorely missed (do I really mean that?). David Steele dished the dirt on Topsy (e.g. did you know he was called 'Daisy' at school?) and Alan Bayliss presented him with his MCDOA glass diver (thanks Cliff and Alan).
Topsy & Yvonne were kind enough to cook a mega breakfast for several of us survivors at their home this morning before we went our separate ways. They say we can all visit them in New Zealand whenever we want so is anyone else interested in chartering a 747 next year? Bags me the upper deck.
---
24 Feb 2004 - Leading Diver 'George' Walters
Leading Diver Jeffrey (George) Walters of the Northern Diving Group (NDG) died last Saturday while diving at Oban. The cause of death has yet to be ascertained.
A service funeral will take place near Newcastle-Upon-Tyne during the first week of March. All members of the Diving Branch who knew George and wish to attend the funeral are welcome to do so. Please contact one of the POCs for details in advance. Rig will be the equivalent of No 1's with medals - negative swords and arm bands. The family have requested that donations be made in place of flowers (a charity will be named in due course). Topsy Turner, our Honorary Secretary, knew George well and was in Oban the day before the incident. He is organising a donation to charity on behalf of the Association in lieu of our normal floral tribute.
POCs at NDG are Lt Cdr John Burden 0143 674321 Ext 6870 and Warrant Officer Dave Morris 01436 677326.
---
21 Feb 2004 - Sir James Hann of Seaforth Maritime
Sir James Hann was Managing Director of Seaforth Maritime during the late 70s and early 80s. MCDOA member Duncan Bridge has provided the following items and was responsible for Sir James and his wife descending to 700ft in a diving bell. At the time it caused hysteria in Aberdeen - the VHF went haywire. Seaforth senior management were convinced that he was going to do away with their top man! The second item is an extract from the December 1982 edition of the Seaforth Maritime house magazine.
---
11 Feb 2004 - Ledbury Charity Cycle Ride
The following item from today's Portsmouth News describes the start of a 160-mile charity cycle ride performed by members of HMS Ledbury's ship's company in aid of Marie Curie cancer care.

---
10 Feb 2004 - First MCDO Admiral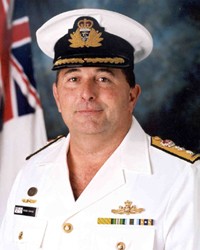 Former RN and RAN MCDO Graham Sharp-Paul in Australia informs us that Russ Crane has been promoted to Rear Admiral in the RAN and thus becomes the first MCDO to hold flag rank. Russ undertook the Minewarfare module of LMCDO '77 at HMS Vernon having qualified as a CDO at HMAS Penguin. Between 1981 and 1983 he occupied the RAN exchange billet in the Minewarfare Section at Vernon. We all offer Russ our warmest congratulations on his achievement.
A biography of Russ is available at: www.navy.gov.au/commanders/cansc.htm.
---
1 Feb 2004 - Navy News Items
The following MCD-related items from the February issue of Navy News feature the fitting of wideband Sonar 2193 and NAUTIS 3 in HMS Hurworth, recent activities of HMS Atherstone and the presence of HMS Beachampton at the fiery end of the Cunard liner Queen Elizabeth in Hong Kong harbour in 1971.
---
28 Jan 2004 - New CO for Brecon
The following item from today's Portsmouth News describes the appointment of Lt Charlotte Atkinson RN as the first woman to command a British operational warship (HMS Brecon).

---
26 Jan 2004 - General Notice to Members
Happy Australia Day.
To date, 103 members have registered to access the Members Only area of the website and their names and e-mail addresses are listed therein. Recent additions to the Members Only area include personal updates from new members Wave Crookes and Matt Offord, fresh funnies and booking forms for the Northern dinner on 27 Feb (see the Upcoming Events page). This will be our only opportunity to dine our stalwart secretary Topsy Turner out of the RN before he transfers to the RNZN later this year.
Please note that we will celebrate the 25th anniversary of LMCDO '79 at the annual dinner this year on 5 Nov in Portsmouth. The course comprised Tony Rose (Course Boss), Bill Chambers, Tim Curd, Colin Dodd, Sven Kalvoe RNoN, Allan Rankin (now RAN), Andy Ryan, Gordon Stamp (now RNZN), Taff Sweeney (now RAN) and last but not least, our venerable President Colin Welborn. Efforts are being made to muster as many of the course as possible for the occasion. It should be a night to remember.
---
24 Jan 2004 - Mark Durkin's ship's Lynx creates chaos
The following item from today's Portsmouth News features MCDOA member Mark Durkin giving a highly technical explanation of aerodynamics following an incident involving his ship's Lynx helicopter while carrying him and his son. Mark was last in the news for being in charge of Op Fresco naval fire-fighters during the firemen's strike. Then, he was putting out fires. This time he's putting out school windows!!!

---
14 Jan 2004 - Funeral of Neil 'Wiggy' Wiggins (1956-2003) - Eulogy delivered by Duncan Bridge at Portchester on 7 Jan 2004.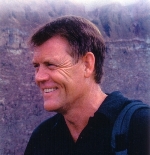 Neil Wiggins, or 'Wiggy'
as we affectionately knew him:
"Neil joined the Royal Navy in 1972 at the age of 15 as a trainee electrical engineer. He qualified as an engineer but decided on a change of direction in 1977 to pursue a career as a Navy Clearance Diver. One of his first postings was to the Naval base at Rosyth where he was a member of the bomb disposal team. I first met him in HMS Nurton in 1979. He returned to Portsmouth to complete the Leading Diver's course at HMS Vernon, subsequently joining the saturation diving team which involved experimental deep diving and various diving trials. I trained with him as a saturation diver in 1981.

The high point in his naval diving career came after joining Naval Party 1007 on board MV Seaforth Clansman where he was a member of the diving team that was responsible for the recovery of the navy's first submarine, Holland One. A personal letter from the then Flag Officer Submarines, Admiral Herbert, read as follows:

"His skill and leadership as the main dive team leader clearly provided inspiration to the other divers and he made a marked contribution."

This was also the cause of Neil's first of several national television appearances when the BBC broadcast a lengthy interview about his work as a saturation diver.

Neil's time served in the navy gave him a thorough grounding and the necessary discipline to pursue a successful career as a commercial saturation diver, working mainly in the North Sea with many of his old Navy team mates. Neil's first contract was with the Aberdeen based diving company, Comex.

It was in the summer of 1984 whilst working for Comex that he was called upon to carry out the heroic rescue of his colleague George Lawson who was rendered unconscious by an explosion during an underwater cutting operation. Without a shadow of a doubt, Neil's clear thinking, professionalism and determination saved George's life. Neil was awarded the Frank Dearman award for bravery and a Queen's Commendation. The rescue was featured in a dramatised, and dramatic, reconstruction on the BBC television programme '999' giving Neil a short career as a film star. Those of you that have seen the video of the actual rescue, taken from a nearby remotely operated vehicle, will have been left in no doubt as to the great courage and stamina displayed by Neil.

Fortunately, most divers are never called upon to rescue their colleagues underwater but Neil's calm and selfless bravery was again called upon in 1987 when he saved two hypothermic divers, Fred McNally and Kanute Monstra, from a stranded welding habitat. Fred is still diving commercially today at the age of 65. Again, Neil was recognised for his valour by being presented with the Silk Cut award for Nautical achievements. He was now a real life one-man International Rescue.

Everybody, supposedly, has their 15 minutes of fame but Neil, being Neil, has had more than his fair share. As a result, he was invited to become an honorary member of the Stuntman's Association. Indeed, at one point he even considered becoming a paid stuntman and thereby adding another string to his bow. Wiggy well and truly made his mark as a capable and highly dependable diver but the time came for him to retire from the water and become a supervisor, a job which he did with his wonderful, calm, professionalism, tempered with his dry humour. He continued to diversify and was becoming well established in the management of diverless operations.

During this past week Neil's former colleagues have sent many wonderful thoughts and recollections to his family. Here are but two:

From Tony Thompson, "Tommo", who unfortunately cannot be here today:

"Once again we lose another friend from the fold. It seems that the year 2003 has been a bad year for losing friends and to have one of the best taken away from us at such a young age is very sad. I knew Wiggy both in the diving branch and offshore and regarded him as one of the best divers I have ever come across. He was very professional in both the military and civilian diving world and would always take time out to help people, especially newcomers to the offshore world. I would like to offer my sympathy to his family and my thoughts are with them for the difficult times ahead. Wiggy will be sadly missed. I am sorry I will not be able to attend the funeral as I have returned to the Lebanon. However I am sure that he will be given a great send off from all that knew him."

Tony Keen, another friend, recalls this anecdote about Wiggy:

"When ashore Wiggy had a wide range of sporting interests and fly fishing in particular was one of his passions. One Friday afternoon he was introducing Jessie James, a mutual diving friend, to the basics of casting a fly when Jessie, with no skill but with great good luck, hooked a trout so large as to make Wiggy green with envy. In all his years Wiggy had never caught so large a trout. Jessie was instructed to put the fish in the freezer until the following week when they could arrange for the prize trout to be taken to the taxidermist to be prepared for a future behind glass on Jessie's mantle piece. Wiggy contacted Jessie on Monday only to discover that the fish of fishermen's dreams had been gutted and fallen victim to an impromptu weekend barbecue and was no more. Wiggy forgave Jessie but I don't think they were ever again seen fishing together."

Wiggy was a man of character and humour. He was courageous, modest of his achievements and to all of us here he was a dear and loyal friend. He was popular and respected. I hadn't seen him for some years but always recognised him as one of the very best. He leaves behind a family that will forever remember him as a loving husband and a devoted father."
---
7 Jan 2004 - HMS Ledbury used as Guinea Pig
The following item from today's Portsmouth News describes HMS Ledbury's pioneering involvement in a new 'family-friendly' unmanned refit scheme.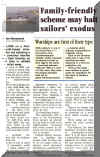 ---
1 Jan 2004 - SDU2 IED
The following item from today's Portsmouth News describes SDU2's latest callout for a suspect IED.

---
1 Jan 2004 - Navy News Items
Happy New Year! The following MCD-related items from the January issue of Navy News feature HMS Blyth and yet another EOD job by SDU2.
---