Items from The News of Portsmouth and Navy News are reproduced by kind permission of David Brown and Jim Allaway respectively. Click on the thumbnails to enlarge them.
---
30 Jun 2003 - More Cause for Congratulations to MCDOA Members plus Op Telic Photos
Phil Ireland was not the only MCDOA member selected for promotion on the last list. Fellow MCDOA members Paul Jones and Jason Poole were also selected for promotion to Commander and MCDOA member John Murphie has just been selected for promotion to Captain. It is also good to see MCDOA member David Hunkin's appointment in Command of HMS Hurworth to date 20 Oct 03. Our congratulations and best wishes for the future to all of them.
Phil has provided some personal photos of Op Telic-related MCM & CD activity. These can be viewed in the Photo Galleries of the Members Only area of the website.
---
28 Jun 2003 - Minewarfare Branch Reunion Weekend 12 & 13 Sep 03 and latest on the Gunwharf Quays Spinnaker Tower
The 'Upcoming Events' page of the Members Only area contains full details (including an application form) for the 2003 MW Branch Reunion BBQ in HMS Dryad on Fri 12 Sep (cost £5 per ticket) and Reunion Dinner Dance in HMS Temeraire on Sat 13 Sep (cost £10 per ticket). Both events are open to MCD and MW Officers as well as MW Branch WOs and SRs.
Also, new items (including pictures) describing the progress of the Millennium Spinnaker Tower being erected at Gunwharf Quays can be found under 'Transformation of HMS Vernon into Gunwharf Quays' via the 'Photo Galleries' page.
---
25 Jun 2003 - Operation Telic/Desert Scorpion - Anticipated Return to UK of MCMVs
The following item from today's Portsmouth News describes Gulf-related MCM and CD activity (Anticipated Return to UK of HMS Ledbury, HMS Grimsby, HMS Ramsey and HMS Shoreham).

---
24 Jun 2003 - Congratulations to MCDOA Members
MCDOA member Phil Ireland was selected for promotion to Commander in the last list and Adrian Cassar has just been appointed in Command of the Type 23 frigate HMS Grafton to date 19 Sep 03. Our congratulations and best wishes to both of them.
Remember to drop the Webmaster a line if you hear of any similar occurrences for the benefit of those who reside at the outer tips of the grapevine these days.
---
20 Jun 2003 - Operation Telic/Desert Scorpion
The following items from today's Portsmouth News describe Gulf-related MCM and CD activity.
---
19 Jun 2003 - Operation Telic/Desert Scorpion
The following item from today's Portsmouth News describes Gulf-related MCM and CD activity (EOD by FDU(?)).

---
18 Jun 2003 - Operation Telic/Desert Scorpion
The following item from today's Portsmouth News describes Gulf-related MCM and CD activity (Return to UK of HMS Sandown & HMS Bangor).

---
14 Jun 2003 - Divers' Re-union at the Home Club
There was a good turnout for the reunion last night although the vast majority of attendees were members of the First Class Divers' Association. MCDOs present included Bill Filer, Rob Hoole, Bob Lusty, Pincher Martin and Tug Wilson but the names of others evade me for the moment in the foggy aftermath of a thoroughly good night. I have proposed a more spectacular event to celebrate the 55th anniversary of the CD Branch in 2007 and have offered my services to help in its organisation. Gird your loins, everyone, and keep your diaries clear!
---
8 Jun 2003 - Closure of HMS Dryad
The following items from recent editions of the Portsmouth News describe the newly announced closure of HMS Dryad.

5 Jun 2003

6 Jun 2003

7 Jun 2003
---
30 May 2003 - 'Members Only' Area Now Operational
The Members Only area of this website is now up and running for the use of MCDOA members. This area is still being expanded but already contains news of forthcoming events, funnies, photos of past LMCDO courses and MCDOA social activities, members' personal updates and much more.
If you believe you are entitled to use the Members Only area, click the red 'REGISTER' button at the bottom of the Navigation Bar on the left side of the page and complete the form that appears. Submission of the form will send an e-mail to the Webmaster who will check the bona fides of the applicant before adding them to the list of authorised users. Applicants will be informed by e-mail when their access has been enabled.
---
22 May 2003 - Replacement of Ariadne (Old Vernon Wardroom) and Donegal Lodge (Captain's House - originally the Chaplain's House)
The following item from today's Portsmouth News describes controversial plans for buildings at Gunwharf Quays to replace HMS Vernon's old Wardroom Mess (now demolished) and the Captain's House (still intact and used for site offices). Click to enlarge it.
I wonder if those suffering the noise of passing trains at the rear of the building throughout the night will receive a rebate, unlike us when we lived in the junior officers' cabins in the North Wing of the mess. More items and pictures showing the gradual transformation of HMS Vernon into Gunwharf Quays can be seen in 'Transformation of HMS Vernon' via the HMS Vernon page.

---
17 May 2003 - MCDOA Ladies Night
Fourteen couples enjoyed a highly convivial dinner last night at the Royal Naval & Royal Albert Yacht Club with pleasant company, excellent food, attentive service and soothing musical accompaniment. Rob Hoole presided with Martyn Holloway as 'Mr Vice'. It was good to see Capt Nick Stanley and Cdr Simon Nicholson along with several members of 'The Old Guard' but it would be encouraging to see some additional members at this competitively priced event next year. I have posted a few photographs of the evening in the Photo Galleries in the Members Only section.
---
15 May 2003 - Operation Telic
The following item from today's Portsmouth News describes Gulf-related MCM and CD activity. Not too sure about the accuracy of the photo caption, though?!?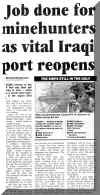 ---
8 May 2003 - Unconventional MCM Ops in the Solent
On 6 May, three members of the MCDOA conducted discreet unconventional MCM Operations in the Solent during the visit of the mighty aircraft carrier USS Harry S Truman on her way home from recent operations in the Gulf. Unfortunately, a major OPDEF on the Senior Rates' beer pump had forced the duty MCMV, HMS Chiddingfold, to remain alongside in harbour as can be seen from the accompanying picture.

In light of this capability gap, Messrs Doug Barlow, Martyn Holloway and Rob Hoole hastily adapted the good ship Dougout for the MCM role and set sail from Portsmouth to conduct Exploratory Operations in the vicinity of the newly arrived Mission Essential Unit (MEU). Acoustic and magnetic hygiene was given priority and material Self-Protective Measures included shutting down main engine propulsion, banning singing and decanting the beer into plastic bottles. During the transit to the operational area, tactics were discussed and gear was prepared. The more astute among you will recognise the container of Mine Fuze Sterilisation Fluid being tested by Holloway. Holloway can also be seen preparing the Ultra Small Mechanical Minesweeping System (USMMS) on the upper deck.
As the improvised MCM platform cautiously approached the MEU, Holloway tested communication links with the remote controlled MCM drones, cunningly disguised as Grockle boats. These were set to work performing their exploratory tasks, circling the MEU and employing an experimental new MCM tactic called 'Generally Messing About and Getting in the Way' (GMAGW). Newly devised underwater data links enabled Holloway to control events and see results in real time on a tiny laptop display (i.e. the display was tiny, unlike Holloway's 'laptop' which is relatively large and growing bigger each year). During this delicate phase of the operation, Hoole took the helm.
As you will have surmised from the absence of newspaper reports of mine incidents, a clean sweep was achieved and Dougout headed home, her mission successfully accomplished.
---
7 May 2003 - Operation Telic
The following item from the May issue of Navy News describes Gulf-related MCM and CD activity.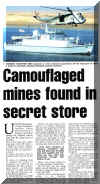 ---
5 May 2003 - Mine Clearance Service Badge
MCDOA honorary life member Lt Cdr Robbie Robinson MBE has asked me to investigate the origins of an interesting plaque that has come to him by a somewhat roundabout route. It was found inside a drawer in a house purchased by a friend of David Rylands. David passed it to Cdr Bruce Nicolls OBE who subsequently passed it to Robbie. The plaque is inscribed 'HMS Mallow 1918 - 1920'. A metal Mine Clearance Service badge forms the centre-piece and this is surrounded by smaller metal shields detailing 'Minefields Swept' including: Wellington, New Zealand; Aukland, New Zealand; Eden, Australia; and Anamba, Singapore. The Mine Clearance Service badge is a rarity because the RN has issued very few branch badges in metal and this particular badge was worn for only a short period after WW I.

We soon established that HMS Mallow was a British Flower Class sloop (Minesweeping) transferred to Australia at the end of WW I but we were intrigued by the references to minefields. Presumably, they were defensive WW I fields swept on completion of hostilities although a member of staff at the Australian Maritime Museum has e-mailed me that mines were also laid off Australia by the German raider Wolf. I have also asked for information from the Australian Navy Historical Society and they say they will be in touch. Can other members shed any further light?
---
From the Librarian of the Australian Maritime Museum:
"Rob,

Re your email enquiry of today requesting information about HMS Mallow.

Unfortunately the Australian National Maritime Museum's Library has very little information about the "Minefields" or the minesweeping activities of HMS Mallow. According to Australia's ship's of War, written by John Bastock, HMS Mallow was one of three vessels (Mallow, Marguerite and Geranium) sent by the Admiralty to sweep the New Zealand minefields laid by the German raider Wolf. All three vessels were then sent to re-sweep for mines off Cape Everard, Victoria. In 1919 these three vessels were presented to the Commonwealth as training vessels for RAN personnel. If you would like a copy of these pages please complete sign and return the attached Copyright declaration form and the relevant pages will be posted to you.

The Naval Historical Section at the department of defence might have more information about this vessel's activities, their contact details are:

Naval Historical Section

CP4-1-13

Department of Defence

Canberra, ACT 2600

Telephone : (02) 6266 2641

URL: http://www.navy.gov.au/4_history/navalhistory.htm

Regards,

Gillian Simpson

Librarian

Australian Maritime Museum"
---
From the Secretary of the Australian Naval Historical Society:
"Dear Rob,

With HM ships Geranium and Marguerite, Mallow was despatched in mid-1919 by the Admiralty to sweep for German mines off the coast of NZ. On completion of this task the three sloops sailed for Australia and in Sept. 1919 they swept for mines off Cape Everard, Victoria. They were then presented to the RAN. HMAS Mallow was commissioned in the RAN as a Reserve training vessel. She was partially broken up at Cockatoo Island in 1932 and her hull was sunk as a target off Sydney on 1 August 1935. (Source : Australian Ships of War - Bastock) .

A number of minefields were laid in Australian/NZ waters during WWI by German raider and naval vessels.

Hope this information is of help. Let us know if you have any other queries.

Regards,

Paul Martin

Research Officer"
---
From Alf Slingsby (ex-CPO CD1):

"Dear Sir,

A short note to thank your members for clearing up a mystery for me. I was given a Mine Clearance Service badge from the effects of a pal's grandfather. It is identical to the one in your article and is in new condition.

Thanks again."
---
29 Apr 2003 - Andy Carrs Awarded QGM
The following item from today's Portsmouth News describes the events in Portsmouth Naval Base leading to the award of the Queen's Gallantry Medal to CPO(D) Andy Carss.

---
7 Apr 2003 - Operation Telic
The following item from today's Portsmouth News describes Gulf-related MCM and CD activity.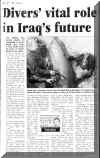 ---