Items from The News of Portsmouth and Navy News are reproduced by kind permission of David Brown and Jim Allaway respectively. Click on the thumbnails to enlarge them.
---
31 Mar 2003 - Operation Telic
The following items from today's Portsmouth News describe Gulf-related MCM and CD activity.
Links to some good photos of RN MCMVs taking part in Operation Telic including MCM 1 & HMS Sandown at Umm Qasr (see below), HMS Grimsby, HMS Ledbury, HMS Blyth, HMS Bangor and HMS Brocklesby can be found on the RN website at:
http://www.royal-navy.mod.uk/static/pages/159.html
Go to ships' home pages and click on their photo galleries.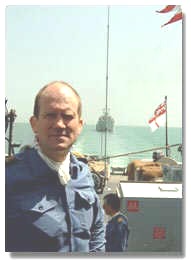 MCDOA member Charlie Wilson (MCM 1)
looking very steely
---
29 Mar 2003 - Operation Telic
The following items from today's Portsmouth News describe Gulf-related MCM and CD activity:
---
28 Mar 2003 - Operation Telic
The following items from today's Portsmouth News describe Gulf-related MCM and CD activity:
---
27 Mar 2003 - Operation Telic
The following items from today's Portsmouth News describe Gulf-related MCM and CD activity.
---
26 Mar 2003 - Operation Telic
The following items from today's Portsmouth News describe Gulf-related MCM and CD activity.
---
25 Mar 2003 - Operation Telic
At this time, the particular thoughts of all our members are with the personnel of the RN MCM forces and Clearance Diving units currently on active service in the Gulf and waterways of Iraq, and with their families. I am sure all members would wish to send their best wishes for a clean sweep and a safe and speedy return for them and for all of our service people when the overall mission has been brought to a successful conclusion.
This Crown Copyright picture shows HMS Grimsby in theatre.

These Crown Copyright images show the nature of the threat being countered.
Further details of Operation Telic can be found on the MoD website at:
http://www.operations.mod.uk/telic/index.htm.
The story and photos of the Australian capture of 3 Iraqi minelayers can be found on the Australian government website at:
http://www.defence.gov.au/opfalconer/images/gallery/230303/230303.htm
---
19 Mar 2003 - Death of Diana Mary 'Tiger' Lees
'Tiger', widow of the late Cdr Karl Lees RN, died peacefully in the Bath Clinic on 17 Mar at the age of 69.
If memory serves me right, Karl had a distinguished naval career that included being the 1962 Long CDO Course officer (see photo on Past Courses page), commanding a DLG and serving as the Training Commander in HMS Vernon shortly before his retirement from the RN in the late 70s/early 80s.
Those who knew 'Tiger' will remember her as an extremely striking woman with a fiery spirit who contributed her strongly held convictions and irreverent sense of fun to many a social event or other service occasion. Between them, she and Karl made a formidable team that will be fondly remembered by older members of the Branch.
The funeral service will be held at West Wiltshire Crematorium, Semington on Mon 24 Mar at 3 p.m. No flowers please but donations, if desired, to Dorothy House c/o Barkers, 52 Bond Street, Trowbridge Tel 01225 752637.
---
From Bill Norton:
"Rob,

VMT for passing on the sad news of the death of Tiger Lees. She was a wonderful supporter of Karl in all his activities. I remember them from the time when Karl was qualifying, then as an assistant to Arthur Checksfield and Stuart Honour in diving training, through his own time as 'I Diving', as my Captain in HMS Reclaim and so on. She was so important to Karl, who I personally thought was one of the finest people I have known. Certainly she was forthright, a fierce defender, but also a kind and loving person."
---
4 Mar 2003 - Wilf Dodd (1913 - 2003)
Wilf was given a good send-off at Portchester Crematorium today. Many family members and friends, including those from the MCDOA and the Association of RN First Class Divers, attended a moving but far from maudlin service. The finely delivered address and Dennis Davis's eulogy revealed many fascinating things about Wilf and his achievements as a family man, as an active member of the local community and as a long-serving stalwart of the RN diving fraternity both in and out of uniform. Wilf joined the RN as a boy at the age of 15, became a Qualified Deep Diver as a rating, qualified as a CD Officer on promotion, and remained as the ubiquitous Diving Stores Officer in Vernon long after his retirement from active service. He ended his days in a Masonic Home near Exeter. Our deepest sympathy goes to Vanessa and Richard for their loss.
Rob Hoole provided a floral tribute on behalf of the MCDOA. Other familiar faces at the service (and please forgive me for those missed out) included: John Coggins, Morty and Sally Drummond, Brian Dutton, David Edwards, Mick Fellows, Bill Filer, John Grattan, Hoppy Hopewell, Julian Malec, Ralph Mavin, John Parry, Troy Tempest, Frank Ward, Harry Wardle and Jackie Warner's daughter Claire.

---
16 Feb 03 - Death of Wilf Dodd QDD
I have the sad news to pass on of the death of Wilf Dodd.
To many, he was the stores civilian in Vernon but to the older members, he was in charge of diving at Chatham as one of the old 'Steamers'.
I will publish details of the funeral when available.
---
From Brian Dutton:
"Dear Rob

I'll try to get there. We all knew him well! Didn't know he was wild except when stores disappeared from under his nose."
---
From Jon Riches:
"I was very sorry to read of Wilf's death. What a character! I well remember not going to see him in his stores after lunch especially when he had been propping up Vernon wardroom bar with Shiner Wright, Stuart Honour and Guy Worsley; sadly all of whom have now passed on. That said, he was a staunch ally in the procurement of stores for one's Team if you were having difficulty with Pusser's bureaucracy!

Until his recent move to a nursing home in Plymouth he was a resident in a home in Chesham. There, he was good friends with another resident, the Mother in Law of a cousin of mine. I was therefore able to hear about how he was doing whenever my cousin visited.

Sadly I cannot make his funeral as I am resident for much of the year in France where Anne and I run a small business. I would be grateful if the MCDOA rep attending the funeral could pass on Anne and my condolences and that we were glad to have known such thoroughly likeable person."
---
From John Lang:
"Rob

Sad news indeed. I was on the first MCDO course in 1966 and remember Wilf well during my time on the course and also when serving in Vernon. All seems a long time ago.

Your e-mail reminded me of Jackie Warner. My late wife became quite friendly with Jackie whilst I was serving on Reclaim with the dreaded Peter Messervy. Jackie brewed a lot of his own wine as did Elisabeth. He showed her his design for maintaining the correct temperature for a demijohn of fermenting wine. He christened it a Jackie box!! Our "Jackie Box" is still in my cellar and is a constant reminder of the fun we had with Jackie."
---
From Mike Gillam:
"I was sad to receive your message about Wilbur (Wilf?) Dodd but I thank you for letting us know. Wilf was one of the Branch's unsung heroes. Less flamboyant than some, apart from the bow tie and the gravel voice, but always friendly, always helpful and always there for you. Arguably the longest serving continuity man that diving ever had in the old Vernon. The greatest 'Storesy' ever and an example to all those who have ever had to wrestle with a naval stores ledger to keep a team operating.

A great supporter of diving, divers and diving functions - as were his wife when she was alive and as was his daughter. It is most unlikely that I shall be able to make the funeral but if you know someone that is going, please ask them to pass on our condolences to the family and to say how much we liked and respected him."
---
From John Grattan:
"Dear Rob,

This is very sad news indeed and is a great loss to us all. I have known Wilf since 1958 and he was certainly one of the greatest characters of the diving fraternity and an extraordinarily good friend if one was in trouble - as I know from personal experience - as well as in calmer waters.

Thank you for letting me know of the awful but not unexpected news - please let me know the details of his funeral as Marjorie and I must pay our last respects."
---
From David Hilton:
"Rob,

Sorry to hear about Wilf Dodd - I used to work for him in the 60's. What a great character he was."
---
30 Jan 03 - Wardroom Mess Life Memberships
All MCDOs and MW Officers who qualified before HMS Vernon paid off as an independent Command (31 Mar 1986) are reminded that they are entitled to Life Membership of HMS Nelson and/or HMS Dryad Wardroom Messes. This entitlement is a legacy of the transfer of Vernon's remaining mess funds to HMS Nelson and the remaining port to HMS Dryad. The activation of Life Membership can be requested by writing to the respective Commander after which a mess number and pass can be obtained.
HMS Nelson's Wardroom encourages life members to attend a convivial buffet lunch in the main bar on the last Friday of each month. There is a regular core of serving and retired MCDOs/MWOs and new faces are always welcome.
---
22 Jan 03 - Navy praises public for vigilance as fire strike ends
Nice to see that MCDOA member Mark Durkin is developing his transferable skills as this excerpt from The News of 22 Jan 03 describes.

---
20 Jan 03 - It's that man again (Doug Barlow) in the news
I haven't included all the recent articles regarding MCDOA Associate Member Doug's reminiscences about Portsmouth's defunct NAAFI Club, otherwise known as the 'Ranch House', but this item from The News of 20 Jan 03 demonstrates that his voice still gets heard. By the way, it's not Doug in the picture.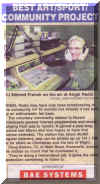 ---
5 Dec 02 - Future of the HUNT Class
Armed Forces Minister Adam Ingram describes likely future of Hunt Class MCMVs.

---
26 Nov 02 - Restoration of Gig by MCDOA Member Doug Barlow
More senior members, especially those who know Doug Barlow, may be interested in the attached cutting from the The News of 21 Nov 02. Doug served in 3 battleships: Anson; King George V; and Duke of York as well as 3 cruisers: Liverpool; Sheffield; and Newfoundland but can still be seen shaking a wicked welly in the night spots of Portsmouth and Southsea. I must admit to having a personal interest in those featured; my friendship with Doug goes back to Vernon days in 1973 (he was my Best Man in 1981) and I once had a (very small) share in a Sadler 34 yacht with David Still.

---
From Bryan Barrett:
"Interesting news item. Doug and I were both First Lieutenants in the 1st MCM Sqn (I was in HMS Nurton, he was in HMS Ashton - if my memory serves me - or might have been HMS Wolverton) in 1965."
[Webmaster's note: Doug informs me it was HMS Clarbeston, but who's counting?]
---
From Dan Nicholson:
"Lieutenant (SD)(B) Barlow was the Bosun of Rooke in 1968 when, as Corro of Reclaim, I was forced to entertain said Bosun (the cunning B*****d who rowed himself ashore in a sieve) as he was providing replacement seamanship fittings and cables for my F'x'l. Cost me much gin did that! But it was made up for with a select few haircut and post card runs ashore during the month of deep diving trials. Awful life really!

He was as full of life then as he is now. Difference is I'm not sure that I would let him take me ashore today! What a gentleman and one of life's richest characters. A thorough professional and well-qualified piss 'ead.

Point to note - Martyn Holloway and family now own Doug's ex-GP14 (now there's a claim to fame).

Regards and thanks for the info."
---
18 Nov 02 - Dave Bence
The extracts below are taken from the 18 Nov 02 issue of The News and describe some of the daring exploits of our illustrious colleague, MCDOA member Dave Bence. Dave is currently serving in the N7 Minewarfare shop in CINCFLEET's Headquarters on Whale Island and we wish him well for the future.

---
16 Nov 02 - Death of Whisky Wemyss
Some members may not yet have heard of the death on 11 Nov 2002 of Cdr Gavin 'Whisky' Wemyss OBE, elder son of the late Cdr David Wemyss DSO, DSC RN of Carvin House, Luthrie, Cupar, Fife. According to the Daily Telegraph, a Memorial Service was planned at Creich Church, Luthrie but I have no further details. Although I knew him mainly by reputation, 'Whisky' Wemyss was one of 3 brothers who served in the RN including an Admiral and a Captain. He was one-time CO of HMS Abdiel and Cdr Fishery Protection based in HMS Lochinvar at Port Edgar in the early 70s. One of his claims to fame was his penchant for wearing steaming boots with any uniform including Mess Dress. A stern taskmaster and sharp-eyed stickler for detail, he was reputed to stand on the jetty at Port Edgar for arrivals and departures and treat offending ships with the rough edge of his tongue. For all that, I am informed that he was well respected by those under his Command and known throughout the RN as one of its last great eccentrics.
---
From Morty Drummond:
"Many thanks for the photos and your contribution to a very successful and enjoyable dinner. Whisky Wemyss was also CO of HMS Reclaim in 1962 when we started the Deep Diving Trials programme which culminated in ten 600ft dives off Toulon in 1965. I was then DSofD [Deputy Superintendent of Diving] and Trials Officer for all the trials. Earlier, he had been CO of HMS Plover, the minelayer in the Vernon Squadron, and was noted for the garden in his wheelhouse."
---
From David Keogh:
"I was also very sorry to hear of the death of Whisky Wemyss who I knew well over many years. Unfortunately, for some unknown reason I didn't receive your first e-mail announcing his death and, as I expect it contained some good dits, if you still have it on your machine, I would much appreciate a copy. The last time I met him he must have been well into his 70s and was organising the 400th. anniversary of Real Tennis at Falkland Castle in Fife, 'where he still regularly played'!! He was as full of life then as when I first knew him in Singapore some 20 years before and still retained his wicked sense of humour. Having worked for the services for over 35 years, I can not remember meeting another Naval officer who was more highly respected and admired by the civilian mariners under his command. An achievement indeed."
---
From Michael Gillam:
"Further to your report on Whisky Wemyss and Morty Drummond's addendum, He was also Captain of HMS Manxman and the last Commander of the Inshore Flotilla Far East which took operational minehunting East of Suez. He brought Manxman home in 1969 leaving me (his SOO/SMCDO) and one squadron to maintain our MCM capability in the region for a short while longer. He was a great eccentric but also a good friend and a superb seaman."
---