Every now and then, something happens that concentrates the mind. Before the incident in the Helford Estuary off Falmouth described below, I had served on the Plymouth Clearance Diving Team (PCDT) with its usual tally of Explosive Ordnance Disposal (EOD) jobs. During that time, I like to believe that I was extremely safety-conscious and ever mindful of the hazards associated with wartime ordnance. However, I probably deluded myself at times that something that had rolled around on the seabed for forty odd years would not go bang very easily... at least, not without the help of a 4 lb pack of Plastic Explosive.
The events outlined in the signal below, put paid to any such delusions for all time.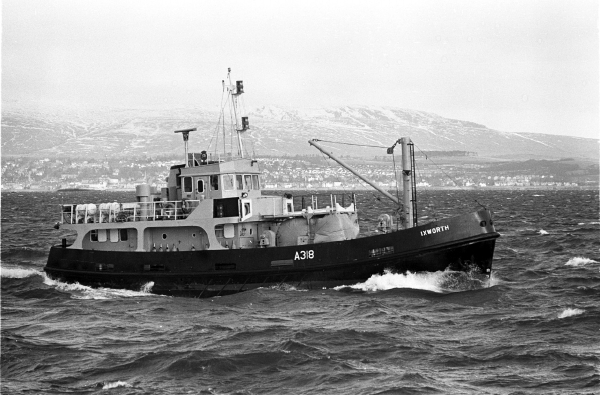 FDT IXWORTH (Courtesy of www.denhholma.freeserve.co.uk)
---
PR 261746Z APR 83
FM FDT IXWORTH
TO FO PLYMOUTH
INFO MODUK NAVY
CINCNAVHOME
CINCFLEET
FO PORTSMOUTH
VERNON
BT
UNCLAS
SIC ILL/OAL
A. FO PLYMOUTH ILL/OAL 251942Z APR 83
1. REPORT BY LT R J HOOLE RN, LONG COURSE TRAINING OFFICER, HMS VERNON IAW REF A. ALL TIMES ZULU.
2. AT 251221 APR, FDT IXWORTH WAS DAMAGED BY UNDERWATER EXPLOSION WHILST WEIGHING ANCHOR IN POSN 50 DEG 05 MIN 24 SEC NORTH 005 DEG 00 MIN 54 SEC WEST. THERE WERE NO CASUALTIES AND THE HULL REMAINED WATERTIGHT.
3. NARRATIVE. READ IN TWO COLUMNS:
| | |
| --- | --- |
| 0730 | FDT IXWORTH (RN MANNED BASED HMS VERNON) SAILED FALMOUTH WITH LONG MCD OFFICERS' COURSE AND STAFF EMBARKED FOR DIVING TRAINING FALMOUTH BAY. |
| 0800 | ANCHORED IN 48 METRES USING STBD ANCHOR WITH 4½ SHACKLES. COMMENCED DIVING FROM THE STERN. |
| 1151 | TERMINATED DIVING OPERATIONS OWING TO DETERIORATING WEATHER. WIND SE FORCE 4. SEA STATE 4. |
| 1217 | SHORTENED IN TO 2½ SHACKLES WITH ENGINE IDLING. VIOLENT UNDERWATER EXPLOSION LIFTED SHIP, SET ENGINE RACING ASTERN, SEVERED BRIDGE CONTROLS AND CUT ELECTRICAL POWER EXCEPT 24 VOLT BATTERY SUPPLY. BOTH MAN OVERBOARD MARKERS ACTUATED IN BRIDGE WING STOWAGES. |
| 1225 | MUSTERED PERSONNEL CORRECT. COMMENCED CHECK FOR LEAKS. |
| 1230 | USED ENGINE ROOM FUEL COCKS TO SHUT DOWN AFTER FAILURE BRIDGE EMERGENCY STOPS. |
| 1236 | RE-ASSEMBLED VHF AND RAISED FALMOUTH CG CHANNEL 16. REQUESTED ASSISTANCE AND RMAS ILCHESTER RESPONDED HAVING BEEN ALERTED BY MOB MARKER SMOKE. |
| 1240 | LET GO PORT ANCHOR TO STOP SHIP'S DRIFT. |
| 1300 | ILCHESTER ARRIVED SCENE. LTO AND IXWORTH COXSWAIN TEMPORARILY TRANSFERRED FOR DISCUSSION. |
| 1407 | SECURED ILCHESTER TOW. |
| 1408 | BROKE, SLIPPED AND BUOYED BOTH CABLES. COMMENCED TOW INTO FALMOUTH HARBOUR. |
| 1500 | ASKED BY SPINDRIFT (FALMOUTH DOCK MASTER) ON VHF TO CONFIRM IXWORTH WATERTIGHT. QUOTE – WE CANNOT LET YOU IN IF YOU ARE GOING TO SINK – UNQUOTE. |
| 1507 | SLIPPED TOW IN SHELTER OF FALMOUTH BASIN. BERTHED SOUTH SIDE KING'S JETTY WITH ILCHESTER ASSISTANCE. |
4. LIST OF OBVIOUS DAMAGE:
A. SWITCHBOARD SEVERELY DAMAGED.
B. MAIN ENGINE LUB OIL COOLER DISCHARGE PIPE FRACTURED.
C. MAIN ENGINE SALVAGE PUMP SUCTION VALVE FRACTURED AT MANIFOLD.
D. MAIN ENGINE GOVERNOR CONTROL ARM BRACKETS SHEARED.
E. AFTER BALLAST TANK SUCTION VALVE DAMAGED.
F. HP AIR FLASK MOUNTINGS SHEARED.
G. BRIDGE INSTRUMENT CONSOLE MOUNTINGS SHEARED.
H. HOT WATER TANK RUPTURED.
I. ALL LIGHT FITTINGS SHEARED/SHATTERED.
J. REFRIGERATOR DOOR HINGES/MOUNTINGS SHEARED.
K. NUMEROUS OTHER PIPES, FITTINGS AND FURNISHINGS FRACTURED, BROKEN OR SHEARED.
5. HP AIR SYSTEM DRAINED. VERNON TECHNICAL TEAM EN ROUTE FALMOUTH ETA PM 26 APR.
6. STBD CABLE RECOVERED BY RMAS HEADCORN AND RETURNED IXWORTH. ANCHOR MISSING AND JOINING SHACKLE SPLAYED TWICE NORMAL DIAMETER. PORT ANCHOR AND CABLE NOT FOUND.
7. FROM SIZE OF DETONATION, CONCLUDE ANCHOR ACTUATED IMPACT-FUZED BOMB 250 KG (APPROX).
8. INTEND SUBMIT DETAILED REPORT TO THE CAPTAIN HMS VERNON ON RETURN PORTSMOUTH.
---
I, for one, prefer not to think of the consequences if the divers had still been in the water at the time of the explosion.