---
21 Aug 19 - Gentlemen Who Lunch
Doug Barlow and your humble webmaster upheld the honour of the MCDOA's 'Not Quite the Last of the Summer Wine' trio yesterday with our old friend Leslie Howard taking the place of the temporarily absent Martyn Holloway. We were joined by Doug's wife Jill and Lez's mum Edna for a splendid lunchtime session at the Red Lion in Chalton where we were well looked after by its charming Welsh manageress Tracy before adjourning to Doug & Jill's cottage in Emsworth for tea & stickies.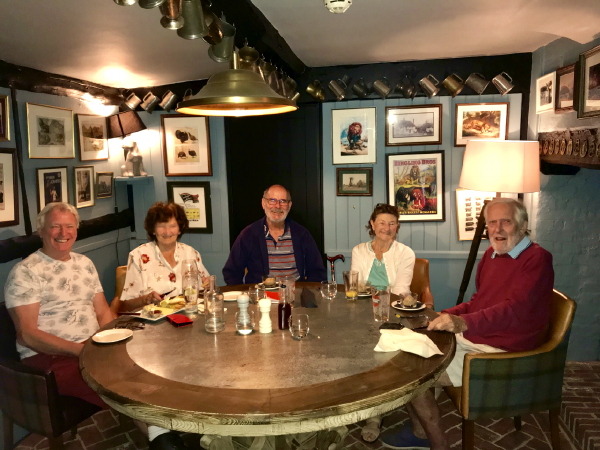 ---
20 Aug 19 - History of the RAN CD Branch
Three illustrated podcasts have recently been released covering the history of the RAN Clearance Diver Branch which very much mirrors that of the RN CD Branch. They have been produced by the University of New South Wales (Canberra) Naval Studies Group in conjunction with the Submarine Institute of Australia, the Australian Naval Institute, Naval Historical Society and the RAN Seapower Centre.
Four of the five narrators (Vice Adm Russ Crane AO CSM RAN, Cdre Hec Donohue AM RAN, Cdr Edward 'Jake' Linton BEM RAN and Lt Cdr Doug 'Pony' Moore GM RAN) have served at HMS VERNON and are keen supporters of the Vernon Minewarfare & Diving Monument, the MCDOA's adopted charity. The RANCDA has graciously donated $500 AUS towards the Project and individual members have donated several hundreds more.
Clearance Diving the RAN (Part 1) Vice Admiral Peter Jones & his expert panel of Commodore Hec Donohue, Commander Jake Linton & Lieutenant Commander Doug Moore discuss the early days of clearance diving in the RAN and the achievements in both World Wars.
Clearance Diving the RAN (Part 2) From Confrontation to the end of Vietnam War Vice Admiral Peter Jones & his expert panel of Commodore Hec Donohue, Commander Jake Linton & Lieutenant Commander Doug Moore discuss clearance diving in the RAN from the end of World War II to the Vietnam War.
Clearance Diving the RAN (Part 3) From Vietnam War to 2019 Vice Admiral Peter Jones & his expert panel of Vice Admiral Russ Crane, Commodore Hec Donohue & Commander Pete Tedman discuss clearance diving in the RAN from the end of the Vietnam War to 2019.
---
19 Aug 19 - 20th Anniversary of the death of Lt Cdr James Shermer Acton RN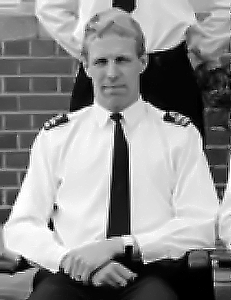 Jim Acton on LMCDO '87B
Today is the 20th anniversary of the death of MCDOA member Jim Acton at the tragically early age of 37. Jim was visiting the Naval Base at Gölcük in Turkey on 17 August 1999 to discuss a forthcoming MCM exercise as SOO MCM2 when it was struck by an earthquake. He suffered internal injuries when he was trapped in rubble for six hours and died during the CASEVAC flight to RAF Lyneham in Wiltshire.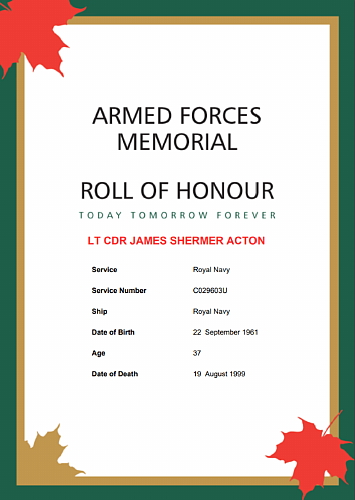 Jim's funeral took place on 27 August 1999, firstly at St. Barbara's Church in HMS Excellent and then at Portchester Crematorium. The service was attended by a large number of Service personnel and the MCDOA provided a wreath.
Please pause for a few moments today to think of Jim and his bereaved wife Alison, son Ashley and daughter Laura.
---
18 Aug 19 - News from Chris Baldwin
I am grateful to MCDOA past-Chairman Chris Baldwin for this update: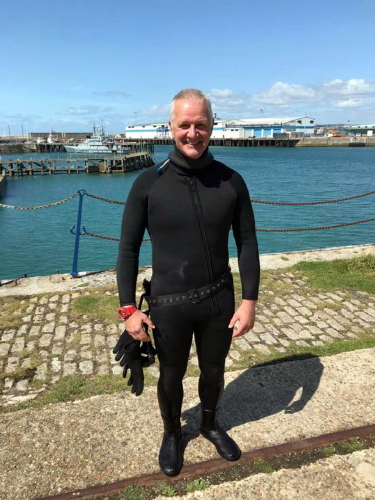 Cdr Chris Baldwin
The Reserves Diving Group has recently completed a diving work-up period in Portland Harbour and kindly invited me to join them so that I could regain currency on the SABA HMV diving set. The aim of the week was to conduct hull and jetty/seabed search training for the RDG's wartime role supporting the Fleet Diving Squadron in Maritime Explosive Ordnance Reconnaissance.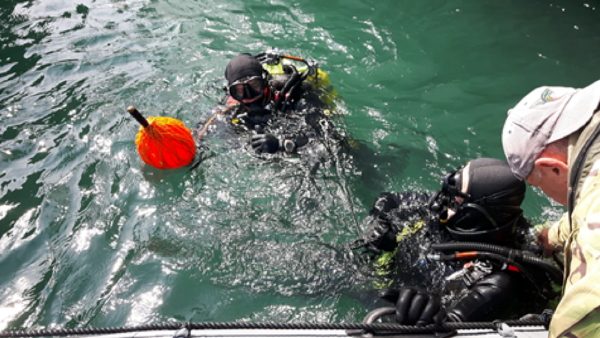 PO(D) Steve Boyd attending RDG divers on completion of their dive
The team took their opportunities for diving on the new RFA TIDEFORCE and RFA LYME BAY.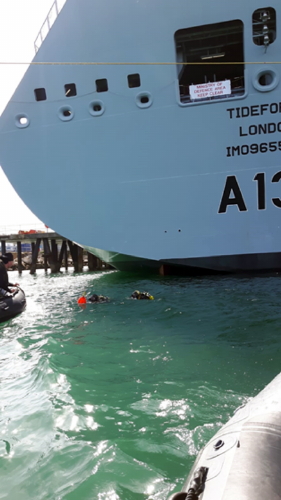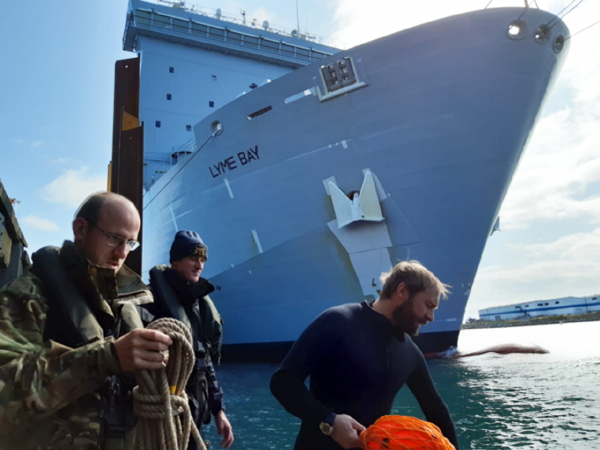 Left to right: Lt Cdr Adam Bolton, LS(D) Steve Cottrell and Lt Cdr Nick Foster
During the week the team also carried out some diving search tasks for the benefit of the Portland harbour authority.
As the Operations Officer of the NATO Submarine Rescue System I know what a significant contribution the RNR diving cadre makes to the UK's commitment to the NSRS. In fact, the RNR divers make up 60% of the RN NSRS diving team operating the transfer under pressure complex. It was therefore an absolute pleasure to get the chance to dive with the team and get back in the water. There was even a chance for a swift visit to the Green Shutters public house, which I'm sure all those who 'enjoyed' a period of training at FOST when it was based in Portland will remember fondly!
---
17 Aug 19 - SDU2 deals with ordnance in West Sussex
The Worthing Herald website contains this article (including video) reporting the detonation on the beach at Goring, presumably by members of Portsmouth-based Southern Diving Unit 2 (SDU2), of ordnance removed from a garden near Worthing.
---
16 Aug 19 - RN diver commended for saving sailor's life
The Royal Navy website contains this article reporting that AB(D) Euan Griffiths has been commended for saving a fellow sailor's life in a swimming pool while off-duty in Bahrain. AB(D) Griffiths is serving in HMS Shoreham (MCM1 Crew 6) and the article also features MCDOA member Dan Herridge, the ship's Commanding Officer.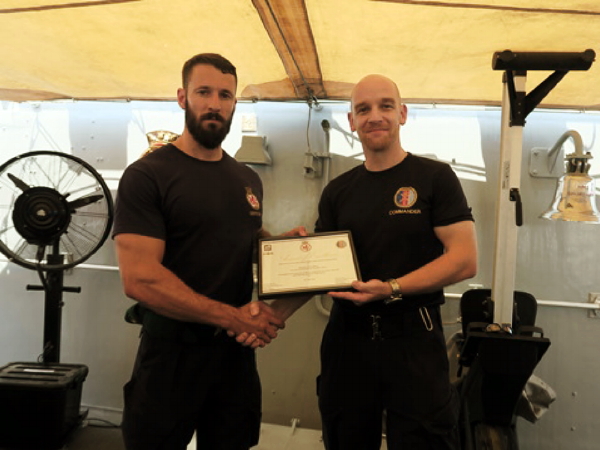 AB(D) Euan Griffiths (left) being presented with his commendation
by Cdr Simon Cox (COMUKMCMFOR)
---
15 Aug 19 - Death of former CPO(D) Kev Scargill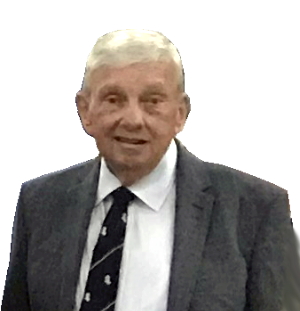 Kev Scargill in June this year
Brian 'Troy' Tempest, Secretary of the Association of RN First Class Divers (AORNFCD), has sent this sad news:
"It gives me great sadness to have to inform you of Kev Scargill's death. A regular at the AORNFCD AGM [see entry for 8 Jun 19 in News Archive 66], he passed away yesterday and will be sadly missed by many.
I will pass on more information, when known, regarding his funeral details.
Please inform others of the sad passing of this fellow diver, friend and colleague to many.
Five Bells, mate."
---
14 Aug 19 - Award of LS&GC
Congratulations to CPO(D) David 'Daisy' May on being gazetted for the award of the 2nd Clasp to the Naval Long Service and Good Conduct Medal​.
This is an old photo of Daisy as a PO(D) 'getting them in for the team' during a Project Vernon promotion at Gunwharf Quays in 2011 but I couldn't resist it.
---
13 Aug 19 - SDU2 deals with suspected ordnance on IOW
The County Press website contains this article reporting a call-out on Sunday for members of Portsmouth-based Southern Diving Unit 2 (SDU2) to remove suspect unexploded ordnance found at Steephill Cove near Ventnor on the Isle of Wight.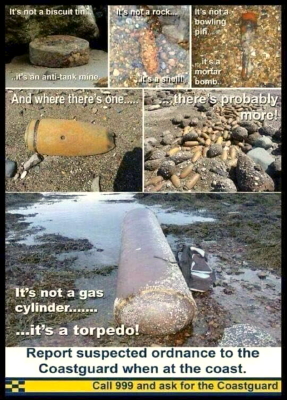 ---
12 Aug 19 - HMS Ramsey's homecoming
The Royal Navy website contains this article reporting the return of HMS Ramsey (MCM1 Crew 2) to her home base at Faslane, after a brief visit to Tobermory to embark families, following her four-month deployment with Standing NATO Mine Countermeasures Group 1 (SNMCMG1). The article features AB(MW) Rzepecki.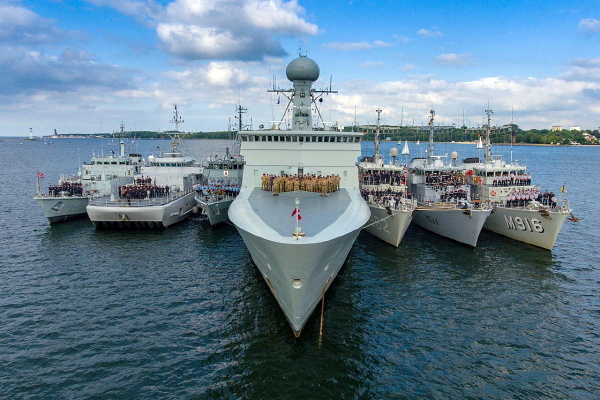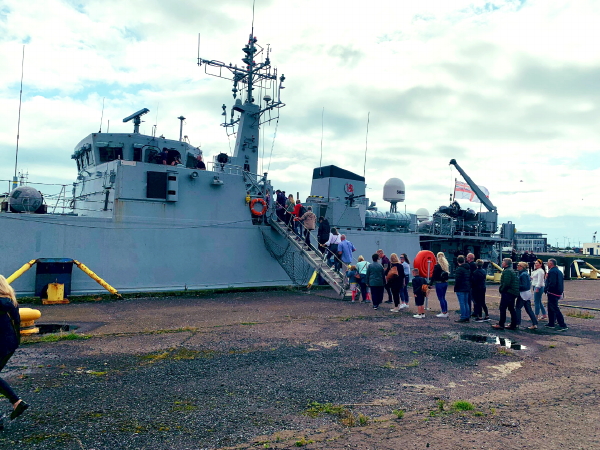 (Royal Navy images)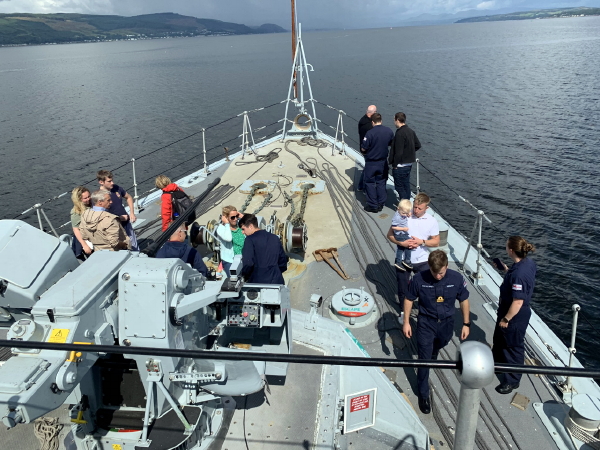 I am sure all members of our community will join me in wishing the members of HMS Ramsey's ship's company an enjoyable time during their well-deserved summer leave.
---
11 Aug 19 - MCDOA members in Cyprus
I am grateful to MCDOA past-Chairman Paul Jones for this news of a 'brief encounter' with fellow MCDOA members Bob Hawkins MBE and Chis Flaherty in Cyprus:
"Rob,
I'm just dropping Bob the Dog [Hawkins] and Trudy off at Larnaca Airport after 10 days hols with me in North Cyprus. We arranged to meet up with ex-Lt Cdr Chris Flaherty (OIC FDU1 (Chalfont) / XO HMS BLYTH) who is working in a dive centre here in Larnaca with his wife Gillian.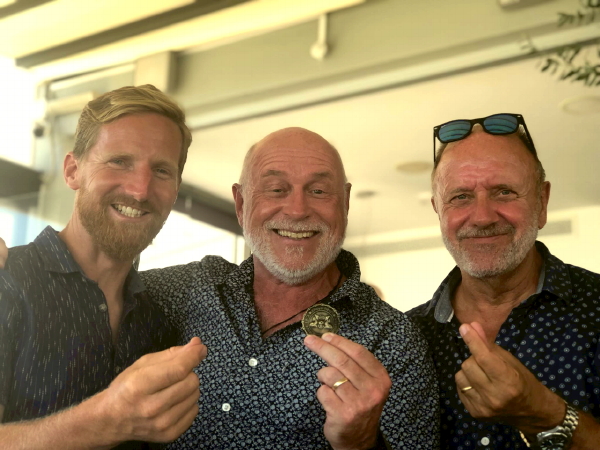 As you can see Bob pulled the RNCDA coin trick... Chris and I failed."
---
10 Aug 19 - Death and funeral of former CPO(MW) Tony 'Fred' Bassett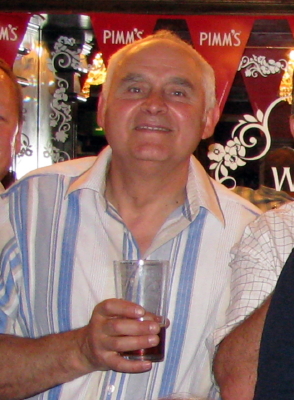 Tony Bassett
Tony passed away peacefully during the night of 5 August after a short illness. He had an illustrious career in TON, HUNT and SANDOWN class MCMVs and served in Northern Ireland, the Falklands and the Gulf. He was also an MCM Squadron Chief and spent time with the RNR but will be probably be remembered most recently for leading the Hunter Project so effectivly in delivering RSNF training.
Tony's funeral will take place at 1100 on Friday 30 August at Holy Rood Church in Stubbington, Hampshire. The service is open to all who wish to pay their last respects and the family would like to welcome all who knew him. After the ceremony, a cremation service will be held for family members only.
I am sure all members of our community will join me in extending our sincere condolences to Tony's wife Rona and their family.
---
9 Aug 19 - Maquette of Vernon Monument scanned
Following the approval of the final design by a panel of Project Vernon volunteers (see entry for 6 Aug 19), 3D laser scanning of the half life-size model of the Vernon Minewarfare & Diving Monument was conducted today. This will enable casting of the one-and-a-quarter life-size bronze sculpture and, eventually, miniatures in various materials.
The other photos show the enormous complexity of the task and the fine detail sculptor Mark Richards has applied to his creation without making it a characterless static 'teaching aid'. He said that balancing such a large inanimate object as a moored mine with the dynamic human life forms of the divers so that they work in harmony was his greatest challenge and his greatest source of satisfaction.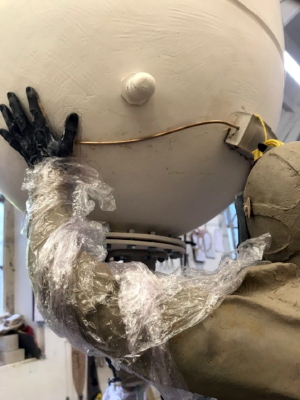 For further background, information and pictures, go to the Project Vernon website at www.vernon-monument.org.uk or the Project's Facebook group at www.facebook.com/groups/vernonmonument.
---
8 Aug 19 - NDG deals with explosive ordnance in Scotland
The Courier website contains this article reporting yesterday's detonation by members of Faslane-based Northern Diving Group (NDG) of an explosive device on the beach near Carnoustie in Angus.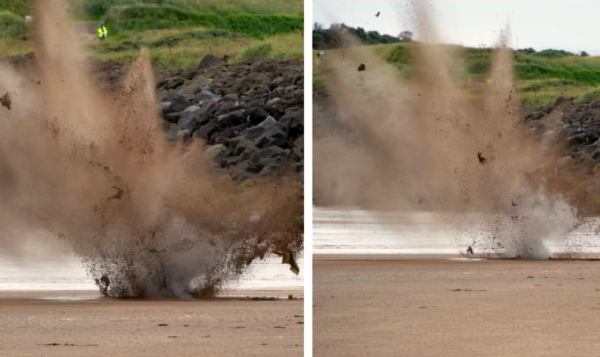 The Northern Times website contains this article reporting Tuesday's detonation by members of NDG of explosive ordnance found in the water at Golspie in Sutherland.
---
7 Aug 19 - Funeral of former FCPO(D) David 'Mona' Lott BEM in NSW, Australia
I have just spotted this notice (see entry for 28 Jul 19):
LOTT, David. Passed away 26/7/2019
The Funeral for the late David LOTT, of Eden, will be held on Monday 12 August 2019, with a service commencing at 2.00PM, in the Chapel of Sapphire Coast Funerals, Pambula. This will be followed by a Private Cremation.
I hope our Aussie friends give Dave the send-off he deserves.
---
6 Aug 19 - Final design of Vernon Minewarfare & Diving Monument approved
Today, a panel of Project Vernon volunteers, constituting members of the main supporting organisations (MCDOA, AORNFCD, MWA, TCA and RNCDA), visited the studio of distinguished sculptor Mark Richards in Ludlow, Shropshire and approved his final design of the Vernon Minewarfare & Diving Monument.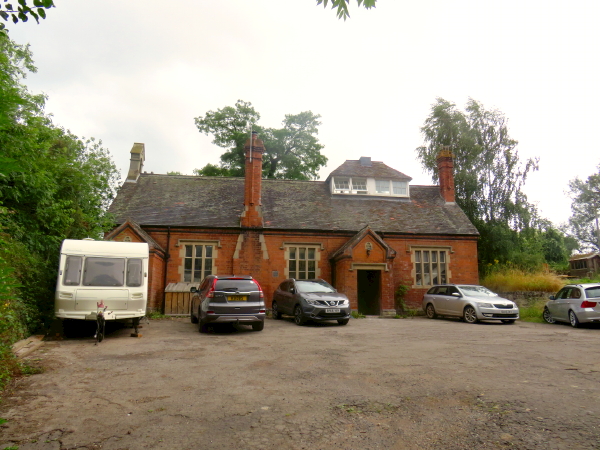 This is the half life-size model from which the one-and-a-quarter life-size bronze sculpture, and eventually miniatures, will be produced.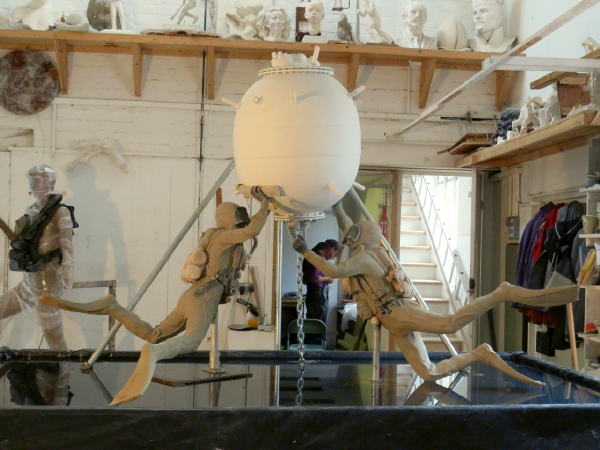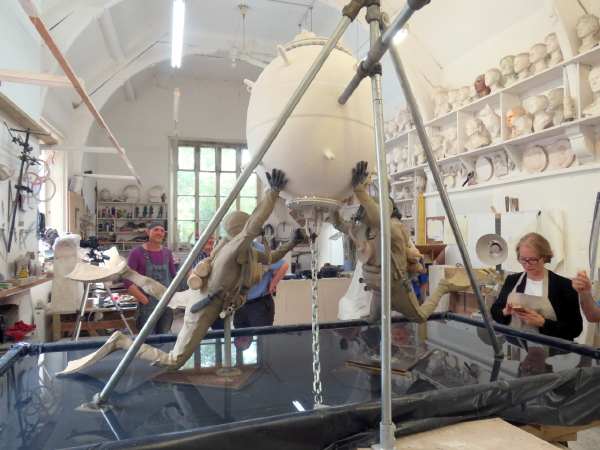 The Project Vernon panel comprised Grenville Johnson MBE, Colin 'Scouse' Kidman QGM, David Sandiford, John 'George' Turnbull and Yours Truly (Rob Hoole), seen here flanking sculptor Mark Richards and his assistant Emma Lilley.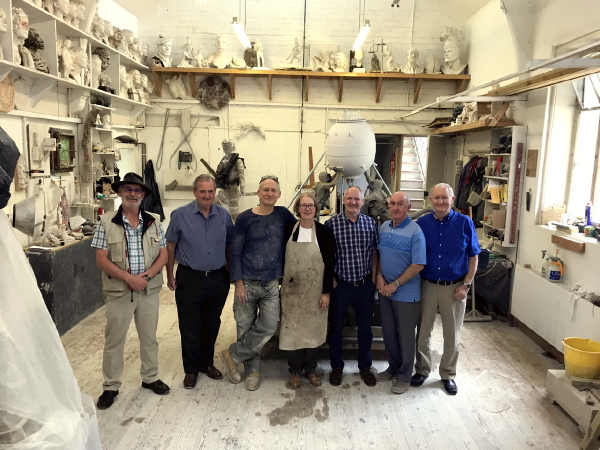 N.B. The supporting scaffolding poles will not appear in the finished product!
---
5 Aug 19 - Latest EOD incidents
5 August: Royal Navy blows up 15 bombs found on Westcountry beach
3 August: Bomb disposal squad in Cornwall park after man kicks suspect grenade
1 August: Glasgow street locked down as bomb squad probe 'grenade' found in house
20 July: UP IN SMOKE Bomb disposal unit called to deal with WWII grenade – but it was just a lighter
---
4 Aug 19 - Don Crosbie assumes role of Deputy CTF 52
MCDOA past-Chairman Don Crosbie superseded Andy Lamb on 16 July as Deputy Commander of Task Force 52, US CENTCOM's Fifth Fleet organisation responsible for the command & control of all mine warfare assets in the region (see entry for 18 Jul 19). He will be based at Bahrain for the foreseeable future and I am sure all members of our community will join me in congratulating him on his new rank and appointment.
Capt Don Crosbie RN
Don has pointed out that his fellow MCDOA members Capt Jim Byron DSC RN, an MWO and former Commander UK Mine Countermeasures Force (UKMCMFOR - see entry for 2 Dec 13 in News Archive 44), is also serving in the Gulf as the Deputy UK Maritime Component Commander (UKMCC) and Dan Herridge commands HMS Shoreham (MCM1 Crew 6), currently based in Bahrain for Operation KIPION. Congratulations to Jim and Dan, too.
---
2 Aug 19 - The Minesweepers' Victory
MCDOA member Nick Stanley has started a Twitter account titled 'The Minesweepers' Victory' and is publishing daily tweets chronicling events of interest during the lead-up to the Second World War 80 years ago.
Click on the image to visit.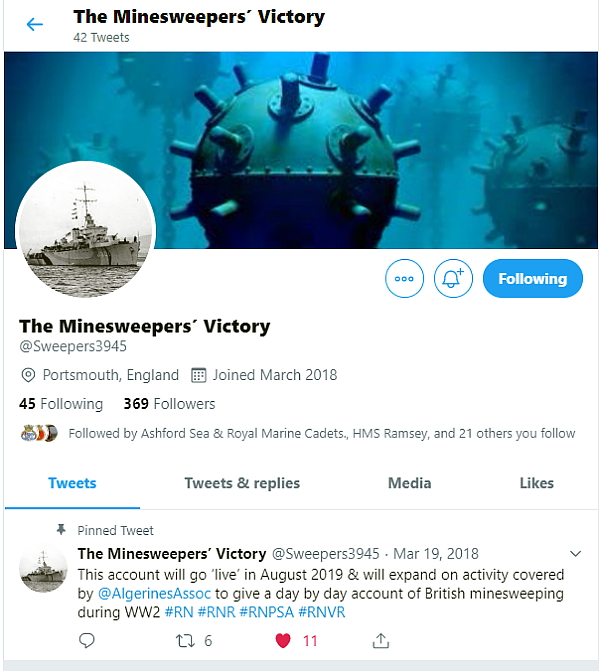 ---
1 Aug 19 - SDU2 detonates ordnance off IOW
The Island Echo website contains this article (including video) describing today's detonation, presumably by members of Portsmouth-based Southern Diving Unit 2 (SDU2), of an unexploded shell near Shanklin on the Isle of Wight.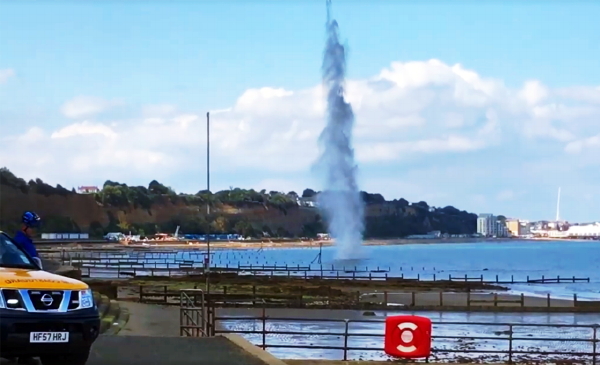 ---
30 Jul 19 - Recent tweets
Click on the linked dates to see all associated photos and videos
HMS Chiddingfold (MCM2 Crew 2)
23 Jul 2019 - Change of Command onboard HMS Chiddingfold today. Lt Cdr MJ Ellicott RN took over at the top. Thanks to Lt Cdr DR Morris RN for all his efforts and best of luck in the new assignment.
[N.B. Dave 'Doc' Morris is an MCDOA member.]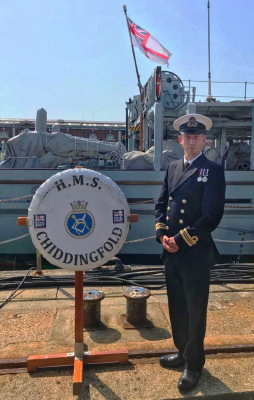 23 Jul 2019 - Today we say goodbye to Lt Cdr Doc Morris and will be welcoming later today HMS Chiddingfold's new Commanding Officer Lt Cdr Matt Ellicott. All the best Doc Morris!
[See entry for 23 Jul 19]
10 Jul 2019 - Yesterday the XO invited the Fire Brigade, to allow our team to tour the 'Fire Appliance' and share expertise. We ran a joint fire exercise on board, including casualty recovery. Thank you Hampshire Fire & Rescue Service.
HMS Pembroke (MCM1 Crew 5)
30 Jul 2019 - Lt Cdr Kemp joins Crew 5 from the Maritime Battle Staff and RAdm Andrew Burns. Lt Cdr Drewett's next role will be working for RAdm Paul Halton in the Maritime Operations Centre, London. Pembroke will be back at sea soon, ready to take on her vital Royal Navy and COMUKMCMFOR role.
18 Jul 2019 - A shiny ship appears from the MCMV centre of excellence in Rosyth, as a major refit milestone is reached ahead of plan. Back in the water, work continues to return her to the Fleet to deliver for RAdm Paul Halton and COMUKMCMFOR. Images courtesy of Babcock International.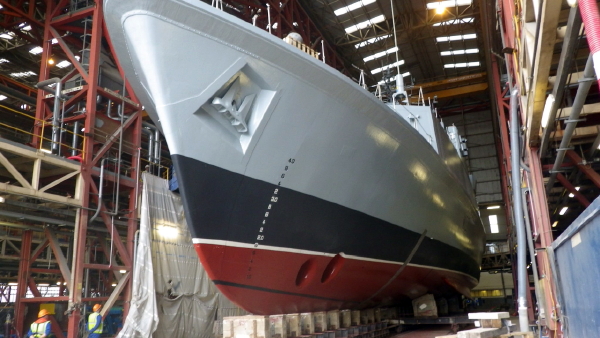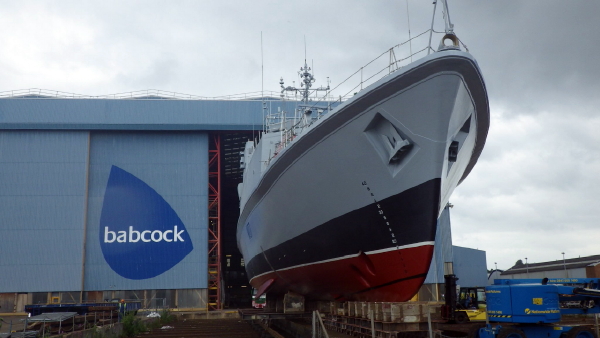 HMS Ramsey (MCM1 Crew 2)
30 Jul 2019 - HMS Ramsey testing our pre-wet system and citadel this morning. In the event of a chemical attack, this system would be used to protect the Crew. Unfortunately today the ME Department had to get a bit wet though!
23 Jul 2019 - NATO Flag hoisted? ✅ Ship ready for sea? ✅ Crew ready for the challenge? ✅ HMS Ramsey departs from HMNB Clyde to rejoin SNMCMG1 and provide security at sea with our NATO partners.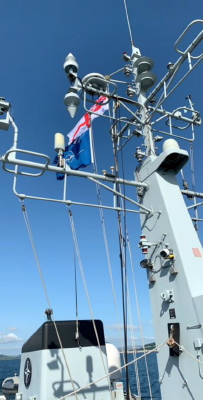 ---
29 Jul 19 - Mustard gas find results in prosecution
The Express & Star website contains this article reporting that three persons have been charged with possessing a machine gun and mustard gas at a former Second World War RAF base in Lincolnshire. Members of Portsmouth-based Southern Diving Unit 2 (SDU2) assisted the investigation by recovering ten First World War mustard gas bombs from the bottom of Stixwould Lake near the village of Woodhall Spa (see entry for 18 Oct 17 in News Archive 60).
LS(D) Matt O'Brien was subsequently awarded a Queen's Commendation for Bravery for his involvement in the eight-day operation (see entry for 23 Nov 18 in News Archive 64).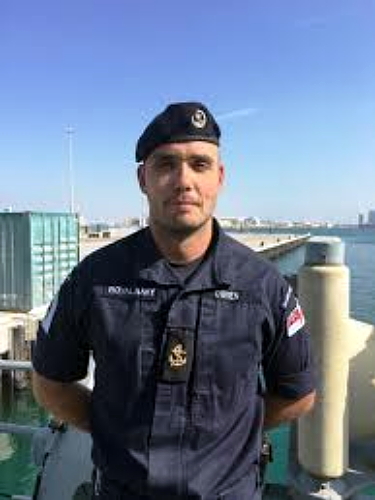 LS(D) Matt O'Brien of SDU2
(RN photo)
From the London Gazette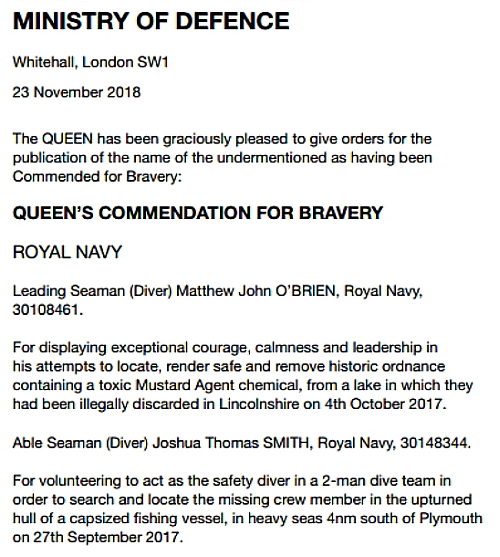 ---
28 Jul 19 - Death of former FCPO(D) David Lott BEM
I have received word via Cliff 'Abbo' Coulson-Bonner that Dave 'Mona' Lott crossed the bar this morning at his home in Eden, NSW in Australia after a long illness. He would have been 83 next month.
Dave joined the Royal Navy at HMS St Vincent as a 15-year-old Boy Seaman on 6 November 1951 and qualified as a Shallow Water Diver at Malta in February 1955. He qualified as a Clearance Diver at HMS Vernon in December the same year and served until 1976. His career took him to many places but he most enjoyed his two stints in the Mediterranean Fleet CD Team based on Manoel Island in Malta.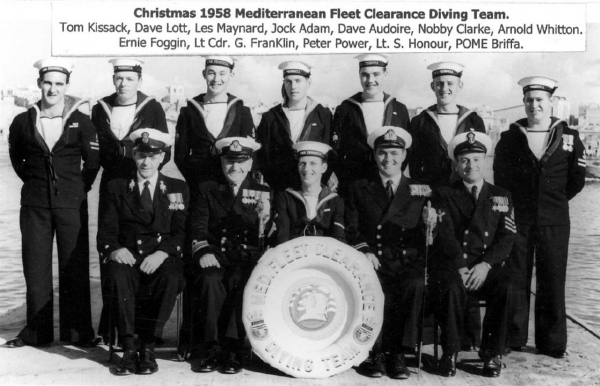 This photo, courtesy of Dave, shows him squatting front right with his son Andrew, wife Jackie and eldest daughter Karen outside the Chapel of St Adjutor (patron saint of divers) at HMS Vernon circa 1964 after a christening in the inverted diving helmet font that now resides in St Barbara's church at HMS Excellent. PO(CD2) Pete Lumbis is standing next to the Padre in the back row and CPO(CD1) Ernie Foggin is on the extreme right next to PO(CD2) Ted Shennan. CPO(CD1) Gordon 'Hoppy' Hopewell BEM is the shorter man holding the boy.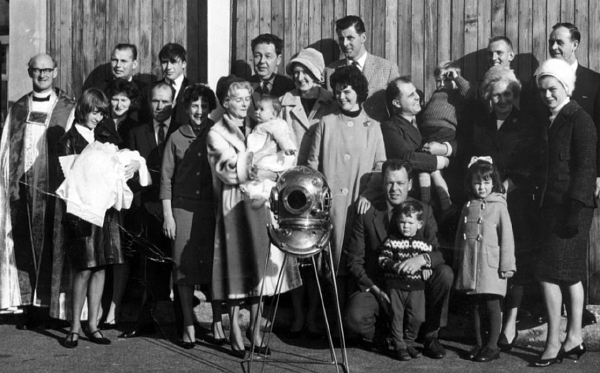 This website and I owe much to Dave for his many contributions over the years. Type "Mona" into the search box on the Home page to see what I mean. For several years, he and I enjoyed a four-way email exchange of banter with Michael 'Shiner' Brassington and Gabby Haines. Our group has slowly dwindled over time and is now gone altogether but I did manage to put Dave back in touch with ex-CDO Les Maynard, also living in Australia. Les (second left) attended a reunion with fellow ex-CDs Ron Neville, Jeff Collins, Mike Horlock and Cliff Coulson-Bonner in Perth, WA only a week ago.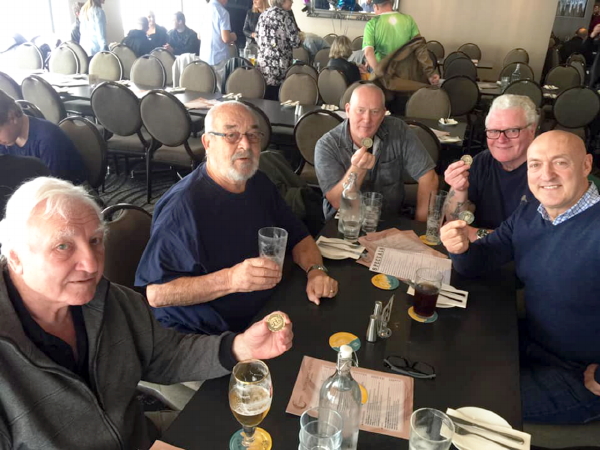 Ex-RN CDs in Australia
(Courtesy of Cliff Coulson-Bonner)
Perhaps Dave will best be known for writing 'A Corkhead's Chronicle - Experiences of a Royal Navy Clearance Diver 1955-76', an autobiographical account of his career as a CD which includes mentions of such MCDOs and CDOs as Pat Dowland, 'Uncle Bill' Filer MBE GM, George 'Franky' Franklin, Bill Grady, Steve Gobey, Mike Harwood MBE, David Hilton MBE, Stuart 'Jazz' Honour MBE, Brian 'Jumbo' Jervis, Ken Kempsell GM, Cyril Lafferty, Hamish Loudon MBE, Chris Massie-Taylor OBE, Gerry 'Pincher' Martin, Les Maynard, Neil Merrick MBE, Peter Messervy MBE GM, John O'Driscoll MBE, Harry Parker MBE, Bob Pilling, Jon Riches, Norman Taylor, Ed Thompson MBE, Julian Thomson, Harry Wardle, Sydney 'Jackie' Warner MBE DSC and Bob White MBE plus many other CDs of all ranks and rates although some names are spelled imaginatively.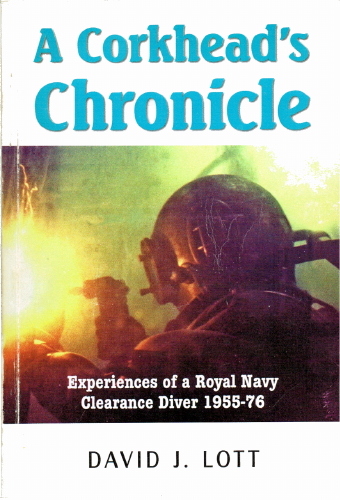 I am sure all members of our community will join me in extending our deepest sympathy and sincere condolences to Dave's family. I will publish further information when known.
---
From MCDOA member Steve Gobey:
"Hi Rob,
Back home for a short break from summer narrowboat cruising and trying to catch up with the world!
Sorry to hear about Dave 'Mona' Lott but it's good to know that he had a good innings and was able to enjoy his retirement in Oz. He was an inspirational Course Chief along with Course Officer Mike Harwood for LMCDO 71 (Me, Hamish Louden, Chris Massie-Taylor, Norman Taylor, and Julian Thompson) who trained us well. He knew BR 155 (Ah, those were the days!) inside out, upside down and back to front. Woe betide us if we didn't try to do the same.
Proud to be one of his graduates.
Best Wishes,
Steve"
---
From former WO(D) Ray Ramsay:
"Dear Rob,
Very sad news about Dave.
I had the honour to serve under him in the FCDT. He was the Team "Fleety" '73 –'74 and was instrumental in getting me on CD1 course in 1974.
A true gent, very professional, a pleasure to work for, a first class leader and a great inspiration to me.
Your Aye,
Ray"
---
From ex-CD1 Cliff Coulson-Bonner:
"Thanks, Rob,
A well written article for Dave 'Mona' Lott BEM RN. It was also good to see Les and Ron mentioned at the Lunch.
Best Wishes,
Cliff"
---
26 Jul 19 - MWA Southern Area Monthly Dit Session
There was a fine turnout last night for the Southern Area Monthly Dit Session of the Minewarfare Association (MWA) at the Still & West in Old Portsmouth. Joint MCDOA/MWA members present included John Bainbridge, Bill Kerr, David Sandiford, John 'George' Turnbull and Yours Truly (Rob Hoole).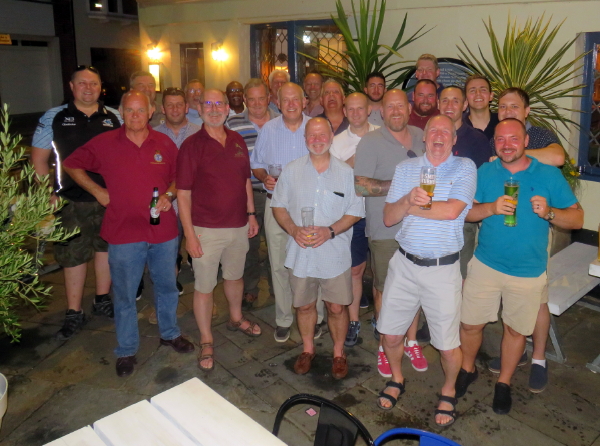 Other attendees included Jim Bowen, Jay Buckley, Paul Campbell, Robert 'Dixie' Dean, John Gunter, Jim Hawkins, Pony Moore, Steve 'Stirling' Moss, Tony Mulrain, Gordon Neil, Andrew 'Ozzy' Osborne, Peter 'Taff' Reader, Tony Sheaf, Sean Slee, Mike 'Smudge' Smith, Bunny Warren Sr (Steve) and Bunny Warren Jr (Rhys), Soapy Watson and Peter Whitehead.
Unfortunately, MCDOA member John Bainbridge (right) was missed out of the group shot.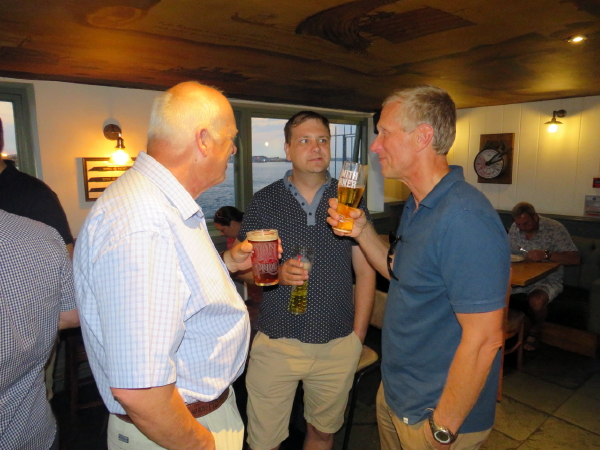 It was particularly good to see former WO(MW) Tony Mulrain (left) who has been out of the country for so long.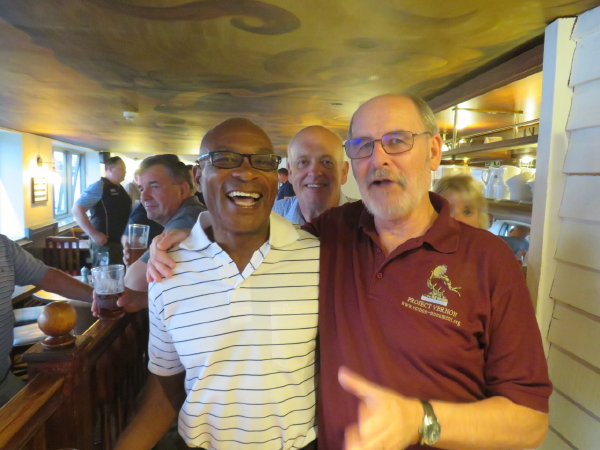 ---
25 Jul 19 - HMS VERNON Heritage: Course photo tree and splayed eagle
During my recent visit to the Defence Diving School (DDS) on Horsea Island, WO1(D) Simon 'Ruby' Murray, with whom I have been collaborating on the production of a DDS timeline depicting the history of RN diving, showed me this coffee table which had recently been discovered in one of the offices.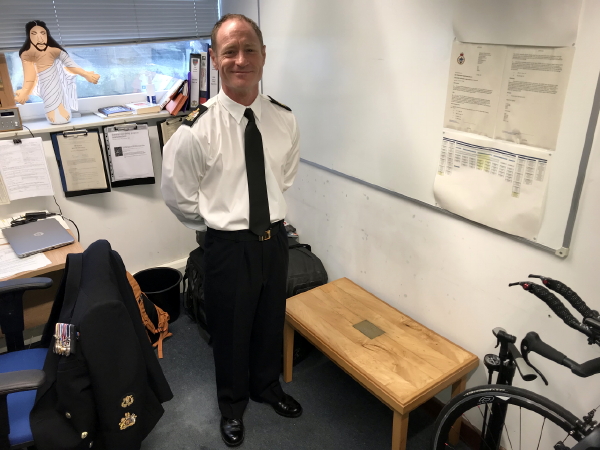 The inlaid plaque states that the table is made from the wood of the willow tree in the car park behind Creasy Building in HMS VERNON which formed the backdrop for hundreds of course photos including this one of the first ever LMCDO course in 1966.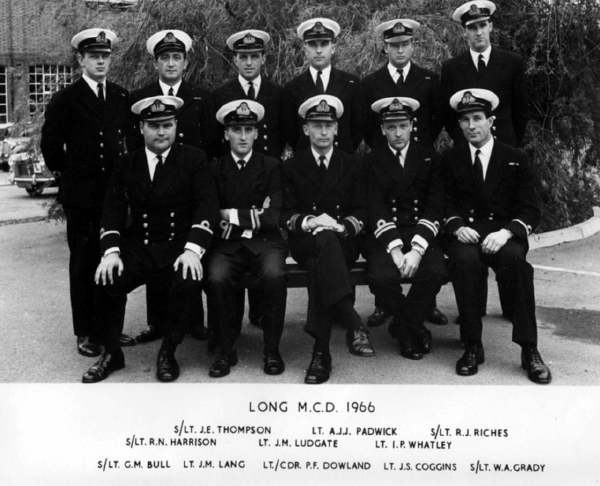 The tree was blown over in the great storm on the night of 15 October 1987 which prompted this article in Navy News:

I occupied the far left office on the first floor of Creasy Centre two years later when I formed the operator training team for the Saudi Al Jawf class minehunter.
While at Horsea, I also took this photo of the eagle at the top of the stairs leading to the mess in the old circular W/T building.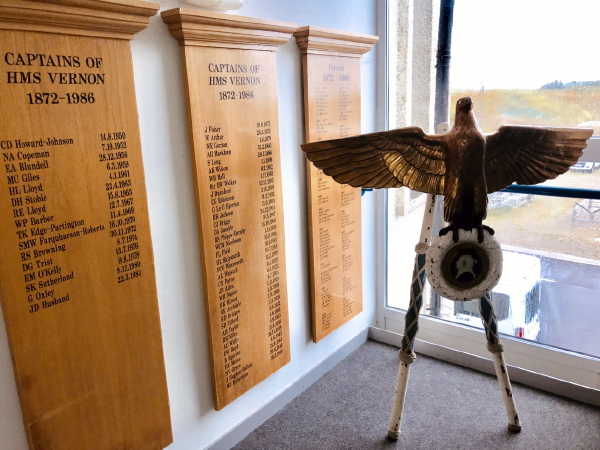 The same eagle appears in this photo, courtesy of ex-CD Phil Plevey, of the HMS Vernon-based Western Fleet Clearance Diving Team (WFCDT) in 1970 with MCDOA member Jon Riches as its OIC.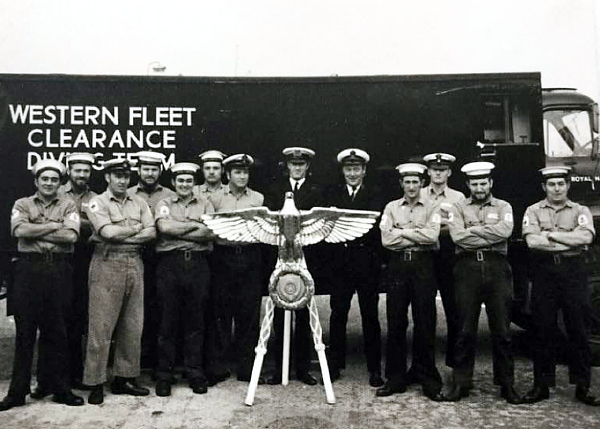 Ex-CD1 Derek 'Maggie' Lockwood says the eagle adorned the Home Station CD Team's diving tender HMS Dingley during the 1950s and early 1960s. However, I suspect it originally came from the former German torpedo trials ship and seaplane carrier Walter Holtzapfel, a war-prize commissioned into the Royal Navy in 1946 as the deep diving tender HMS Deepwater and later used as a floating diving school alongside HMS Vernon. Can anyone confirm or deny this?
---
From former FCPO(D) Chris Jones BEM:
"I first saw the brass eagle when I was serving in HMS Brearley at Port Edgar.in 1957. It was dredged up alongside us. When I asked the dredger man for it, he gave it to me.
We cleaned it and our Captain, Lt [later Lt Cdr] William 'Bill' Thornley MBE, decided that it would look good mounted on the ships mast and, because I had obtained it, I could give it a daily polish."
---
From ex-CD1 Dudley 'Wooly' Woolnough:
"Rob,
I sent the article anyway although I'm not sure if you can translate it.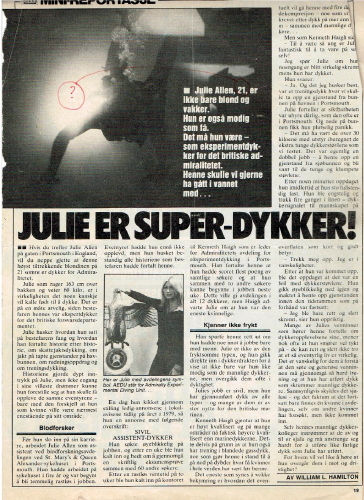 Regards,
Dudley M. Woolnough MIIRSM Tech. IOSH
Deep Marine Works"
Any offers of a translation from the original Norwegian?
---
Postscript: I am grateful to Svenn Olav Kalvø, a Norwegian naval officer who qualified on LMCDO '79 at HMS Vernon, for this translation of the article above:
JULIE IS A SUPER-DIVER!
If you meet Julie Allen on the street in Porthsmouth in England, you would probably not guess that this attractive blonde of 21 summers (age) is a diver for the Admiralty.
Julie, who is 163 cm high and weighs 60 kg, is in reality what some would say, born to dive. In a way this is inherited as her grandfather was an expert diver for the British defence department.
Julie remembers how she sat on her grandfather's lap and how he told story after story about diving and hunting for treasures, searching for lost objects on the seabed, rescue operations and divers training. The stories made a deep impression on Julie, but not in her wildest dreams would she have imagined that she would experience the same adventures, the only difference being that she as a woman would be more or less the only one in the area.
Blood researcher
Before she started on this career, Julie Allen worked as an assistant in the blood research department at St. Mary's & Queen Alexandra hospital in Portsmouth. She had worked at the hospital for four years and had started to be rather restless in her work. One day when she looked through the vacant job adverts in the local newspapers, she saw an advert with this heading: CIVILIAN ASSISTANT DIVER.
She immediately applied for the job and one week later she was contacted and asked to do a written exam together with 60 other applicants. After a restless wait for two weeks, she was summoned to the office of Kenneth Haigh who leads the Admiralty Experimental Diving Unit in Portsmouth. He told her that she had scored the highest of all the applicants and that she and together with two others could start in the job the next week. This would give the department a total of 12 divers, but Haigh warned Julie that she would be the only female.
Knows no fear
He asked her directly if she had anything against working with only men. Julie is not the fearsome type, and she went straight into her diving suit to show that she not only was as fearless as the male divers,igh repeats that she is highly qualified and in many areas actually is more qualified than the naval divers. This is also because she has experience with mixed gas diving, which makes her able to go down to depths few women in the whole world have been before her.
The only worry seems to be how it will be for her with four days of decompression - something that is necessary after a dive to more than (.. number missing ..) metres - together with male divers... But as Kenneth but also that she was better than them.
Julie has a civilian position, but she has done dives of all sorts - and many of them are of great use for the British navy.
Kenneth Haigh says: - Julie is fantastic at taking care of herself, being as young as she is.
I ask Julie if she has been terribly scared while she has been diving. She answers: - Yes. What I remember best is a training dive where we should salvage an object from the bottom of the Portsmouth harbour. The water visibility was very poor as it often is in Portsmouth. And on the bottom she suddenly panicked. - It must have been the over 3x (.. number missing ..) kilos of equipment including the extra heavy diving boots they were testing.
It was really a double job - to salvage the object from the seabed and to get used to the heavy and bulky boots. After some minutes she discovered that she was completely stuck. She pulled four times in the rope - the diving signal for the crew on the surface that shortly means: - Pull me up. I am in trouble. They discovered that something was wrong with the boots when she had come up. She immediately went down again and managed to get the object up within the given timeframe. - I was straight forward scared, she says in a sincere way.
Many of Julie's female friends who hear her tell of her diving experiences, many often think that she exaggerates - they can not believe that such an adventures life is possible. It is difficult for them to understand that their cute and generous friend has to go through such a hard training and that she has done dives that frighten male divers. This is probably because of jealousy - and the fact that there still is only one woman in the department, even if other women have applied, but none have come in. Even her male diving colleagues admit that they sometime are jealous and have to make a hard effort to do the same dangerous dives that Julie has done. For who would like to hear that she surpass them in bravery and boldness? -----------------------------------------------------------------------------
Text in picture above article: Julie Allen, 21, is not only blonde and beautiful. She is also as brave as few. She has to be - as an experimental diver for the British Admiralty. She would we like to go into the water with..."
---
24 Jul 19 - Gentlemen Who Lunch
What a scorcher, yesterday! It was too hot for the MCDOA's 'Not Quite the Last of the Summer Wine' trio of Barlow, Holloway and Hoole to do anything but walk to the nearest pub with a waterfront garden for lunch and a thirst-quenching pint or two. This happened to be the Lord Raglan in Emsworth.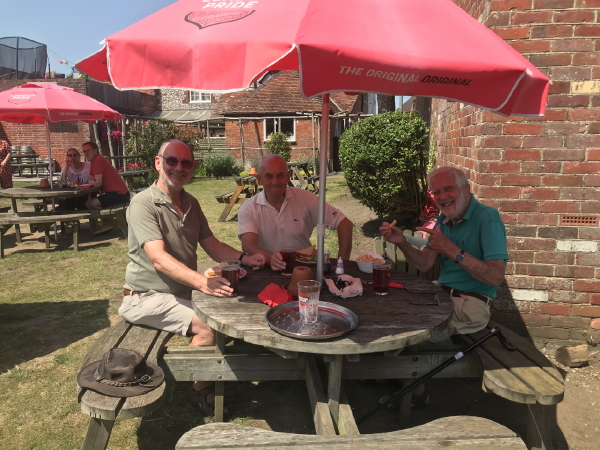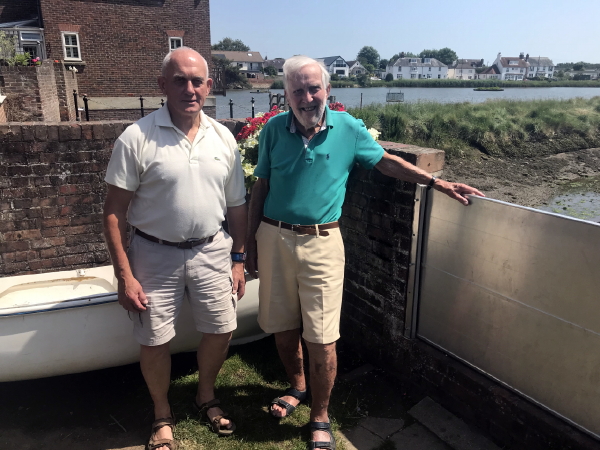 ---
23 Jul 19 - Doc Morris superseded
Best wishes for the future to MCDOA member Dave 'Doc' Morris who was superseded by Lt Cdr Matt Ellicott today as Commanding Officer of HMS Chiddingfold (MCM2 Crew 2). He is seen here shaking hands with his Australian MWO-qualified XO.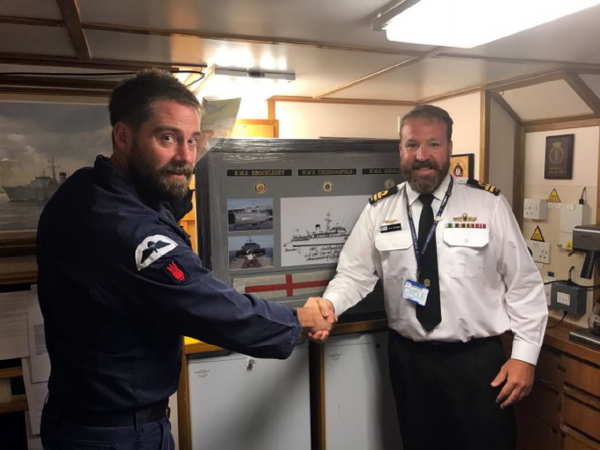 ---
21 Jul 19 - Rugby award for Martyn Holloway
Hearty congratulations to erstwhile MCDOA committee member Martyn Holloway on being presented with the Mitsubishi 'Value the Volunteer' award at the RN Rugby Referees' Annual Dinner last night.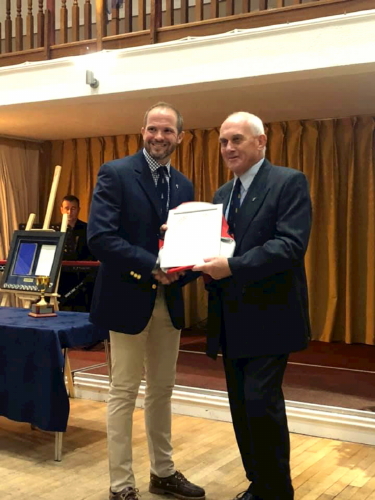 I captured Martyn in action in January this year.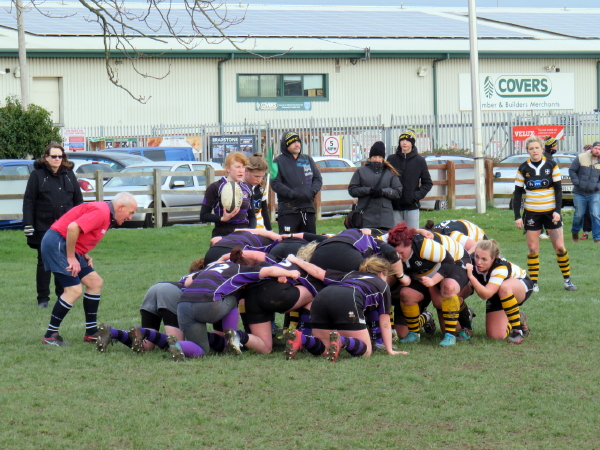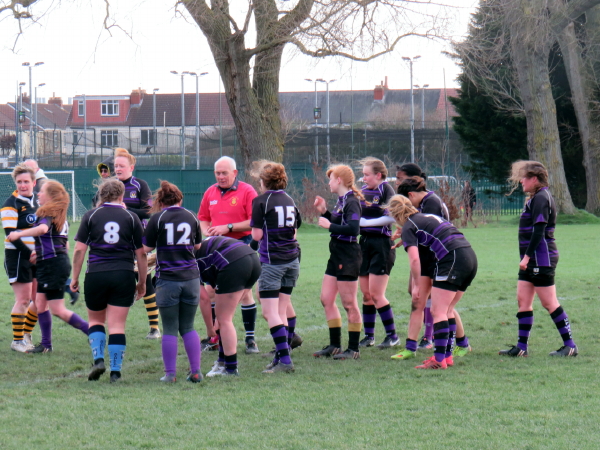 ---
19 Jul 19 - Graduation of CD Course 03/18
It was your humble webmaster's birthday today and I was particularly thankful to be invited as guest speaker at the graduation of the clearance divers on AB(D) Course 18/03 at the Defence Diving School (DDS) on Horsea Island. My key points linked our shared heritage with its ethos of respect, trust and camaraderie.
The event took place in the presence of family members and friends and kicked off with a couple of pep talks and presentations in the Vernon Room. We were then treated to practical demonstrations of circuits and diving in Horsea Lake before finishing up in the mess for a light lunch.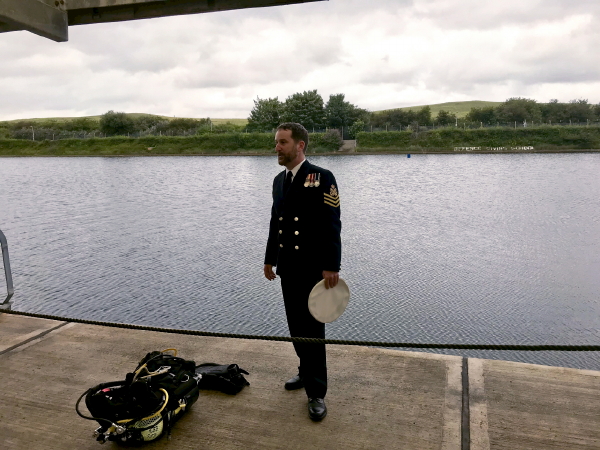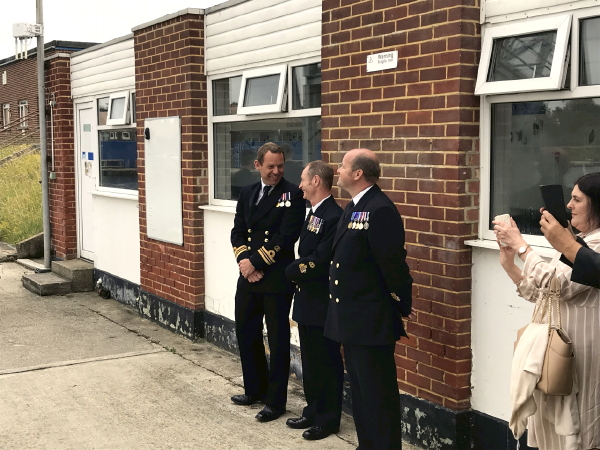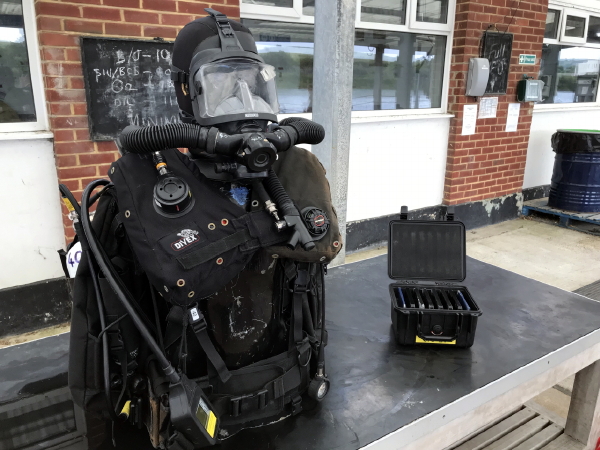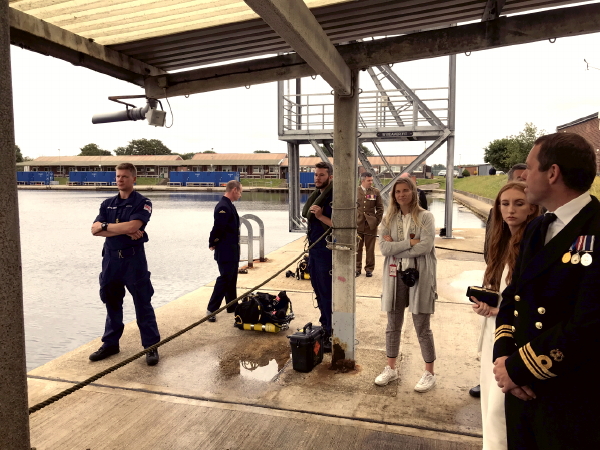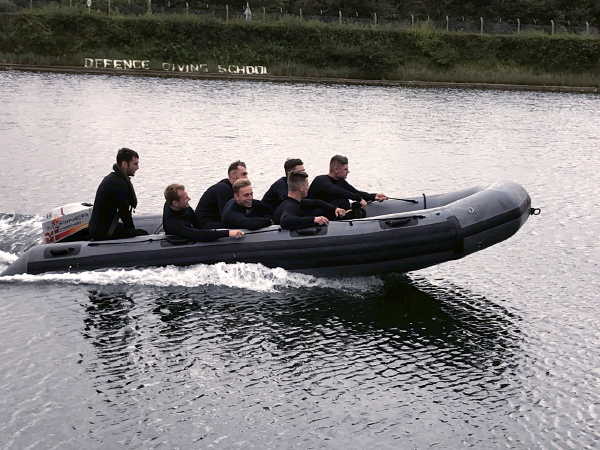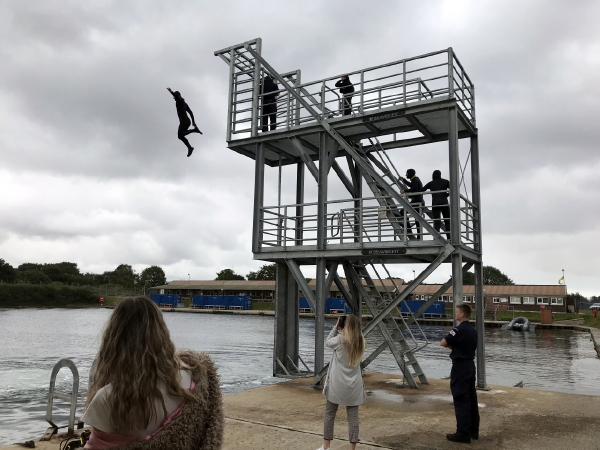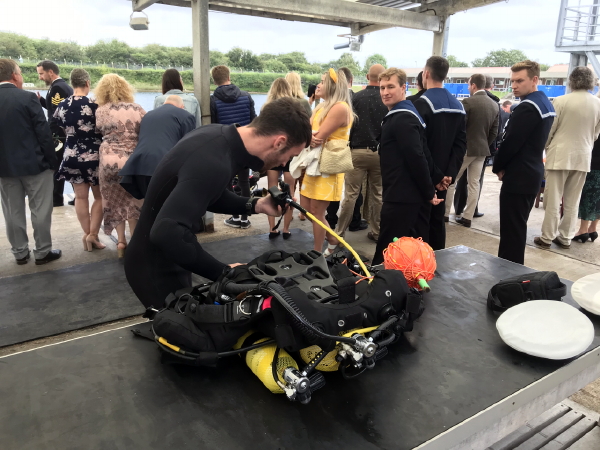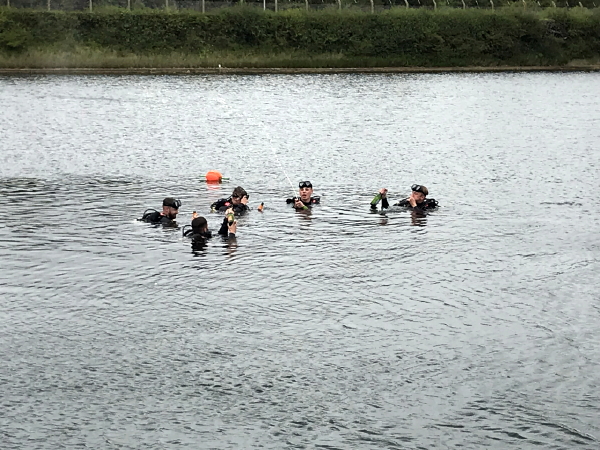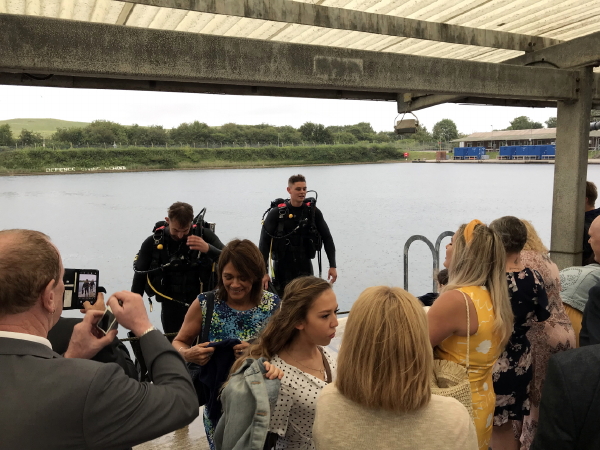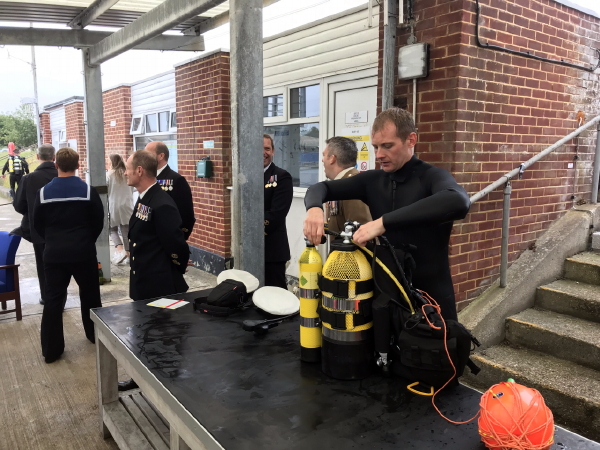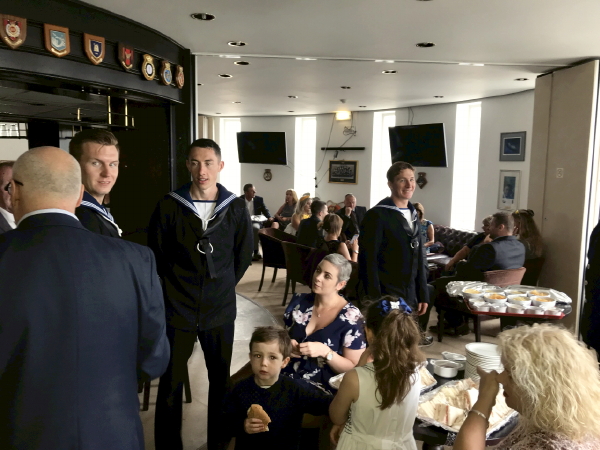 Many thanks to Lt Col Mike Canham RE (CO DDS), Lt Cdr Jim Pearson (OIC DTG), WO1(D) Simon 'Ruby' Murray (DO3 DDS), PO(D) 'Bernie' Winter (Course Instructor) and LS(D) 'Buster' Brown for your hospitality.
Above all, congratulations to AB Baker, AB Bolton, AB Gurney, AB Hudson-Ryder, AB Maclaren (who earned the 'top fin' award) and AB Morgan for qualifying on the course. Commiserations to those who were unable to complete the course for medical reasons but better luck next time round.
---
18 Jul 19 - Departure of Andy Lamb as Deputy Commander of Task Force 52
On Tuesday 16 July, non-MCD Captain Andy Lamb OBE, past Commanding Officer of several MCMVs and previous Commander of the First MCM Squadron, departed Bahrain after two years as the Deputy Commander of Task Force 52, US CENTCOM's Fifth Fleet organisation responsible for the command & control of all mine warfare assets in the region.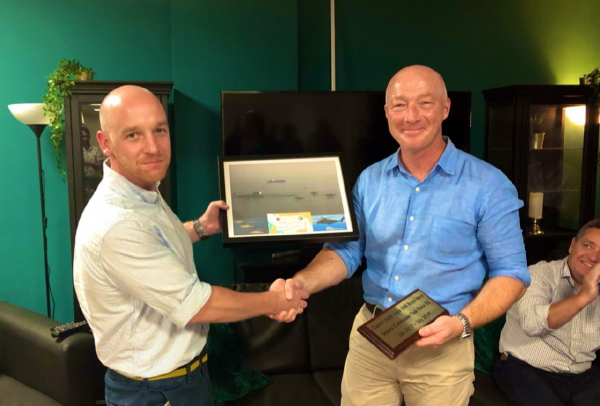 Cdr Simon Cox (COMUKMCMFOR) making a farewell presentation
to Andy Lamb in Bahrain
I am sure all members of our community will join me in thanking Andy for his service in the Gulf and wishing him well for the future.
---
17 Jul 19 - Morris Singer Foundry visit
Project Vernon, the charity committed to erectng a monument at Gunwharf Quays, formerly HMS VERNON, to celebrate the establishment's heritage and honour those involved in minewarfare & diving - past, present and future - has been the MCDOA's adopted cause since its inception. Yesterday, Project Vernon volunteers David Sandiford, Grenville Johnson, Martyn Holloway and Yours Truly (Rob Hoole) accompanied sculptor Mark Richards to the Morris Singer foundry at Lasham in Hampshire to witness some of the processes it will use to cast the Vernon Minewarfare & Diving Monument in bronze.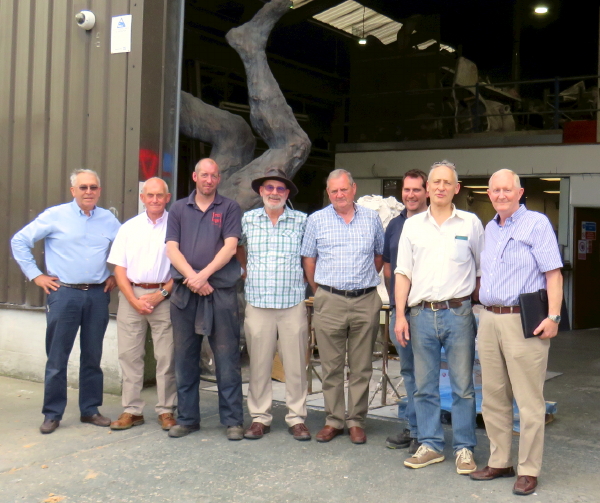 Other project volunteers, including minewarfare technical advisor John 'George' Turnbull and diving technical advisor Colin 'Scouse' Kidman QGM, are visiting Mark's studio at Ludlow in Shropshire to verify the final design is as correct in detail as possible.
The monument is due to be installed next year but funds are still needed to cover the dedication, lighting, signage, educational facility, insurance, maintenance and other contingencies pending its transfer to a permanent body.
Further information is available at:
---
16 Jul 19 - SDU2 called to deal with grenade cigarette lighter
The Portsmouth News website contains this article reporting that Royal Navy divers, presumably members of Portsmouth-based Southern Diving Unit 2 (SDU2), were called to a house in Cosham yesterday to deal with a Second World War hand grenade converted into a cigarette lighter. The item was found to be safe.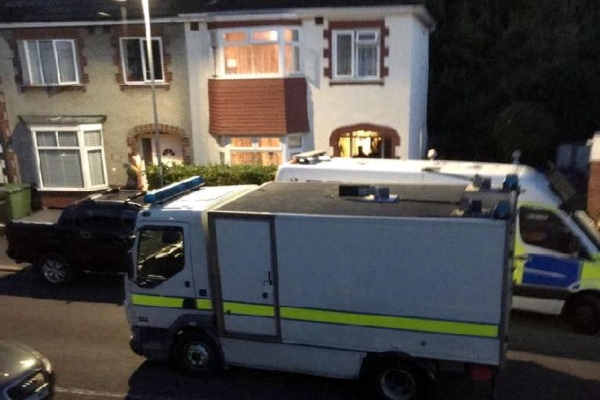 Postscript: The Portsmouth News subsequently published this article, including a video, on 17 July.
---
12 Jul 19 - Charity cycle ride by Fleet Diving Unit 2
I am delighted to promulgate this appeal:
Eighteen CD and MW sailors. Eight days. Seven hallowed sites. Six hundred miles. That's the challenge set by Portsmouth-based Fleet Diving Unit 2 over one week in August paying homage to the fallen and to raise money for the Royal Navy and Royal Marines Charity.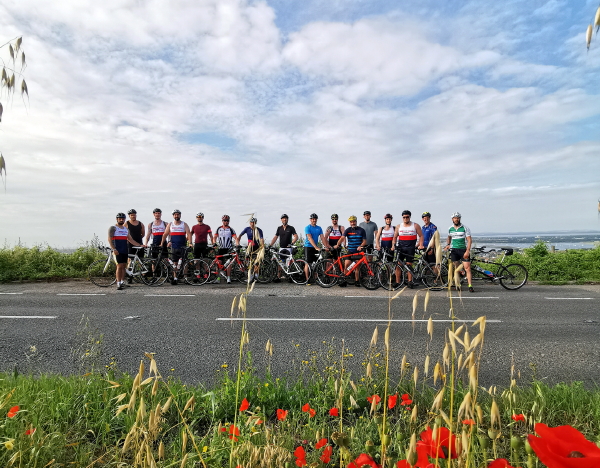 The team from Horsea Island – a mixture of 18 divers and mine warfare specialists, all experts in finding explosive ordnance in very shallow waters – are hitting the roads of France to pay homage to Britain's WW1 and WW2 fallen, and raise money for the Royal Navy and Royal Marines Charity.
The 600-mile ride starts at Dunkirk, scene of the 1940 evacuation, passes through the Somme battlefields of 1916 and 1918, then heads down into Normandy with the emphasis on remembering the men and women of D-Day, 75 years on since the landings. The riders will lay wreaths at specific memorials and sites as they pedal around the region, from Pegasus Bridge and the remains of the Mulberry Harbour to the new UK memorial and the five invasion beaches. They'll also stop at La Cambe Cemetery, last resting place for more than 21,000 German defenders of Normandy. The cyclists set off on August 14 and intend to complete their epic tribute on August 21.
You can show your support for the team via: uk.virginmoneygiving.com/FDU2
---
11 Jul 19 - New Book from Don 'Jim' Green
I am grateful to former WO(D) Don 'Jim' Green for sending me a copy of his newly published book, 'I Was Paid to Get Wet'.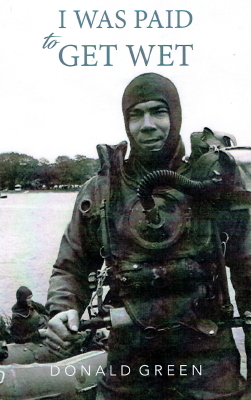 Don was born in a Morrison Shelter during an air raid in the Second World War in a village in Kent, 25 miles south-east of London and his book provides all sorts of similarly fascinating snippets. As an autobiography, it spans his life to date but focuses mainly on his years in the Royal Navy between 1958 when he joined HMS St Vincent, the Boys Training Establishment at Gosport, and 1991 when he left the Service as a WO(D). However, he later enjoyed a second lease of life as a Naval Staff Author in the MOD Civil Service responsible for writing. maintaining and distributing diving and EOD publications for the UK and NATO.
MCDOA members and others of a certain age will identify with the naval routine, ships (including the frigate Hardy, the destroyers Diana and Diamond, the diving vessels Reclaim, Stena Inspector, Stena Seaspread, Seaforth Clansman and Challenger, the minehunter Hubberston) and establishments (Excellent, Vernon, Terror, Royal Arthur, etc.) with which he was asociated, the ports he visited, the operations he performed and the characters he met and worked with. The book is well-written and makes for light and easy reading. I certainly learned one or two new things but, in the main, the scenes and people were comfortably familiar. I recommend it to anyone in our community who wants to enjoy several 'I remember that' moments or to those others who would like to find out a bit more about life in the RN in general and in the CD branch in particular over three very active decades.
Don's book is available direct from the publisher here:
www.ypdbooks.com/biography/1936-i-was-paid-to-get-wet-YPD02115.html
or via Amazon at:
www.amazon.co.uk/I-Was-Paid-Get-Wet/dp/1999688201
---
9 Jul 19 - Award of LS&GC
Congratulations to WO1(D) Lee 'Eddie' Yates and WO1(D) Dave Merridue on being gazetted for the award of the 2nd Clasp to the Naval Long Service & Good Conduct Medal, WO1(D) Nick Frost for the award of the 1st Clasp and CPO(MW) Jay Buckley for the award of the Naval LS&GC Medal.
---
5 Jul 19 - Recent tweets
Click on the linked dates to see all associated photos and videos.
COMUKMCMFOR (Commander UK MCM Force in Bahrain for Operation KIPION)
29 Jun 2019 - We are proud to support our Armed Forces and all who sail with us!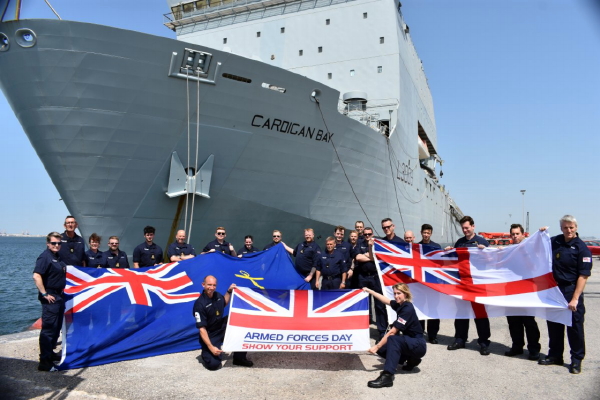 29 Jun 2019 - Happy Armed Forces Day 2019 from the UK's Mine Counter Measures Force. A salute to all the Men and Women of the Royal Navy deployed on Operations.
16 Jun 2019 - Working closely with our US allies to maintain the free flow of commerce remains at the heart of what we do.
HMS Brocklesby (MCM2 Crew 8)
17 Jun 2019 - It was a pleasure to welcome our colleagues 'The Poachers' and crew from USS DEXTROUS on board for a tour this week, all supporting CTF 152 in the Gulf.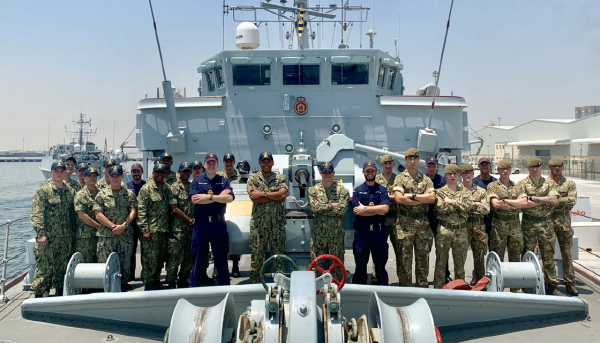 HMS Chiddingfold (MCM2 Crew 2)
4 Jul 2019 - Our Mine Warfare Department took some well-deserved time for a team building day today. All were tall enough for every ride!
HMS Grimsby (MCM1 Crew 3)
26 Jun 2019 - There are few better places to be on a morning like this... Summer comes to Scotland!

HMS Ledbury (MCM2 Crew 1)
30 Jun 2019 - A massive thank you to Bath Rugby for your generosity while HMS Ledbury is deployed in the Arabian Gulf as part of the UK's commitment to the region! Some very happy Bath Rugby supporters on board!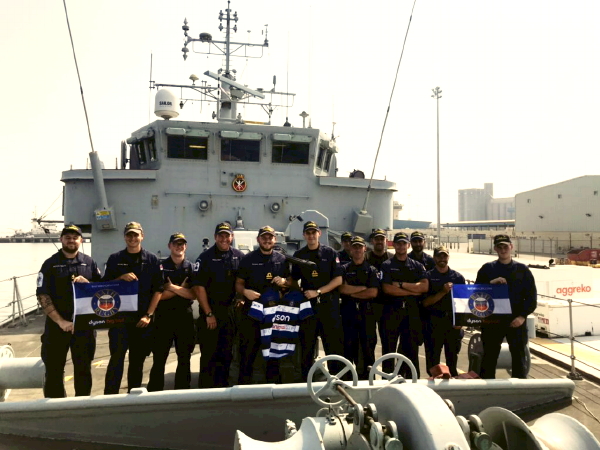 29 Jun 2019 - We are proud to support our Armed Forces!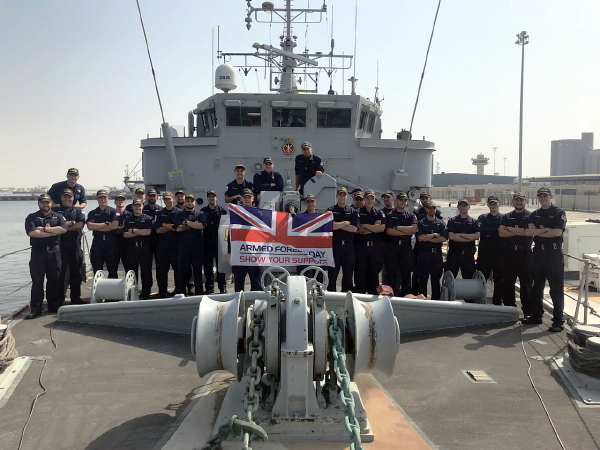 17 Jun 2019 - A massive congratulations to the Hunt class MCMVs in their victory over Sandown class MCMVs. With 15 of the 22 man squad in our ships company we are rugby champions! Well done team!
HMS Middleton (MCM2 Crew 3)
3 Jul 2019 - Members of the ship's Crew 3 representing HMNB Portsmouth in the Eastern Region RN Cricket 6's competition today at HMS TEMERAIRE.
17 Jun 2019 - Thank you Falmouth Town UK for a brilliant weekend! Our CO presented prizes to Fal Classics race winners, and HMS Trumpeter & HMS Biter looked great at the front of the parade of sail and power.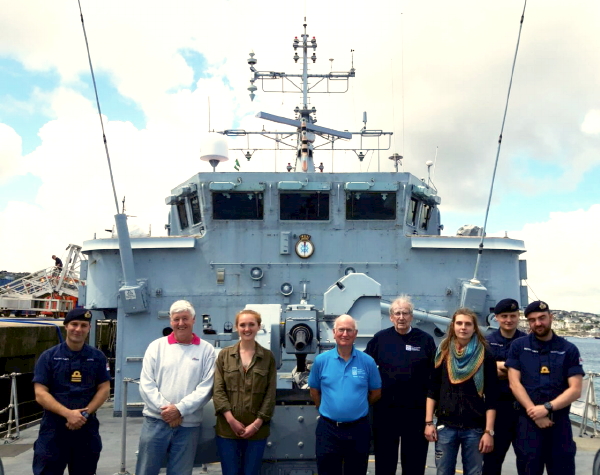 17 Jun 2019 - We'll work on our shanty-singing and rowing skills for next time...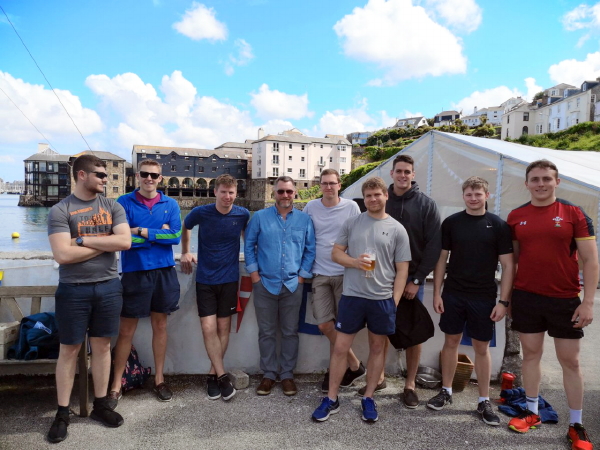 HMS Pembroke (MCM1 Crew 5)
22 Jun 2019 - Just because PEMBROKE is out of the water in an upgrade period, doesn't mean we are! Here our divers keep their skills sharp conducting pool drills before heading out to dive at sea.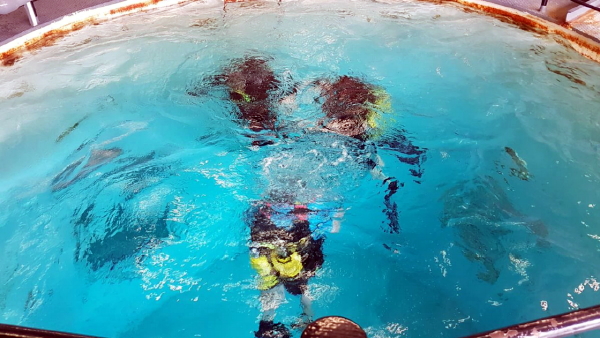 HMS Ramsey (MCM1 Crew 2)
30 Jun 2019 - The White Ensign flies over the BBQ which is in full swing celebrating Armed Forces Day 2019 as well as our success on NATO operations. HMS Ramsey will return to HMNB Clyde this week for a mid-deployment stand-down.
30 Jun 2019 - We are truly blessed to be based at HMNB Clyde in Scotland with views like this. We have chosen Lamlash Bay off Arran to have our Armed Forces Day 2019 BBQ.
30 Jun 2019 - Happy belated Armed Forces Day 19 from HMS Ramsey to all our fellow service men and women. We had to delay our celebrations until this evening as we return from our NATO tasking. However we are now at anchor and the BBQ is lit!
29 Jun 2019 - HMS Ramsey ensuring we remain safe at sea despite being on our way back to HMNB Clyde. This morning we conducted a man overboard exercise.
28 Jun 2019 - Great to see our Belgian friends in BNS BELLIS are home safe. It has been a pleasure to work with you as part of SNMCMG1.
28 Jun 2019 - HMS Ramsey's Executive Officer enjoying his first breath of Scottish air as the ship heads towards her home port of HMNB Clyde.
28 Jun 2019 - LAND HO! HMS Ramsey sees the UK for the first time in nearly three months. We're counting down the days until mid-deployment leave.
26 Jun 2019 - The sun is out in the Kiel Canal today. Having successfully completed BALTOPS 2019 with our NATO allies, HMS Ramsey is returning to HMNB Clyde for a mid-deployment stand-down.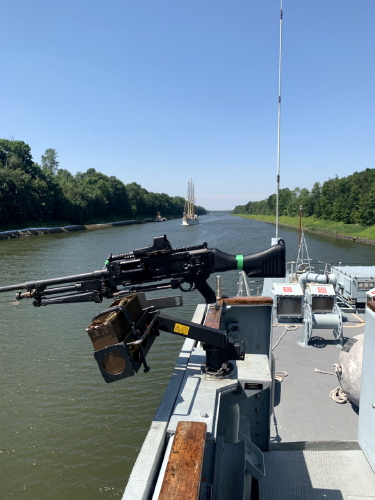 20 Jun 2019 - SNMCMG1 clearing a WW2 depth charge in the Baltic Sea this morning. HMS Ramsey and her NATO partners have conducted a period of historic ordnance disposal during the final phase of BALTOPS 2019.
20 Jun 2019 - LIVE UPDATE: HMS Ramsey with our NATO partners about to detonate historic ordnance which has been found during BALTOPS 2019.
20 Jun 2019 - LIVE UPDATE: It went off with a bang!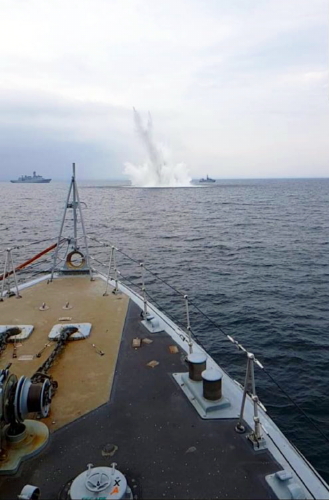 20 Jun 2019 - HMS Ramsey's Executive Officer had a go at slipping the anchor this evening. We didn't think he had the muscles but he managed it!
19 Jun 2019 - HMS Ramsey's clearance divers submerge below the waves during BALTOPS 2019. We have spent the last 10 days with our NATO MCM partners clearing the way for the rest of the task group.
18 Jun 2019 - HMS Ramsey continues clearing the waters of BALTOPS 2019 ensuring our NATO partners at sea remain safe. Guess who has taken another break from the engine room? ETME Dunster!
18 Jun 2019 - Yet more hard work by our engineers on HMS Ramsey. This time ET(WE) Purves is conducting routine maintenance on our GPMGs during BALTOPS 2019 ensuring we are ready to defend ourselves and our NATO partners.
15 Jun 2019 - HMS Exploit and HMS Archer were no match for HMS Ramsey during a simulated fast attack craft assault. Acting as the enemy, the two P2000s tried to disrupt the MCM effort during BALTOPS 2019.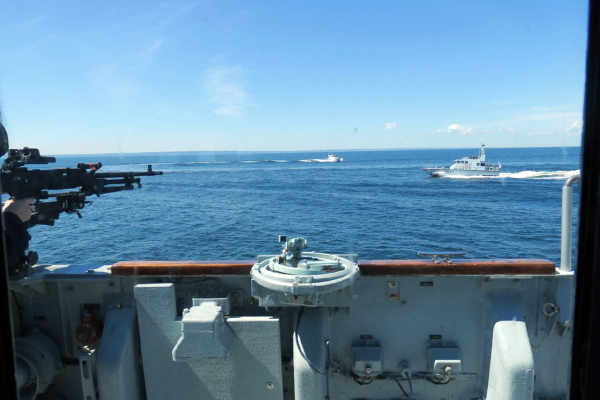 15 Jun 2019 - HMS Ramsey conducting MCM operations during BALTOPS 2019 alongside our MCM Denmark partners and their unmanned drone. The UK is investigating similar systems which are in trial stage.
13 Jun 2019 - HMS Ramsey completes another Seafox mission on BALTOPS 2019 with some skillful driving by the LCO. Yet again another wholeship effort with ETME Dunster taking a break from the engine room to help on the fibre optic wire.
13 Jun 2019 - Our success on NATO operations would not happen without the hard work of HMS Ramsey's engineers. Here our youngest Engineering Technician, ETME Dunster is carrying out routine maintenance on our engines during BALTOPS 2019.
13 Jun 2019 - Teamwork makes the dream work on HMS Ramsey. No matter which branch badge you wear, everyone gets involved with Seafox. We are conducting mine hunting operations as part of BALTOPS 2019 along with our NATO partners.
HMS Shoreham (MCM1 Crew 7)
29 Jun 2019 - We are proud to support our Armed Forces!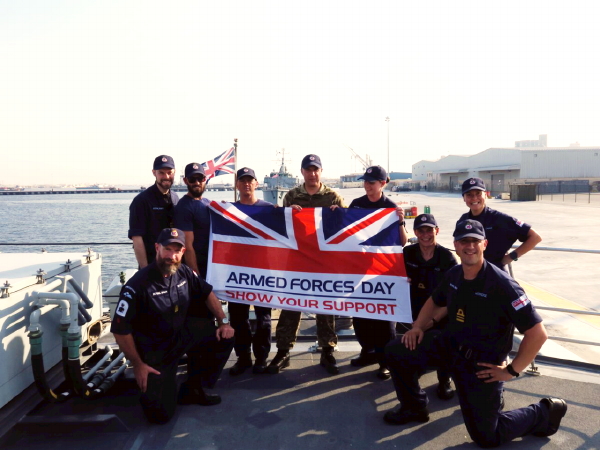 MASTT (Maritime Autonomous System Trials Team commanded by MCDOA member Dave Stanbury)
4 Jul 2019 - MASTT are spread to the four corners this week! The team are at HMS Collingwood to support the 1SL Senior Warrant Officers' Conference, on RN Sweep Demonstrator Trials in Weymouth and on Minelaying Tasks in Scotland with the RN Minelaying Unit and the Proj WILTON Team.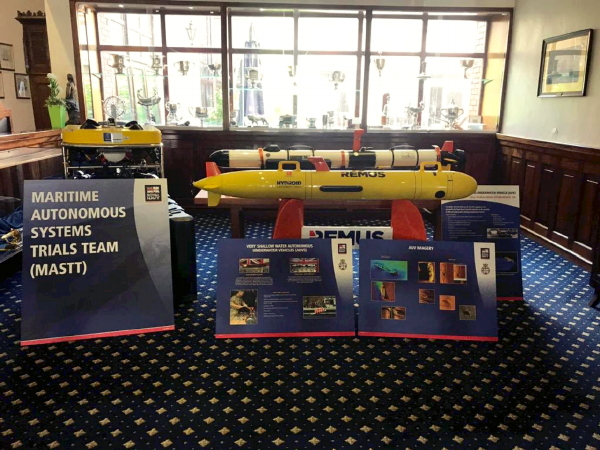 4 Jul 2019 - Views from the RN Sweep Demonstrator being put to the test in Weymouth Bay, this week.
4 Jul 2019 - Beautiful mornings this week in Sweep Optimisation Trials, in Bincleaves, Weymouth. The site, formerly an old Torpedo Test Facility, is now owned and run by Atlas Elektronik UK (AEUK). Ironically there are also reminders of the old RN Minesweeping days scattered around the site. [See entry for 17 Jun 19 in News Archive 66]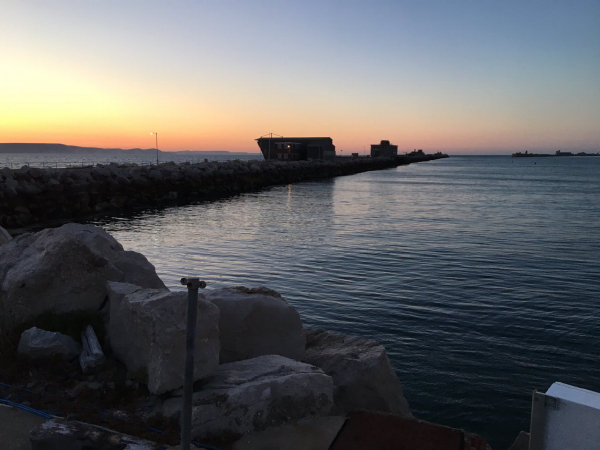 27 Jun 2019 - Go Cobra Go, Go!! M500 ROV "Nailing" the target with the attached COBRA system.
27 Jun 2019 - BULLSEYE! MASTT and Project WILTON teams hit the sweet spot during their M500 ROV Training Course with Atlantis Marine, at Bincleaves Weymouth.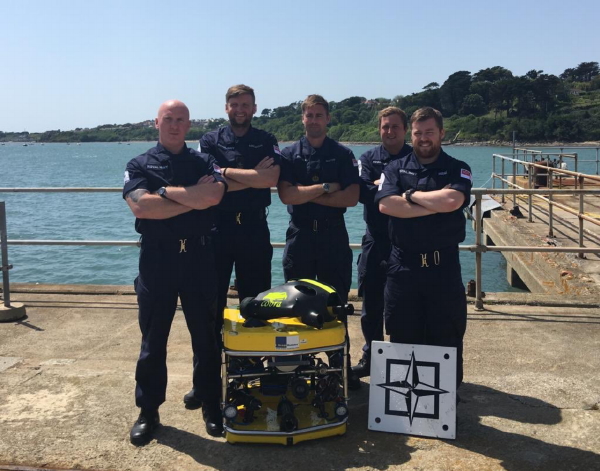 21 Jun 2019 - A model of the REMUS 100 New Generation AUV, at MASTT for the team to study, to help broaden the Team's systems knowledge.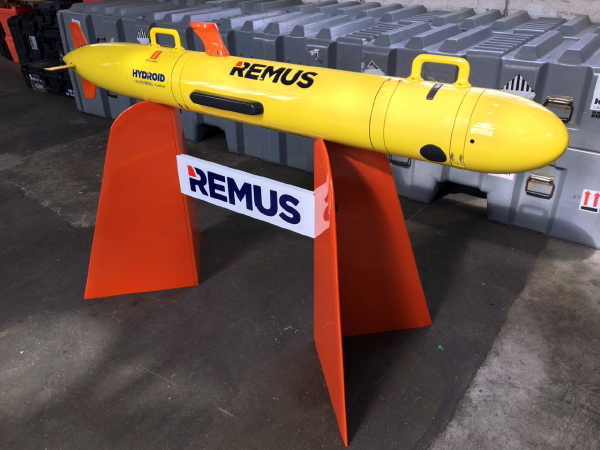 ---
4 Jul 19 - NDG called to suspicious device on Lewis
The Hebrides News website contains this article reporting that a Royal Navy explosive ordnance disposal unit, presumably from Faslane-based Northern Diving Group (NDG), has disposed of an unidentified explosive device found at a property in Breasclete on Lewis on Monday 1 July.
---
3 Jul 19 - RN Diving Heritage: Hong Kong 1983
I am grateful to MCDOA member Geoff Goodwin for this contribution: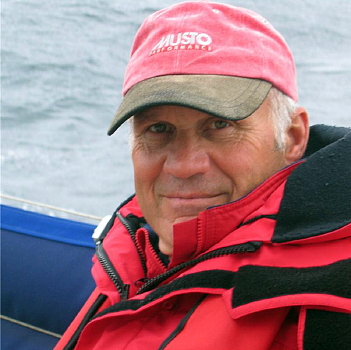 "Hi Rob,
Here's a dit for you.
Diving from the USS BEAUFORT in Hong Kong
The USS BEAUFORT visited Hong Kong periodically to provide an R&R opportunity for her Ship's Company. At the same time, being fitted with a recompression chamber, she provided a work-up facility for the RN Hong Kong Clearance Diving Unit.
In 1983, this involved the ship coming to a four point moor over (spookily) the Beaufort Deep in 54 meters depth. The RN Divers were then kitted out in US Mk 12 equipment and were hoisted over the side on a cradle and lowered to the diving depth, working down to 50 meters over two days and using USN tables. This all seemed to take an inordinate amount of time, with much shouting and tribal chants by the USN sailors/technicians led by their Master Chief Diver.
Dan Archer and Geoff Goodwin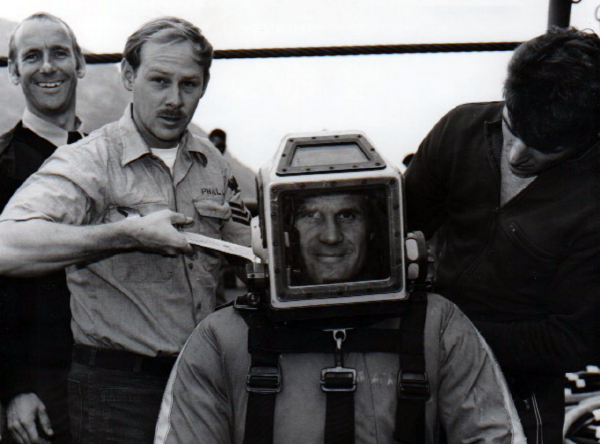 Bob Oulds enjoying seeing the Boss being bolted in
Leaving surface
At 50 meters the visibility was zero but as we were hauled to the surface on completion of the dive, as the visibility cleared on ascent, I could see my buddy looking as if he had grown very long grey hair from head to toe, having picked up masses of tendrils from unseen passing Portuguese Men o' War.
On the third day, with the chamber at immediate notice, the Unit carried out a mine hunting dive down to 54 meters using CDBA. We completed our dives before our USN colleagues realised we'd even begun.
ATB,
Geoff"
---
From MCDOA member Bob Lusty:
"I enjoyed Geoff's story. It brought back memories of Panama City in the USA with Bryan Barrett who was charged to bring that particular diving system into service. It was one small step beyond standard dress.
Geoff looks in good nick in his sailing kit. It is really good to see.
Best Regards,
Bob"
---
2 Jul 19 - RN Clearance divers sent to the Gulf
The Sun News website contains this article announcing that "...expert bomb disposal divers from the Fleet Diving Squadron have been sent to the UAE to investigate blast damage on the tankers and mine debris" last month following suspected Iranian mine strikes on two oil tankers.
The Portsmouth News website contains this article, covering the same story, which also features MCDOA member Al Nekrews QGM, CO of the Fleet Diving Squadron (FDS).
---
1 Jul 19 - Project Vernon features in Navy News
The July issue of Navy News contains the article shown below about the MCDOA's adopted charity, Project Vernon, the campaign to erect a monument next year at Gunwharf Quays, the former site of HMS Vernon in Portsmouth. The monument will honour all those - past, present and future - involved with minewarfare, diving and EOD.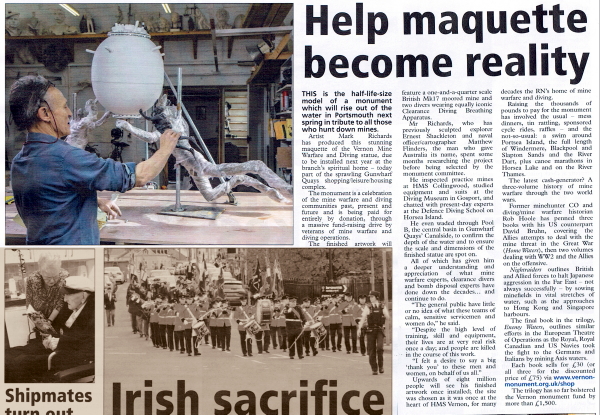 The article also mentions your humble Vice Chairman & Webmaster in connection with the latest fundraising venture.
---