---

MCDOA AGM, Operational Updates and Annual Dinner
Friday 22 November 2019
I am grateful to Ben Brown, our Honorary Secretary, for confirming that this year's association dinner will be held in HMS Excellent's Wardroom on Friday 22 November 2019. The Guest of Honour will be Rear Admiral Jim Higham (ACNS Ships, Chief Naval Engineer Officer and ODH (Operating Duty Holder) for Naval & Military Diving). The evening will follow the traditional format commencing with pre-dinner drinks in the bar at 1900 followed by food and refreshments and a hearty sing song to the musical accompaniment of the HMS Nelson Volunteer Band before retiring to the bar.
The dinner is open to members of the association and their guests only although WO1s (D/MW) are very welcome to attend at the guest price. If a non-member wishes to attend the dinner who is eligible to join the association (serving or retired), then they will be asked to complete the membership process prior to being offered a place at the dinner.
The cost of the dinner will be £45 for members and £50 for guests. This will include a four-course meal, wine and as usual the association will put a healthy kitty behind the bar. JFD UK has again kindly offered to provide the port for the evening.
Due to a tightening of regulations within HMS Excellent, accommodation can not be pre-reserved this year and arrangements will have to be made on an individual basis.
This year marks the the 50th anniversary of:
LMCDO '69: Course Officer: Lt Cdr Bruce Mackay MBE. Course Instructor: CPO(D) Dusty Miller. Students: John Belchamber, Brian Dutton DSO QGM, Terry Jones, Bill Lampard, Richard Lowther RN/SAN, Julian Malec OBE, David 'Dan' Nicholson and John Wiseman.

Two MCD conversion courses for CDOs: Students: Norman Brookhouse, Bob Lusty, Bob Pilling, Tony Rose, Dennis Selwood OBE and Frank Spragg.
It also marks the 25th anniversary of:
MCDO '94A: Course Officer Lt Cdr Steve Wild. Course Instructor: CPO(D) Graham 'Tiny' Petrie. Students: Lt M Howgill, Lt J Goodfellow, Lt D McKnight and SLt S Millar.
LMCDO '94A MW: Those above plus Lt R Jones and SLt T Kelly.
LMCDO '94B: Course Officer Lt Cdr Steve Wild. Course Instructor: CPO(D) Graham 'Tiny' Petrie. Students: Lt Mann, Lt Campbell, Lt S Williamson, SLt Long and Lt Platt.
LMCDO '94B MW: Those above plus Lt Abbott, Lt Eam and Lt Webb.
Operational update briefs will be held in Bridge Building, Horsea Island, commencing at 0900. Free lunch will be available in the Horsea Island Officers and Senior Rates Mess from 1200 with the AGM starting at 1315. Members are encouraged to attend and make your voices heard to the committee. Payment for the dinner can be made by cash, cheque or online bank transfer (preferable). Please ensure that our Hon Sec receives a hard or soft copy application form. Owing to the number of members who forget to make the BACS transfer, members are requested to provide evidence it is completed; this is required before your name will be added to the list. The deadline for applications is close of play on Wednesday 13 November 2019.
Download and complete the calling notice and booking form here. It will also be available via the website's Forthcoming Events page.
Last year's dinner attendees
---
From MCDOA member Phil Ireland DSC:
"Hi Rob,
I will be visiting my daughter in Hong Kong (protests, Hong Kong and Chinese Governments allowing!) at the time of this year's dinner and must send my apologies. Have a great day and evening.
Best Regards,
Phil"
---
From MCDOA member Steve Marshall DSC:
"Hi Rob,
Hope you and the family are well.
Sadly I will not be able to attend this year's dinner as I am currently working in Canada. Please pass on my apologies.
Best wishes,
Steve"
---
From MCDOA member David 'Topsy' Turner in Hawaii:
"Rob,
Please accept my apologies for the AGM and the dinner once again.
Yvonne and I return to New Zealand on 7 December (Pearl Harbour day) after almost 3.5 years in this wonderful location in the middle of the Pacific.
I'll submit an update once settled into my new job that been especially crested for me - NZDF Diving Officer. It's gonna be a bit like SofD I think.
Topsy"
---
From MCDOA member David Burstall:
"Hello Rob,
Thanks for your email and enclosures.
It's fascinating to see how the branch is flourishing. And how time flies - whilst I did not do the MCD course but qualified as a 'pure' CDO some 15 years before your present 50th anniversary. I still remember many of the subsequent milestones.
I had forgotten that the late Dennis Selwood was on a conversion course from CDO to MCDO in 1969. He was my 'winger' out in the Far East when I was the FEFCDO in 1962. He was a wonderfully wild young man, who was subsequently awarded an OBE for some clandestine operation during the Falklands war. The story goes that when he attended at Buckingham Palace to receive his gong, the briefing paper handed to Her Majesty had no details of his exploits for 'security reasons'. HM was a little surprised to have been excluded and so politely enquired of Dennis:
"My instructions on your activities are rather sparse. Tell me, if you please, were you successful in your endeavours?".
"Yes, Ma'am, thank you," said Dennis. "If I hadn't been, I don't think I would be here now."
If he wanted to be, he could be a cheeky little so and so, in the nicest possible way, and it mattered not whether his remarks were directed at me, or the C-in-C Far East Feet, or the Number One Boss. We were all fodder for his cannon.
Oh, I nearly forgot: I regret I will not be able to attend your forthcoming dinner. But I should like to attend just one more to see how it all feels, before I fall of my perch. Not long now as I will be 90 next year, so maybe in 2020 or 2021? I think there are not many of my time left: Harry Parker from Dunfermline, perhaps, but I am sure you will know who and where.
Regards,
David Burstall"
---
From MCDOA member John Grattan OBE:
"I would love to be there, Rob, but I have to conserve my energy at my age!!
What about the unveiling at Vernon in March? I hope we are on the list!
All the best,
John"
---
From MCDOA member Alex Bush:
"Hi Rob,
Thank you for forwarding the invite to the Dinner. Having been in Naples for the last three years, it's been difficult to get back. I can't make it this year either as I am in Ecuador but will make every effort for 2020 as I will be based in UK.
Hope you are well.
All the best,
Alex"
---
From MCDOA member Steve Gobey:
"Rob,
VMT for the reminder. Sadly it's MRU for me this year. A booking for an overseas trip made back in January failed to avoid this important date. Must do better next year!
Best wishes for another successful dinner.
Cheers,
Steve"
---
From MCDOA member Les Rutherford:
"Morning Rob,
Thank you for the reminder.
I will unfortunately miss the gathering again as COS(D) and I are in our winter quarters in Portugal until Feb 2020. I'm sure the evening will be the success it always is and hope to make next year's dinner to boost the Sapper EOD element by one!
See you at the VM unveiling in March.
REgards,
Les"
---
From MCDOA member Charlie Wilson OBE:
"Rob,
Sorry I can't make the dinner this year but who knows about 2020.
Aye,
Charlie"
---
From MCDOA member Terry Iles:
"Dear Rob,
Hope all is well with you.
MRU the Dinner. We have been over to UK so many times this year and still more trips to do and the cost mounts! Are you expecting many of our year?
Guernsey is a lovely place to be. Sadly have got my 30' Europa yacht on the market. We have had 20 fun years with her but time moves on!
All the best.
Yours aye,
Terry"
---
7 Nov 19 - Unveiling of Vernon Mine Warfare & Diving Monument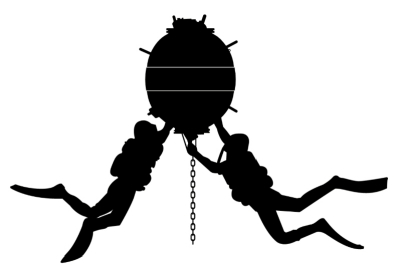 The unveiling ceremony for the Vernon Mine Warfare & Diving Monument is planned for Wednesday 25 March 2020 at Gunwharf Quays in Portsmouth, hopefully to be conducted by a VVIP.
Priority for invitations is being given to significant fundraisers and organisations that have supported Project Vernon, i.e. the MCDOA, MWA, AORNFCD, TCA, RNCDA and RANCDA. Supporters will be added to the list if they submit their name, title, postal address, email address and a convincing case for consideration via the Contact Form on the PV website's Home page. The deadline is 30 November 2019.
So far, the event organiser has compiled a list of several hundred people with more requests flooding in daily so you can imagine the funds still needed to cover the cost of catering, seating, security, etc. Our various contributions to date have paid for the statue but we need to keep the pennies rolling in to cover the unveiling ceremony, maintenance, insurance, lighting, signage and clever facilities to tell the full story of what it represents (we even have Portsmouth University on the case). Make a direct donation or purchase merchandise via the Project's online shop:
www.vernon-monument.org.uk/donate
www.vernon-monument.org.uk/shop
Another good way to donate is to buy PV tickets for the Portsmouth Lottery for as little as £1 per week. The Project receives at least half the income:
www.portsmouthlottery.co.uk/support/the-vernon-monument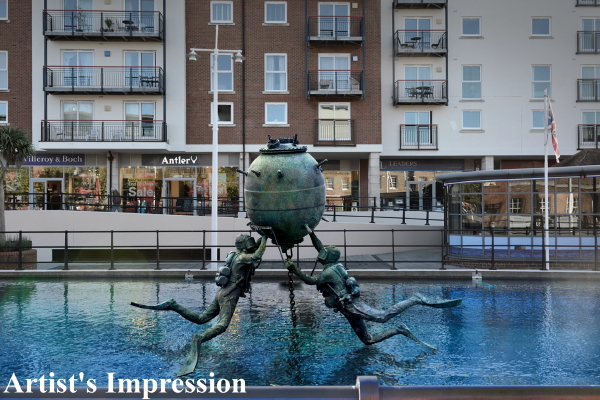 ---
25 Oct 19 - RN Diving Heritage: The 'P' Parties
In an amazing piece of serendipity, I was recently contacted by Jonathan Murray who lives in the USA and Martin Clark who lives in the UK. Coincidentally, Jonathan's father (AB Eric 'Wings' Murray) and Martin's father (AB Leonard 'Nobby' Clark) were fellow divers in 'P' Parties 1571 and 2443 around the end of the Second World War.
'P' Party 1571, based at HMS Vernon(D) in Brixham, was disbanded in March 1946 after clearing European ports of explosive ordnance and other debris after D-Day. Its final job was the clearance of the harbour at Bremen where its OIC, Lt (later Lt Cdr) George Gosse GC RANVR, was the first to render safe and and recover a German 'Oyster' pressure mine in June 1945 (see entry for 20 Mar 07 in News Archive 17 among other places).
Shortly after 'P' Party 1571's return to the UK, its remaining members were transferred to 'P' Party 2443. This was formed in June 1945 to clear any suspected residual bombs and mines in British ports and was based at HMS Vernon in Portsmouth under the Command of Lt William Jackson RANVR supported by Lt Roy Blyth RNVR, Lt Evan Desmond James MBE RNVR and Sub Lt Arthur Douglas Russell MBE RNVR.
I put the two sons in contact with each other and they have since been exchanging emails (including photos of each other's father). Here are some examples, including a few from my own collection courtesy of the late David Shane who served in the same units (see second entry for 12 Sep 08 in News Archive 23 and entry for 23 Oct 08 in News Archive 24).
Some of these photos show HMS Vernon(D) at Brixham undergoing an inspection by Admiral Sir Ralph Leatham KCB, Commander-in-Chief Plymouth, towards the end of August 1945. The 'D' stood for Dartmouth where the establishment's administration was conducted. The 'P' Parties had utilised makeshift accommodation elsewhere, including HMS Volcano at Holmrook Hall near Ravenglas and HMS Firework near Barrow, both located in Cumberland (now Cumbria) but HMS Vernon(D) was their first fit-for-purpose base. The establishment, which also became home to the Admiralty Experimental Diving Unit (AEDU) and the Deep Diving Tender HMS Tedworth, was commissioned on 27 October 1944 and paid off on 30 November 1945.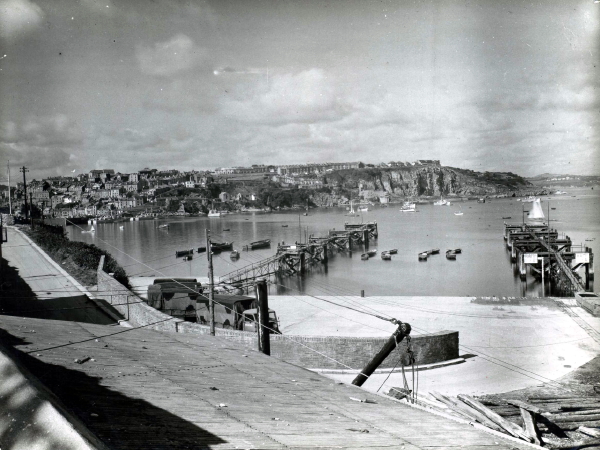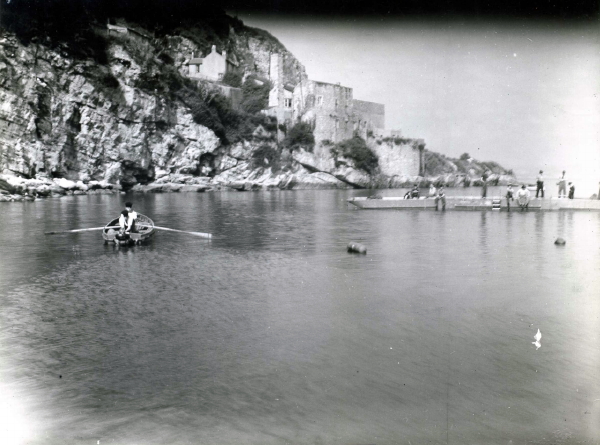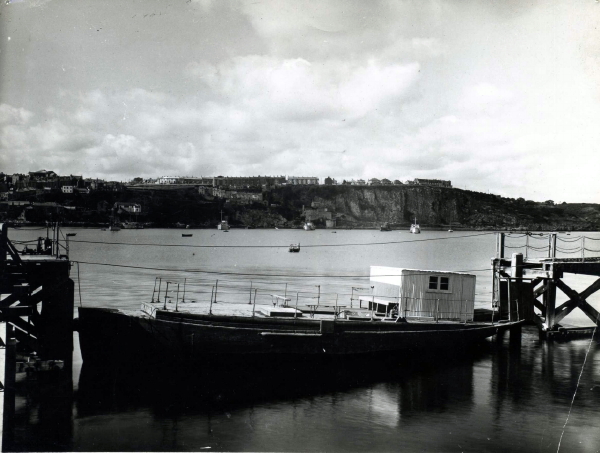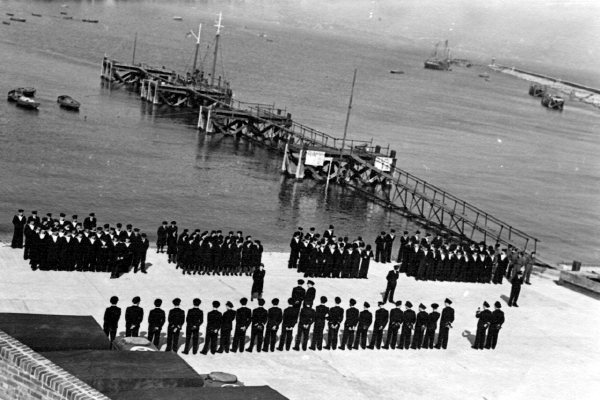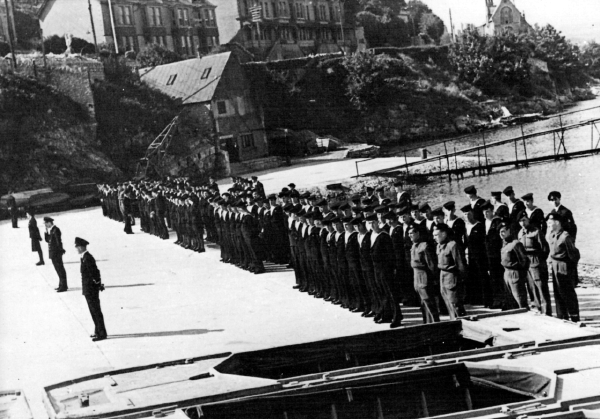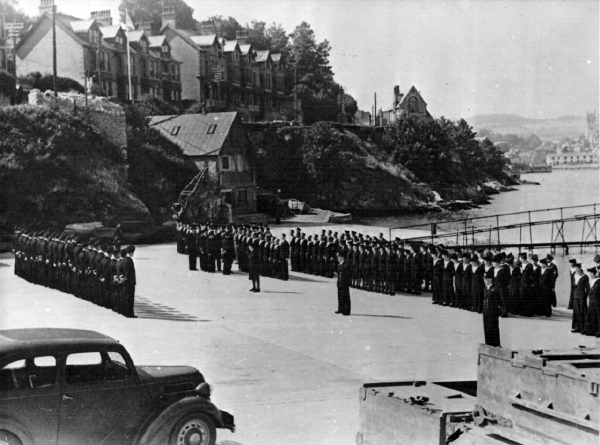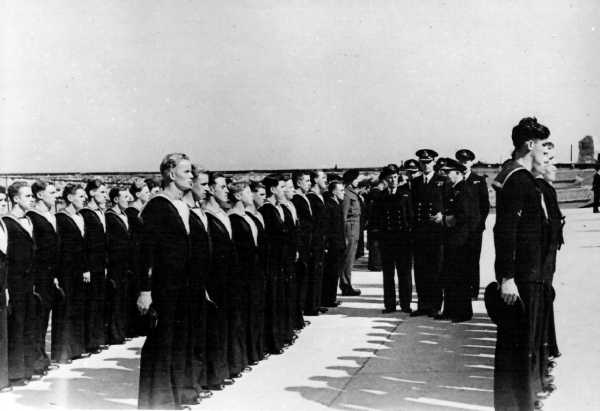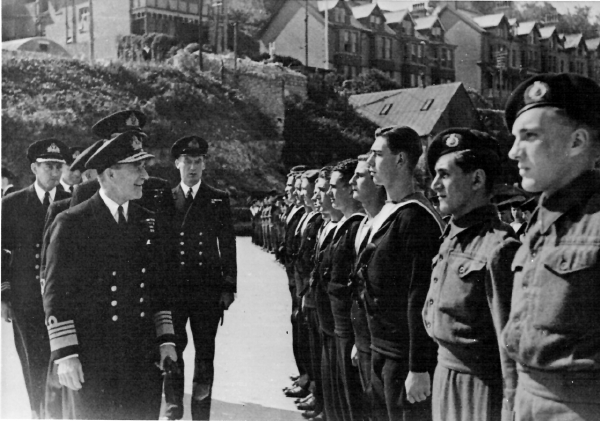 Each 'P' Party was assigned three officers, twenty divers, fifteen maintenance hands,
four Royal Marine drivers, a sickbay attendant and a cook.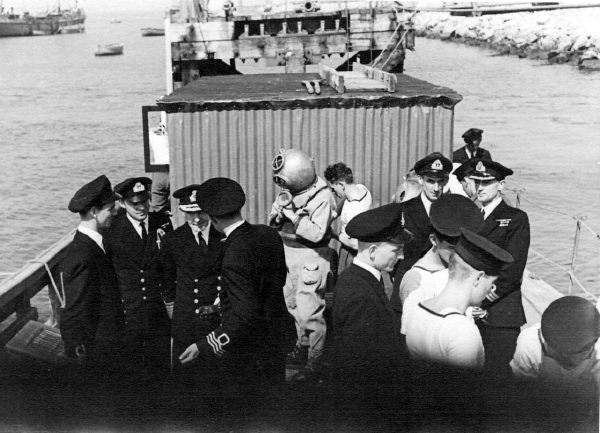 After his inspection, Admiral Leatham sent the following signal:
"My visit to your establishment last Monday was very interesting, and I was most impressed by the efficiency and enthusiasm of the officers and men whose many decorations showed the grand work the 'P' Parties have done. I wish them all good fortune in the future and thank you for a very pleasant day."
As the newspaper article describes, these photos were taken during the recovery of a bomb from the Manchester Ship Canal by members of 'P' Party 2443 in 1946: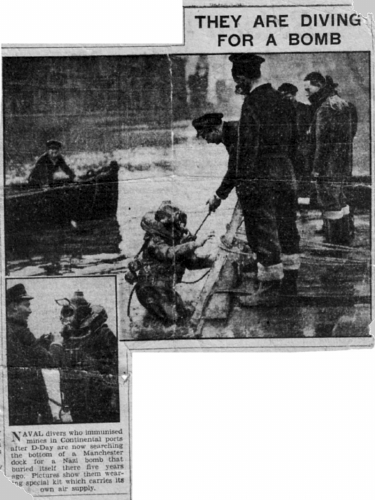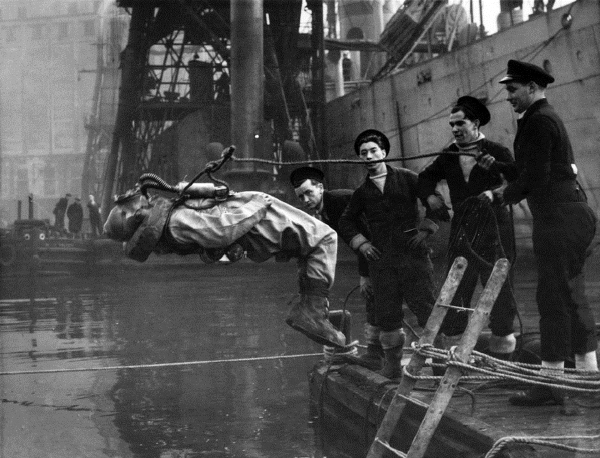 An unconventional entry with AB Len 'Nobby' Clark standing third right
The 'P' Party divers in these images are wearing Siebe Gorman's Admiralty Shallow Water Diving Dress which incorporated the Admiralty Neck Salvus (ANS) Self-Contained Diving Apparatus using a closed-circuit enriched oxy-nitrogen mixture. This suit was a more robust replacement for the infamous Sladen 'Clammy Death' all-in-one diving suit. As with the Sladen, entry was effected through a large aperture in the belly of the suit. When a diver relaxed out of the water, he poked himself out through this flexible tube of rubber as seen in several of the photos. When the suit was fully worn, the tube was folded and clamped with the diver's head protruding into the attached hood of the suit containing the faceplate, mouthpiece for the breathing tube and relief valve.
See second entry for 12 Sep 08 in News Archive 23, entry for 23 Oct 08 in News Archive 24 and entry for 20 Jun 15 in News Archive 50 for further background. The second entry for 4 Mar 10 in News Archive 29 might also be of interest.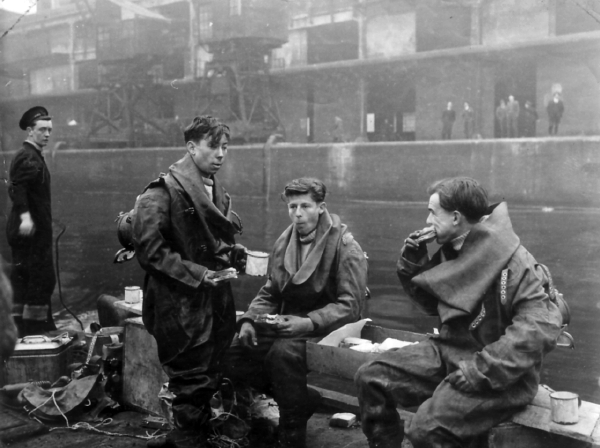 L to R: ABs McCallum, Len 'Nobby' Clark, Rixon and David Shane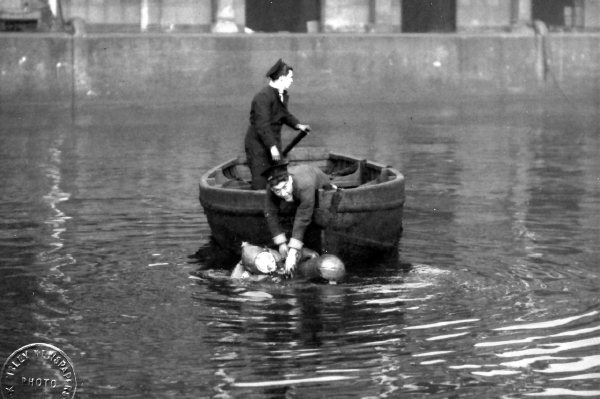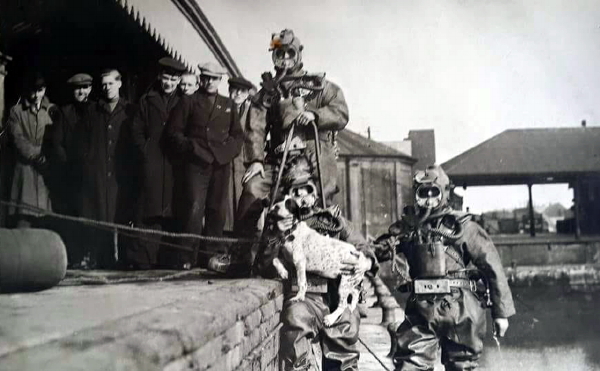 Spot, the 'P' Party's mascot
Originally, the Northcliffe Hotel was used as the wardroom for officers belonging to HMS Vernon(D) at Brixham. It was demolished circa 1994.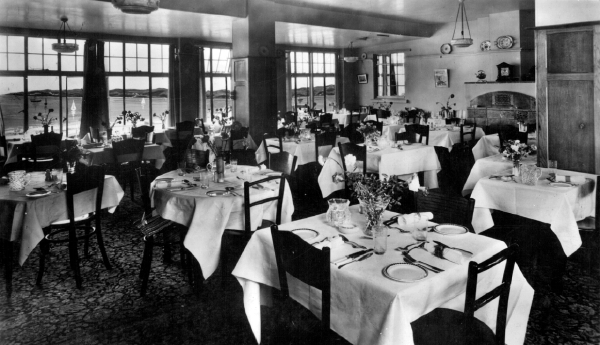 Dining Room of Northcliffe Hotel in Brixham
In an unpopular move, a private house was requisitioned as the wardroom in 1945 and I believe these photos of HMS Vernon(D) officers, kindly supplied by Jonathan Murray together with lists of names, were taken outside it: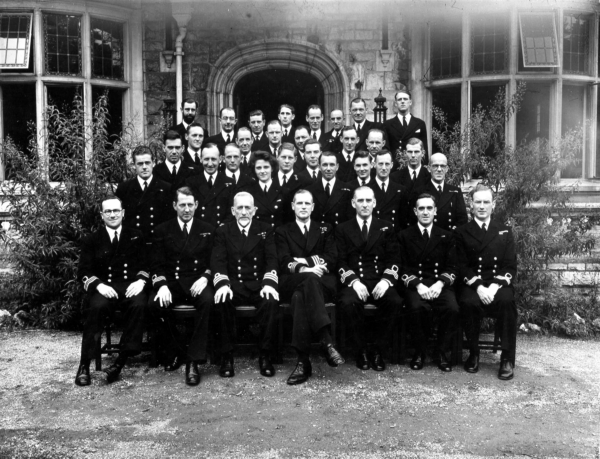 Back row: Lt (later Lt Cdr) George Gosse GC RANVR, Surg Lt A G H Winterburn RNVR, Lt William Jackson RANVR, Sub Lt Arthur Douglas Russell MBE RNVR,
Lt William 'Bill' Bailey CBE DSC GM & Bar RNVR, Lt W E 'Shiner' Wright RN, Lt Cdr Frederick Charles Gill RNVR, Lt Jack Woodcock RNVR
Fourth row: Lt George Branch RNVR, Lt Ralph Edward Wheeler RNVR, Lt H F Ford RNVR, WO Gunner(T) Levi Sawkins (Rum Bosun),
Lt (later Lt Cdr) Maurice Samuel 'Bats' Batterham OBE RANVR, Lt Richards
Third row: Surg Lt G B Locke, Lt Blyth, Lt Six 'Peter' Dijkstra RNLN, Lt F Stirland RNVR, Lt ?, Lt Paul Roland Frank Britnell GM RNVR
Second row: Lt ?, Lt ?, 3/O Joan Scaife-d'Ingerthorpe WRNS, Lt Cdr ?, Lt Percy Alexander 'Bumblebee' Brambleby RNVR, Lt W E Wheeler RN
Front row: Lt Cdr William Horace Taylor GC MBE RNVR, Cdr John Stuart 'Mouldy' Mould GC GM RANVR, Cdr Charles Edward Hamond DSO DSC & Bar RN,
Cdr Aubrey Rowland Alston OBE RN (CO Vernon(D)), Lt Cdr Leonard Maurice Bates RNVR (First Lt), Surg Lt D A Thomson RNVR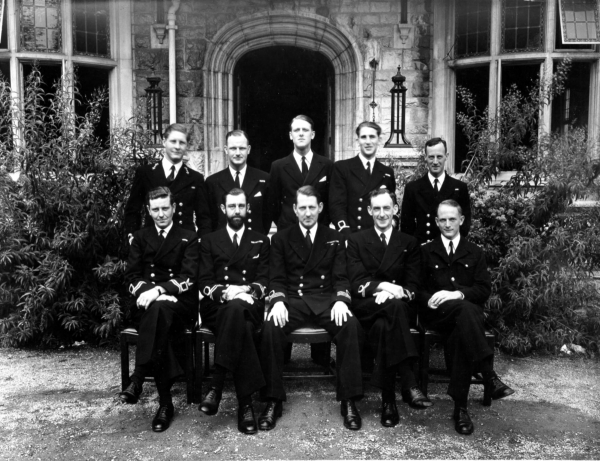 Back row: Lt Six 'Peter' Dijkstra RNLN, Lt H F Ford RNVR, Lt Jack Woodcock RNVR, Sub Lt Arthur Douglas Russell MBE RNVR,
Lt Percy Alexander 'Bumblebee' Brambleby RNVR
Front row: Lt William Jackson RANVR, Lt (later Lt Cdr) George Gosse GC RANVR, Cdr John Stuart 'Mouldy' Mould GC GM RANVR,
Lt (later Lt Cdr) Maurice Samuel 'Bats' Batterham OBE RANVR, Lt Roy Blyth RNVR
Courtesy of the 'Brixham in Pictures' Facebook group (it took all of 18 minutes for someone to respond), I now know that the photos above were taken outside Hellier/Hellyer Mansion, now known as Wolborough House, in Berryhead Road, Brixham. It was built in 1910 for Mr Charles Hellier/Hellyer, a wealthy trawler fleet owner, at a cost of over £48,000. In an unpopular move, the officers of HMS VERNON(D) had to shift to this private house from the much more 'accommodating' Northcliffe Hotel.
More about the house's history here although it says it was used by the Navy during the war as a hospital rather than a wardroom (officers' mess); perhaps it had been a hospital prior to the post D-Day commissioning of HMS VERNON(D).
wolboroughhouse.com/history-of-wolborough-house.html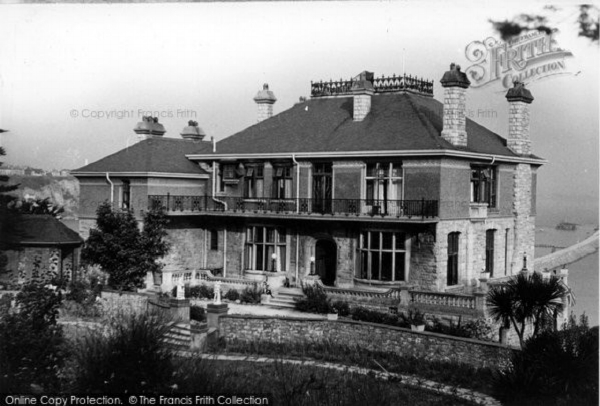 This is how the house looks today: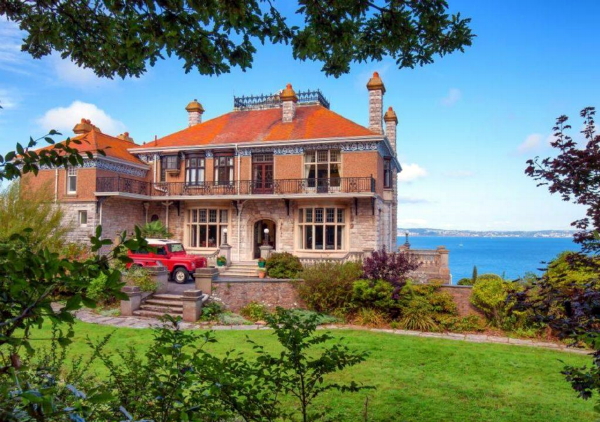 Incidentally, Lt Cdr Leonard Maurice Bates RNVR co-wrote 'Open The Ports – The Story of Human Minesweepers', the authoritative source about the 'P' Party divers. It contains this intriguing passage:
"…There was another mark of high favour, too; the well-deserved and most popular promotion of Mould to the rank of Commander, R.A.N.V.R. This was a recognition that seemed to his fellow-officers to have been far too long postponed, for Mould had done so much to make a success of the "P" Parties."
The problem is that this promotion doesn't seem to be reflected anywhere else although the list of names supplied and photos appear to show him wearing three thick stripes.
These are the many honours and awards received by P Party members according to 'Open The Ports':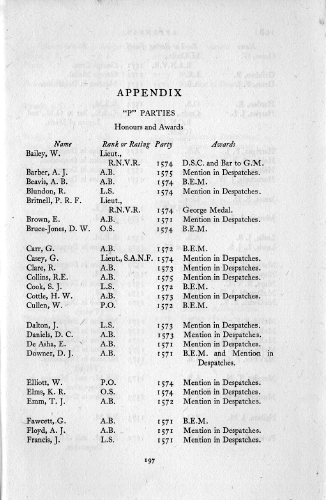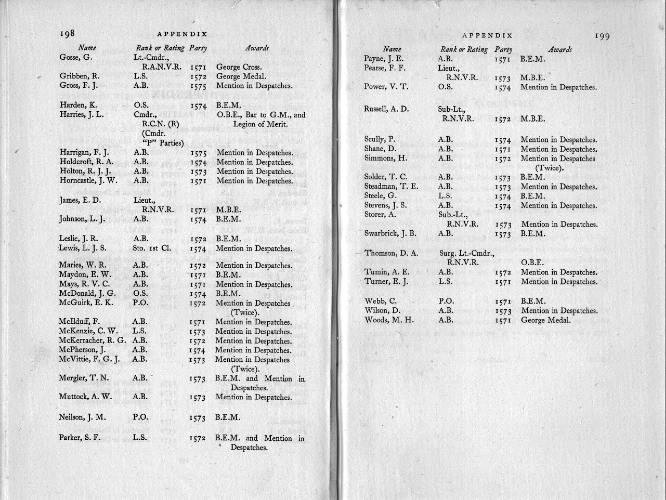 N.B. Despite their hazardous duties clearing ports and harbours around Europe, the 'P' Party divers suffered only one fatality. AB William Brunskill of 'P' Party 1571 died from his injuries on 19 December 1944 after a V2 rocket hit the Cinema Rex in Antwerp where he had been watching a film three days previously. He is buried in Schoonselhof Cemetery near Antwerp.
---
From Andrew Bailey, son of Lt William 'Bill' Bailey CBE DSC GM & Bar RNVR:
"Hi Rob,
Many thanks for keeping me in the loop; great research you are doing.
Many of the pictures l am familiar with, and interested to see my father in the fifth photo on parade at the head of his "P" Party or Section with a hand up to his nose and his unmistakable double jointed legs. He also features in the ninth photo, extreme left with main group and visiting Admiral Leatham.
As a youngster l remember visiting the Northclffe Hotel. Sadly nothing of it remains today. It may or may not be of interest but l remember my father mentioning that Mrs Silley, the owner, was held in great esteem by all HMS Vernon(D) who stayed there. She must have been extremely patient to put up with such a high-spirited group!
Lovely to see Wolborough House as it is today. What a view, the entrance and windows each side of the door being exactly as in HMS Vernon(D) photos.
Wonderful that the great and dangerous work carried out by these special men in the war effort is not forgotten. Keep well and keep up the good work.
Best wishes,
Andrew"
---
24 Oct 19 - Latest EOD incidents
23 October: Royal Navy bomb squad and police called to Plymouth street - updates from the scene
23 October: Bomb Disposal Unit heading back to the Isle of Wight (update 2)
20 October: Bomb disposal team heading to Yaverland beach — where suspected grenade has been found
Beach partially cordoned off after grenade found at Yaverland
World War Two Hand Grenade Destroyed At Yaverland
19 October: House in Cornwall cordoned off in bomb alert
The 'bomb alert' that cordoned off house in St Austell
18 October: Bomb disposal unit carry out 'controlled explosion' on Troon Beach
15 October: Area evacuated as explosive device found in Duntocher
15 October: Bomb squad searches house after suspected gunman, 61, arrested
9 October: Royal Navy bomb disposal team called to Deal and find 19th century weapon
4 October: Police confirm hand grenade found in Taunton cemetery
25 September: Boy, 12, seriously injured in bomb blast inside UK home packed with explosives
Boy seriously injured in Plymouth explosives incident
---
23 Oct 19 - Death of former CPO(D) Don Hodge
Eamon 'Ginge' Fullen QGM has passed me the sad news of the death in France of former CPO(D) Don Hodge whose life and career he has chronicled in one of his books (see entry for 30 Jan 19 in News Archive 65).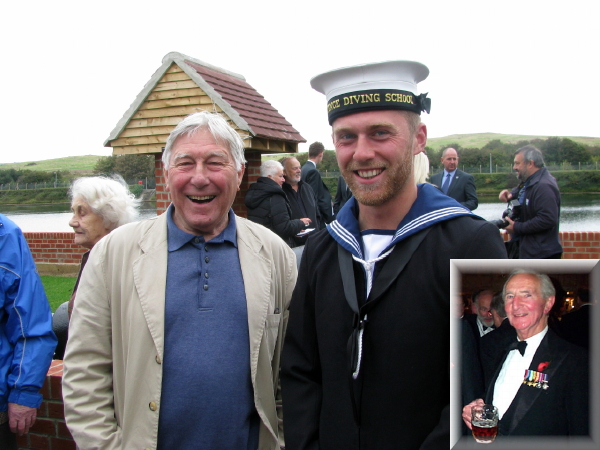 Former CPO(D) Don Hodge at Horsea Island in October 2016 with his son Mortimer,
named after the late MCDOA member Morty Drummond (inset)
I am sure all members of our community will join me in extending our sincere condolences to Don's family and close friends.
---
20 Oct 19 - Another book from Chris O'Flaherty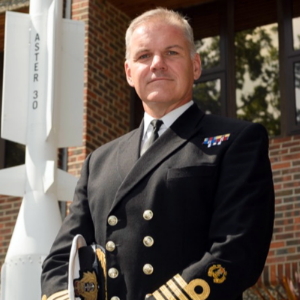 Congratualtions to MCDOA member Chris O'Flaherty, the current Captain of the Maritime Warfare Centre (MWC) at HMS Collingwood, on the publication of his new book 'Naval Minewarfare - Politics to Practicalities'. The foreword is written by MCDOA past-President Paddy McAlpine CBE.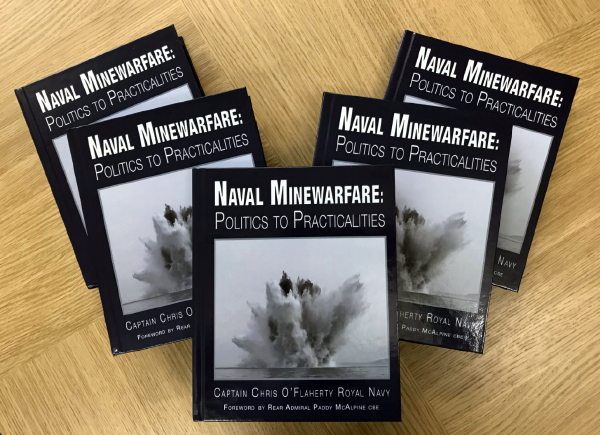 This book is the culmination of Chris's year of research as Hudson Fellow at St Antony's College, Oxford where he researched 'Naval Mines as an Instrument of Statecraft'. Previous beneficiaries of the Hudson Fellowship have included MCDOA members Chris Ashcroft in 2000 and Matt Offord in 2016 as well as a host of other luminaries from the Navy List. The book examines the modern history of naval minewafare, using the 24 naval mining events since World War II as case studies to understand the use of naval minewarfare as an instrument of statecraft.
The book is formally published on 31 October 2019 and is already available for order via Amazon and a few other booksellers. Chris previously published 'Crash Start - The Life and Legacy of Lt Richard Guy Ormonde Hudson DSC RNVR' who bequeathed the Hudson Fellowship (see entry for 13 Jun 19 in News Archive 66).
---
19 Oct 19 - A new 'Diver Chronicle' from Ginge Fullen
I must thank CD branch legend Eamon 'Ginge' Fullen QGM for sending me the fifth in his excellent series of illustrated chronicles of veteran Royal Navy divers in which he has captured so many memories. The latest features Frederick 'Fred' George Hilton who was born in Chelmsford, Essex on 1 May 1907.
Fred Hilton joined the Royal Navy at HMS GANGES in 1922 as a 15 year-old boy seaman. He joined the Gunnery branch, qualified as a standard diver circa 1927 and rose to become a Commissioned Gunner. On 10 July 1930, he was diving from the deep diving tender HMS TEDWORTH in Loch Fyne when he was inadevertently lowered to a depth of 344 ft, temporarily exceeding the previous record depth of 330 ft. This world depth record, achieved on air, stood intact until US Navy divers used a helium mixture to reach 440 ft in 1938.
Fred Hilton left the Royal Navy in 1948 and worked as the security officer for an electrical company. He crossed the bar in Medway Hospital, Gillingham on 12 November 1978, two weeks after suffering a stroke.
I was particularly impressed by the way Ginge has woven together so many disparate threads covering Royal Navy diving history from a variety of sources and presented them handily in one place. For example, these two pages encapsulate the training of the first Royal Navy divers by the Army's Royal Engineers (Sappers) under the Command of Col (later Gen) Sir Charles William Pasley RE at HMS EXCELLENT in 1843/4, thus establishing a close relationship between the two organisations which exists to this day.
All five volumes of Ginge's chronicles to date should be available for sale from the RNCDA website's shop via www.rncda.com.
Fred Hilton:
Don Hodge:
Carl Massey:
Yorky Wilkinson:
Jim Cannon:
---
18 Oct 19 - Exercise JOINT WARRIOR 19/2
Rear Admral Andrew Burns OBE (Commander UK Maritime Strike Force and Rear Admiral Surface Ships) has sent this tweet:
"Great opportunity to visit the Mine Warfare Battle-staff, during JW192 as they prepare for their operational deployment."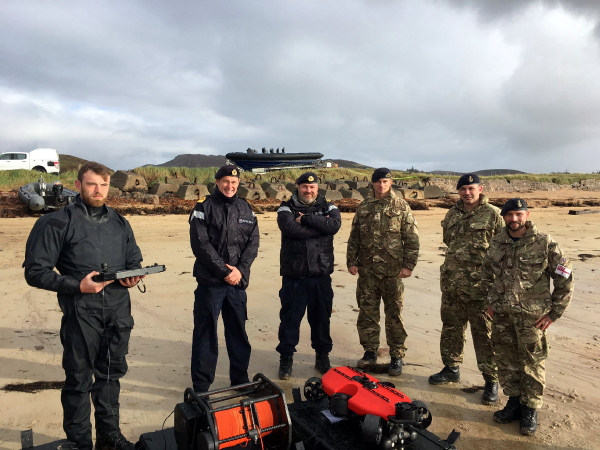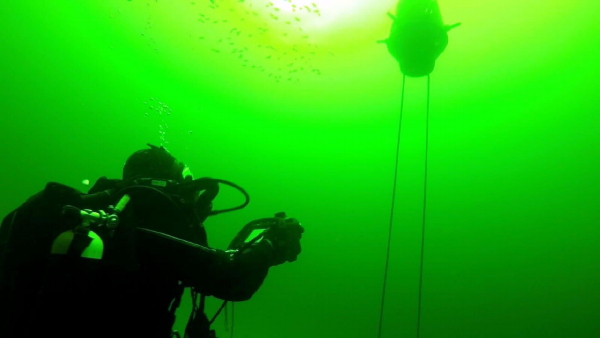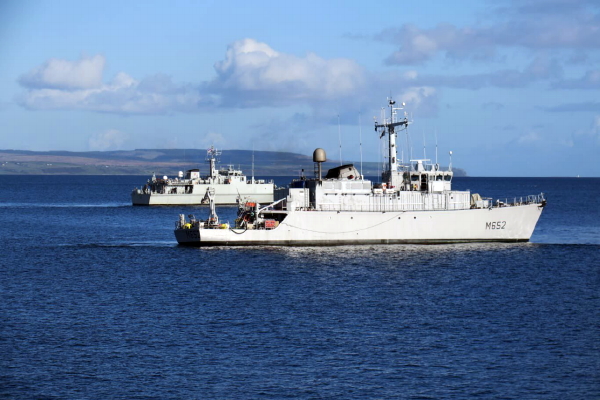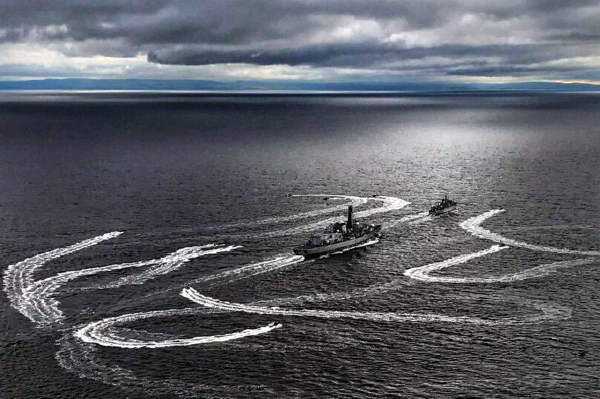 ---
17 Oct 19 - D-Day Talk at Southwick House
Your humble webmaster was privileged to deliver a D-Day talk on Tuesday (15 Oct), focusing on the work of the minesweepers and the RN & RM frogmen of the Landing Craft Obstruction Clearance Units (LCOCUs pronounced 'Lock-yews' - the first men ashore), to members of the Defence EOD & Search Branch (DEODS). This version of DEODS (as opposed to the old Defence EOD School at Lodge Hill Camp, Chattenden where many of us undertook our EOD & IEDD training - now superseded by DEMS Bicester) was established at Andover in 2010 with the aim of providing a single focus for all tri-service EOD policy, direction and inspectorate responsibilities.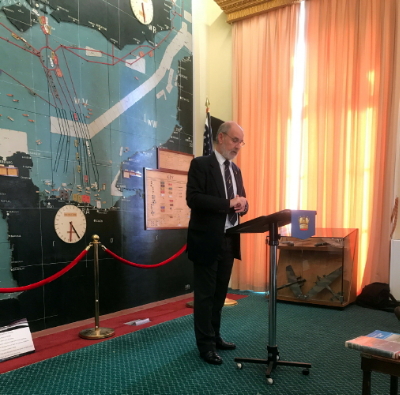 Attendees included fellow MCDOA members Martin Mackey and Rory Armstrong plus WO1(Diver) 'Whisky' Walker, together with Col Zarach 'Zac' Scott RLC, their Head of Branch, who has attended the odd MCDOA dinner at HMS EXCELLENT.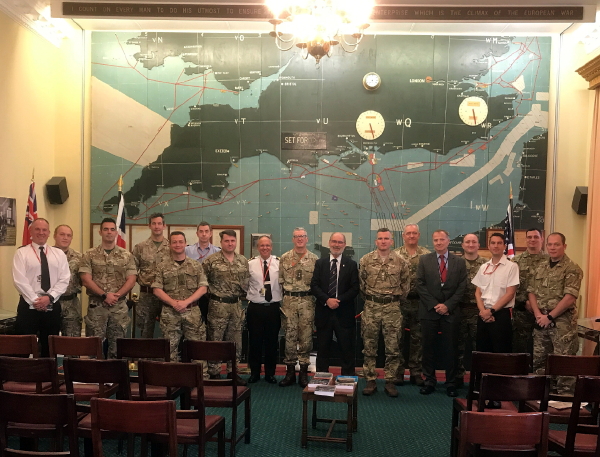 The venue was the map room at Southwick House, used by Eisenhower as his HQ for the Normandy landings in June 1944. As the wardroom of HMS DRYAD, it was also where I was dined out of the Royal Navy in October 2002 and presented with the framed print below, two years before its closure. In 2005, the establishment was transformed into the Defence School of Policing and Guarding.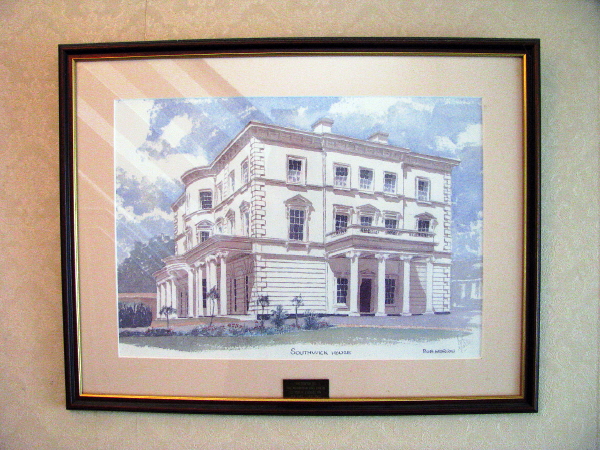 Afterwards, we enjoyed a convivial lunch in the wardroom of HMS NELSON in Portsmouth.
---
16 Oct 19 - Fleet Commander's Commendation
Congratulations to PO(D) Gavin Speer on being awarded a Fleet Commander's Commendation in the autumn 2019 list.
Many thanks to MCDOA member Dave Stanbury for passing this information.
---
15 Oct 19 - Latest Awards of LS&GC
Congratulations to WO1(D) John 'YoYo' Ravenhall on being gazetted for the award of the 2nd Clasp to the Naval Long Service & Good Conduct medal and to CPO(MW) Andrew 'Ozzy' Osborne on being gazetted for the award of the LS&GC medal itself.
---
9 Oct 19 - HMS Vernon's Mining Department during the Second World War
I am grateful to William Dyson--Laurie for this query and photo:
"Good afternoon.
My late father worked at HMS Vernon during the Second World War. In his papers I found this 'team photo'.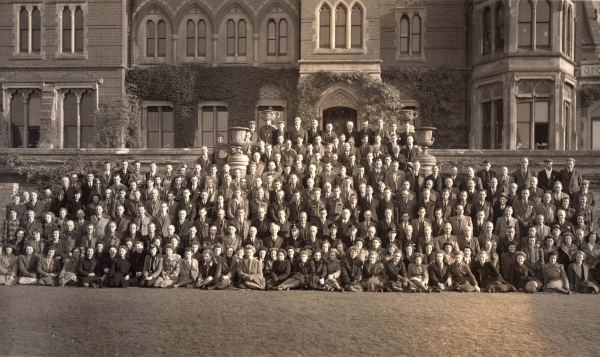 I imagine, from the seated NOs, that it was taken during this period, but haven't been able to identify the building. Please can you help?
Regards,
William Dyson--Laurie"
I was able to send William this reply:
"Hello William,
Thank you for your marvellous photo which was taken in front of Leigh Park House, just outside Havant near Portsmouth. The house was demolished in 1959.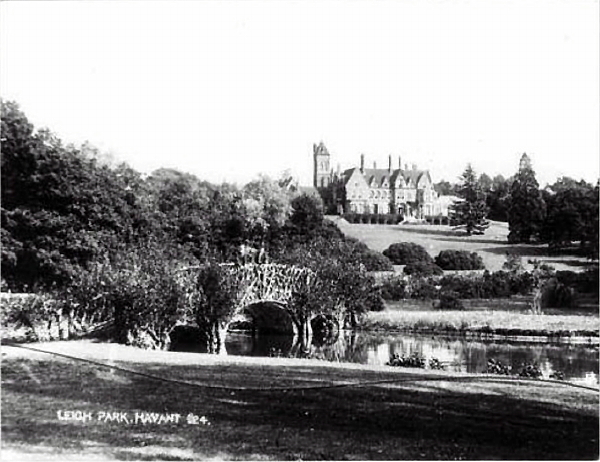 The now demolished Leigh Park House overlooking the still-present ornamental lakes
in Staunton Country Park near Havant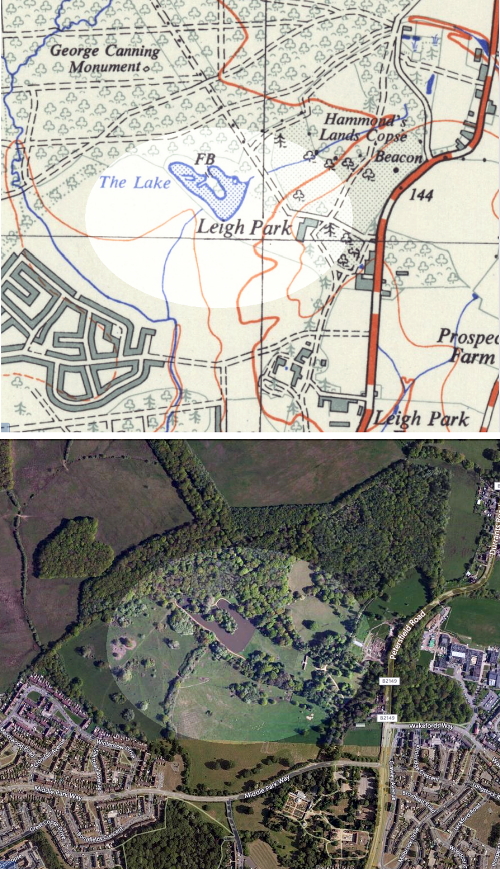 Leigh Park House and grounds: Then and now
This excerpt from a colleague's book is reproduced in the entry for 22 Feb 16 in News Archive 53 of the MCDOA website and should help explain:
"...In 1939, the Mine Design Department was still at HMS Vernon at Portsmouth, but the massive increase in staff - both civilian and naval - meant the department had to move to an office block on Commercial Road in Portsmouth. These offices were particularly vulnerable to air attack and the Luftwaffe were determined to bomb Portsmouth out of existence. Certain sections of the Mine Design Department were therefore moved away from the town to Leigh Park House, about 2 miles from Havant. This house no longer stands but it was, until 1959, part of what is now Staunton Park.
The Leigh Park estate is best known for the work of Sir George Staunton, who had purchased it in 1820 and lived there until his death in 1859. The dispersal of staff was planned, because the branch of the Mining Department known as Vernon (M) was sited at nearby West Leigh House and the naval staff of HMS Vernon responsible for the trials section of the Mine Department travelled widely to stations around the United Kingdom. Part of the unit was placed in West Leigh Cottage. By 1941 administrative facilities had been established at West Leigh Cottage, new trials areas had been set up on Loch Long in Dumbartonshire - at the head of the loch, at Arrochar, and at its mouth at Baron's Point, where mines were tested - and in 1942 a ground mines facility was established at Weston-super-Mare. The need to experiment, manufacture and test weapons led to all sorts of outstations being set up. At Weston, by 1943 the base at Birnbeck Pier on the north side of the town was used for all mine-dropping tests by the Aircraft Torpedo Development Unit. This facility was later moved to the airfield at RAF Locking, about 3 miles south of Weston. Parts were manufactured at Fareham [Hinxman's Garage?], close to Gosport, and German mines were examined at a disused quarry on Butser Hill, near Buriton, 15 miles north of Portsmouth..."
You will find more references and images if you type "Leigh" into the search box on the MCDOA website's Home page.
Best wishes,
Rob Hoole"
William subsequently sent this response:
"Rob,
That's very helpful. Thank you very much.
William"
While HMS Vernon's Mine Design Department's Trials and Scientific sections moved into Leigh Park House, the main Mine Design Department, including the Enemy Mining Section, moved into West Leigh House and West Leigh Cottage, also on Staunton's Leigh Park estate at Havant (See the entry for 21 Feb 16 in News Archive 53 of the MCDOA website). This was the Enemy Mining Section that occupied West Leigh House.
In 1946, HMS Vernon's Mining Department was reconstituted at Leigh Park as the Admiralty Mining Establishment (AME). In 1951, its functions had been enlarged sufficiently with the addition of anti-submarine weapons and sensors to justify a change of title to the Underwater Counter measures and Weapon Establishment (UCWE). Minesweeping and degaussing remained among its interests, and a trials station was retained at Port Edgar on the Firth of Forth.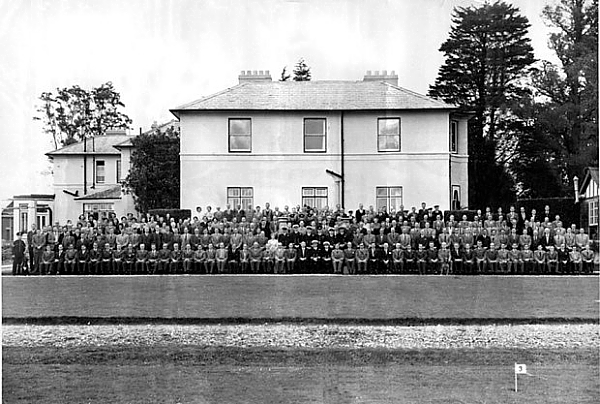 Admiralty Underwater Countermeasures and Weapons Establishment staff
at the back of West Leigh House, Havant
With the concentration of almost all underwater research and development work at Portland, the Establishment closed in 1959.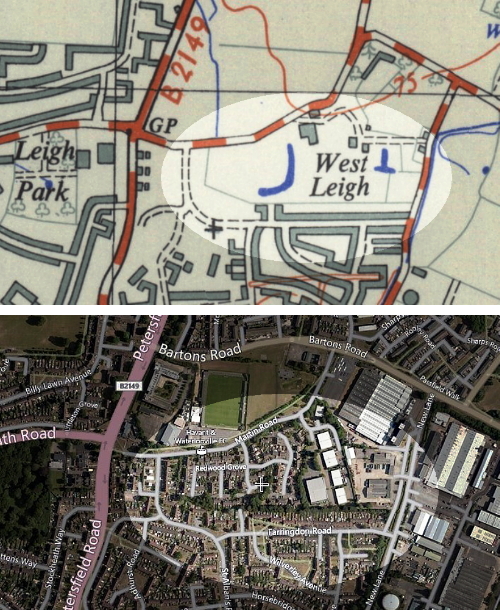 West Leigh, Havant: Then and now
---
6 Oct 19 - Recent tweets
Click on the linked dates to see all associated photos and videos.
Royal Navy
13 Sep 2019 - HMS Grimsby will be making her way to Humberside this weekend to visit her namesake town. Find out more here: http://ow.ly/atkf50w8boN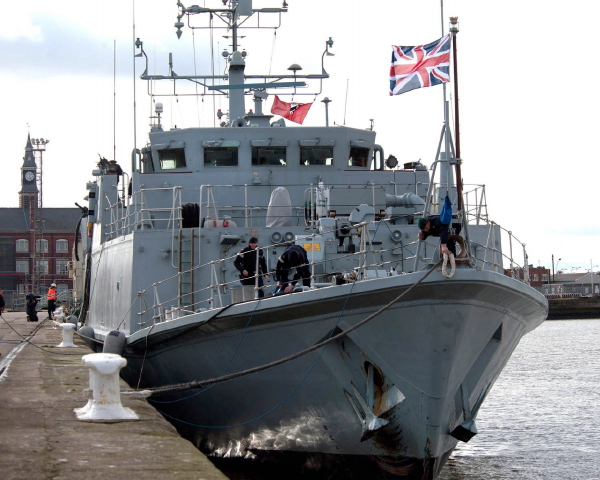 HMS Bangor (MCM1 Crew 7)
2 Oct 2019 - A good day of navigation training for one of my young officers.
13 Sep 2019 - It is good to be back.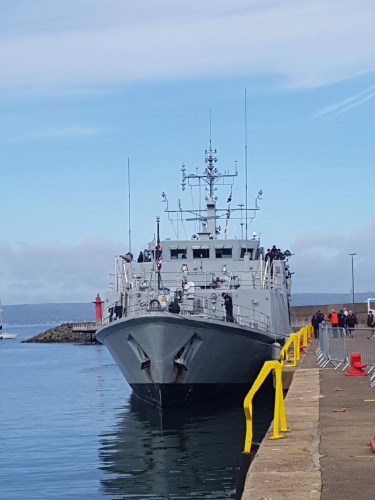 13 Sep 2019 - HMS Bangor has arrived in Bangor for a Hometown visit. Please come and visit your ship over the weekend (Sat 1000-1400 or Sun 1300-1600) to find out more about the Royal Navy and your Crew.
6 Sep 2019 - HMS Bangor has arrived in Great Yarmouth for the 2019 Maritime Festival - the ship will be open to visitors on Saturday (1000-1600) and Sunday (1200-1600).
HMS Chiddingfold (MCM2 Crew 2)
4 Oct 2019 - The CO and Dive team are at Crofton Hammond Infant School for 'Red White & Blue Day' celebrating the work of the Armed Forces and commemorating D-Day 75!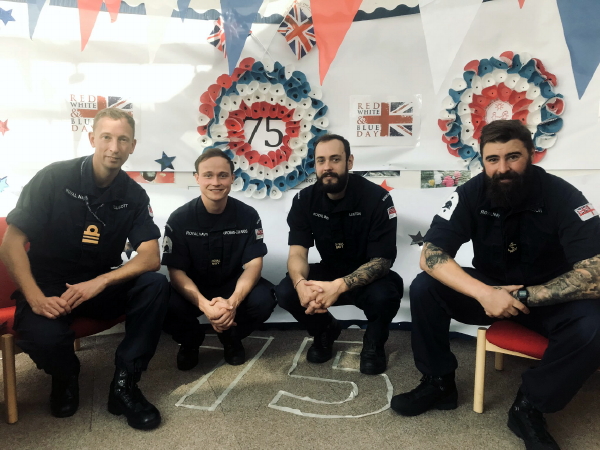 1 Oct 2019 - Well done to ETME Jake Howells who represented CHIDDINGFOLD at the 'Mumbles Sprint Triathlon' in Swansea last weekend completing it in 2hrs 10mins. Great Effort.
27 Sep 2019 - Welcome home HMS Duncan. Great to see you back safely.
19 Sep 2019 - Train hard fight easy... CHIDDINGFOLD continues her pre-deployment training by simulating a real fire on board using smoke machines to test the team to their limits!
12 Sep 2019 - HMS CHIDDINGFOLD's highly skilled Marine Engineers hard at work on the ship's vital High Pressure Air Compressors. Every member of the Crew has a key role to play in keeping us at sea.
30 Aug 2019 - Great to get some impromptu training with the Coastguard this morning whilst the ship conducts sea training.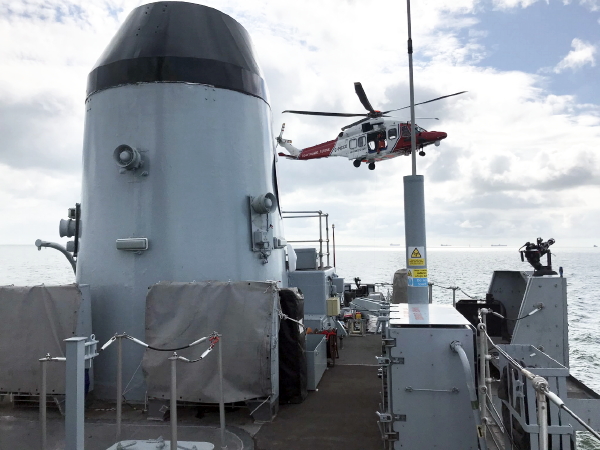 HMS Grimsby (MCM1 Crew 3)
22 Sep 2019 - Dolphin Time! Brightens up any dull day. Great to be at sea!
19 Sep 2019 - Iconic Bridge, amazing evening. Hope a train doesn't go over the top as we go under Navs!
19 Sep 2019 - Great to see HMS Prince of Wales off the wall and on the move! The growing return of Carrier Strike... Best of luck from all in GRIMSBY!
13 Sep 2019 - Outbound from London and onwards to Grimsby! Very excited about returning to our home town after some time, and meeting the good people of Grimsby. Come down to see us on Sunday and meet your ship and your Navy!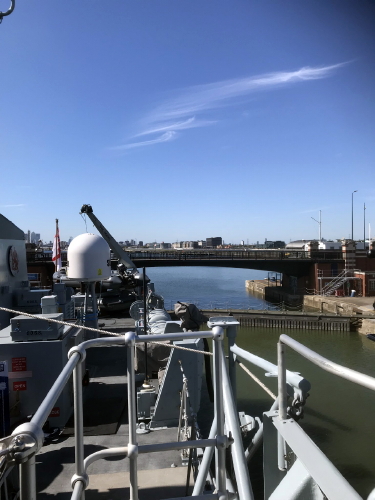 31 Aug 2019 - Eagerly awaiting this afternoon's Naval Parade at Terneuzen. Not long now...
30 Aug 2019 - It was a truly an honour to stand today with friends and Allies at Uncle Beach and remember the brave soldiers and sailors who gave their lives to support the liberation of Holland. A wonderful ceremony that honoured fallen comrades.
MarNauTec
31 Aug 2019 - Replying to HMS Grimsby.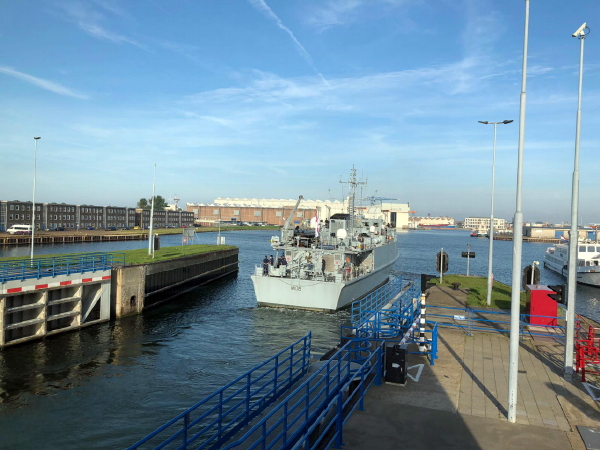 HMS Pembroke (MCM1 Crew 5)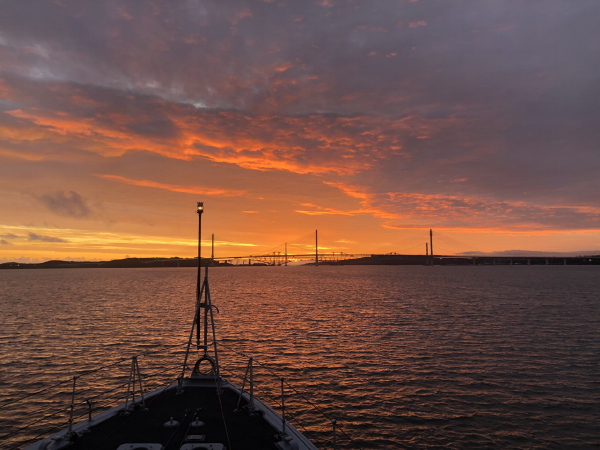 4 Oct 2019 - And we're back! After a long 10 months we've emerged from Rosyth and are now back at sea. First up is a spot of training with FOST to ensure we are safe to conduct our sea trials.
19 Sep 2019 - There seems to be a slight drop in the work rate onboard as HMS Prince of Wales prepares to exit the basin. Just this once the XO is happy to allow it.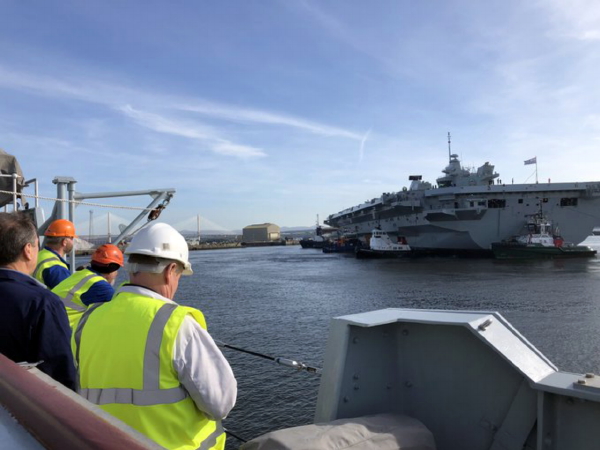 19 Sep 2019 - "Fair winds" to our next door neighbour HMS Prince of Wales as she prepares to set sail for the first time. The Captain is going to miss waking up to this view.
16 Sep 2019 - Promotion day for two of our Young Officers, who today "Ship" their first Stripe and become Sub-Lieutenants. Time to celebrate in the finest traditions of the service. And with cake.
10 Sep 2019 - Today we practised dealing with a fire in our galley. Here you can see the support party making their entry from above, climbing down a ladder in heavy kit before advancing on the fire. Hard enough alongside, harder at sea when the deck is moving.
10 Sep 2019 - This is part of our training as we prepare to head back to sea, and today's "crisis" was dealt with in a professional and seamanlike manner. Importantly, the fire was extinguished in time for scran!
8 Sep 2019 - There appears to be a fair bit of speculation around when a certain Royal Navy ship will be sailing from Rosyth. All we can say is that we intend to depart just as soon as we complete our refit, and we'll try and let you know when a little nearer the time.
30 Aug 2019 - Cap tallies have been worn in the Royal Navy for over 150 years. Today our junior rates were issued theirs as they moved onboard for the first time.
30 Aug 2019 - Today saw us reach a major milestone as Crew 5 moved onboard after the Captain officially took charge of the ship back from Babcock. With the Royal Navy's White Ensign now flying, PEMBROKE is coming back to life as we prepare to return back to sea to deliver for the UK.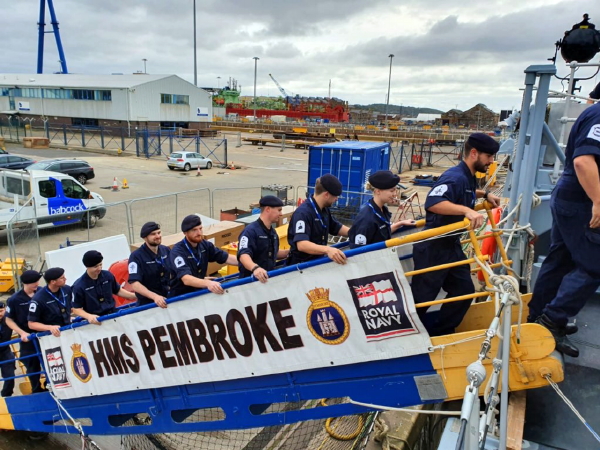 MASTT (Maritime Autonomous System Trials Team commanded by MCDOA member Dave Stanbury)
4 Oct 2019 - RN MASST take delivery of two Pacific 22's. Providing a 32 kt punch and 78nm range, they ensure the safety and security the RN Sweep Demonstrator, while at sea. The PACs also provide much needed control of the Coil Auxiliary Boats (CABs) at low speed, to prevent their damage.
26 Sep 2019 - Good news for the RN Sweep Demonstrator! Despite the autumnal weather and after 3 days of Test and Commissioning of the system, the RN Team move into their 4th day of tests. MASTT, MHC, DSTL and AEUK can now confidently look forward to a 3 week Trial period in October.
1 Sep 2019 - MASTT's 2I/C seen operating the THALES Practis software system. Data gathered by the TSAM SSS (also pictured) can be viewed both post mission and also 'in-stride' enabling high confidence in classification of contacts and optimising operator workload.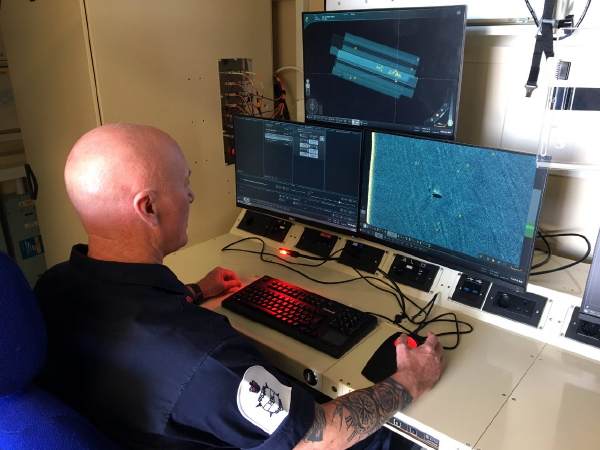 1 Sep 2019 - SAAB Multi-Shot Mine Neutralisation System (MuMNS) ROV for MMCM demonstration, witnessed by MASTT at the THALES Turnchapel waterfront facility.
29 Aug 2019 - RN MASTT's OIC and 2I/C representing the RN, as POC Operators, at THALES VVIP Day, Turnchapel, Plymouth.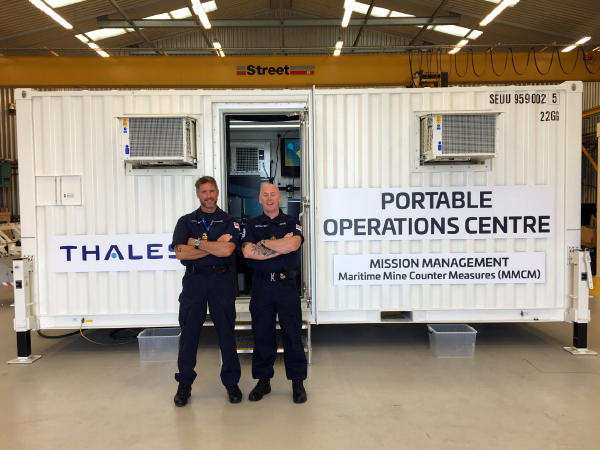 ---
3 Oct 19 - HMS Cattistock deploys to Baltic with NATO
The Royal Navy website contains this article announcing the departure of HMS Cattistock (MCM2 Crew 6) for a deployment in and around the Baltic with Standing NATO Mine Countermeasures Group 1 (SNMCMG1).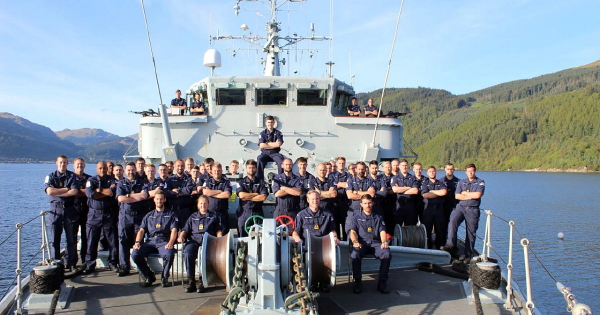 (Royal Navy images)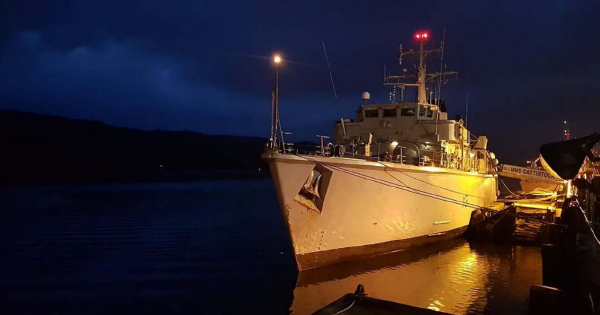 ---
2 Oct 19 - Funeral of Lt Cdr Nigel Davies
I am grateful to MCDOA member Peter Waddington for this account of today's funeral of fellow member Nigel Davies (see entry for 16 Sep 19):
"Dear Rob,
I attended Nigel's funeral service in Kirkcudbright this afternoon, and met and conversed with Sue and her three sons. It was a full and fitting thanksgiving service for Nigel's life, with the eulogy being read by his son Huan, and tributes from Nigel's sister and family friends.
The eulogy naturally ranged over the whole of Nigel's life, including his family relationships and many interests. Coincidentally, on the MCD side of things, Huan quoted extensively from the eulogy given by his father, as mentioned in my earlier email, at Chris Beresford Green's funeral [see entry for 5 Dec 08 in News Archive 24], giving an account, for the uninitiated, of some of the physical and psychological stresses to which Clearance Divers are subjected in training and subsequent operations. He concluded with the traditional quoting of "five bells" for his father.
The small church was packed literally to overflowing, principally by family and local friends. As far as I could discern I was the only diver present, apart from the three uniformed ratings from NDG, whom I spotted entering the church before the service. I had intended to try to contact them and get a photo for you, but unfortunately I was unable to catch up with them, as they departed as soon as the service was over. I don't of course know if they, between them, took any photographs.
Regards,
Peter"
I talked with Nigel's wife Sue and daughter Sarah earlier in the week and extended our condolences. Nigel's three sons (Huan, James and Luke) are all serving officers in the Royal Navy and Royal Marines but are currently home on compassionate leave.
I am particularly grateful to MCDOA members Al Nekrews (CO Fleet Diving Squadron) and Chris Stephenson (CO Northern Diving Group) for arranging the presence of three uniformed members of Faslane-based NDG whose attendance will have meant a lot to Nigel's family and demonstrated that our serving community still cares.
---
1 Oct 19 - A dramatic-looking image
This photo of a certain Leading Seaman (Diver) was taken by LPhot Kyle Heller on board the aircraft carrier HMS Queen Elizabeth during a recent damage control exercise.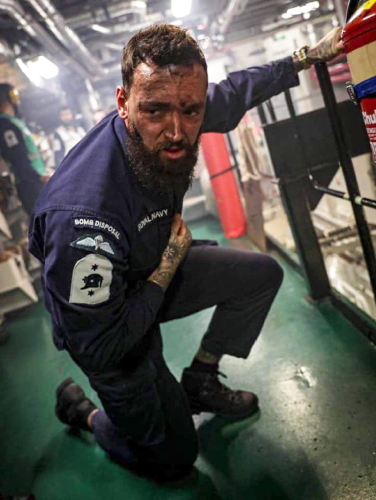 Postscript: Coincidentally, I bumped into LS(D) 'Dinga' Bell in the car park at Horsea Island on Monday 14 October.
---
27 Sep 19 - SDU2 detonates wartime mine off Southend
The Royal Navy website contains this article reporting the disposal by members of Portsmouth-based Southern Diving Unit 2 (SDU2) of a German GC ground mine found in the wreck of a 17th century warship near Southend Pier in Essex.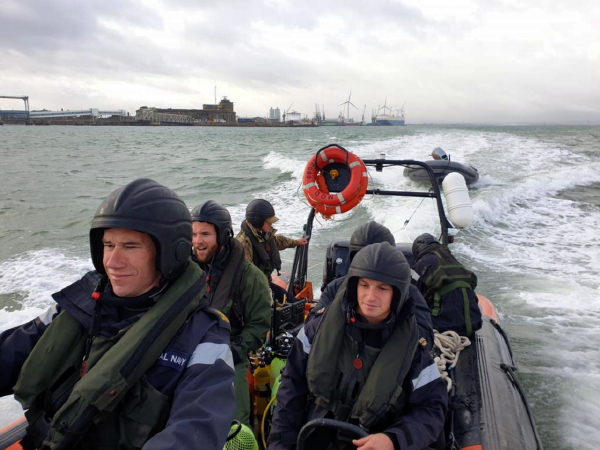 (Royal Navy images)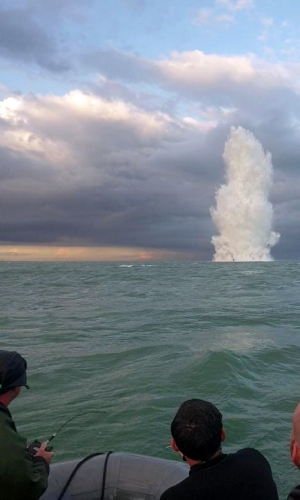 ---
16 Sep 19 - Death and funeral of Lt Cdr Nigel Davies RN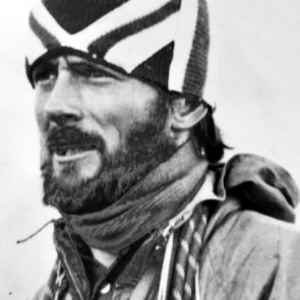 Lt Cdr Nigel Joseph Ayrton Davies RN
I was saddened to receive this email today from MCDOA member Nigel Davies' wife Sue:
"Dear Rob,
I am writing to inform you of the death of my husband, Lt Cdr Nigel J.A. Davies RN. He died while on holiday in Norway on Tuesday 10 September 2019.
Perhaps you would like to inform the other members of the retired MCDO branch of his passing.
Yours,
Susan Davies"
Nigel qualified as an LMCDO at HMS Vernon in 1967. His Course Officer was Hec Donohue RAN and his fellow students were David Bartlett MBE, Jack Birkett OBE RN/RAN, Peter Fougstedt SAN, Pat Gale, Mike Harwood MBE, Geoff Mullett, Chris Niven and David Ramsden RN/RAN.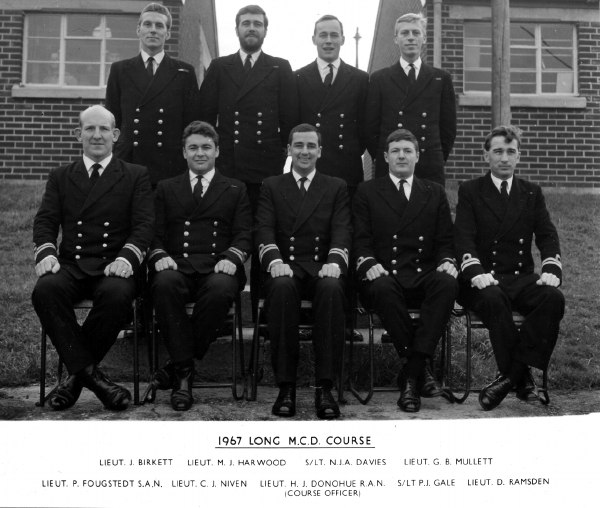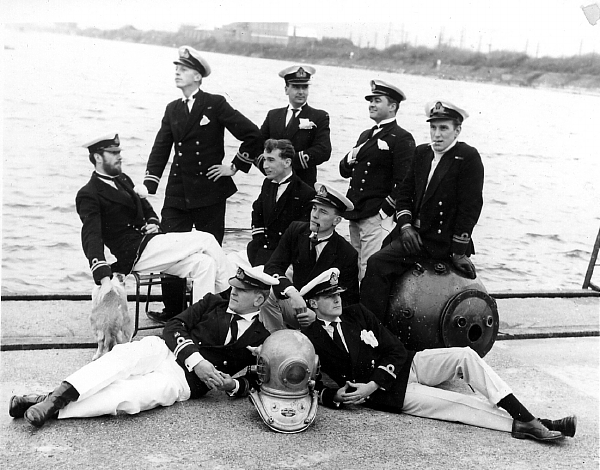 Nigel served mostly in Scotland, where he lived in Kircudbright, Dumfries & Galloway, His appointments included the Battle class destroyer HMS Agincourt (1966-67), HMS Vernon for LMCDO Course 1967-68, HMS Maxton (1968-69), Plymouth Clearance Diving Team (1970-72), HMS Quainton (1973), HMS Kellington (1974), HMS Cochrane for SNICDT (1975-77), HMS Neptune for Faslane CDT (1977-79), HMS Cochrane as SOO MCM10 (1980-83), CO HMS Cattistock (1984-86), SMCDO to FOSNNI (1987-89), XO HMS Endurance (1990-91) and XO HMS Malabar in Bermuda (1992-95).
After leaving the Royal Navy in 1995, Nigel became the manager of the Kirkcudbright Training Area which includes the Dundrennan Range.
In 2012, Nigel attended the MCDOA Northern Dinner and appears in this photo with seven other members who had completed an appointment as SMCDO to FOSNNI (see entry for 9 Mar 12 in News Archive 37).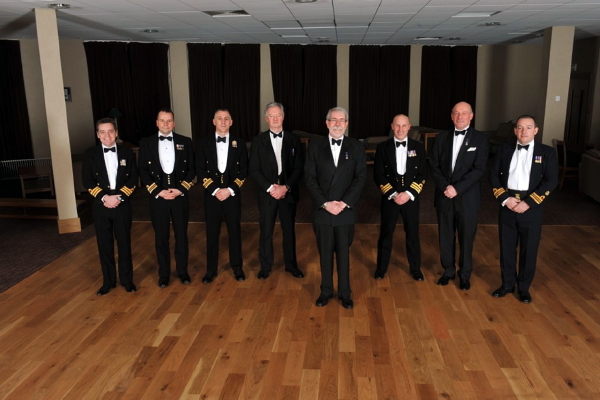 Left to right: Don Crosbie, Rich Osbaldestin, Matt Offord, John Law, Bertie Armstrong,
Phil Ireland DSC, Nigel Davies and Kev Stockton at HMS Neptune in March 2012
In 2017, Nigel and three other members of LMCDO '67 celebrated the 50th anniversary of their course at the MCDOA's Annual Dinner in HMS Excellent (see entry for 27 Nov 17 in News Archive 60).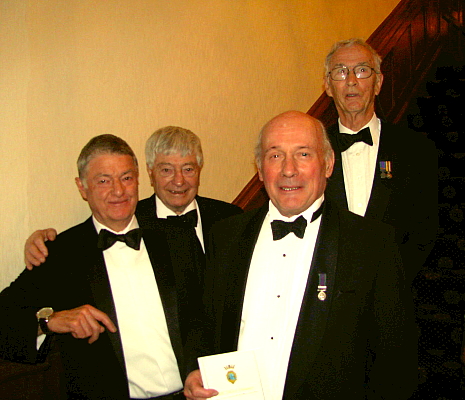 Left to right: Pat Gale, David Bartlett, Nigel Davies and David Ramsden
at the MCDOA Annual Dinner in November 2017
A funeral service will be held for Nigel at 12 noon on Wednesday 2 October in Greyfriars Church, Kirkcudbright, DG6 4HZ. Family flowers only. Donations, if desired, in Nigel's memory to the RNLI and the UK Antarctic Heritage Trust.
In the meantime, I am sure all members of our community will join me in extending our heartfelt condolences to Nigel's wife Sue and their family at this difficult time.
---
From MCDOA member David Ramsden RN/RAN in Australia (LMCDO '67):
"Good morning Rob,
Very sad and surprising to hear about Nigel's passing. As you said it is a very premature departure and it will be devastating for Sue and the family.
So glad that we had the 'catch up' at the dinner after all these years. We were togethor in Singapore as well as during the course.
Thank you for including me in the sad news. I will contact Sue separately.
Best wishes,
David"
---
From MCDOA member Martyn Holloway:
"Dear Rob,
What desperately sad news concerning the death of Nigel Davies. Such a gentle man with a perpetual smile and good word for anyone, a natural leader of men. He relieved me as XO of HMS Kellington in late '73 and I always enjoyed crossing paths with him ever since.
Post Falklands conflict when Nigel and Karl Lees arrived at Port Stanley to relieve Alex Manning and Chris Meatyard, Nigel was instrumental in allowing the 11th MCM to escape the clutches of the burgeoning peacetime administration. We were shattered having just finished clearing the minefields and wanted to go home but were being used to collect the gash from merchant vessels at anchor. Having made a case that our draught (24 feet) prevented us from accessing the small harbours and we were thus of no real use, Nigel told us to sail and leave behind a long Intend Navmove that nobody would read and notice our route was direct to Gibraltar, skimming South America and passing over 1,000 miles from Ascension Island thus saving us days.
It was good to see him at the 2017 MCDOA dinner where we laughed over the story. I shall miss his cheery face.
Yours aye,
Martyn"
---
From MCDOA member David Bartlett MBE (LMCDO '67):
"Dear Rob,
Very sorry to hear the sad news of Nigel. I have many great memories of LMCDO '67. We never served together in the same area but kept in touch throughout the years. It was a privilege that we were able to share those memories during our time together at the reunion in 2017.
Please pass on our love and condolences to Sue.
Regards,
David.
---
From MCDOA member Dougie MacDonald:
"Hello Rob,
What very sad news. I will indeed join you in extending heartfelt condolences to Sue and family.
Nigel and I crossed paths frequently but I will always have two enduring memories of him:
- He hosted a whiskey party in Rosyth. I don't like whiskey but I met Mrs MacDonald.
- I commiserated with him in Port Stanley when he was trying to write off the cost of breaking bail for half his ship's company after a visit to Montevideo.
I regret that I can't attend his funeral, overseas again but second retirement beckons.
Best,
Dougie"
---
From Cdre Hector 'Hec' Donohue AM RAN in Australia (LMCDO '67 Course Officer):
"Good afternoon Rob,
Thank you so much for keeping me in the loop regarding the untimely passing of Nigel Davies. I still remember him as a fresh-faced young Sub Lieutenant when he joined the course and was delighted when he turned out to be a very capable and competent MCDO.
Very sad news.
Regards,
Hec"
---
From MCDOA member Peter Waddington:
"Dear Rob,
Very sorry to read your email about Nigel's passing. As suggested in your message of condolence, he was one of those people who one might have expected to be around for ever. We had fairly frequent contact when he was on MCM10's Staff and I was the RN Staff Officer at HMS EAGLET.
A somewhat poignant recollection is my feeling that the last time we met was when he spoke at length about Chris Beresford Green at the latter's funeral; another untimely death.
Regards,
Peter"
---
12 Sep 19 - News from Andy Elvin
I am grateful to MCDOA member Andy Elvin OBE for this update (see second entry for 21 Mar 14 in News Archive 45):
"Good morning Rob,
Great work on the website, etc,. I thought I'd drop you a quick update.
My family and I moved to Rhode Island after retiring in 2014 where I keep busy with consulting work with my company, support International Programs at the US Naval War College, diving with the Rhode Island Marine Archaeology Project (RIMAP), and if you ask my wife, too many projects in the garage.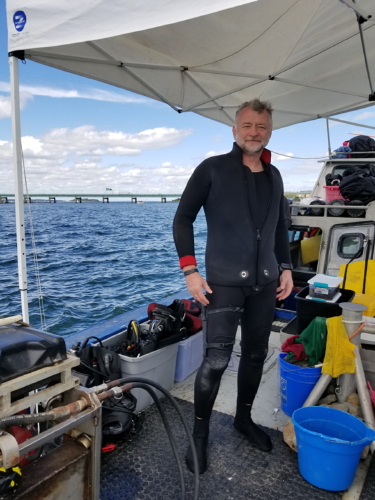 Of particular note is the current work with RIMAP. During the colonial period in the Americas, Newport, Rhode Island, was the third most important harbour in North America, second only to Philadelphia and Boston, and as a result there are numerous wrecks that litter the seabed. Of particular note are the vessels that were lost during the American Revolution, when British and Hessian troops occupied Newport and the surrounding area in Rhode Island. As part of the defences of Newport, the British scuttled 13 vessels to keep the French Fleet at range from Newport.
Through 25 years of extensive research and wreck investigation, one of these scuttled vessels is believed to be the Lord Sandwich, formerly Captain Cook's HMB Endeavour. Along with the Australian National Maritime Museum (ANMM), we have been investigating a significant site where we have yet to identify any evidence that discount the site from being Cook's ship.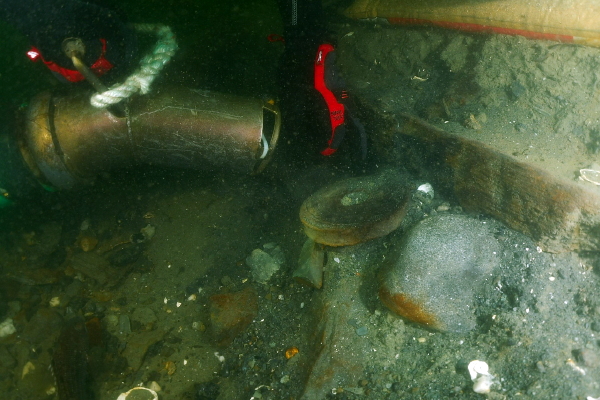 For more information, see http://www.rimap.org.
Looking forward to the miniatures of the new Vernon Monument. Always a bed and a beer available to anyone passing
All the best,
Andy"
---
11 Sep 19 - MCDOA President assumes Command at BRNC Dartmouth
I am sure all members of our community will join me in congratulating MCDOA President Roger Readwin on superseding Capt Jolyon 'Jol' Woodard RN as the Captain of Britannia Royal Naval College (BRNC) at Dartmouth yesterday.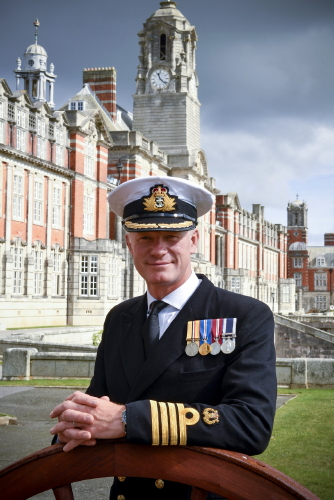 Capt Roger Readwin RN
(RN photo)
---
10 Sep 19 - Latest awards of LS&GC
Congratulations to WO1(D) Si 'Ruby' Murray on being gazetted for the award of the second clasp to the Naval Long Service & Good Conduct Medal.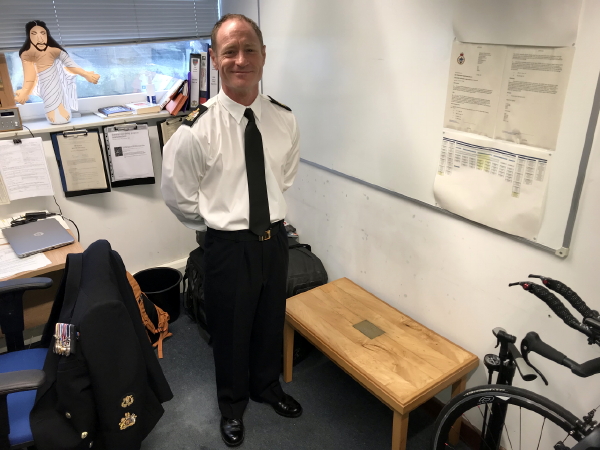 Congratulations as well to PO(MW) L Gordon on being gazetted for the award of the Naval Long Service & Good Conduct Medal.
---
9 Sep 19 - 3D images of Vernon Monument
These images were produced from the 3D scan of Mark Richards' half life-size maquette of the Vernon Minewarfare & Diving Monument. The scan is being used to create the final one-and-a-quarter life-size version due to be installed next spring at Gunwharf Quays on the site in Portsmouth previously occupied by HMS VERNON.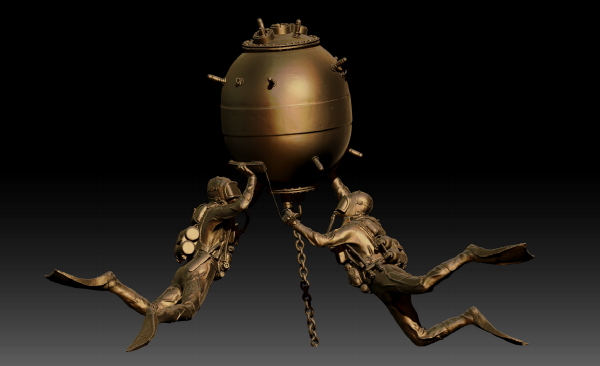 Quotes from various sources are currently being compared for the production of miniatures in various formats, sizes and materials. Understandably, there is much to consider because the structure is more intricate than most designs of a similar nature.
Keep those pennies rolling in to the MCDOA's adopted cause:
---
8 Sep 19 - Call-out for NDG at Gourock
The Inverclydenow website contains this article describing yesterday's call-out for Faslane-based Northern Diving Group (NDG) to investigate a possibly explosive item on the beach at Gourock on the Clyde. The item was declared safe.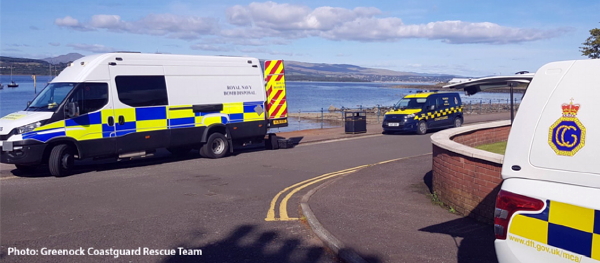 ---
7 Sep 19 - An 'extraordinary' MWA Dit Session
A special Southern Area Dit Session of the Minewarfare Association (MWA) took place at The Crown in Fareham on Thursday in honour of the visit of Steve Downey from Scotland to see his son pass out at HMS SULTAN. However, by the time things had quietened down enough to take a photo, my fellow MCDOA/MWA joint-member David Sandiford, Barney Barnett and Dusty & Karen Miller (with their son Young Dusty) had, like Elvis, left the building.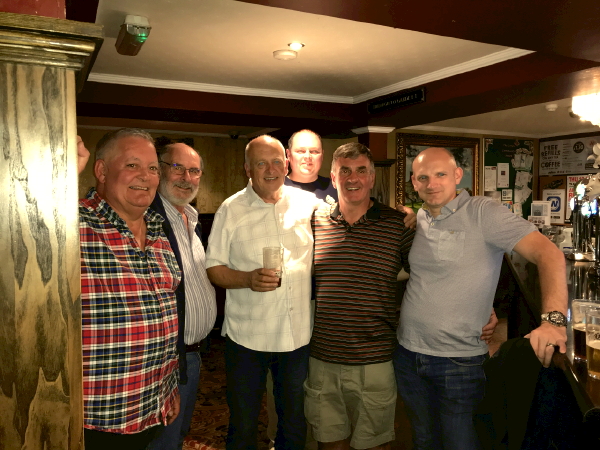 Left to right: MWA members Peter Whitehead, Rob Hoole, Peter 'Taff' Reader, Jim Bowen,
Steve Downey and Steve 'Stirling' Moss
---
6 Sep 19 - New book about RAN CD Branch
I am hugely grateful to Don 'Scotty' Allan, historian of the Royal Australian Navy Clearance Divers' Association (RANCDA), for a complimentary copy of this book he has co-authored with RANCDA honorary member John Kennett. It is an extremely welcome addition to my archives.
This colourful 420-page A4-sized paperback has taken five years to produce and only 330 copies have been printed. It not only lists all RAN clearance diver recipients of honours and awards and describes the operations in which they were involved with vivid illustrations but also contains a roll of all RAN CDs who qualified up to 2018 with a special section dedicated to those lost on duty, during service or while under training. Scotty says he has only 22 of the first print run left which he intends handing over to the RANCDA next week to sell on. He is considering the production of a 70th Anniversary edition in 2021 which will include a condensed version of everything in this book plus any new material. It will be hard cover and is likely to cost about $100 AUS plus postage.
---
5 Sep 19 - Funeral of former CPO(D) Kevin 'Kev' Scargill
I am grateful to former CD1 Cris Ballinger BEM for sending me the order of service for the funeral of Kev Scargill at Weston Mill Crematorium in Plymouth on Thursday 29 August (see entry for 15 Aug 19).
Click on the image to see in full.
Cris informs me that it was a short service conducted by a retired Commando gunner, a friend of Kev's. A rousing chorus of Eternal Father, gustily sung by a good turn out of former clearance divers, but surpassed by the enthusiasm of the organist who was determined not to be drowned out. There was also a uniform presence from Plymouth-based Southern Diving Unit 1 (SDU1). Afterwards, people retired to the Ernesettle Working Men's Club [Parkway Social Club] to carry on the story telling.
---
4 Sep 19 - MCD Heritage: Stuart Honour's medals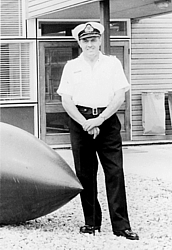 I am grateful to David Honour, nephew of the legendary Lt Cdr Stuart 'Jazz' Honour MBE RN, for this update (see entry for 10 Jun 10 in News Archive 30).
"HI Rob,
Long time no see.
It's been quite a while since I last contacted you. As you will see I now have a new e-mail address after leaving my last company. I'm now working on contract.
An amazing thing happened last week when my wife was packing up some additional items to bring over to SA. She had been in UK working and we decided that after waiting five years we would have Stuart's tribute ship's bell from the shipmates at HMS Triumph brought over here. As she was wrapping the bell, she found a box in among some packing material and inside was Stuart's long lost medal set. These have been missing for about 40 years and thought to have been stolen. Louise had a replica set put together for her tribute to Stuart in Australia as we never thought the originals were ever going to be found.
So I have attached a photo of the set which may be of interest to the MCDOA as it includes the Bomb and Mine Clearance medal with Mediterranean and Near East clasps. Also in the collection was the MBE presentation box with the citation showing why he was awarded it. Clearing 53 tons of explosives from Tobruk is certainly an achievement worthy of an MBE.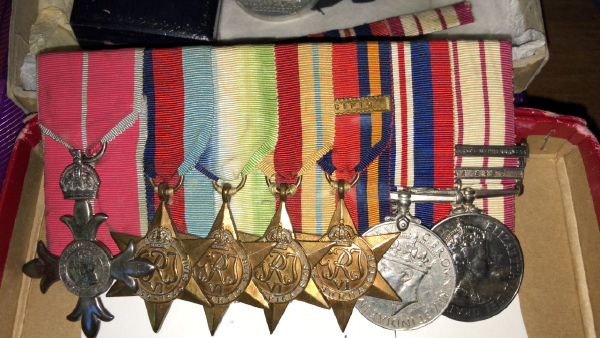 I hope all is well in the South of England and the MCDOA website is going strong. I must admit I haven't managed to check on it for a long time.
All the very best,
Dave"
David and I last met in 2011 when he visited the UK from working in Mauritius although he lives in South Africa. He was accompanied by his sister Lynne, a resident of Ashtead in Surrey, and we rendezvoused in the Old Customs House pub at Gunwharf Quays, formerly the Captain's offices in HMS Vernon (see entry for 23 Dec 11 in News Archive 36).
---
31 Aug 19 - Something different for SDU1
The Plymouth Live website contains this article reporting a call-out for Plymouth-based Southern Diving Unit 1 (SDU1) on Bank Holiday Monday (26 August) to deal with suspect IEDs planted in a garage at Upton Cross near Liskeard in Cornwall. Police have classed the investigation as an attempted arson. Officers suspect that an attempt was made to cause damage sometime between the evening on Sunday 25 August and the afternoon of the following day.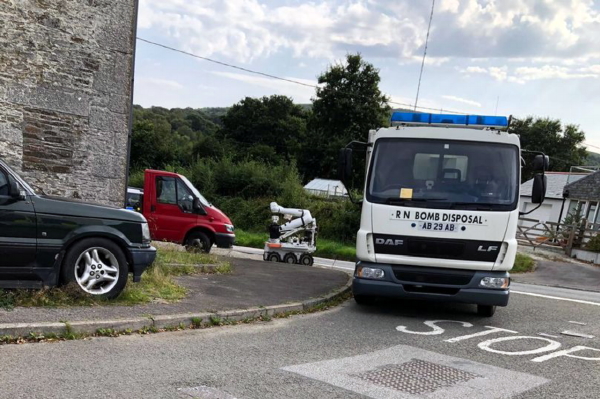 ---
30 Aug 19 - Funeral of former CPO(MW) Tony 'Fred' Bassett
There was a good turnout at Holy Rood Church in Stubbington today for the traditionally rousing Welsh-oriented Thanksgiving Service for the life of Tony Bassett (see entry for 10 Aug 19).
Attendees included fellow MCDO member Phil Burrell (Tony's head of department at Babcocks) and Yours Truly (Rob Hoole) plus my fellow MWA members Lee 'Barney' Barnett BEM, Paul Campbell, Brian 'Sam' Cook (TCA Standard Bearer), John 'Jan' Harvey (MWA Standard Bearer), George Heir, Allan 'Bomber' Mills, Bob Mitchell and Peter 'Taff' Reader. Former CPO(D) Sid Seabrooke also attended and it was particularly good to see some serving personnel in uniform, too.
Click on the image below to see the Order of Service: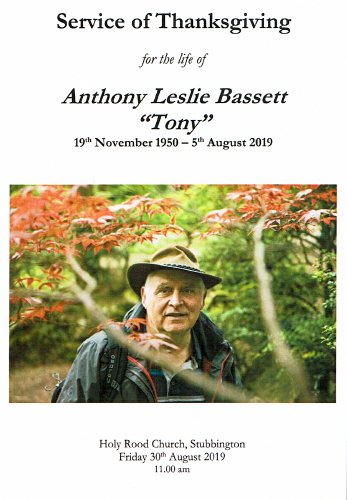 After the service, most mourners repaired to the Cams Hall Golf Club to raise a glass in Tony's memory.

Once again, we offer our sincere condolences to Tony's wife Rona and their family.
---
29 Aug 19 - MWA Southern Area Monthly Dit Session
It was good to see our old friend and colleague, former CPO(MW) Vaughan 'Nobby' Clarke BEM, at our Minewarfare Association (MWA) Southern Area Monthly Dit Session last night. Other attendees included my fellow joint-MCDOA/MWA member Bill Kerr, Robert 'Dixie' Dean MBE and Westy Westbrooke.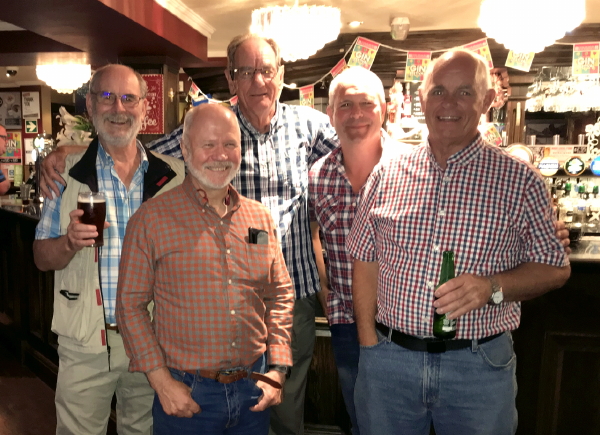 Left to right: Rob Hoole, Bill Kerr, Nobby Clarke, Westy Westbrooke and Dixie Dean
Nobby is currently visiting his UK homeland from New Zealand.
---
28 Aug 19 - A busy week for SDU1
Plymouth-based Southern Diving Unit 1 (SDU1) has certainly been kept busy with EOD incidents in the West Country this week:
29 August: Watch the moment a World War Two bomb is blown up on South Devon beach
28 August: Police and bomb disposal called after unidentified packages found
28 August: Police investigate after bomb found at business in Cornwall [The library photo mistakenly shows a member of the RAF's 5131 Bomb Disposal Squadron, due to be disbanded in April next year. See: End of an era: UK air force to disband bomb disposal unit]
28 August: Royal Navy clears scores of 'lethal munitions' at Devon harbour after Boris Johnson visit
27 August: Brixham restaurant evacuated after 'grenade fuses' found
---
27 Aug 19 - Spanish minehunter runs aground
The Costa Blanca & Costa Caleda Leader website contains this article reporting that the Spanish minehunter SPS TURIA ran aground off the La Manga headland this morning as it joined in the search for aircraft wreckage following yesterday's crash of a C101 trainer fighter jet in which the pilot, Comandante Francisco Marín, lost his life.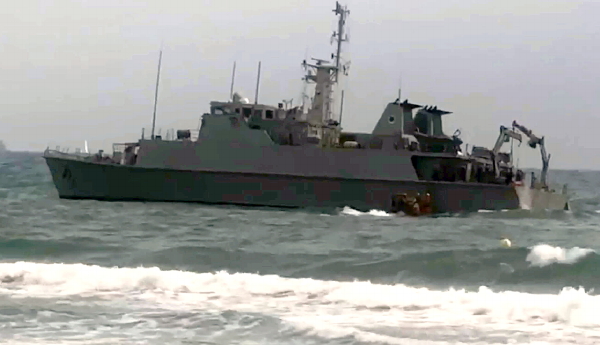 The design of the six Spanish Segura class minehunters is based on the RN Sandown class minehunter.
Postscript: The same website published this article on 19 September announcing that:
"The Naval Chief of Staff (Ajema), Teodoro López Calderón, has removed the commander of the Cazaminas Turia from his post and suspended him from duty...
Engineers from Navantia and from the Navy are still assessing the damage suffered to the fiberglass and polyester hull, as well as to the engines and equipment which were affected by the water. Initially, according to shipyard sources, the repair could be cost prohibitive and everything currently indicates that the ship, with 19 years' service, will be scrapped and converted into a bank of spare parts for its five sister ships."
---
24 Aug 19 - Recent tweets
Click on the linked dates to see all associated photos and videos
Royal Navy
14 Aug 2019 - Welcome home HMS Ramsey! After a four-month NATO deployment, HMS Ramsey has returned home – read about her deployment here: http://ow.ly/Elbw50vvdTn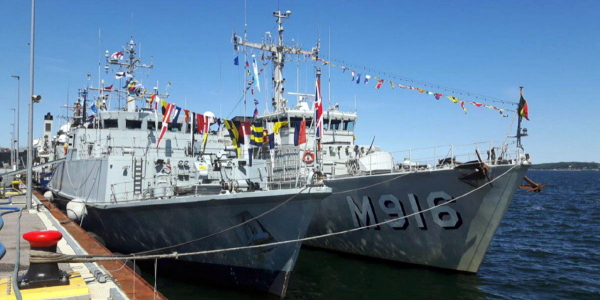 HMS Chiddingfold (MCM2 Crew 2)
22 Aug 2019 - Exciting times ahead for HMS CHIDDINGFOLD. This morning she returned to sea after a 12 week maintenance period. A period of sea training lies ahead working towards her Deployment to the Middle East.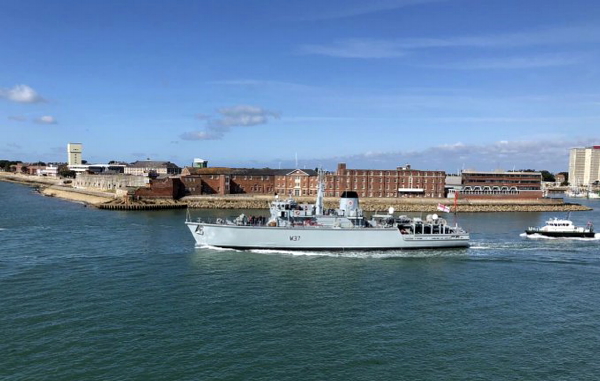 HMS Ramsey (MCM1 Crew 2)
10 Aug 2019 - HMS Ramsey welcoming friends and families on board for the final part of our return transit to HMNB Clyde. The Crew have been deployed for nearly 4 months with SNMCMG1 and today we return to our home port for some well deserved leave.
10 Aug 2019 - HMS Ramsey paid a short visit to Tobermory on her return transit to HMNB Clyde. We had a fantastic welcome by all of the locals. Thank you all for your hospitality!
8 Aug 2019 - Guest appearance as Swimmer of the Watch by the Leading Chef today. Well done LCh Si Parkes although I think we will need to find a smaller suit for you next time!
8 Aug 2019 - No matter where we are, what we are doing, the basics of being a sailor underpin everything. Here's HMS Ramsey letting go her anchor off the coast of Denmark while working with SNMCMG1.
8 Aug 2019 - From all on HMS Ramsey we would like to thank HDMS THETIS for her magnificent support to us as the Flagship of SNMCMG1. It has been an honour to work alongside you during our time with the NATO task group.
4 Aug 2019 - MINE ON DECK! HMS Ramsey using our Drill Mine to test our sonar and drill our divers whilst working alongside our NATO partners and allies.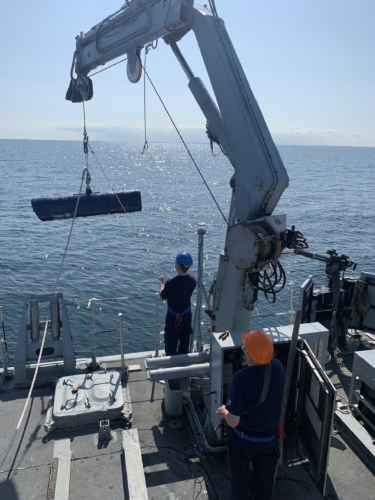 3 Aug 2019 - HMS Ramsey welcoming FGS Weilheim to SNMCMG1. We look forward to working alongside our German partners during the remainder of our time with the Task Group.
3 Aug 2019 - HMS Ramsey conducted a FIREX to refresh our skills. We are currently deployed with SNMCMG1 conducting MCM operations. We must always be ready to deal with any emergency at sea.
HMS King Alfred
18 Aug 2019 - In August 1944, Lt Cdr Sworder became one of the few WWII Royal Naval Reserve to be awarded the Legion of Merit by the US for bravery. Trained at HMS King Alfred & an expert at minesweeping, he had already won the DSC for his courage on Operation Torch in North Africa.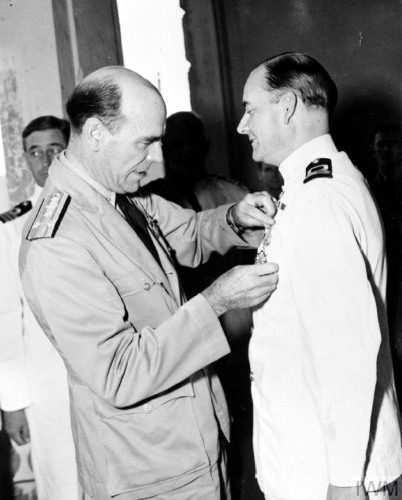 19 Aug 2019 - It's worth mentioning that Lt Cdr Sworder's post-war RNR career was also remarkable. After hostilities ended, he was temporarily retained in Royal Navy service & was later awarded the OBE for removing 75,000 German sea mines in four years from the Mediterranean!
Lt Cdr Edward Robert Denys Sworder OBE DSC RNVR was:
Gazetted on 18 May 1943 for the award of the DSC "for outstanding bravery and enterprise in the action in the harbour at Oran in HMS Walney"
Gazetted on 10 July 1945 for the award of the US Legion of Merit "for gallant and distinguished service during the invasion operations of the South of France"
Gazetted on 11 December 1945 for his appointment as an OBE "for Distinguished Service during the war in Europe"
His story is contained in his autobiographical 'The Time Has Come: Memoirs of a Seafaring Man'.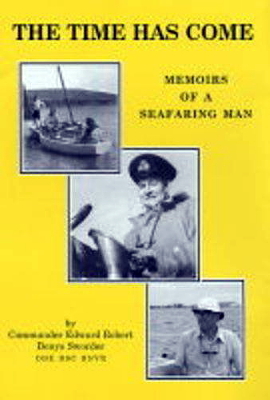 Edward Sworder fell in love with the sea at an early age and the sea loomed large throughout his life. Whilst carefree 'messing about in boats' defined his youthful and later years, the very serious business of war as a Royal Naval Volunteer Reserve officer certainly proved his mettle.
Starting in 1939, he worked up ancient trawlers and their individualistic crews into effective minesweepers; then led them through the extreme dangers of clearing minefields around the British Isles and for the landings in Sicily, Italy and southern France. Separately he took part in the ill-fated commando 'enterprise of desperate hazard' in Oran harbour which earned him a DSC and his war concluded with the award of an OBE - to be followed by a further four year retention (remarkably, as a Volunteer Reserve Officer) in the Service.
This was, first, to coordinate the contribution of Great Britain and the other relevant nations in the task of clearing the Mediterranean of over 50,000 wartime mines, then to act in the most responsible role of British Naval representative to the British Government in prosecuting their successful action against Albania at the fledgling United Nations. This concerned the notorious 1946 Corfu Channel 'Incident', when two of His Majesty's warships were mined with extensive damage and many casualties, including the loss of 44 lives.
His pre-war training and work as an engineer, nine post-war years in the Middle East as diplomat and businessman (which ended with the momentous changes resulting from the murder of the Iraqi king) then led to the promotion of Coseley's steel section hurricane-proof buildings in South America and the Caribbean and finally to his retirement base in Barbados. Illustrated.
---
23 Aug 19 - Latest from Project Vernon
Here is the latest 'artist's impression' of the Vernon Minewarfare & Diving Monument in situ in Pool B at Gunwharf Quays in Portsmouth, the site previously occupied by HMS VERNON. It is based on a 3D printed model using a laser scan of the half life-size maquette. The finished bronze structure, due to be installed next spring, will be one-and-a-quarter life-size.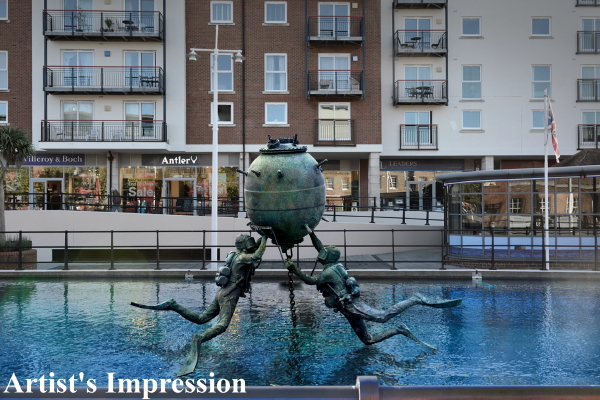 Project Vernon is the MCDOA's adopted charity and this monument will be dedicated to all those involved with minewarfare, diving and EOD - past, present and future. Thank you, sculptor Mark Richards, for doing such a fantastic job!
---
22 Aug 19 - Funeral of former CPO(D) Kev Scargill
Brian 'Troy' Tempest, Secretary of the Association of RN First Class Divers (AORNFCD), has reported that the funeral of Kev Scargill (see entry for 15 Aug 19) will take place at 1045 on Thursday 29 August at Weston Mill Crematorium, Plymouth PL2 2EP.
Following the service, a wake will be held at The Parkway Social Club, Ernesettle PL5 2EY.
Flowers and donations to Devon Air Ambulance should be submitted via the Funeral Director:
The Firs
702 Budshead Road
Crownhill
Plymouth
PL6 5DY
---
21 Aug 19 - Gentlemen Who Lunch
Doug Barlow and your humble webmaster upheld the honour of the MCDOA's 'Not Quite the Last of the Summer Wine' trio yesterday with our old friend Lez Howard taking the place of the temporarily absent Martyn Holloway. We were joined by Doug's wife Jill and Lez's mum Edna for a splendid lunchtime session at the Red Lion in Chalton where we were well looked after by its charming Welsh manageress Tracy before adjourning to Doug & Jill's cottage in Emsworth for tea & stickies.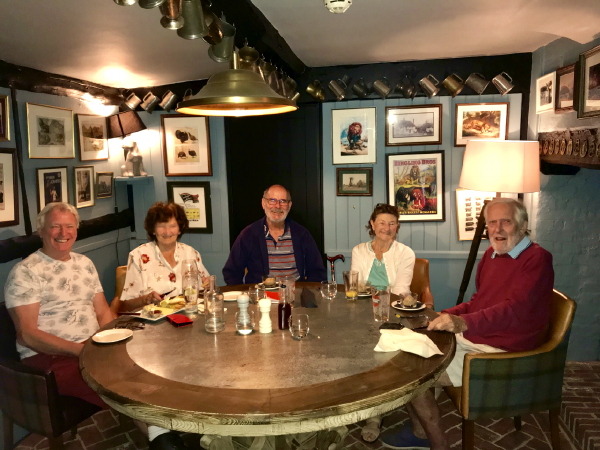 ---
20 Aug 19 - History of the RAN CD Branch
Three illustrated podcasts have recently been released covering the history of the RAN Clearance Diver Branch which very much mirrors that of the RN CD Branch. They have been produced by the University of New South Wales (Canberra) Naval Studies Group in conjunction with the Submarine Institute of Australia, the Australian Naval Institute, Naval Historical Society and the RAN Seapower Centre.
Four of the five narrators (Vice Adm Russ Crane AO CSM RAN, Cdre Hec Donohue AM RAN, Cdr Edward 'Jake' Linton BEM RAN and Lt Cdr Doug 'Pony' Moore GM RAN) have served at HMS VERNON and are keen supporters of the Vernon Minewarfare & Diving Monument, the MCDOA's adopted charity. The RANCDA has graciously donated $500 AUS towards the Project and individual members have donated several hundreds more.
Clearance Diving in the RAN (Part 1) Vice Admiral Peter Jones & his expert panel of Commodore Hec Donohue, Commander Jake Linton & Lieutenant Commander Doug Moore discuss the early days of clearance diving in the RAN and the achievements in both World Wars.
Clearance Diving in the RAN (Part 2) - From Confrontation to the end of Vietnam War Vice Admiral Peter Jones & his expert panel of Commodore Hec Donohue, Commander Jake Linton & Lieutenant Commander Doug Moore discuss clearance diving in the RAN from the end of World War II to the Vietnam War.
Clearance Diving in the RAN (Part 3) - From Vietnam War to 2019 Vice Admiral Peter Jones & his expert panel of Vice Admiral Russ Crane, Commodore Hec Donohue & Commander Pete Tedman discuss clearance diving in the RAN from the end of the Vietnam War to 2019.
---
From MCDOA member Bob Lusty:
"I was interested in the recent RAN podcast discussion regarding the early days of the Australian CD Branch. CPO Raymond 'Dixie' Foord BEM was mentioned and, if my memory is correct, he joined us in HMS Vernon/Horsea Island in 1956/57 when I was a young Leading Seaman CD3 in the Acceptance Trials Team with our leader Lt Cdr Joe Brookes of X-6 fame. Also the CO of X-6 was Australian Max Shean who stayed with me during the last supper with X-6 Crew. CPO Foord was a well liked, enthusiastic member of the branch and an excellent ambassador for Australia liked by everyone during his time with the RN. Doug 'Pony' Moore GM was around a little later. T
The British Sub Aqua Club was organising an underwater challenge in Aldershot and invited RN CDs to enter. Four of us were detailed off to take part. There were ten different tasks each with a winners cup. The first event was a surface swim which we lost by a mile. Doug, the officer-in-charge, was not amused and accused all four of us swimming like bent sticks! We won the remaining nine cups which we gave to the runners-up.
The next time I met the Australian CDs was in 1960 during a SEATO exercise. It was the early days of the Vietnam War, the Americans were in danger of being pushed out of Vietnam and wanted a way back in. A beach in the Gulf of Thailand was selected for a survey. USS Cook came in to Hong Kong and embarked the Far East CD Team. Arthur Checksfield flew to Bangkok to make arrangements for the team. USS Cook had their UDT Group and Recon people on board and a very happy group arrived in Thailand to start the work where we were joined by the Australian CD's. On completion of the survey USS Cook took us back to Hong Kong where the Brits, Aussies and the American teams had a week's jolly together.
The next and last time I met our Australian naval brothers was again off Thailand whilst doing bridge time on HMS Dainty, a Daring class destroyer, having completed our Beira Patrol en route to Hong Kong via Bangkok. We met two Australian Darings and exercised for a couple of days before going our separate ways. They went up to the gun line in Vietnam and we went for a jolly in Bangkok which we didn't feel good about.
It is good to see the links between us are as strong as ever. Long may it last.
Yours Aye,
Bob Lusty"
---
From Don 'Scotty' Allan - RANCDA Historian:
"Rob,
The Daring class referred to with no dates could only be HMAS Vendetta & Vampire. Both ships were allocated Op Service in Vietnam for the period: Vendetta 20/09/65 - 31/10/65 and Vampire 31/05/65 - 22/06/65.
Neither of these ships deployed to the Gunline. Escort duty only. Vendetta did deploy to the Gun Line 15/09/69 - 11/04/69.
Cheers,
Scotty"
---
19 Aug 19 - Anniversary of the death of Lt Cdr James Shermer Acton RN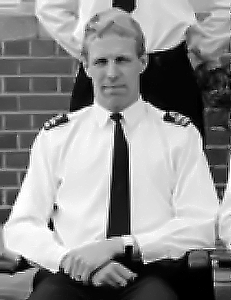 Jim Acton on LMCDO '87B
Today is the 20th anniversary of the death of MCDOA member Jim Acton at the tragically early age of 37. Jim was visiting the Naval Base at Gölcük in Turkey on 17 August 1999 to discuss a forthcoming MCM exercise as SOO MCM2 when it was struck by an earthquake. He suffered internal injuries when he was trapped in rubble for six hours and died during the CASEVAC flight to RAF Lyneham in Wiltshire.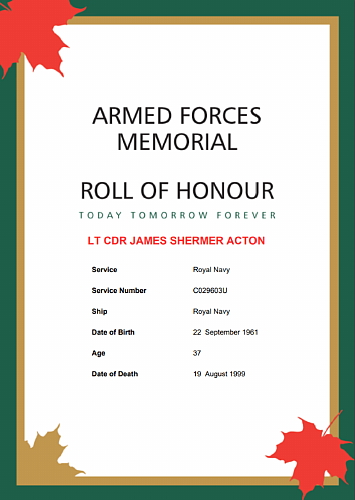 Jim's funeral took place on 27 August 1999, firstly at St. Barbara's Church in HMS Excellent and then at Portchester Crematorium. The service was attended by a large number of Service personnel and the MCDOA provided a wreath.
Please pause for a few moments today to think of Jim and his bereaved wife Alison, son Ashley and daughter Laura.
---
18 Aug 19 - News from Chris Baldwin
I am grateful to MCDOA past-Chairman Chris Baldwin for this update: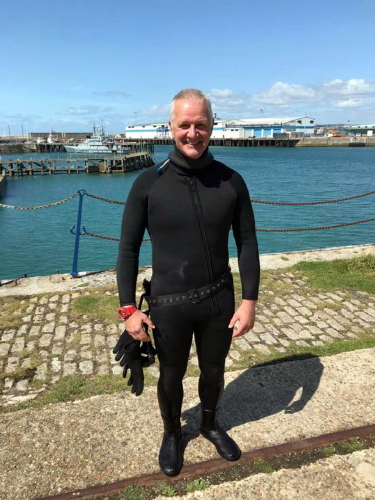 Cdr Chris Baldwin
The Reserves Diving Group has recently completed a diving work-up period in Portland Harbour and kindly invited me to join them so that I could regain currency on the SABA HMV diving set. The aim of the week was to conduct hull and jetty/seabed search training for the RDG's wartime role supporting the Fleet Diving Squadron in Maritime Explosive Ordnance Reconnaissance.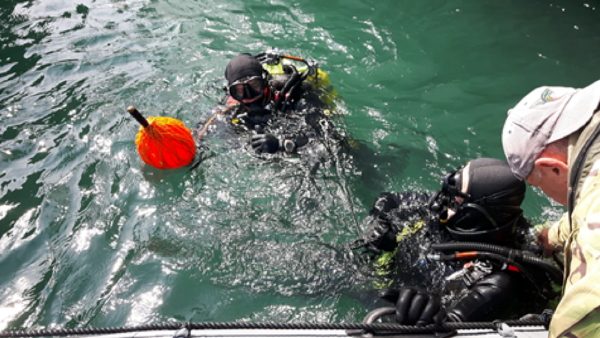 PO(D) Steve Boyd attending RDG divers on completion of their dive
The team took their opportunities for diving on the new RFA TIDEFORCE and RFA LYME BAY.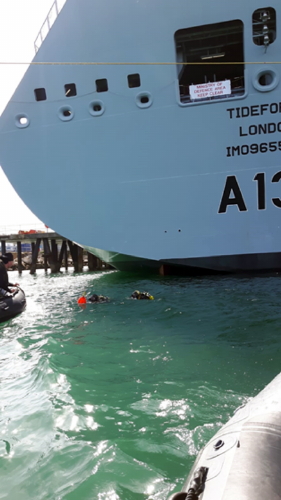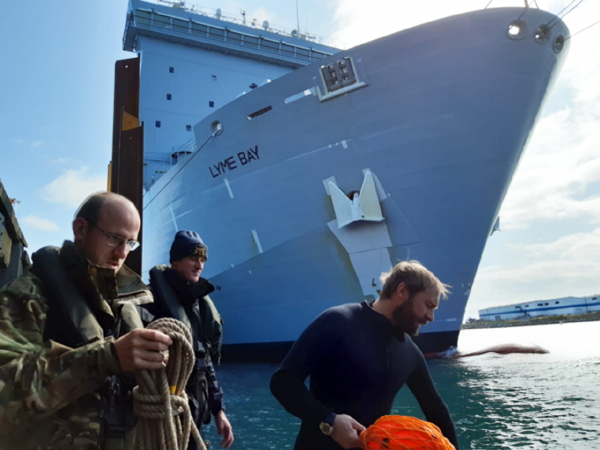 Left to right: Lt Cdr Adam Bolton, LS(D) Steve Cottrell and Lt Cdr Nick Foster
During the week the team also carried out some diving search tasks for the benefit of the Portland harbour authority.
As the Operations Officer of the NATO Submarine Rescue System I know what a significant contribution the RNR diving cadre makes to the UK's commitment to the NSRS. In fact, the RNR divers make up 60% of the RN NSRS diving team operating the transfer under pressure complex. It was therefore an absolute pleasure to get the chance to dive with the team and get back in the water. There was even a chance for a swift visit to the Green Shutters public house, which I'm sure all those who 'enjoyed' a period of training at FOST when it was based in Portland will remember fondly!
---
17 Aug 19 - SDU2 deals with ordnance in West Sussex
The Worthing Herald website contains this article (including video) reporting the detonation on the beach at Goring, presumably by members of Portsmouth-based Southern Diving Unit 2 (SDU2), of ordnance removed from a garden near Worthing.
---
16 Aug 19 - RN diver commended for saving sailor's life
The Royal Navy website contains this article reporting that AB(D) Euan Griffiths has been commended for saving a fellow sailor's life in a swimming pool while off-duty in Bahrain. AB(D) Griffiths is serving in HMS Shoreham (MCM1 Crew 6) and the article also features MCDOA member Dan Herridge, the ship's Commanding Officer.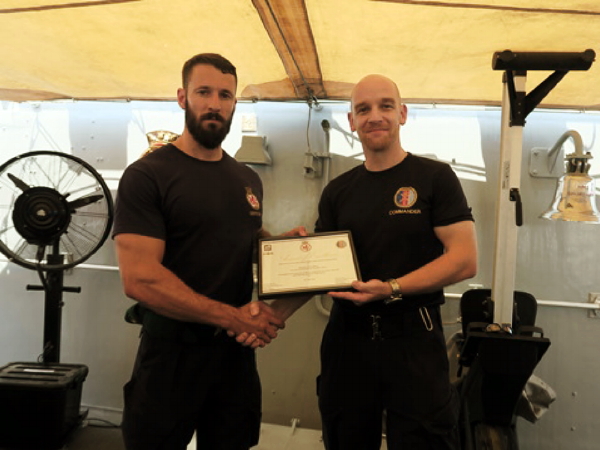 AB(D) Euan Griffiths (left) being presented with his commendation
by Cdr Simon Cox (COMUKMCMFOR)
---
15 Aug 19 - Death of former CPO(D) Kev Scargill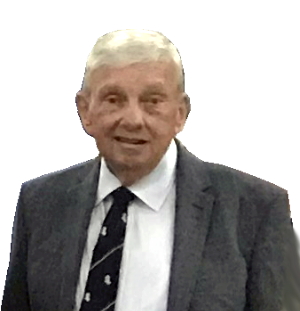 Kev Scargill in June this year
Brian 'Troy' Tempest, Secretary of the Association of RN First Class Divers (AORNFCD), has sent this sad news:
"It gives me great sadness to have to inform you of Kev Scargill's death at the age of 70. A regular at the AORNFCD AGM [see entry for 8 Jun 19 in News Archive 66], he passed away yesterday and will be sadly missed by many.
I will pass on more information, when known, regarding his funeral details.
Please inform others of the sad passing of this fellow diver, friend and colleague to many.
Five Bells, mate."
---
14 Aug 19 - Award of LS&GC
Congratulations to CPO(D) David 'Daisy' May on being gazetted for the award of the 2nd Clasp to the Naval Long Service and Good Conduct Medal​.
This is an old photo of Daisy as a PO(D) 'getting them in for the team' during a Project Vernon promotion at Gunwharf Quays in 2011 but I couldn't resist it.
---
13 Aug 19 - SDU2 deals with suspected ordnance on IOW
The County Press website contains this article reporting a call-out on Sunday for members of Portsmouth-based Southern Diving Unit 2 (SDU2) to remove suspect unexploded ordnance found at Steephill Cove near Ventnor on the Isle of Wight.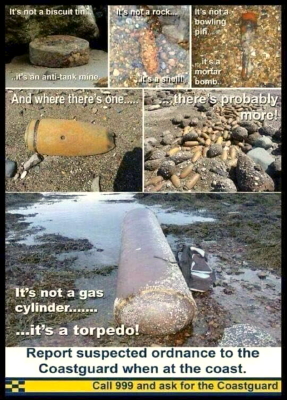 ---
12 Aug 19 - HMS Ramsey's homecoming
The Royal Navy website contains this article reporting the return of HMS Ramsey (MCM1 Crew 2) to her home base at Faslane, after a brief visit to Tobermory to embark families, following her four-month deployment with Standing NATO Mine Countermeasures Group 1 (SNMCMG1). The article features AB(MW) Rzepecki.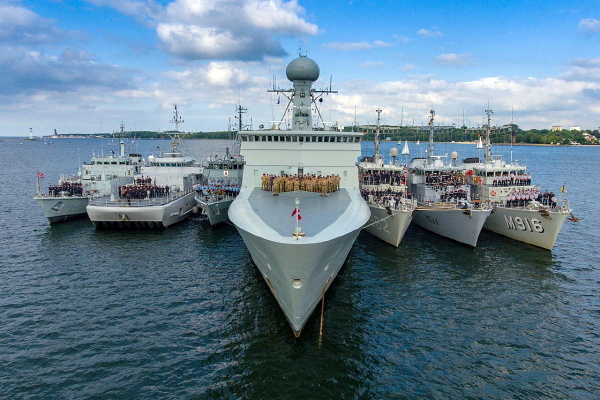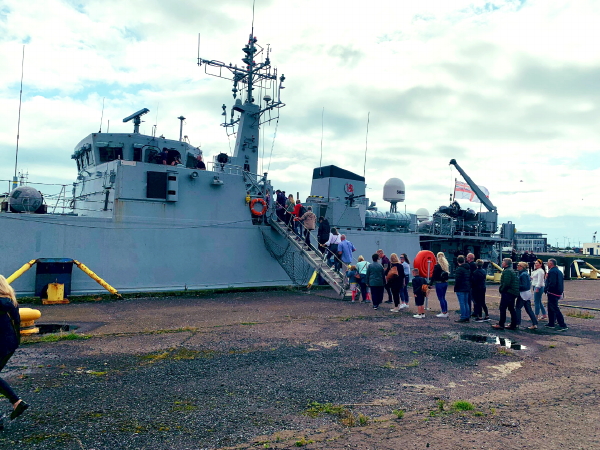 (Royal Navy images)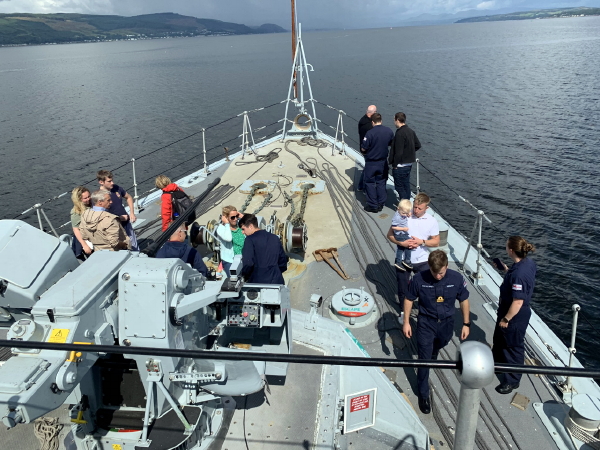 I am sure all members of our community will join me in wishing the members of HMS Ramsey's ship's company an enjoyable time during their well-deserved summer leave.
---
11 Aug 19 - MCDOA members in Cyprus
I am grateful to MCDOA past-Chairman Paul Jones for this news of a 'brief encounter' with fellow MCDOA members Bob Hawkins MBE and Chis Flaherty in Cyprus:
"Rob,
I'm just dropping Bob the Dog [Hawkins] and Trudy off at Larnaca Airport after 10 days hols with me in North Cyprus. We arranged to meet up with ex-Lt Cdr Chris Flaherty (OIC FDU1 (Chalfont) / XO HMS BLYTH) who is working in a dive centre here in Larnaca with his wife Gillian.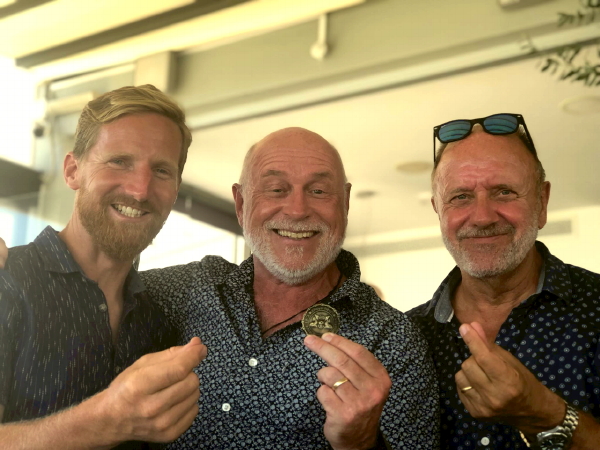 As you can see Bob pulled the RNCDA coin trick... Chris and I failed."
---
10 Aug 19 - Death and funeral of former CPO(MW) Tony 'Fred' Bassett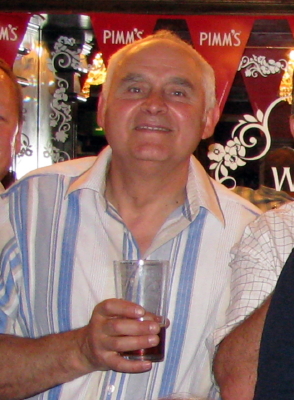 Tony Bassett
Tony passed away peacefully during the night of 5 August after a short illness. He had an illustrious career in TON, HUNT and SANDOWN class MCMVs and served in Northern Ireland, the Falklands and the Gulf. He was also an MCM Squadron Chief and spent time with the RNR but will probably be remembered most recently for leading the Hunter Project so effectivly in delivering RSNF training.
Tony's funeral will take place at 1100 on Friday 30 August at Holy Rood Church in Stubbington, Hampshire PO14 2AS. The service is open to all who wish to pay their last respects and the family would like to welcome all who knew him. After the ceremony, a cremation service will be held for family members only.
I am sure all members of our community will join me in extending our sincere condolences to Tony's wife Rona and their family.
---
9 Aug 19 - Maquette of Vernon Monument scanned
Following the approval of the final design by a panel of Project Vernon volunteers (see entry for 6 Aug 19), 3D laser scanning of the half life-size model of the Vernon Minewarfare & Diving Monument was conducted today. This will enable casting of the one-and-a-quarter life-size bronze sculpture and, eventually, miniatures in various materials.
The other photos show the enormous complexity of the task and the fine detail sculptor Mark Richards has applied to his creation without making it a characterless static 'teaching aid'. He said that balancing such a large inanimate object as a moored mine with the dynamic human life forms of the divers so that they work in harmony was his greatest challenge and his greatest source of satisfaction.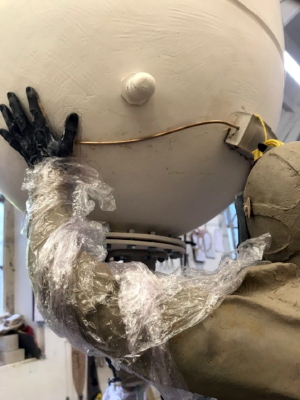 For further background, information and pictures, go to the Project Vernon website at www.vernon-monument.org.uk or the Project's Facebook group at www.facebook.com/groups/vernonmonument.
---
8 Aug 19 - NDG deals with explosive ordnance in Scotland
The Courier website contains this article reporting yesterday's detonation by members of Faslane-based Northern Diving Group (NDG) of an explosive device on the beach near Carnoustie in Angus.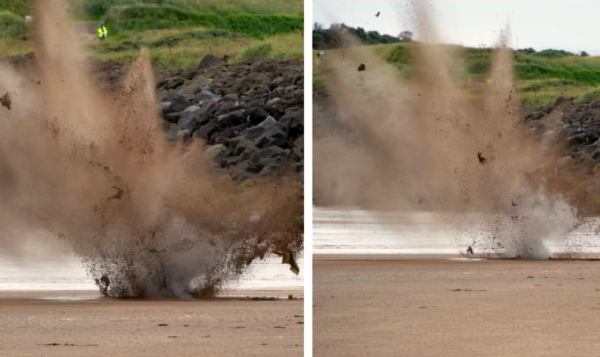 The Northern Times website contains this article reporting Tuesday's detonation by members of NDG of explosive ordnance found in the water at Golspie in Sutherland.
---
7 Aug 19 - Funeral of former FCPO(D) David 'Mona' Lott BEM in NSW, Australia
I have just spotted this notice (see entry for 28 Jul 19 in News Archive 67):
LOTT, David. Passed away 26/7/2019
The Funeral for the late David LOTT, of Eden, will be held on Monday 12 August 2019, with a service commencing at 2.00PM, in the Chapel of Sapphire Coast Funerals, Pambula. This will be followed by a Private Cremation.
I hope our Aussie friends give Dave the send-off he deserves.
---
6 Aug 19 - Final design of Vernon Minewarfare & Diving Monument approved
Today, a panel of Project Vernon volunteers, constituting members of the main supporting organisations (MCDOA, AORNFCD, MWA, TCA and RNCDA), visited the studio of distinguished sculptor Mark Richards in Ludlow, Shropshire and approved his final design of the Vernon Minewarfare & Diving Monument.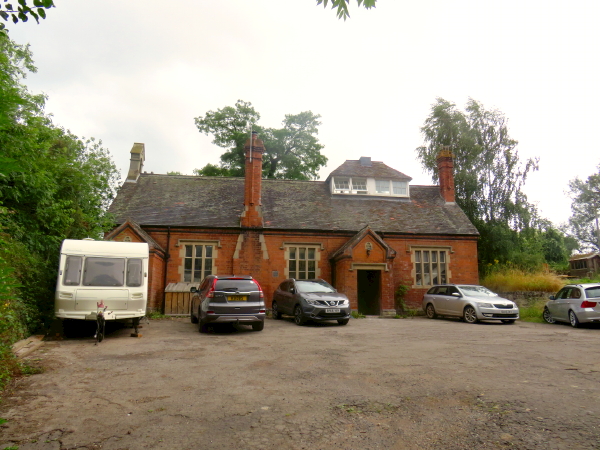 This is the half life-size model from which the one-and-a-quarter life-size bronze sculpture, and eventually miniatures, will be produced.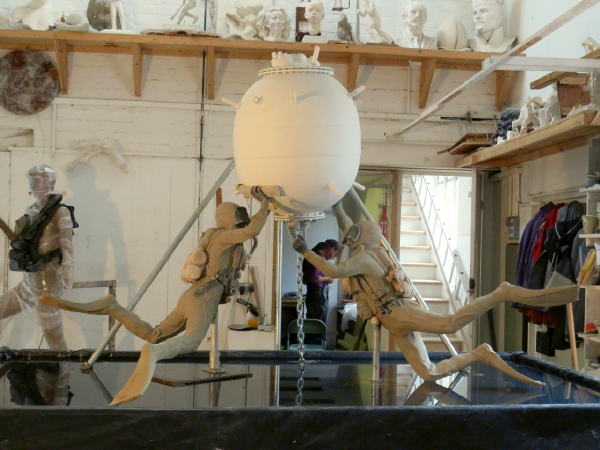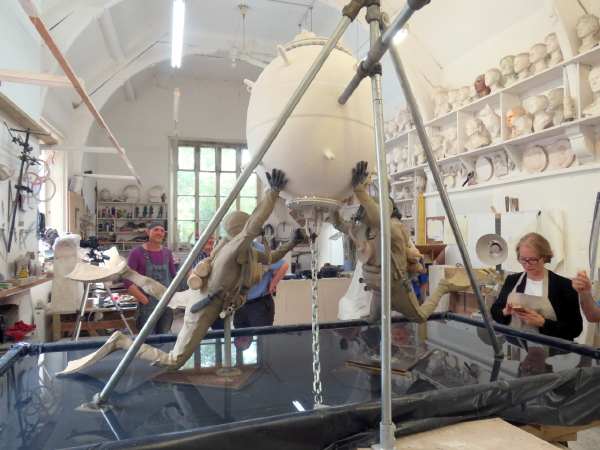 The Project Vernon panel comprised Grenville Johnson MBE, Colin 'Scouse' Kidman QGM, David Sandiford, John 'George' Turnbull and Yours Truly (Rob Hoole), seen here flanking sculptor Mark Richards and his assistant Emma Lilley.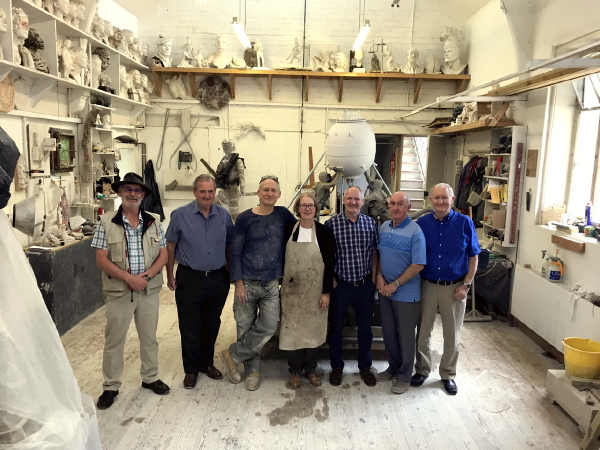 N.B. The supporting scaffolding poles will not appear in the finished product!
---
5 Aug 19 - Latest EOD incidents
5 August: Royal Navy blows up 15 bombs found on Westcountry beach
3 August: Bomb disposal squad in Cornwall park after man kicks suspect grenade
1 August: Glasgow street locked down as bomb squad probe 'grenade' found in house
20 July: UP IN SMOKE Bomb disposal unit called to deal with WWII grenade – but it was just a lighter
---
4 Aug 19 - Don Crosbie assumes role of Deputy CTF 52
MCDOA past-Chairman Don Crosbie superseded Andy Lamb on 16 July as Deputy Commander of Task Force 52, US CENTCOM's Fifth Fleet organisation responsible for the command & control of all mine warfare assets in the region (see entry for 18 Jul 19 in News Archive 67). He will be based at Bahrain for the foreseeable future and I am sure all members of our community will join me in congratulating him on his new rank and appointment.
Capt Don Crosbie RN
Don has pointed out that his fellow MCDOA members Capt Jim Byron DSC RN, an MWO and former Commander UK Mine Countermeasures Force (UKMCMFOR - see entry for 2 Dec 13 in News Archive 44), is also serving in the Gulf as the Deputy UK Maritime Component Commander (UKMCC) and Dan Herridge commands HMS Shoreham (MCM1 Crew 6), currently based in Bahrain for Operation KIPION. Congratulations to Jim and Dan, too.
---
2 Aug 19 - The Minesweepers' Victory
MCDOA member Nick Stanley has started a Twitter account titled 'The Minesweepers' Victory' and is publishing daily tweets chronicling events of interest during the lead-up to the Second World War 80 years ago.
Click on the image to visit.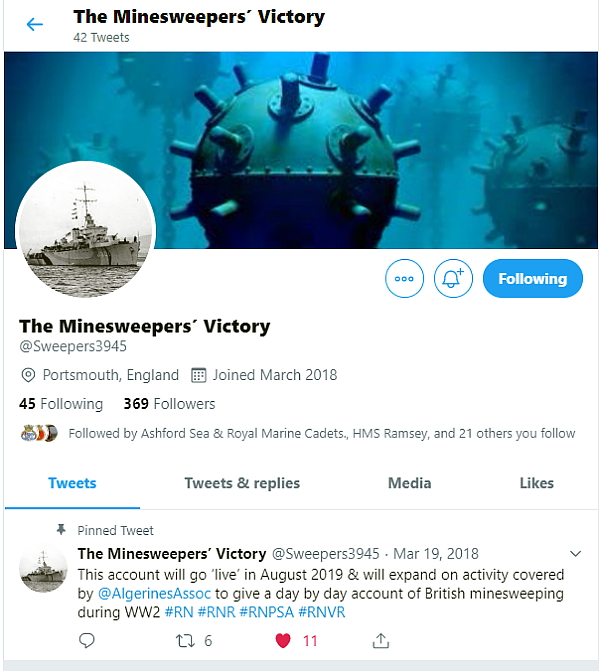 ---
1 Aug 19 - SDU2 detonates ordnance off IOW
The Island Echo website contains this article (including video) describing today's detonation, presumably by members of Portsmouth-based Southern Diving Unit 2 (SDU2), of an unexploded shell near Shanklin on the Isle of Wight.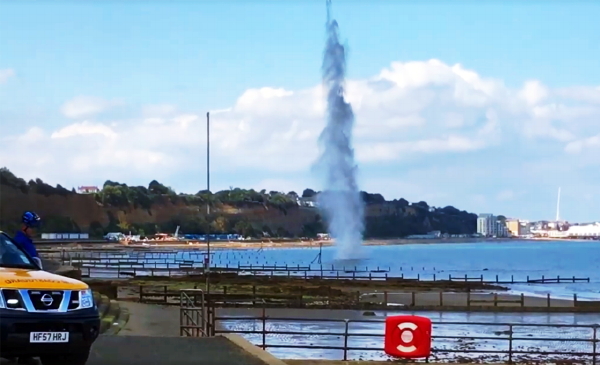 ---