---
1 Mar 20 - Vernon Monument casting update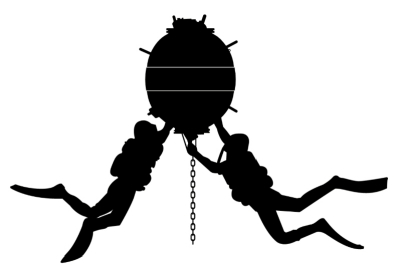 Don't get a crick in your neck but this is the latest photo, released last week, of the casting and assembly of the MCDOA-sponsored Vernon Mine Warfare & Diving Monument at the Morris Singer foundry at Lasham in Hampshire (see entry for 18 Feb 20). The fellow in the background is Simon Plail who is responsible for assembling the elements so you can't see the join. The finished product will have a green-black patina.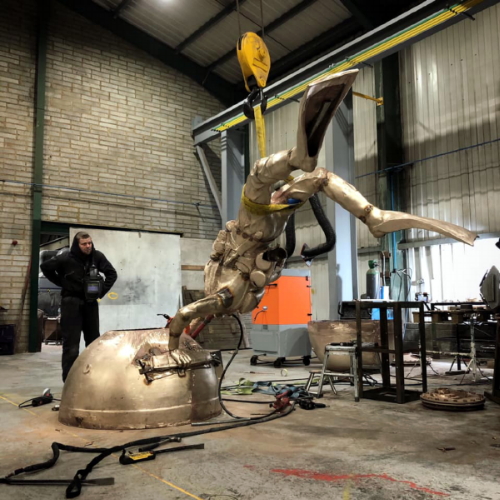 Coronavirus permitting, the one-and-a-quarter life-size bronze sculpture will be unveiled and dedicated at a ceremony in Gunwharf Quays, the site previously occupied by HMS Vernon, on Wednesday 25 March. As announced here and elsewhere, the deadline for applications to attend the ceremony and reception in the reserved area expired on 31 December but events can still be witnessed from the public area.
Our various contributions to date have paid for the statue but we need to keep the pennies rolling in to cover the unveiling ceremony, maintenance, insurance, lighting, signage and clever facilities to tell the full story of what it represents (we even have Portsmouth University on the case). Make a direct donation here or purchase merchandise via the Project's online shop. Another good way to donate is to buy PV tickets for the Portsmouth Lottery for as little as £1 per week. The Project receives at least half the income:
---
29 Feb 20 - Latest tweets
Click on the linked dates to see all associated photos and videos.
Royal Navy
28 Feb 2020 - Four ships and more than 200 sailors led Britain's involvement in an international test of sea power in the Middle East, joining French and US naval forces who accepted the invite from the Omanis for the annual workout – Khunjar Hadd, 'Sharp Dagger'.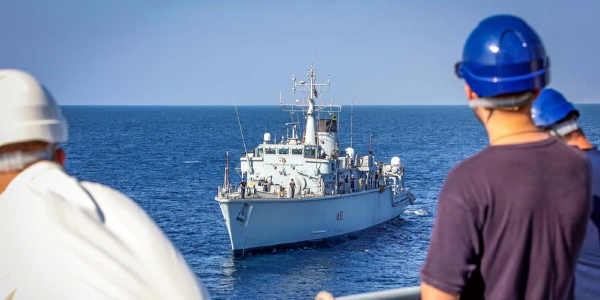 Royal Navy Sport
21 Feb 2020 - Great to see HMS Cattistock and HMS Chiddingfold conducting a multi-activity week consisting of climbing & mountain biking. These AT & Challenging Activity multi-activity weeks are designed to enhance the physical and mental wellbeing of service personnel.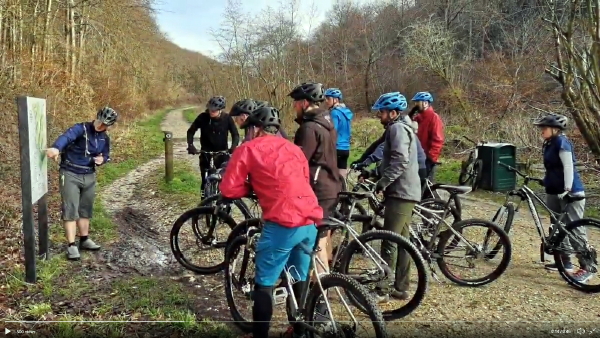 (Screen captures from video)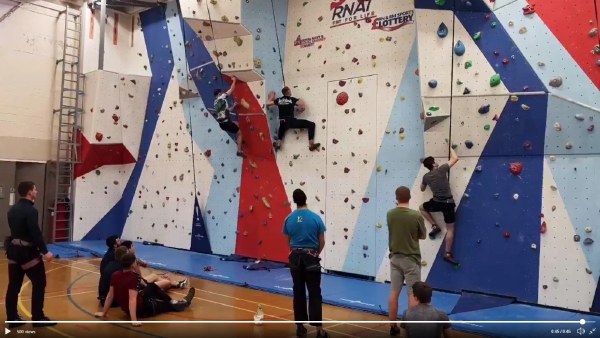 HMS BLYTH (MCM1 Crew 2)
25 Feb 2020 - Crew 2 arrives in theatre with a BANG for our Kipion deployment! We've been proving our capability and readiness by exercising our force protection teams
HMS BROCKLESBY (MCM2 Crew 5)
27 Feb 2020 - After a challenging but rewarding exercise, superbly run by the Royal Navy of Oman, HMS Brocklesby and HMS Ledbury have some well-earned rest in Muscat and a chance to see more of this magnificent country.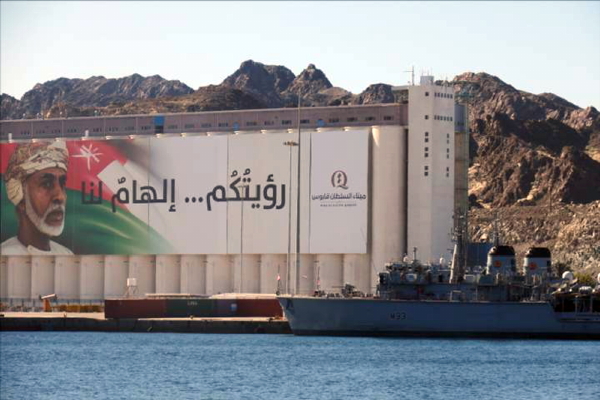 HMS CATTISTOCK (MCM2 Crew 6)
27 Feb 2020 - Happy Birthday to our CO today. And thank you to the chefs for this golf-related cake! Good morning for the squadron bish to come onboard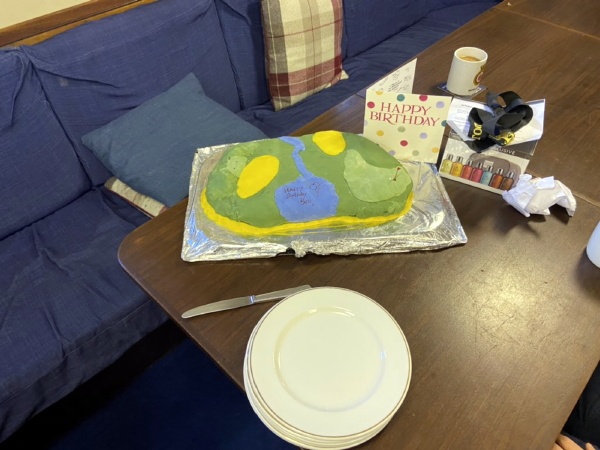 HMS CHIDDINGFOLD (MCM2 Crew 1)
21 Feb 2020 - Cruising into the weekend like...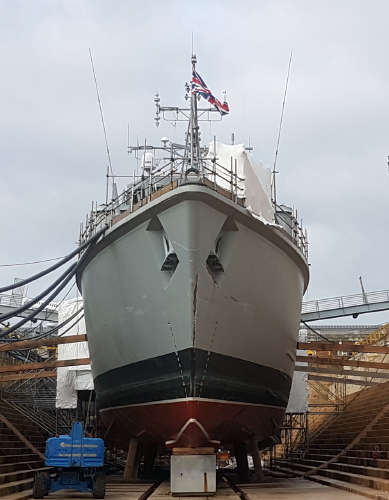 HMS HURWORTH (MCM2 Crew 3)
29 Feb 2020 - Saturday morning = Table Top Tactics. Talking through next week's planned exercises takes time, but is always worth the effort to give the team the best chance of success!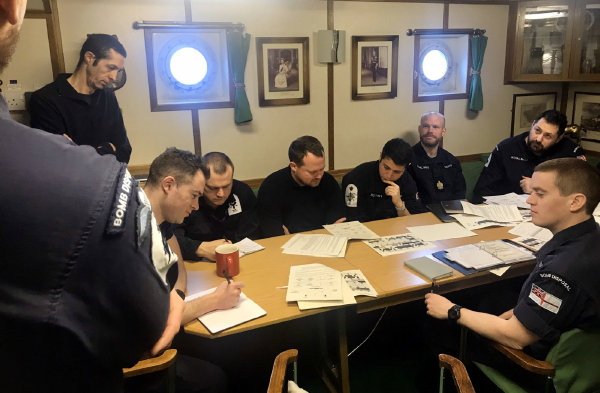 28 Feb 2020 - Here's a quick video from our visit to Belfast.
Armed Forces in Northern Ireland
28 Feb 2020 - They brought the sun with them but depart on a wet and miserable day. We bid a fond farewell to HMS Hurworth who returns to Faslane to complete her training, after a successful visit to Belfast. Link to meet the Captain and see the ship:
www.facebook.com/watch/?v=1537777756391439.
28 Feb 2020 - Last night we hosted a reception for 25 VIPs. Guests enjoyed a ship's tour which offered an insight into the role and capability of our ship.
Chris Hagan
26 Feb 2020 - New arrival in Belfast this morning, a Royal Navy mine hunter.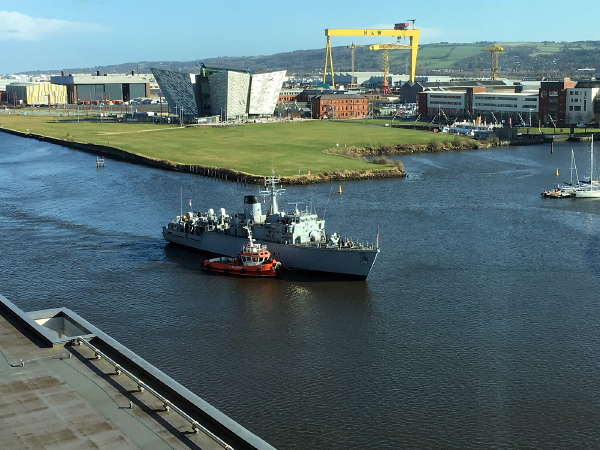 HMS Hurworth entering Belfast
26 Feb 2020 - Yesterday, we conducted a man overboard exercise near this famous rock. Did you know? - Ailsa Craig was formed from the plug of an extinct - Granite from the island was quarried to make curling stones.
26 Feb 2020 - Happy Pancake Day / Shrove Tuesday from all of us in Hurworth! Hope it's been a flippin good one.
20 Feb 2020 - Our force protection teams are conducting training in how to search for and detain an intruder in the ship. Textbook stuff this.
19 Feb 2020 - Every day's a school day in the RN! After our early morning (0500!) fire exercise, we were back at sea this afternoon to do some basic sea safety drills, all under the eyes of the FOST experts.
HMS SHOREHAM (MCM1 Crew 4)
17 Feb 2020 - HMS Shoreham were narrowly defeated this week by HMS Brocklesby in the first football match of their 7-month deployment. Bring on the re-match!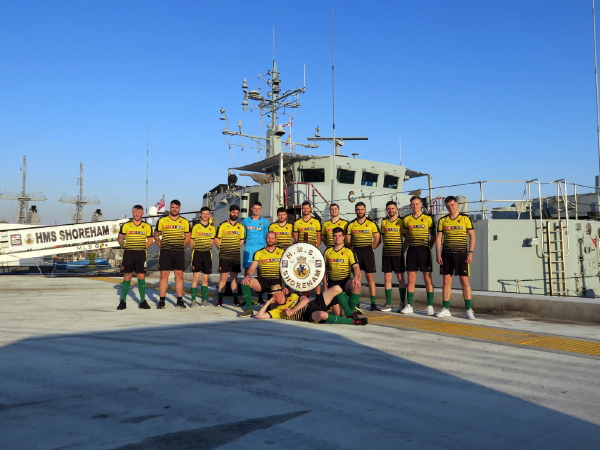 MASTT (Maritime Autonomous Systems Trials Team commanded by MCDOA member Dave Stanbury)
28 Feb 2020 - 18 months of planning and action comes to an end. MASTT make the final checks to ensure the safe and secure return of the RN Sweep equipment to the UK. The coordination and activities to ensure the success of the Cold Wx Trials has been nothing short of epic!
28 Feb 2020 - Video only.
20 Feb 2020 - The Team. The sum of its parts, without it, we achieve nothing. MASTT have worked hard over the last 4 wks, in some extreme weather conditions (-22C), with plenty of banter and always with a smile. It has been frustrating at times, but we are proud of what MASTT have achieved!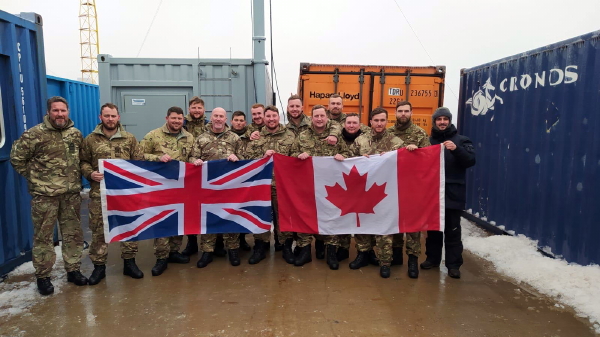 Simon Cox (Cdr 2nd MCM Sqn)
25 Feb 2020 - HMS Cattistock and HMS Puncher share a 'suck of gas' this morning. The team works.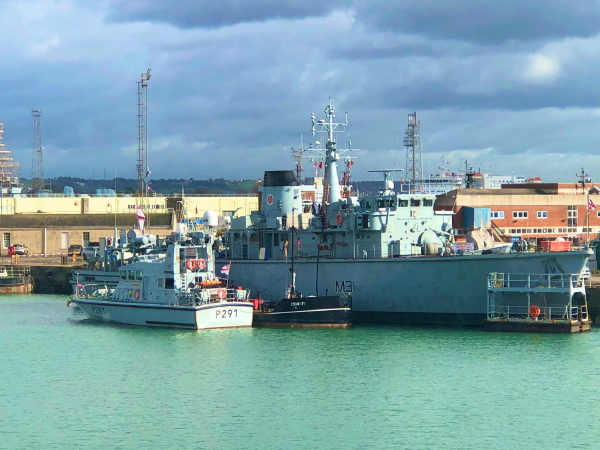 Navy Lookout
27 Feb 2020 - More seriously… The RN's Minehunters are due to leave service in the early 2030s. Although the Navy believed that this capability needed to be addressed in the 2019–2029 Plan, it has no funds to extend or replace this equipment.
21 Feb 2020 - HMS Chiddingfold in Number 11 Dry dock in Portsmouth - being readied to return to the Gulf.
16 Feb 2020 - Drifting sea mines reported in coastal waters of the Red Sea between Midi, Yemen and Jizan, Saudi Arabia. Probably laid by Houthi rebels.
16 Feb 2020 - HMS Grimsby [MCM1 Crew 1] in the Kiel Canal heading onto the Baltic from Kiel, Germany yesterday (Currently serving with NATO Mine Countermeasures Group 1).
---
28 Feb 20 - Minewarfare forces sharpen skills in Omani exercise
The Royal Navy website contains this article reporting the participation of Royal Navy, French and US naval forces in the Omani Exercise KHUNJAR HADD (Arabic for 'Sharp Dagger'). RN forces include HMS Brocklesby (MCM2 Crew 5), HMS Ledbury (2/7) and HMS Shoreham (1/4) supported by RFA Cardigan Bay. All RN website photos by LPhot Rory Arnold.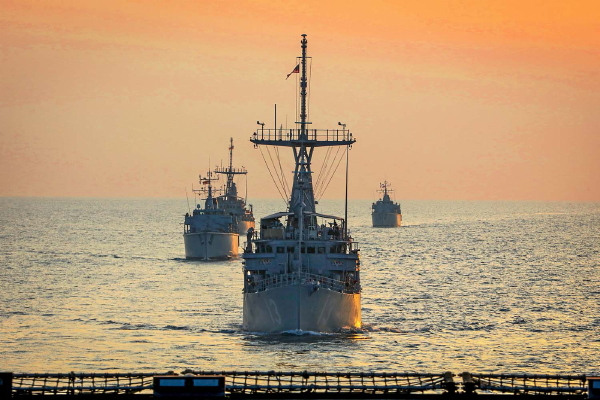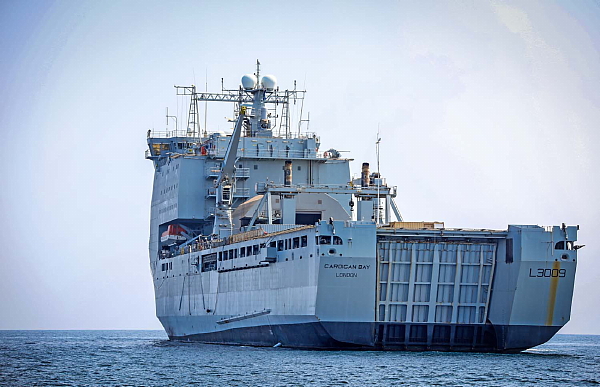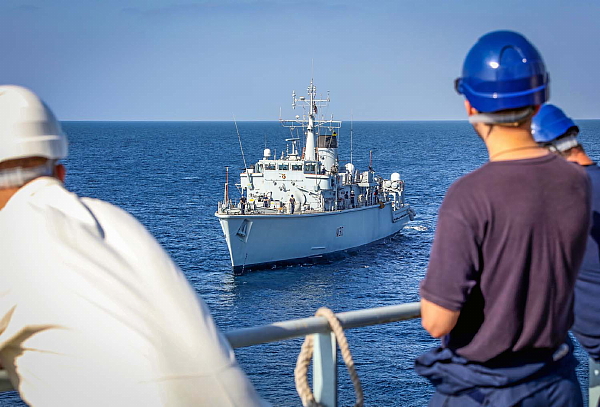 2020 marks the 25th anniversary of the annual exercise which this year focused on the ability of the four nations to keep sea lanes open with the added spice of some board and search training.
Postscript: The Portsmouth News published this article, reporting the same story, on 2 March 2020.
---
27 Feb 20 - MWA Southern Area Dit Session
A hugely enjoyable Mine Warfare Association (MWA) southern area monthly 'Dit Session' was held at the Red Lion Hotel in Cosham this evening. Attendees included MCDOA/MWA joint-members Rob Hoole, Bill Kerr, David Sandiford and George Turnbull plus Kevin Aston, Gordon Neil, Peter 'Taff' Reader, Sean Slee and Peter Whitehead,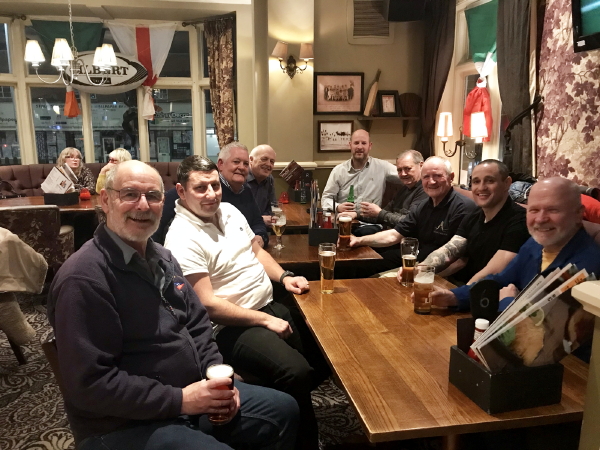 We even managed a short live video stream to the Association's FB page but the best bit was putting John 'George' Turnbull, who played the Archangel Gabriel in HMS VERNON's 1980s production of 'Follow That Star', in touch with New Zealand resident Malcolm Fewtrell (currently visiting the UK) who played Herod in the same play. They exchanged a few pleasantries online via FB Messenger.
---
25 Feb 20 - France honours 102 year-old minesweeper veteran
The Royal Navy website contains this article reporting that 102 year-old Dennis Roy Cooper, who was engaged in minesweeping operations between Sword Beach and the Cotentin Peninsula during the Normandy landings, has been presented with the French Legion d'Honneur in an official ceremony at Blandford Camp, near his home in Marnhull, Dorset.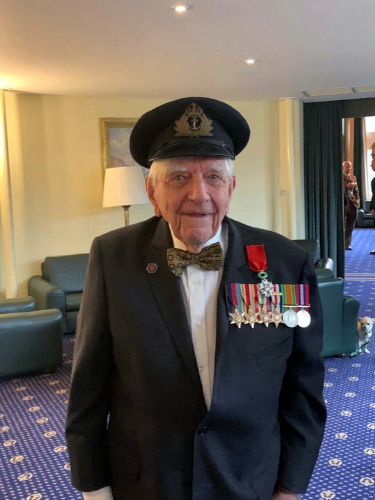 Dennis Roy Cooper
(RN website photo)
---
23 Feb 20 - NDG deals with pyro at Gourock
The Inverclyde Now website contains this article reporting the disposal by members of Faslane-based Northern Diving Group (NDG) of a submarine flare found on the beach at Gourock in the Firth of Clyde on 19 February.
---
22 Feb 20 - Technological leap for Australian MCM
The Royal Australian Navy's website contains this article describing the introduction of a deployable Mine Counter-Measures (MCM) capability under Project SEA 1778.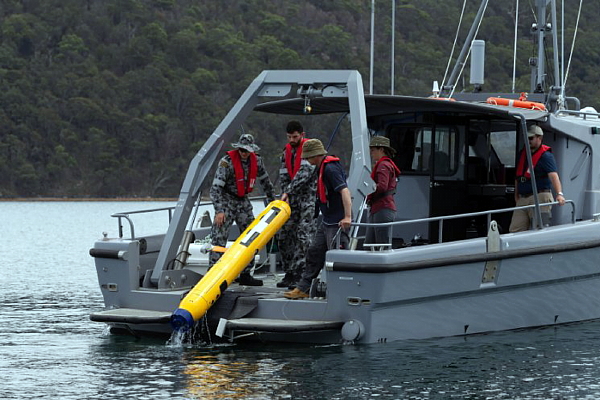 Deployment of RAN Bluefin 9 AUV from MCMSB
(RAN website photo)
---
21 Feb 20 - Funeral of Dr John Bevan
It was standing room only in Holy Trinity Church in Gosport today for the colourful funeral of John Bevan (see entry for 8 Feb 20). MCDOA members present included Gavin Anthony, Paul Guiver, Rob Hoole, Julian Malec, Ralph Mavin and David Sandiford. There was only a mild religious flavour to the Welsh-orientated service and Ann Bevan's witty eulogy was particularly poignant, being simultaneously dignified, infomative, humorous and entertaining. We extend our deep condolences to Ann and her immediate family at this difficult time.
Click on the image below for the full Order of Service. Note especially the significance of Holy Trinity Church as that used by John Deane, the inventor of the first practical diving helmet about whom John wrote his seminal work, The Infernal Diver.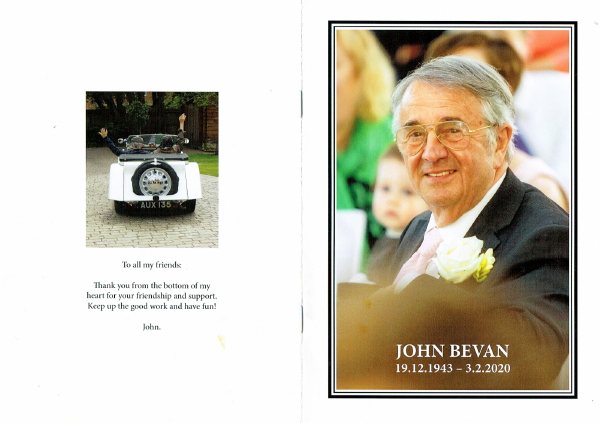 Order of Service for the funeral of Dr John Bevan
(Click to download in PDF format)
In line with John's last wishes, the MCDOA is making a donation to his brainchild, the Historical Diving Society's museum in Stokes Bay, in lieu of a floral tribute. One of John's final triumphs (with a little help from his friends) was the acquisition of the Deane helmet as the museum's crowning glory (see second entry for 7 Apr 17 in News Archive 58).
Postscript: John Bevan was featured in BBC Radio 4's obituary programme 'Last Word' on 28 February. Listen from minute 22:12:
www.bbc.co.uk/sounds/play/m000fq4p
---
20 Feb 20 - Invitations for Vernon Monument unveiling ceremony on their way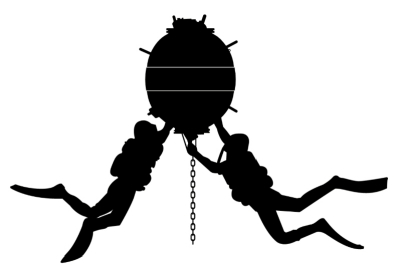 As announced on this website, the Project Vernon website and Facebook group, and on various association websites and Facebook groups, the deadline for applications to attend the the official unveiling and dedication of the MCDOA-sponsored Vernon Mine Warfare & Diving Monument at Gunwharf Quays on Wednesday 25 March expired on 31 December 2019. Today, a team of Project Vernon volunteers comprising MCDOA members Geoff Goodwin, Martyn Holloway and his wife Ann, Rob Hoole, Grenville Johnson, PV Project Manager David Sandiford and his wife Pauline, John 'George' Turnbull and Colin Welborn plus Colin 'Scouse' Kidman QGM and John Ling, has been busy in Southsea today stuffing and addressing circa 800 envelopes containing invitations, leaflets and guidance notes. A glossy souvenir brochure will be issued on the day.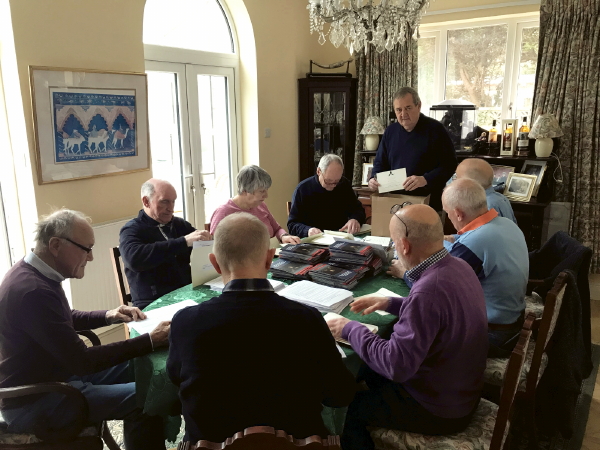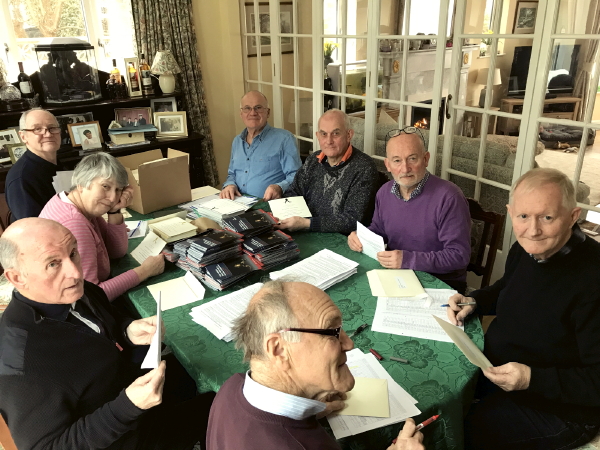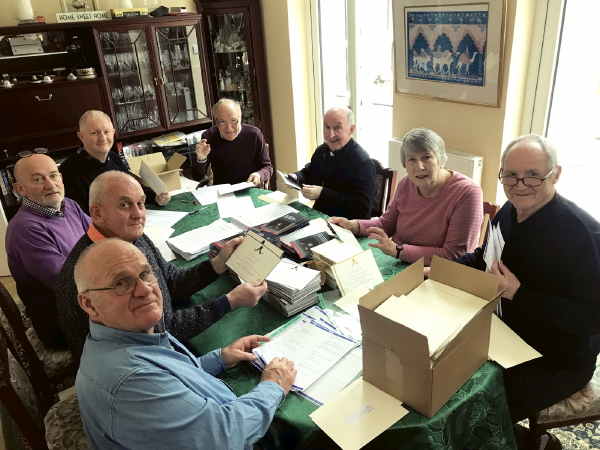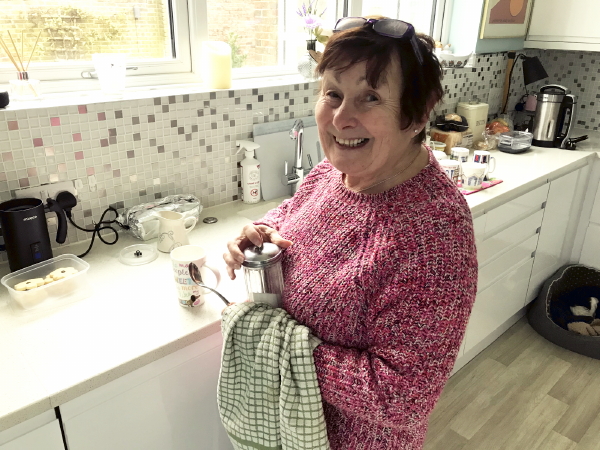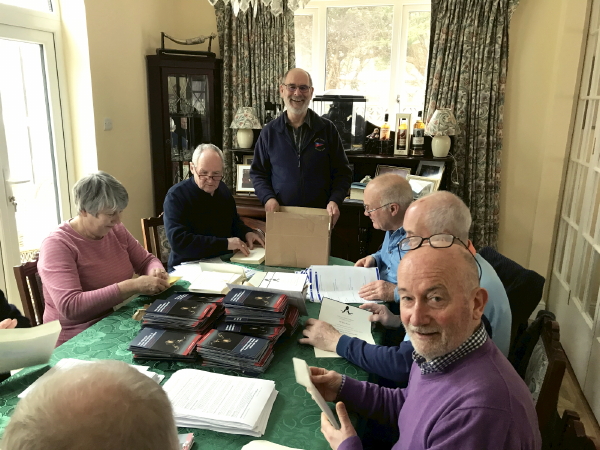 The invitations are now winging their way to successful applicants with those for addressees in the Portsmouth area already delivered by hand, thus saving the Project the cost of postage. The other invitations are being sent to a courier service for onward despatch. Although invitation holders will be entitled to watch proceedings from the covered reserved area and attend the ensuing reception, those without invitations will still be able to enjoy the ceremony from the public viewing area.
A huge thank you to Dixie Dean MBE for his initial work in gathering names and compiling the invitation list. Thanks also to MCDOA member Phil Ireland DSC of Serco for having the invitations and brochures printed and to Mike Coulter of Gunwharf Quays for having the leaflets printed, all at no cost to the Project.
---
19 Feb 20
Latest LS&GC awards
Congratulations to LS(MW) L. Roberts on being gazetted for the award of the Naval Long Service and Good Conduct Medal.
---
SDU1 called out to suspected ordnance unearthed in Plymouth
The Plymouth Herald website contains this article reporting that members of Plymouth-based Southern Diving Unit 1 (SDU1) dealt with an item of suspected ordance dug up in a garden in Plymouth yesterday. The item transpired to be the end cap of a piece of household piping.
---
18 Feb 20 - Vernon Monument casting update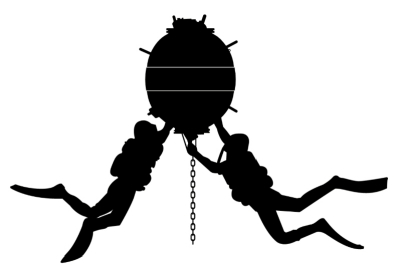 A small team of volunteers from the MCDOA-sponsored Project Vernon, comprising Project Manager David Sandiford, Graham Wheatley and Yours Truly (general dogsbody Rob Hoole), visited the Morris Singer foundry at Lasham in Hampshire today to check out the latest progress on the casting of the one-and-a-quarter life-size bronze Vernon Mine Warfare & Diving Monument due to be unveiled at Gunwharf Quays, the former site of HMS VERNON, on 25 March. The finished product will have a green-black patina applied.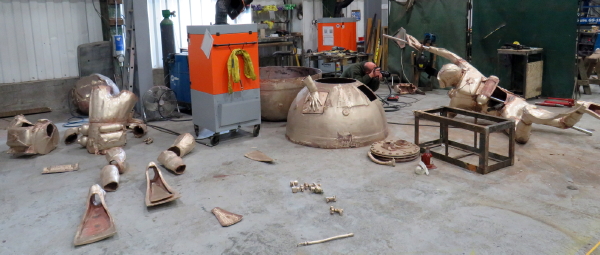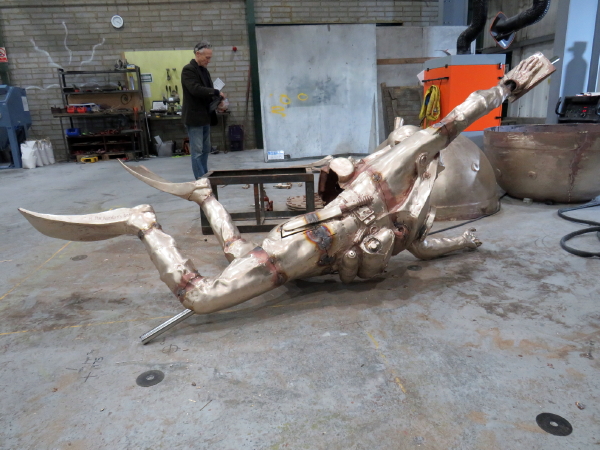 This is Simon Plail, responsible for assembling the elements so you can't see the join. As he is demonstrating, the finished product is pretty robust.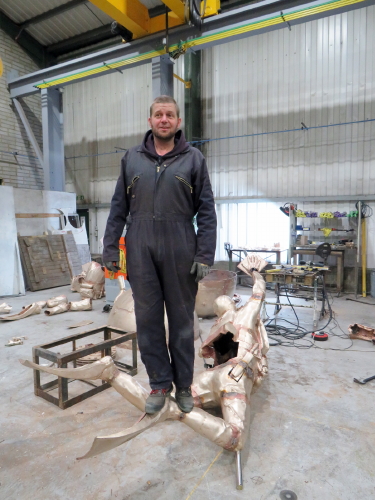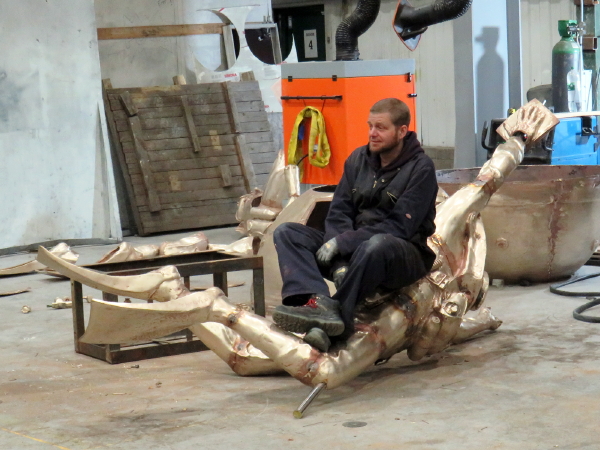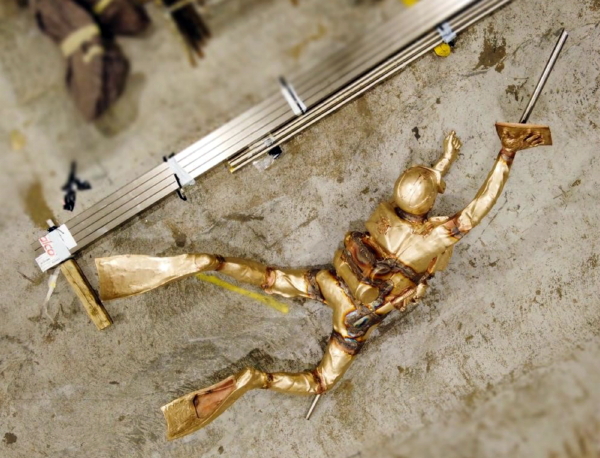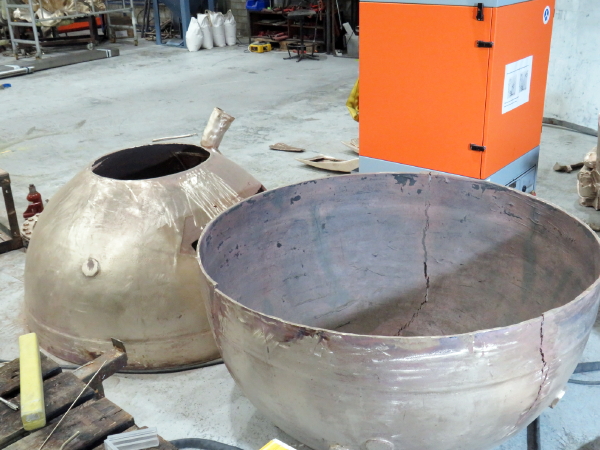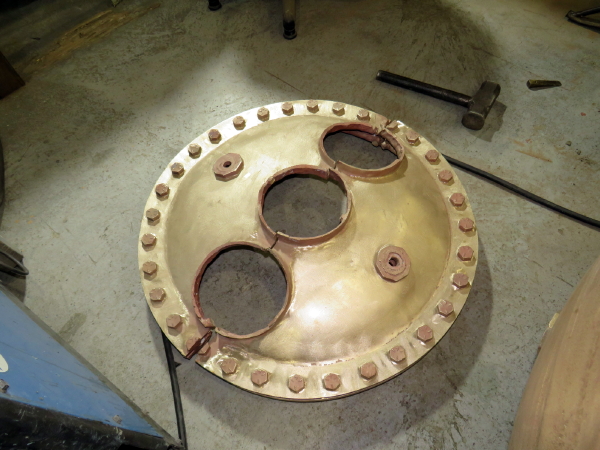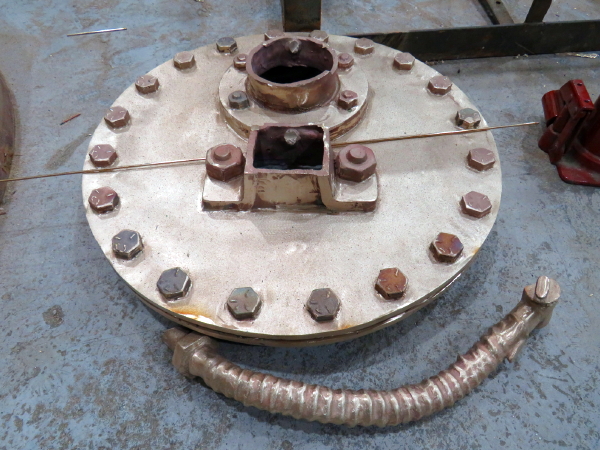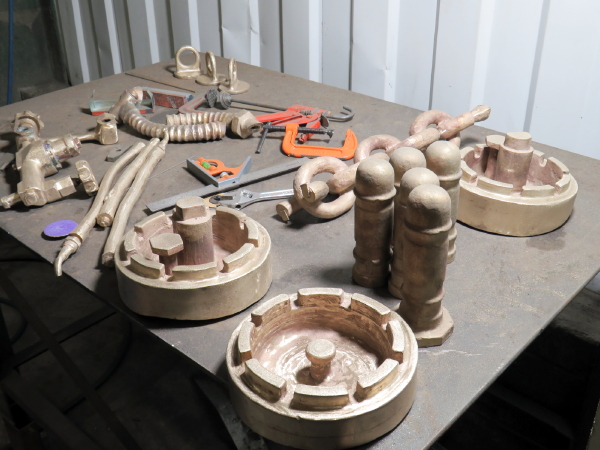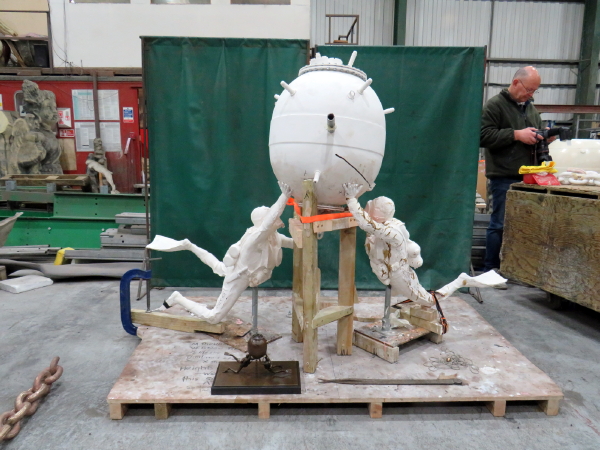 The half life-size 'marked up' reference model. The finished article will be one-and-a-quarter
life-size, i.e. almost twice the volume of the real thing
Heare are sculptor Mark Richards FRSS and Morris Singer Director John Berelowitz flanking PV Project Manager David Sandiford who is holding a prototype of the bronze statuette available to order via the Vernon Monument website's online shop. Regrettably, supply of the approved version has been delayed by the outbreak of Coronavirus in China.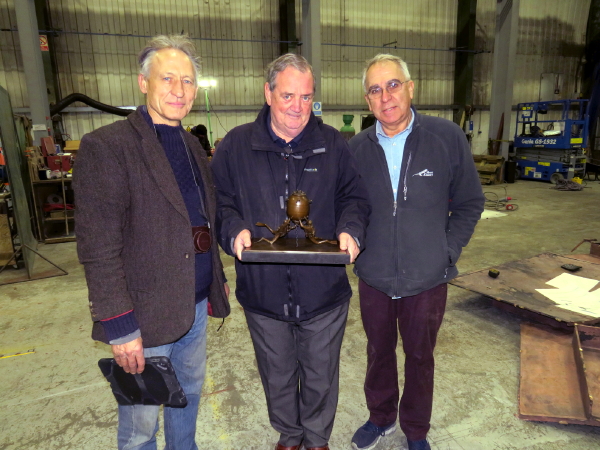 PV Project Manager David Sandiford flanked by sculptor Mark Richards FRSS
and Morris Singer Foundry Director John Berelowitz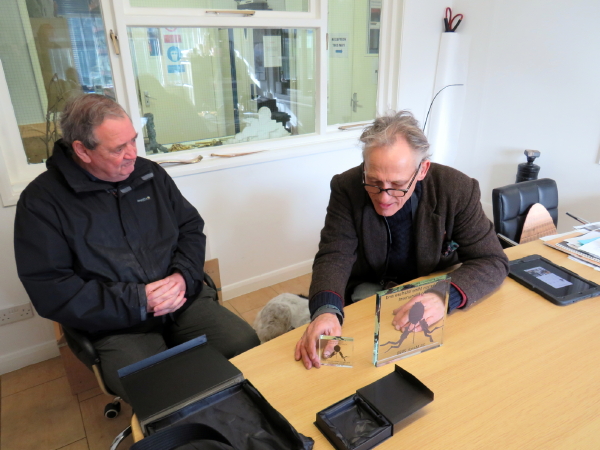 We left feeling mightily impressed. Although we have paid for the statue, funds are still required to cover the cost of the unveiling ceremony, maintenance, insurance, underwater lighting, signage and a clever facility to educate the public about what the monument represents including a brand new website (even Portsmouth University is involved in this). Donate direct via www.vernon-monument.org.uk/donate or purchase merchandise via www.vernon-monument.org.uk/shop. Keep those pennies rolling in.
---
16 Feb 20 - Increased mine threat in Red Sea
The Maritime Executive website contains this article reporting the existence of floating mines in coastal waters of the Red Sea between Midi, Yemen and Jizan, Saudi Arabia. Houthi rebel forces are known to use naval mines to target Saudi-allied vessels off the southern coast of Yemen; without commenting on the origin of the devices. The US Maritime Administration (MARAD) has reported that the mines may have drifted north following a seasonal change in the direction of currents.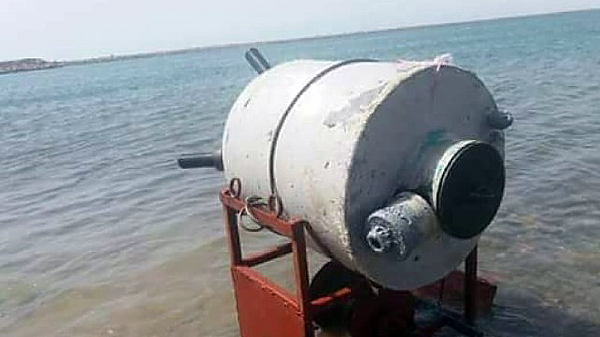 Houthi floating sea mine previously deployed off Yemen
---
15 Feb 20 - Latest tweets
Click on the linked dates to see all associated photos and videos.
COMUKMCMFOR (Commander UK MCM Force in the Gulf)
15 Feb 2020 - The US Mine Hunting Unit is at the forefront of its field and by sharing her expertise with our MCMVs we drive each other on to bigger and better things.
14 Feb 2020 - We are more than the sum of our parts. Our Australian Navy Executive Officer took charge of this morning's scenario involving HMS Ledbury, RFA Cardigan Bay and UKMCMFOR.
14 Feb 2020 - Re-supplied and ready to go, our MCMVs may be small but they pack a punch! The ability for our units to share supplies, personnel and knowledge is key to the EX KH 25 task group's success.
13 Feb 2020 - Asset interoperability is key to our success as a team here. Here RFA Headquarters are ready to re-supply HMS Ledbury for her next phase of EX Khunjar Hadd.
12 Feb 2020 - Our multinational convoy holding station ready for another iteration of the regular EX Khunjar Hadd with the Royal Navy of Oman.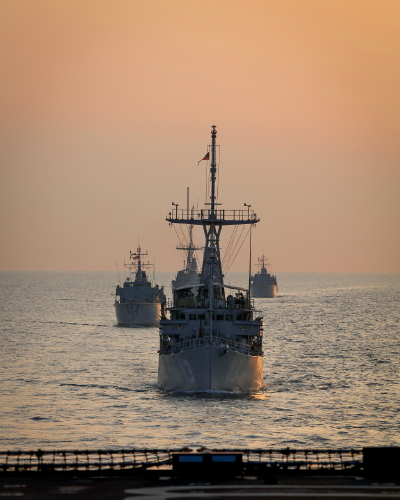 HMS BROCKLESBY (MCM2 Crew 5)
14 Feb 2020 - Though Royal Navy warships are filled with cutting edge technology some of the oldest equipment onboard is still used on a daily basis for safety and navigation.
13 Feb 2020 - RN personnel will work around the clock to ensure that our equipment is ready for use. HMS Brocklesby's role in this exercise is to neutralise dummy mines to ensure sea lines of communication remain clear.
12 Feb 2020 - HMS Brocklesby is participating in the Joint Exercise Khunjar Hadd. This is an excellent opportunity for us to work together in support of Maritime security.
5 Feb 2020 - HMS BROCKLESBY'S Leading Chef prepares a meal for 46, hundreds of miles from land in a kitchen that moves with the waves.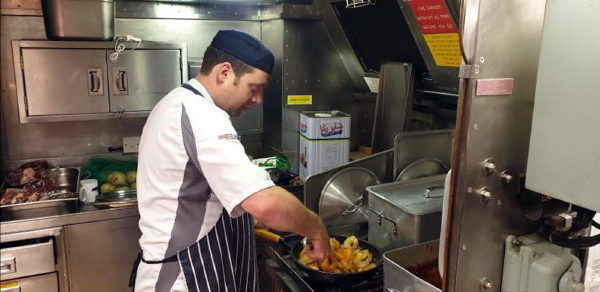 HMS HURWORTH (MCM2 Crew 3)
12 Feb 2020 - Our 'Batman' doesn't wear a cape! By using these bats he guides the dive boat into the correct position for diving.
12 Feb 2020 - Anchor lost and found. Today we had the privilege of helping our Dutch colleagues by locating and marking HNLMS Rotterdam's anchor and cable that was lost overboard. Their professionalism ensured no injuries.
11 Feb 2020 - Safely departed from Portsmouth this morning. The ship is secured and ready for sea state 7.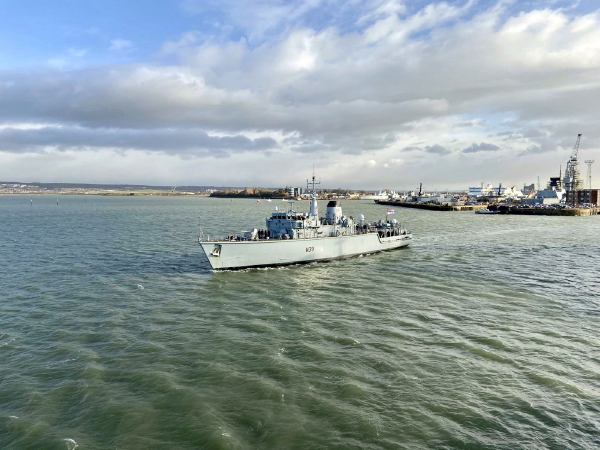 6 Feb 2020 - Food is so important for morale. Our chefs are experts at providing an excellent service. Today we had roast baps for lunch. Top nosh!
5 Feb 2020 - These three individuals have made an outstanding contribution to the success of the crew throughout the last 6 months. Today they received the RNRMC Herbert Lott Efficiency Award in recognition of their efforts. Well done chaps!
HMS MIDDLETON (MCM2 Crew 8)
10 Feb 2020 - Members of Crew 8 had a fantastic week of skiing and adventurous training last week at Navy Outdoor Centre Germany, alongside members of MCM1 Crew 7 from HMS Bangor. From never putting on skis to confidently skiing red runs in 4 days.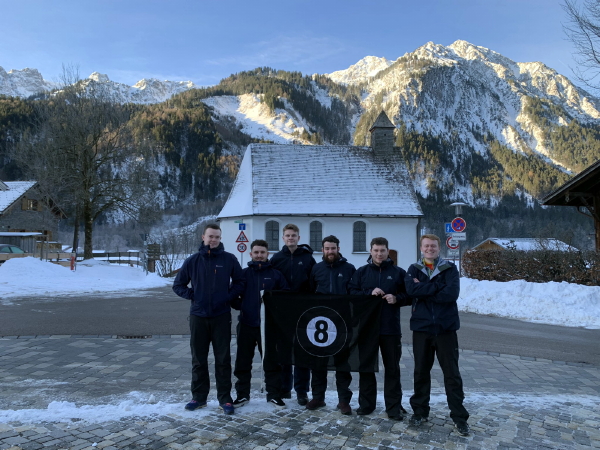 HMS RAMSEY (MCM1 Crew 2)
17 Feb 2020 - HMS RAMSEY was able to host a families day - a special day of memories for Crew and families recently separated by deployment. The children enjoyed the medals recognising how well they dealt with separation supplied by the RNRMC.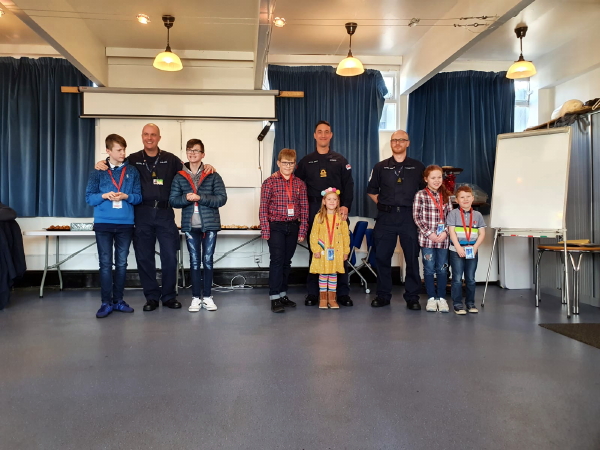 HMS MONTROSE
11 Feb 2020 - HMS Montrose on routine operations in the Gulf with Royal Navy mine countermeasures vessels HMS BLYTH, HMS BROCKLESBY, HMS LEDBURY and HMS SHOREHAM.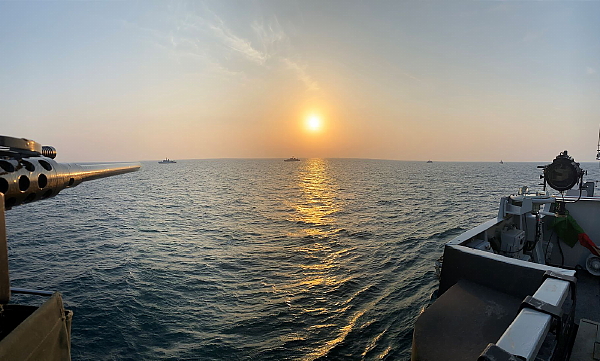 RFA CARDIGAN BAY
10 Feb 2020 - RFA Cardigan Bay recently conducted Officer of the Watch manoeuvres with US 5th Fleet MCMVs USS Devastator and USS Dextrous just before sunset. The weather and sea state were ideal.
6 Feb 2020 - RFA Cardigan Bay recently conducted Rafting Operations with US 5th Fleet MCMVs USS Devastator and USS Dextrous. The weather and sea state were ideal for these evolutions – the first conducted between the coalition allies in over two years.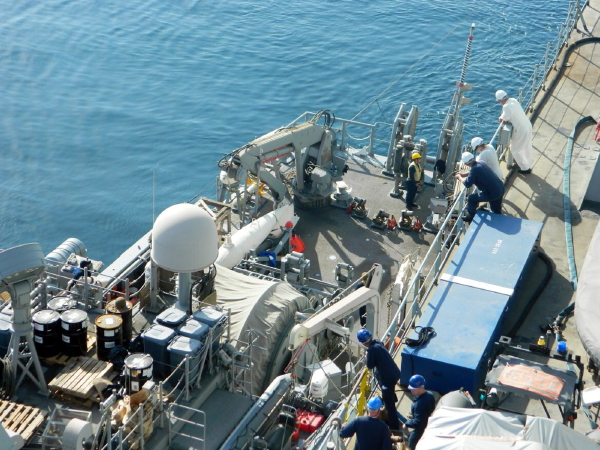 MASTT (Maritime Autonomous Systems Trials Team commanded by MCDOA member Dave Stanbury)
14 Feb 2020 - "Recover Sweep!" At the end of each day of Trials, the team go through at least an hour to two hours of de-rigging (Configuration dependant). All while the AEUK FSE and MASTT LET get to work on investigating a mechanical defect with the USV.
12 Feb 2020 - "Do you wanna build a snowman?" When life gives you lemons, make a snowman, for morale! With potatoes and carrot supplied by the Cdr of the CCG Vessel, Cape Roger (along with music), the team took no time at all, to produce the masterpiece.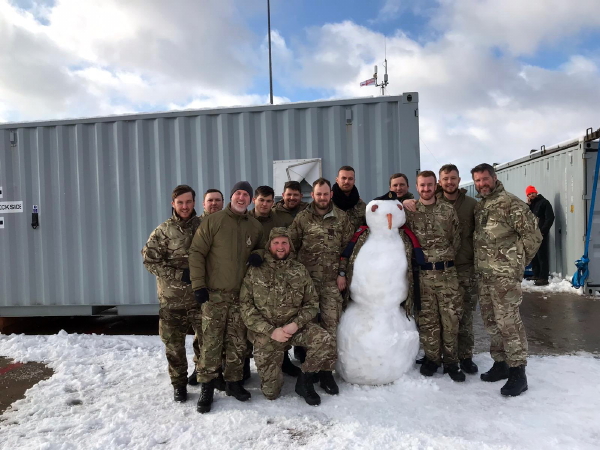 11 Feb 2020 - Out with the old and in with the new. MASTT's loan LET(ME), from MSU, is on the case of a burnt out windscreen wiper motor in our loaned Combat Support Boat. Luckily a local ship's chandlers had the exact motor, even in Canada.
8 Feb 2020 - Different examples of the yo-yo weather that MASTT are experiencing in Halifax. Despite the changes in air temperatures the sea temperature remains constant and we can make an assessment of the suitability of the equipment in cold weather.
7 Feb 2020 - MASTT say farewell to our Ex-CBM, who leaves the team to return to sea. Fair winds and following seas LS(MW), (Centre of the photo). MASTT will remain in Halifax NS, to continue with RN Sweep Cold Weather Trials.
7 Feb 2020 - Deploying the Magnetic Electrode Cables for today's configuration on the final day of Set to Work. It's a full team effort to deploy the equipment, for the 14 personnel on the ground and at sea in the USV and CSB. The Team stand down and rotate personnel when running missions.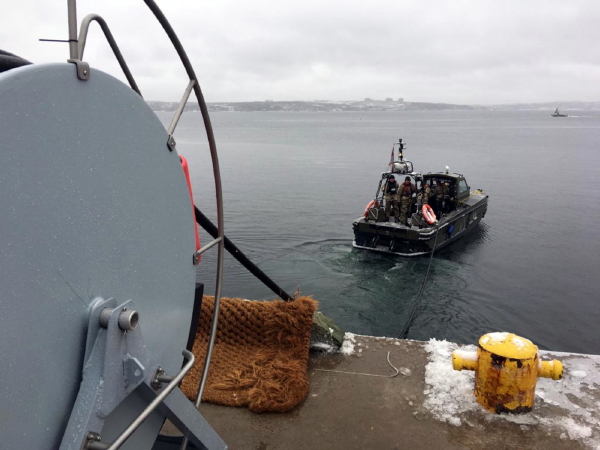 7 Feb 2020 - Freezing Rain is a new phenomena for the MAST Team, but common for Halifax NS. Between 1-2 inches of freezing rain fell overnight, turning the BIO Jetty into an ice rink, delaying the final day of Set to Work for MASTT and AEUK.
6 Feb 2020 - MASTT were grateful for the opportunity to host Cdre R.A. Feltham RCN, Cdr Canadian Fleet Atlantic, Captain M. Tennant RCN, Capt CFMWC Stadacona, Captain Cyr CCG Atlantic Region and Cdr N. Marriott RN, UK Embassy Ottawa Naval and Air Advisor, today.
Simon Cox (Cdr 2nd MCM Squadron)
14 Feb 2020 - Valentine's Day with friends on HMS Cattistock . BZ to Crew 6 for their strong performance today, LET(ME) Hall for his exceptional engineering can-do and to ET(ME) Jackson for gaining his 1's.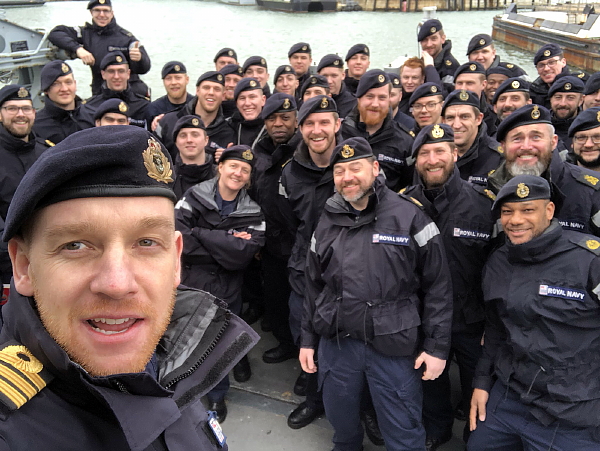 5 Feb 2020 - We work hard and play hard in the Royal Navy. MCM2 Squadron running out winners in the Commodore's Cup Volleyball today.
Maryla Ingham (Cdr 1st Patrol Boat Squadron)
4 Feb 2020 - After HMS Puncher snagged some free floating line in the Channel yesterday she was able to call upon Royal Navy divers to cut it away and conduct an underwater survey. Thank you Southern Diving Unit 1 for your speedy response to get the Ship back on task!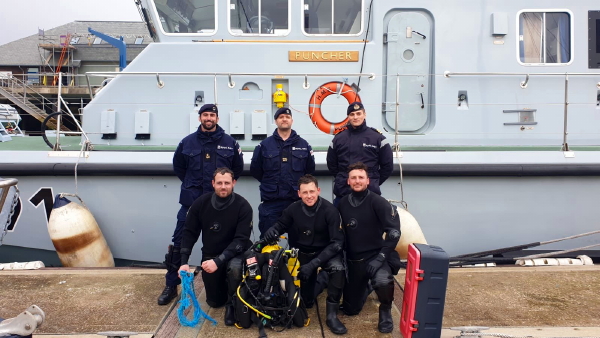 ---
14 Feb 20 - News from Oman
I am grateful to former WO(D) Pete Younger (now a Lt in the Royal Navy of Oman) for this update:
"Rob,
As you are probably aware, I took over from Tim Sizer and have been training the RNO (Royal Navy of Oman) diving team for the last four years.
Joe Price, his predecessor Edward Black [both MCDOA members] and I have significantly mentored, and in my case taught, to advance the capability of the team from basic air to the CRABE semi-closed rebreather reference diving. Joe's role as OIC is to continue with this progress and I must say he's doing an amazing job. He's pushed hard with regards to EOD and exercises are evolving significantly with the introduction of new equipments.
These pictures were taken during courses run by me mostly but give an insight to the great job that the RN are doing in helping/assisting the RNO. They now have a capability to dive to 60m as a result. (BZ to Joe for sure but don't tell him, ha ha.)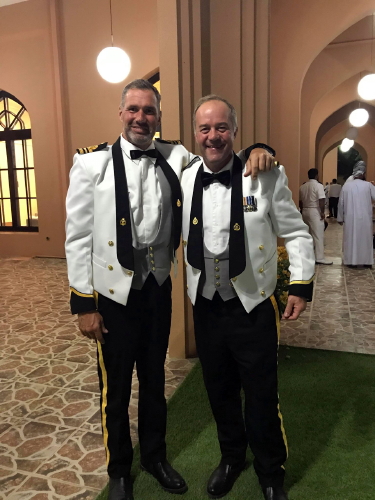 Joe Price and Pete Younger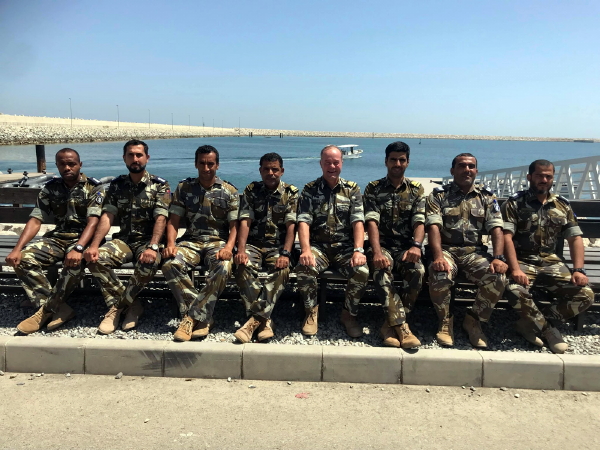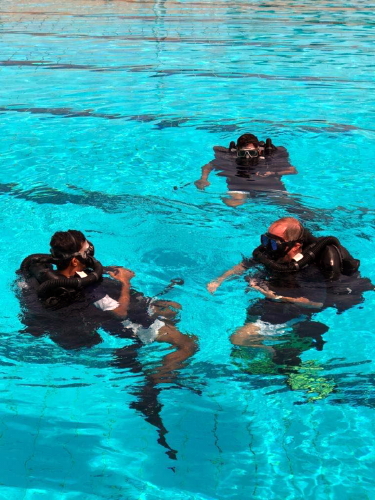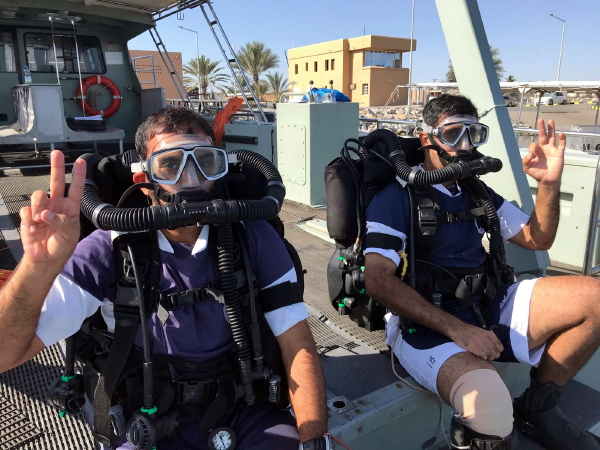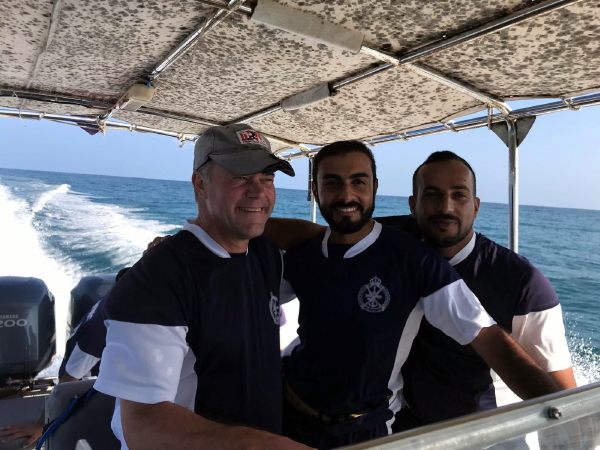 MCDOA member Sam Jane (right) and an Omani preparing to dive to 60 metres.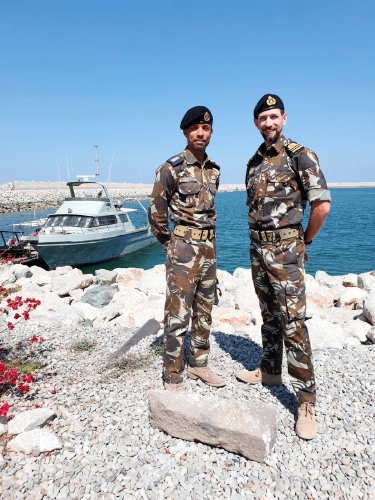 MCDOA member Sam Jane (right) is SofD for the RNO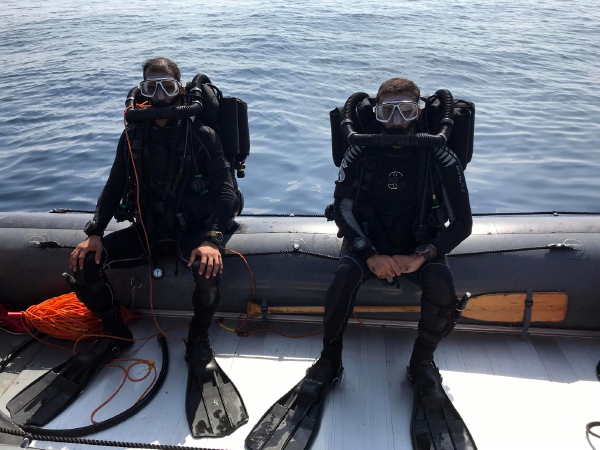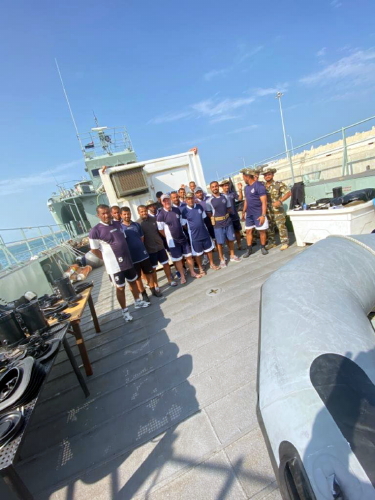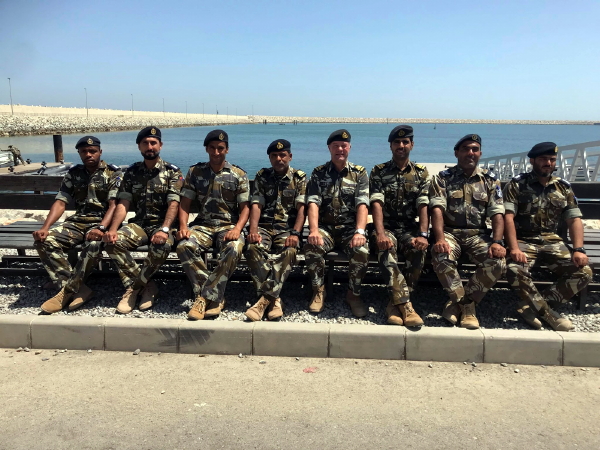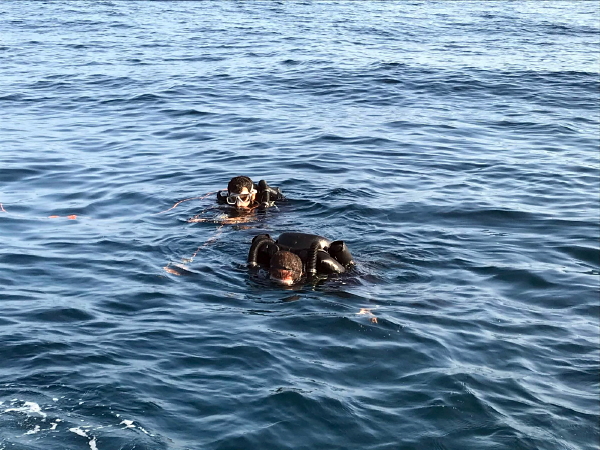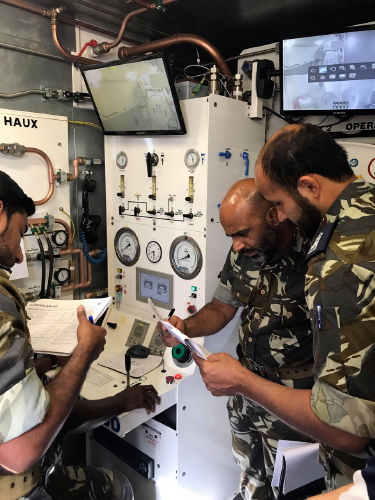 RNO Haux RCC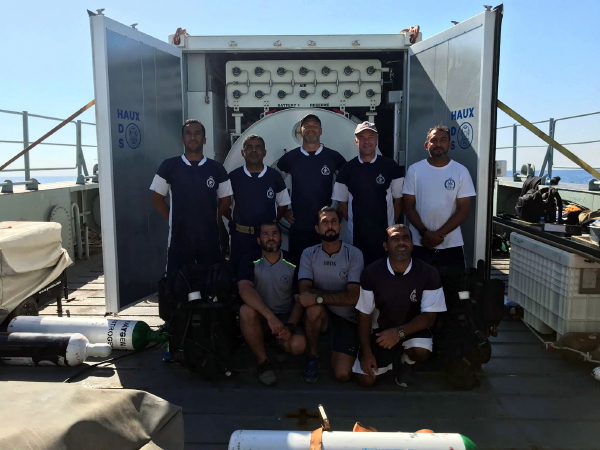 The first course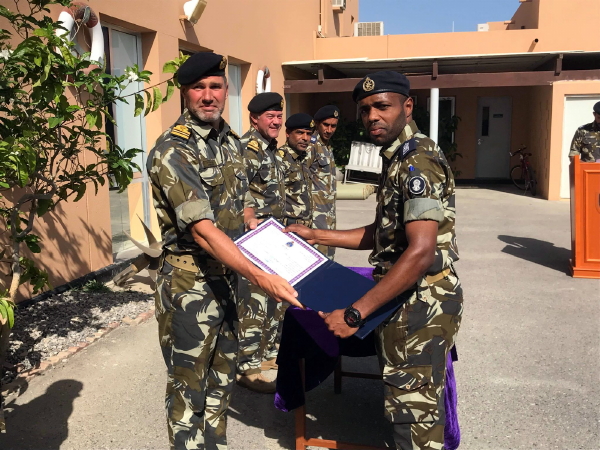 Joe Price and Pete Younger presenting course certificates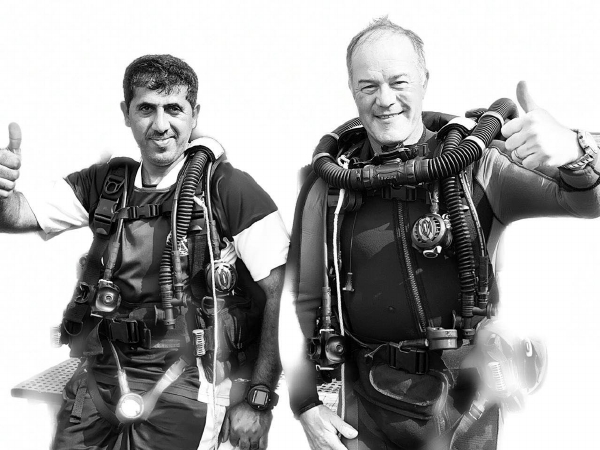 Yours aye,
Pete"
---
12 Feb 20 - HMS Chiddingold prepares to deploy to the Gulf
The Royal Navy website contains this article reporting that HMS Chiddingfold (MCM2 Crew 1) has entered dry dock in Portsmouth Naval Base to undergo maintenance in preparation for a three-year deployment on Operation KIPION MCM in the Gulf.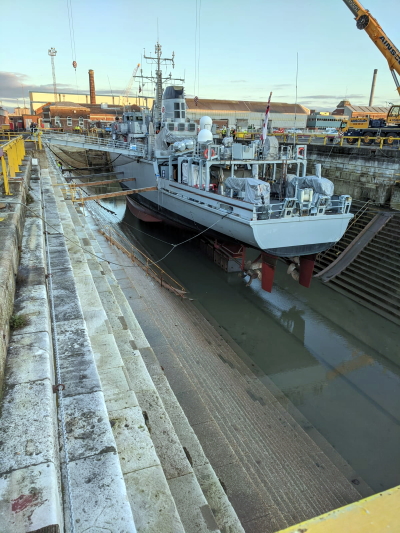 (RN website photo)
---
11 Feb 20 - HMS Middleton emerges from refit
The Portsmouth News website contains this article announcing the emergence of HMS Middleton (MCM2 Crew 8) from an extensive £7.5 million refit at Portsmouth.
The Royal Navy website published this article on 7 February announcing the same event which occurred on 27 January.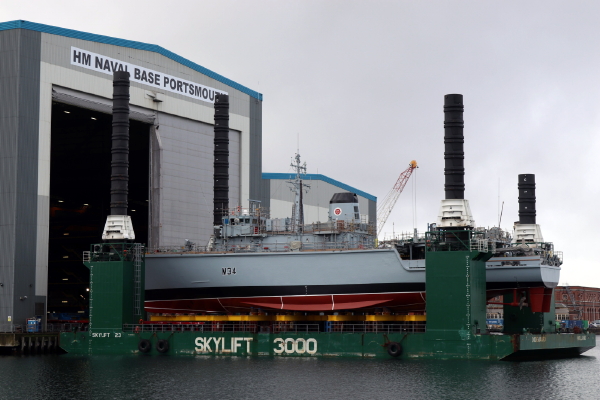 (RN website photo)
---
10 Feb 20 - New Coastal Forces museum to open
The Royal Navy website contains this article announcing that a £900,000 museum celebrating the Royal Navy's 'Spitfires of the Sea' will open next year on the former site of RNAD (Royal Naval Armament Depot) Priddy's Hard in Gosport. It will be located in a disused mine store and form the centrepiece of a £30m redevelopment.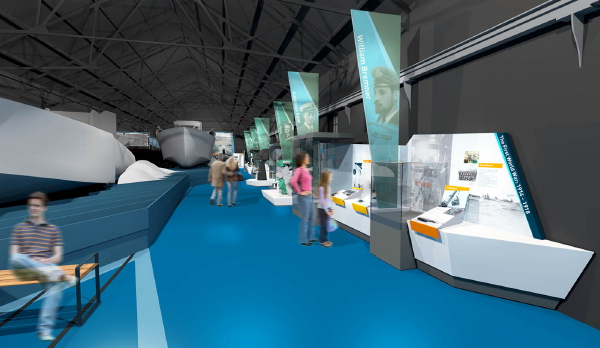 (RN website photo)
Coastal Forces MLs (Motor Launches) were heavily involved in minelaying and inshore minesweeping during the Second World War as this image of two Fairmile 'A' MLs, laden with moored and ground mines respectively, shows. The original photo was probably taken at Dover. Also see entry for 19 Mar 07 in News Archive 17 for an eye-witness description of minelaying by Coastal Forces MLs (Motor Launches) during the Second World War.
---
9 Feb 20 - Portsmouth News obituary for Dr John Bevan
The Portsmouth News website contains this obituary for the late MCDOA member John Bevan.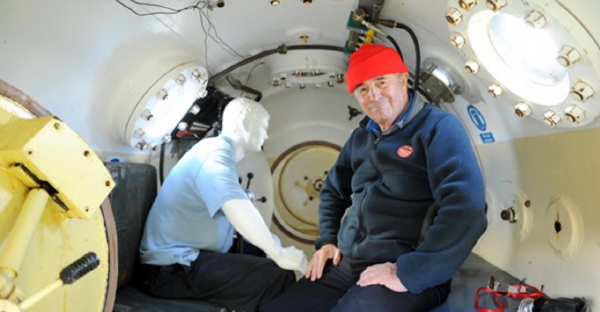 ---
8 Feb 20
Funeral notice for John Bevan BSc MSc PhD FSUT FAE
Herewith the funeral notice for MCDOA member Dr John Bevan (see entry for 3 Feb 20). Please note the request to RSVP if you wish to attend.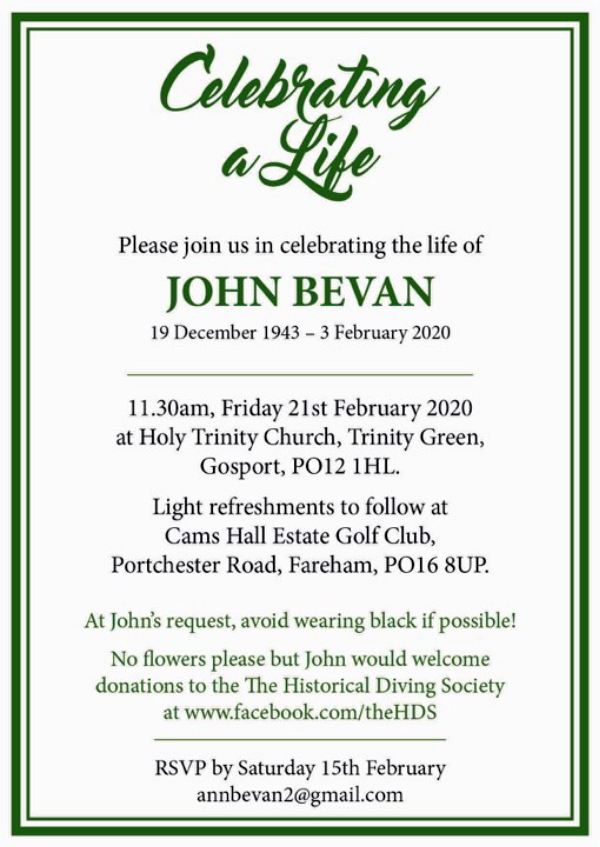 ---
NDG deals with ordnance in Inverness
The Aberdeen Press & Journal website contains this article and the Inverness Courier this article reporting that members of Faslane-based Northern Diving Group (NDG) carried out a controlled explosion on a marine pyrotechnic found on the shore of the Moray Firth near the Caledonian Thistle football ground.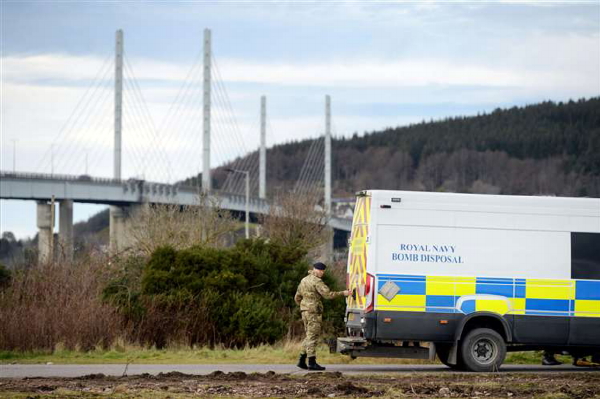 ---
7 Feb 20
Funeral of Lt Cdr David John Baden Forsey MBE RN
The small church of St Michael and All Angels in the village of Enborne near Newbury was packed to the rafters today for the funeral of MCDOA member Dave Forsey (see entry for 10 Jan 20 in News Archive 69). As we drove up, I felt a sense of deja vu because I had attended the funeral of Dave's lovely wife Kathy in the same building seven years ago (see second entry for 20 Apr 13 in News Archive 42).
Attendees included many of Dave's friends plus his children, grandchildren and great grandchildren. MCDOA members present included David Bartlett MBE, Mick Beale, Mike Critchley, Mike Emary, Martyn Holloway, Rob Hoole, Dougie MacDonald, Ralph Mavin, Chris Meatyard, Alan Padwick OBE and his wife Sarah, Tim Paul MBE, Jon Riches and his wife Ann, David Sandiford, Peter Waddington and Bob White MBE.
Other members of our cloth included Mo Crang, John Dadd BEM, Mick Fellows MBE DSC BEM, Colin 'Scouse' Kidman QGM, Anthony 'Lawry' Lawrence MBE, Paul 'Dhobey' Lines, Chris Page, Ray Ramsay, Terry Settle MBE QGM BEM (who rang 'Five Bells' during the service and piped the 'Still' and 'Carry On' at the graveside) and Dudley 'Wooly' Woolnough. It was also good to see Jill Hildesley (widow of the late MCDOA member Tim Hidesley MBE), Anthony Bodrett with his wife June (representing the Ton Class Association) and Dave Glover (representing the Royal British Legion).
Click on this image to download the full Order of Service: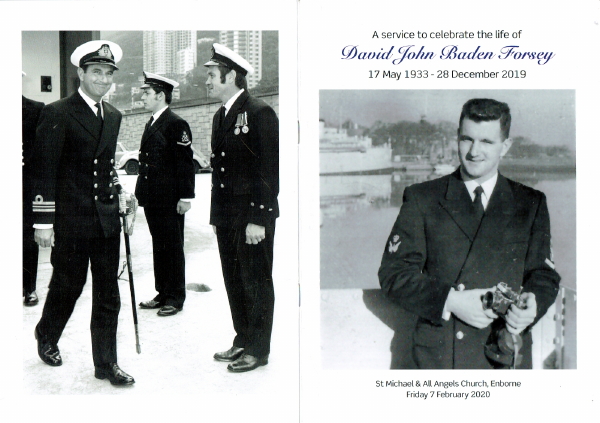 Following the service of thanksgiving, Dave's wicker casket was interred near that of his wife Kathy in the natural hillside setting of Acorn Ridge within sight of Beacon Hill and Watership Down.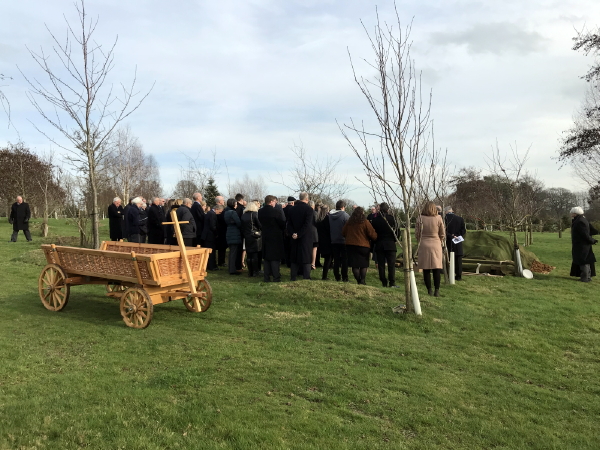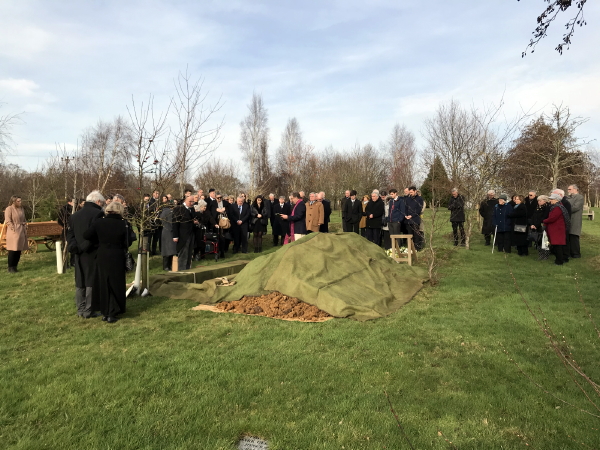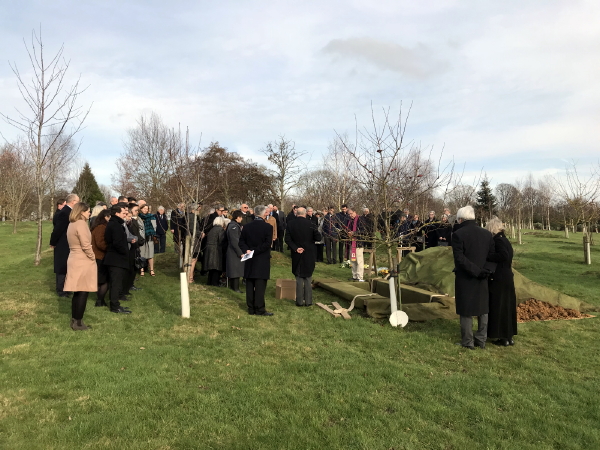 Most of the mourners then repaired to the cosy Craven Arms in the village of Enborne for a reception that included a welcome tot of rum as well as a free bar and buffet.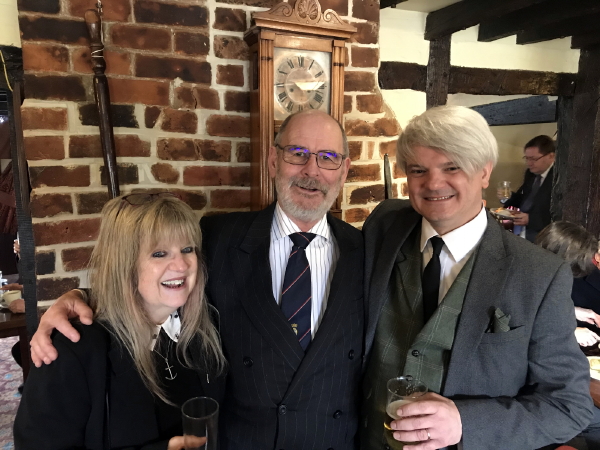 Yours Truly (Rob Hoole) flanked by Dave's daughter Cathy and son Paul
Dave's son Paul saying thank you and proposing a toast
Dave Bartlett, David Sandiford, Bob White, Martyn Holloway and Lawry Lawrence
listening to Paul's speech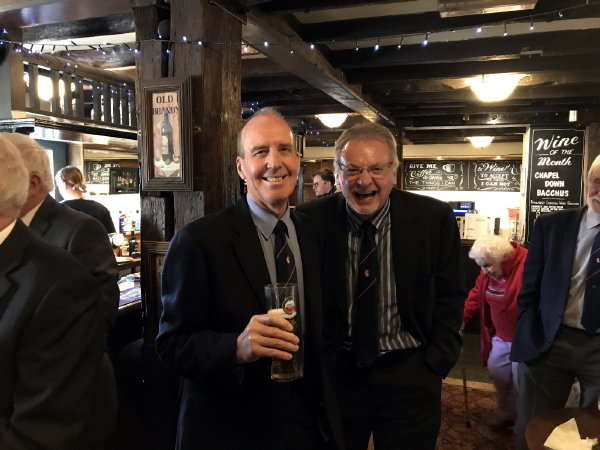 Lawry Lawrence and Mo Crang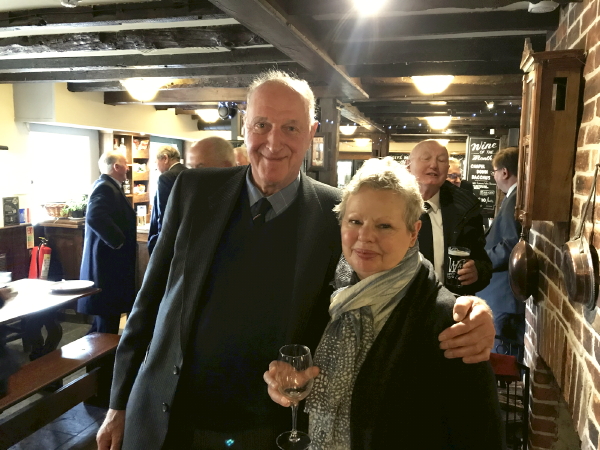 Jon and Ann Riches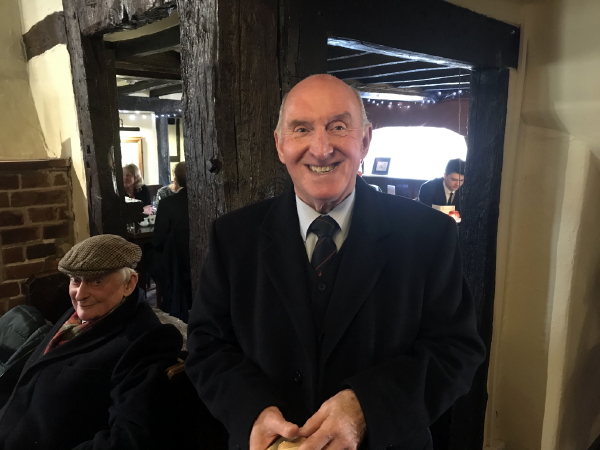 Colin Kidman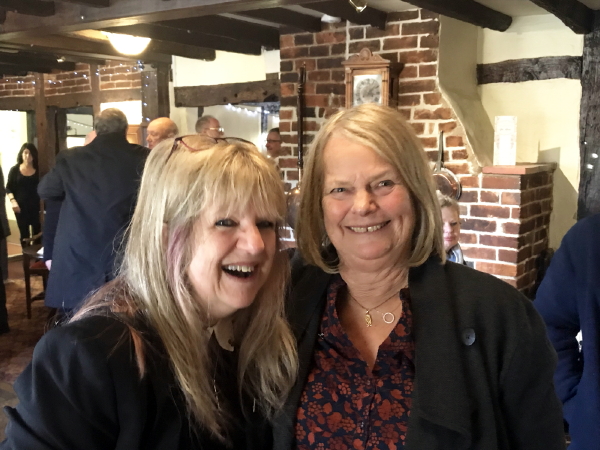 Dave's daughter Cathy with Jill Hildesley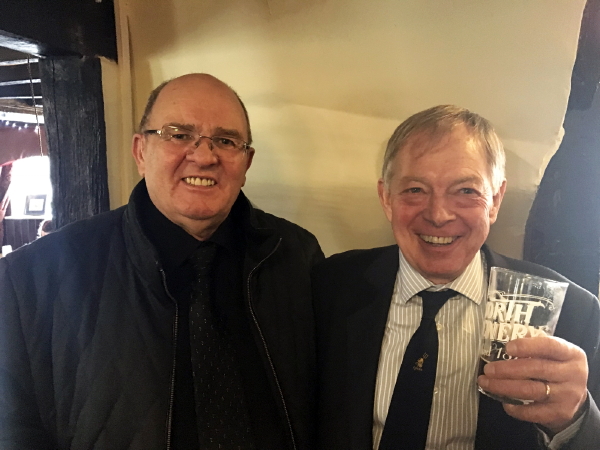 Chris Page and Dhobey Lines who travelled from Spain for the occasion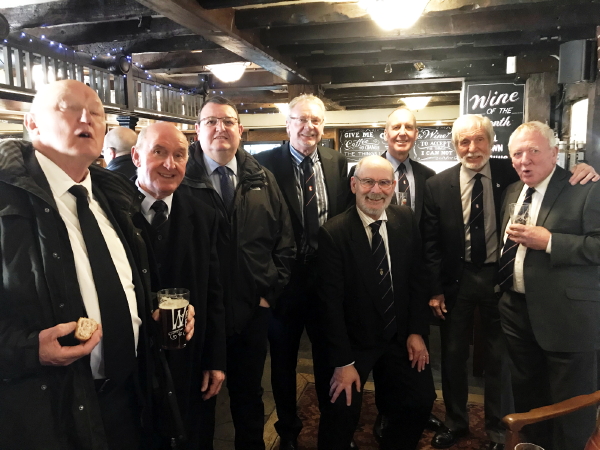 Ray Ramsay, Colin Kidman, Mick Beale, Mo Crang, Rob Hoole, Lawry Lawrence,
John Dadd and Bob White
Such occasions as this are intrinsically sad but they do provide opportunities for old friends to meet, swap stories and remember those passed. I think Dave's family enjoyed the support of our company and I know Dave would have approved of us lightening the atmosphere.
Thank you, Paul and Catherine, for allowing us to share your day. We are here if and when you need us. It's what Dave would have wanted.
---
From David's daughter Catherine:
"Dear Rob,
I have attached the tributes and welcome that were read out during the service for dad. I wasn't sure whether you would like to post them for people who could not attend. Also, maybe for those who were at the back and may not have heard all of them:
Eulogy and tribute to Dave Forsey MBE by Catherine Chinery
Patrick & Jamie's tribute to their granddad
The other poems were printed inside the Order of Service which you have already posted. Many thanks, Rob, for that and the lovely write-up you produced of dad's day.
I would also like to express our thanks and gratitude for all who came to dad's send off. I hope we did him proud. It was such an honour to meet so many of dad's friends and fellow divers. I know it really made a very difficult and sad day a little easier knowing we were surrounded by so many that loved dad.
Terry's reading of the Diver's Eulogy and the ringing of the 5 Bells during the service was so beautiful and his piping The Still and Carry On with my niece at mum's and dad's graveside was breath-taking and so fitting.
I have been told that many of you shared in the rum aroma as I poured the tot, well hip flask, in with dad. The round of applause was totally unexpected and made it seem even more fitting. Dad has taken a tot up to mum on her birthday and Christmas Day ever since she passed away and this tradition will be continued, rest assured.
Sadly, I know, many people were unable to attend and our thoughts and thanks are with them also. The amazing tributes and comments are greatly appreciated and I hope to print them out.
There was a Condolence Book at the Wake, which I forgot to mention. Some people found it and have written some beautiful thoughts. I was just wondering, Rob, if anyone else would like to send me anything they would like put in the book? I am happy for them to email me directly and I can print it out and insert it in to the book.
Bruce and I are so very much looking to March and the unveiling of the Vernon Monument. I know dad was looking forward to us bringing him to see it come to fruition. I will certainly raise a tot in his memory.
Also, we are all so proud that there will be such a prestigious award in dad's name and look forward to presenting our Siebe Gorman Admiralty Pattern 6-bolt diving helmet.
If anyone would like to look online at dad's cake website there are some interesting cakes and, of course, a Siebe Gorman Helmet. The address is www.grandads-cakes.org.
I look forward to meeting you again in March, Rob, and thank you again for all your help and support.
Kindest regards,
Catherine Chinery"
---
HMS Cattistock's divers
The medium.com website contains this article describing the role of the diving element of HMS Cattistock (MCM2 Crew 6). It features PO(D) James Shell, LS(D) Ashley Lishman and AB(D) Sam Alexander.
---
4 Feb 20 - Ex-service divers participating in transatlantic rowing event
I am grateful to MCDOA member Nick Gwatkin for this notification:
"Hi Rob,
Ahoy from the NHS!!
I found this and thought it maybe worth a promote on the MCDOA website. Andy Taw was a CD in FDU3 when I was the Boss and also FDU2 amongst other units.
AN EPIC 3000 MILE ROWING RACE ACROSS THE ATLANTIC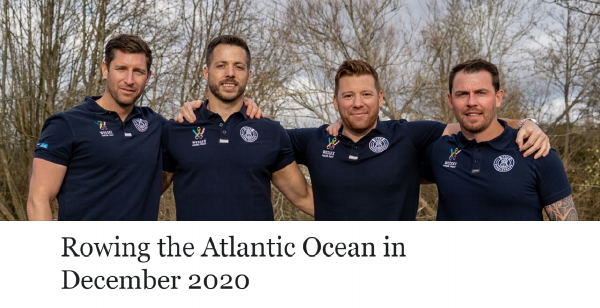 In December 2020, four deep sea divers will board an ocean rowing boat and attempt to race unaided across the Atlantic Ocean, for the Talisker Whisky Atlantic Challenge. Claimed to be 'The World's Toughest Row', the race will challenge and push every element of the mind, body and soul. With the finishing line 3000 miles away, it is the ultimate test.
We are taking on this challenge to raise vital funds for Wessex Cancer Trust, a local Hampshire charity which helps and supports anyone affected by cancer regardless of age, gender or type. It is also a charity our crew have a very personal connection with...
https://thebubbleheads.co.uk/the-bubbleheads-prepare-for-the-twac-2020-24-hour-row-in-henley
TOGETHER WITH HENLEY RIVER AND ROWING MUSEUM, THE BUBBLEHEADS HAVE INVITED TEAMS ENTERED INTO THE TALISKER WHISKY ATLANTIC CHALLENGE 2020 TO JOIN THEM FOR A CHARITY 24 HOUR ROW.
Whilst in 12 months time we will be competing against them, at 10 am on 25 January 2020 for 24 hours, we will be rowing alongside and supporting 14 other teams entered into this years' Talisker Whisky Atlantic Challenge 2020, for a 24 Hour Charity Row at Henley River and Rowing Museum. Having heard 24-hour rows were a popular fundraising event for teams who competed in previous Talisker Whiskey Atlantic Challenges, we were keen to take it to the next step. We wanted to bring teams together in the lead up to the main event in December and through working together, encourage each other through the challenge and utilise everyone's efforts to boosting fundraising for each team's chosen charity. A coincidental meeting in the cafe at the Henley River and Rowing Museum led us to find the perfect venue for the event… a location steeped in history and home to UK rowing with the facilities to host large numbers...
Nick"
The 'Bubbleheads' team (full CVs here) comprises ex-RN CDs Andy Taw and James Piper (brother of MCDOA member Ben / son of ex-RN CD Eric), ex-Royal Engineers diver Lewis Locke and North Sea saturation diver Chris Ayres. Please give them your support by donating here:
www.justgiving.com/fundraising/thebubbleheads2020
Don't forget the Gift Aid which adds 25% to your contribution.
---
3 Feb 2020 - Death of John Bevan BSc MSc PhD FSUT FAE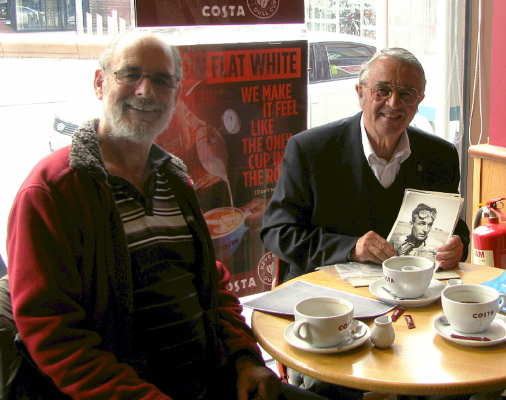 Your humble webmaster having an 'editorial meeting' with John Bevan in Sep 2017
It saddens me to have to announce that MCDOA Honorary member and Project Vernon trustee Dr John Bevan succumbed to his horrible illness of myeloma at 1345 this afternoon. He was 72. His wife Ann was holding his hand and two nurses from the Rowan's hospice tried to make his final moments as comfortable as possible. He is free from pain at last.
John's achievements reach far beyond his active support of the Vernon Mine Warfare & Diving Monument. In 1970, he and fellow Royal Naval Scientific Service diver Peter Sharphouse set a new world record when they dived to a simulated depth of 1,500 ft at the Royal Naval Physiological Laboratory's Deep Trials Unit at Alverstoke, described by American colleagues at the time as the hyperbaric equivalent of a moon landing. John went on to be a celebrated consultant, author of diving publications, Chairman & Managing Director of SUBMEX Ltd, Editor of Underwater Contractor International magazine, founder of the Historical Diving Society before its worldwide proliferation and the prime mover of the Society's museum at Stokes Bay and its associated library in Gosport. You only have to type "Bevan" into the search box on the 'Home' page of this website to see what a profound effect he has had on our community.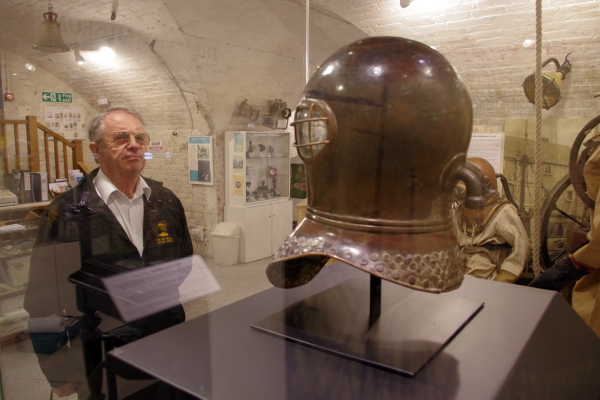 John Bevan with the newly acquired Deane helmet at the HDS Museum in Apr 2017
Above all, John was a kindly, fun fellow to be around and he made other people feel good. So many around the world will miss him greatly.
Our thoughts are with John's wife Ann and their family. Watch this space for further developments.
---
1 Feb 20 - RFA Cardigan Bay continuing to support MCMVs in the Gulf
The Royal Navy website contains this article reporting how RFA Cardigan Bay is continuing to support HMS Blyth (MCM1 Crew 8), HMS Shoreham (MCM1 Crew 4), HMS Ledbury (MCM2 Crew 7) and HMS Brocklesby (MCM2 Crew 5) in the Gulf. RFA Cardigan Bay also provides a Command & Control platform for the Commander UK MCM Force (COMUKMCMFOR) based in Bahrain.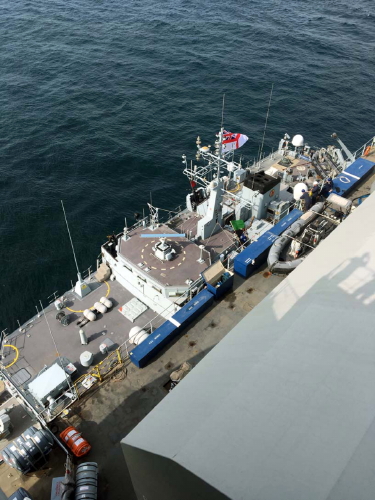 HMS Blyth alongside RFA Cardigan Bay
(RN photo)
---