---
19 Oct 18 - RN Minewarfare Heritage: New book
According to Heritage Books, its American publisher, 'Nightraiders', the second volume of the trilogy that started with 'Home Waters', might be out before Christmas. The book will cover the RN, USN, RNLN and RAN minewarfare battle against the Japanese in the Pacific during the Second World War.
The trilogy's third volume, titled 'Enemy Waters', will deal with minewarfare (minelaying, minesweeping and naval bomb & mine disposal at sea and on land) against Germany and Italy during the Second World War and is due to be released next year. It will include a description of HMS Vernon's role in the design of mines and mine countermeasures including a description of the role of the 'P' Parties as the forebears of today's Clearance Diver sub-branch. From their inception in late 1943, the ĎPí Parties were formed by the Admiraltyís Director of Minesweeping, under the auspices of HMS Vernon in Portsmouth. On 1 October 1944, all Royal Navy diving, including the ĎPí Parties, was transferred to the Admiralty's Director of Torpedoes and Mining (DTM), also under the auspices of HMS Vernon.
As co-author, I will be donating the proceeds from all my sales towards Project Vernon, the campaign to erect a monument at Gunwharf Quays in Portsmouth to celebrate the minewarfare & diving heritage of HMS Vernon which previously occupied the site. Personal sales of signed books have added £1,000 to the kitty so far with more expected.
---
16 Oct 18 - Jerry Kyd confirmed as Guest of Honour at MCDOA Dinner
Capt Roger Readwin RN, our President, has confirmed that Rear Admiral Jeremy Kyd will be the Guest of Honour at the MCDOA's Annual Dinner at HMS Excellent on Friday 23 November (see entry for 20 Sep 18 in News Archive 63). By that time, Jerry Kyd, will have relinquished Command of the aircraft carrier HMS Queen Elizabeth, currently conducting F-35B trials off the USA's eastern seaboard, and be promoted to Rear Admiral (wef 28 Oct 2018) as Commander United Kingdom Maritime Forces (COMUKMARFOR).
---
15 Oct 18 - SDU2 destroys Mine Disposal Weapon
From HM Naval Base Portsmouth's Facebook page:
Royal Navy divers from Portsmouth based Southern Diving Unit 2 have destroyed a counter mine charge dredged up by a fishing vessel in the Solent.
The bomb disposal experts were called out to the boat last Sunday after the item was dragged up in fishing nets.
The counter mine charge was historically used by bomb disposal teams to counteract mines found in the water.
Containing just 95kg of explosives the charge was destroyed further out to sea but due to the low level of explosive it didnít make a splash! So no videos this time!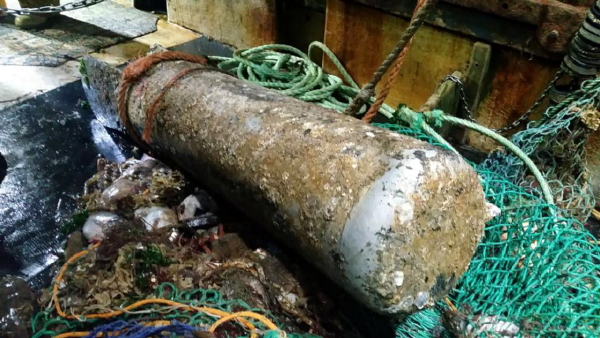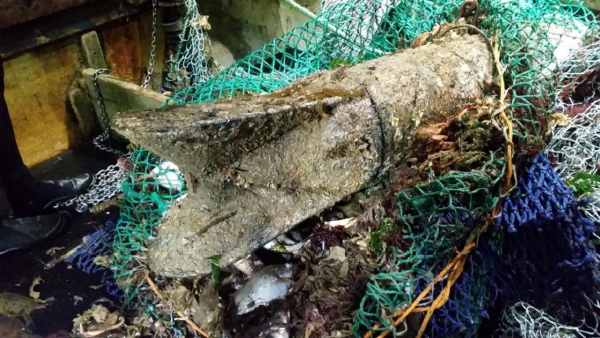 ---
9 Oct 18 - Latest LS&GC awards
Congratulations to CPO(MW) Paul Lyons and PO(D) Alex Newnes on being gazetted for the award of the 1st Clasp to the Naval Long Service and Good Conduct Medal.
---
6 Oct 18 - Recent tweets
Click on the linked dates to see all associated photos and videos.
Ministry of Defence
2 Oct 2018 - Exercise Saif Sareea 3 will build on the enduring and strong defence relationship that the UK has had with Oman for over 200 years. Find out more here: A visual guide to Exercise Saif Sareea logistics
26 Sep 2018 - Over 5,000 UK Armed Forces personnel will take part in Saif Sareea 3 next month, the largest military exercise in the region for 17 years. Find out more here: A visual guide to Exercise Saif Sareea logistics
HMS Blyth (MCM1 Crew 5)
5 Oct 2018 - We'll be there! Clearing the way for the others.
HMS Ledbury (MCM2 Crew 6)
5 Oct 2018 - We'll be there! Clearing the way for the amphibious ships and Royal Marines to project their power ashore.
HMNB Portsmouth
2 Oct 2018 - Our Royal Navy bomb disposal experts of Southern Diving Unit 2 have been busy making the south east safe again! Numerous small arms rounds and one 2-inch projectile found and destroyed.
HMS Blyth
5 Oct 2018 - HMS Blyth delighted to host Minister for Armed Forces Mark Lancaster to meet the sailors as we prepare for maritime security operations in the Gulf and the forthcoming Saif Sareaa 3 exercise in Oman.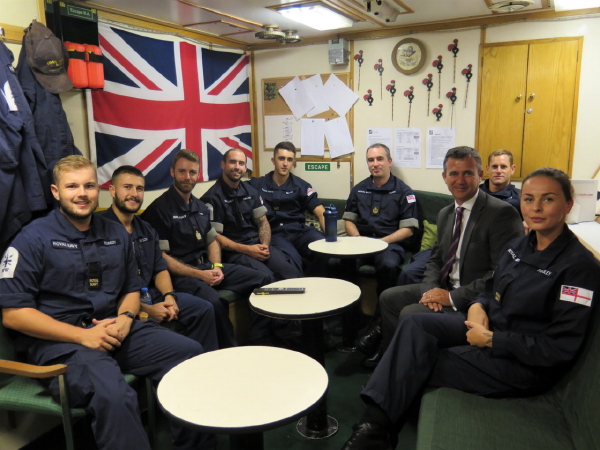 2 Oct 2018 - HMS Blyth giving British Bakeoff a run for their money by raising $500 for Macmillan Cancer alongside in Bahrain. Super-delicious cakes to ensure we are super-ready to fight cancer.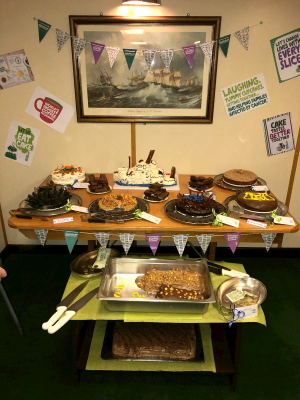 HMS Protector
4 Oct 2018 - Northern Diving Unit getting in the water for a training dive. All part of the preparations for our season in the ice where they will play an important role in maintenance of safety.
---
5 Oct 18 - Arrangements for the funeral of Pat Harding
Cris Ballinger has informed me that the funeral of Pat Harding will take place at 1100 on Friday 19 October at the Church of King Charles the Martyr, Church Street TR11 3DX, adjacent to the Kings Head in the centre of Falmouth (see entry for 2 Oct 18).
---
2 Oct 18 - Death of Pat Harding
Former CPO(D) Cris Ballinger BEM sent me this sad news yesterday about one of our favourite landladies:
"Hi Rob,
With a tear in my eye, I have to inform you of the passing of Pat Harding of Rumours Wine Bar and the Grapes fame. A real legend, and a friend to far too many former clearance divers to think that she didnít have a special part of our hearts. If, as we believe, we will have preferential treatment on the other side, then Iím sure no one will mind if we keep a corner just for her. Falmouth will never seem the same again.
I will pass on any other details as I get them.
Cris"
Pat was 84 and I am sure all members of our community will join me in extending our sincere condolences to Jo, Sandy and the rest of the family.