---
30 Oct 17 - HMS Middleton completes charity endurance event
HMS Middleton (MCM2 Crew 4), one of the four RN MCMVs currently deployed in the Gulf on Operation KIPION, has tweeted this photo with a caption stating that her ship's company has not only smashed the Three Peaks Challenge twice but also managed to climb Mt Everest and cycle Lands End to John O'Groats, all in the sports facility in Bahrain. The event has helped raise funds for the Fatboys Charity Helping Children with Cancer.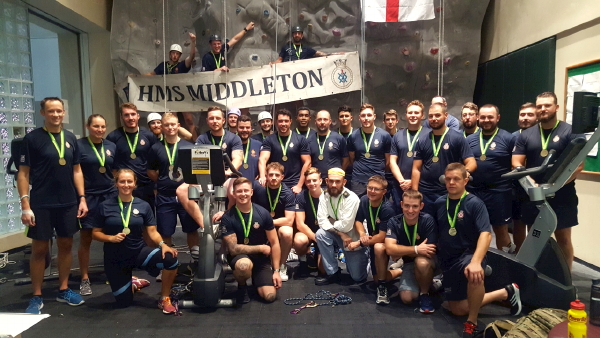 ---
28 Oct 17 - Our President meets Boris
No prizes for guessing the identity of the person with MCDOA President Paddy McAlpine in this recent photo.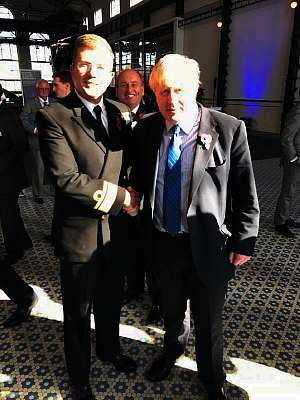 ---
27 Oct 17 - HMS Middleton in the Gulf
The Royal Navy website contains this article reporting the clean-up operation performed by ship's company members of HMS Middleton (MCM2 Crew 4) around British war graves in St Christopher's Old Cemetery in Manama, Bahrain. The article also reports the ship's recent visit to the port of Khawr Khuwayr in RAK (Ras al-Khaimah), the northernmost of the seven emirates which make up the UAE. She was visited by Sheikh Ahmad bin Saqr al Qasimi, a member of the ruling family and chairman of the economic zone. The article features AB(MW) Stephen Richardson and AB(D) Sean Esson.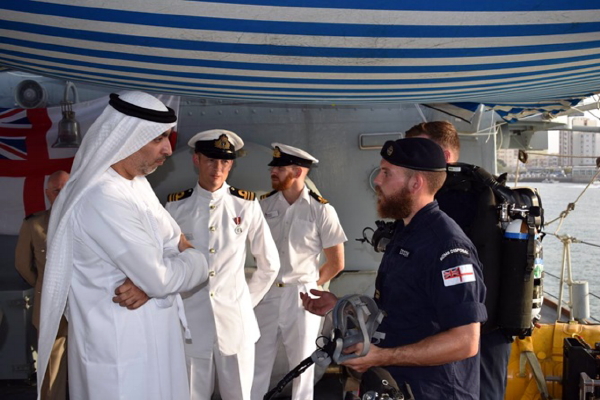 Sheikh Ahmad bin Saqr al Qasimi on board HMS Middleton in RAK
(RN website photo)
---
26 Oct 17 - John Craig selected for promotion to Captain RN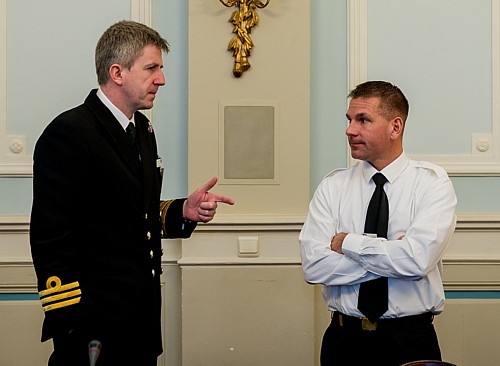 MCDOA members John Craig and Nick Gwatkin at a NATO MW Conference
in January 2014
Apart from other priorities, your humble webmaster is currently preoccupied with finalising a book about minewarfare in the First World War with co-writer Cdr David Bruhn USN (Rtd). This has meant temporarily suspending additions to this page although it will be updated retrospectively when circumstances permit. Nevertheless, I am delighted to publish this announcement received this morning from MCDOA member John Craig:
"Rob,
You may hear of it by other means, but I am finally able to confirm that I will be joining the hallowed ranks of such luminaries as Jim Nisbet, Jason Poole, Chris O'Flaherty, Roger Readwin and Pete Laughton in the MCD OF5 fraternity.
I am due to take over as the Chief of the Staff (COS) to the Commander UK Maritime Force (COMUKMARFOR) on Tue 21 Nov and, pleasingly, one of my first tasks will be to validate the Mine Warfare Battle Staff the following week.
While I cannot be certain, I suspect that our branch is as well-represented at OF5 level as it has ever been, which ought to be an encouraging sign for those MCDs starting out in their careers.
Great news for me – obviously – but also, I hope, an indicator of the strength-in-depth [Apologies – I couldn't resist the pun!] of the branch.
Yours aye,
John Craig
J A CRAIG
Commander Royal Navy
Naval Staff – Head of Strategic Studies"
I am sure all members of our community will join me in congratulating John on his well deserved promotion effective from 21 November.
---
25 Oct 17 - Interesting article on the likely future of MCM
Readers may find this article on the USNI News website of interest:
Mine Countermeasures Evolving Towards Mix-And-Match Capabilities, Personnel
ANNAPOLIS, Md. — The Navy is trending towards a mix-and-match set of people, platforms and sensors to detect and destroy mines, a departure from the simpler legacy mine countermeasures setup with a single helicopter type and a single wooden-hull ship class, set for replacement by the new Littoral Combat Ship and its neatly defined mission package...
One trend is operating the land-based Expeditionary Mine Countermeasures (ExMCM) Company, which falls under the Explosive Ordnance Disposal community at Navy Expeditionary Combat Command, aboard Navy ships.
"We've taken our ExMCM company with their Mk 18 family of (unmanned underwater vehicle) systems, we've put them aboard cruisers and destroyers and had them do extensive rehearsals of the actual operations – and in some cases, in exercises and operations we've actually used those platforms," Capt. Michael Egan, Commander of Task Force 52 within U.S. Naval Forces Central Command, said at the conference.
"We are already working off of amphibious ships, not only the [USS Lewis B. Puller (T-ESB-3)] and the [decommissioned Ponce (AFSB-I-15)] before that, but also the British auxiliaries. We're not just limiting ourselves to our own ships, we're working with our allies and our coalition partners and their ships as well."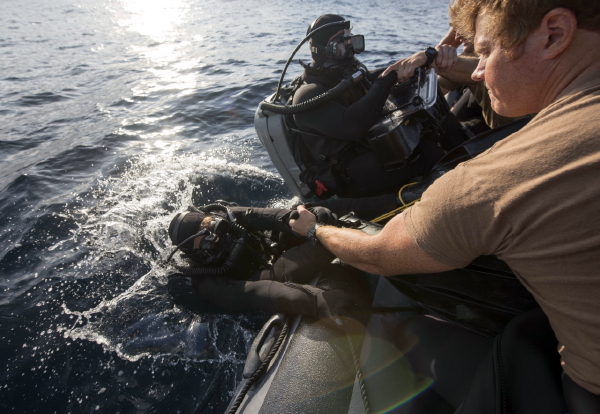 Sailors assigned to Explosive Ordnance Disposal Mobile Unit (EODMU) 2 and Expeditionary
Mine Countermeasures Company (ExMCM Co.) 202, are lowered into the water during
Mark 16 dive training on 16 Aug 2017
(US Navy photo)
...The captain noted that the British Navy operating in 5th Fleet was eager to support MCM operations off a non-traditional platform.
---
22 Oct 17 - Lest we forget
Was this the first Royal Navy 'clearance diver'?
AB Robert George TAWN C/JX137109 of HMS Vernon was gazetted on 9 August 1940 for the award of the DSM (Distinguished Service Medal) "for coolness, courage and resource when dealing with a magnetic mine in a tideway". He had performed the first underwater RMS (Render Mine Safe) attempt on a GC mine in Poole harbour in 42 feet of water from HMS Vernon's echo-sounding yacht 'Esmeralda' on 14 June 1940 although the mine exploded while being towed ashore.
On 14 January 1941, he was gazetted for the award of the BEM (British Empire Medal) "for gallant conduct and devotion to duty".
On 6 March 1941, he was killed at the age of 24 by an exploding mine in Falmouth harbour while manning a boat towed by 'The Mouse', a small motor launch belonging to HMS Vernon which was specially fitted with Hotchkiss propulsion (no propeller). He is buried in the Commonwealth War Graves part of Falmouth Cemetery. If anyone would send me a clear image of his headstone via my Webmaster address, I'd be very grateful.
The cemetery should also contain the grave of Ldg Sea Ivan Vincent WHARTON C/JX113809 of HMS Vernon who was killed in the same incident. Lt Reginald Bruce SUTHERLAND RNVR, also of HMS Vernon, was killed in the same incident while diving. His body was never found but his name is inscribed on the Portsmouth Naval Memorial.
Lt J F NICHOLSON RNVR, PO BENHAM plus one other person manning 'The Mouse' survived.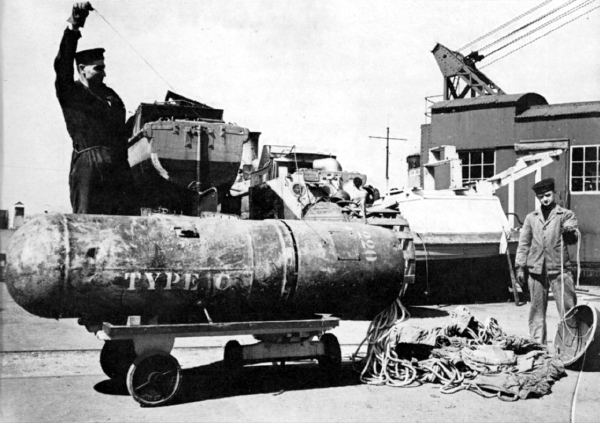 A recovered German GC magnetic ground mine, complete with parachute,
at HMS Vernon during the Second World War
Postscript: Eureka! (With a little help from Tony Sexton and Aggie Dennis.)
Left: AB Tawn's headstone in Falmouth Cemetery
Right: Ldg Sea Wharton's headstone in Falmouth Cemetery
There is no disputing AB Tawn's award of the DSM: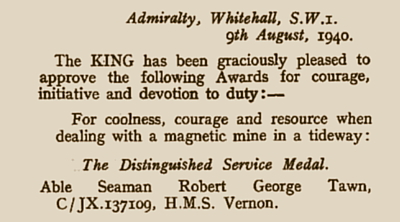 London Gazette entry for AB Tawn's award of the DSM
However, it appears that he has erroneously been credited on his headstone with the MBE whereas he was actually awarded the BEM.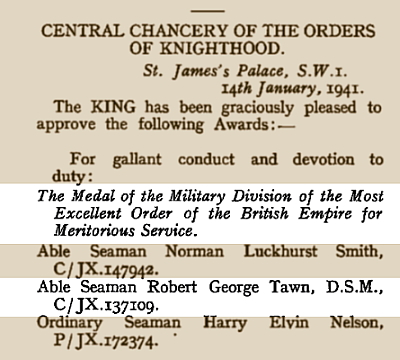 London Gazette entry for AB Tawn's award of the BEM
AB Tawn's record on the Commonwealth War Graves Commission website has been amended and now reflects his award of the BEM: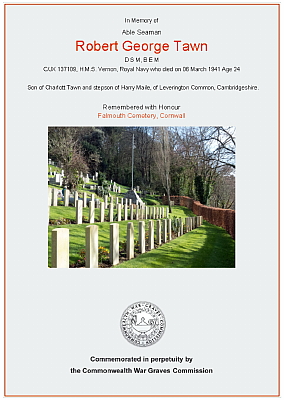 Commonwealth War Graves Commission
commemorative certificate for AB Tawn
---
21 Oct 17 - Update on SNMCMG2
Standing NATO Mine Countermeasures Group 2 (SNMCMG2), currently commanded by MCDOA member Justin Hains embarked in the survey vessel HMS Enterprise, includes HMS Pembroke (MCM1 Crew 5). The group finished participating in the French-sponsored Exercise BRILLIANT MARINER 2017 on 13 October (see entry for 3 Oct 17). SNMCMG2 and HMS Pembroke have posted or tweeted these images.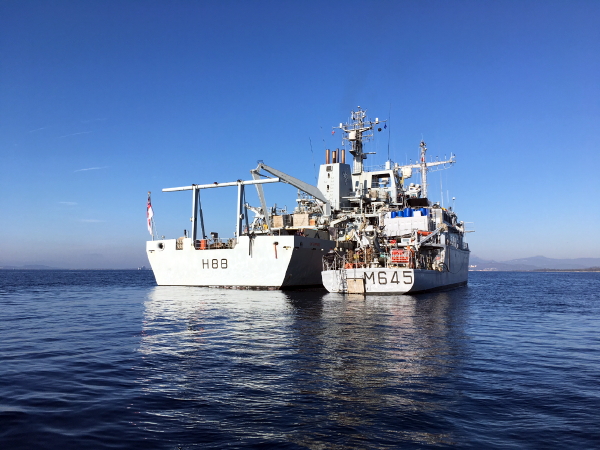 The French minehunter FS Orion alongside HMS Enterprise during BRILLIANT MARINER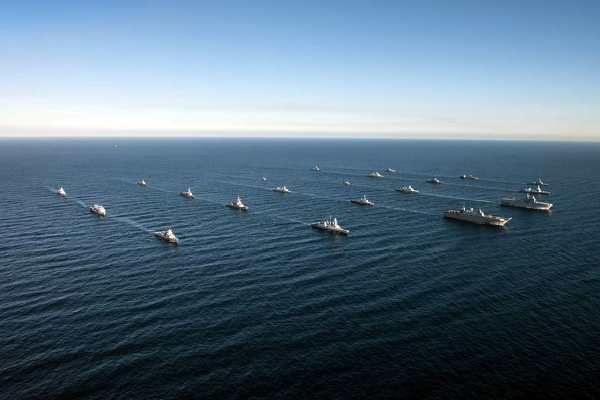 Above and below: Ships in formation, including HMS Diamond, during Exercise BRILLIANT MARINER 2017
Above and below: Ships in formation, including HMS Diamond, during Exercise BRILLIANT MARINER 2017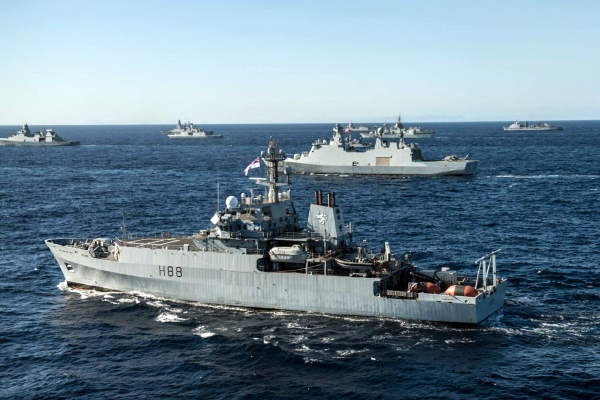 The group arrived at Vlore in Albania two days ago after visiting Cagliari in Sardinia.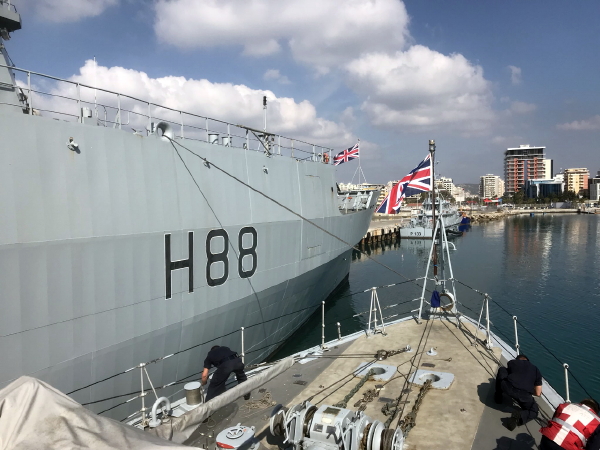 Above and below: HMS Pembroke alongside HMS Enterprise with other units of SNMCMG2
in Vlore, Albania astern of the Albanian patrol vessel Lisus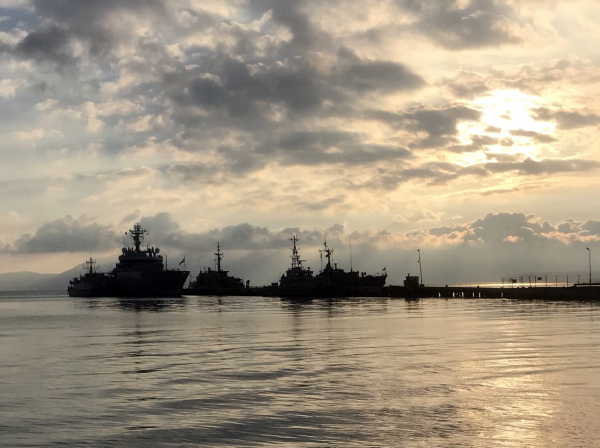 ---
20 Oct 17 - SDU1 investigating trawled-up 'torpedo' in Plymouth
The Plymouth Herald website contains this article, including video, reporting that the fishing vessel Admiral Blake brought potentially live ordnance into port resulting in the evacuation of Plymouth Fisheries and the closure of Sutton Harbour. Members of Plymouth-based Southern Diving Unit 1 (SDU1) attended the incident.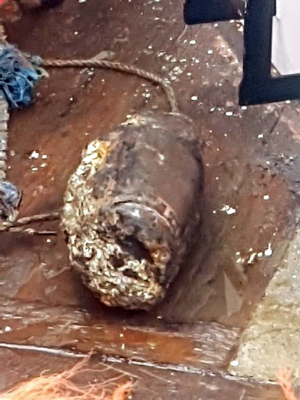 Item trawled-up by fishing vessel Admiral Blake
(Plymouth Herald image)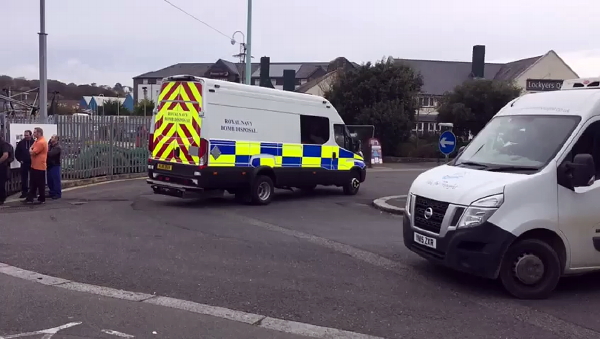 SDU1 EOD vehicle departing the scene
(Plymouth Herald image)
Postscript: The harbour has now been re-opened.
---
19 Oct 17 - LS&GC presentation
The Royal Navy website contains this article reporting the presentation of the Long Service & Good Conduct medal to Tony Wallace by Rear Admiral Bob Tarrant, Commander Maritime Operations (COMOPS) at a recent ceremony in Plymouth. Tony qualified as an MWO in 2005 and later as a PWO. Among his many other appointments, he underwent initial sea training in HMS Atherstone and served as OPS of HMS Hurworth and HMS Brocklesby as well as XO of HMS Chiddingfold before working in the UK Maritime Component Command (UKMCC) HQ in Bahrain.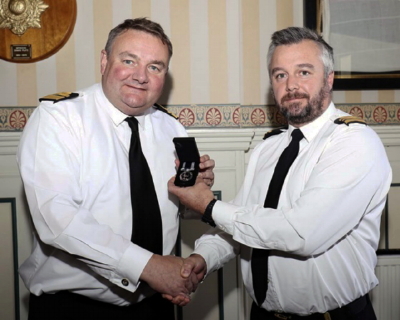 RAdm Bob Tarrant presenting LS&GC medal to Tony Wallace
(RN website image)
---
18 Oct 17 - SDU2 retrieves chemical bombs in Lincolnshire
The Royal Navy website contains this article describing the eight-day operation by members of Portsmouth-based Southern Diving Unit 2 (SDU2) to recover canisters of mustard gas from Stixwould Lake near Woodhall Spa in Lincolnshire (see entry for 9 Oct 17). The article features PO(D) 'Chuck' Norris.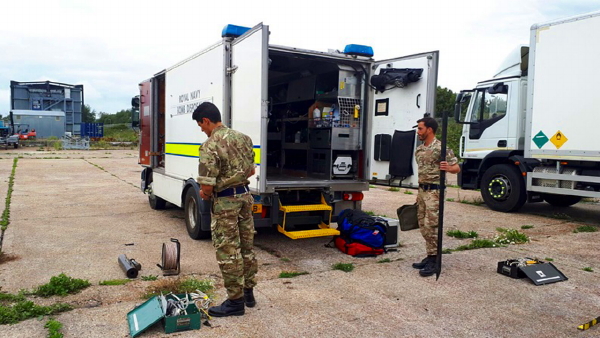 RN website images
---
17 Oct 17 - Multinational minewarfare exercise off South Korea
The US Navy website contains this article announcing the start of Multinational Mine Warfare Exercise (MN MIWEX) off the east coast of the Republic of Korea (ROK) on 15 October. Participating nations for the week-long exercise include Canada, the Philippines, the ROK and the USA. US units include staff from MCMRON 7, Mine Countermeasures Helicopter Squadron 14 Det. 2A and the Avenger class MCMV USS Chief.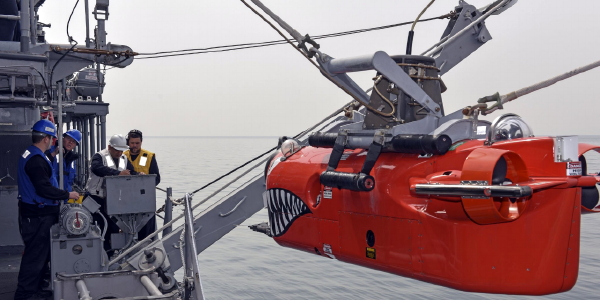 Launch of MNV (Mine Neutralisation Vehicle) by Avenger class MCMV USS WARRIOR
during Exercise FOAL EAGLE off South Korea in March this year
(US Navy photo by Mass Communication Specialist 2nd Class Jermaine M. Ralliford/Released)
Prior to the exercise, US Naval Forces Korea and the ROK Navy hosted a three-day MCM symposium in Busan attended by delegates from nine United Nations Command 'Sending States' including Australia, Canada, Japan, New Zealand, the Philippines, South Africa, Thailand, Turkey and the UK.
---
16 Oct 17 - Update on book about JIM trials
I am grateful to Richard Castle for this news regarding his forthcoming book about Royal Navy trials of the JIM atmospheric diving suit (see entry for 18 Sep 17 in News Archive 59):
"Hi Rob,
Just to keep you in the picture.....
Three contacts (as you know) all useful and actually confirming most of what I thought. All responded to and info passed over.
Bob Lusty of HMS Reclaim sent a letter with info from DHB Ltd which was excellent. I returned info and a few pics for his amusement.
Always interested if anyone else shows up.
The words are nearly written and the issue is mainly typos, photographs, input from ex-AEDU/RNPL staff and a front cover. Too late for Christmas so holding for publication in March 2018.
A thanks to you and the website for adding to my knowledge as well as giving me an idea to increase the coverage of these types of joint jobs undertaken by MoD and Navy. Let me know if I can return the favour at any time.
Cheers,
Richard Castle"
"JIM" demonstrating his ability to assist in
submarine rescue
---
15 Oct 17 - Funeral of Lt Colin Churcher MBE RN
I am grateful to Ray Clarke, Honorary Secretary of the Aberdeen branch of the Royal Naval Association, for this follow-up to the funeral of MCDOA member Colin Churcher at Baldarroch Chapel and Crematorium near Aberdeen on 6 October (see entry for 5 Oct 17):
"Rob,
Apologies for this somewhat delayed email.
I trust that you received an update regarding the actual funeral held 1300 Friday 6th Oct. Unfortunately, but as we had thought, no actual serving uniforms were present. However, we did what we could to give Lt Churcher the send-off he deserved. The coffin was dressed with a white ensign, officer's cap, medals and sword.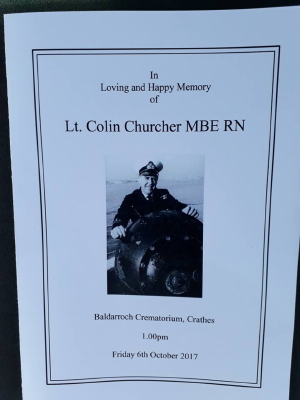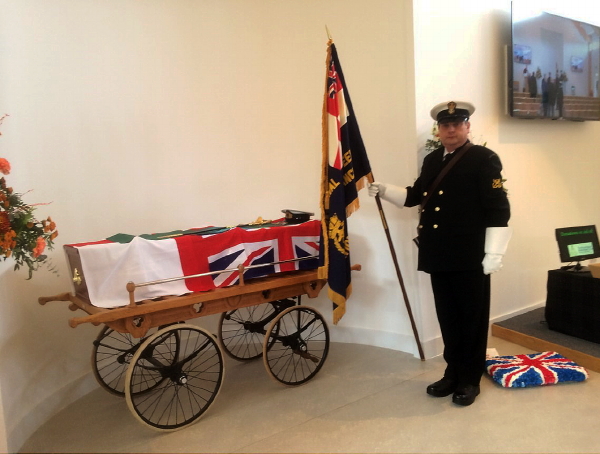 The RNA provided the six pall bearers in RNA uniform and members of Aberdeen Sea Cadets provided the standard bearer and coffin party. The padre, the Sea Cadet padre for Scotland and Northern Ireland, Lt Cdr (SCC) Emsley Nimmo and the additional divers' verse was included in 'Eternal Father' as per request.
We were fortunate perhaps in that the crematorium manager was ex-Army and, knowing what to expect, gave every assistance. I hope that our debt to Lt Churcher was satisfied.
If I am correct ex-CPO(D) Kevin 'Ginge' Reynolds was the chap who travelled up from Rosyth (85 miles) on a motorbike; no mean feat given his years. A Bravo Zulu there perhaps. [It wasn't Ginge because he had been on crutches for the previous few days and drove his car. BZ anyway but does anyone know who rode from Rosyth on his motorcycle?]
Rob, it was a pleasure to have been of assistance both to yourself and to Colin's family who impressed me with their dignity. I found Hilda to be a delightful lady. I had no shortage of volunteers for the funeral party plus Emsley Nimmo and the staff at both the funeral director's and the crematorium could not do enough.
Yours aye,
Ray Clarke
(Hon Sec Aberdeen Branch RNA)"
I would like to put on record my deep appreciation to Ray Clarke and Emsley Nimmo for their cooperation in arranging a proper send-off for Colin and once more extend our community's sincere condolences to Hilda and the rest of Colin's family.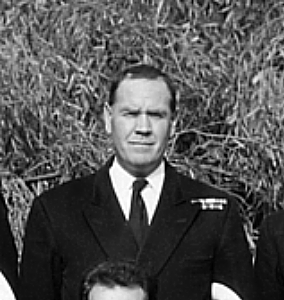 Lt Colin Churcher MBE RN on CDO
course in 1964
Watch this space for news of a possible obituary in the Daily Telegraph.
---
From MCDOA member Dougie MacDonald:
"Hello Rob,
Sorry to have been absent. I'm often in Aberdeen but on this occasion was working in NZ.
I remember Colin as a VM [Victualled Member - aka 'liver-in'] in VERNON; not easy with a northern family.
Failed to track down [Gordon] Stamp and I understand that [David 'Topsy'] Turner is in Hawaii. I'll do better next time.
Dougie"
---
14 Oct 17
LS&GC presentations
Congratulations to MCDOA Chairman-elect Roger Readwin (Captain Mine Warfare & Patrol Vessels, Diving and Fishery Protection (CMFP)) and MCDOA member Bob Hawkins MBE (1st Lt of our new aircraft carrier Queen Elizabeth (QNLZ)) on being presented with their Long Service & Good Conduct (LS&GC) medals including two clasps for Bob.
Left: Capt Roger Readwin RN with fellow recipient LET(CIS) S H Patterson
Right: Presenter Cdr Darren Houston (Cdr of QNLZ) with Bob Hawkins
Left: Obverse and reverse of RN LS&GC medal
Right: Bob Hawkins' LS&GC medal with its two clasps
The eligibility regulations were updated on 1 October 2016 to permit the award of the LS&GC medal, previously awarded only to ratings and warrant officers, to all RN officers serving after 29 July 2014 who had achieved at least 15 years of service with no misconduct. A clasp is awarded for each additional period of 10 years' service with a clear record.
---
SNMCMG1 visits Belfast
The Belfast Telegraph website contains this article and the ITV News website this article, both including video, describing yesterday's arrival of Standing NATO Mine Countermeasures Group 1 (SNMCMG1) in Belfast for a weekend courtesy visit after its participation in Exercise JOINT WARRIOR 17/2.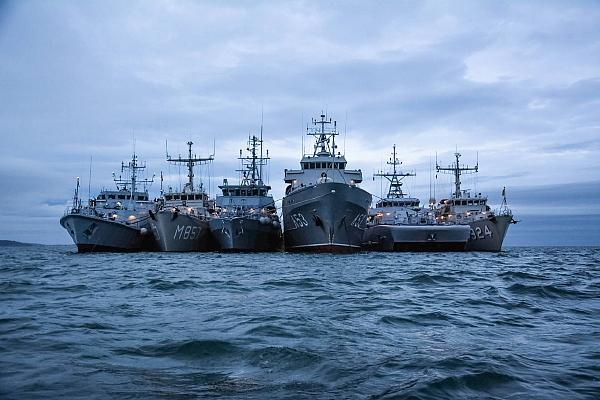 Ships of SNMCMG1 rafted up in Belfast Lough
(NATO website photo)
The group comprises the Latvian coastal minelayer and command ship LVNS Virsaitis, the Estonian minehunter ENS Sakala (formerly HMS Inverness), the German minehunter FGS Sulzbach-Rosenberg; the Norwegian minesweeper HNoMS Rauma, the Belgian minehunter BNS Primula and the Dutch minehunter HNLMS Makkum.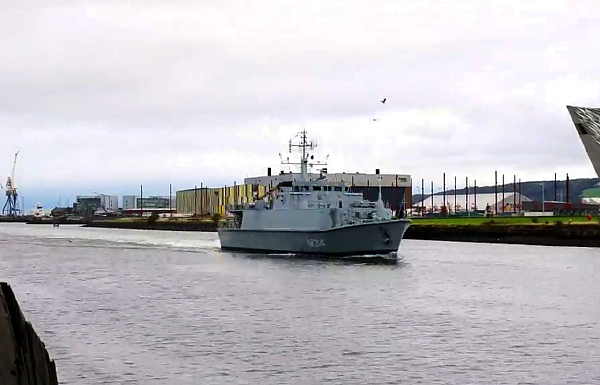 ENS Sakala (formerly HMS Inverness) entering Belfast yesterday
(Belfast Telegraph image)
---
13 Oct 17 - SDU2 frees torpedo from tanker's anchor
The Royal Navy website contains this article and the Daily Mail website this article describing how members of Portsmouth-based Southern Diving Unit 2 (SDU2) freed a trials torpedo impaled on the fluke of an anchor belonging to the 3,000 ton chemical/oil products tanker Skaw Provider off Portland on Tuesday. The torpedo was taken out to sea and destroyed.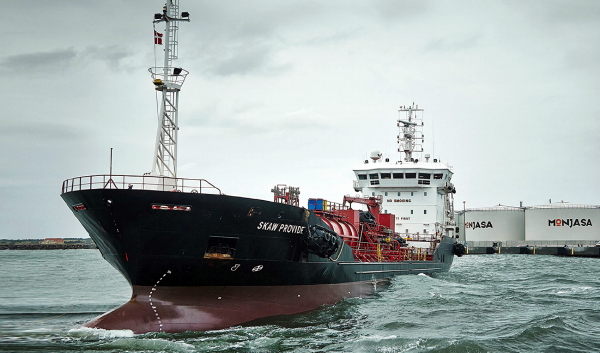 MV Skaw Provider
The article features Lt Cdr Jonathan Campbell, OIC of SDU2.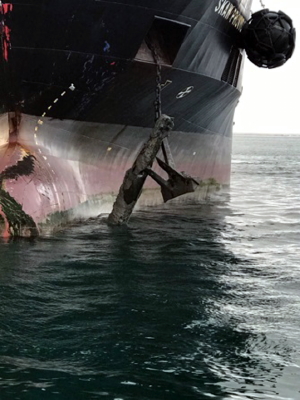 The torpedo impaled on Skaw Provider's anchor
(RN website image)
---
12 Oct 17
Death, funeral and DT obituary of Capt Ian Powe RN
Capt Ian Powe RN died peacefully at St Thomas' Hospital on 2 September 2017 aged 84.
As ever, I am grateful to Capt Peter Hore RN for writing this obituary which was published in the Daily Telegraph today. This is an excerpt:
"On the night of January 14/15 1968 a severe earthquake struck western Sicily, killing several hundred people, injuring many more and leaving 100,000 people homeless. The Italian government asked for help from the Royal Navy at Malta, where Powe commanded the 7th Mine Countermeasures Squadron (MCMS), consisting of several small Ton-class minesweepers. Without waiting for orders, Powe loaded his ships with disaster relief stores, medical teams and a small detachment of soldiers, and sailed overnight.
The squadron's entry next morning to the small port of Trapani was greeted by a violent aftershock which shook the sea and shore, and hundreds of refugees rushed from the town towards the jetty. Powe restored calm and in liaison with the mayor commandeered a convoy of lorries to take him inland to the Belice valley, where the damage was greatest; they followed debris-strewn roads which had been split and were hanging in ribbons over precipices, through villages which had been flattened or had fallen into the valleys below. Powe set up a headquarters at Montevago, the soldiers erecting tents for accommodation and a marquee as a field hospital, while Powe's 40 sailors dug in the rubble and began to repair utilities. He was joined by 12 Italian Boy Scouts who had been on a camp, and two retired British aid workers from Save the Children who chanced to have retired locally.
The immediate relief effort was hampered by a lack of planning at local level, excessive bureaucracy, a lack of supplies, and a tendency to treat outsiders with suspicion. After 36 hours soldiers from the Italian army arrived, who placed themselves under Powe's orders; they brought a searchlight which, when played on a White Ensign which Powe had ordered to be hoisted on the one standing telegraph-pole, brought in hundreds of survivors from the countryside. For the next week, despite cold weather and several aftershocks which mainly struck at night, Powe oversaw the rescue efforts. Subsequently the 7th MCMS was awarded the Wilkinson Sword of Peace, while Powe himself was praised by his commander-in-chief for his "initiative and judgment in dealing with the situation, which was not only serious but required considerable tact and understanding".
The people of Montevago named the main road in the rebuilt town "Via Comandante Powe" and an adjoining road "Via Marina Inglese", and they invited the Powes to return in 2018 to commemorate the 50th anniversary of the earthquake...
...After a deployment in the Far East as first lieutenant of the frigate Londonderry, his was an early promotion to commander when he took command of the minesweeper Walkerton and the 7th MCMS. In 1969, when Powe's squadron left Malta, crowds lined the walls of Barrakka heights to wave a sad farewell, the last to go after two centuries of British warships based on the island..."
A private funeral will be followed by a Memorial Service at 1100 on Tuesday 17 October at St Paul's Knightsbridge, SW1X 8SH. All are welcome.
Donations, if desired, to Cancer Research UK c/o Chelsea Funeral Directors, 260b Fulham Rd, SW10 9EL. Tel: 020 7352 0008."
The DT obituary can also be viewed on the MCDOA website here: Captain Ian Powe Royal Navy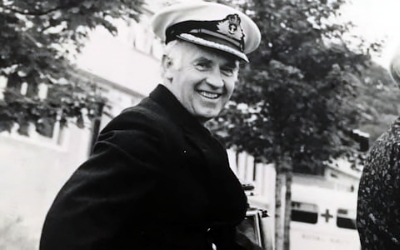 Capt Ian Powe RN
(17 Oct 1932 - 2 Sep 2017)
---
SDU1 detonates 25lb shell
The BBC News website contains this article, including video, describing yesterday's disposal, presumably be members of Plymouth-based Southern Diving Unit 1 (SDU1), of a 25 lb shell used as a doorstop at a farm near Bovey Tracey in Devon.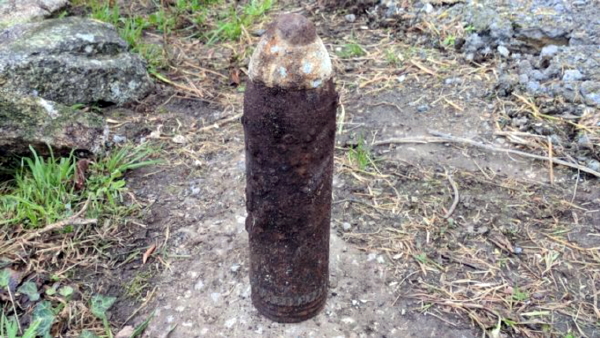 ---
11 Oct 17 - MW course graduation
Congratulations to the AB(MW)s who successfully qualified on the latest course at HMS Collingwood.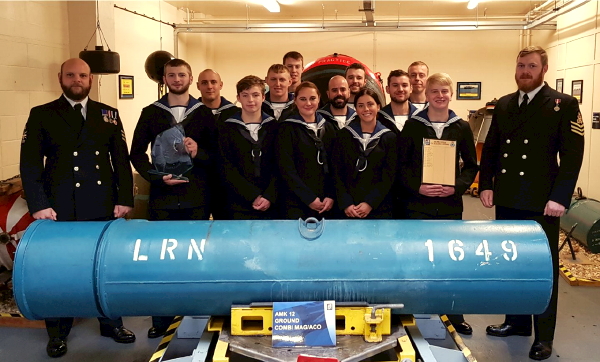 ---
10 Oct 17 - HMS Hurworth and HMS Ramsey in JOINT WARRIOR
The Forces TV website contains this article, including a comprehensive video, describing the involvement of HMS Hurworth (MCM2 Crew 5) and HMS Ramsey (MCM1 Crew 4) in this year's second Exercise JOINT WARRIOR off Scotland. Both ships' crews are due to fly to the Gulf in December to man other minehunters currently based in Bahrain for Operation KIPION.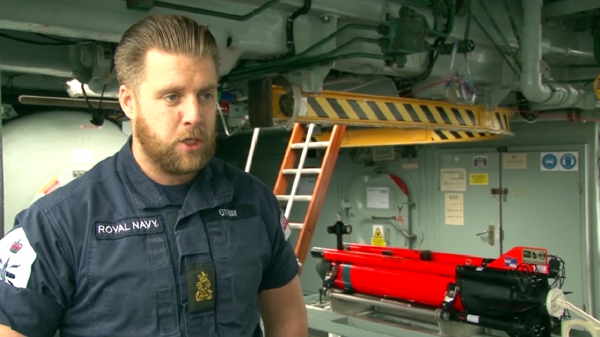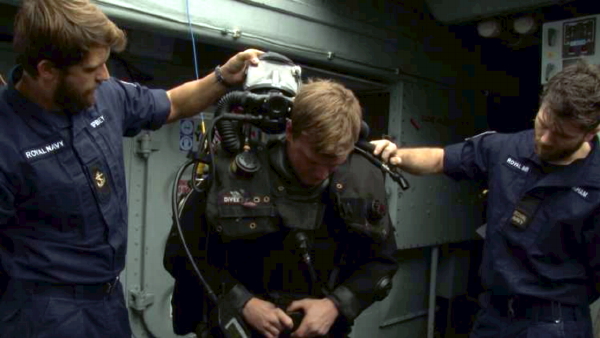 The Royal Navy has published these images on its Facebook page showing HMS Hurworth recovering a large drill ground mine she detected in a depth of 48 metres while part of a Task Group of three Royal Navy minehunters and three French Navy minehunters during JOINT WARRIOR. The mine was detected on sonar before being identified with a Sea Fox Mine Disposal vehicle. Two divers then attached strops to it for recovery by davit.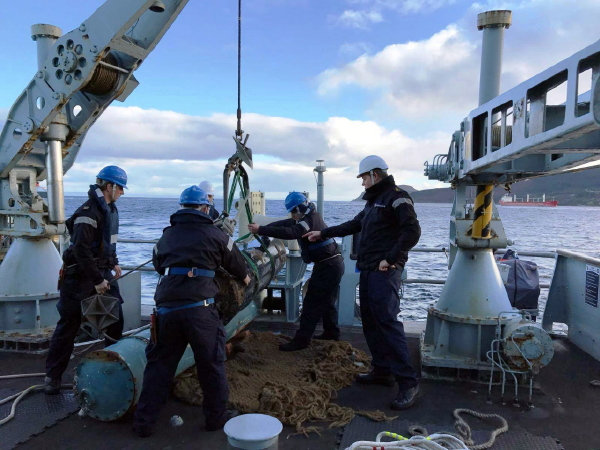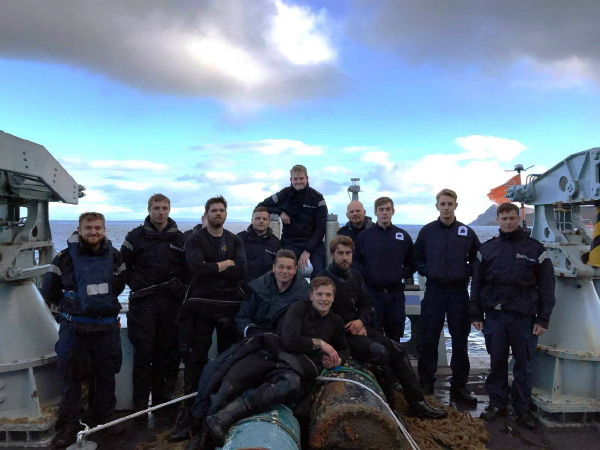 ---
9 Oct 17 - RN bomb disposal unit called to mustard gas find in Lincolnshire
The Lincolnshire Live website contains this article, including video, dated 6 October and this article dated 10 October reporting the attendance of "a Royal Navy Bomb Disposal Dive Team", presumably members of Portsmouth-based Southern Diving Unit 2 (SDU2), at a lake near Stixwould near Woodhall Spa in Lincolnshire following the initial discovery of cylinders of mustard gas on 1 October. The operation has also involved an Army bomb disposal unit plus fire & rescue and ambulance services and the Environment Agency.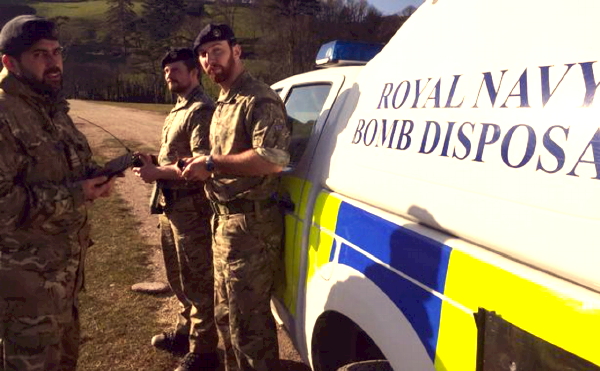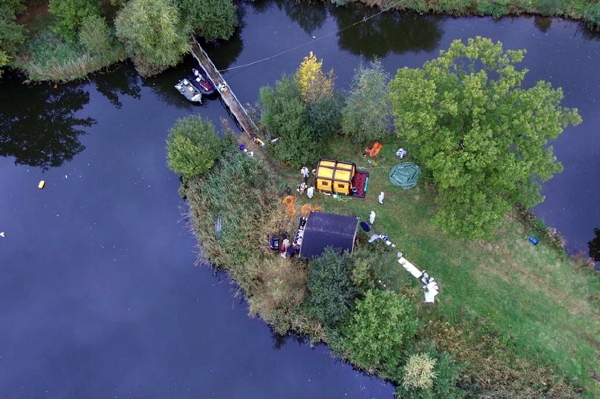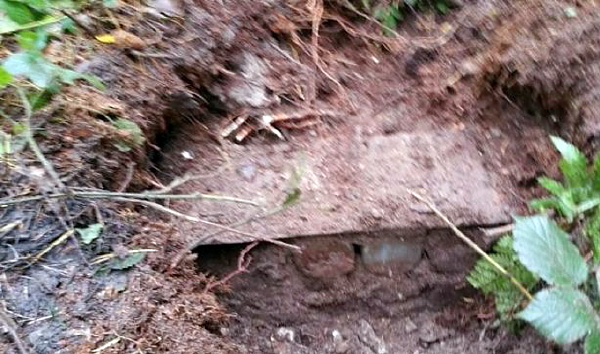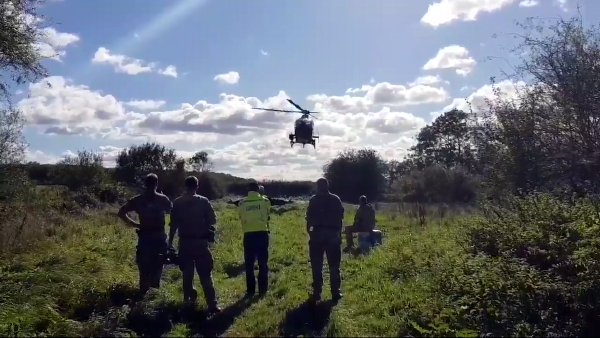 ---
8 Oct 17 - John Bevan as 'That Infernal Diver'

MCDOA associate member Dr John Bevan (Chairman of the Historical Diving Society (HDS), founder of the Diving Museum, celebrated author, world record-breaking deep diver and trustee of the Vernon Minewarfare & Diving Monument charity) made a thoroughly convincing John Deane, inventor of the first practical diving helmet, when he performed the role with Lee Players at the Diving Museum on Saturday night (see entry for 23 Sep 17 in News Archive 59).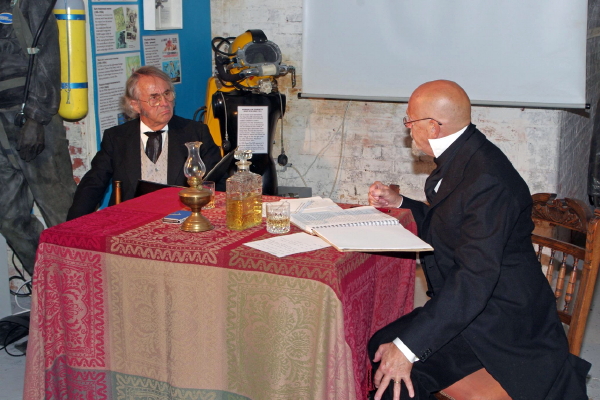 The Diving Museum in No. 2 Battery at Stokes Bay is run entirely by volunteers. It will be open 1000 to 1600 at weekends until 29 October when it will close for the winter except by special arrangement.
---
7 Oct 17 - RN CD Roll of Remembrance
Some time ago, I was asked by the all-ranks Royal Navy Clearance Divers' Association (RNCDA), of which I am member 076 (my LMCDO course year), to help compile a list of deceased RN divers and I have now researched all officers who qualified QDD, CDO and MCDO since October 1944. This list does not include those engaged in diving and/or EOD before these courses began apart from some war veterans such as the late Peter Roberts VC DSC, 'Uncle Bill' Filer MBE GM and Gordon Gutteridge OBE who were granted 'grandfather rights'. Most individuals died from natural causes and they appear in order of date of death. Please advise me of any omissions.